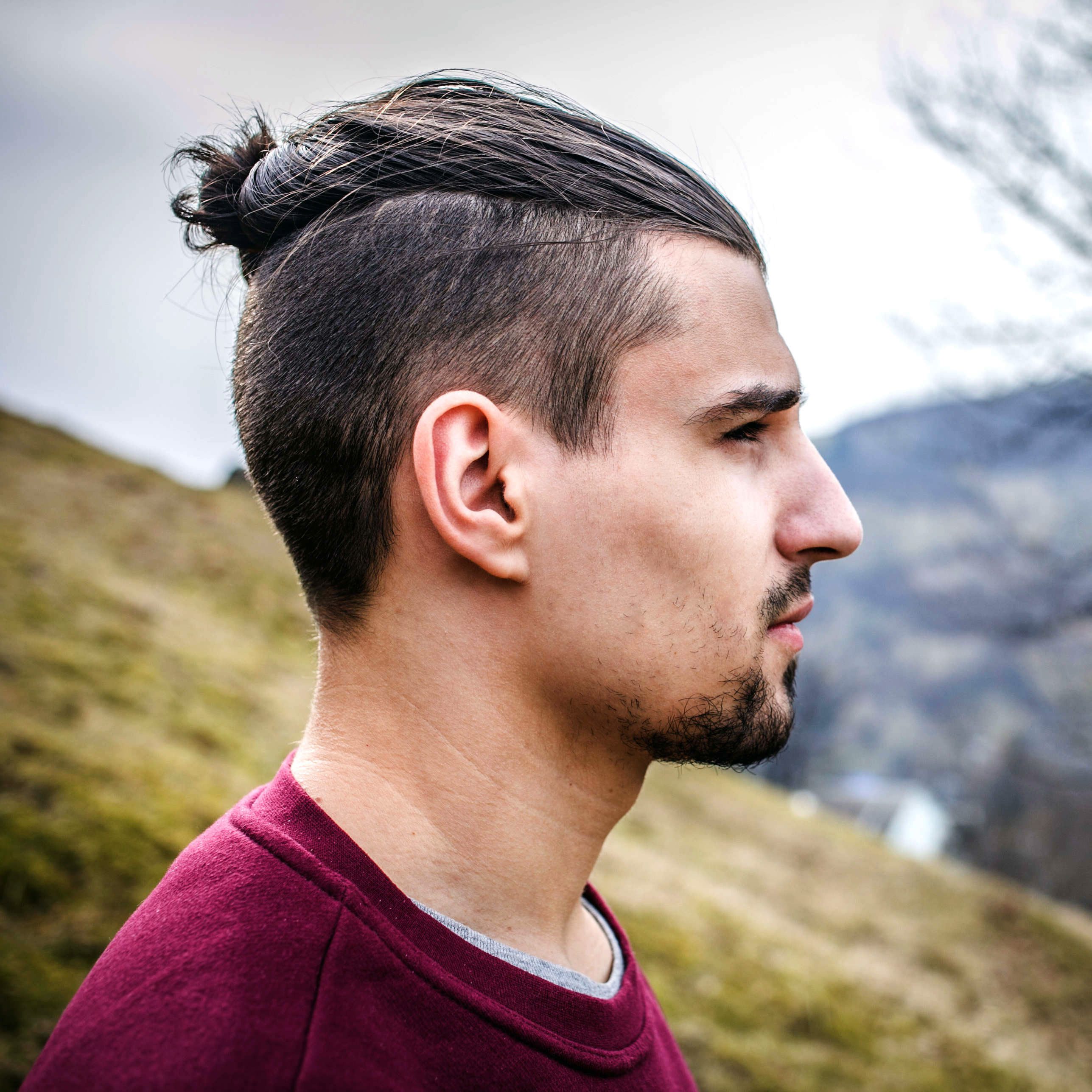 20+ Top Knot Hairstyles: Visual Guide for Men
Discover how to get creative with linear patterns, high fade in combination with a high knot
Is it time to redefy your look? Want to give that man bun of yours a literal twist? Meet the top knot. The top knot consists of a smaller bun of hair formed not at the crown, but at the exact top of the head. And though you may think your man bun dreams can't be accomplished, the top knot is an ideal look for those of us with a little short of a bob.
How To Get A Top Knot?
So how do you get a top knot, you ask? The hair on the back and sides of your head should be clipped, not cut with scissors. This creates a uniform look that will unify the top knot and make it the most noticeable. This is also the element that separates the top knot vs man bun.
How To Do A Top Knot?
As the name suggests, a top knot is situated on top of your head, usually in the center. First, start by identifying the placement of the top knot. Next, gather all of your hair up and tie it as you would with a man bun. The result is a new 'do complete'. This is a great style for guys who like the man bun but don't want to wait months to grow out their hair!
How To Style & Maintain The Top Knot?
Like the man bun, the top knot trend requires care and maintenance. Since you don't have as much hair to deal with, you can get away with not using conditioner. However, your shampooing routine should put all the attention on those locks and your scalp. This will keep your top knot in tip-top shape.
Types Of Top Knots:
1 / 25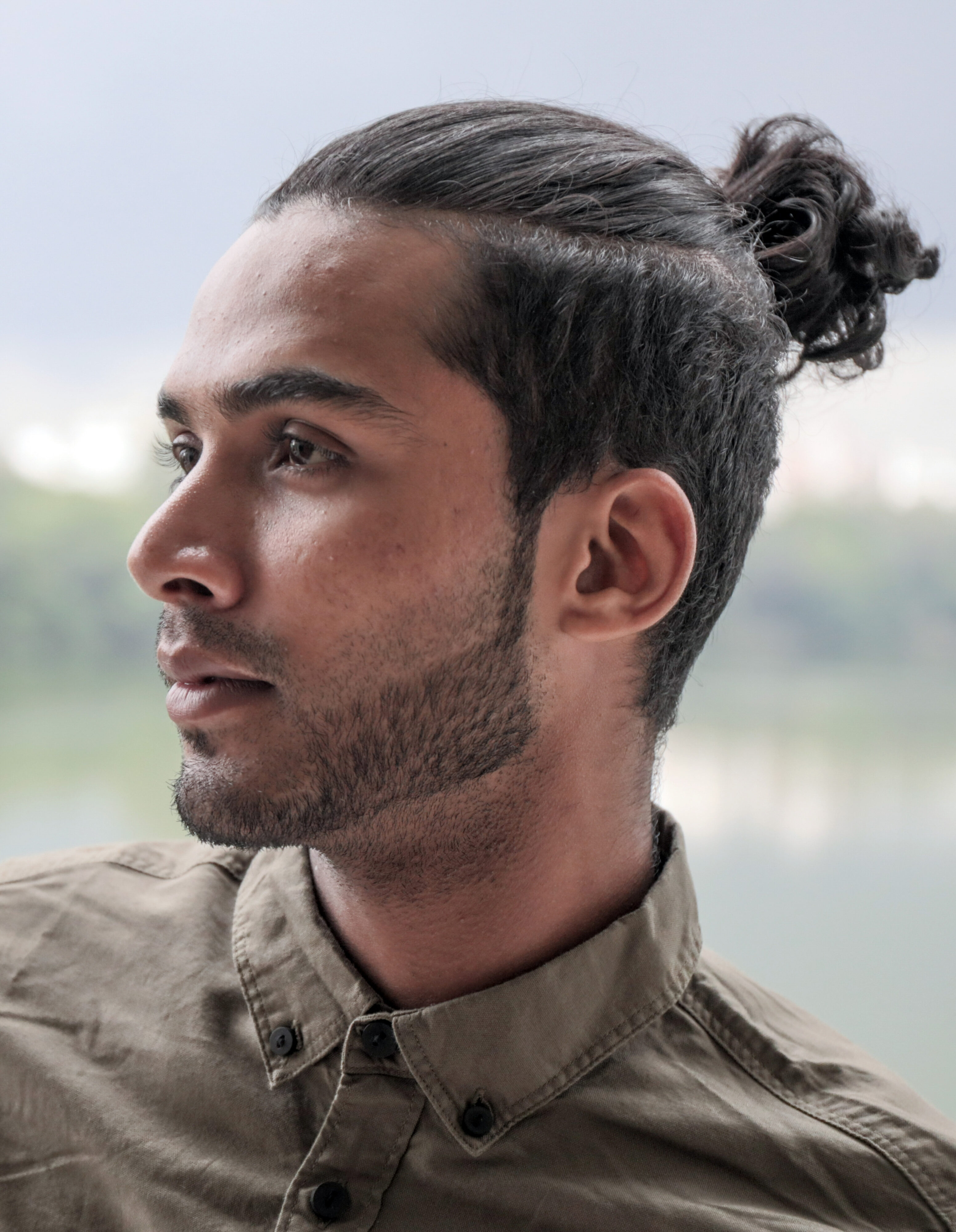 Curly Top Knot and Undercut
A home-run for the curlies out there! All you need do is tie your knot and let the free ends do their thing. A great simple look with no effort at all.
2 / 25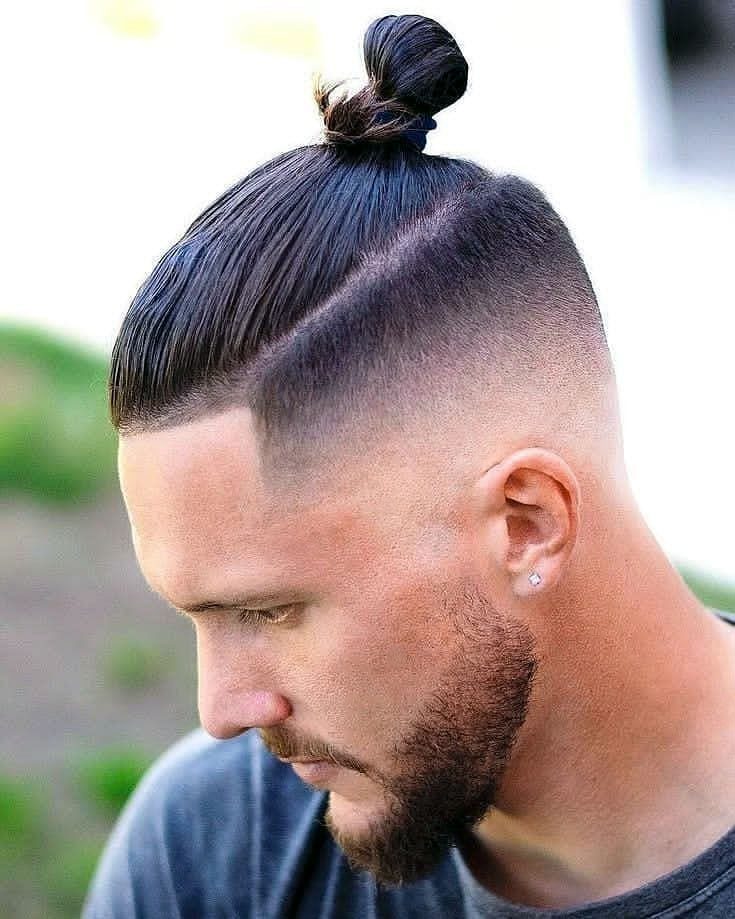 Top Knot with Undercut and Mid Fade
This top-knot style is achieved by keeping the hair at the top of the head significantly longer. The sides are kept high and tight, and they are closely faded to the skin. Also, the front hair line is closely lined up for a more precise look.
3 / 25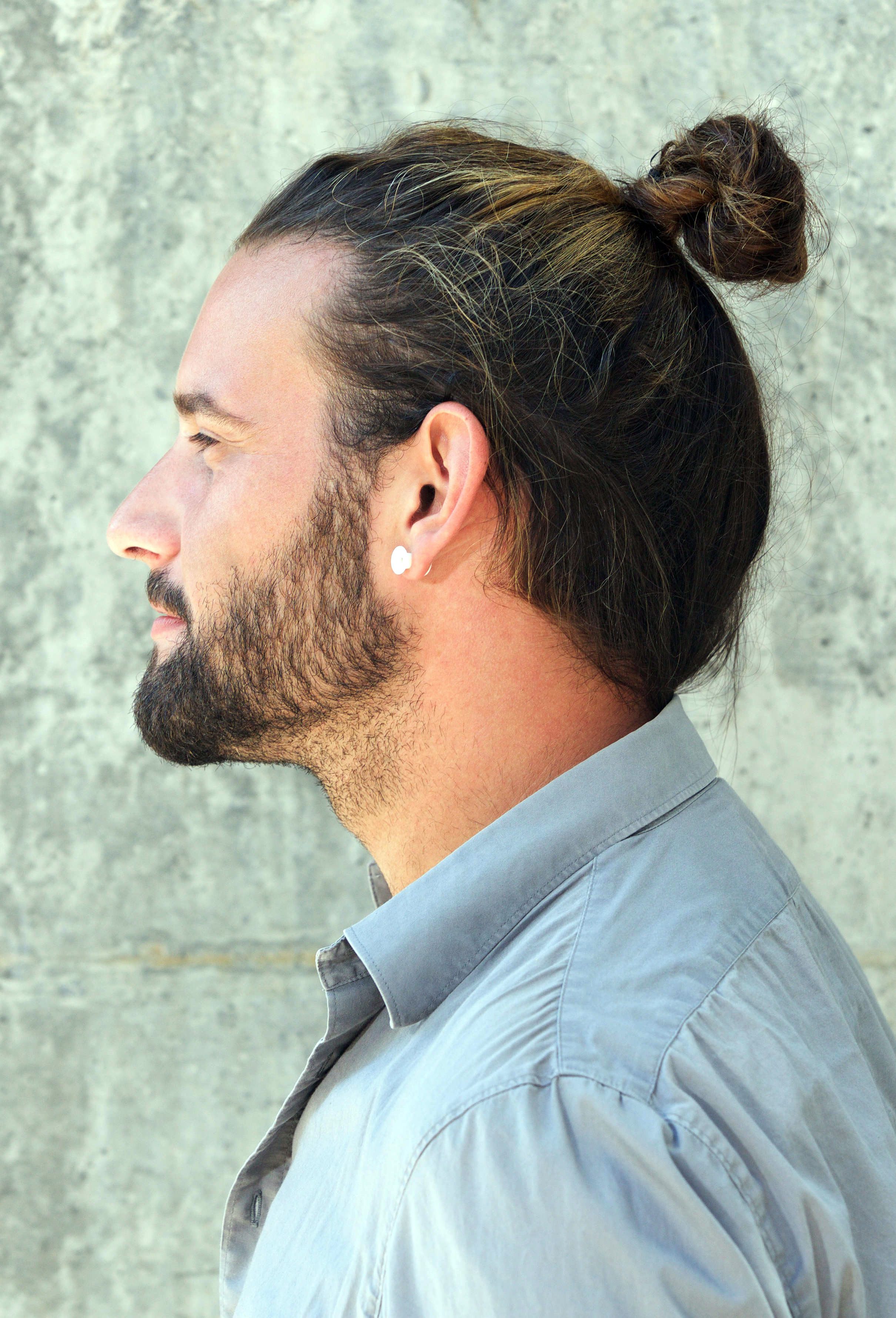 The Full Head Bun Knot
With topknots, you've got an unlimited choice on how much or how little hair to tie into the bun. What's more, you can vary the length of the hair around the head to get your bun just the right size. Here, all of the hair is pulled together for a big, majestic knot.
4 / 25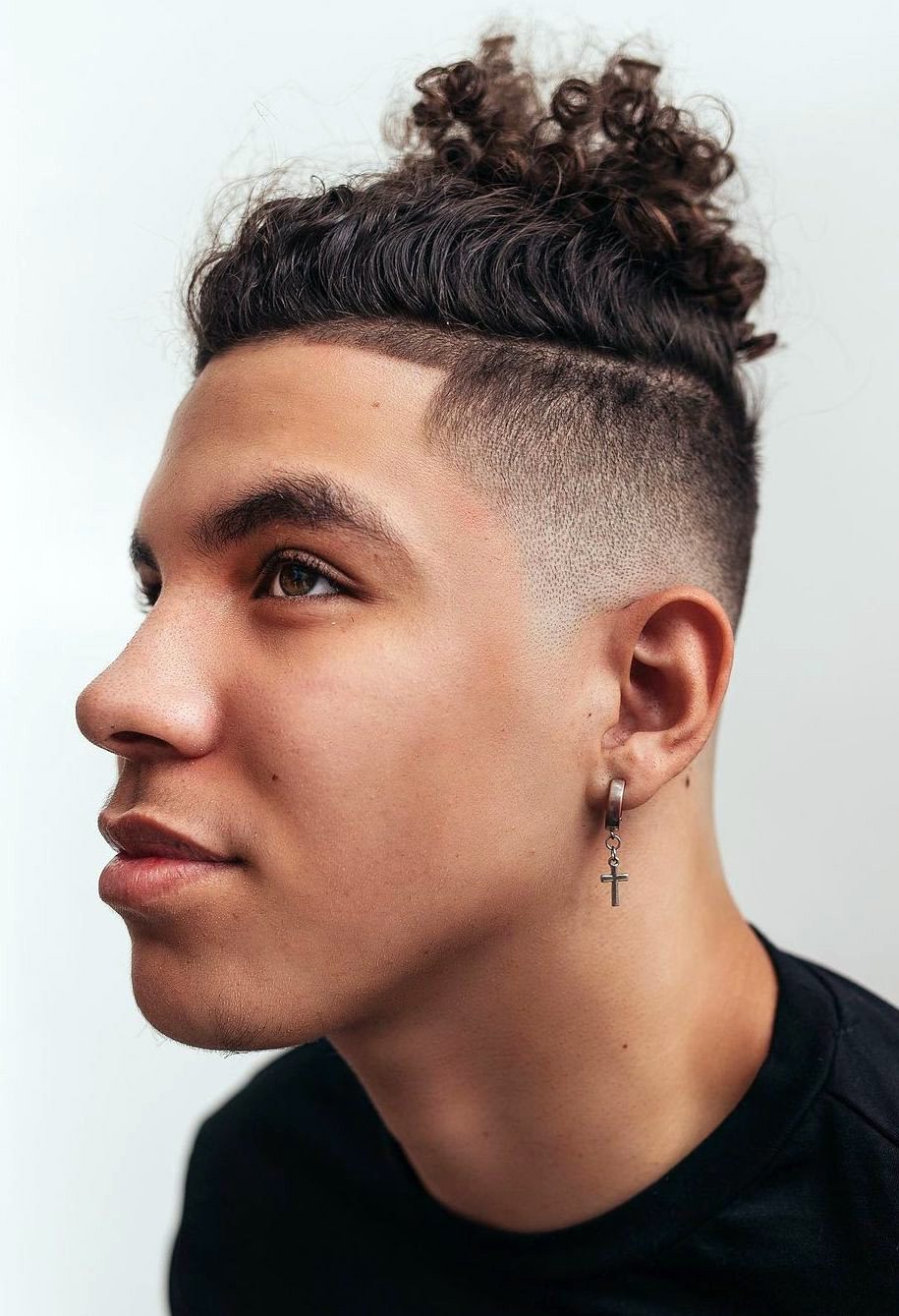 Undercut Curly Top knot
Can a hairstyle get any neater than this? The top is thick curls with a cheeky top knot which is quite informal in here. The sides are undercut faded for that neat look plus the short lineup is just a sweet touch to the style.
5 / 25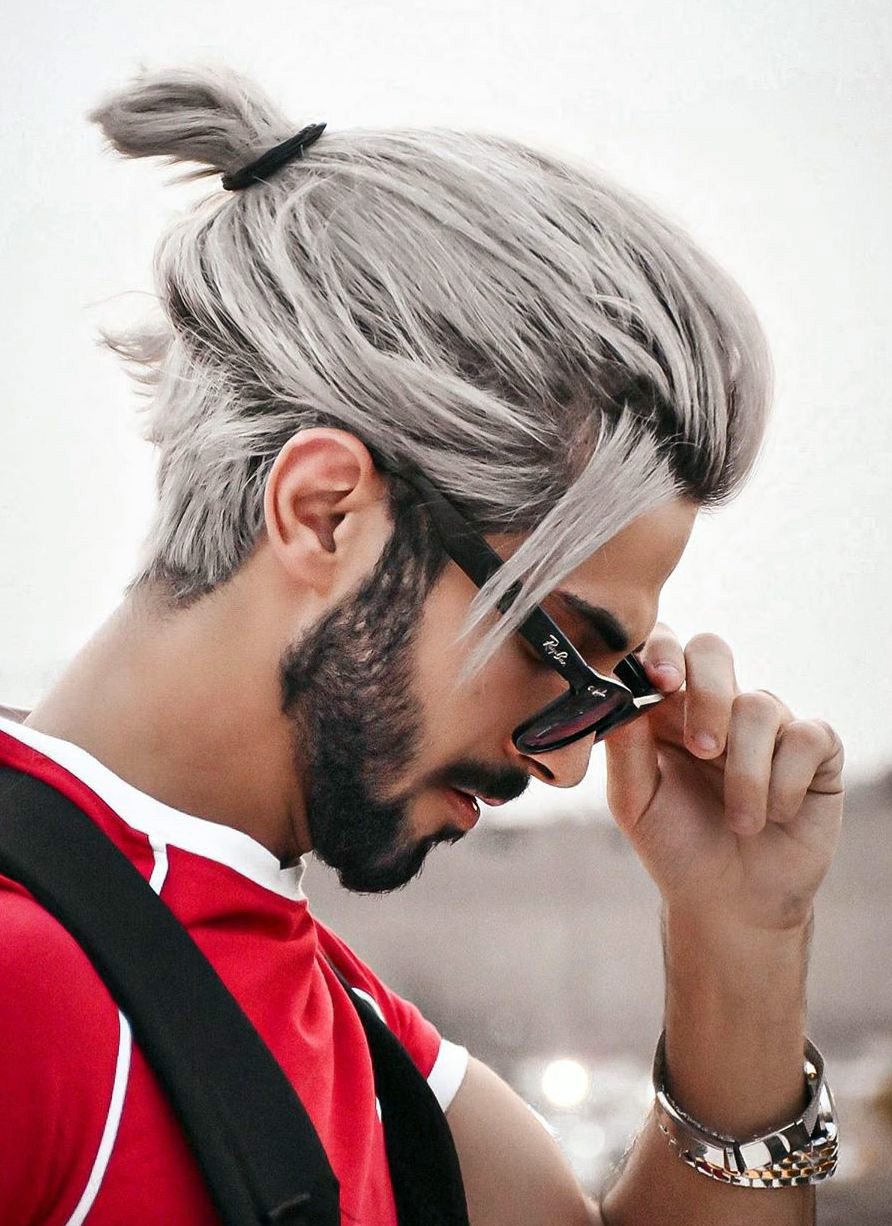 Snow White Dyed Knot
Oh, mother of dyes! Platinum is a bold color for sure but it can take this particular haircut to a whole new level bringing an extra edge to it. 
6 / 25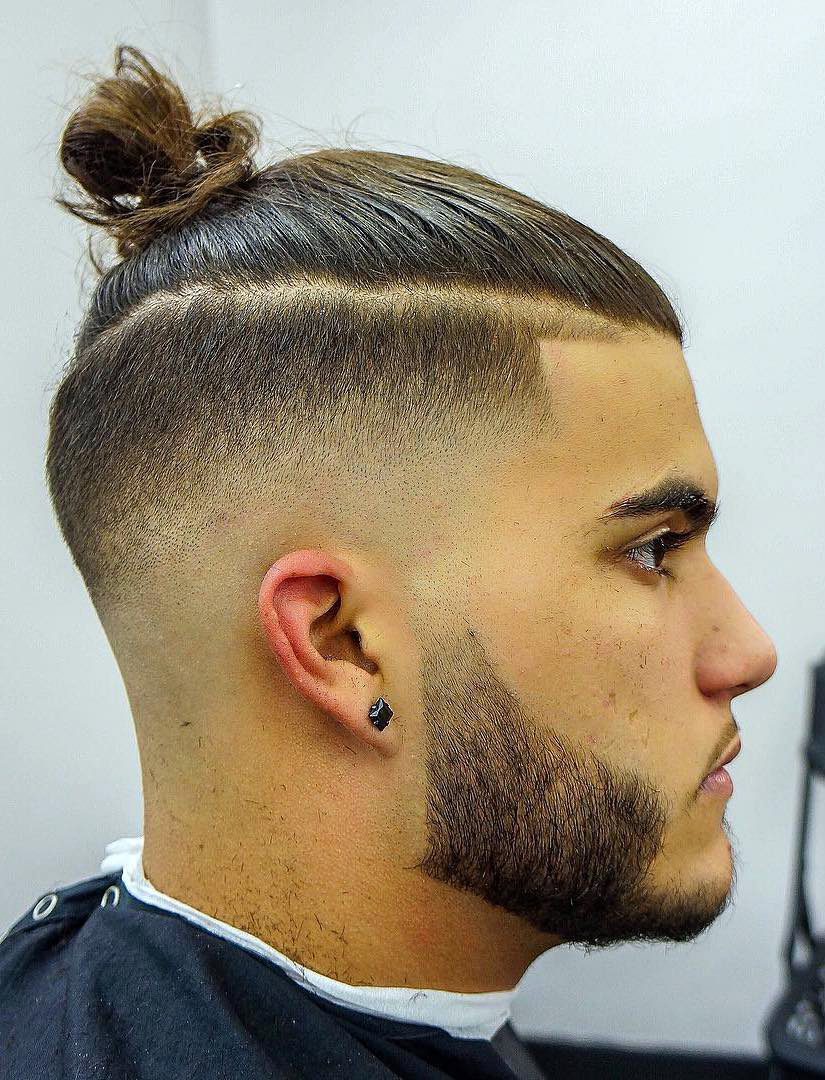 Undercut Taper Fade
You don't NEED to have a straight line parting the undercut if that's the style you're looking to sport. The trendy top knot is more than enough to bring some life to the whole 'scruffy' vibe we get from this stud. 
7 / 25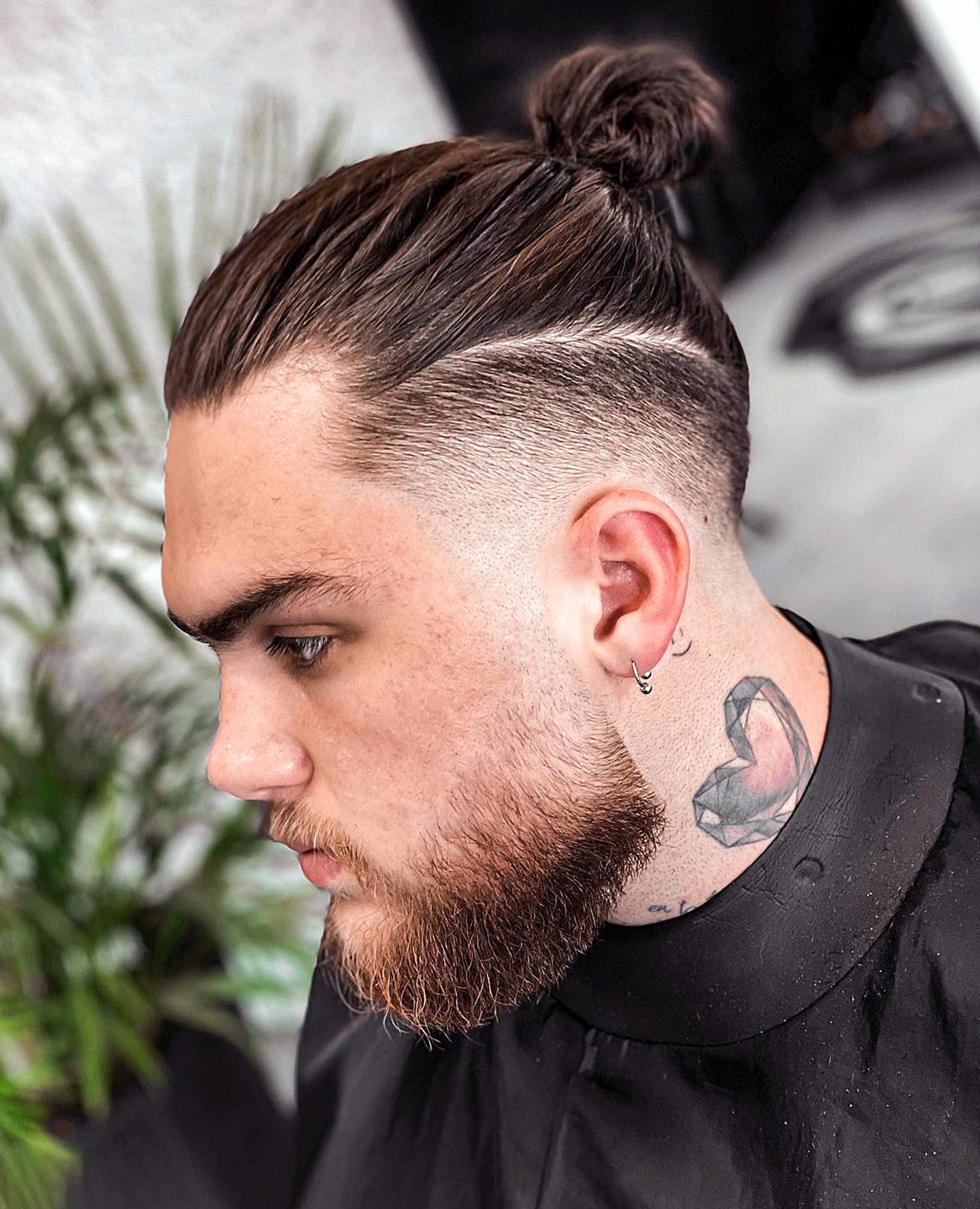 Top Knot with Disconnected Undercut
An undercut is ideal for guys who want an exciting and contemporary look. Take it up a notch by snipping away your hair length into a top knot, and you get a smoother look. The well-shaped beard makes it even more eye-catching.
8 / 25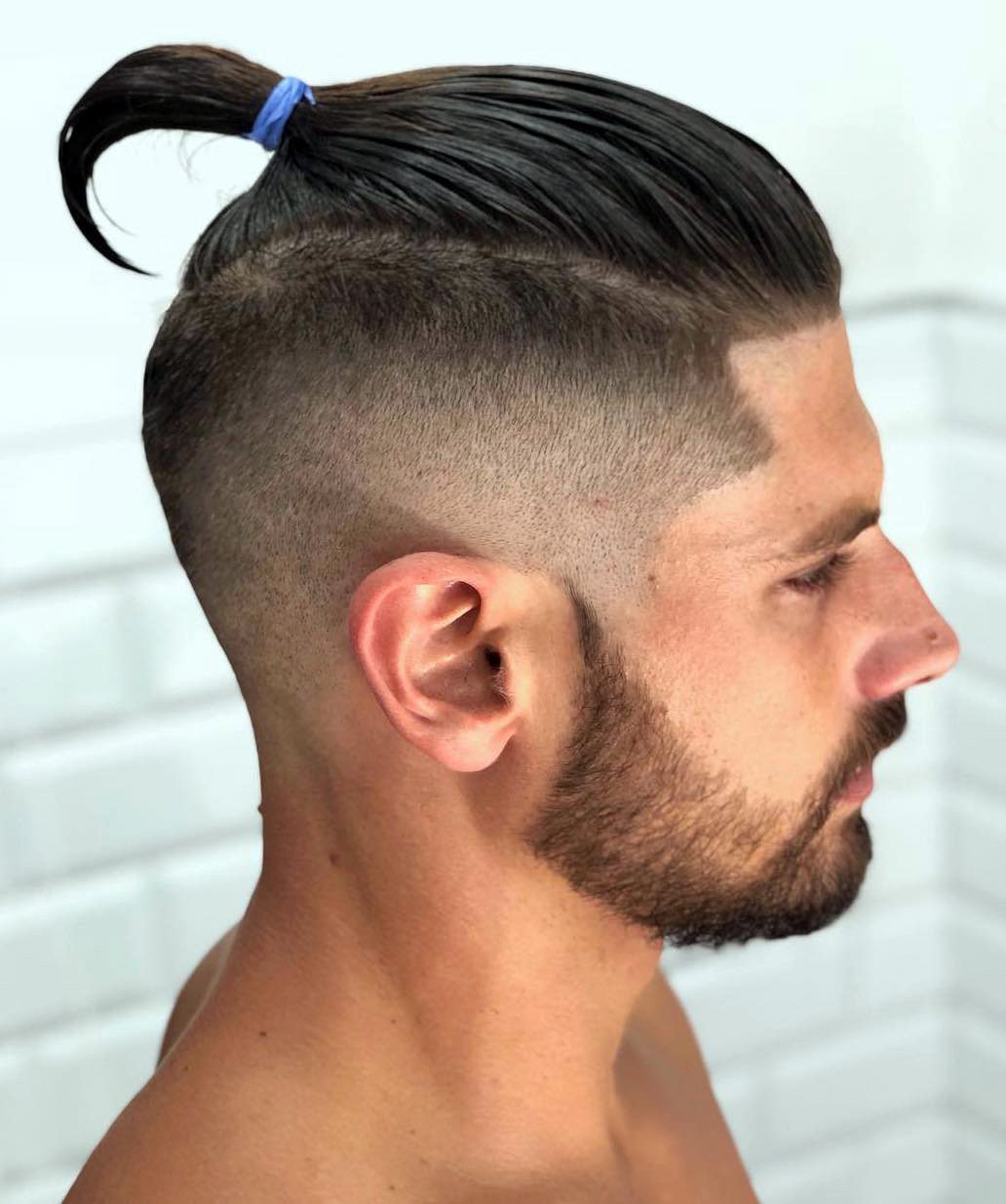 Undercut with Taper Fade
If you end up with a slightly thinner mass of hair to tie into your knot, you might want to forget about the knot entirely. With just a few hair bands or a rubber band, you can leave the hair loose for a scorpion tail look.
9 / 25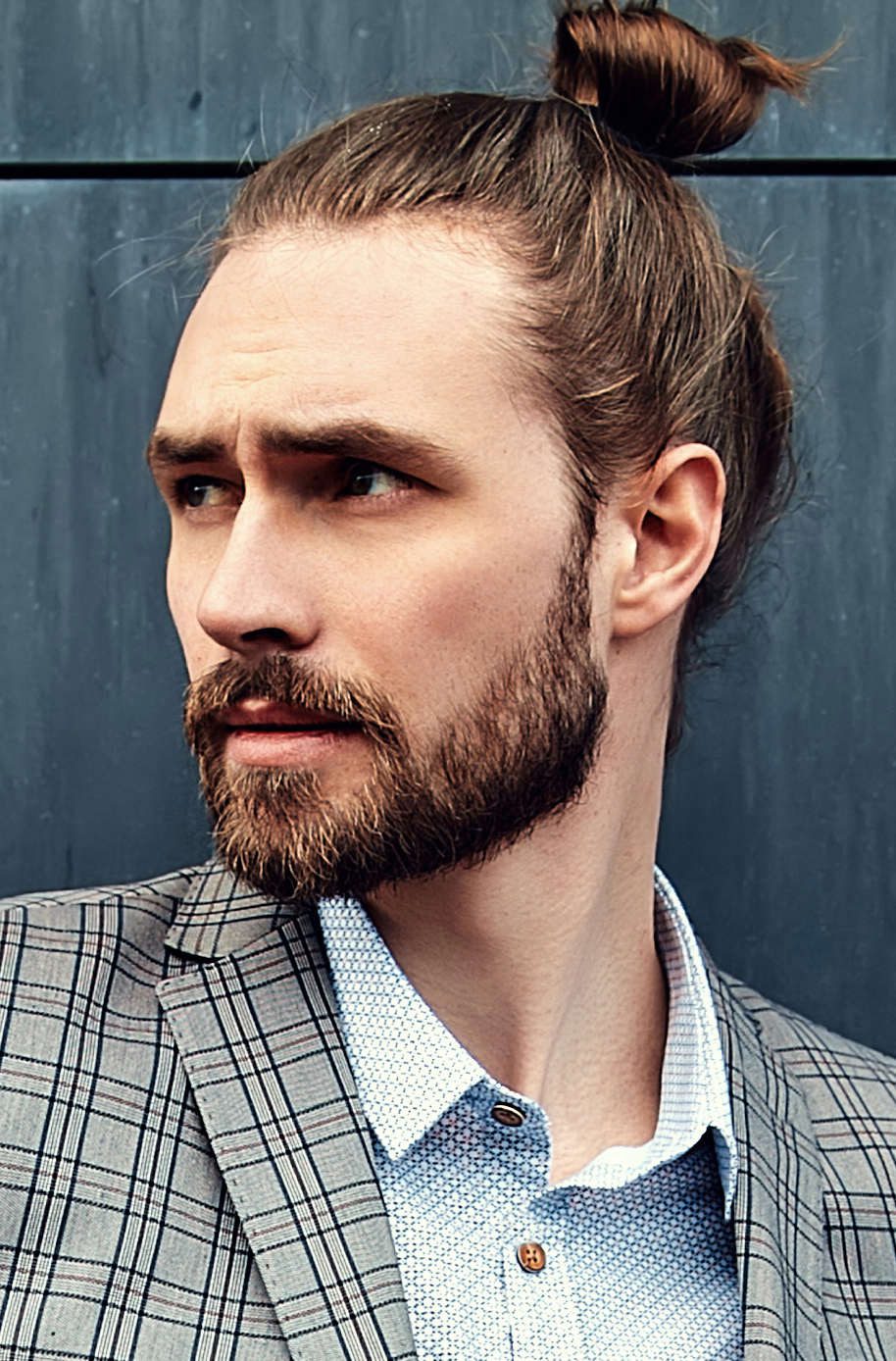 High Sleek Knot
Top knots and man buns can look particularly creative when you allow facial hair — sideburns, beard, and all — to grow around the face. This fresh style certainly doesn't sacrifice on masculinity.
10 / 25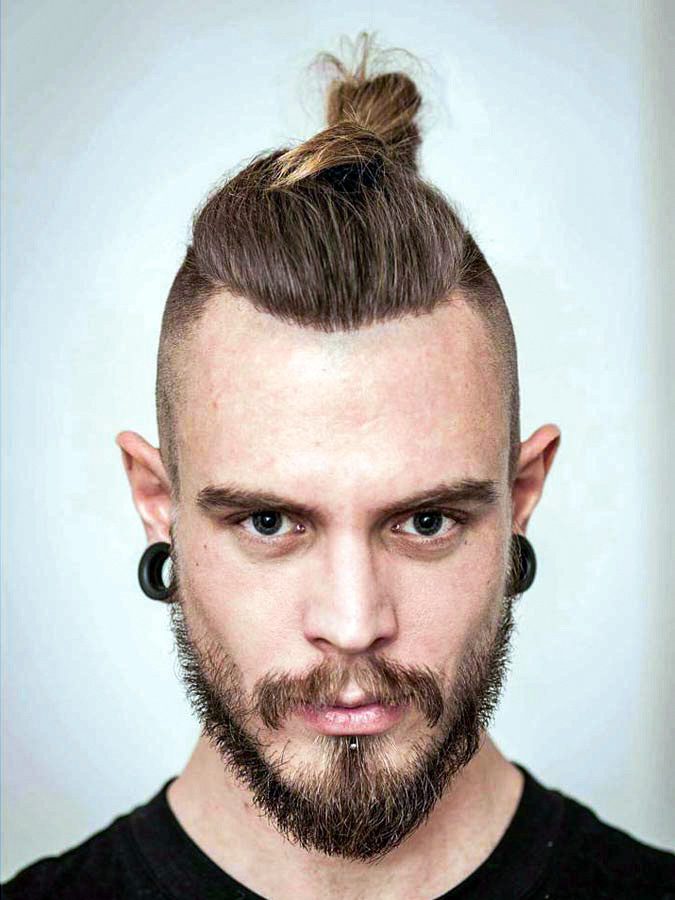 High Skin Fade Top Knot
Here's another variation on the top knot undercut, where a high fade is used on the sides. This ultra modern look is a great choice for guys all of the ages.
11 / 25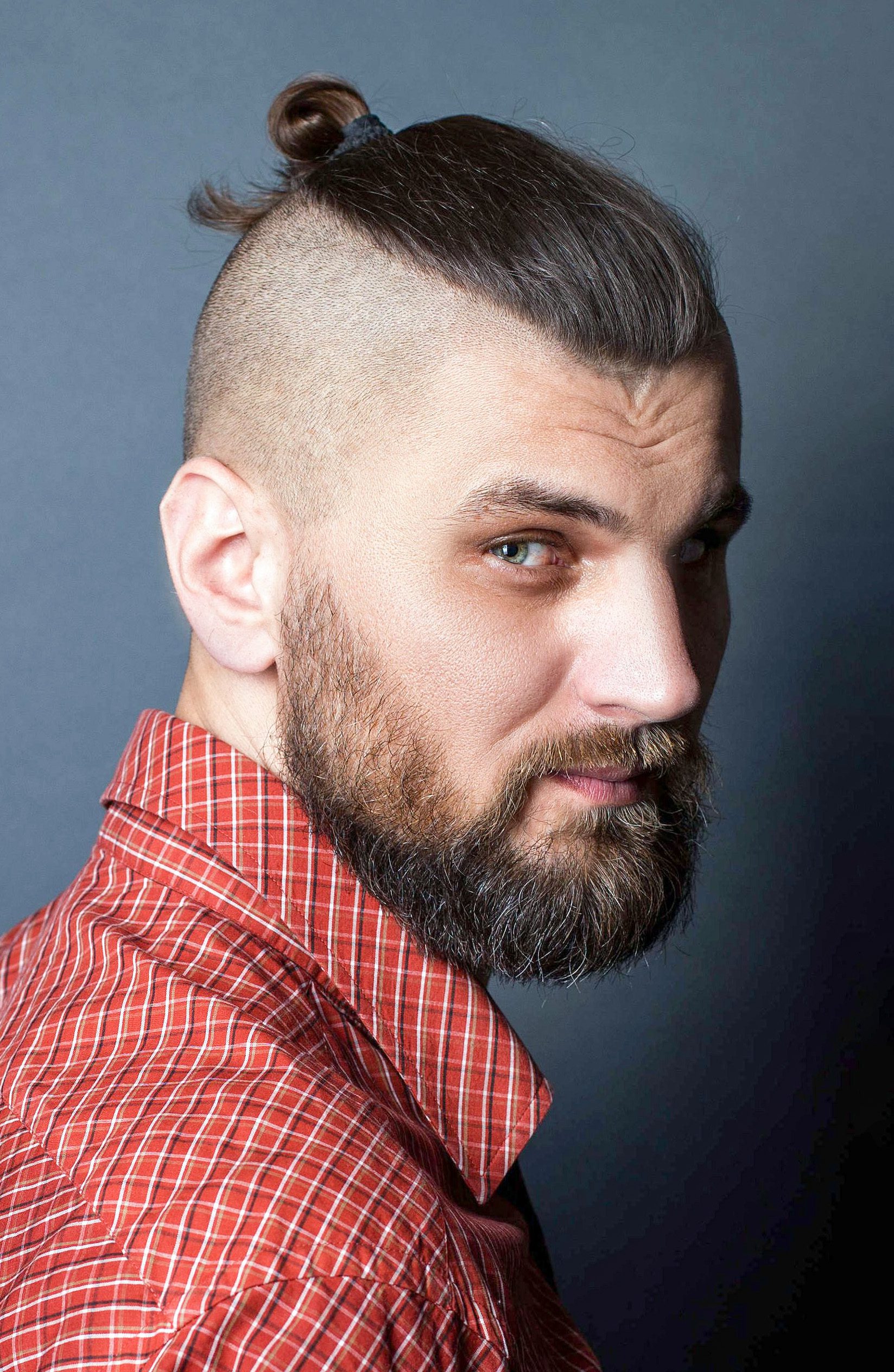 Shaved Sides Top Knot
So, you like the look of a top knot but not the inconvenience of having long hair? Why not opt for a knot on the top with totally buzzed sides?
12 / 25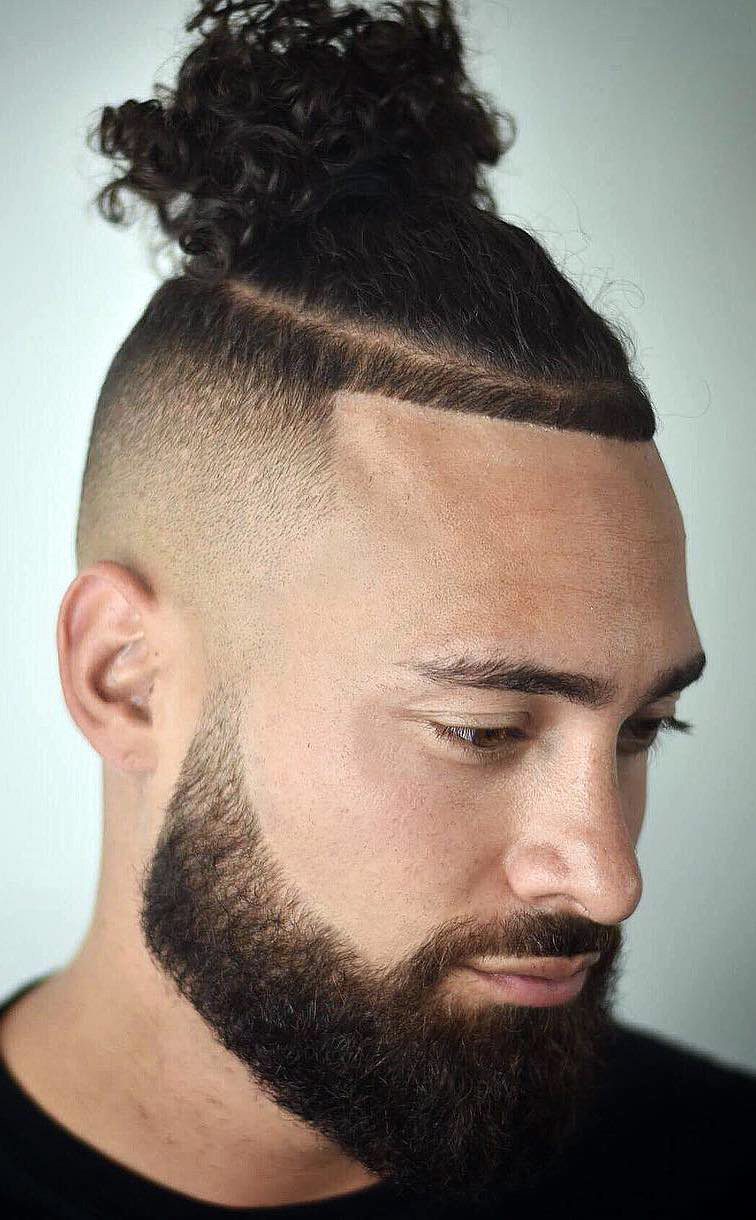 Taper Faded Top Knot
Looking for a little more flare in your topknot hairstyle? Why not ruffle up the bun, complement with facial hair, or even trim in a line? Here's a look with all those pieces put together.
13 / 25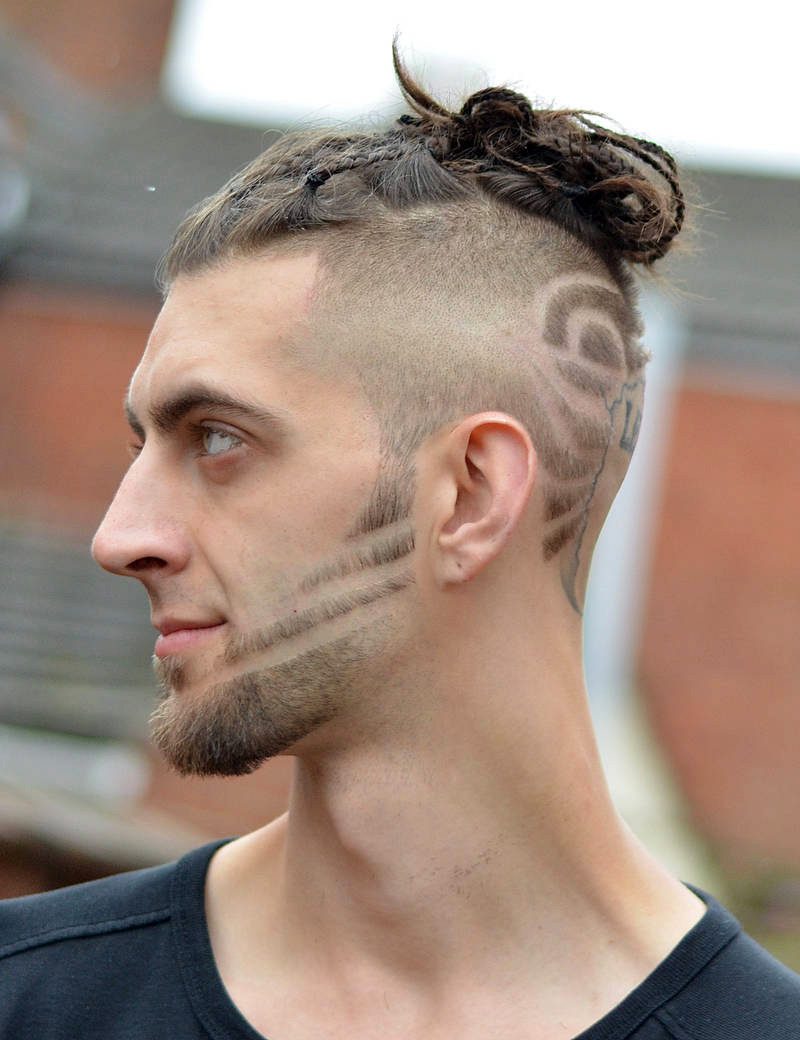 Top knot with disconnected undercut
A dramatically faded cut or totally shaved sides paired with a top knot.
14 / 25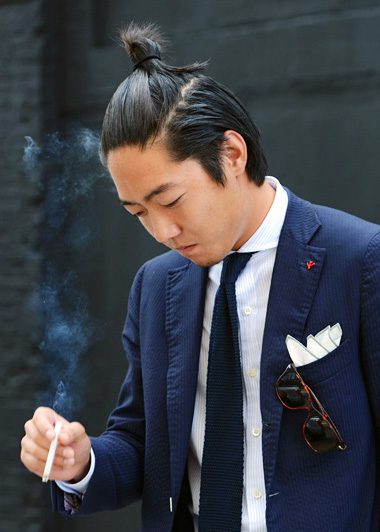 The samurai top knot
Referring to the samurai's of ancient Asian cultures, the "samurai ponytail" avoids the common practice of forming a bun with the hair in the tie or band, but instead forming a short tail.
15 / 25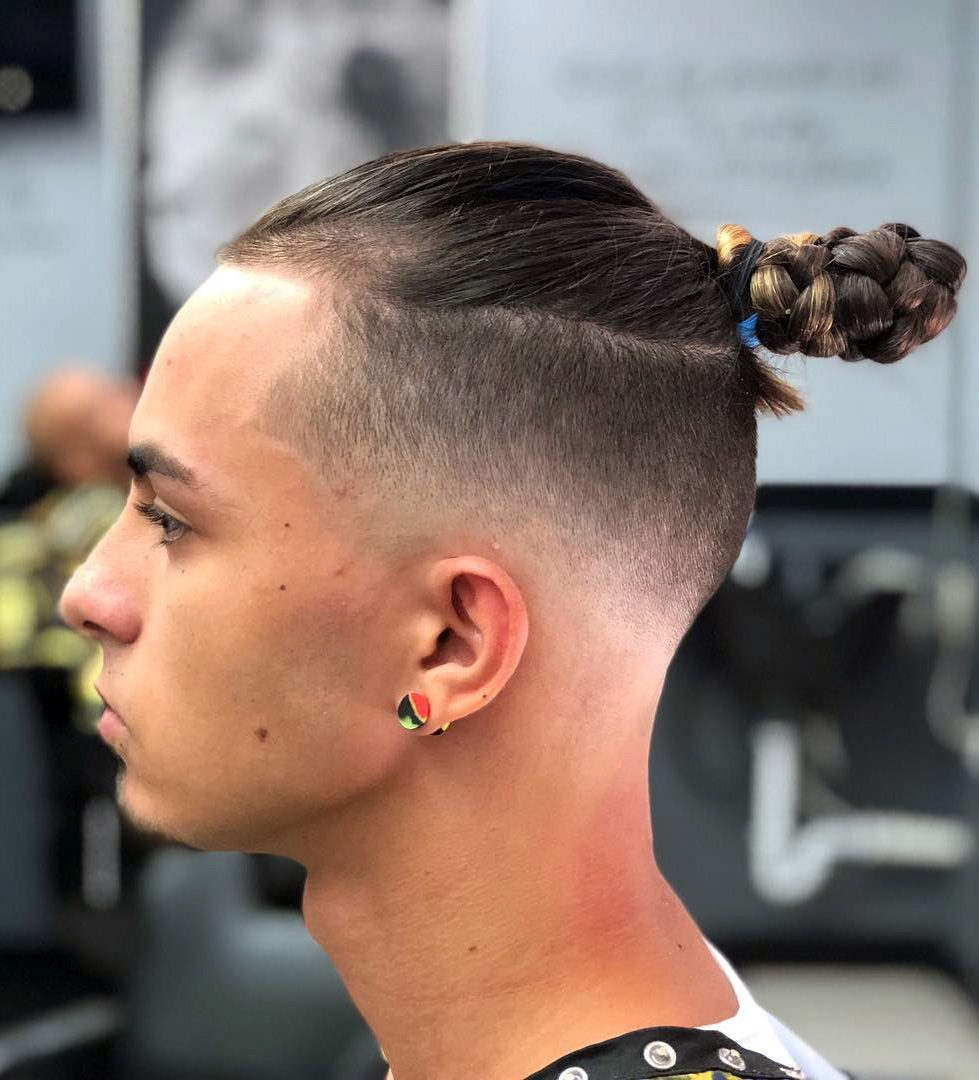 Braided Top Knot
To be fair, this hairstyle does take a little bit of skill to achieve by yourself, especially if you have got no clue how to braid hair, much less your own. 
That's not a reason to not learn, right? Who knew the next skill you might take on involves braiding hair?
16 / 25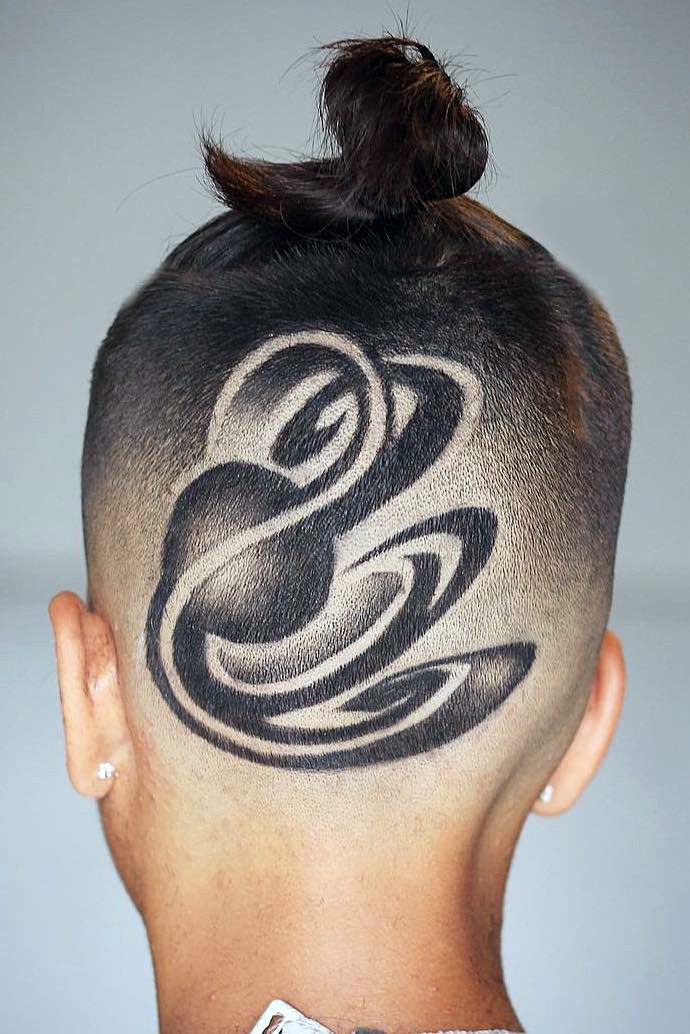 Surreal Design with Top Knot
Want something a little more catchy for the eye? Check out this awesome spacial-looking design. Use this example as inspiration the next time you're trying to mix things up a bit at the barbers. 
17 / 25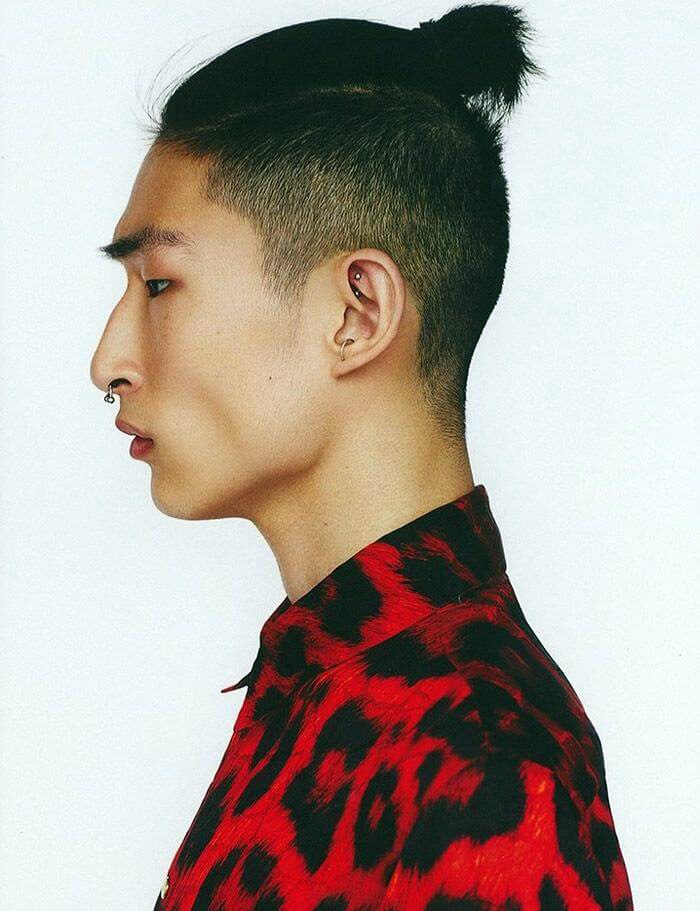 Undercut Top Knot
Classy and put together, we love the simplicity of this cut. You can always opt for a fade for added flair. 
18 / 25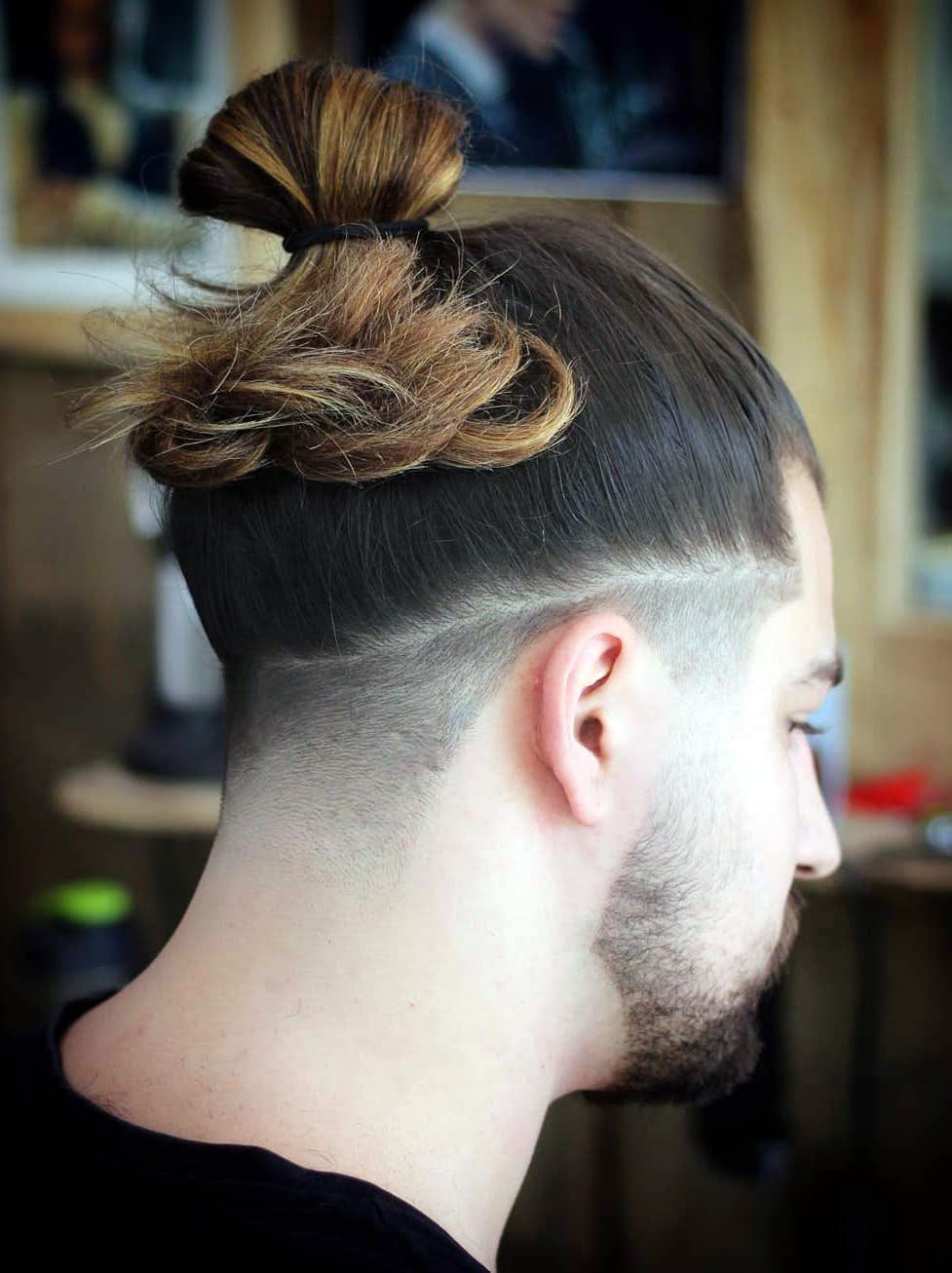 19 / 25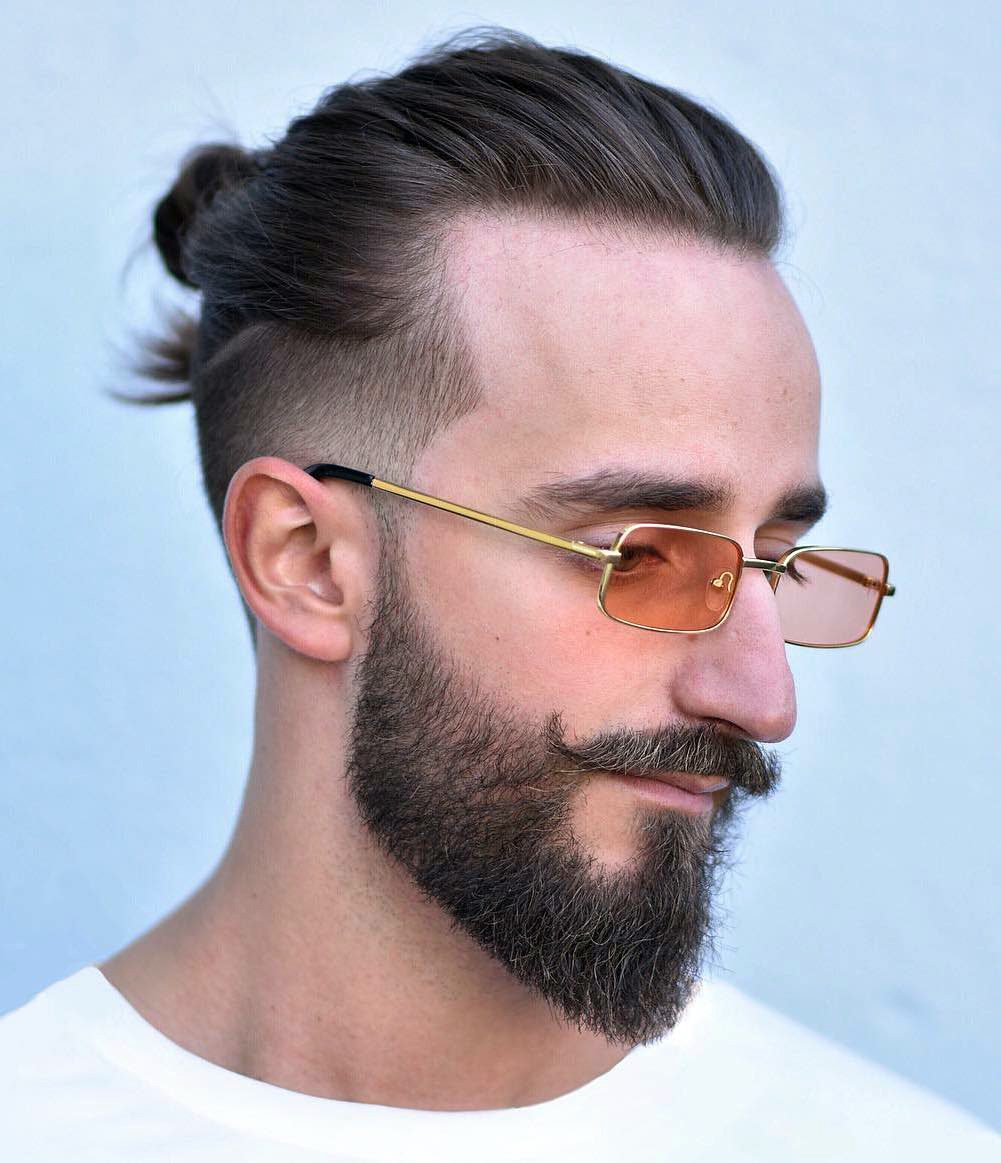 Hidden Knot with Undercut Tapered Sides
If you're looking for a top knot style that's a little more reserved than most, why not opt for a hidden knot? For this look, the hidden knot is combined with an undercut and carefully trimmed facial hair, giving a youthful, hipsterish look.
20 / 25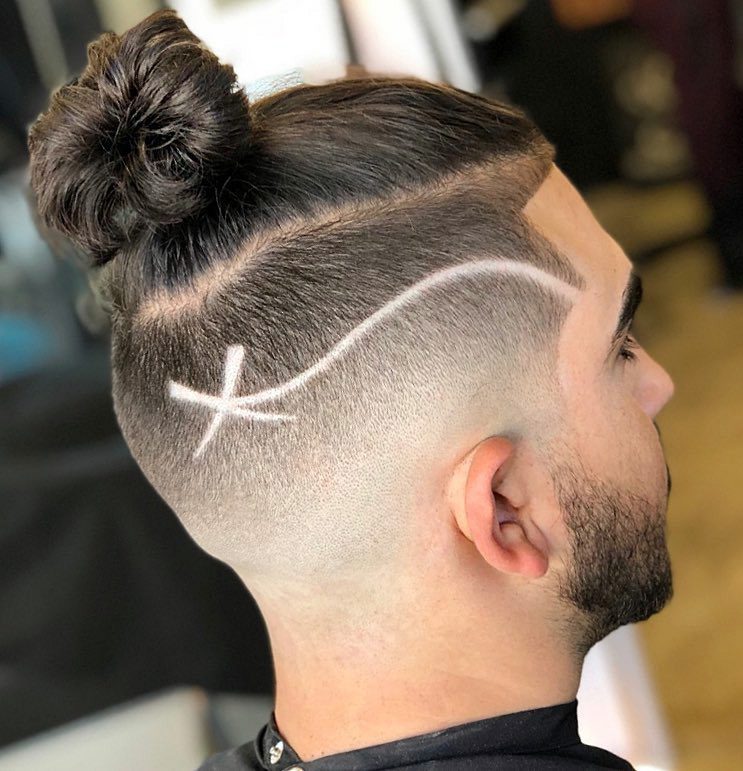 Temple Shaved Undercut
This topknot undercut uses the line we mentioned earlier, plus some cool hairline patterns, to create a style that stands out above all others!
21 / 25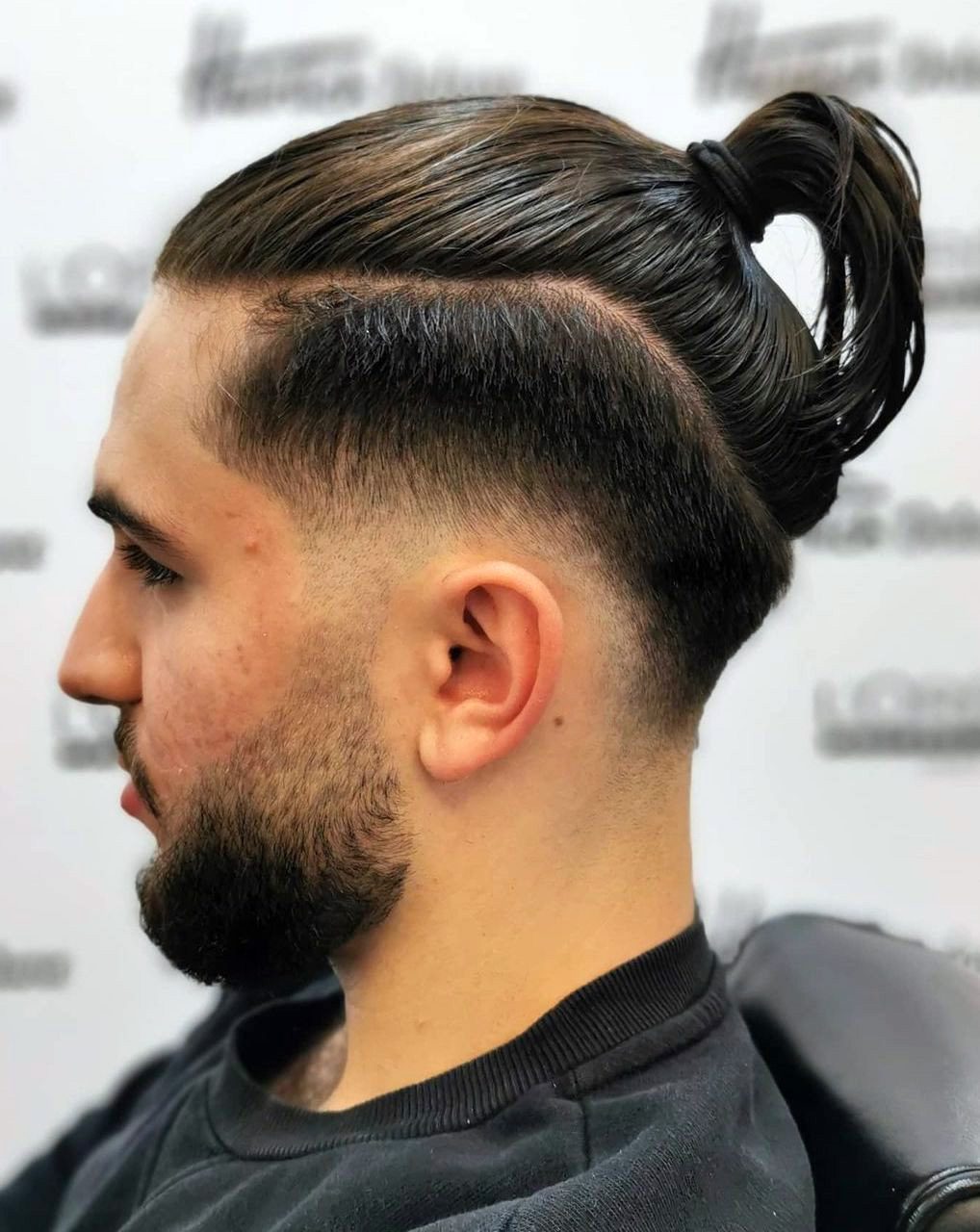 Undercut Low fade Top Knot
The hairstyle is both, dense and sleek at the same time. The top is thick and long-haired with an undercut so that the sides can be tapered and then it is low faded for that ultimate neat look with temple fade for that beard to hold the weight down.
22 / 25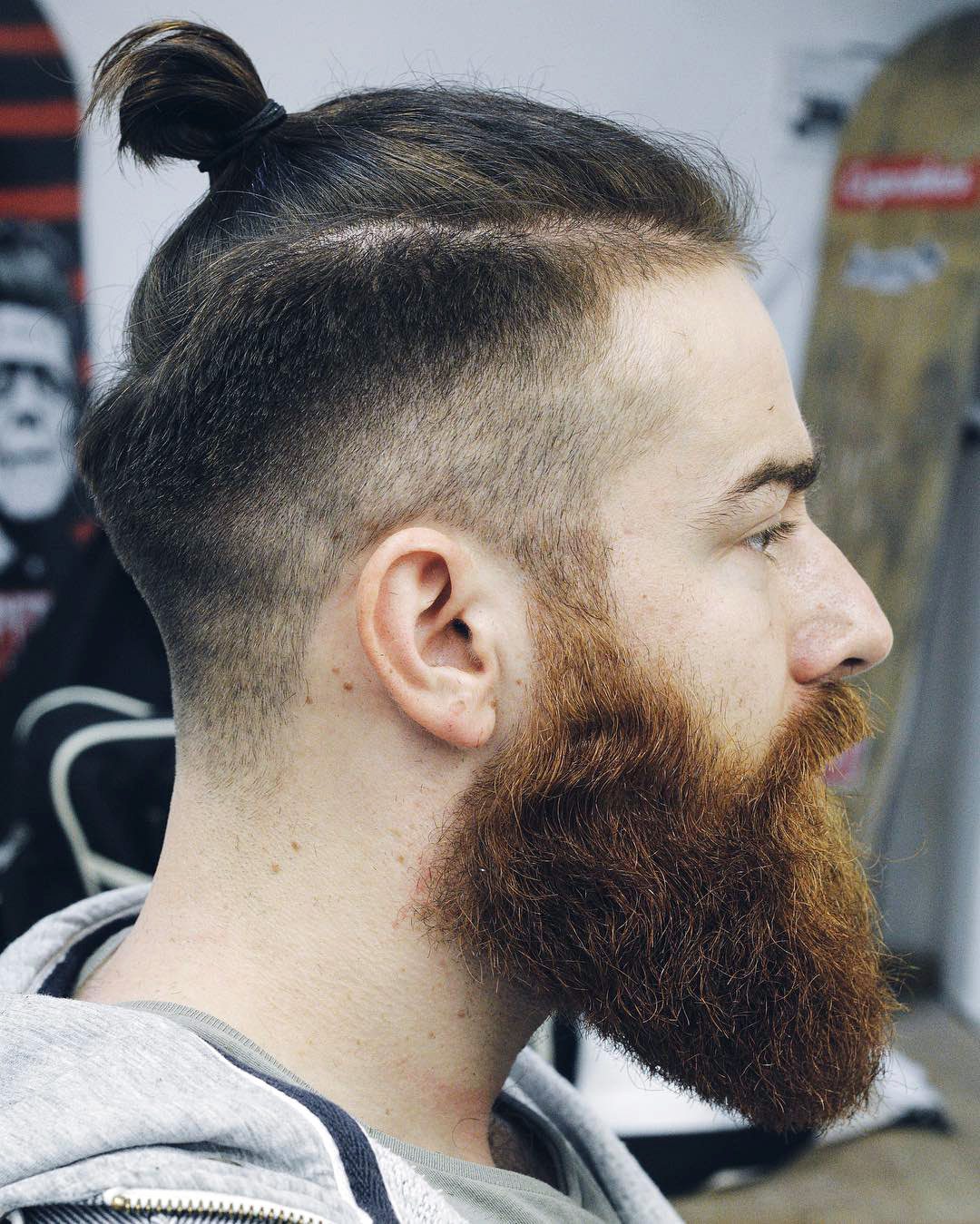 Top Knot with That Fade
Definitely love some grading play! A taper fade that starts with an inch of hair length can provide the look we see above.
23 / 25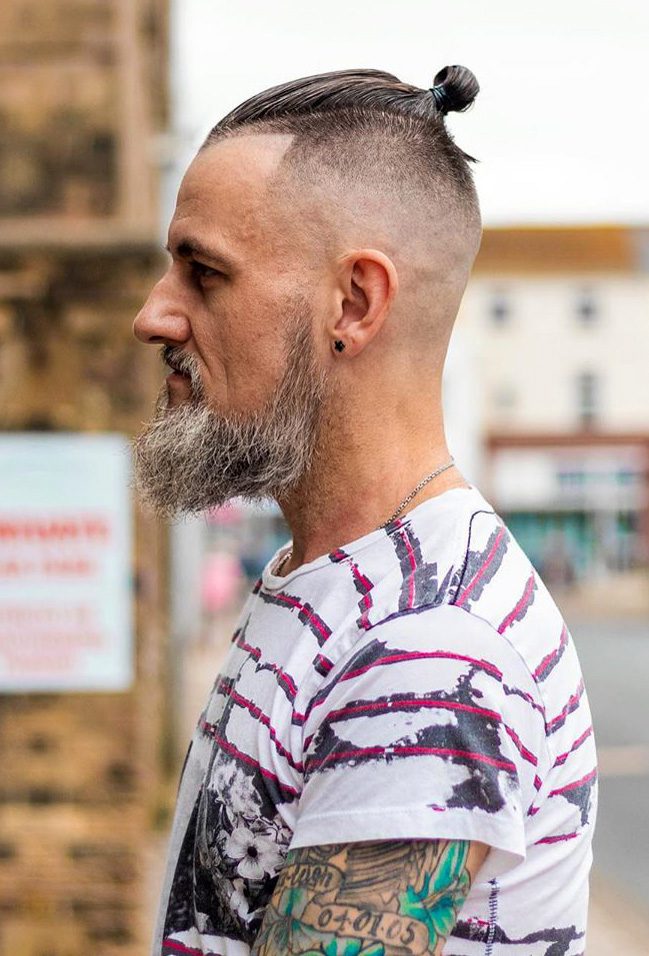 Grey Top Knot
No matter what life stage you're on, a top knot will always give your look a much cooler edge than a lot of haircuts around there. 
Add a clean-shaven high fade and your bad-ass look is complete!
24 / 25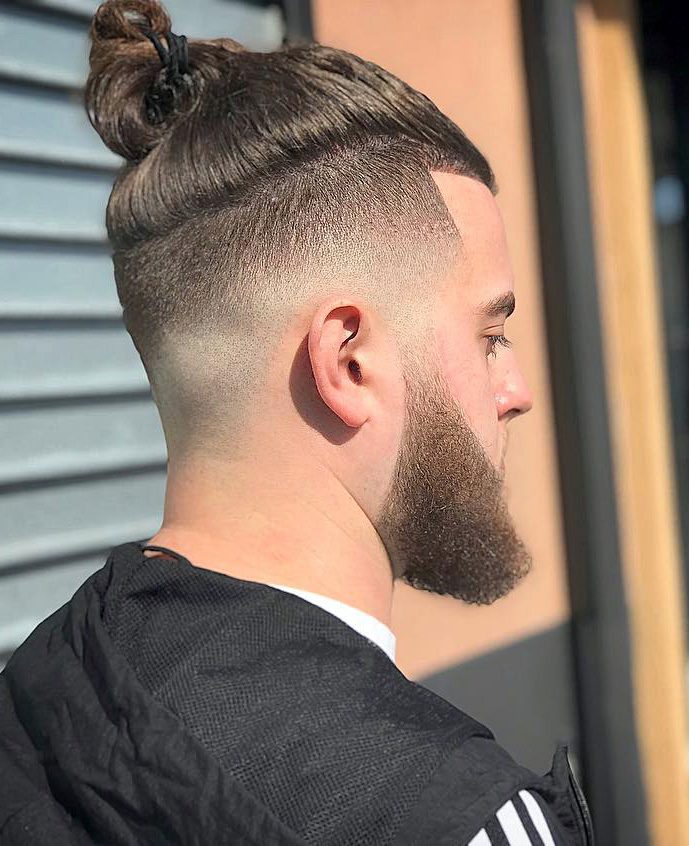 Top Knot and Medium Fade
The fade of the sideburns blending into the beard and how shiny and healthy their hair look is totally a plus on our look!
25 / 25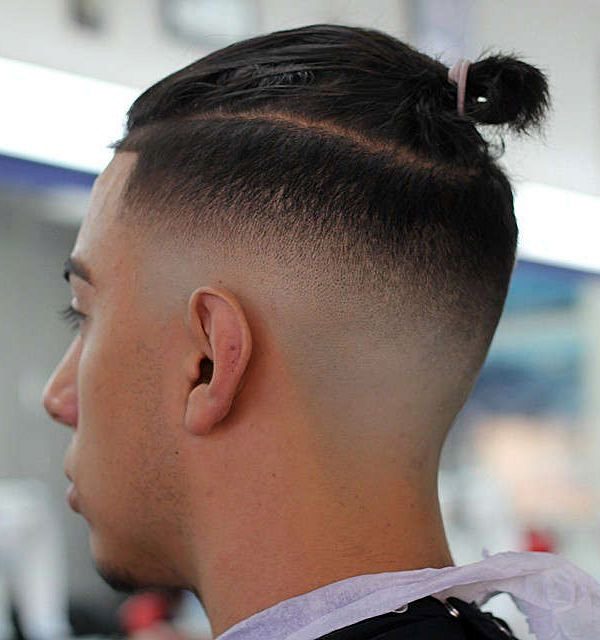 Top knot undercut fade
A slightly faded undercut paired with a top knot.