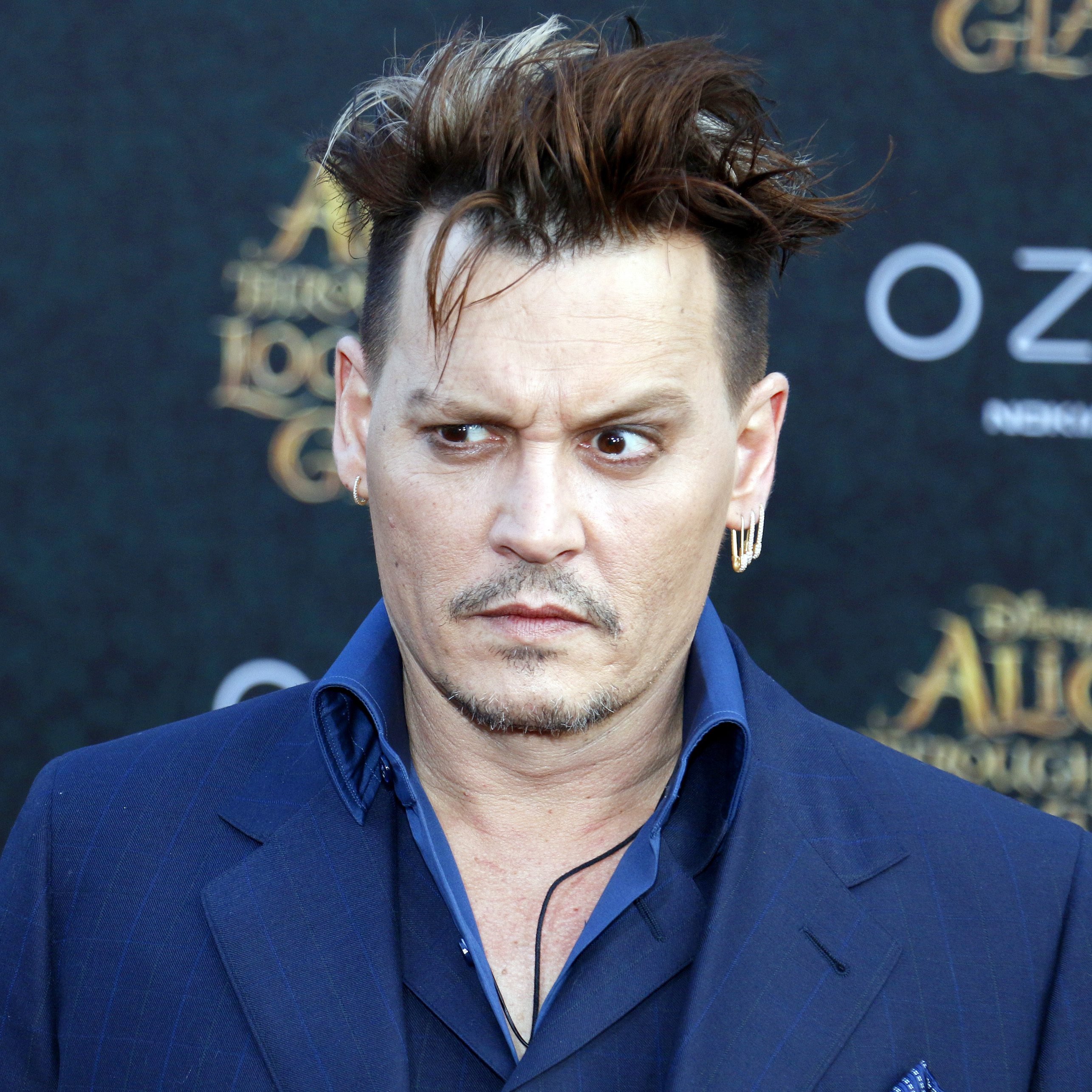 20 Edgy Men's Haircuts You Need To Know
Bad boy look you might be looking for.
The once "rockstar exclusive" is now an all-time high, and it is an amazing way to give your hair that bad boy look you might be looking for.
What defines edgy men's haircuts are their experimental tendencies, being tussles, undercuts, mohawks, bright colors or even bleaching, you name it. As long as it is innovative, the sky is the limit.
Among the advantages of choosing the edgy style, is the fact that it has enough shapes to go nicely with any face type. Either square, round or oval, you can easily get a fresh edgy men's haircut after a 5-minute talk with your hair stylist.
We prepared an especial selection of edgy men's haircuts examples that you can use as inspiration for your own exclusive cut. Check it out.
1 / 29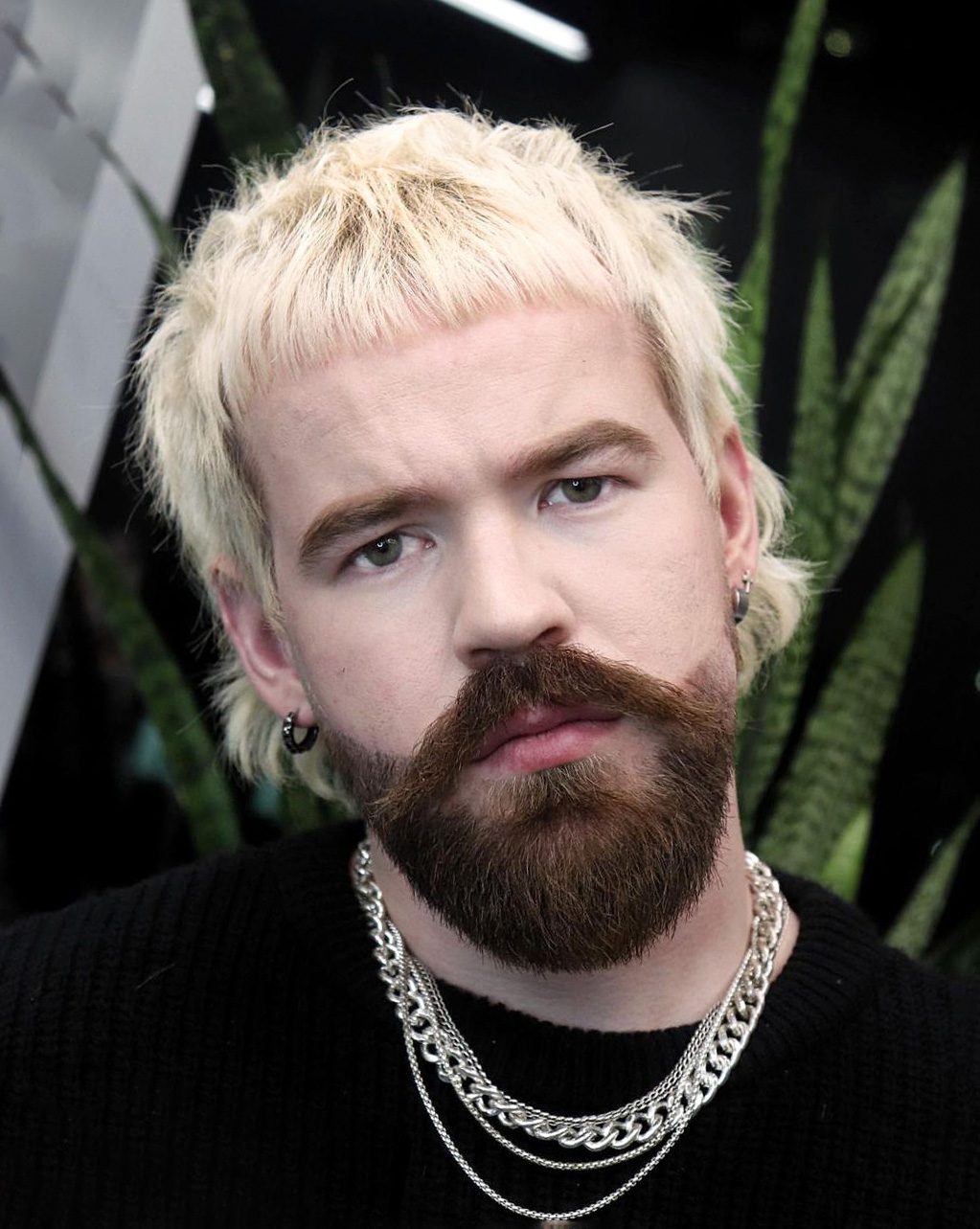 Funky Blonde Straight Fringe
This is a cool style to try out for someone with short blonde hair. Pair it with a straight fringe for more definition. A little accessorizing here and there makes you look cooler for that outing.
2 / 29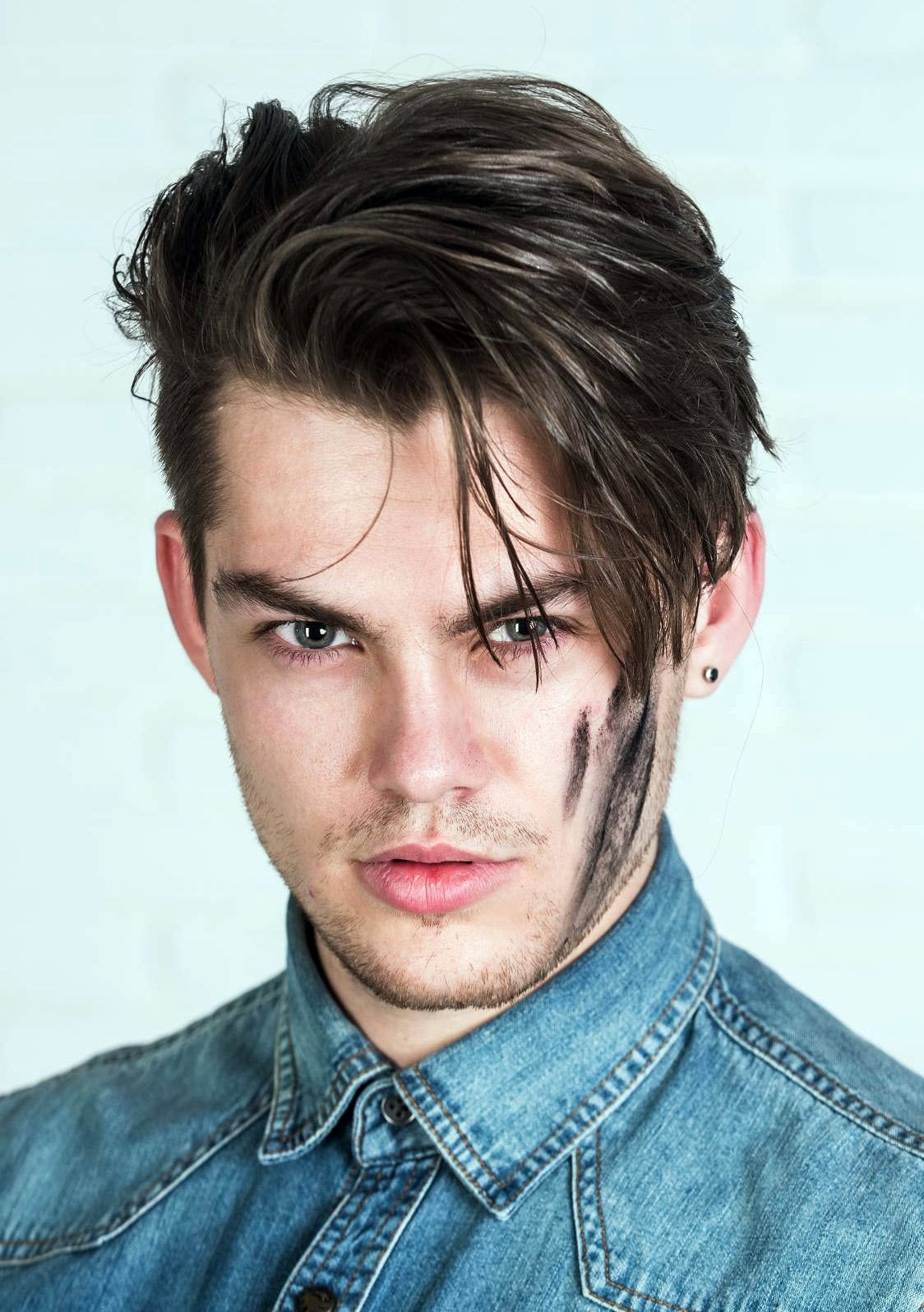 Side Swept
Long, side-swept haircuts are an excellent choice if you want something that's edgy, but not necessarily weird. Done right, this can be an extremely attractive style.
3 / 29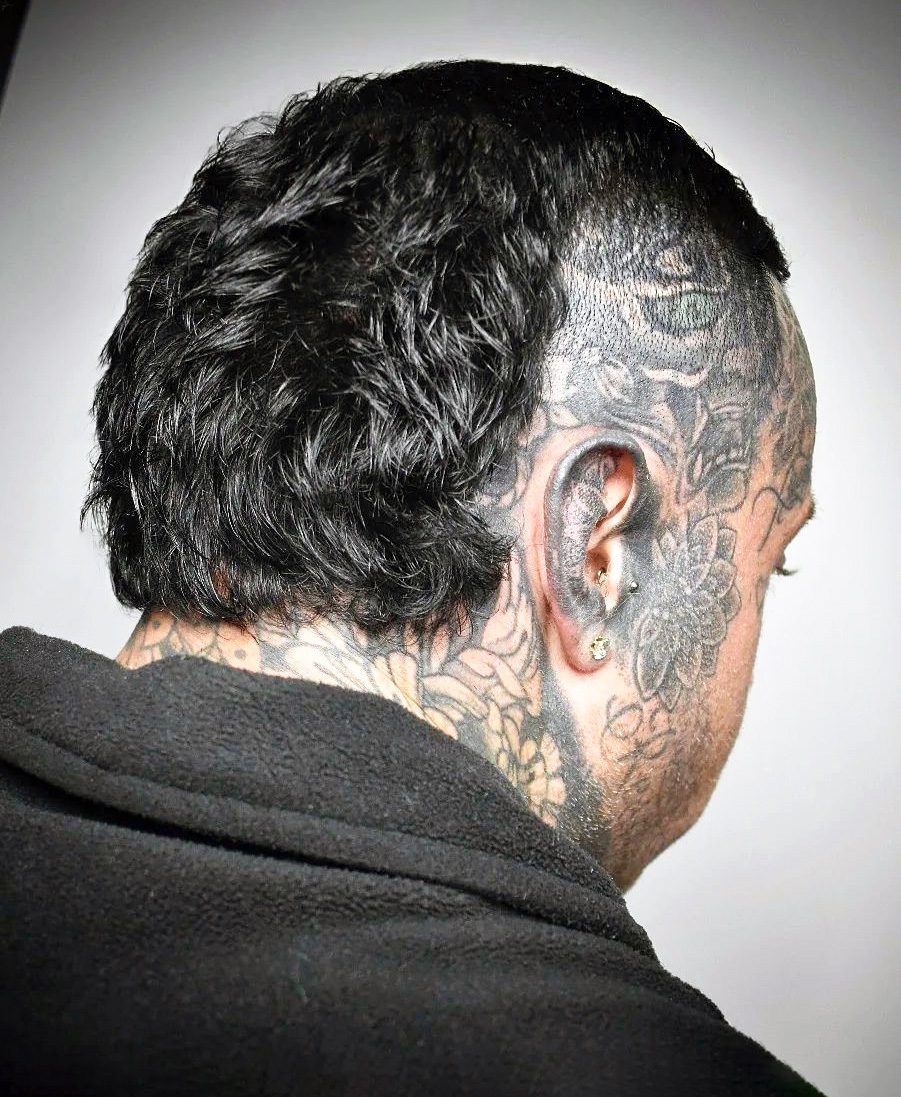 Skin Faded Skullet
Dare to bring out your fashion-brave side with this faded skullet. While it has longer hair in the back, it has short stubble on the top that blends with the skin on the sides.
4 / 29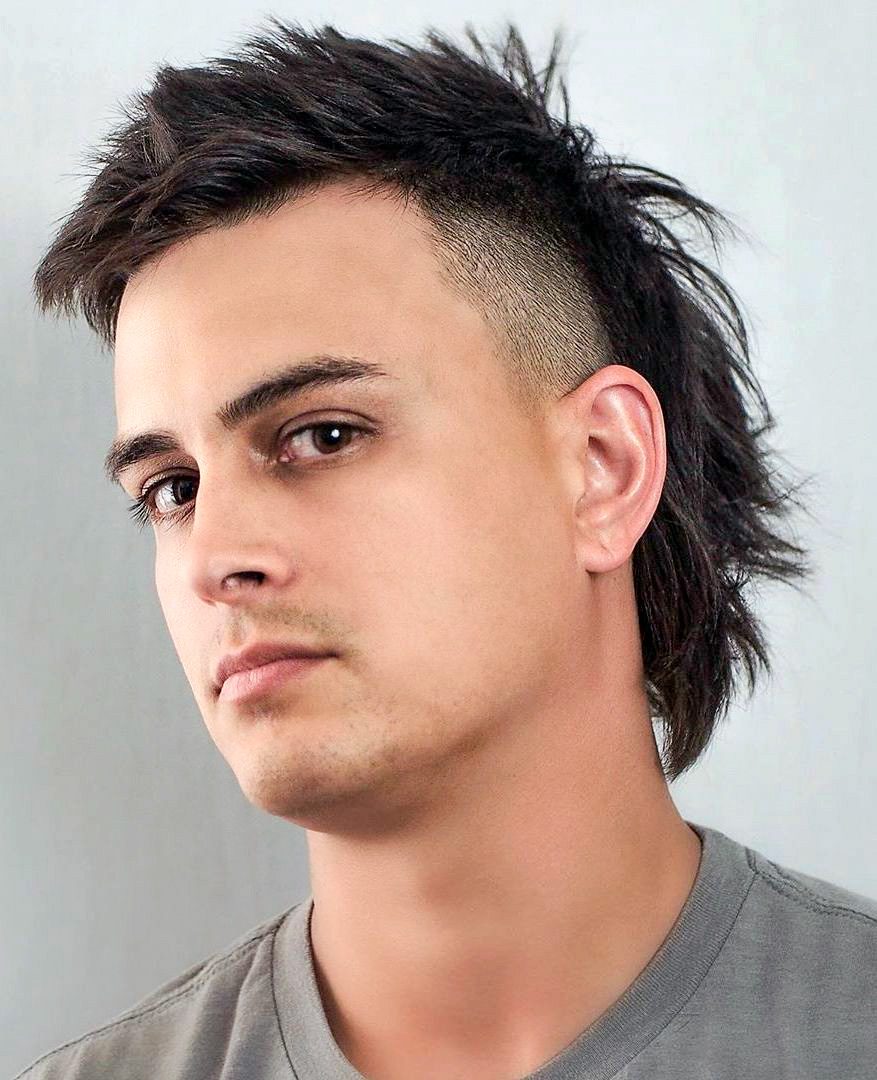 Mullet
An ideal haircut that is perfect for when you want a style change. This hair on top is spiked up and dragged down to create that classy mohawk appearance.
5 / 29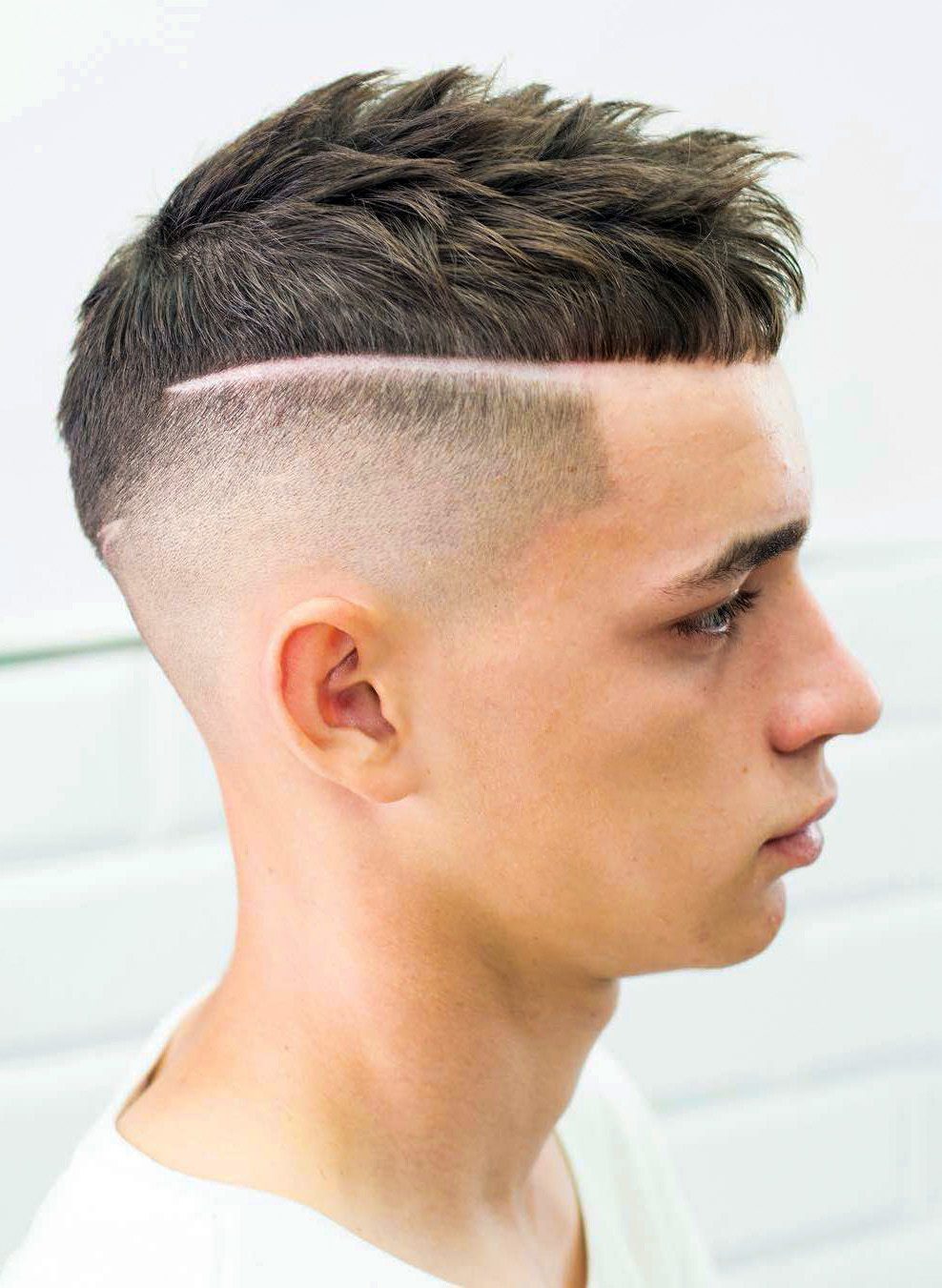 Medium Disconnected Crop
Want to appear younger? Try out this French crop with the hairs on top spiking forward. Take it a step further by creating a disconnected undercut that fades into your skin. 
6 / 29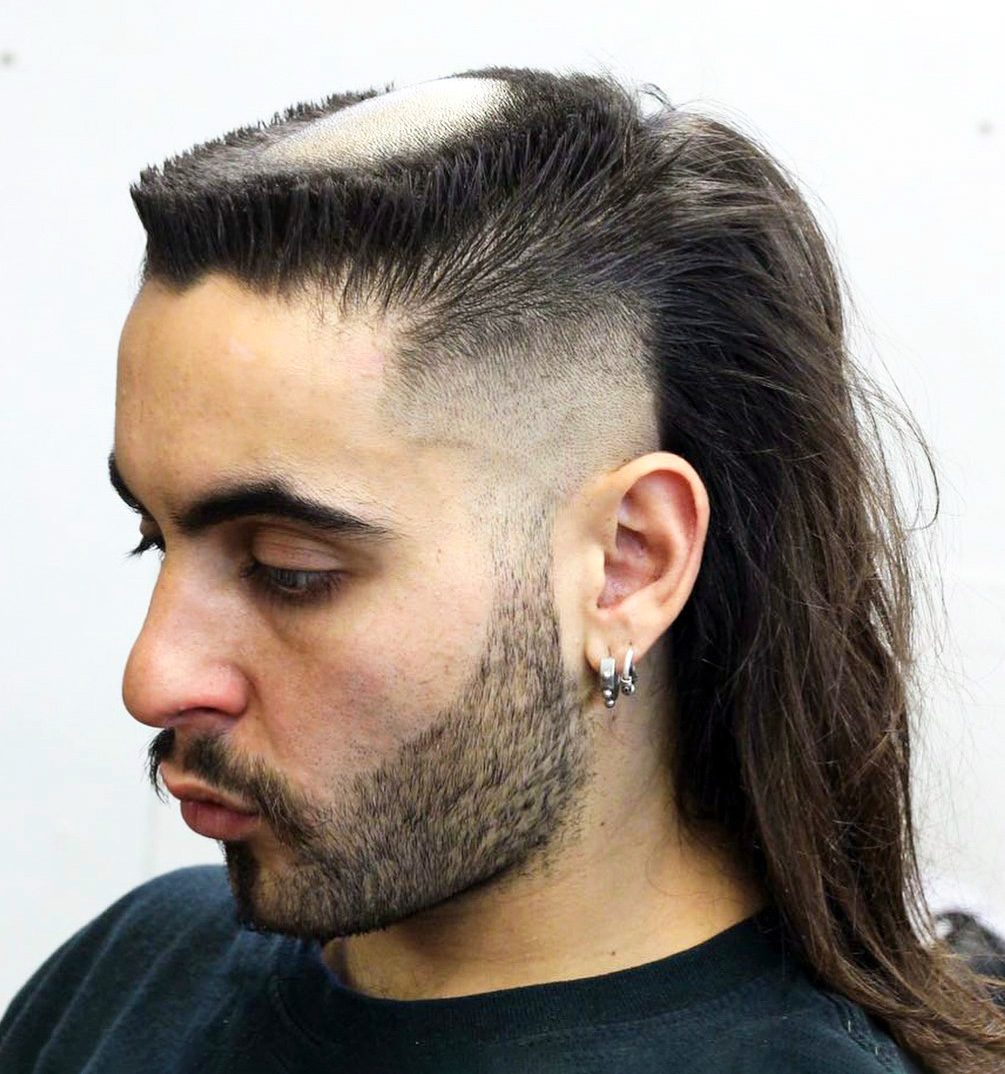 Skullet
You're sure to get a lot of attention with this daring skullet haircut. The hair on top is shorter, with the middle shaved off, while the hair at the back is longer. Sides are faded to keep the focus on top.
7 / 29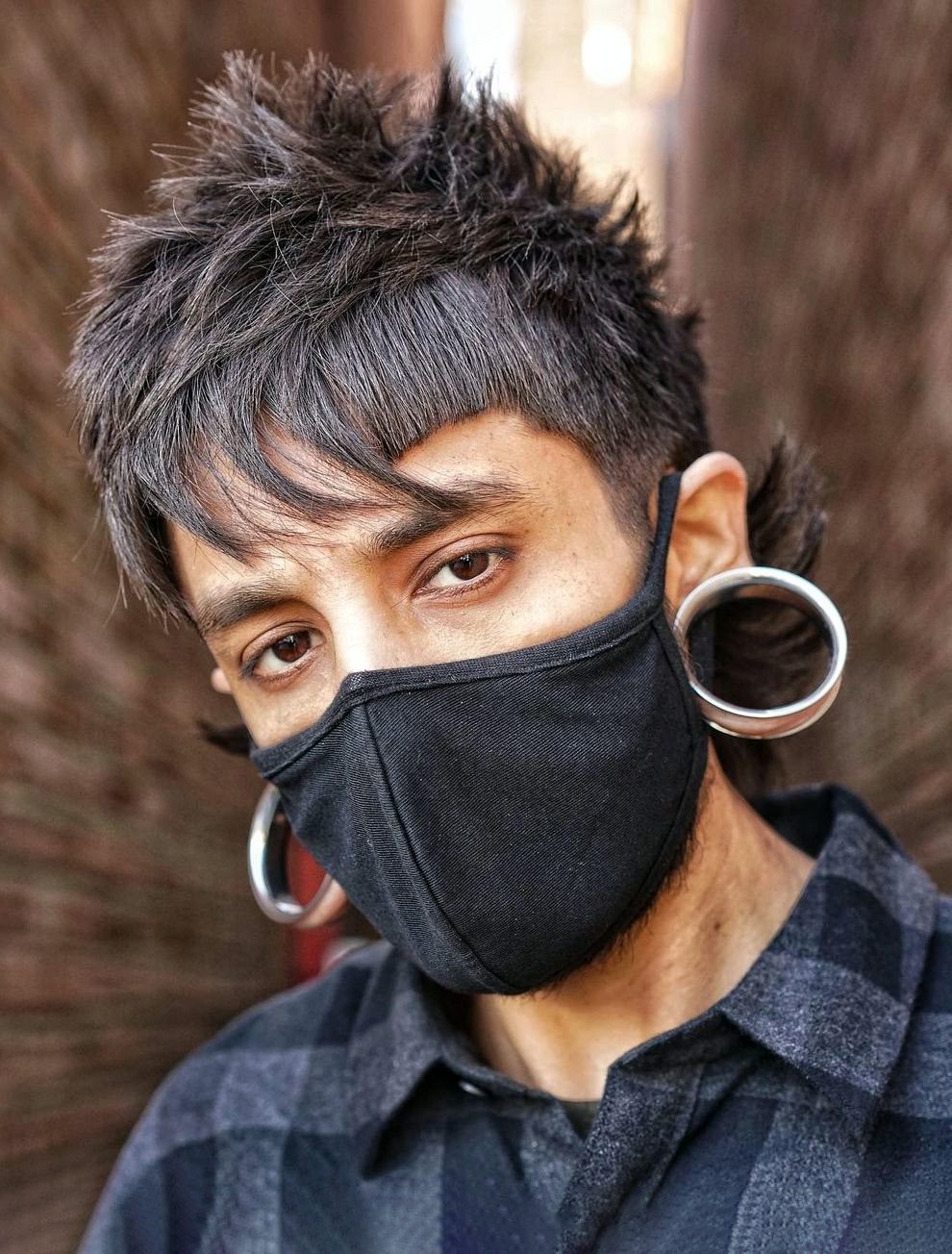 No One Said Not to be Hippie
Where do we start? The French crop that is massively fringed or the top that is long yet massively tossed but still regains brush-up vibes? Certainly, this is a big bowl of panache, especially with sides being tapered and not faded to keep that long hair strand look even!
8 / 29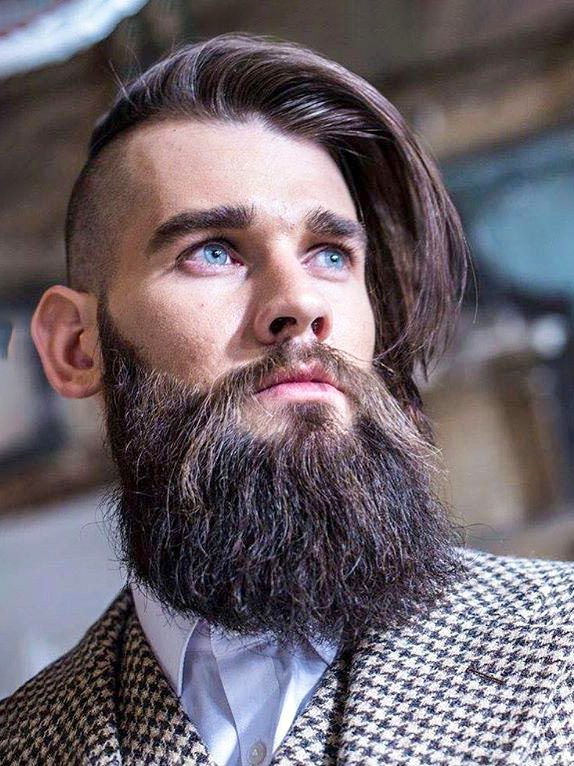 Side Swept Undercut
This style is yet another long, side-swept mop. However, it's cut ultra-short on the sides for an undercut-like flare, and also features unusually long and thick facial hair.
9 / 29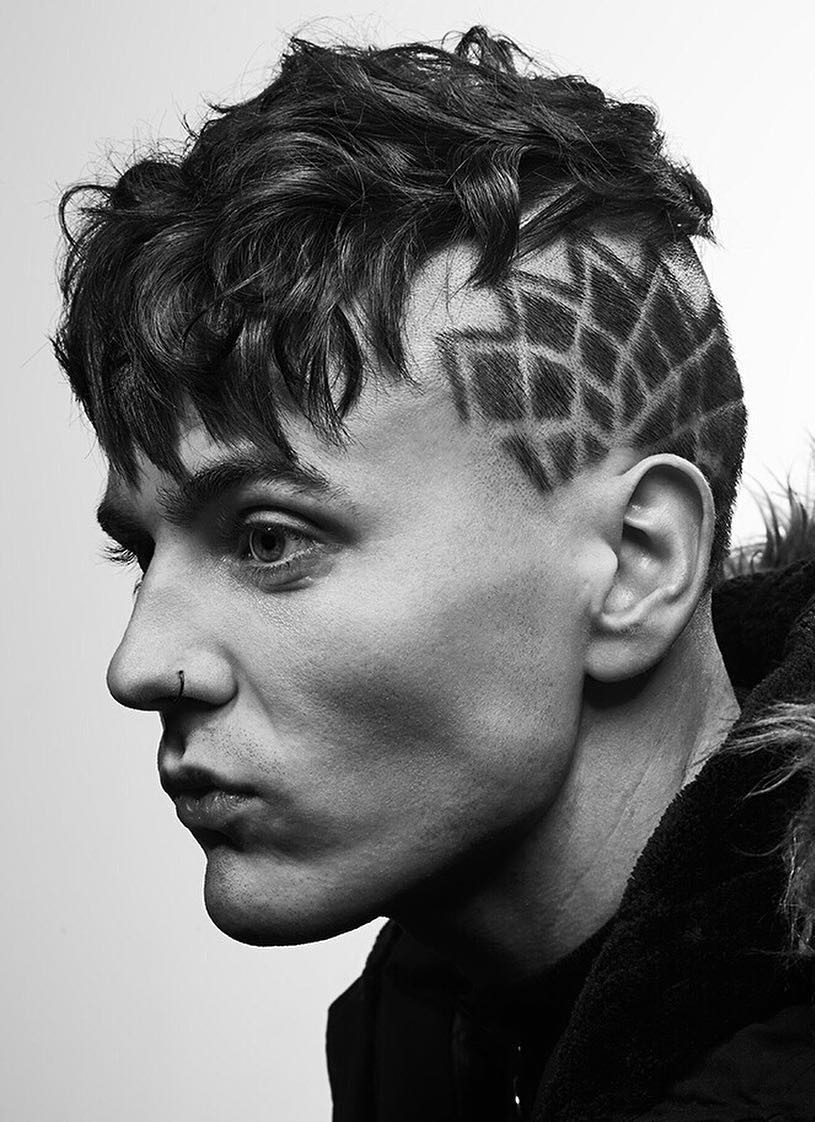 Wavy Textured Fringe
Need something especially edgy? Why not try a faux-hawk, combining a textured fringe on top with some wild hairline designs on the side.
10 / 29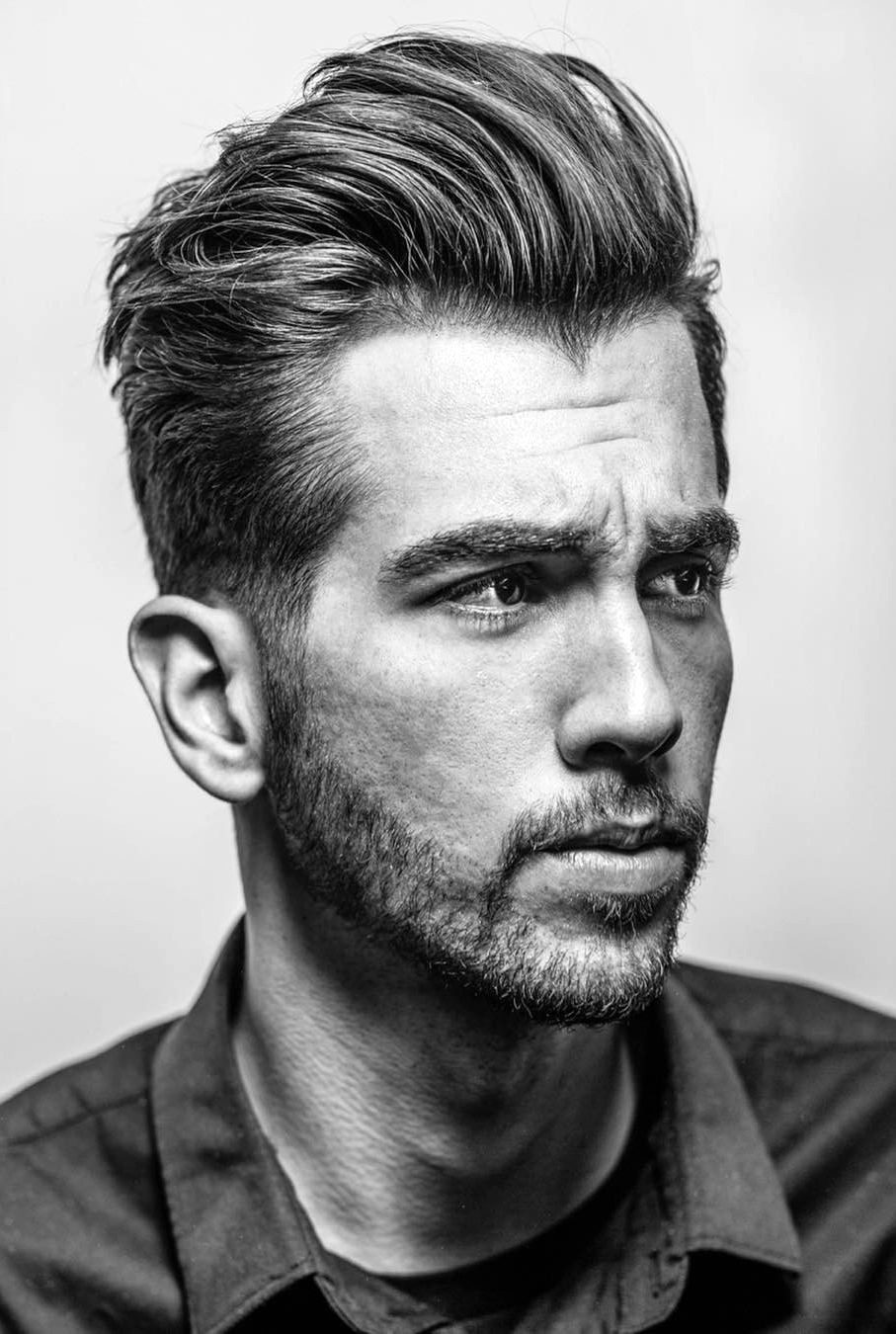 High Volume Top with Widow's Peak
It definitely isn't the look for everyone, but a high-volume, blowout-like style like this one is sure to stand out. It's also not too wild, so it still works for serious, day-to-day life.
11 / 29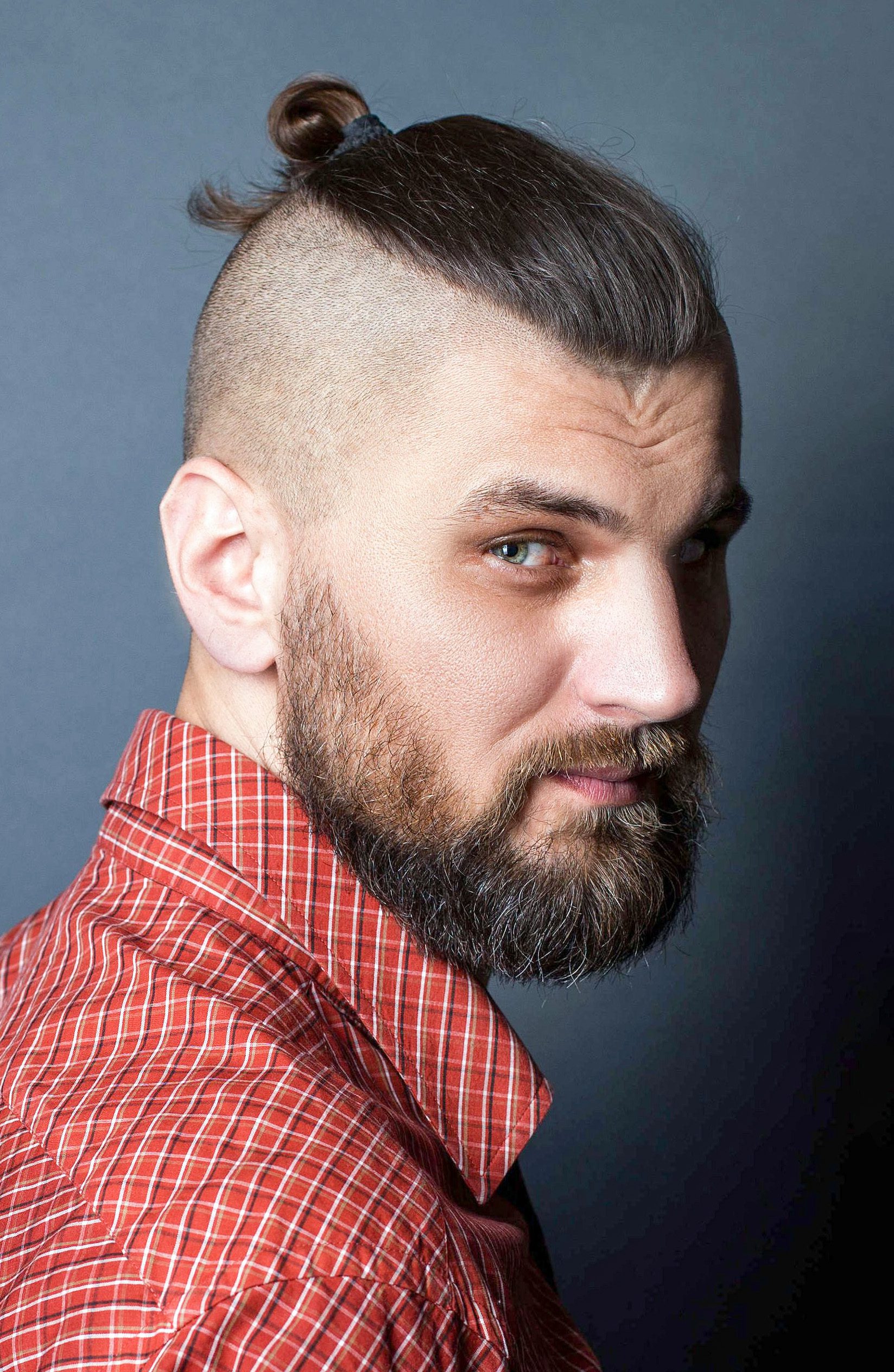 Top Knot
This edgy look has a few components: a close shave on the sides, long hair on top, and a bun at the back. If that wasn't enough, there's also some facial hair thrown in!
12 / 29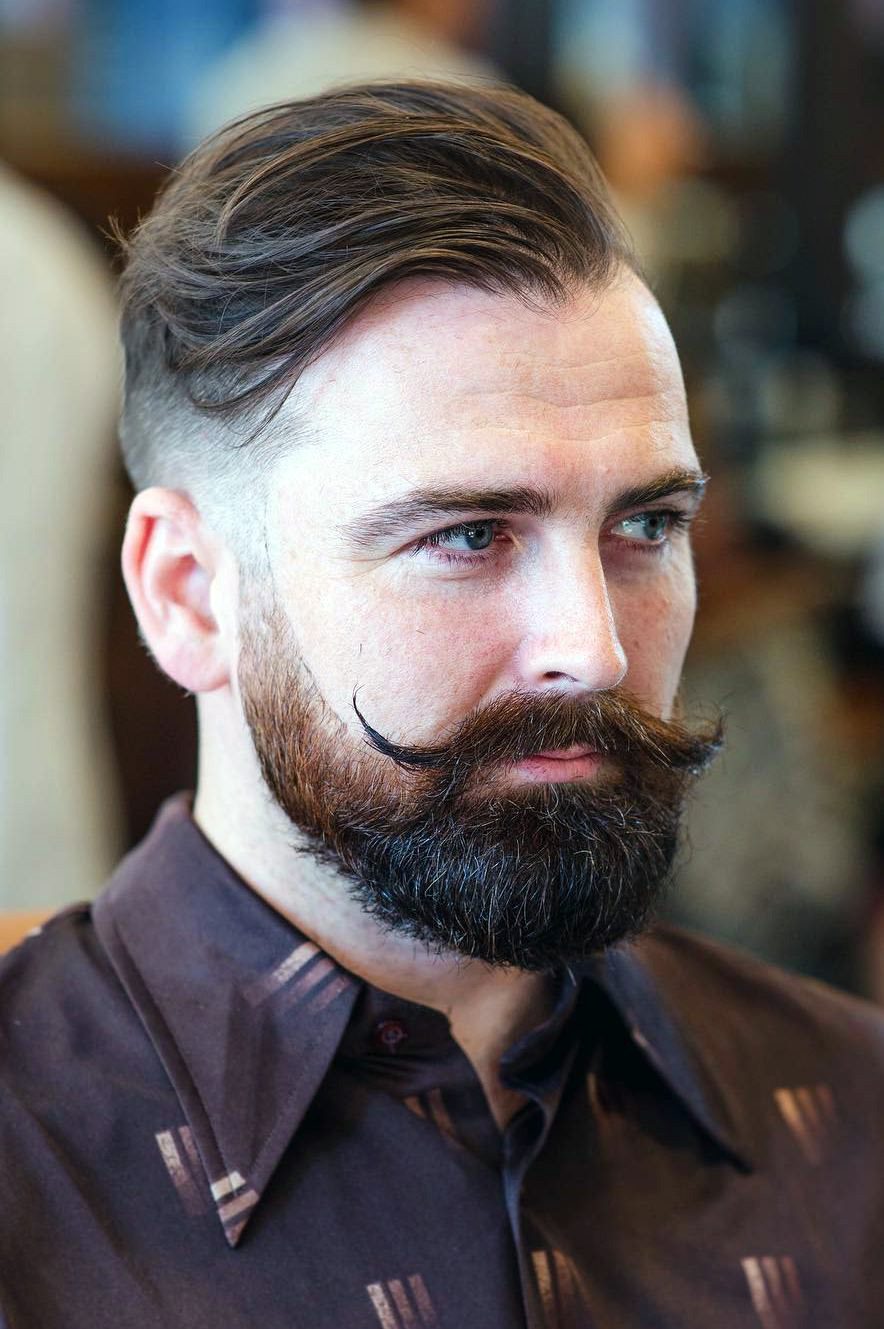 Tough Long Top with Moustache
Here's another hairstyle with that edgy, hipster-ish feel. It's a medium-length, side-swept haircut with short sides and some old-fashioned facial hair.
13 / 29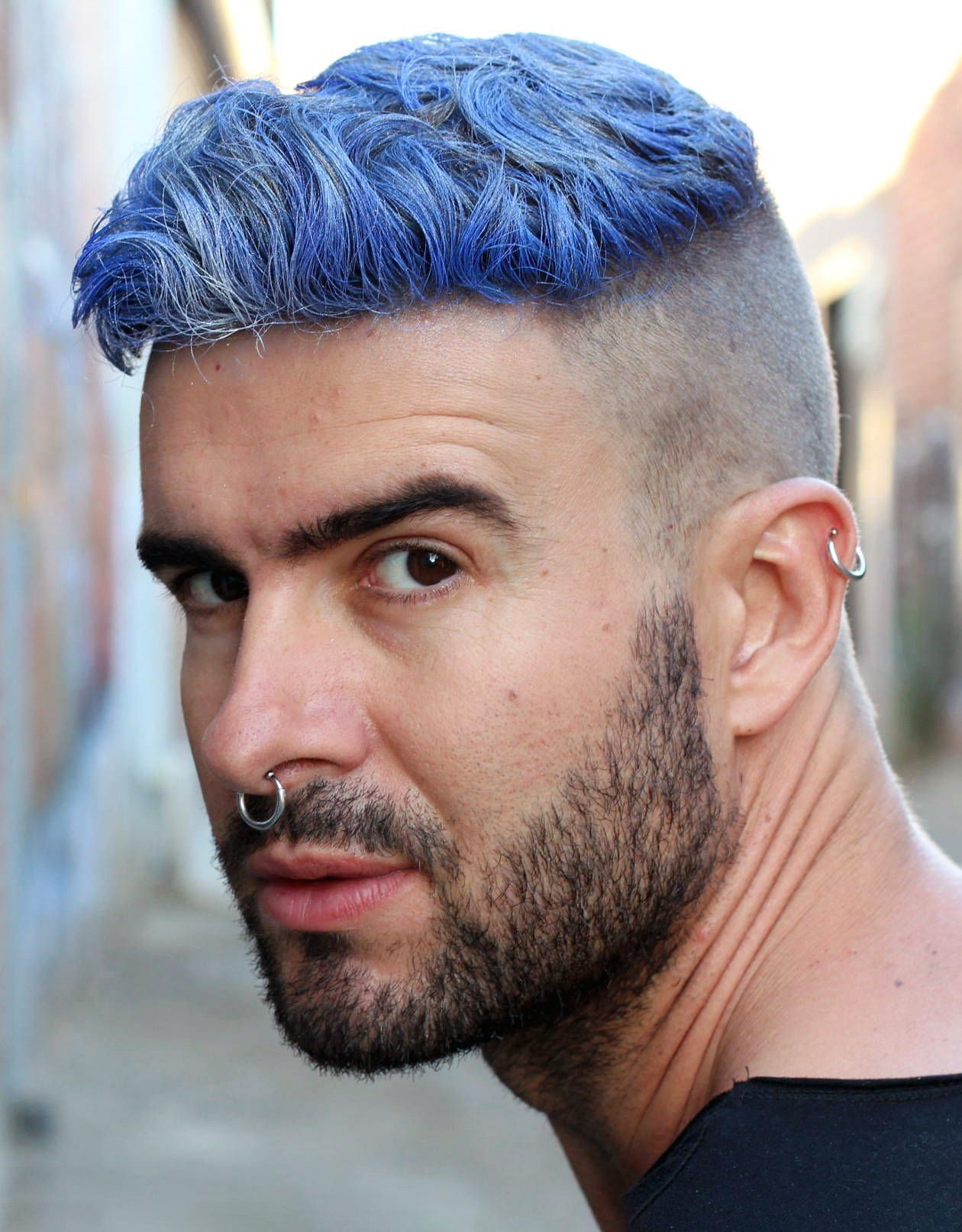 Disconnected Dyed Undercut
The sides are this hair cut are completely shaved, while the top is kept much longer. This disconnect between the top and sides of the hair creates shape to the style and allows the eye to be drawn directly to the top. The fashion blue color is a stylistic choice that adds more of an edge to the overall style.
14 / 29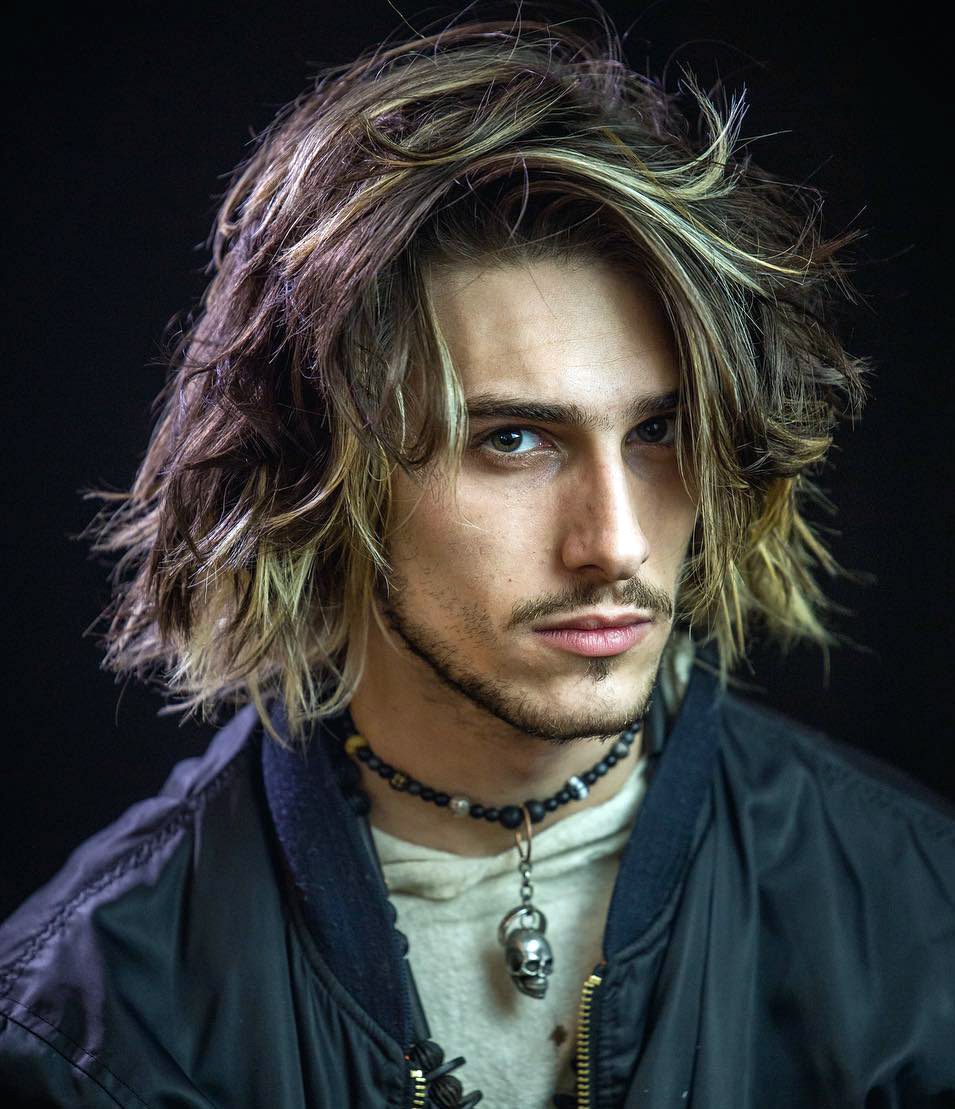 Medium Shaggy
The secret here is to keep it messy! Anyone can pull this one off as long as you have a strong jawline, people with a rounder face may need to grow some facial hair first, otherwise you might end up looking like a balloon.
Known as the rockstar's favorite, the shaggy and messy combination is not only super easy to maintain, but it also makes you look way cooler instantly.
15 / 29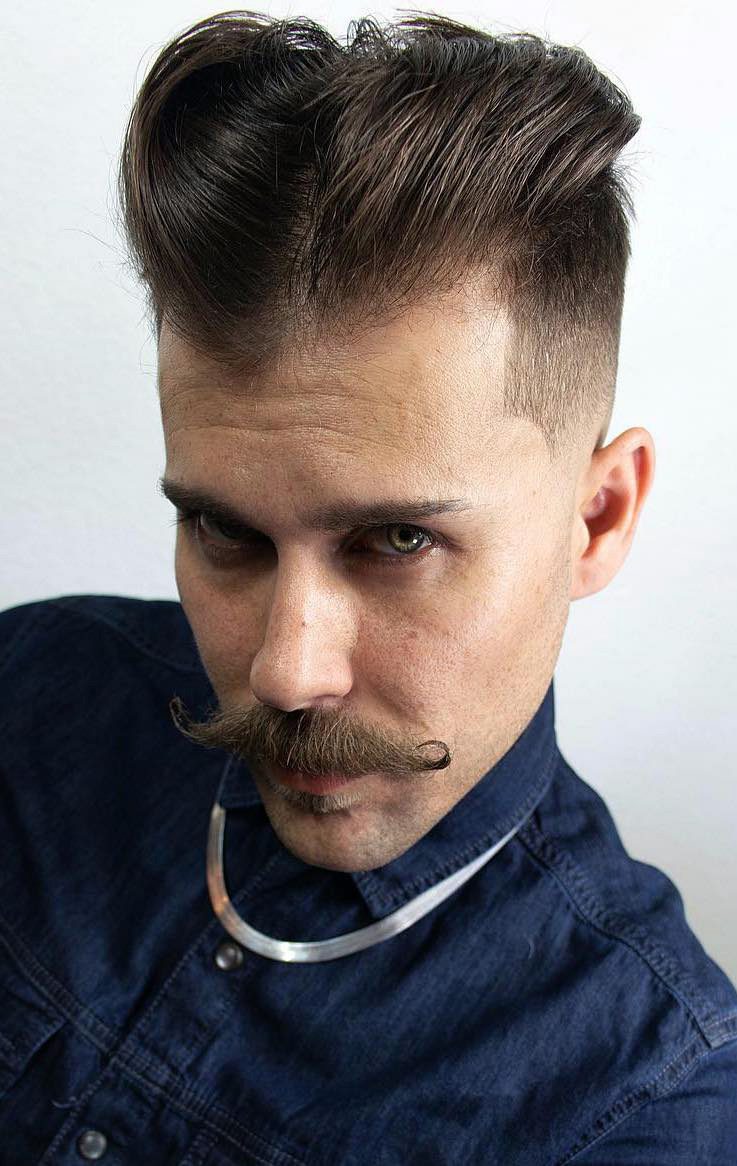 Undercut Winged Mid-Part
Here's a really unique style: take the solid base that is an undercut, and add a partition down the middle. This old-fashioned look works great for an edgy, hipsterish feel when combined with facial hair.
16 / 29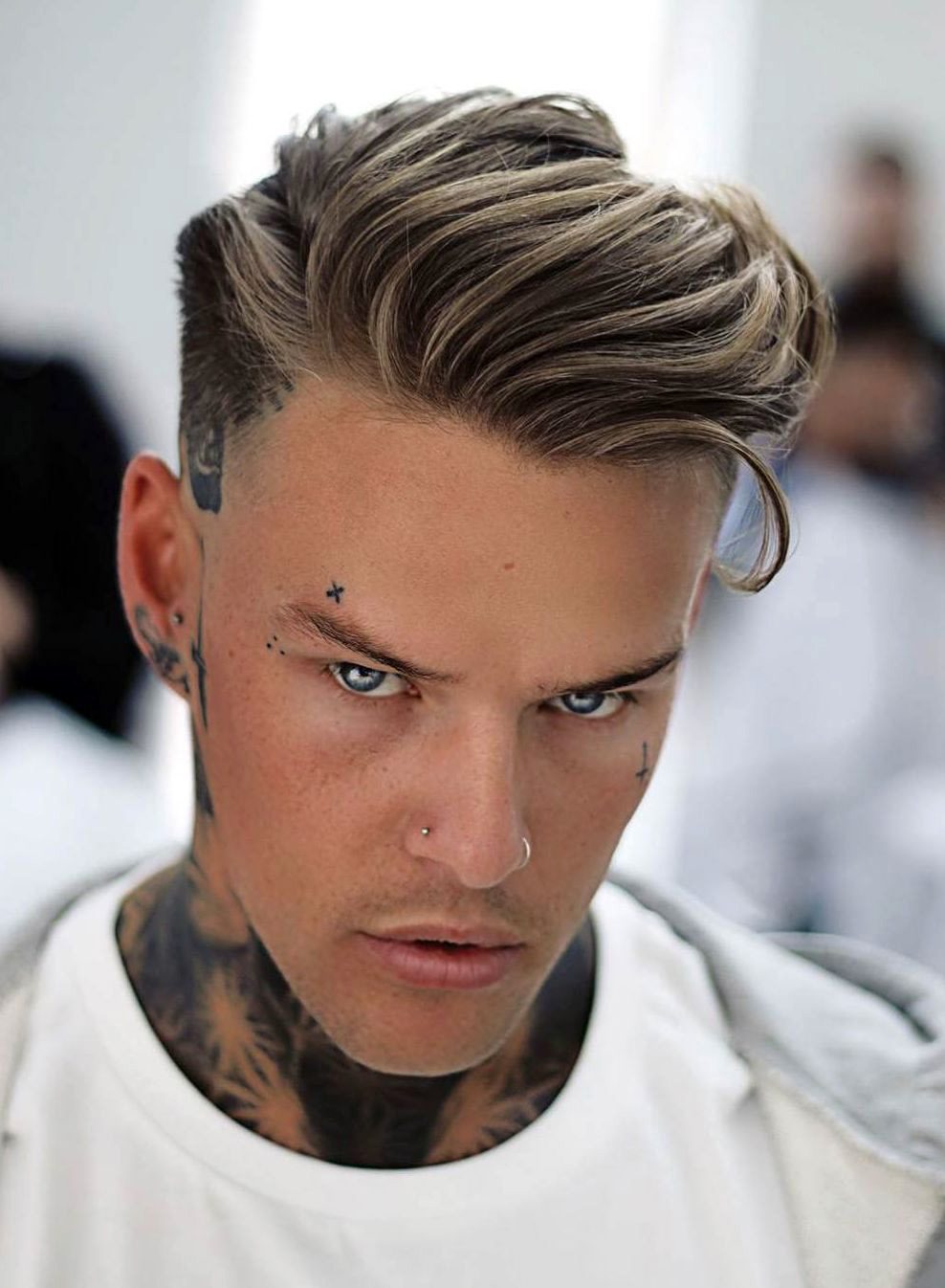 Dashing Strands with High Volume
Powerful undercuts are nothing out of the ordinary nowadays. With that said, this high-contrast undercut is coupled with an angular part, strands at the front, and plenty of tattoos. Edgy? Yes.
17 / 29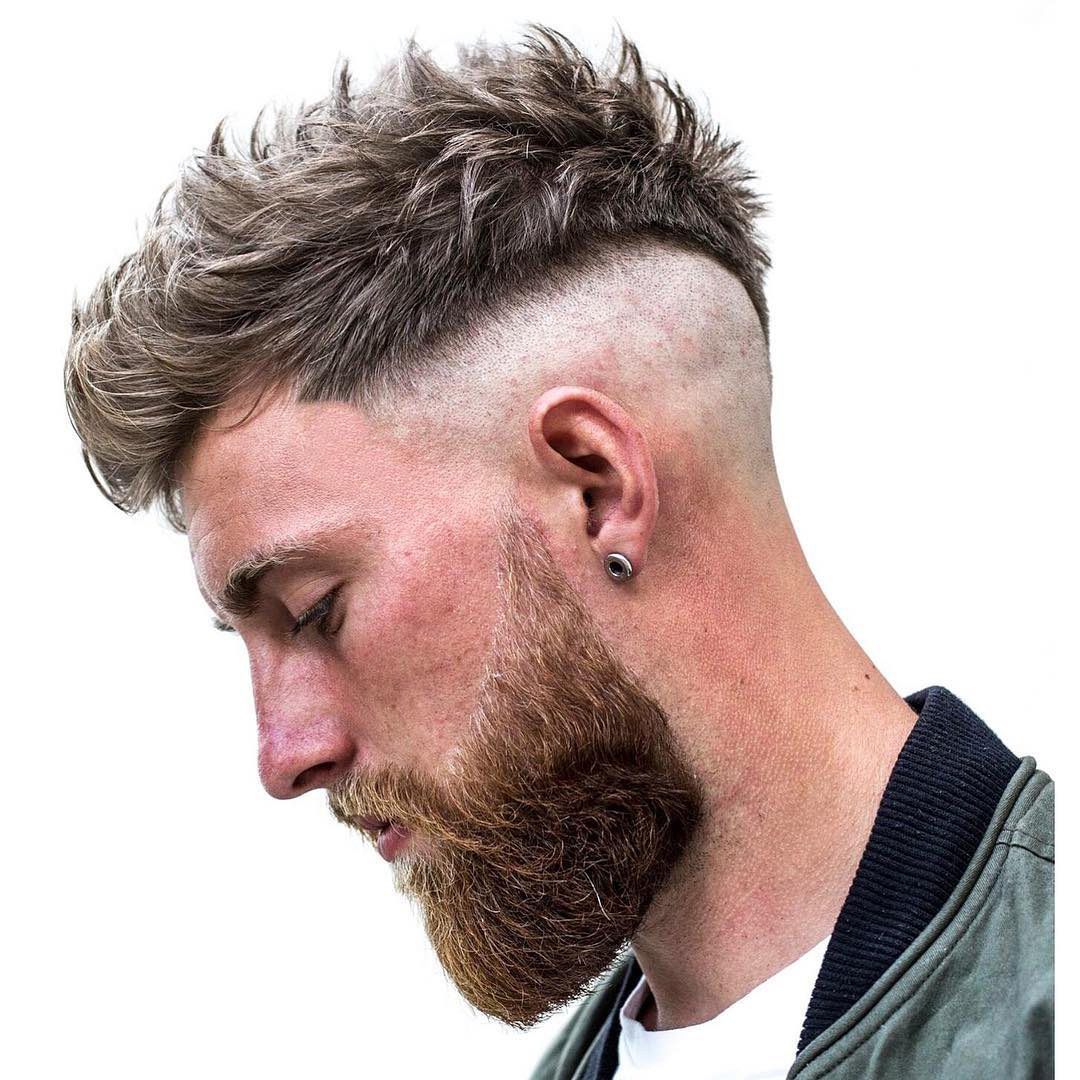 Faux Hawk
The Faux Hawk has been around for a long time, but recently gained a lot of space because of its wild and funky style. Recommended especially for those with round faces, the faux gives your head more shape and definition, contrasting with the roundness of your head, helping to avoid the "baby face" stigma.
18 / 29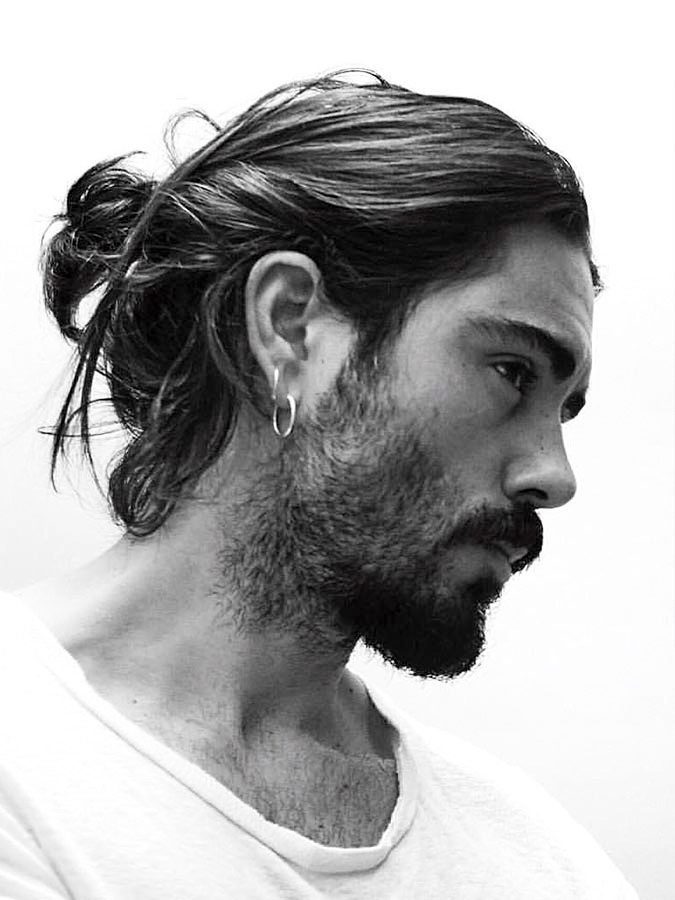 Men Ponytail
Only for people with blessed genes. If you have a healthy thick hair, a simple low pony will work in your look as a cool accessory. It's easy to do, low maintenance, and looks really good.
Before choosing a haircut, we recommend you to always ask your hairdresser for his opinion since he probably knows what will suit better your face shape and hair type.
19 / 29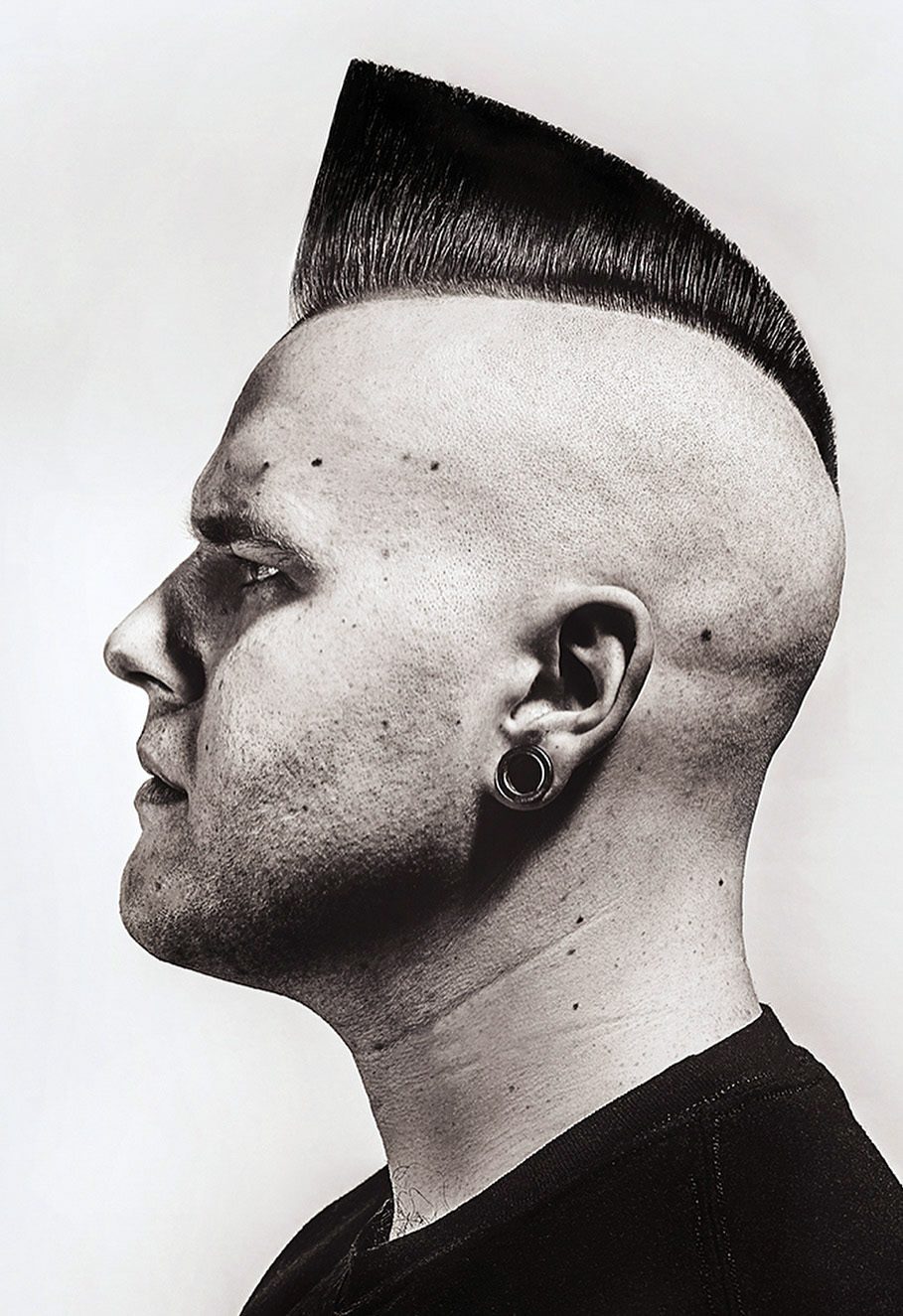 Psychobilly Mohawk
A mohawk, any way you cut it, is an extremely edgy 'do — but have you seen the psychobilly mohawk? Let's just say it will make your jaws drop.
20 / 29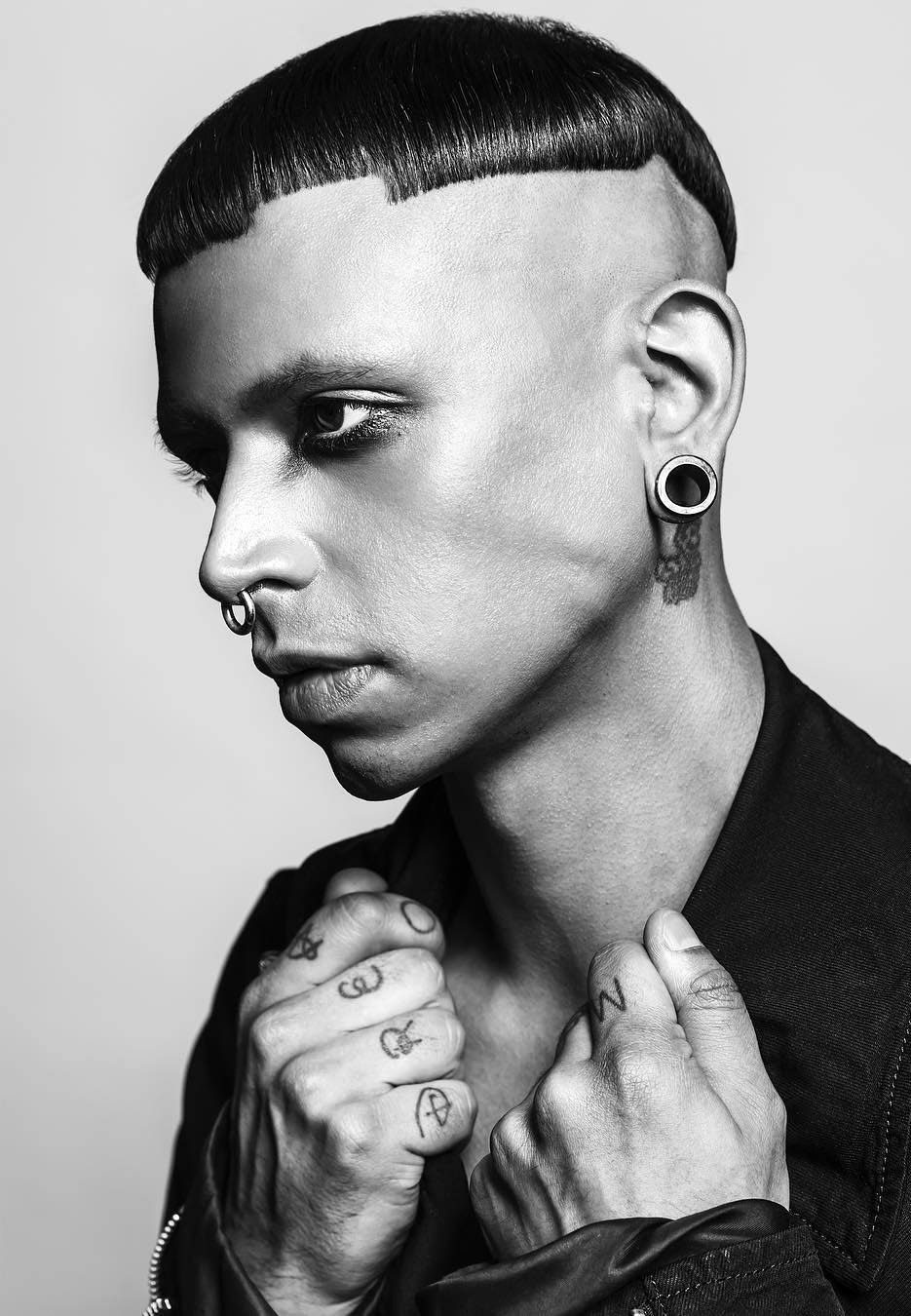 Don't Bring Me Home to Mama
This is a very bold style that will definitely allow you to make a statement wherever you go. This look challenges the rules of the Mushroom Cut with sharp edges but maintains the form, and that paired with shaved sides gives the desired peak to compliment the style.
21 / 29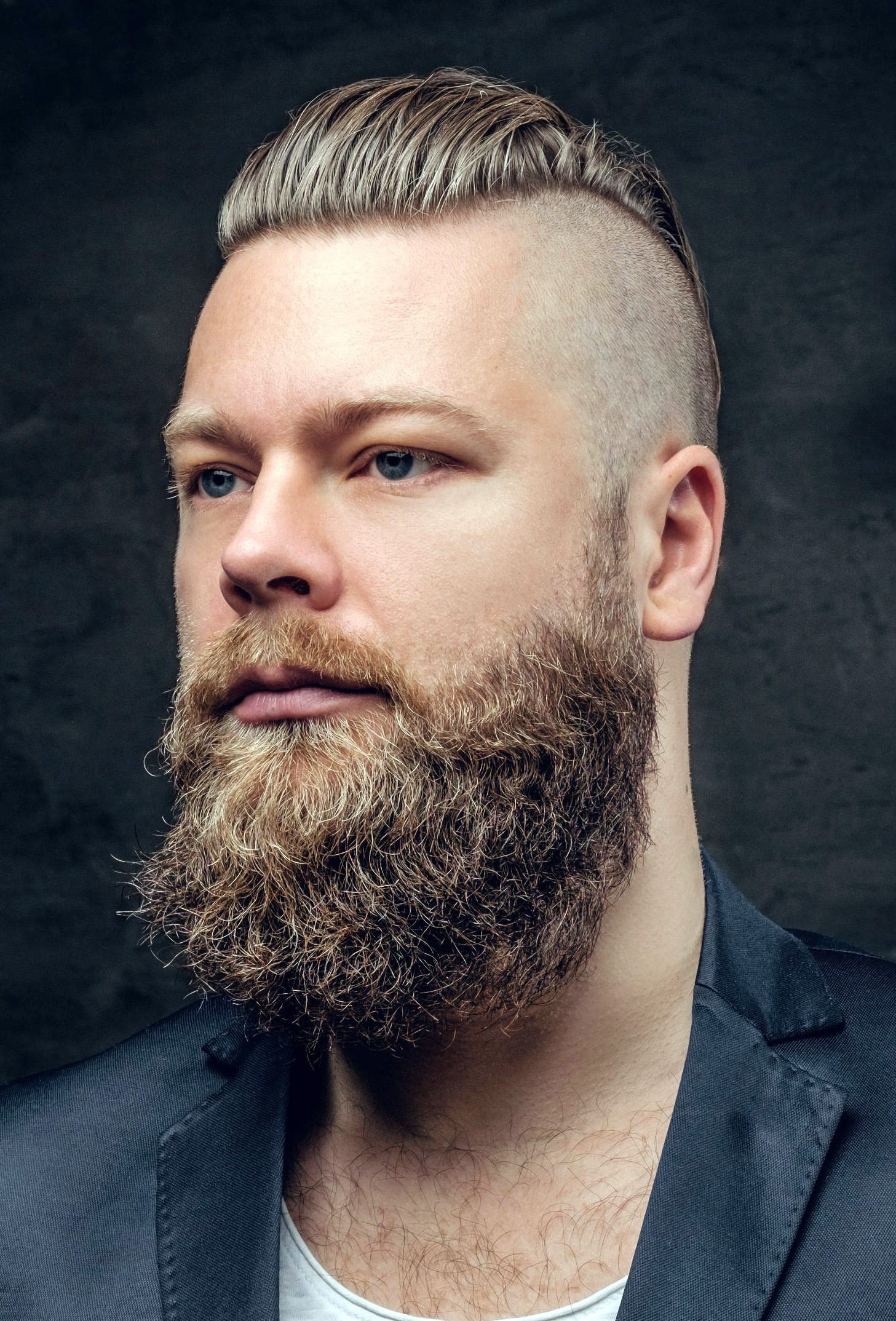 Disconnected undercut
Starting with the most overly present style in the world, every men and boy out there seems to be getting one, from Hollywood's finest Jude Law, to worldwide known football star David Beckham. The undercut is perfect for those who have square shaped faces, contrasting greatly with strong jawlines, making them look sharper and stronger.
22 / 29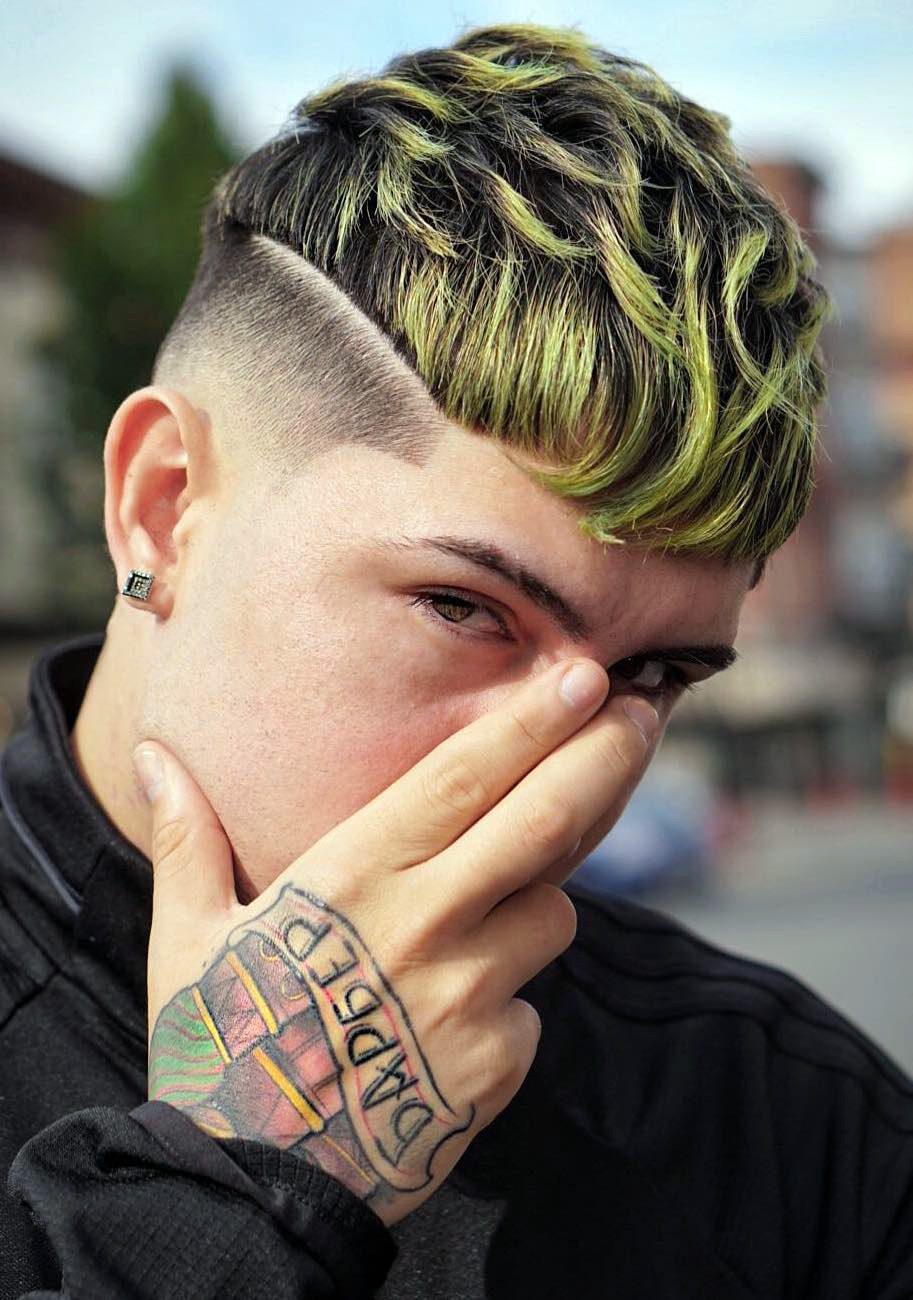 Dyed Bangs with Hard Undercut
Crop hairstyles are already perceived as edgy, but if you add a short fade at the sides and some colorful highlights, this is what you get. There's no doubt you'll stand out with this look!
23 / 29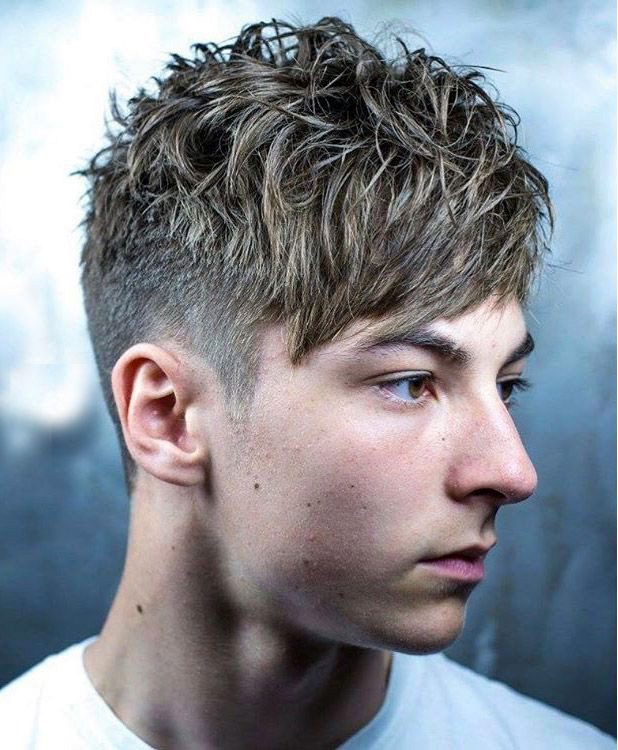 Textured Angular Fringe
A simple fringe like this would be pretty common, if not for all the texture that's been added. This angular, messy look definitely feels like an edgy haircut.
24 / 29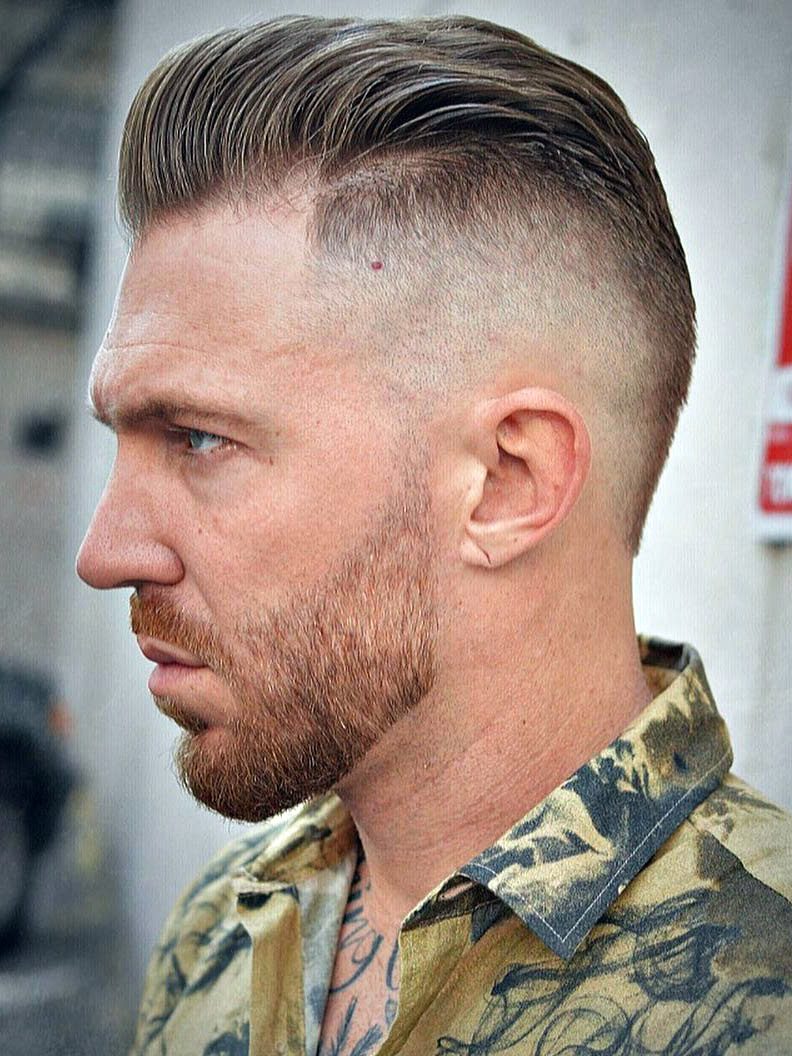 Push that Classy Hair Back with Faded Side
If regular undercuts are too boring for you, then you can always kick them up a notch by shaving the sides extra short. Just add a beard for this ultra-masculine, modern look.
25 / 29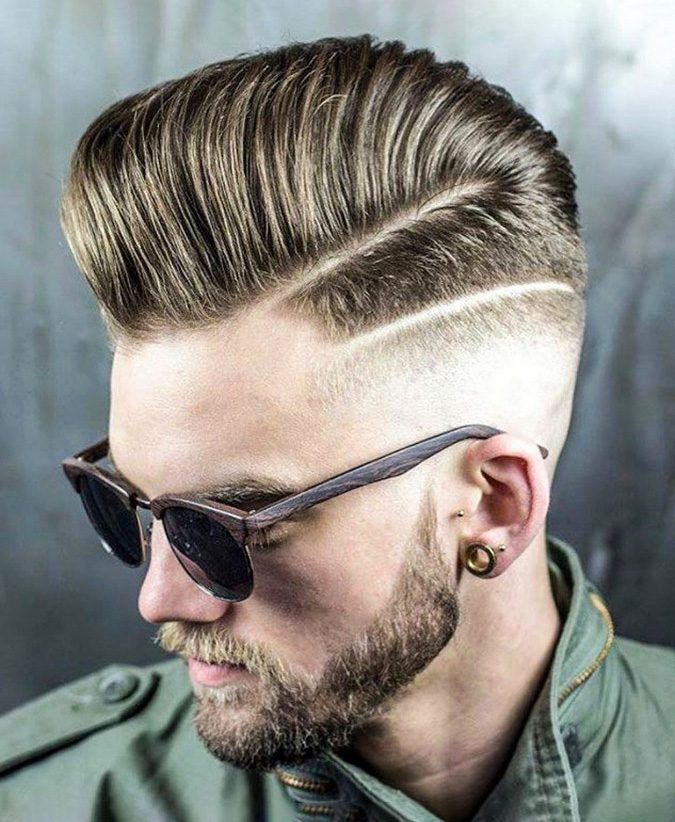 Hard Part Pompadour
This pompadour has plenty of volume and not one, but two hard parts for an edgy twist. Add sunglasses, a piercing, and some facial hair, and the resulting look feels very modern.
26 / 29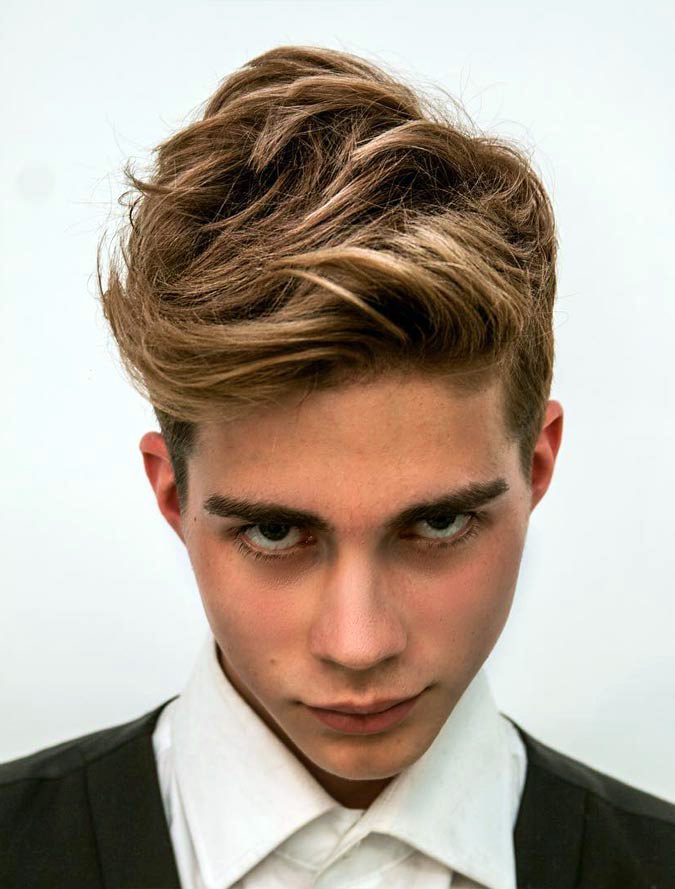 Modern Quiff Hairstyle
A quiff is nothing too special on its own. But introduce plenty of waviness and texture on top, and you end up with a somewhat edgy, but still restrained look.
27 / 29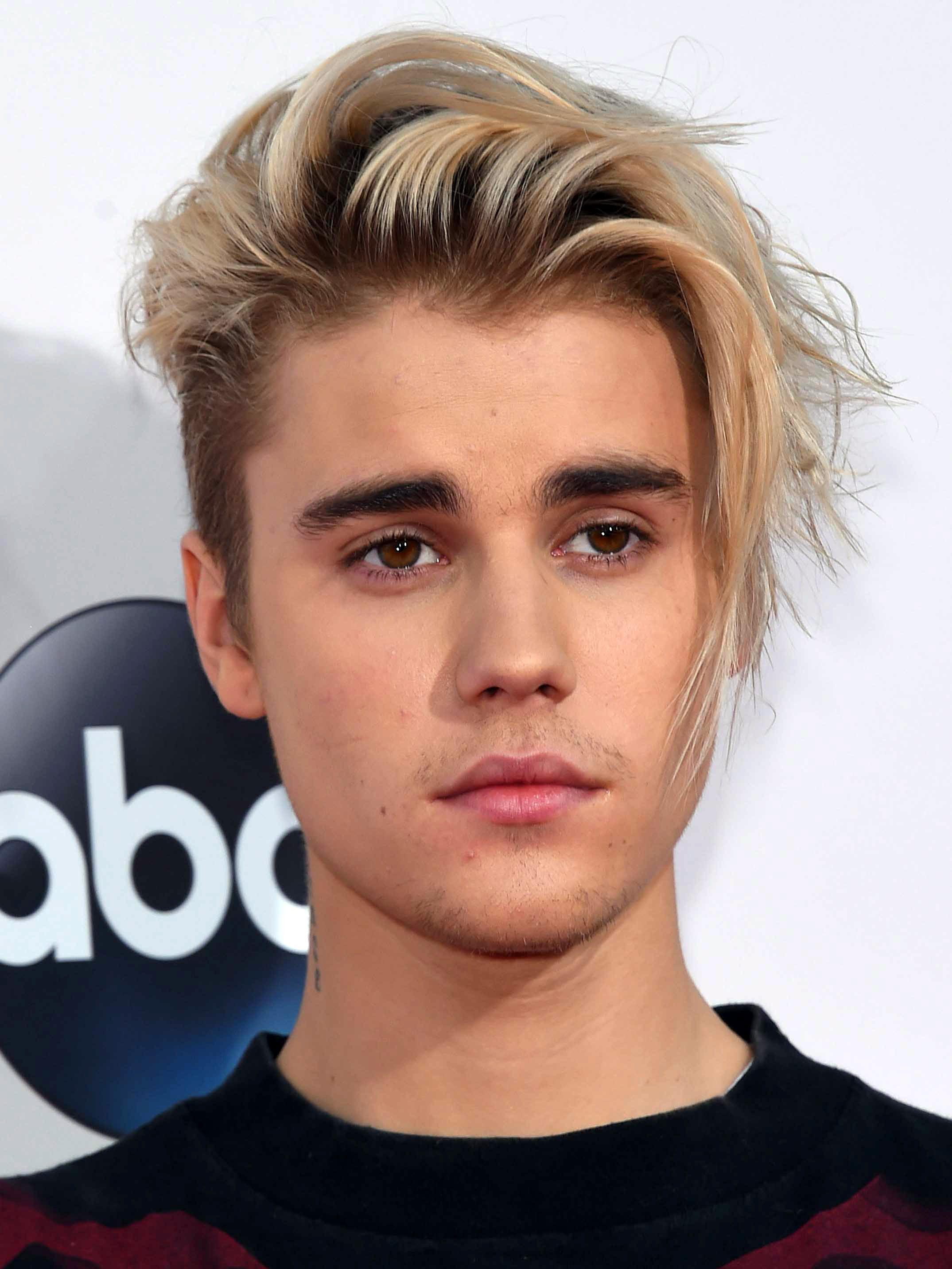 Justin Bieber's Side Swept Dyed Fringe
Here's Justin Bieber's take on the long, side-swept haircut. To make it just that extra bit edgier, he's also dyed his hair a light blonde.
28 / 29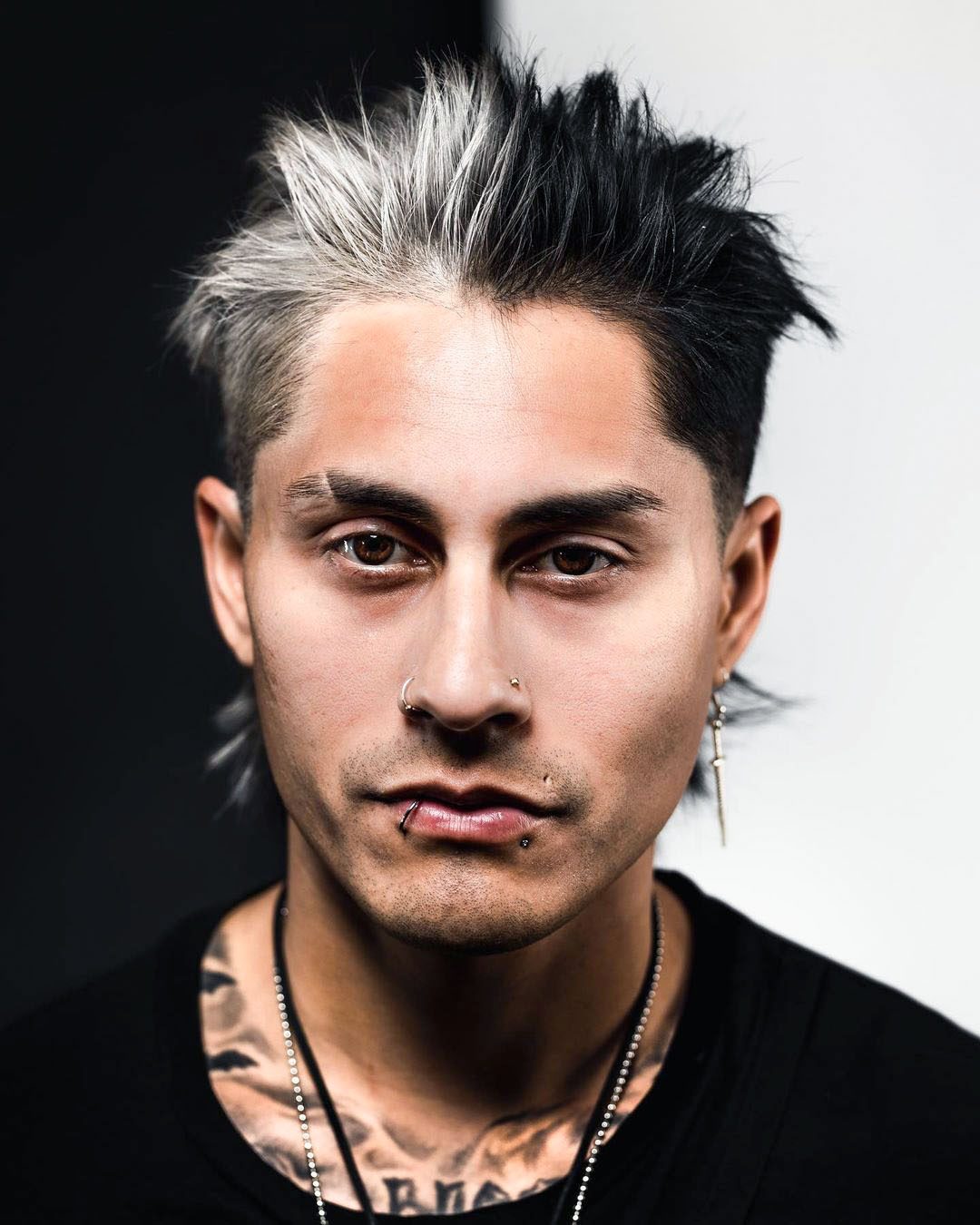 Black and White Back Swept
For those of you who like to keep things slightly spiced up and let the hair speak for itself – getting a black & white back swept could drastically change your everyday look. With the cut and colours like these you could easily impress people from the first second you enter the room. Think about it: this is the style that tells people more about you and your rebel charisma even without you saying anything.
29 / 29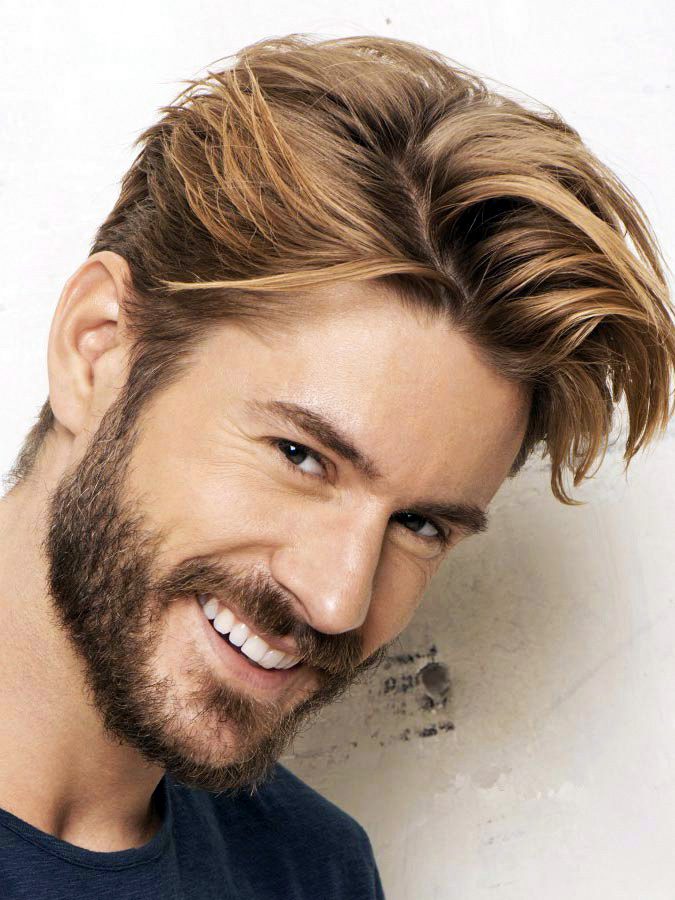 Dishevelled
The dishevelled look is a mix of a more classic look with a contemporaneous touch, styling it to the sides using some matte will give you a perfect edgy look. Well-worn by all ages and hair types, this cut looks great on most face shapes, it is recommended for rounder faces to avoid leaving too much width on the sides.
Practical, stylish and easy to maintain, definitely among the best edgy has to offer.