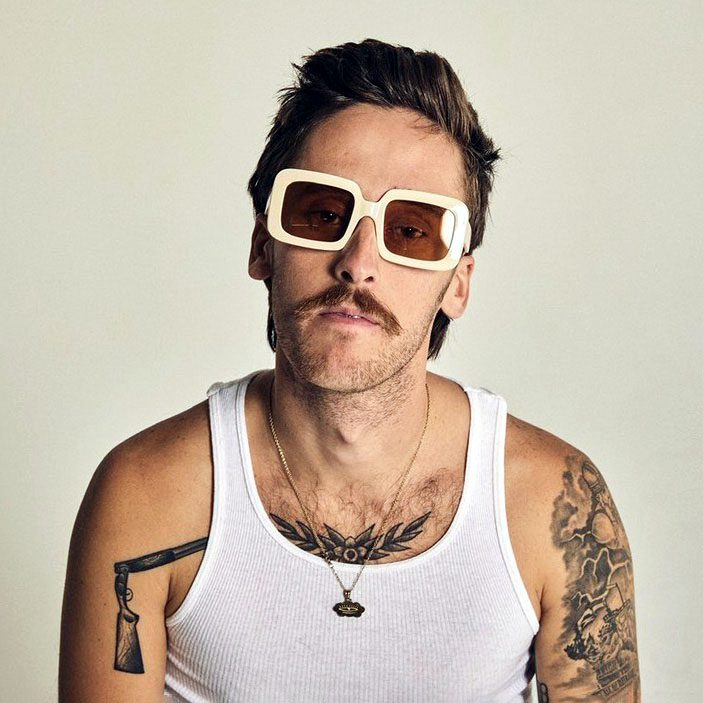 40 Favorite Haircuts For Men With Glasses: Find Your Perfect Style
Discovering the era of fashionable glasses and complementing hairstyles
When you go in for a haircut, you're probably thinking about what haircut will look best with your hair type. Or maybe you're taking your face shape into consideration. If you're a gent who sports eyeglasses, you probably don't think about how your cut and frames will interact. Needless to say that some haircuts for men with glasses are more adequate.
But think about it: If you wear glasses to see, they're on your face all the time. They're a focal point of your face, and they play a huge role in your everyday life. Why not get a great hairstyle that complements your spectacles?
While glasses are the source of many a taunt in elementary school (the infamous "four eyes"), they're now a center point in contemporary style. And with so many types of glasses available, they're a bona fide fashion accessory of their own. After you choose frames that match your personality, all you need is a great outfit and a stellar haircut. And lucky for you, we can help you find a stellar haircut!
We've gathered up a comprehensive list of haircuts for men with glasses to help you choose a style that works for you. And since everyone has glasses of all sizes and shapes, we've taken that into consideration, so there's something here for everyone.
1 / 51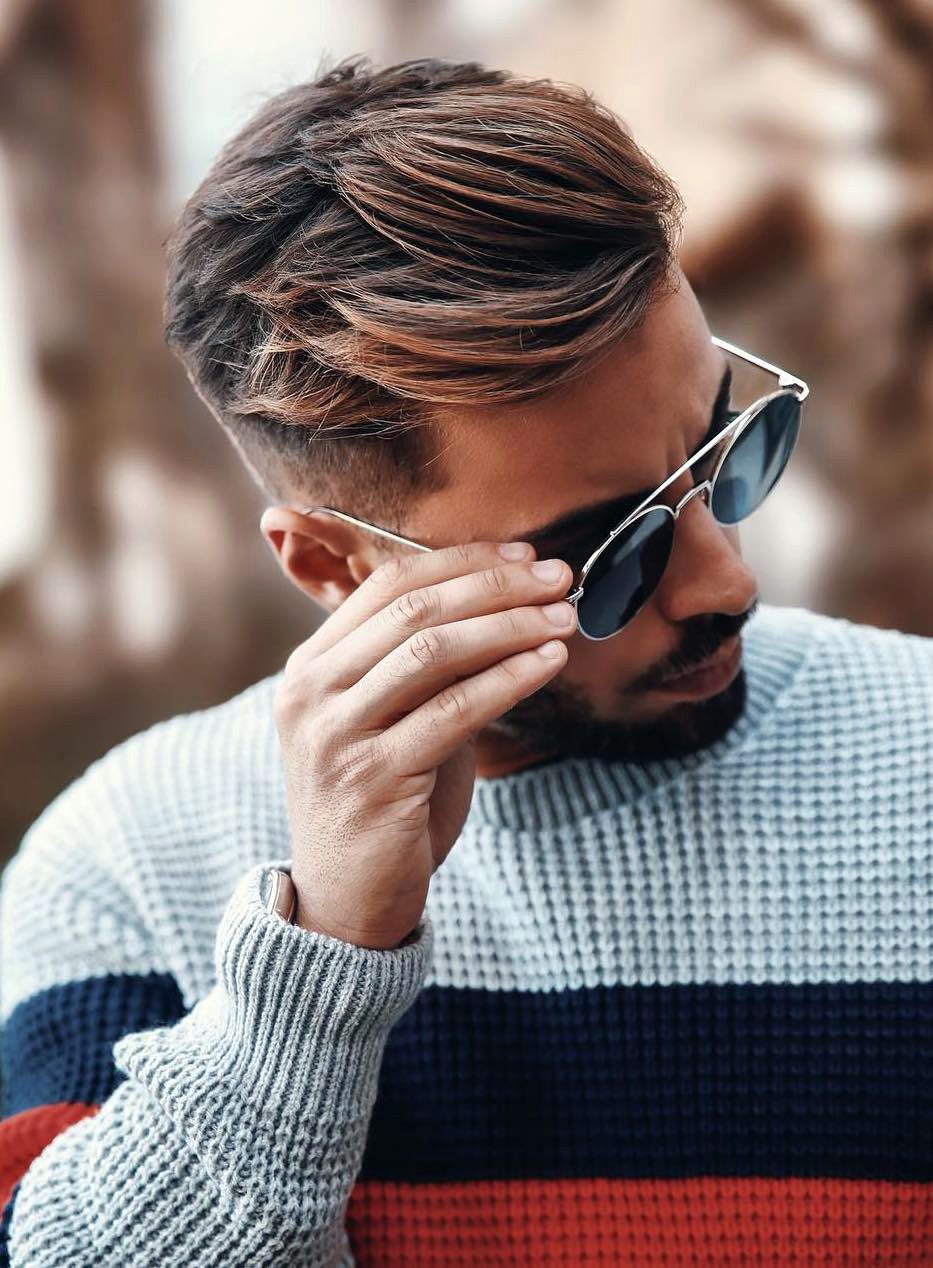 Dyed Layers with Tapered Sides
For a man that really takes his time in a mirror, the dyed layers look amazing. Dirty blonde fits very well with the natural light brown colors of his hair, and the eyebrow bar on top of the circular glasses is a bold choice.
2 / 51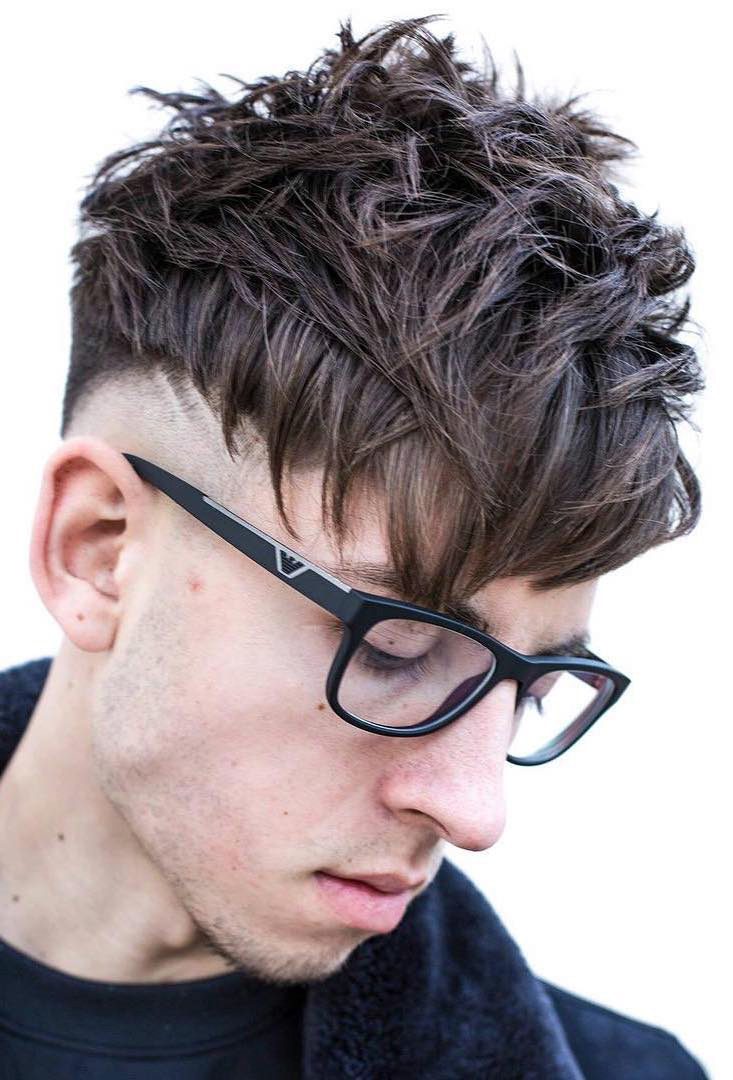 Fringed Texture with Skin Fade
Sometimes there is messy for messy's sake, and other times there is messy for fashion's sake. This is the latter with the fringe that is perfectly messy and a pair of chunky glasses as the cherry on top.
3 / 51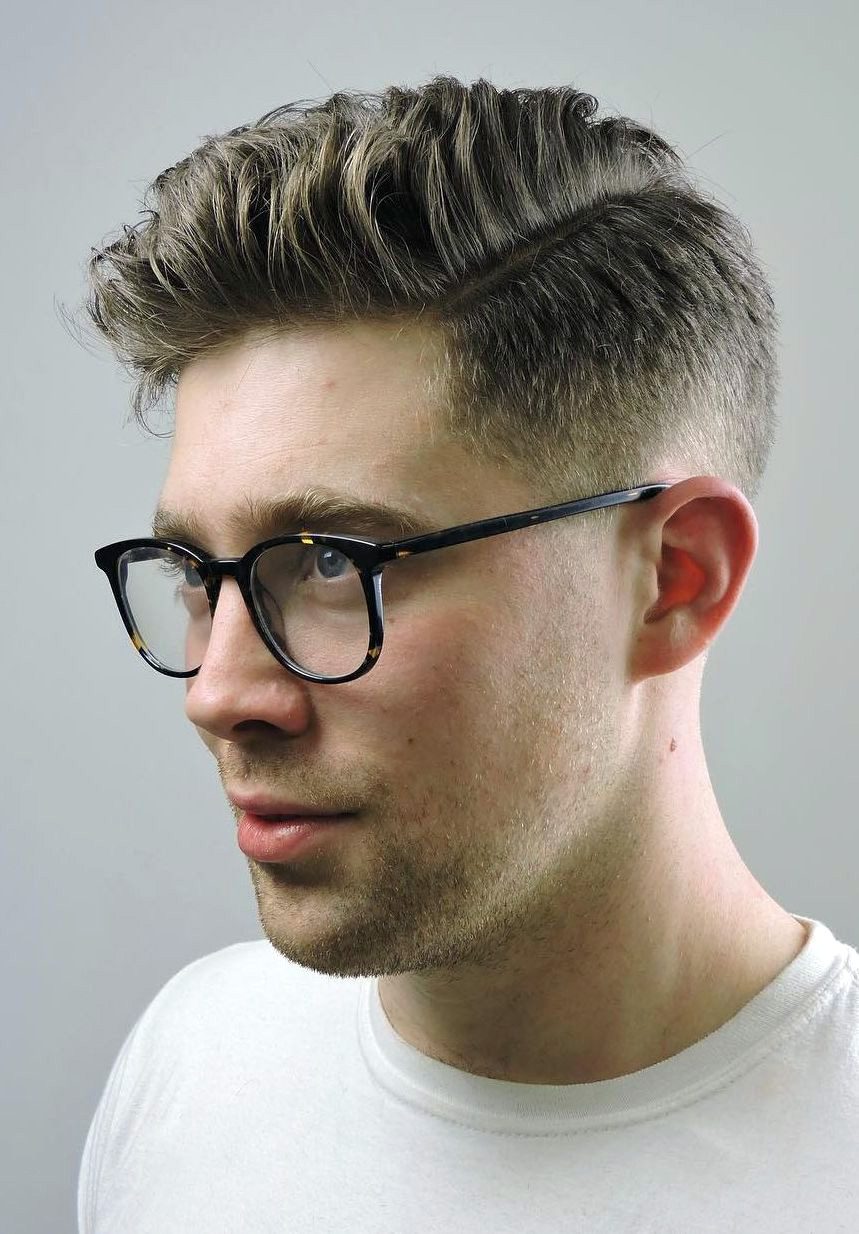 Brushed Up Wavy
Most men like to get up and go in the morning. If you want that brushed up wavy look (with some great oversized glasses), you have to set that alarm clock a little earlier and spend some time in the mirror.
4 / 51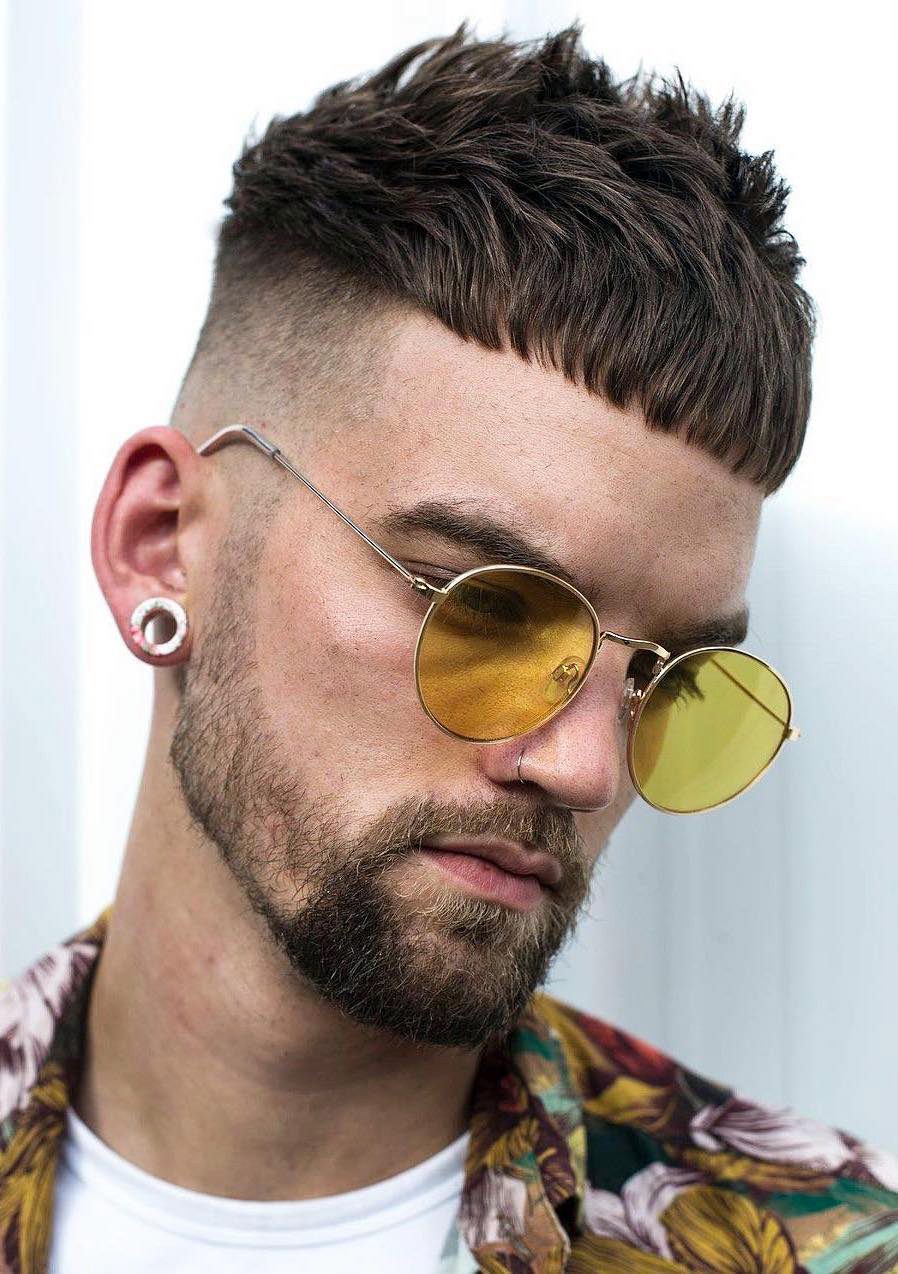 French Crop with Undercut
DJ Snake may run the charts with his music, but his haircut is also causing waves all over France. The French crop with an undercut is perfect for a day on the football field or a day producing music. The yellow lenses in the circular frames help him stand out in the crowd.
5 / 51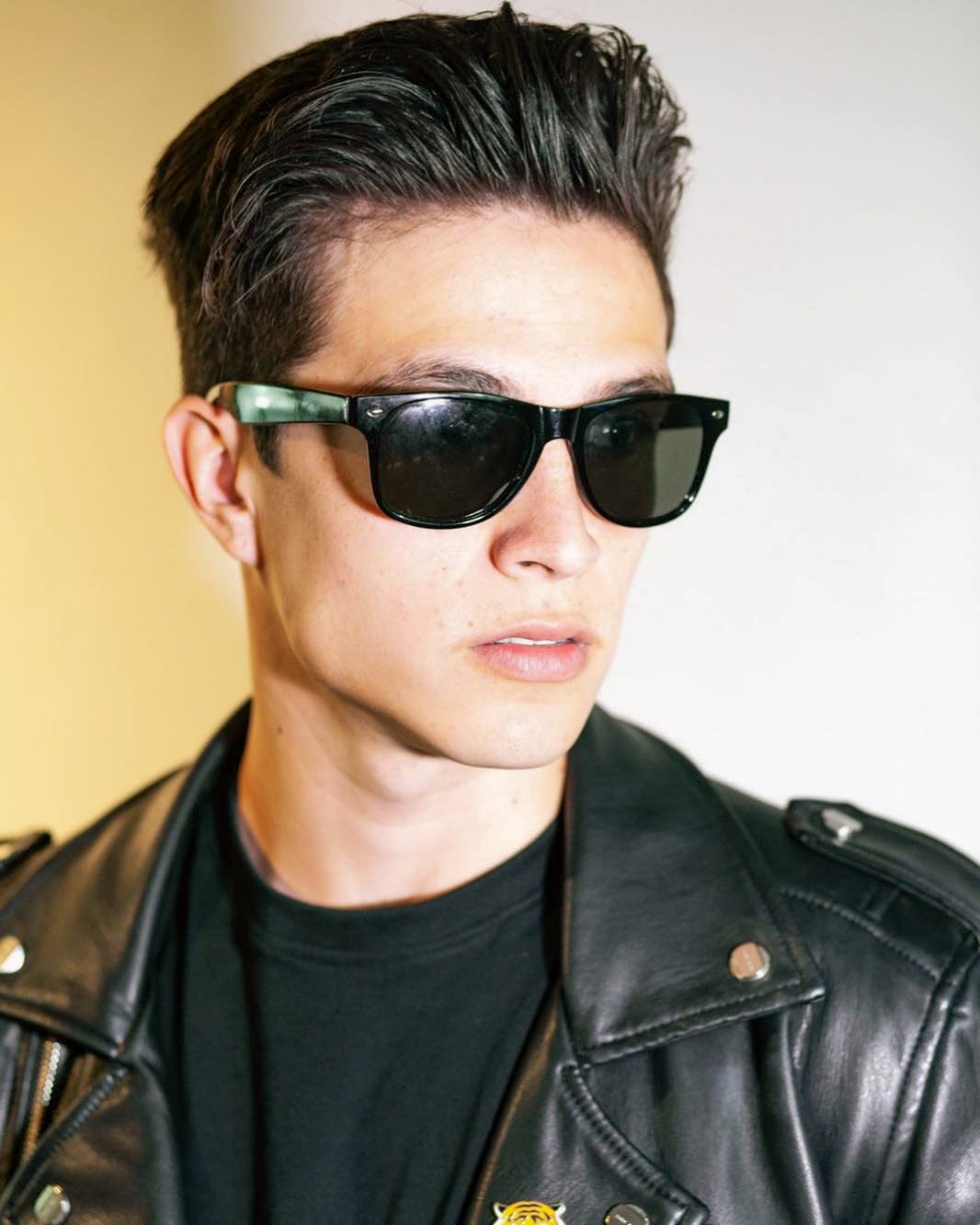 Gangster Quiff
Not the most effortless hairstyle out there but certainly one of the sexiest ones. While you will need that extra time at the beginning of each day to get the frizziness under control and sleek back all the curls, once you're done with the styling – this cut will get quite a lot of attention that it truly deserves. In a combination with a pair of stylish shades, you will be looking like you've just come out of a GQ magazine cover.
6 / 51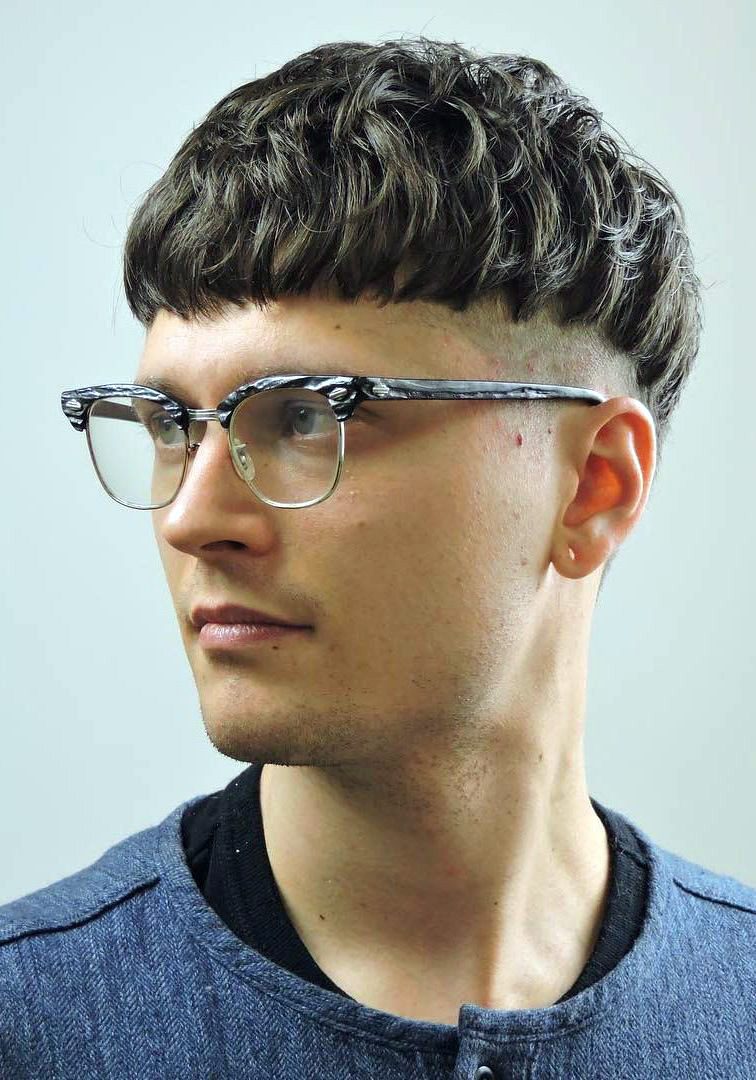 Textured Bowl Crop with Undercut
The bowl cut has come a long way since your father didn't want to pay for a haircut so he threw the closest container onto your head. Nowadays, the textured look plus an undercut and the cat eyeglasses make for a millennial Beatle look.
7 / 51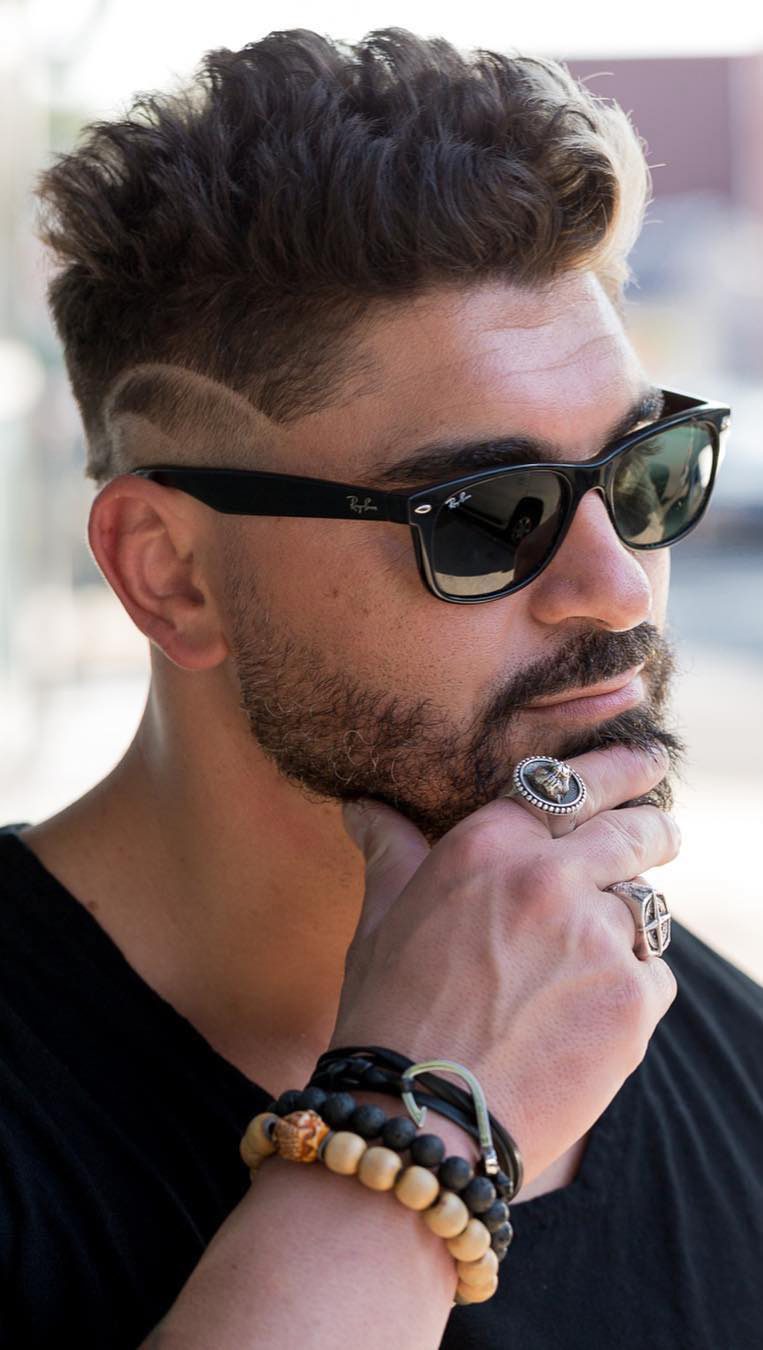 Messy Top with Taper Fade
As summer breezes into fall, the short hair on top grows a little longer. This version of the messy top adds a line or two on the side in the taper fade, which matches perfectly to the classic Ray-Bans.
8 / 51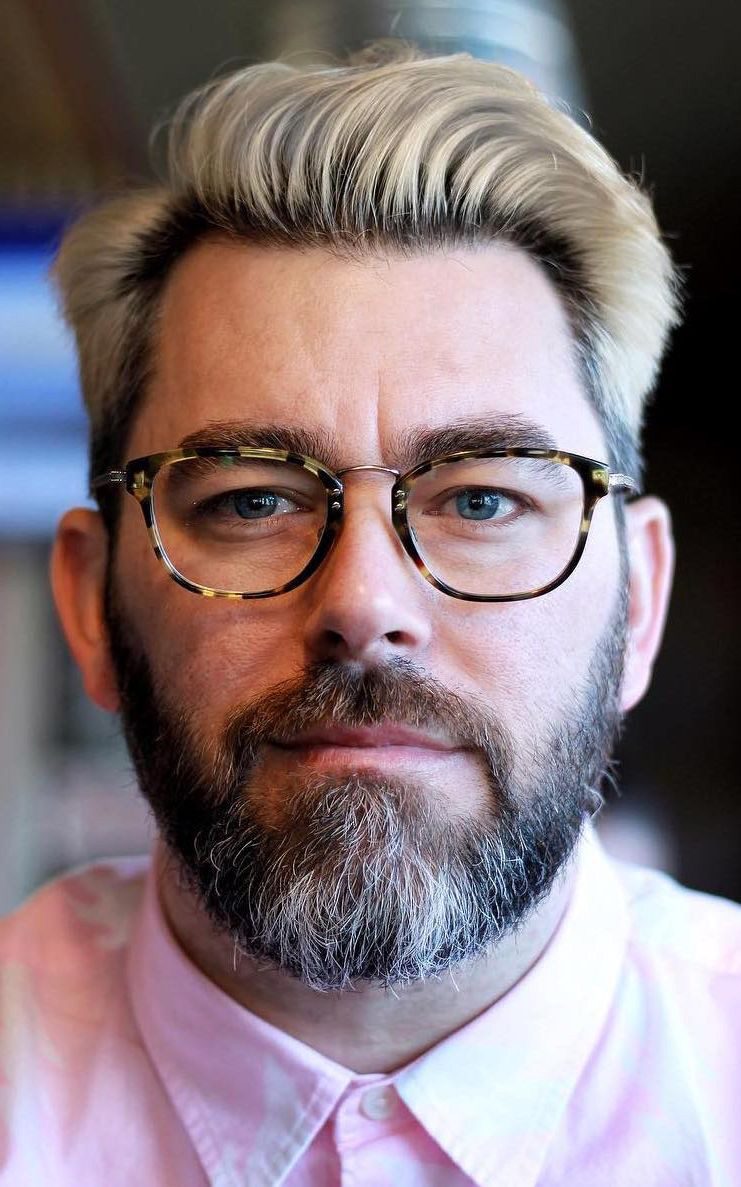 Dyed Side Part
If looking like a first-year professor is your bag, the dyed side part is for you. The roots are showing, and the smarter-than-you glasses will definitely keep the students on their toes.
9 / 51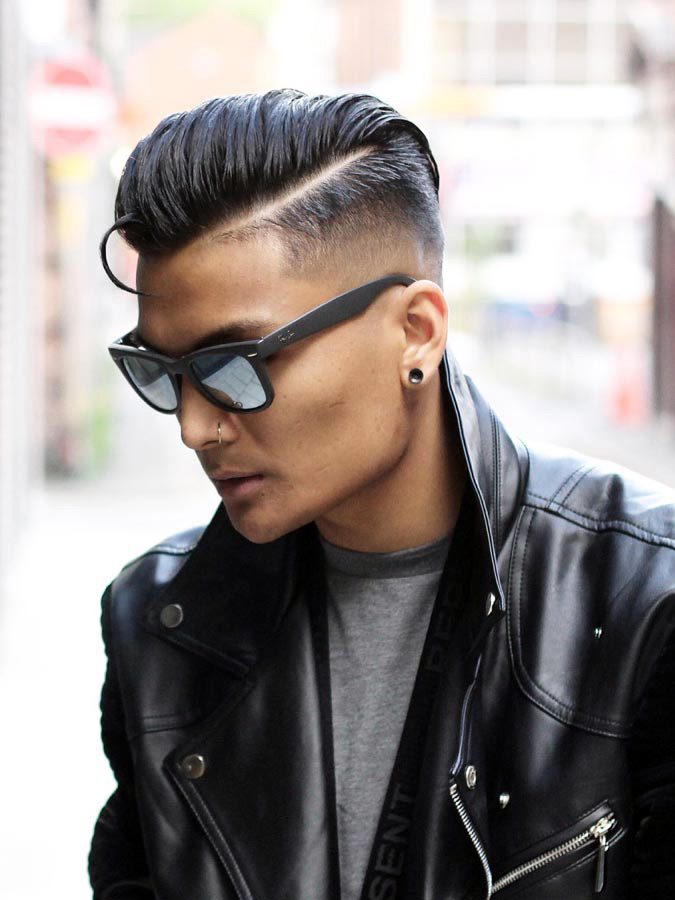 The Wet Side Swept Undercut Look
Keeping the hair wet or at least the appearance of wetness is a very Jersey-Shore-like look. This looks like the gel has just been put in on the top with a very distinguishable side part. The fade and mirrored shades keep the look from being too cheesy.
10 / 51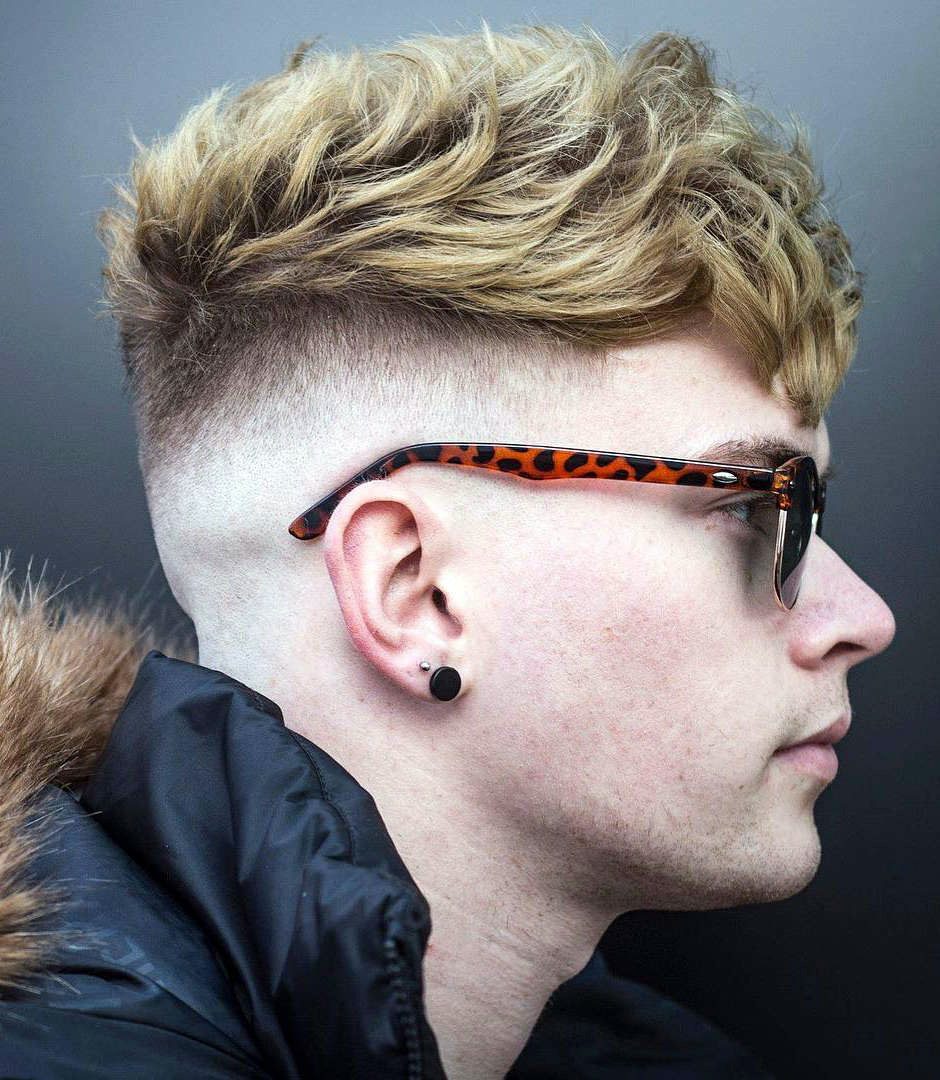 Undercut Wavy Texture
Pushing things forward seems to be the way to go here, with his blonde locks disheveled in the perfect way. The skin fade is very tight, which compliments the animal pattern on the frames.
11 / 51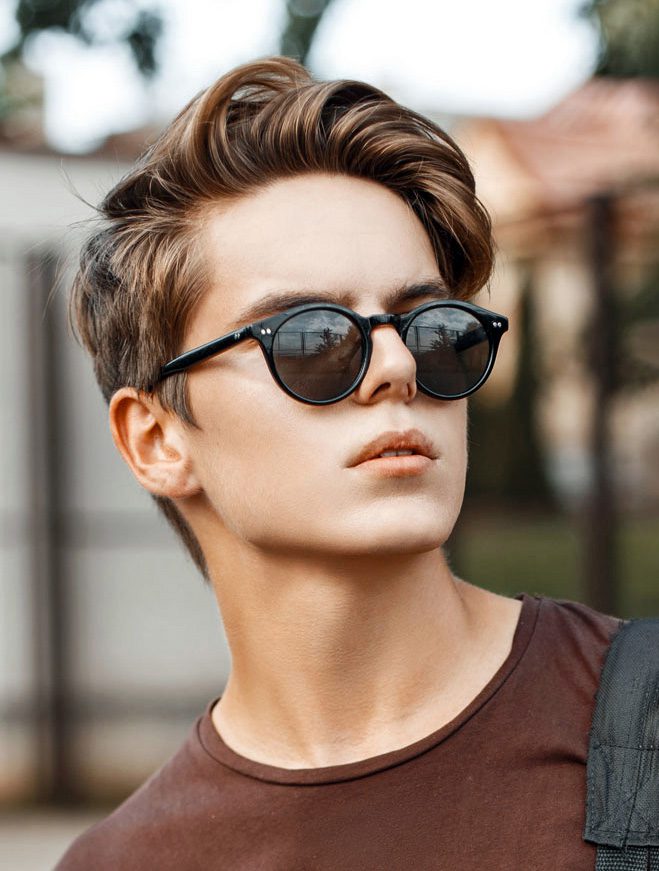 Long Swept Quiff
While a lot of boys opt for short hair during the summer, the strands get longer when the weather gets cooler. This longer swept quiff is perfect for the fall and shades show a combination of artist and prankster.
12 / 51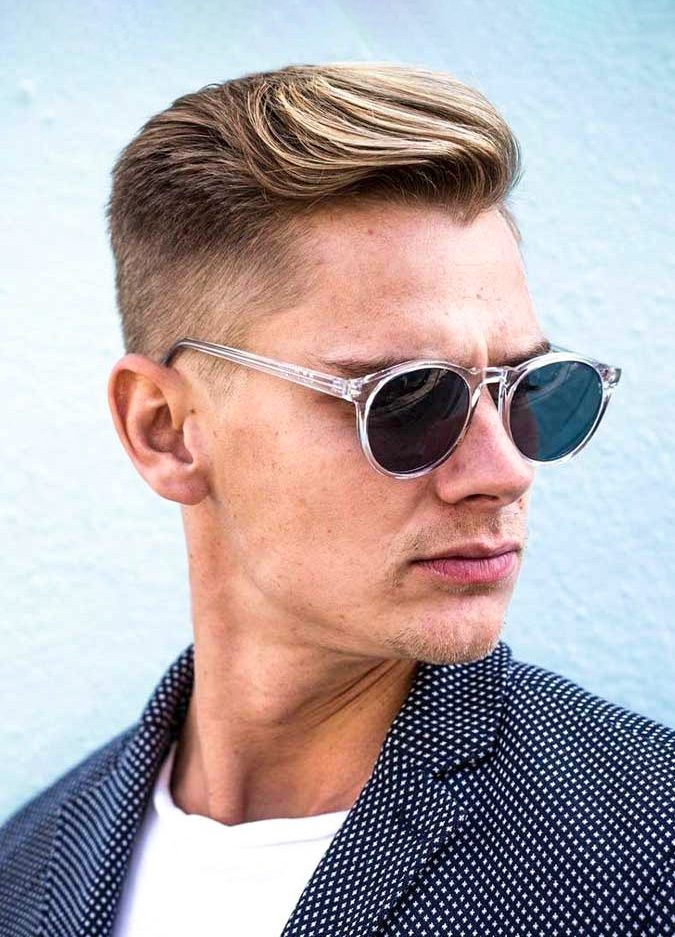 Classic Cut LA Style
Los Angeles is home to some of the most fashionable people in the world. Here, a classic LA cut means short sides and swept back for the surfer look. The clear frames on the sunnies are a dead LA giveaway.
13 / 51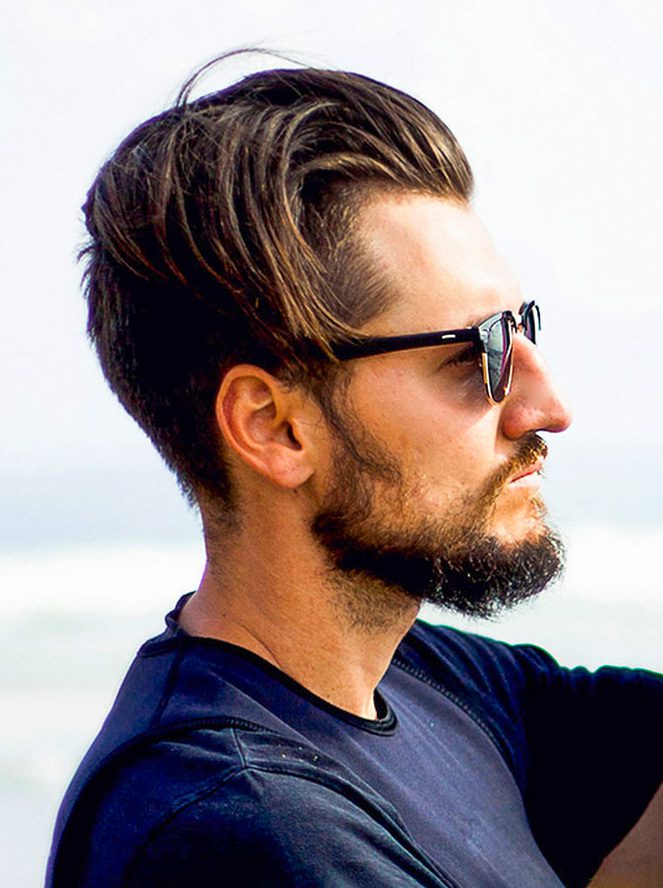 Undercut Surfer hairstyle
While staring into the water, surfers must figure out a way to become one with nature. This brush-up is defying the odds of nature and going all the way to the sky, nearly resembling a wave itself. The undersized Browline shades show a deep thought process.
14 / 51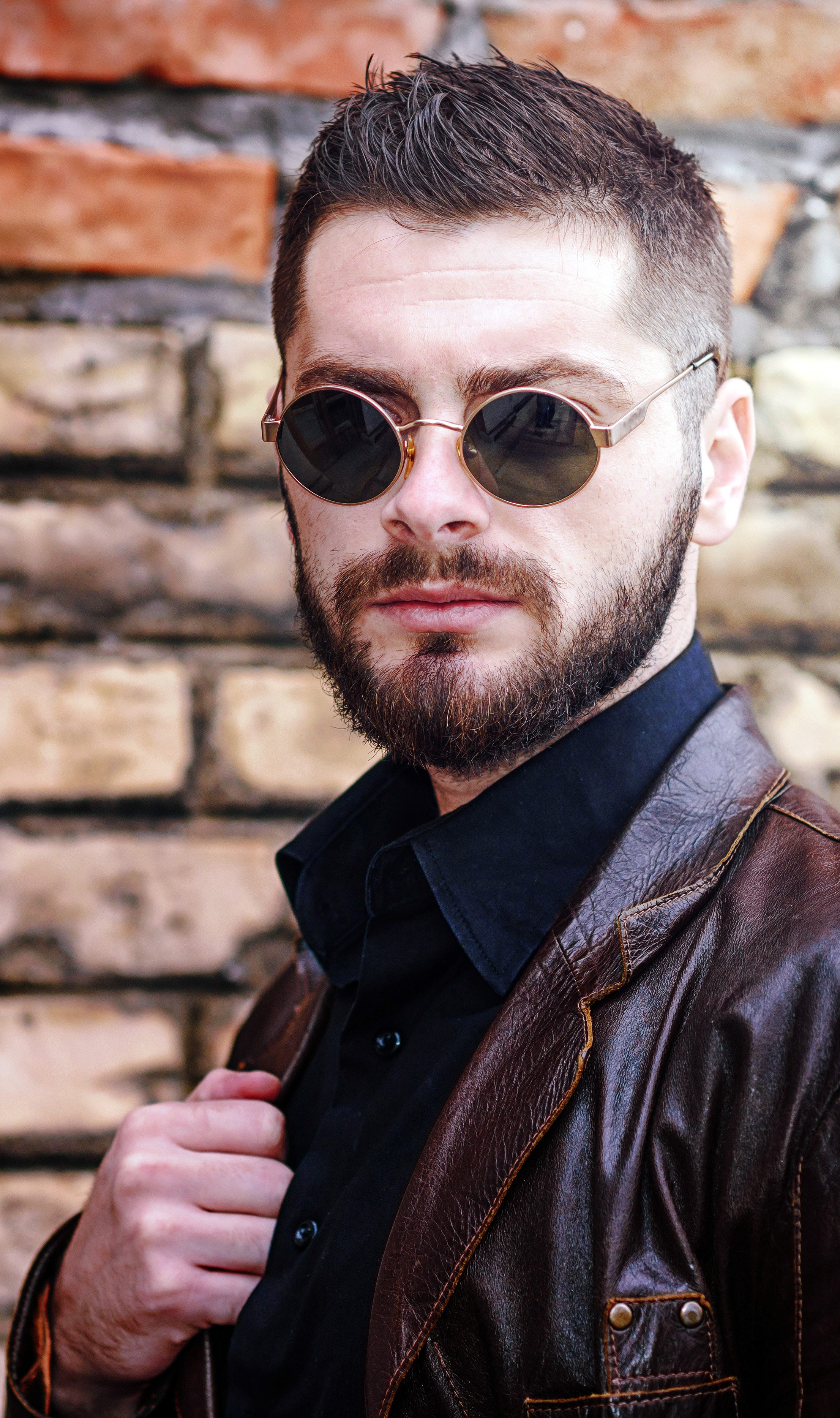 Short Side Brushed Top with Skin Faded Sides
Balance is what we strive for in a good hairstyle and that is exactly what is been achieved here. The beard and hair complement each other especially with hair being skin faded on sides and slightly side brushed no top.
15 / 51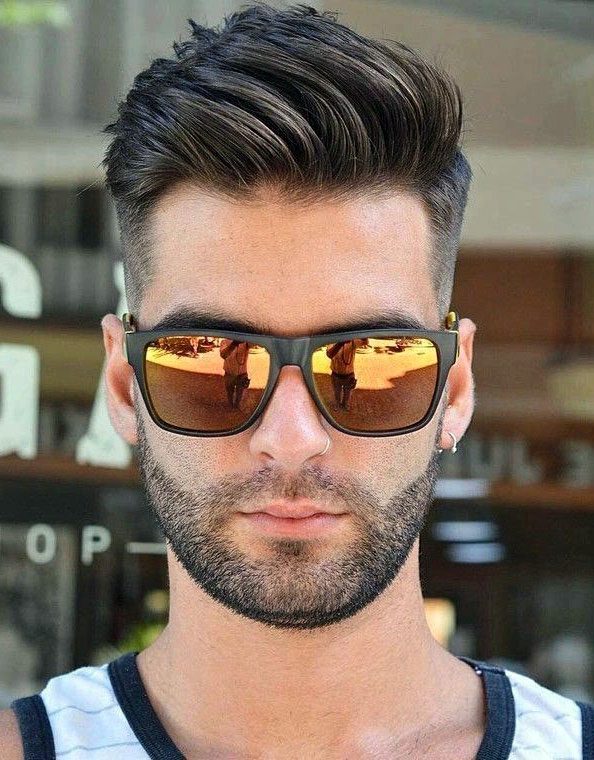 Classic Undercut with Quiff
This cut incorporates both a quiff and an undercut. The sides of the hair are shaved to be significantly shorter while still fading seamlessly into the top of the hair. The top is kept longer, especially in the fringe area, as it is brushed upward and away from the face which is also known as a quiff.
16 / 51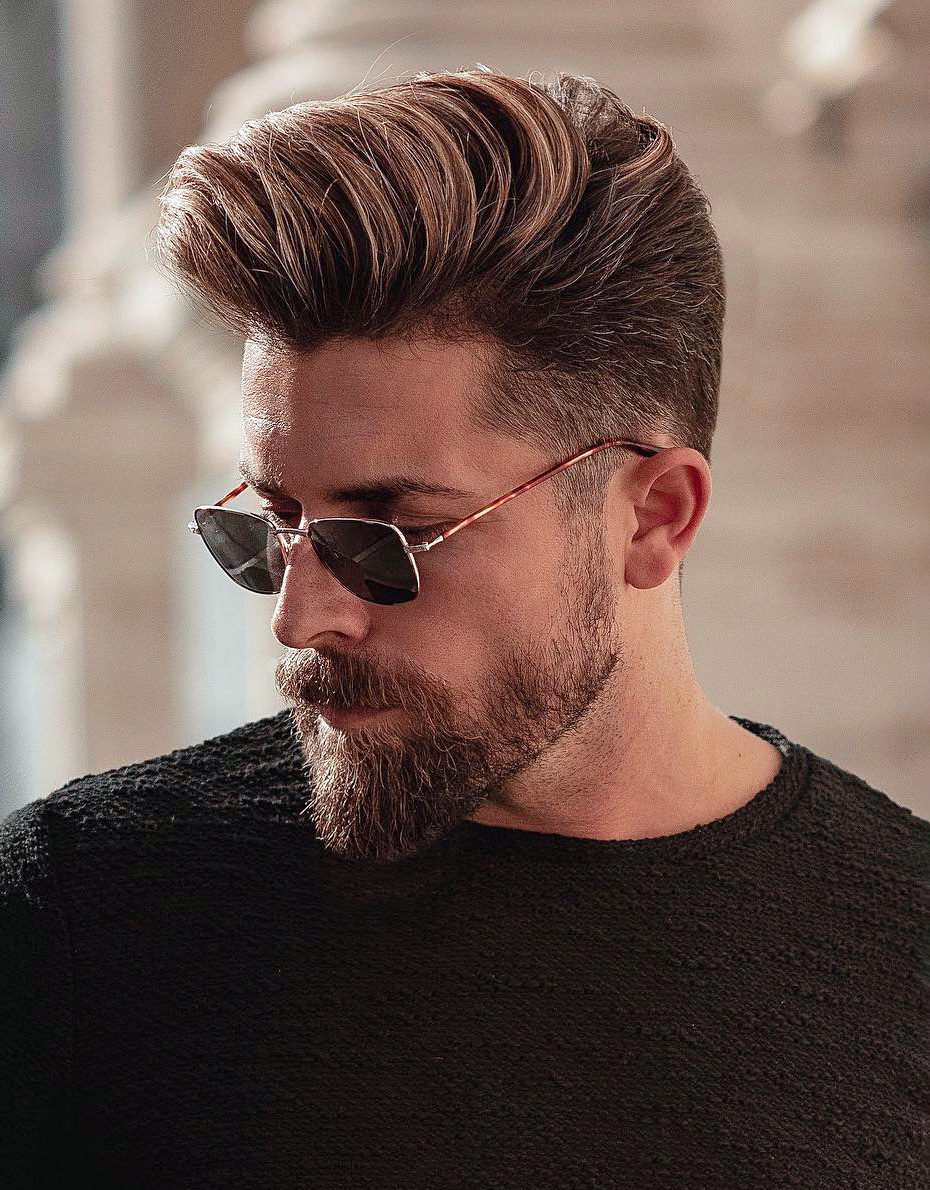 Classic Taper Fade Quiff
This classic men's style incorporates a slight fade on the sides with a quiff on the top. The sides are kept fairly short, but they are seamlessly faded into the top of the hair which is much longer. The front fringe section is combed upward and away from the face to create a quiff.
17 / 51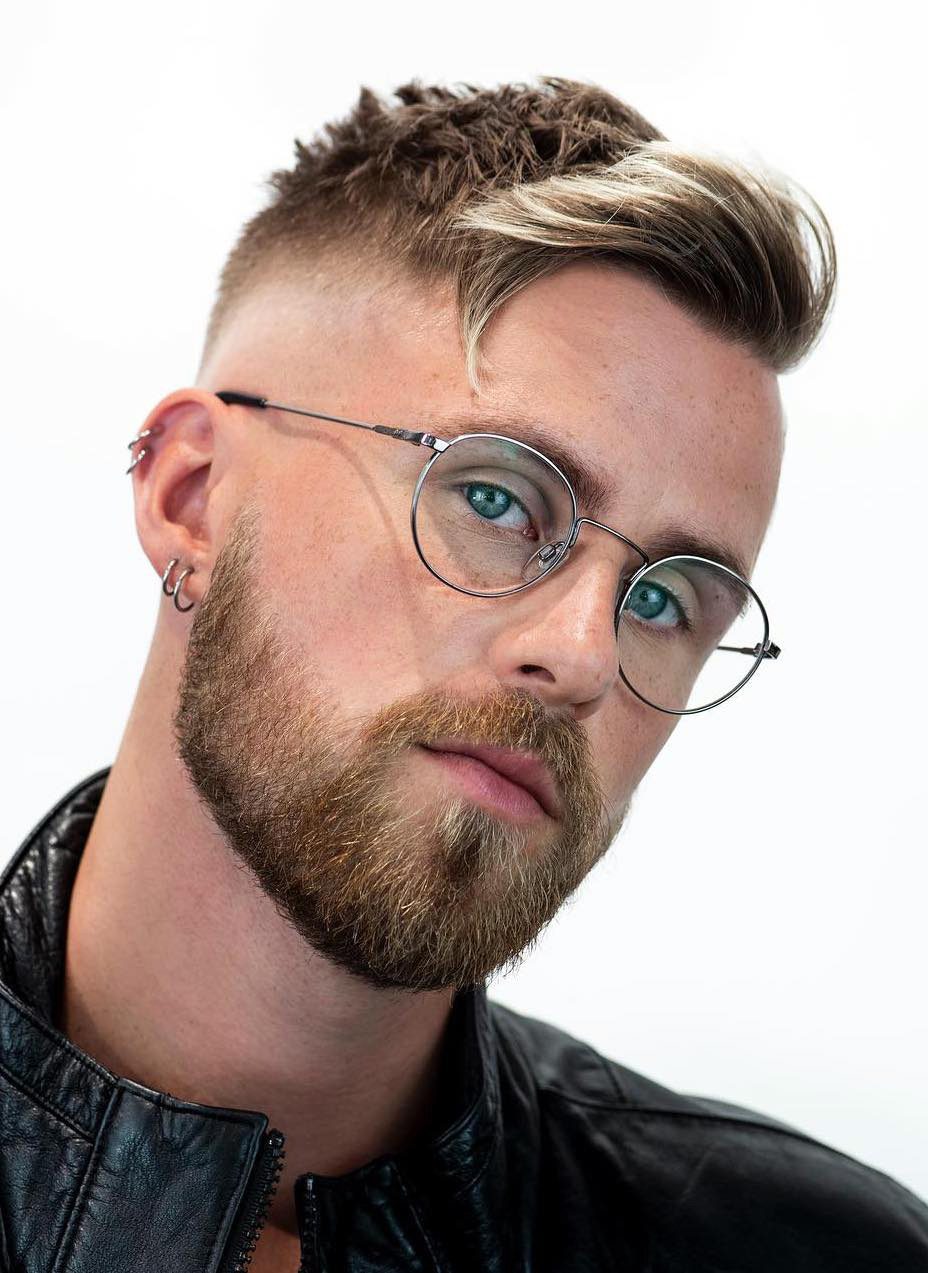 Finely Faded Sides with Dyed Fringe
The disorder is in order here with the skin fade plus the dyed fringe. This is a wake-up-and-get-out-the-door cut, plus it looks appealing with the Lennon-style frames.
18 / 51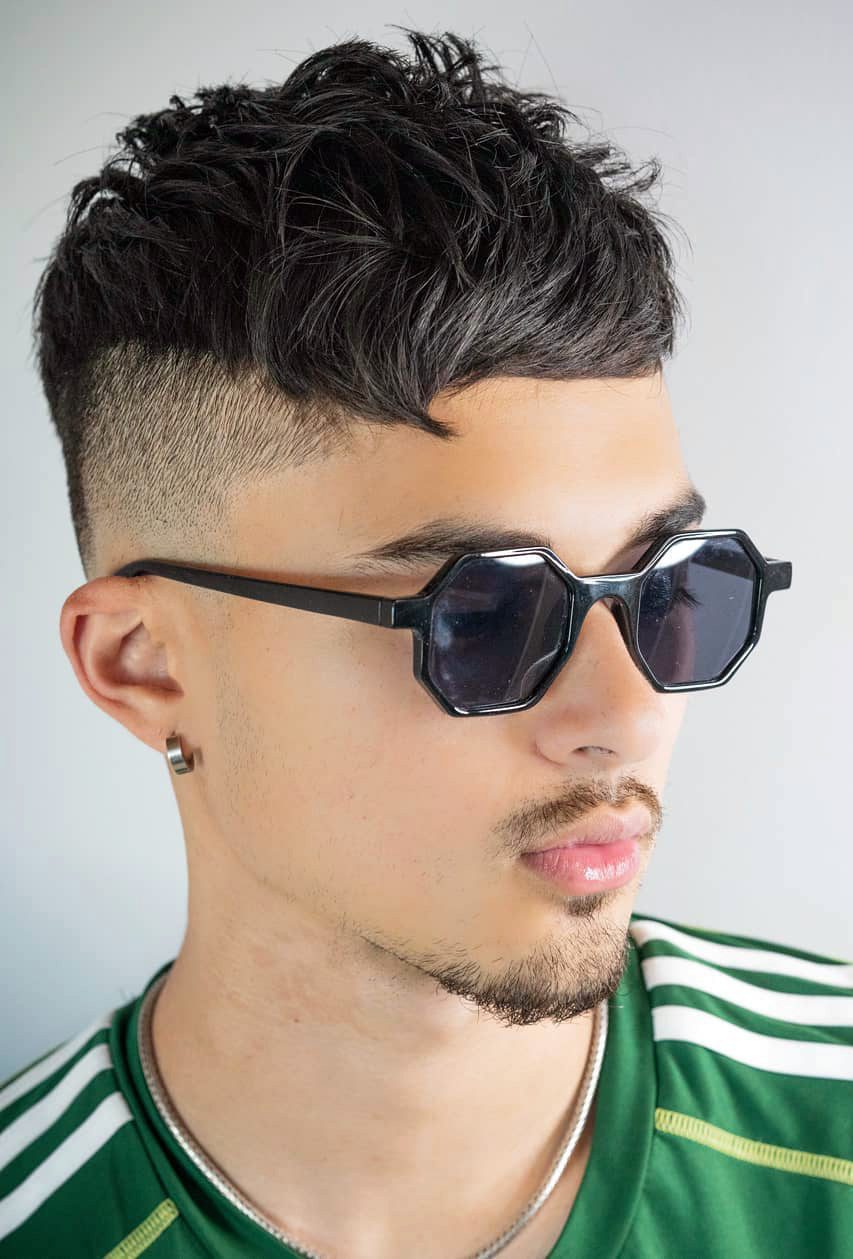 Shorter Sides with Drop Undercut
Great for a date or even a fancy night on the town, this moussed up top with short sides and a drop undercut is the epitome of modern hipstersterness. The clunky octagon shades reaffirm that.
19 / 51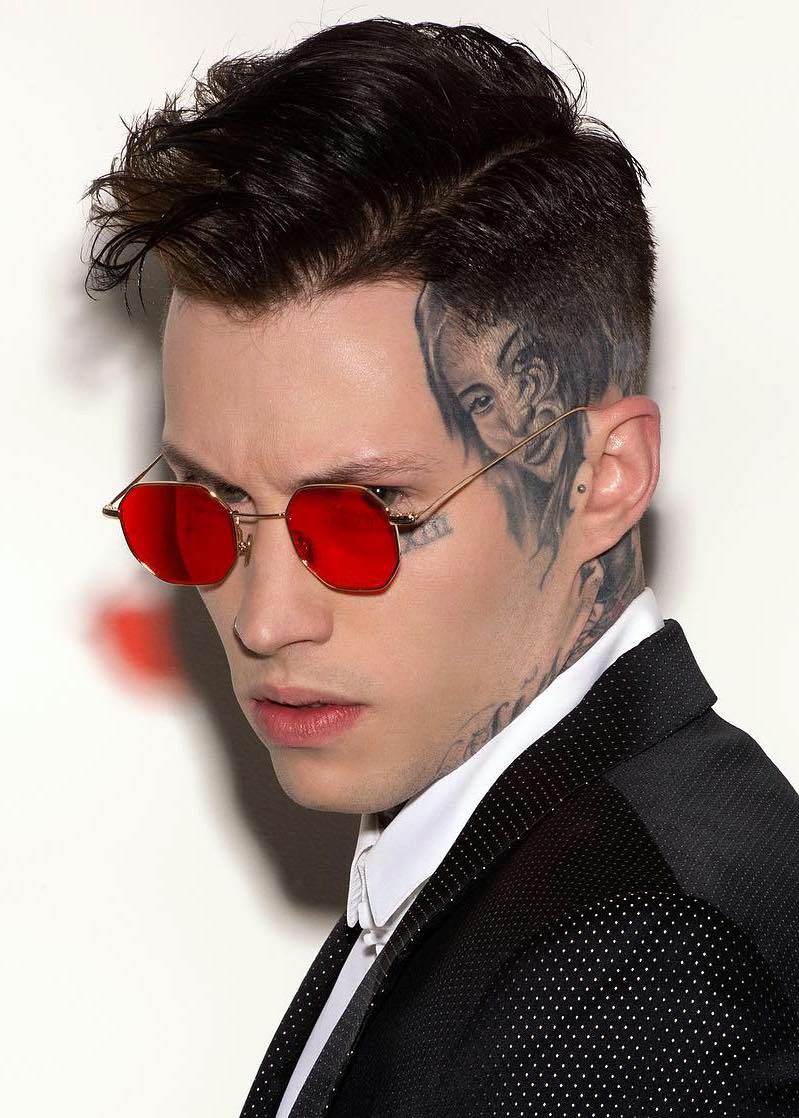 Side Wavy Top with Faded Sides
While the tinted-red octagon glasses draw in the eyes from all corners, having a messy but stylish wavy top goes well with faded sides.
20 / 51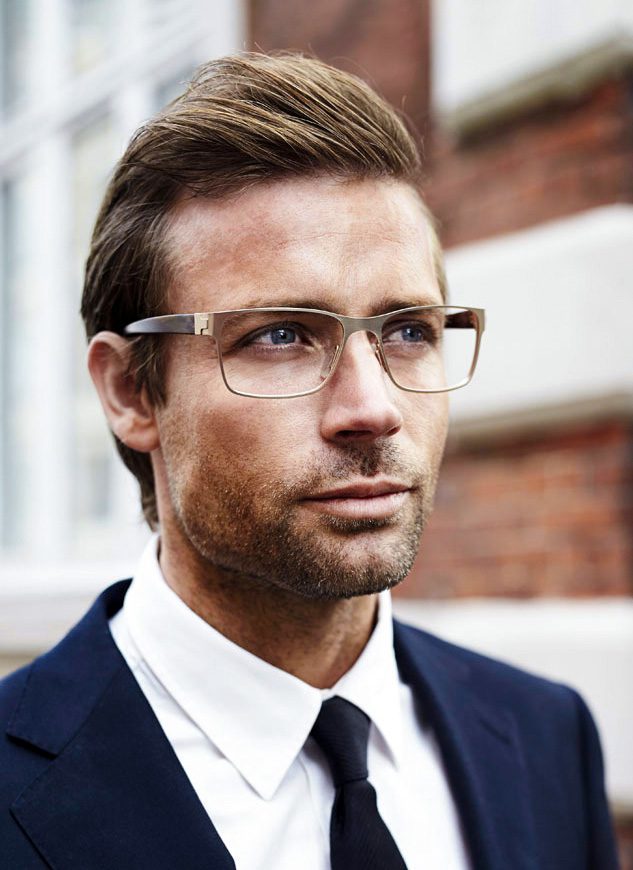 Brush Up
The brush up is one of the more eye-catching haircuts for men with glasses. You can tone it down for a more subtle look or tease it up high until it's almost in blowout haircut territory.
21 / 51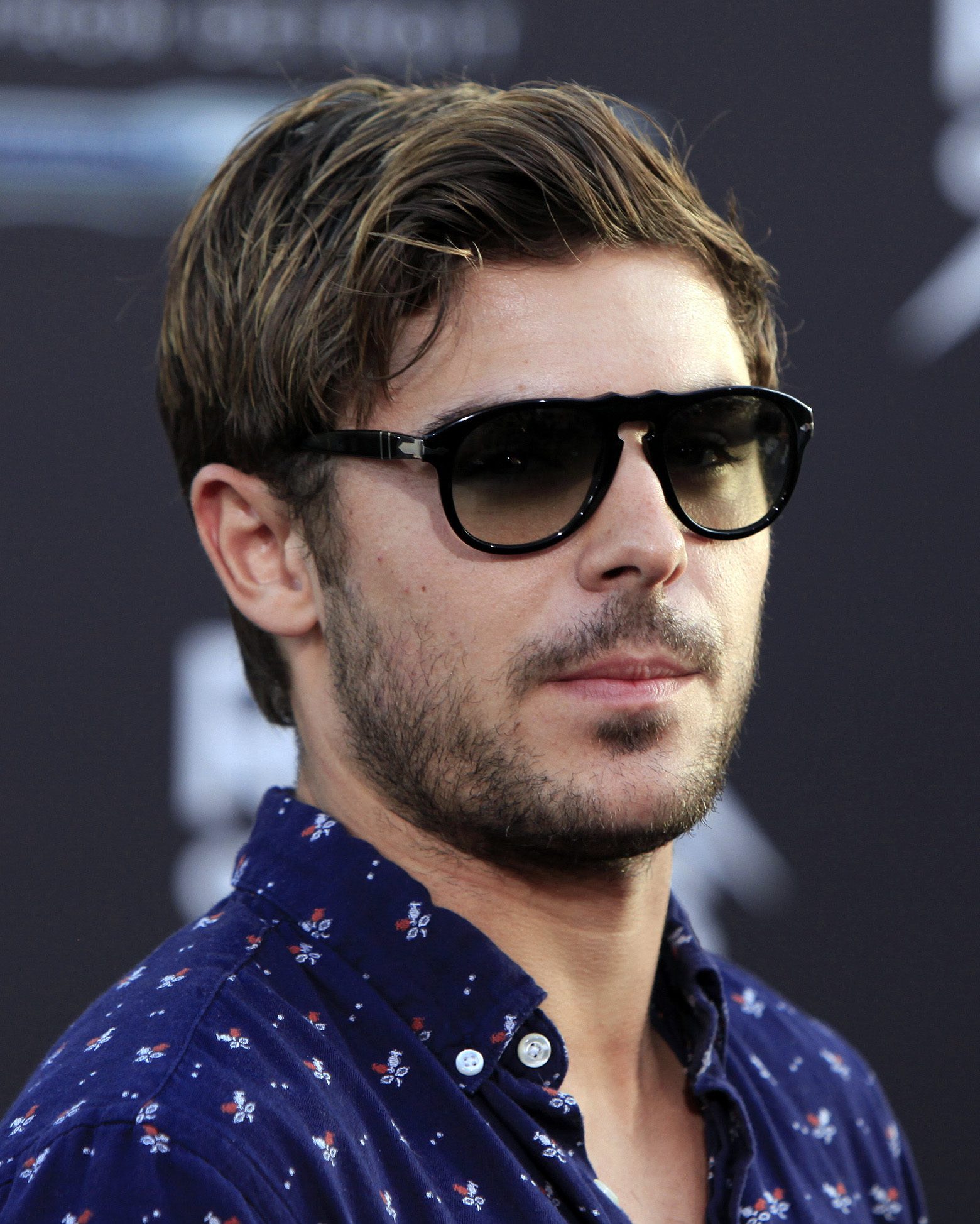 Ivy League
If you're after a toned-down style that's great for school, work, or other formal occasions, then the Ivy League may be just the right cut for you. It's essentially a longer version of the crew cut, and it's beloved by guys around the world. If you're a glasses-wearing athlete or enjoy a low maintenance haircut, the Ivy League will work well with your glasses. As a bonus, it requires minimal styling, so you won't have to spend forever in front of the mirror to get a fantastic look.
22 / 51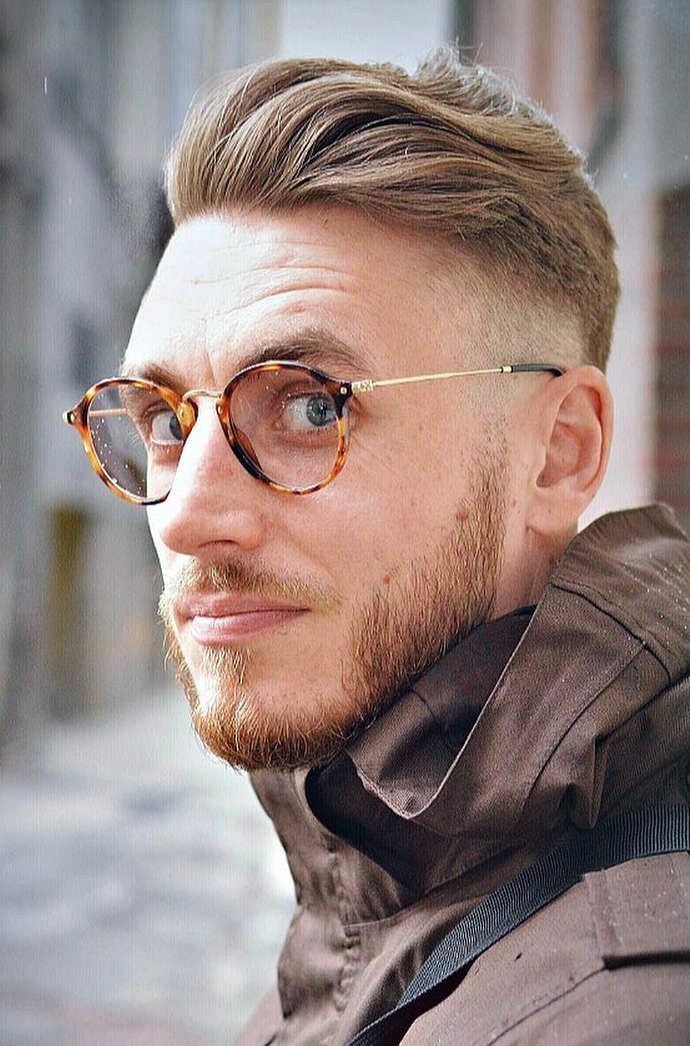 Slicked Back
If you have glasses that fall on the medium or large areas of the spectrum, you'll have slightly more options. Smaller glasses can easily be overpowered by longer hair, but larger glasses don't fall victim to this. That said, keep in mind that super short hair (we're talking #1 all over the head short) will somewhat unbalance your head.
23 / 51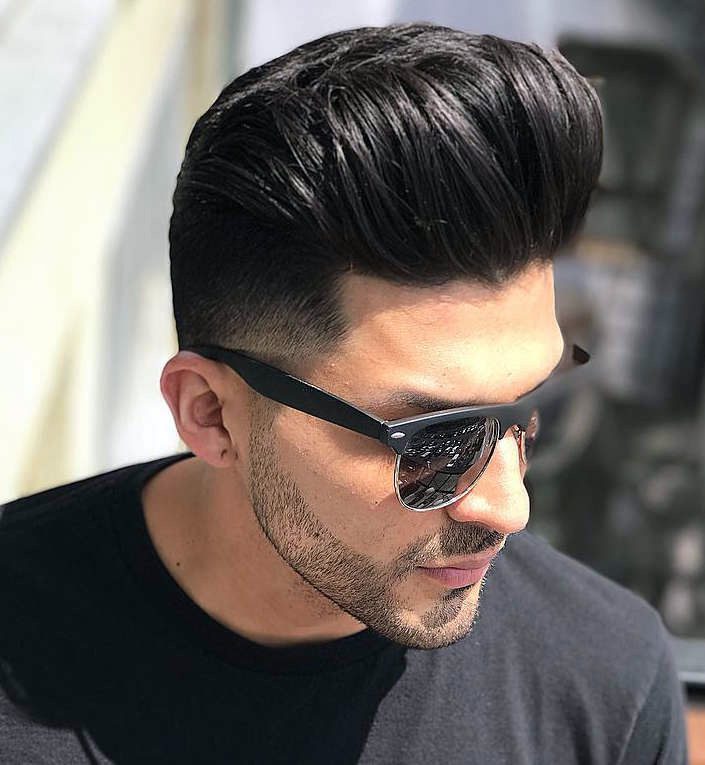 Pompadour
If you've got medium to large sized glasses, a pompadour is a fantastic hairstyle for you. The upward swoop of the pomp will draw the eye from your glasses up toward your hair. It's a killer combo, and while it does require a little bit of styling, the end result is a classic, retro look that we guarantee you'll love.
24 / 51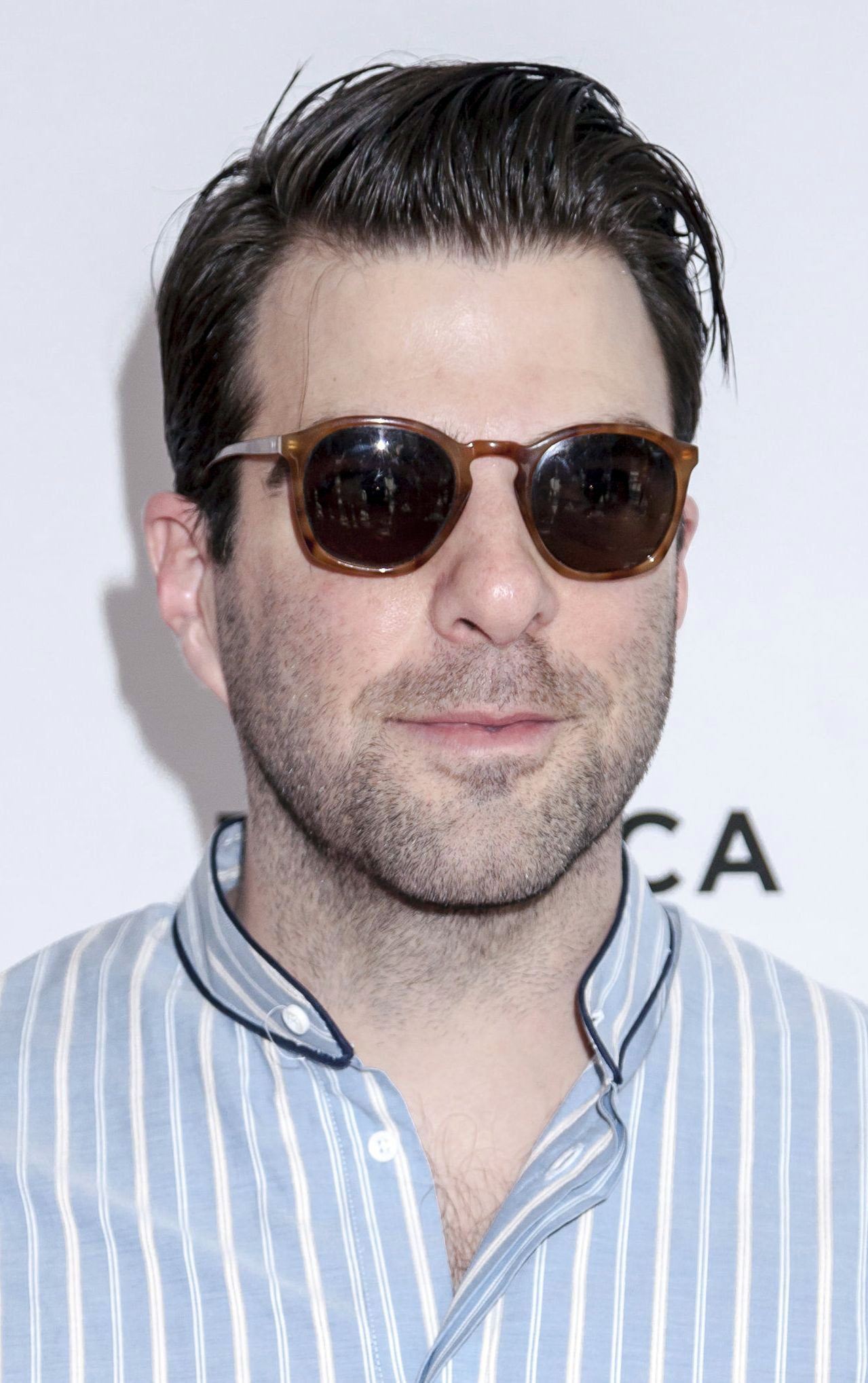 Comb Over
Like the pompadour and quiff, the comb over takes your hair out of your face and places it in a prominent spot atop your head. This will help to create a nice visual contrast and keep your hair and glasses separate focal points instead of blending into one.
25 / 51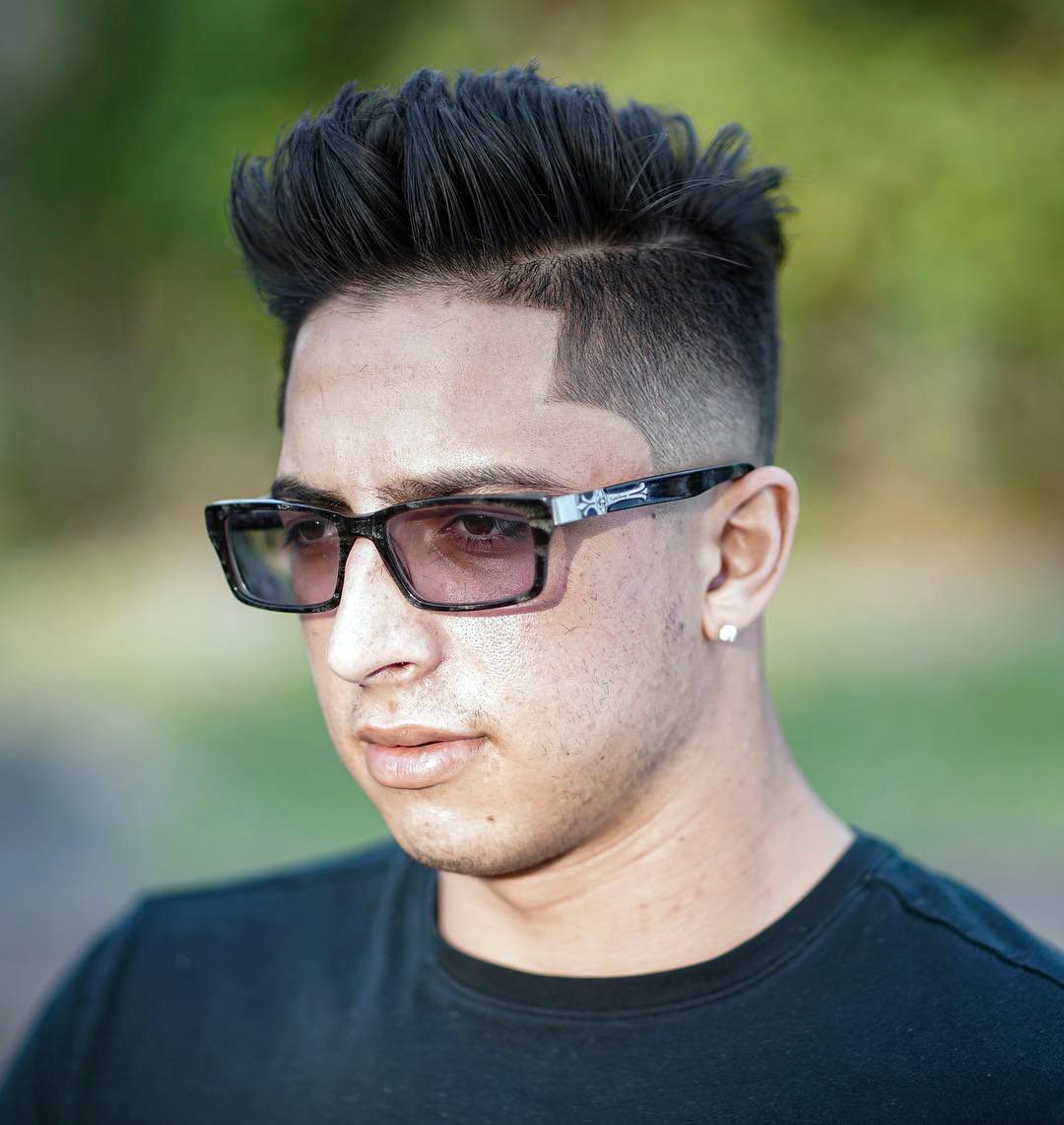 Line Up + Square Glasses
With square glasses, you can pull off a lot of volume in your hair. You can also choose a haircut with a fringe if you want, but if you do, opt for a clean-shaven face. If you have a beard and a fringe, they'll compete with each other, obscuring your face in the process.
26 / 51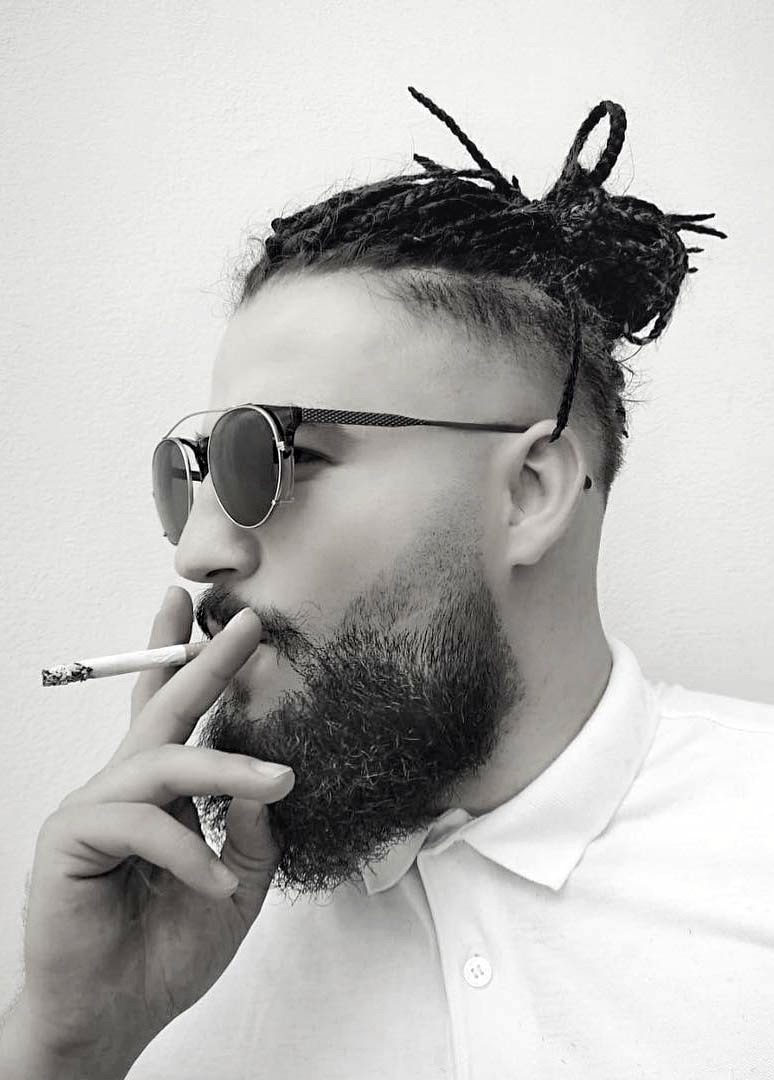 Man Bun
While longer hair and small glasses can unbalance each other, long hair plus large glasses is a great combination. If you've been thinking about rocking the man bun in 2019 along with your frames, do it! We're giving you the official hairstyle fashion thumbs-up. A benefit of the man bun is that you can wear your hair long and loose or shorter and tied up. Both will pair nicely with medium to large glasses.
27 / 51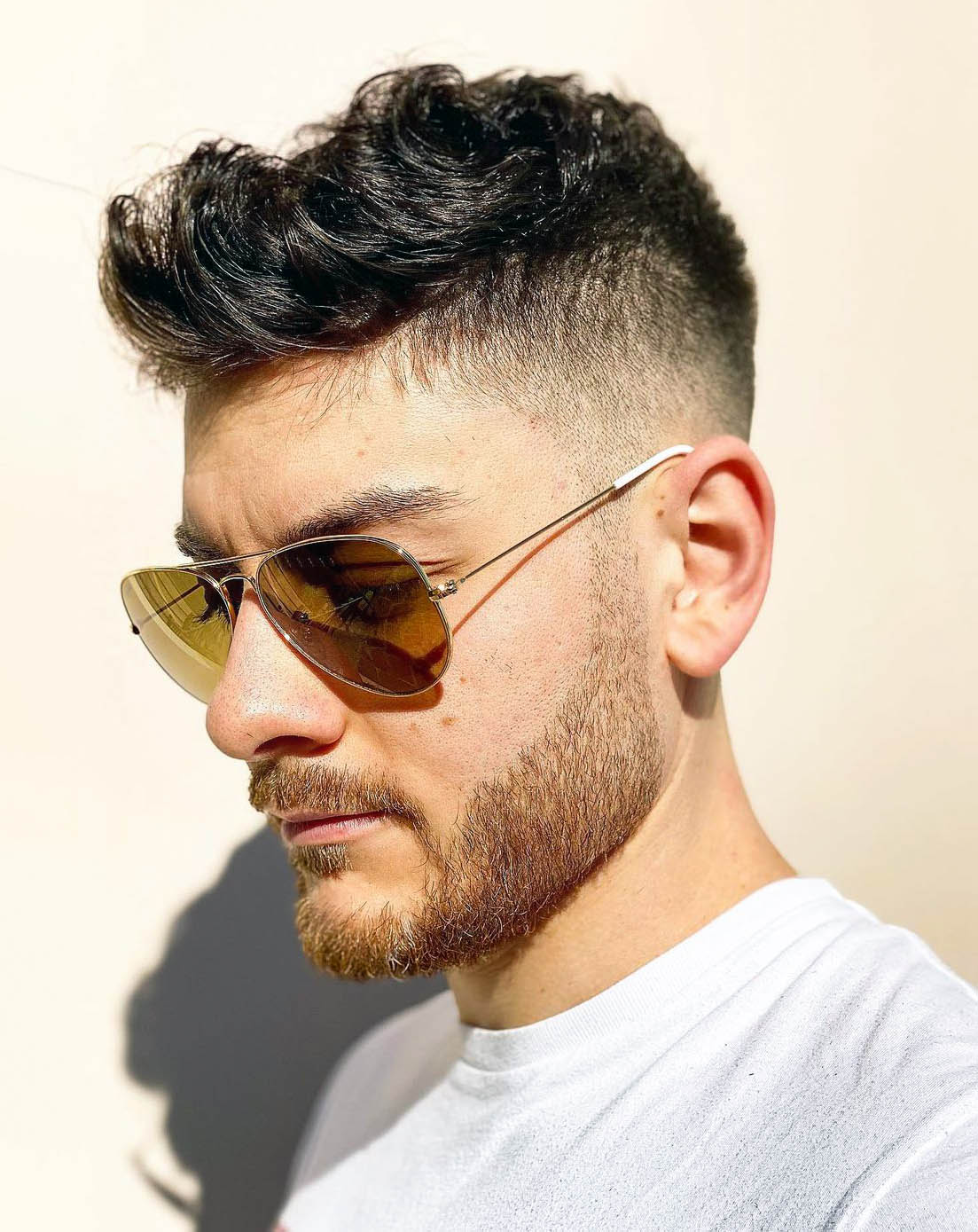 High fade Quiff
Do you want to take away from the intensity of a quiff and add some years of youth to the style? Then go for a high fade with Quiff. With short stubble and stylish shades, you are bound to turn heads wherever you go!
Shades are an opportunity to add substance to your personality. This purpose is achieved flawlessly with this youthful iteration of the Quiff. Ask your barber to fade the temples, leaving the centre somewhat untouched. Apply enough styling product and finger-comb those fringes up. Last but not least, wear a shroud of confidence and you are ready to go!
28 / 51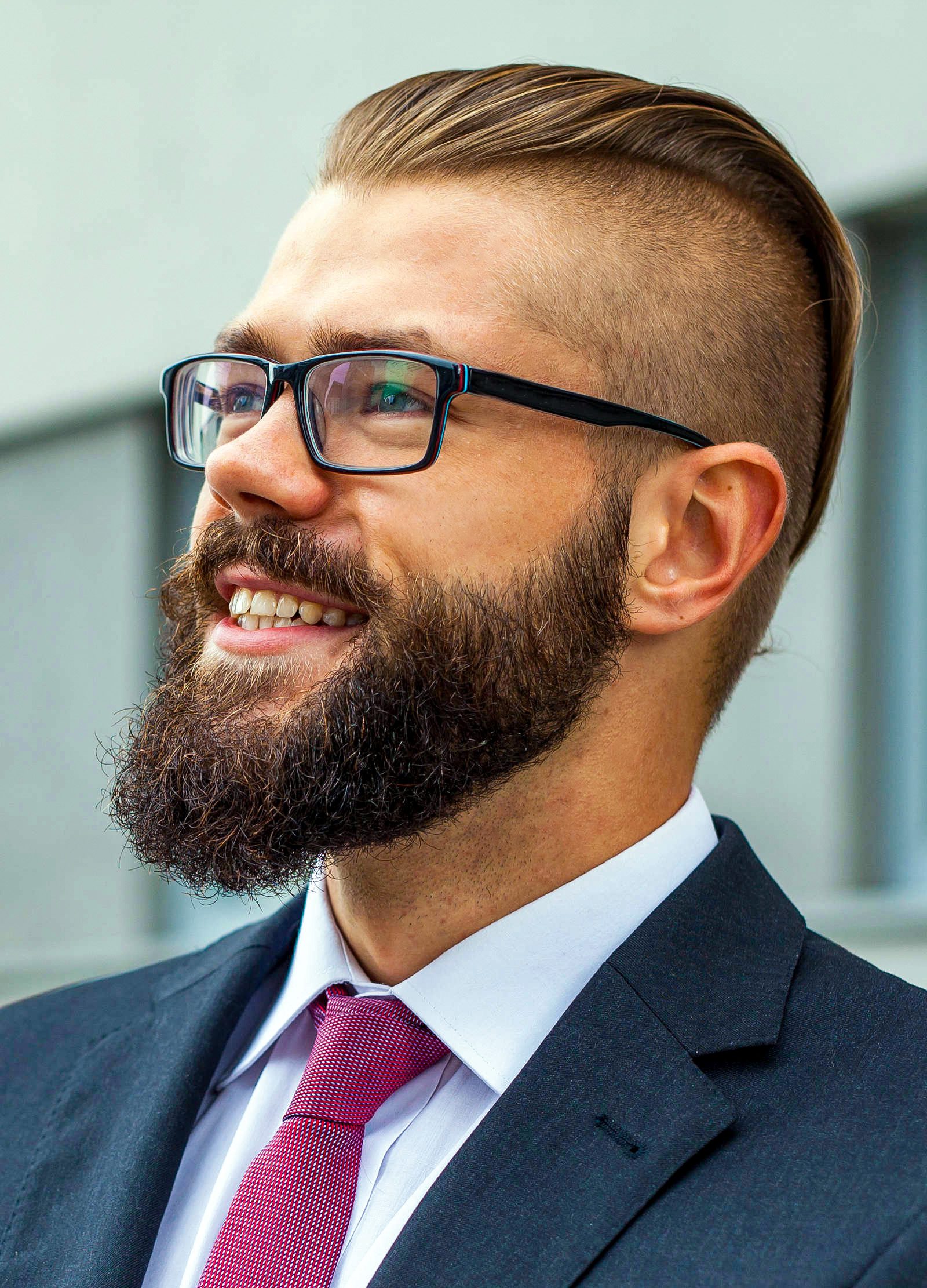 Disconnected Undercut
Like many other cuts on this list, the disconnected undercut will add volume to your hair and provide contrast. It's another adventurous haircut, especially if you ask for a hard part. However, you can make it more versatile by having less hair on top and sides that are clipped with a medium clipper setting like a #4.
29 / 51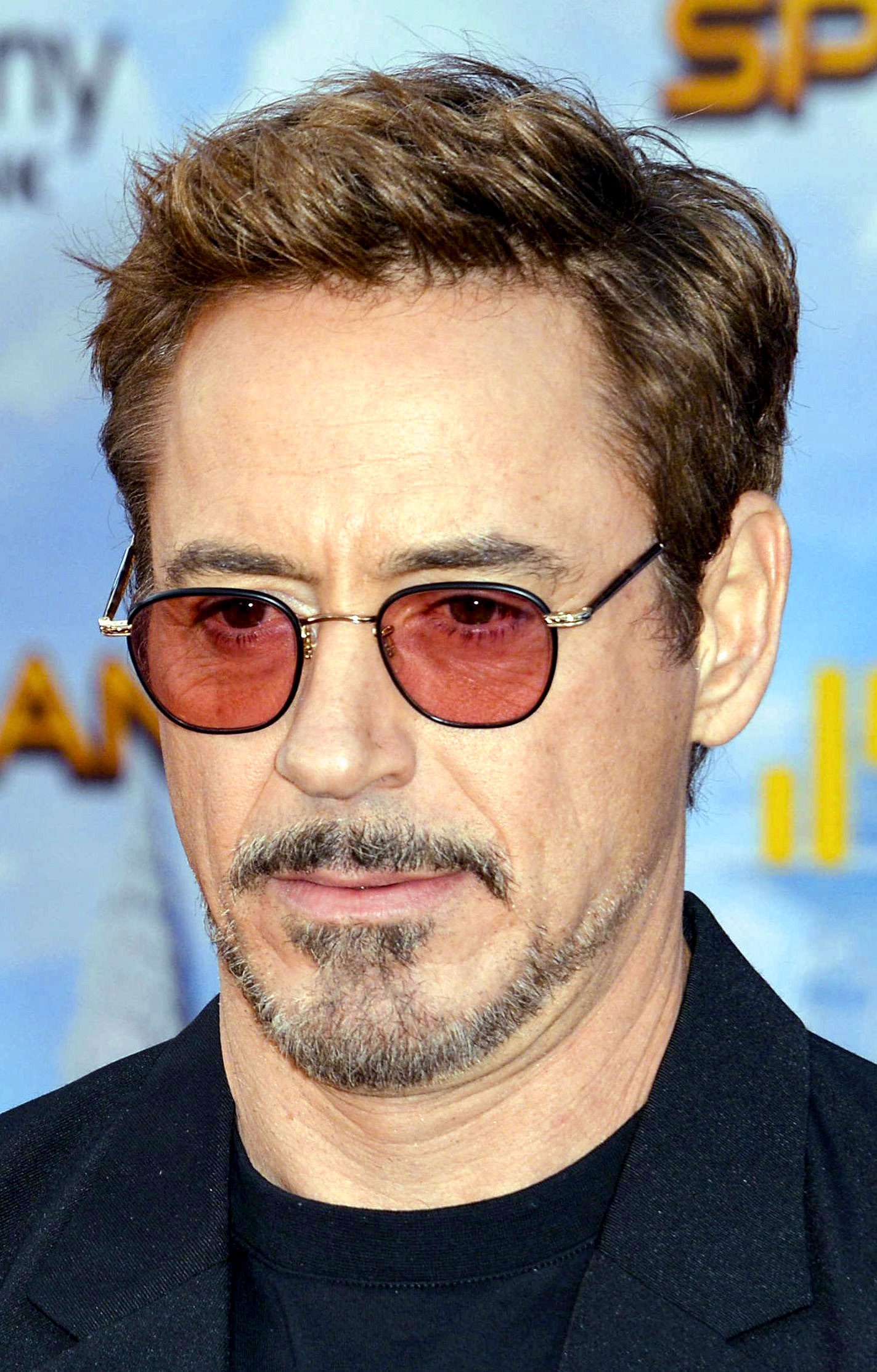 Downey's Classic Short Side Brush Top
This classic look is great because it takes no time to tussle the locks right into place. The sides are short, so there is no problem there and the top is easily combed into place with a few swipes.
30 / 51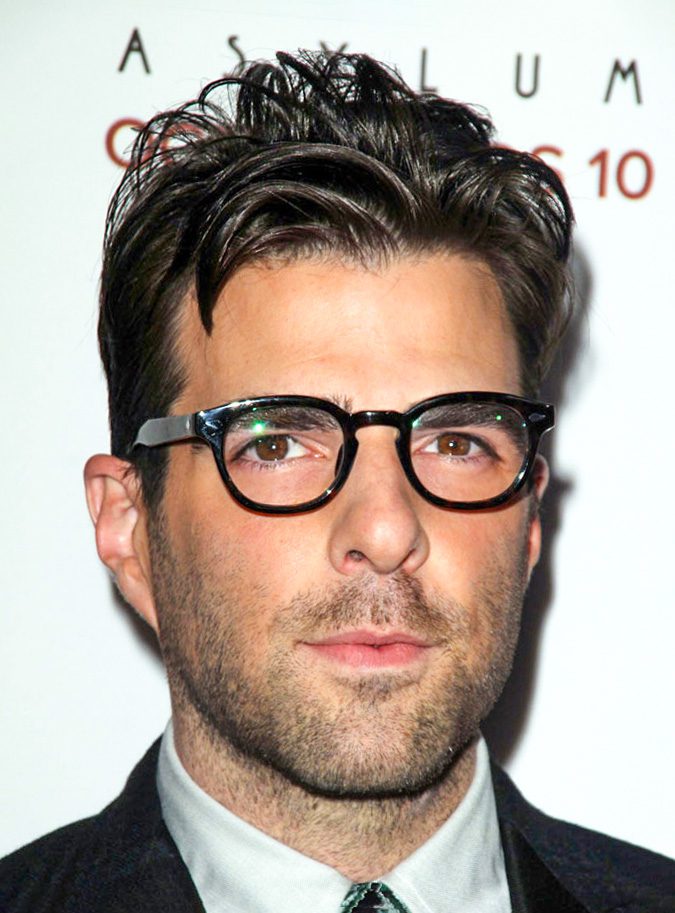 Side Swept Messy Style but elegant with Glasses
The messy look is always in. It's running fingers through the hair or running out the door, but it works. Especially here with a five o'clock shadow and thick modern frames.
31 / 51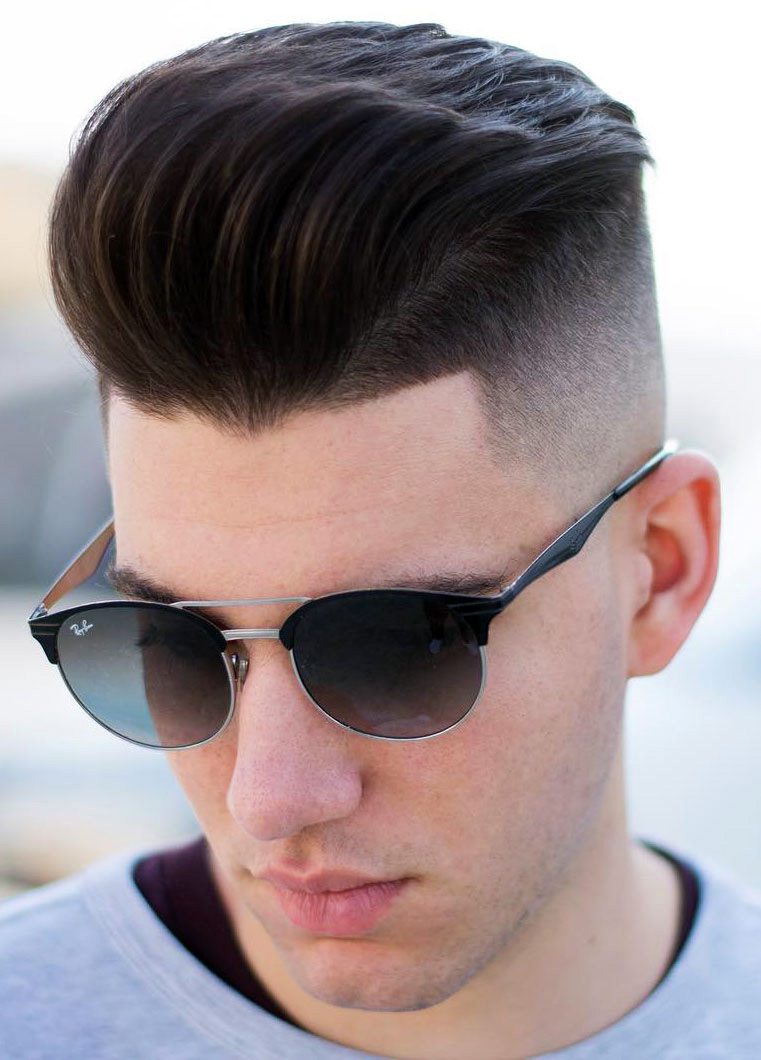 Undercut
The undercut is a one haircut that refuses to step out of the spotlight. It's also one of the best haircuts for men with glasses. If you have smaller glasses, an undercut will add some symmetry to your head with a short cut. And if you want some contrast, you can always keep the sides short and add length on top for a lively variation. The undercut will nicely balance your smaller glasses and give you an all around classic look.
32 / 51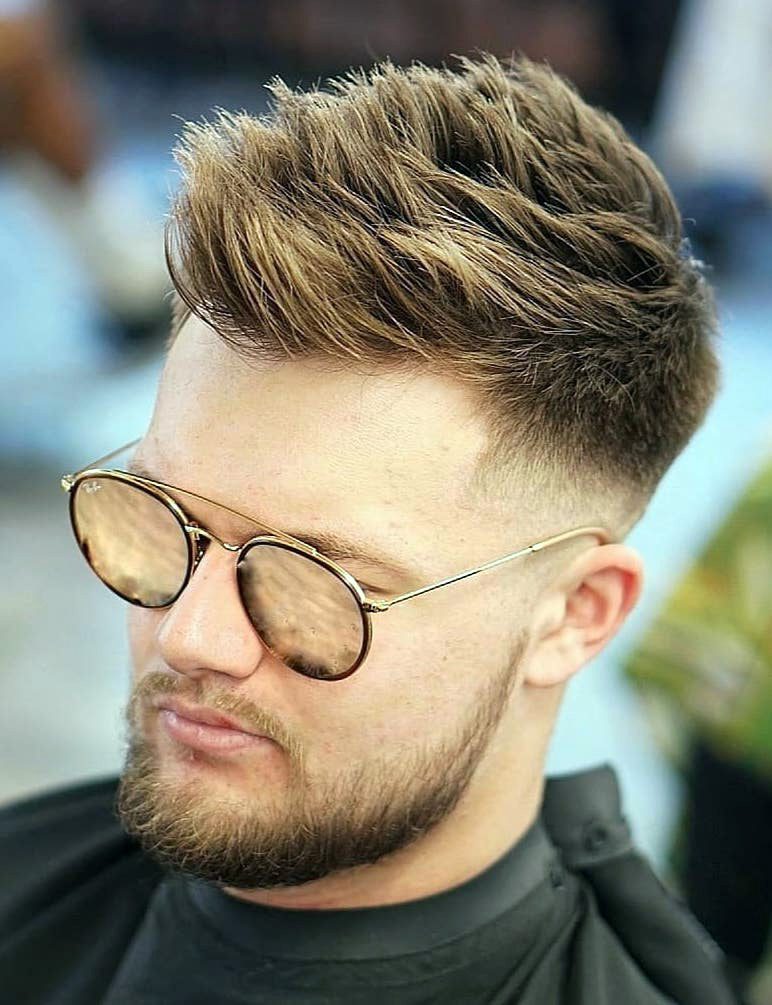 Undercut Brush Up with Subtle Temple Fade
When needing a change from long hair, the undercut brush up is a good way to look brand new. Subtly cut the sides down, but leave a few inches on the top and brush it up. Add some mirrored shades with an eyebrow bar for maximum effect.
33 / 51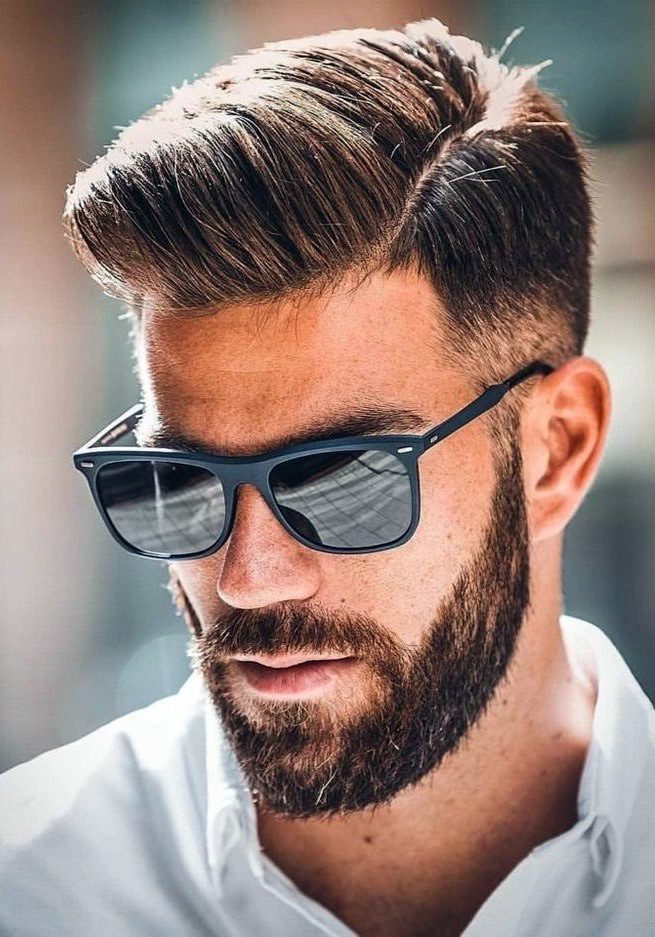 Fluffed Quiff with Low Faded Sides
Side parted quiff is quite fancy with tapered sides make it for a neat look. The low fade makes it neat with top being side brushed quiff makes up for a neat look especially when that volume is balanced with a beard.
34 / 51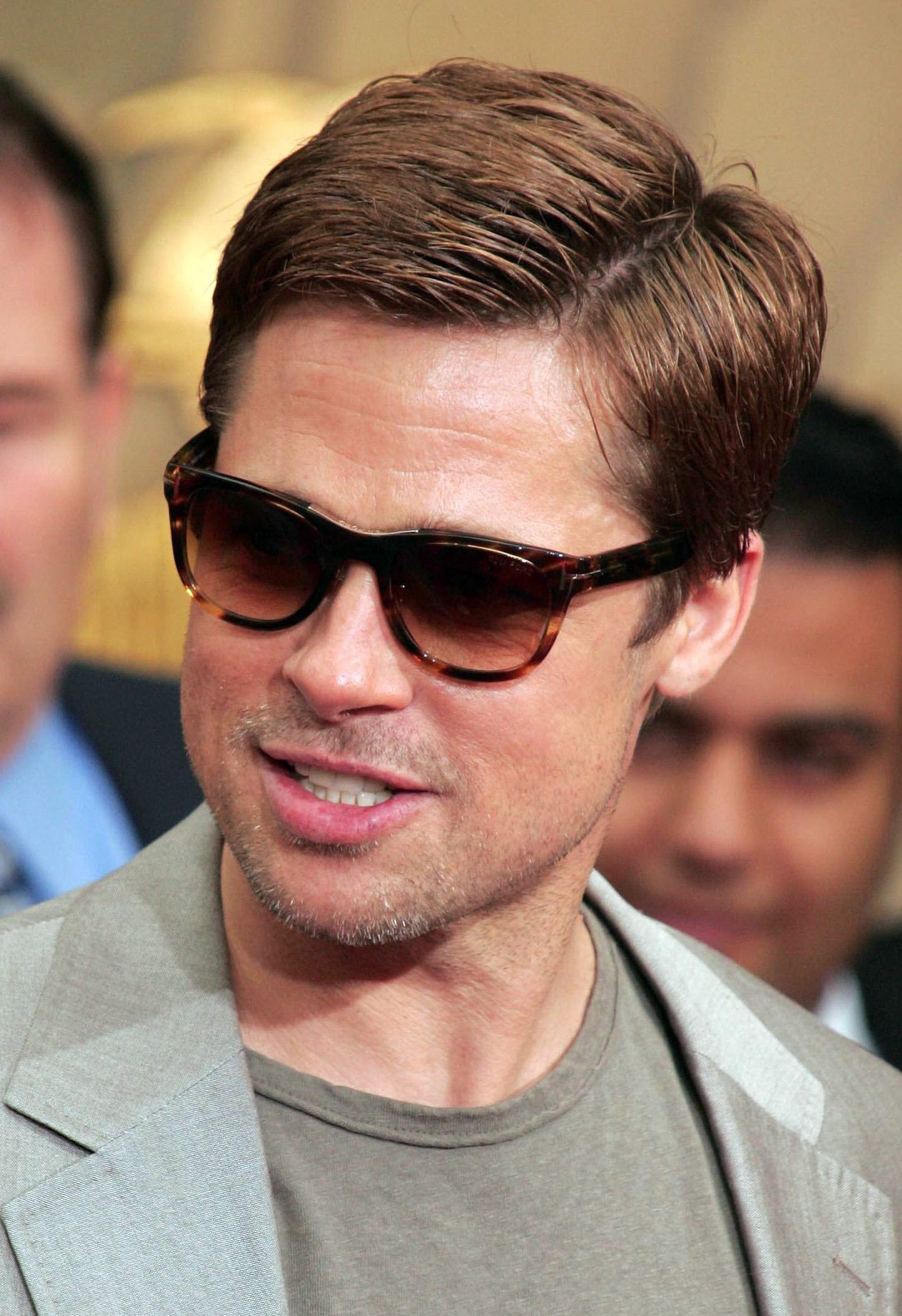 Side Part
The side part is another go-to hairstyle that we almost always recommend. Naturally, it's one of the best haircuts for men with glasses. A shorter side part will pair nicely with smaller glasses. Combine it with a skin fade on the sides, and you'll have a well balanced look that's super trendy. (Bonus tip: Add a skin fade to most of the cuts on this list, and you'll have a fantastic style!)
35 / 51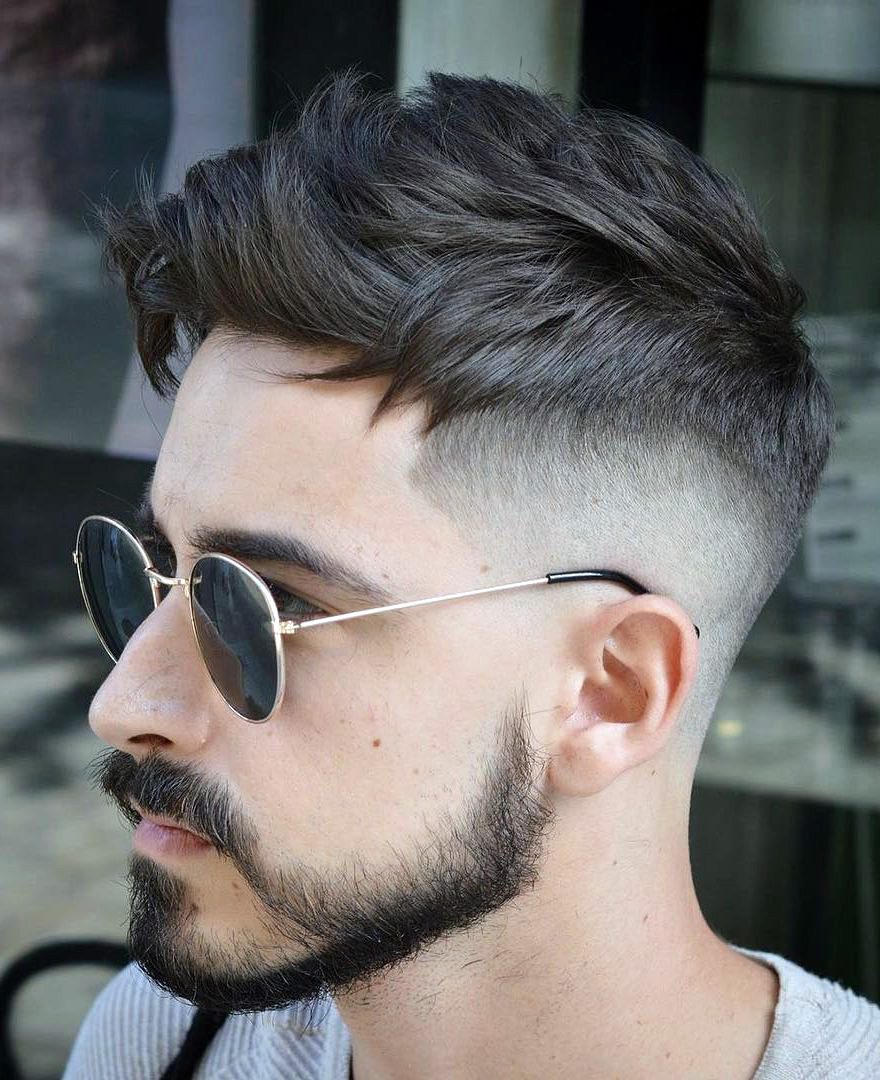 High Skin Fade Undercut
The last few years have been years of the skin fade. Everyone gets them when they go to the barber, and they all look fresh to death. This tousled top goes well with the fade and oversized Lennon glasses.
36 / 51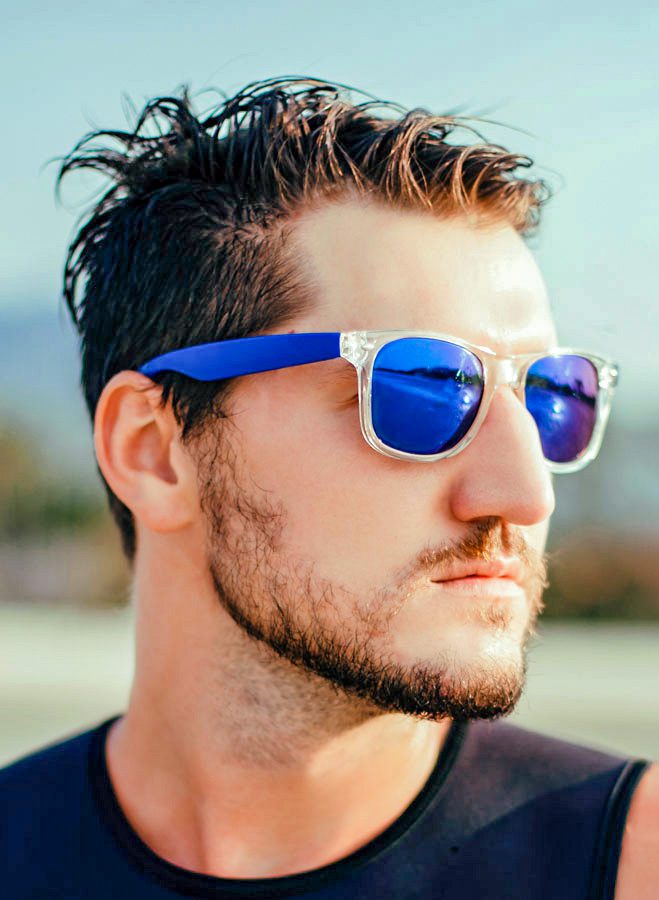 The Wet Medium Crop
Wet hair automatically means a beach or pool. With the wet look here, this surfer shows that he's all about the future and not worrying about the problems of the past. The blue-tinted shades fit perfectly with the just got off the waves look.
37 / 51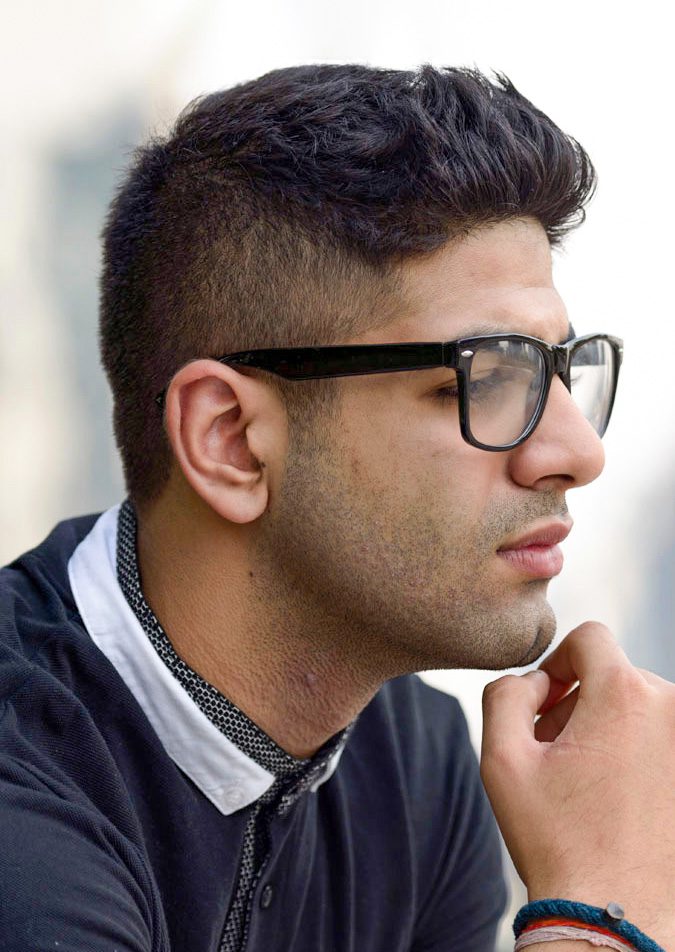 Textured Top and Classic Taper
Thinking about getting a new cut is not easy. With a top that has high volume and sides that are tapered, things become clear. The glasses make him look like he works as a creative.
38 / 51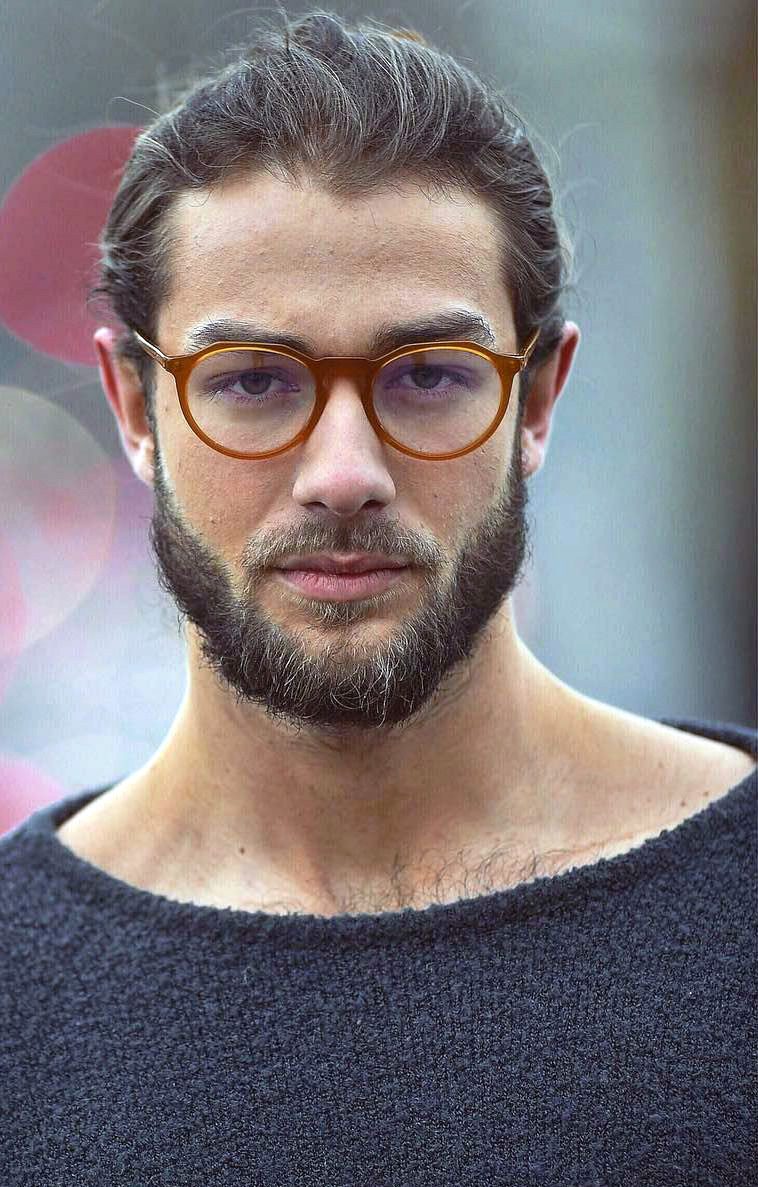 Relaxed Slick Back and Beard
This hairstyle suggests sophistication with a fun twist.
It works best on thick hair and styling it couldn't be more simple, just add a little amount of gel to your hand and start styling. If your hair still needs more product, we recommend to finish this look with hair spray to keep the carefree feeling.
39 / 51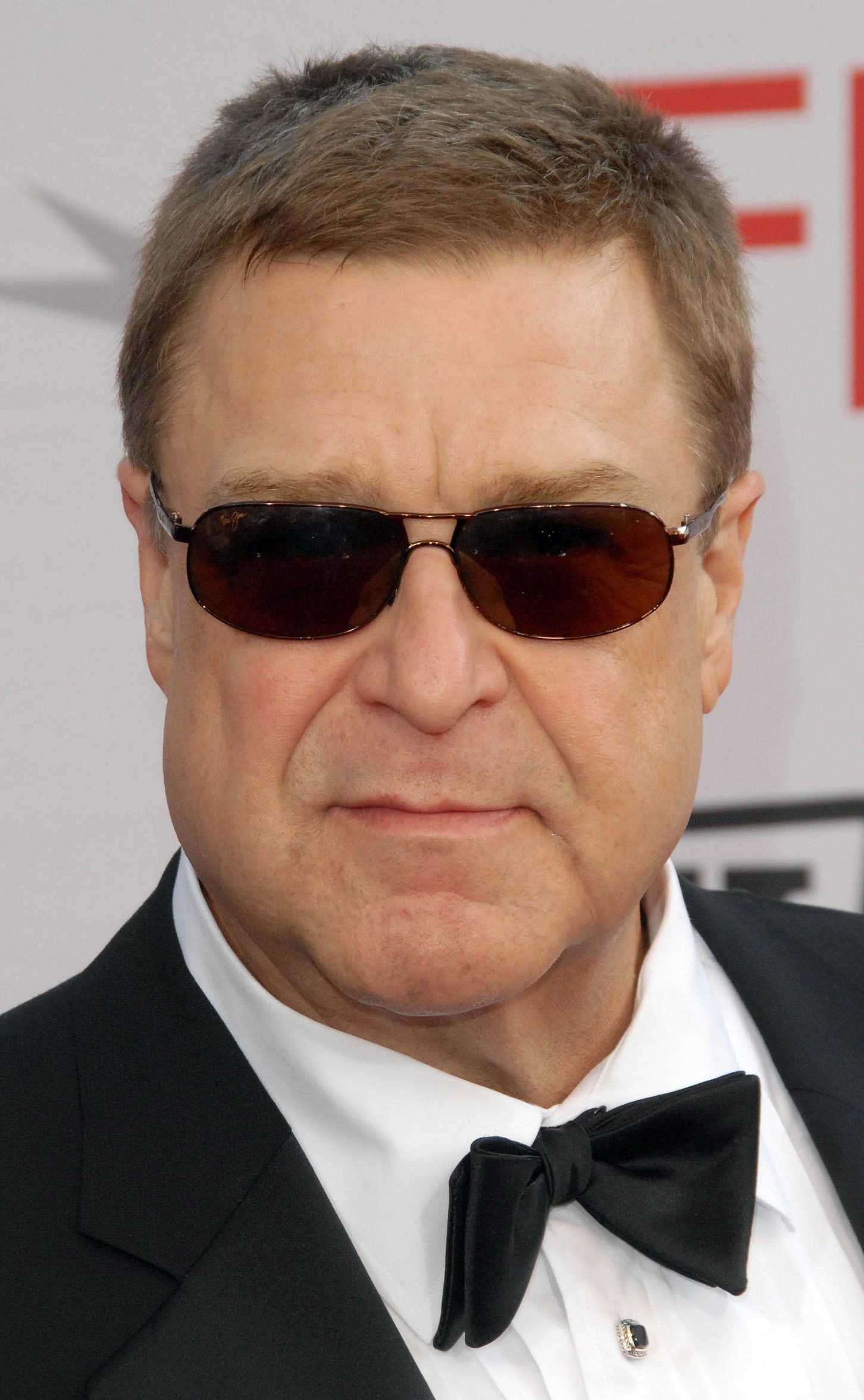 Shorter Hairstyles for Smaller Glasses
If you have smaller glasses, you'll want to stick with shorter to medium length cuts. Longer styles can make your head and face unbalanced, leaving you with what could potentially be a fashion faux pas.
40 / 51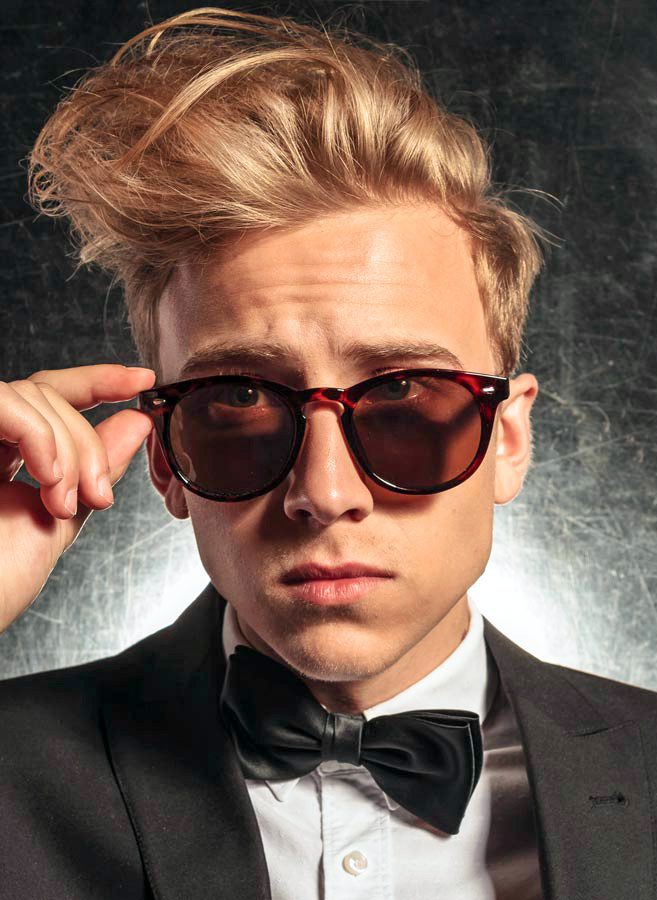 Quiff
Another vertically inspired hairstyle, the quiff is going to be one of 2019's hairstyle hallmarks, and it's one of our favorite haircuts for men with glasses. You can add some texture to your quiff and get some serious volume going, or you can comb it back a little bit for a faux pompadour look. It's a fun, versatile style that goes great with a larger pair of glasses.
41 / 51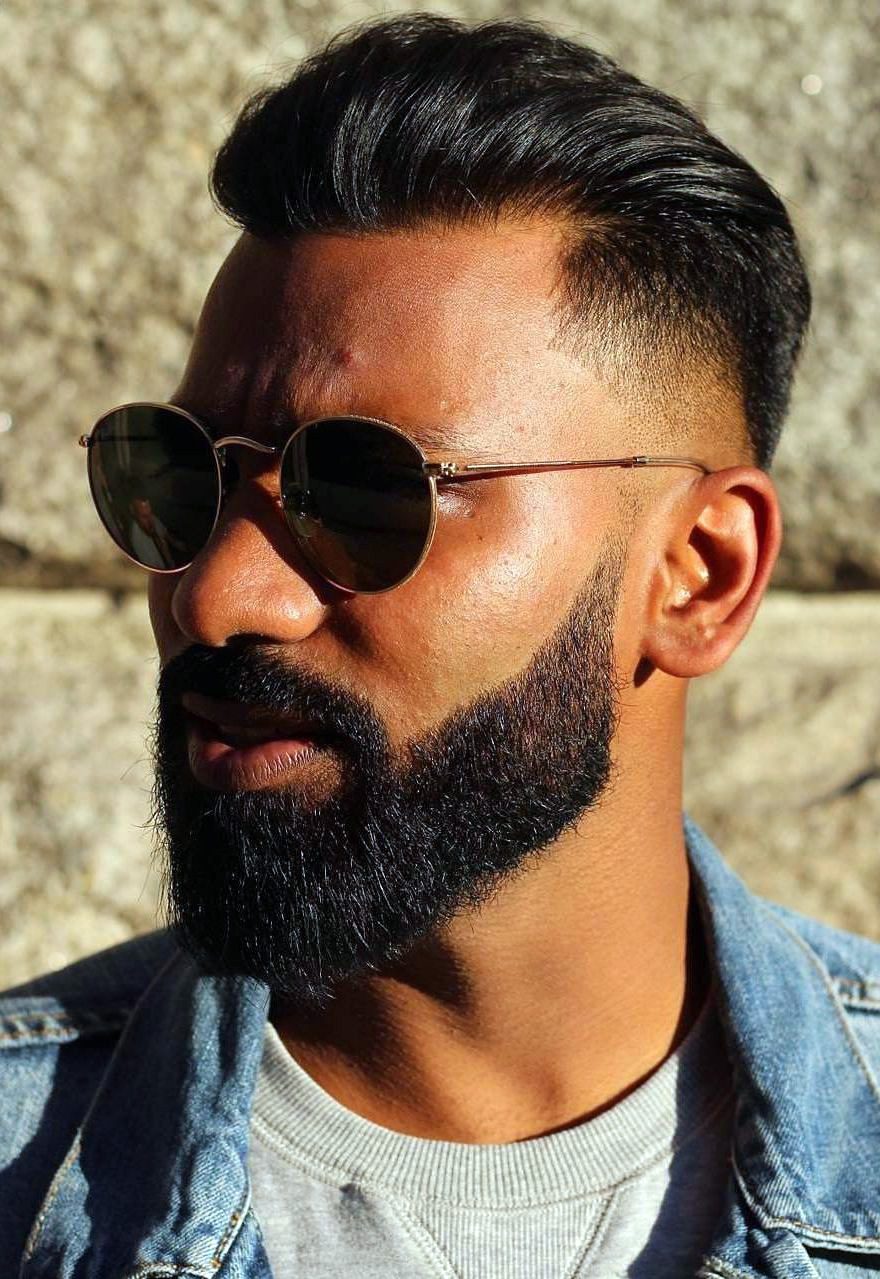 Slicked Back with Drop Fade
The dry slicked back look feels rugged like the wind has been blowing through the hair for hours. With a drop fade, meticulously trimmed beard, and some stunner shades, this is a look for the outdoors.
42 / 51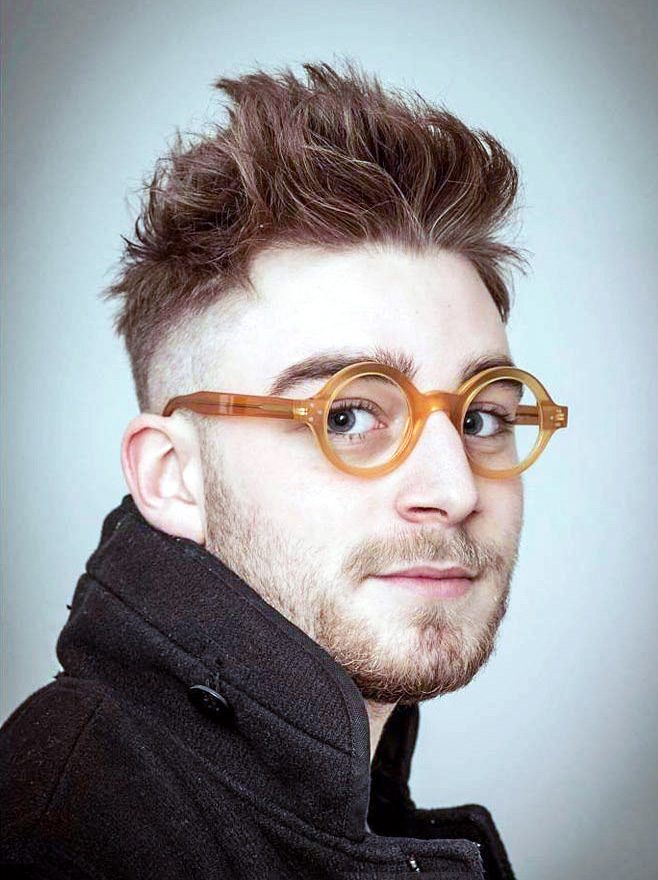 Wild Brush Up Skin Fade and Glasses
Here's to the wild ones! This brush-up looks like it could keep going up forever before it actually comes back down. The skin fade is tight and the Annie Hall circular glasses are very right now.
43 / 51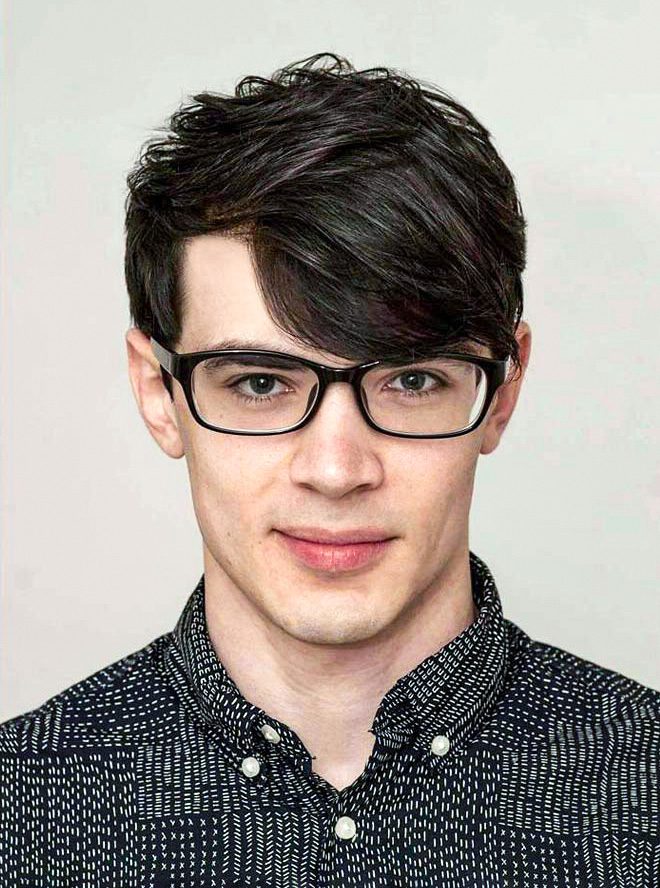 Side Swept Fringe Angular Style
Having a side part, but also not having a side part looks really good here. The top is long while the side hasn't been cut in a while. The angular glasses conform to his high cheekbones.
44 / 51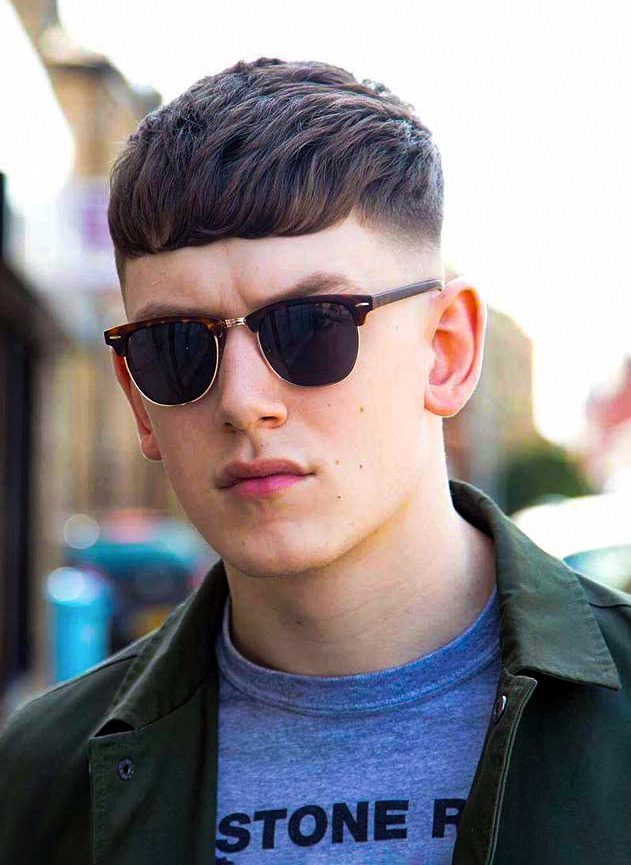 Medium Skin Fade Textured Crop
The crop with texture is everywhere these days with the younger generation. The skin fade provides the shape and the undersized Browline glasses really work here.
45 / 51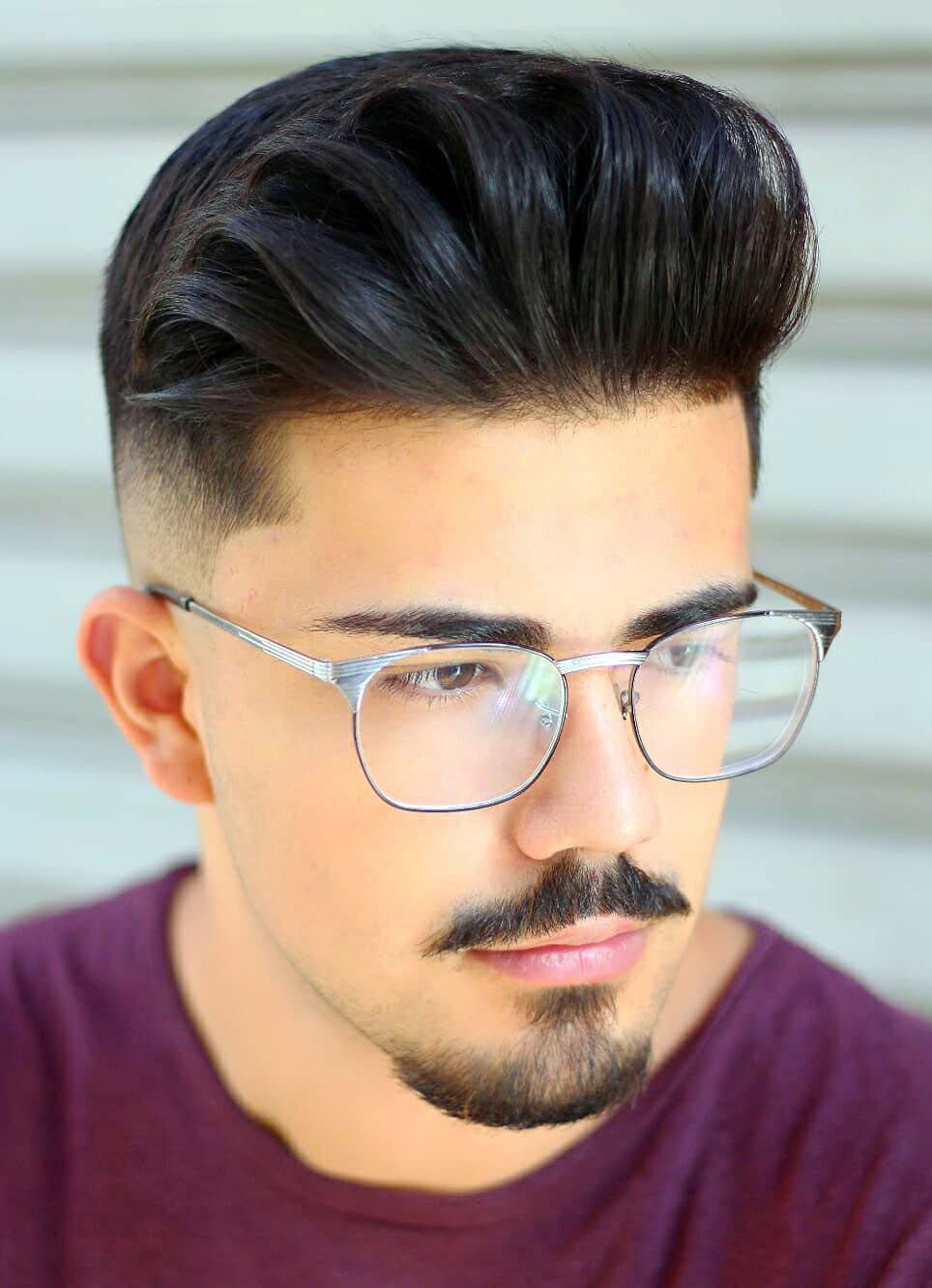 Quiff with Mid Fade and 'Stache
The quiff is still dazzling after all these years. It's amazing what a little water, wax, and a hair dryer can do to change a person's appearance. The mustache, small goatee, and studious glasses bring the look altogether.
46 / 51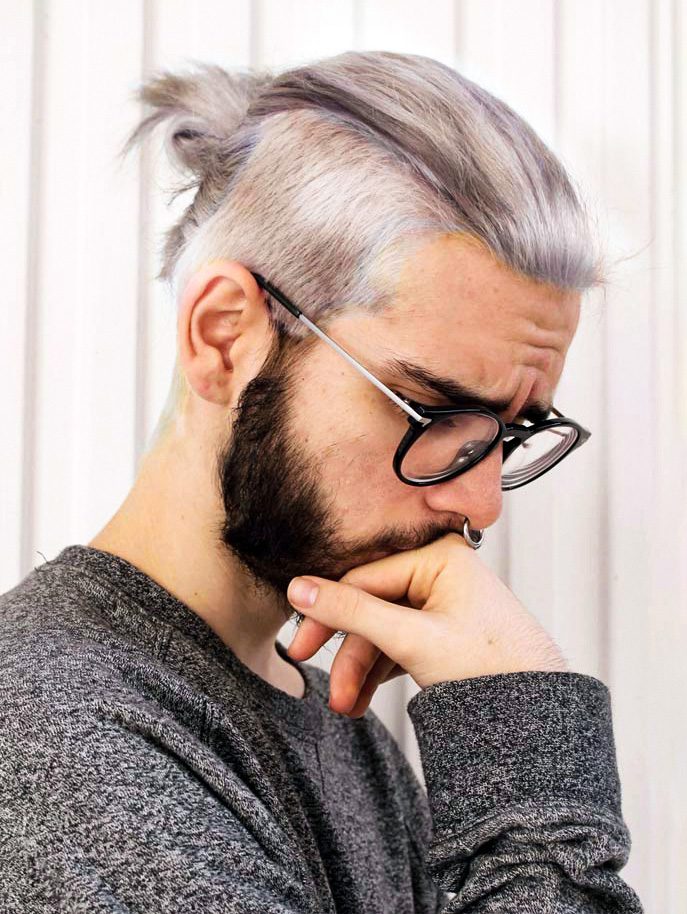 Ashy Man Bun with Undercut
The man bun is still holding on to popularity because of its actual usefulness. The gray dye job here looks very contemporary and the round glasses fit his features.
47 / 51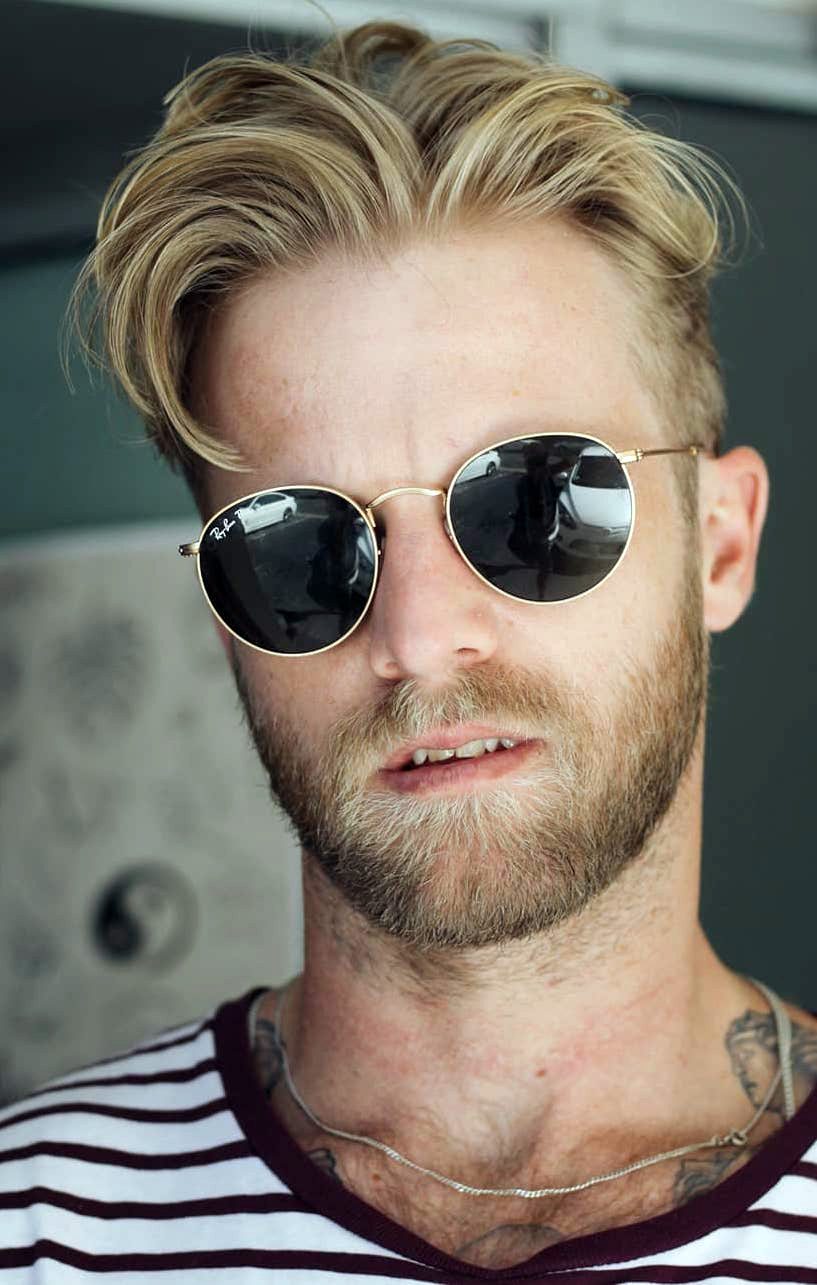 Mid Parted Strands
Parting hair in the middle used to be nerdy, but no more. This modern update on a classic look shows that the middle part can be sexy and cool when styled in the right way. The round Ray-Bans pull the viewer into the face.
48 / 51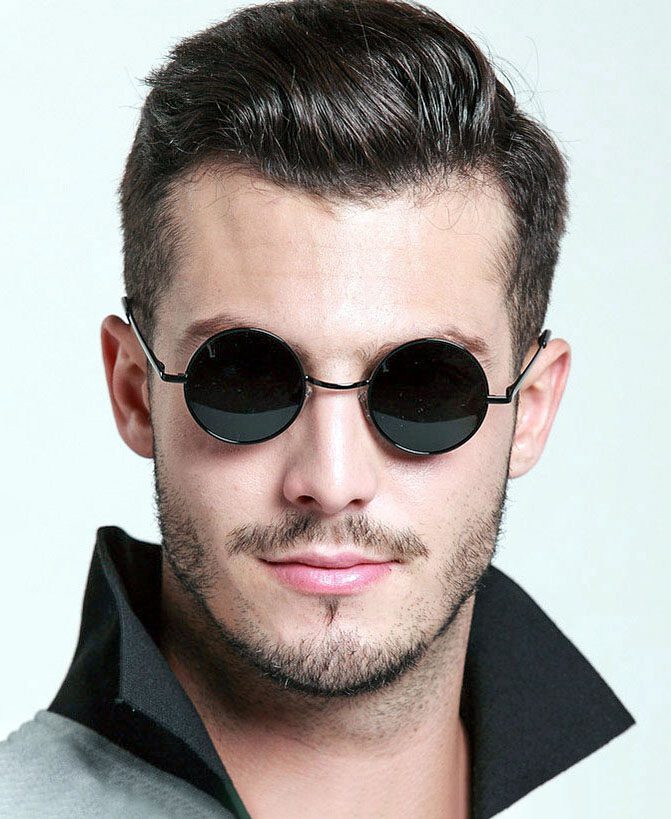 Slicked Back Undercut with Round Glasses
This is yet another style that takes your hair back for a timeless look. The clipped sides and high contrast help your glasses and hair stand out. Pair it with a skin fade for a super contemporary twist on this style.
Since rounder glasses naturally echo the more ovaline shape of your eyes, you want to avoid any haircut that obscures your face too much. If you have round glasses, we recommend staying away from hairstyles with fringes.
49 / 51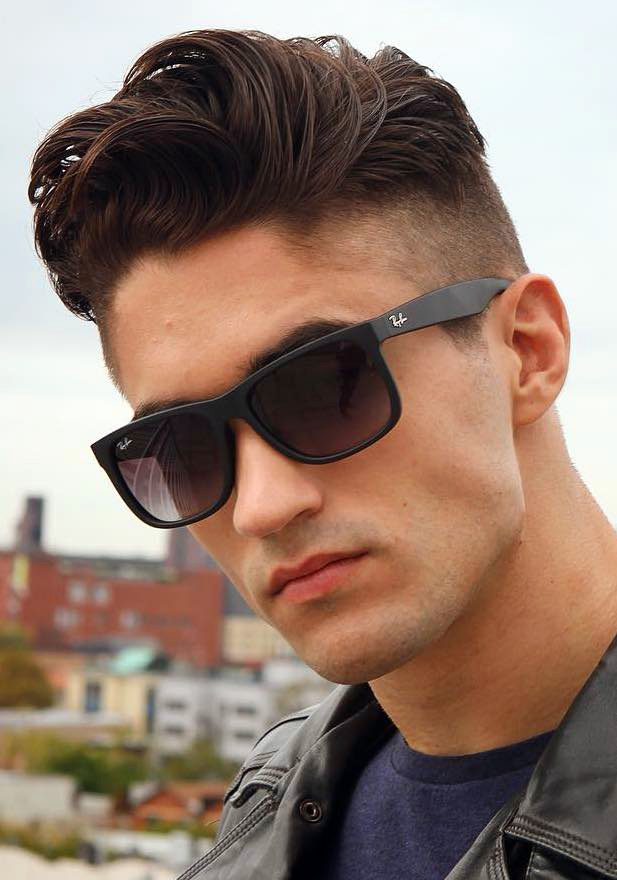 Wavy Top Undercut
For those with no fear of getting their wavy hair bigger and bigger, the wavy top undercut. The sides are trimmed nicely, while the top keeps getting brushed up and up and up. Perfect for retro-cool Ray-Bans.
50 / 51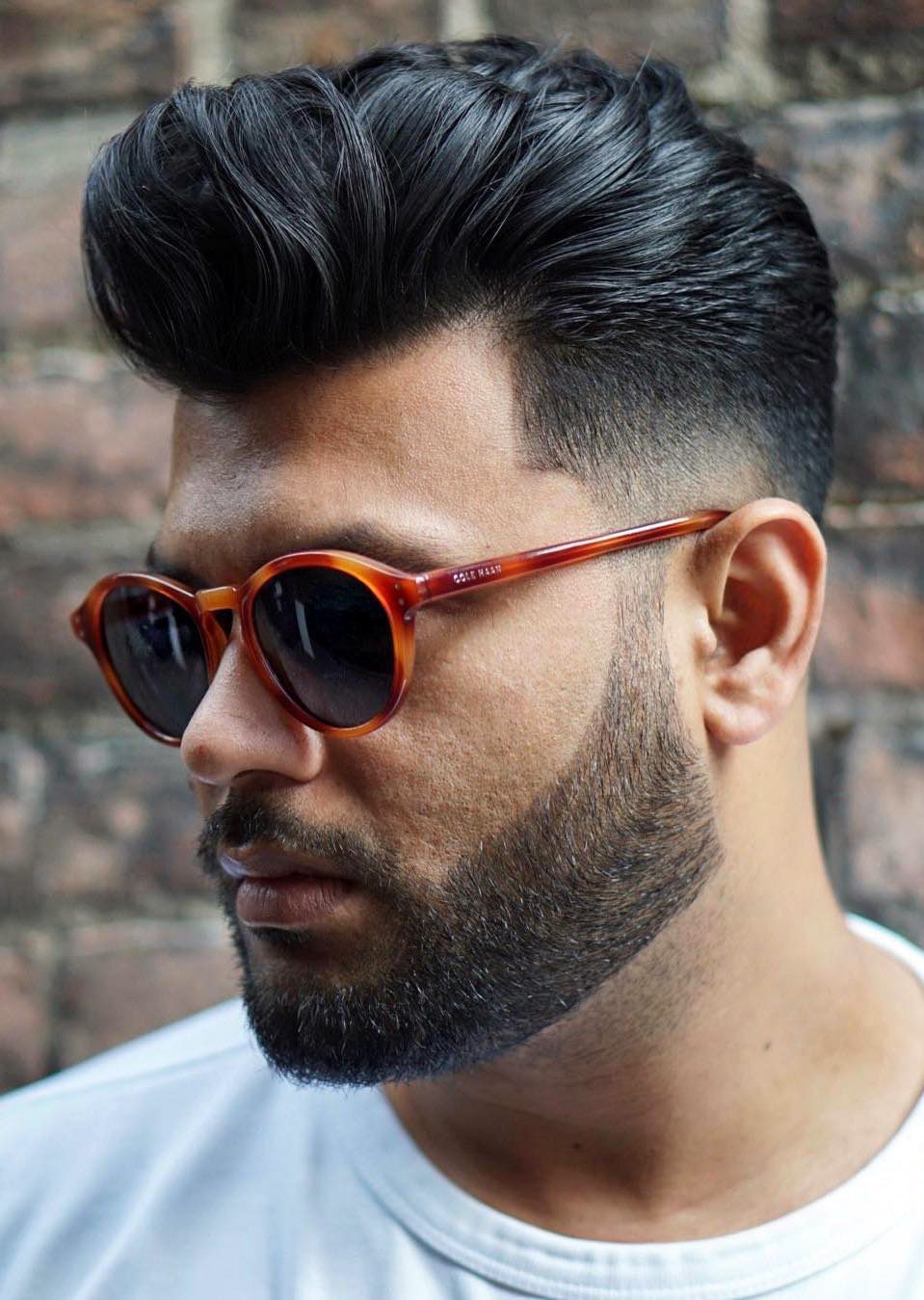 Pompadour with Taper Fade
The pompadour is timeless and every generation seems to get it right. This cut with a slow taper fade fits very well with the over-the-top glasses.
51 / 51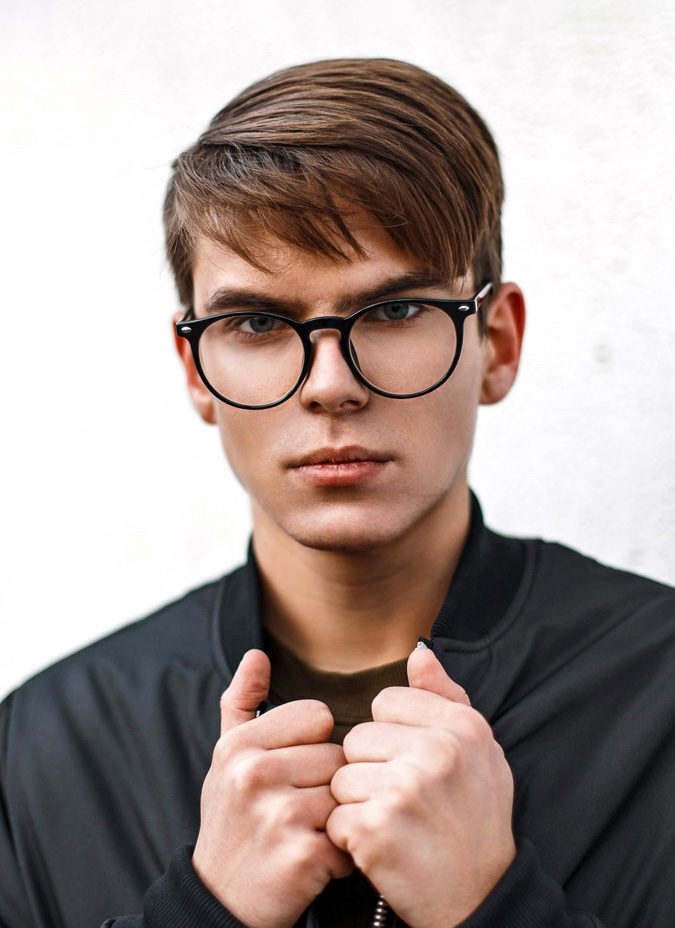 Choppy Side-Swept Fringe
We can't let people with curls or the brush-ups have all the fun. Straight-haired people are also boisterous and chic. The oversized Sally Jessy Raphael frames add a lighthearted touch to the otherwise serious look.