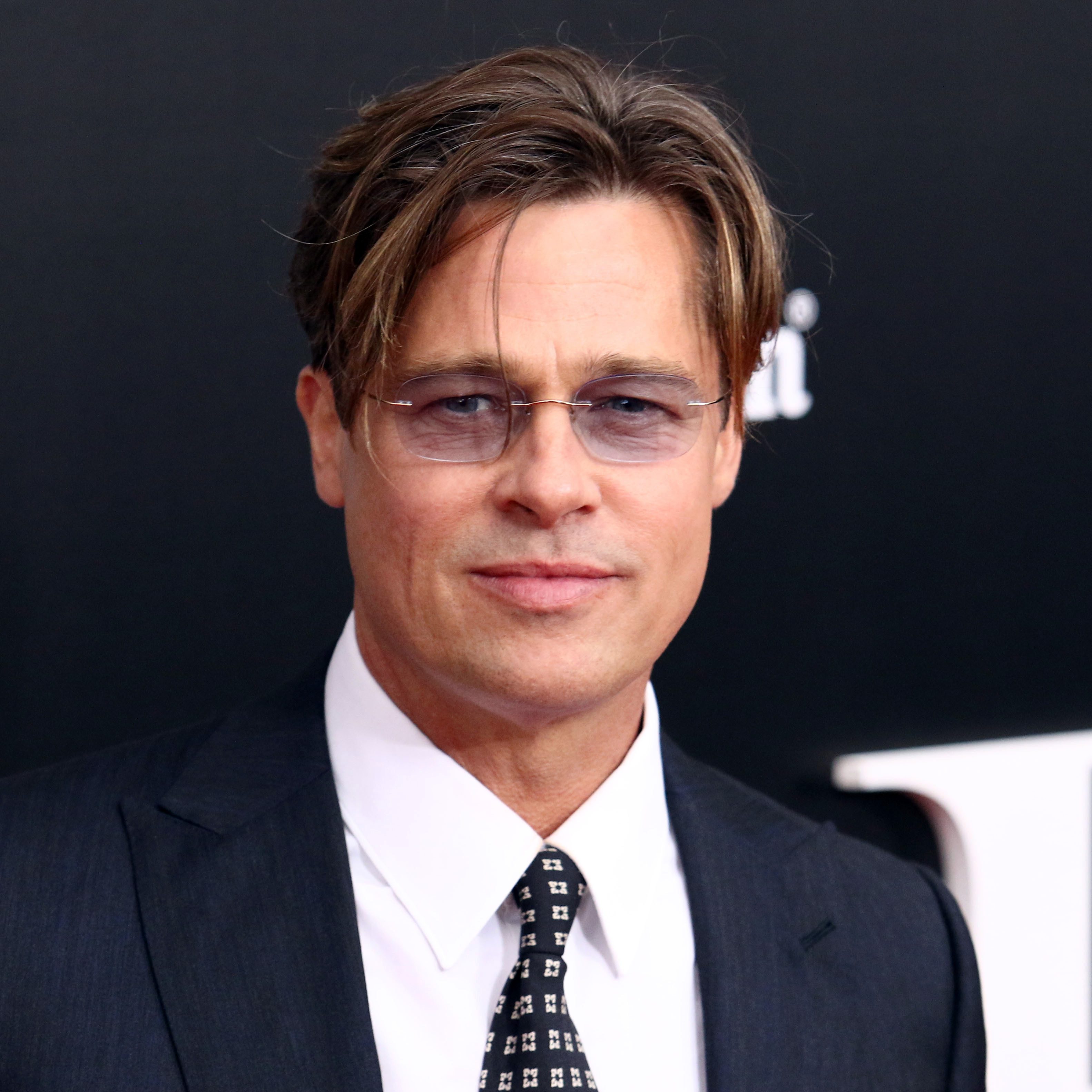 Top 20 Elegant Haircuts for Guys With Square Faces
Learn how a haircut can visually change your jawline and frame your face in a new way
The square face is widely considered to be the most masculine face shape, and it looks great with a wide variety of hairstyles. It's characterized by a prominent jawline, a square forehead, and straight sides. As a result, a square face is quite angular and sharp. The key is to soften the face's angles.
If you're not sure where to begin, here are some of our favorite haircuts for guys with square faces.
1 / 21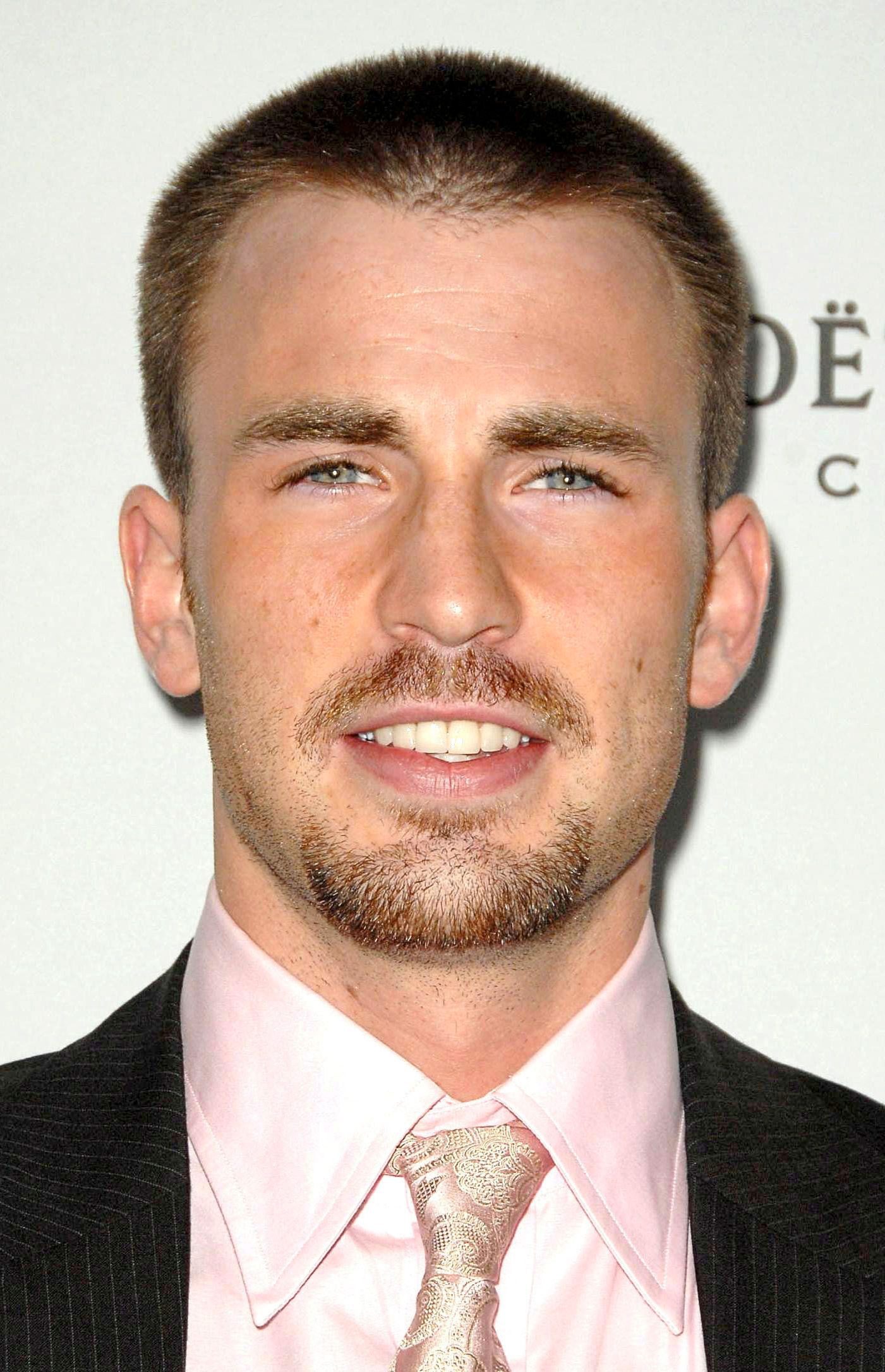 Buzz Cut
Since buzzcuts are short in nature, they also do a good job of highlighting a square face. Opting for something like a crew cut, butch cut, or Ivy League will emphasize your sharp facial features. Buzzcuts tend to be shorter than undercuts and pompadours, so make sure you don't cut your hair too short. If you do, you'll end up drawing too much attention to your face.
2 / 21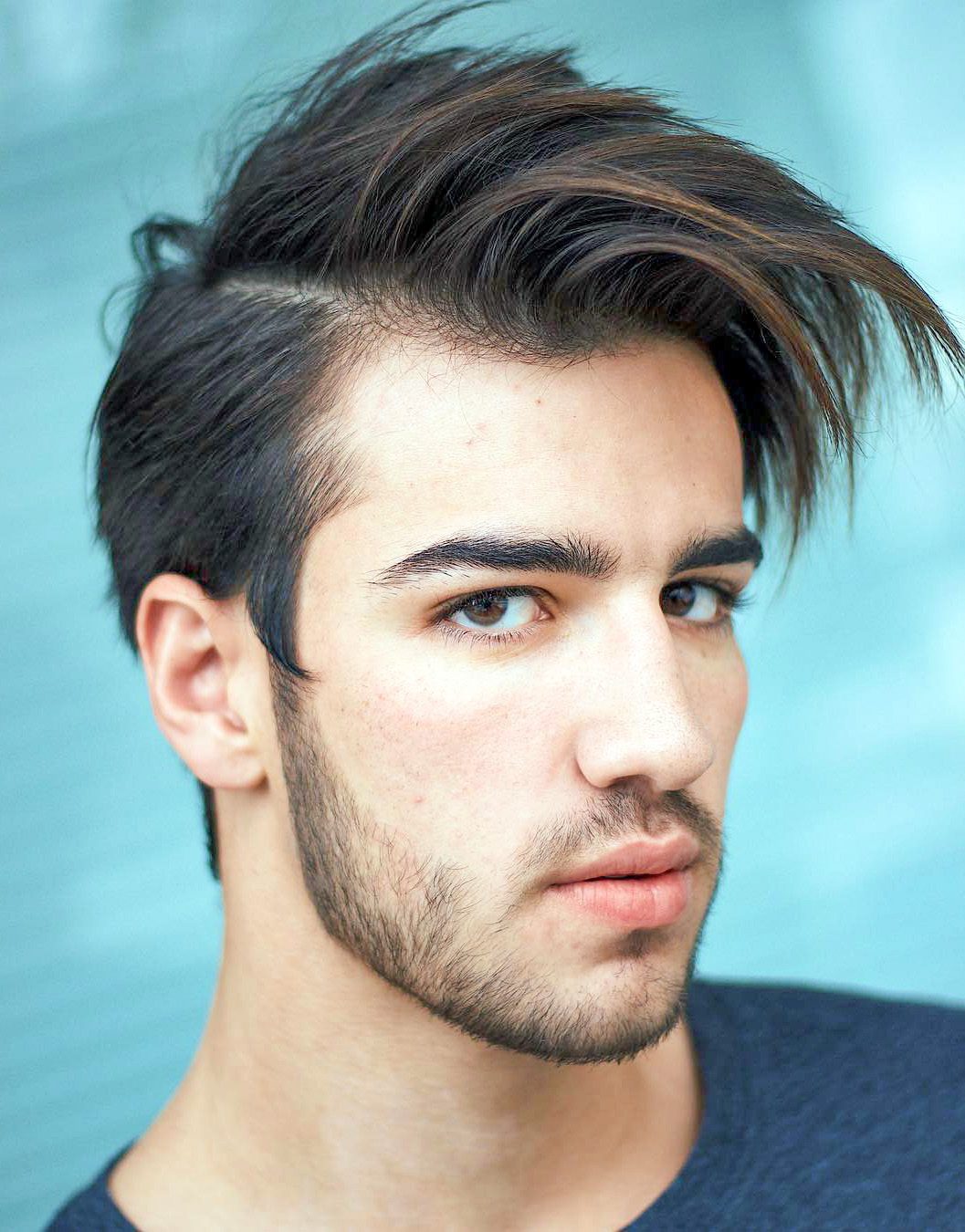 Side Swept with Part
This unique variation on the side swept is one of the most unique hairstyles for guys with square faces. This takes the regular side part to extremes, pushing it to its limits with chin-length hair in the front. This is also an asymmetrical style, so while one side of your head will have super long hair, the other side will have much shorter hair. This is a bold style, so if you like adventurous hairstyles, this is for you.
3 / 21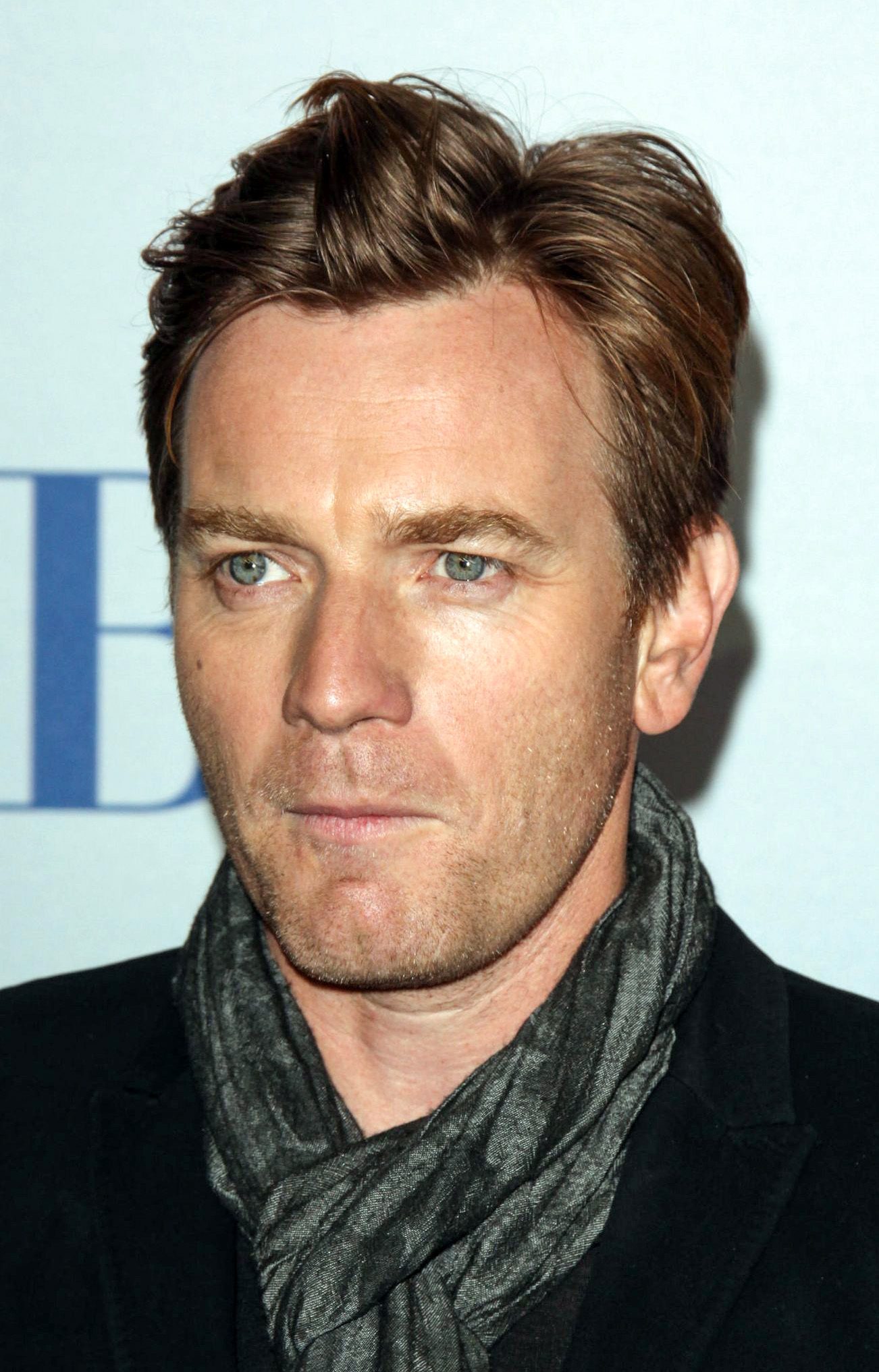 Brushed Back Undercut
Having long strands gives all the freedom one needs to style their hair. This one combines more than one style; the top is slicked back but with open ends and a slightly puffy texture, and tapered sides.
4 / 21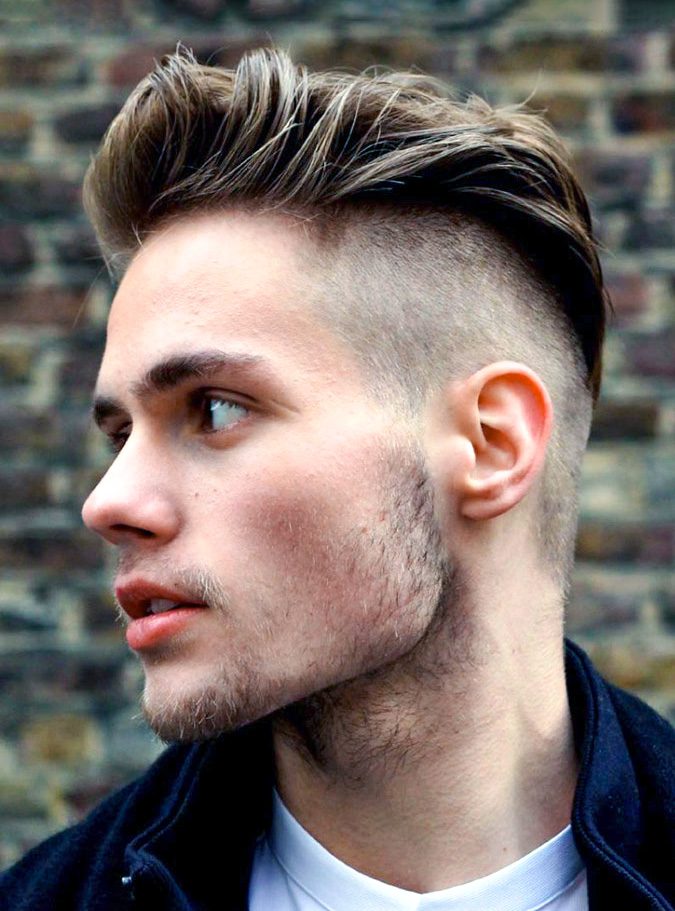 Puffy Undercut
We looked at some undercuts earlier, but none with as much contrast as this one. Here, the skin-tight cut on the sides plus the puffy top hair gives a cool, angular look to complement the squareness of the face.
5 / 21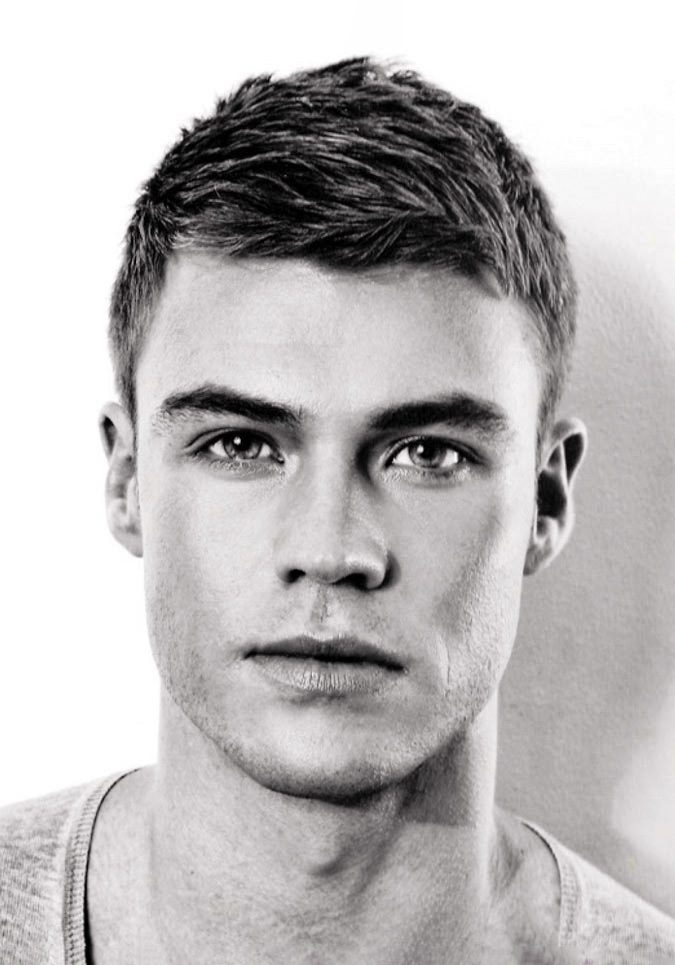 Ivy League Haircut
Is this a soccer haircut or a tennis hairstyle? That cool side sweep with a small brush up on the top makes it very classy. The sides are not too faded yet just enough to maintain the texture on the top with thicker volume. The clean shave look makes this ever classier, can't beat this, can you?
6 / 21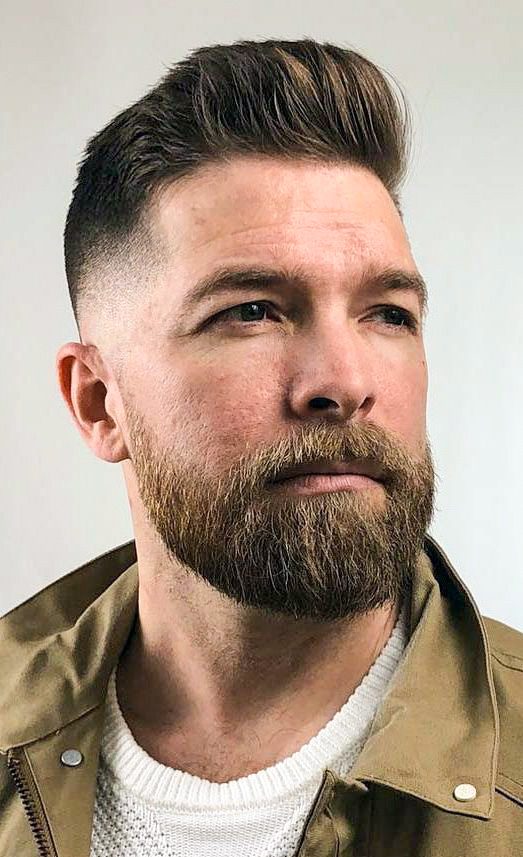 Popmpadour with Fade and Beard
The stylish pompadour pairs nicely with a square face. Short pompadours are best because, like the slicked back undercut, they draw less attention to the hair and more to the face. Medium to long pompadours don't work so well because they can make the face look rectangular and too long.
7 / 21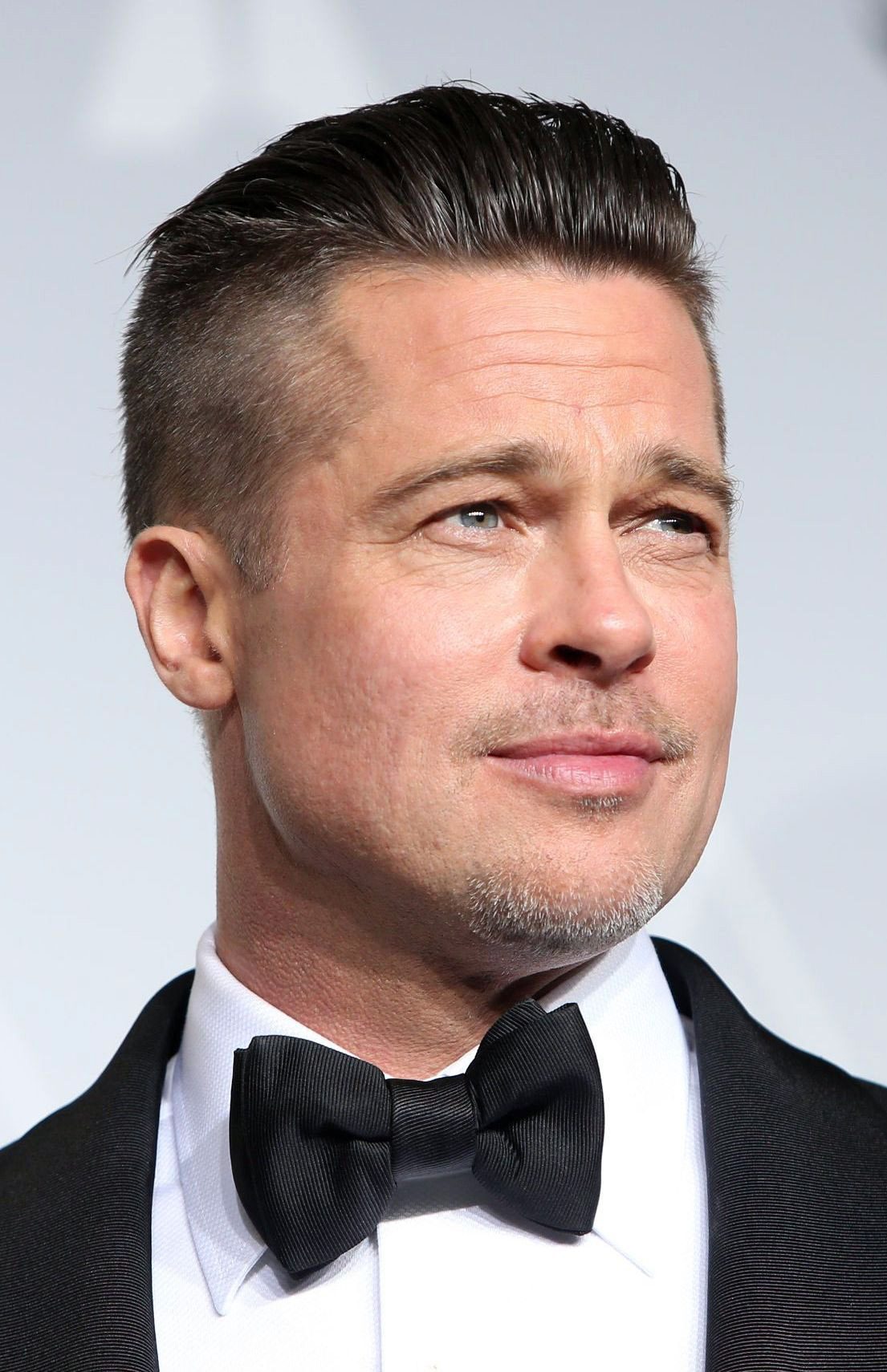 Undercut
The trusty undercut strikes again. The undercut is one of the best haircuts for guys with square faces because it emphasizes the face with the tight sides and styled top. We recommend keeping your undercut on the shorter side, as haircuts that aren't short or long don't work too well with a square face.
The slicked back undercut works especially well for accentuating facial features. Since the hair is slicked back, more attention is drawn to the face.
8 / 21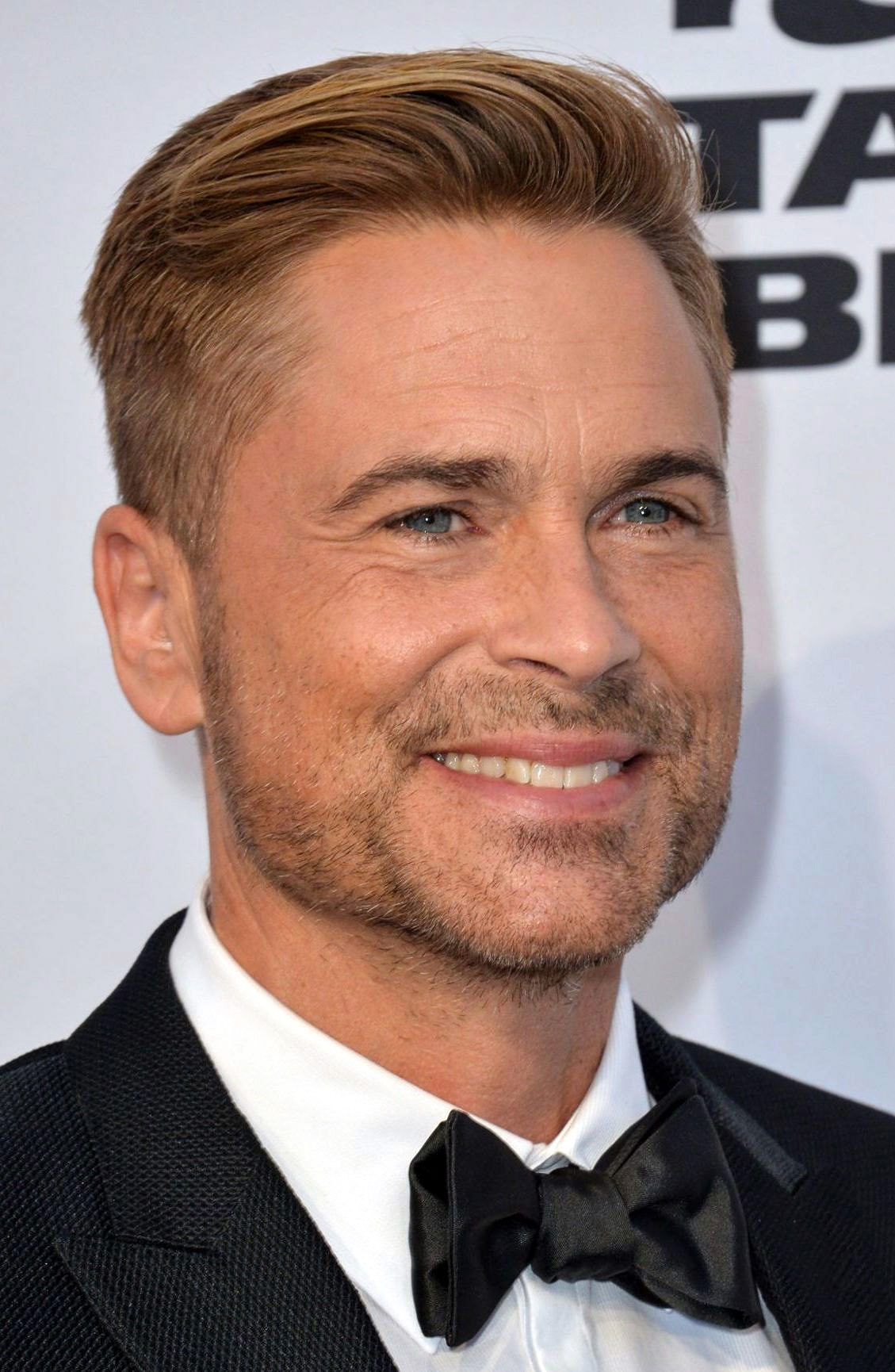 Comb Over
If you have a square face shape, you should emphasize either your hair or your facial features. To emphasize your hair, go with a longer cut, preferably one with similar lengths on the top and sides/back. To emphasize your face, go with a tighter, shorter cut.
Avoid center parting or cuts with heavy fringes. These throw your face off balance and detract from its strong features.
9 / 21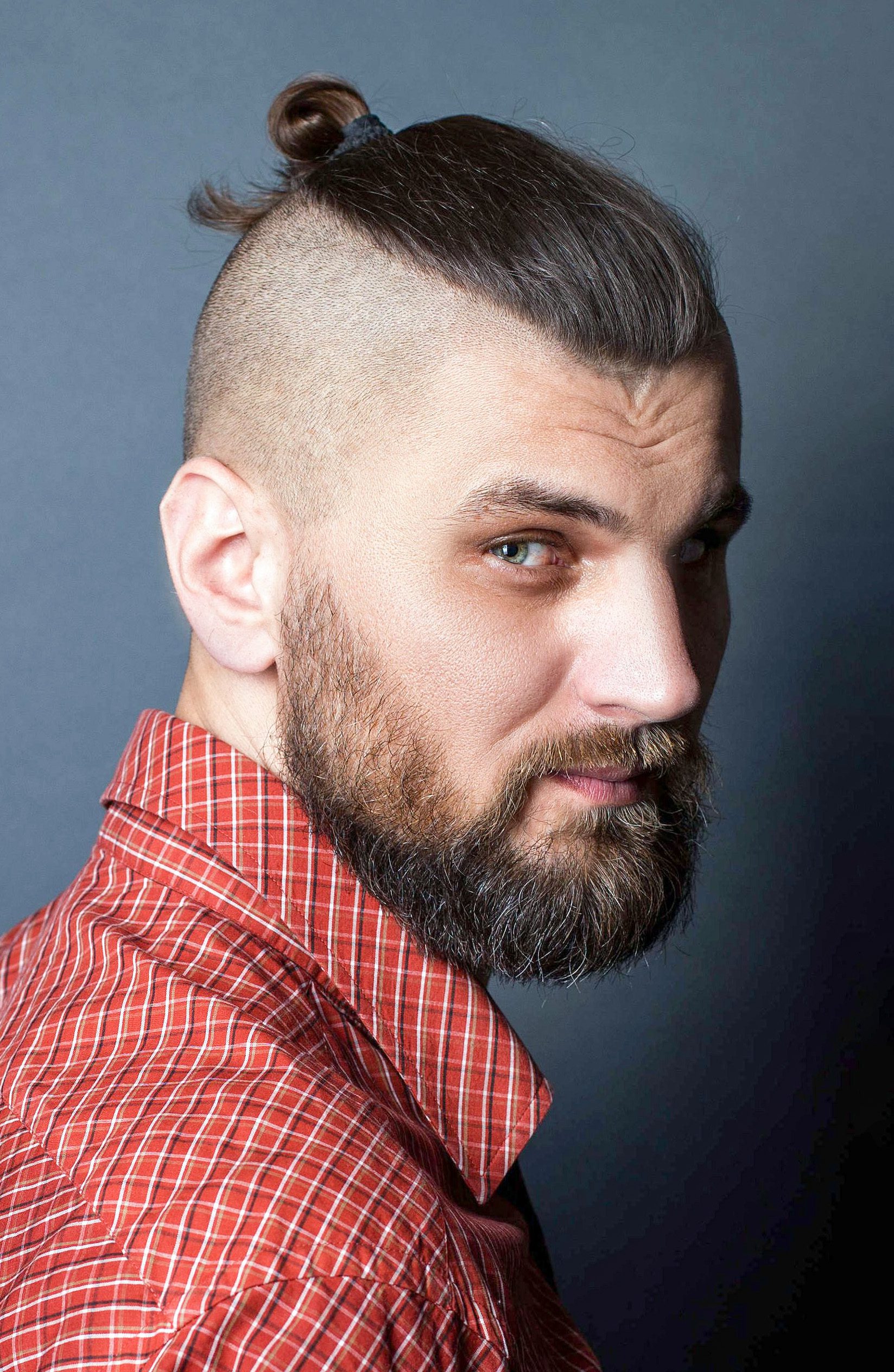 Top Knot
The top knot is a samurai-influenced variation on the man bun. All of the hair is pulled up into a single knot on the top of the head, usually at the crown. This is sort of a hybrid long/short cut because the hair is long, but it's drawn up into a knot. Top knots usually highlight the face, but if you leave some of your hair hanging out, you can make your hair the focal point.
10 / 21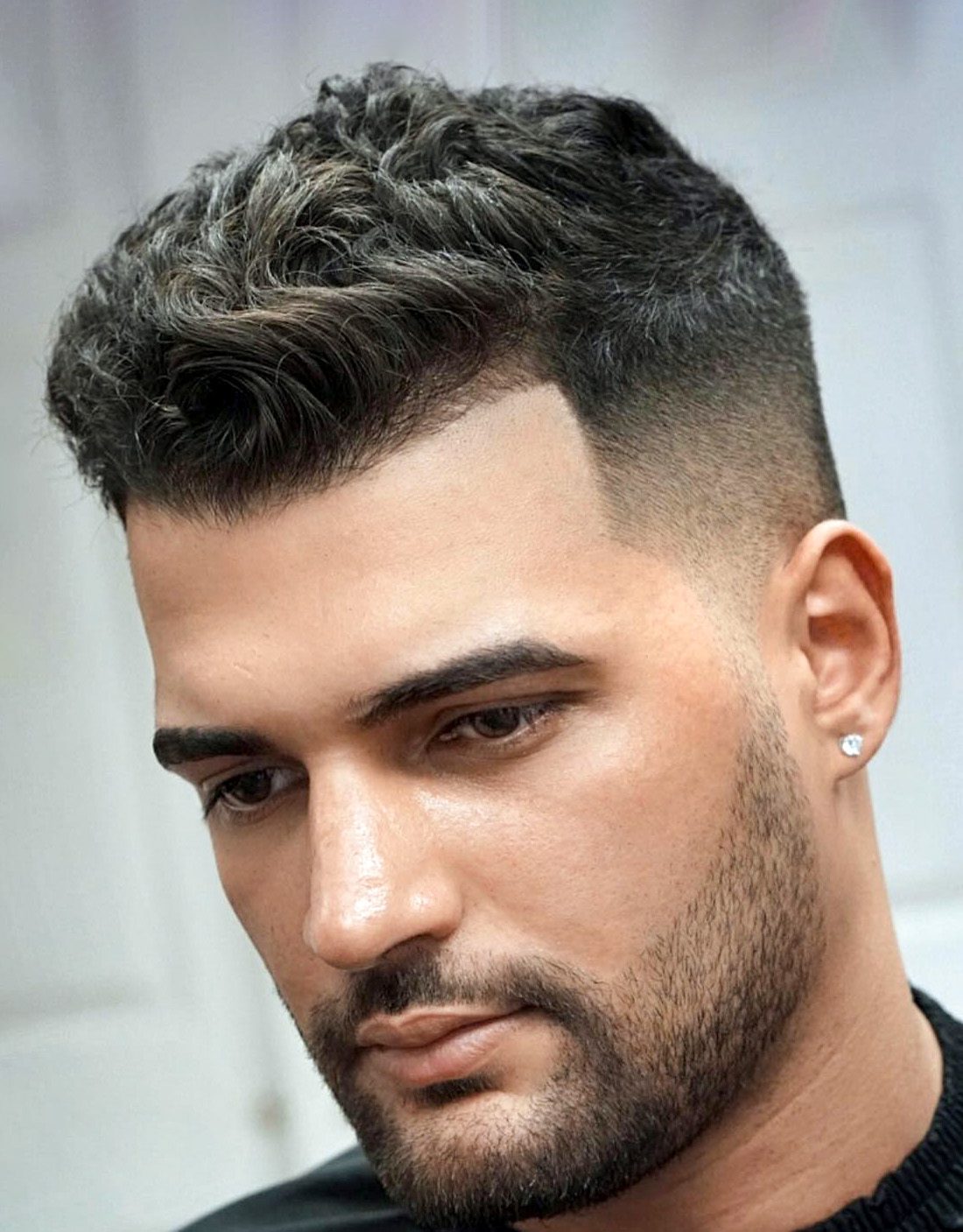 Wavy Topped Fade
A simple undercut with faded sides is one of the hottest hairstyles right now. One of this style's many claims to fame is how it works with almost any face shape — square included!
11 / 21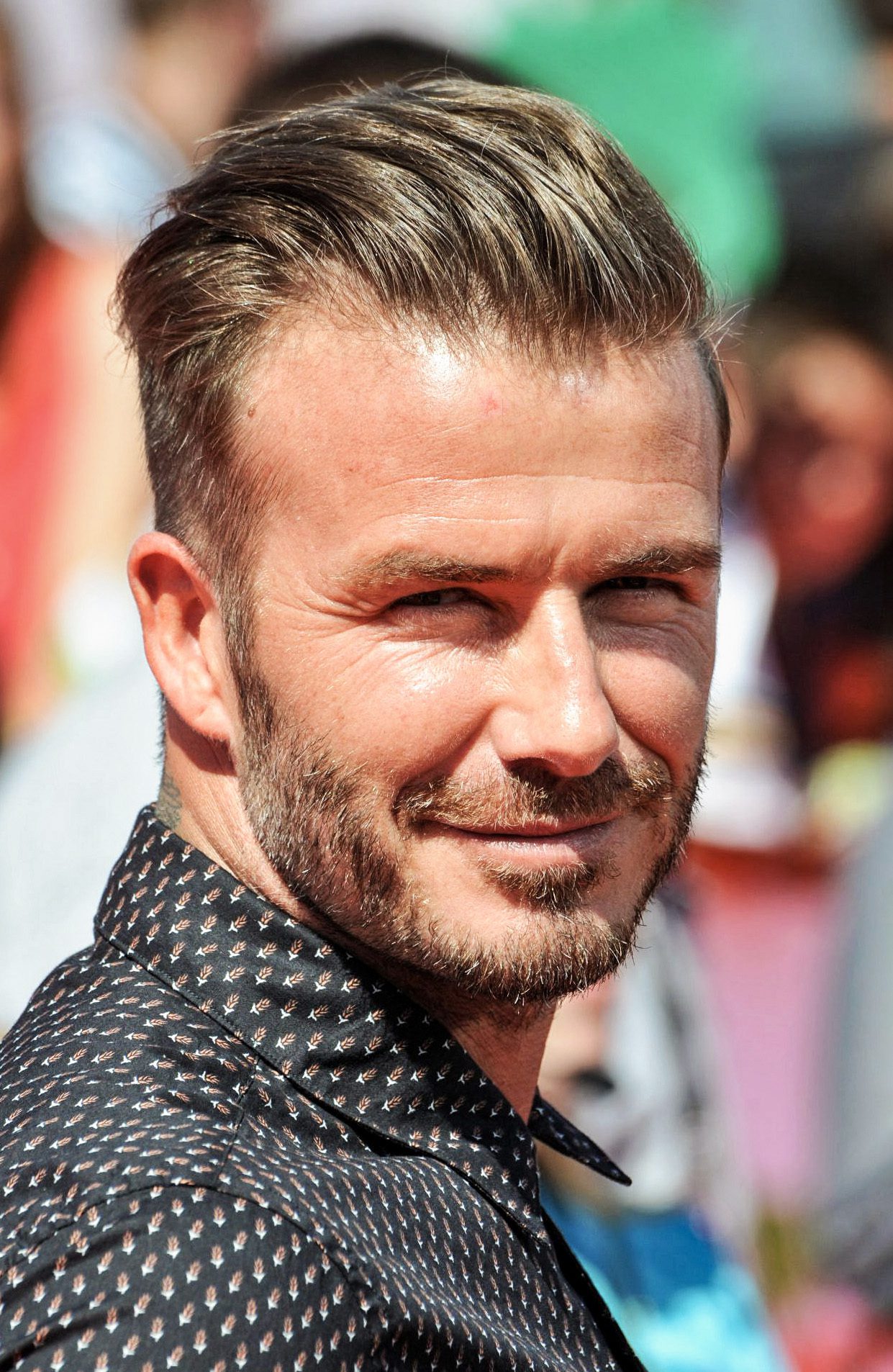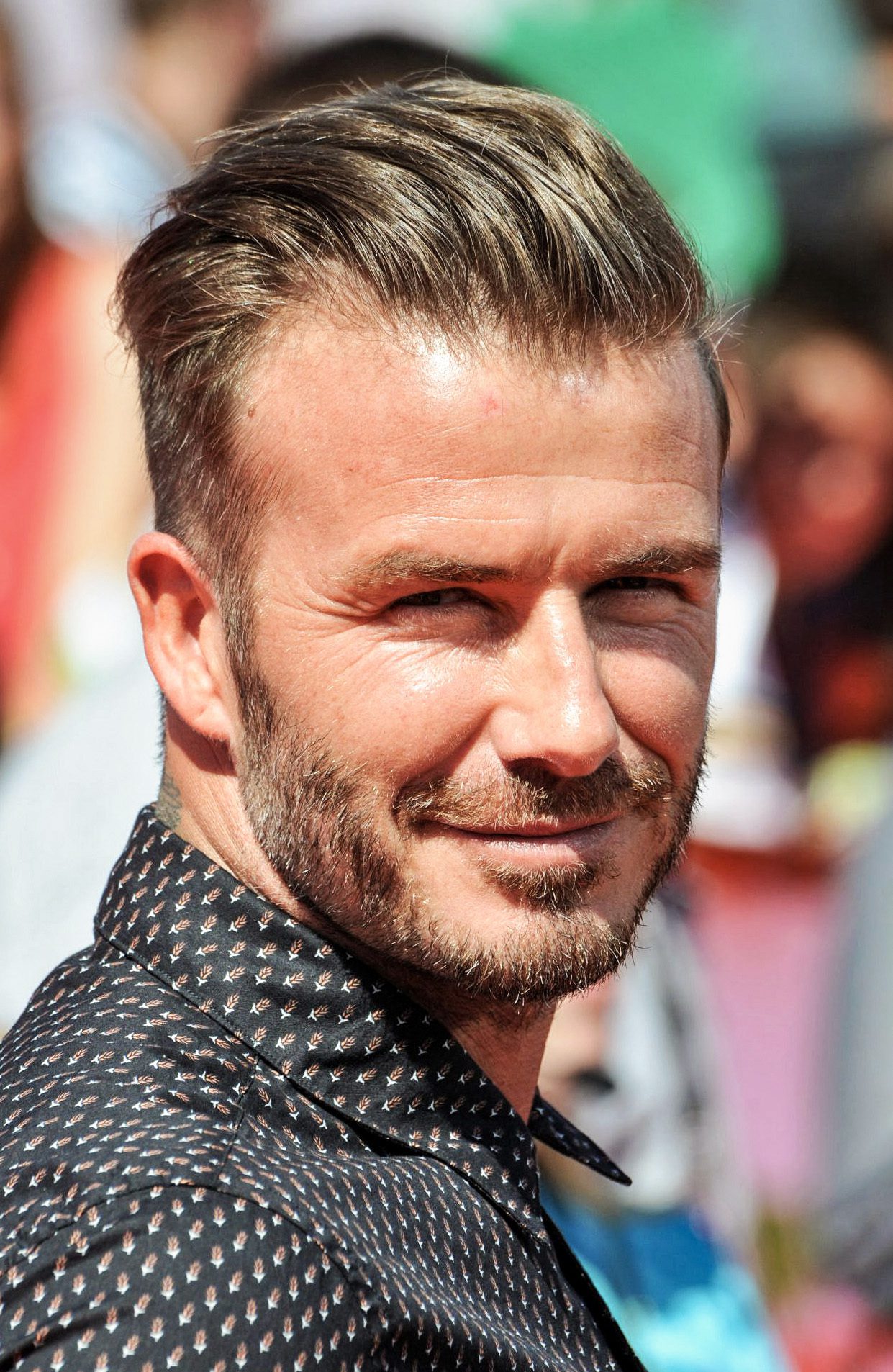 Slicked Back Undercut
In general, undercuts are pretty versatile styles. This elegant slicked back undercut works wonders with Beckham's square face and jawline.
12 / 21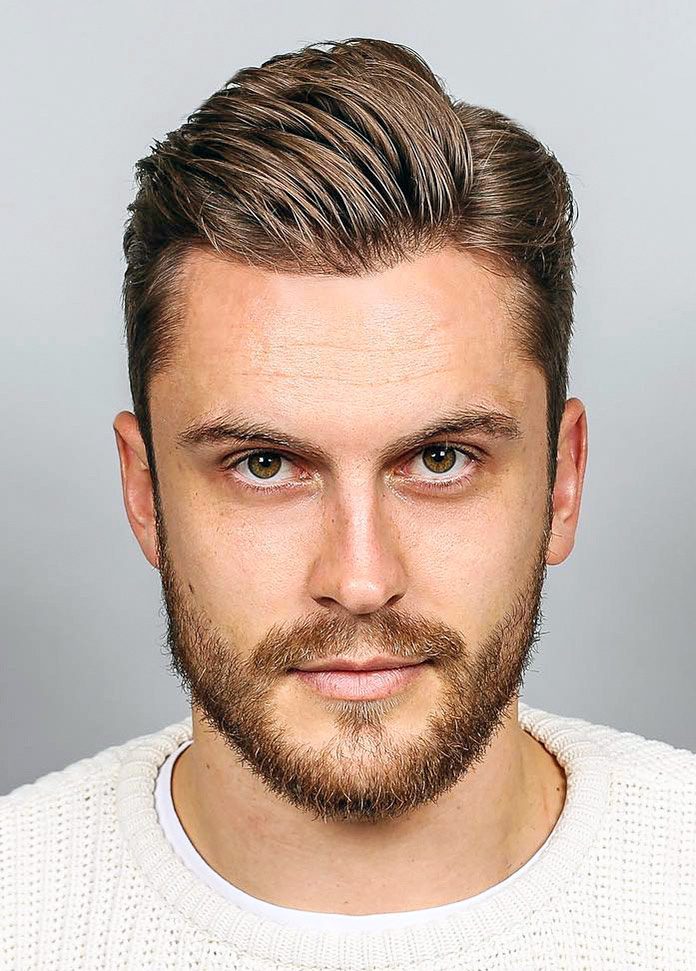 Back and Side Swept
For a variation on the plain old undercut, considering adding a part around two-thirds or three-quarters the way across the hairline. Sweep some back and some to the side for this look.
13 / 21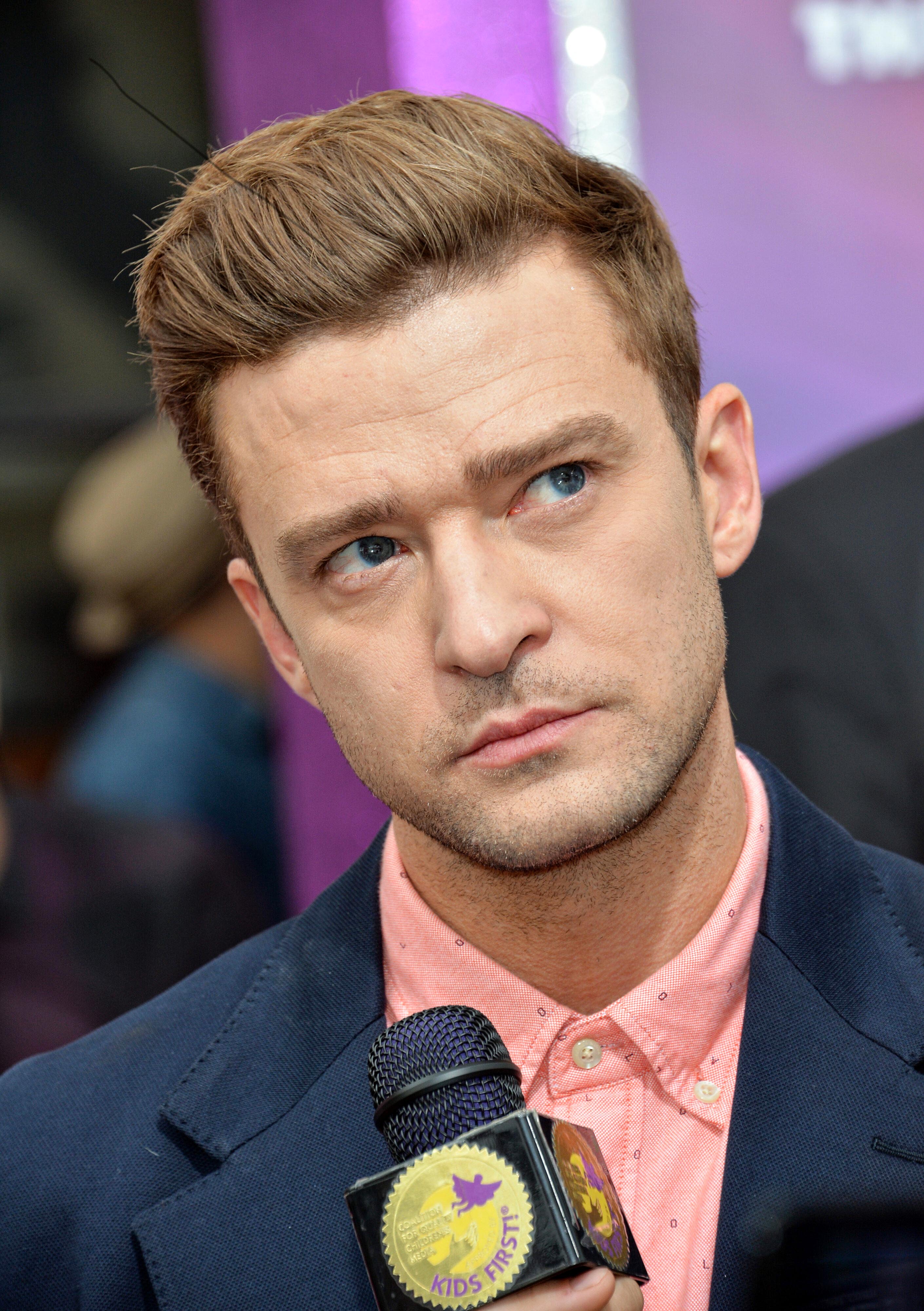 Short Back and Side
Yep, we love our undercuts. Check out this swept, parted undercut and how it creates a neutral, handsome look when combined with the face line.
14 / 21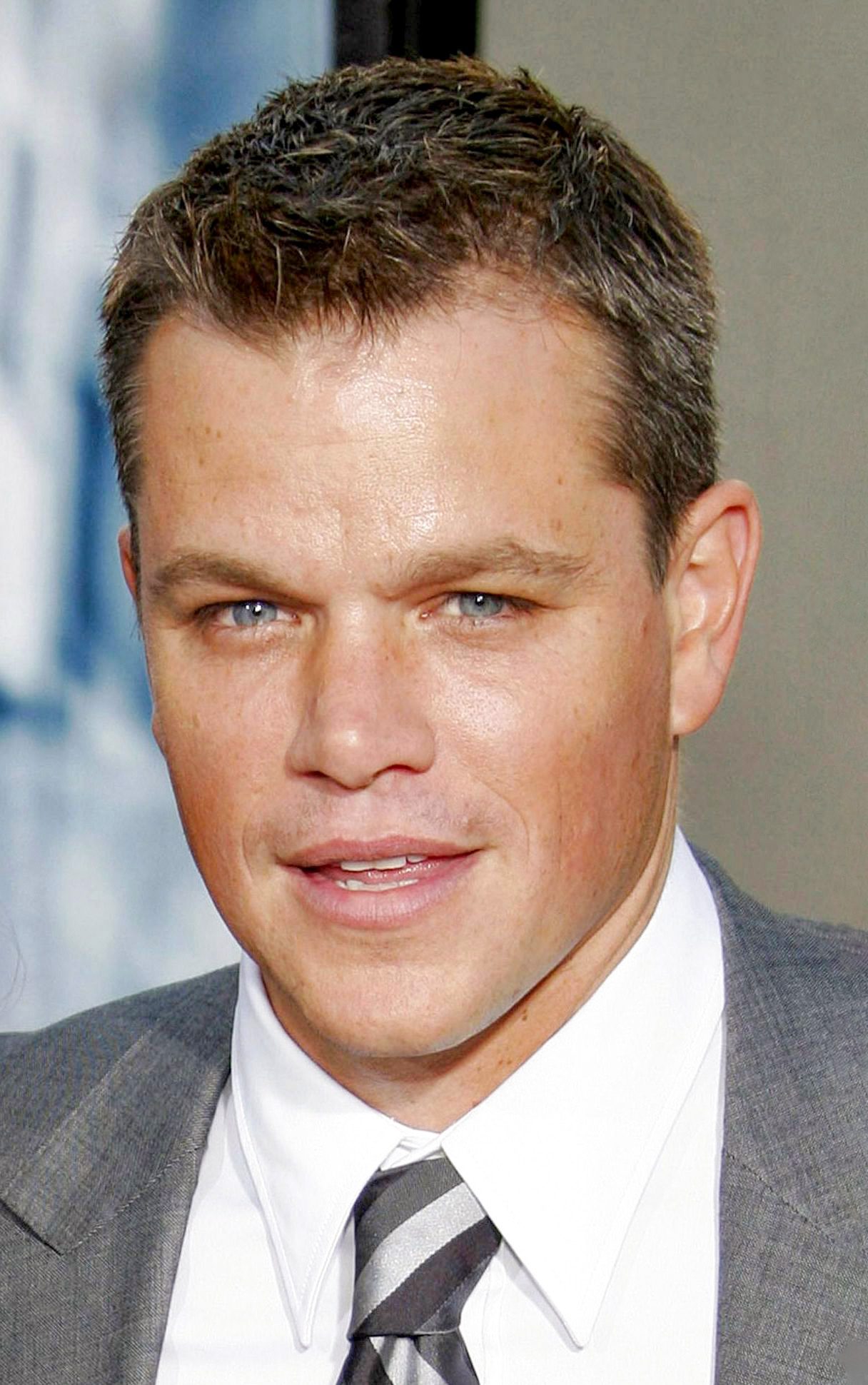 Crew Cut
Like the undercut, the crew cut is a hairstyle that will work for almost anyone, regardless of skin color, hair color, or even face shape. Here's what the good ol' fashioned crew looks like with a square face.
15 / 21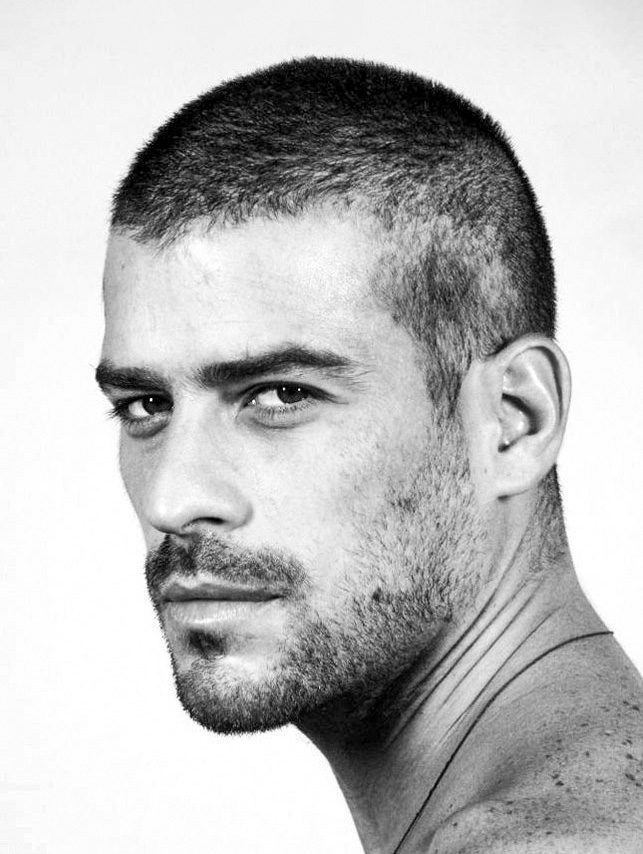 Buzz Cut
Here's another example of the buzz cut together with the square face shape. If you run this style with a little unkempt facial hair, the result is a youthful, urban look that we love.
16 / 21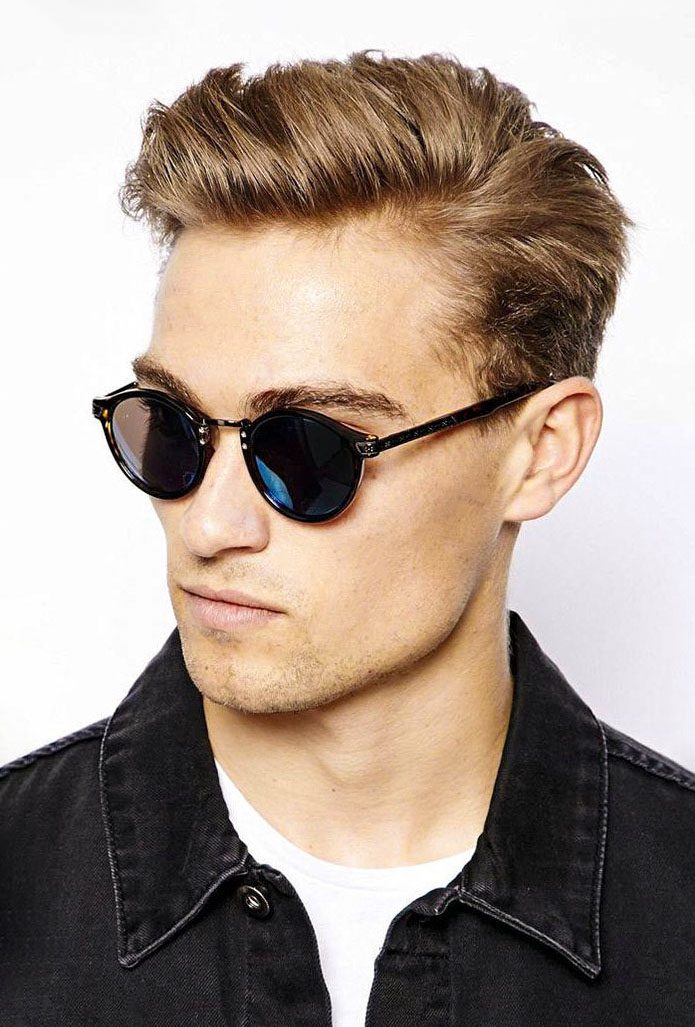 Comb Over
Ah, the combover. A hairstyle dating back to the Roman times, this look exudes power and royalty like no other. Nowadays, a little bit of gel or hairspray can revive this into an incredibly modern style.
17 / 21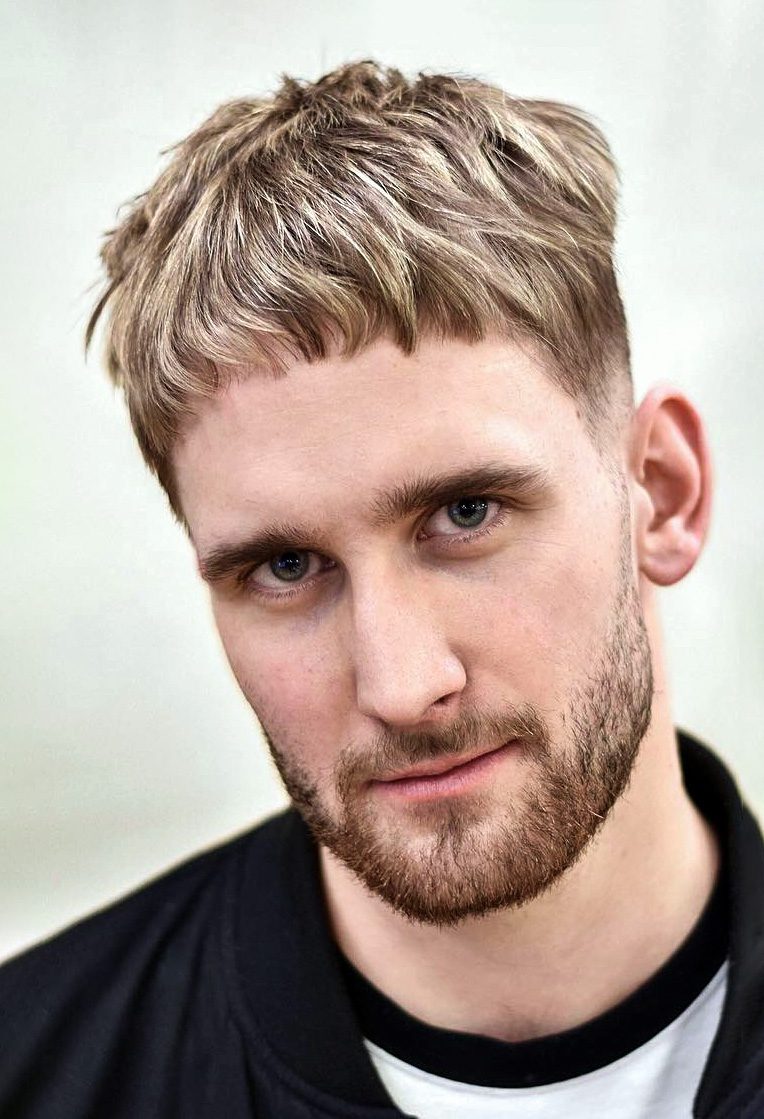 18 / 21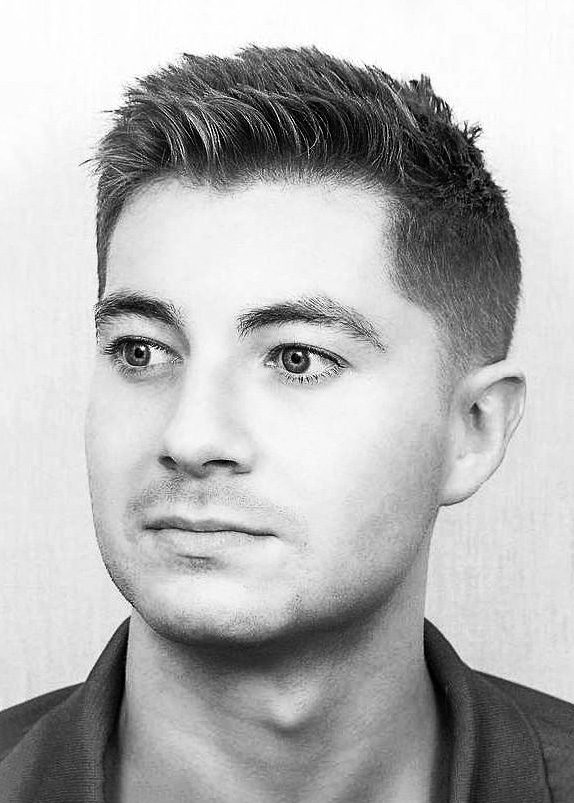 Brushed Up
This is as casual as it gets with the brush up with the side sweep texture to it. The thin hair is supported with few products and that makes it slightly thicker texture. The line up is slightly short with a curved angle. The temple fade is very slightly dull.
19 / 21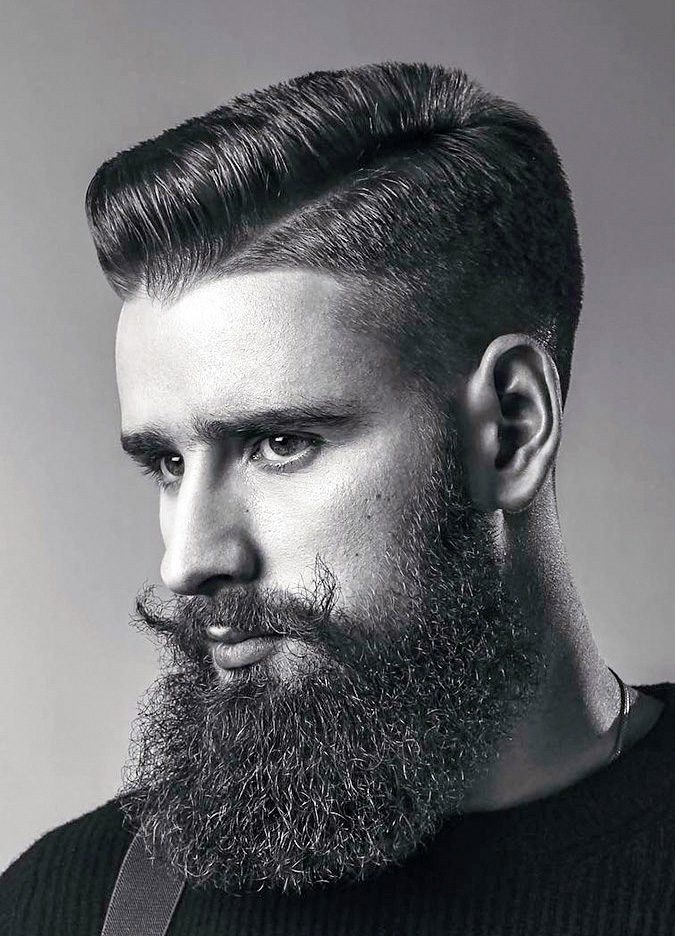 Side Part
Mr. Very Gentleman is here with that amazing side part is all everyone needs. The puffed side sweep with sides being tapered with a hint of fade makes it a very wholesome meal. All of that topped with that sturdy mustache is such a retro move that every guy wants to rock at least once.
20 / 21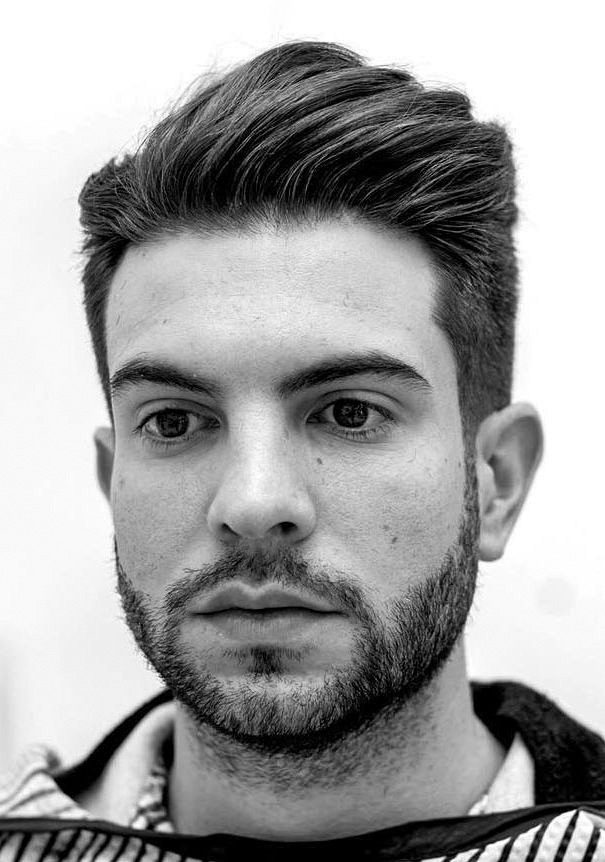 Back and Side Swept
21 / 21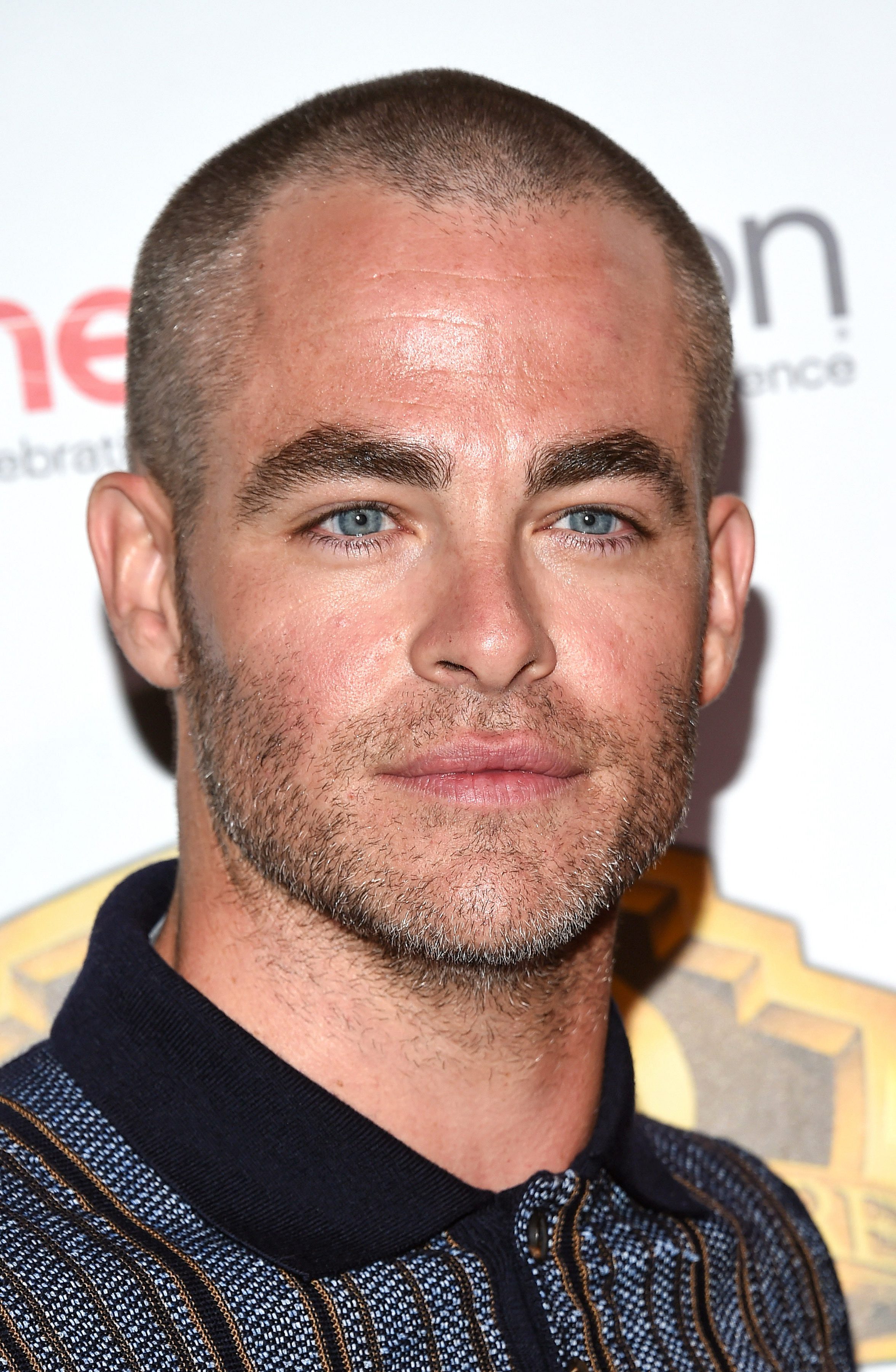 Buzz Cut
If you're looking for something completely different, why not opt for a buzz cut? This ultra-short style draws plenty of attention to the square and manly face shape, and that's nothing to hide!