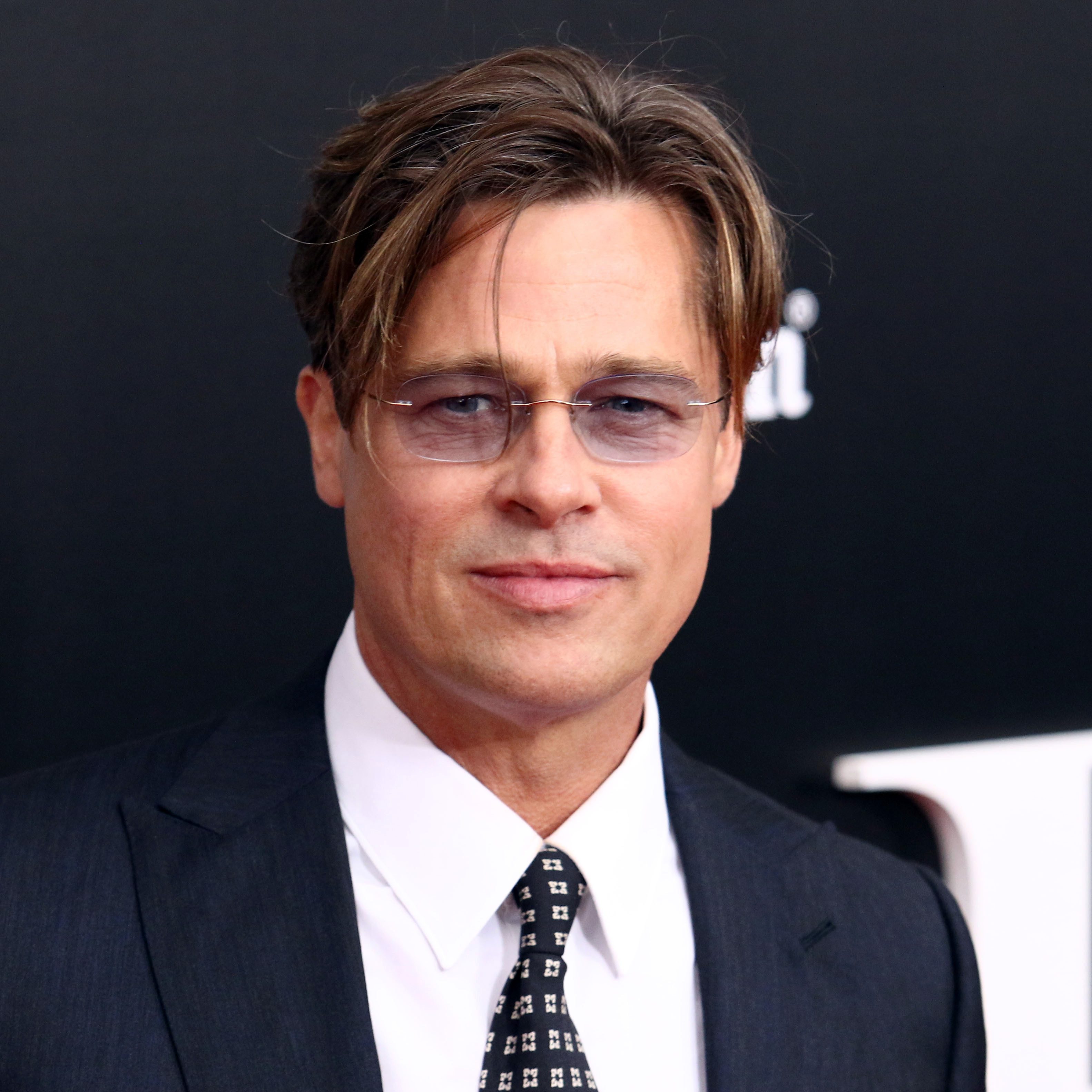 Top 20 Elegant Haircuts for Guys With Square Faces
Learn how a haircut can visually change your jawline and frame your face in a new way
Has anybody compared your face shape to that of the famous ever-immaculate pompadour-wearing Johnny Bravo? The animated character might be deemed narcissistic and always making sure that he presents himself in a macho manner, but who can blame him? The quintessential masculine face shape is considered to be the square one – which puts a huge emphasis on the jawline.
Having a square face shape means that the length (from your temples to just before your jawline) is proportionate to its width making this wide-set bone structure mostly uniform. This results in two things aside from a symmetrical face – an angular jawline and prominent cheekbones. Now, for most guys, a square face shape is actually a good thing. A-list Hollywood actors that have this face shape include Superman actor Henry Cavill, Brad Pitt, and Twilight star Robert Pattinson, to name a few. However, though these characteristics define a square face shape – not everyone will have the same proportions. Others might have an angular jaw with a longer chin, some might have a shorter chin, others will have low-set eyes, and so on.
But like most things, there's a caveat to this. The square face shape tends to come on strong and there's really no way to hide it. The tricky part is to sport a flattering haircut and style that would tame it down a little but not overpower it. Somewhere in between. And the key to making this happen is to remember a simple rule – you should avoid any cut that only widens your face. This means that if you have hair volume on your sides, you should complement it with the same hair volume on top.
Still not sure how this works out for you? Here are some of our favorite haircuts for guys with square faces.
1 / 42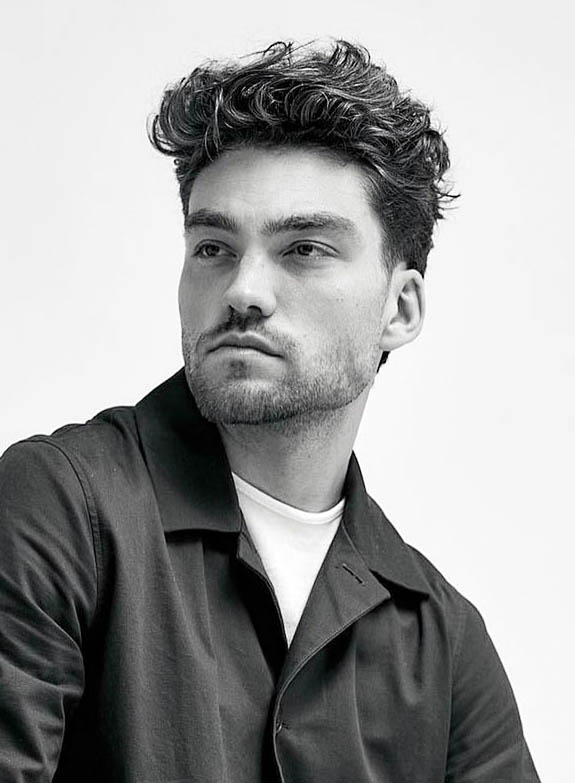 Scissor Taper
Looking for a cut that can be dressed up and down? This scissor taper with brushed up texture can meet every goal. You can give it some controlled mess or run the comb through it for a cleaner finish. The contrast between the longer top and the scissor work on the sides gives off that air of distinction that you naturally roll out of bed with.
2 / 42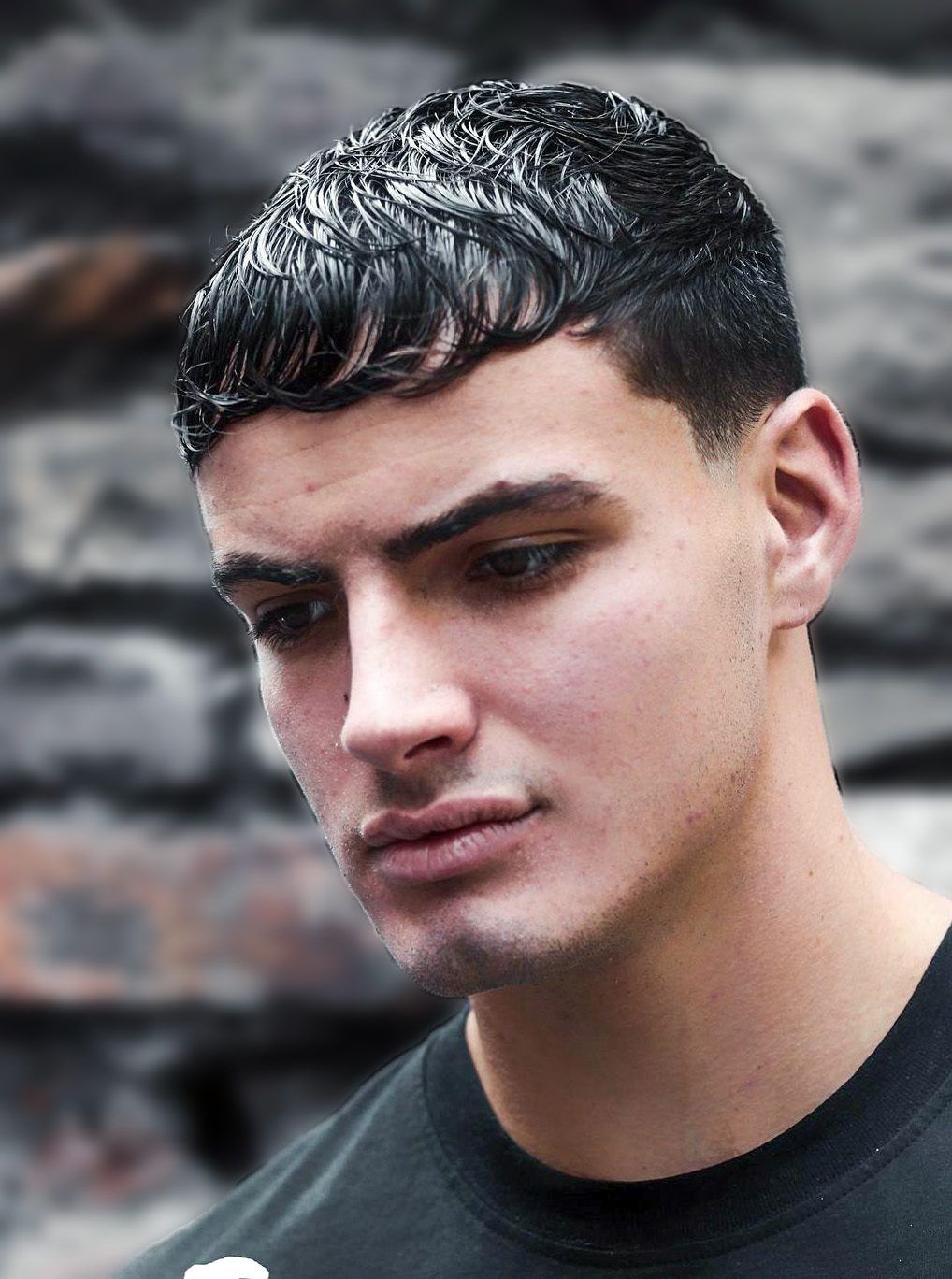 Caesar Haircut
History meets the new age with this banging Caesar haircut. Look extra dashing with this all-round hair cut with a short fringe that fits all curly, wavy, or straight hair.
3 / 42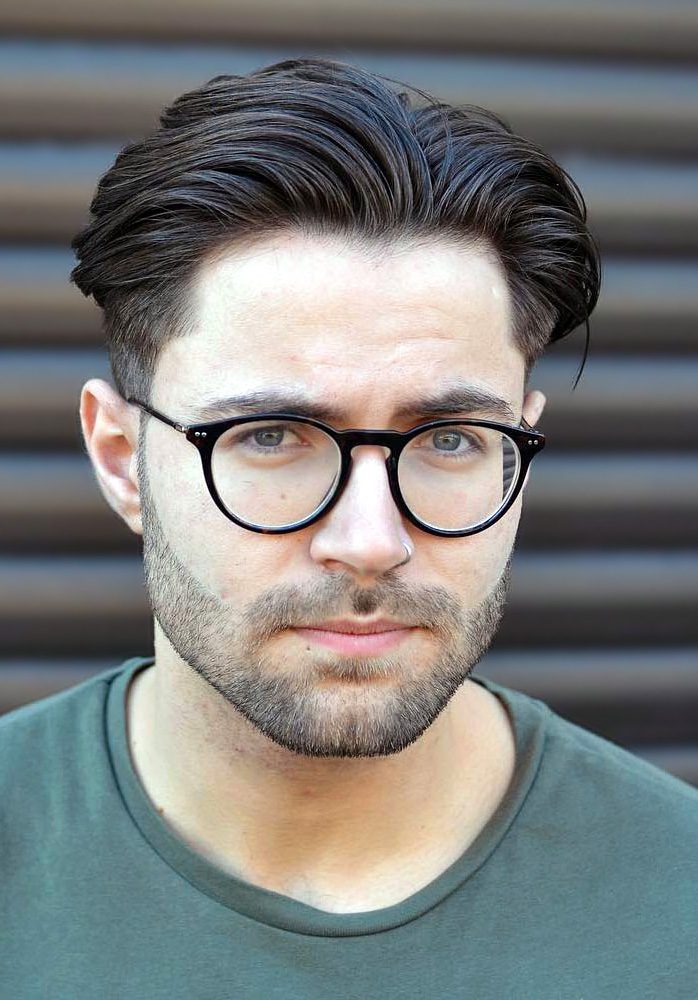 Slicked Back Side Part
This haircut is achieved by keeping the sides fairly short while leaving the top longer. The hair at the top of his head is brushed back with a slight side part that isn't too accentuated. This gives the style a more flowy and natural look.
4 / 42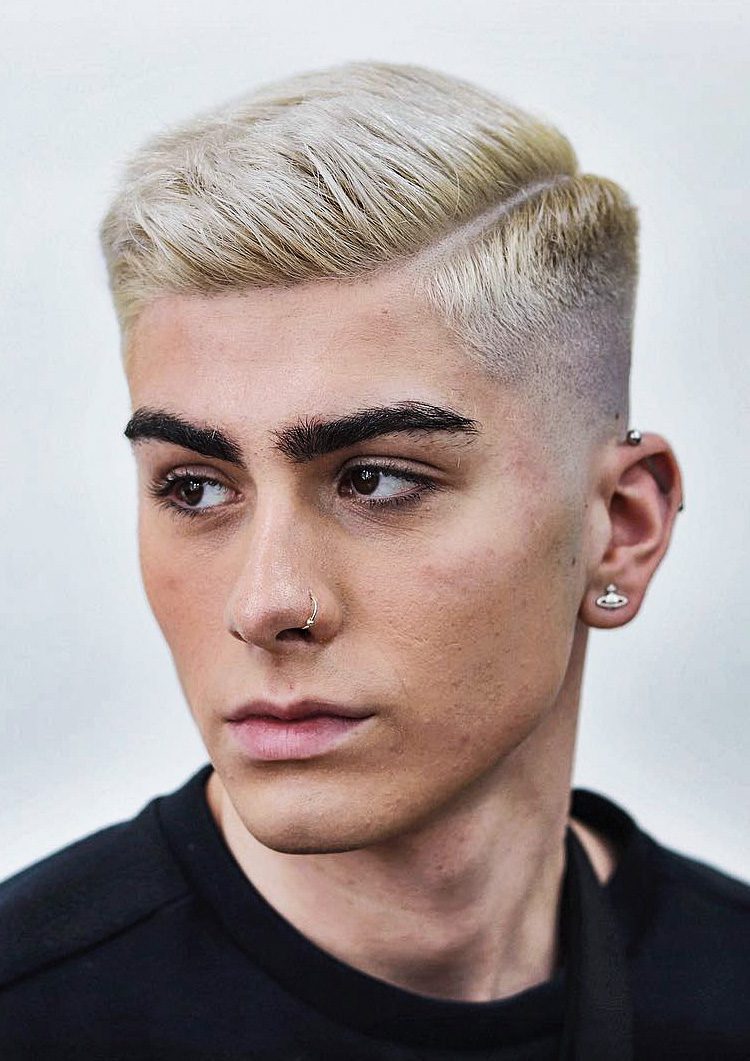 Platinum Blonde with Side Part
This is an example of a classic short cut that is polished and classy. The hard part adds more shape to the hair cut, and the slight combover gives this a cleaner look. The sides are shorter and slightly faded to accentuate the top of the hair style.
5 / 42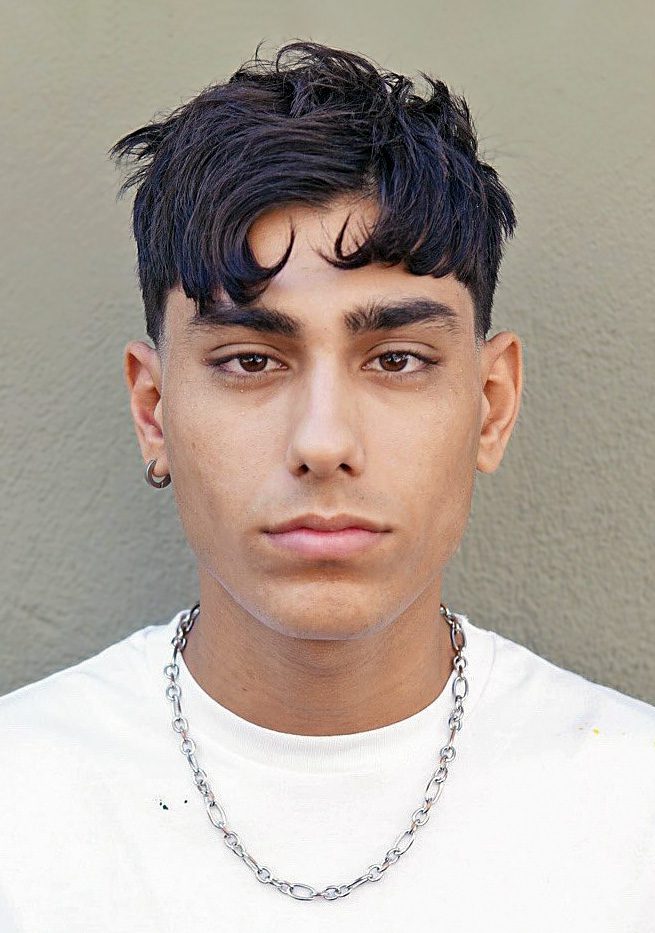 Curtain Haircut
In this hair cut, the sides are kept much shorter than the top, but there is not a huge disconnect. The fringe section of hair is styled into a "curtain" fringe which adds shape to the front of the style. The rest of the hair is messy and textured for an edgy look.
6 / 42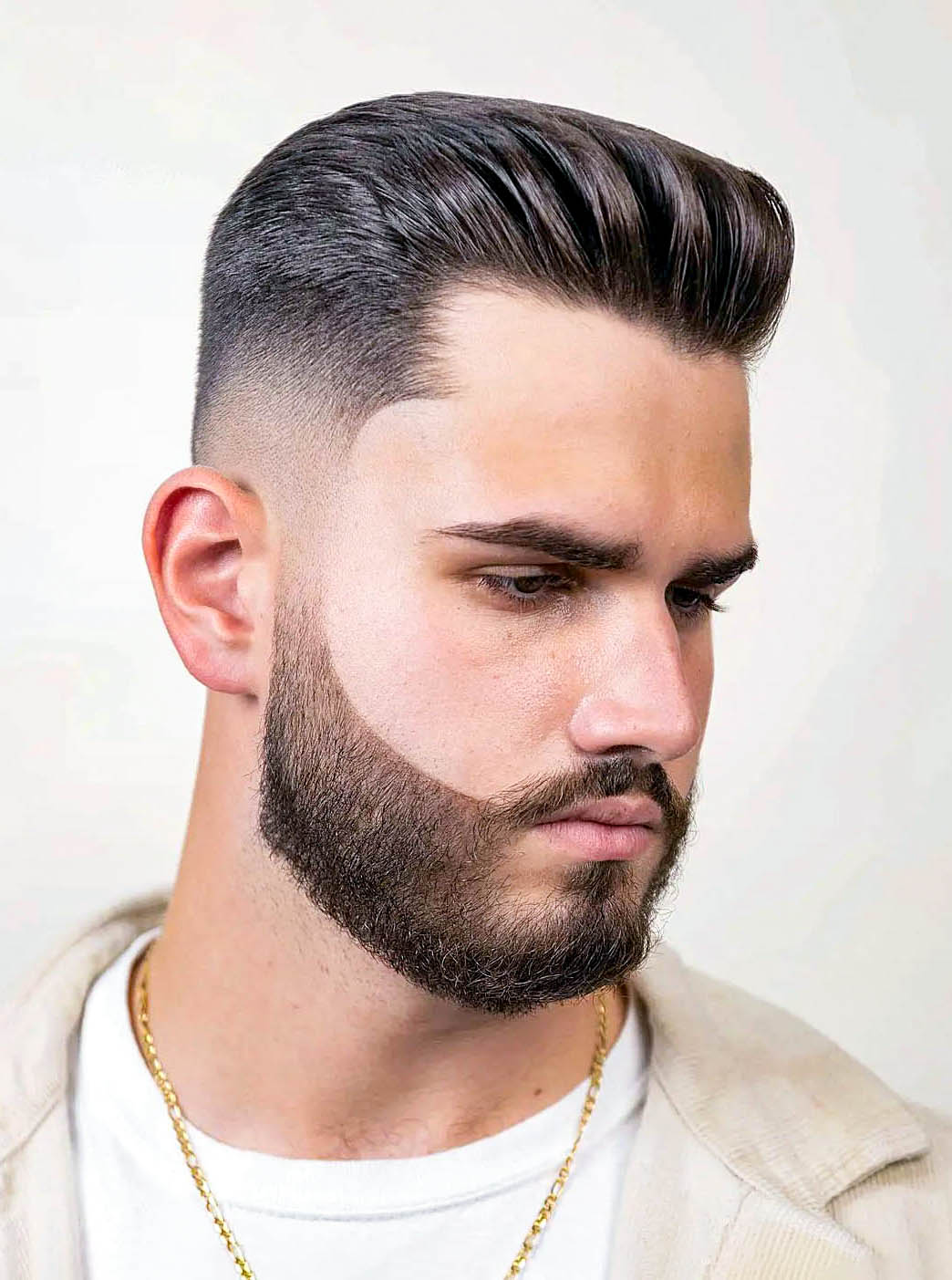 Skin Fade with Neat Quiff
The quiff is always a strong choice for adding a bit of classic style to your everyday. Easier to manage than the pompadour, it still has the same call to the old-school brought into today. Here we see a skin fade which lends a bit of space to accentuate the beard.
7 / 42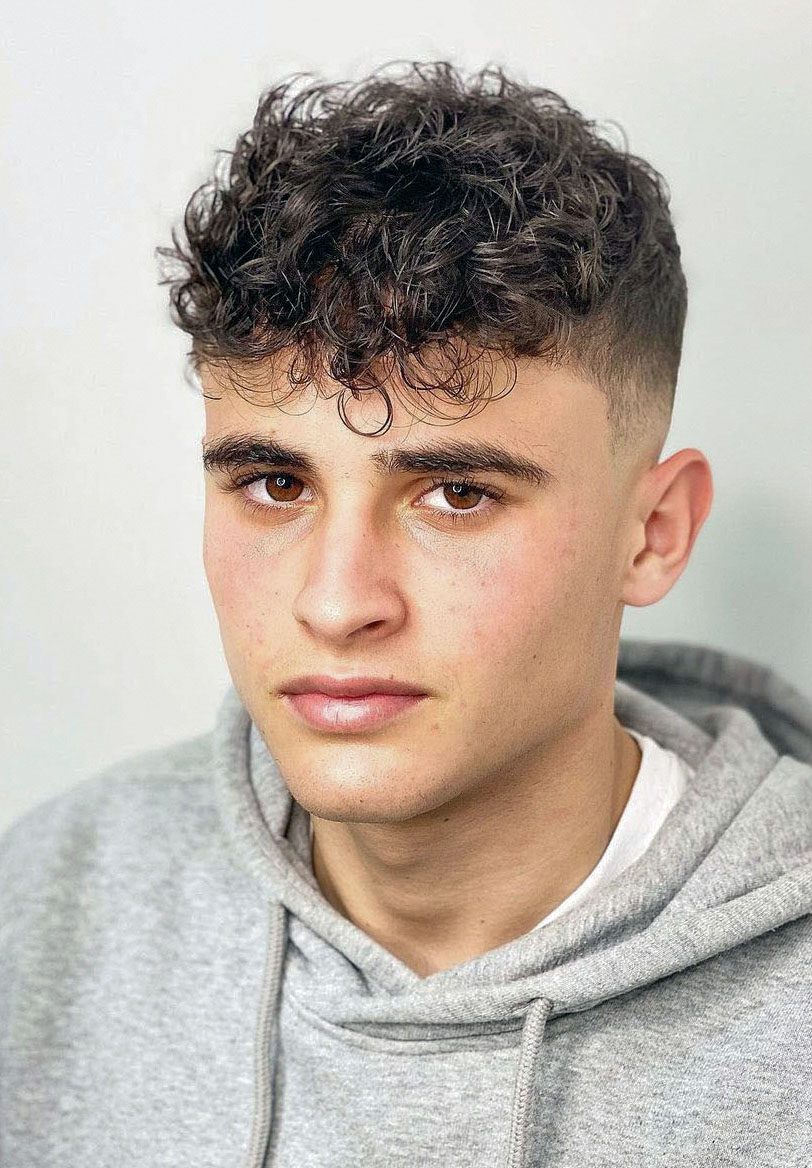 Curly Fringe
This hair style is kept short on the sides and longer on top. The sides are seamlessly faded into the top of the hair, so there is no disconnect. The fringe section of hair is kept the longest to showcase the curly texture of his hair.
8 / 42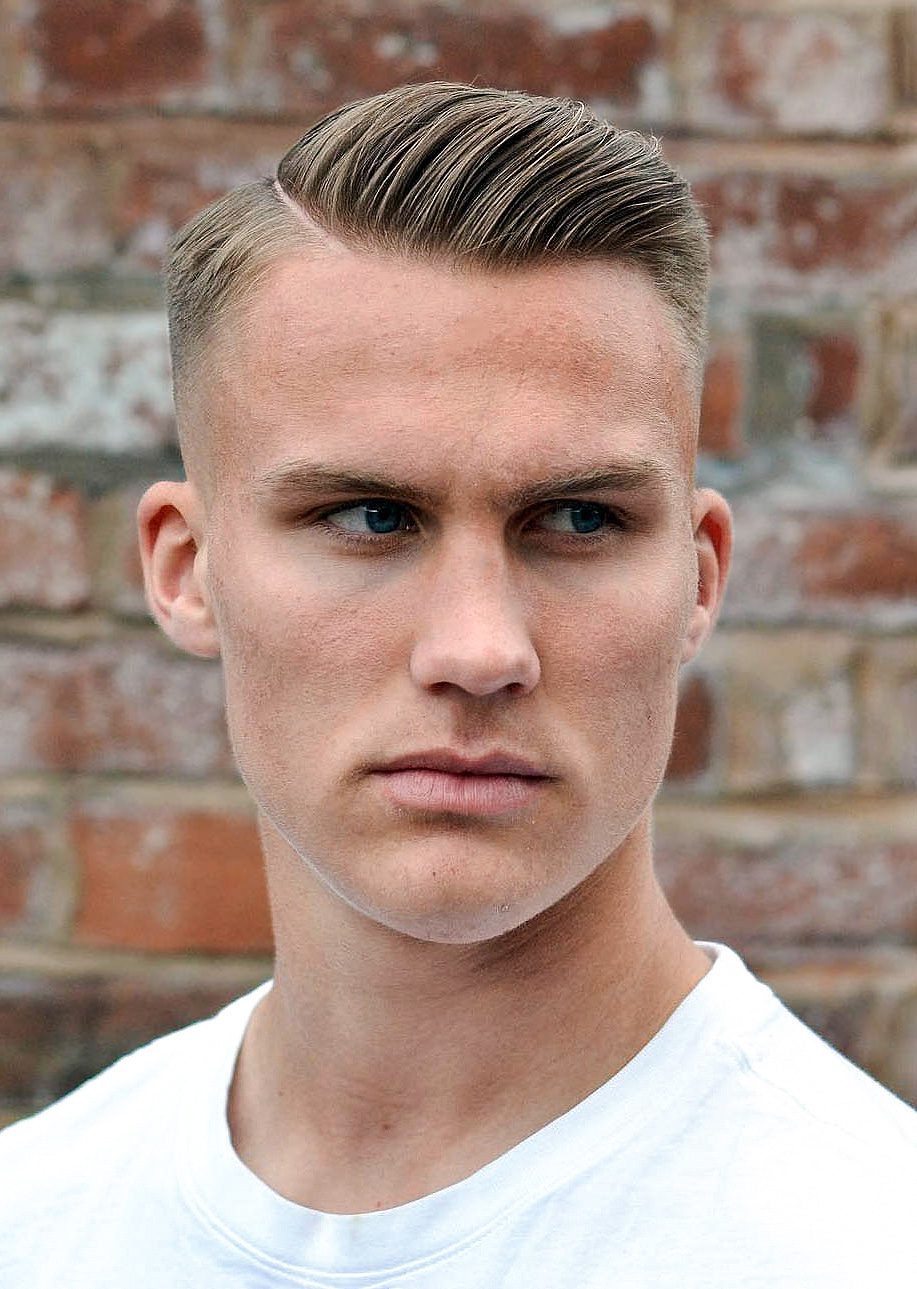 Classic Taper with Side Part
One of the most classic and versatile styles carried forward from its origin. This style can adapt to any situation, just like you. The part and tapered side can be fitted to your liking, while the top can be cleanly combed through or pulled back on the fly with a run of your hand. Pomade or not, comb or not, the side part is sure to grab attention in any environment.
9 / 42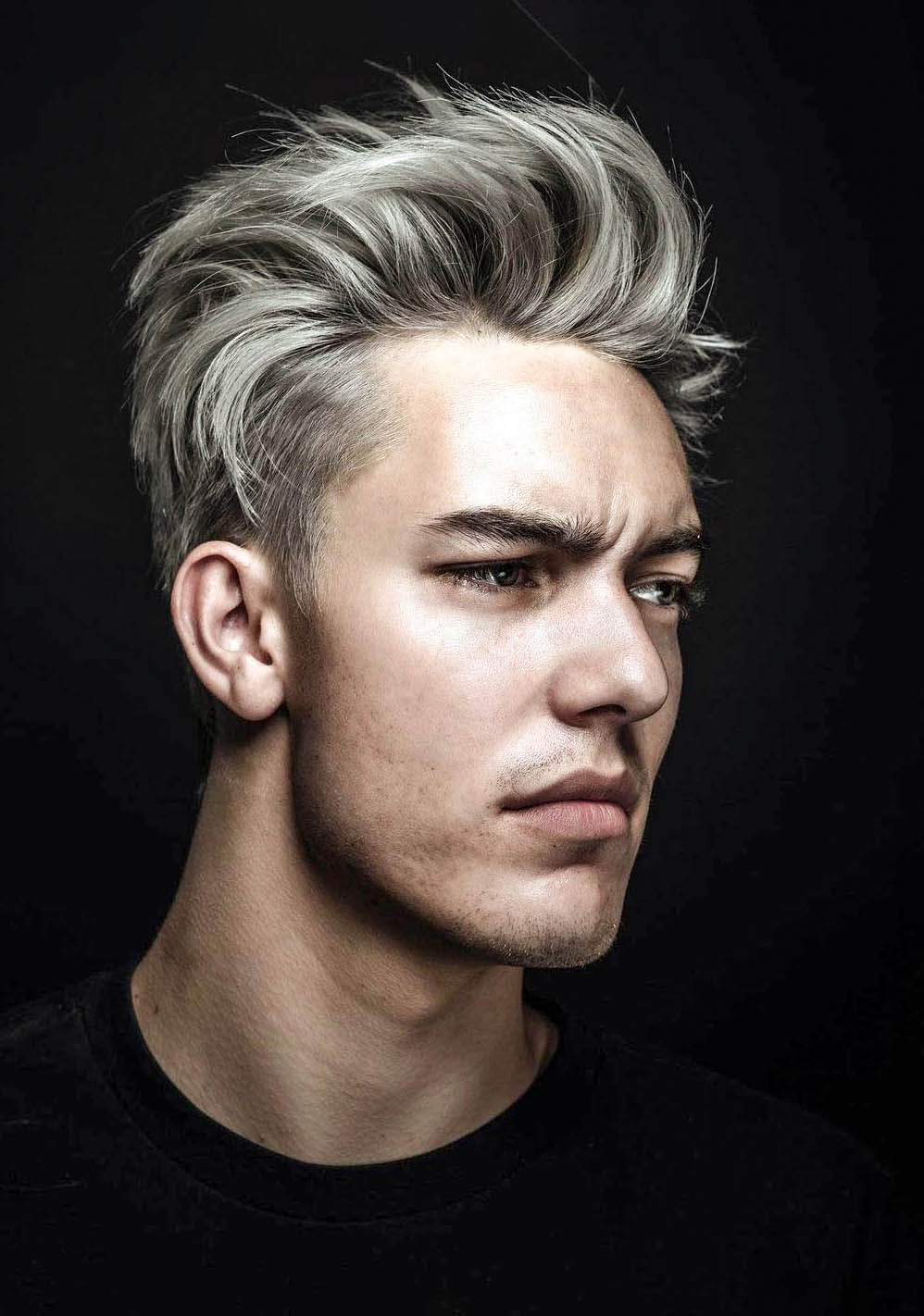 Long Textured Quiff
Playing with a traditional cut is one of the best ways to give your style an eye-catching appeal. In this one, we see a classic taper with a magnetic twist; the textured top that flows over the sides gives off almost an undercut look. Add to that the silvery-white of the tips contrasting the darker roots, and this cut is sure to have everyone asking who your barber is.
10 / 42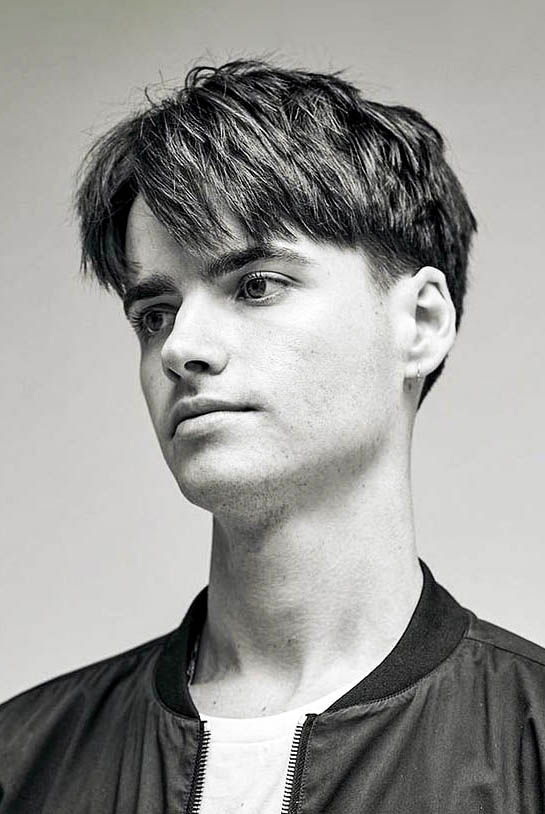 Tousled Curtain Cut
If you like your locks long, this tousled look is the perfect style for you. Here you can see that the top is textured and the natural part accentuated. The length in the front brings the focus to a defined jawline, giving off a powerful attention-grabbing look, while the neatly maintained sides keep it a clean look overall.
11 / 42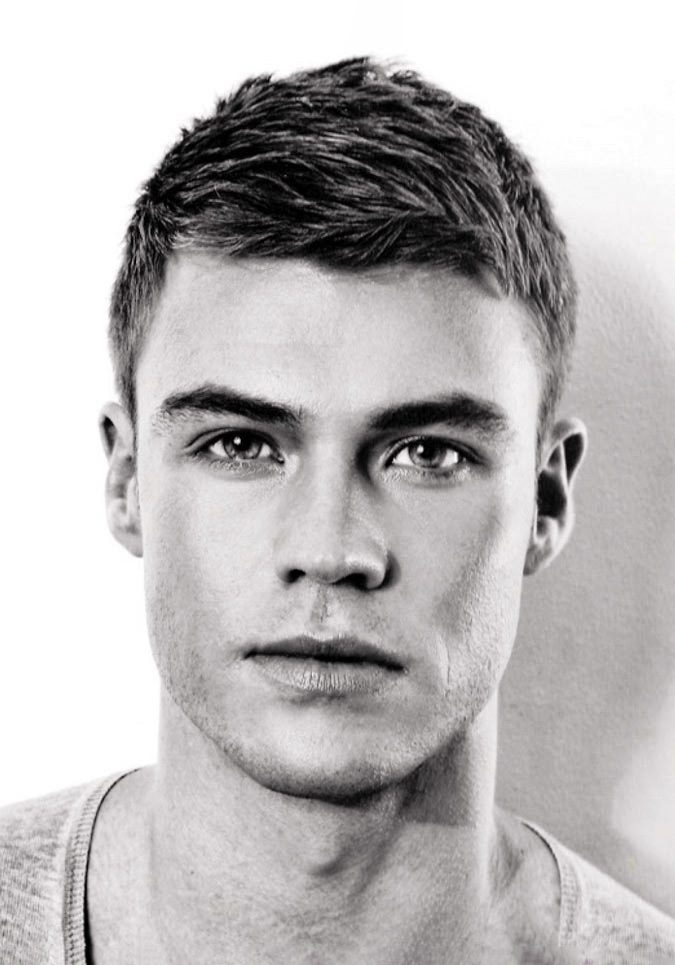 Ivy League Haircut
Is this a soccer haircut or a tennis hairstyle? That cool side sweep with a small brush up on the top makes it very classy. The sides are not too faded yet just enough to maintain the texture on the top with thicker volume. The clean shave look makes this ever classier, can't beat this, can you?
12 / 42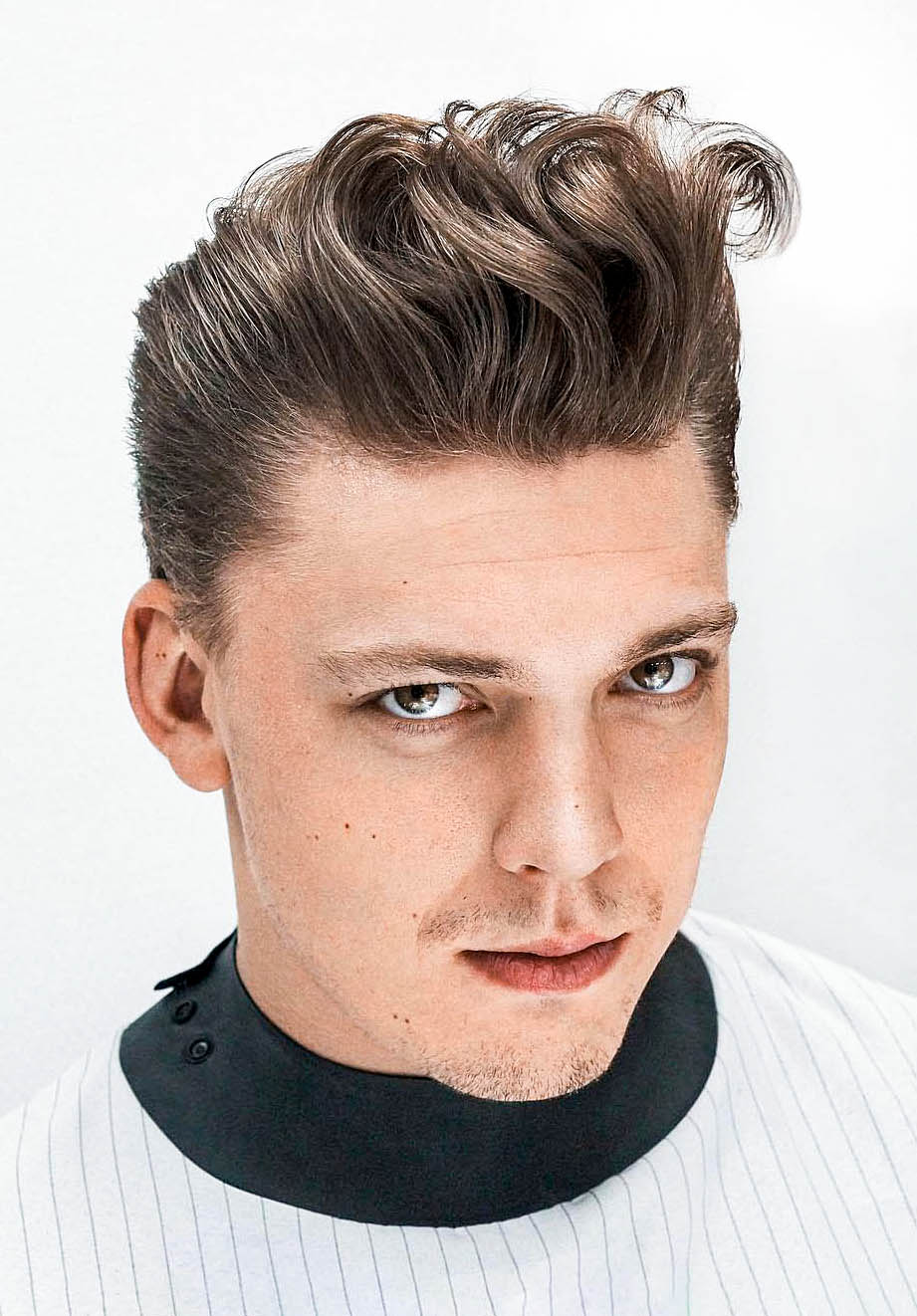 Rockabilly meets the greaser cut
There are some styles that the gangsters wear, then there are ones that the royals wear. If you are going for the style that's common between a cutthroat and a prince, then the greaser offset of the Rockabilly is for you!
Apply a generous amount of styling product to your hair to keep this style in place. Just like anything worthwhile in life, this hairstyle also demands some attention to detail. Get ready to look like a Viking that has just ascended to the throne and is ready to rule. Don't hesitate to style this look with stubble. Anything goes!
13 / 42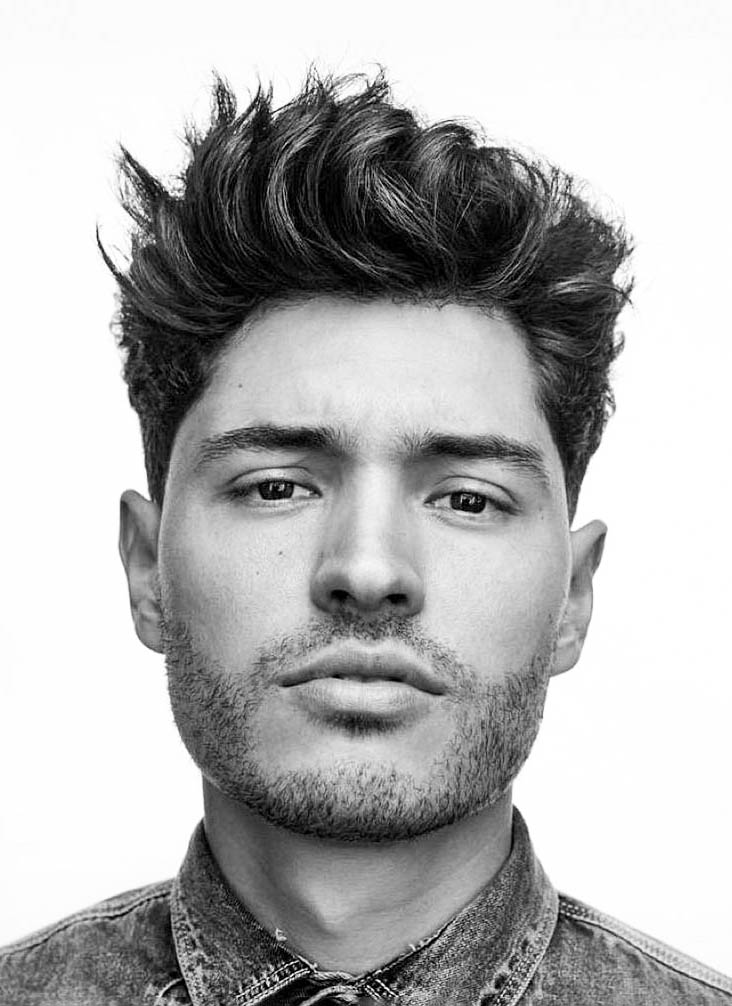 A messy twist to the vintage Quiff
Are you going for a look that says I look good, and I don't need to prove it? Then how about a messy twist to the Quiff? With this cut, you get a substantial volume to your hair, which means that you are not just restricted to a single style.
Complete the look with a shade of facial hair on the sharp contours of your chiseled jawline. Wear a look that says, 'I look dapper, and I know it' and set your hair with your fingers only to give them a messy look.
14 / 42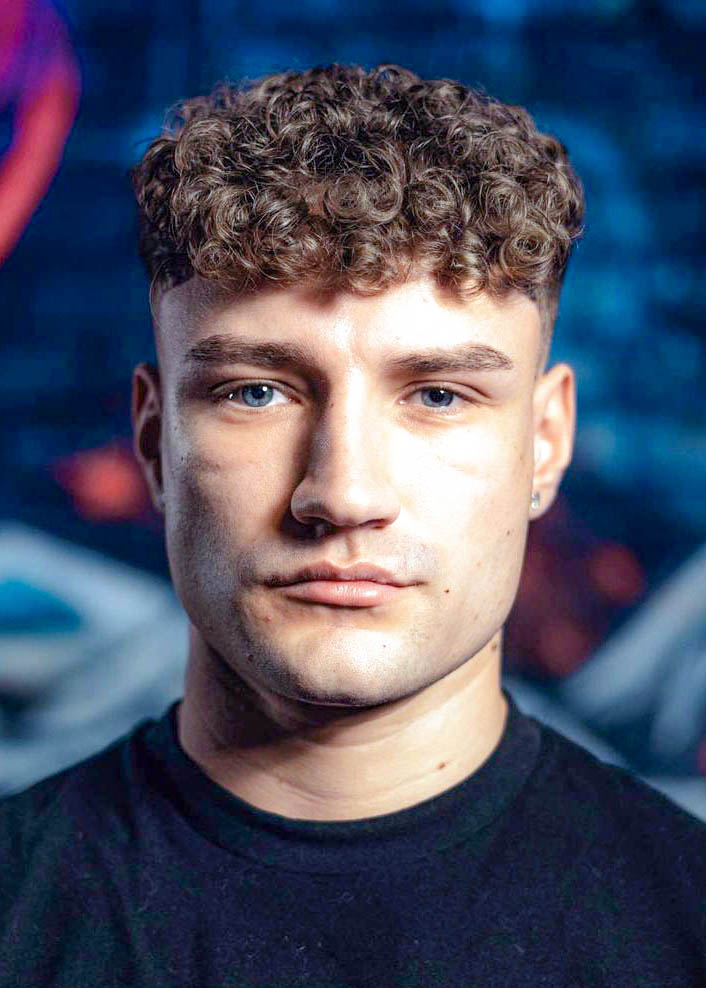 Like curls to your crew cut
Do you want to go for a French lover boy look while maintaining an aura of danger around yourself? Then how about a crew cut to keep the onlookers warned, with curls to make her fall!
With the jawline clean and sharp, get ready to cut the conventions and pay your way to her heart. And why not, with curls and a square face, you have hit the genetic jackpot, not once but twice. It's time to put that blessing to work, with the curly crew cut. Just trim the sides and set your curls with nothing but fingers and you are ready to go!
15 / 42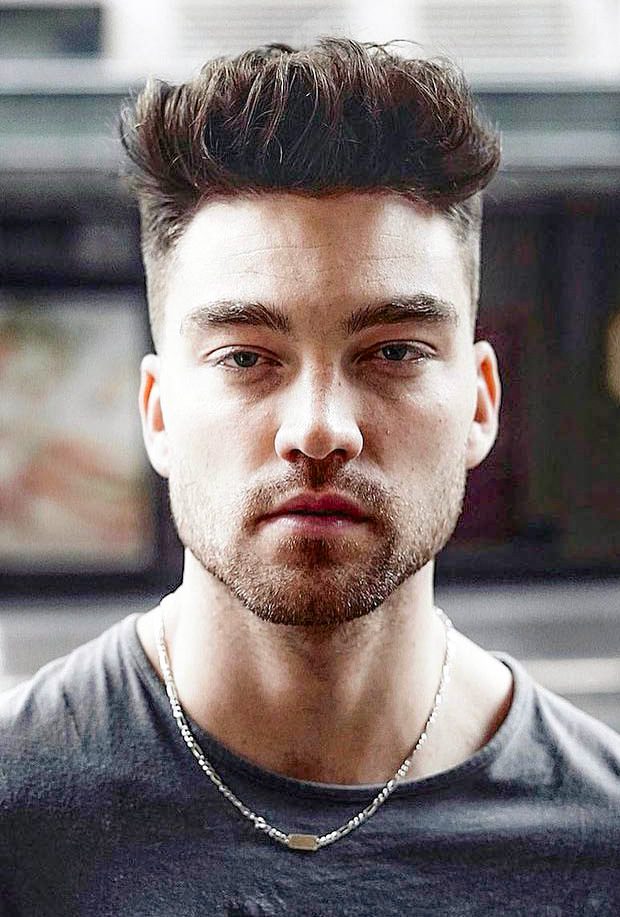 An Undercut with a gist of wolverine
Going for a more serious, dangerous look? Then look no further than this modern iteration of the classic undercut. With a square face, the undercut is bound to make you look a shade similar to the wolverine, and that will be enough to keep others at bay.
With short stubble and a cleft chin, you will be as intense as one can get. Maintaining this style is also simple, although the style is far from simple. With the sides trimmed short, you only need to comb the top, and fingers would easily suffice.
16 / 42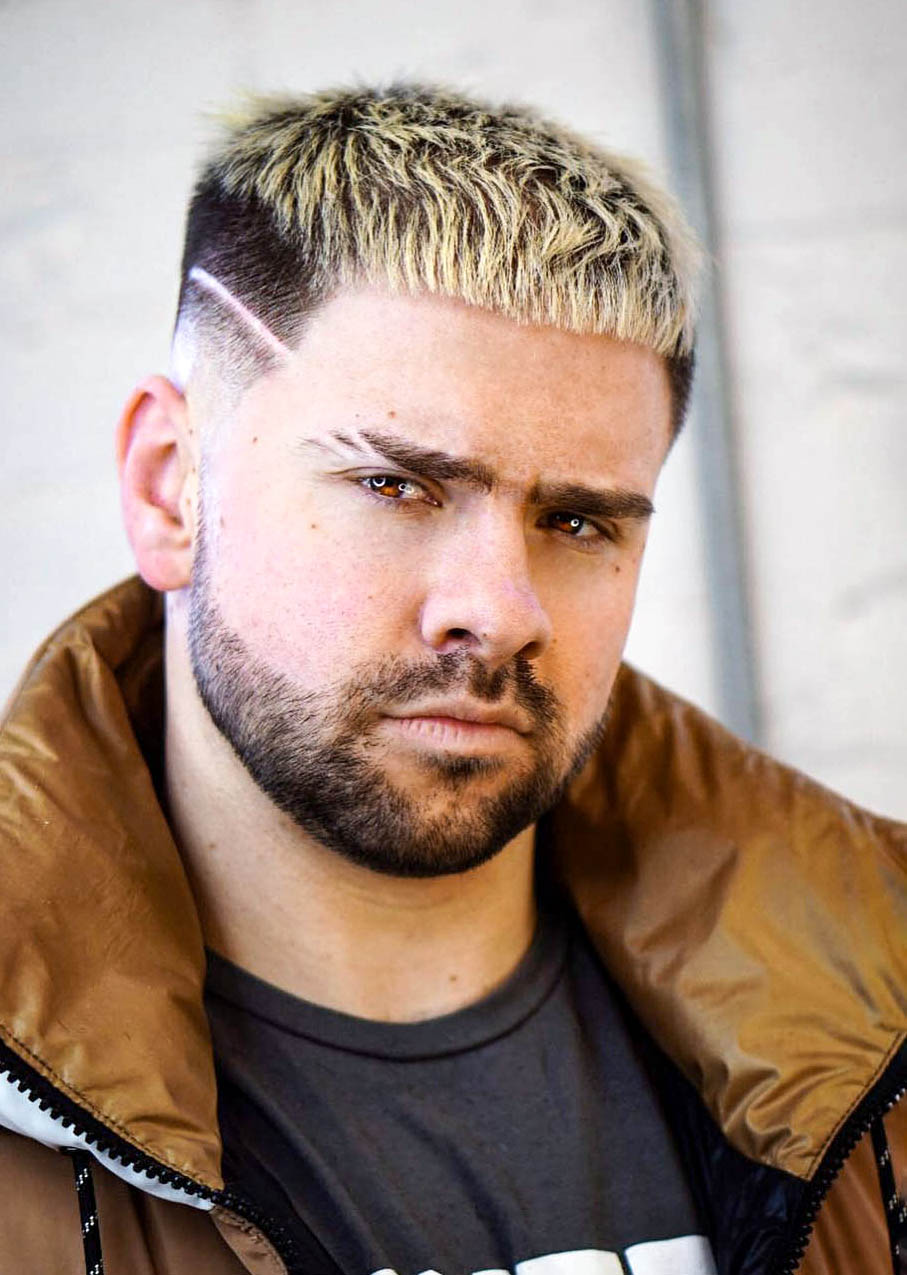 Fade your way into the Crew Cut
Are you carrying the burdens of your past? Burdens that words don't even dare to express. Then this crew cut with low fade is bound to bring out substance to your personality that no phrase could.
With the top bleached, giving the hair a sharp contrast with the sides, this hairstyle doesn't only look chic, but also intense. As depicted here, the crew cut is meant to be worn with a short-styled beard. After all, which intense look is complete without some facial hair.
17 / 42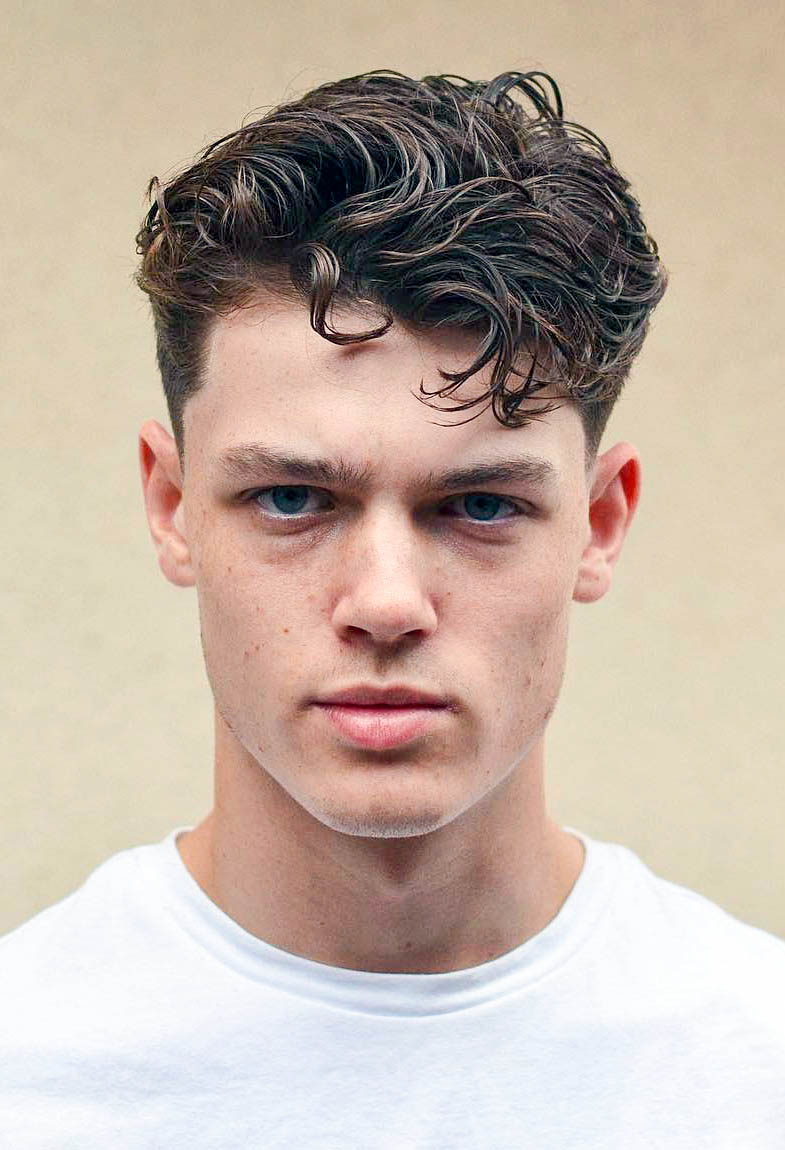 Look chic with the Fringe bangs
Hairstyles must match your personality! If you are someone who has their fair share of secrets and is up to no good, then this hairstyle ought to bring out your naughty side. With a chiseled and clean jawline, the wavy fringes falling on your forehead might sound too much, but in reality, the devil himself approves of it.
With the temples trimmed neatly, and the top thick in volume, all you need to complete the look is an aura of mystery around you. Finger-comb your hair and set those fringes with the finishing spray and you are ready to go!
18 / 42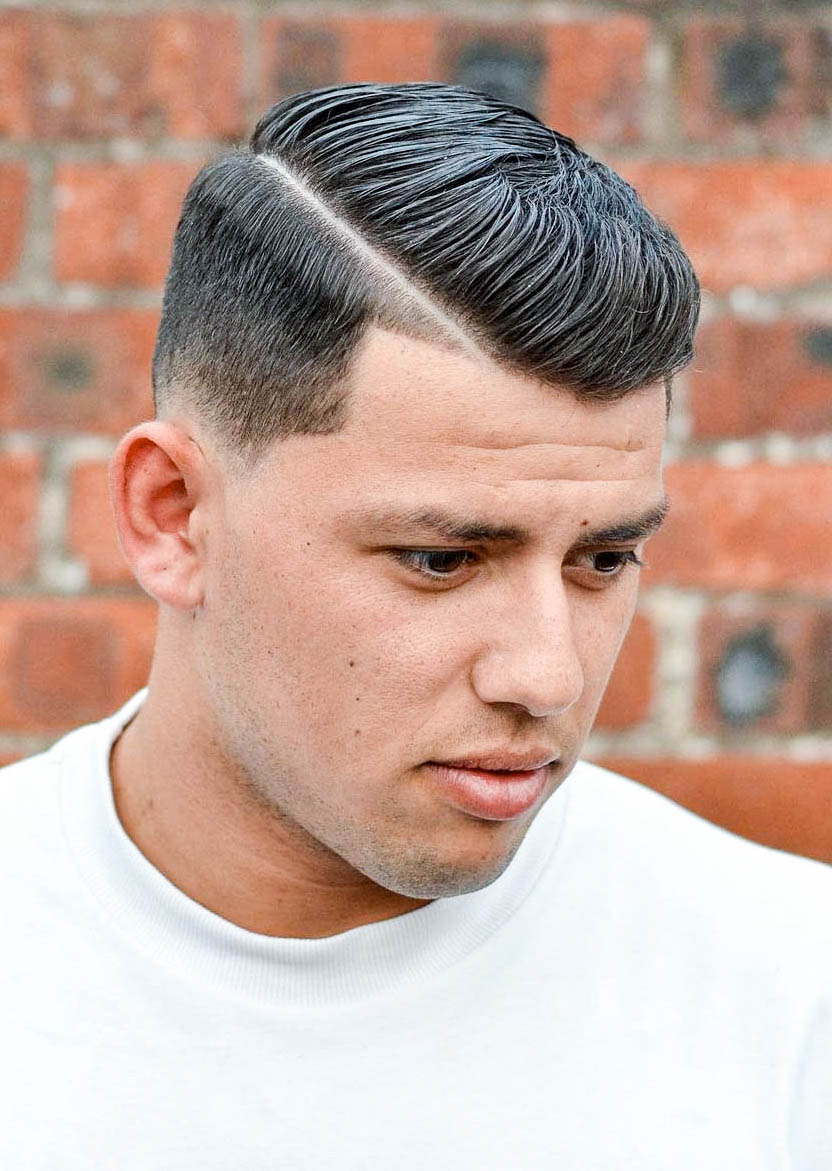 The Side Part
If you mean business and want a professional cut that can look neat, sophisticated, and ready to go, then meet the Side Part. With the sides trimmed short, keeping a side part while combing the top to the sides, you are sure to look your most dapper.
With this hairstyle, any sort of facial hair goes, but the look is vastly enhanced with a clean-shaven face. It's a hairstyle made for every occasion, from the business conference tables to the dance floors in a nightclub. It's a style for those who are on the go and need hair that always looks ready.
19 / 42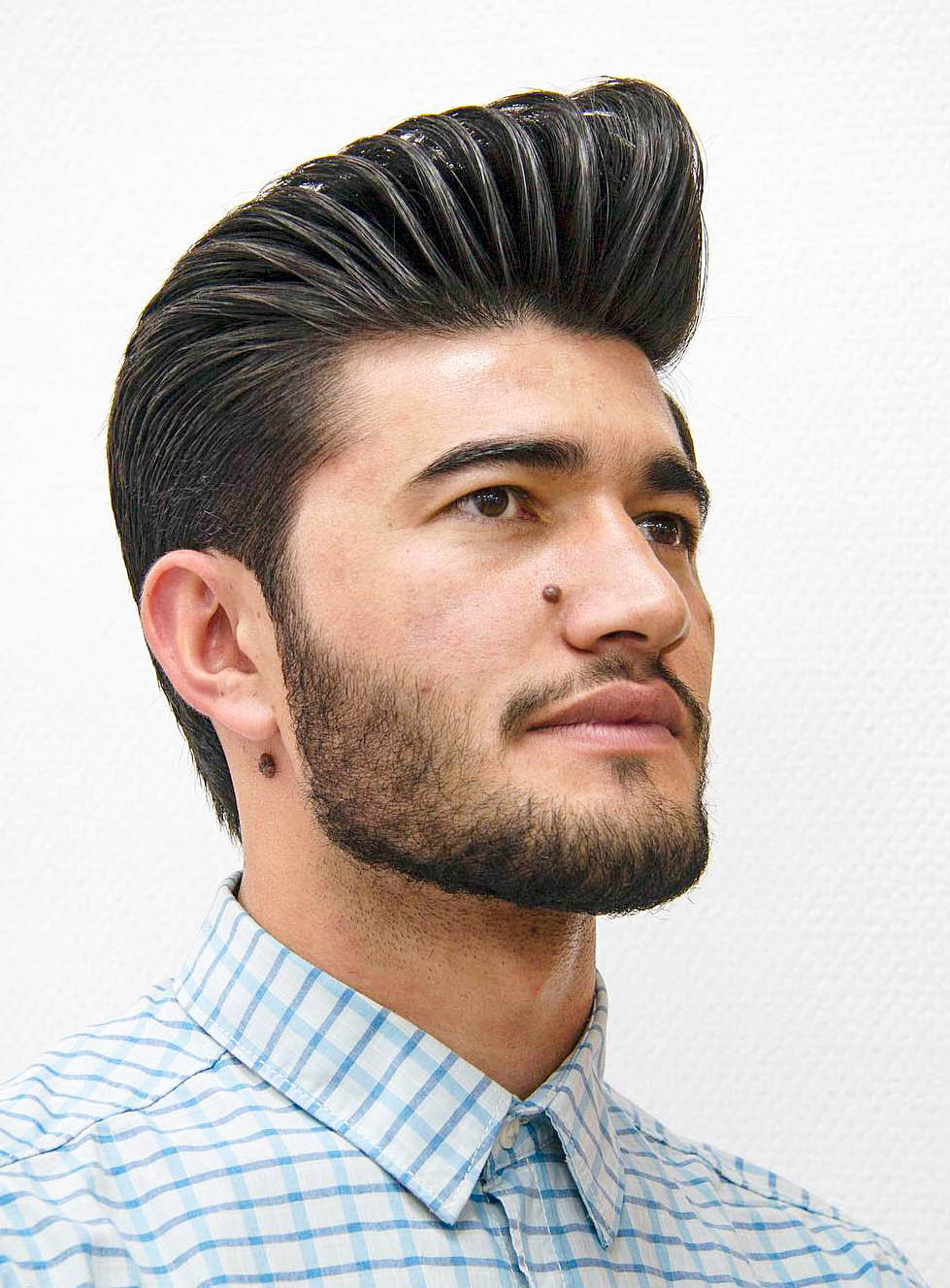 Reimagining the Pompadour with Rockabilly
The pomp and squared faces are like a match made in the heavens. They are like pineapples on pizza. If you are not afraid to stand out and can keep your nerves under control while everyone's attention is on you, then this milder version of rockabilly is just what you need to wear.
With finger-combed fronts making trenches in the thick volume of hair and neatly tucked in sides, get ready to make an impression that will last. With a short stubble on the chin and a hint of a smile on your lips, you are ready to go.
20 / 42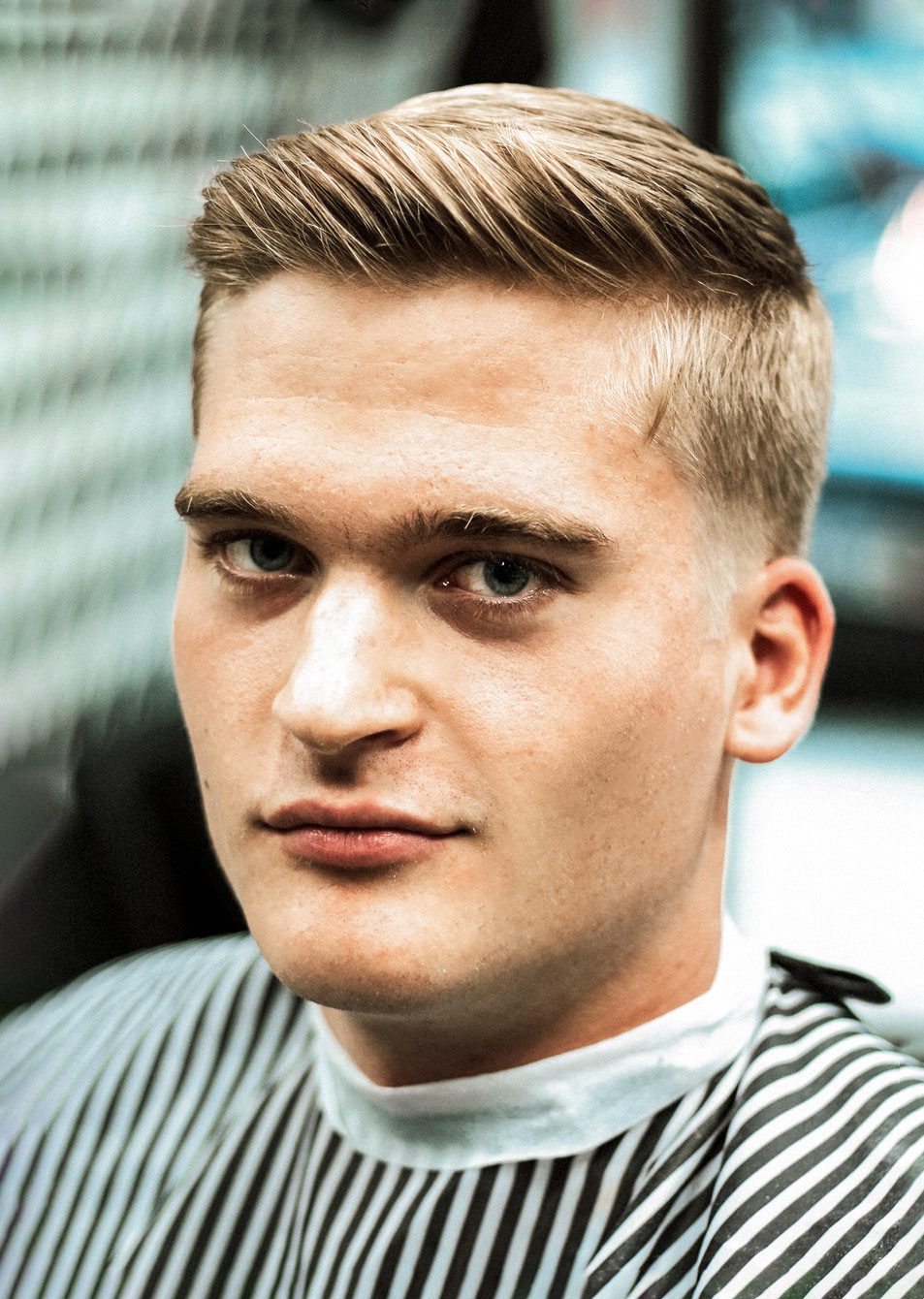 Silky Smooth Side Sweep
The return of the classic clean-cut, introducing a neat side sweep with a subtle side part. The undercut here makes way for the taper fade to follow along with a very cleaner undertone. This look goes well on formal occasions, especially the fluff makes it more lively.
21 / 42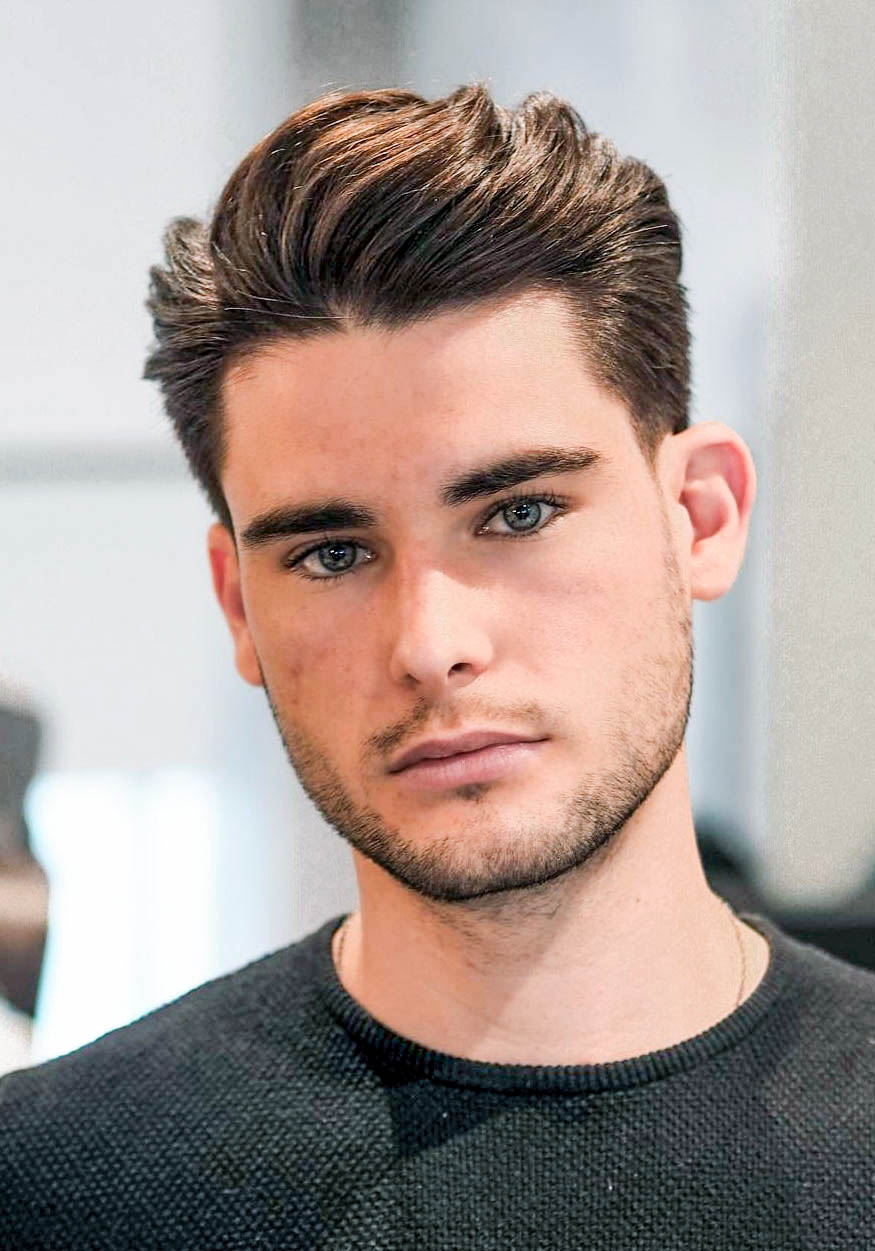 The versatile Ivy League cut
It might sound cliché, but the more 'the words' are spoken, the more value they lose. With this slicked-back middle-length hair, speak more with fewer words. If you have a square face, then you have already hit the genetic lottery. This hairstyle just takes it up a notch.
With neatly tucked sides and the top generously rich, this haircut is not only sophisticated but also intense. Style it up with mild facial hair to compliment those chiseled jaw lines and get ready to turn heads in every room that you walk into.
22 / 42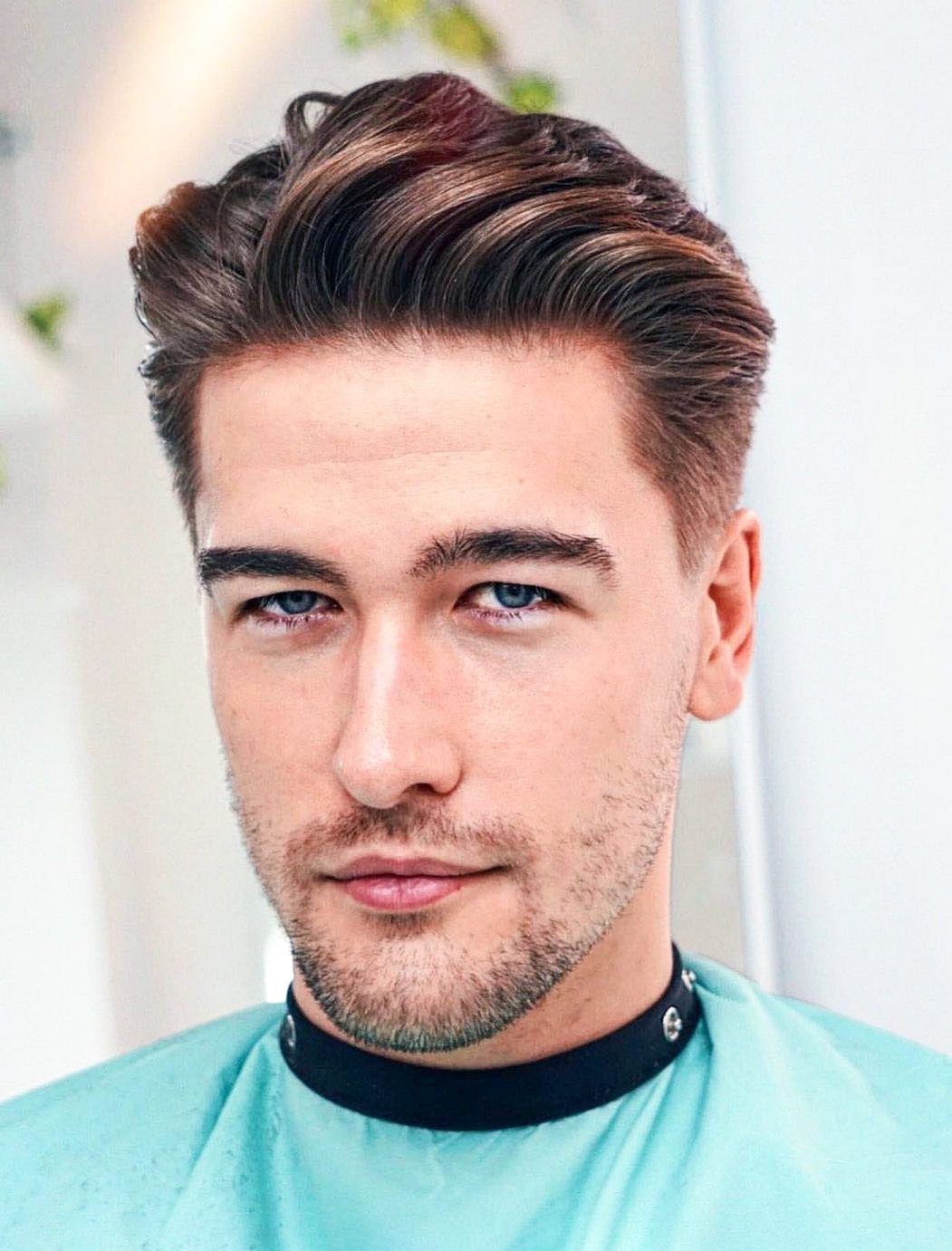 Classic Taper
Just like the name, you get a classy look too. Adorned with tapered long hair on top and shorter hair down the sides and back of the head. The haircut eventually blends in with your skin, making you look sharp and neat.
23 / 42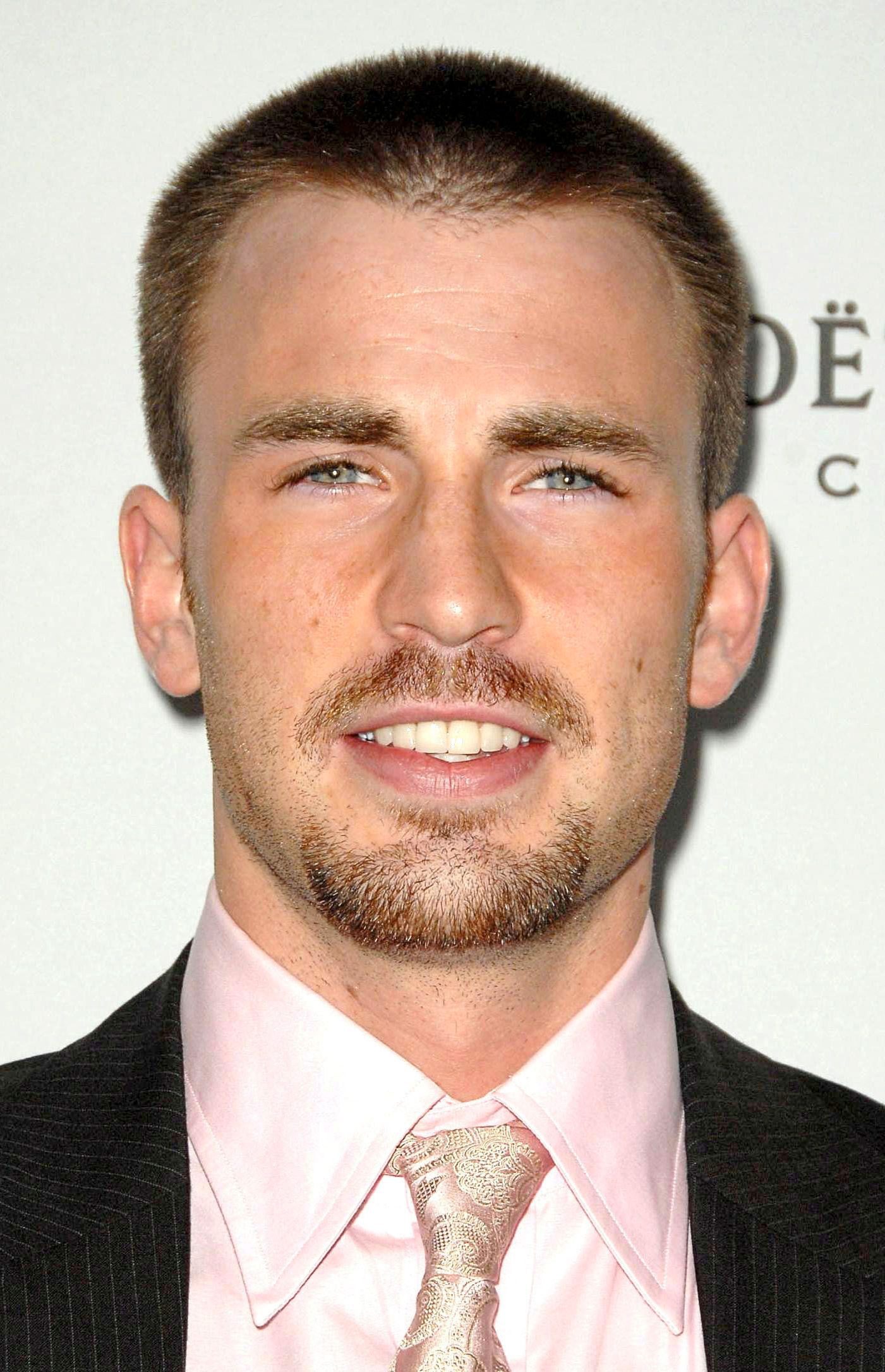 Buzz Cut
Since buzzcuts are short in nature, they also do a good job of highlighting a square face. Opting for something like a crew cut, butch cut, or Ivy League will emphasize your sharp facial features. Buzzcuts tend to be shorter than undercuts and pompadours, so make sure you don't cut your hair too short. If you do, you'll end up drawing too much attention to your face.
24 / 42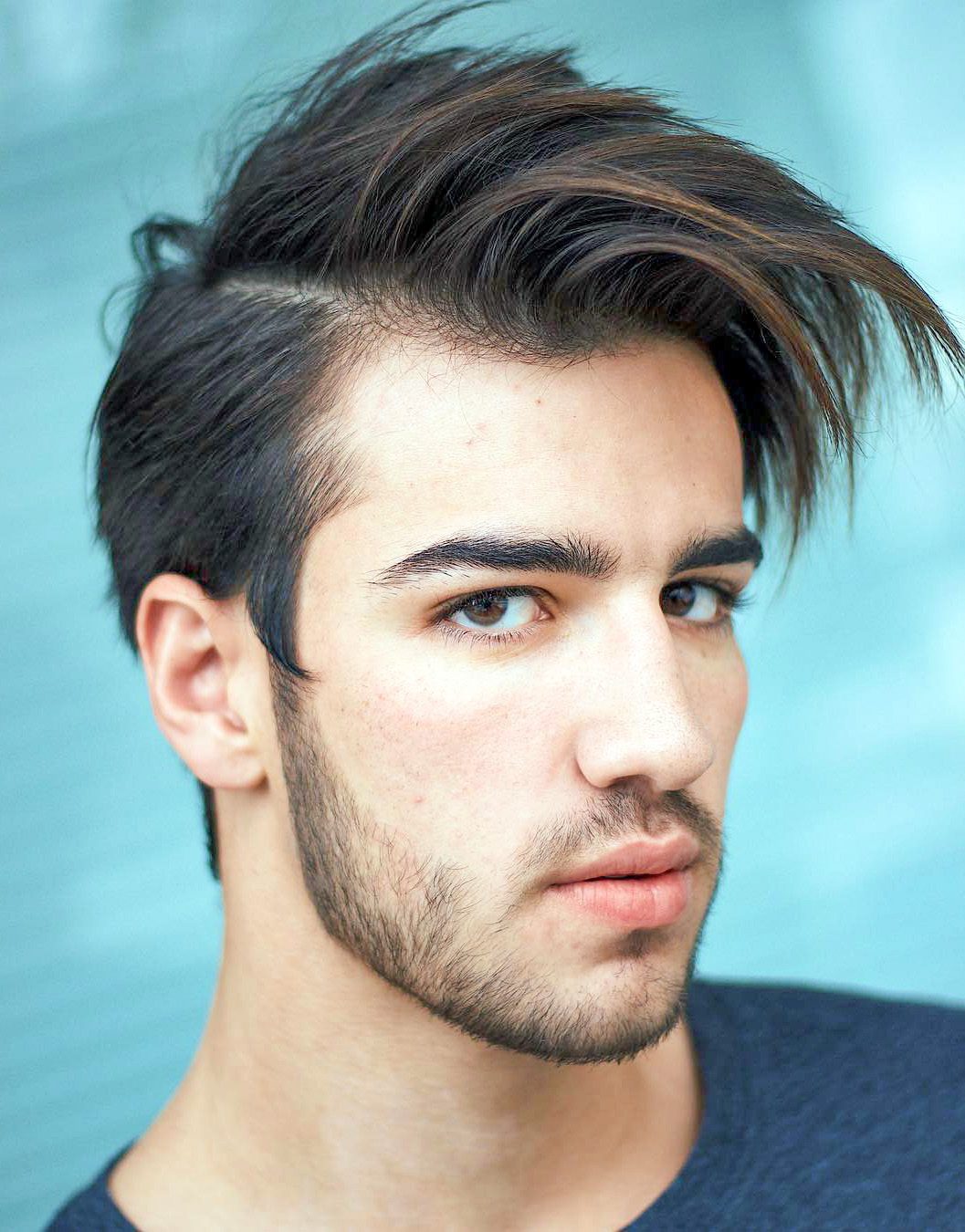 Side Swept with Part
This unique variation on the side swept is one of the most unique hairstyles for guys with square faces. This takes the regular side part to extremes, pushing it to its limits with chin-length hair in the front. This is also an asymmetrical style, so while one side of your head will have super long hair, the other side will have much shorter hair. This is a bold style, so if you like adventurous hairstyles, this is for you.
25 / 42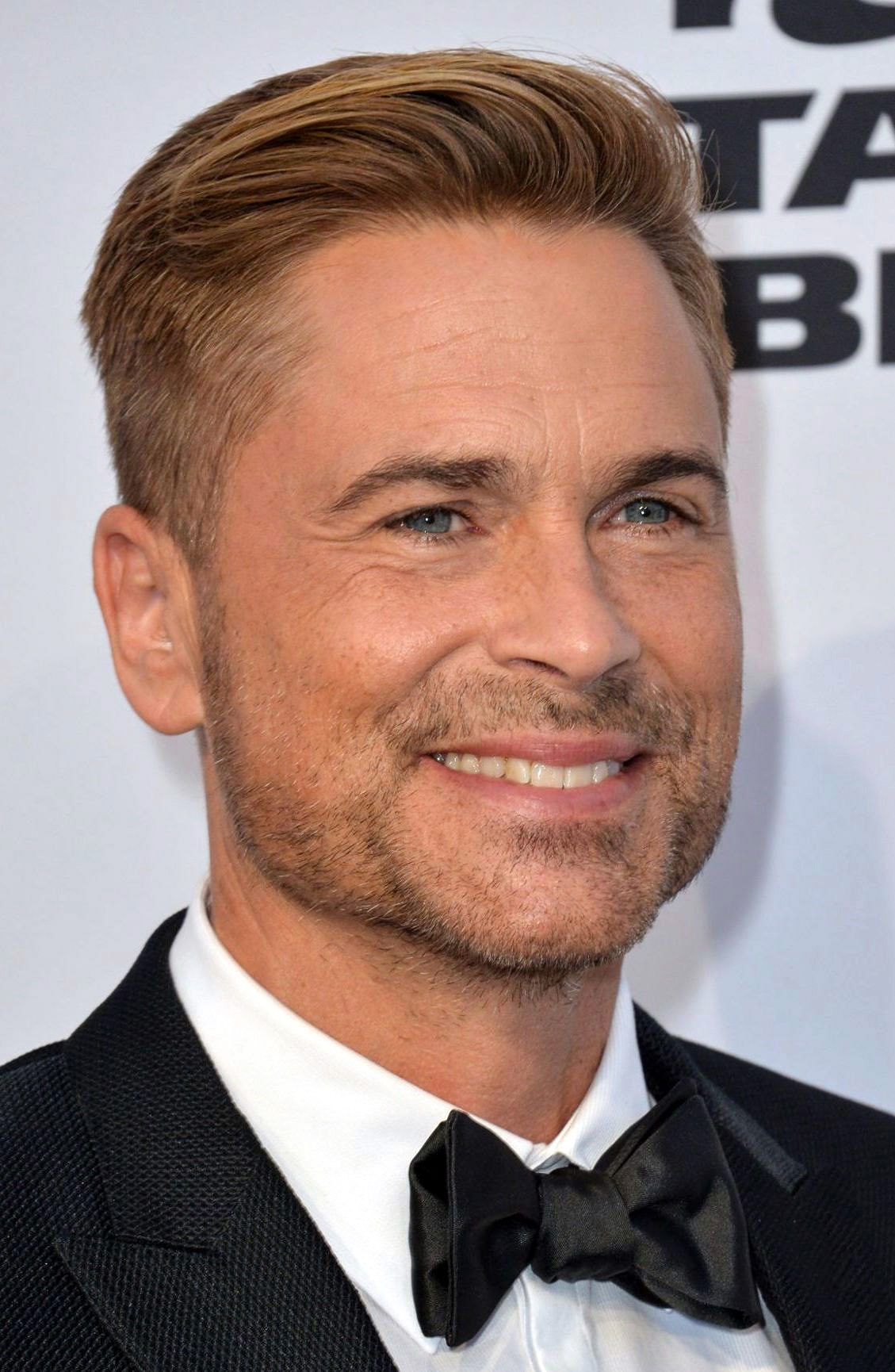 Comb Over
If you have a square face shape, you should emphasize either your hair or your facial features. To emphasize your hair, go with a longer cut, preferably one with similar lengths on the top and sides/back. To emphasize your face, go with a tighter, shorter cut.
Avoid center parting or cuts with heavy fringes. These throw your face off balance and detract from its strong features.
26 / 42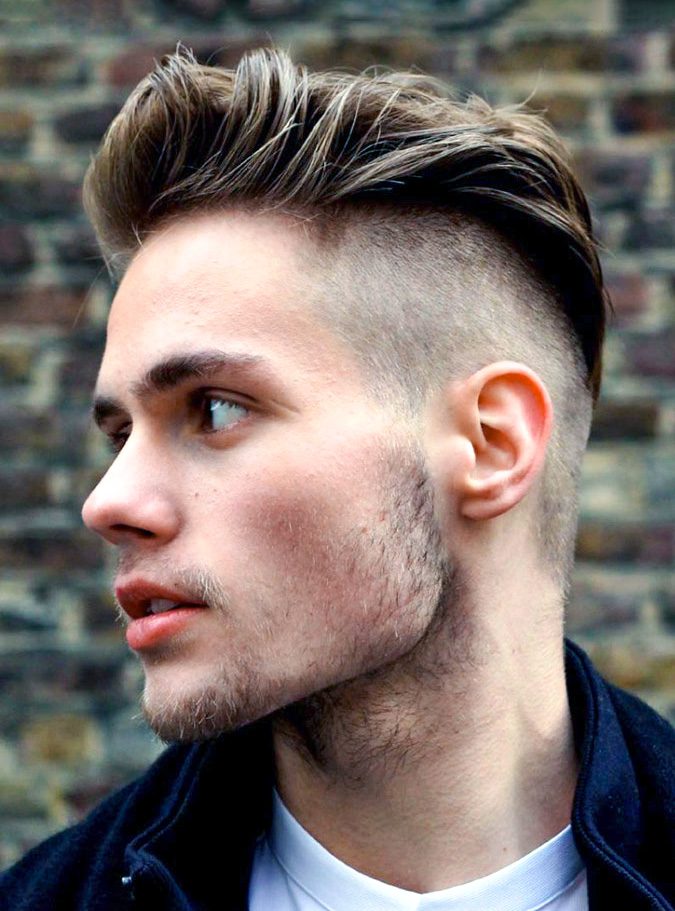 Puffy Undercut
We looked at some undercuts earlier, but none with as much contrast as this one. Here, the skin-tight cut on the sides plus the puffy top hair gives a cool, angular look to complement the squareness of the face.
27 / 42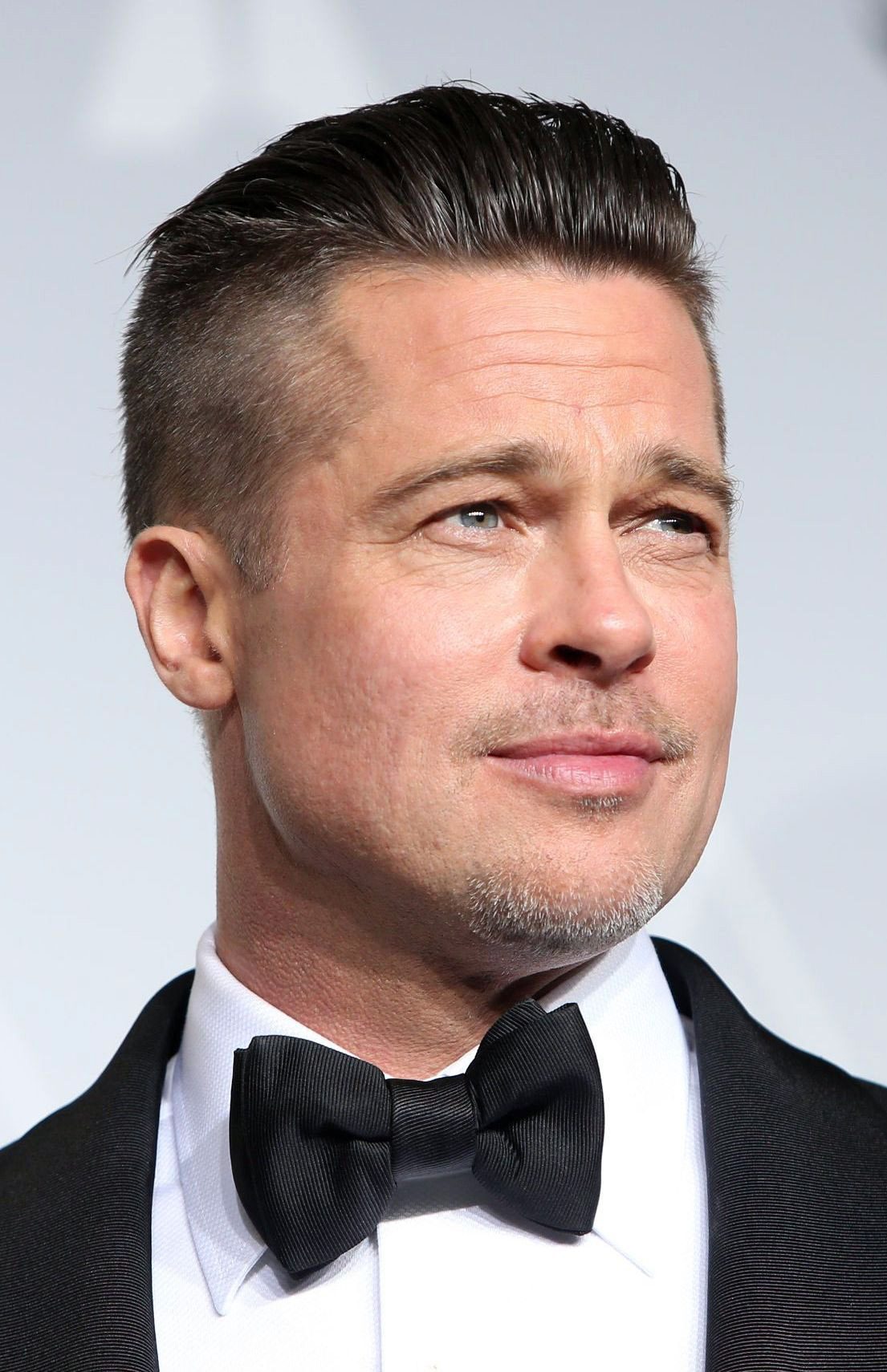 Undercut
The trusty undercut strikes again. The undercut is one of the best haircuts for guys with square faces because it emphasizes the face with the tight sides and styled top. We recommend keeping your undercut on the shorter side, as haircuts that aren't short or long don't work too well with a square face.
The slicked back undercut works especially well for accentuating facial features. Since the hair is slicked back, more attention is drawn to the face.
28 / 42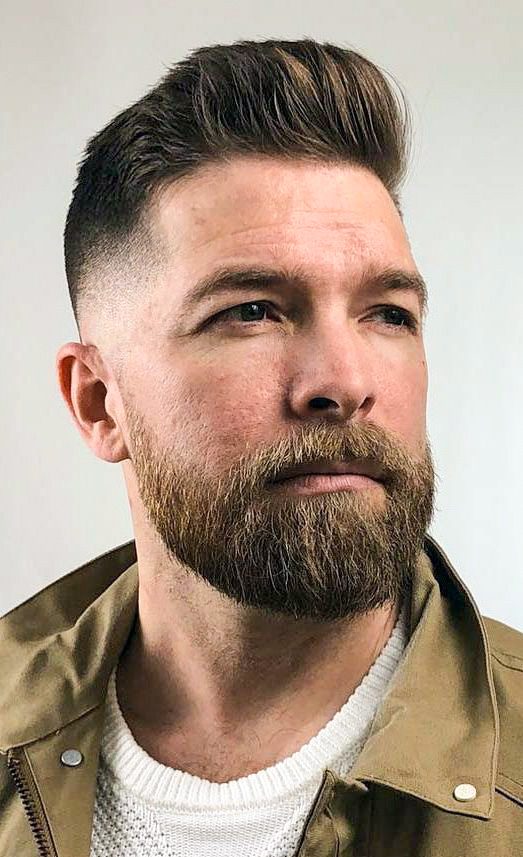 Popmpadour with Fade and Beard
The stylish pompadour pairs nicely with a square face. Short pompadours are best because, like the slicked back undercut, they draw less attention to the hair and more to the face. Medium to long pompadours don't work so well because they can make the face look rectangular and too long.
29 / 42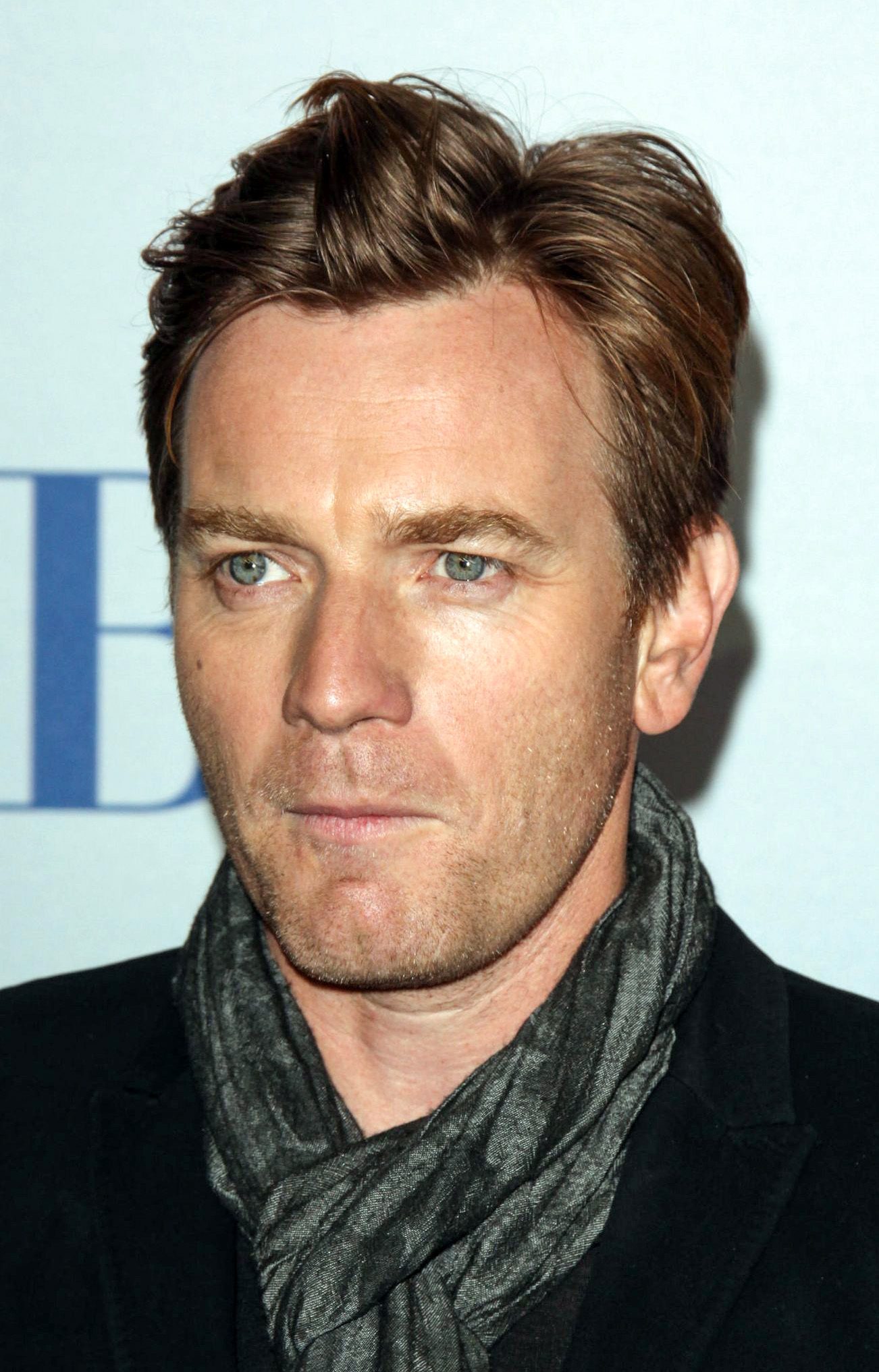 Brushed Back Undercut
Having long strands gives all the freedom one needs to style their hair. This one combines more than one style; the top is slicked back but with open ends and a slightly puffy texture, and tapered sides.
30 / 42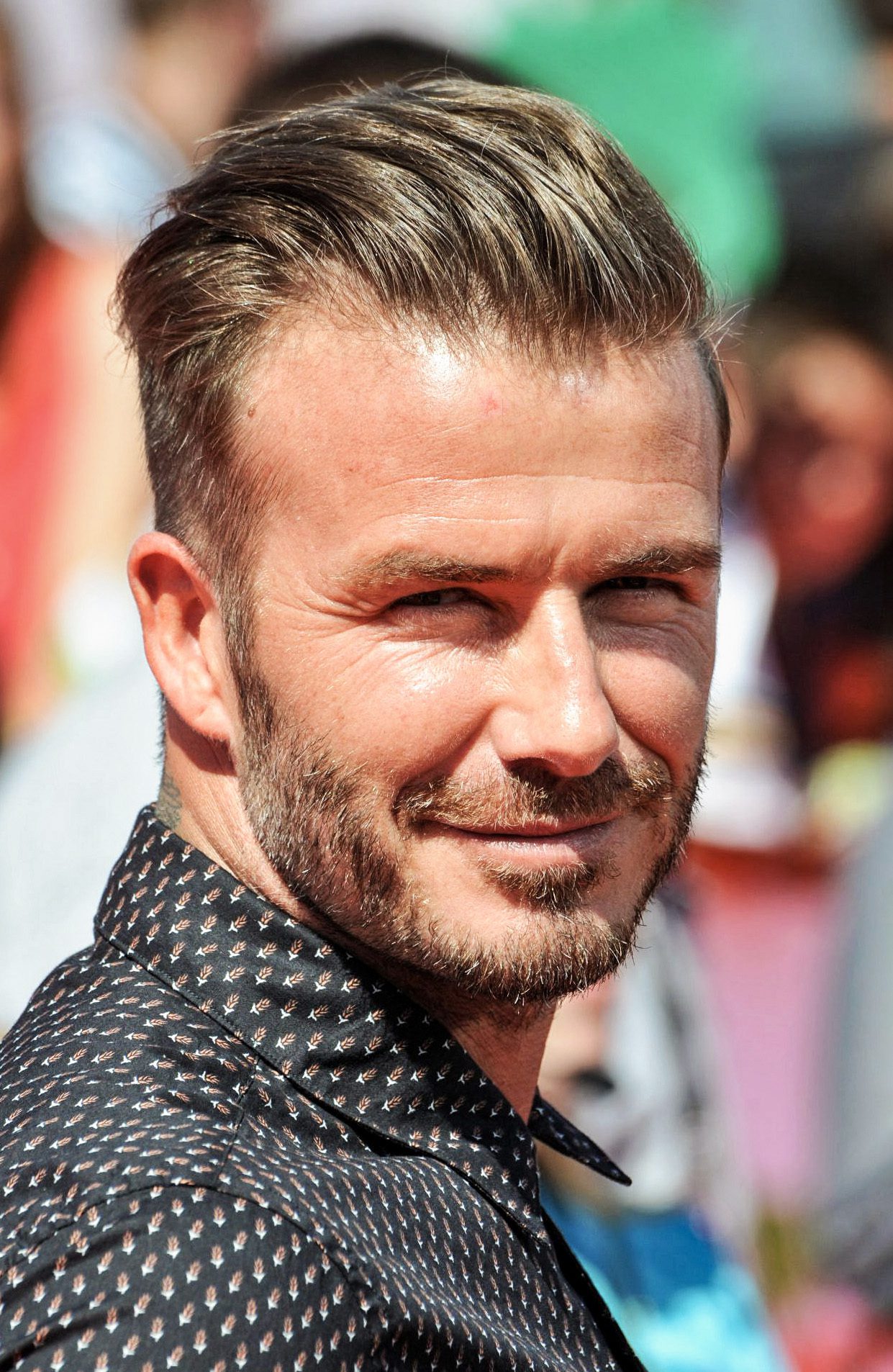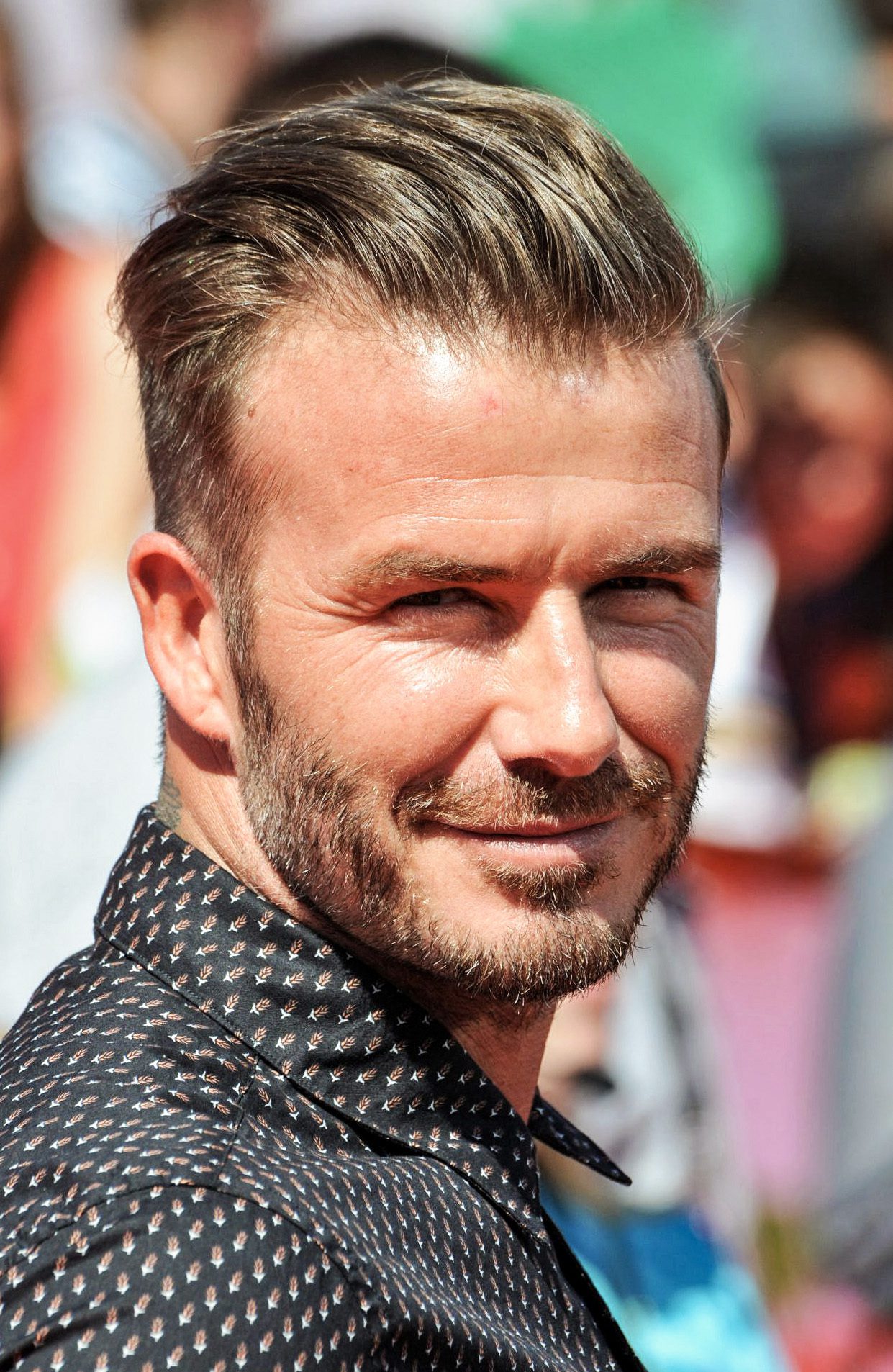 Slicked Back Undercut
In general, undercuts are pretty versatile styles. This elegant slicked back undercut works wonders with Beckham's square face and jawline.
31 / 42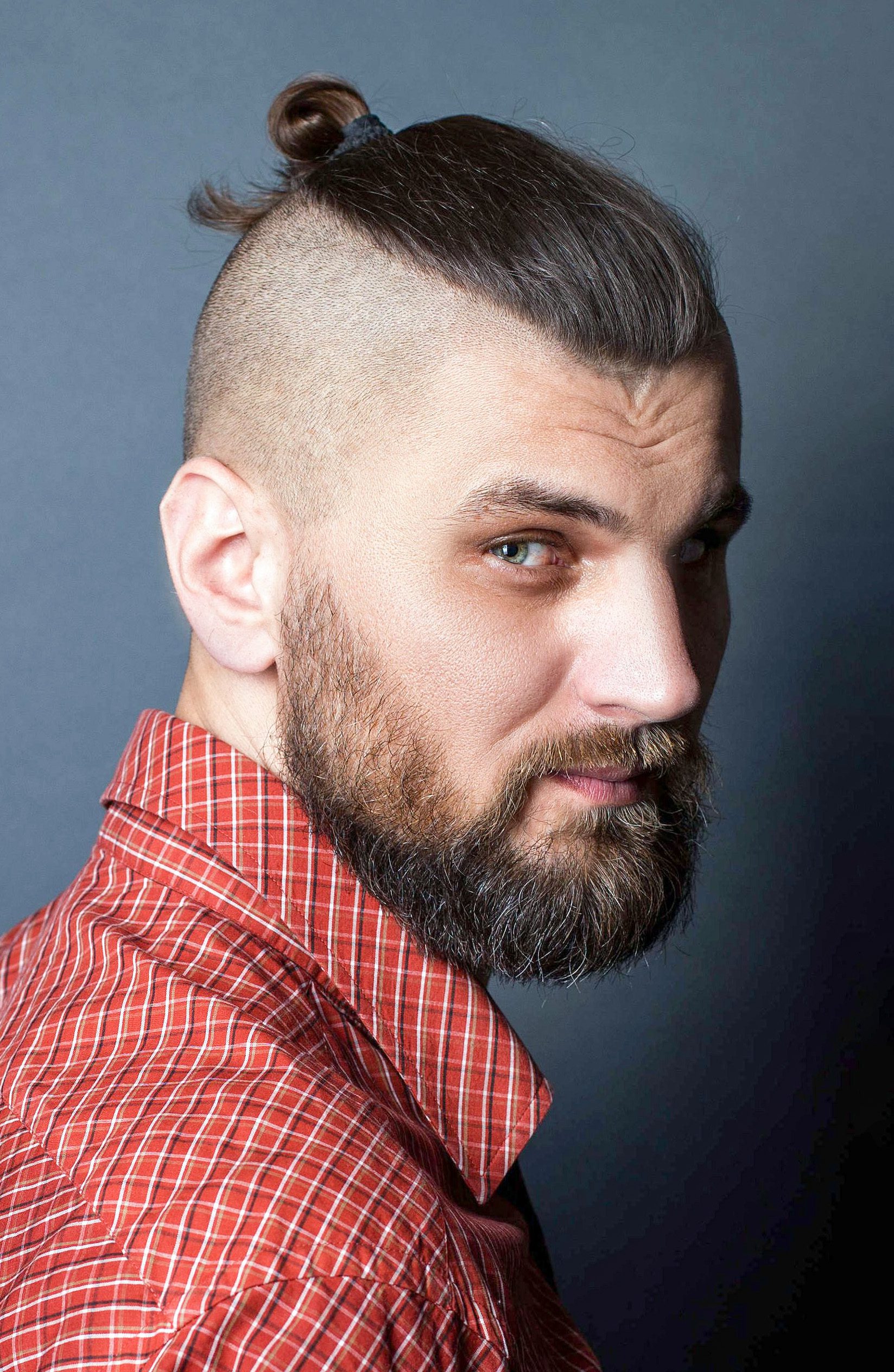 Top Knot
The top knot is a samurai-influenced variation on the man bun. All of the hair is pulled up into a single knot on the top of the head, usually at the crown. This is sort of a hybrid long/short cut because the hair is long, but it's drawn up into a knot. Top knots usually highlight the face, but if you leave some of your hair hanging out, you can make your hair the focal point.
32 / 42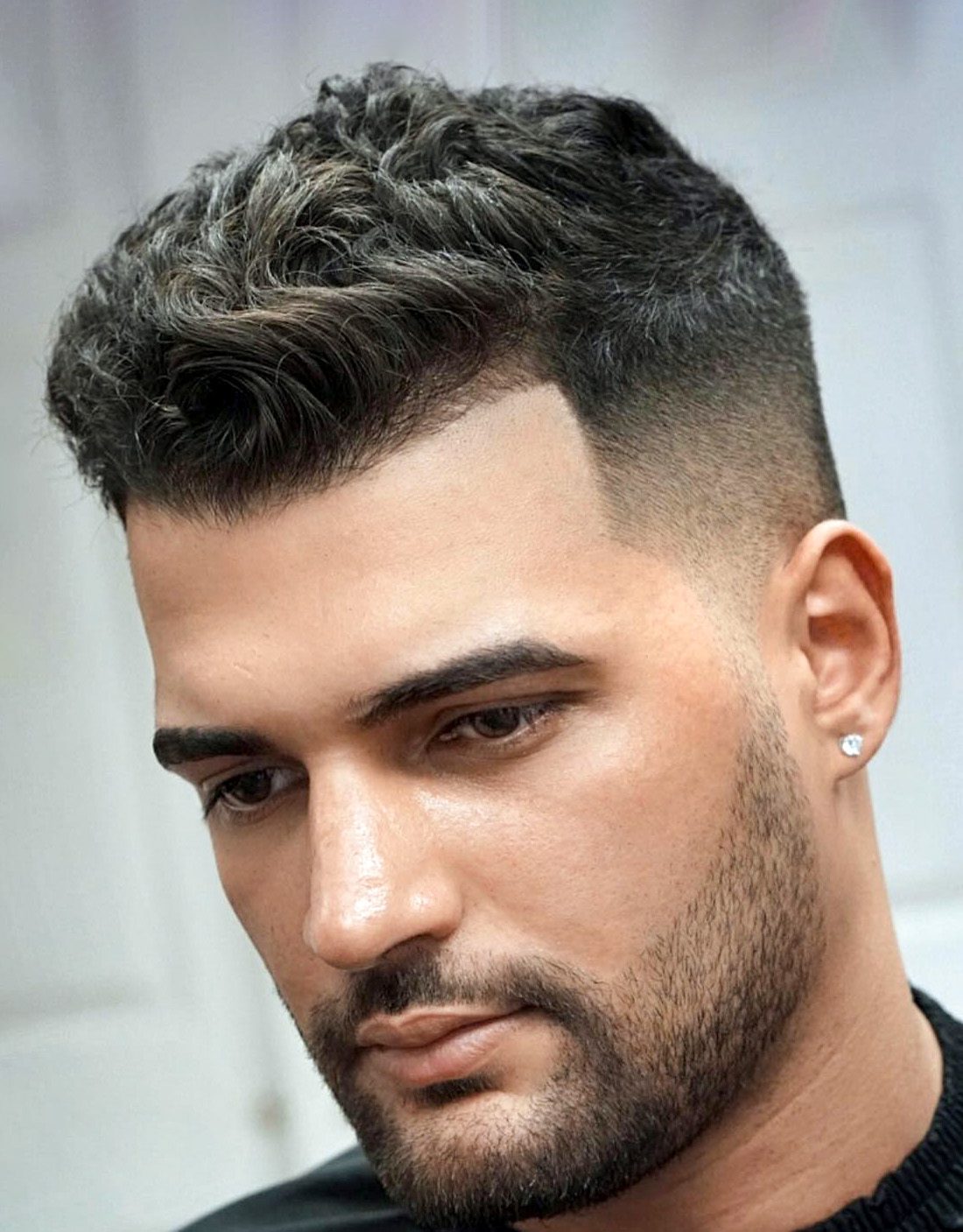 Wavy Topped Fade
A simple undercut with faded sides is one of the hottest hairstyles right now. One of this style's many claims to fame is how it works with almost any face shape — square included!
33 / 42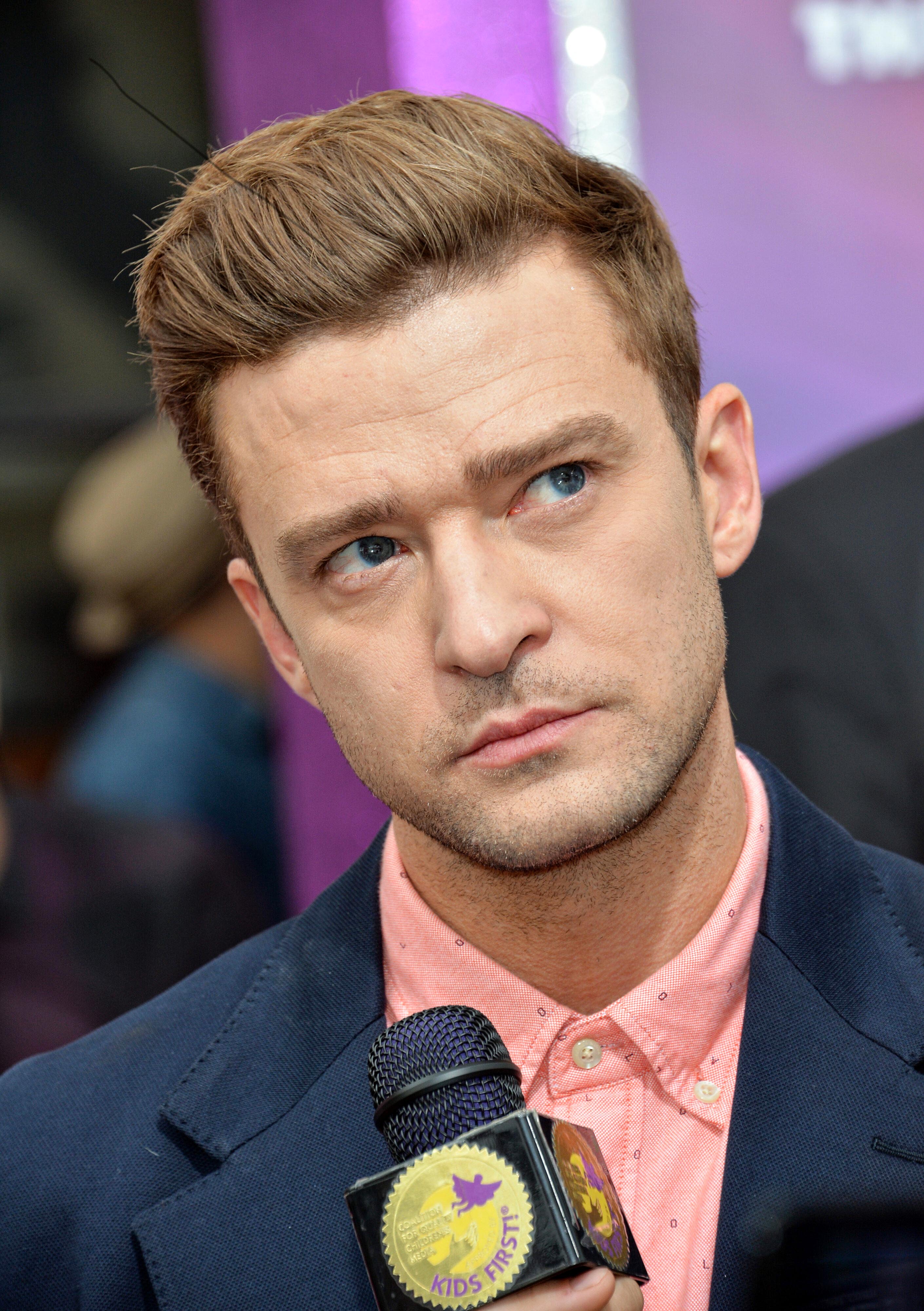 Short Back and Side
Yep, we love our undercuts. Check out this swept, parted undercut and how it creates a neutral, handsome look when combined with the face line.
34 / 42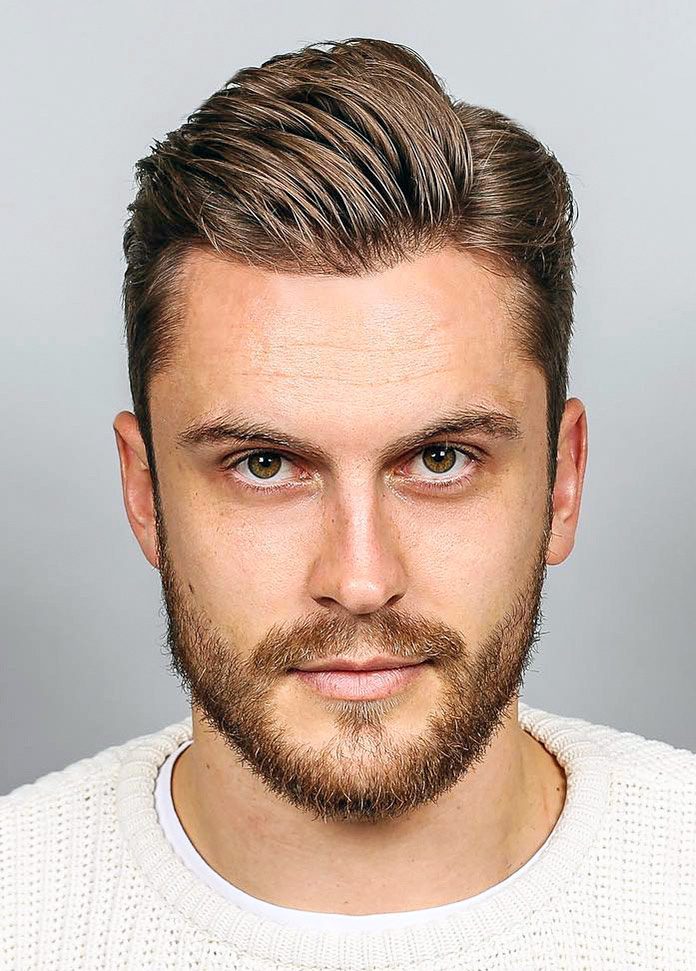 Back and Side Swept
For a variation on the plain old undercut, considering adding a part around two-thirds or three-quarters the way across the hairline. Sweep some back and some to the side for this look.
35 / 42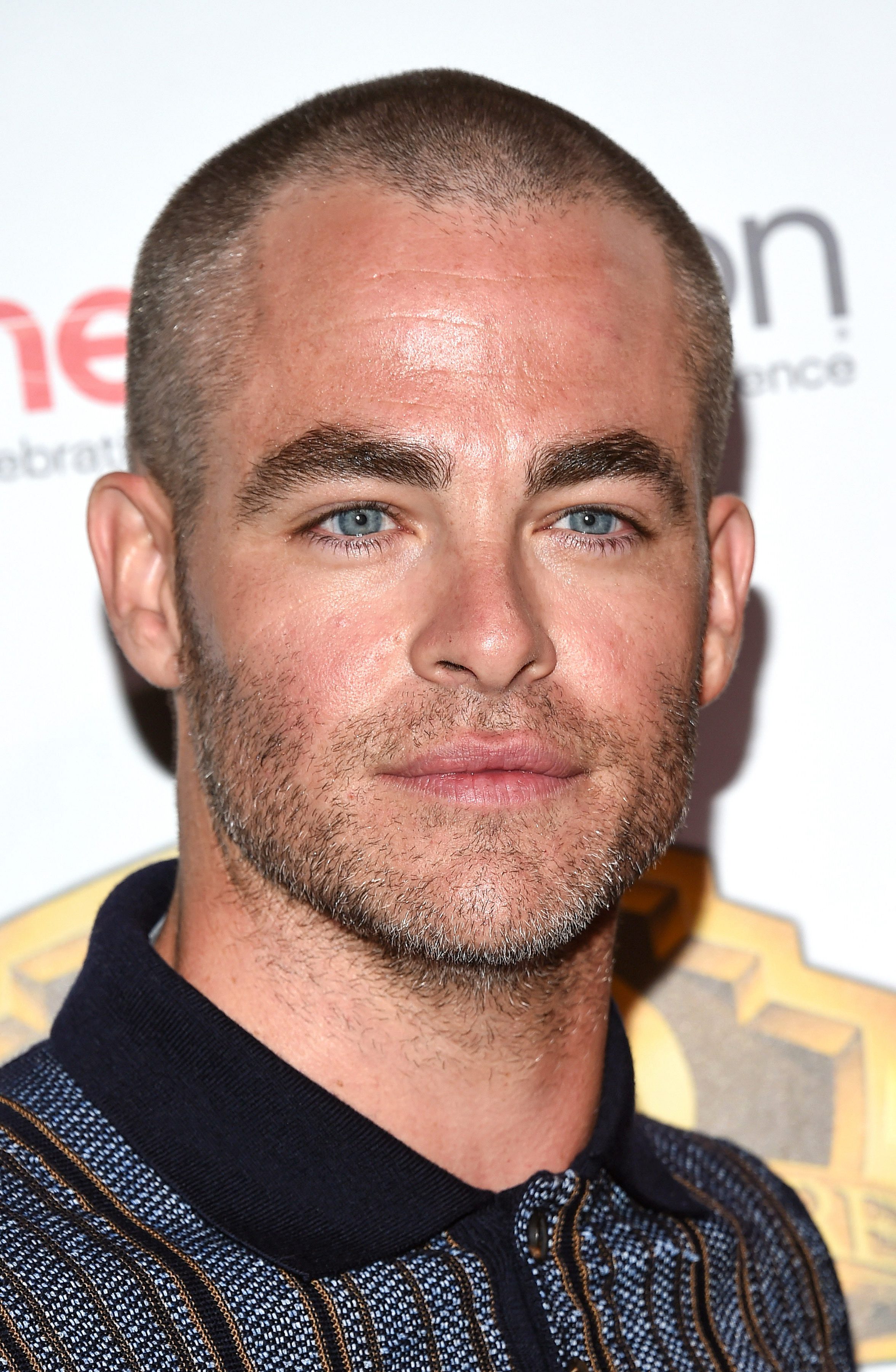 Buzz Cut
If you're looking for something completely different, why not opt for a buzz cut? This ultra-short style draws plenty of attention to the square and manly face shape, and that's nothing to hide!
36 / 42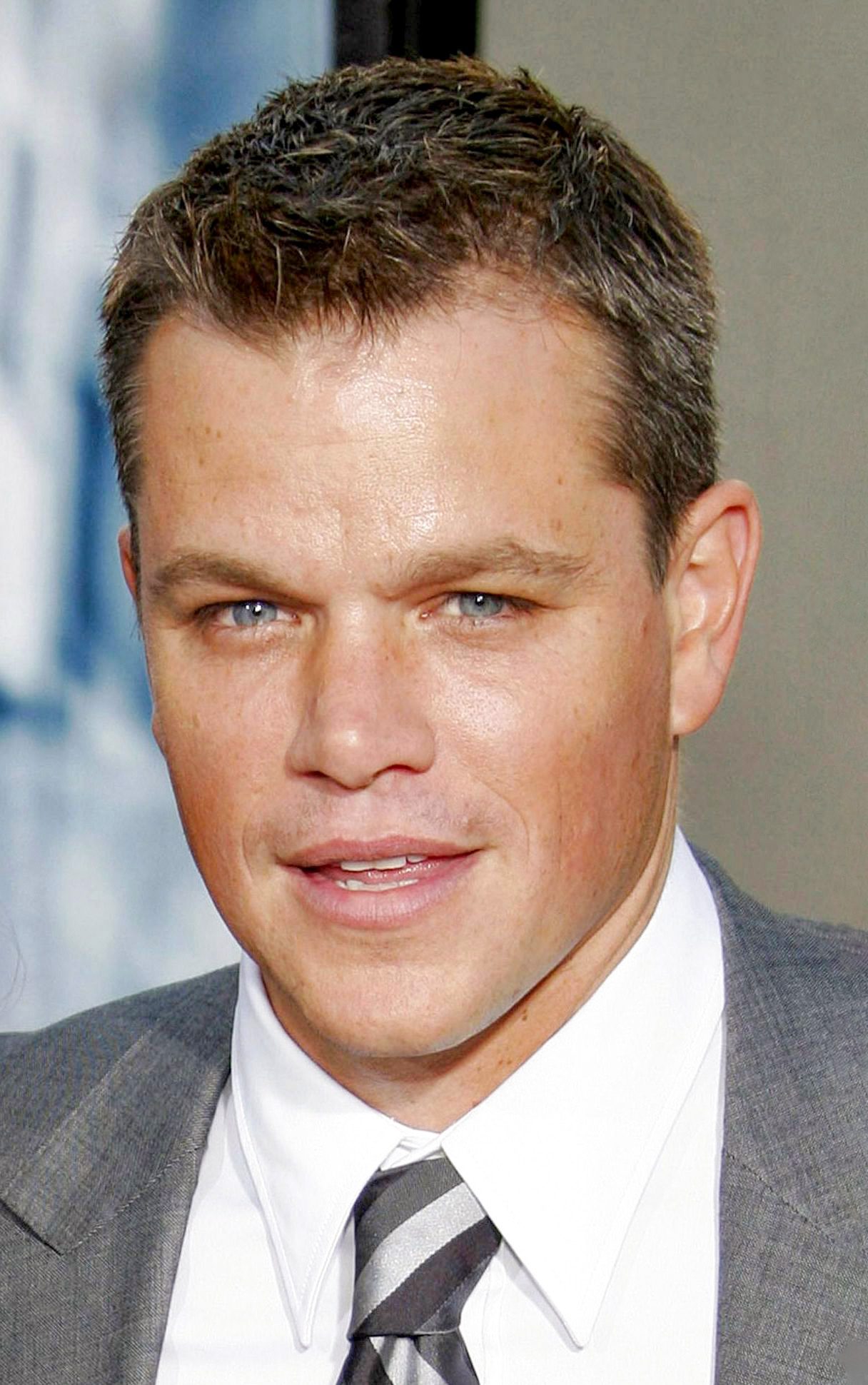 Crew Cut
Like the undercut, the crew cut is a hairstyle that will work for almost anyone, regardless of skin color, hair color, or even face shape. Here's what the good ol' fashioned crew looks like with a square face.
37 / 42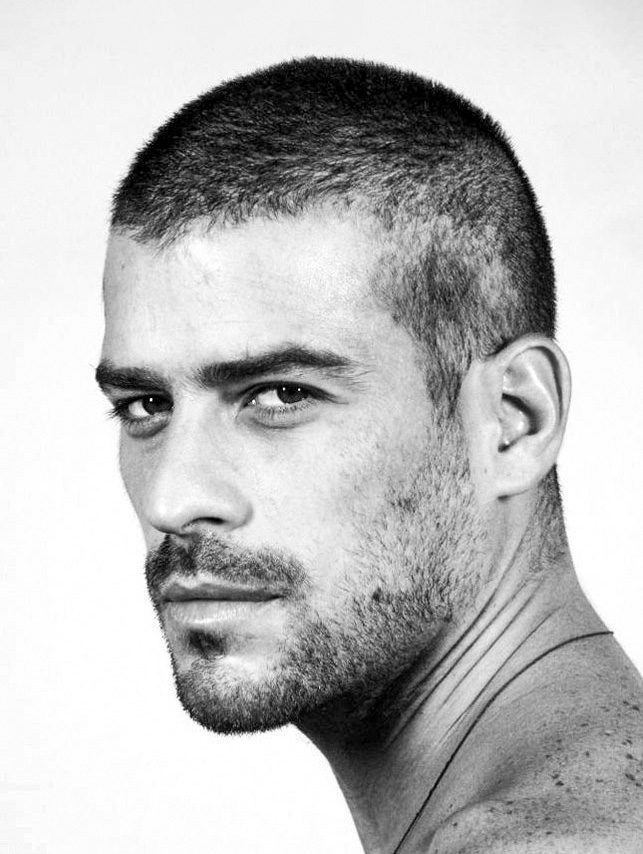 Buzz Cut
Here's another example of the buzz cut together with the square face shape. If you run this style with a little unkempt facial hair, the result is a youthful, urban look that we love.
38 / 42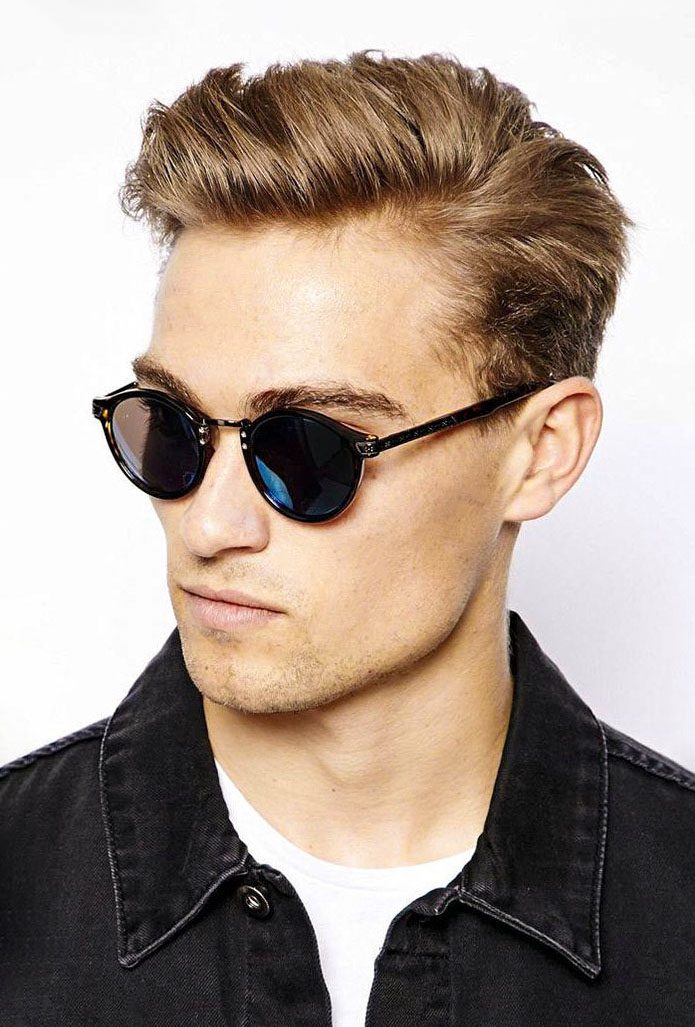 Comb Over
Ah, the combover. A hairstyle dating back to the Roman times, this look exudes power and royalty like no other. Nowadays, a little bit of gel or hairspray can revive this into an incredibly modern style.
39 / 42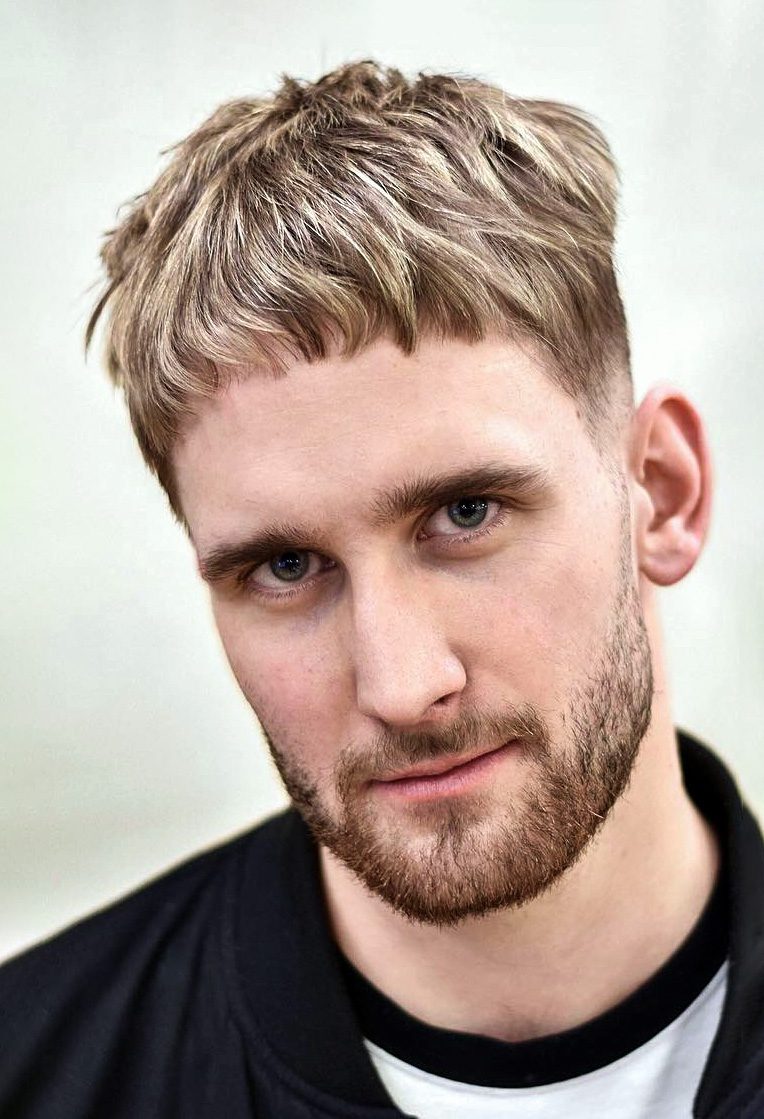 40 / 42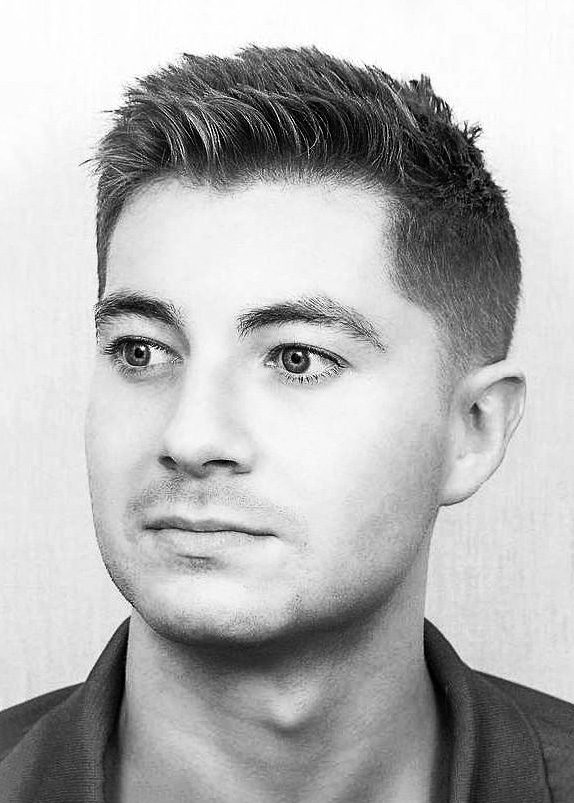 Brushed Up
This is as casual as it gets with the brush up with the side sweep texture to it. The thin hair is supported with few products and that makes it slightly thicker texture. The line up is slightly short with a curved angle. The temple fade is very slightly dull.
41 / 42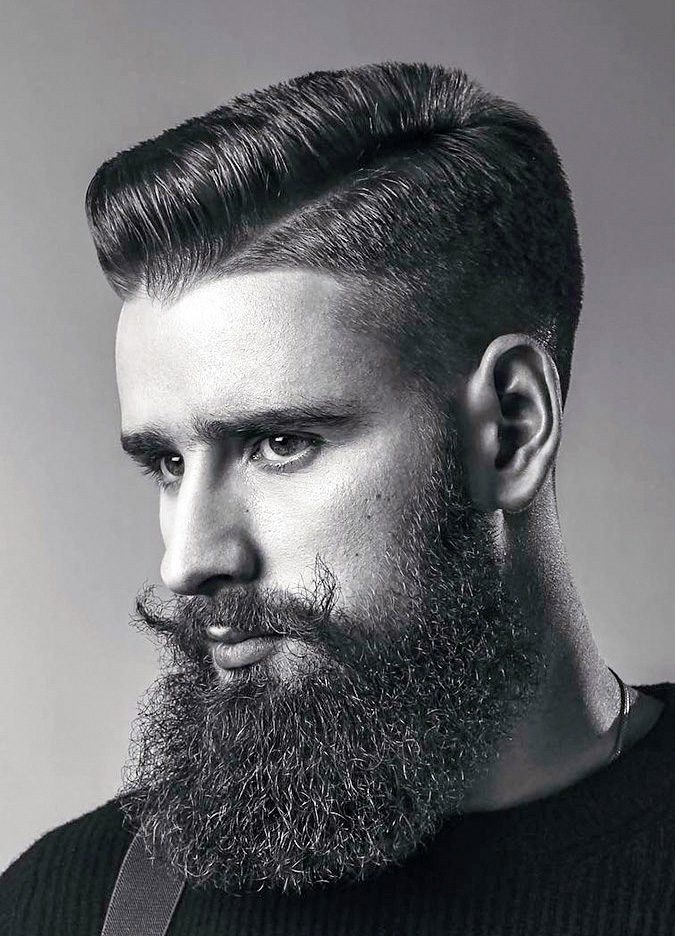 Side Part
Mr. Very Gentleman is here with that amazing side part is all everyone needs. The puffed side sweep with sides being tapered with a hint of fade makes it a very wholesome meal. All of that topped with that sturdy mustache is such a retro move that every guy wants to rock at least once.
42 / 42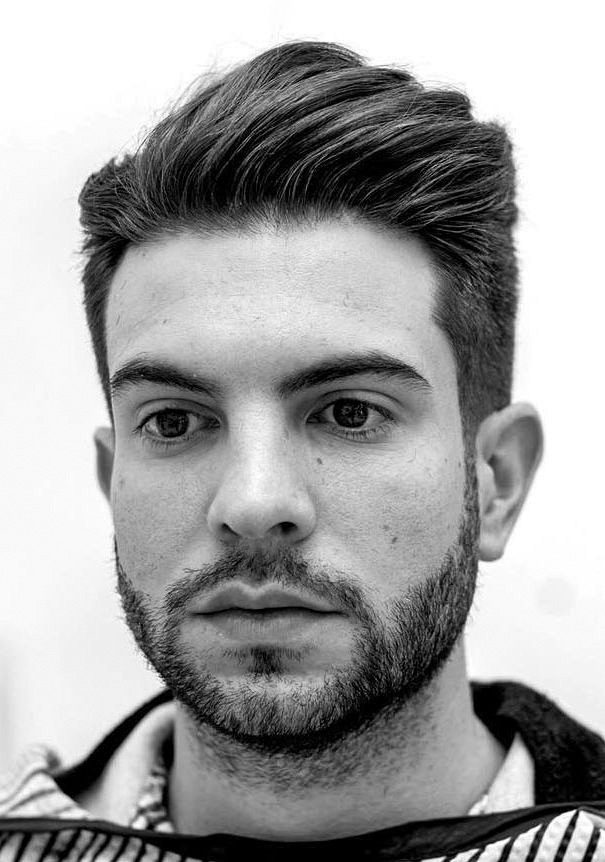 Back and Side Swept