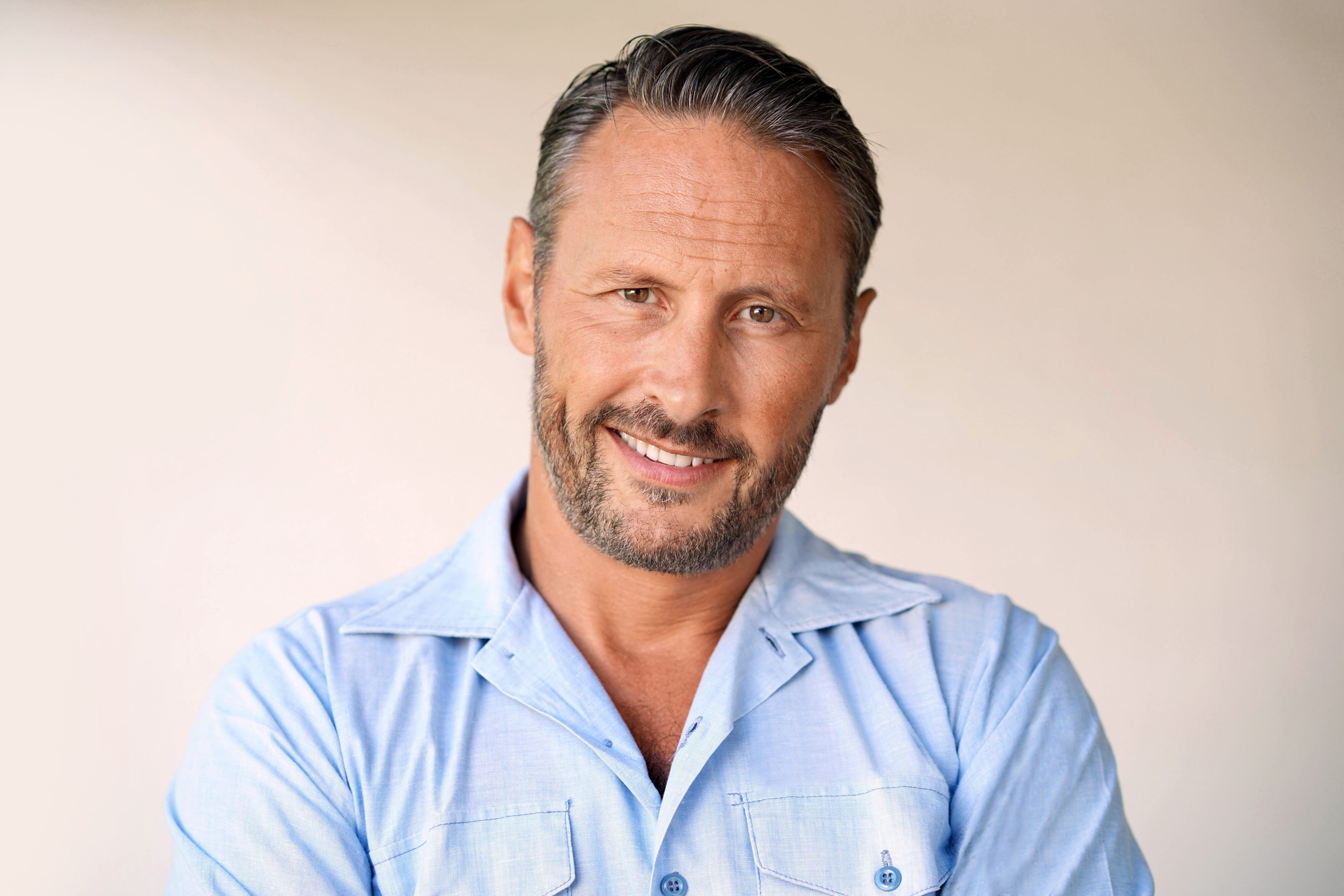 10 Eye-Catching Hairstyles For Mature Middle-Aged Men
Change can be good
Men are notoriously hard-headed when it comes to changing things in their lives, especially after they hit middle age. But we don't use those same phones we used 20 years ago, do we? So why would we want to keep the same haircut that was popular in the 1990s? Check out these fresh cuts for mature men, and give in to some welcome change.
1 / 29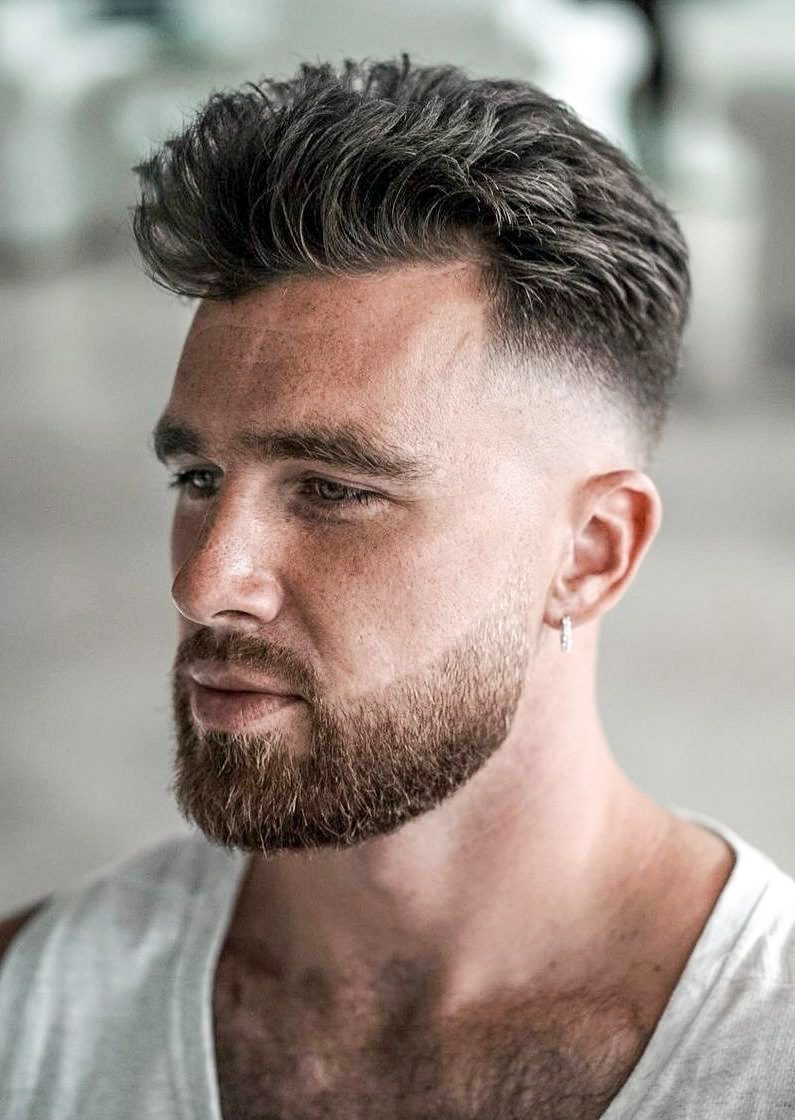 Long Top Strands with Clean Sides
Who said little tweaking to longer hair wouldn't make it a masterpiece? The top is slightly curled with a longer length. The top, despite being long, is brushed up with a side brush as well. The sides are tapered and mid-faded with a drop feel to them. Don't forget the beard that balances the look.
2 / 29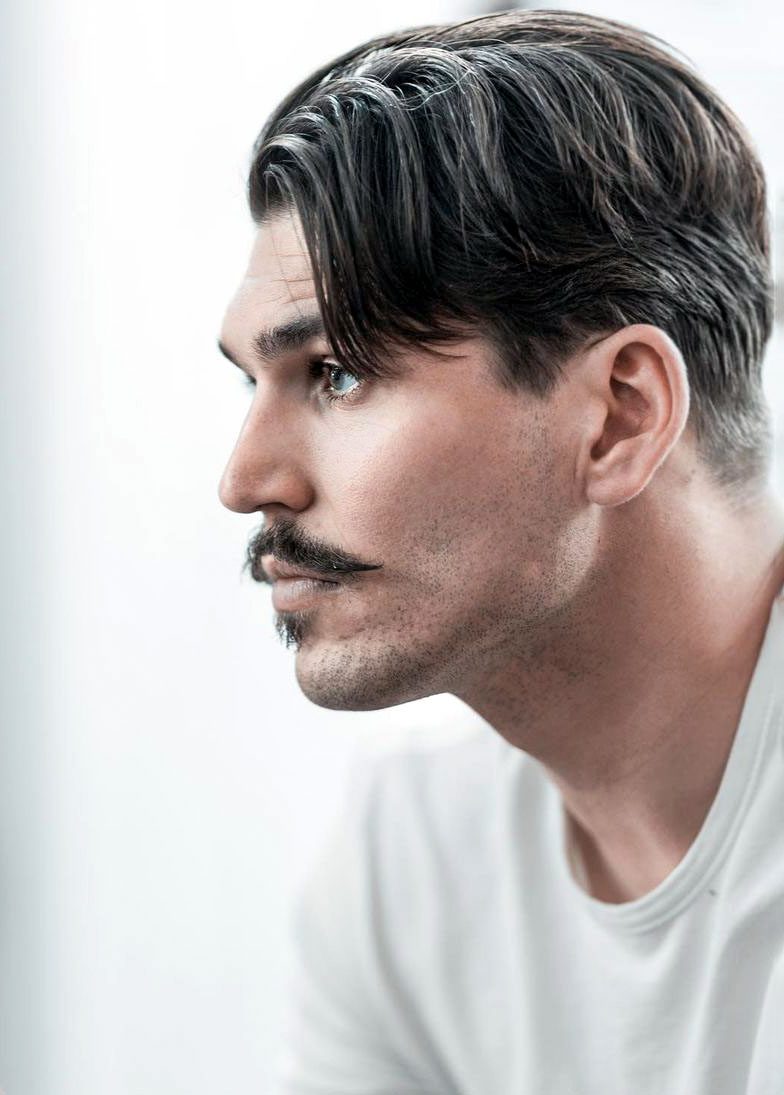 Side Swept
The haircut that has been a defining style of all the old-fashioned gentlemen out there – the side-swept cut. Not only it looks elegant and charming but also this cut somehow manages to look perfectly suitable for any type of occasion whether it's an afterparty or a meeting with the headquarters. This is the haircut that might require you to spend a bit extra time in the morning to blowdry it perfectly but once the hair is set with the hot air and styling mousse – it will easily stay like that for a few days.
3 / 29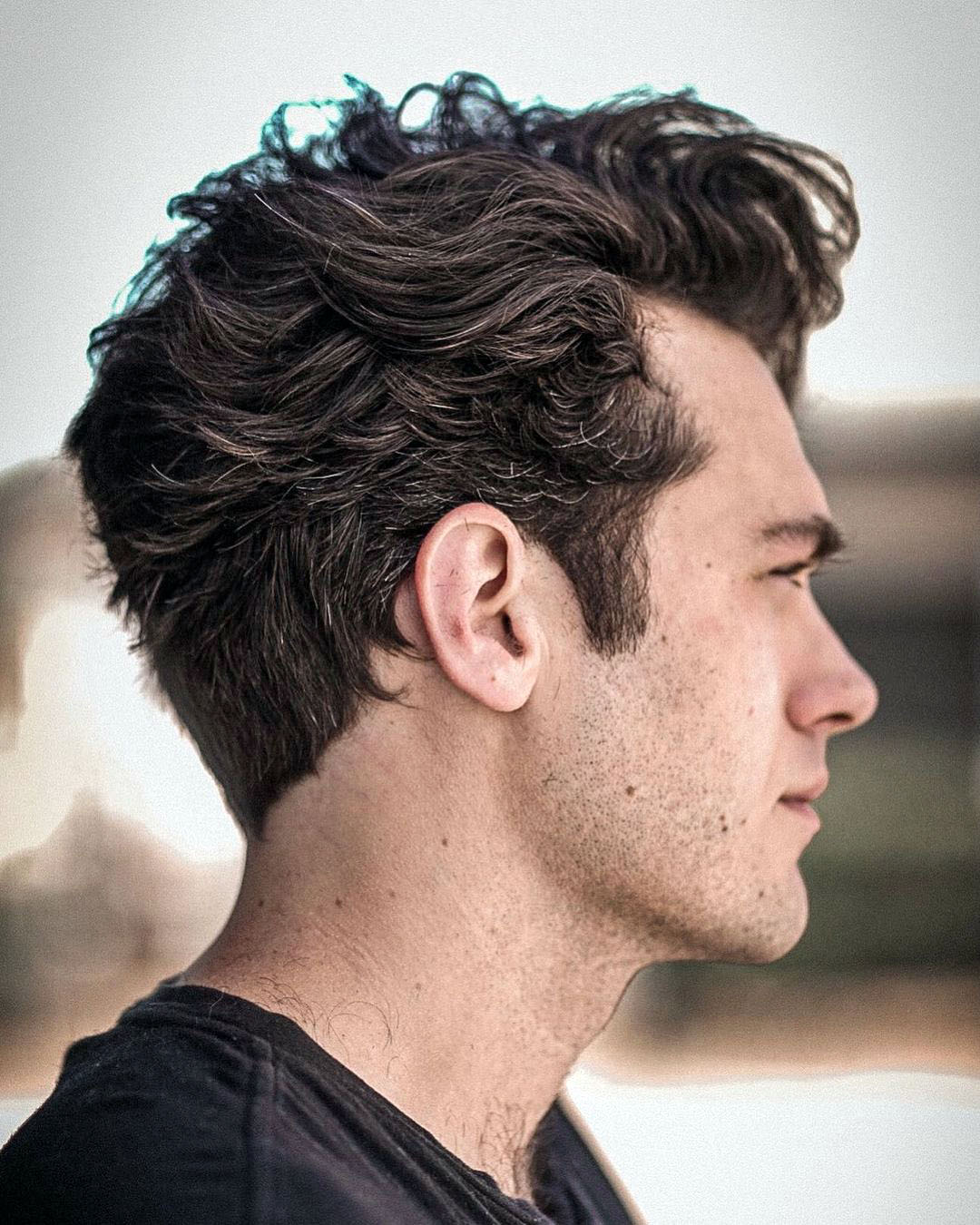 Salt and Pepper Wavy Hair
What might look like messy hair at first is actually a well-thought stylish cut with a clean contour on the neck and nicely trimmed sideburns. Moreover, the curls in the front are precisely curled to the side of the face to eliminate the hair from getting into the eyes. With a bit of a texturizing pomade, you can easily recreate these stylish "messy waves" that look highly attractive with any outfit.
4 / 29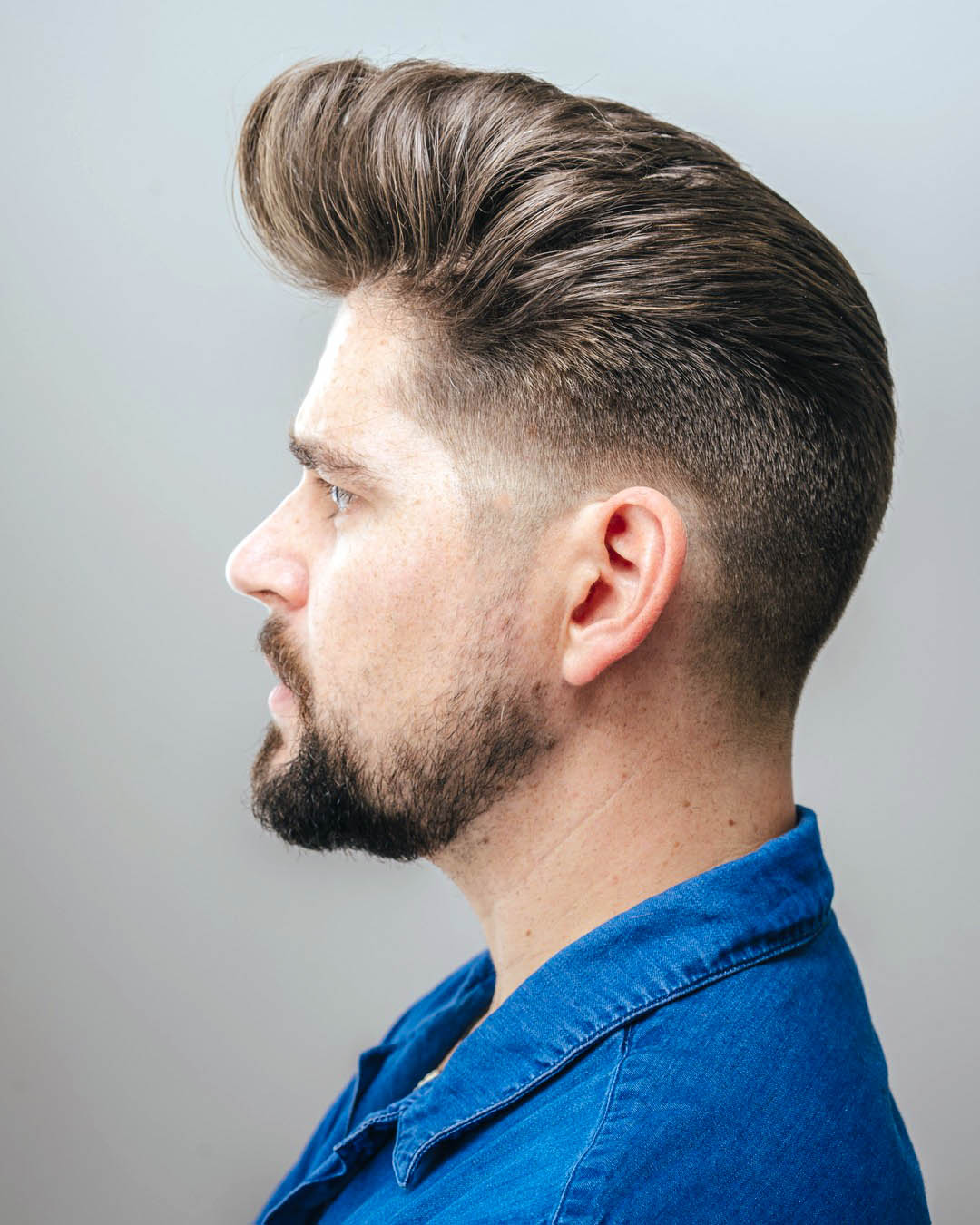 The Elvis Pompadour
The myth, the legend, the throwback. This style resonates with those of you looking for a classic style, from clothes to hair. A long fringe that you can style into the iconic rolling pompadour gives you a style that few men can replicate. Comb the top of the hair back into the fade to keep everything tightened up and clean. This fella chose the low fade, and it works beautifully with the short-trimmed beard to give an edge to the controlled style of the pomp.
5 / 29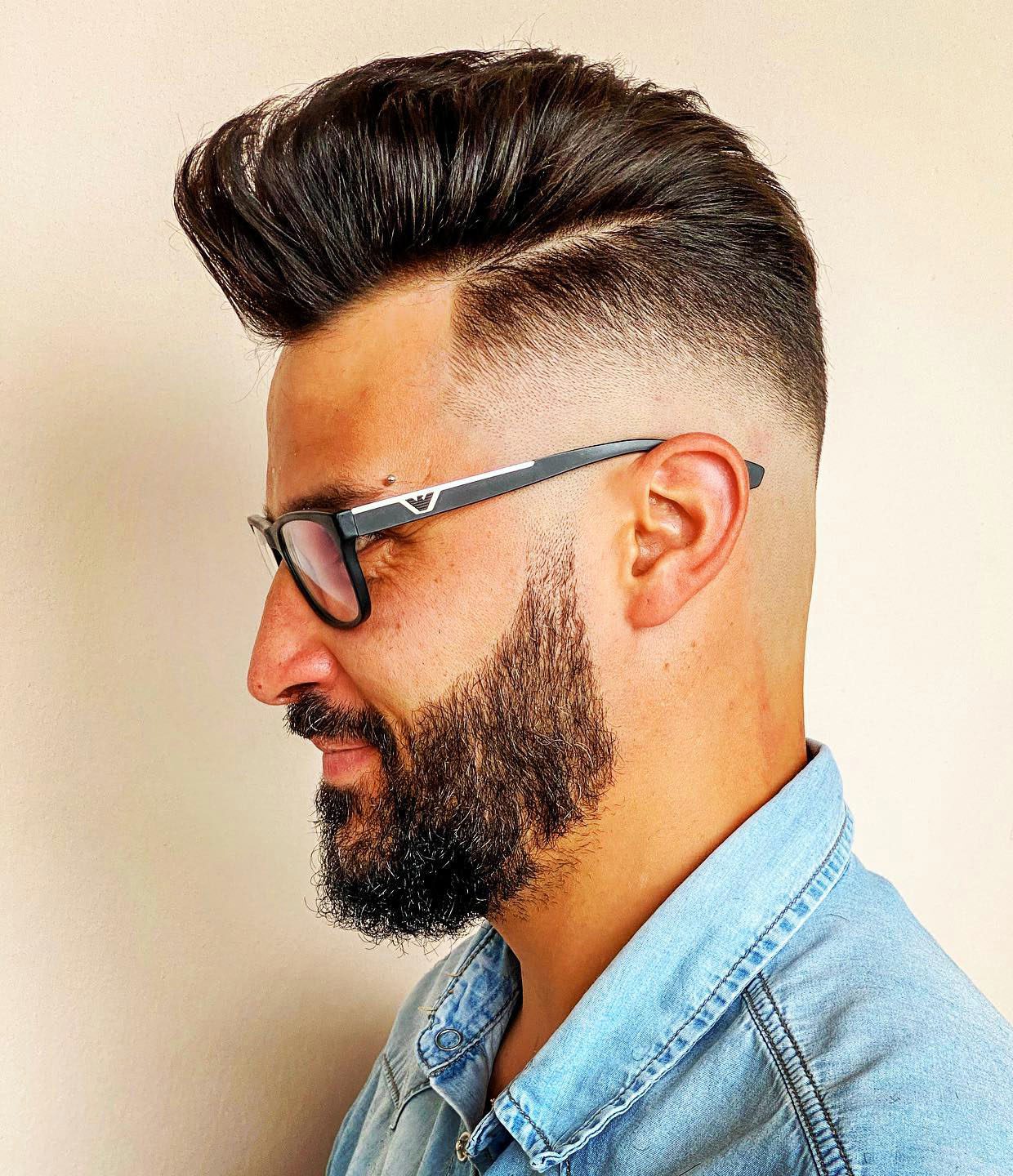 Quiff
George Clooney and Pierce Brosnan sported this quiff, and the only remark that they got was, "Aging like fine wine." This quiff is definitely what those two were wearing, and if you want it cleaner on the sides, to lessen the graying hair – then, by all means, opt for this haircut.
6 / 29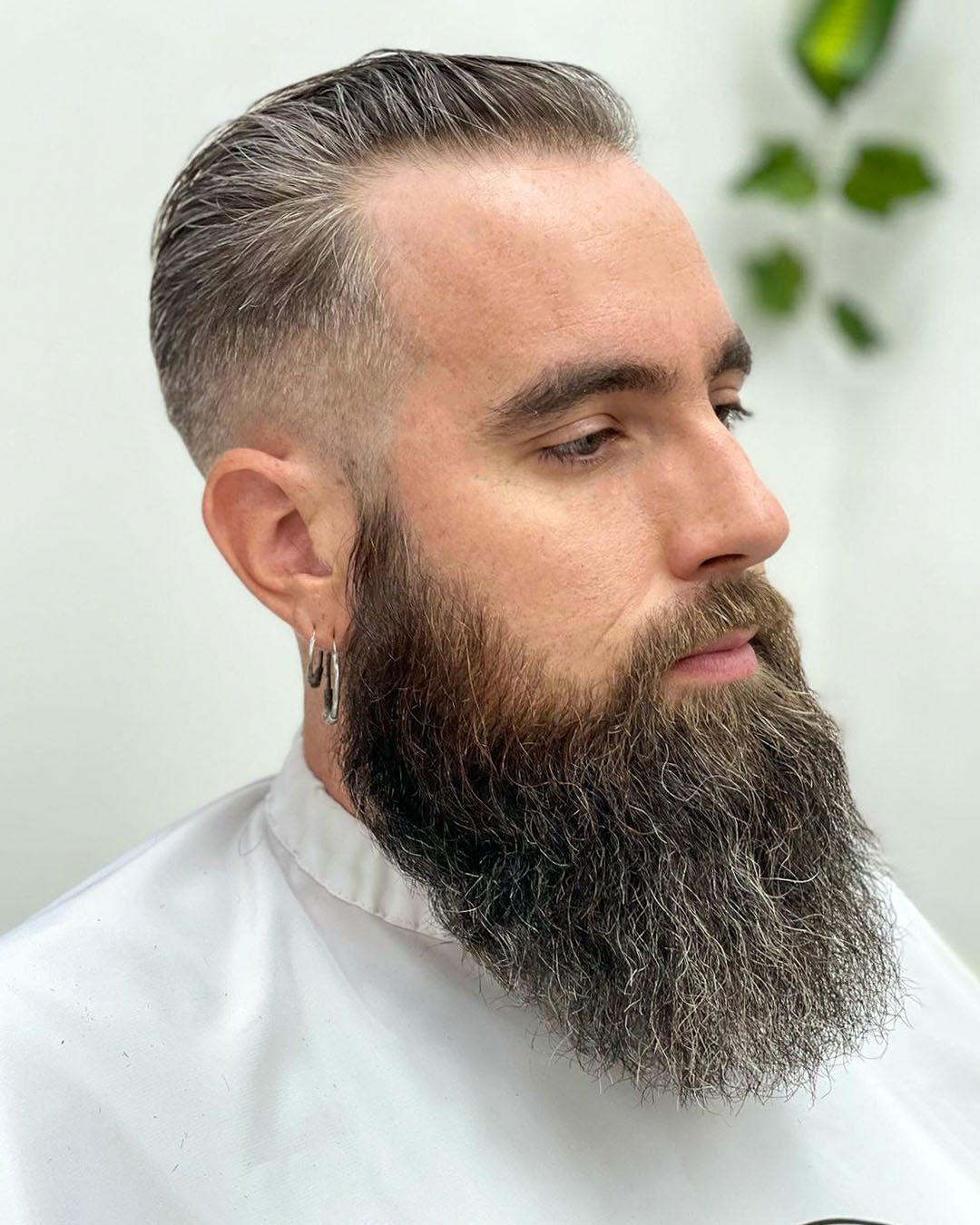 Short Slicked Back
If you are a busy professional or entrepreneur and don't have time to keep up with the daily hairstyling routine, then this cut is an excellent time-saving solution. The short sides can be trimmed easily once every 3-4 weeks, while the top part can be grown as long as you want it and easily sleeked to the back with gel or pomade for a long-lasting result.
7 / 29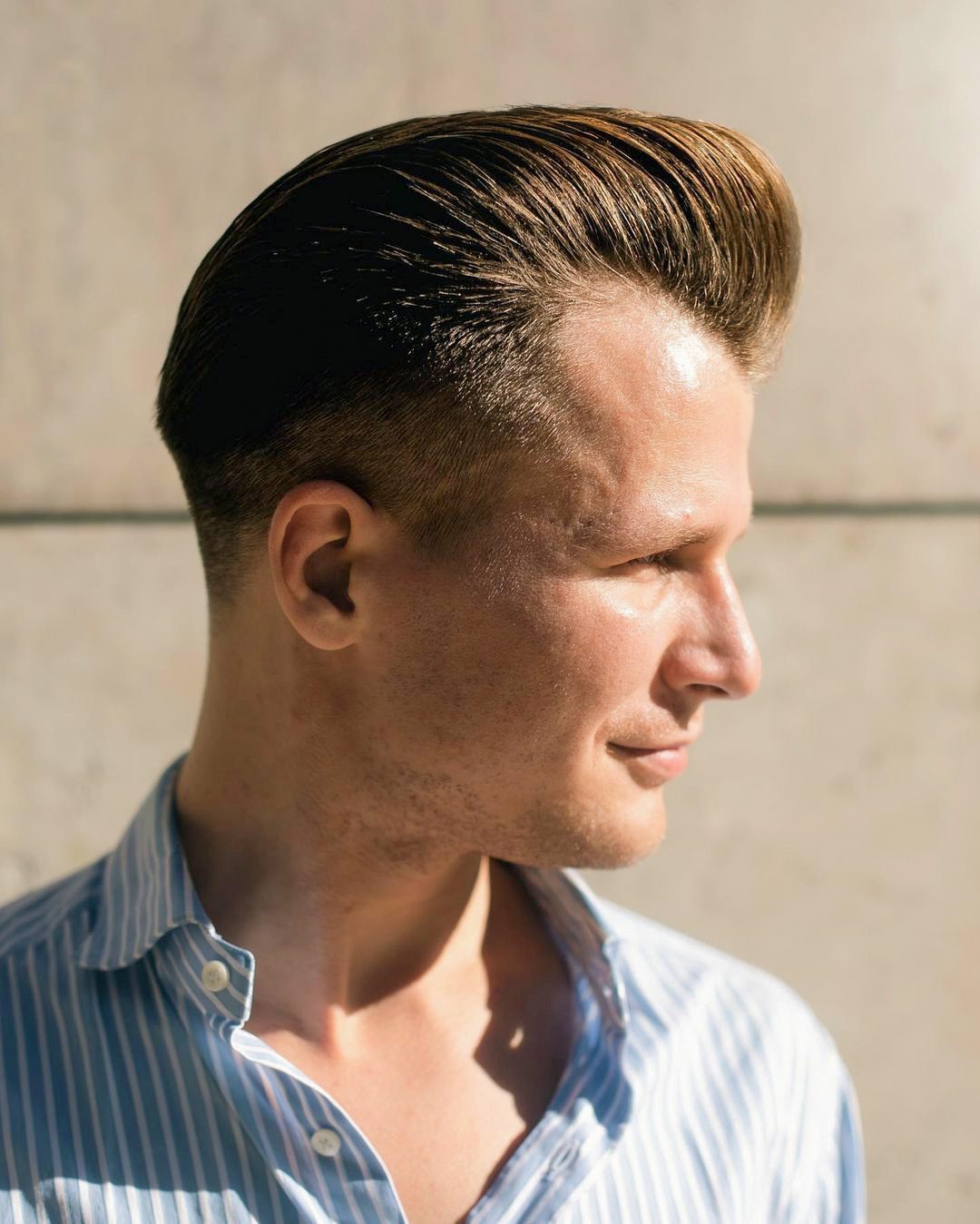 Widows Peak with Pompadour
Who says you can't look chic with a receding hairline? Shut them up with this widows peak with pompadour. Have your hair swept to the back for a classier and trendier look. 
8 / 29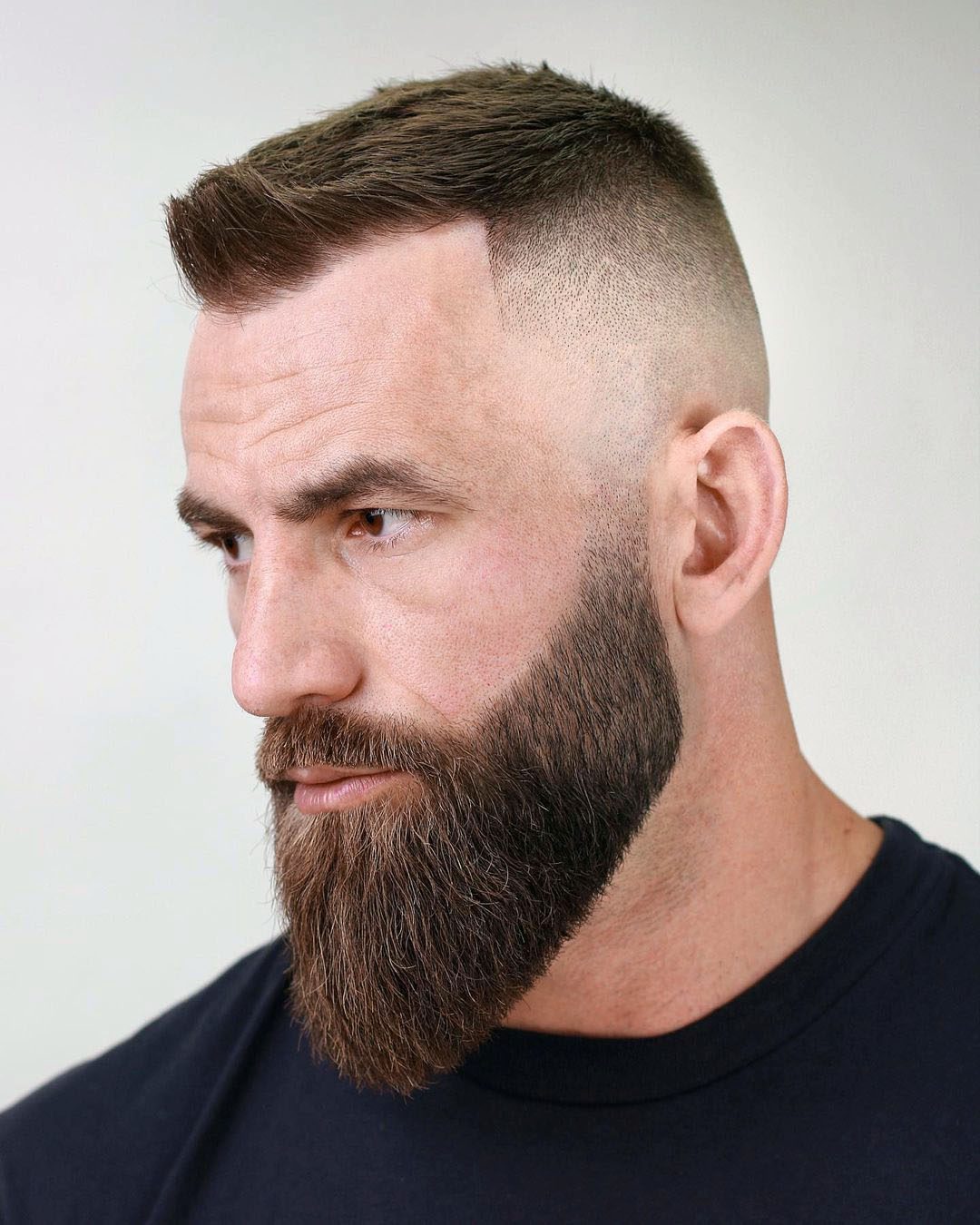 High and Tight with Full Beard
This classic hairstyle has so many variations that you can try out, and this is one of them. Scale up your appearance by pairing it with your full beard, and you're perfect for any occasion.
9 / 29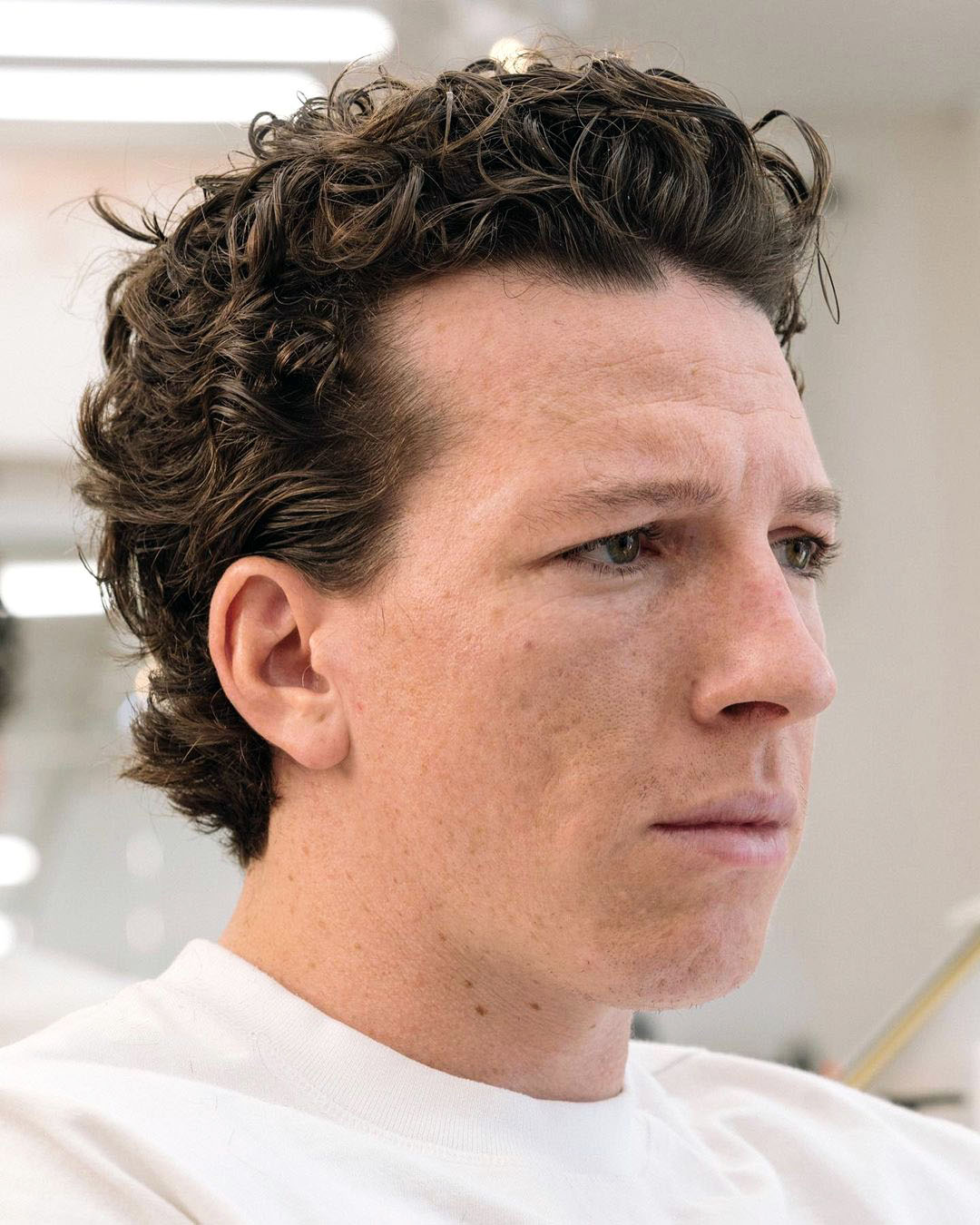 Curly Hairstyle with Ear-Tuck
Tucking hair behind the ear is definitely not out of style. You can feel the naturalness and simplicity of this curly hairstyle by merely looking at it. You can rock it with or without beards, too.
10 / 29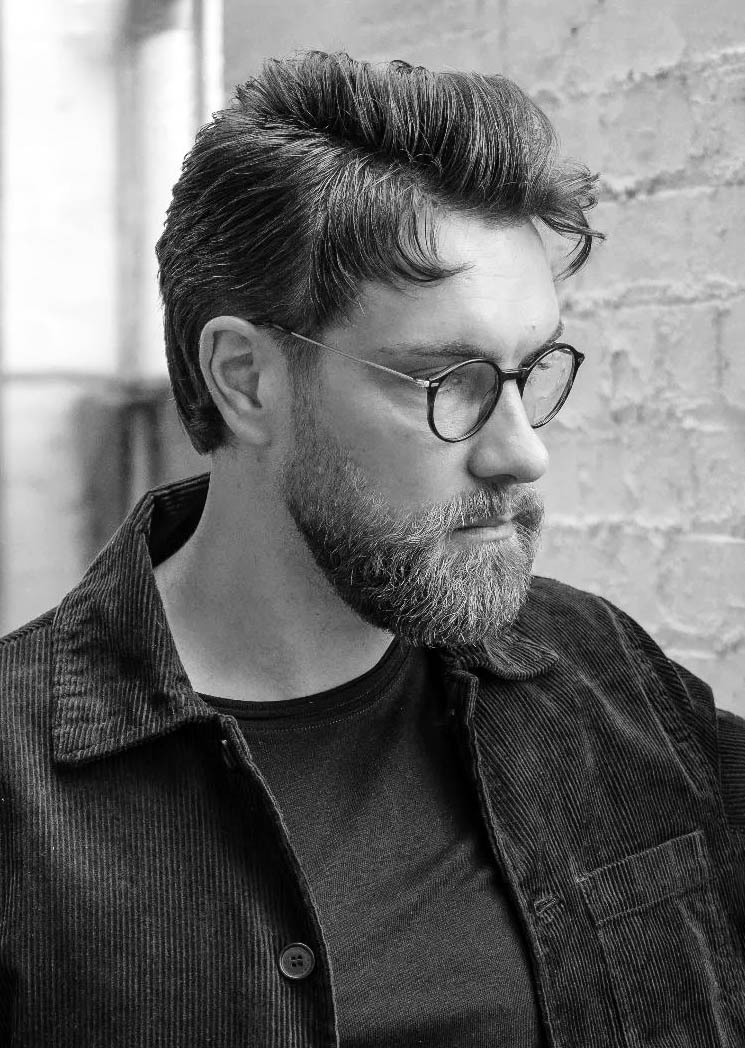 Waves and Curls
Think that getting older means you have to lose out on the hairstyle game? We're here to tell you that you're wrong. Instead, look at your youngest by keeping your volume high and giving it a twisting curl in the fringe. The length on top gives you the freedom to pull it all up and back while a bit of hair gets pulled and curled to perfection. The part allows for some added contrast, highlighted by the reverse direction fringe on the temple, adding a subtle waviness to the look. Keep it clean with a well-trimmed beard, and you won't ever get carded at the pub again.
11 / 29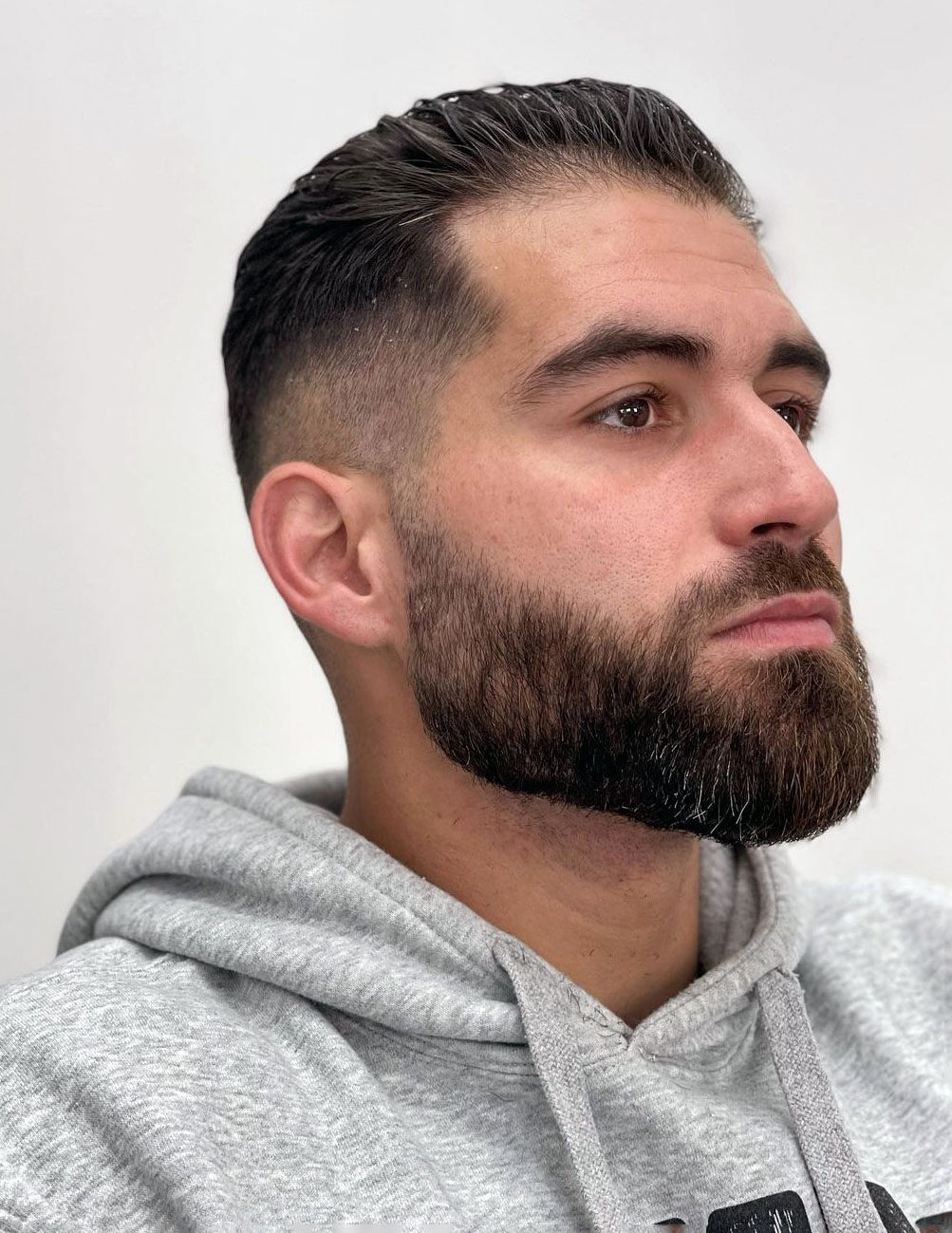 Short Slicked Back with Full Beard
If you're a lucky owner of that beautiful salt and pepper colour in your hair and beard – this is the style that will highlight the gradual colour change at its best. While most guys get gray hair on the sides first, it might be a smart idea to trim them shorter than the rest of your hair. This way you will keep the stylish salt & pepper highlights in your beard but cut shortly all the grayish parts on the sides and style the intensely darker brown hair on top.
12 / 29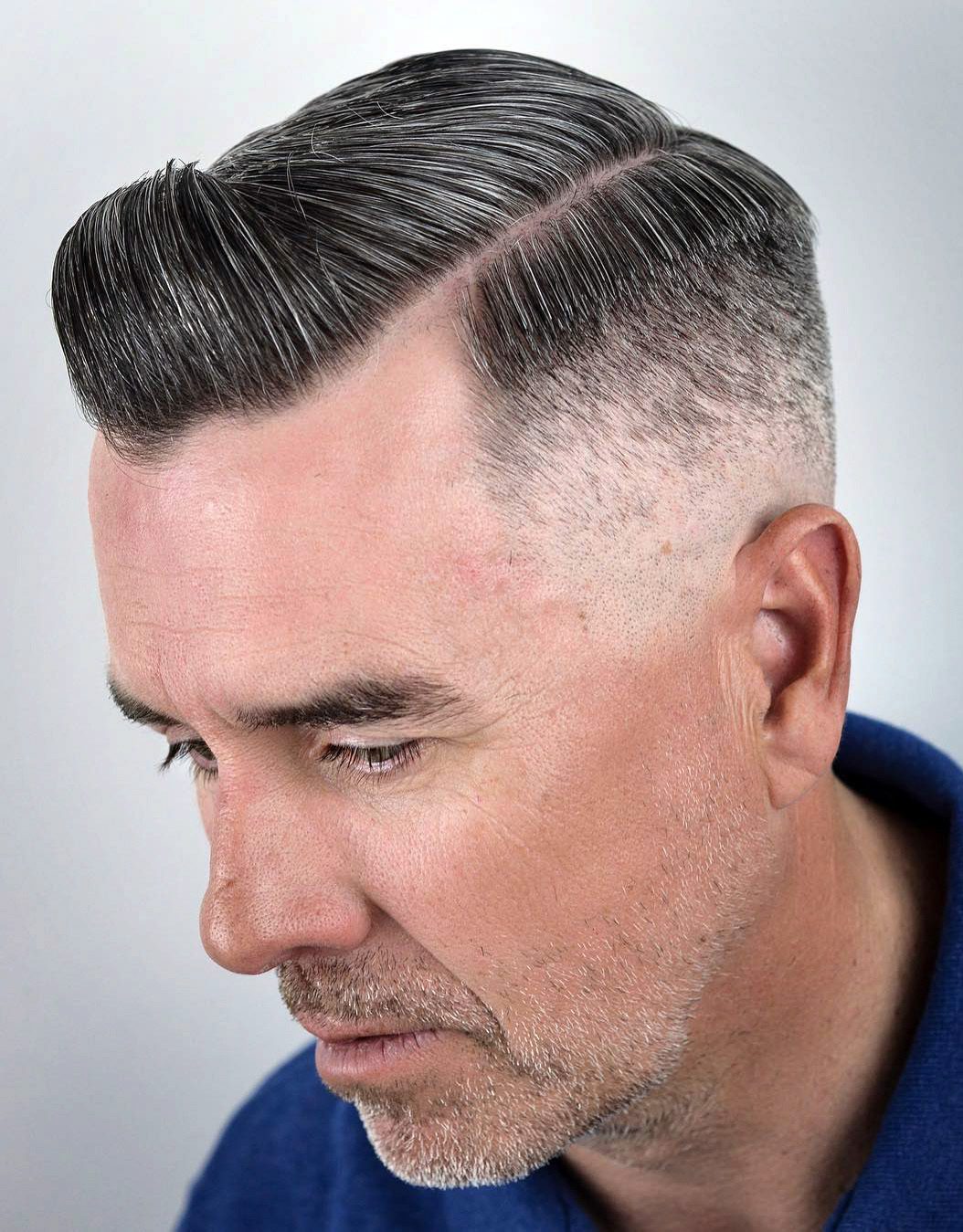 Longer Regulation Cut
A lot of middle-aged men have spent some time in the military and that can show in their choice of haircuts. For the brave, why not add a little length and style to the regulation cut?
13 / 29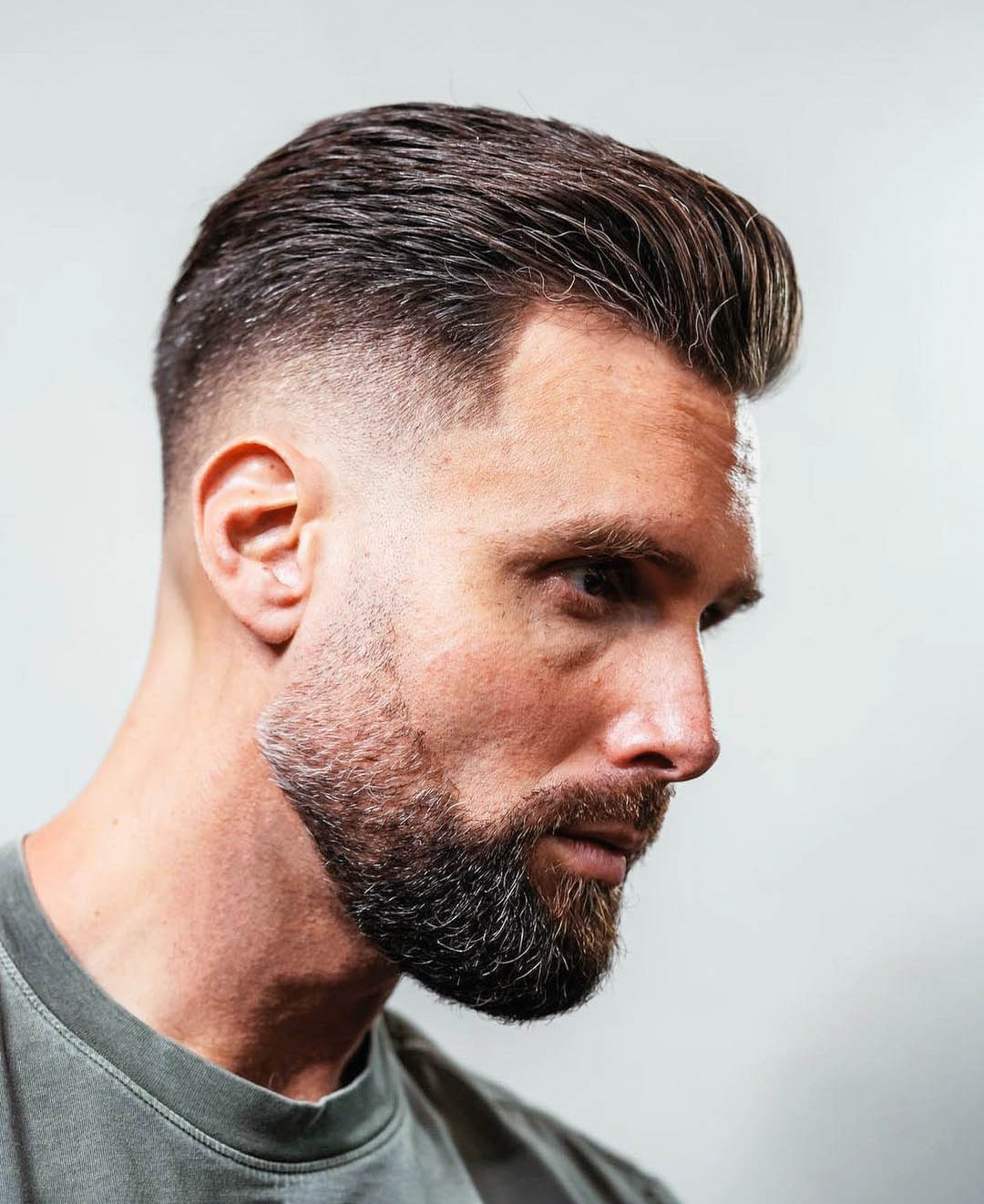 Short Drop Pomp
Classic style meets modern youth in this contemporary take on an iconic fashion. Less flashy than the traditional pompadour, this short pompadour retains all the elegance and class. The fringe is left long enough to pull up and back, secured by some matte or medium-shine product. The beard brings an edge to the look that is contrasted by the medium drop fade. Keep your lines tight and fade down to the skin for an overall clean look.
14 / 29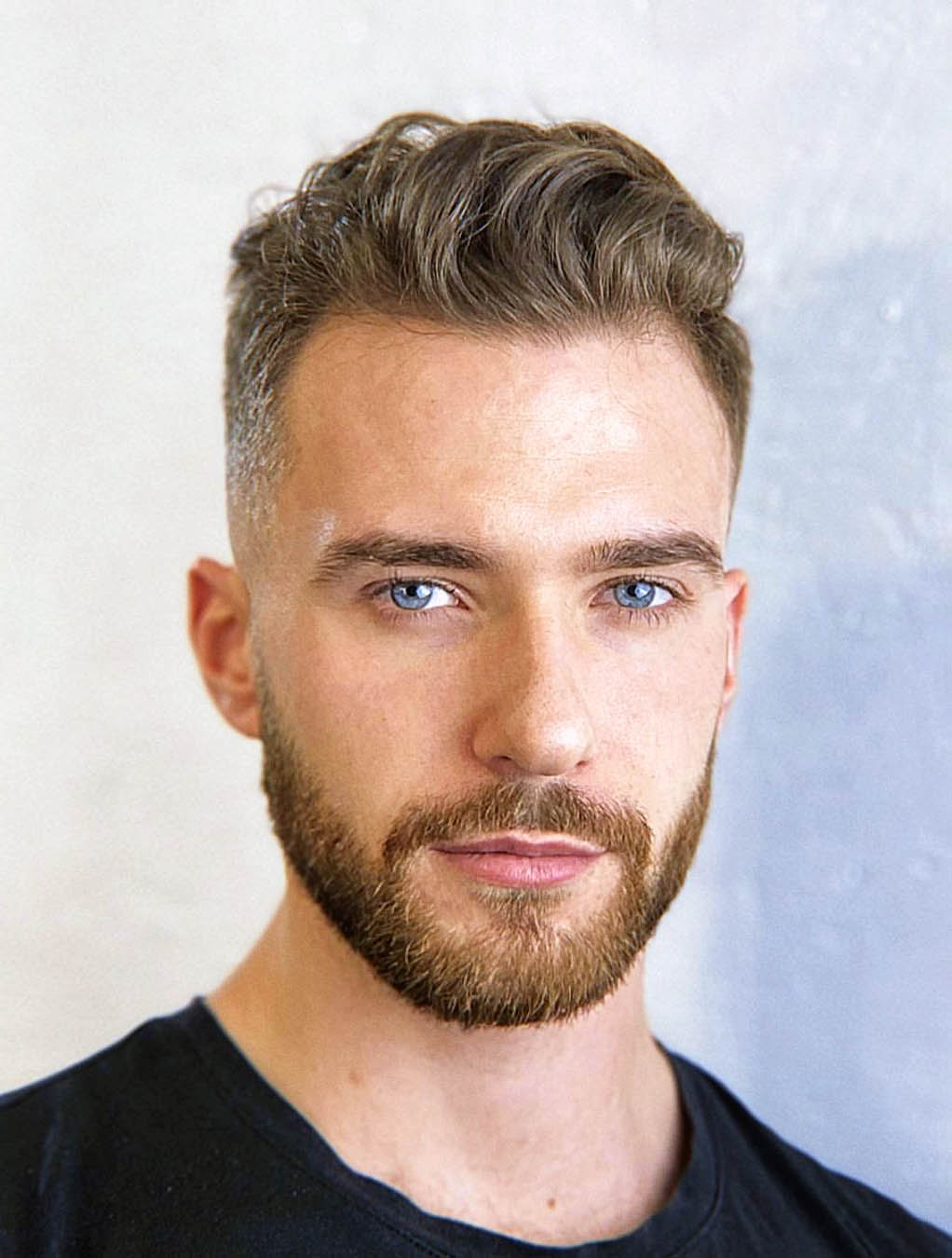 Neat and Wavy Quiff
One of the best styles to embrace the added color to your older locks is the clean and wavy quiff. The power lies in contrast created by the added gray, as you get a two-tone look without the cost. Keeping the sides at a medium fade allows for the control of how much contrast you bring to the table. Keeping your fringe long allows you to roll it up and back to give off a clean and strong look that is enhanced by the neat, short beard.
15 / 29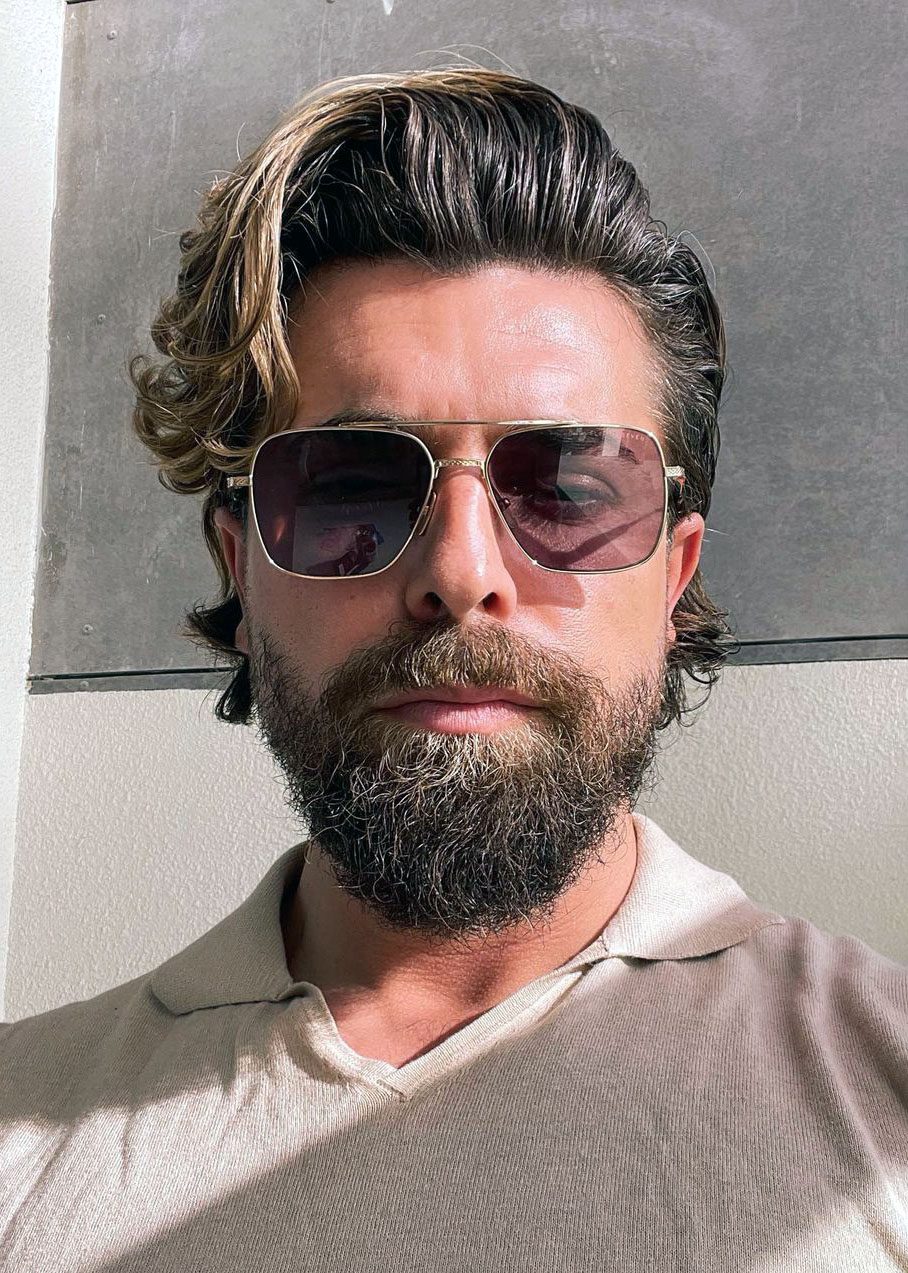 Bro Flow with Ear Tuck
Mature men's beards get that extra oomph from the coloring – some get a natural ombre (thanks to the hair follicles). It would be amazing to match your haircut to it and one of the options would be to have an ear tuck bro flow. Don't be overwhelmed by the terms. It's basically medium-length hair that is tucked (1/4 of your hair) behind your ear on your chosen side, then brushed up in a quiff but instead of going all the way back, you place the remaining 3/4s free flowing on the side. Creating a carefree effect, especially when you wear aviator sunglasses.
16 / 29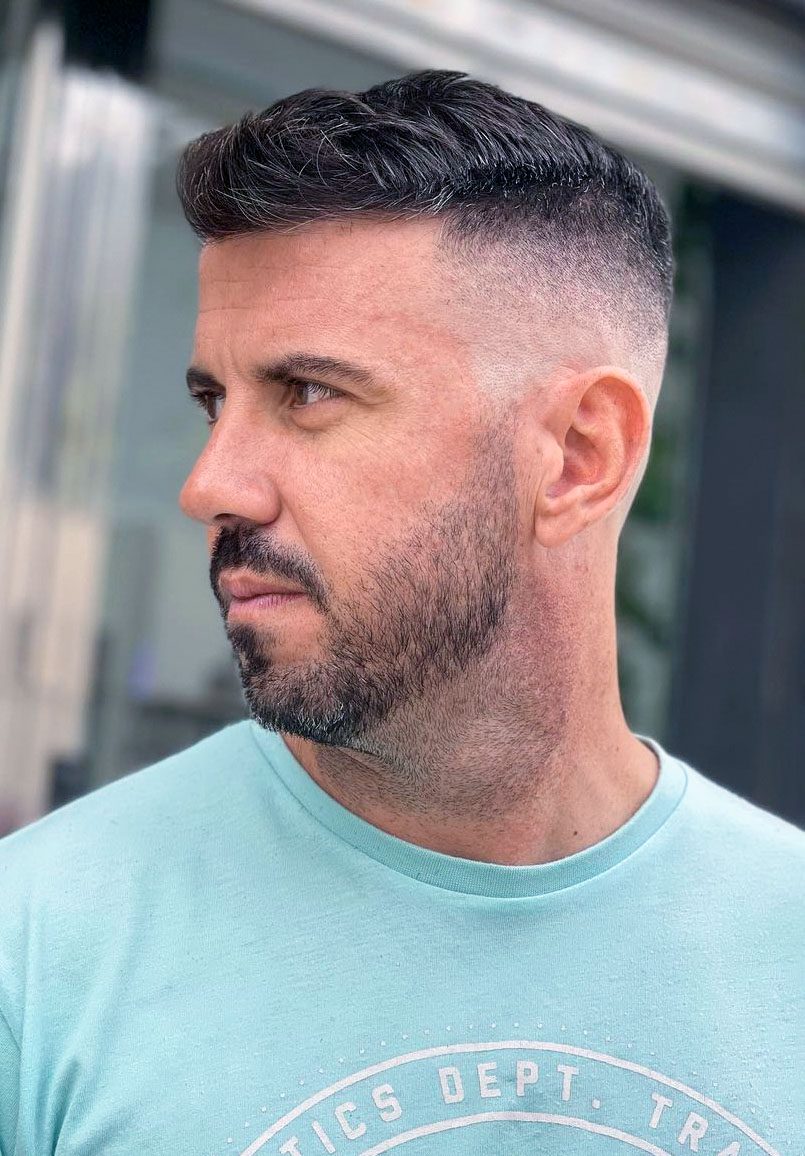 Crew Cut
This is the cut that most of the time gets mistaken for other styles which might be an issue once you try to explain the desired style to your barber. To prevent you from doing that mistake in the future and simplify the process we will use this photo example: the high skin fade on the sides and the harsh transition from shortly trimmed sides to longer curly tops that's what defines the crew cut.
17 / 29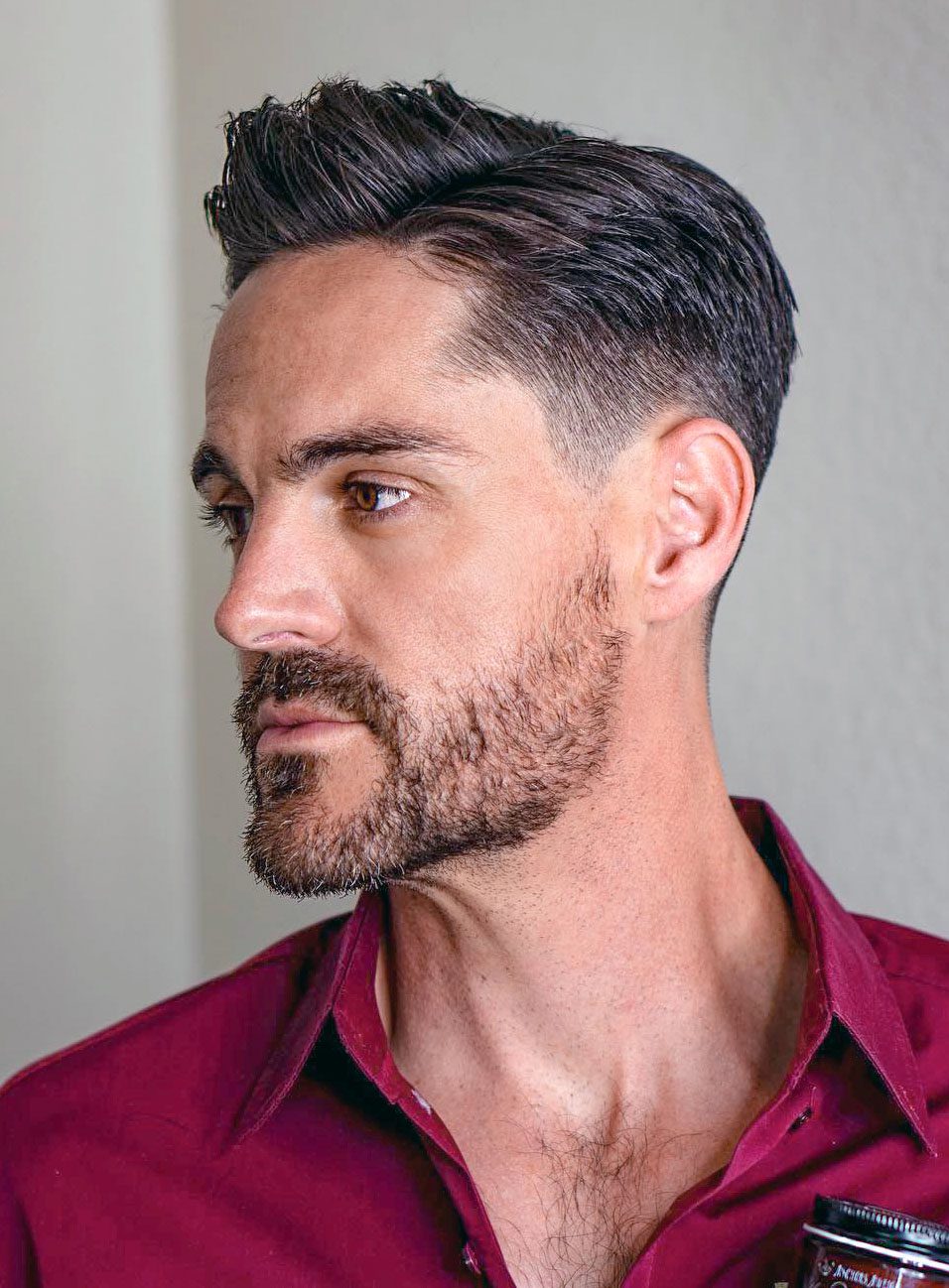 Tapered Side Part
This hair cut utilizes a side part which is great for mature styles, as it keeps the hair looking nice and full. The sides and top of the hair are pretty much all the same length, but the bottom hair line is slightly tapered to add some extra shape to this look.
18 / 29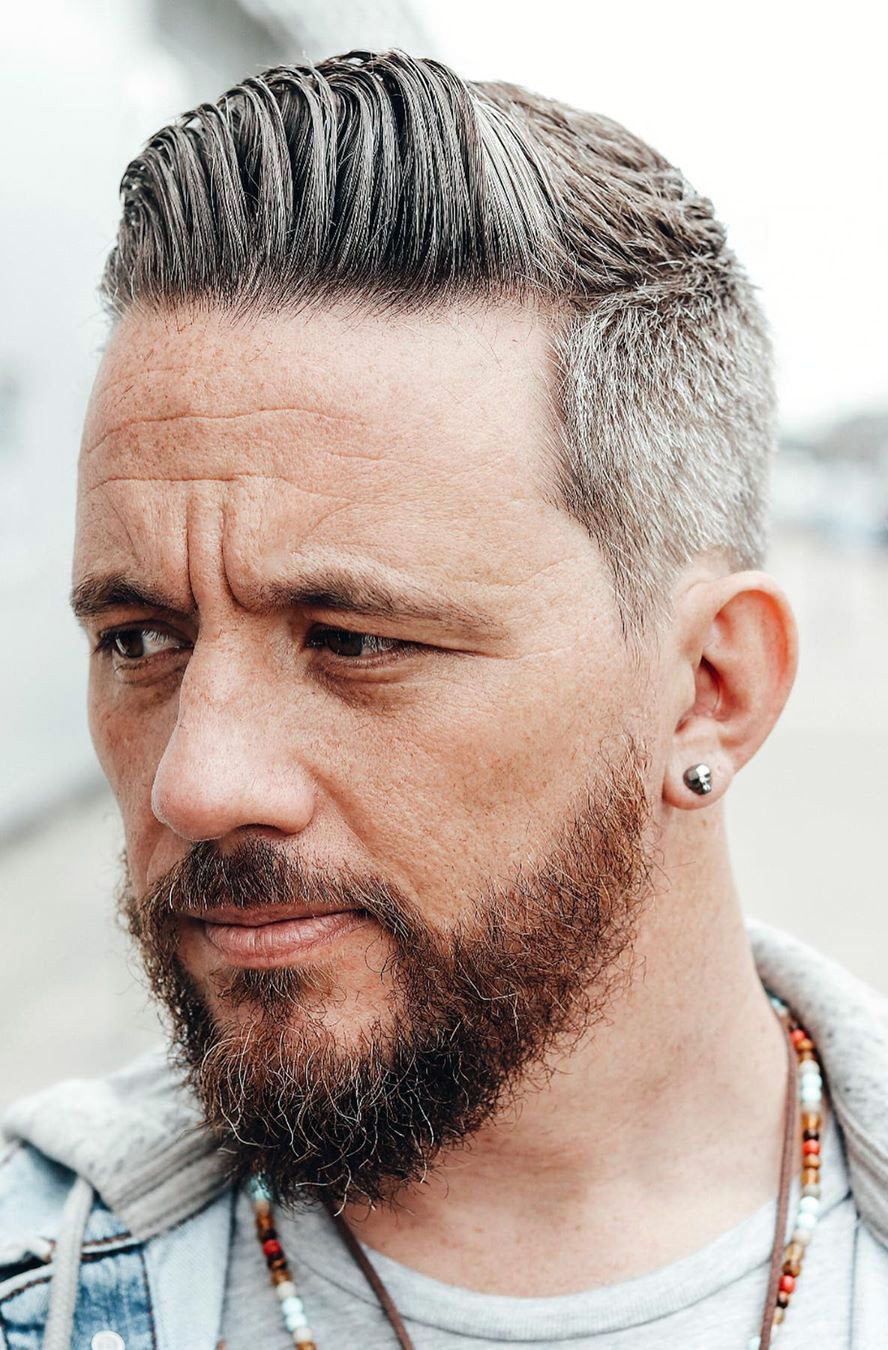 Side Swept Combed Modern Ivy
Ivy League graduates tend to age well because they keep up with modern trends. The Ivy League cut here looks mature with the streaks of gray.
19 / 29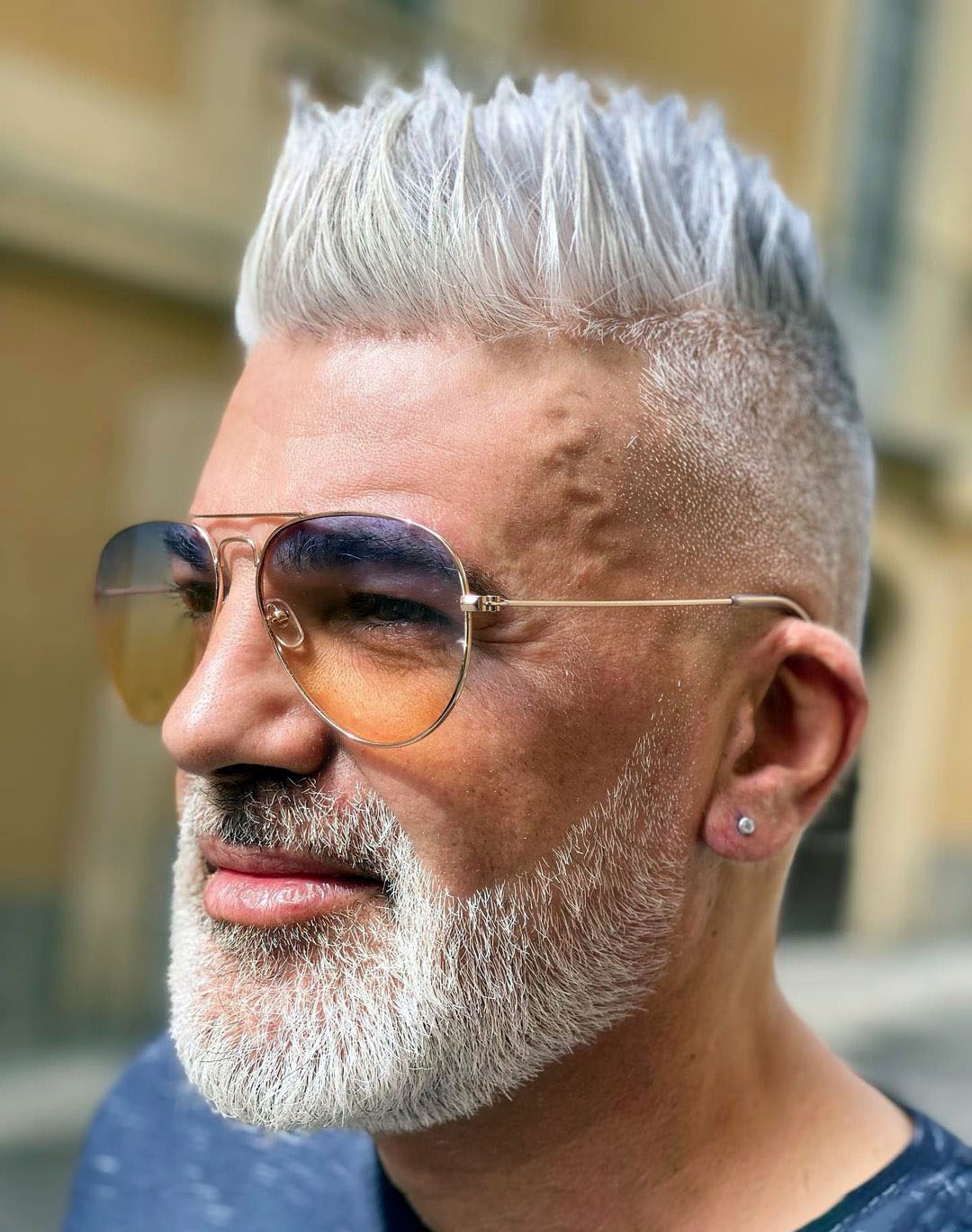 High and Tight
Who says this hairstyle wouldn't look charming on middle aged men? This is proof that you should get this masculine haircut that comes with minimal fuss but leaves you with a sharp look.
20 / 29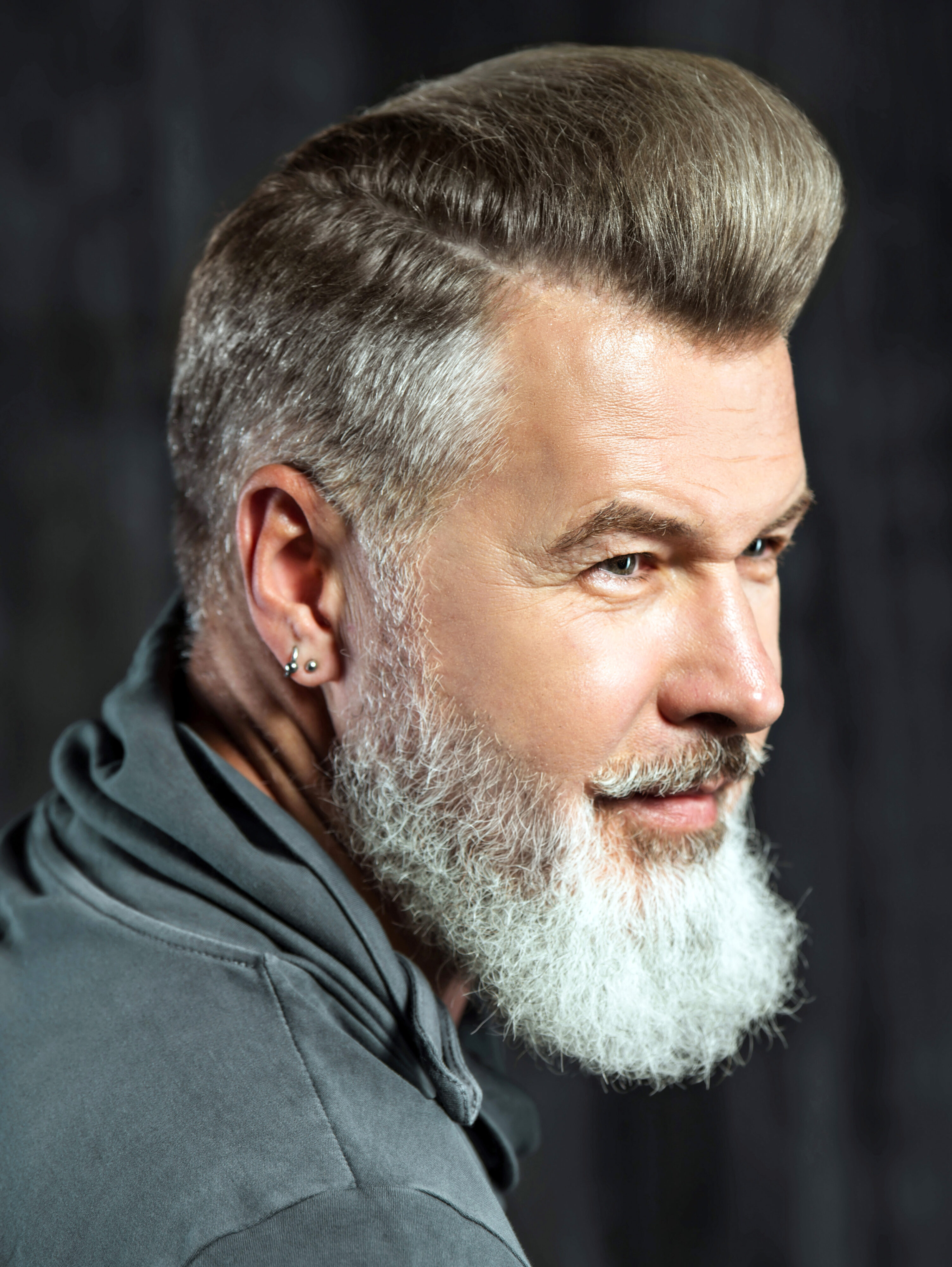 Pompadour with thick goatee beard
Adorn your looks with this finely sculpted classic pompadour. Streamline it with your thick goatee beards and slay away. It can gently narrow down a round face and looks particularly good on slim, angular faces.
21 / 29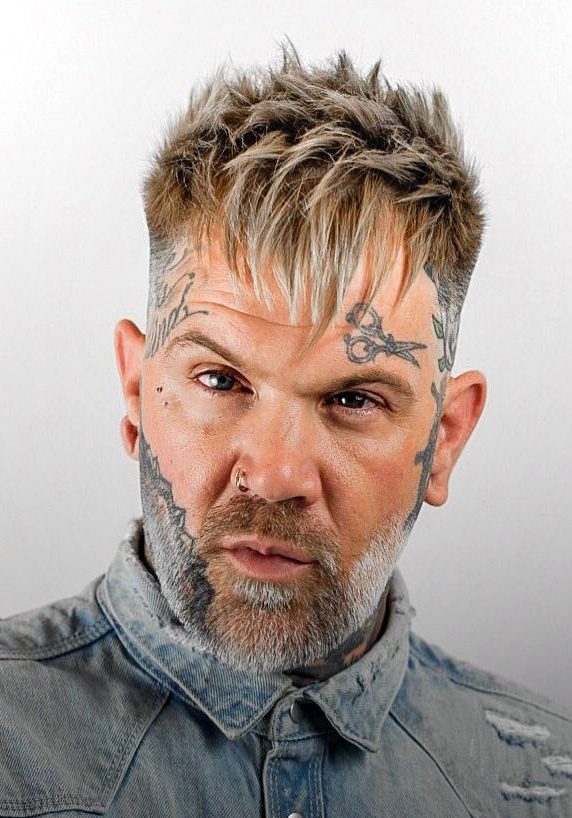 Salt and Pepper French
The French crop is known to be timeless, but this version is very modern and stylish. Instead of grey hair signaling age, this man has dyed the top to show youth. The fade is tight to accentuate the head and facial tattoos.
22 / 29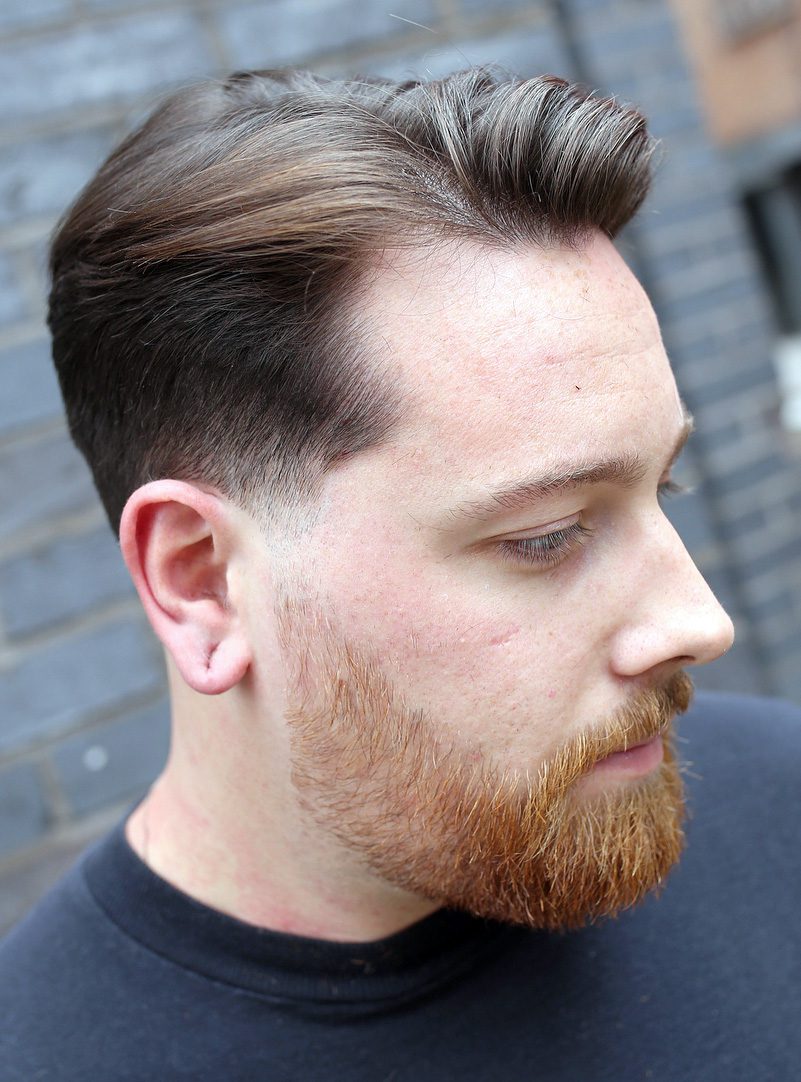 Parted Pompadour
The parted pompadour is neat and stylish. This cut also makes the man look young, which is important for those going through some middle-aged madness.
23 / 29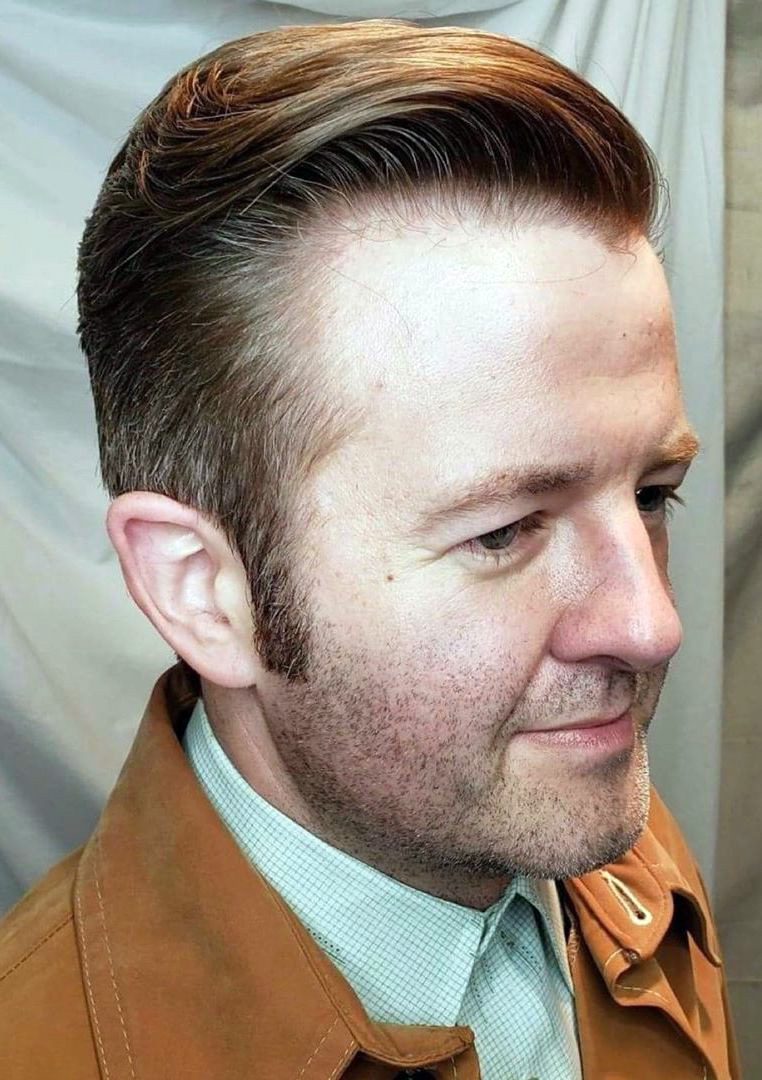 Silky Push Back
Cowboys, businessmen, and dads love the silky push back. It's easy. It's fun. And of course, it's a classic look that never goes out of style.
24 / 29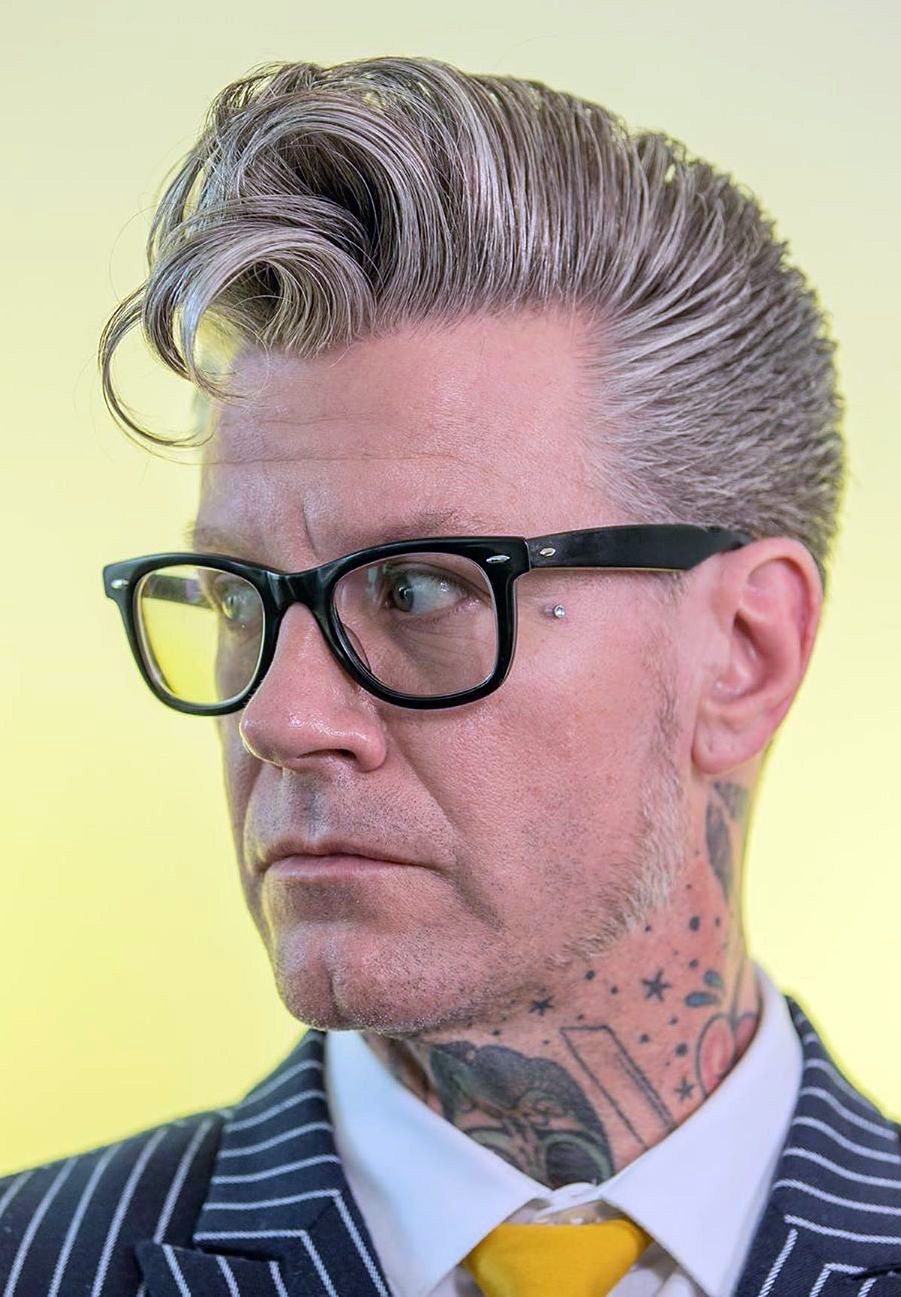 Modern Elephant Trunk
Just because you've reached the middle-age, doesn't mean you can't have fun! This modern elephant trunk looked extra stylish because the guy has many different shades of grey in his quiff.
25 / 29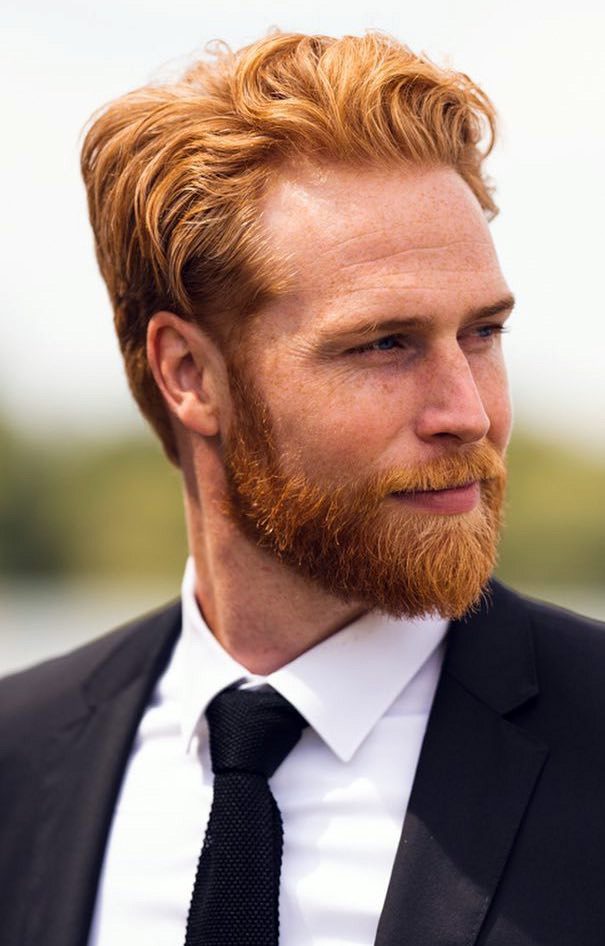 Wavy Textured Thick Hair
Red hair, when done right, is eye-catching, and here the cut is absolutely perfect. The thickness of the hair makes the waves curve just right, and it seamlessly flows into the beard for a sophisticated look.
26 / 29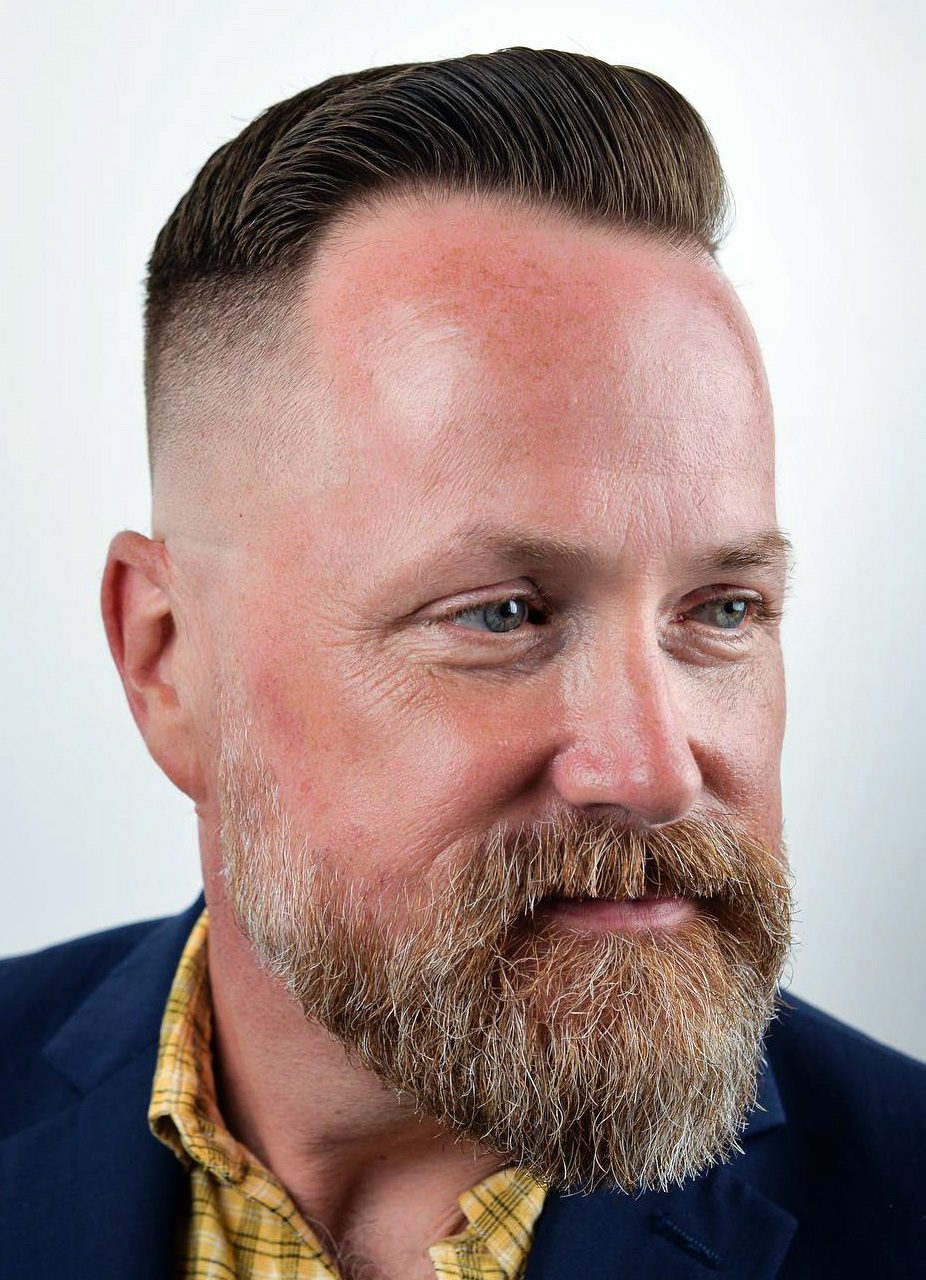 Side Combed Brush Up
A cut like this takes 10 years off the face. The fade is nice and tight, the brush up looks great with a bit of wax holding it up, and the style elongates the face to look youthful.
27 / 29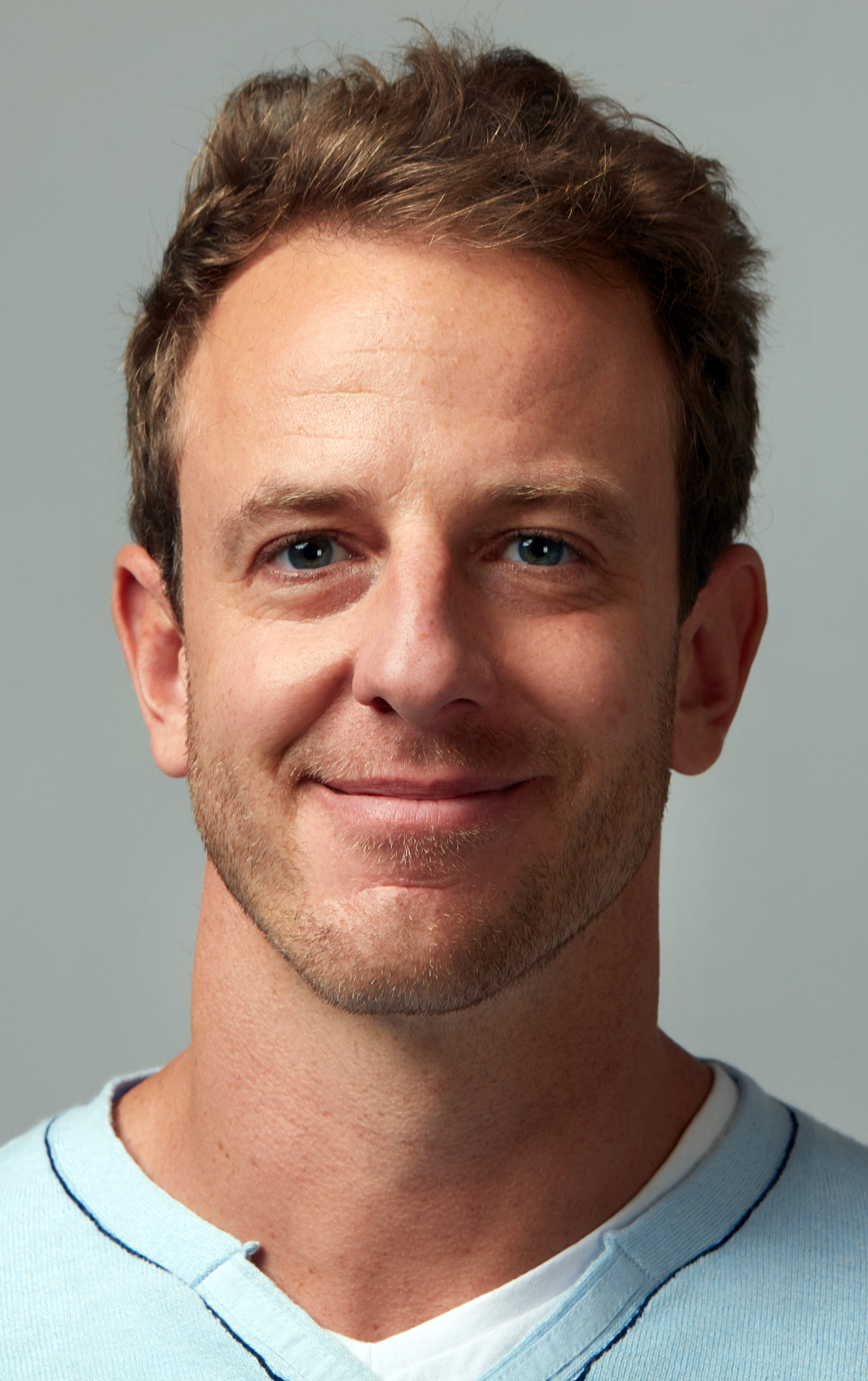 Brushed Off Top
Nothing screams I love softball more than the brushed off the top look. This cut is easy to style, takes very little time to do in the morning, and if it gets long between styles, that's not a problem.
28 / 29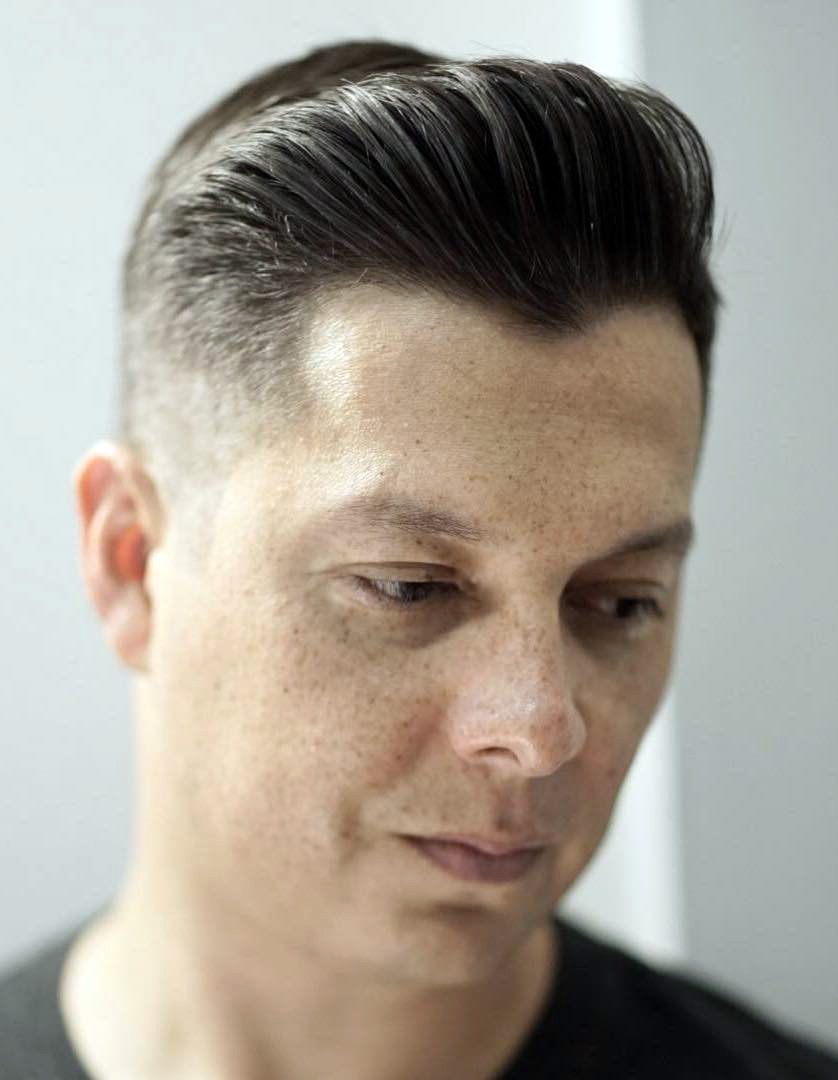 Neat Thin Hair Pompadour
Fades on middle-aged men can easily take a few years off the face. Instead of a tight top, like a military cut, he has a pompadour, which gives his thin hair a much-needed body and even a little bit of soul.
29 / 29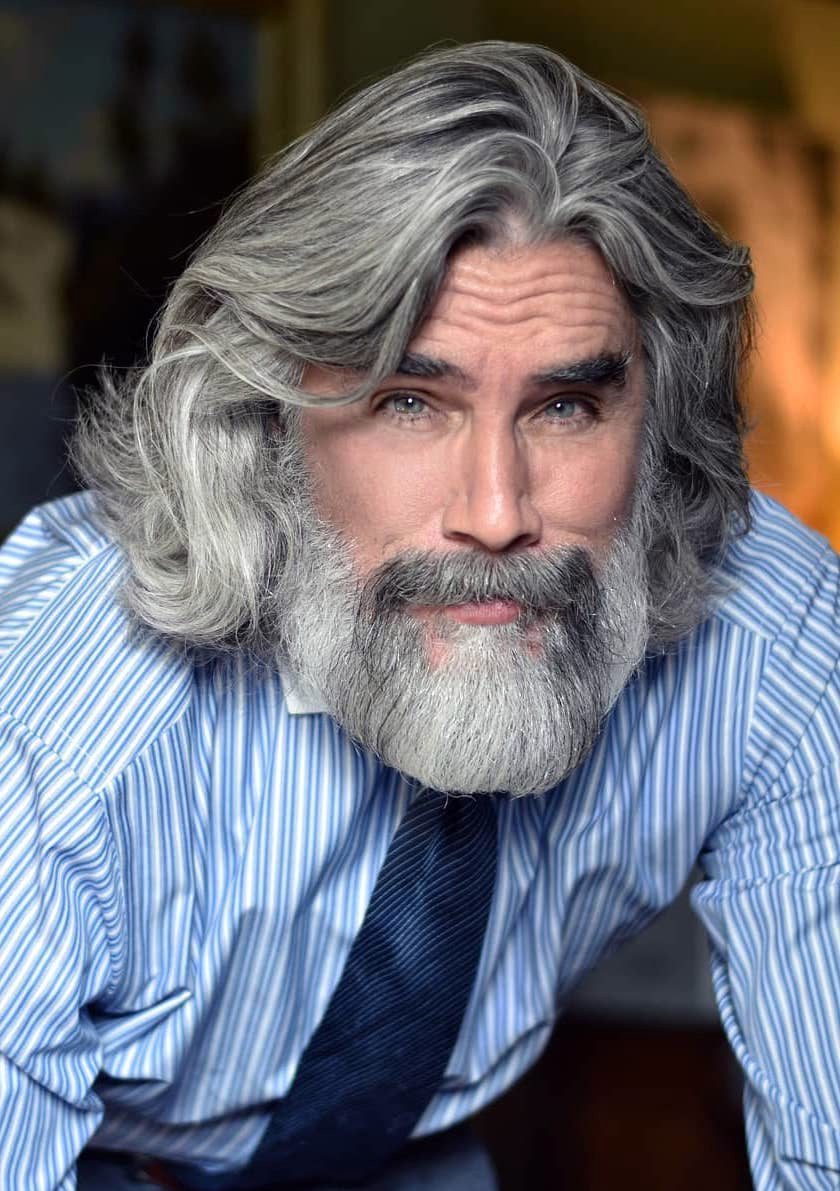 Dense Medium Length Top with Thick Beard
The hair is kept long and thick, hasn't been cut in a while. The thick beard, once whispy and wild, is now trimmed and tamed.
You've reached a point in your life where all you want to do is spend a year in a cabin in the woods. Not all of us might be able to do that, but you can certainly look the part!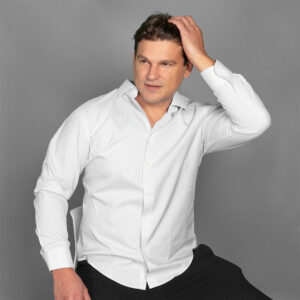 Shane McCarthy is the Content Director for Capillus, the world's first, clinically-proven, FDA-cleared laser cap to treat hair loss. Shane works to share informative and engaging content based off of the struggles and prevention of adult hair loss and thinning. In his free time, he enjoys spending time out on the water wakeboarding and fishing.