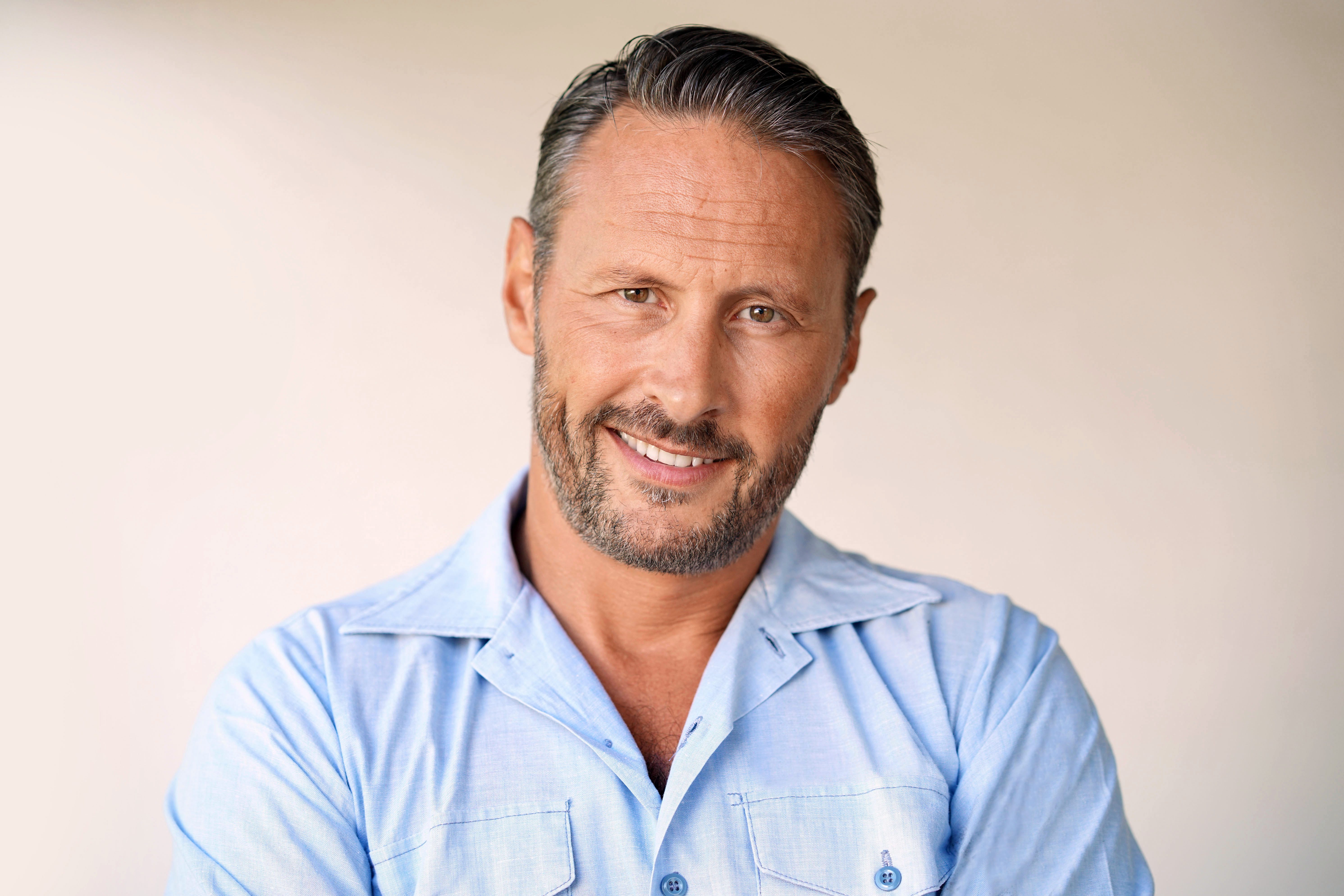 10 Eye-Catching Hairstyles For Mature Middle-Aged Men
Change can be good
Men are notoriously hard-headed when it comes to changing things in their lives, especially after they hit middle age. But we don't use those same phones we used 20 years ago, do we? So why would we want to keep the same haircut that was popular in the 1990s? Check out these fresh cuts for mature men, and give in to some welcome change.
1 / 11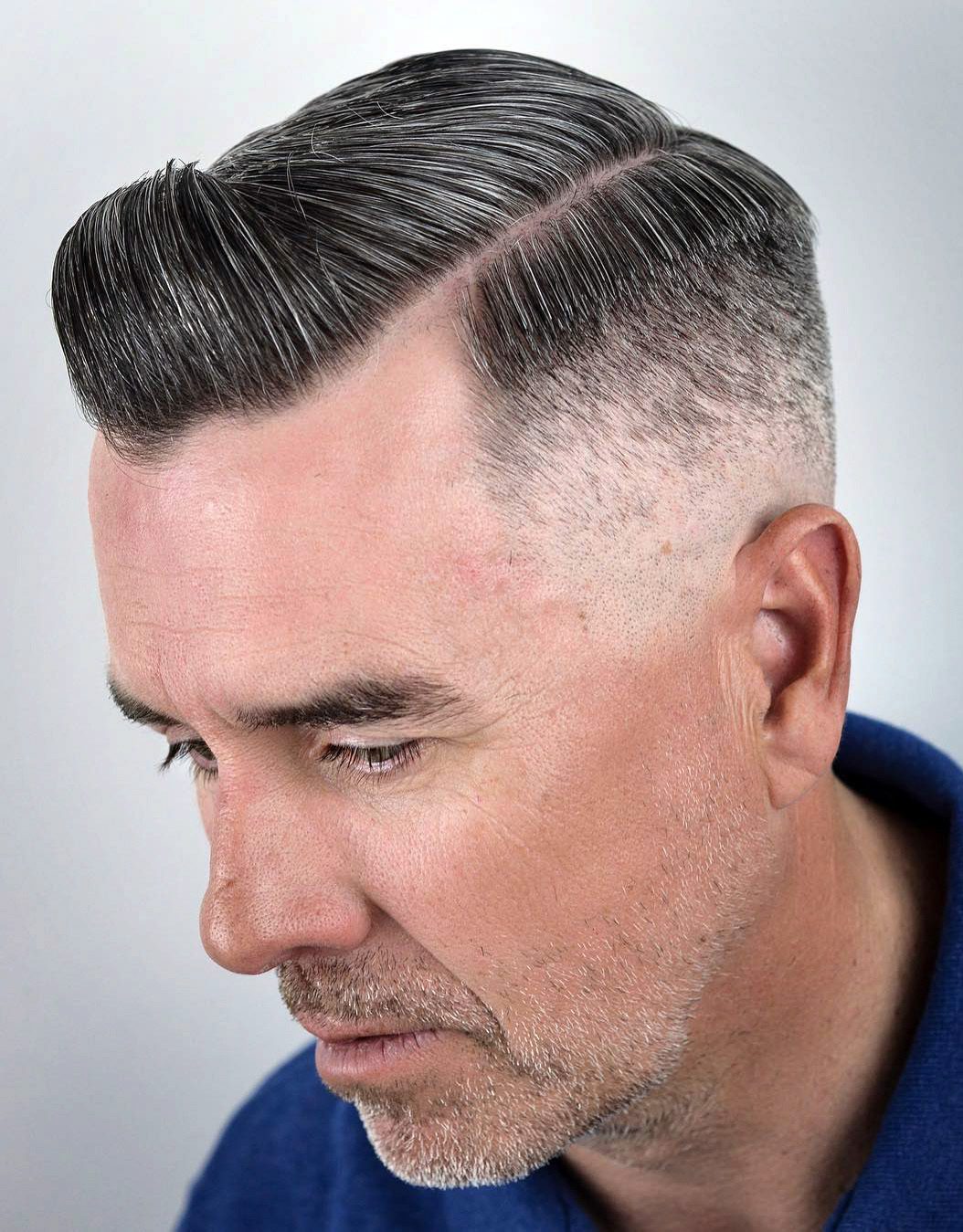 Longer Regulation Cut
A lot of middle-aged men have spent some time in the military and that can show in their choice of haircuts. For the brave, why not add a little length and style to the regulation cut?
2 / 11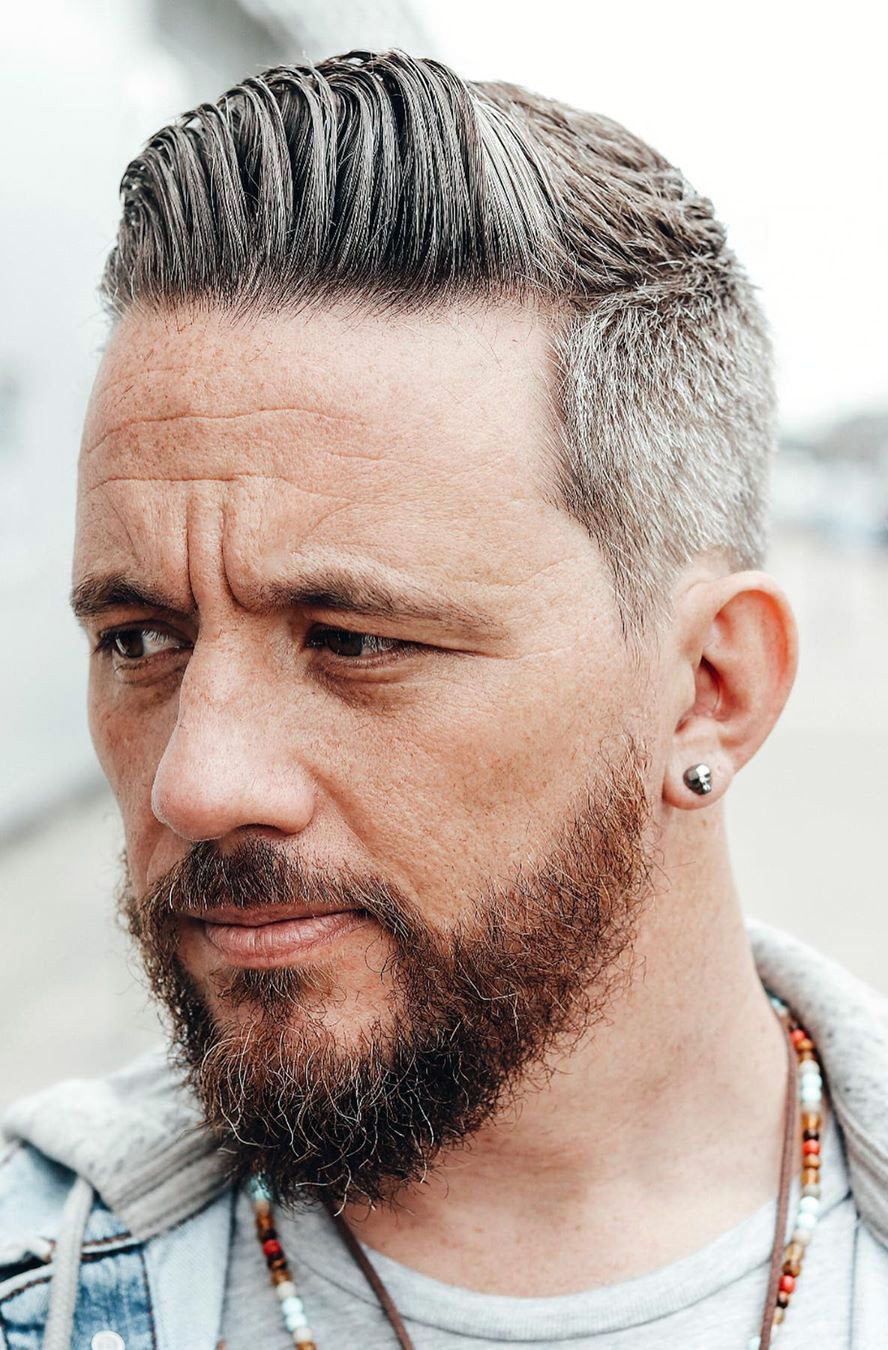 Side Swept Combed Modern Ivy
Ivy League graduates tend to age well because they keep up with modern trends. The Ivy League cut here looks mature with the streaks of gray.
3 / 11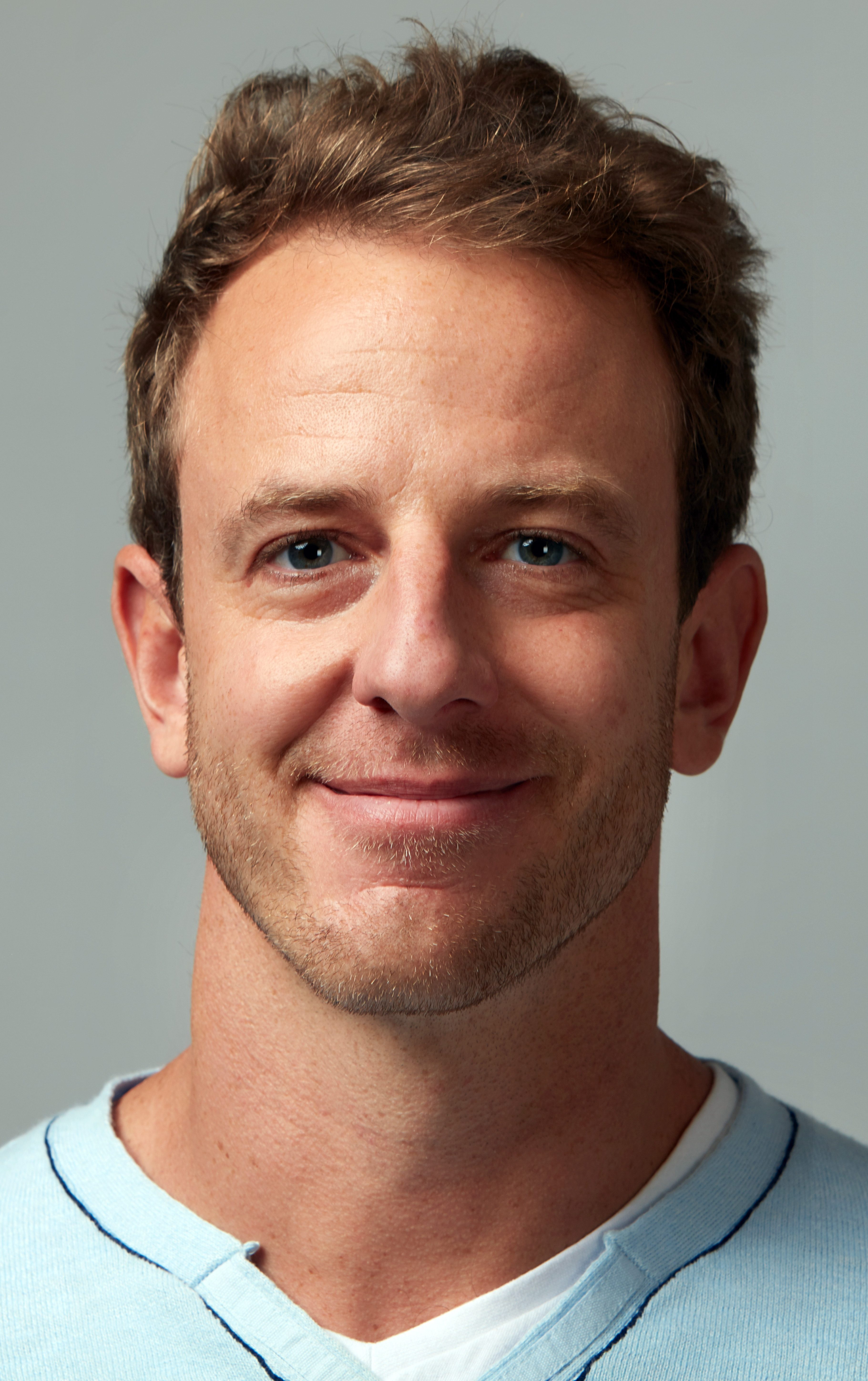 Brushed Off Top
Nothing screams I love softball more than the brushed off the top look. This cut is easy to style, takes very little time to do in the morning, and if it gets long between styles, that's not a problem.
4 / 11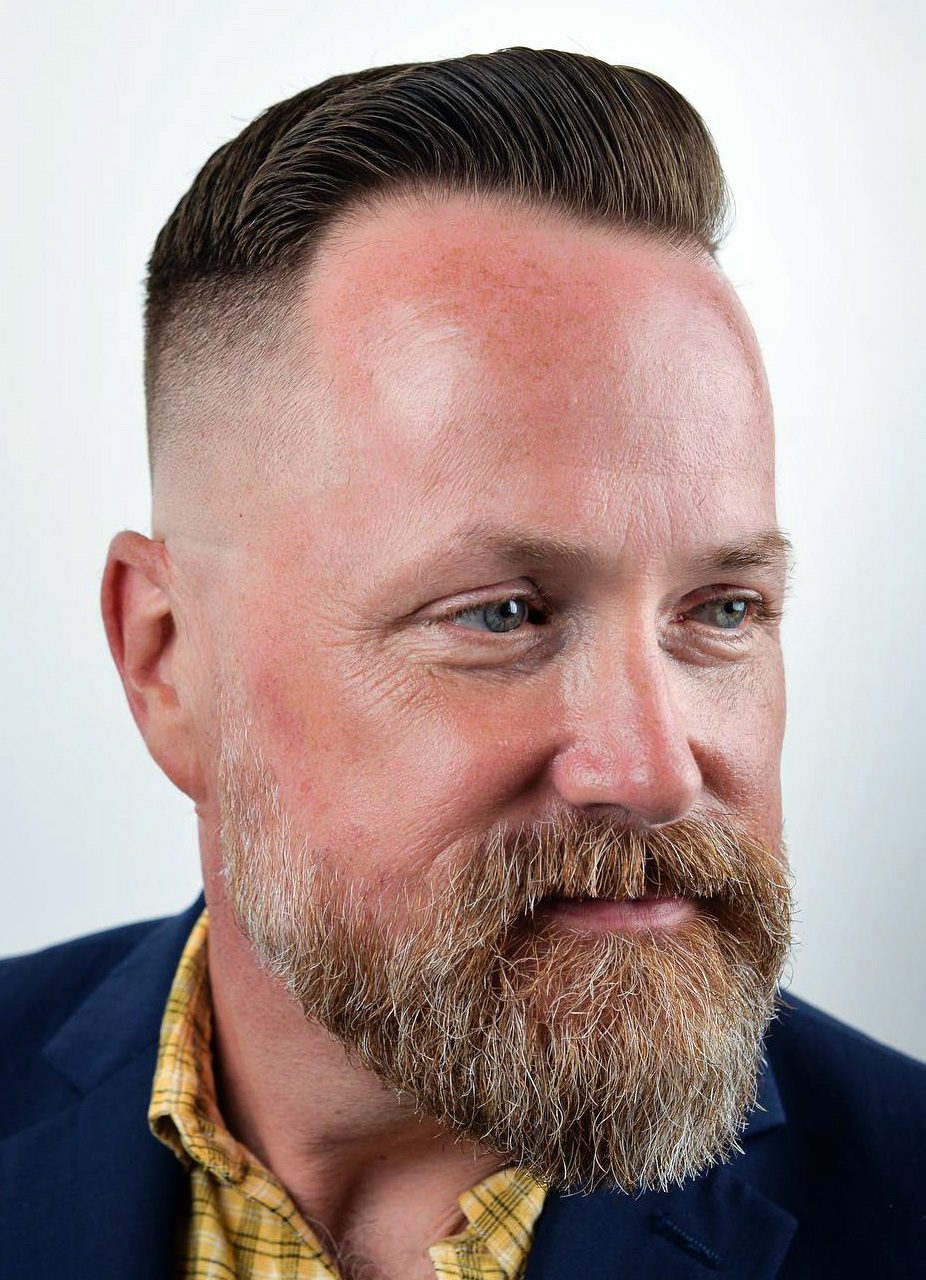 Side Combed Brush Up
A cut like this takes 10 years off the face. The fade is nice and tight, the brush up looks great with a bit of wax holding it up, and the style elongates the face to look youthful.
5 / 11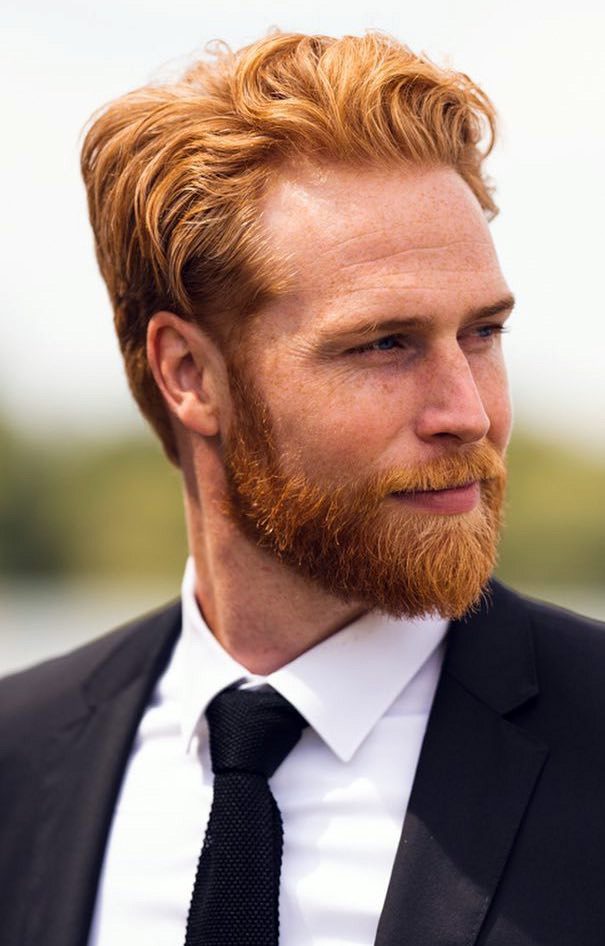 Wavy Textured Thick Hair
Red hair, when done right, is eye-catching, and here the cut is absolutely perfect. The thickness of the hair makes the waves curve just right, and it seamlessly flows into the beard for a sophisticated look.
6 / 11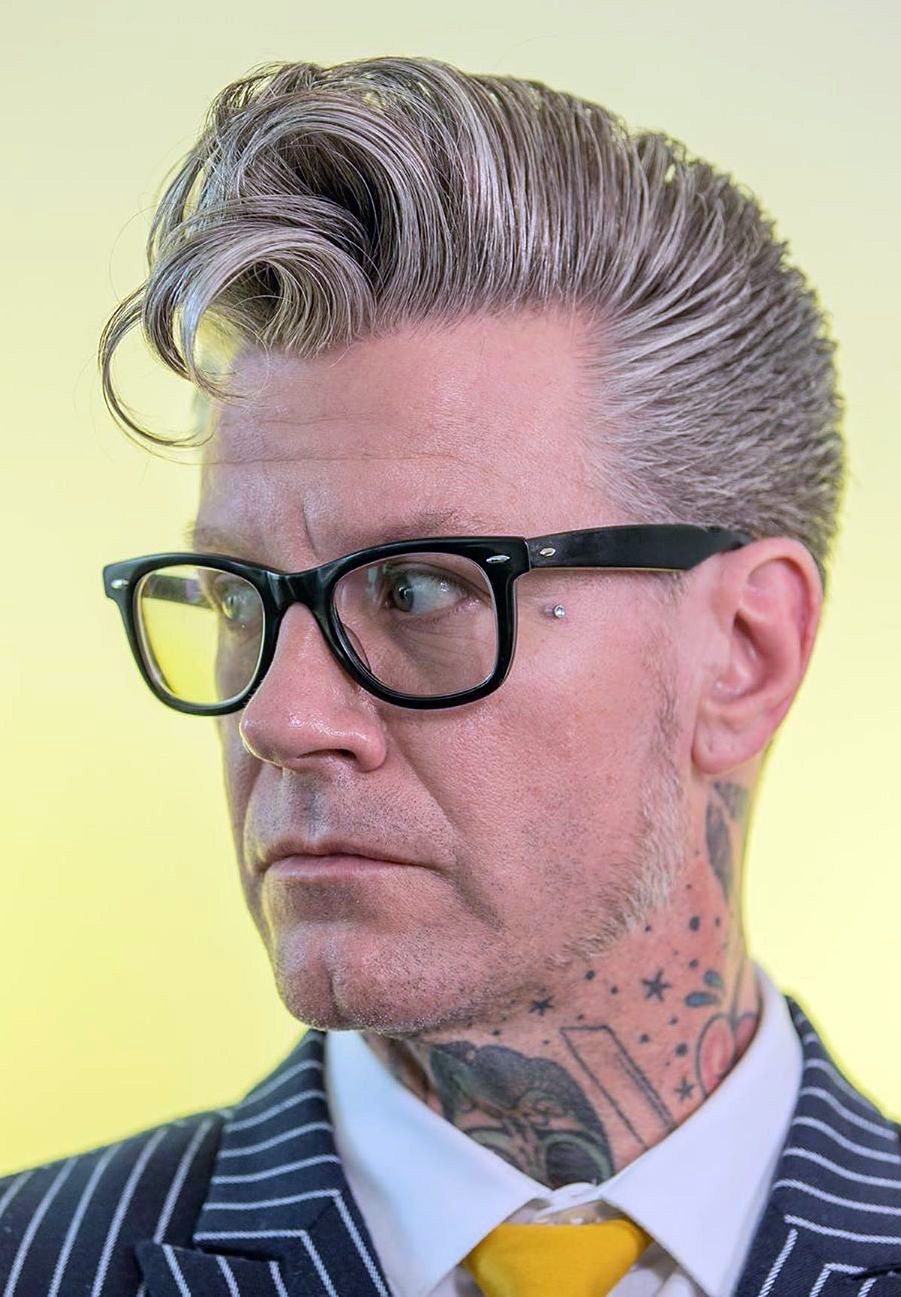 Modern Elephant Trunk
Just because you've reached the middle-age, doesn't mean you can't have fun! This modern elephant trunk looked extra stylish because the guy has many different shades of grey in his quiff.
7 / 11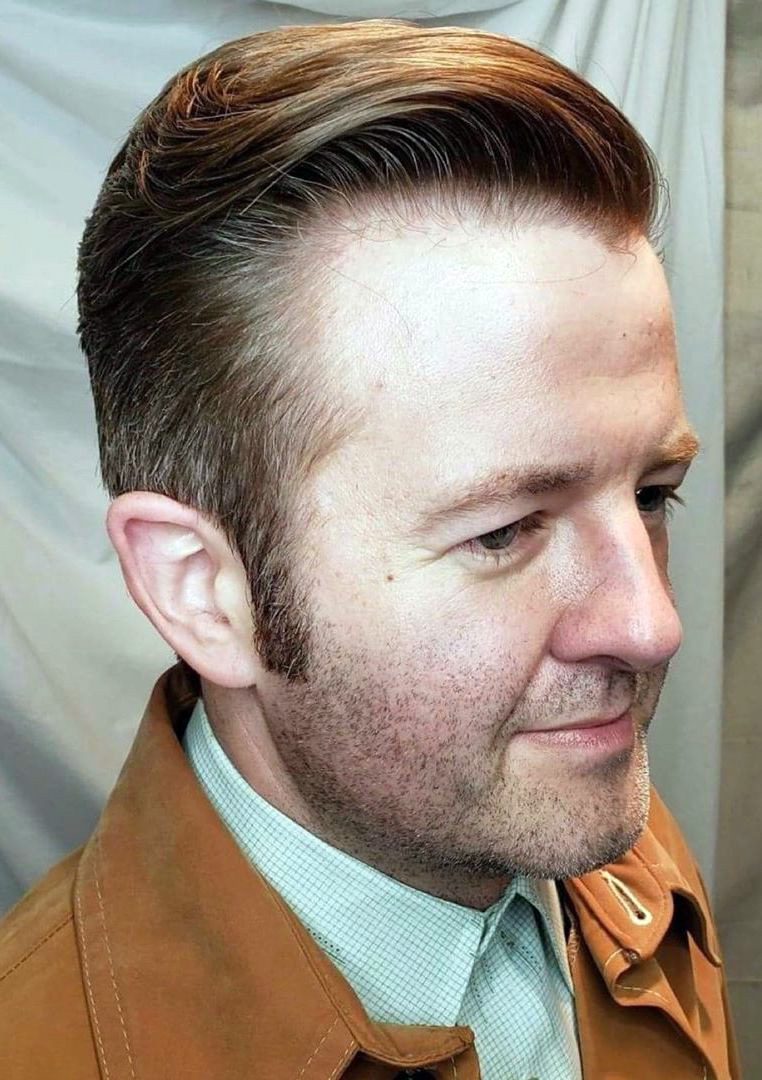 Silky Push Back
Cowboys, businessmen, and dads love the silky push back. It's easy. It's fun. And of course, it's a classic look that never goes out of style.
8 / 11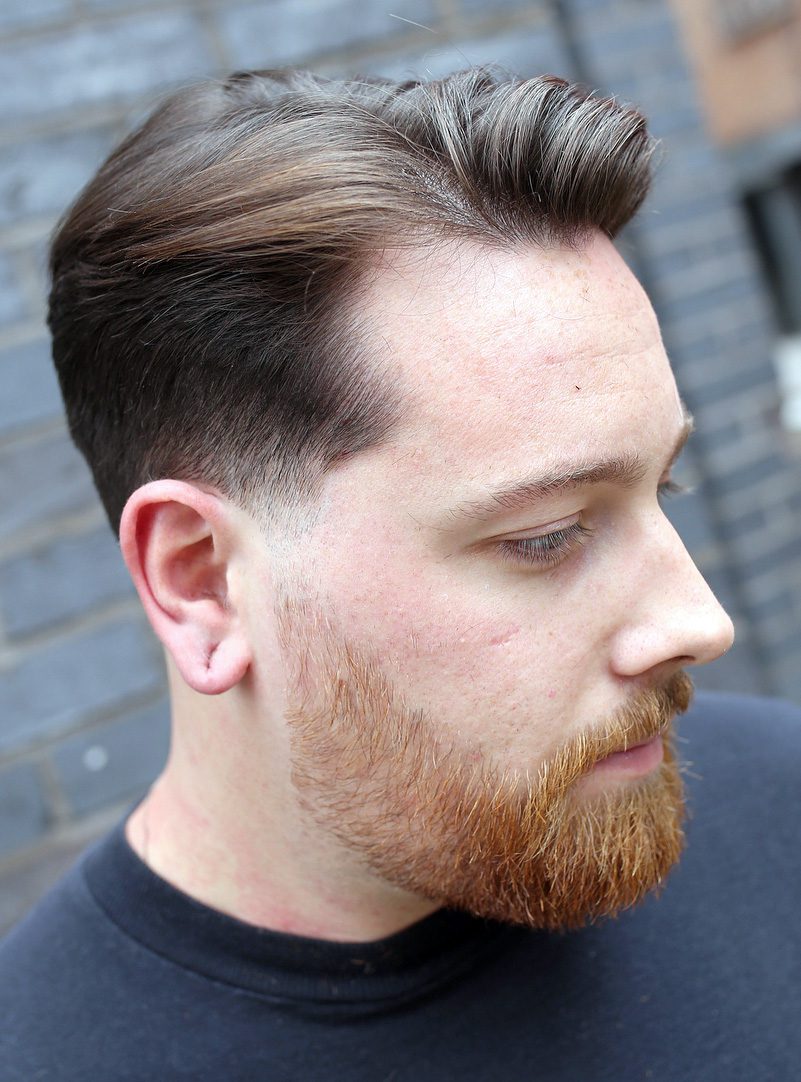 Parted Pompadour
The parted pompadour is neat and stylish. This cut also makes the man look young, which is important for those going through some middle-aged madness.
9 / 11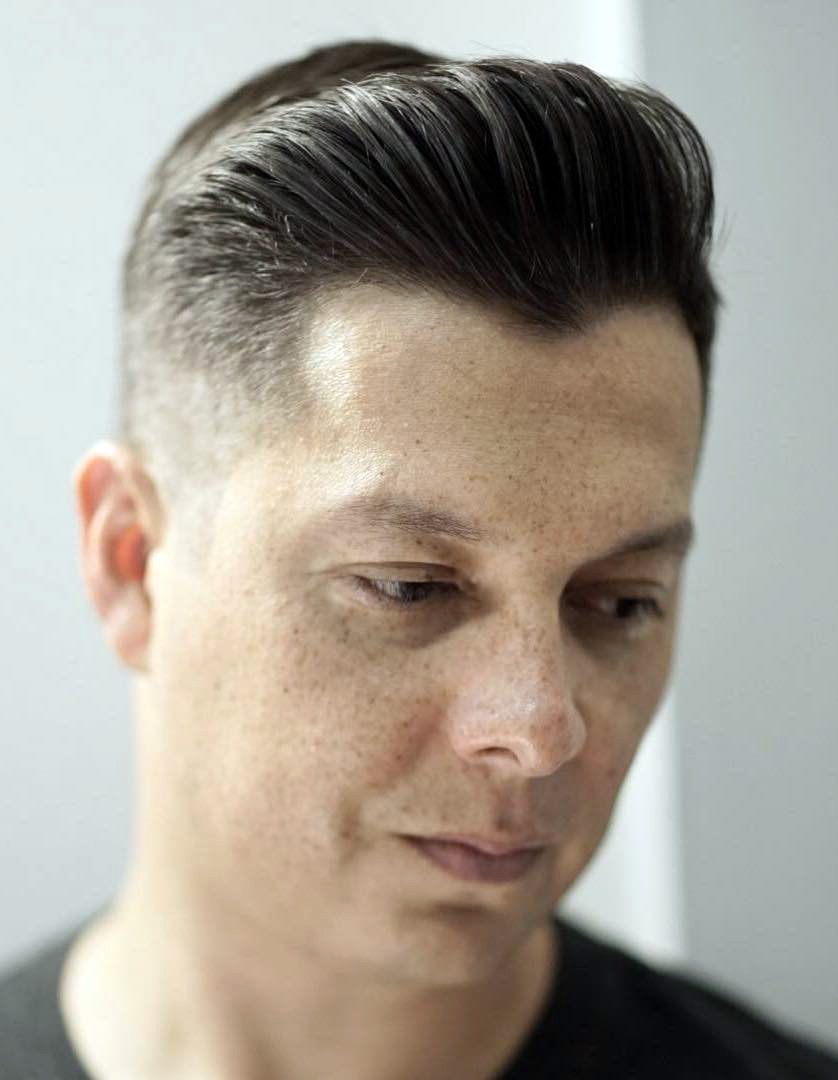 Neat Thin Hair Pompadour
Fades on middle-aged men can easily take a few years off the face. Instead of a tight top, like a military cut, he has a pompadour, which gives his thin hair a much-needed body and even a little bit of soul.
10 / 11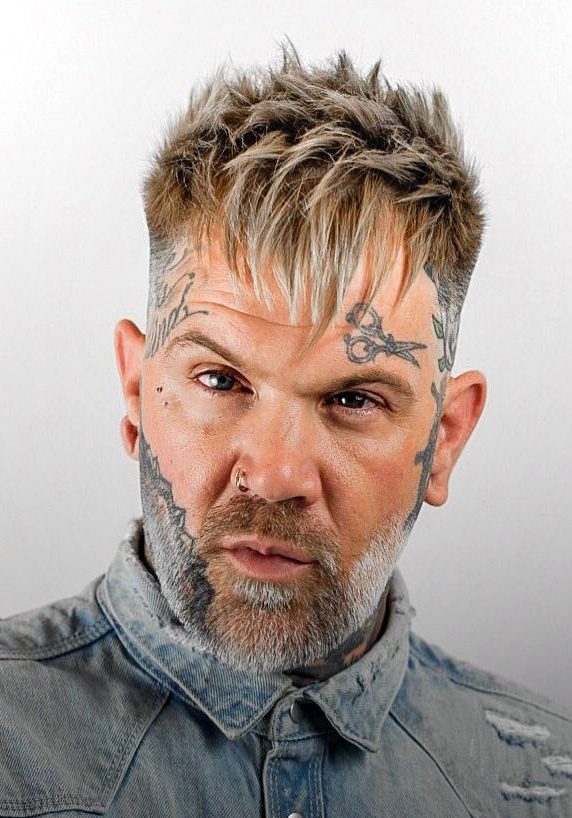 Salt and Pepper French
The French crop is known to be timeless, but this version is very modern and stylish. Instead of grey hair signaling age, this man has dyed the top to show youth. The fade is tight to accentuate the head and facial tattoos.
11 / 11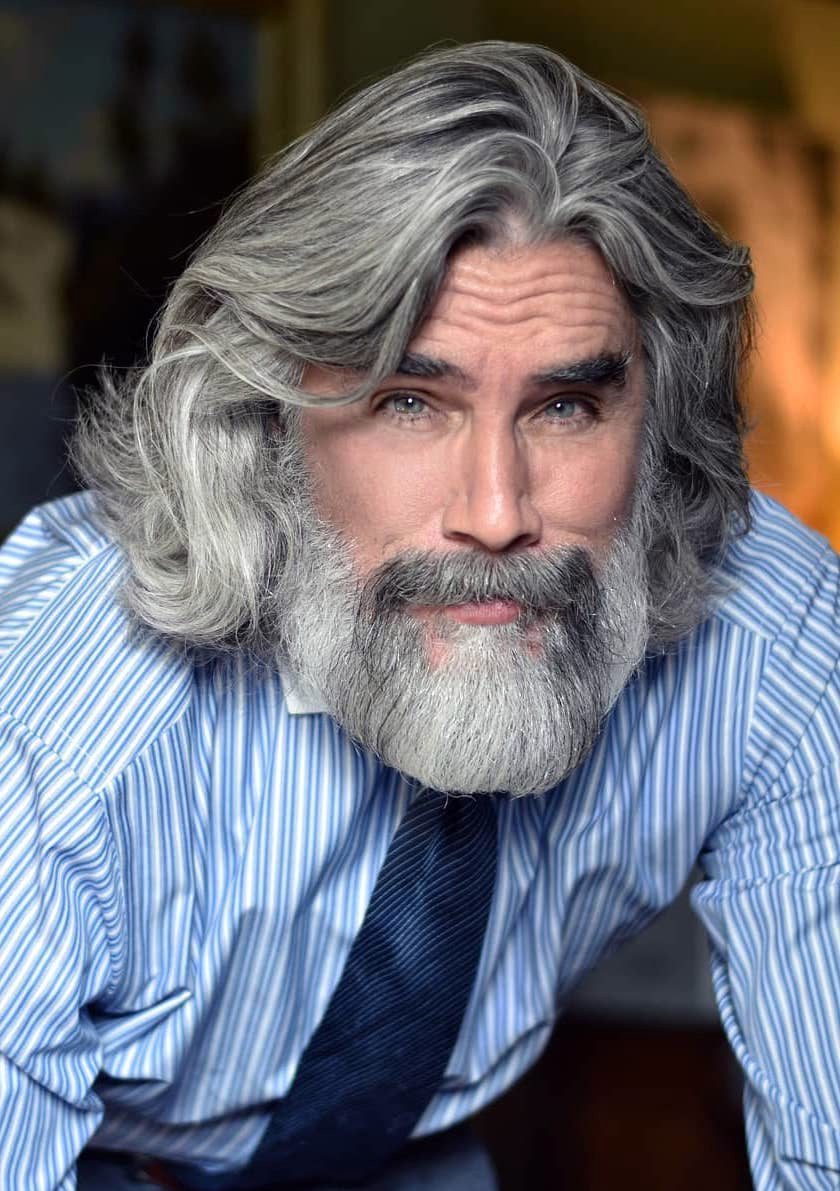 Dense Medium Length Top with Thick Beard
The hair is kept long and thick, hasn't been cut in a while. The thick beard, once whispy and wild, is now trimmed and tamed.
You've reached a point in your life where all you want to do is spend a year in a cabin in the woods. Not all of us might be able to do that, but you can certainly look the part!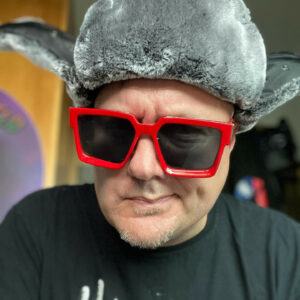 Managing Editor at LiFTED