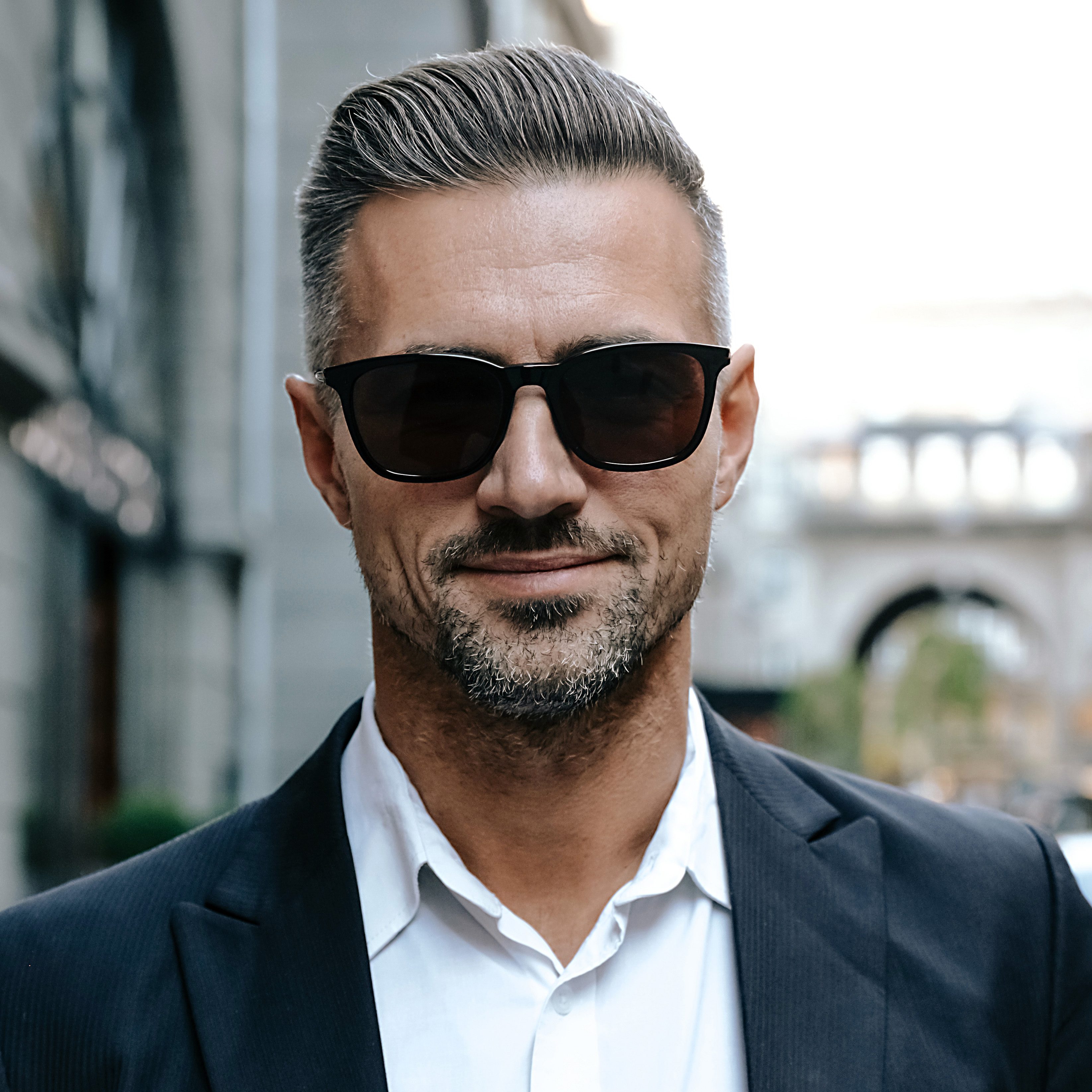 Gray Hair Don't Care: 15+ Fabulous Ways to Show Off Your Salt & Pepper Hair
Get the much-needed inspiration to masterly highlight your handsome gray hair
Let's start with something least expected here! We will check the power of your mindset and see whether you are subjected to stereotypical thinking with just one question: do you like your salt-and-pepper hair or believe that gray hair strands should be hidden?
Suppose you're positive about demonstrating your gorgeous grayish hair strands. Congrats, we will find a great hairstyle for you quickly! Otherwise, if you consider finding a way of hiding the gray hair – hold on. We will reassure you shortly that salt and pepper hair is worth being proud of. Don't have much faith in it? Well, let's take a look at this sensitive matter in detail!
If you're not convinced to show off your ravishing hair after reviewing these slides, we are sure you will be booking your next hair appointment immediately.
1 / 45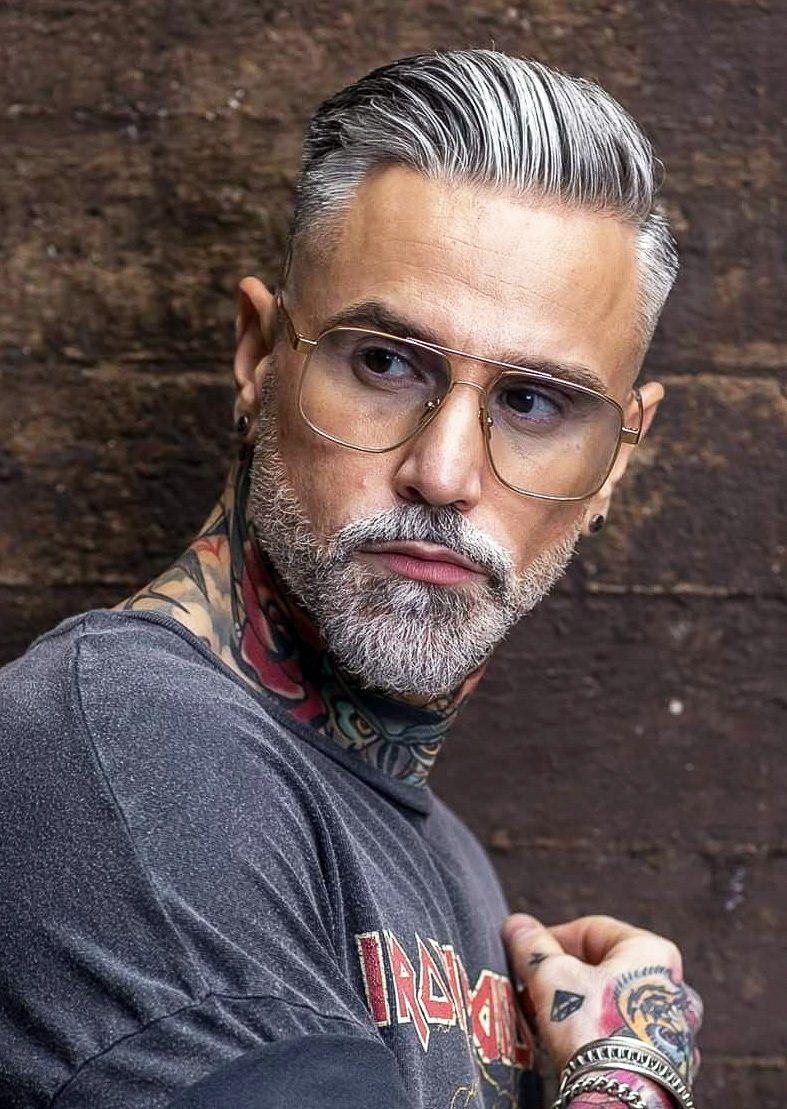 Salt And Pepper Undercut
Another great way of rocking it with your salt-and-pepper hair and white beard is to combine these colours with an undercut that never goes out of trend. With styling the top part to the back and keeping your sides freshly trimmed – you will look fabulous no matter what.
2 / 45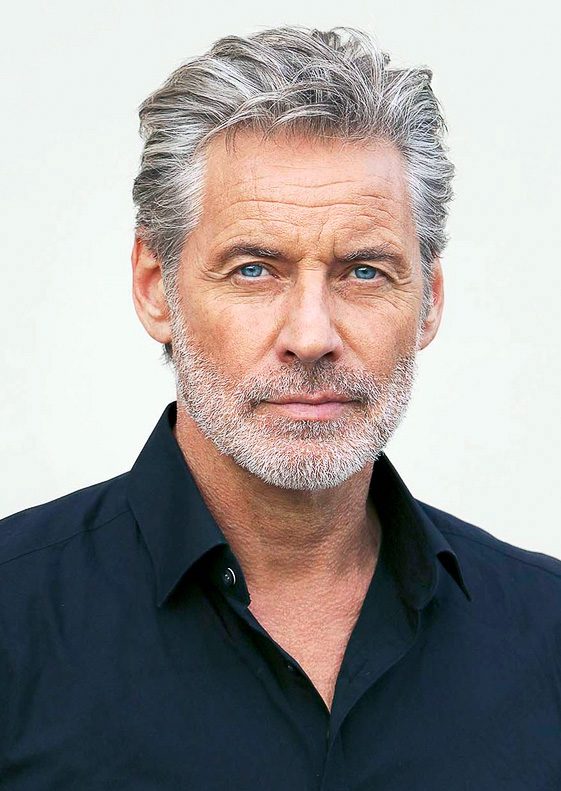 Salt And Pepper Wolverine's Hair
What slightly looks like the Wolverine's hairstyle straight from the movie is actually a pretty popular way among men of styling longer hair these days. Keeping the longer hair strands in the back and leaving a few short pieces out creates a casual look yet stylish.
3 / 45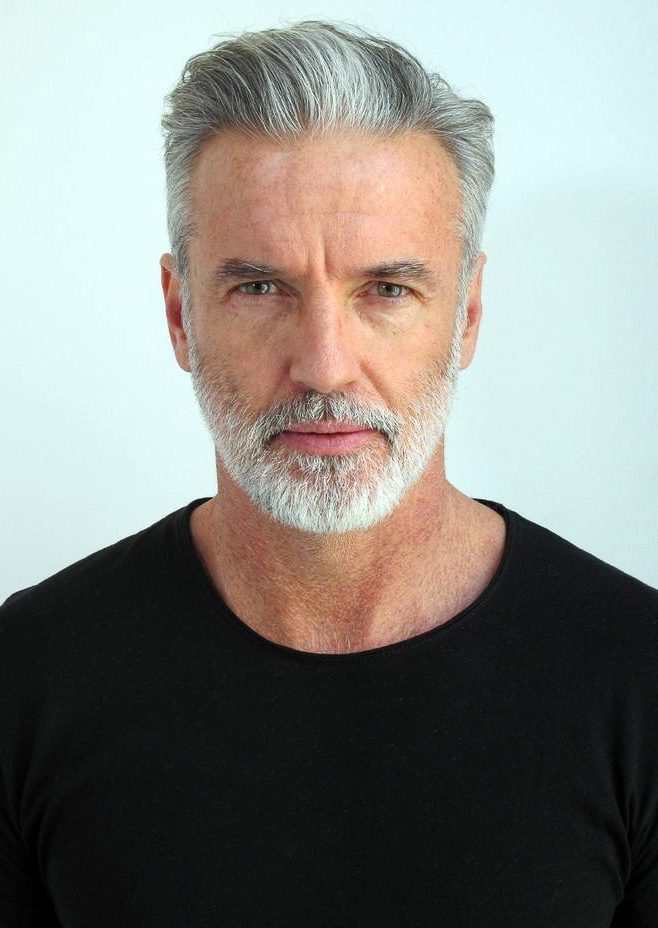 Salt And Pepper Backcombed Hair
The classic and the most elegant style is doubtlessly the grayish backcombed hair with a side part. This hairstyle would look with any hair colour but is incredibly charming for men with salt and pepper hair. So if you like your hair to grow slightly longer – this is the option for you.
4 / 45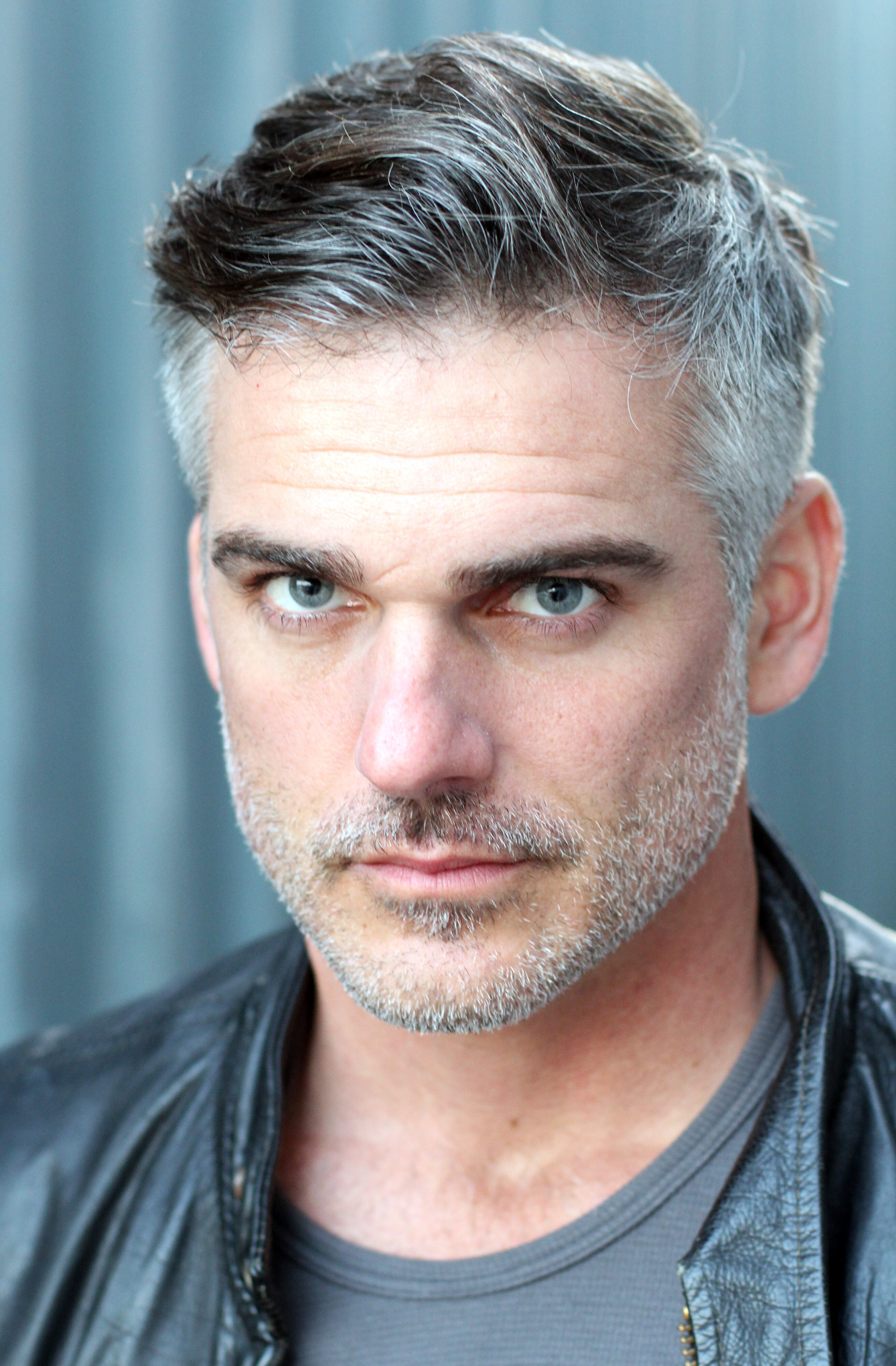 Classic Side Pushed Scissor Crop
This next style takes a classic crop top look but has purposely left the sides grey. Some would call it the "doctor's look." When paired with the 3 days five o'clock shadow, it says resident just coming off a double shift and still looking great. Thanks for comforting my mom, doctor, she says she'll never trust anyone else but you.
5 / 45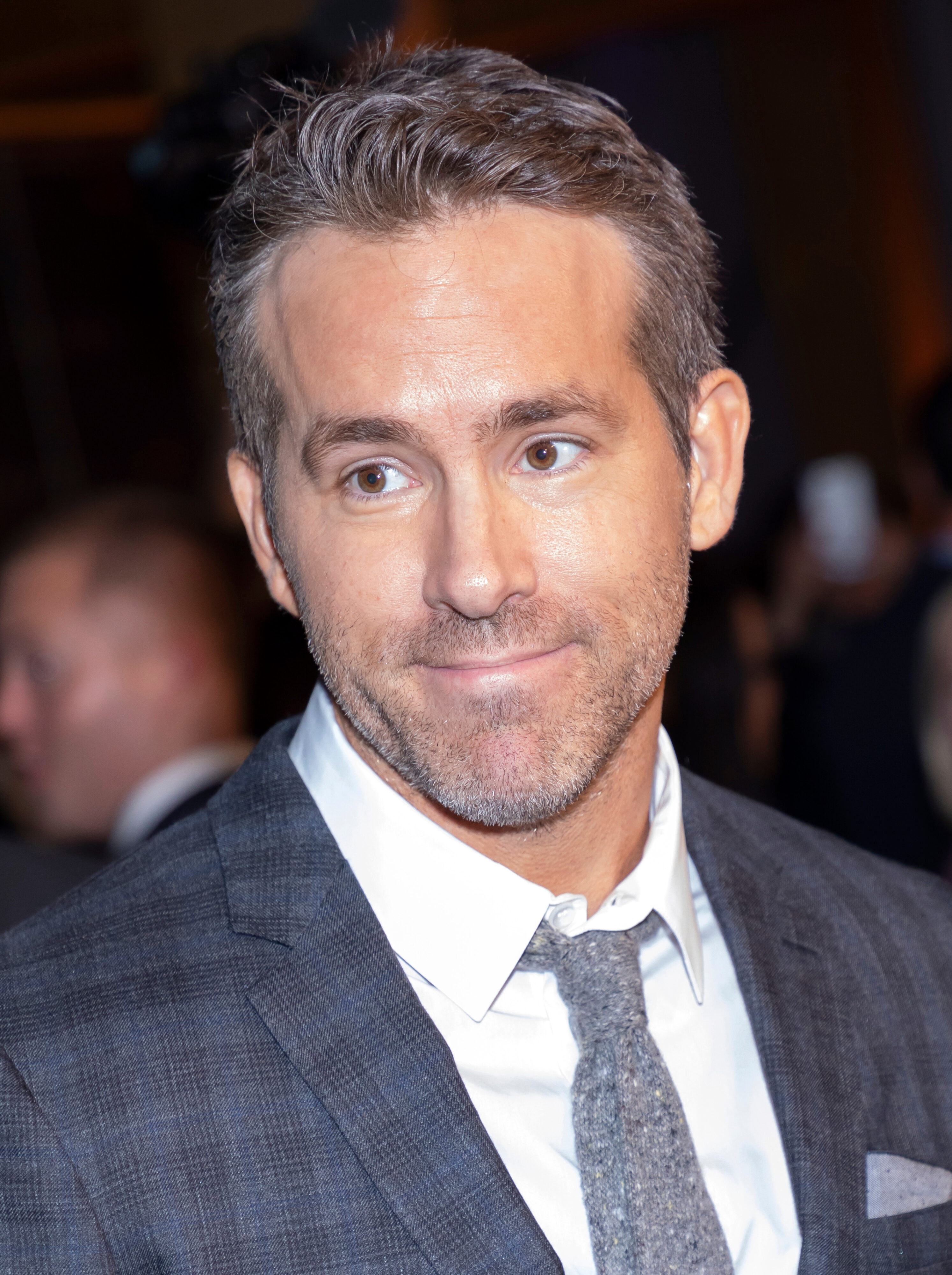 Comb Over
This simple yet stylish combed-back hairstyle is great for adding weight to grey hair. In this shot, Ryan Reynolds is sporting a smooth, combed-back style. Notice how the hair gets combed to the side as the style goes further back on the head. Combined with clipped sides, this hairstyle makes a confident statement that pairs well with peppered hair.
The tiny quiff/pompadour at the front helps to add weight and texture, which hairstylist Jamie Stevens says is a crucial aspect of an older man's style. "As a man grows older, the density of his hair changes and thins out," Stevens says. "Weight and texture are needed to stop it from looking flat and limp."
Hairstyles for men with grey hair need a bit more presence, and this cut delivers that. Ask your barber for about 1.5 to 2 inches on top of the head. Since the styling process will give you volume, you don't need too much on top. The sides should be buzzed––here, Reynolds has about a #4 or #5 on the sides, but you can go a little shorter or longer depending on your preference. The back should be buzzed with the same clipper length.
This hairstyle is all about the product. For thin hair, you'll need a pomade or gel with a medium hold. For thicker hair, use a firm hold product. Work the product into towel-dried, damp hair, working backward and to one side of your choice with your fingers to thoroughly apply the product. Next, use a comb to tease the hair back into a small quiff/pompadour. Finally, set the hair in place by combing it backward and to the side. This will give you the slightly side-swept look Reynolds has here.
6 / 45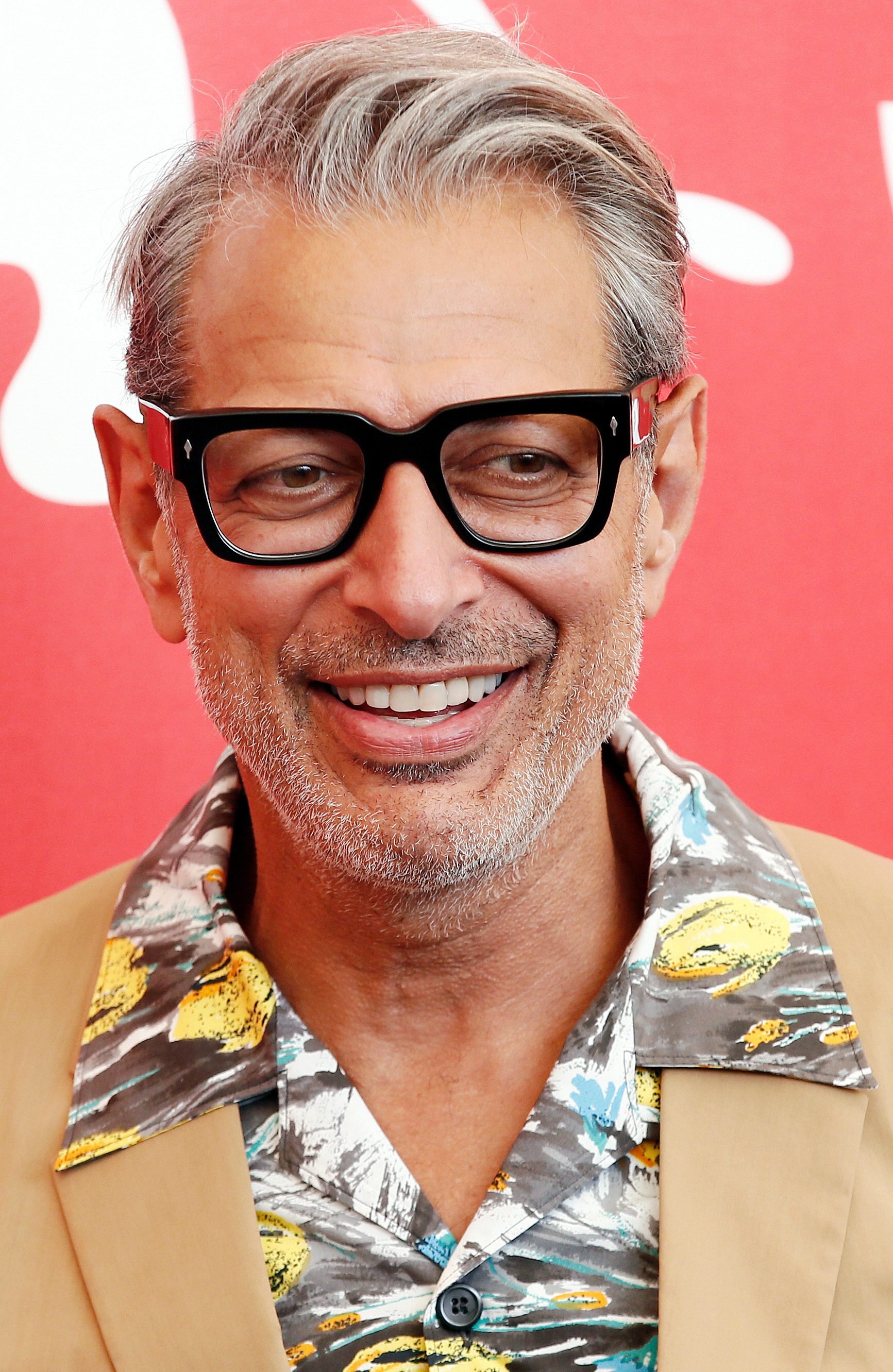 Jeff Goldblum's Natural Side Part
When he's not running from dinosaurs, bringing down alien motherships, or being a guest on Conan, Jeff is perfecting the art of the natural side part. The sides are left longer, giving it a more natural look that complements his more joyful persona well. Life… finds… a way…
7 / 45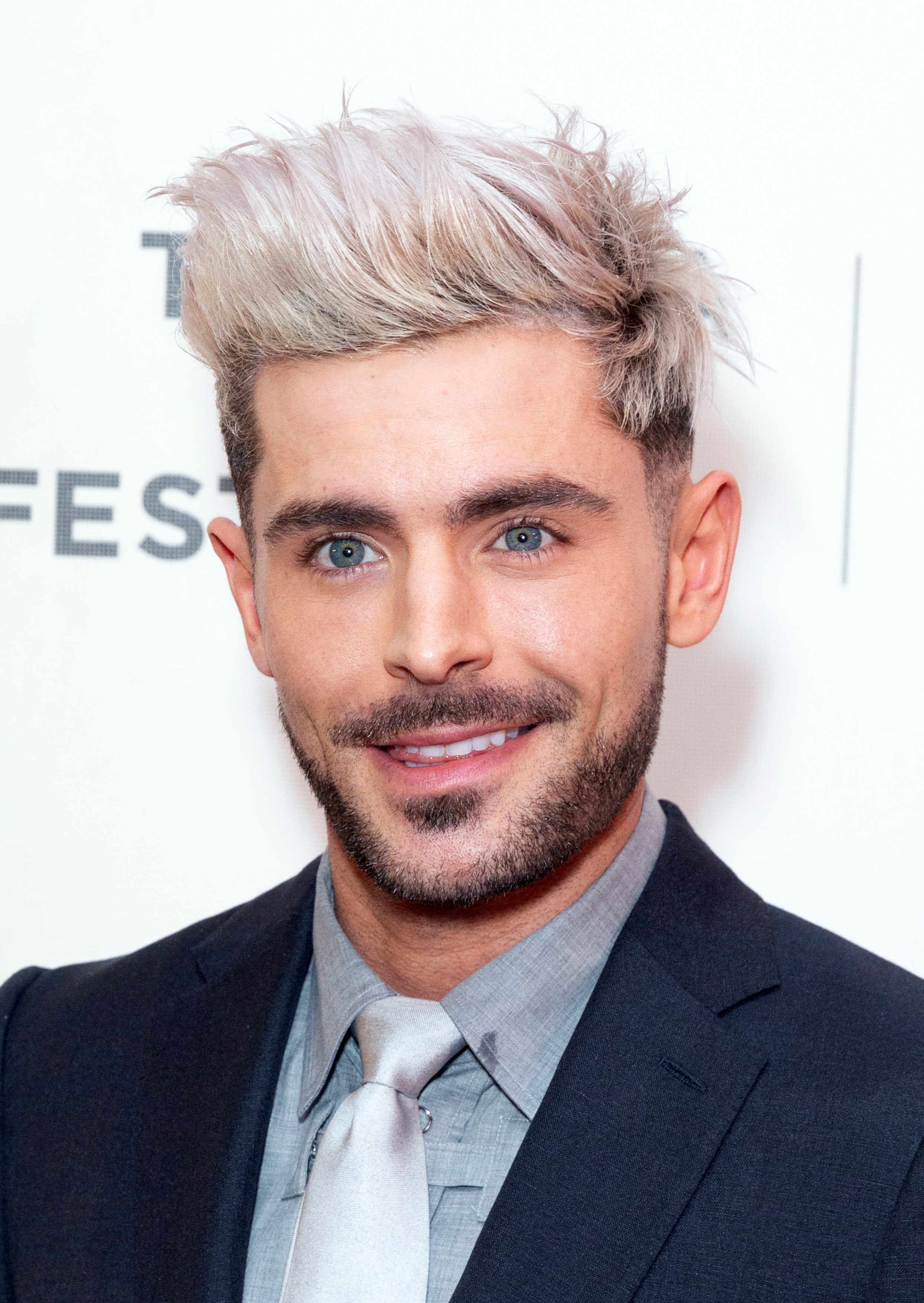 Zac Efron's Bleached Hair
Not your classic salt and pepper hair colour, but it also deserves some attention! Zac has successfully combined a gorgeous ivory colour with the darker roots and got some stunning results. Whether you like the extreme volume on top or not, you can still try such a colour combo, even on short hair.
8 / 45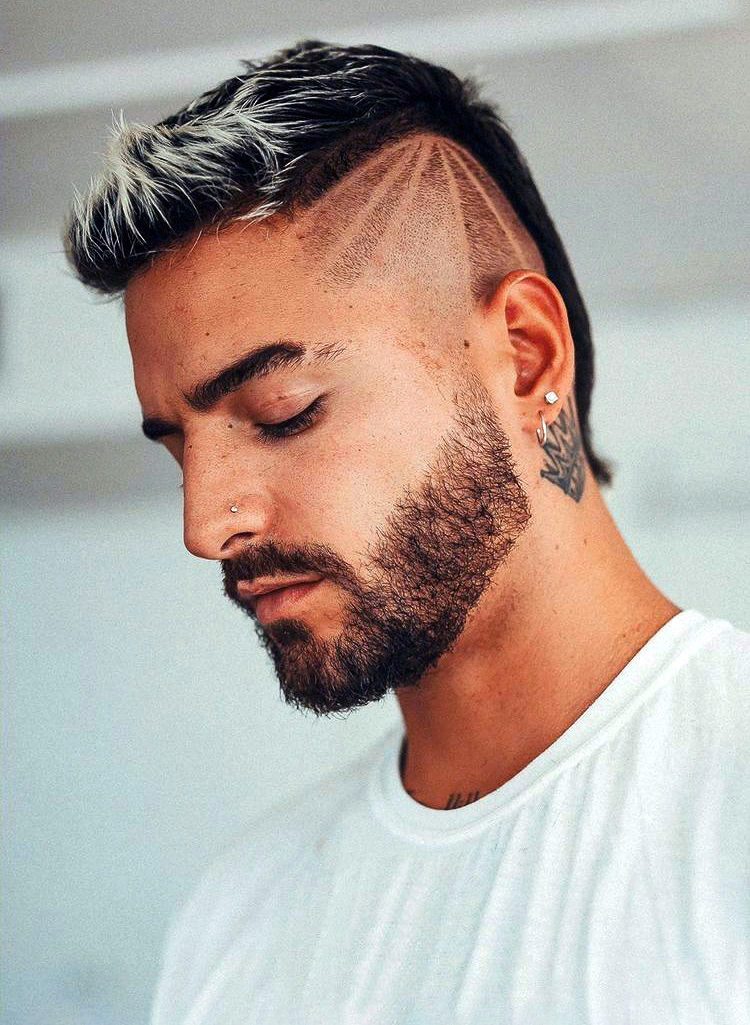 Maluma's Iconic Hair Colour
Of course, this list of top-looking salt and pepper hairstyles could not be made without Maluma and his extremely trendy haircut with the highlighted ends. He changes his hair colour pretty often, but the one with dark roots, high fade on sides and snow-white ends is undoubtedly one of his best looks.
9 / 45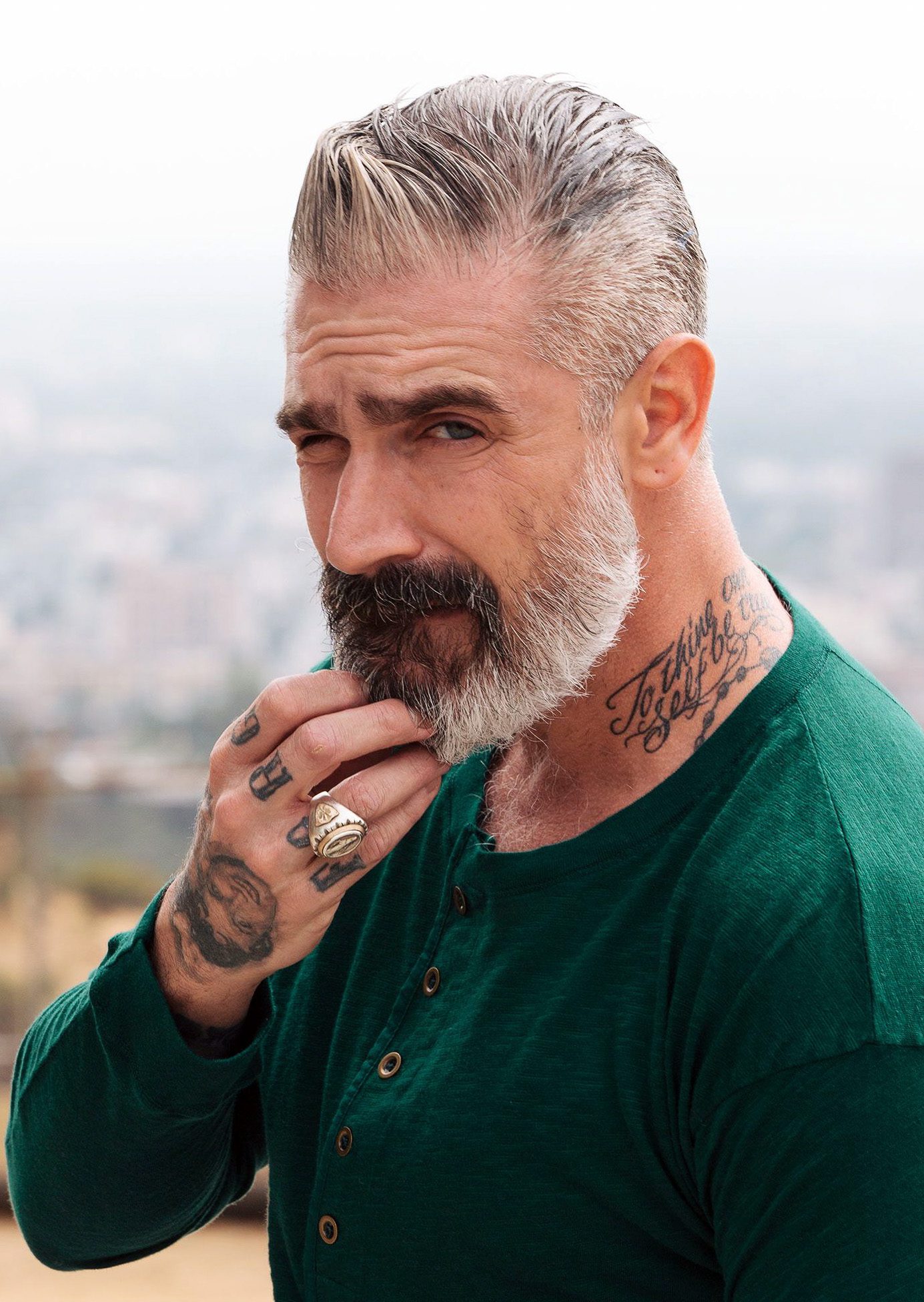 Gelled Back Salt And Pepper Hair
We miss those times when every second man was gelling the hair and combing it back. That is such a masculine way of styling your hair! And with the salt and pepper colour, it looks even more brutal and attractive at the same time. So think about it, sometimes new can be a well-forgotten old.
10 / 45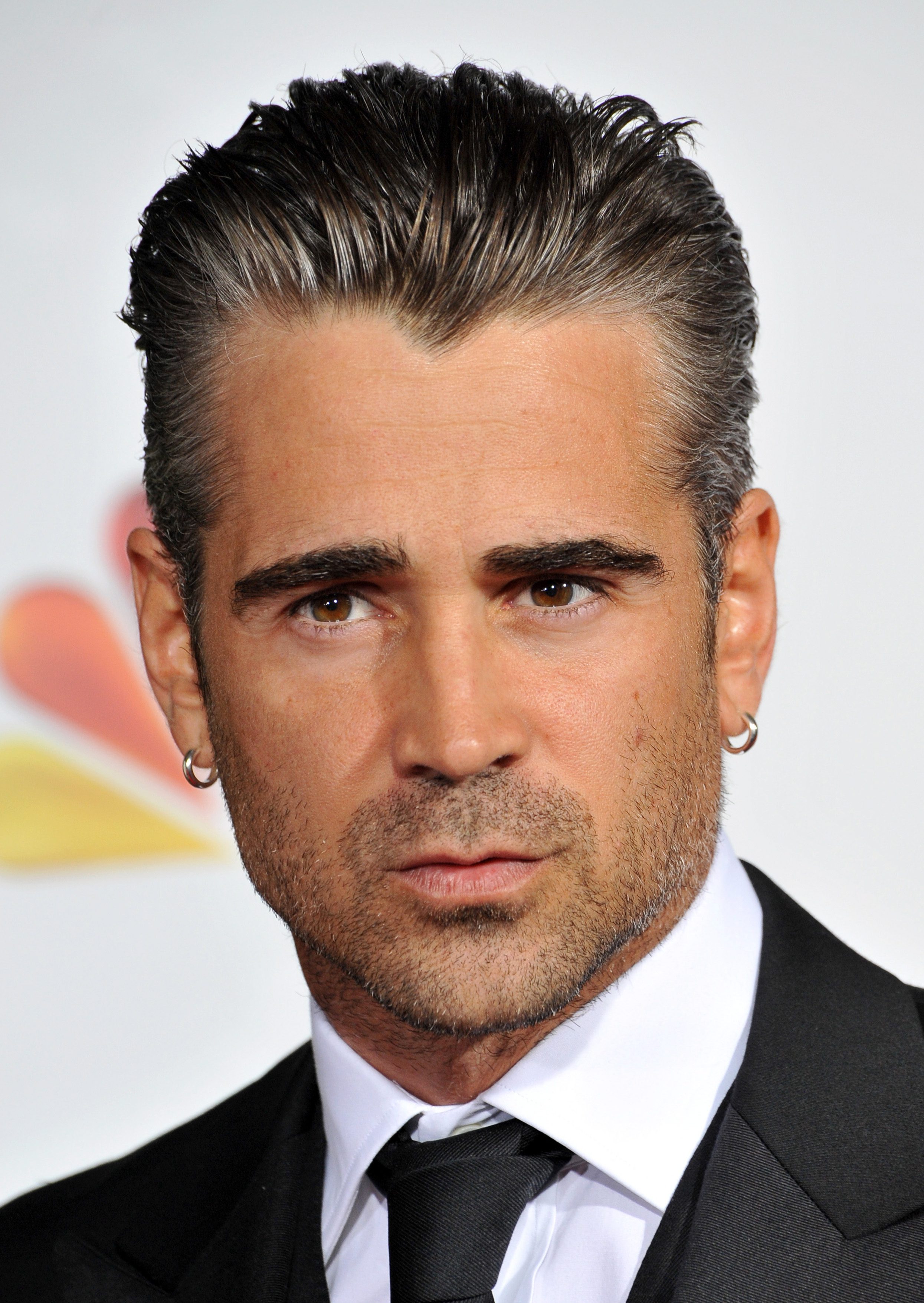 Colin Farrell's Signature Hair Look
Colin Farrel is well-known for his impeccable taste in styling. Whether it's his colourful suit or perfectly gelled hair, he always looks top-notch. No wonder why he got selected for a role in the iconic movie "The Gentlemen."
11 / 45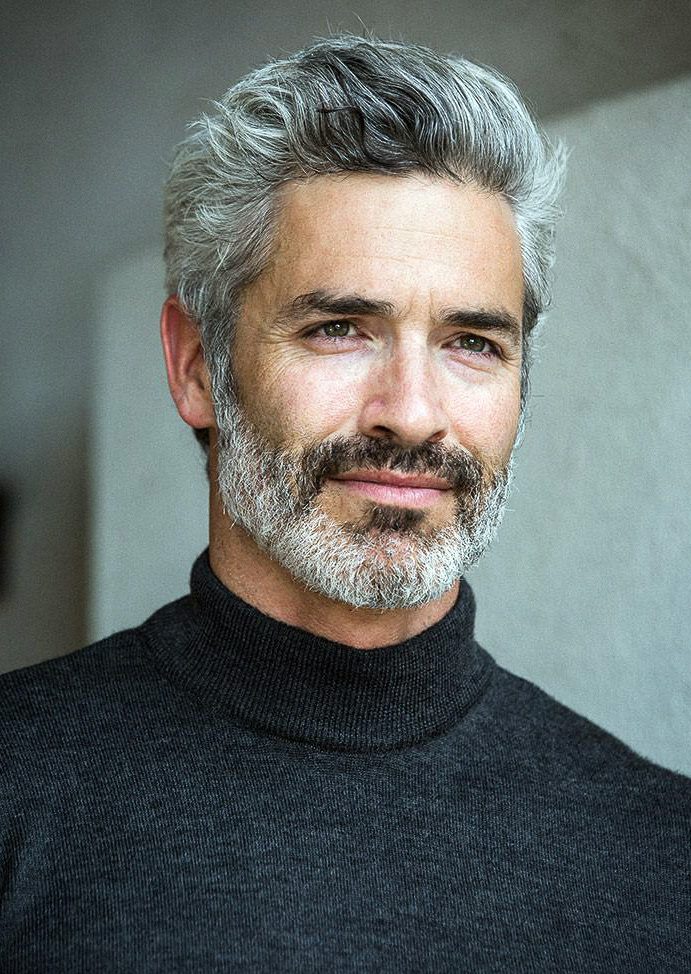 Darkened Strands In Silver Hair
Doesn't matter whether you have a few hair strands of natural black colour or you dye them on purpose – the darker hair strands in front with the rest of your silver hair will add that charm to your style. Also, a slightly darkened beard or moustache looks excellent with such hair.
12 / 45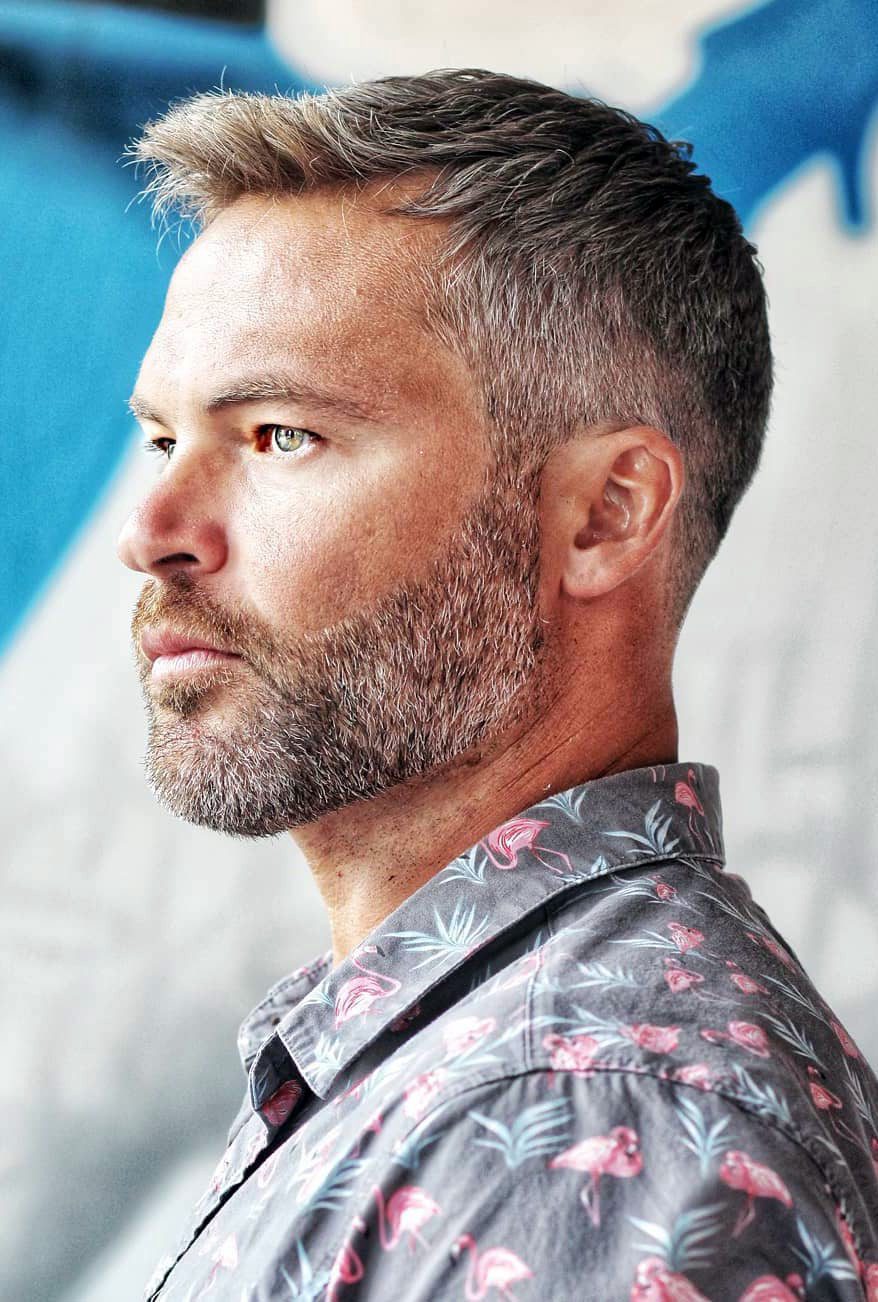 Short Length Brush Up
In this photo, the trimmed beard is used to highlight the strong jawline, giving it a very masculine look. The rest of the look is achieved with a short, brush up hairstyle. The gray accents this style nicely, adding natural highlights and contrast to the overall aesthetics of this style.
13 / 45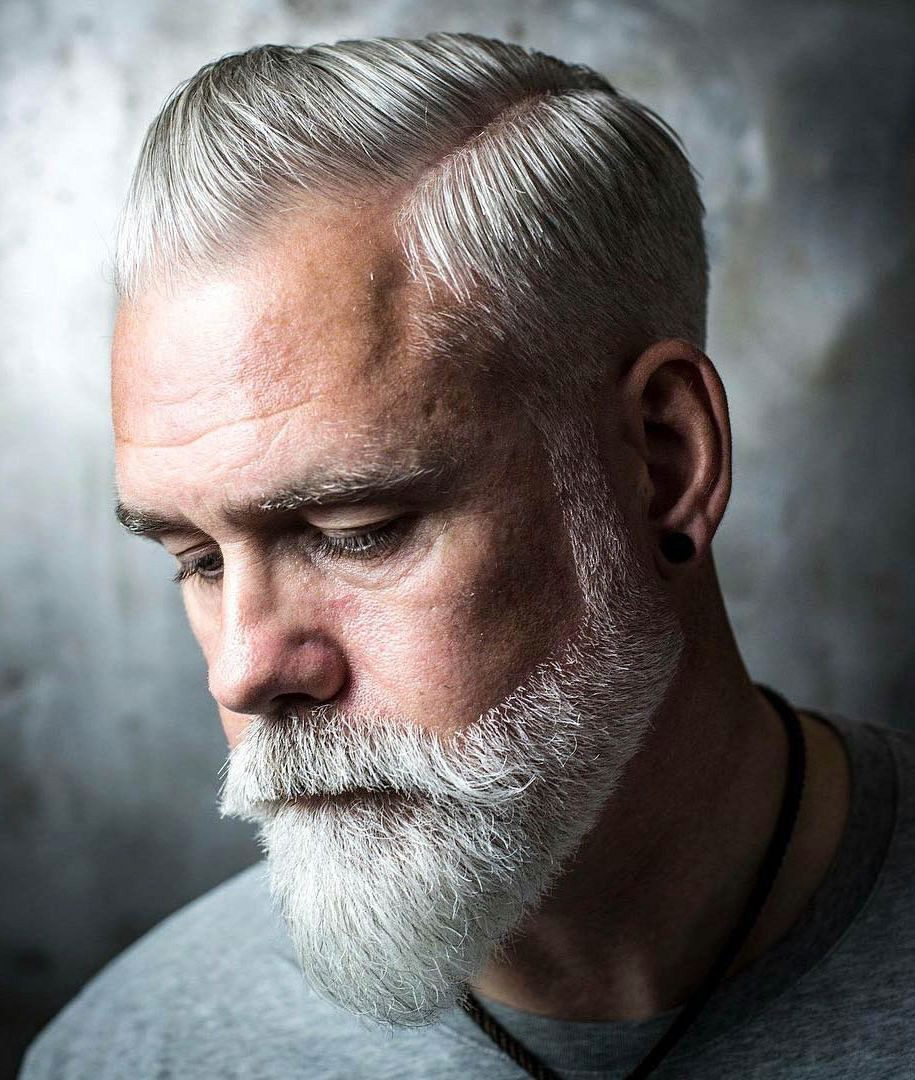 Manicured Beard and Regulation Inspired Crop
A short, military-inspired haircut paired with this neatly trimmed beard shows that grey is merely his paintbrush. It's a stylistic choice made by a man in his prime. The trimmed beard and short hair shows focus, and when paired with grey shows a man that knows what he's doing.
14 / 45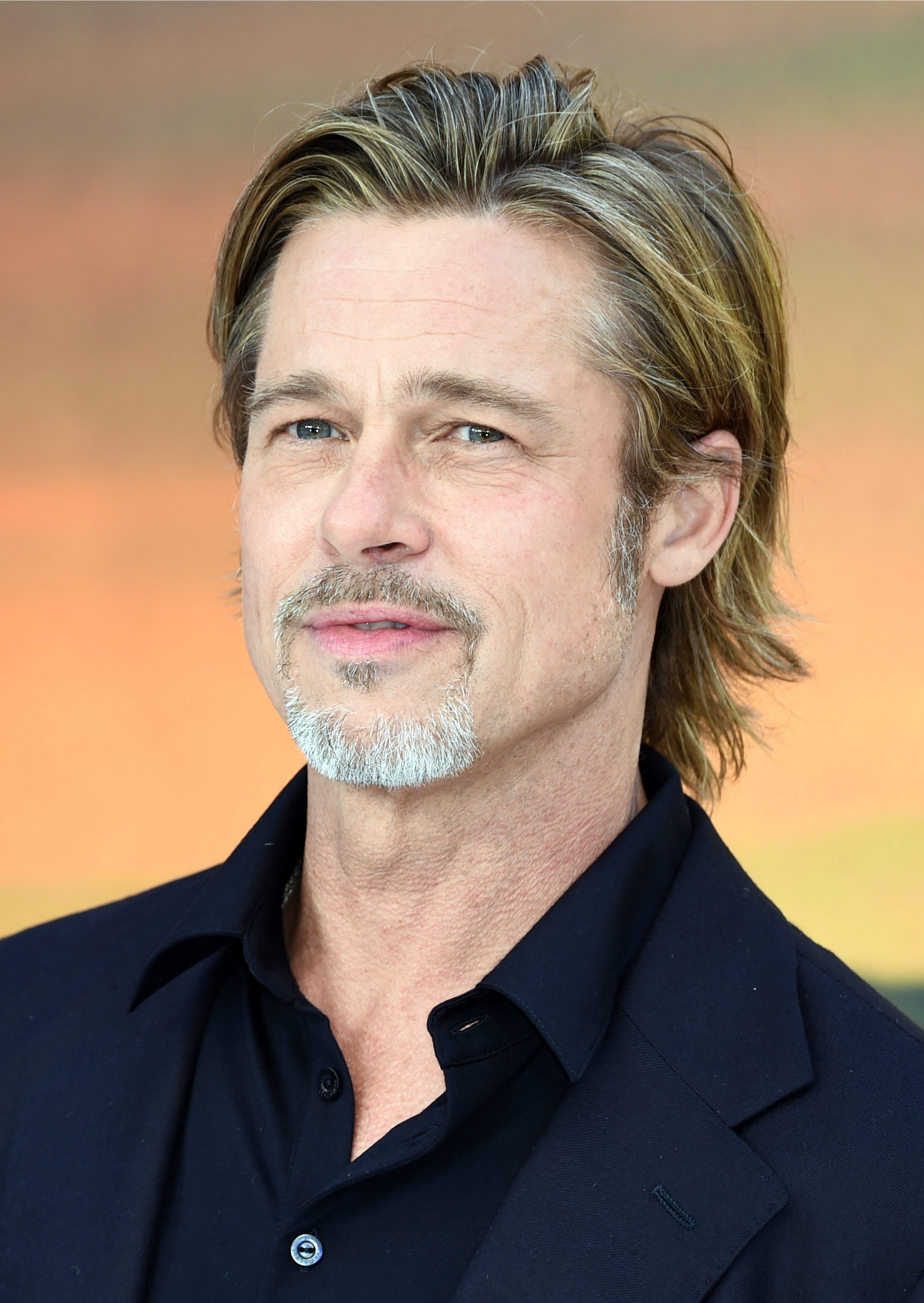 Brad Pitt's Gorgeous Side Part
Obviously, the first person who will come to your mind if you start thinking of salt and pepper hair most likely will be Brad Pitt. He is indeed one of the most handsome-looking men on this planet. So if he chose not to hide his grayish hair strands – maybe he knows something!
15 / 45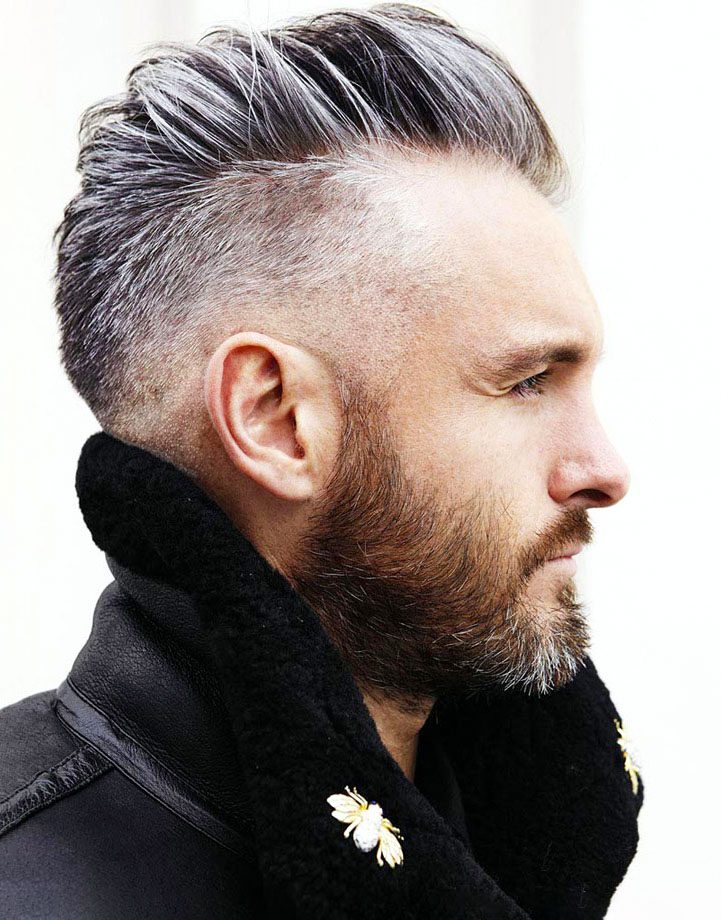 Turn a receding hairline into a fashion statement with this stylish undercut
Got a receding hairline? You'll be happy to know you can actually use it to your advantage with some hairstyles for men with grey hair, including this dapper style. This slicked-back undercut is similar to the brush-up style shown above, but it has a more contemporary look with buzzed sides and more definition.
Ask your barber for about 3 to 4 inches on top. As with most of these styles, the hair in the front should be just a little longer. The back can be either buzzed or trimmed. The sides should be buzzed. For the closest look to this style here, ask your barber to fade the sides and back and blend the sides.
This style will require a good quality product. Pomade is ideal, though gel will work. Work the product into towel-dried, damp hair. You can simply brush the hair back and style it in that fashion, or you can use a hairdryer to dry it into place. Either way, you'll want to lift the hair and brush it back, following up with your hand to slightly pat the hair down.
16 / 45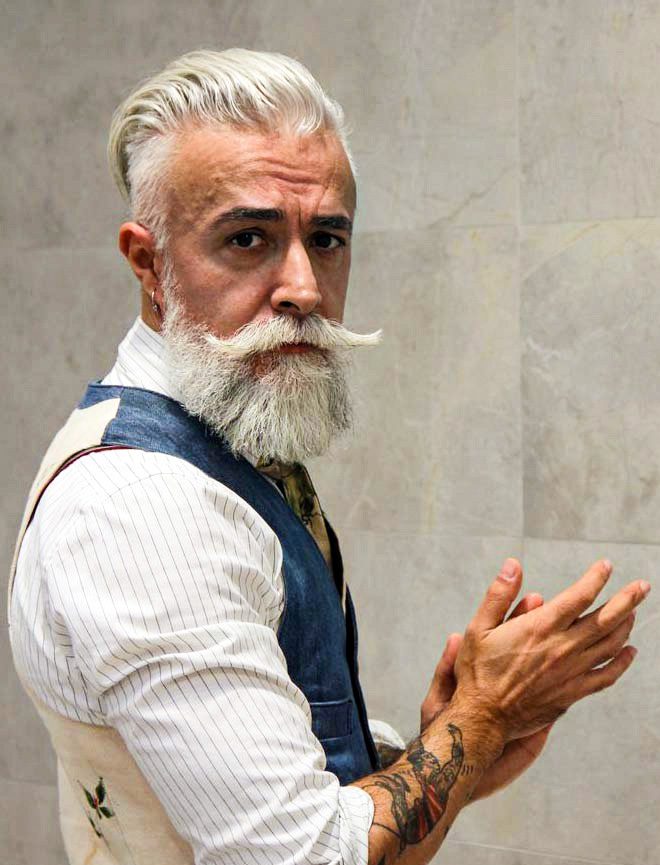 A classic, iconic slicked back style
This is one of those timeless hairstyles for men with grey hair. A straightforward slicked-back style combined with a styled mustache makes for a classy combo. Even if you don't have the 'stache for this, you can still get the classic slicked look.
Here's how. Since all the hair will be slicked back, you'll want to have some length on top. You'll want at least 2 inches on top, and you can have up to 3 or 4 inches if you want to go really long. The sides and back can be trimmed or clipped, depending on what you prefer.
This hair is styled with the power of pomade. Apply a small dollop (about the size of two fingertips) to your hands, and work it into towel-dried, damp hair. Comb the hair back, using your hand to follow through, and pat the hair down. You'll want to comb the hair back to a specific point on the back of your head, either the left or right side. If needed, you can fix the style with a little hairspray. If no hairspray is needed, you're good to go.
17 / 45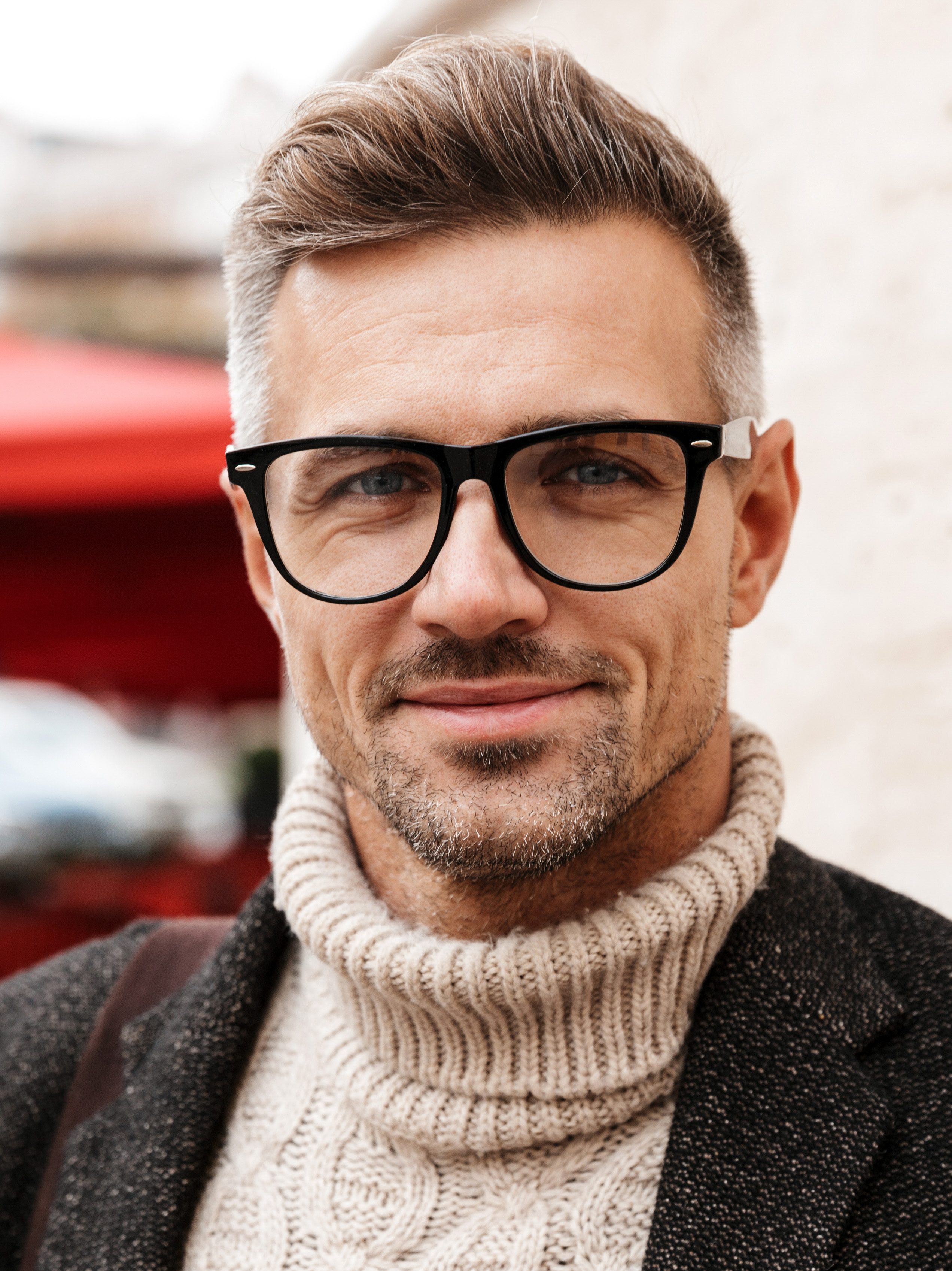 Brush-Up and Taper
There's something about the men that grow gray hairs on the side of the head first, these lighter strands bring out a certain je n'ais se quoi to their style that looks sophisticated and put together. A classic taper and a brush up can look fantastic on these silver foxes.
18 / 45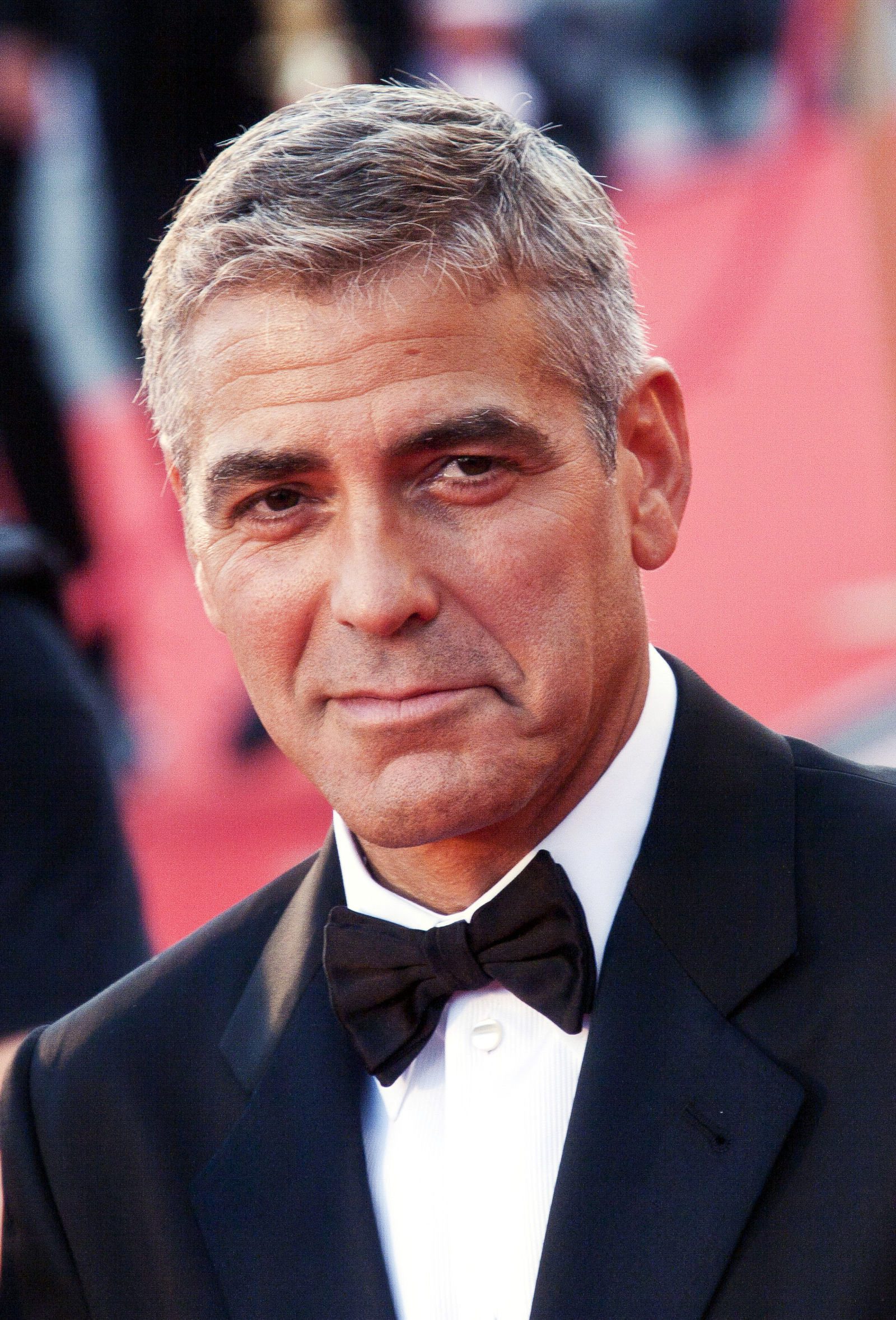 Elegant Caesar Cut
If you're looking for an especially suave style, consider copying Clooney's hair here. His full, slicked back style is an ideal choice for a refined hairstyle that will showcase grey hair. The Master Barber from Ted's Grooming Room in London says that "silver locks convey a sense of sophistication, experience, and power." This hairstyle brings out those three elements for an outstanding look.
Ask your barber for 2 to 3 inches on top of the head. The hair should be a little longer in the front so you can style it back. Here, Clooney's sides are trimmed with scissors, but you can opt for a longer clipper setting, like a #6 or #7, if you prefer a clipped look. The sides and back should be trimmed or clipped the same way as the sides.
Work the product into towel-dried, damp hair. Next, set your part by combing the hair down on one side. Then comb the hair on top in the other direction. The part can be exaggerated or slight. (For reference, Clooney has a slight part on his left side.) Once you're done parting, tease the front of the hair up and back to create the elegant style shown here. It's more subtle than a pompadour or quiff, but you want to style the hair in the same way. To get this exact look, tease the hair up and then to the side, away from your part.
19 / 45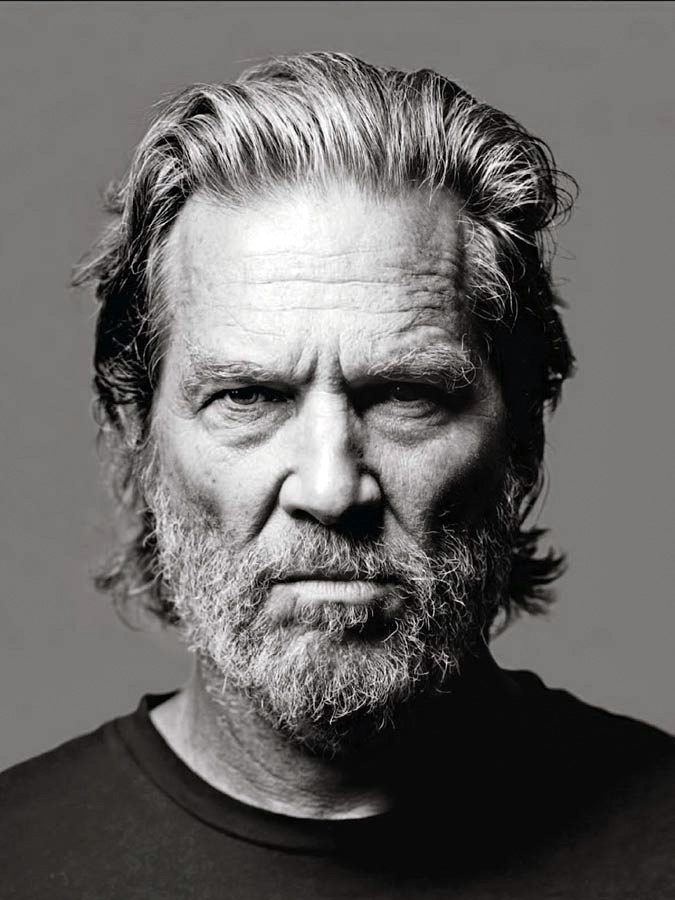 An unkempt, bold style that borrows elements from the slicked back and brush up styles
This style is an excellent example of a hybrid hairstyle that works well with grey hair. It's part slicked back, part brush up. Having this variation will make your hair unique and undeniably confident.
Ask your barber for 2 to 3 inches on top and in front. As with most of these cuts, you'll want to ask for the sides and back to be trimmed with scissors, not clipped.
Get your pomade ready for this highly stylish look. Apply the pomade to damp hair, then follow through with a comb and your hand. For the front, use a comb to tease the hair upward and backwards as you would for a pompadour. The sides and back should be combed down, but you can tousle the hair there to get the full effect.
20 / 45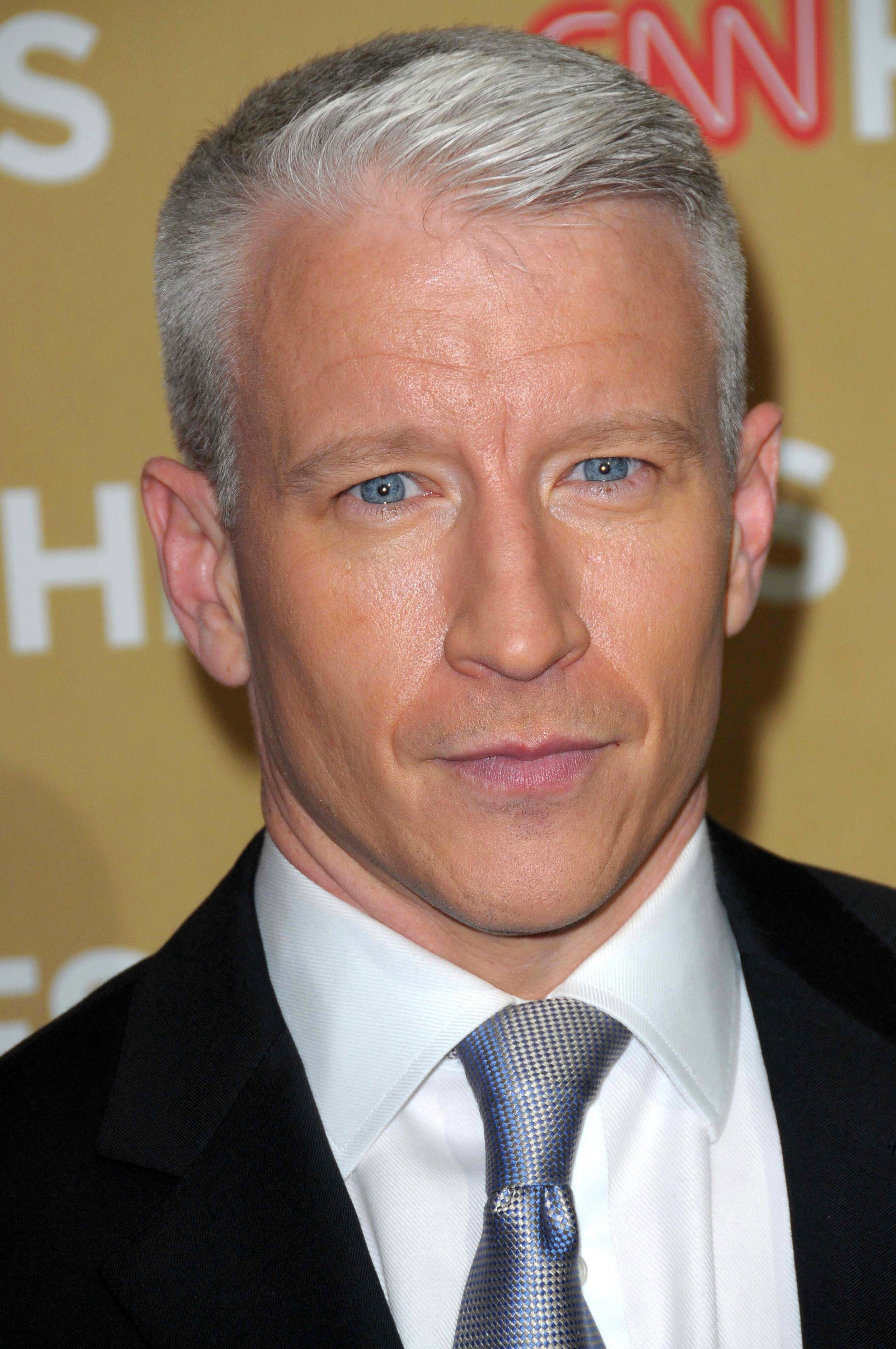 A subtle, suave style that makes the most of short hair
This comb over style is one of the shorter hairstyles for men with grey hair, but it makes a big impact. If you want style but don't want to spend forever maintaining your hair, this is for you.
Ask your barber for about an inch on top. The sides and back should be clipped with about a #3 or #4 and blended. Simply comb the hair over in the direction of your choosing. You can also add a more defined part. If necessary, apply a little wax or gel to keep the style in place.
21 / 45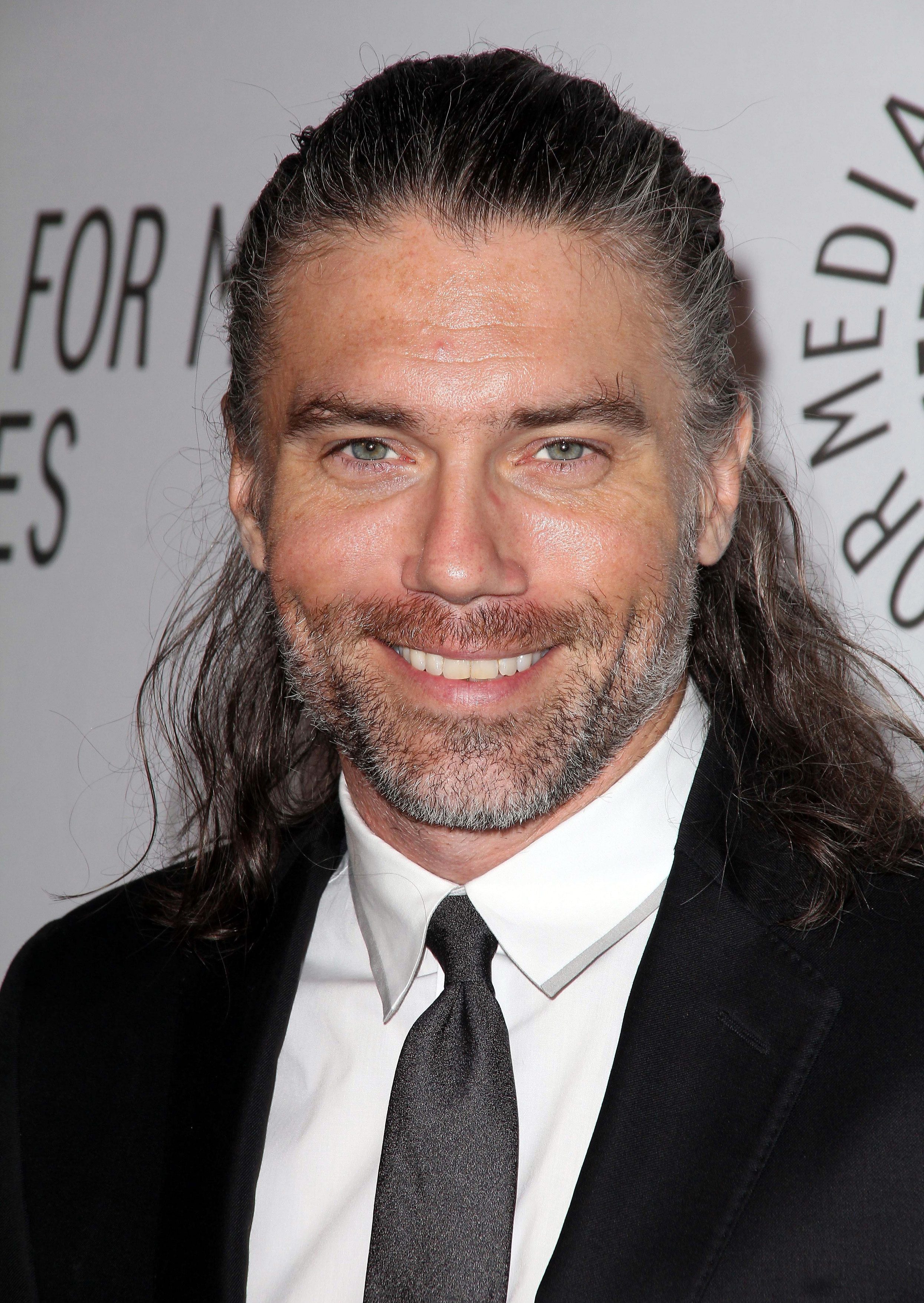 Great Hairstyle For A Macho
Don't you get the Game of Thrones vibe? We certainly do! Such a hairstyle in a gorgeous dark gray colour looks just fine and would match a brave, sturdy man like Jason Momoa or Anson Mount. Those guys both know well how to steal women's hearts.
22 / 45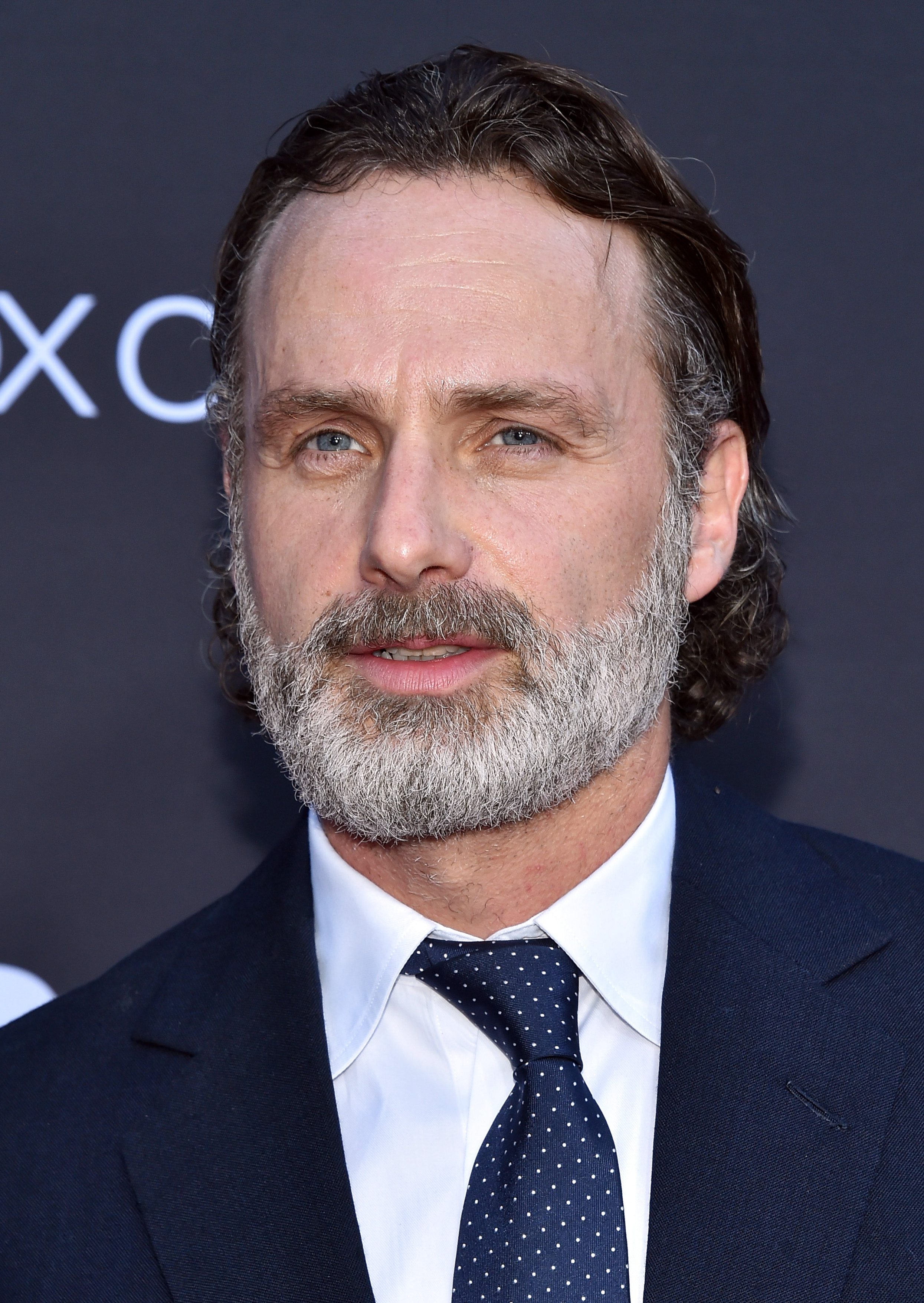 Andrew Lincoln's Stylish Salt & Pepper Beard
Not only can the salt and pepper hair look stylish, but a beard of the same colour can also change a lot in your style. In Andrew's case, he has slightly gray sides that gradually blend into the precisely framed beard of light and dark gray shades. Moreover, his eyebrows are the same salt and pepper colour, significantly highlighting his eyes.
23 / 45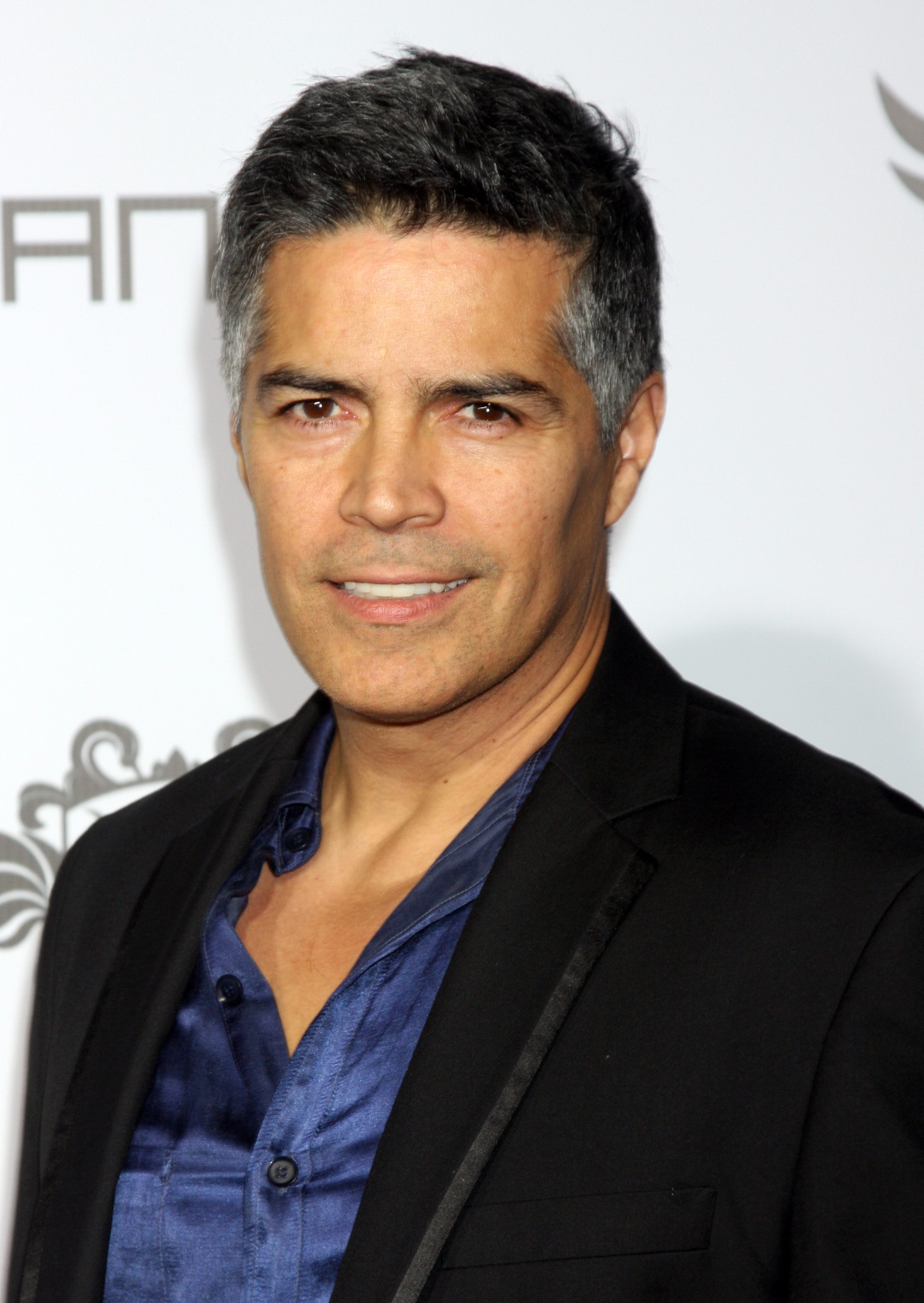 Esai Morales Black And Silver Hair
It looks like Esai Morales knows how to age in style. His dark bushy eyebrows and clean-shaven face look fantastic, along with the darker hair on top and slightly silver parts on the sides. With the atlas blue shirt and dark blazer, he impressed everyone.
24 / 45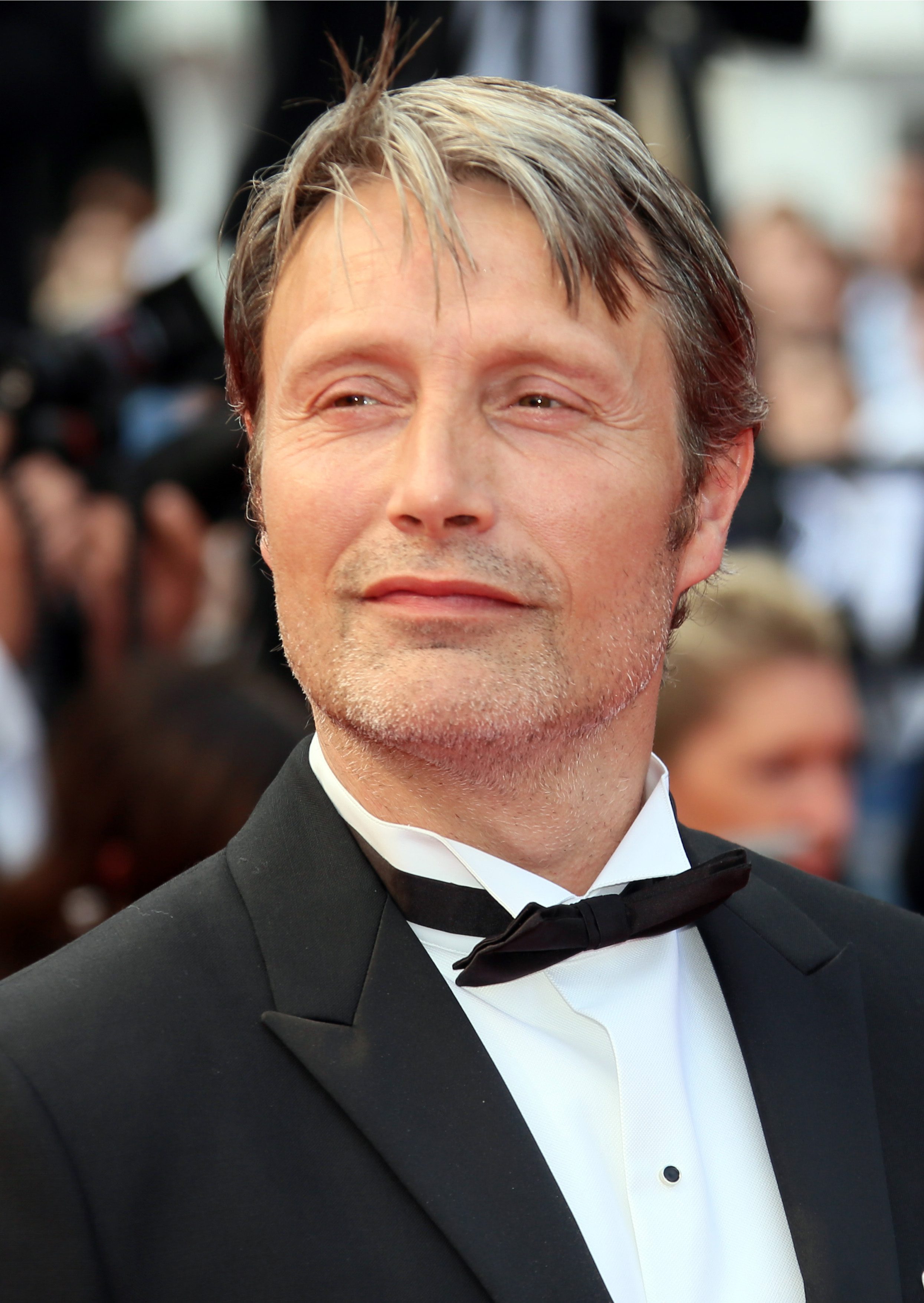 Highlights Done In Salt And Pepper Colour
Mads demonstrates to us a great example of how fake silver hair can gorgeously complement a gentleman like him. His natural hair doesn't have any yellowish pigment, so it was relatively easy to get the highlights done in such a light, cold colour.
25 / 45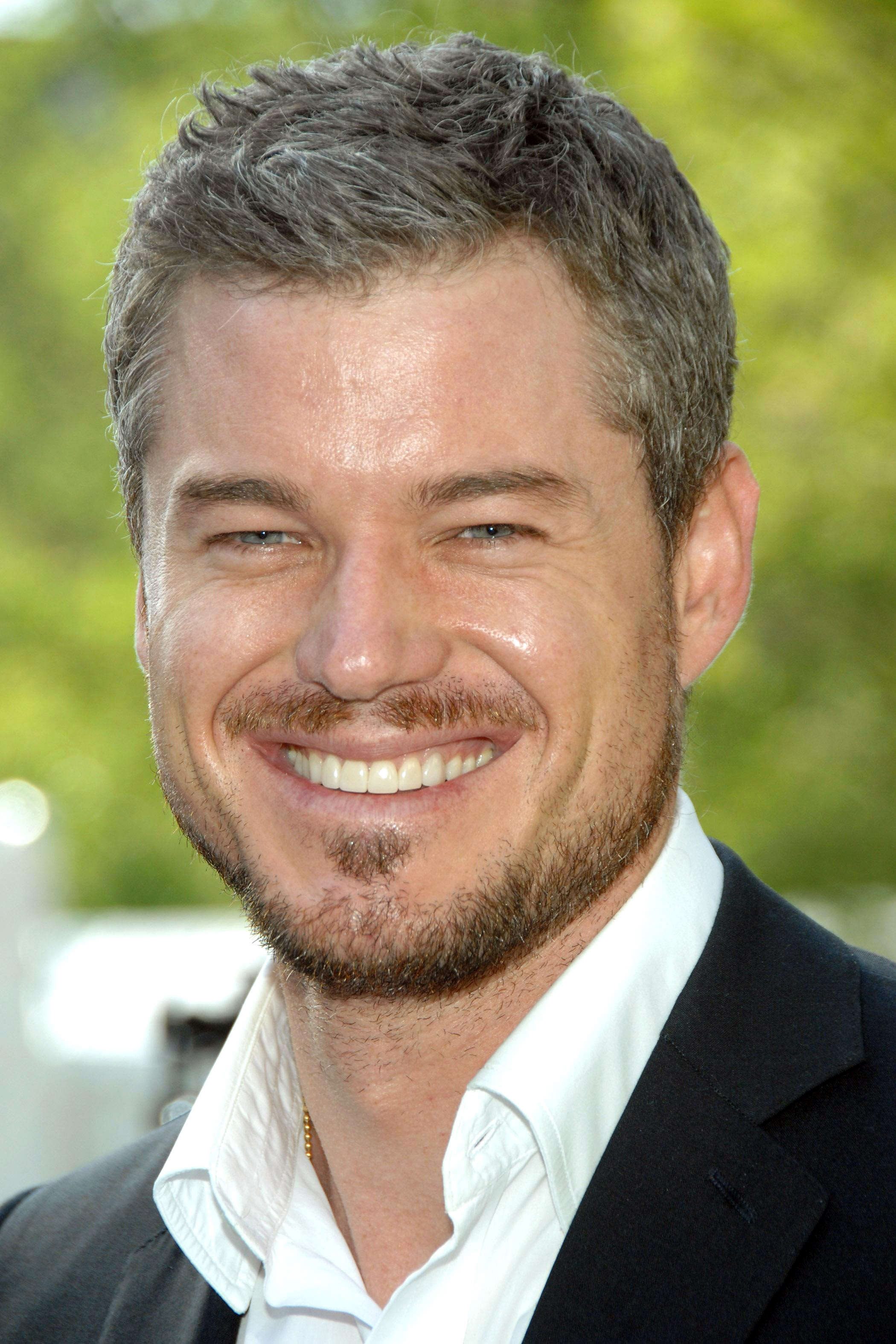 A laid-back, casual cut
Eric Danes's hair here is the epitome of carefree. It's neat but just a little messy, which makes this haircut versatile. It's ideal for hanging out, and it won't look out of place in a professional setting, either. If you find some hairstyles for men with grey hair to be too boring or too extreme, try this out.
Ask your barber for 1.5 to 2 inches on top of the head. The sides and back should be trimmed with scissors and not clipped. This cut doesn't need much styling––in fact, you can get away with some good combing work. But if you want to style it, a bit of gel or wax will hold the hair in place, allowing your locks to withstand the elements.
26 / 45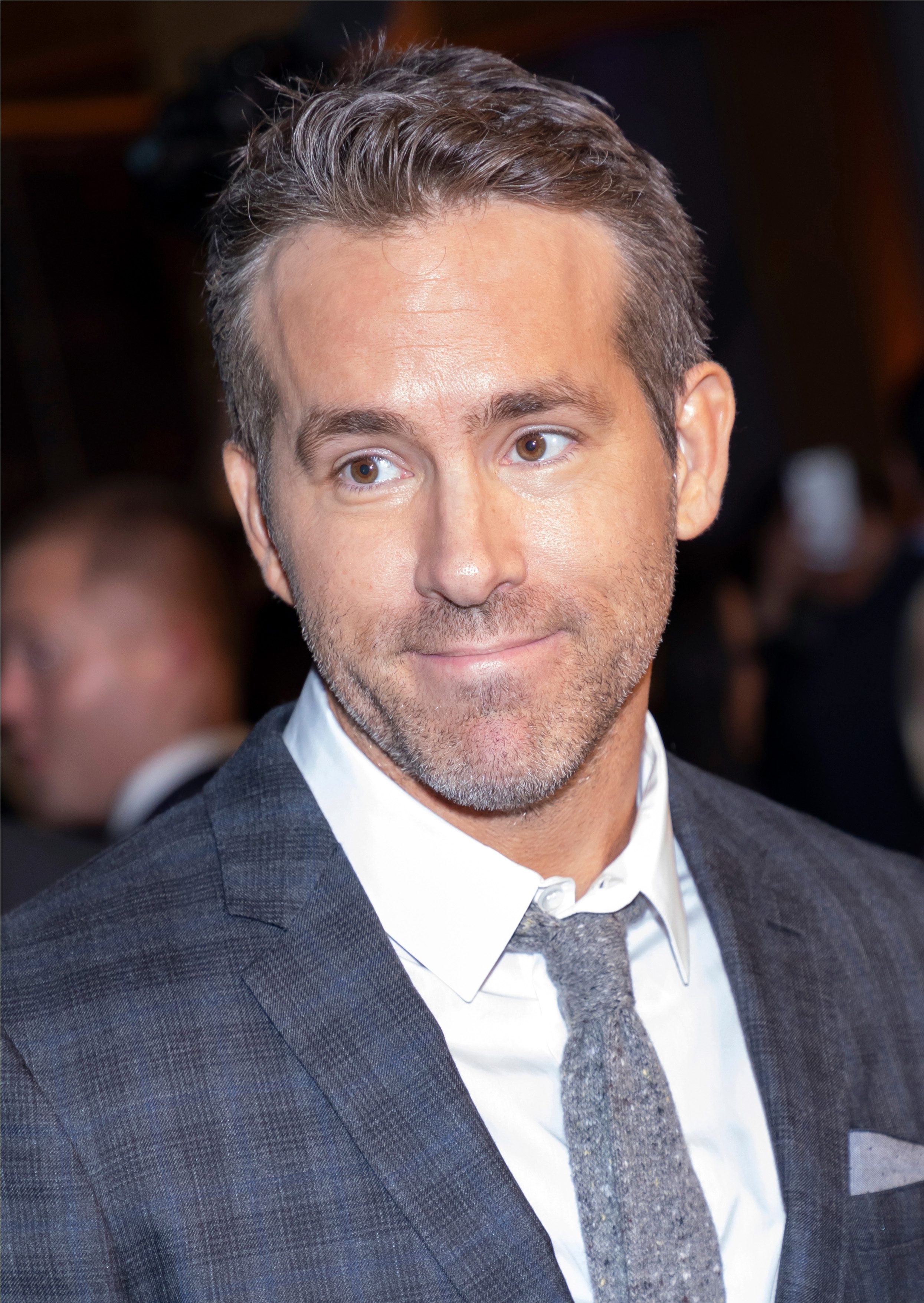 Charming Hair Of Ryan Reynolds
Undoubtedly, Ryan Reynolds has a lot of natural charm. But we are sure it would not be that effective in winning the women's hearts without his exceptional dressing style and perfectly trimmed hair. And, of course, he has hair of salt and pepper colour as well. So should gray hair stop you from conquering this world?
27 / 45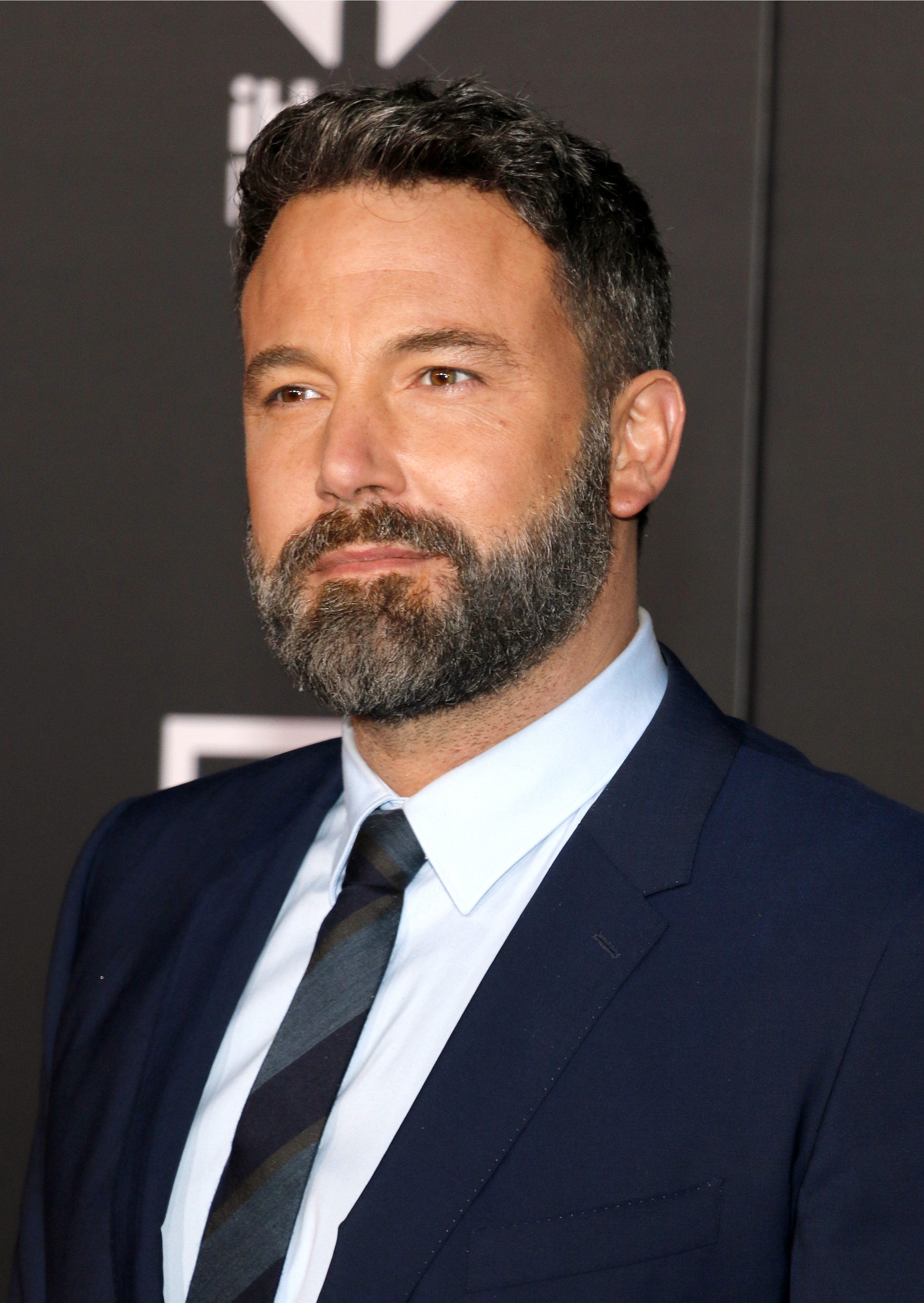 Ben Affleck's Salt And Pepper Hair
Freshly trimmed sides with slightly volumized front hair and clearly framed beard – that's the look of a real Hollywood star! Ben definitely is one of the most attractive male actors we know today, and the salt and pepper hair only adds some charisma to him.
28 / 45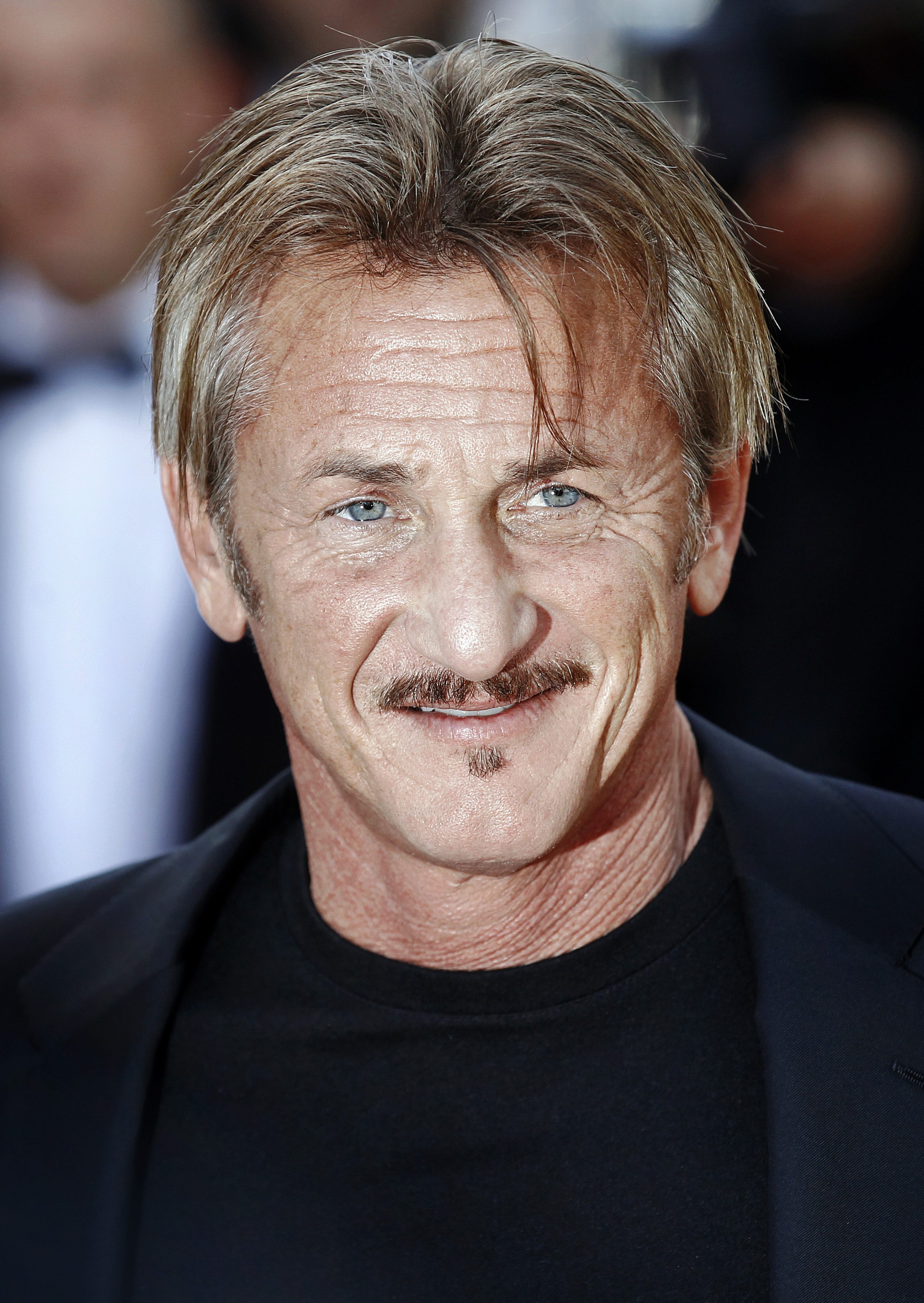 Salt and Pepper Hair With Golden Tone
Evenly parted hair, clear sideburns and carefully framed moustache – what an excellent choice for a red carpet look! Sean Penn is lucky to have that rare combination of the salt and pepper colours along with the golden or gingery undertones.
29 / 45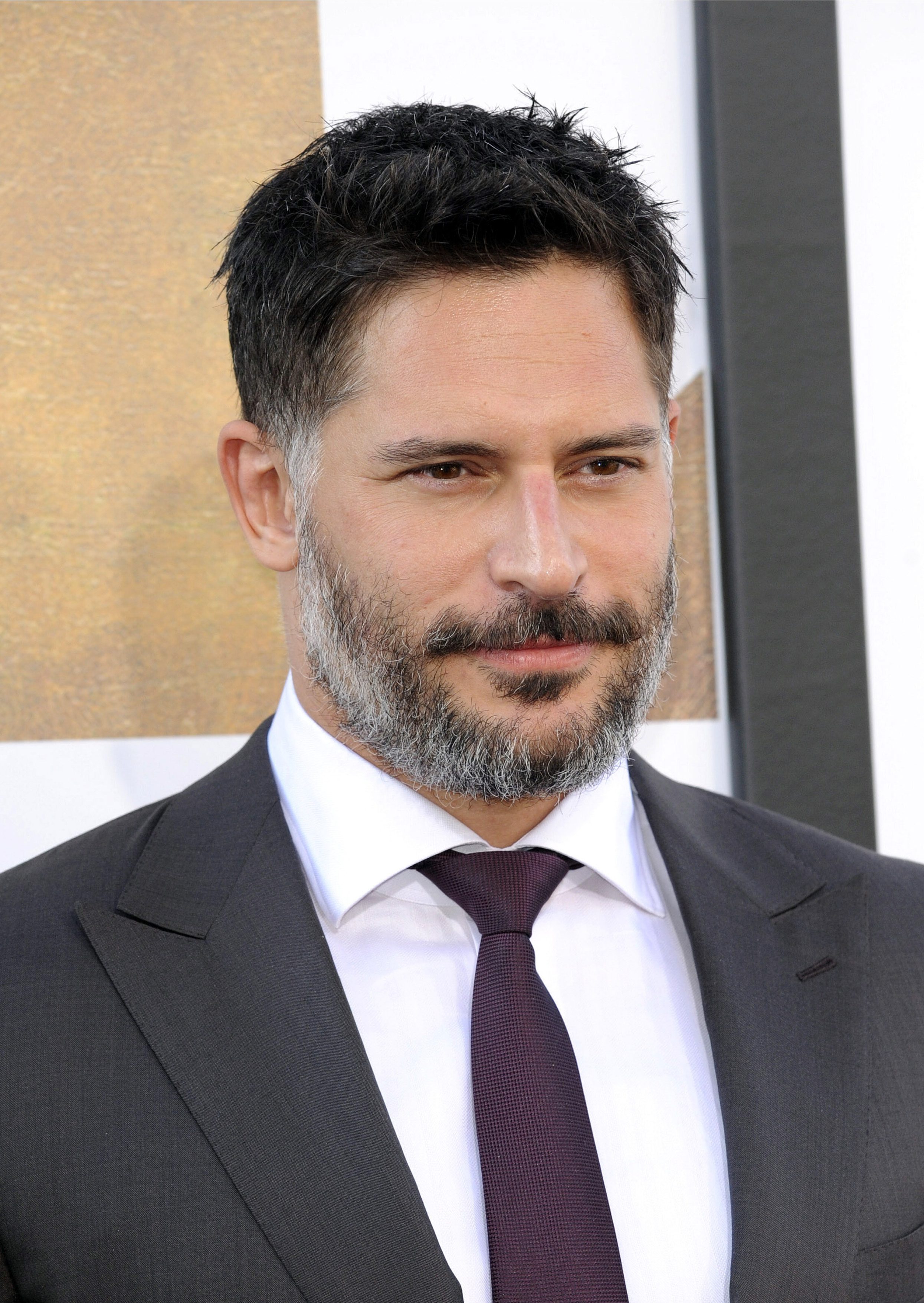 Joe Manganiello's Unique Hair Colour Combo
What a stylish combination of darker hair and light gray, almost white beard! Joe certainly has a rare gray hair look. Whether it was done purposefully by a hair colorist or grown naturally – it still looks impressive.
30 / 45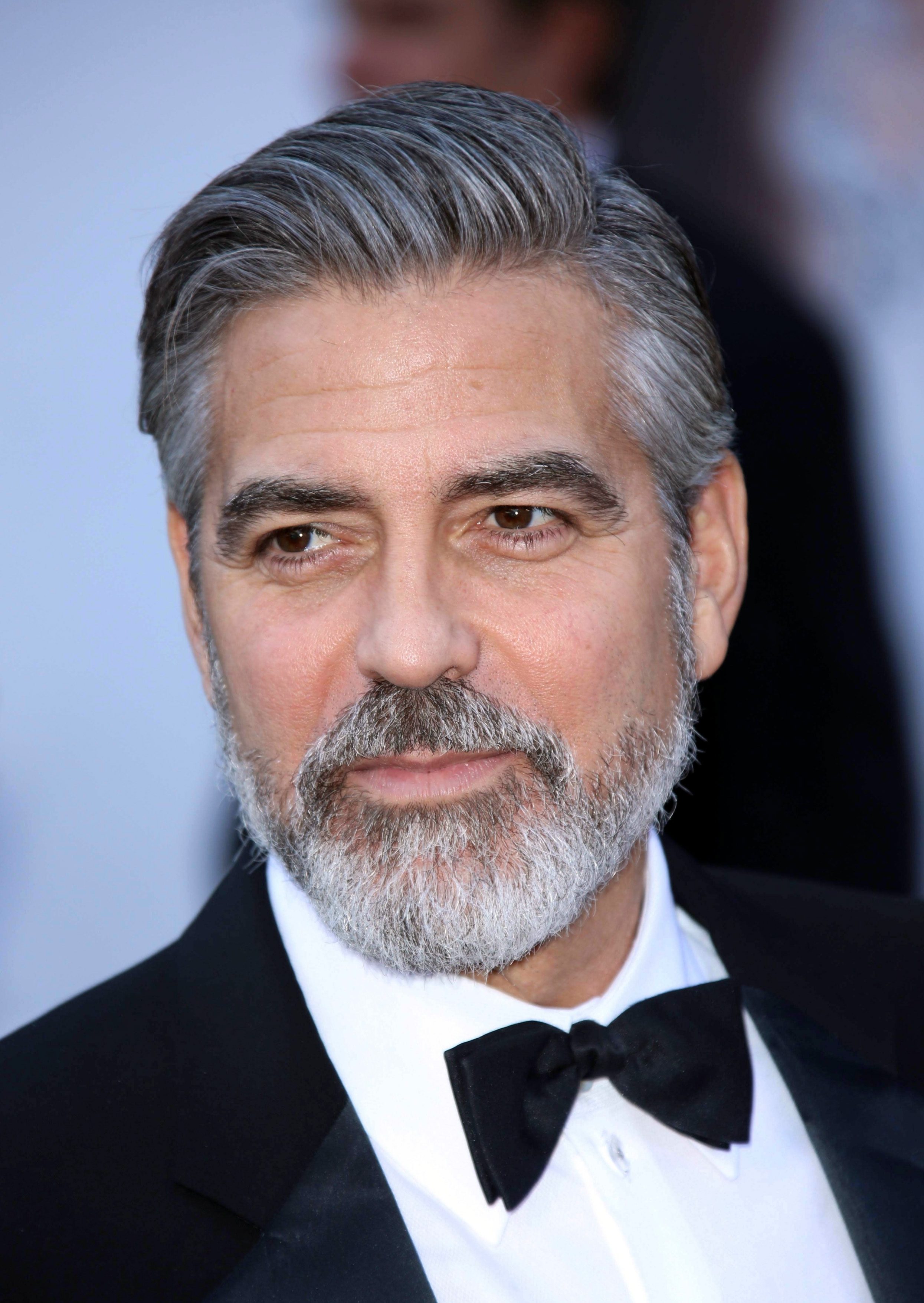 Old-Fashioned Haircut For Silver Hair
What could look more elegant than this hairstyle? Not sure, because that is the true classic gentlemen's cut in front of you: a clean side part with a precisely styled wave in the front and a beautifully trimmed beard. Couldn't be more attractive, right?
31 / 45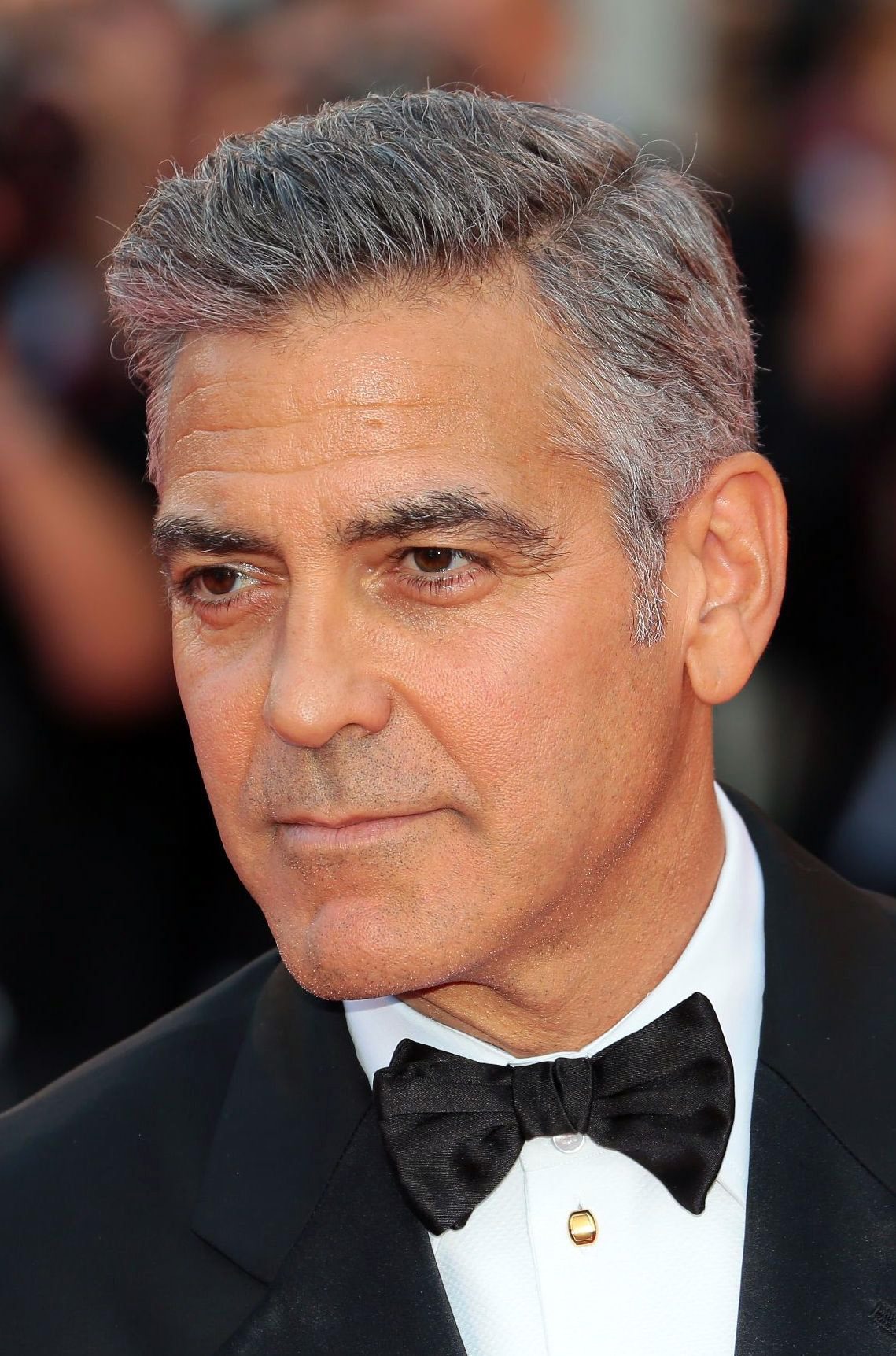 George Clooney's Short Side Part
George Clooney's no stranger to looking good, and as we can all see he doesn't shy away from grey either. Crafting this more distinguished look and adding it to his impeccable repertoire of style, George achieves this by taking the classic "short on the sides, longer on top" haircut and sweeping the top over towards the right side.
None of us is perfectly symmetrical, and that's the true beauty of this style; George can use the sweep of his hair to accent the side of his face which he deems to be his "good" side and so can you.
32 / 45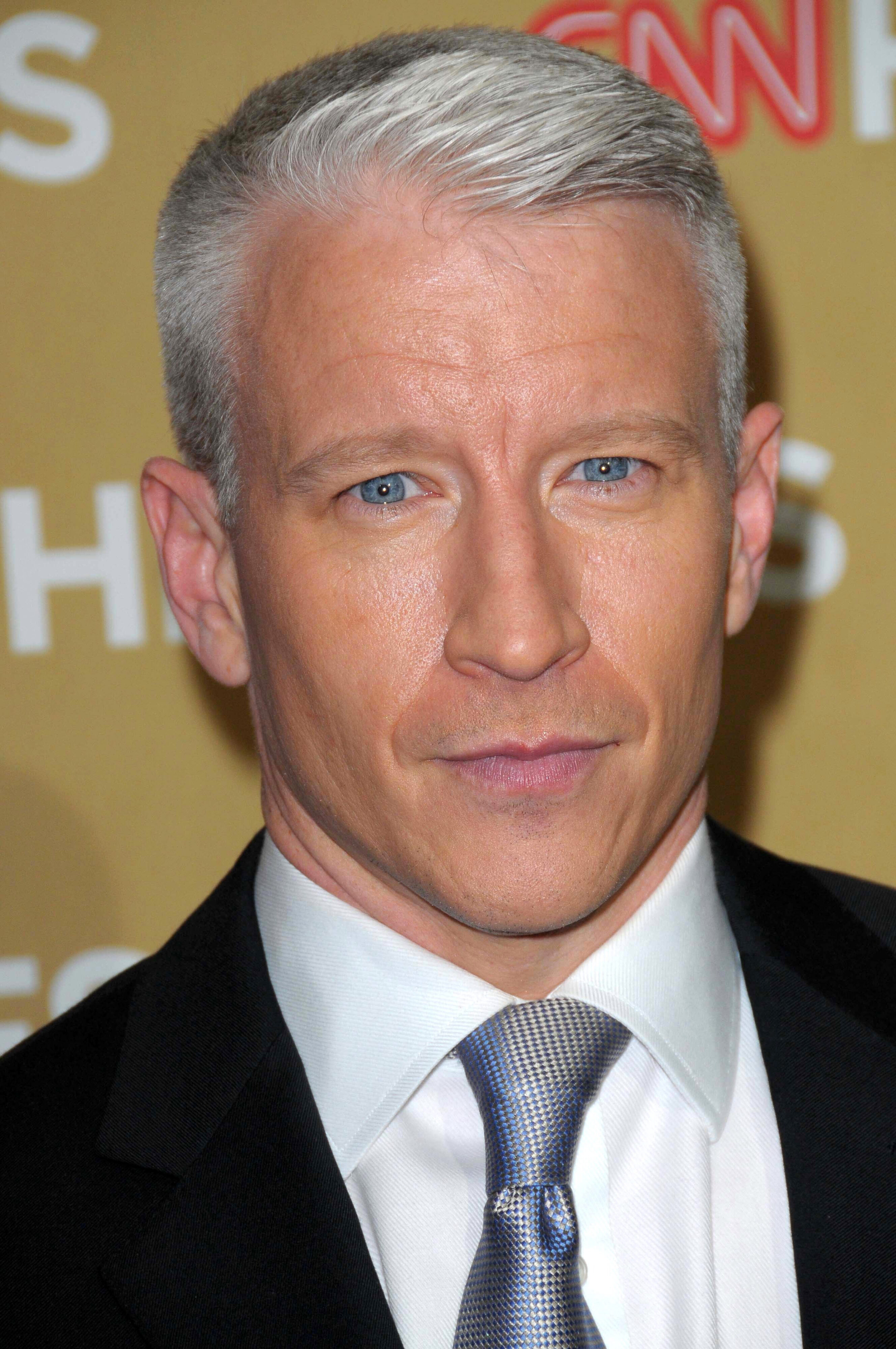 Minimalistic Cut For Gray Hair
For those of you who like to keep everything in a minimalistic style, the moderately short military cut in combination with light gray hair colour will look just as neat as you need it to look. Another essential advantage of such a style is that it will look appropriate for any dress code or occasion.
33 / 45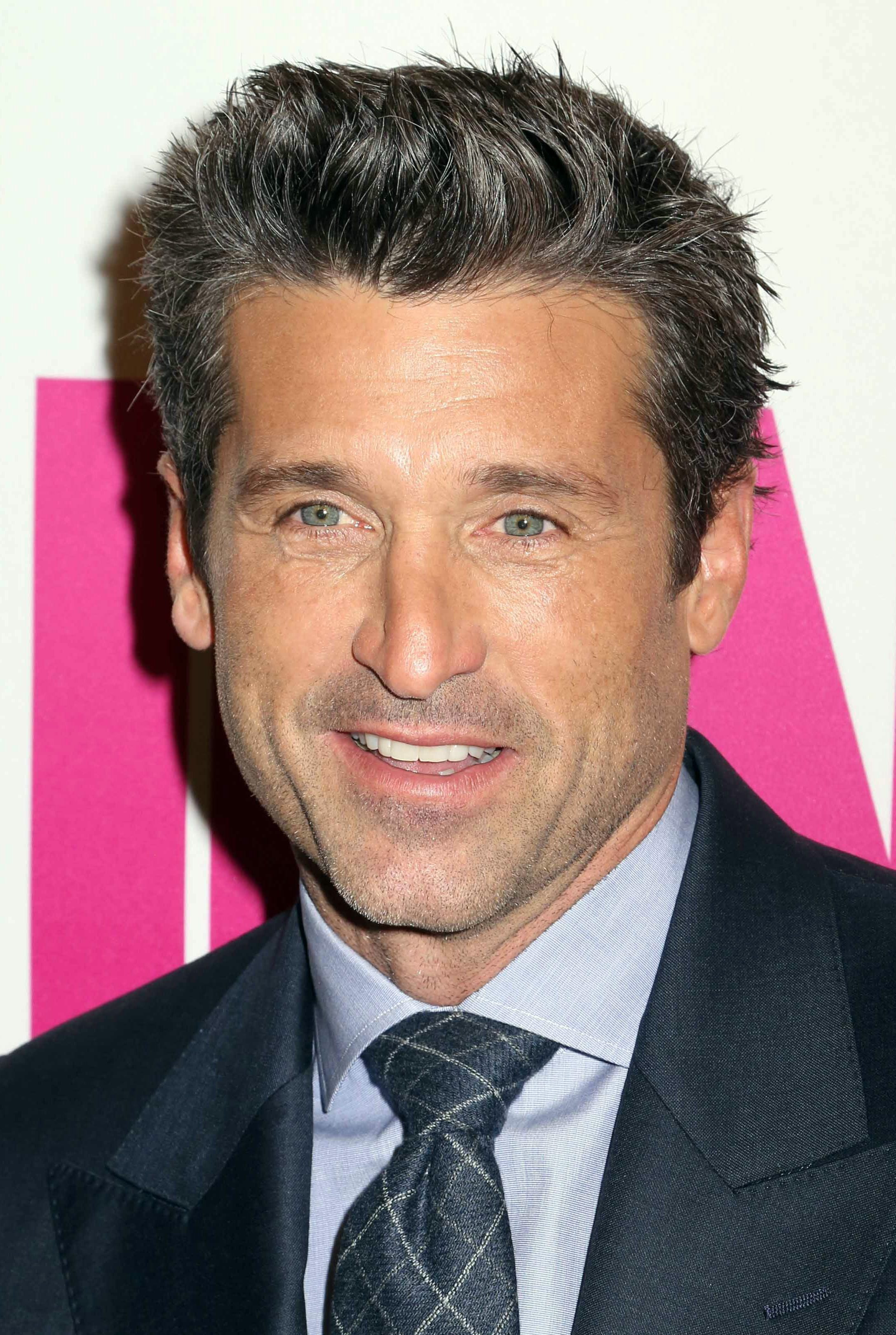 Patrick Dempsey's Classic Brush Up
It's easy to have grey hair and still sport a trendy style. This brush up look adds slight weight to the hair and makes a dramatic statement. Still, it's a tidy look that communicated sophistication. As this is a longer style, you'll want to ask your barber for about 3 inches in front. The hair on top can be slightly shorter, but you want the hair in front to be the longest, as you'll be brushing it upward. The sides and back should be trimmed with scissors to achieve a unified appearance.
You'll want a medium-hold pomade or gel for this look. Apply the product to towel-dried, damp hair. Style the hair upward with your fingers as you apply the product. Next, take a hairdryer at medium heat and point it at your bangs. Use your fingers or a comb/brush to style the hair upward as you blow dry it into place.
34 / 45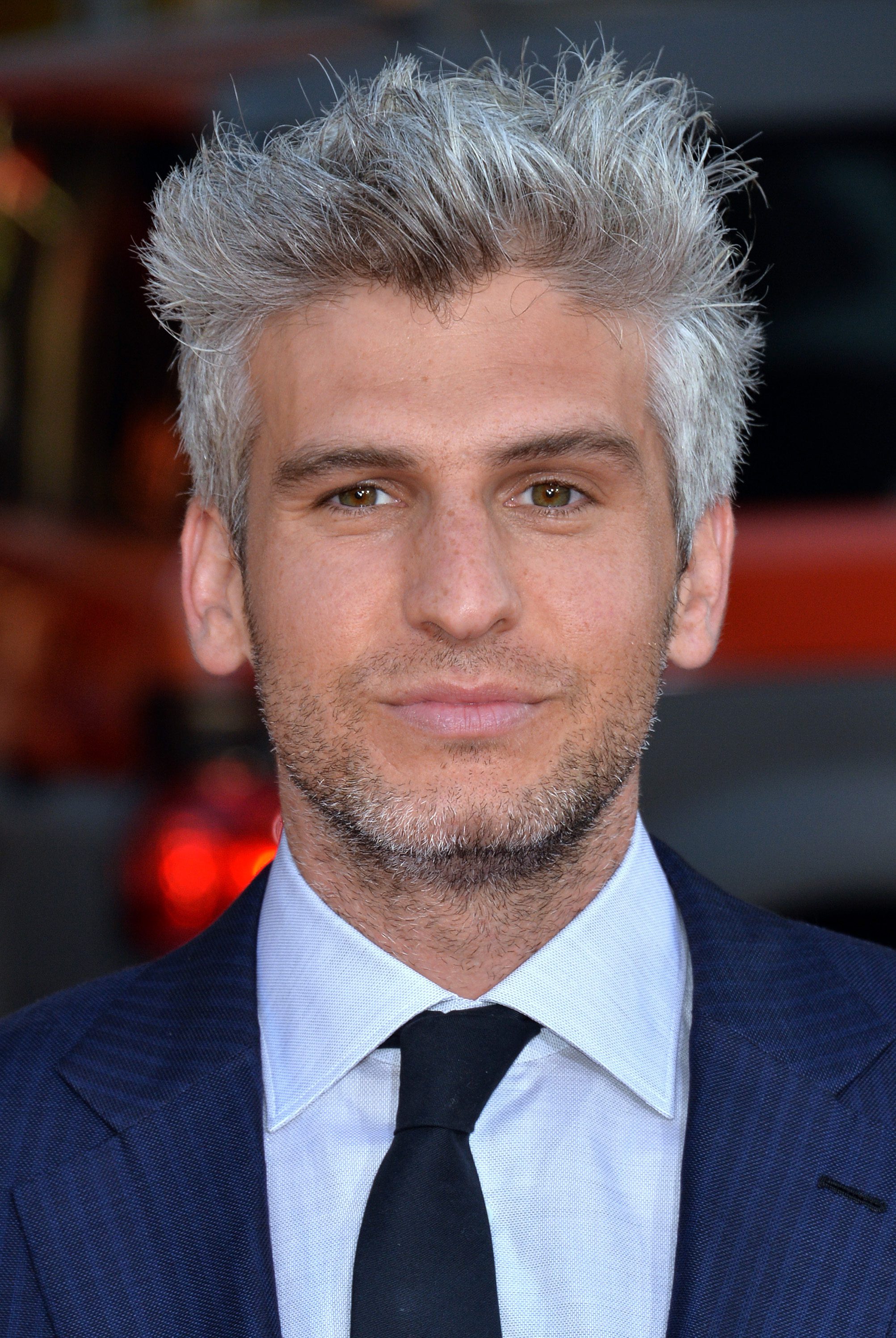 Max Joseph's Blowout
If the previous hairstyle was meant for a science teacher passionate about teaching. It takes you back to your high school chemistry days at first glance, and says "look at me, I'm about to tell you something that's going to change your perspective about the universe"
35 / 45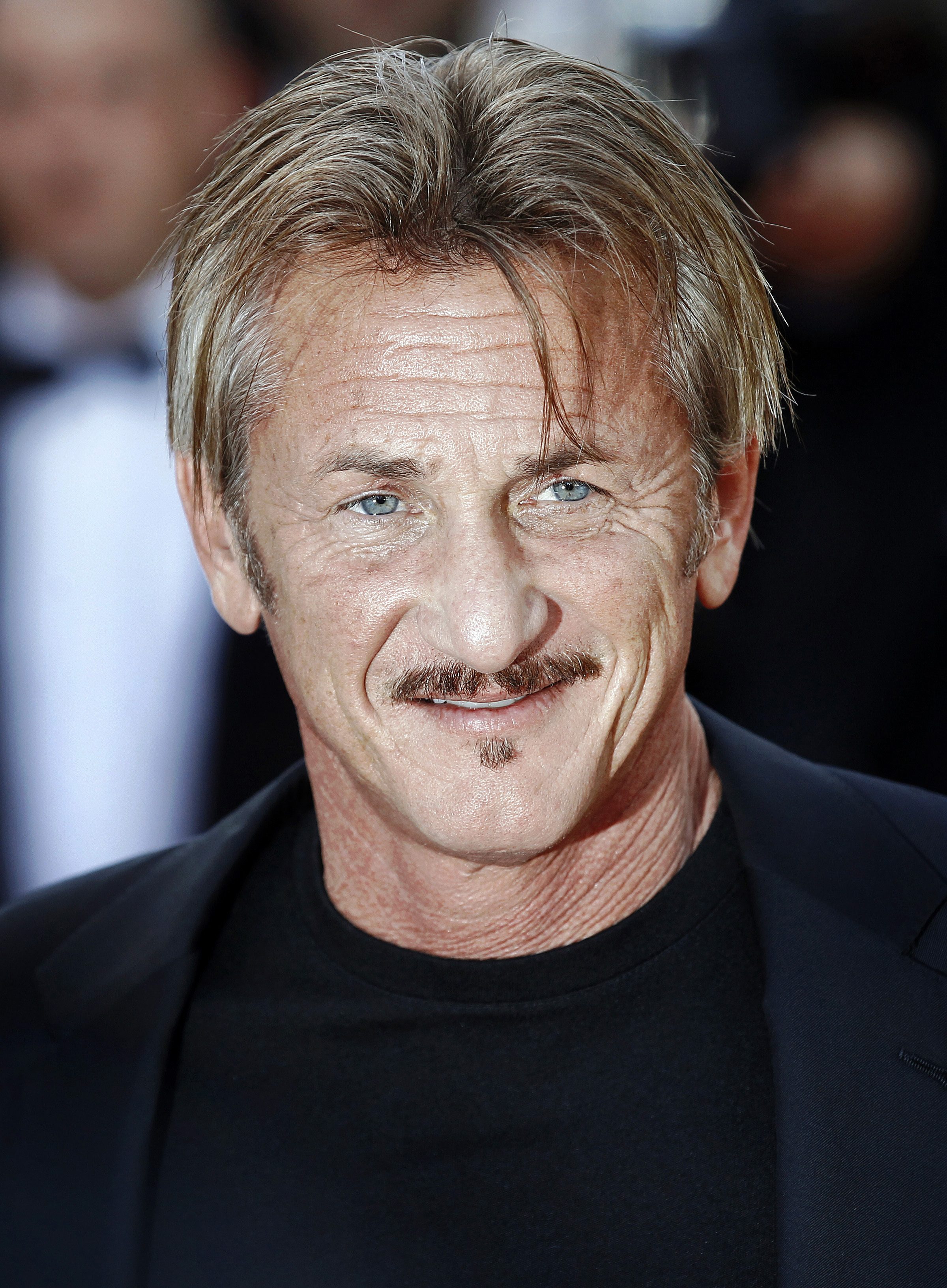 An angular fringe adds a lot of movement to this trendy style
If you prefer messier, more casual styles, this is an ideal choice for you. This angular fringe creates flow in the haircut. The rest of the hair is relatively tidy, so the bangs change things up a bit.
To get the messy fringe, you'll want your bangs to be about 1 to 2 inches. The hair on top should be a little shorter than the bangs. The sides and back should be trimmed with scissors and blended into the top.
First, you'll want to style the hair on top. Work your product of choice into damp hair. Next, comb it backward, almost like a slicked back cut. When you're done, use a comb or your fingers to tease your fringe into a messy look as shown here. You'll be disrupting your neat look and making it come undone at the fringe.
36 / 45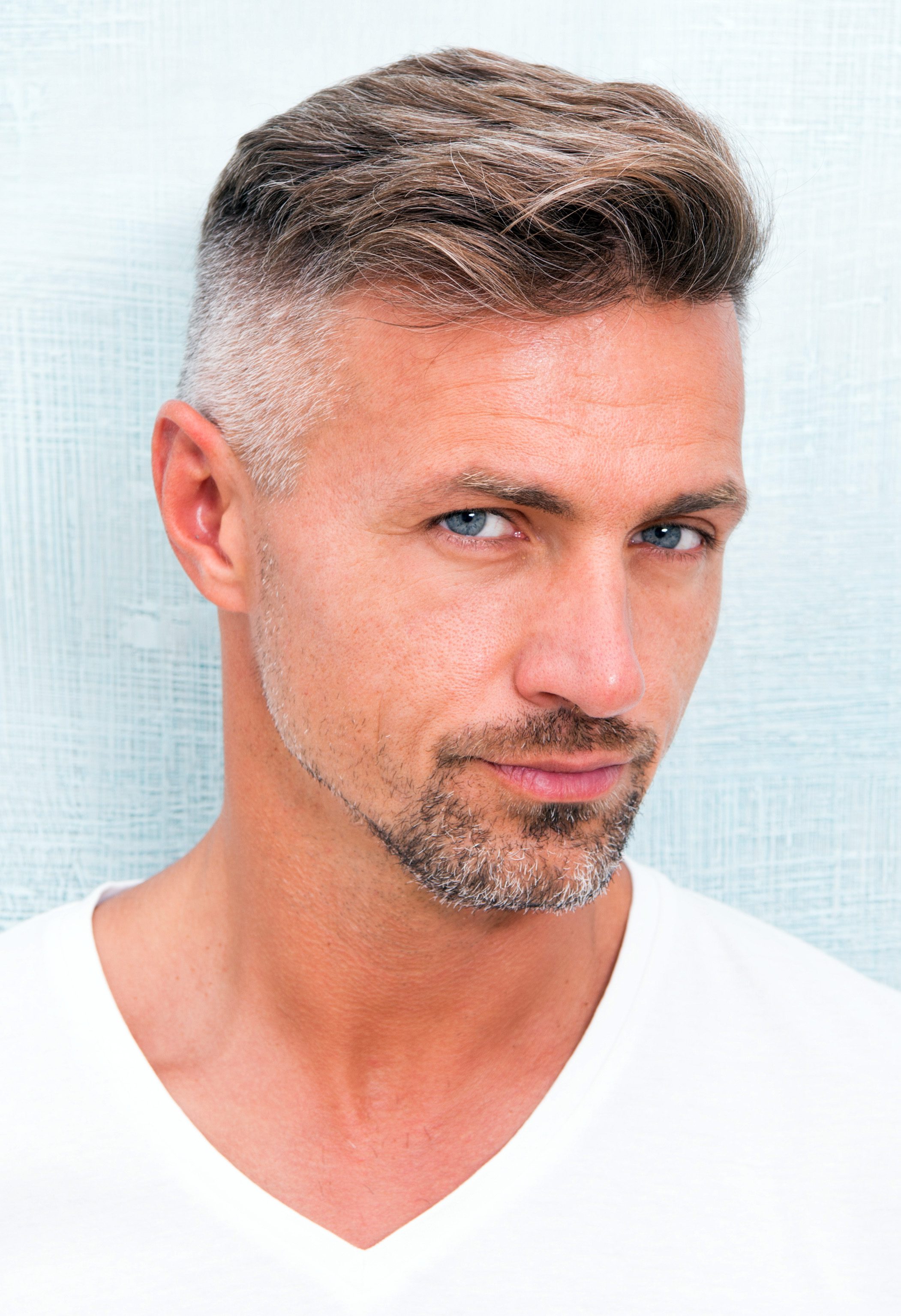 Classic Taper and Brush Up
Like we've seen in various previous photos, this is another example where the addition of grey hair is used to add more variety and "color" to the rest of the hair. The dark tones feel more true and rich, much like someone with dirty blonde hair. Grey hair, which should be a sign of aging, actually has the opposite effect in this photo and makes the subject look more invigorated and youthful.
37 / 45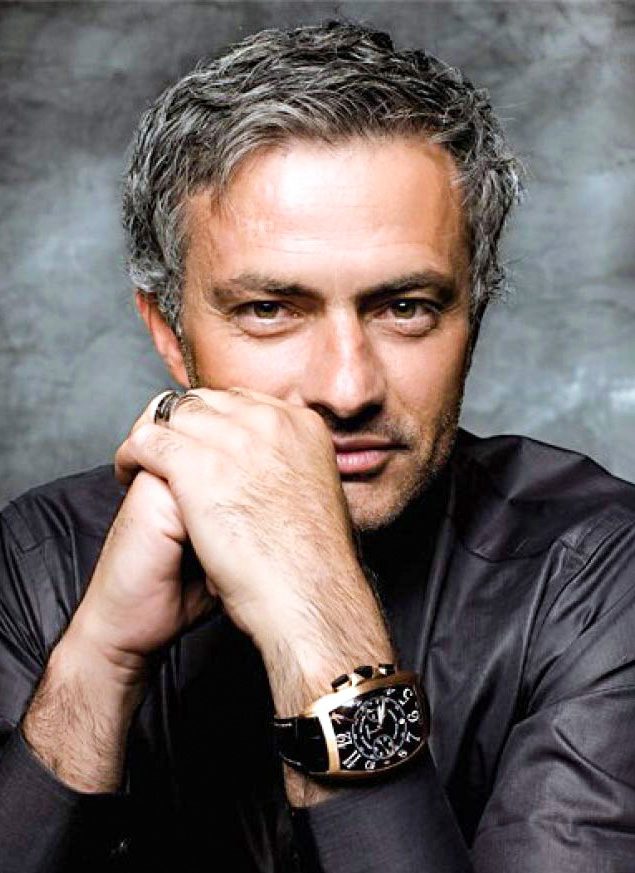 Textured Waves add direction and flow to this style
This hairstyle is a great example of what volume and texture can do for grey hair. The waves are accentuated with the help of some good product, and the result is a full-bodied appearance. If you have wavy or straight hair that has trouble behaving, this is a great choice for you.
For this style, you'll want 1 to 1.5 inches on top of the head. The hair in the front should be a little longer, about 1.5 to 2 inches. In this shot, the sides have been trimmed with scissors, not clipped. For maximum texture, you can ask your barber to use a clipper-over comb on the sides and back.
Apply product into towel-dried, damp hair. The trick to getting this style is to tease the hair. Once the product is applied, comb the product through the hair, combing to one side of your choice. Next, use your fingertips to tousle the hair at different points, creating a chaotic yet controlled look here. Getting the style just right might take a few tries, so experiment and see what works for you.
38 / 45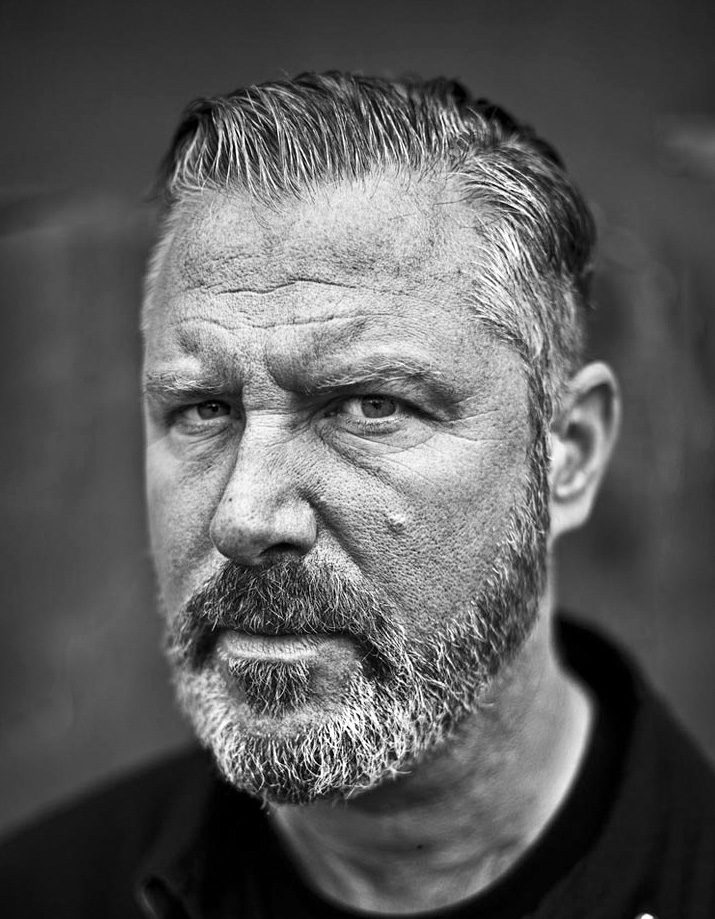 A neat side-swept look that keeps it simple
This utilitarian haircut is great for grey-haired fellows who want a no-fuss style. The hair is styled but short, creating a clean appearance all around.
Ask your barber for 1 to 1.5 inches in front. The length on top should taper slightly as it goes back toward the crown. The sides and back should be trimmed with scissors to match the texture and weight of the hair on top.
If you like, you can opt to not style this haircut at all. If you do want to style it, working in a little gel will give it a firmer presence.
39 / 45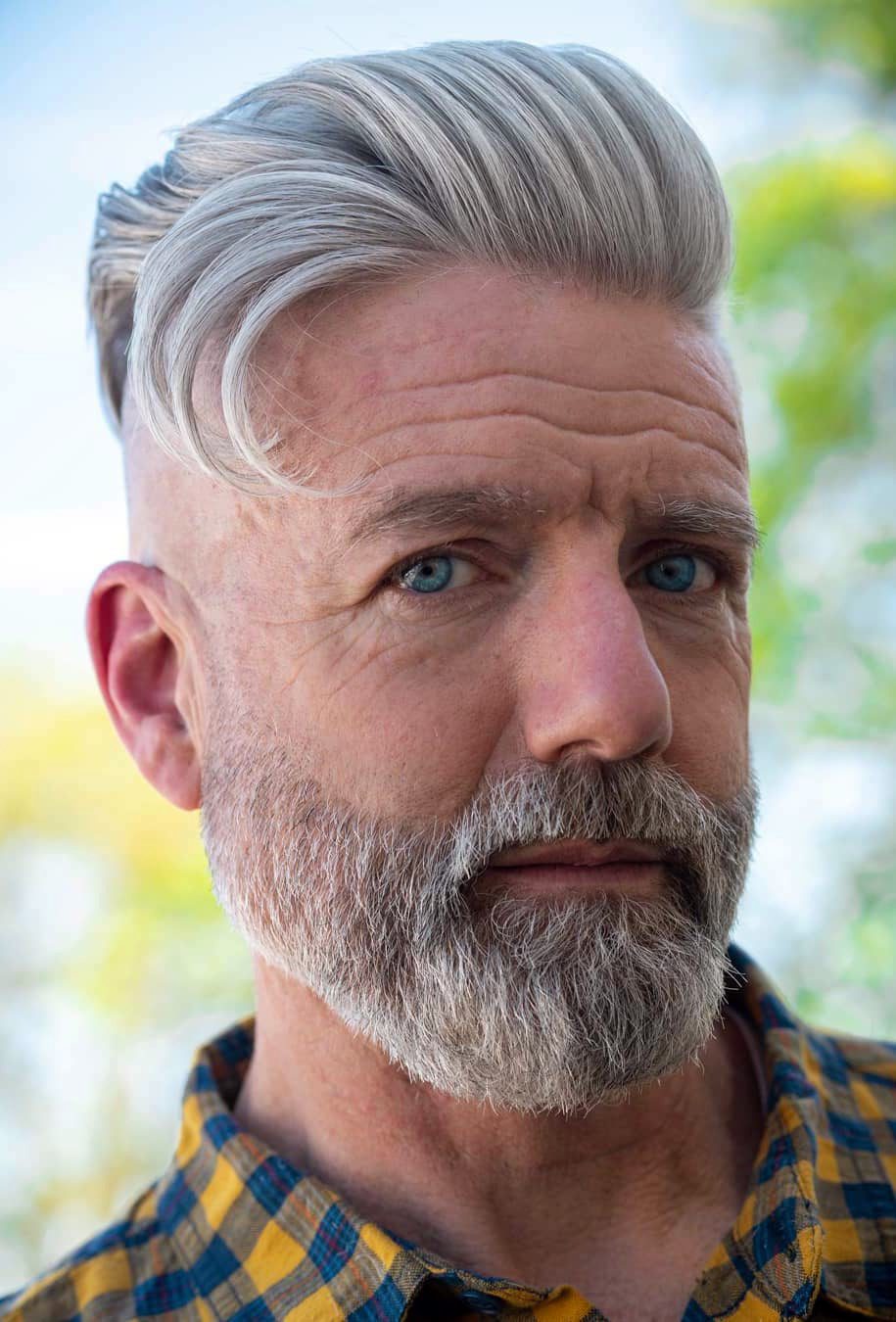 Thin Hair Slicked Back with Undercut
The disconnected undercut is highlighted by monumental differences in length between the top and the sides. It's used to draw focus towards the top while also keeping you cooler during the summer months, both literally and figuratively.
40 / 45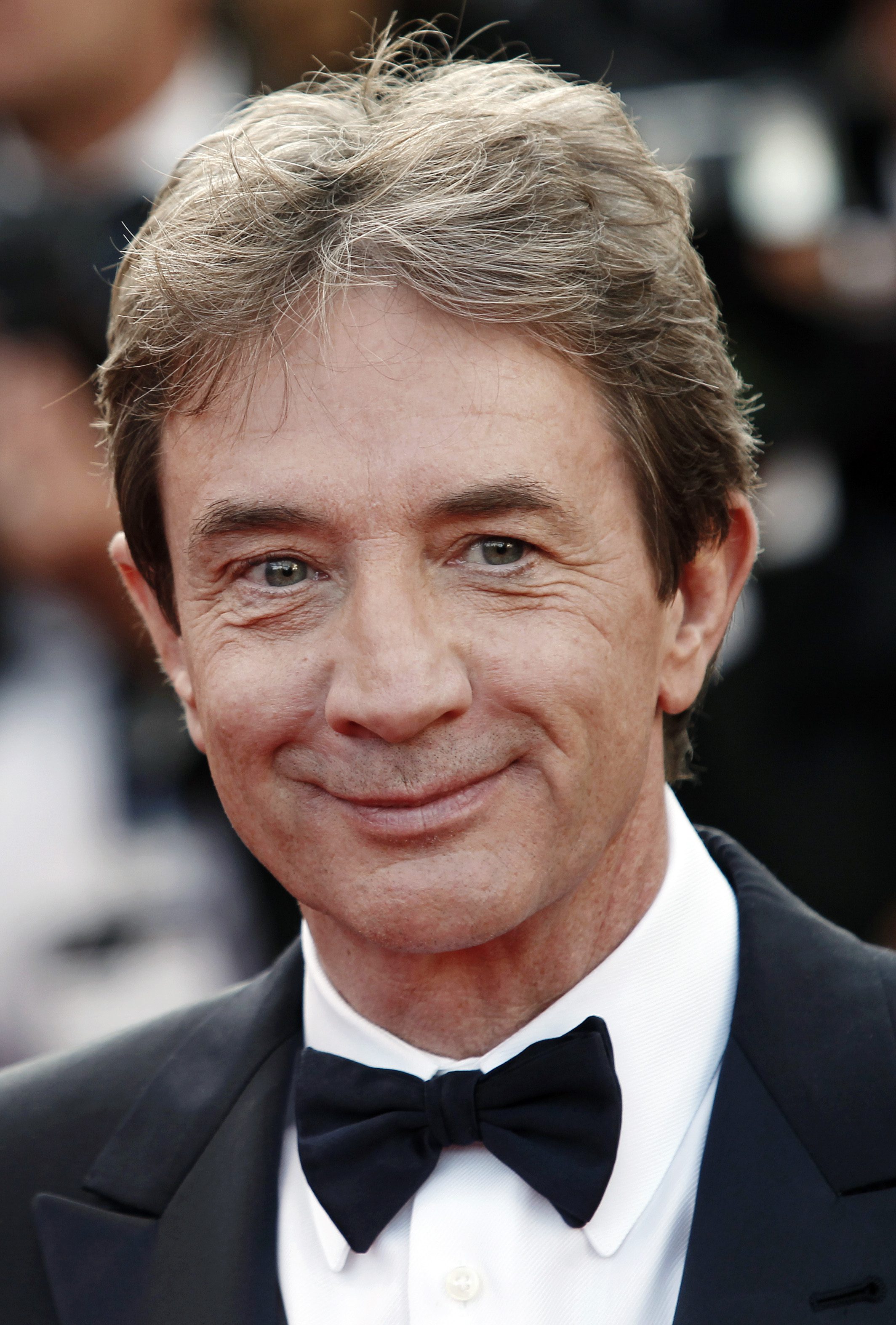 Martin Short's Layered Short Crop
Martin's style is sure to work for you if you've got medium to short length hair, and a lot of it. The different layers give the appearance of more volume and length, using your hair's natural thickness combined with artistically (and painstakingly) varying the lengths of hair at each individual layer. The result is a look that takes real skill to pull off, so be sure to tip your barber for this one.
41 / 45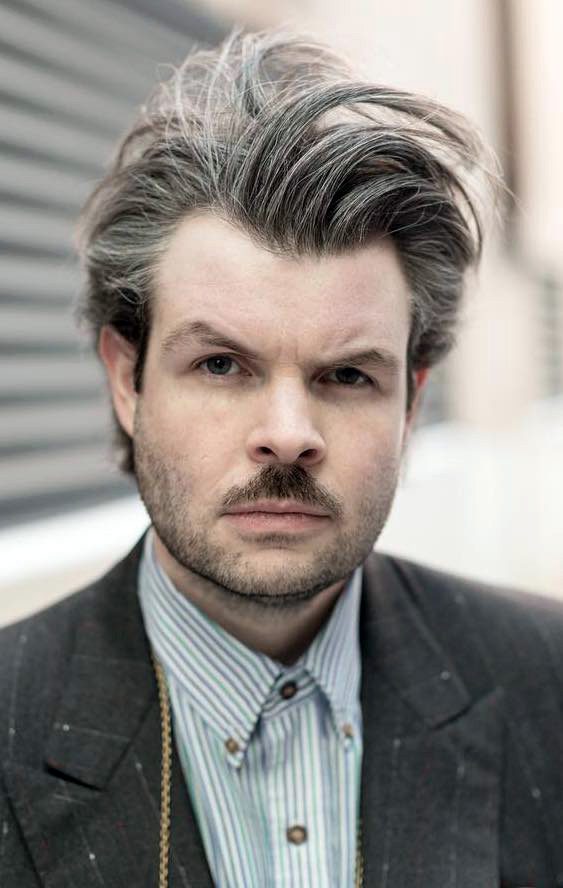 Low Key Moustache
Grey and brown go together like peanut butter and chocolate, and this next style shows how to wear it well. The top is longer, and a bit messy while the beard and mustaches have been neatly trimmed, giving it that "University Professor" look. Will this be on the test?
42 / 45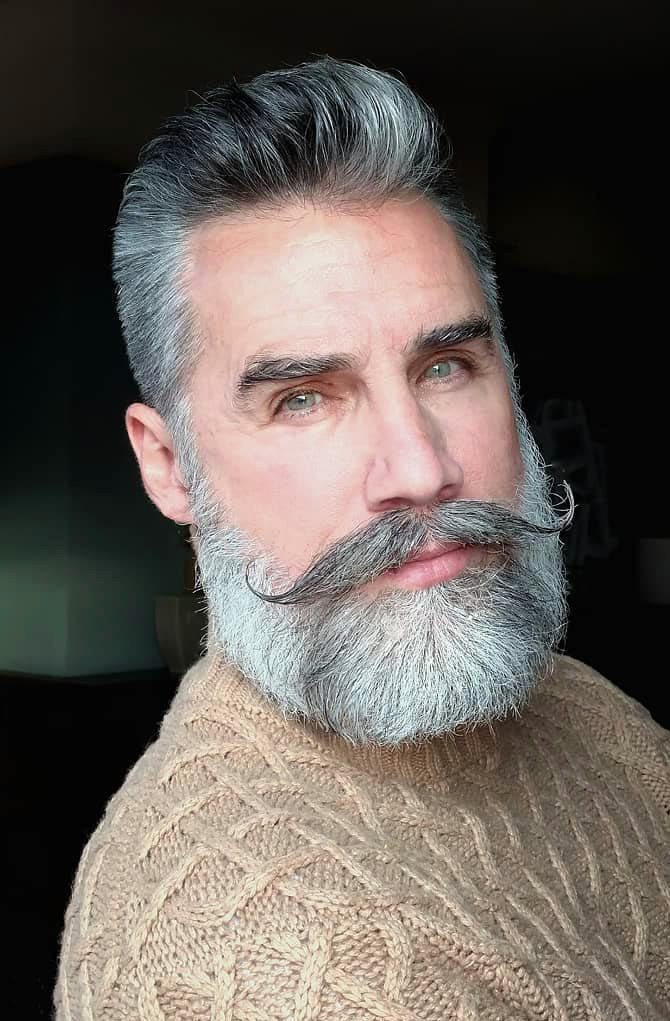 Brushed Back with Handle Mustache
There's something about handle mustaches that just says, extremely manly! If you're into taking good care of your beard, you might want to give this style a try. The hair, casually brushed back brings attention to the key feature of the style, the handle-bar mustache. It looks sophisticated, it looks neat. Give this elegant look a go!
43 / 45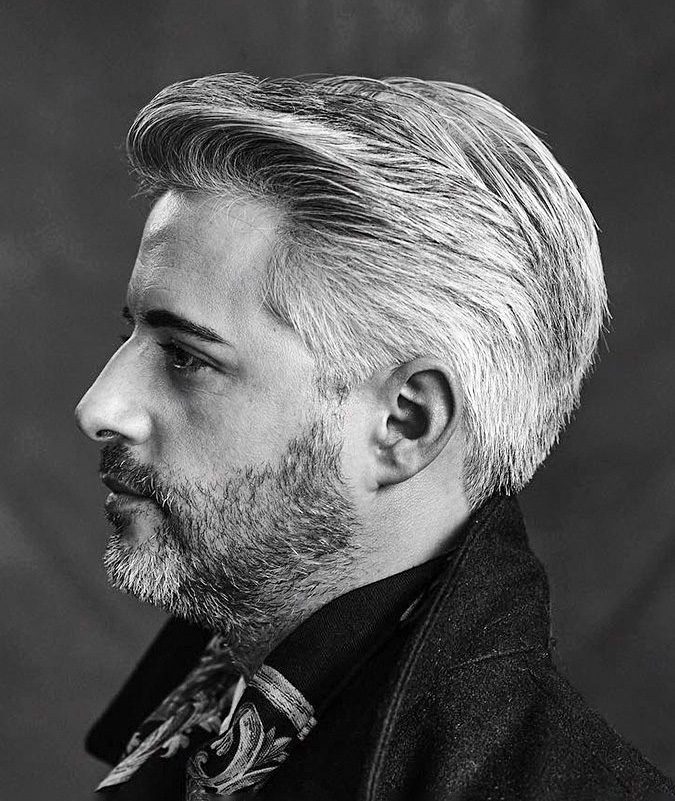 This smooth style is great for standing out and getting extra fashion points
This hairstyle's swooping swept back look is another style that adds lots of movement to the hair. As a longer style, this is a good choice for showing off your grey hair.
Ask your barber for 2 to 3 inches of hair on top. Your fringe will be cut the same. The sides and back should be trimmed with scissors, not clipped. They'll be a bit shorter, about an inch or less in length.
You'll need a high-quality pomade for this style. Work the pomade into damp hair. Then, comb the hair back, gently patting it down with your hand. For the front swoop, a blow dryer will come in handy. Comb the hair into the wave-like shape while aiming the blow dryer at it from the front to fix it into place. Essentially, you'll blow dry your hair in the direction you want the swoop to go.
44 / 45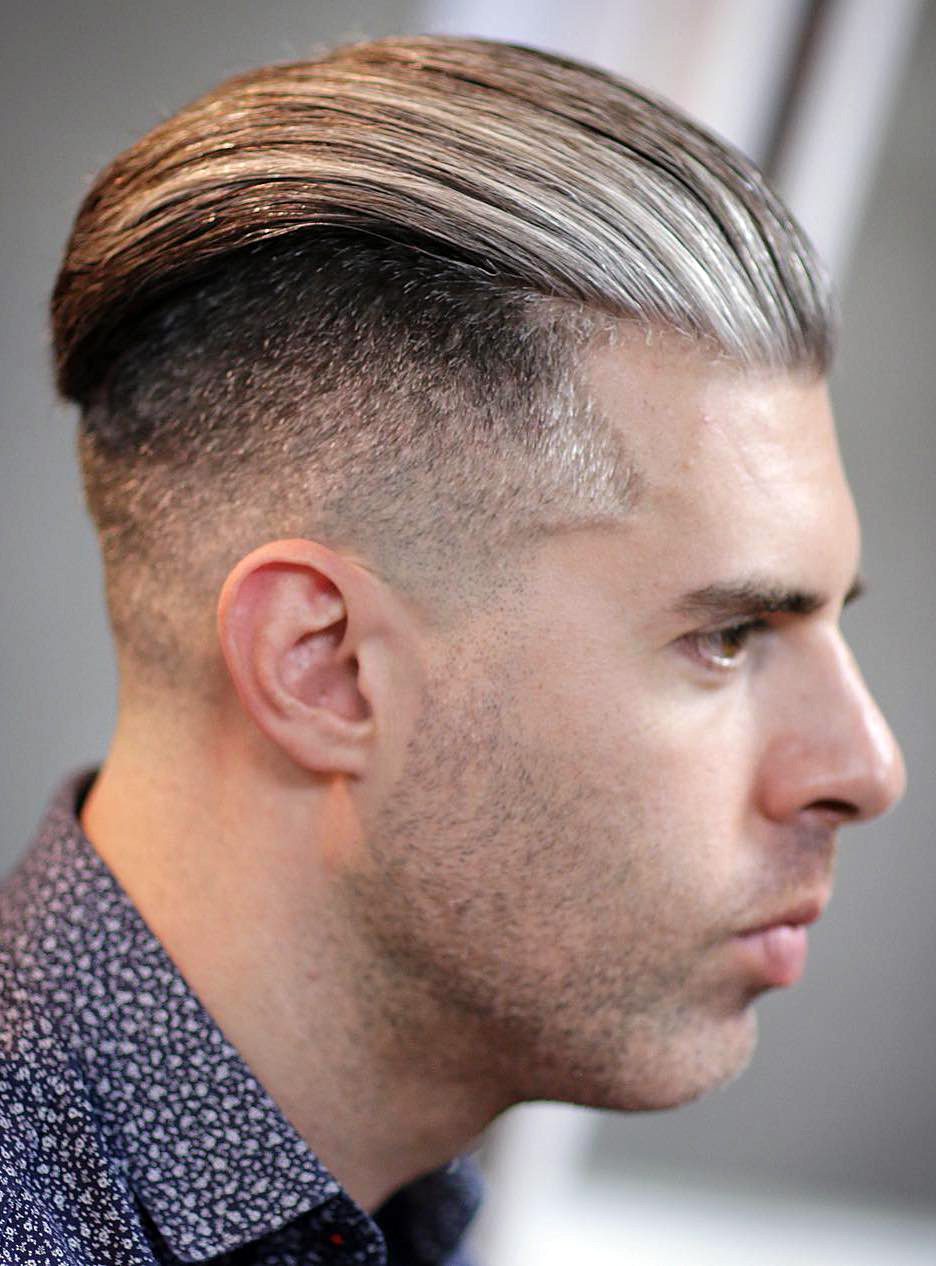 Slicked Back Undercut
They say the mullet is business in the front, party in the back. This next style, however, is all business. If your idols are Bugsy Siegel and John Dillinger then look no further, this haircut was made for you. Short on the sides and slick back on the top, the grey streaks give you a look that begs the question: "consigliere or caporegime?"
45 / 45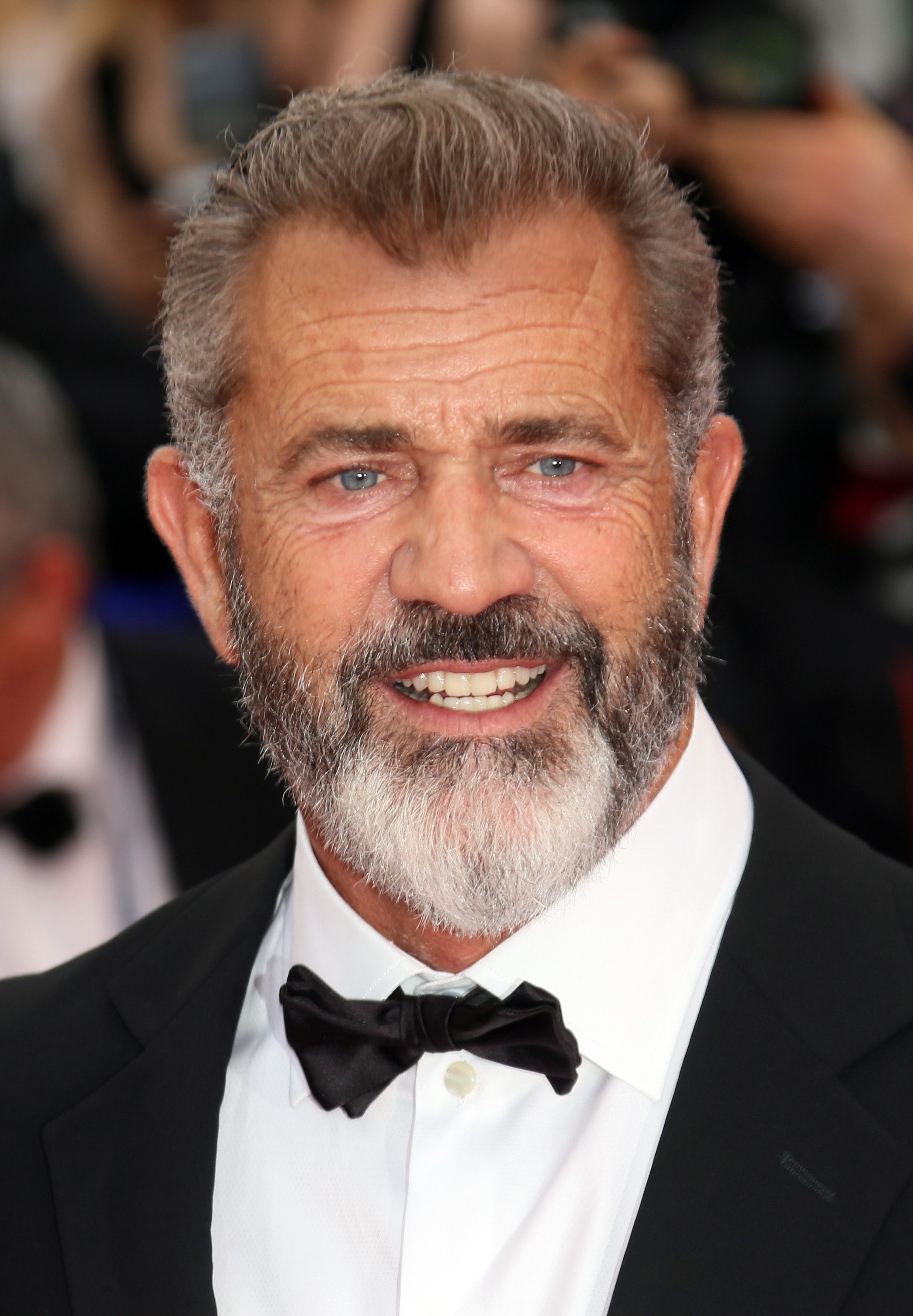 Mel Gibson's Brush-Back and Beard
The road warrior Mel Gibson is sporting the timeless brushed back look with a beard that's gracefully grayed. The father with a grandkid on the way look, experience and authority. Or you could think of it as the landlord look as well. I'll have it tomorrow sir!
FAQs
Why is it called salt and pepper hair?
Let's begin with finding an answer to this most common question! Everything is crystal clear: instead of using a rather delicate for some people, especially men, word 'gray,' stylists worldwide have come up with an attractive and pleasant-to-ear combination – salt and pepper hair colour. "Your soft strands of salt and pepper hair match your eyes perfectly – don't you think such a phrase would sound slightly better without the plain 'gray' word? We think so too!
What is the salt and pepper hair exactly?
In short, if you start having your first grayish hair – most likely, your hair colour would be called exactly the salt and pepper one. Basically, the name comes from the combination of a few colours: most of the time, it's dark brown or even black naturally mixed with lighter gray hair like silver or even pure white. But sometimes, mature hair can have golden sand or ginger undertones too, even though it would still be called a salt and pepper hair colour.
What if I don't have gray hair yet?
Fake it till you make it – that would be our best answer! Salt and pepper hair is a huge trend these days, and you'll miss a lot waiting for your hair to start going gray. Instead, mimic it with a good hair professional and a few hours of bleaching. Look at Maluma, Chris Pine, or any other young and famous celebrity. Some of them dye their hair regularly to have that salt and pepper colour. So it is a big time for gray hair today!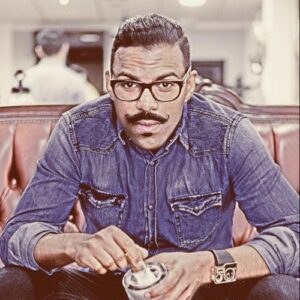 Justin Bounds has been working as a barber in Florida for years and is the founder of The Barbr - a Men's Hair Care/Grooming blog dedicated to providing honest advice and useful tips about the topic. You can learn more about him through his Twitter' and his blog.