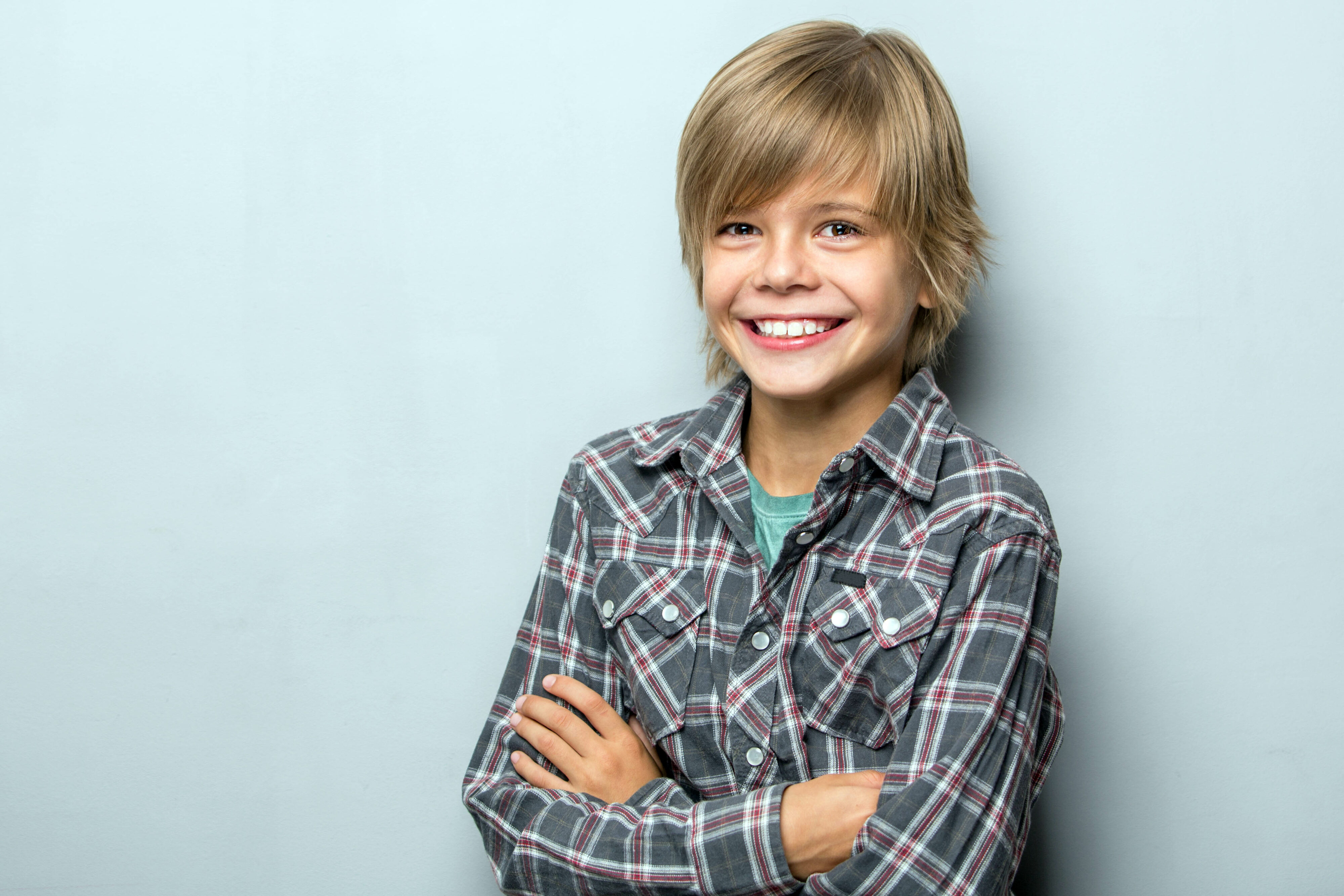 20 of the Most Popular 10-Year-Old Boy Haircuts
Find the perfect style for your young boy
Finding a good haircut for a young boy can be tricky. In particular, it can be hard to find a hairstyle that will make a young boy stand out. We've compiled some of our favorite haircuts for 10-year-old boys to show you just what's possible with a little exploration and creativity.
1 / 31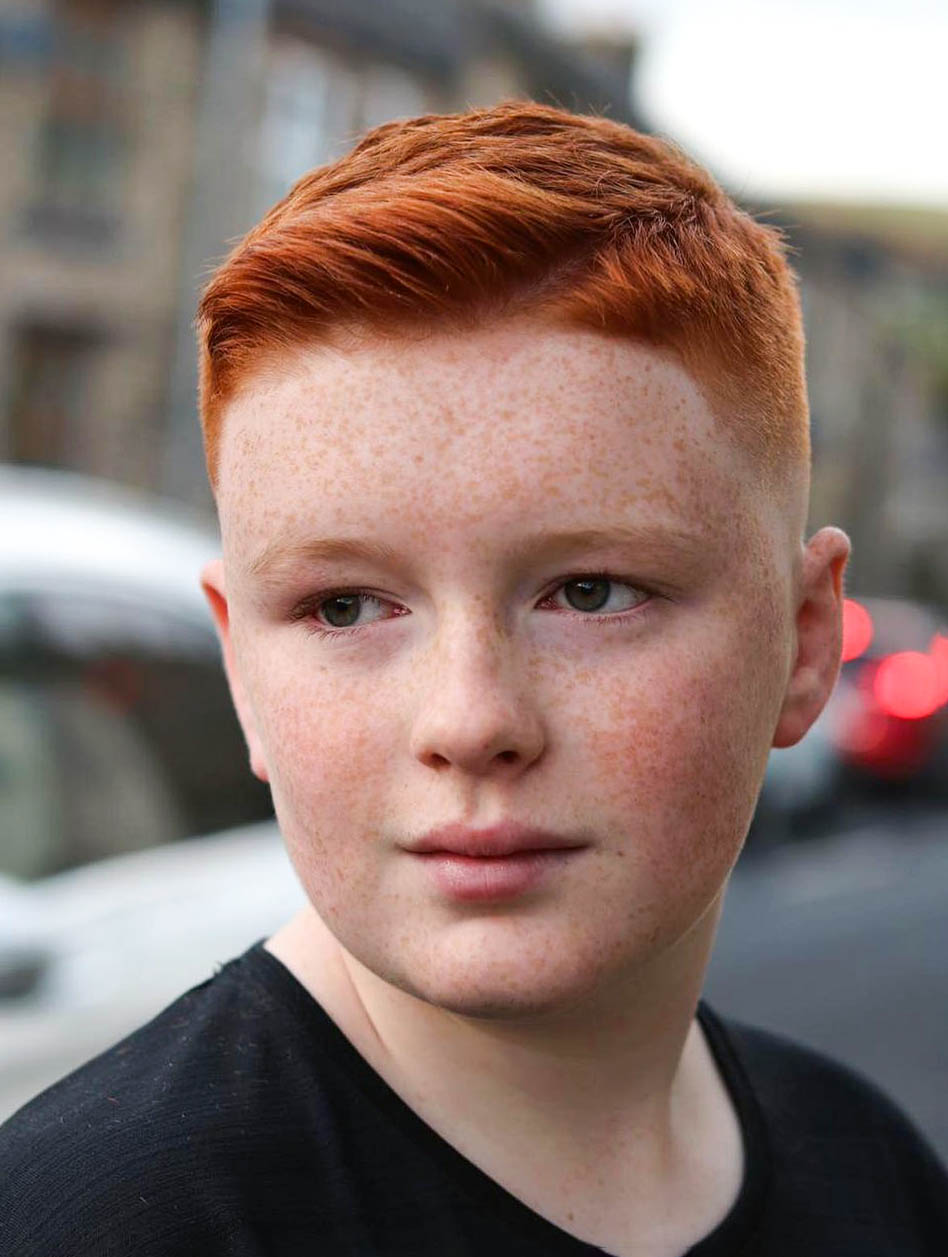 Classic Ivy League
When you think of young adults and teens going to Ivy League schools, you envision them sporting a haircut that looks exactly like this. It's the classic Ryan Reynolds haircut. Clean sides are achieved with a low fade (or any fade that you prefer) and a short top that is long enough to run some fingers through your hair to keep it sort of standing up (but not spiked). This requires very little to no prep time.
2 / 31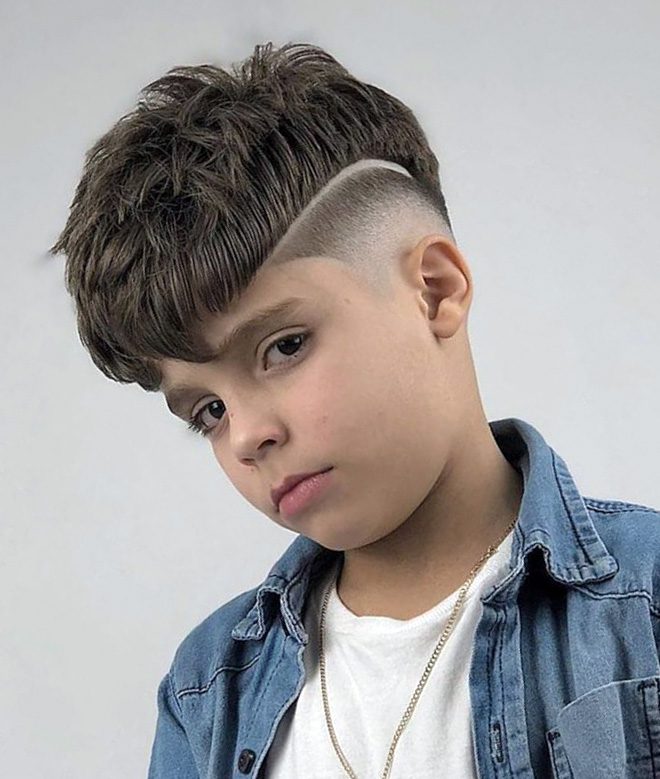 Textured Crop and Disconnected Fade
This scissor crop has been lightly textured and the fringe styled into spikes. The hardline is a great way of connecting the fringe shape.
3 / 31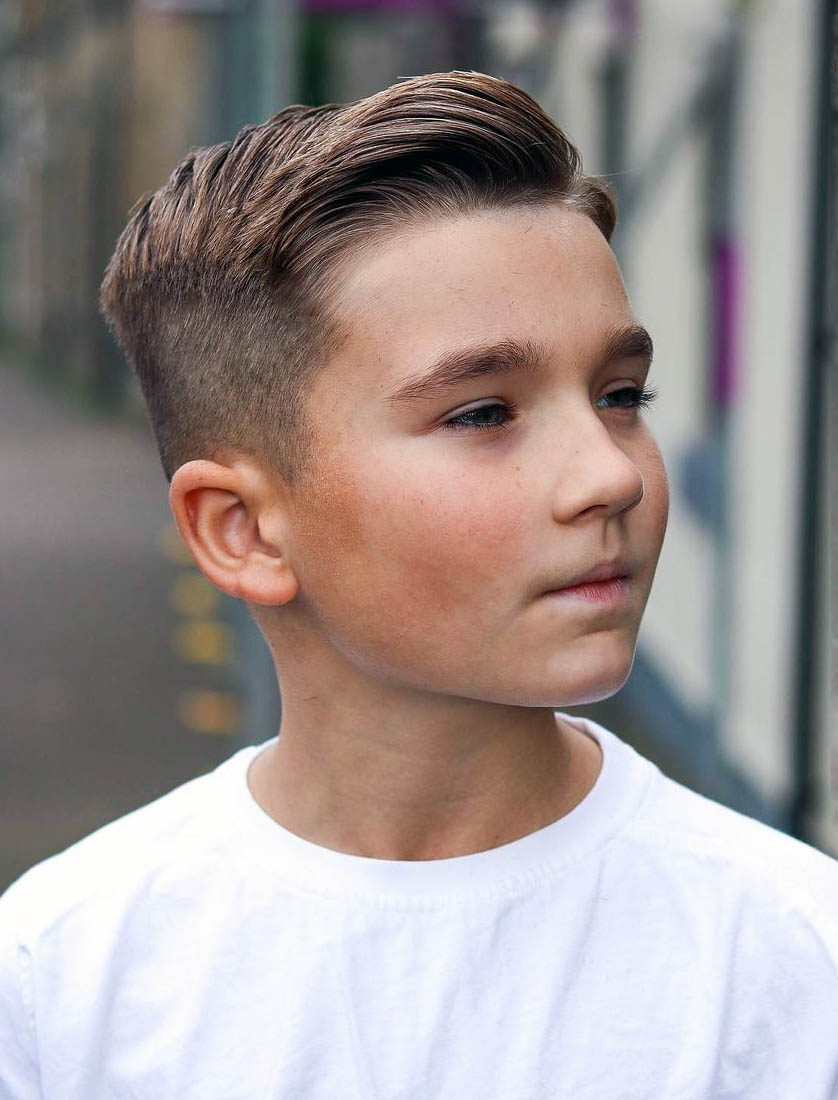 Brushed Up Side Part with Grown Undercut
For the 10-year-old who has some prep time, this brushed-up side part is a great look. The hair should have grown at least 2 inches on top and the sides look as if they used to be an undercut that has grown a bit. Adding a dollop of hair product would keep the side part brushed up. Apply the styling product after washing the hair and not waiting for it to dry completely for a stronger hold.
4 / 31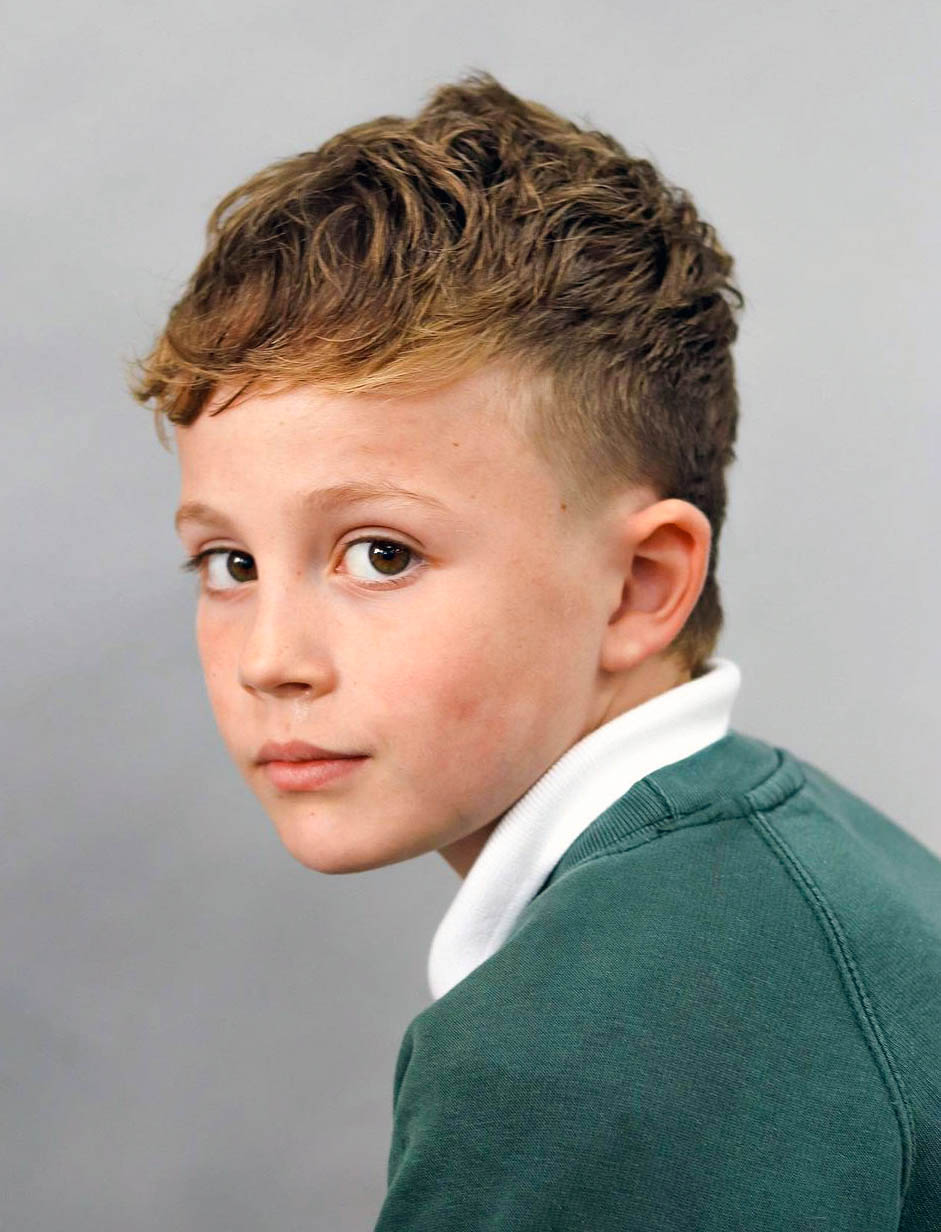 Scissor Haircut Side Swept Fringe
The textured layering on top is a giveaway of a scissor haircut. This kind of cut is achieved by using scissors instead of hair trimmers. Another great thing about this is that you would not have to style it, as the top is already trendy. The fringe can also be swept to the side, depending on what your child wants. It can be left alone as it is as well. Creating different styles if he wants to change his look now and then.
5 / 31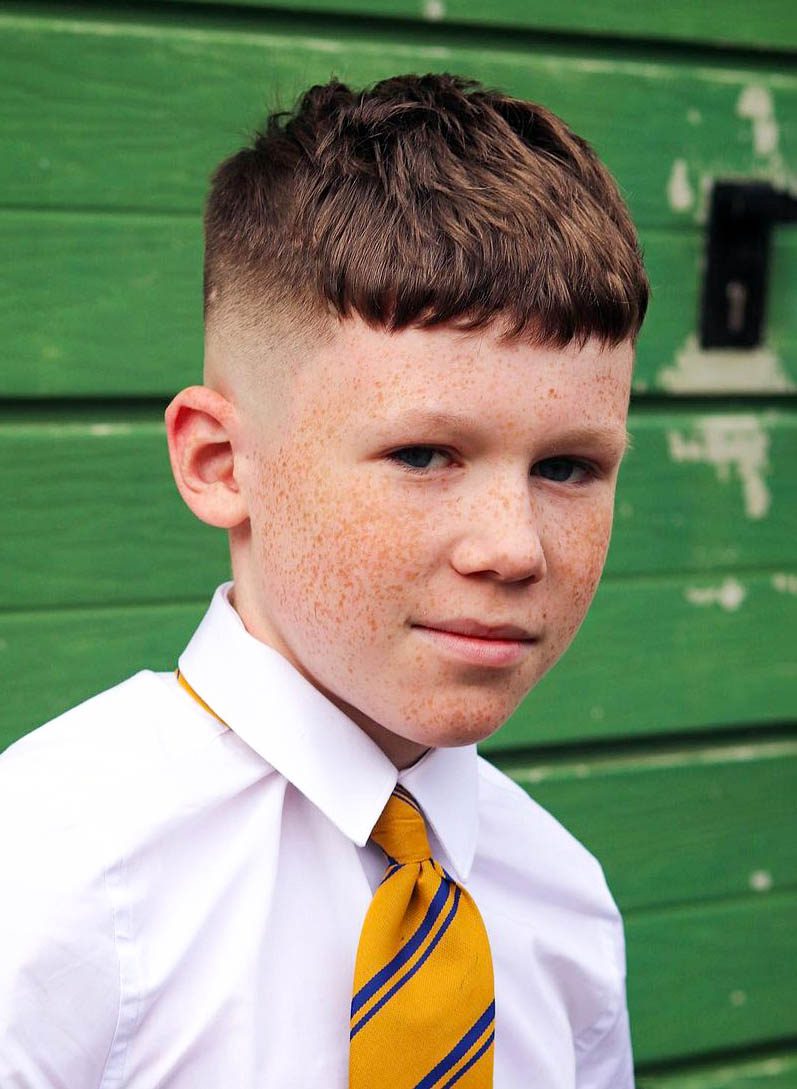 High Fade with Textured Top and Straight Fringe
A high fade keeps the look clean and tidy without removing all of the hair on the sides, and this makes for a great everyday haircut for a 10-year-old. It barely requires any prep time, which makes the mornings before going to school easy and breezy. And you don't have to compromise style – the textured top is done by cutting layers, and the straight fringe completes the look.
6 / 31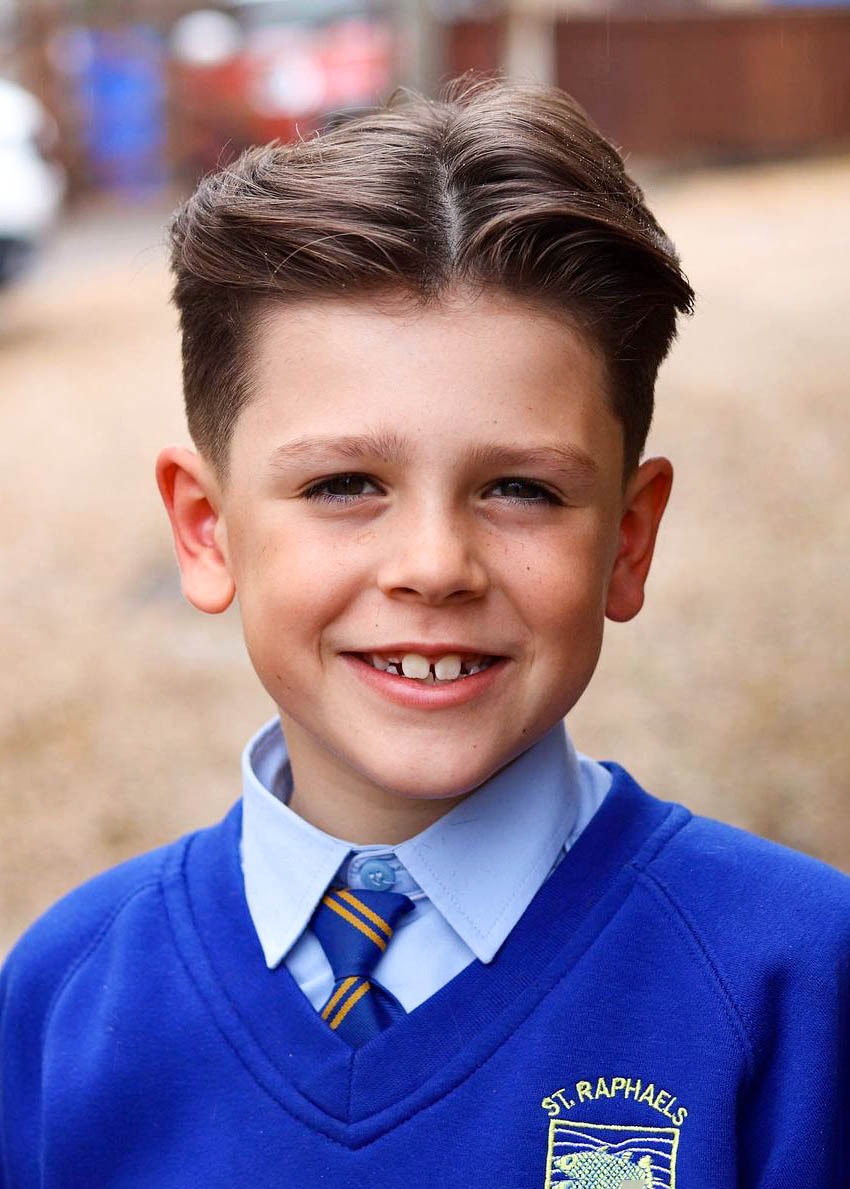 Middle Part Comb Over
Though the part in the picture is not precisely in the middle, it's also not far enough to the side to be considered a side part. This haircut is best for kids who have outgrown their fringes and can now be combed over to two separate sides. The low fade is also necessary to trim the long hair that has grown on the sides.
7 / 31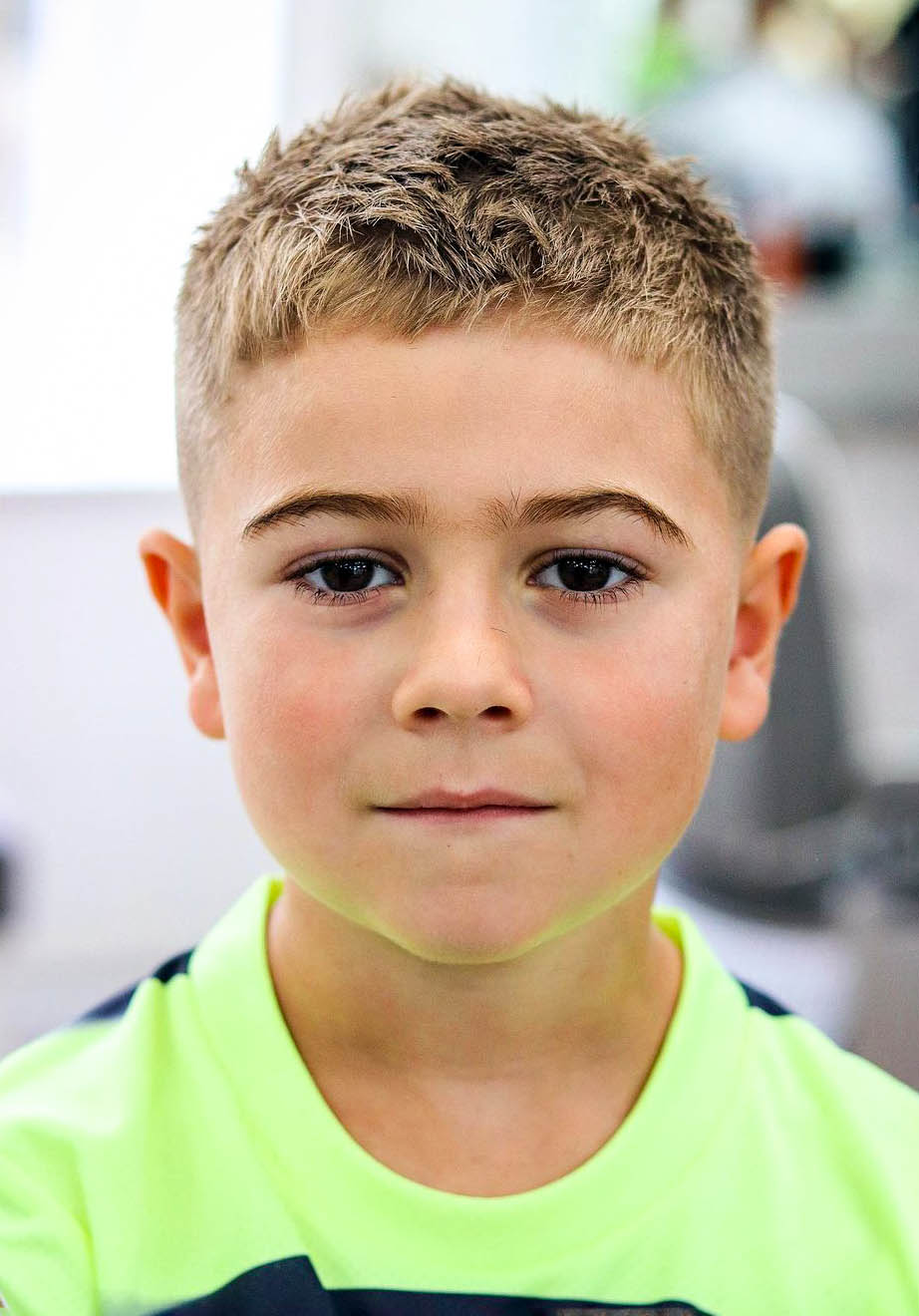 Short and Spiky Ivy League
For several reasons, the Ivy League haircut is a favorite amongst young adults and professionals. And this haircut will also look great on a 10-year-old. It rarely needs any prep time in the morning and can be worn straight out of the shower. It's short enough so that the child would not need to style it, but at the same time, if he does want to, he can place a little bit of child-friendly styling products to create some spikes for a casual weekend with friends or family.
8 / 31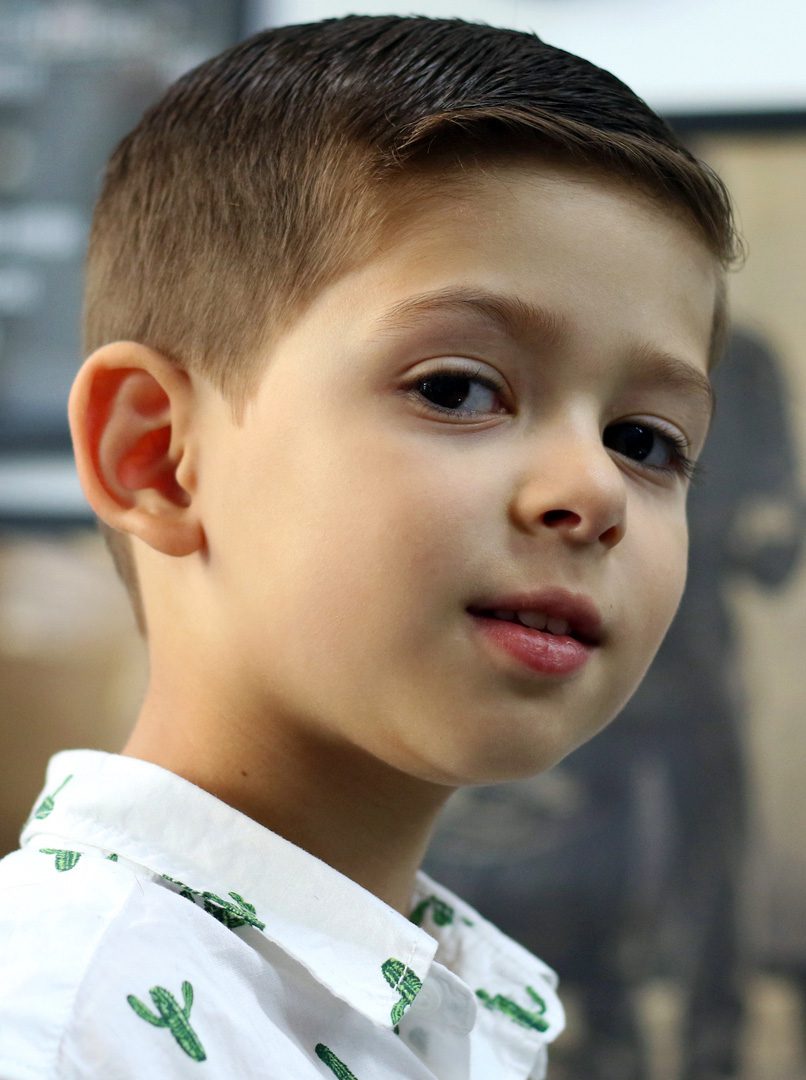 Junior Ivy League, Yes Please
This dapper, formal haircut has been a classic men's style for decades, and as you can see here, it's great for little boys as well.
9 / 31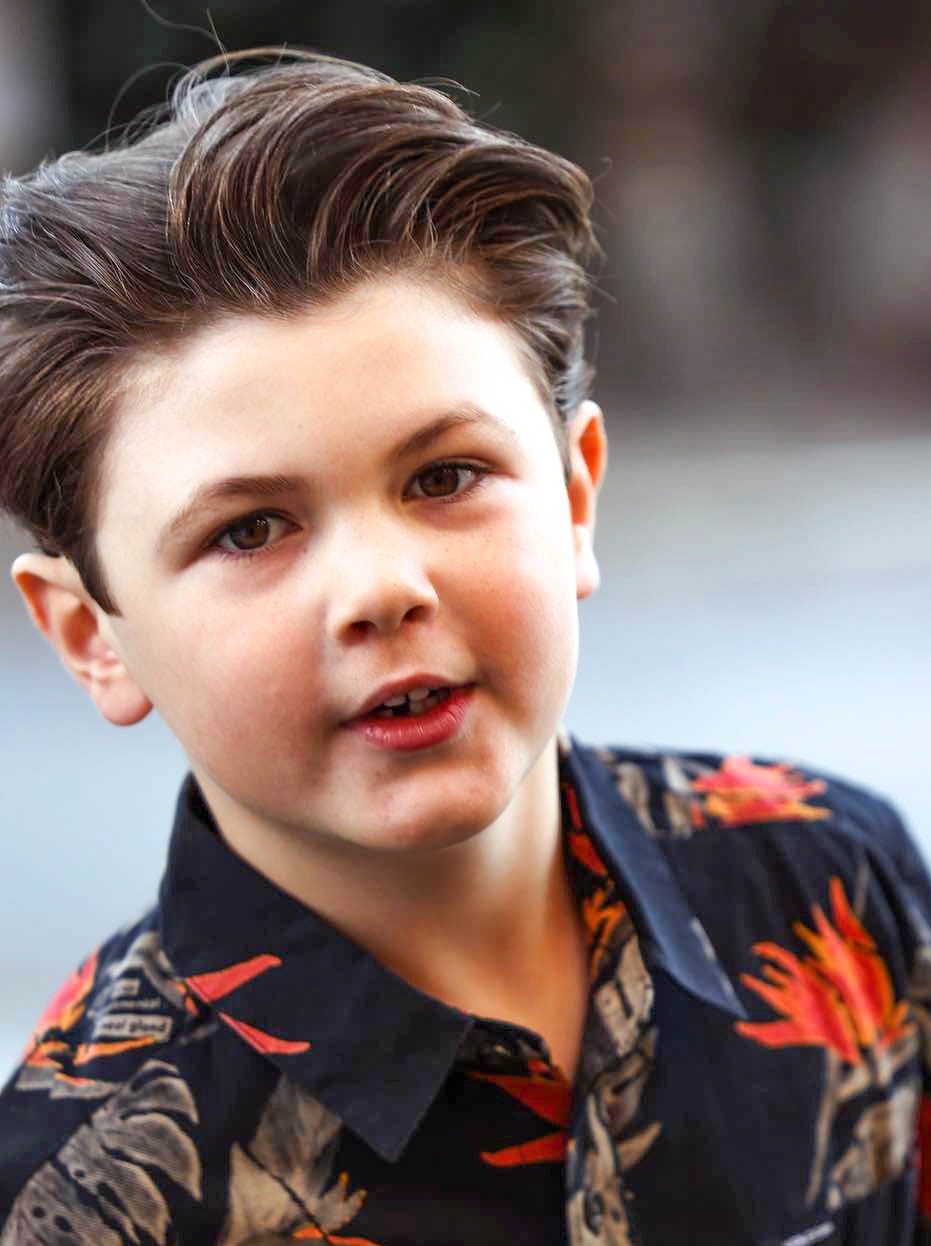 Loose Slicked Back Fringe
Not all fringes are created equal. Some require brushing it up loosely – enough to keep it out of your child's field of vision. And if you grow it a little bit longer, it can qualify as curtain bangs – but then it might be a deterrent for your child's schooling, so keeping it at this length for a slicked-back style is best for now. You can also add more hair products for a structured look.
10 / 31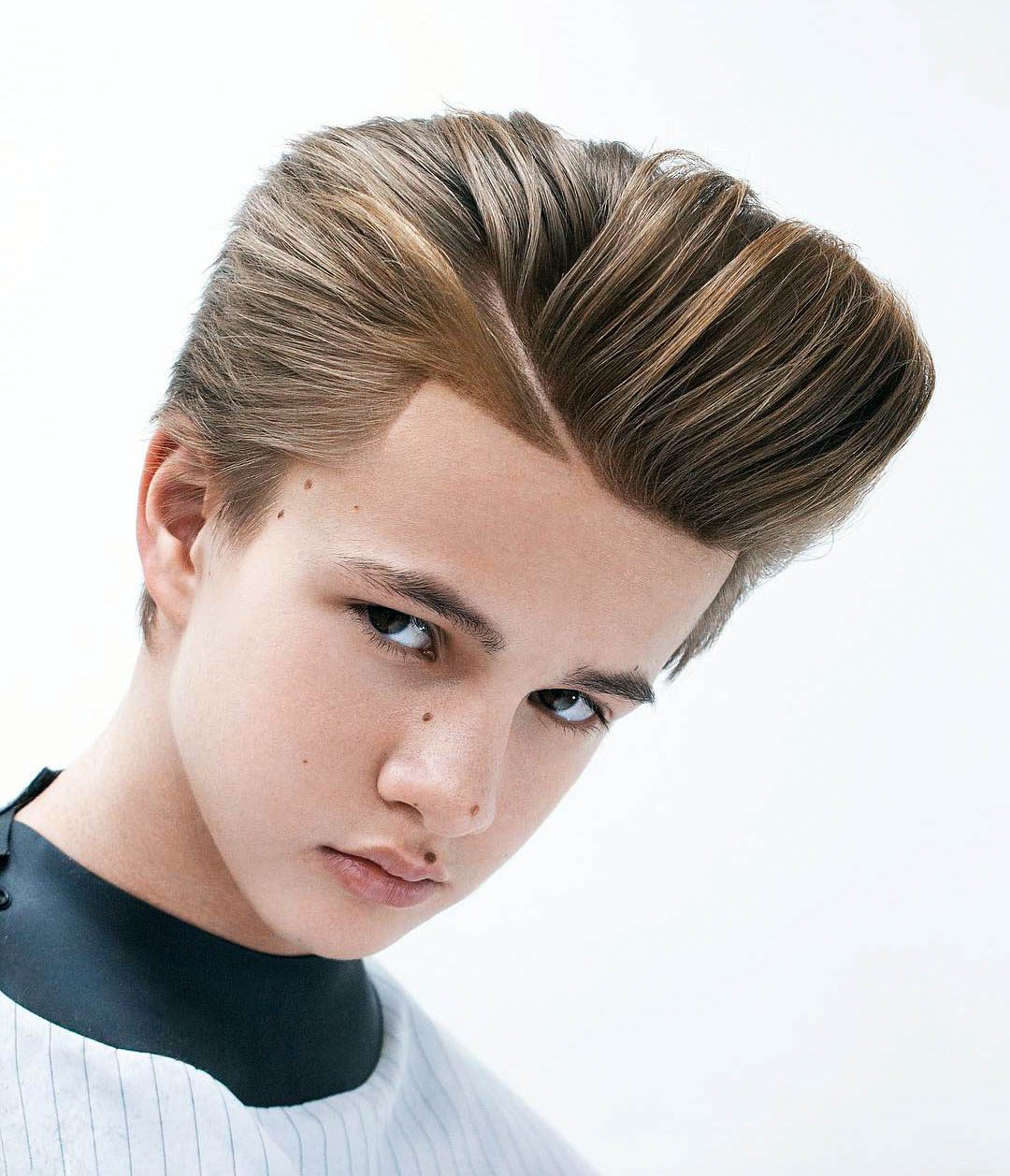 High Pompadour (Johnny Bravo) with Hard Side Part
Styling a high pompadour on a child is not a walk in the park, but the results are spectacular. First, you would need to get his hair long enough for the high pompadour. You could start with at least 5 inches (it will depend on what height of the pompadour you want – if you want it higher, the hair should be longer). The exciting part of this hairstyle is the hard side part – let your child choose where they want this to be as it will be permanent until it grows back.
11 / 31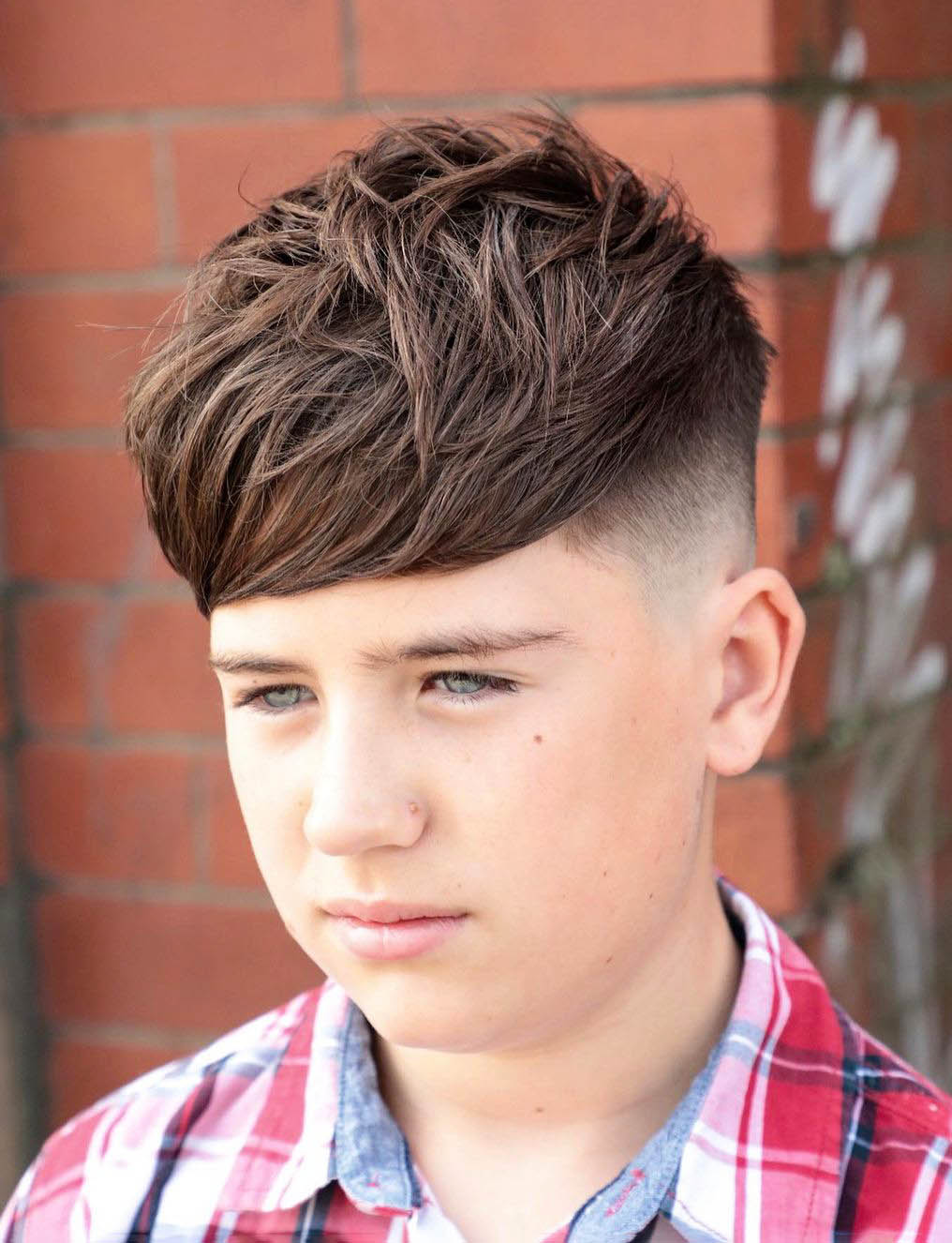 Textured Fringe with High Skin Fade
This haircut works for kids who do not want to do any prep time in the morning before going to school. The textured top comes out as tousled (bed hair) which is something that does not need styling. The high skin fade makes the haircut tidy and neat despite coming directly out of bed. The fringe can be styled accordingly – depending on how much time you have. So it can work well if the kid needs to go to a more formal event or just needs sprucing up.
12 / 31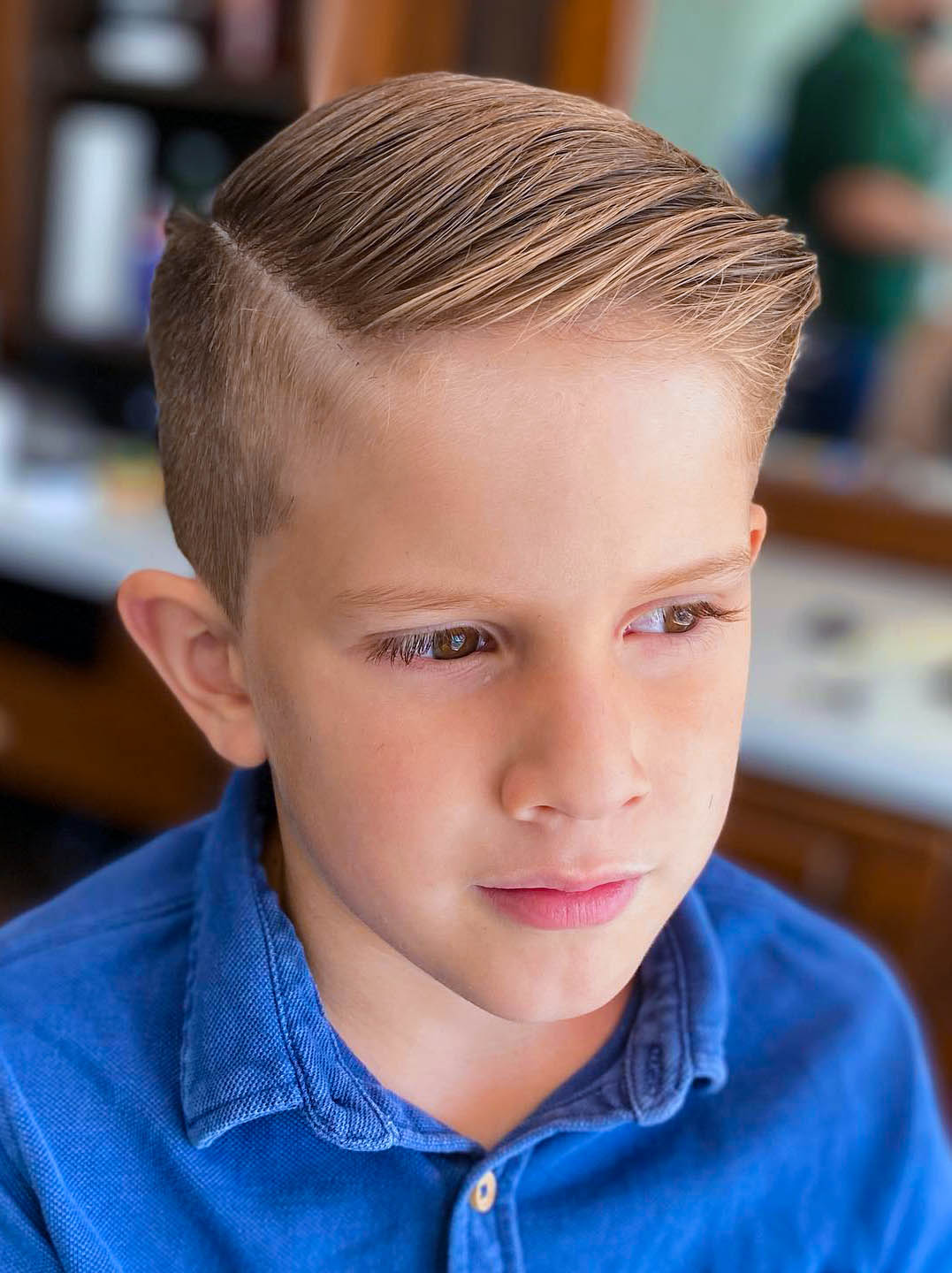 Slicked Back with Hard Side Part
This classic, clean look is great if you'd like to keep your hair on one side all the time. A hard part gives you the delineation, so you won't have to find it every day – which means that the shorter side of the part looks like you outgrew a skin fade. This would definitely require a child-friendly styling product to hold the slicked back hair together, so always allot ample prep time.
13 / 31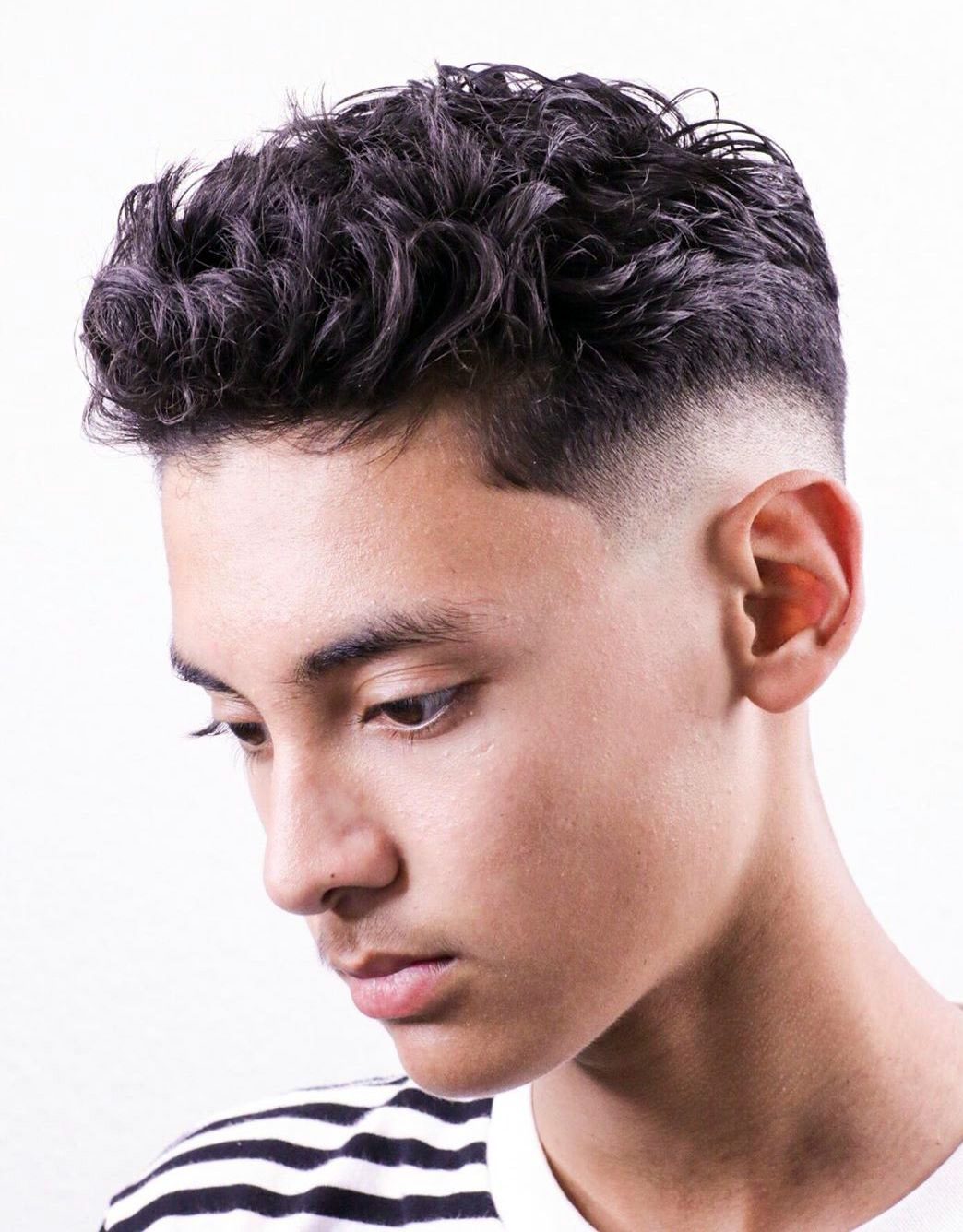 Curled Top with Drop Fade
Definitely let those curls a little lose if you have them. This crop looks fantastic with the drop fade and a little bit of product on top to gain definition on the waves.
14 / 31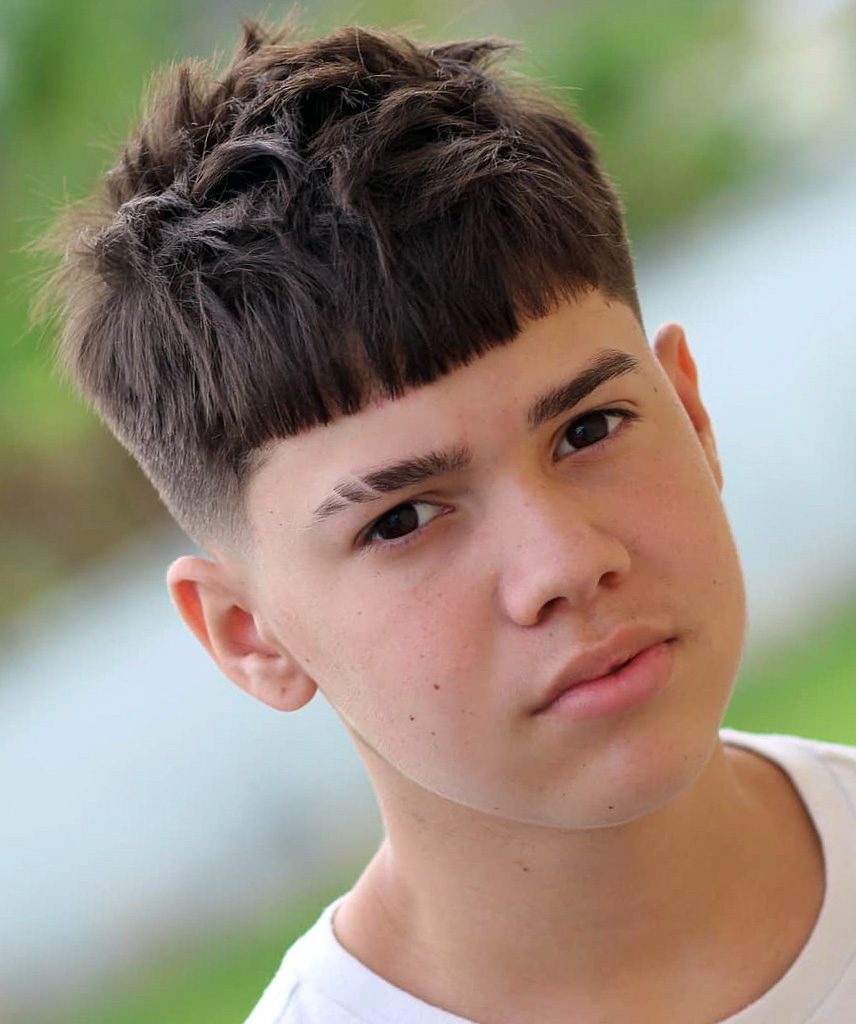 Straight Fringe and Textured French
Some forms of the french crop variate in how the fringe is cut. A simple angle, or in this case, a choppy straight fringe can set the tone of the hairstyle.
15 / 31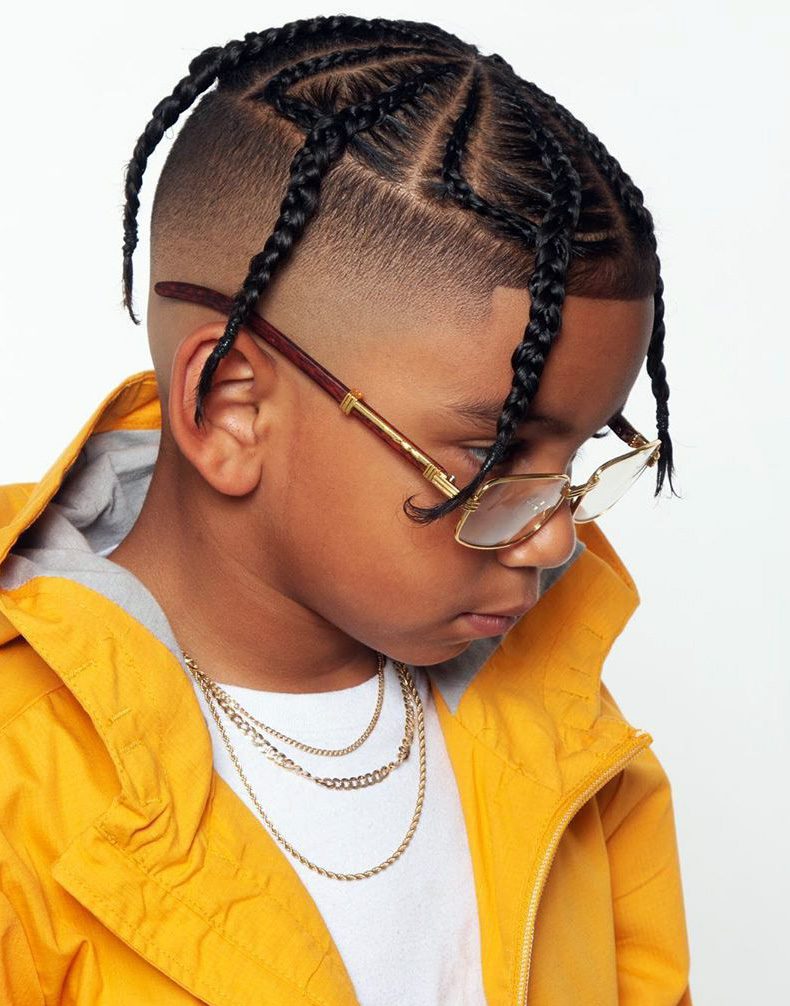 Smooth Blend and Braids
This braided style is super eye-catching, featuring a neat pattern on top of the head and tidy, evenly spaced braids.
16 / 31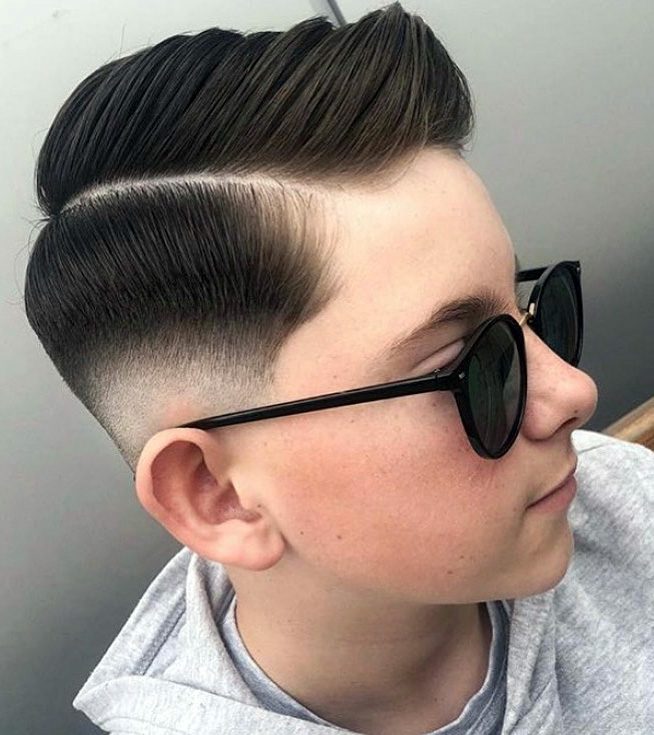 Side Swept with Hard Part
This extremely fashionable style is great for 10-year-old boys who want a slightly "older" look. The hard part here is definitely the star of the show.
17 / 31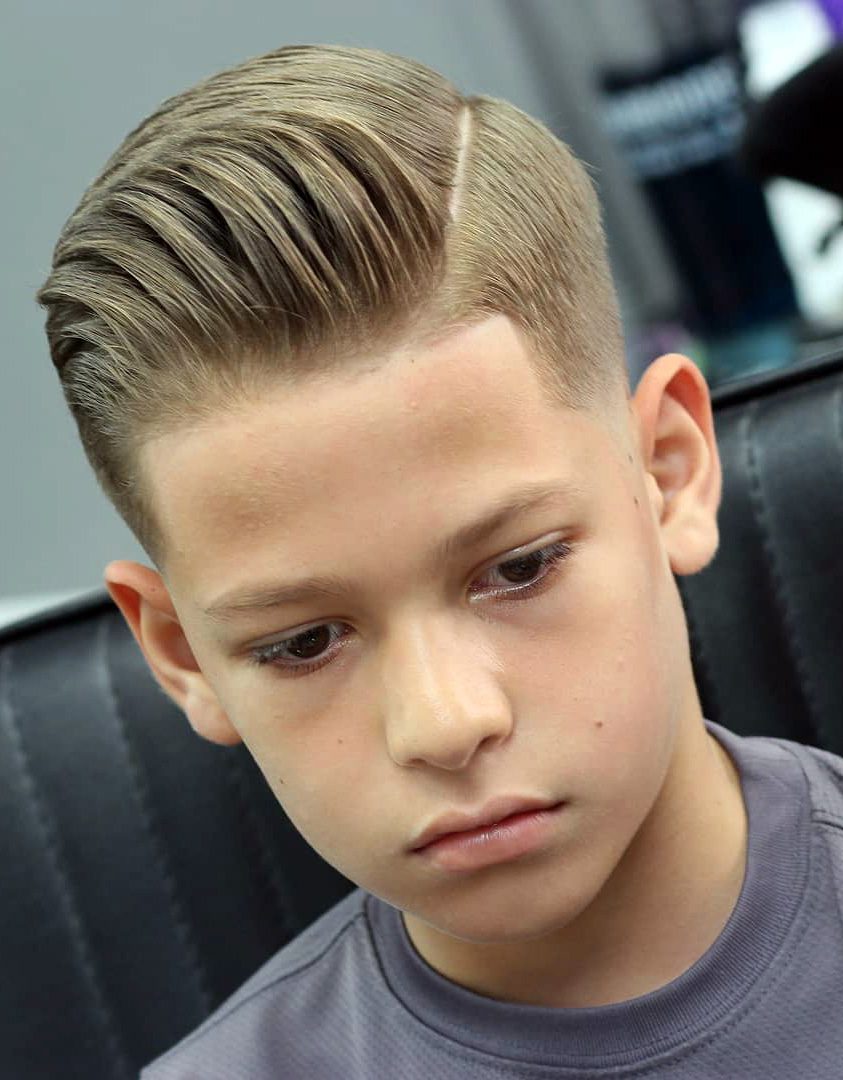 Finger Combed Long Ivy Variation
Yet another variation of the Ivy League, this cut has the hair finger-combed back to create subtle yet defined waves.
18 / 31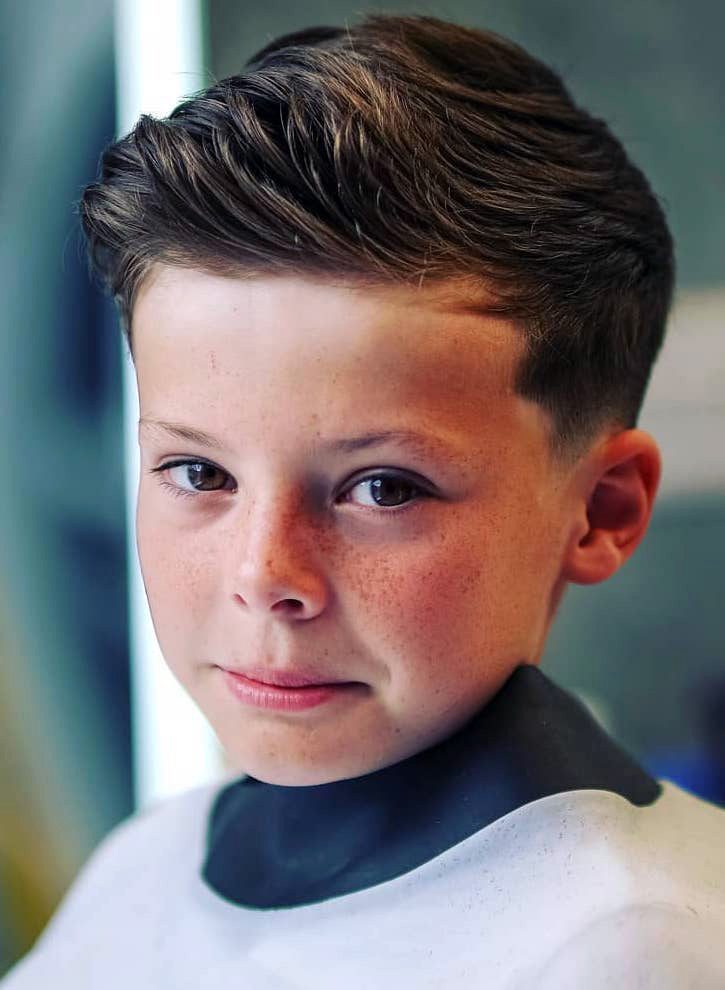 Ready For School Side Brush
For a more dapper haircut, try this no-nonsense side brush. The side-swept motion creates depth and texture and prevents this cut from falling flat.
19 / 31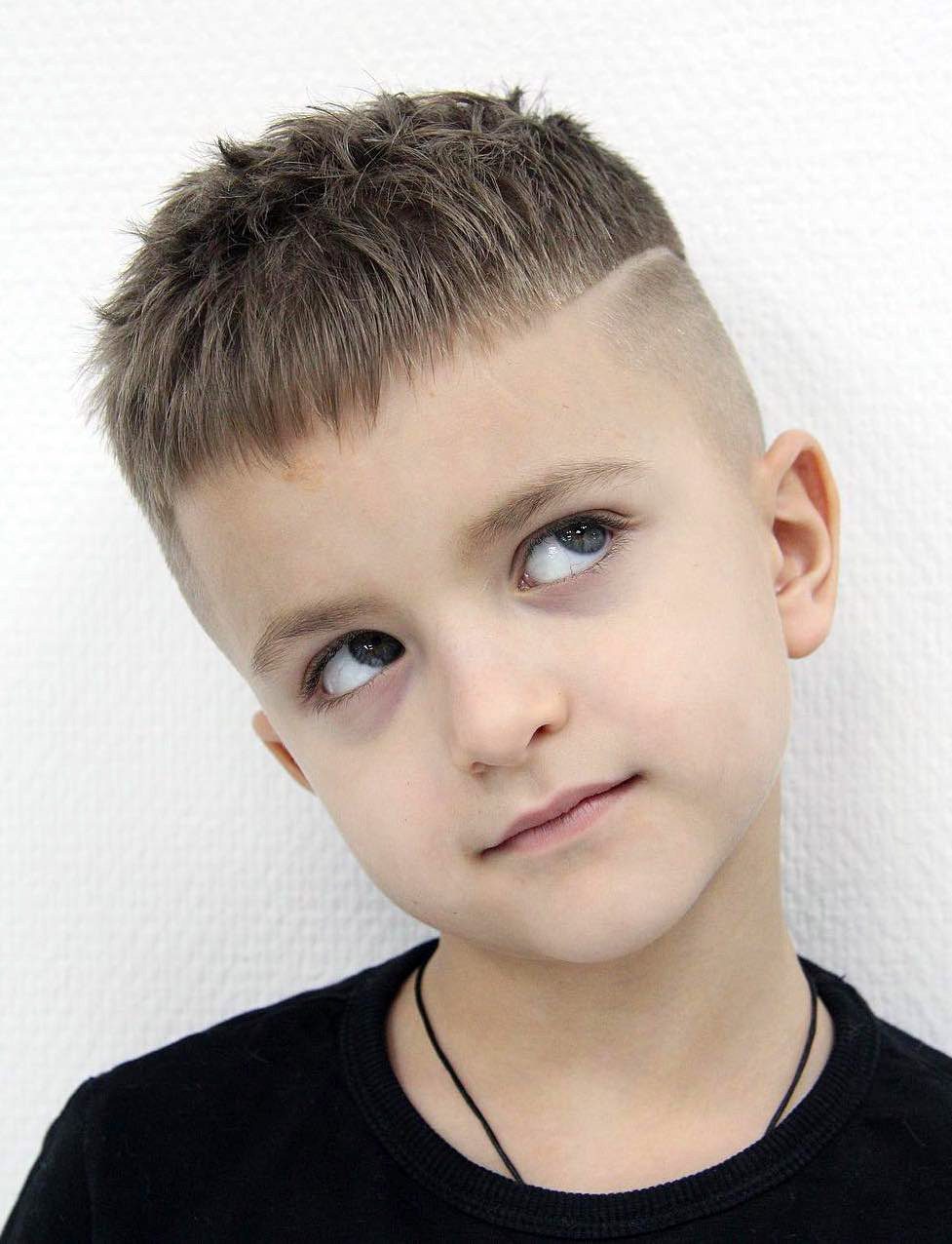 Neat Fringed Top with Faded Sides
This youthful fringe look combines fashionable styles with a good amount of texture that's great for a 10 year old boy.
20 / 31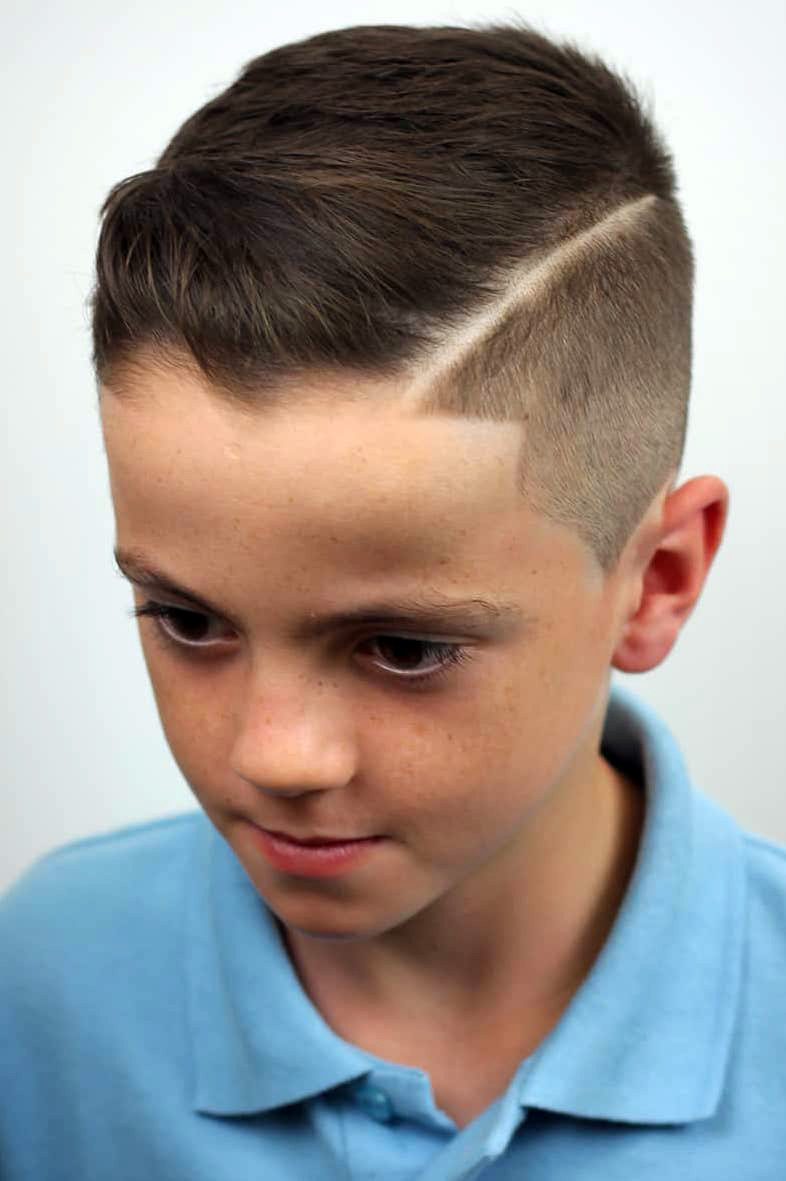 Hard Part with Light Line Up
Here's a stylish twist on a classic haircut. This short taper style is a barbershop favorite, but the hard part and line up give it an added flair.
21 / 31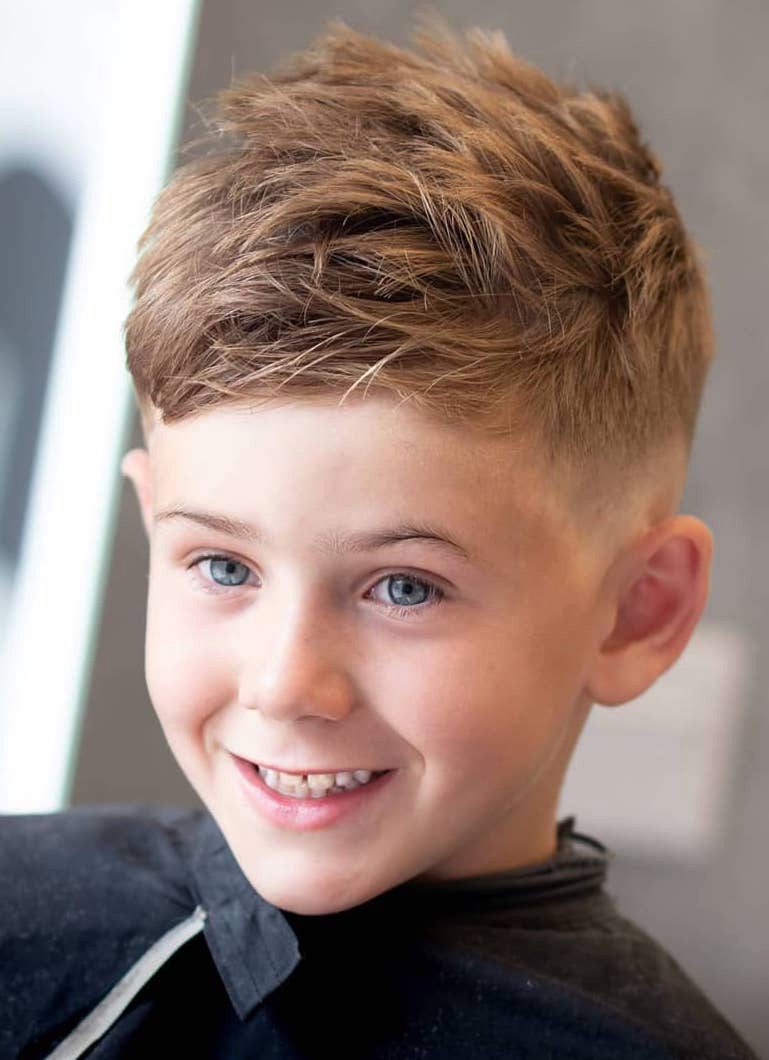 Casual Side Brush with Faded Sides
For more fun and rambunctious style, you might opt for something like this casual side brush. It's trendy yet well suited to a young boy's highly active lifestyle.
22 / 31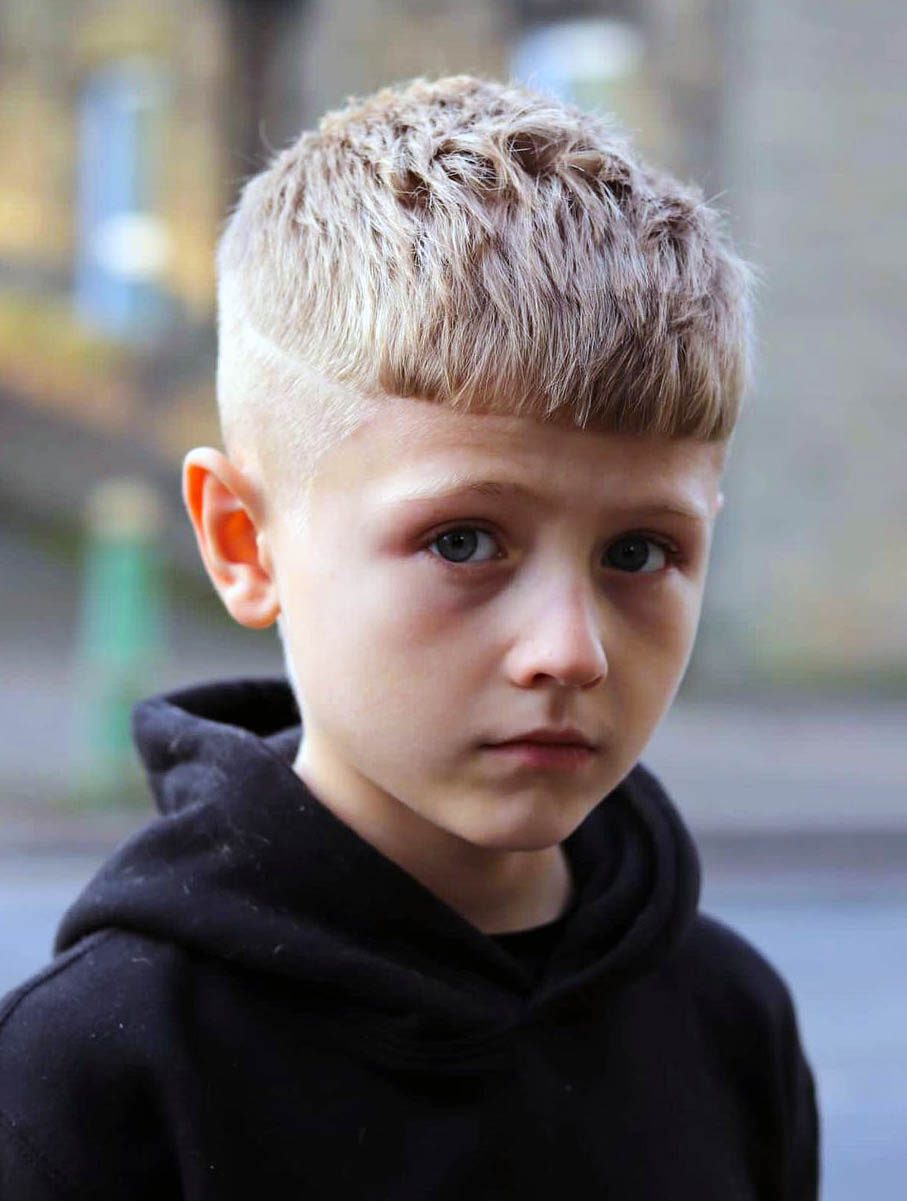 Undercut with Tousled Top and Straight Fringe
An undercut on a child works wonders – first, it keeps his look clean and neat, no matter how sweaty his school activities make him be, i.e., sports. Second, it makes the top part of his mane a great palette for styling. You can make it spiky with the right child-friendly hair products or create texture and make it tousled just like this one.
23 / 31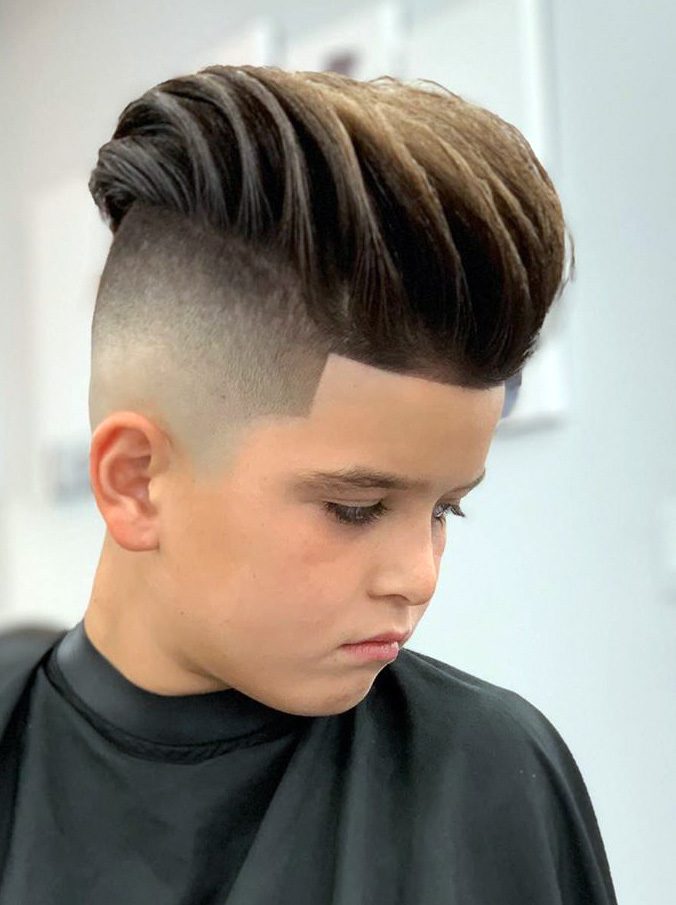 Finger Combed Brush Up
If you want a voluminous style that will turn heads, you can't go wrong with this textured, wavy brush up.
24 / 31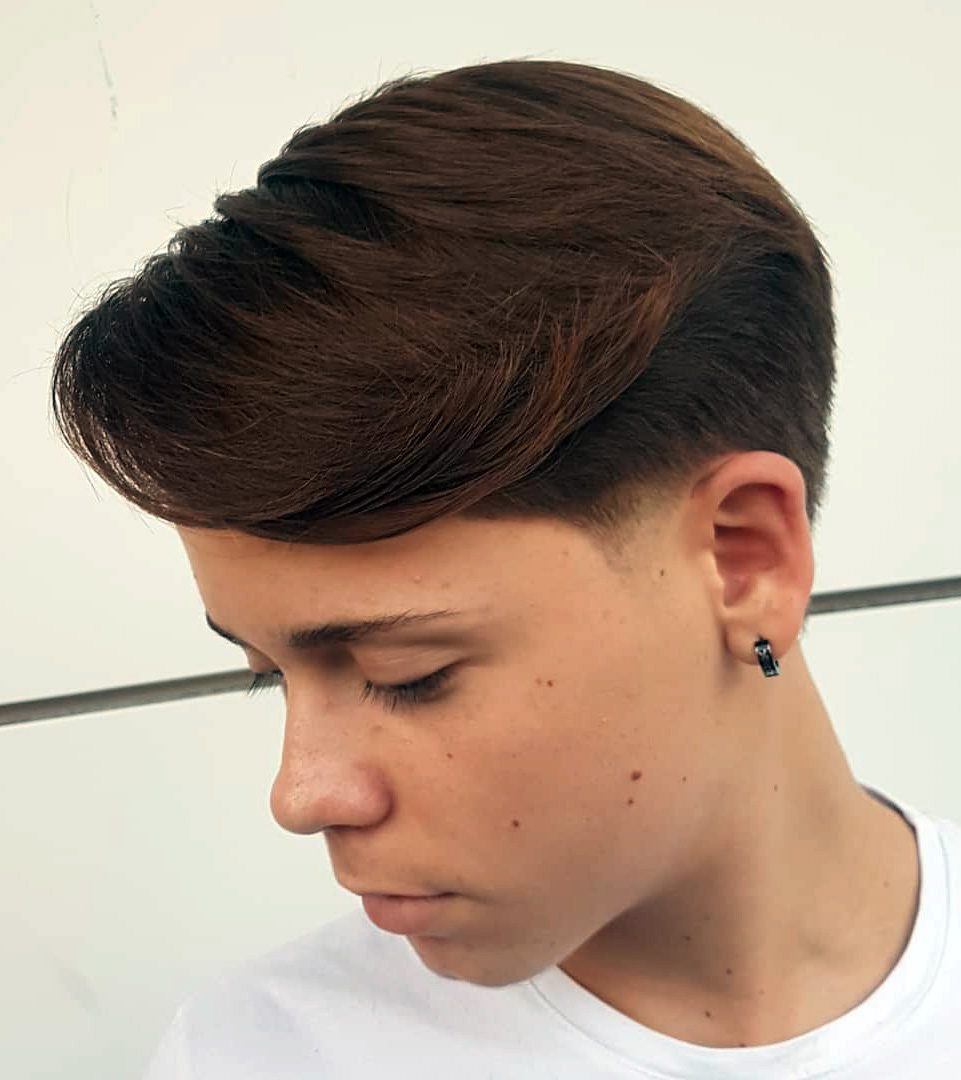 Breezy Side-Comb on Medium Scissors Crop
A breezy, flowing style, this haircut is a simple scissor cut that has the hair swooping forward and to the side.
25 / 31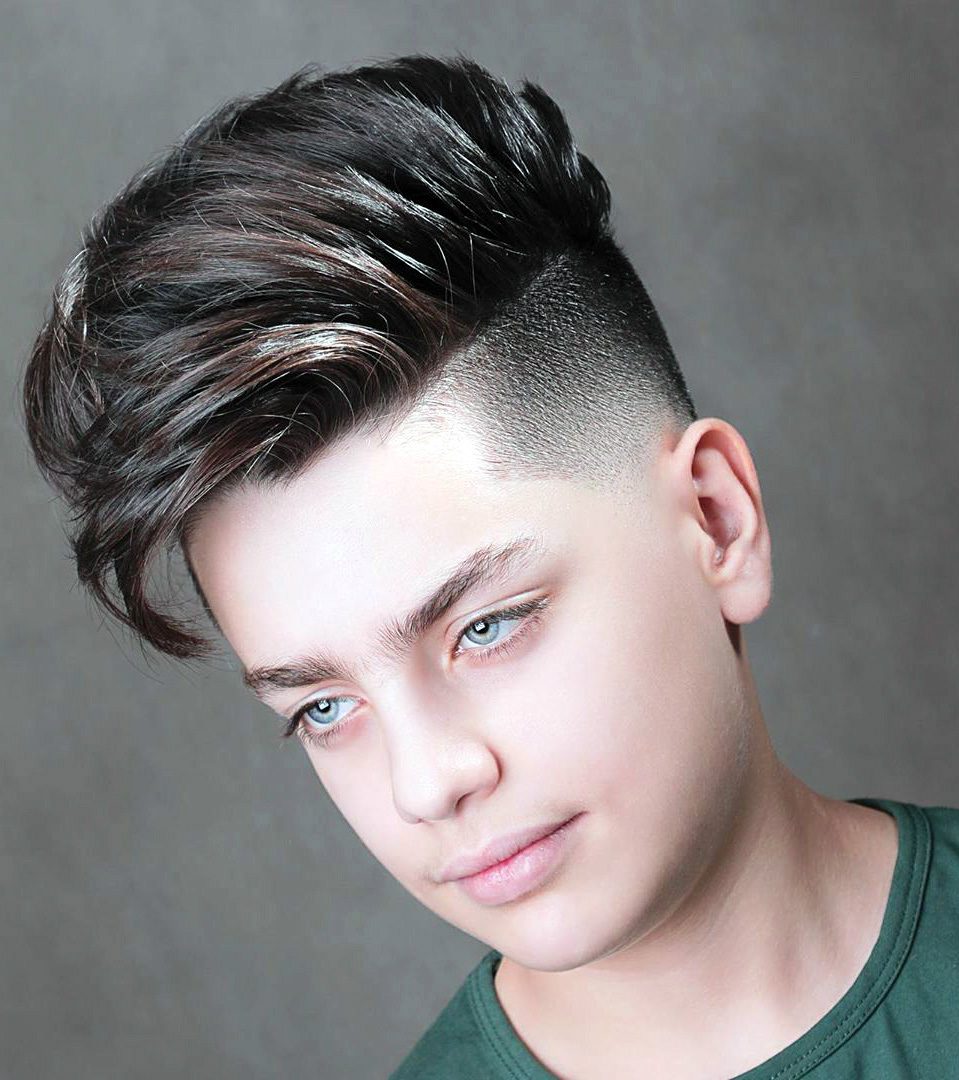 Loose Pomp and Temple Fade
Want to have the best of both worlds? Keeping the top long while the sides are super short is just that! Undercuts are easy to look good in!
26 / 31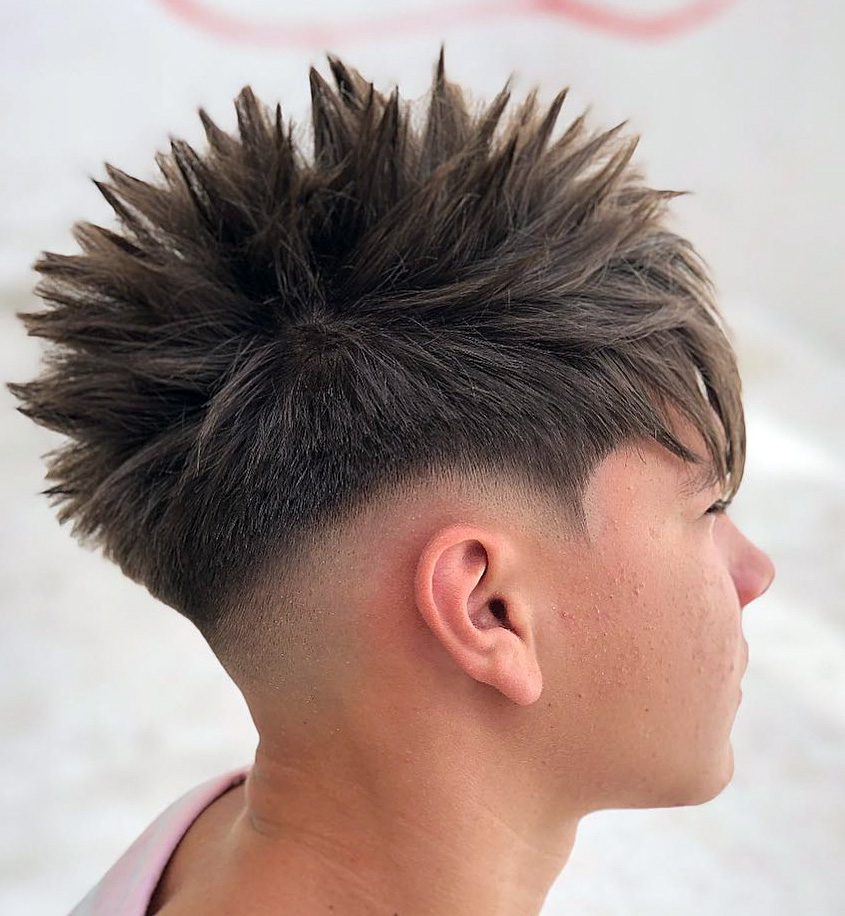 Soft Drop Fade and Spikes
You want the short feel and also have a little fun with it? A drop fade with a medium length top is the perfect way to start styling the hair with spikes!
27 / 31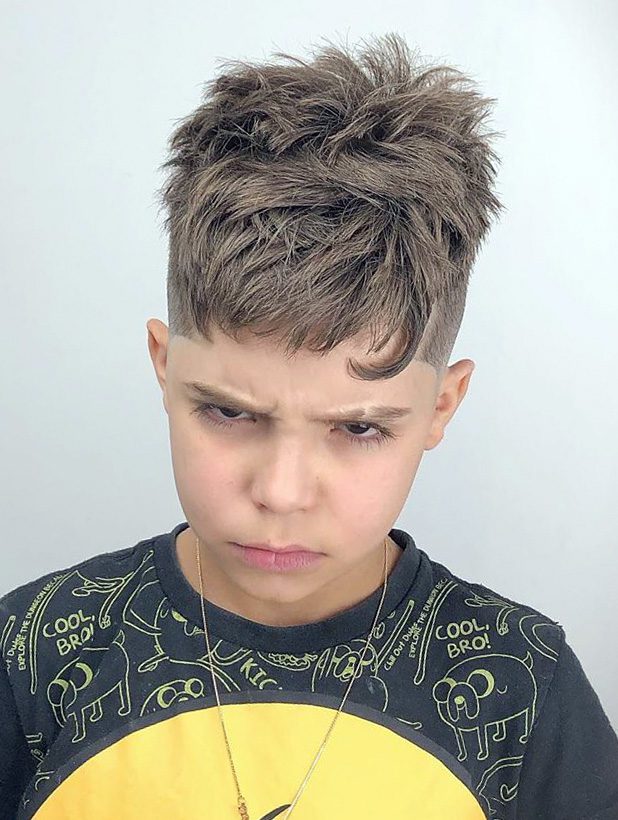 Styled Textured Crop and Undercut
Another highly stylized crop, this haircut is a good choice for boys who want a messier style. The elephant trunk created by the fringe is a nice touch here.
28 / 31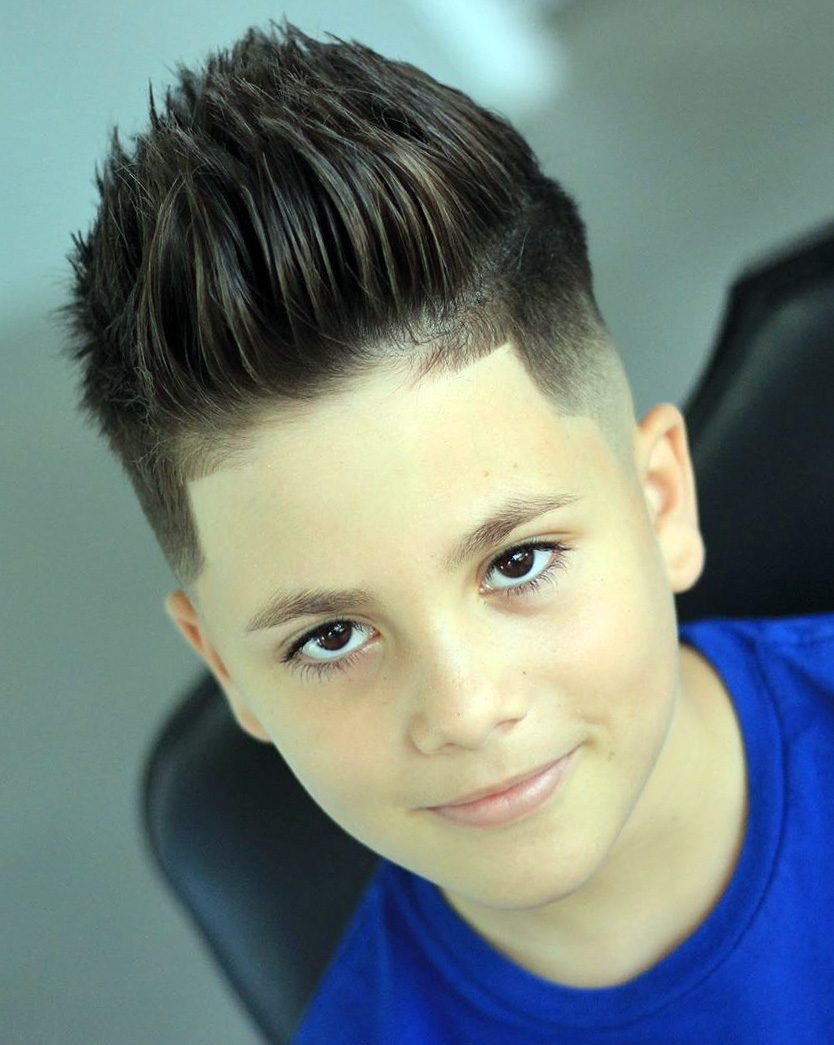 Medium Fade and Vertical Style
This tall style takes the hair straight up and pairs this volume with a medium fade to balance out the look.
29 / 31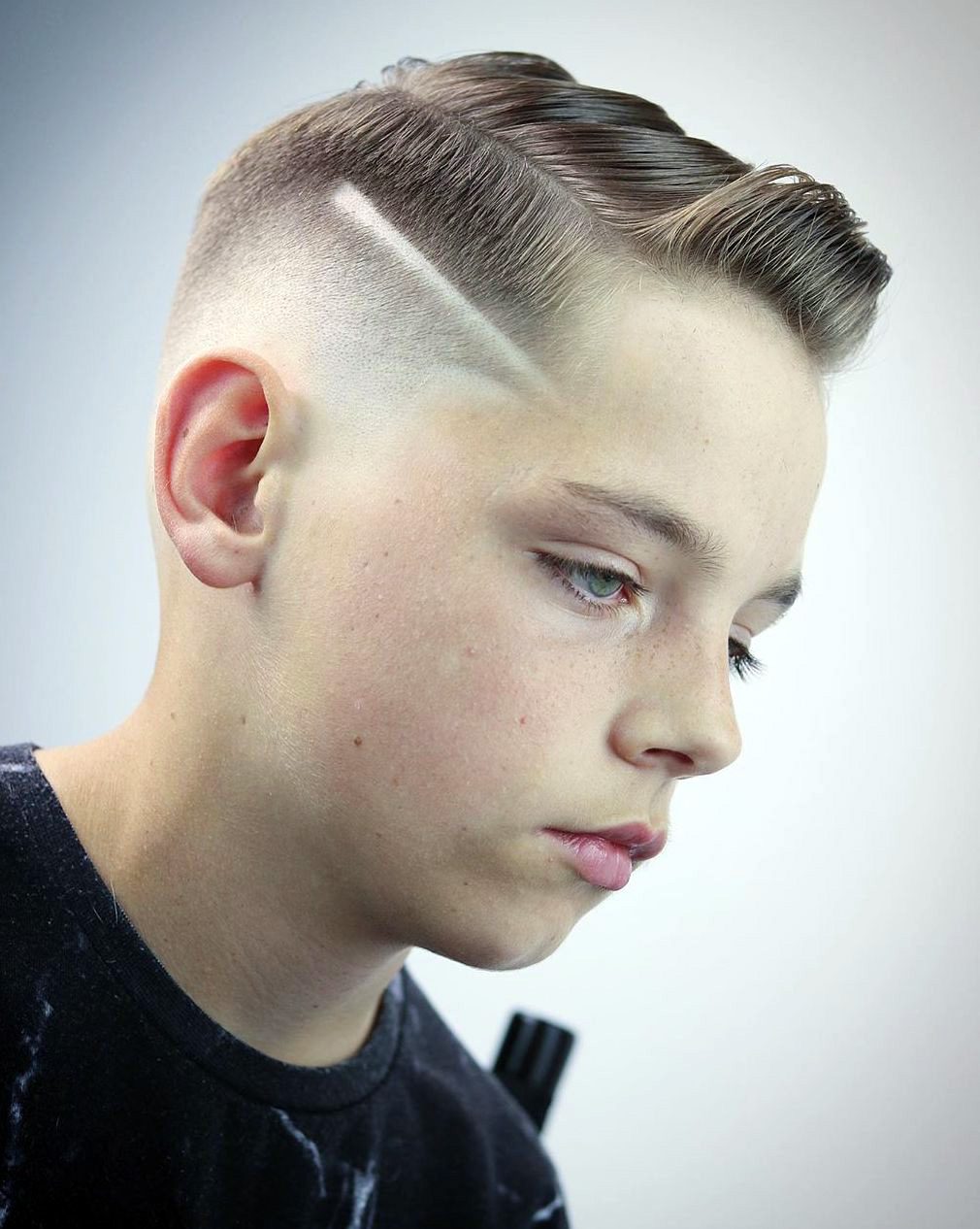 Modern Ivy with Drop Fade
If you liked the Ivy League shown above but want something a bit more fun, then this modern Ivy with a drop fade will suit your needs.
30 / 31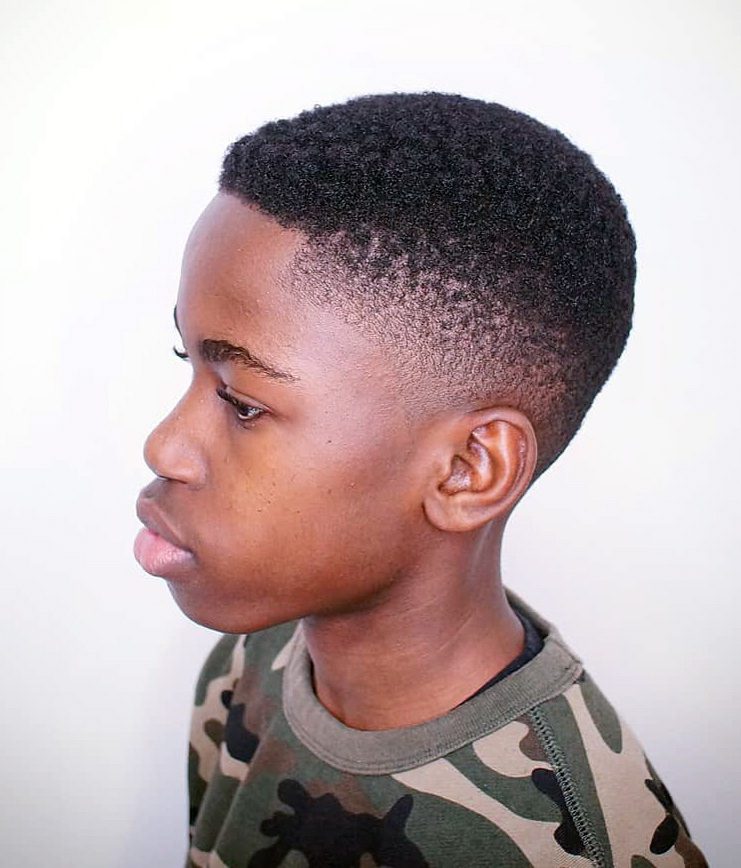 Temple Fade and Short Crop
Short and simple, this low maintenance crop is ideal for boys who prefer shorter hair and want a flexible style.
31 / 31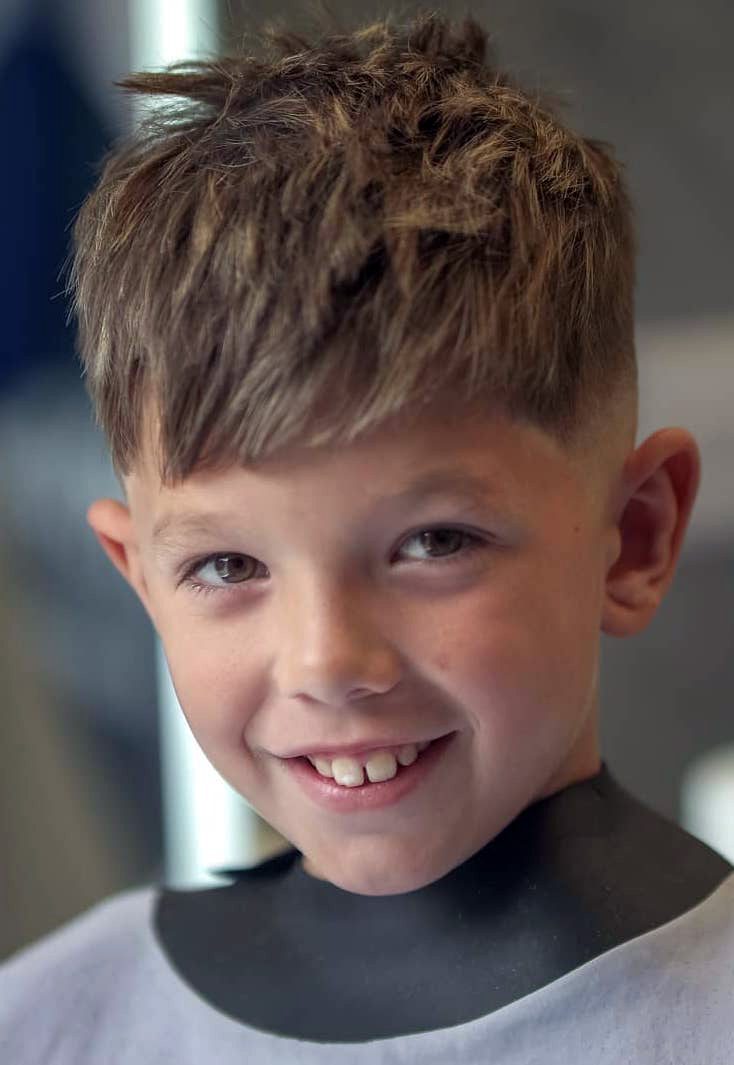 Neat Rough Textured French Crop
This rough and highly textured crop-inspired style is a great fit for young boys who are always on the move.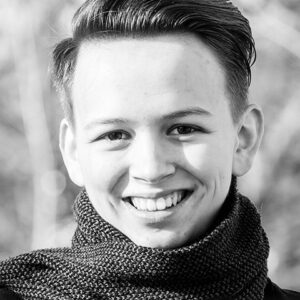 Heidi is the owner of Buzzcut Guide, the online guide to cutting your own hair. If you'd like to learn more about how to take care of your hair at home, save money, and keep unnecessary visits of the barber to the minimum, hop on over there and learn more!