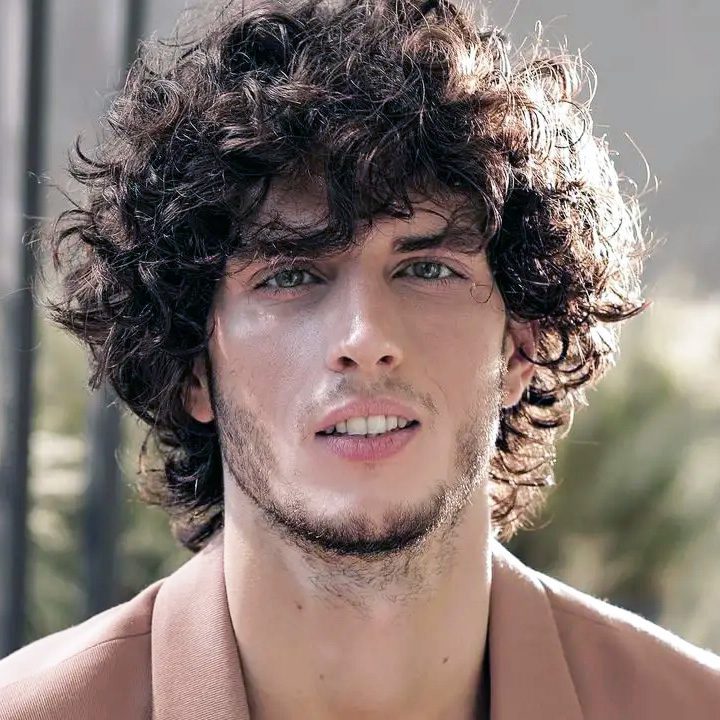 20 Trendy And Sexy Perm Hairstyles For Men
Gorgeous curls aren't just for girls!
Men are becoming more adventurous with their hairstyles and we're totally here for it! Case in point: the man perm. While it became trendy back in the '80s, today's styles look so much better (think Timothee Chalamet) and definitely not cringe-worthy.
Proof that perms for men have become so hot? There's a hashtag devoted to it and the cool boys of TikTok have been sharing videos of their hair transformation, from the salon chair to the stylish results. Whether you want to add body and volume or you're just longing for a fun change, curls might just be what your hair is asking for.
Be ready to spend about three to five hours in the salon to get your hair chemically treated, though. While you can opt to DIY it, a professional job yields better results and gives you curls that stay on longer (about three to six months compared to just several weeks with an at-home perm).
Ready to book that appointment? First, take a look at the styles below to inspire your next look.
1 / 27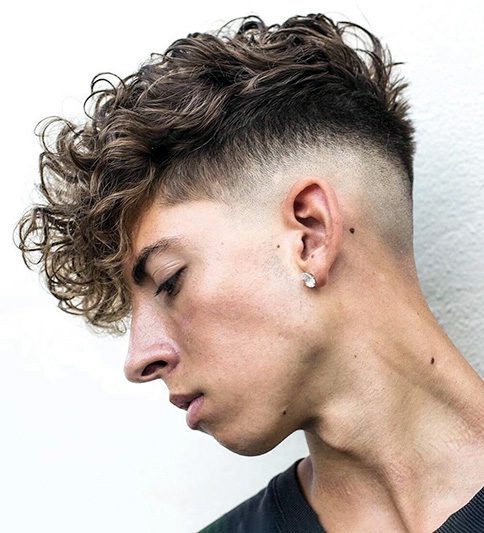 Long and Thin Curls with High Fade
Want volume but is not comfortable with too much of it? Another way to achieve it is by having long, thin curls. The length in the front area gives you bangs, and the perm continues all the way to the back. But because you mixed it with a high fade, it's concentrated on the top area – just enough to emphasize the curls but not too much to distract from your facial features.
2 / 27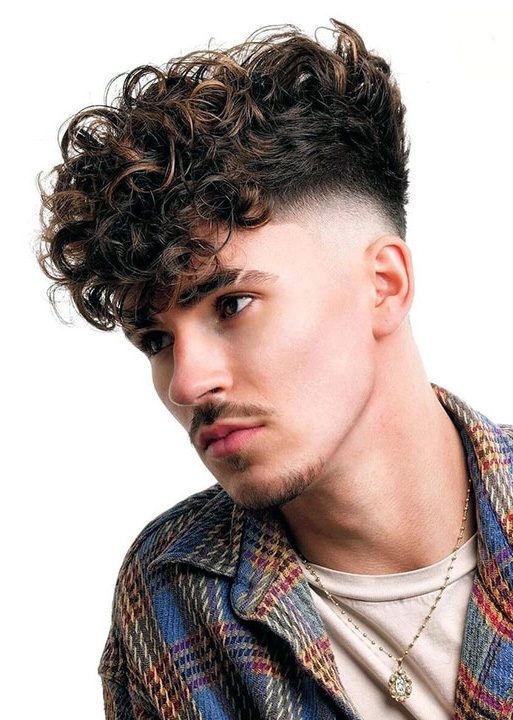 Volumized Perm with Side Taper
Great hair volume will never get out of style. Whether you want it in the front, center, or back of your hair – it definitely adds more than just bravado – but also the illusion of height. A side taper completes this look to make it look polished, despite the huge volume on top. It's all about balance.
3 / 27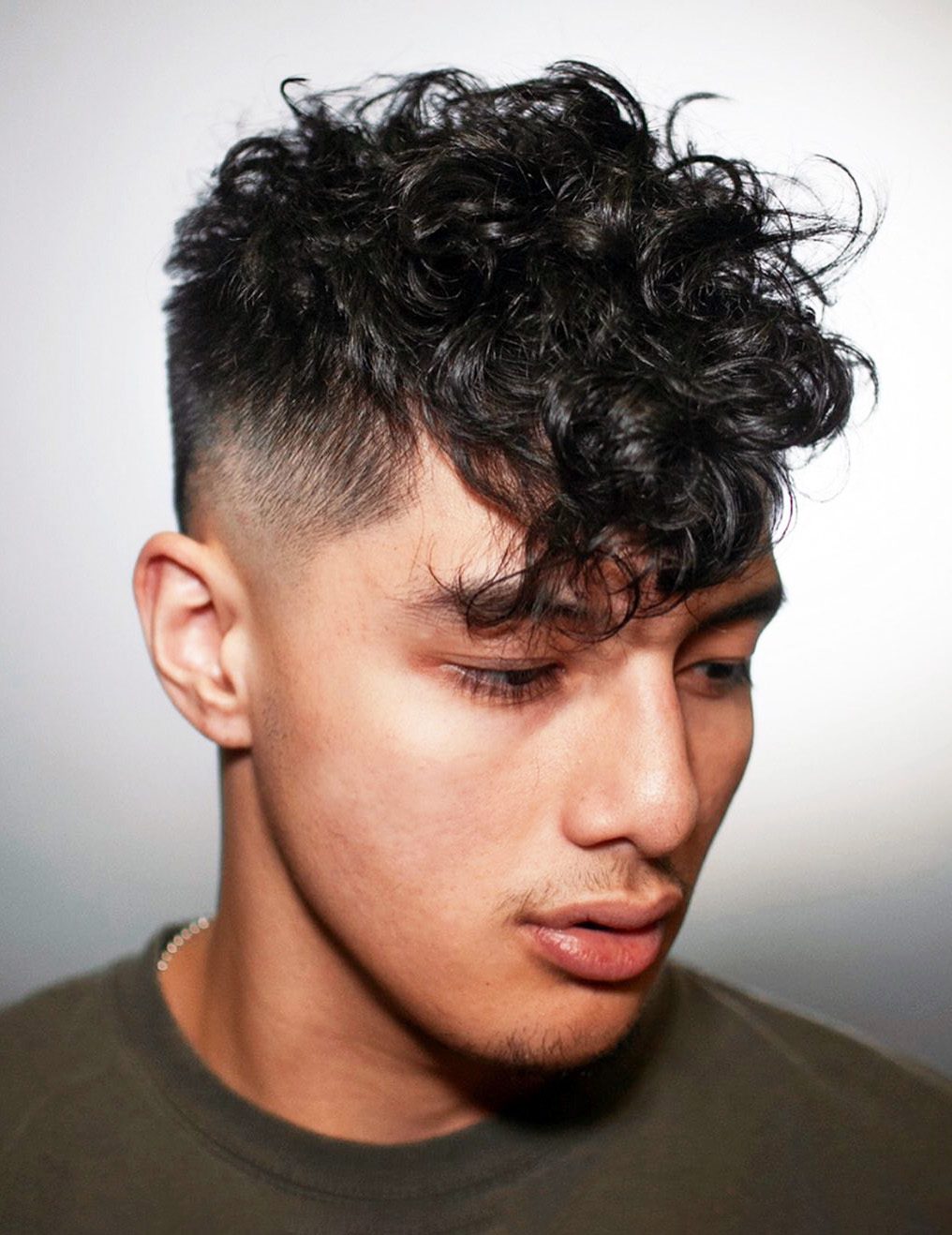 Perm With Fade
You can add a neat and streamlined look to your perm by fading the sides and back. These provide a nice contrast to the tousled top and also emphasize the height and volume of those curls. This is a great choice if you have a round face shape and want to give it the illusion of length.
4 / 27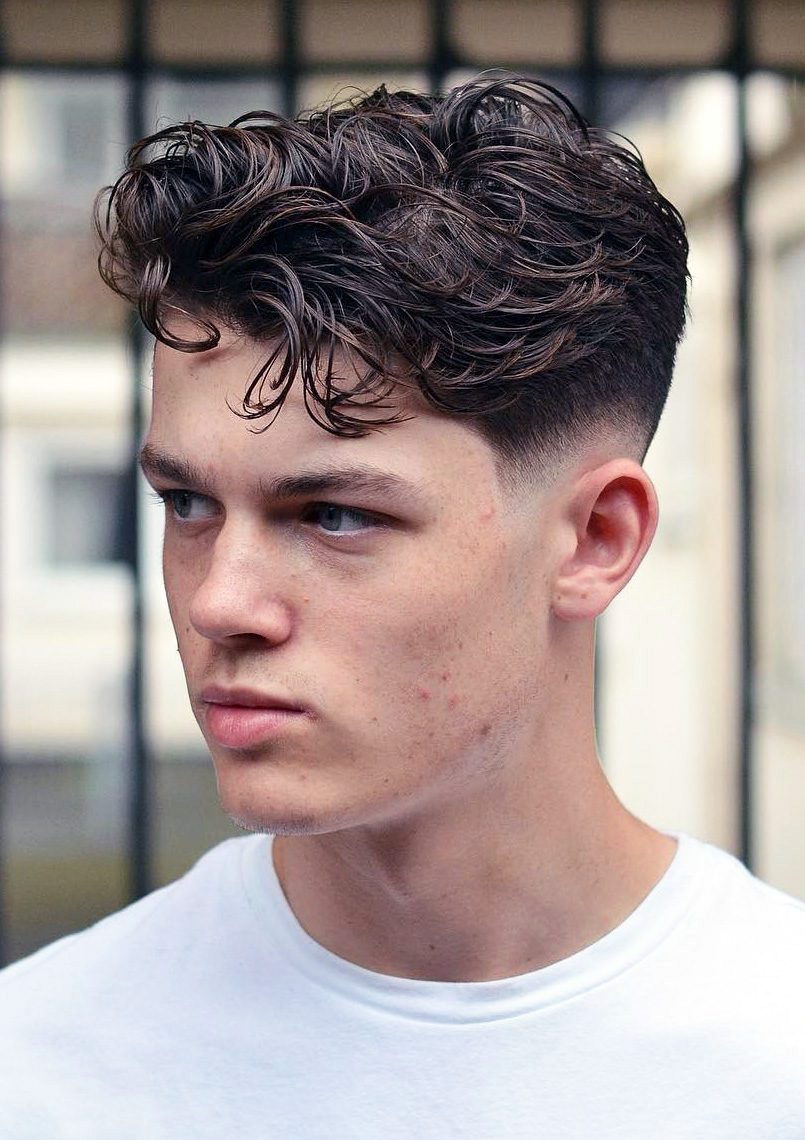 Mid-Fade Perm
You can get a perm and still keep it understated by opting for just a slight wave paired with a medium fade like this. A mid-fade looks really classic, strikes the right balance, and adds a sleek touch to those curls.
5 / 27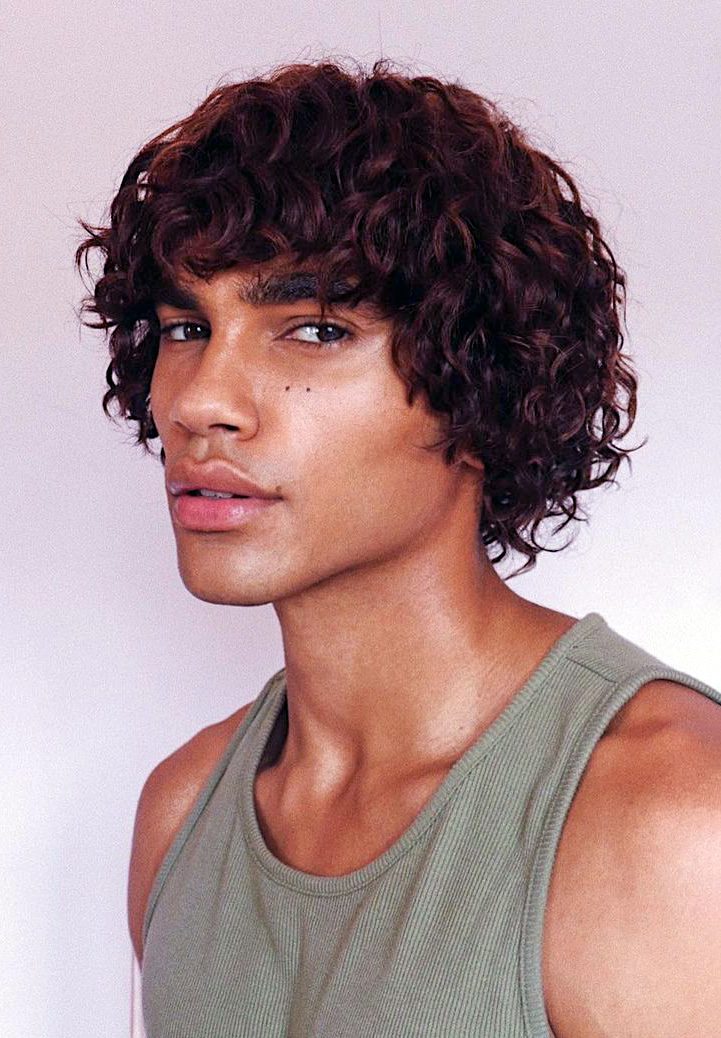 Permed Long Bowl Cut
Tired of a bowl cut but don't want to abandon the haircut's sassy shape yet? Grow it a wee bit longer than usual and get those soft perms in. The result is a gender-bending Beatles member who refuses to conform. Sounds like you? Then you know what to tell your hair stylist next time you drop by for a fresh look.
6 / 27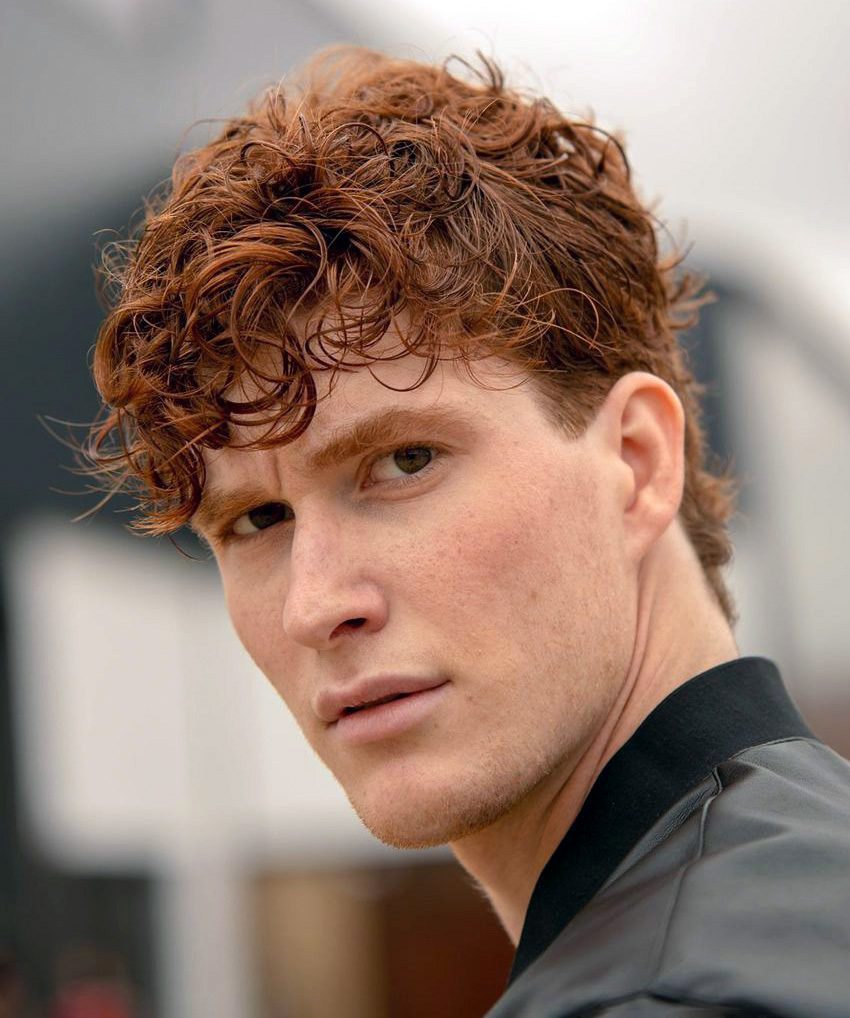 Bangs with a Long Back
Who says bangs cannot be permed must have been locked in a cave for so long. Anything can be permed, as long as it has the proper length and health. There is an extra effect when your permed bangs come with a long back and sides. It definitely shouts – effortless but trendy.
7 / 27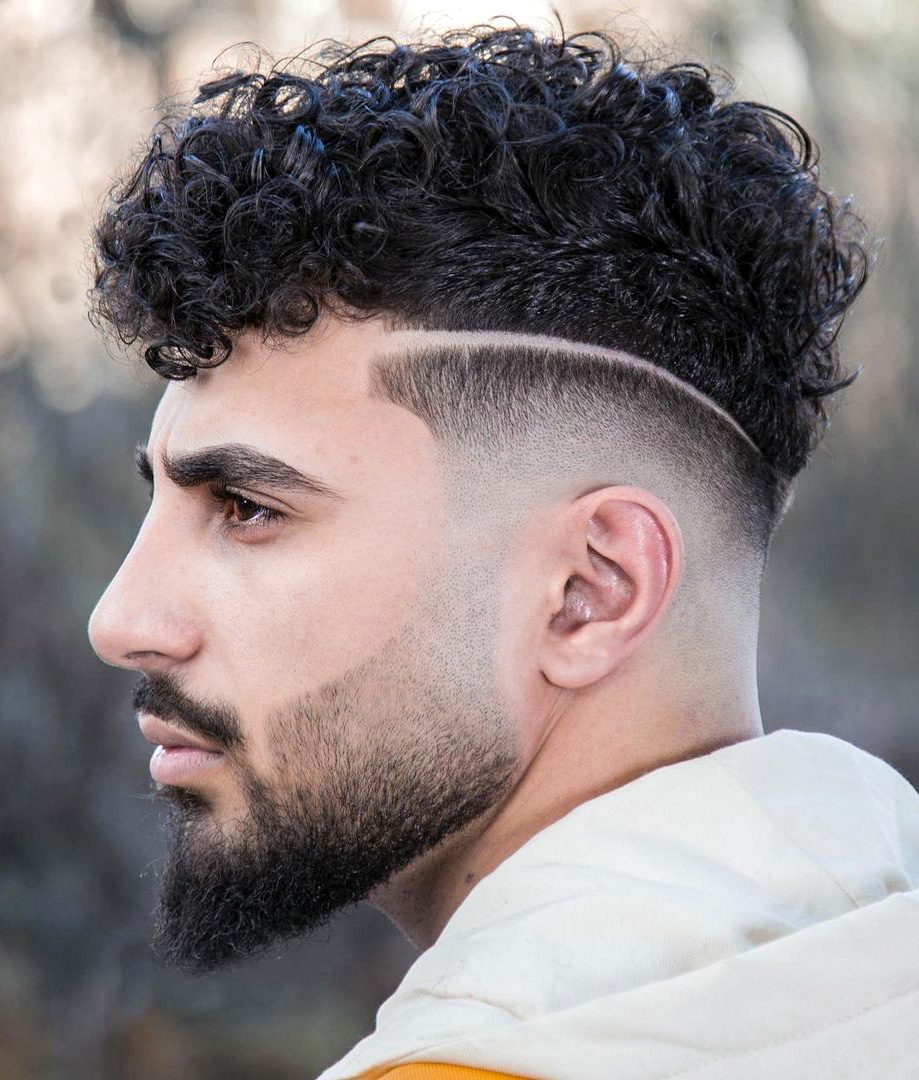 Fade with Hourglass Beard and Geometric Design
It's not often that you see all of the facial hair involved in a haircut, but when it does – the results are magical. To achieve this look, you must grow a beard and have your stylist do an hourglass fade on the side that starts from the highest part of the taper until the jawline of the beard. The geometric design can either be a simple deflating line or anything you can come up with that your hairstylist will agree to.
8 / 27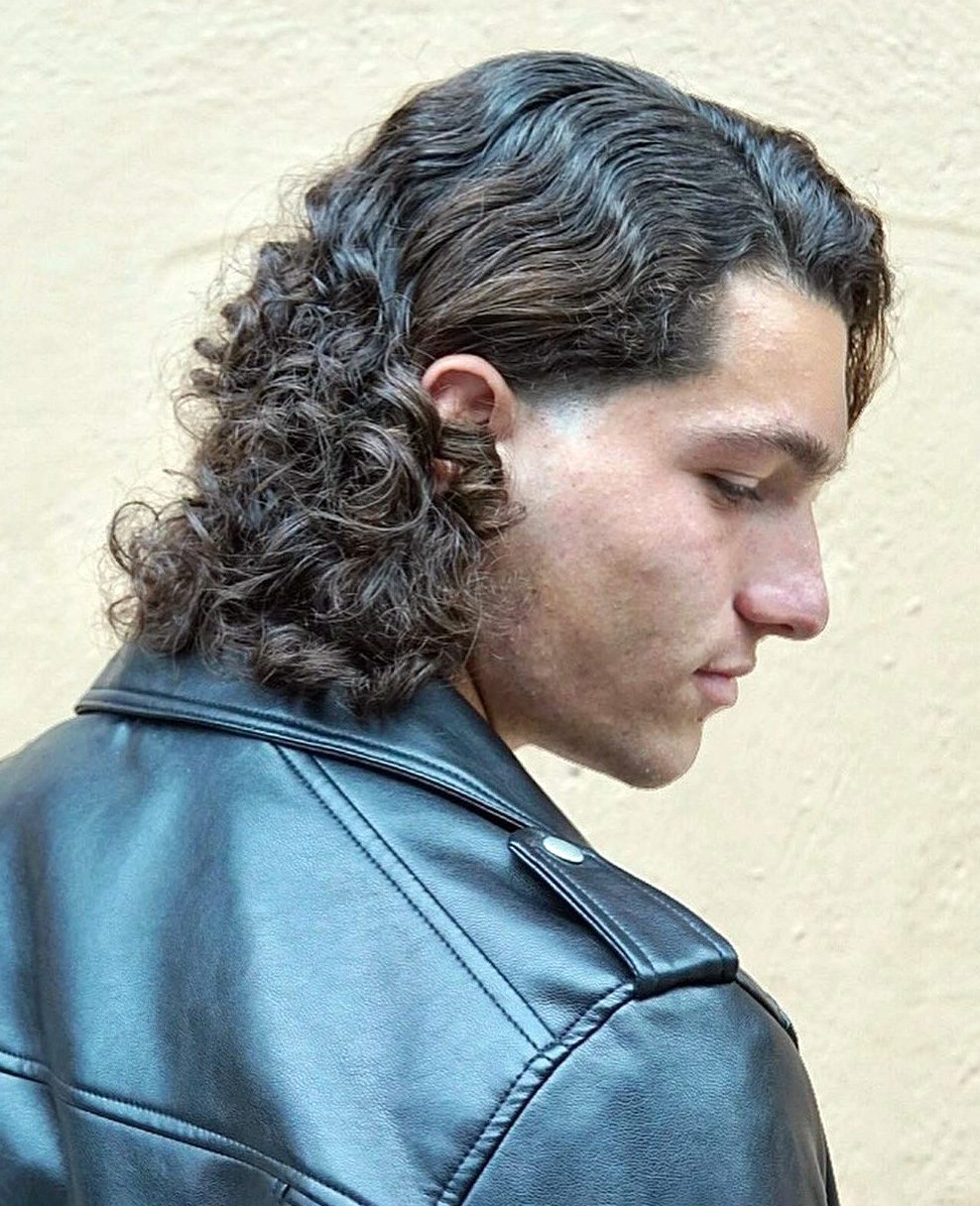 Bottom Half Perm
For men who have long-ish hair, you can try a partial perm. Curl only the lower half and keep the rest straight for a look that has a vintage appeal to it. This is an ideal choice if you want some volume and texture to your long hair or if you just want to add a retro flavor to your look.
9 / 27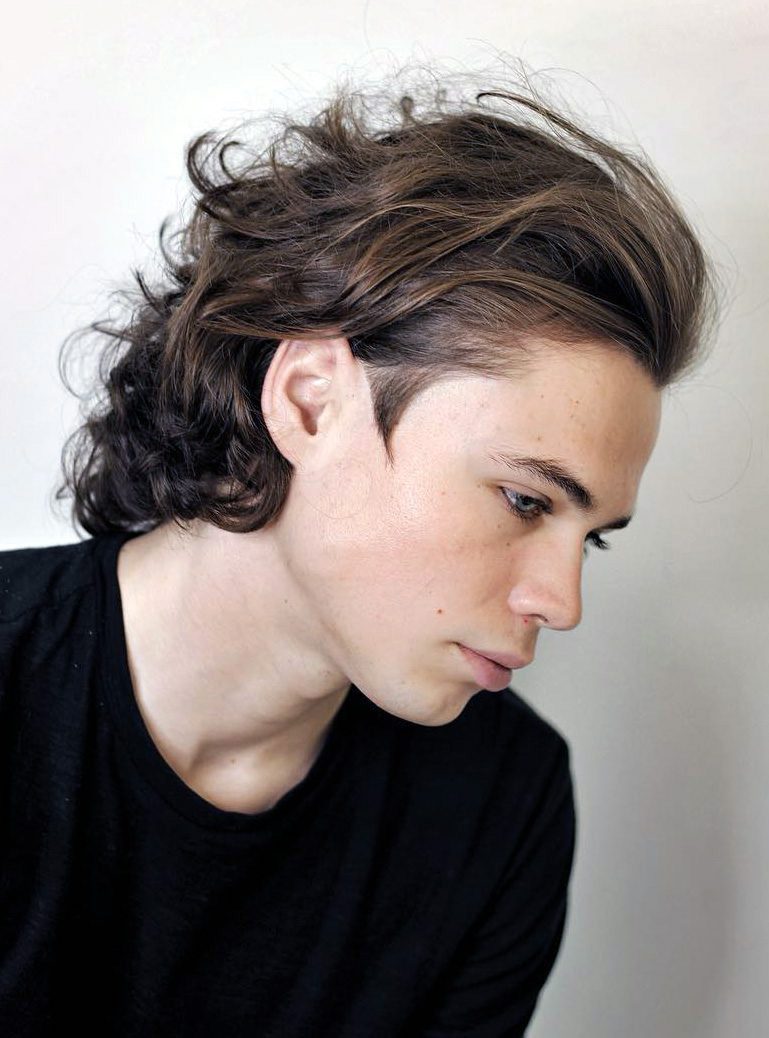 Beach Wave Perm
A perm so natural it looks like you didn't get one? Yes, please! Whether you're planning a hair transformation in time for summer or you just want to give your mane extra texture and body, this beachy style is a great choice. It is low-maintenance, too — just spritz on some texturizing spray.
10 / 27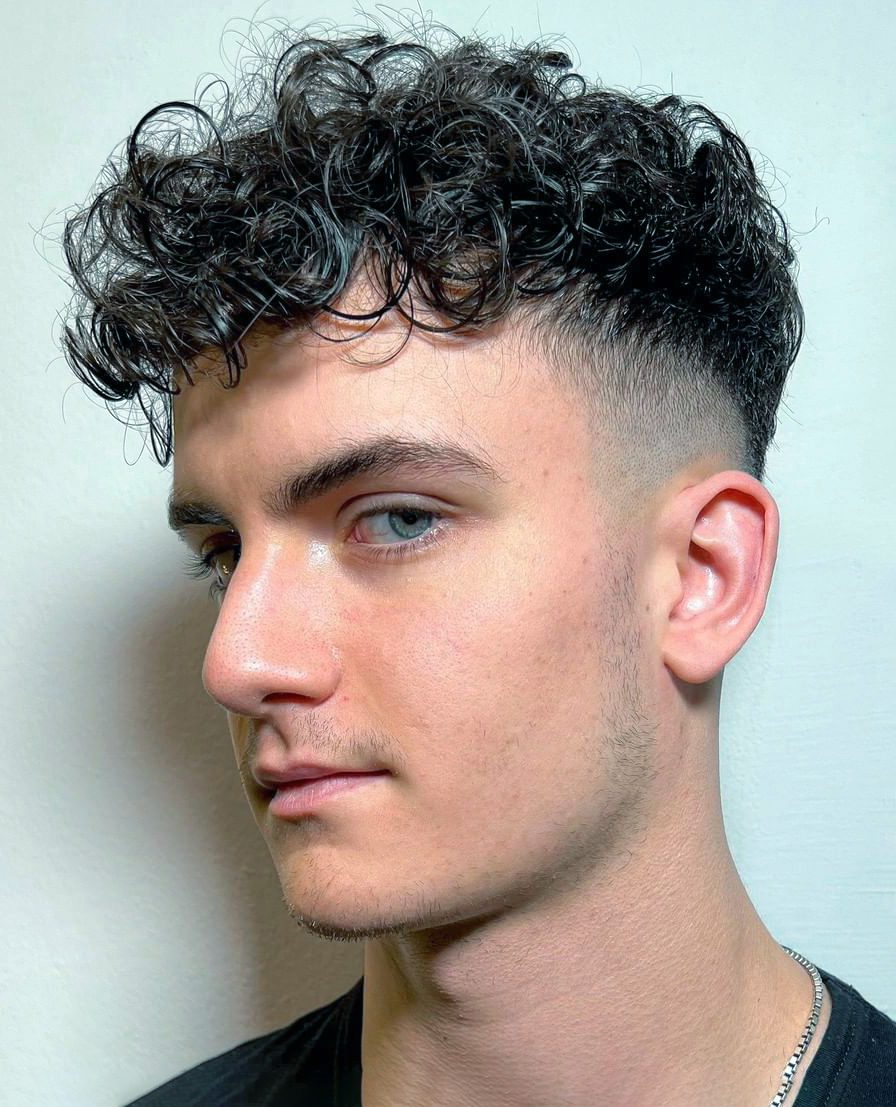 Medium Curls with Taper
Sometimes, just the right amount of taper on the side complements not short, not long, but medium-length curls on the top. The results look like you have been carrying your perm for some time and that you're not a newbie anymore, even if it's your first time.
11 / 27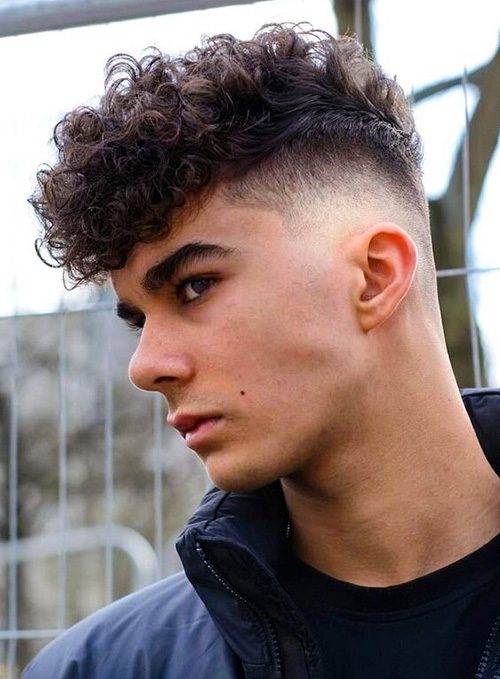 Short Curly Top With High Taper
Add more texture to your curly top by getting a high taper on the side. The concentration of the curls will be focused on the top part and in front, creating depth. The back is clean and makes it easier to maintain.
12 / 27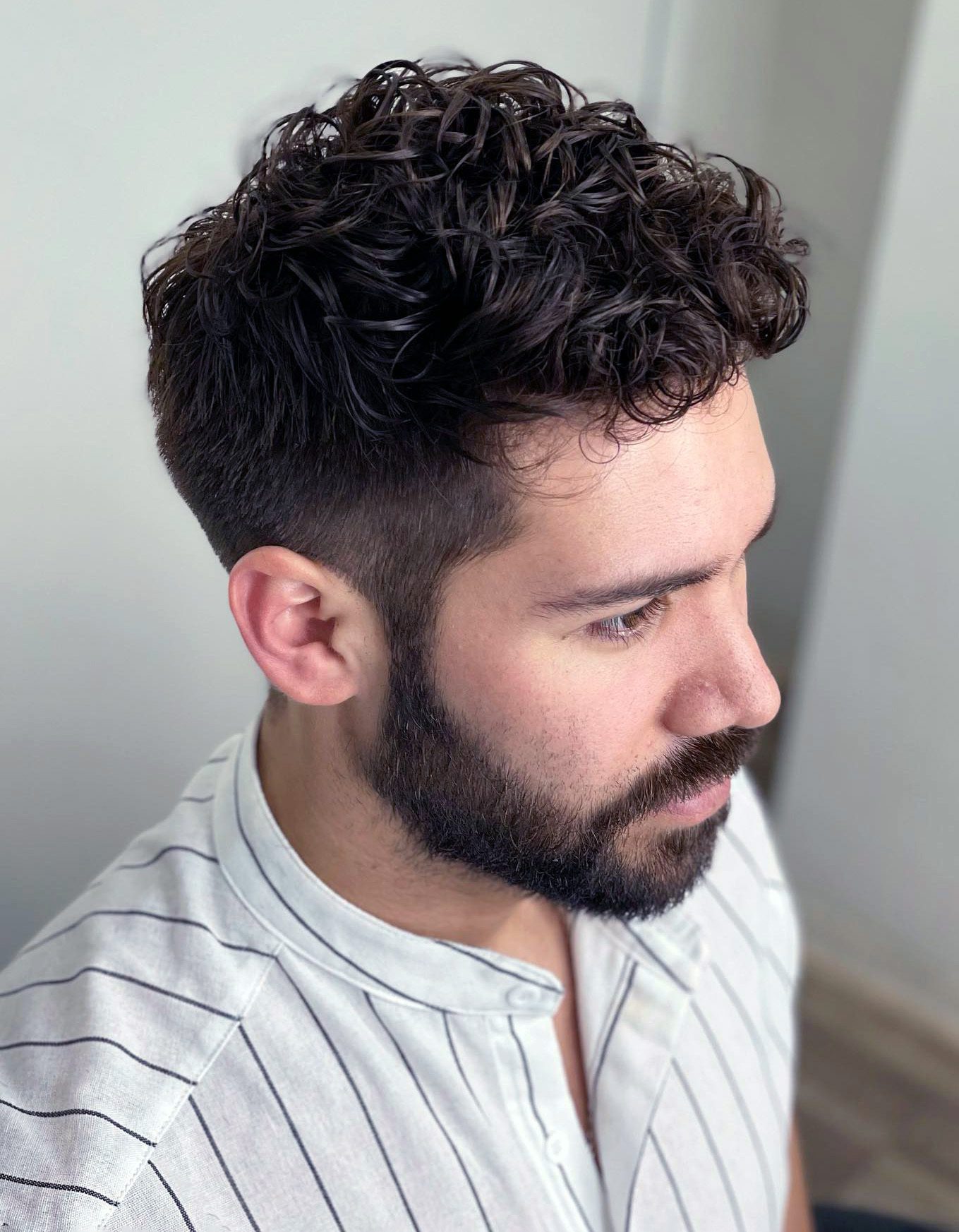 Short Perm
Having short hair shouldn't stop you from getting a perm. As long as the top has enough length to curl, go for it. You can try this style that features voluminous curls at the top and a short back and sides.
13 / 27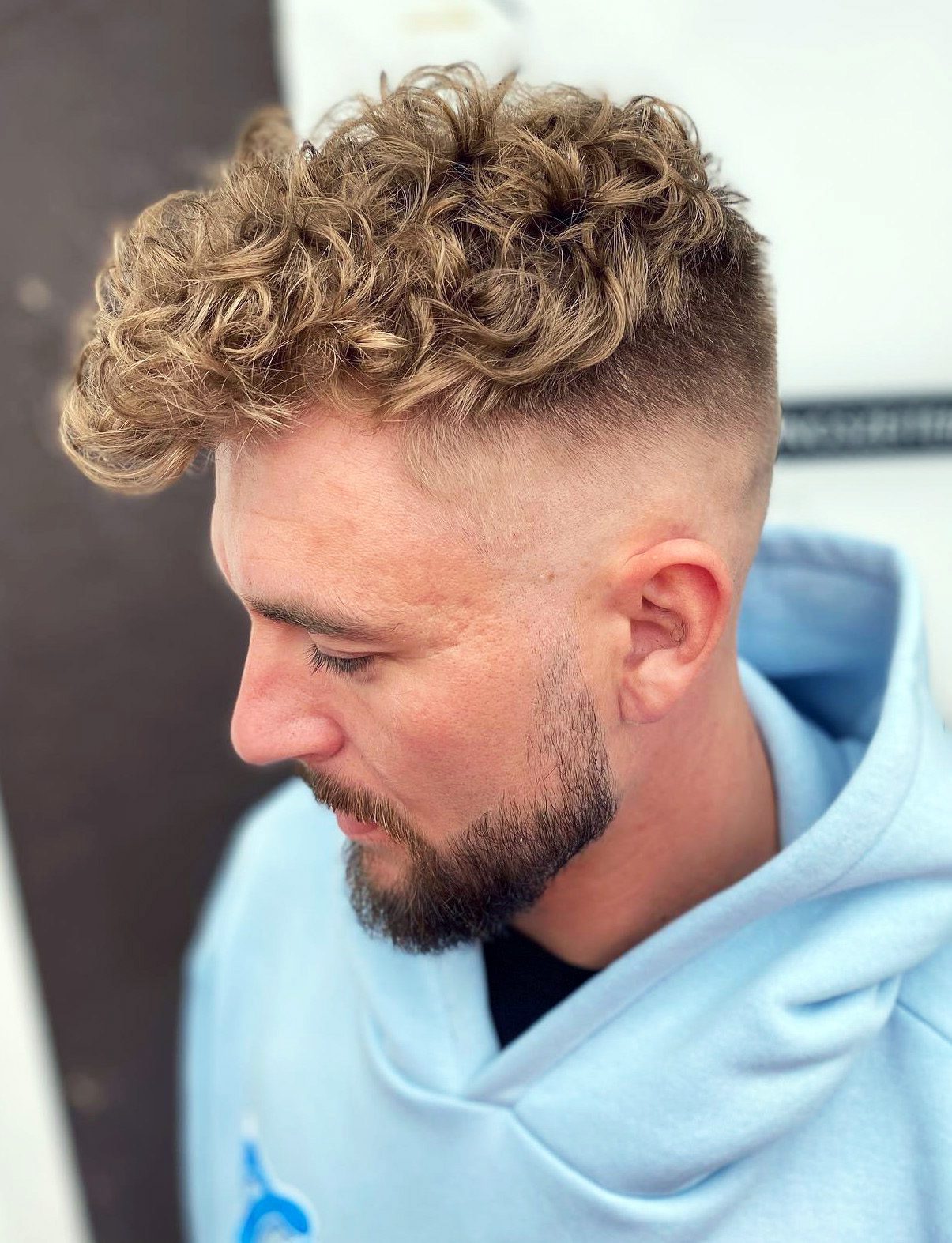 High Fade Perm
Voluminous curls at the top combined with a high fade definitely makes for a bold and edgy look. Here, only the topmost section is curled and the rest is shaved down, resulting in a fresh and modern take on the classic perm style.
14 / 27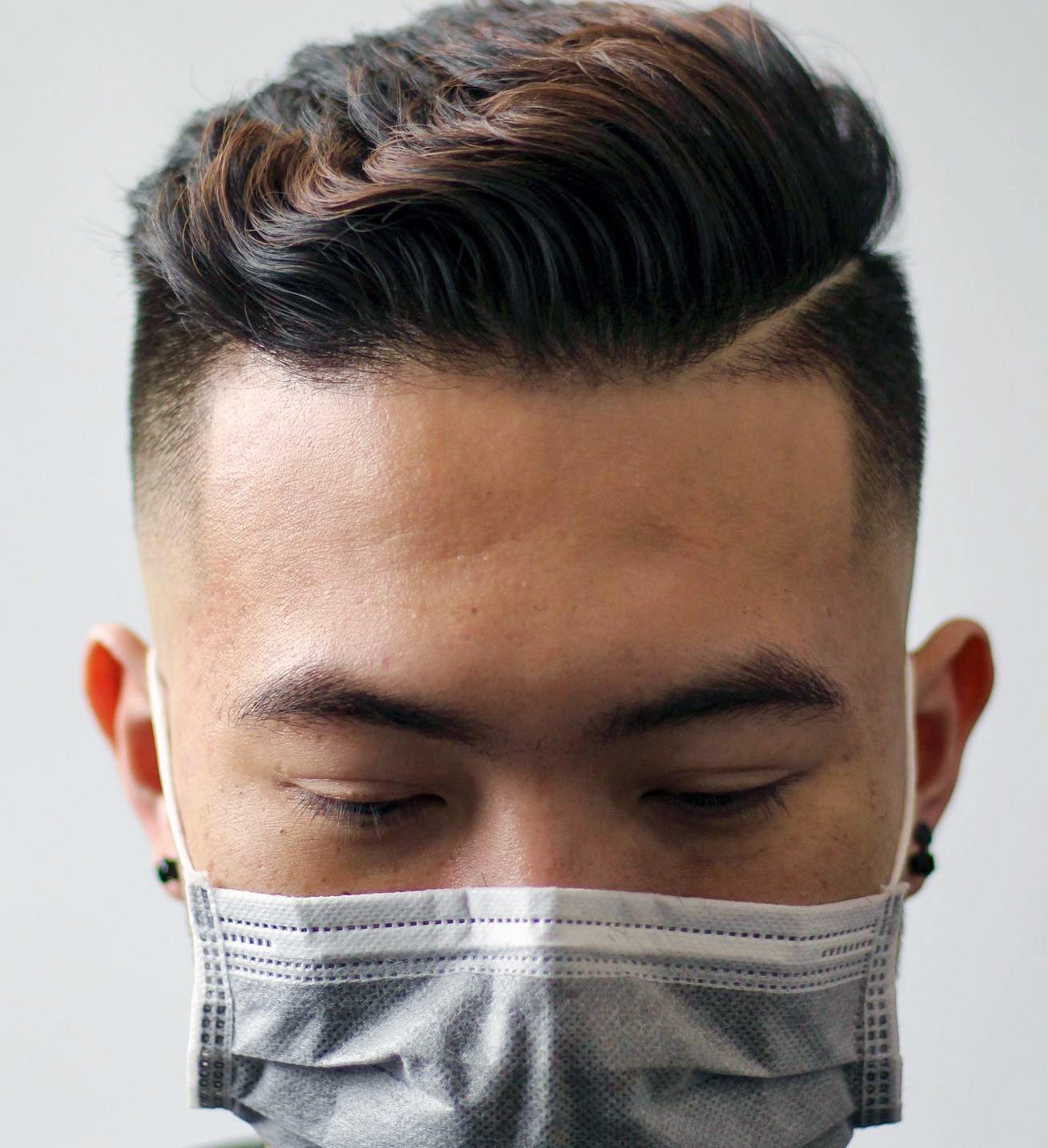 Disconnected Quiff with Brown Highlights
Stand out with this crisp, clean, and precise side line that clearly distinguishes the sporty waves above from the back and sides of the head. The addition of brown highlights creates the ideal balance to enhance your overall glow.
15 / 27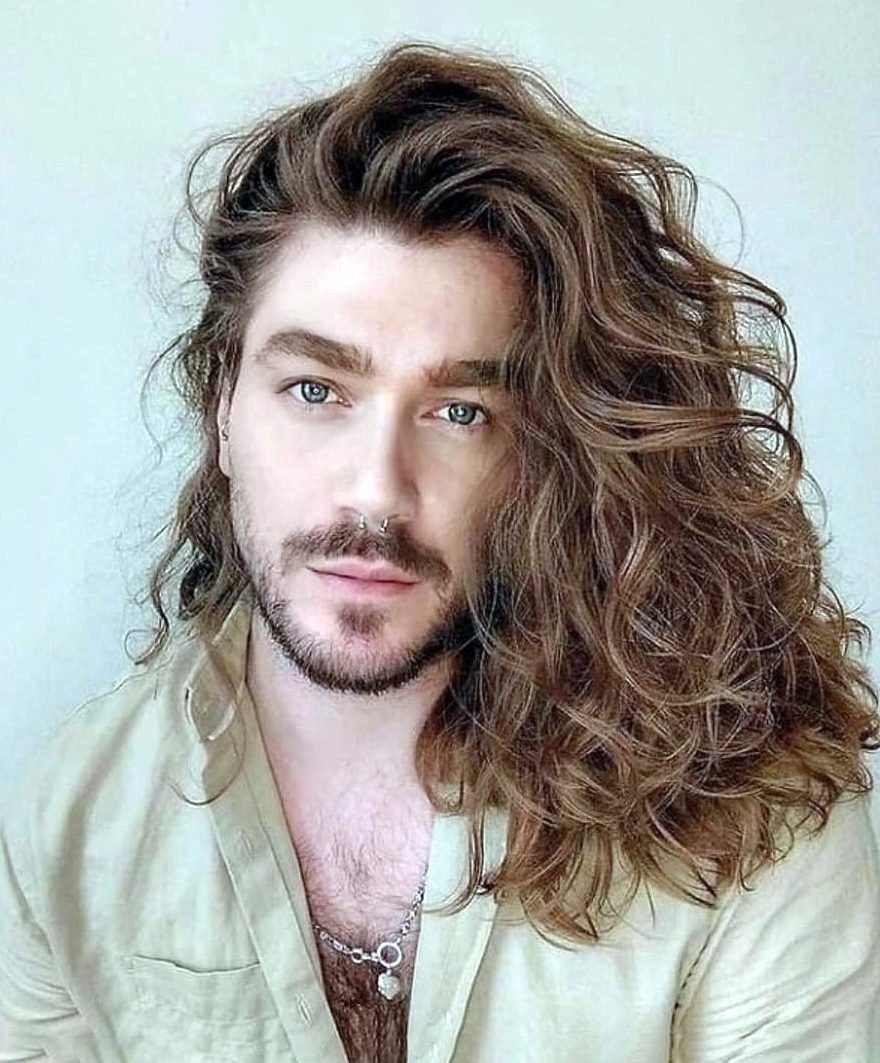 Long Perm
Unleash your inner rockstar with a style like this! If you have long hair that's craving some texture and volume, you can get it curled with results that will satisfy the rocker-hunk in you! For curls that reach past your shoulders, keep in mind that you need to grow your hair longer before perming.
16 / 27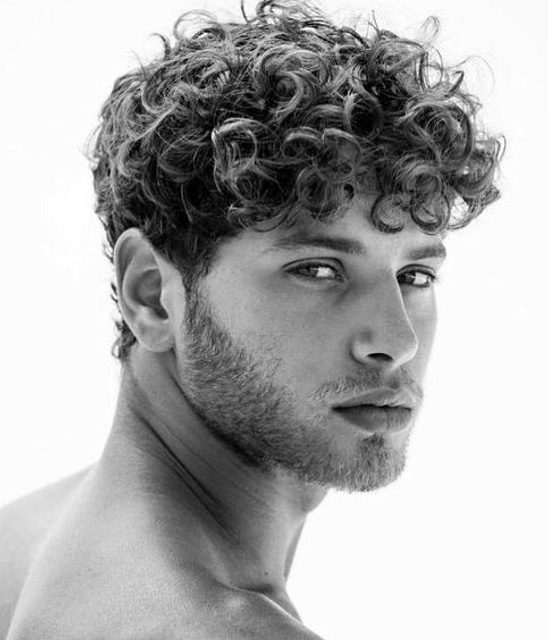 Perm With Fringe
This is one of the most classic perm styles for men. You can opt to keep the sides and back long-ish, as in the photo, or you can get a fade, but the key feature of this look is the long fringe. It's a great choice if you're trying to disguise a wide forehead, or if you're just going for an effortlessly cool look.
17 / 27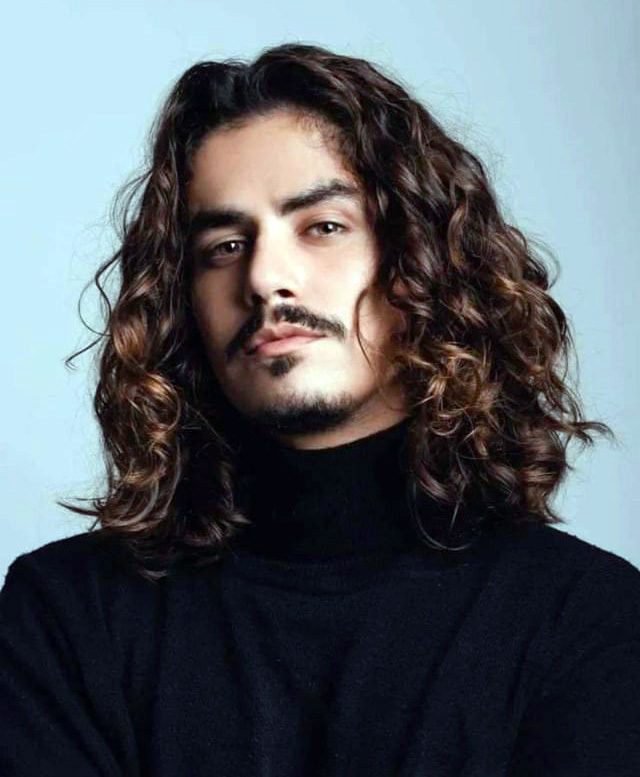 Shoulder-Length Perm
If you have long hair, getting it curled is a great way to add volume and body, not to mention some rockstar appeal. Remember, though, that you need to grow it out past your shoulders to get it to this length after curling. Also, it costs more to perm longer hair, and it may not be a good idea to DIY it if you want good results.
18 / 27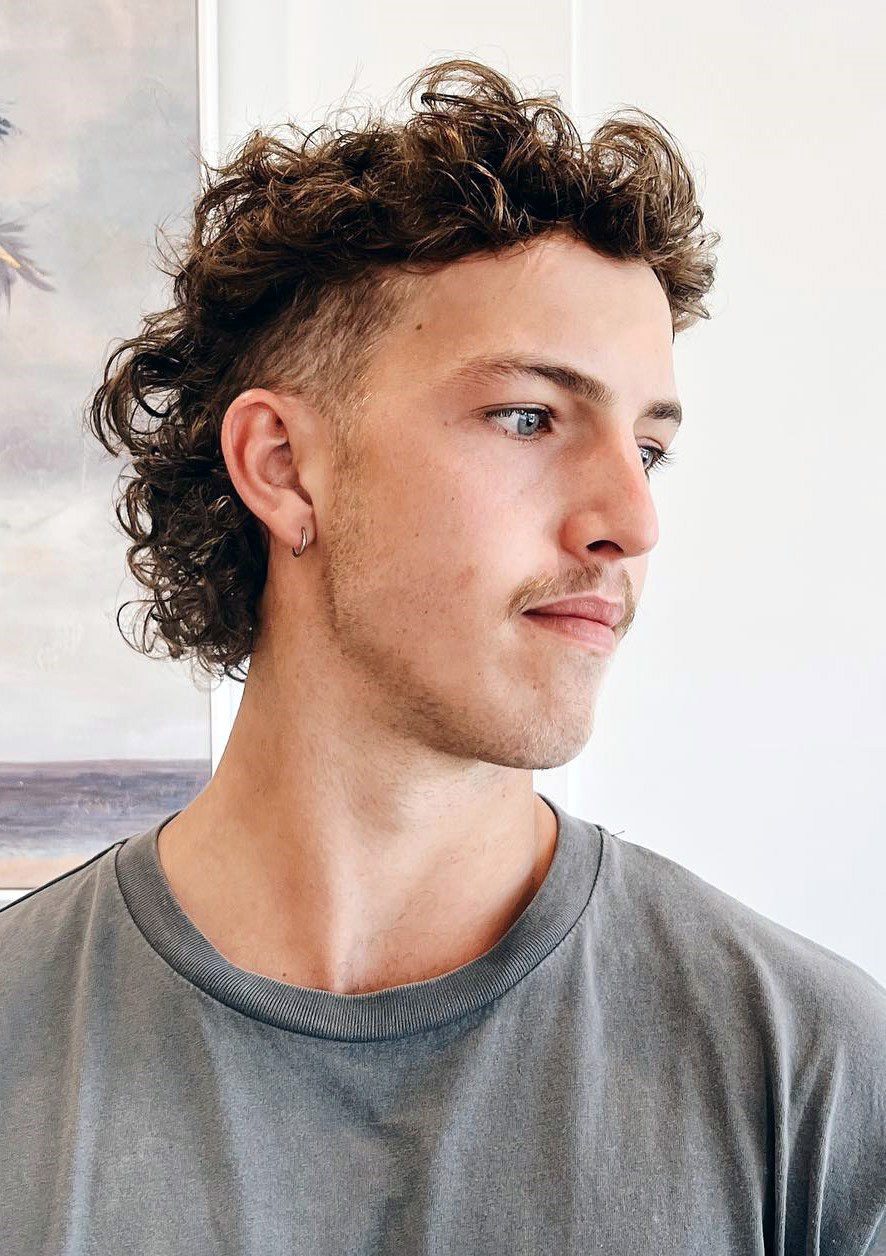 Perm Mullet
The perm isn't the only '80s trend that's making a comeback. The mullet has returned as well. And you can combine the two trends with a style like this that features curls from front to back paired with shaved sides. If a mullet sounds hard to pull off, this stylish look should convince you it has gone through a transformation that looks really fresh and modern.
19 / 27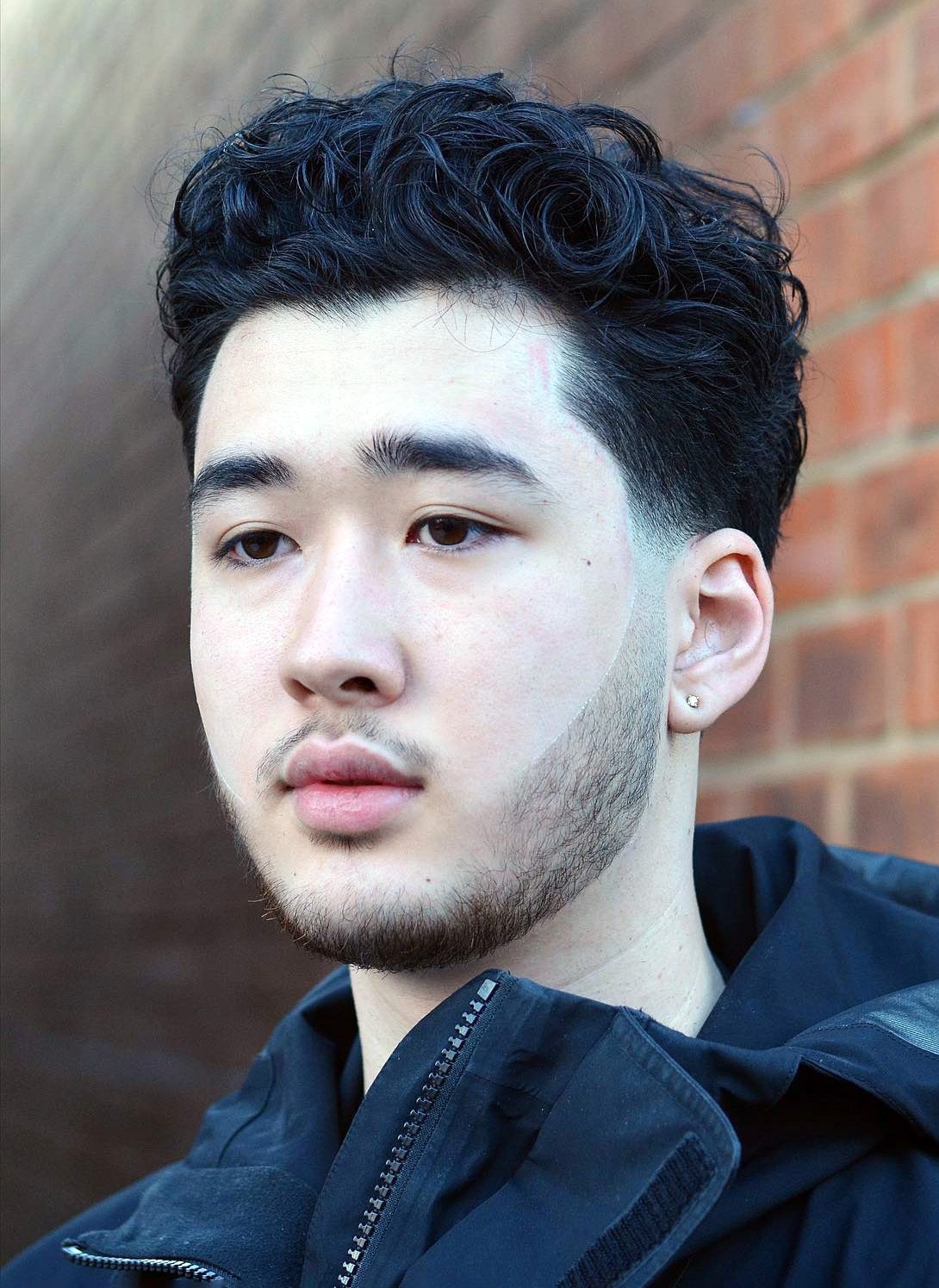 Perm For Asian Hair
Perms are so in among Asian men thanks to the influence of K-pop idols (looking at you, Chanyeol!). So if you're Asian and considering a hair makeover, here's a style idea featuring a tousled curly top with long-ish sides. The short beard finishes off the look nicely, too.
20 / 27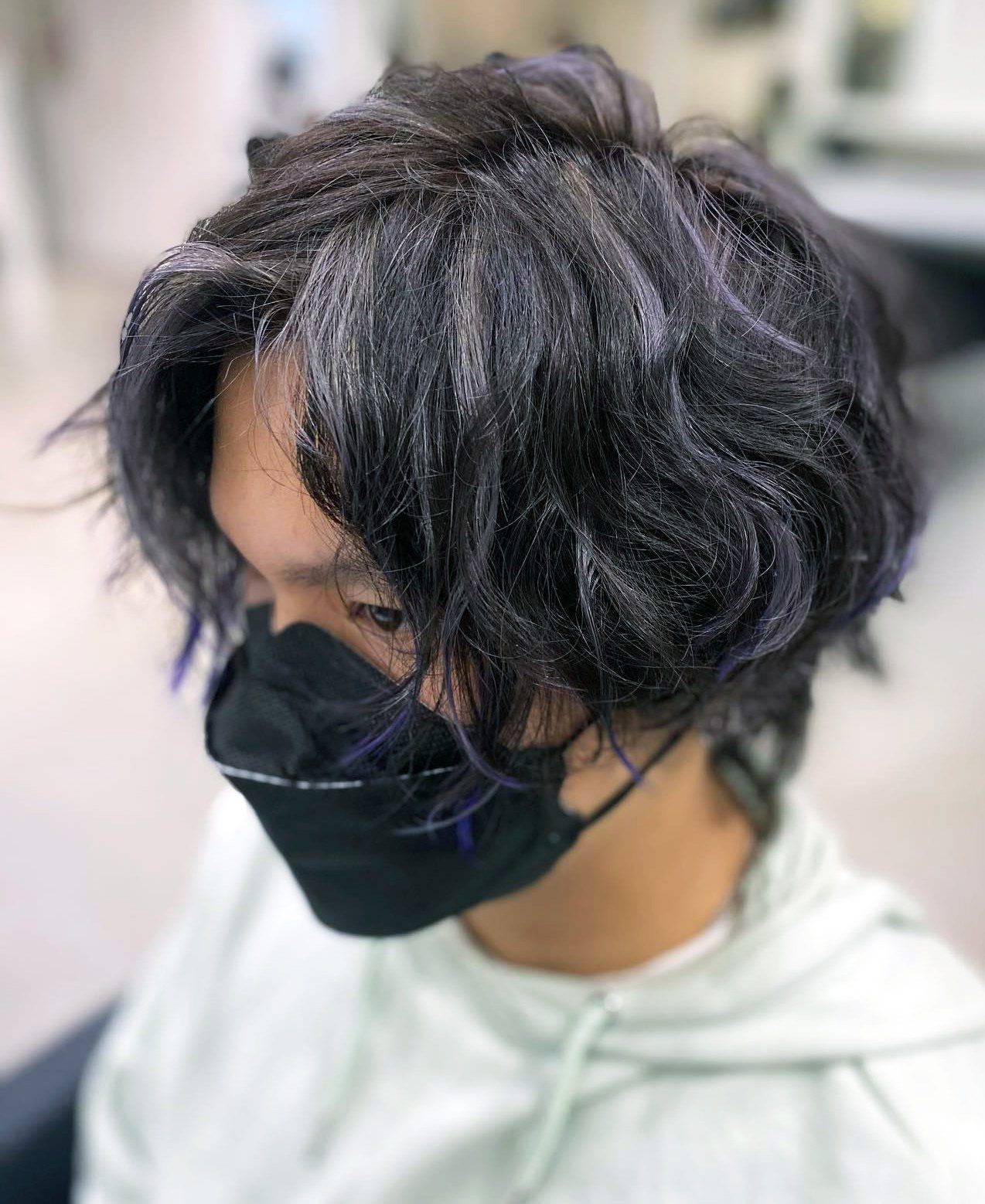 Wave Perm
If you're new to this style and unsure where to start, or if you think tight curls are a little too old-fashioned, you can opt for loose waves like these. It's an understated look that still makes a big impact. Daily styling is easy to manage as well with just a few spritzes of texturizing spray.
21 / 27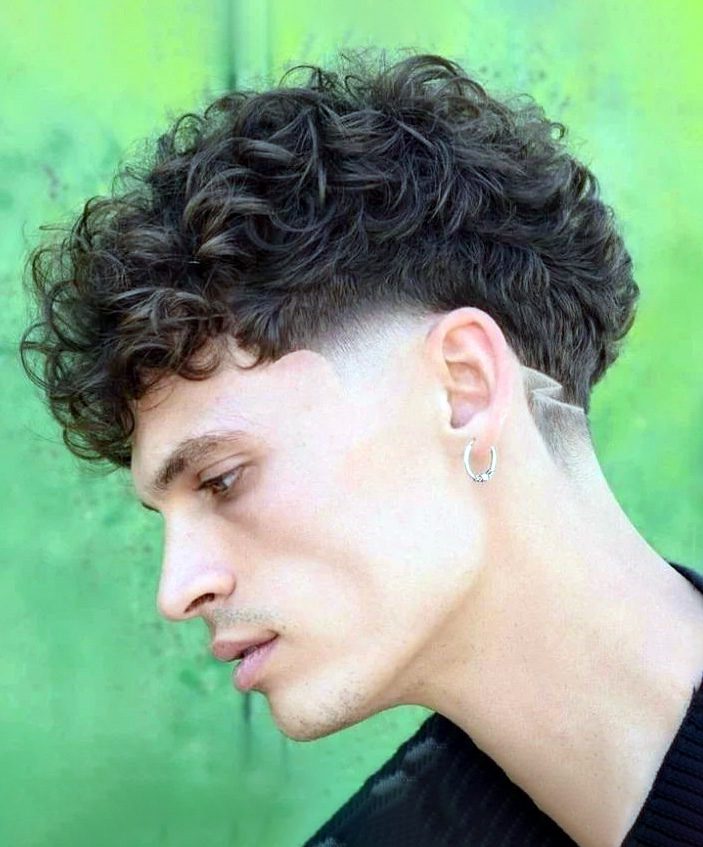 Low-Fade Perm With Design
Here, the tousled curls at the top make a nice contrast to the clean low fade. Plus, the lightning-shaped design at the nape of the neck adds an extra cool touch. As a trend that was popular in the '80s, perm styles for men could easily go the old-fashioned route but this is a great way to put a modern spin to it.
22 / 27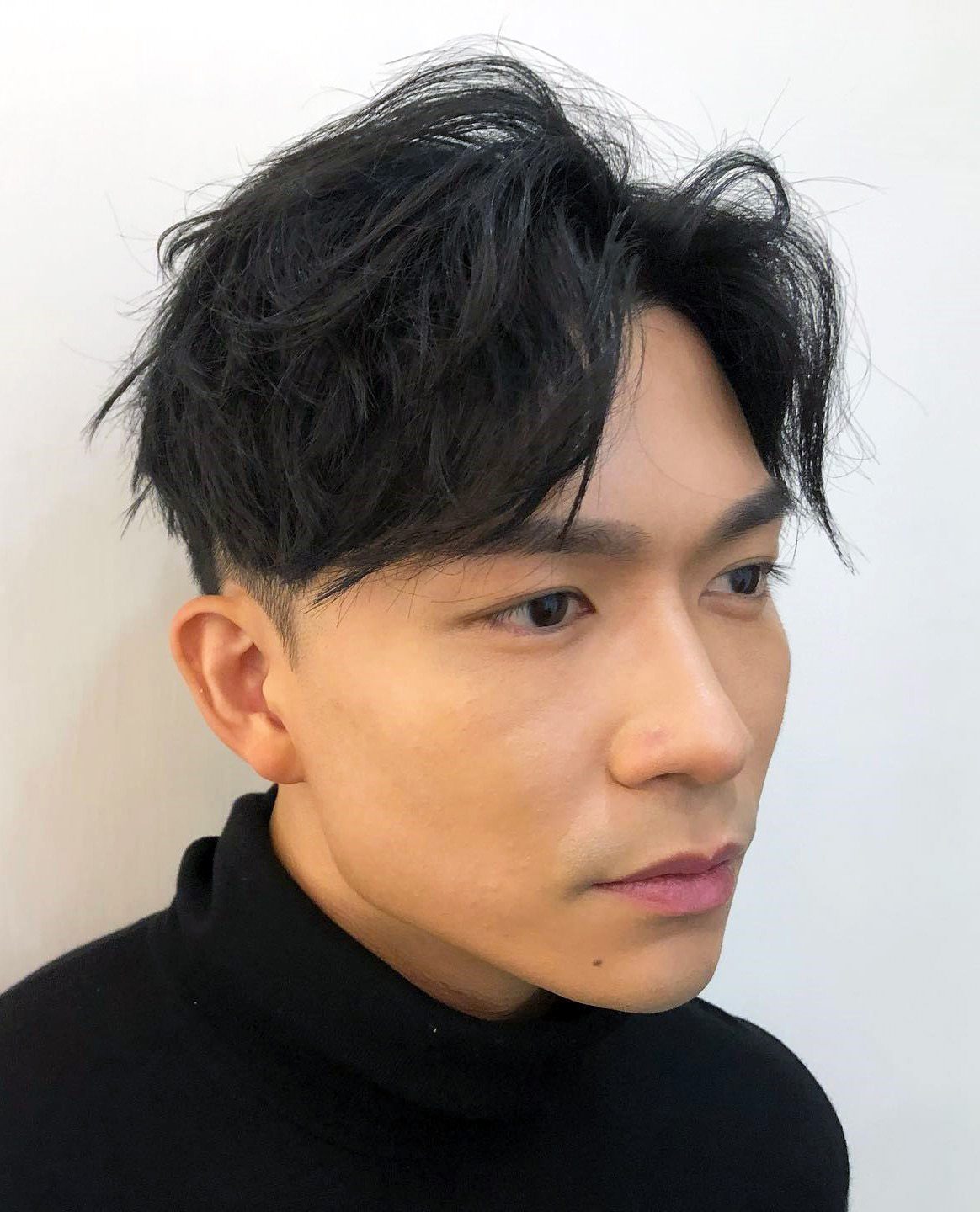 Messy Perm
Here, a very subtle wave perm is given a heavy dose of edge with messy styling. Not only does it look so cool but it's easy to style and maintain, too. Just keep your texturizing or volumizing spray handy.
23 / 27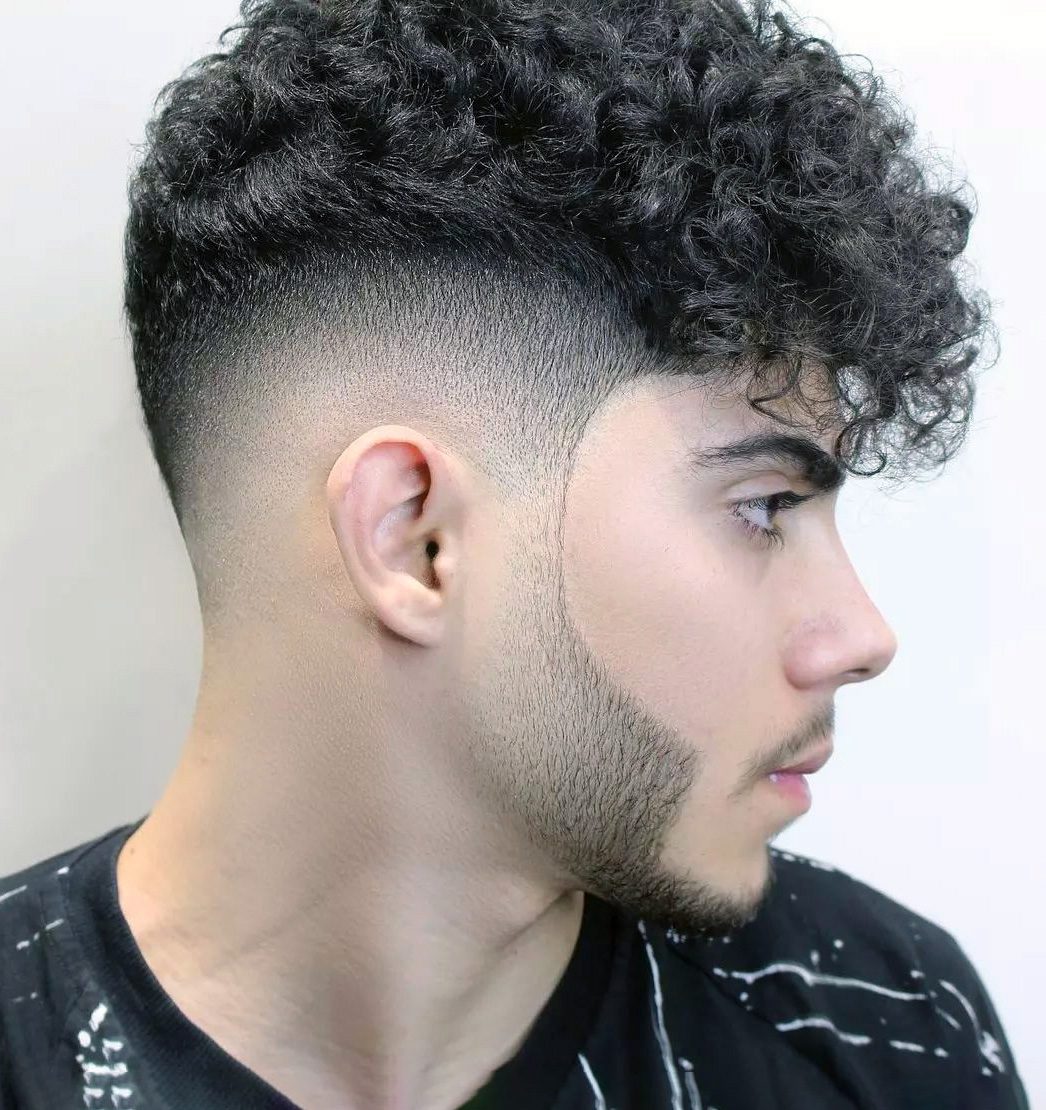 Perm With Shadow Fade
This style combines two trendy features in one haircut: the perm and the shadow fade. The top part is done up in tight curls while the sides and back feature a stylish high shadow fade that flows down into a skillfully shaped beard. There's definitely a lot of great stuff going on with this look!
24 / 27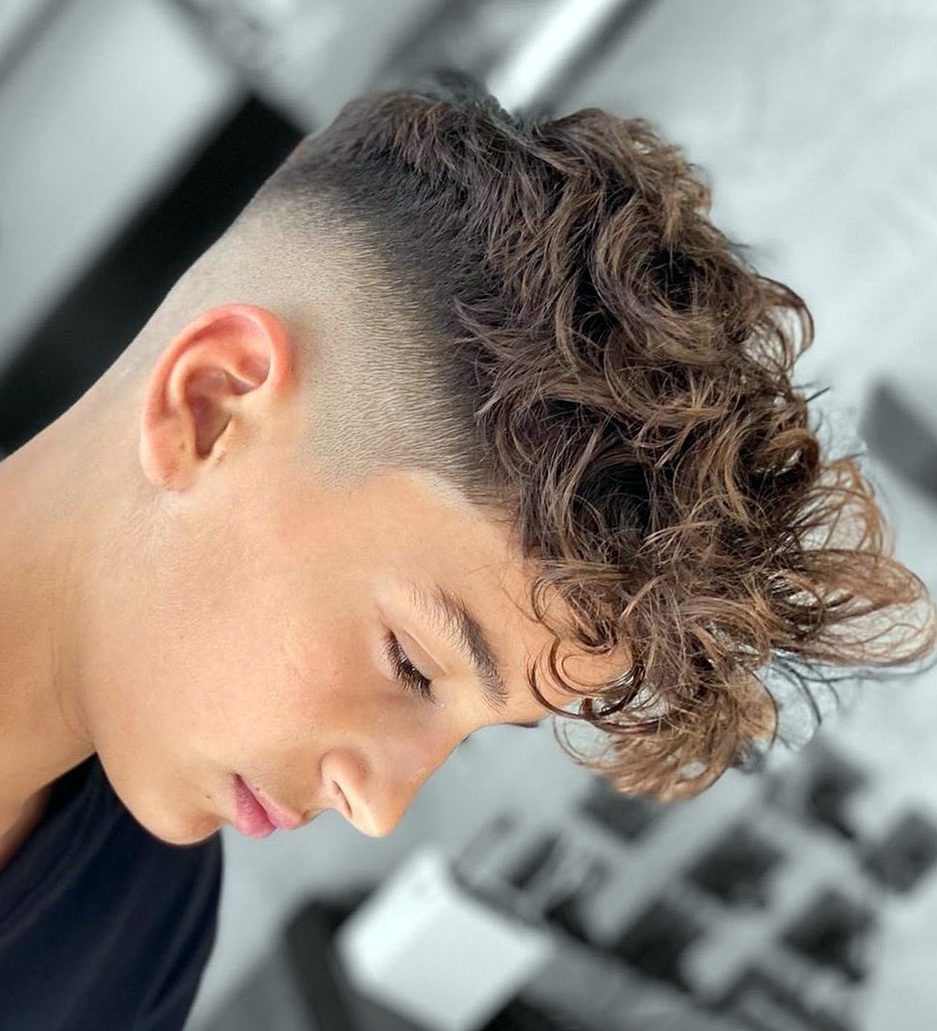 Top Perm
If you have really short hair, you can still rock the perm style by curling only the top. You can opt to fade the sides and back, as in the photo above, or to wear them a little longer. What's so great about this look is it adds volume and body to the top, which makes a nice contrast to the shorter sides and creates a cool look overall.
25 / 27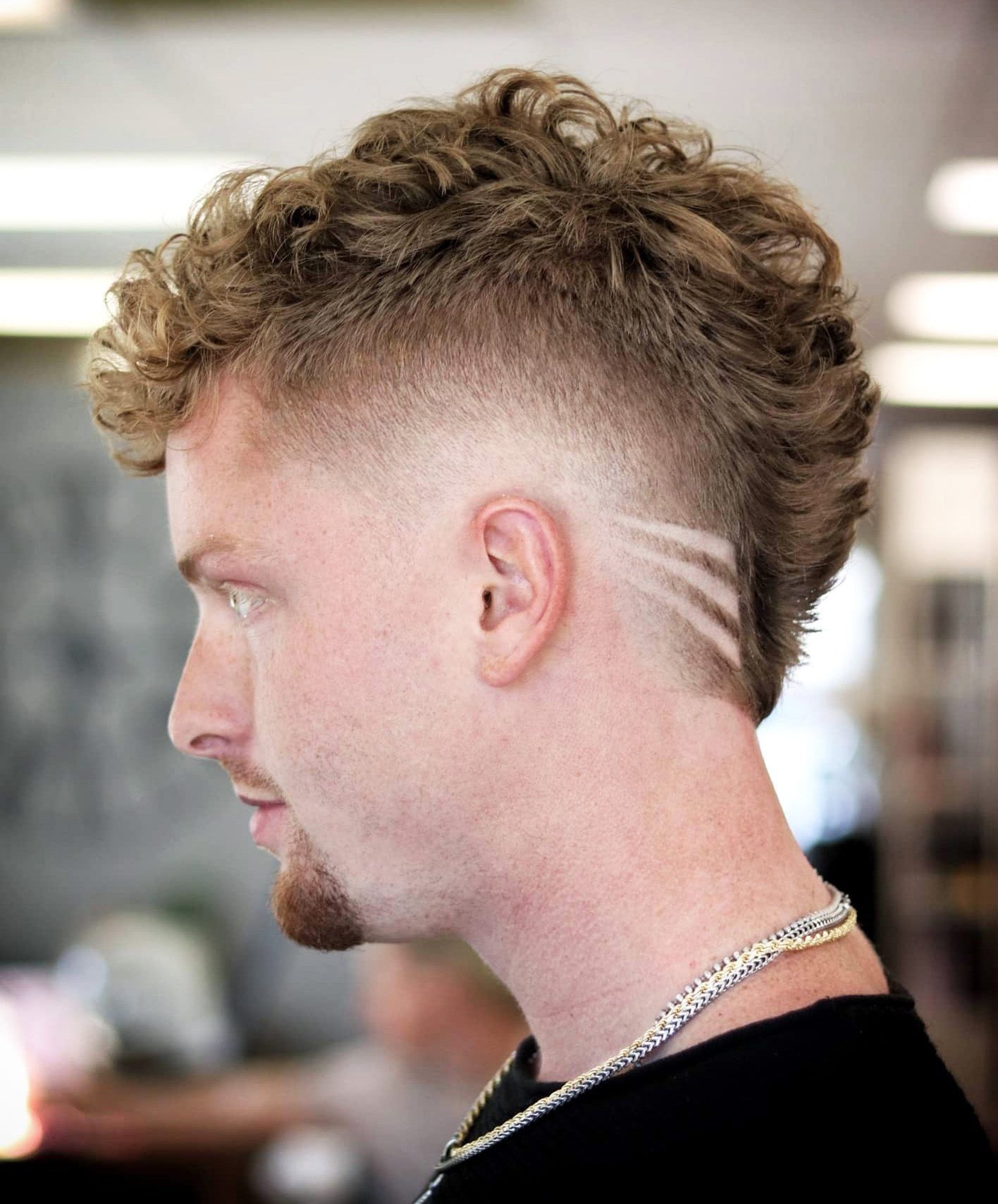 Perm With Design
A perm combined with a fade already looks cool as it is, especially when it has a mohawk vibe to it, as in the photo. But adding some designs to the fade makes it even more impressive. You can experiment with any design that you can pull off and your barber can create — it's guaranteed to be a standout look!
26 / 27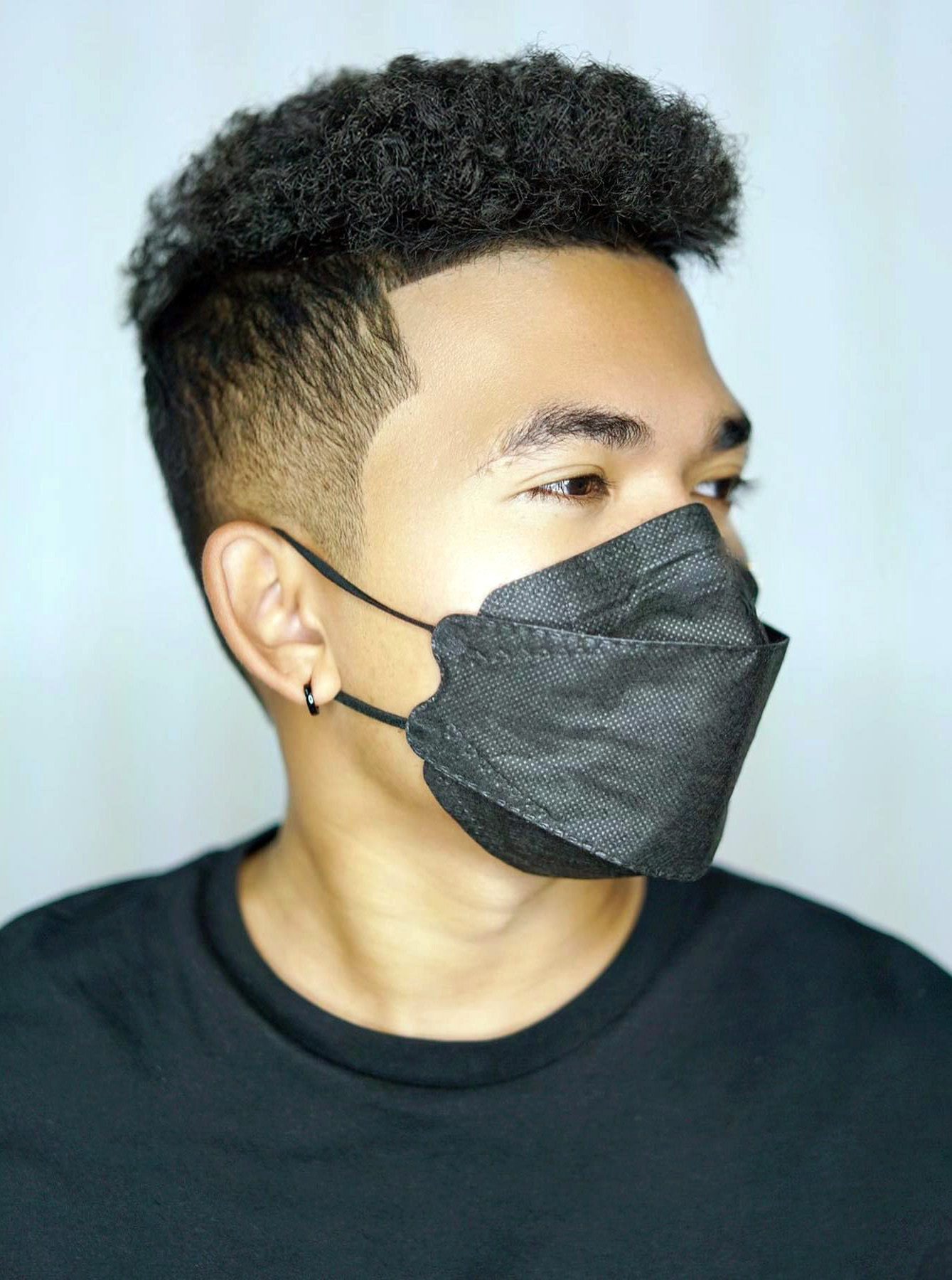 Tight Perm
Tight coils like these work best with short hair and also go nicely with faded sides. This is an ideal choice if you're going for a high-top or flat-top look. You need to know your way around curl products, though, because coils can be more difficult to style and manage.
27 / 27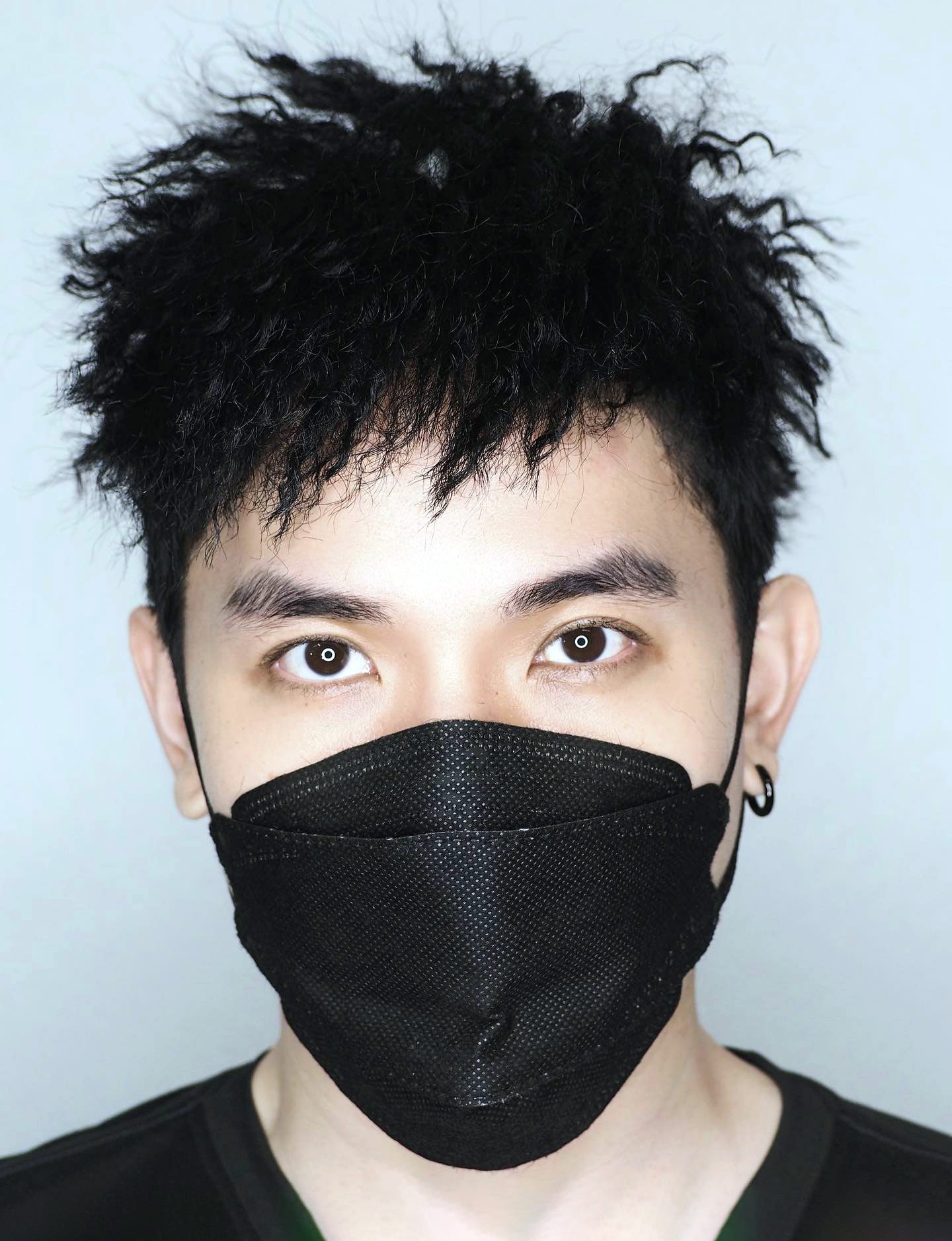 Twist Perm
You don't always have to go the classic curly route with your perm. As you can see here, twists look just as cool. If you favor a unique, edgy texture rather than the usual voluminous waves or curls, try this.
FAQs
Can men get a wavy perm?
Yes, men can get a wavy perm, just as women can. However, your stylist will let you know the options available to you (depending on the current condition of your hair) as there are different methods and styles of perming. Also, your hair should at least be an inch and a half long.
How do men keep wavy perms?
There are several steps to follow to maintain your wavy perm.
Do not get your hair wet within 48 hours after your perm treatment. Even after this period, shower sparingly, you also cannot swim for three weeks.
Use the right shampoo and conditioner (or other products) as advised by your stylist.
Do not rub your wet hair on a towel or comb it – air dry it instead or use a diffuser attachment on your hair dryer at the lowest setting.
How long does a wave perm last for guys?
In general, a wave perm will not last longer than six months. On average, most men get re-permed within four months. This depends on your hair growth and preference. Hair that is permed remains permed, so as your hair grows out, you will have a mix of your original hair and the permed one.
Is perm good for wavy hair?
Yes, a perm can be good for wavy hair. It could add more definition to your existing wavy hair.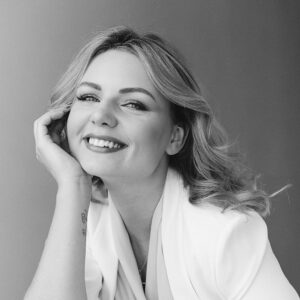 With an extensive background in the beauty and media production industry, Anastasiia knows all the buzz and is ready to share a few tricks with you to zhuzh your hair game. Constantly traveling between Europe and North America, she is the one who keeps an eye on all the popping world trends so that you don't miss anything.