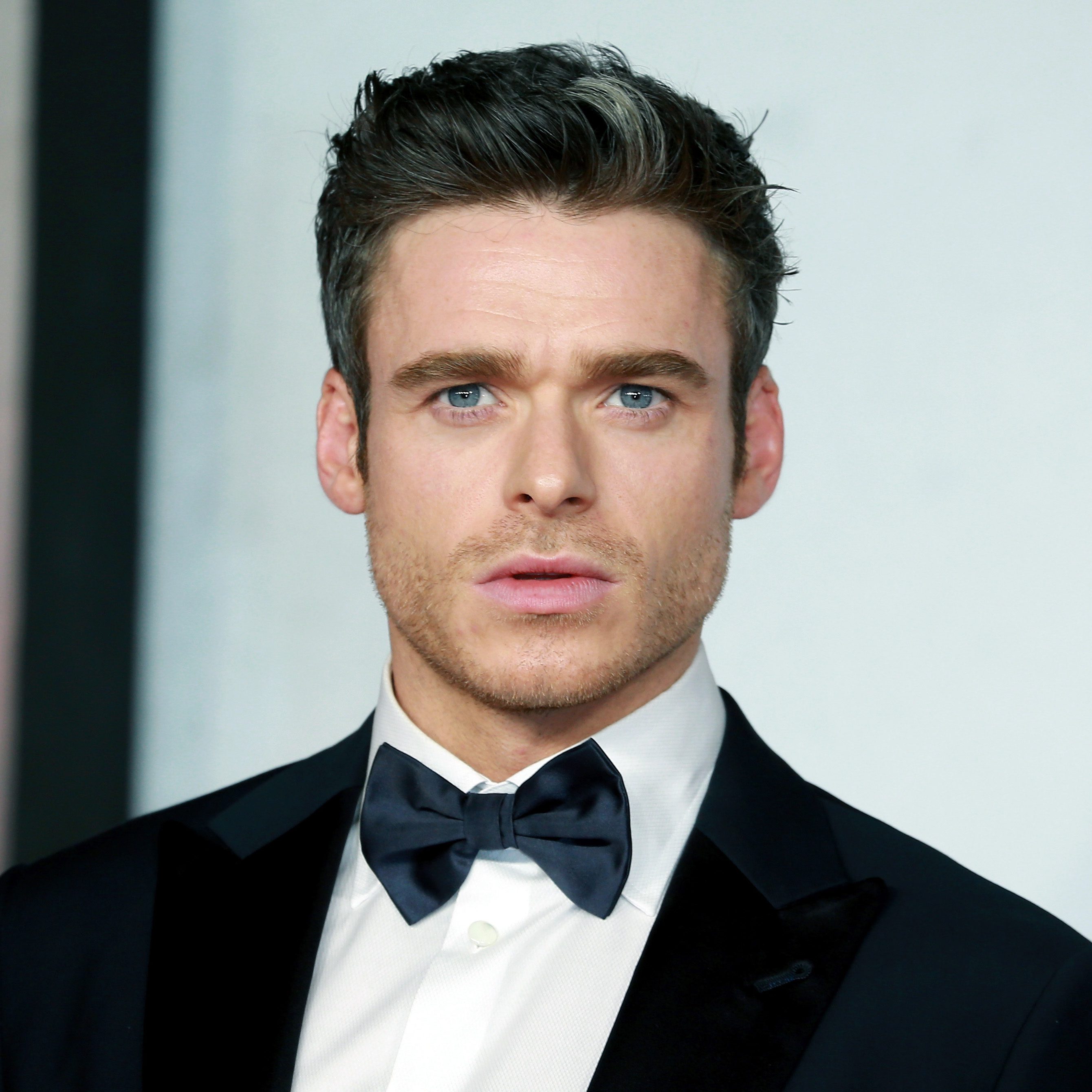 20 Most Universal White Boy Haircuts
Best looking cuts for any style and age
At first, it might seem that being a man simplifies a lot of things, like what to wear or how to style your hair. However, we are ready to break this stereotype and help you choose your next best matching haircut.
Whenever you're looking to experiment with your hair, keep in mind that most haircuts, whether a classic taper fade or a long fringe, will not look fresh and crisp after the first hair wash. This means that whatever style you choose, it will require you to spend some time daily for styling, and it will oblige you to refresh the haircut every 2-3 weeks in the barbershop, depending on the type of cut.
We would suggest anyone follow these three easy rules with a PBA acronym: pragmatism, business, and affection. Be pragmatic with your choices, consider your schedule's busyness, and follow your affection for a particular style.
The level of expertise should not be judged by the complexity of the haircut. What is actually crucial is the level of expertise should not be judged by the complexity of the haircut. What is actually crucial is that you should always pay attention to the cleanliness of instruments and the condition of the products that a specialist uses. If all the bottles, scissors, and aprons are dirty or crumpled, maybe it's a good idea to look for a haircut somewhere else. Cutting hair might not be the most potentially dangerous process; however, even with scissors or an old, dull razor, there is a certain chance of harm.
After reviewing the three critical points mentioned above, you're finally ready to find your next haircut. So let's not wait any longer!
1 / 25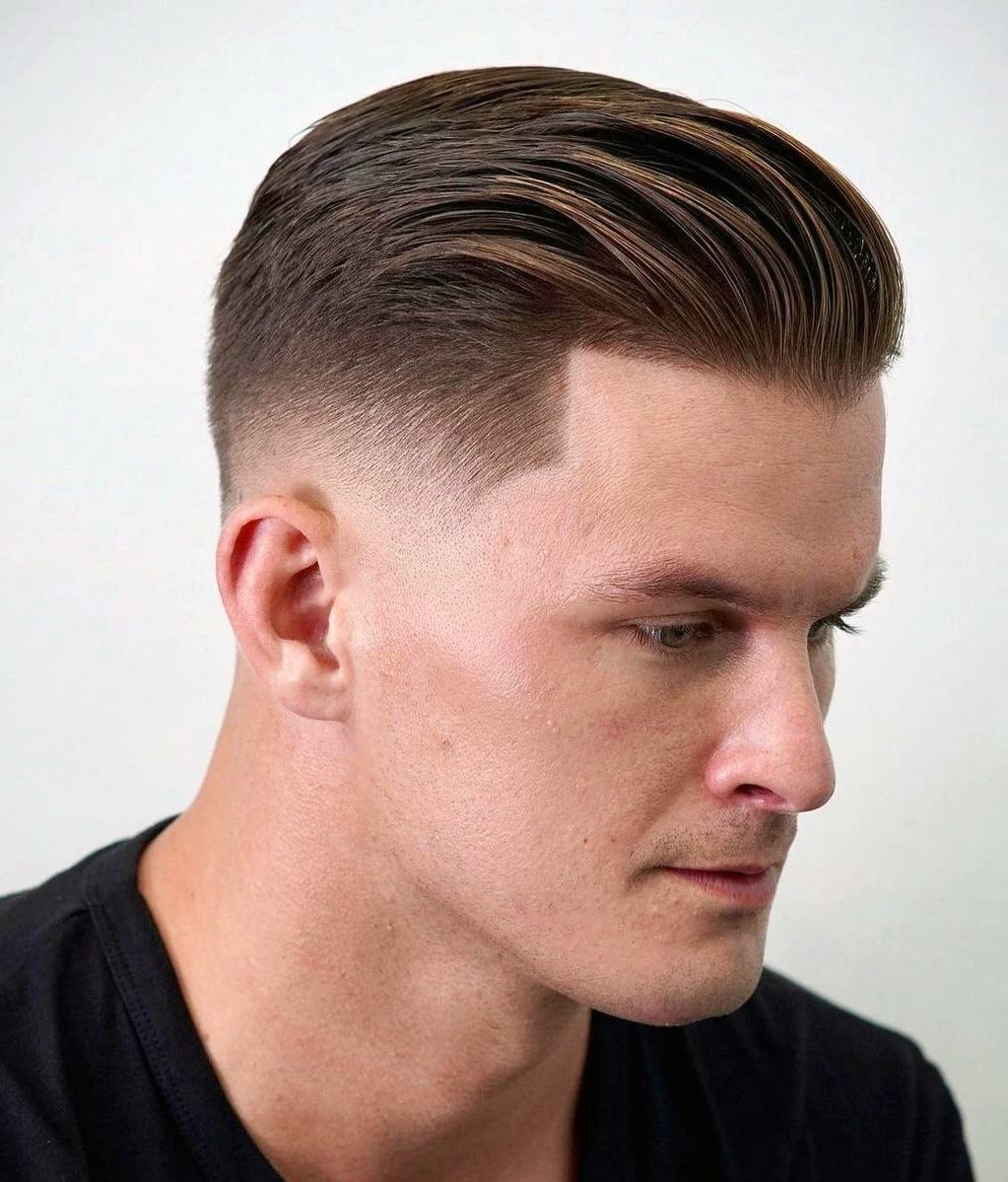 Brushed Up Temple Fade
Temple fades and brushed up hair goes together like two peas in a pod. Why? Having clean and tight sides make it easier for you to just focus your attention on the patch of hair on the top. This is especially useful if you don't want to spend too much prep time before going out of the house but still want to sport the brushed-up hairstyle. This also means that you don't need to grow your hair too long, a bit above 2 inches will do. And with the support of holding products, your clean and dapper hairstyle will definitely hold for your whole day affair. What's more alluring is that this haircut and style seem to fit most face shapes.
2 / 25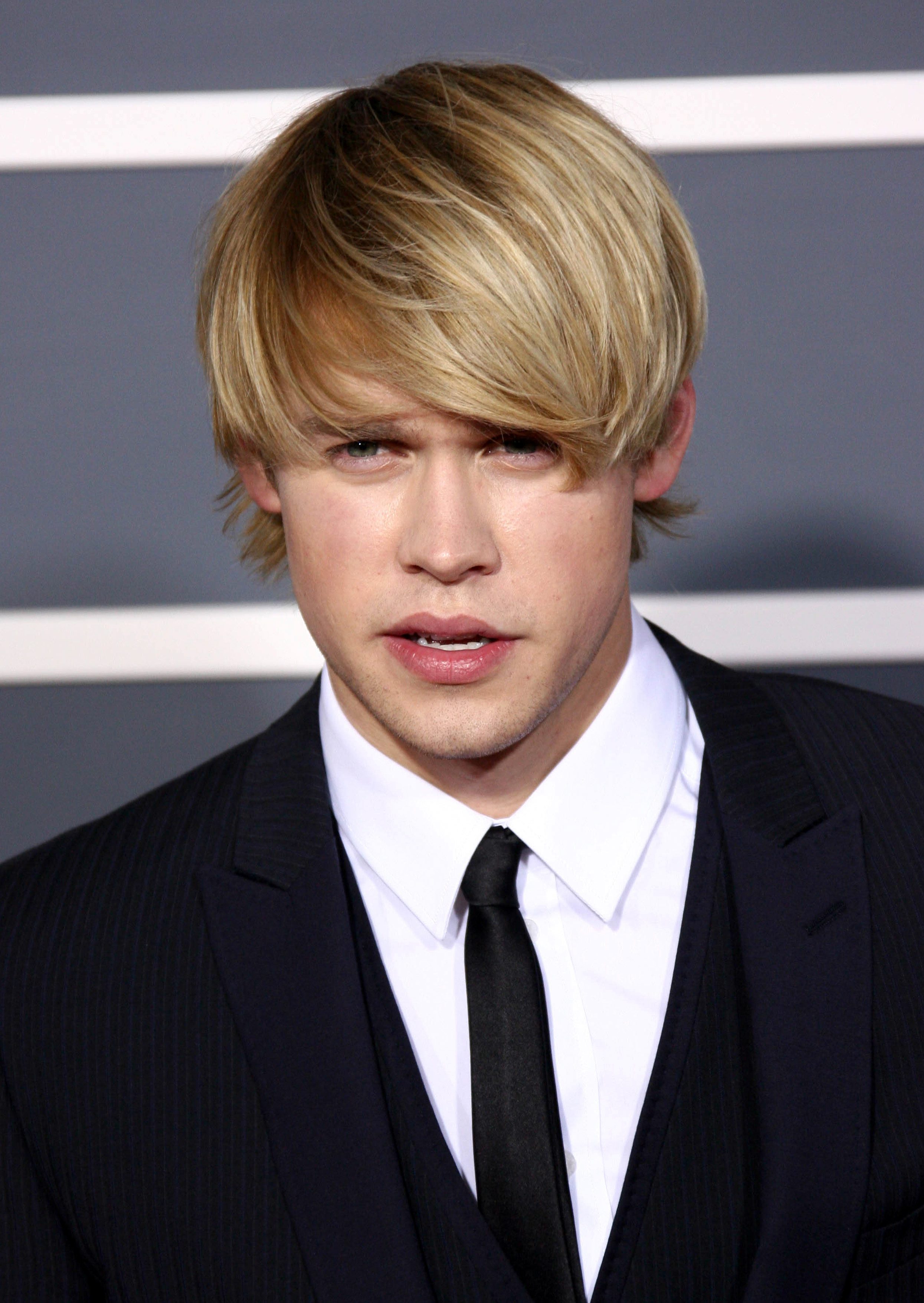 Chord Overstreet's Round Layer Cut
Not ready to chop off your hair? Not a problem! With the longer hair, your possibilities are also unlimited. One of the options would be to cut your hair in round layers without a clear part and style the bangs to one side. It's a classic cut that is in trend for the past decade for sure.
3 / 25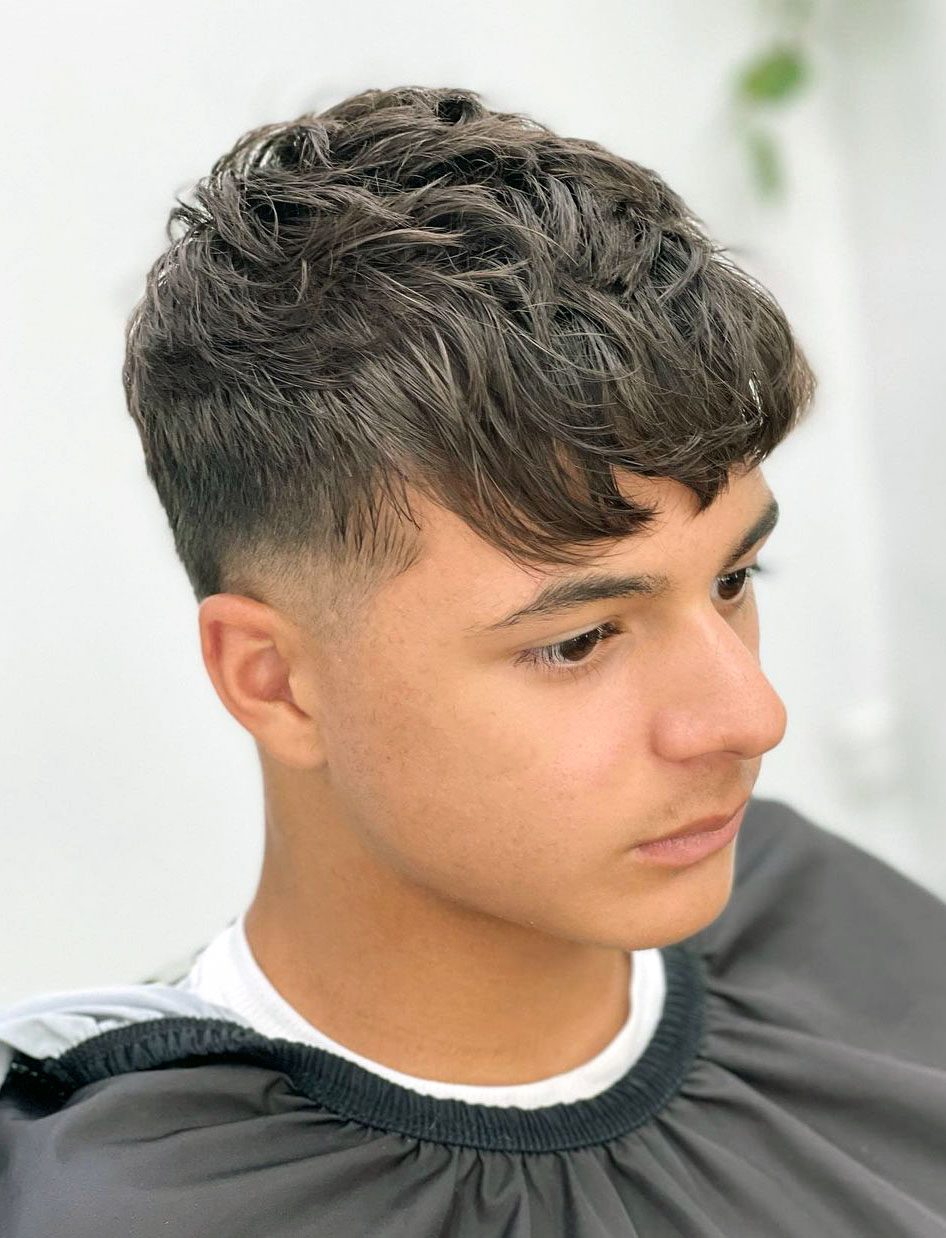 Layered Fringe
Given that it is defined by short hair on the side, this is a timeless haircut for men of all ages. This hairstyle is easy to care for and flatters anyone of all ages. It is a fantastic hairstyle for males who have big foreheads as well.
4 / 25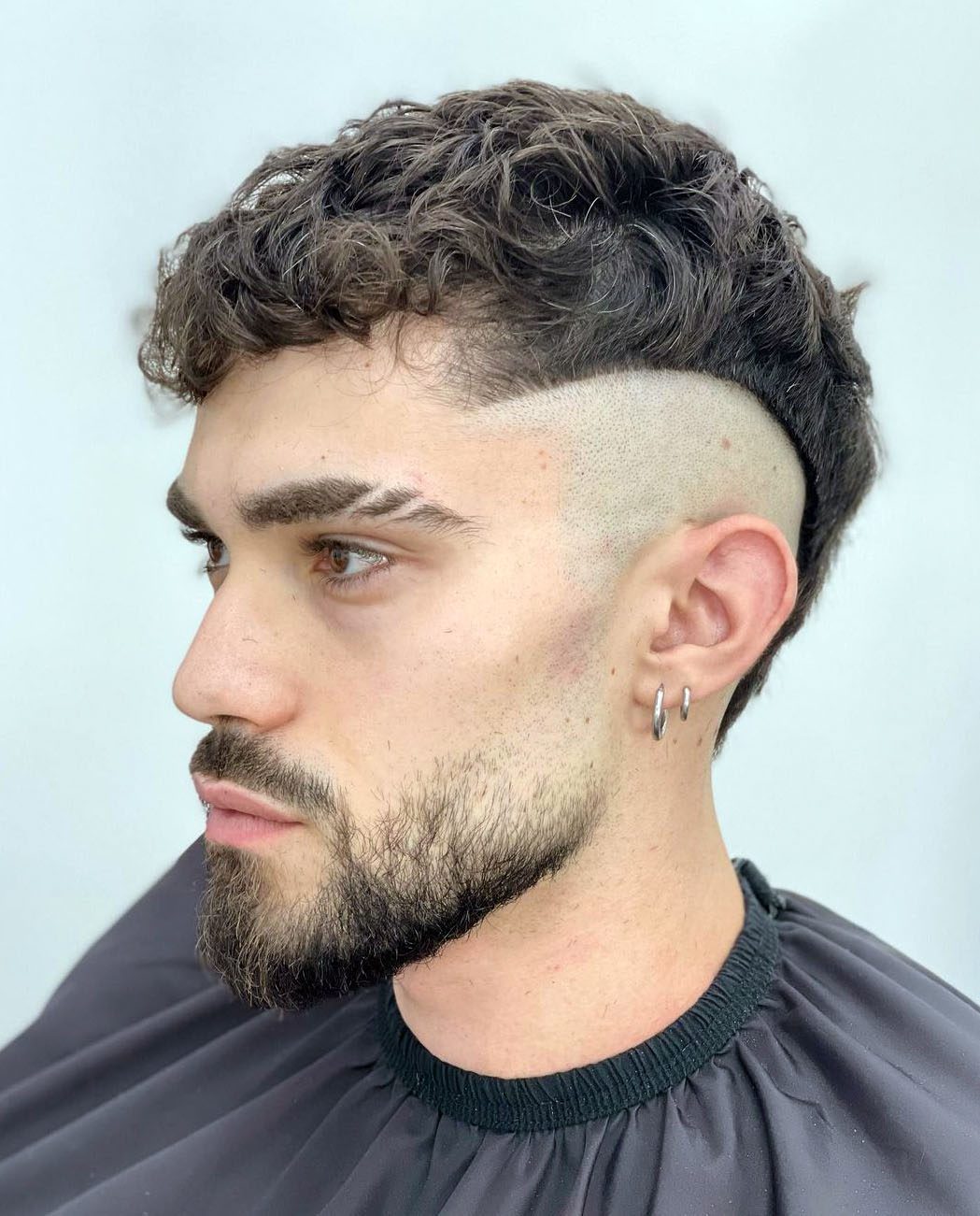 Disconnected Curly Hairstyle
Make people envious of your texture with this disconnected curly hairstyle. It's an effective approach to increasing height while giving your face a slender appearance. The shaved sides highlight the curls even more.
5 / 25
Curly Hairstyle
Adorn your head with this versatile curly hairstyle, which requires less upkeep. It's a great fit for everyone, whether you have short, medium, or long locks. Add some side waves, and you're out the door.
6 / 25
Side-brushed Layers
Look at those side-brushed layers of goodness on top with a cheeky quiffed feeling and that's what I talking about when we speak about thin hair doing wonders. The sides are tapered with a subtle part. Not to mention, he does look like Brad Pitt in his younger days, minus the eye-brow slit.
7 / 25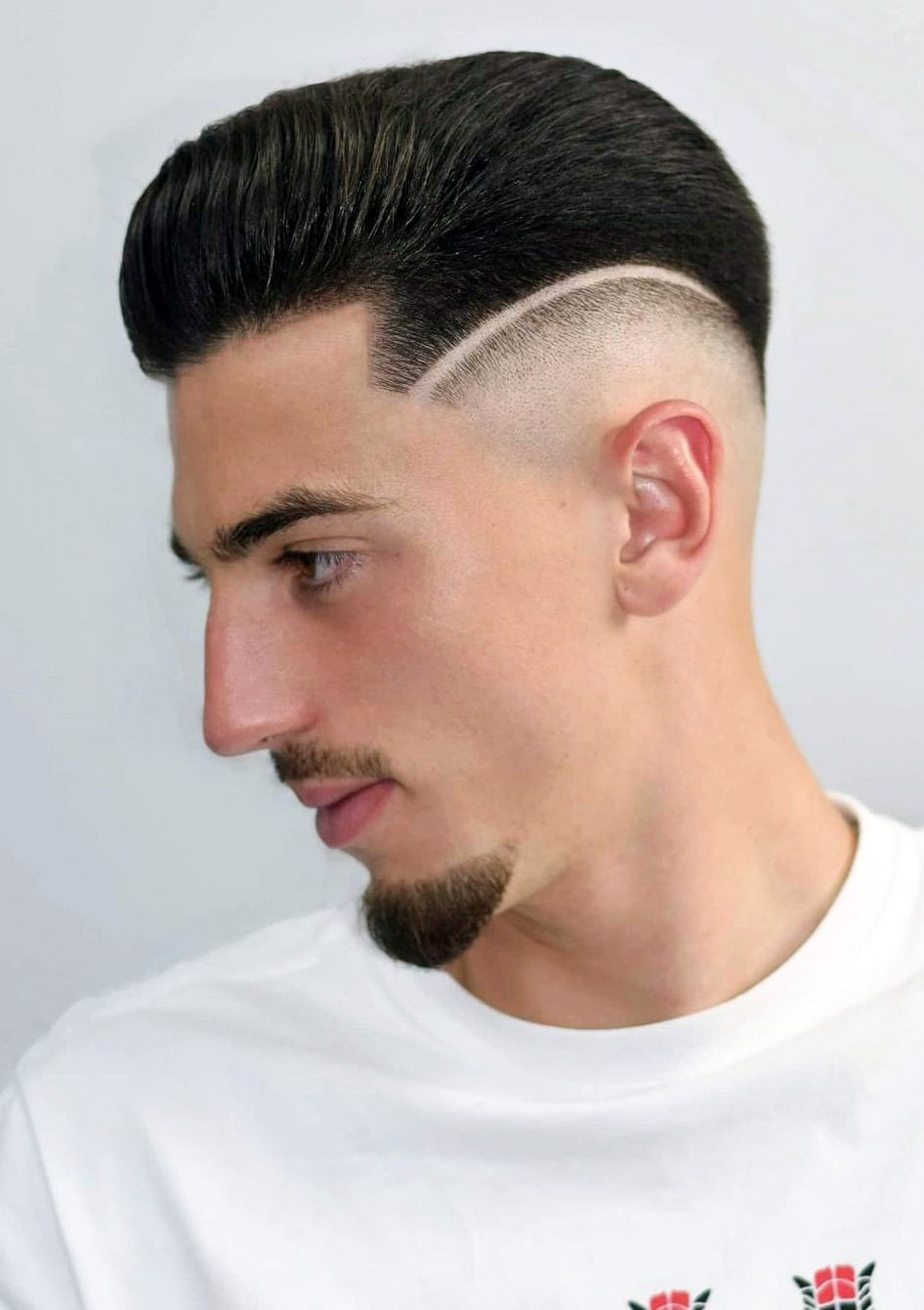 Slicked Back Pompadour with Mid Fade Shave
The best part about thick hair is that you can have a short length and still look girthy. But that is not it, the top is a pompadour with a slicked-back texture. The sides are mid-faded with a drop shave followed by a cheeky taper fade. See that chin beard? That is the chaser in here.
8 / 25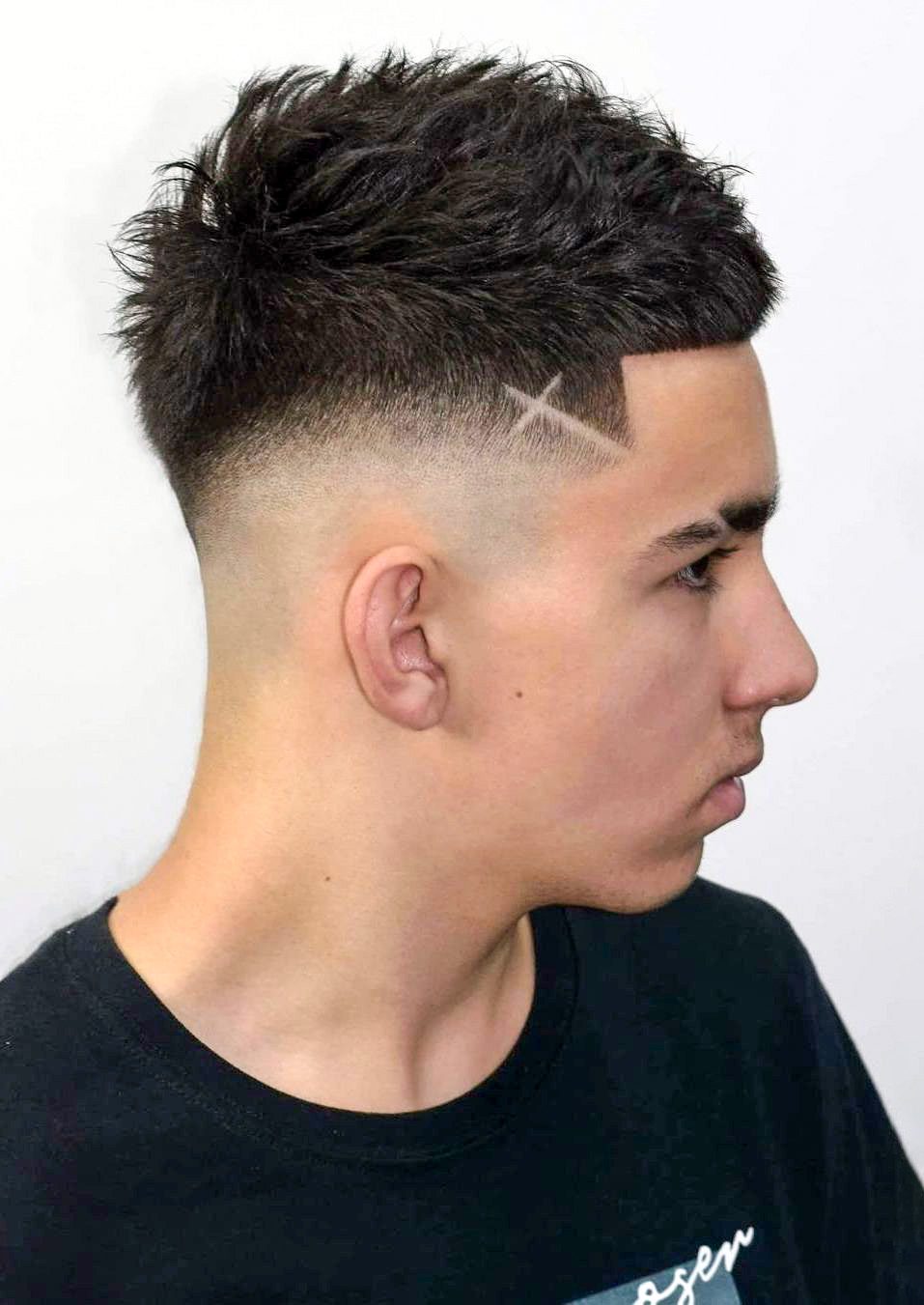 Mohawk Brush Up with Cross Shave
The mohawk-y flavor with a brush-up tinge makes it very trendy. Not only that but the clean mid fade with the cross-shave on the lineup is something we haven't seen in a while.
9 / 25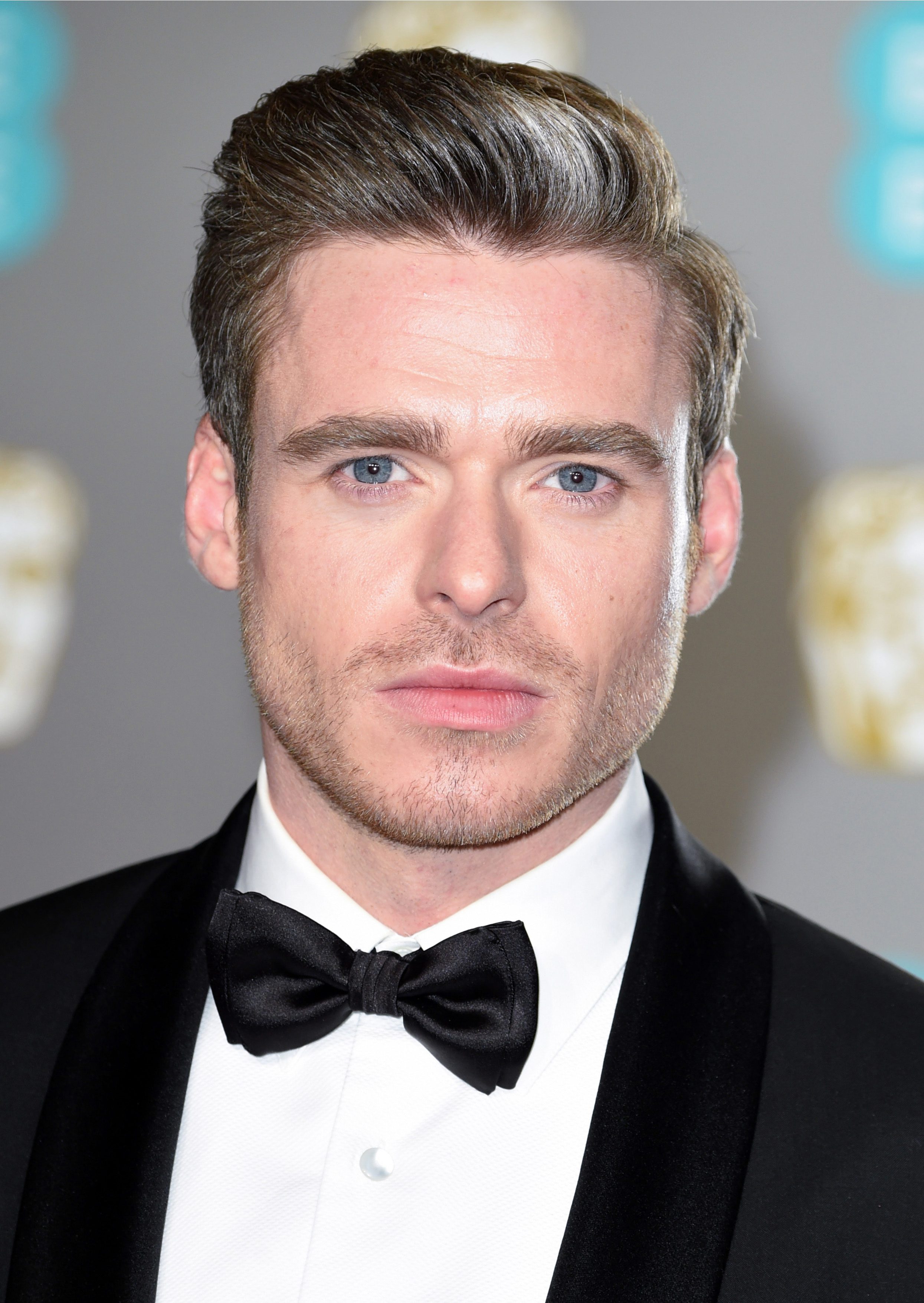 Richard Madden's Classic Tapper Cut
Such a haircut would perfectly match someone with an exquisite dressing style. With one hand movement and a little bit of styling pomade, this haircut can change your appearance drastically. This cut will only emphasize your exquisite taste, whether you're wearing a black turtle neck or a crisp, colourful shirt – this cut will only accentuate your impeccable taste.
10 / 25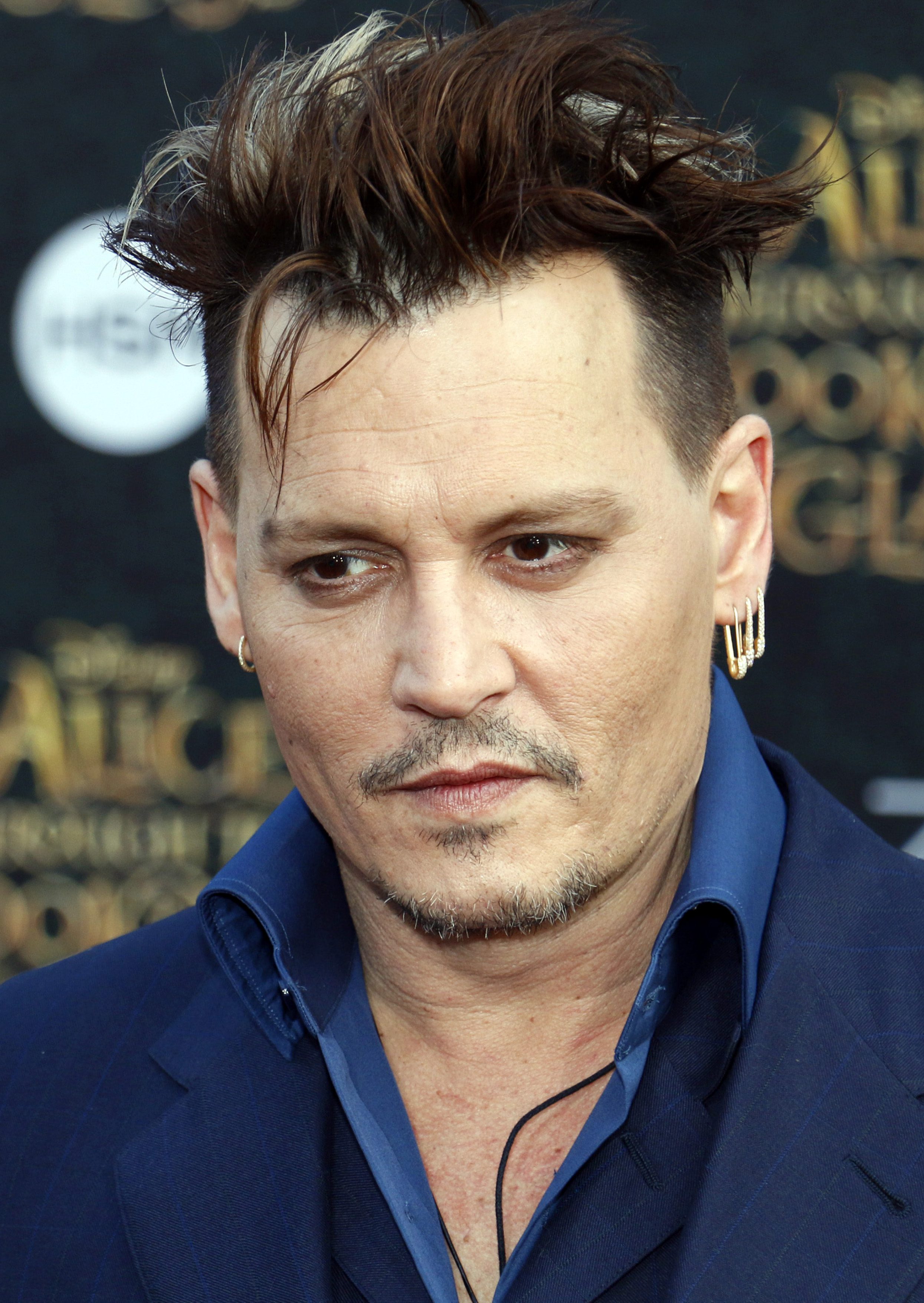 Johnny Depp's Classic Messy Hair
For those who like to have their hair a bit messy in a creative way, this option would work wonderfully. Low fade with a few long, bleached hair strands makes it look even more extraordinary. With the help of a salt spray, you will add more texture to your hair.
11 / 25
Brooklyn Beckham's Fohawk Haircut
Unquestionably, the Beckham family has quite a unique taste in styling as well as the best stylists in the industry. So no wonder why Brooklyn looks just as fashionable and polished as his father. We have to admit this long fohawk haircut, slightly styled back with shorter cut sides, looks adorable on Brooklyn.
12 / 25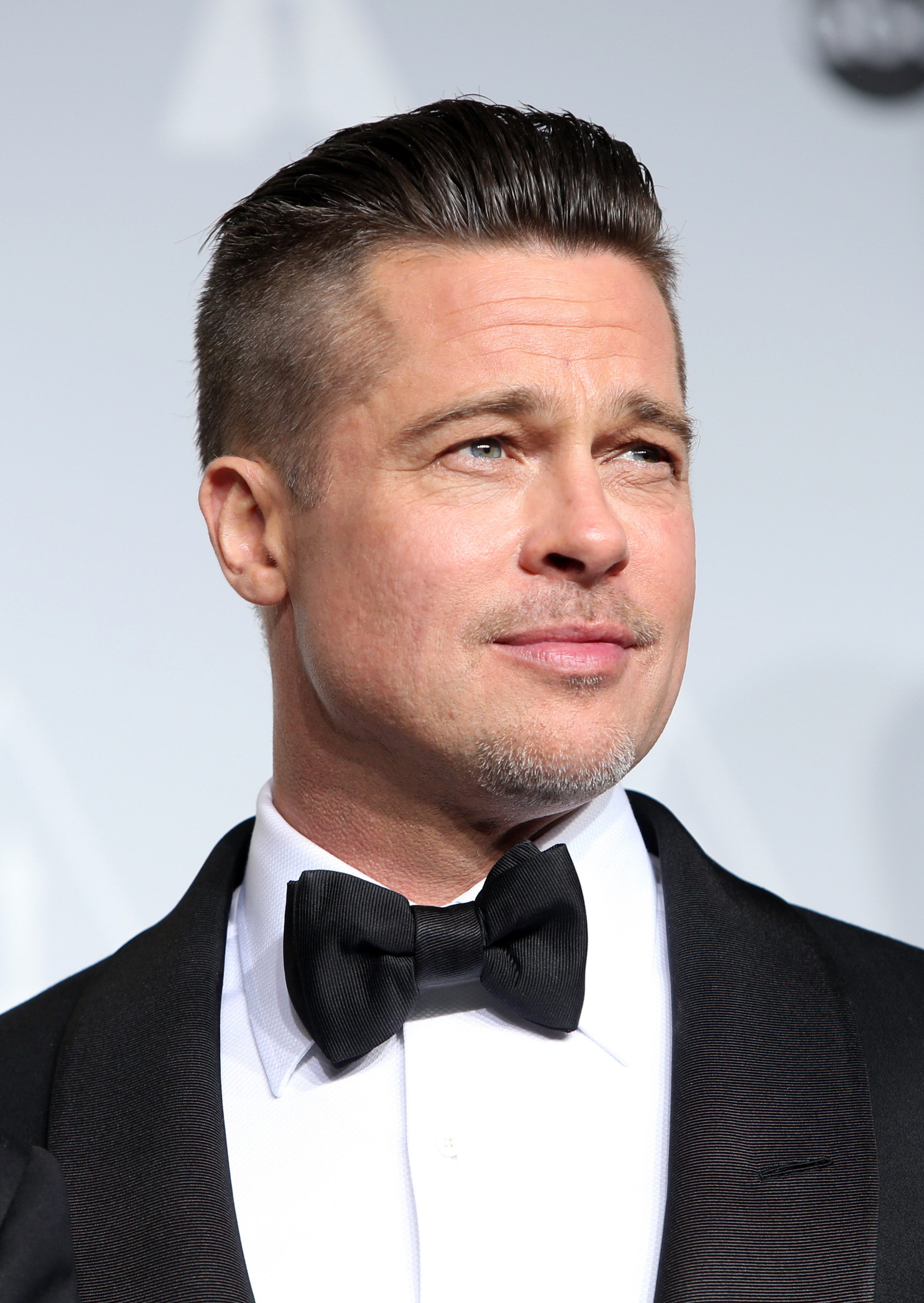 Brad Pitt's Slicked Back Pompadour
Do you like to keep your hair short on the sides but longer on top to discover various styling options? You should take a closer look at this undercut! Brad Pitt has trimmed sides, but the top part is tricky: you might not see it because of the slicked-back hair, but a shorter cut in the back gradually lengthens to the front part. By keeping the front part longer, you can keep the bangs hanging on a side or gelling them back.
13 / 25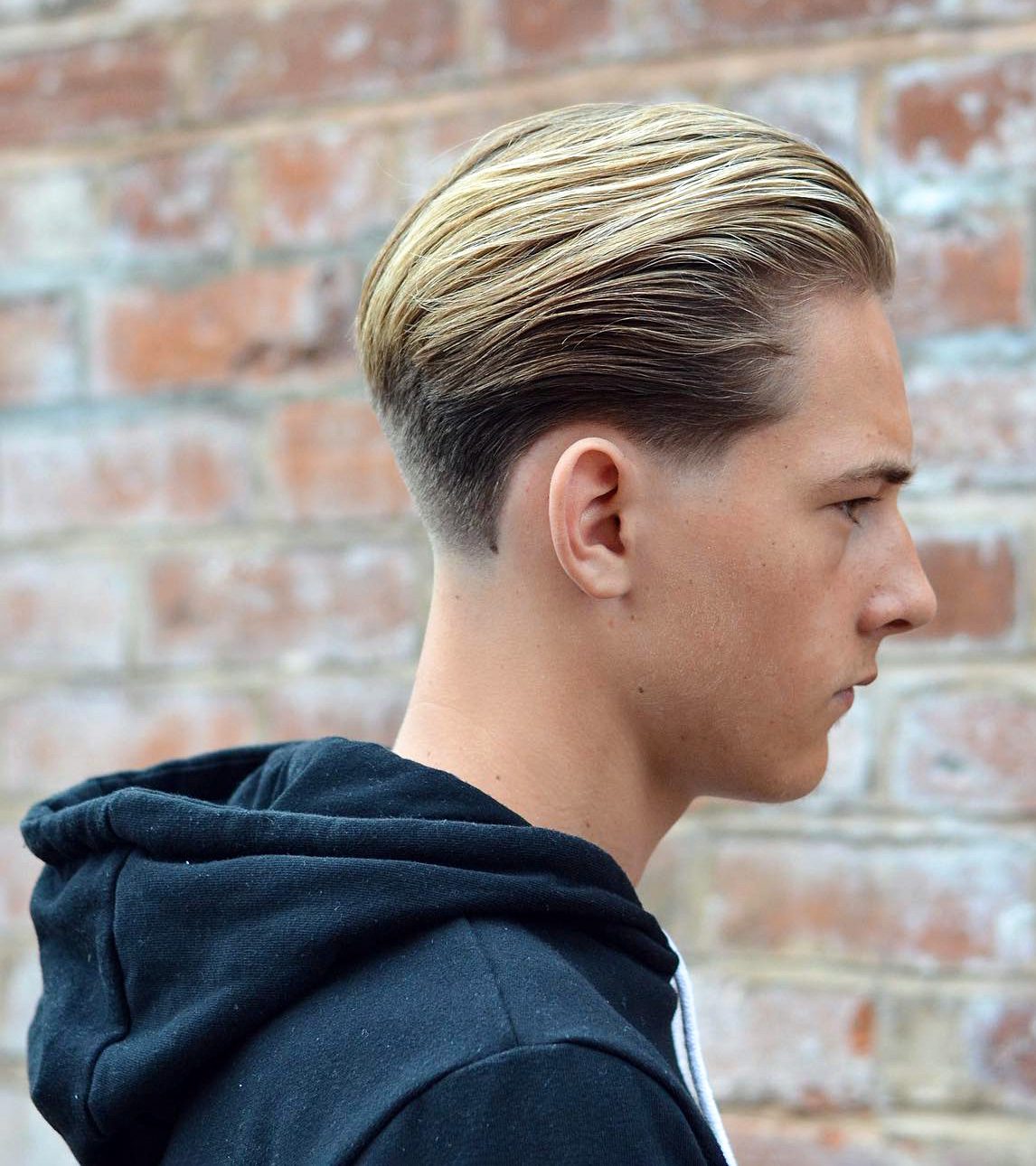 Two-Toned Combed Back with Low Burst Fade
Standing out from the crowd is as easy as following these three steps. First is to get a hair color that is different from your natural one. In this example, get a blonde hair color to contrast with the original dark brown. The hair color should be on the top part of your hair. Second, grow your hair long enough for a brushed-up look, at least 3 to 5 inches. Third, keep the hair out of your ears with a fade, and not just any ordinary fade, get a low burst fade. The great news is that most face shapes will be able to sport this look but it best works for oval ones.
14 / 25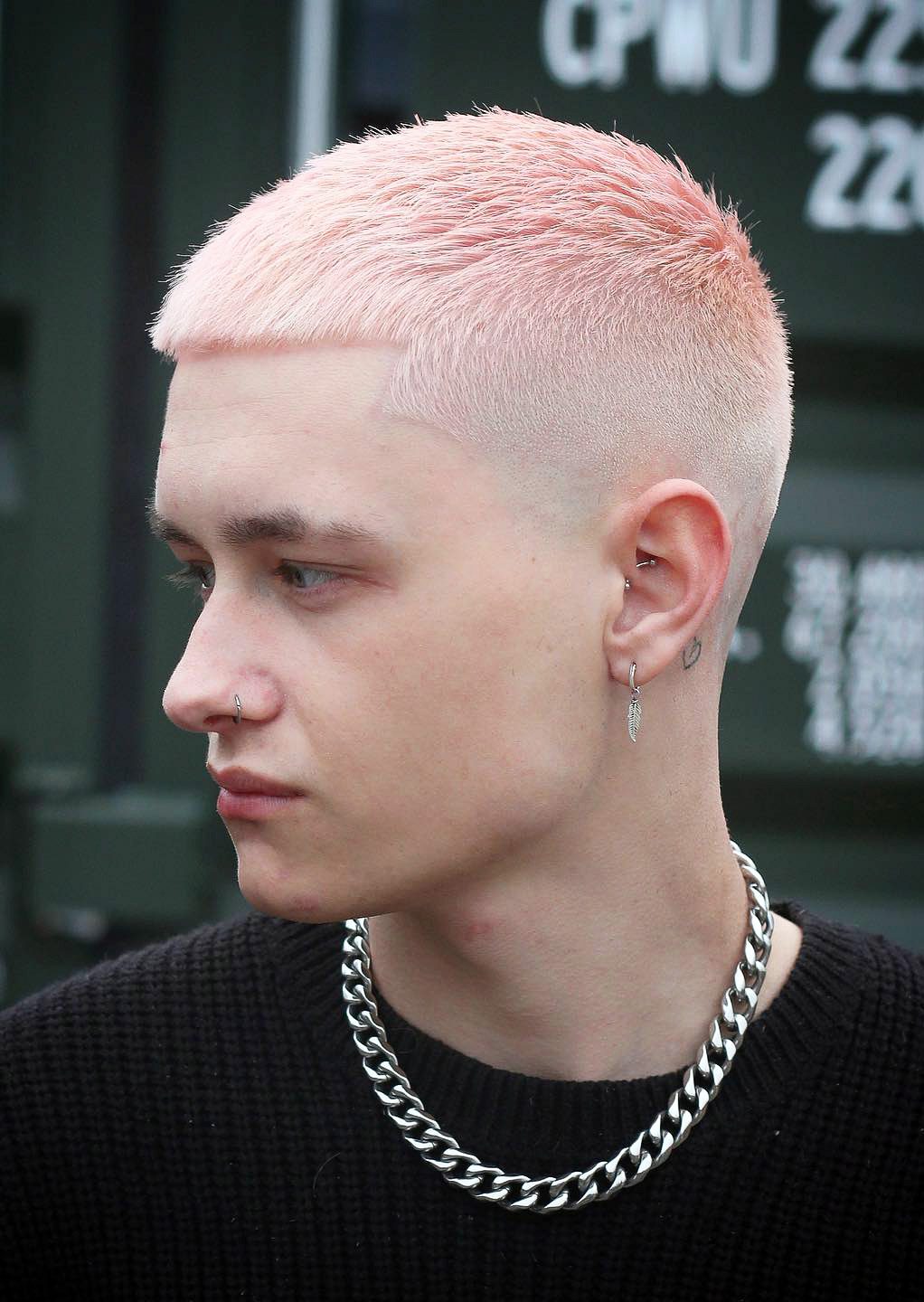 Stylish Pink Taper Fade
Highly extravagant cut and colour for someone who follows the trends. The soft baby pink colour and a bold fade with a clearly shaved neckline will require a lot of time and effort to keep it up as the unbleached hair can be highly noticeable once it growth even slightly. However, you will surely get all the attention and compliments with such a cut.
15 / 25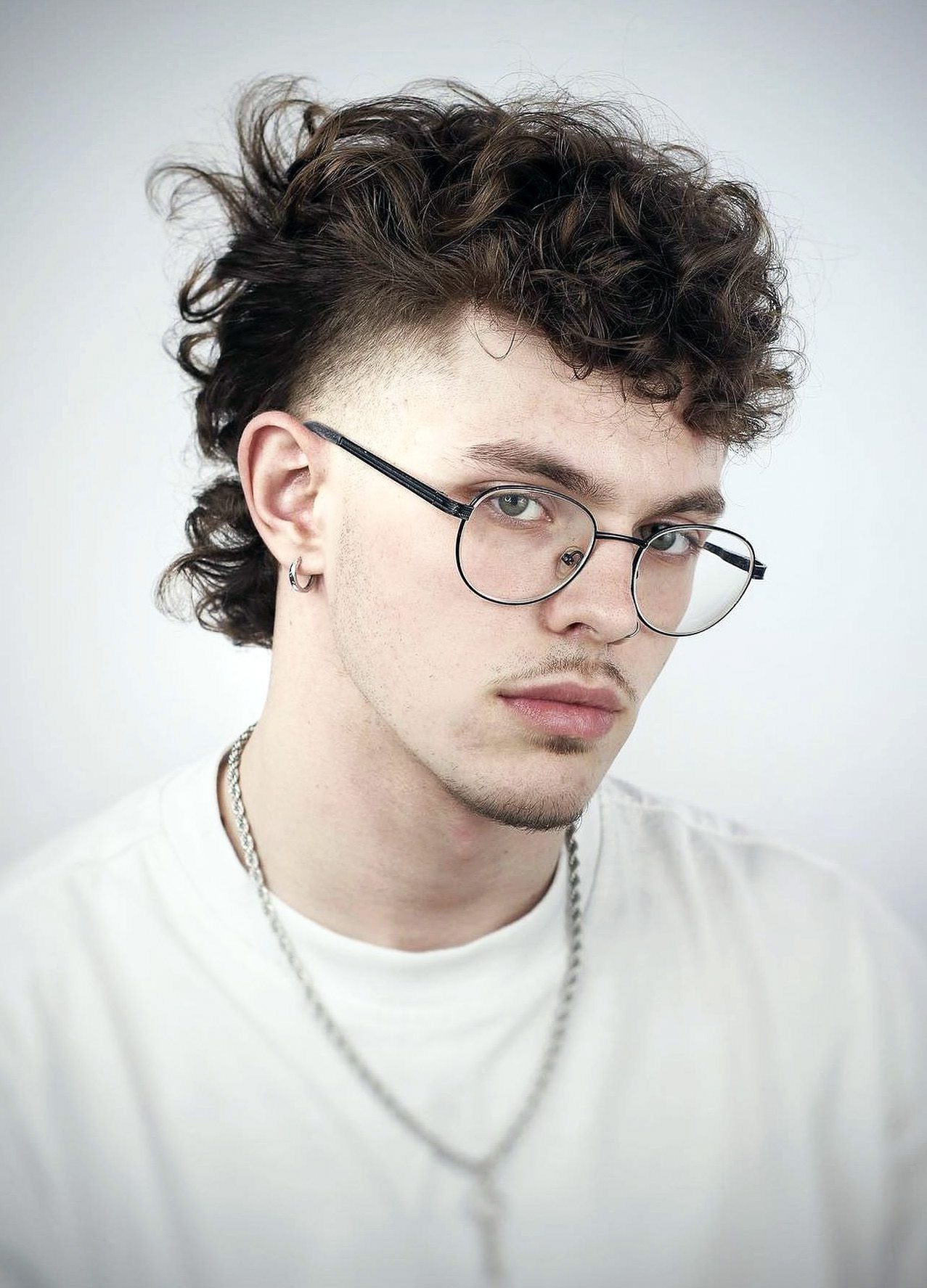 Curly Hawk With A Skin Fade
For younger guys, our suggestions would be to experiment with your hair as much as you can while you can still do it! Particularly this mohawk haircut will unlikely look suitable for someone over 40 years old unless they are rockers. So use your chance and go for an eclectic style of skin fade and long curly hawk cut.
16 / 25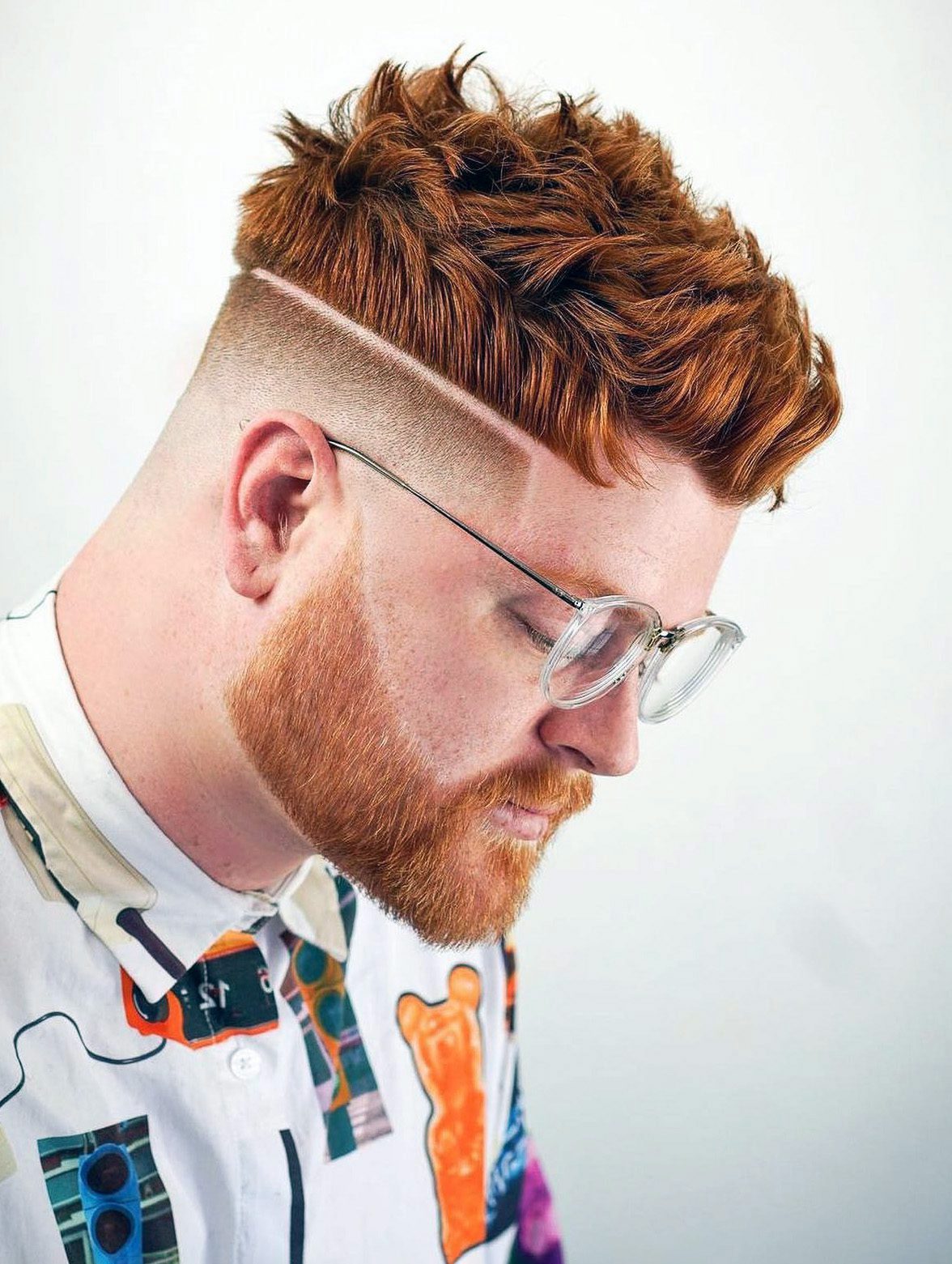 Spiked Ivy League Haircut
If you're a perfectionist and like everything to be perfectly even and framed – this spiked cut is the one for you. With the crisp sideburns, geometrically trimmed beard and thick shape-up, your look will brighten momentarily. Also, this cut would look even more beneficial in bright ginger colour.
17 / 25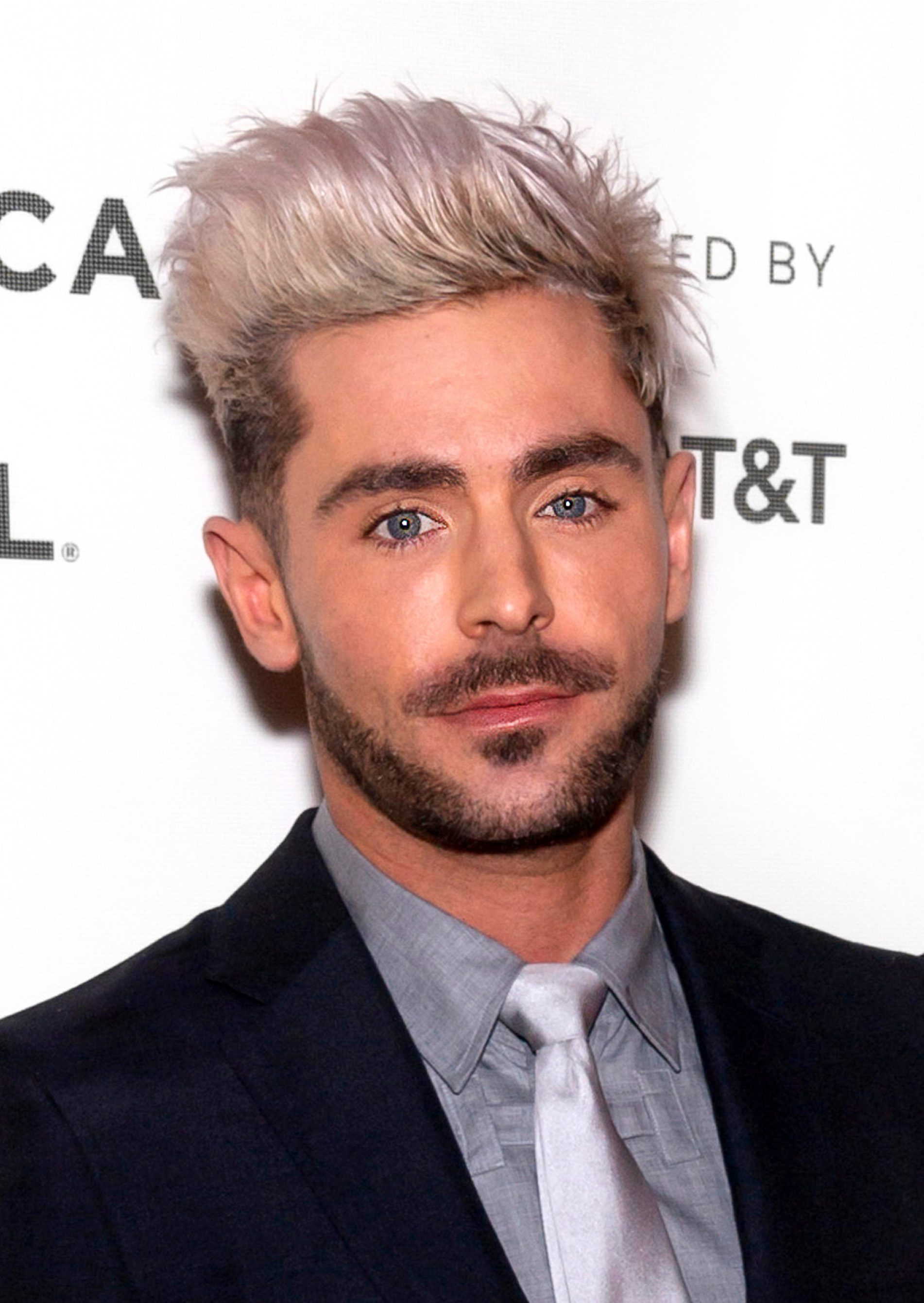 Zac Efron's Extra Long Comb Over
If you're open to experimenting with more catchy styles, you will like Zac Efron's chic look. He went for a low fade cut with a slightly tinted comb-over in pink shades. Such a cut is definitely not practical in everyday life but will indeed look outstanding at any event.
18 / 25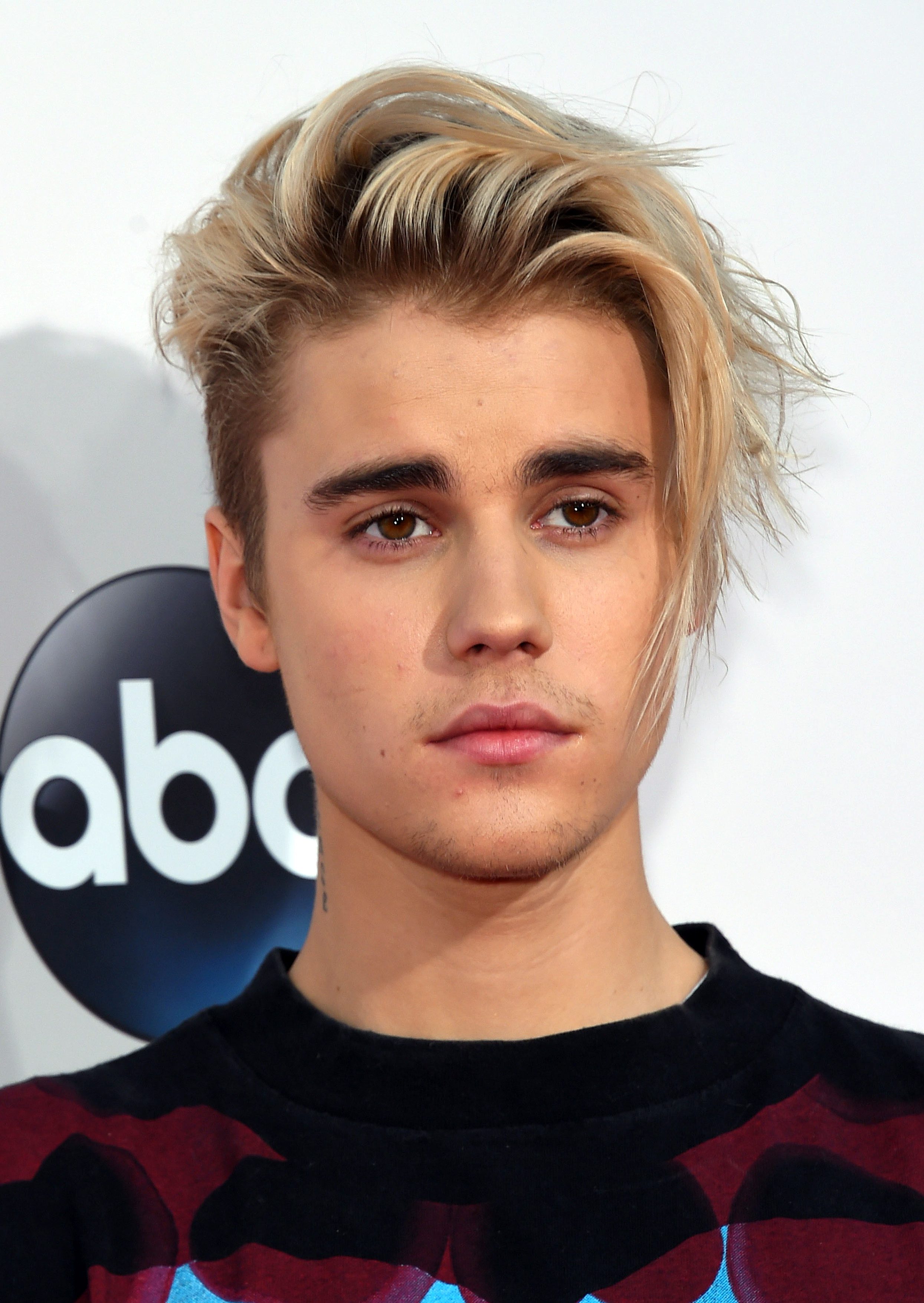 Justin Bieber's Side Fringe
In case you're ready to go for a bigger change and have long enough hair: try bleaching the ends of the hair just like Justin Bieber did and get a textured side fringe with the short sides. Such a haircut will look dapper without any special styling.
19 / 25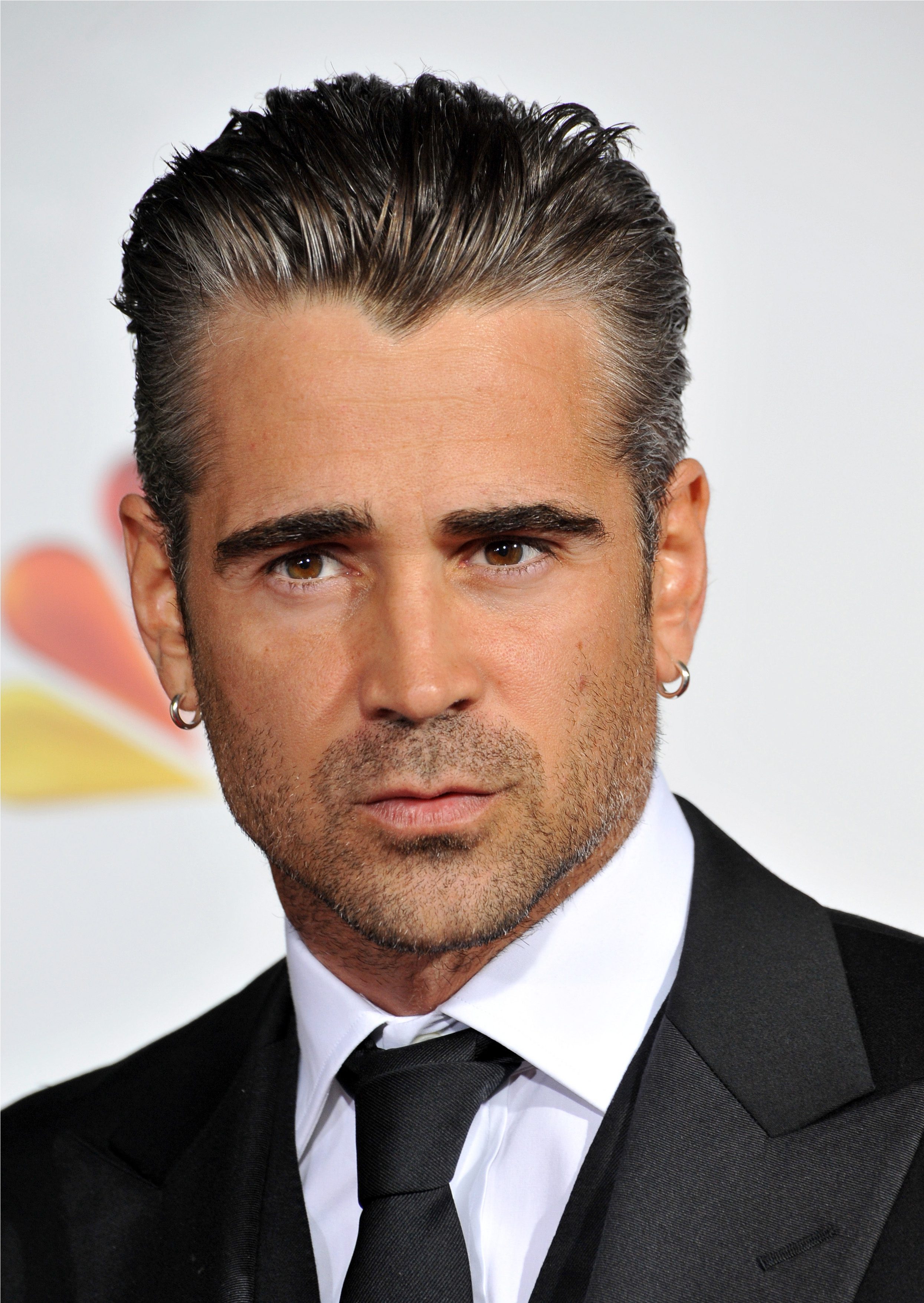 Colin Farrell's Old-Fashioned Cut
Are you an admirer of the 50's style and love wearing formal suits? Then such haircut was designed especially for you: smoothly slicked-back gelled hair and framed whiskers with a slightly trimmed beard. That's an authentic way of styling hair for a real gentleman.
20 / 25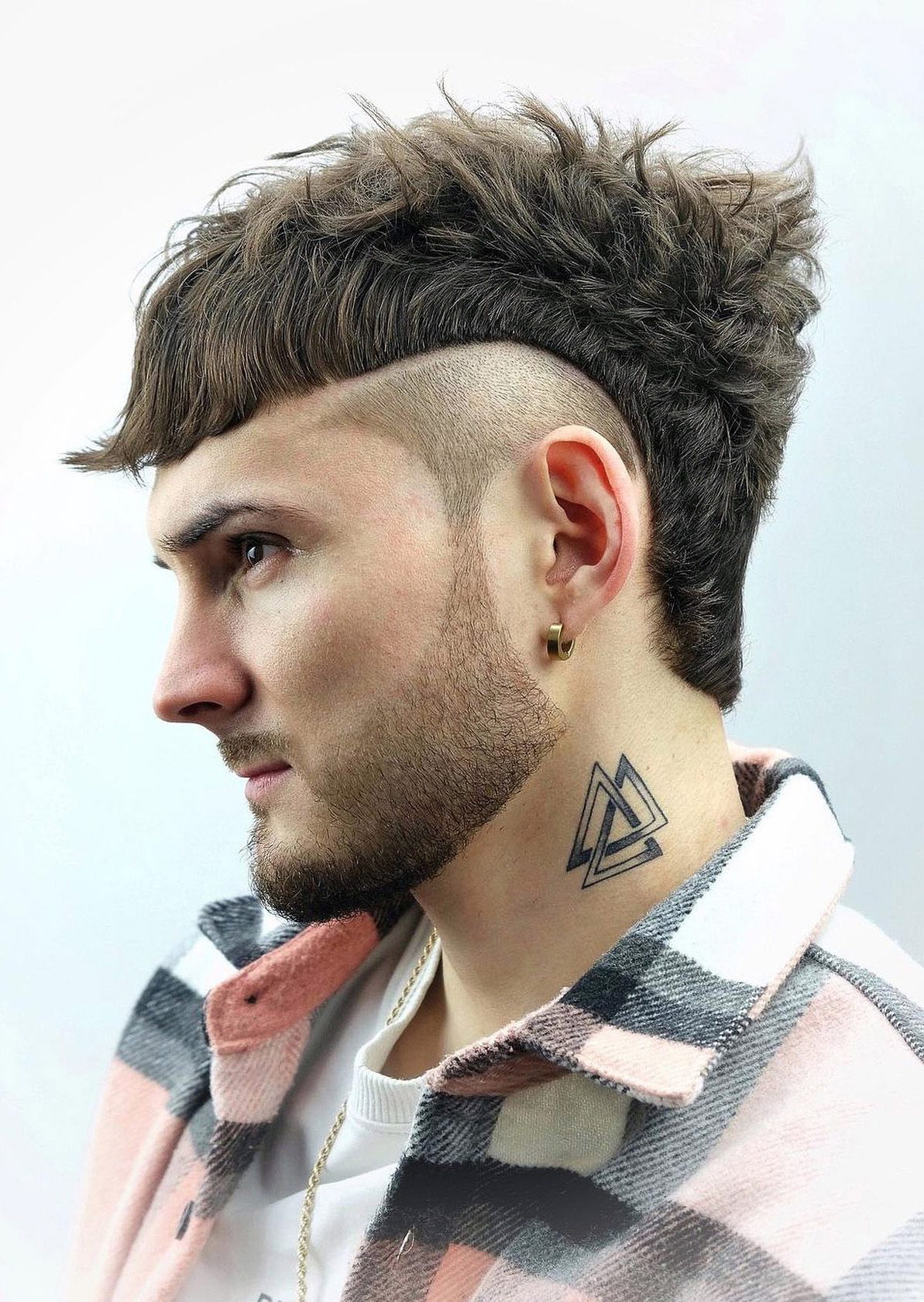 Messy Fringe With Hair Design
The most sophisticated cut would be the one with the even curved lines above the ears, clearly shaved off neckline, and spiked top part This messy fringe cut will definitely take a few hours at the initial haircut appointment and will absolutely require a touch-up every week or so. Keep that in mind if you're going to select such a refined style.
21 / 25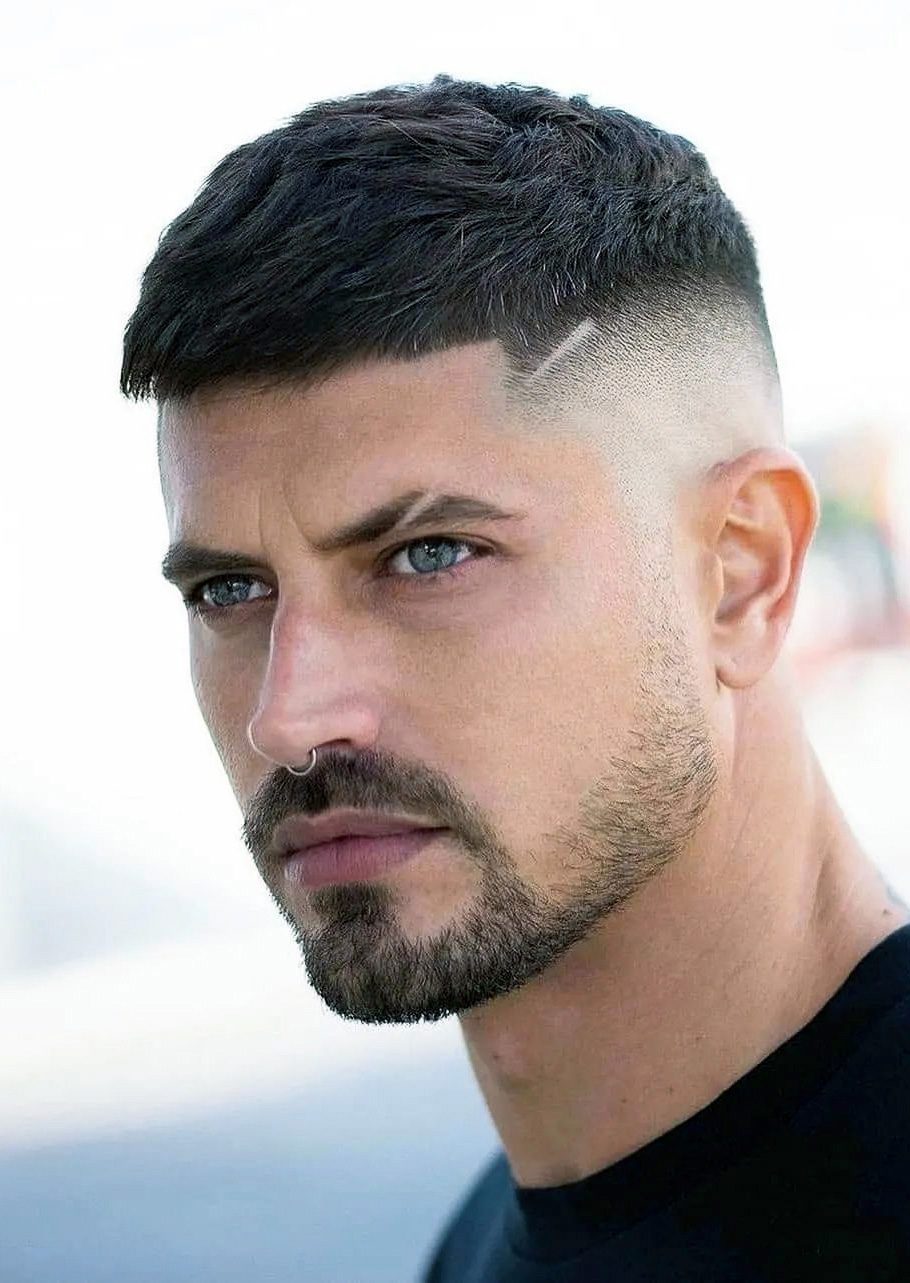 White Boy's Crew Cut
This is an old trend but seems to be the most likable one. Initially, it was preferred by athletes and military personnel. However, due to the cut's cool appearance, many guys began to repeat it. Today this is still a popular cut and also a relatively simple one to maintain at home.
22 / 25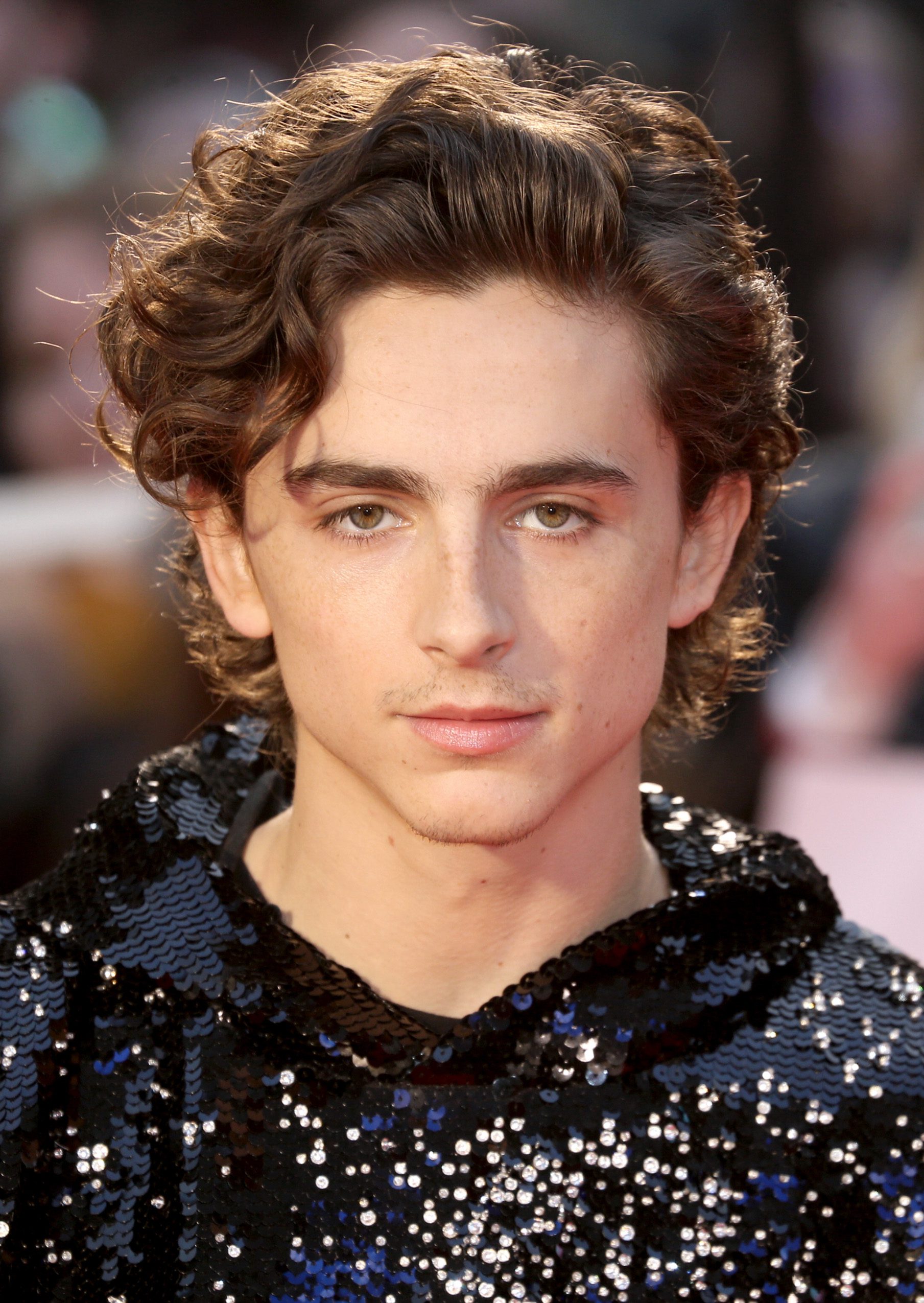 Timothee Chalamet's Curly Taper
Do you have naturally curly hair and looking to make it neat-looking? Take an example from Timothee and his adorable medium-length curly taper. His hair is cut shorter in the back, and the top part was left longer just to create that extra volume. It looks good on Timothee, and we're sure it will work even better for you!
23 / 25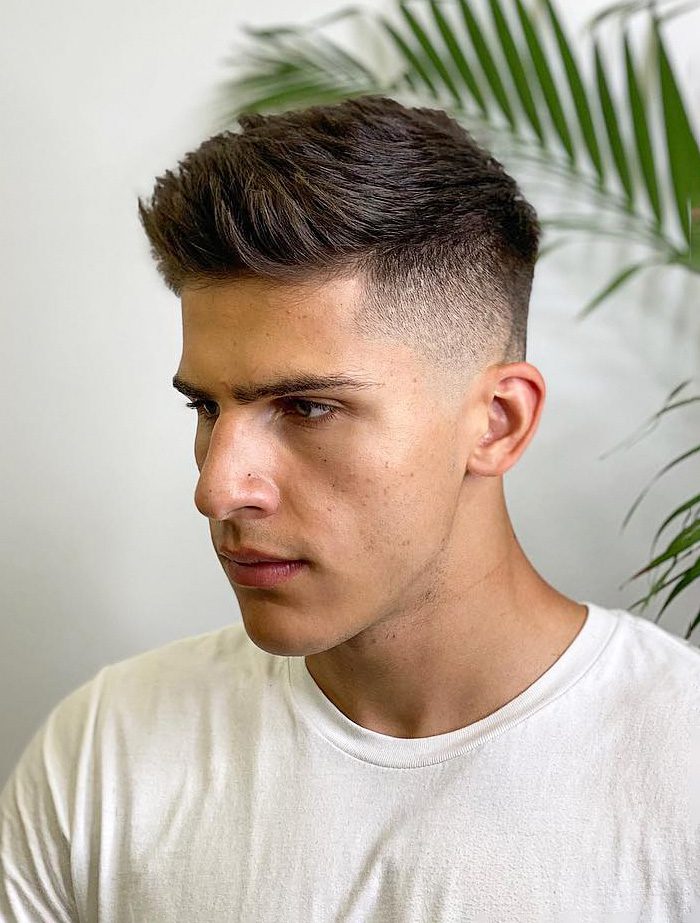 Undercut with Brush Up
Whether you have thick or thin hair, an undercut with brush up will suit you. The brush up adds volume and style to your hair while keeping it simple. The sides are kept short, so the highlight is the haircut and the focus is on you.
24 / 25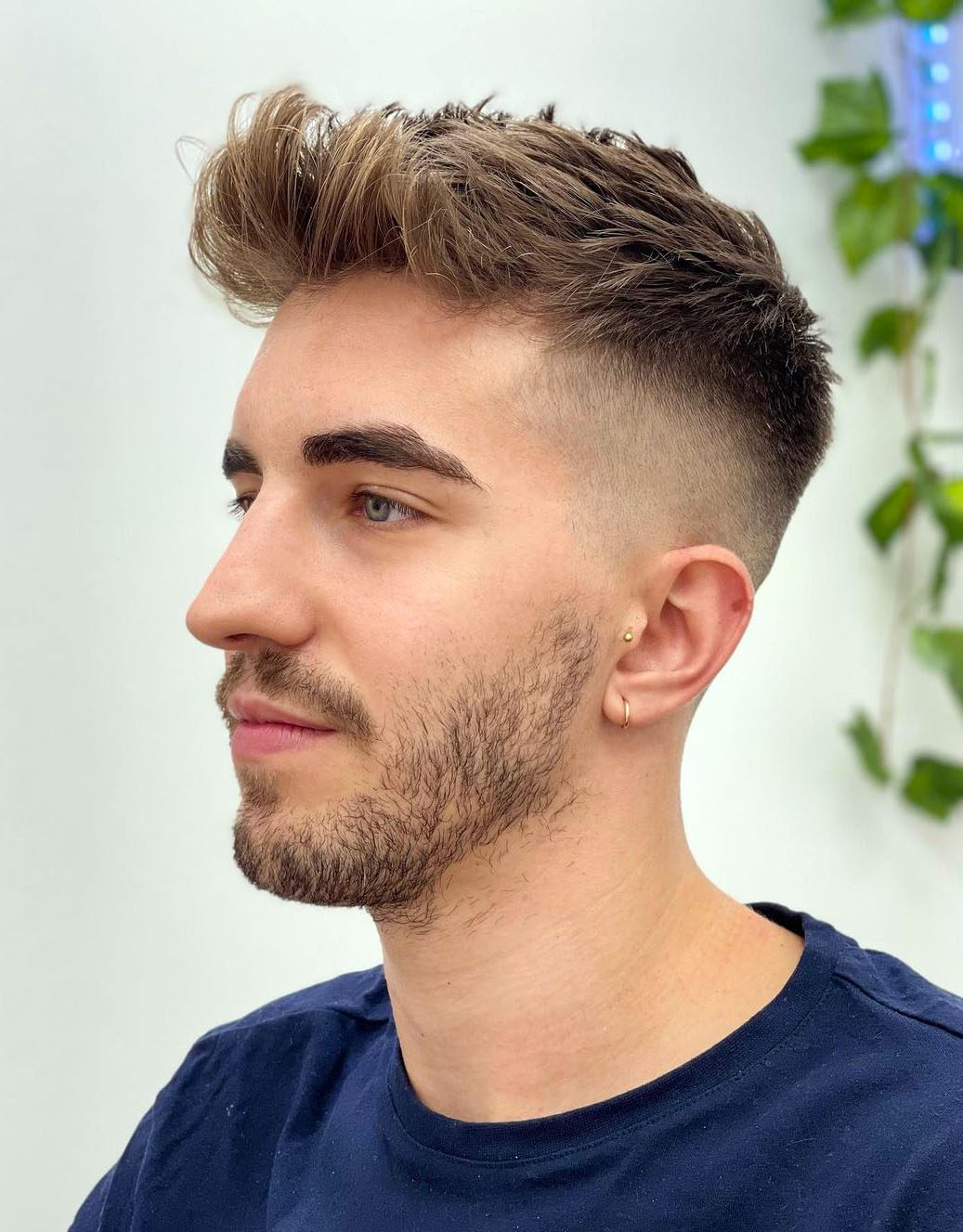 Brushed Up Hairstyle
Want to look more modern and outstanding? Try this brush up haircut and thank me later. It is suitable for all face shapes. Taper it up all the way to the front, and you're ready for all casual events.
25 / 25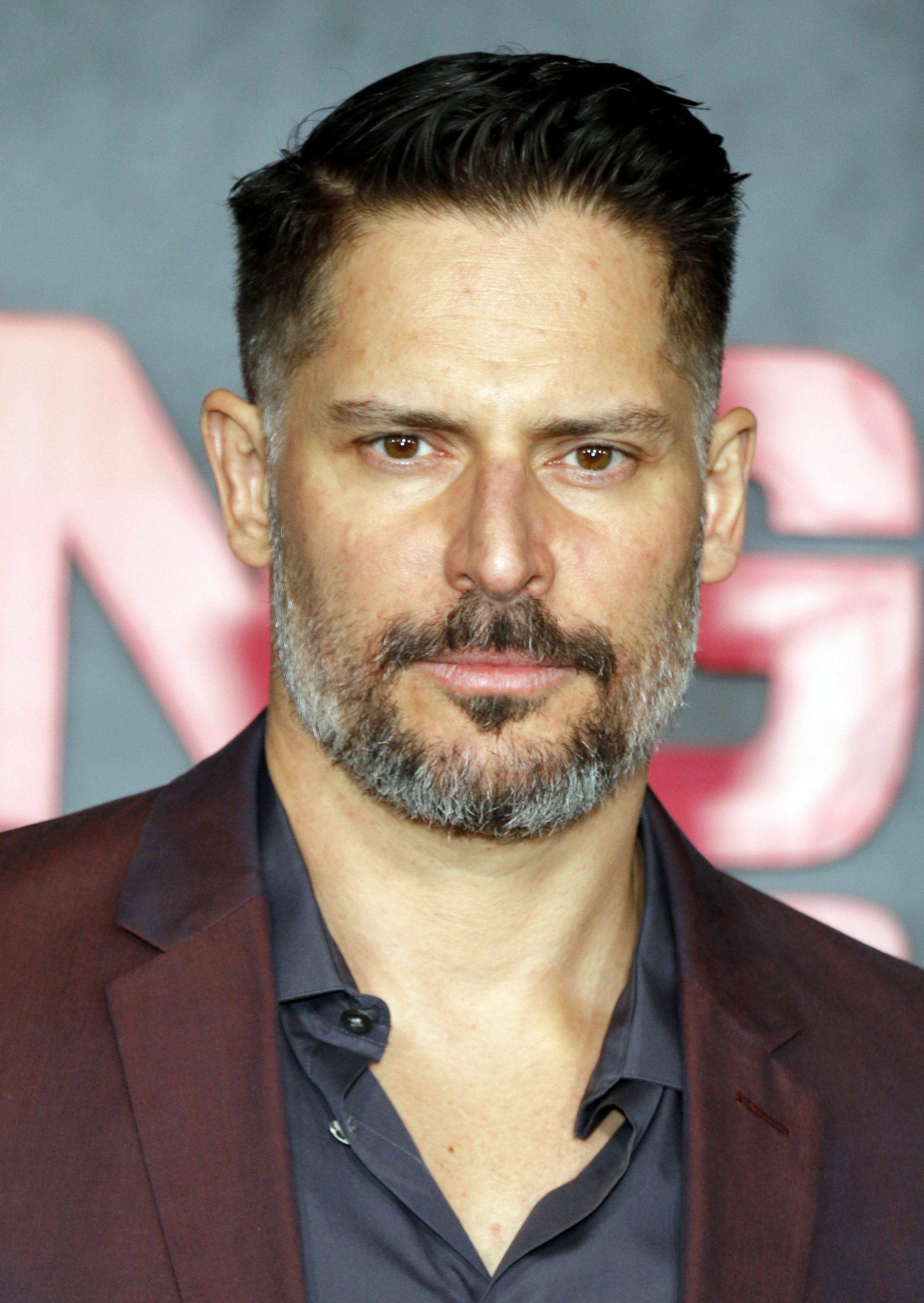 Joe Manganiello's Thick Crew Cut
You'll like this haircut if you start having a grey beard or hair: the low fade looks excellent with the gradual transition from grey hair to darker tones. The crisp side part keeps your haircut's fresh look, and the spiky hair on top adds a bit of a casualty to the style.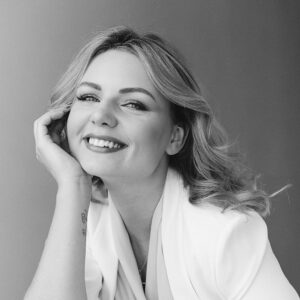 With an extensive background in the beauty and media production industry, Anastasiia knows all the buzz and is ready to share a few tricks with you to zhuzh your hair game. Constantly traveling between Europe and North America, she is the one who keeps an eye on all the popping world trends so that you don't miss anything.