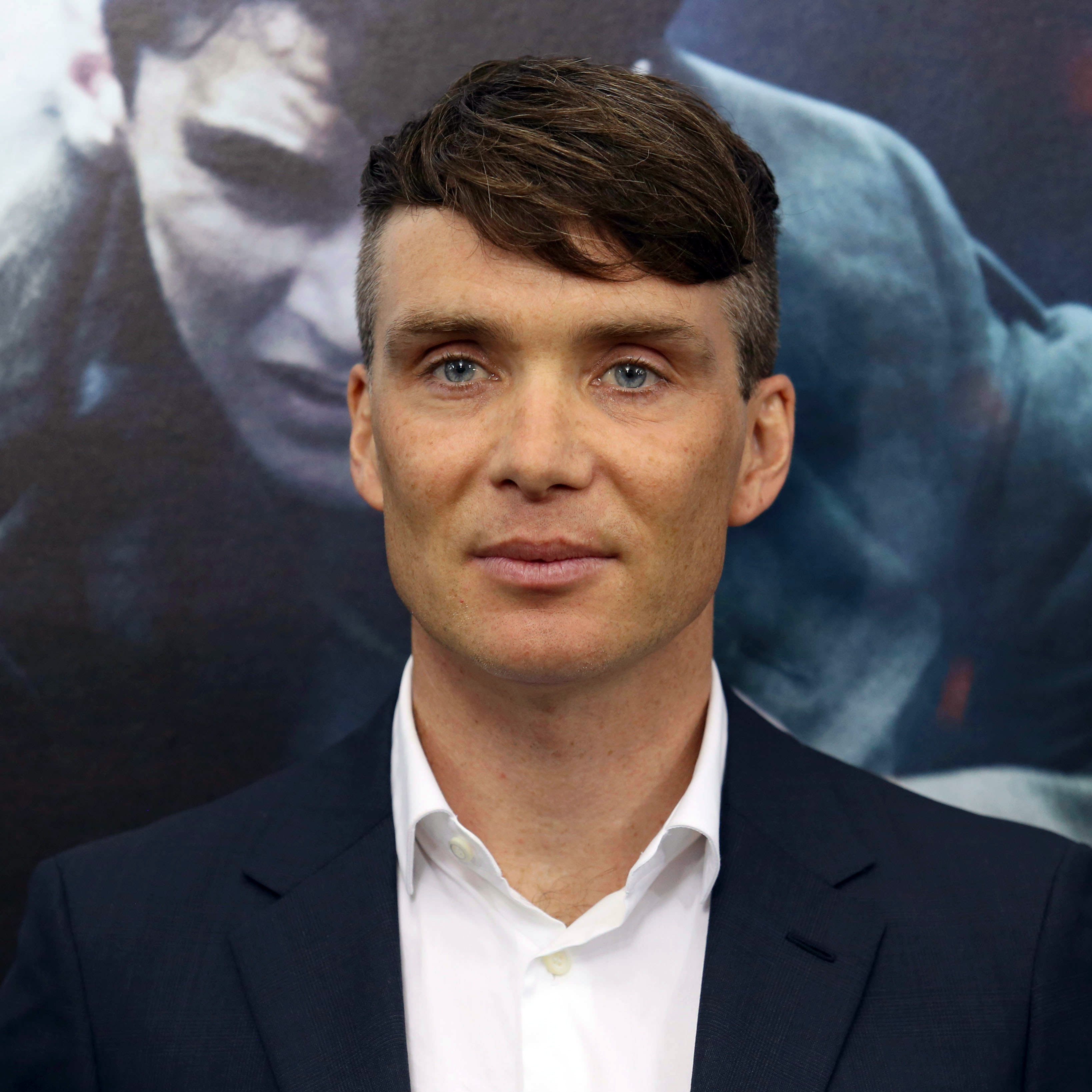 Handsomeness As It Is: Latest Men's Hair Trends 2019
Discover the most attractive hair trends of this year and pick the unique one that suits just you
A new year calls for a new look, whether it's upping your grooming game, a restyle or a total style upheaval. Here are some options that will make heads turn this 2019.
1 / 66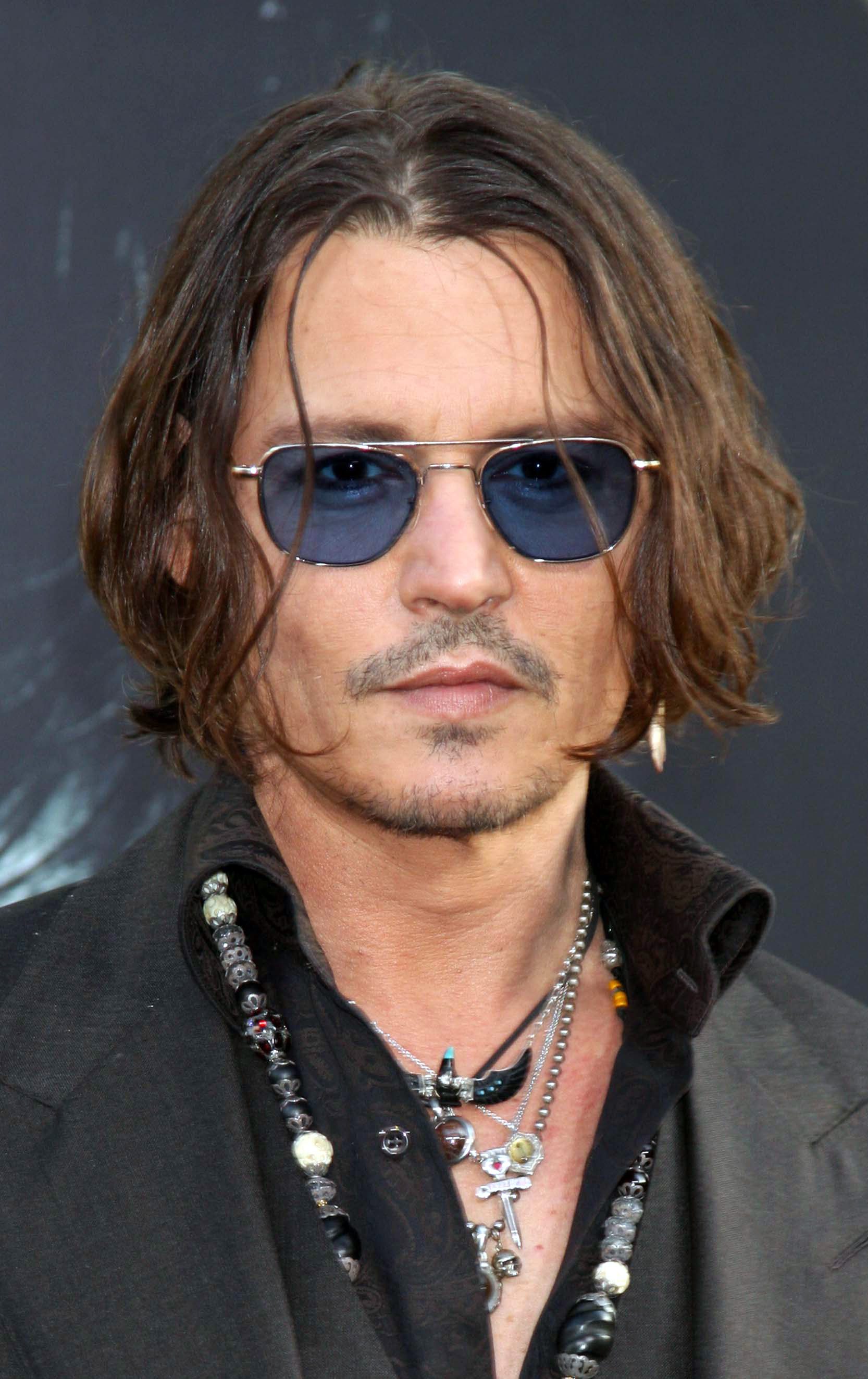 The Bob
The past year has seen guys once again embracing longer hair. The '90s layered mid-length cut is the coolest thing around, gracing red carpets on the likes of Timothy Chalamet and Milo Ventimiglia.
Ask for the length to remain in the front so it is long enough to tuck behind your ears while the back is layered, keeping the weight on the top. Keep it at jaw length for maximum coolness. This look suits guys with thicker, textured hair, but those qualities can be achieved using products.
Add layers for a boyish and romantic update of the Notting Hill look. This look can also become vintage and very edgy if towel dried and pushed back with a product and a diffuser for that Sons of Anarchy biker bob-quiff hybrid. Stylists recommend using moisturizing cream or styling mousse for lightweight control and texture.
2 / 66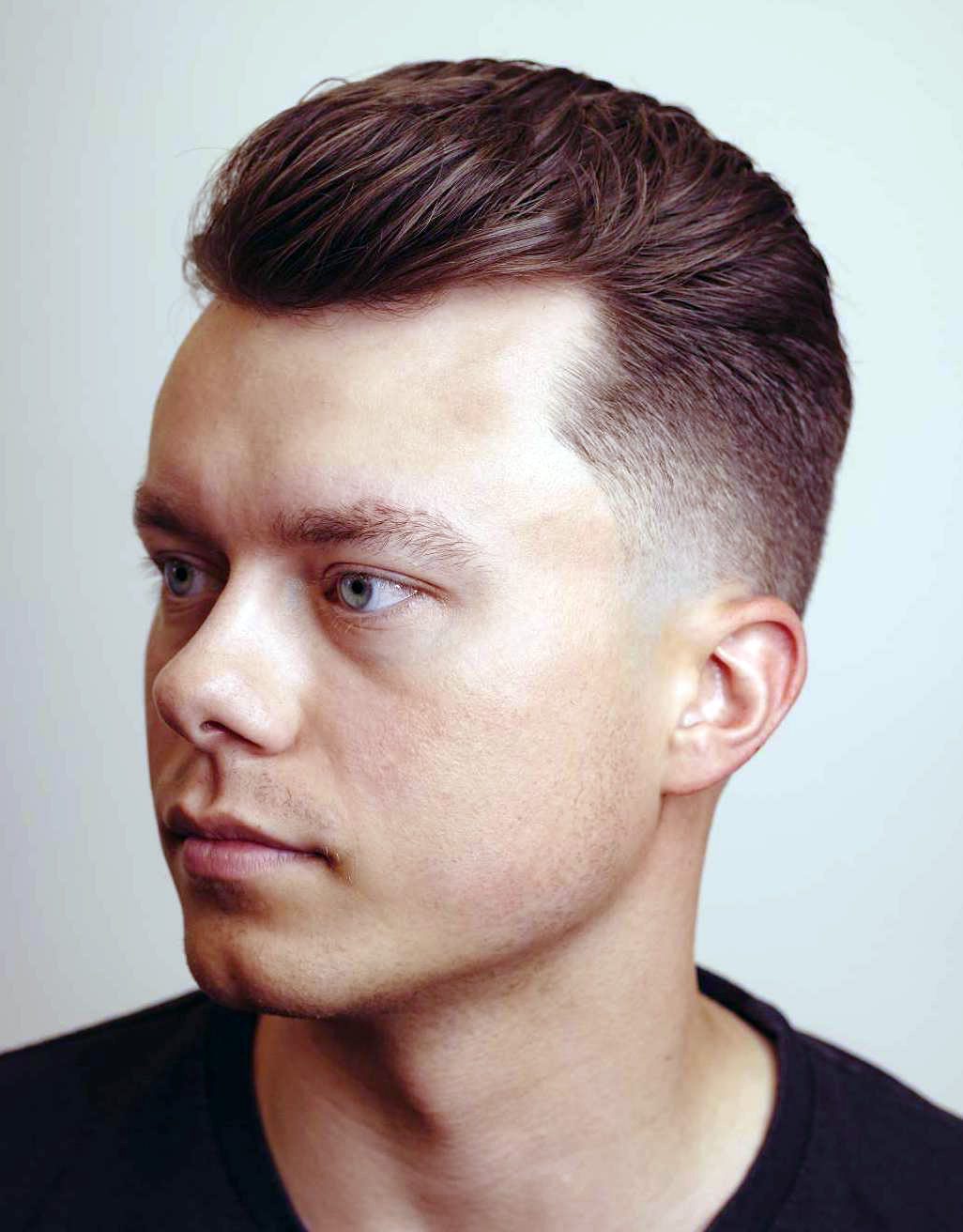 Layered Push Back with Temple Fade
For a simpler, more clean-cut appearance, try out this style. The hair on top is neatly pushed back, and the sides are gradually faded to round out the cut.
3 / 66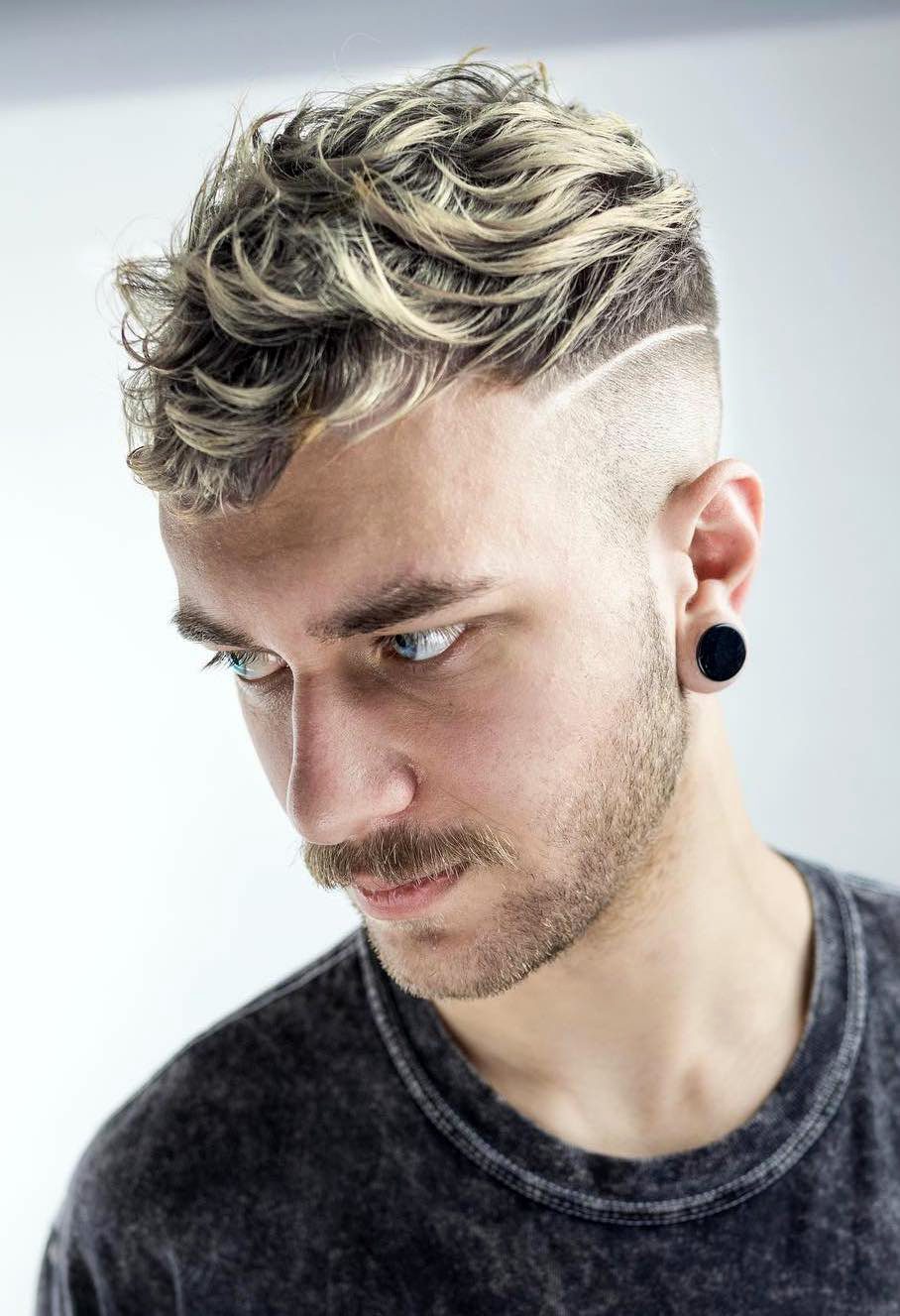 Wavy Messy Top with Hard Parted Sides
This eye-catching haircut has a lot going on. Curly waves, a short swooping fringe, and a hard part make up this undeniable style.
4 / 66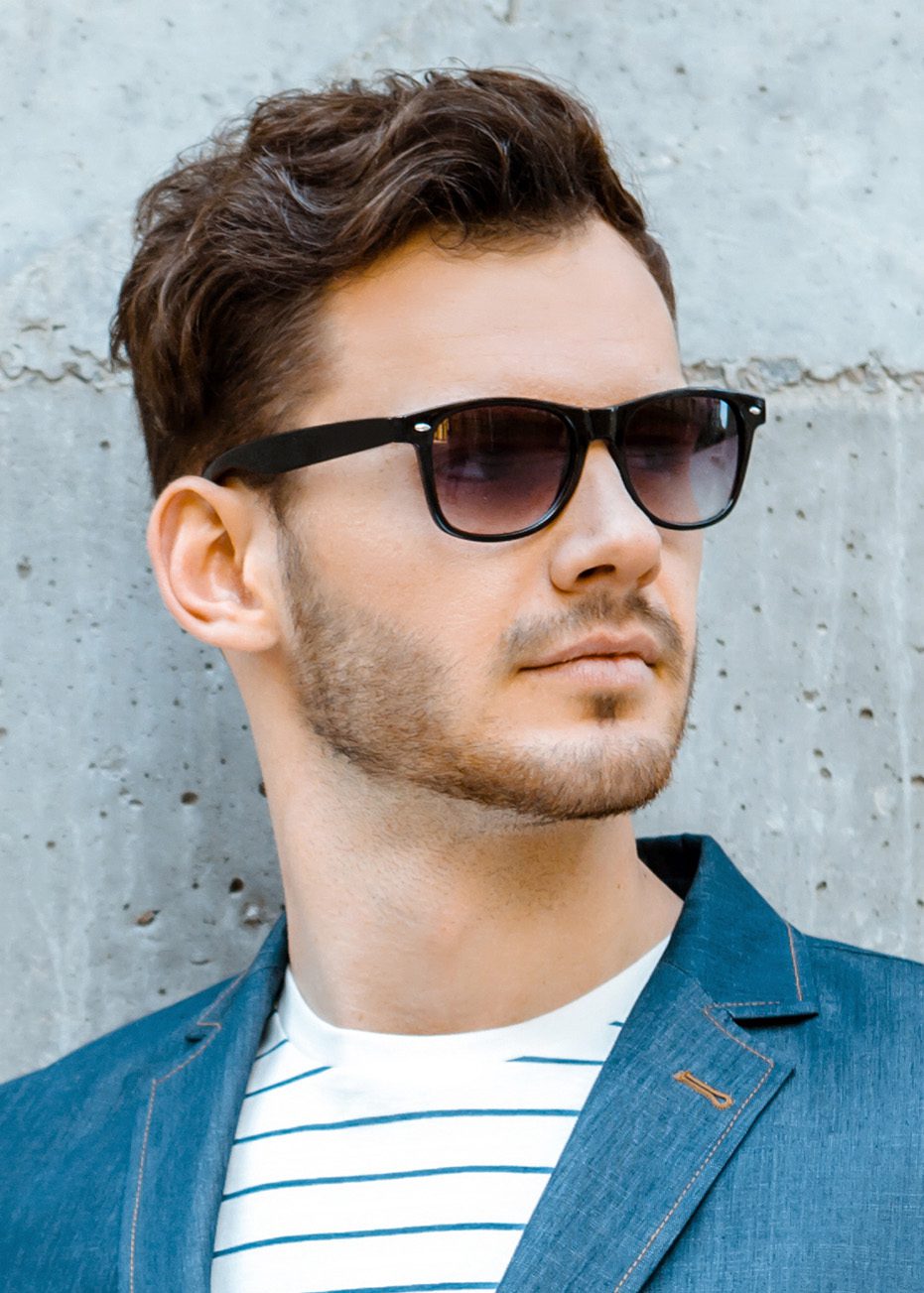 Undercut with Wavy Top
A simple and timeless look, this casual undercut features a wavy top that elegantly distinguishes it from the classic undercut.
5 / 66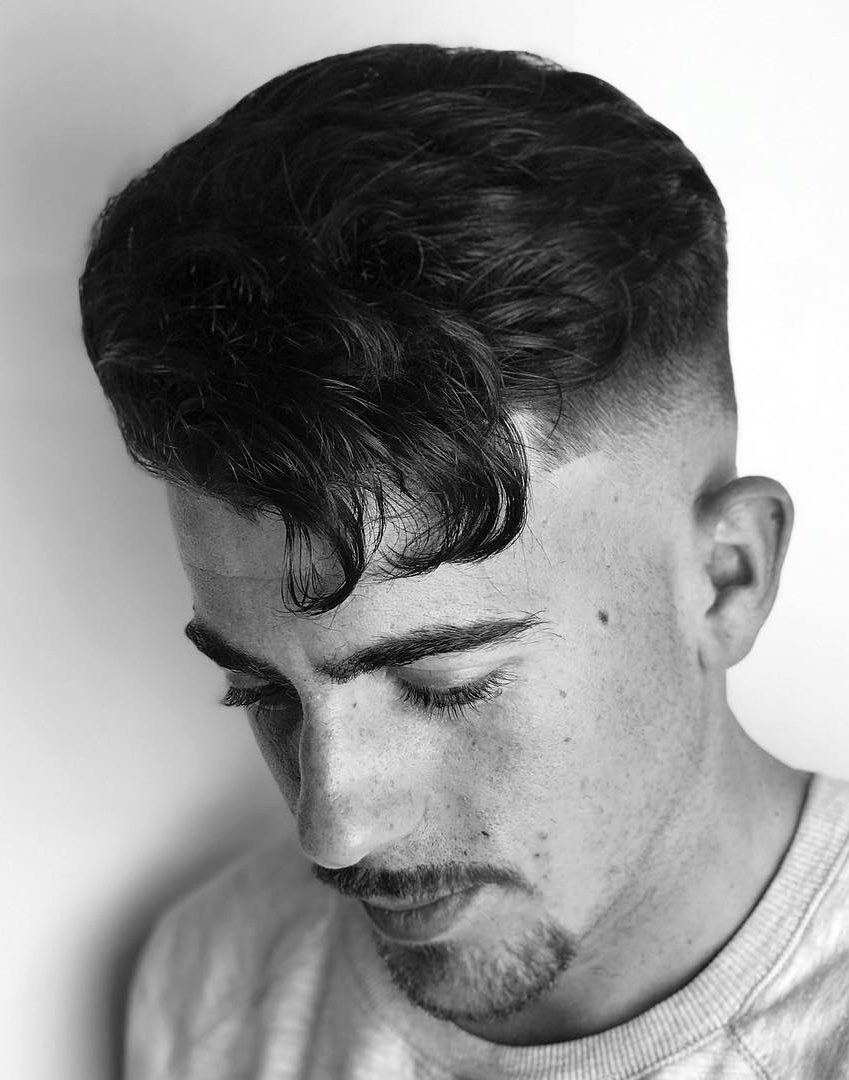 Thick Elephant Trunk and Medium Fade
This straightforward fade is accentuated by a small asymmetrical fringe that hangs down, giving this style the so-called "elephant trunk."
6 / 66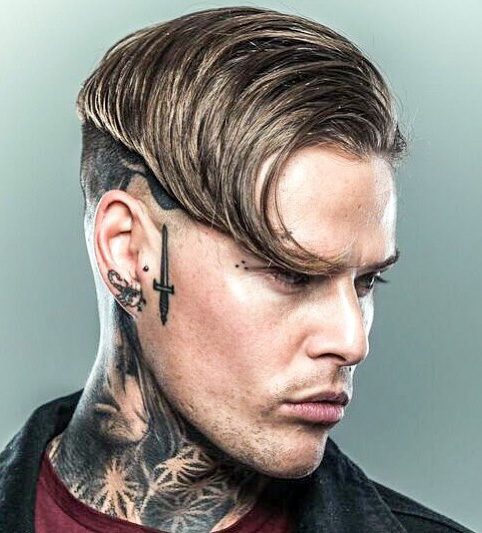 Styled Side Swept and Undercut
If you're after a super cool style, check out this dramatic side swept look. The hair swoops forcefully to the side, creating a sharp wave that easily stands out in a crowd.
7 / 66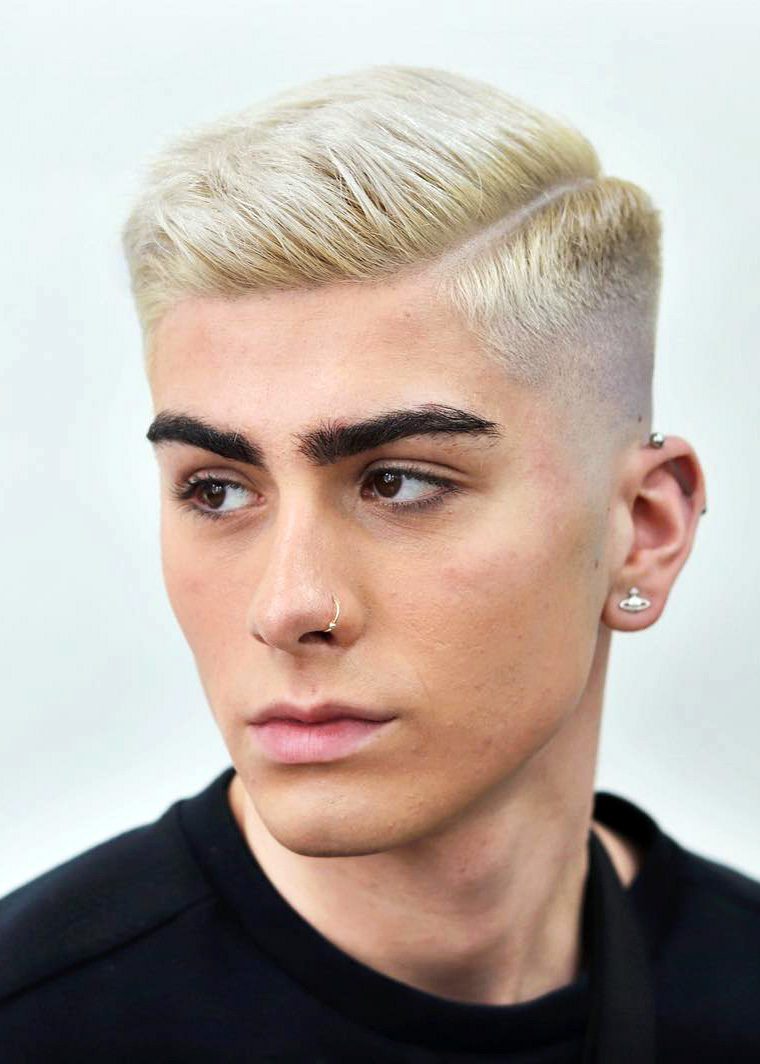 Blonde Ivy and Regulation Mix
This just might be the ultimate beach-inspired hairstyle. Not only is it casual and full of texture, but the styled hair actually resembles an ocean wave!
8 / 66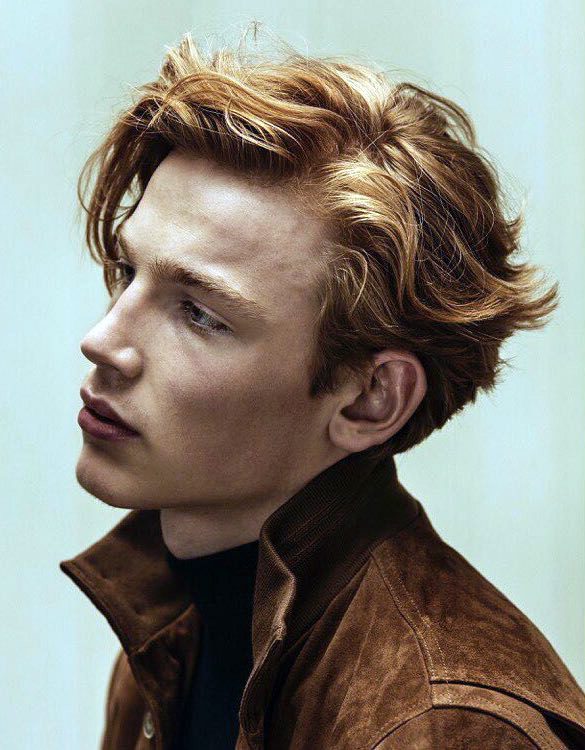 Frizzled Strands with Subtle Part
Another messy and laid-back style, this frizzled look uses a very subtle part to add some visual interest and depth.
9 / 66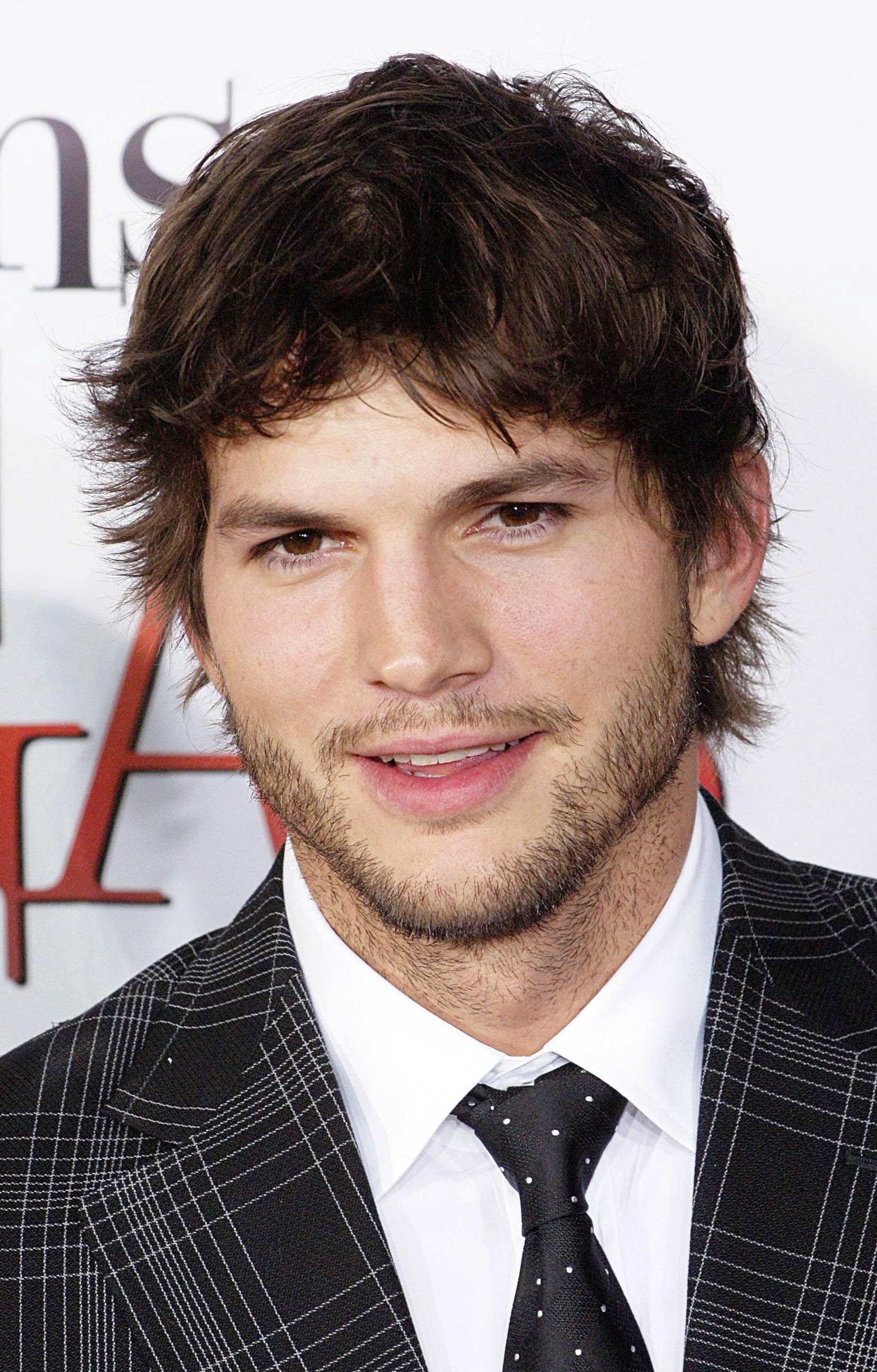 Ashton Kutcher's Short Wings Haircut
When hair gets long, it can often develop "wings," or hair that sticks out. When styled correctly, as Ashton Kutcher has done in this photo, they can add a fun, youthful flair.
10 / 66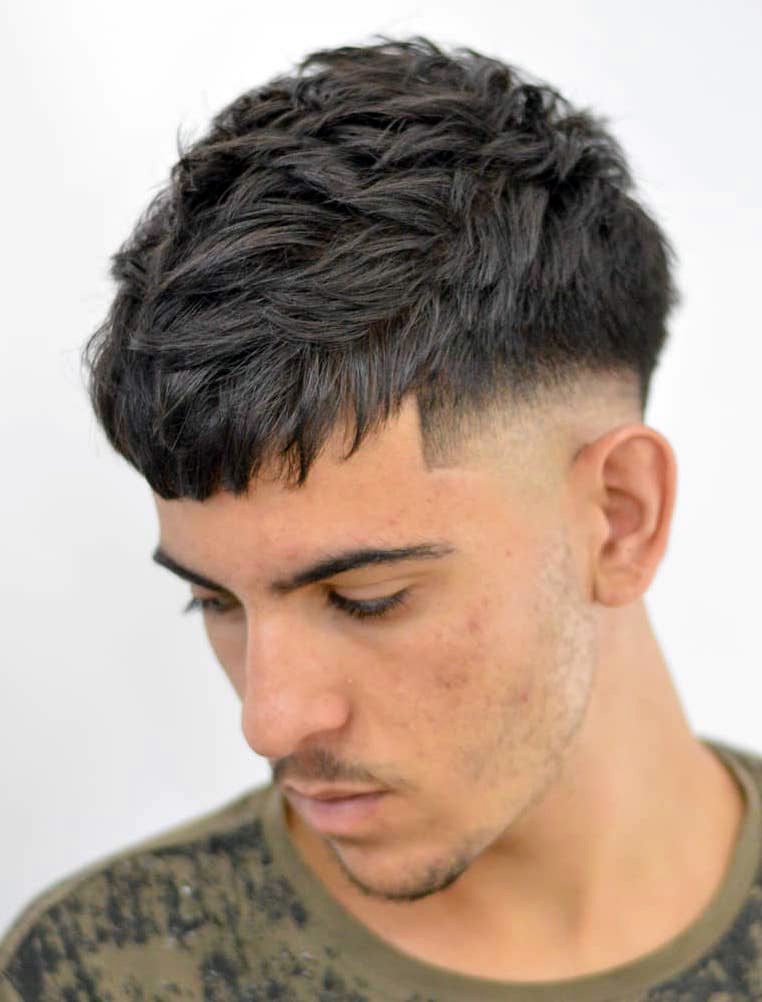 Chopped Strands with Mid to Low Fade
A mid to low skin fade defines the temples' edges, while tapering up nicely to a lightly textured fringe chop that would make Caesar himself proud.
11 / 66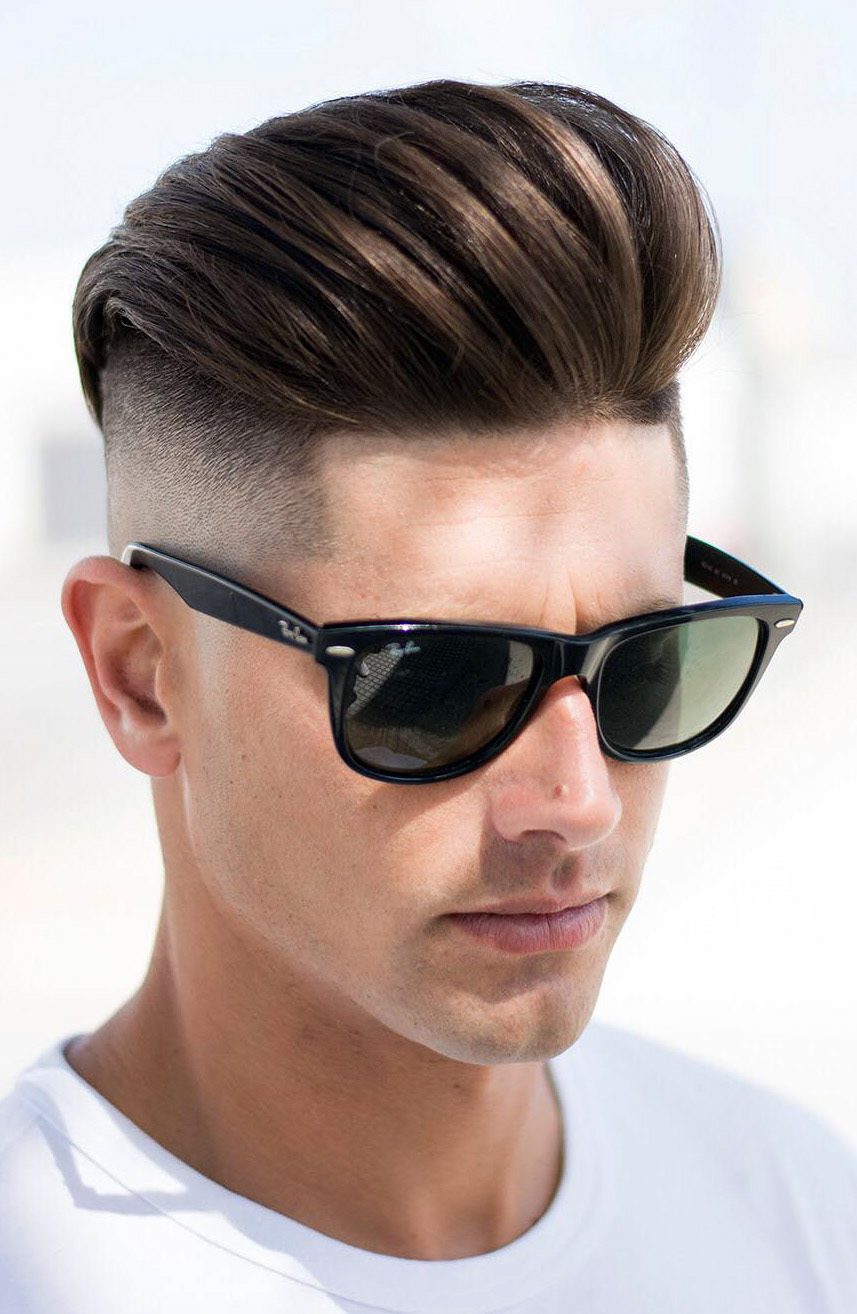 Brushed Back with Long Top
For guys who like high volume hairstyles, this tall brushed back style will deliver. It results in an interesting mix of a brushed back look and a quiff.
12 / 66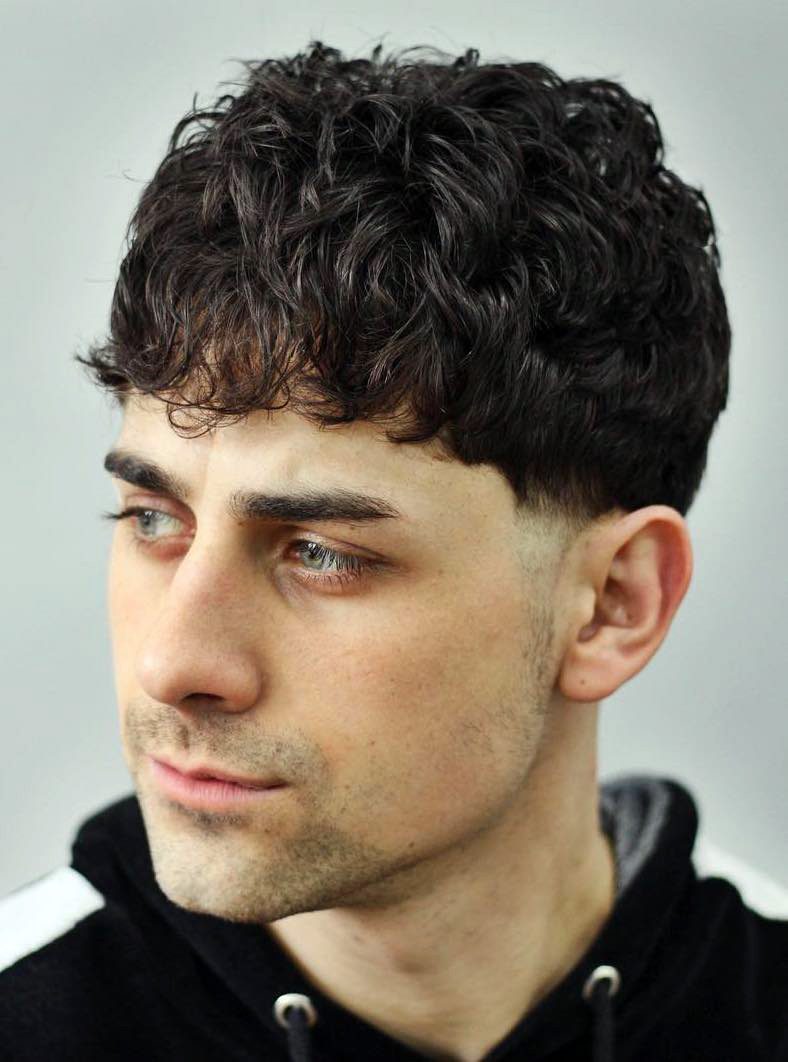 Wavy Textured Messy Top
If you have extremely curly hair, here's a good option to consider. This textured hairstyle layers the hair, creating a thick, full appearance.
13 / 66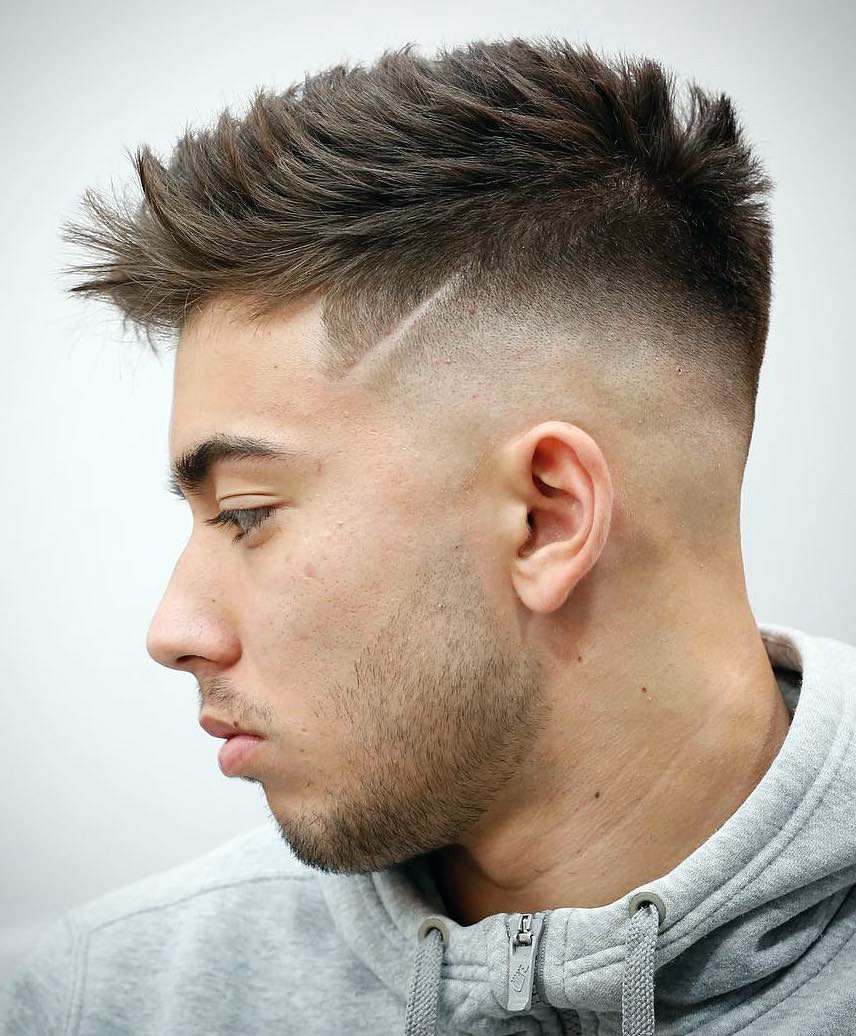 Finely Skin Faded with Casual Top
Add an understated shaved design for some asymmetrical flavor, the skin fade here is the star of the show as it blends smoothly into the casually cropped top which itself needs little maintenance to look ship-shape.
14 / 66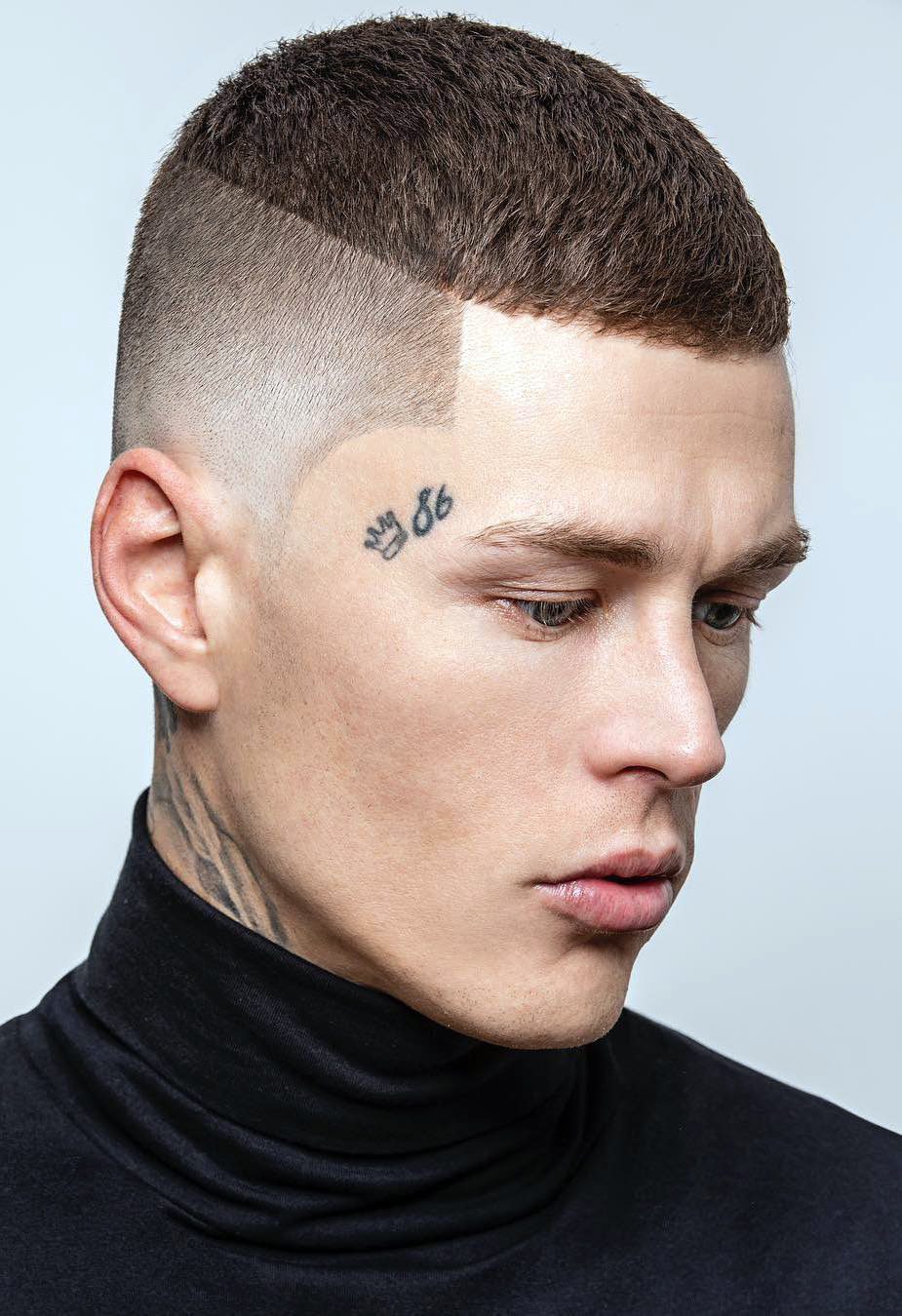 Disconnected Top with Line Up
This close-cropped style is extremely attention-grabbing due to the two different lengths of hair. This is a good choice if you want a low maintenance style that's unique and fashionable.
15 / 66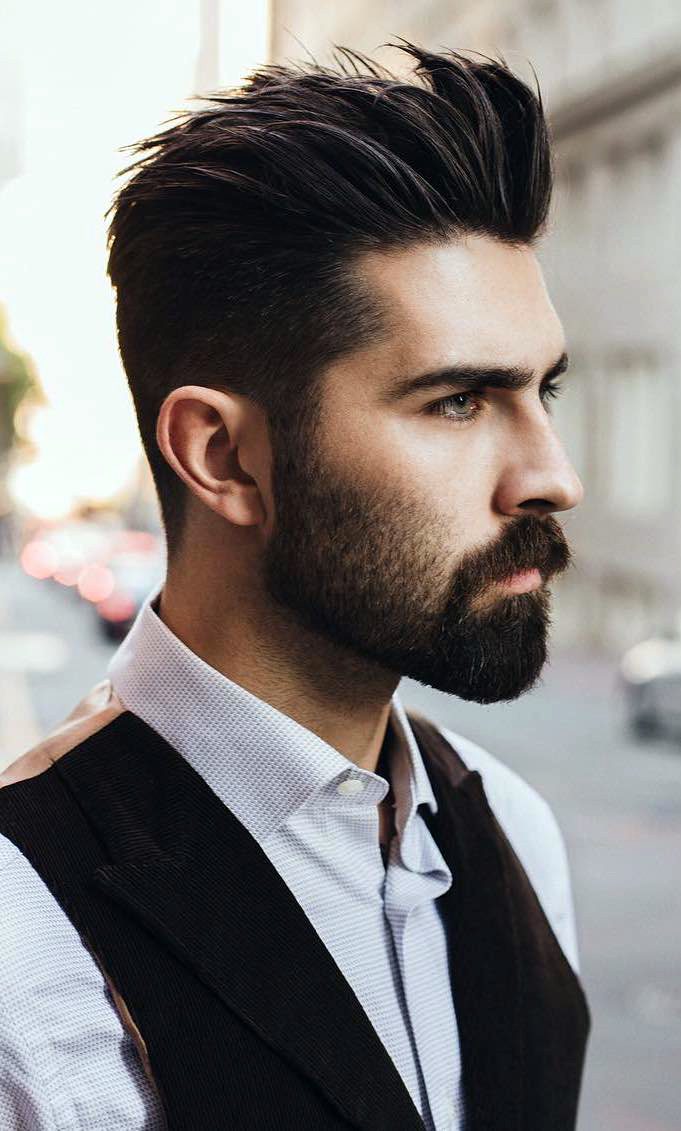 Medium Brush Up
Here's a longer take on the brushed up style that utilizes the texture of thick hair to create a full, lush look.
16 / 66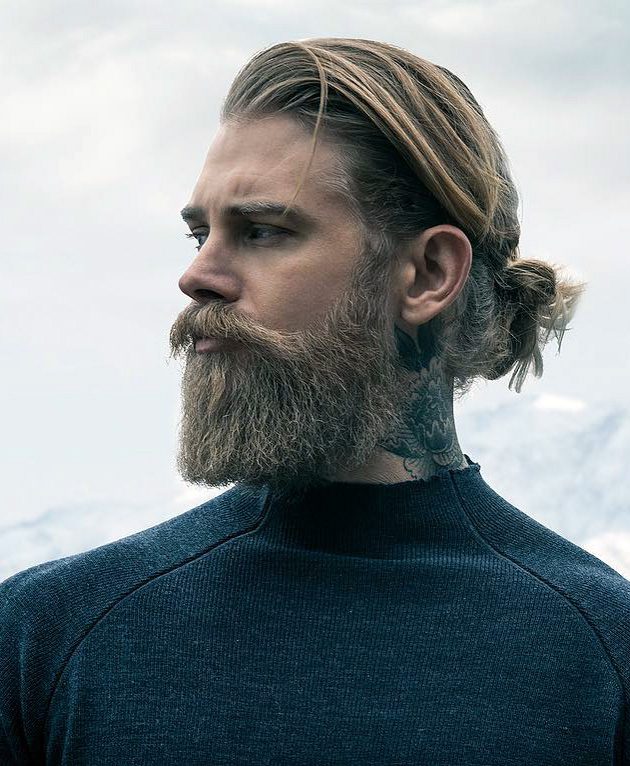 Side-Swept Low Knot
Thor Odinson moonlighting as a New England lobster fisherman is a look not many men have the luscious locks to pull off. If you are follically blessed by the old Norse Gods' and have their ironclad resolve to grow it out, this style is the ultimate in feral cool. The beard alone nets the wearer an immediate after-lifetime pass to Valhalla. Skål.
17 / 66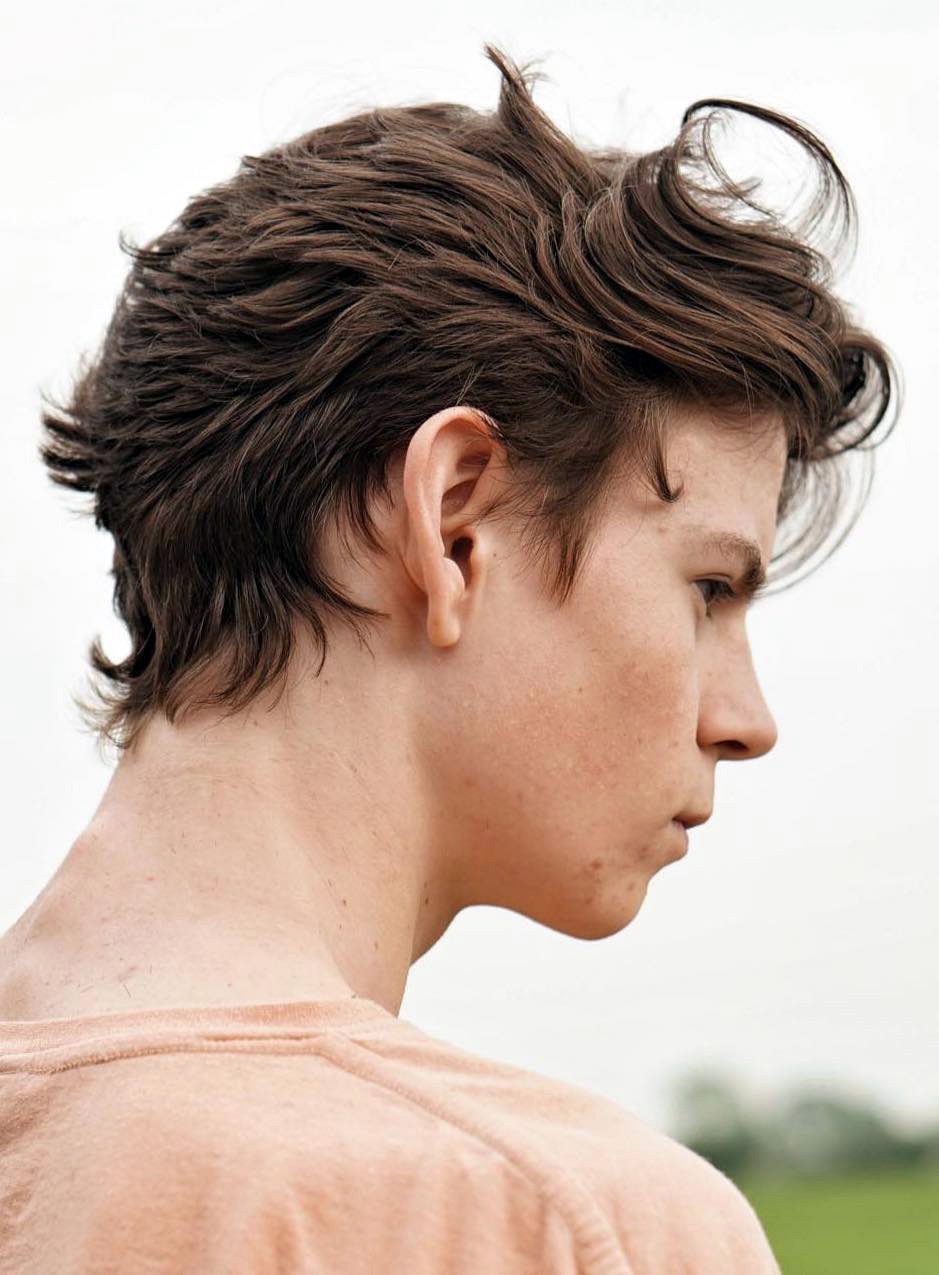 Rusty Brown Loose Strands
If you like having the "messy on purpose" look, then you'll love this style. Full of motion, this hairstyle works best with thicker hair.
18 / 66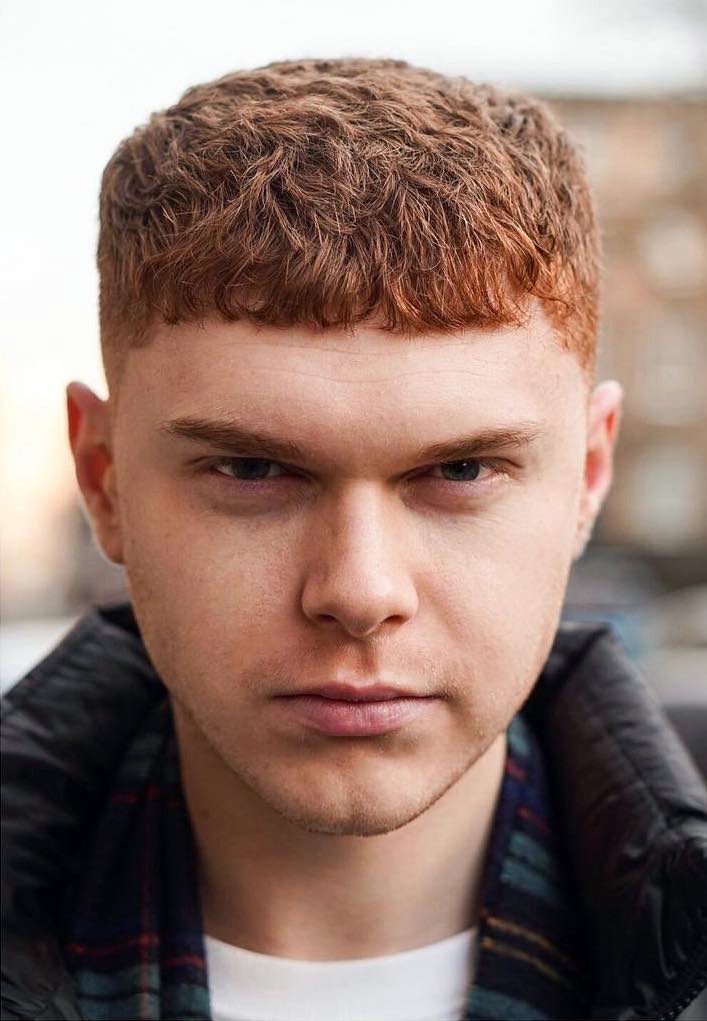 Simple Texture with Low Volume
If you like your hair to have a lot of texture, check out this simple cropped style. This will work well for all hair types as it focuses on texture instead of volume.
19 / 66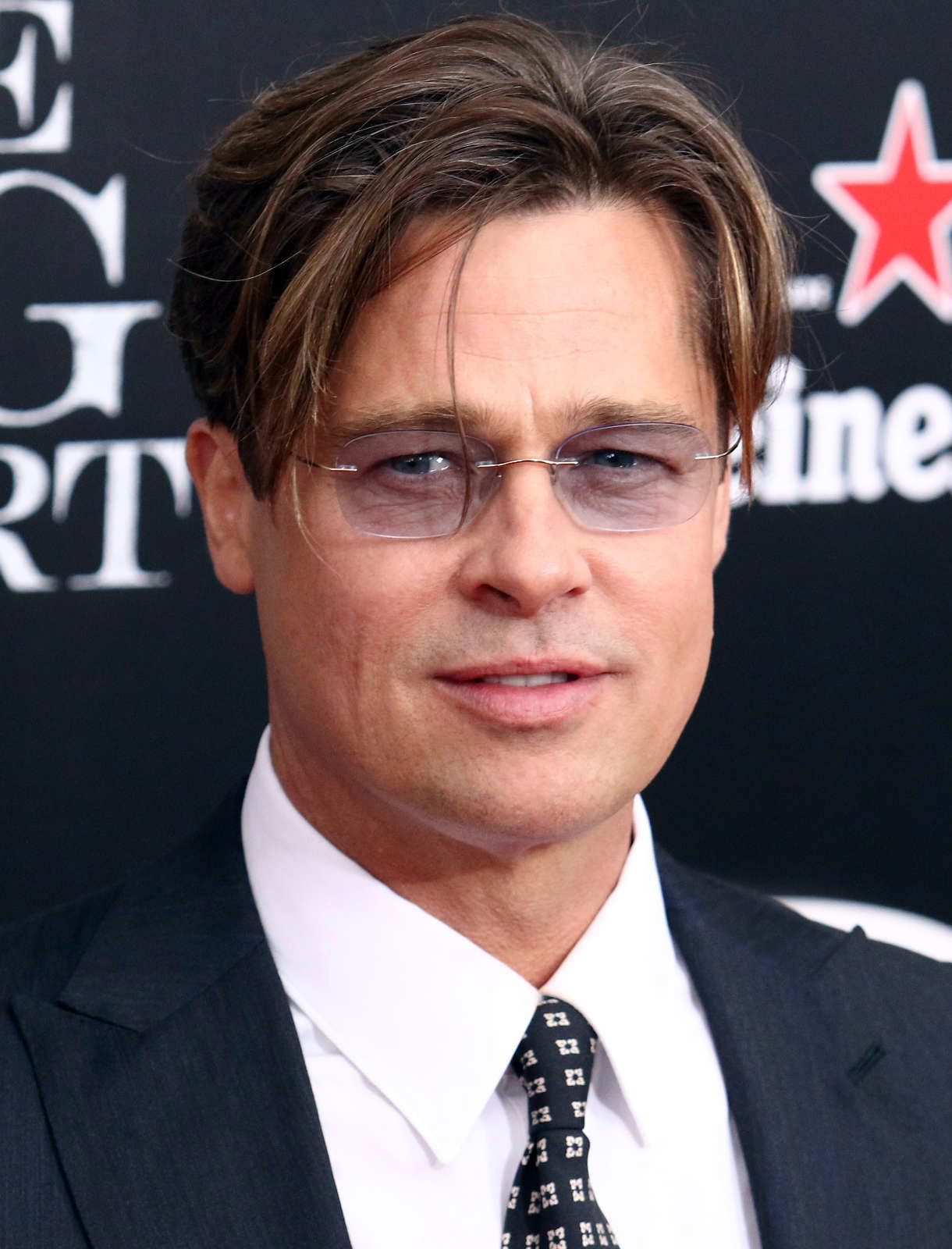 The Updated Custains
This updated version of the late '90s-early 2000s hairstyle became increasingly popular at the end of 2017, and we expect to see it throughout 2018. It's a versatile cut that can be worn messy or smart, making it perfect for the office as well as rock 'n roll. Think young Leonardo DiCaprio, Johnny Depp or Brad Pitt.
Ensure the back and sides are kept shorter for the full effect and ask for an undercut for a fashion-forward take and a strong foundation. Dry the hair forward using a flat brush before sweeping the hair back. This will create lift at the center part. Hairspray will give the most-desired effect. Just spray it in your hands and then rub them together before pushing the dried product through the hair, sweeping it away from your face. Pomade, wax or hair cream will also create the desired effect, depending on how wet or textured you want it to look.
20 / 66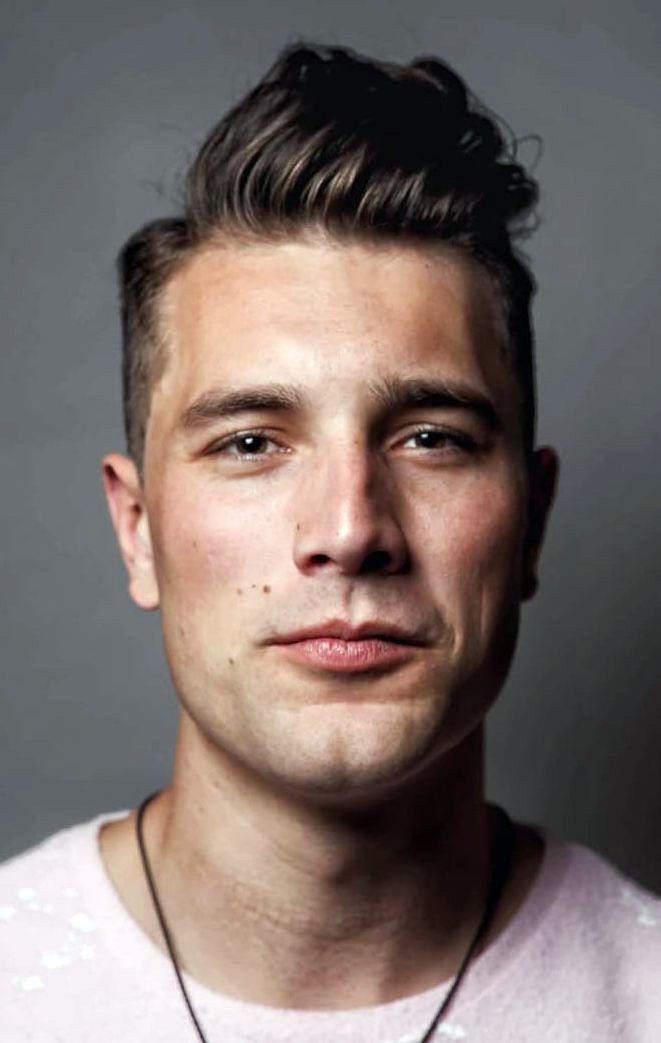 Loose Quiff
Made popular by office workers in the city, this is a textured update on the traditional quiff haircut. Tell your barber you intend to wear the quiff loose so he can remove some weight and cut down the length. The sides can be worn at any length, from clean-cut and shaven for an update on the peaky blinder cut to long so it can be tucked behind your ear.
Blow-dry your hair backward in a clean sweep with a round brush. This will create a strong foundation. Rub styling paste between your hands before you run it through your quiff front to back. Wiggle your fingers for the appropriate texture and looseness.
21 / 66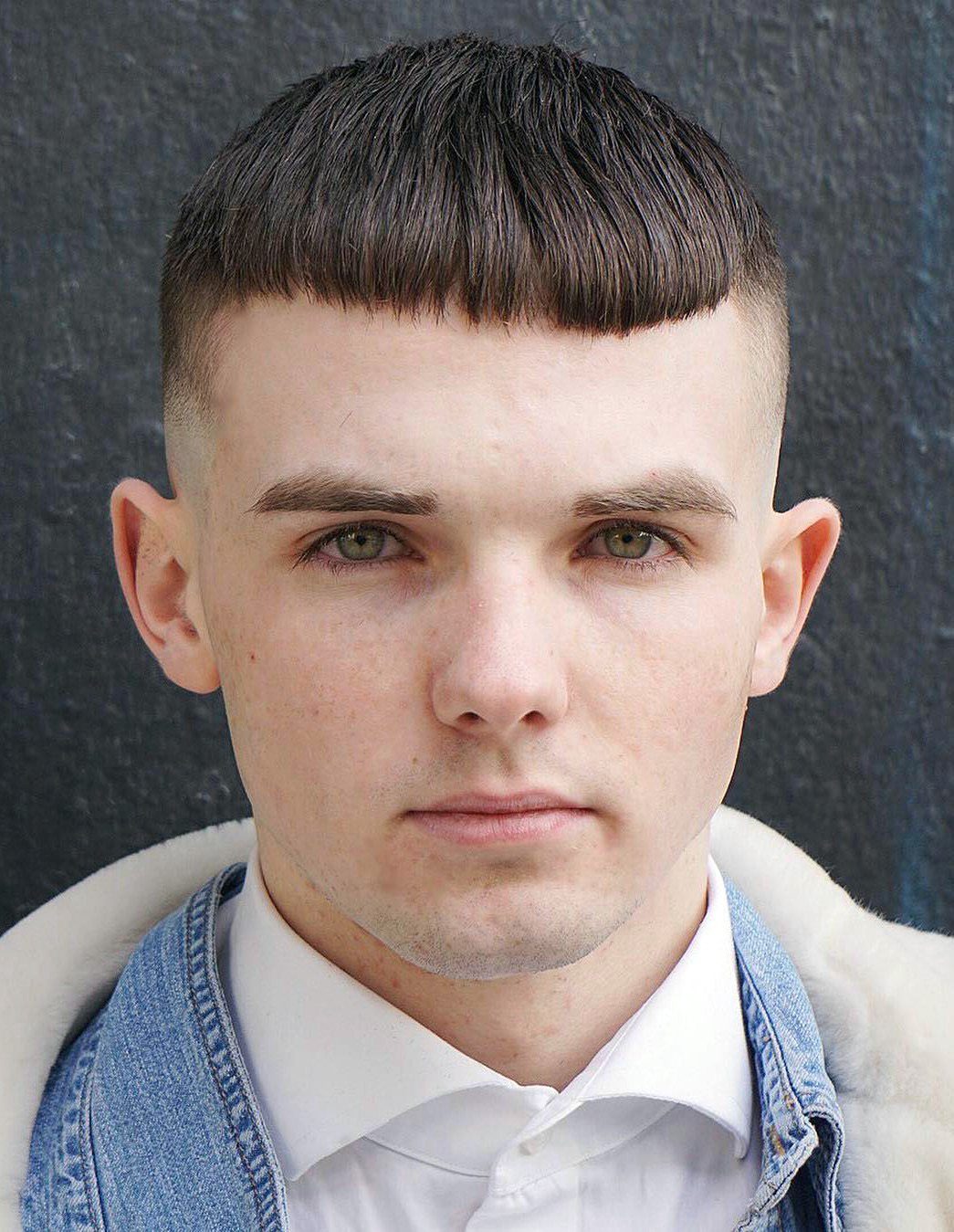 Blunt Fringe
The cropped blunt fringe is perfect for men who want to be fashion forward yet still have a versatile style. Striking on square facial shapes, this style suits tight and faded sides and is perfect for men who have flat or lifeless hair. If you have bouncy locks, try applying styling paste when wet, then blow dry forward for sharp, controlled hair.
22 / 66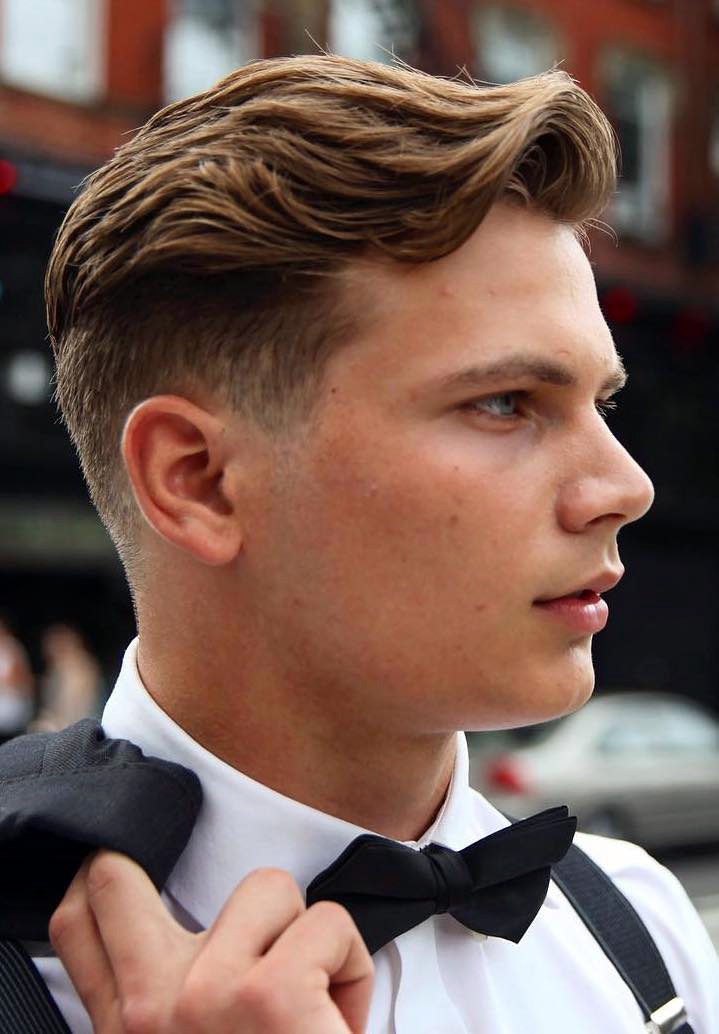 The Undercut
The classic undercut had buzzed sides with a long top slicked back. The modern approach is far more versatile: slicked back, combed over, naturally curly. The undercut can be worn in almost infinite ways.
The two cuts to this versatile do create a bold contrast between the shaved sections with skin fades and the subtler modernized dandy haircut. This look relies on gradual layers at the nape and temples that will create a sophisticated yet straightforward transition between the two lengths. If you want the vintage David Beckham look, use a wet hair product, but for the more modern option, try a matte hair mousse for texture.
The disconnected undercut is the newest and edgiest take on this classic trend. The hair on the top of the head is disconnected from the sides with a striking part that forms a distinct line between the two cuts.
23 / 66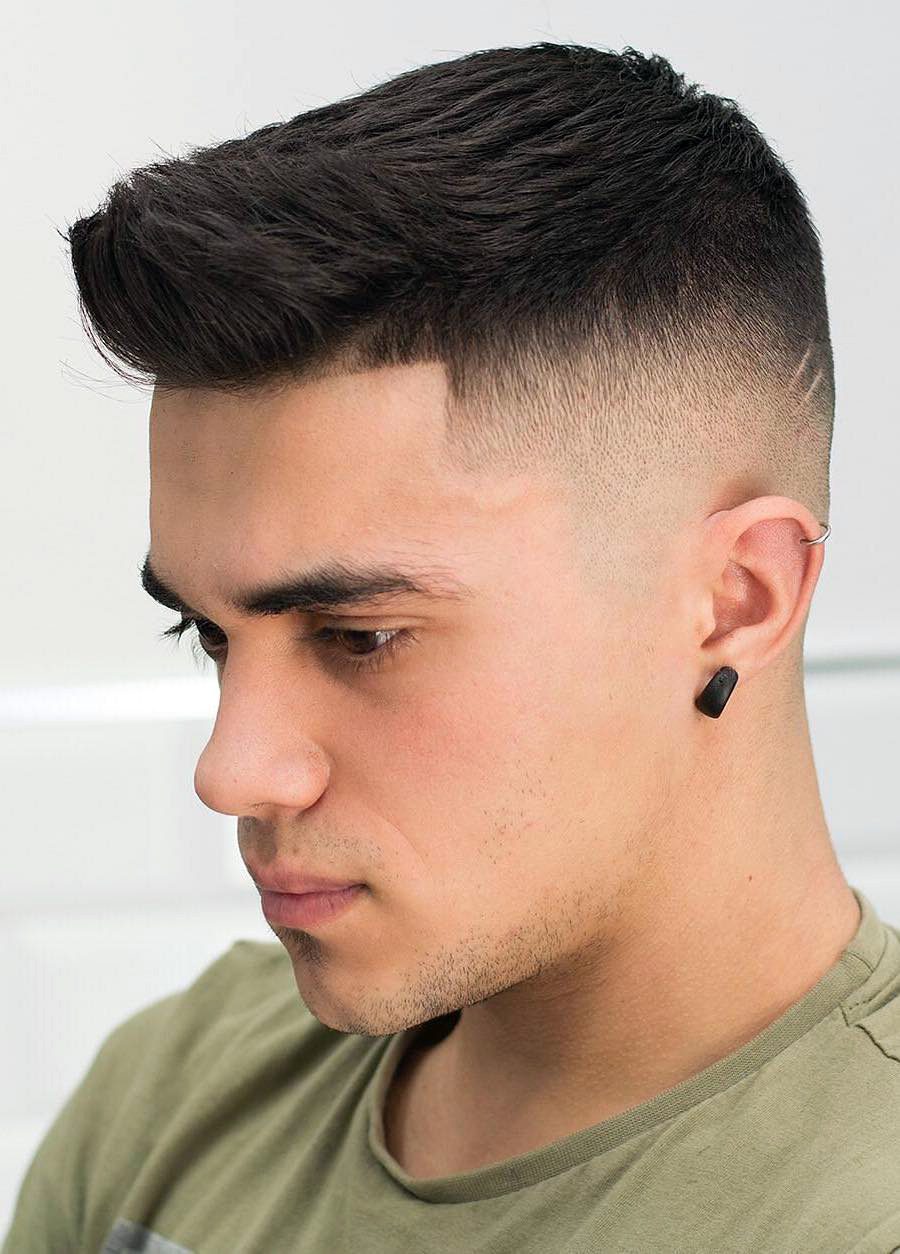 Formal Top with Sleek Fade
Some styles can bridge the gap between casual and formal, and this hairstyle does that very nicely. It has a mostly formal appearance, but the sides are faded for a trendy touch.
24 / 66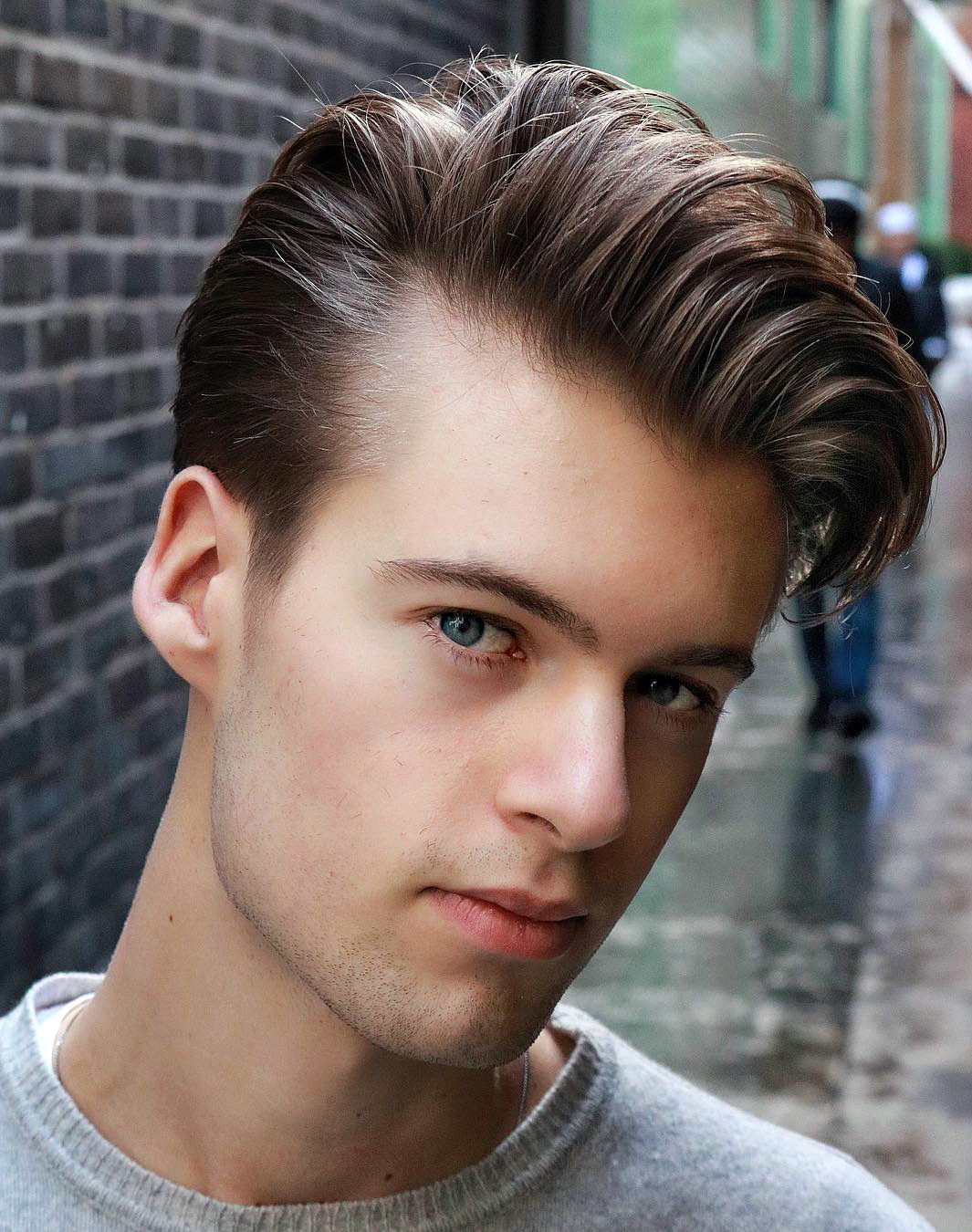 Side Swept with Classic Scissors Crop
This voluminous side part is a great style for young, fashionable guys who want a haircut that matches their personality and wardrobe.
25 / 66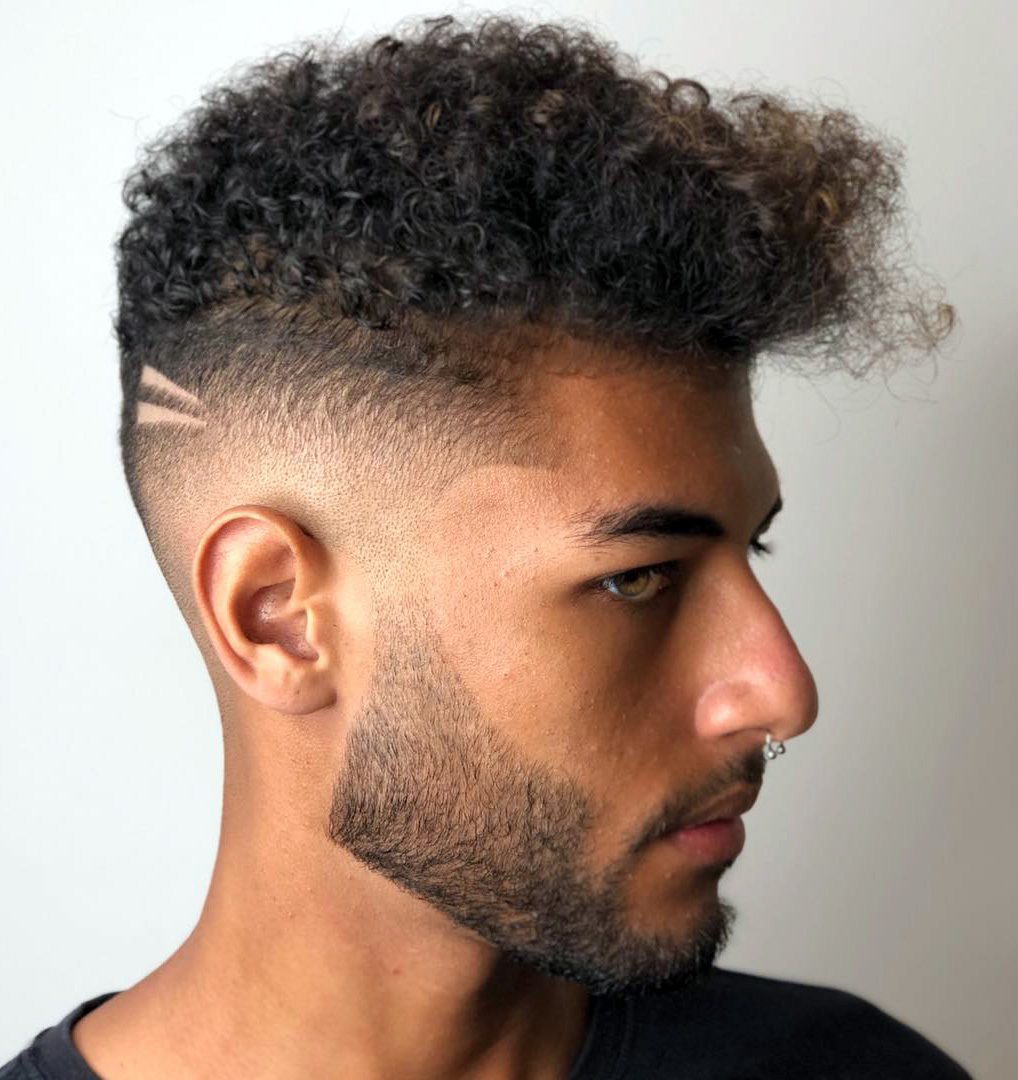 Medium Fade and Hardline Design on Curly Hair
Not having straight hair is no reason to deprive yourself of the classic pompadour. Especially if your curls and kinks are acquiescent to styling, a clean medium fade and a little product can give you the results you're after. Have your barber "sign" his work with some shaved lines or notches to add personality to an already unorthodox alternative to a vintage cut.
26 / 66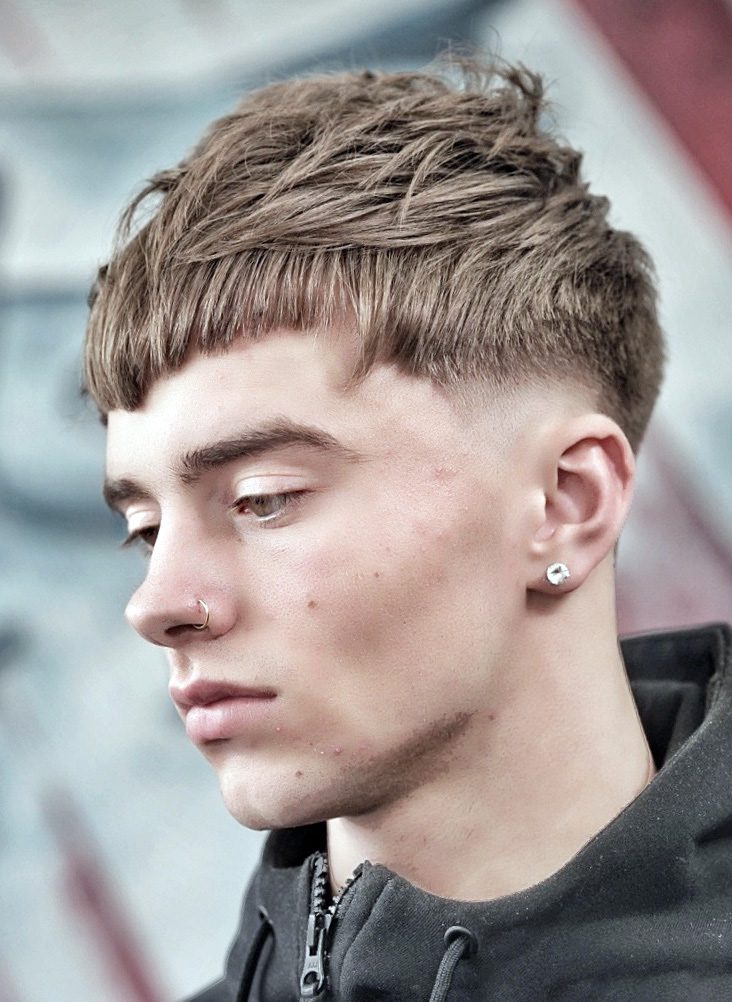 Irregular Fringe Cut
This haircut uses an asymmetrical fringe and a messy top to create a striking look. Great if you want to change up your hairstyle with something a little different.
27 / 66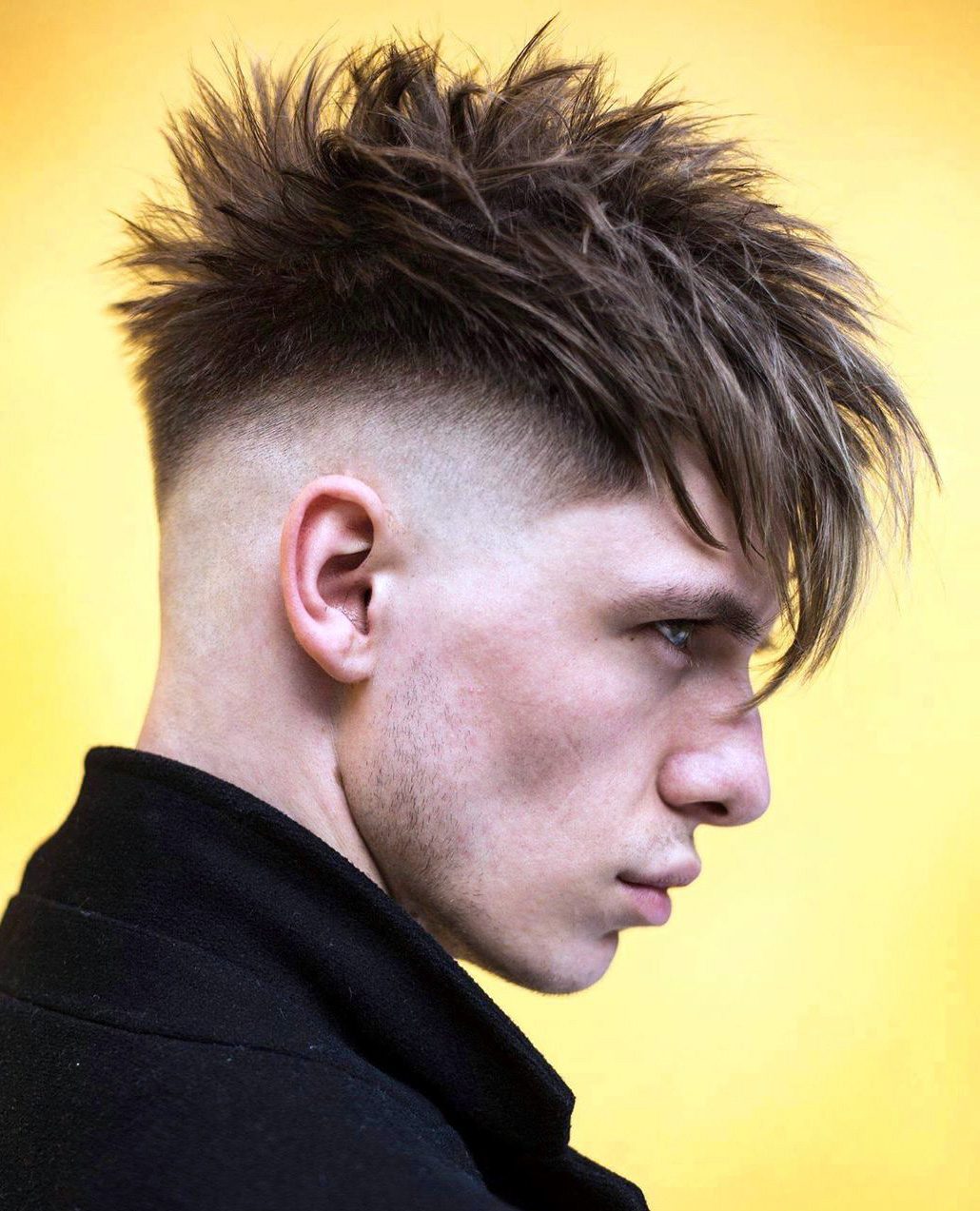 Textured Style and Undercut
This high fade undercut tapers up to an artsy rough chop with a long devil lock fringe full of texture. Justin Bieber if he was in the Misfits. Pairs well with all black everything all the time.
28 / 66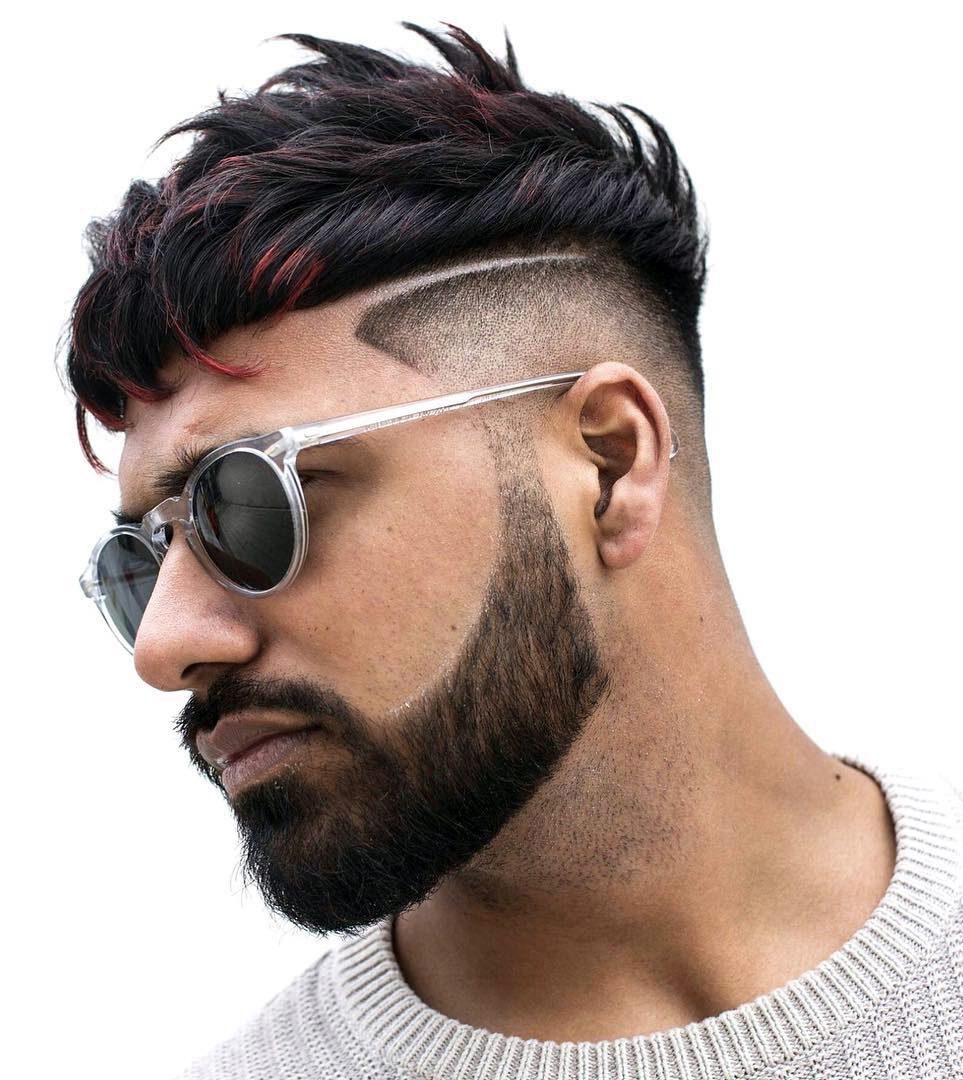 Red Highlights and Hardline Design
Whoever said color highlights is for the fairer sex only? When fashioning your own unique style, all tools are available. With darker hair, the hue is subtle, even if the shaved hairline is not. Combined with clean edges and a tight skin fade that drops in the back, this style looks superb on those endowed with the gift of beard.
29 / 66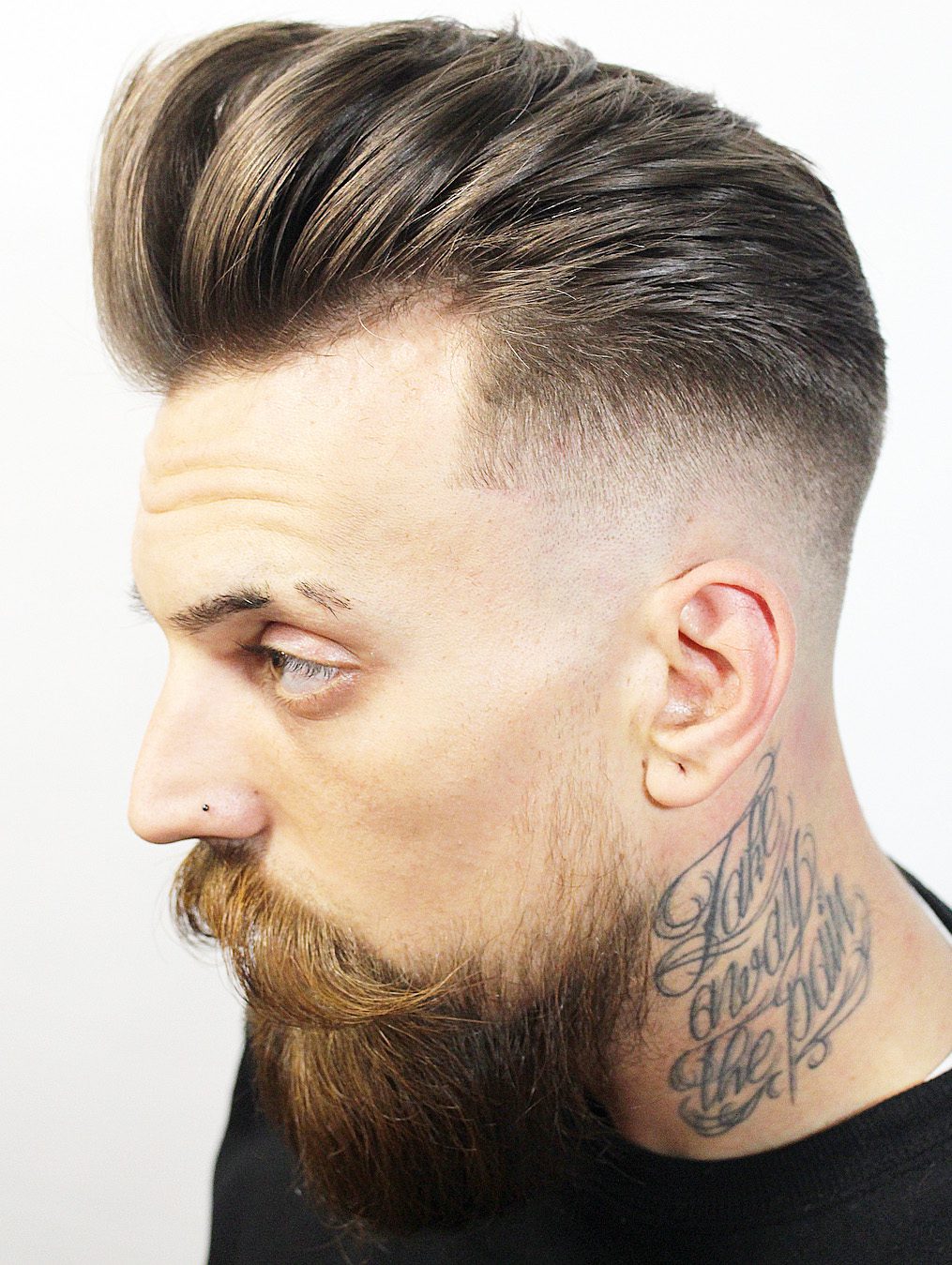 Thick Pompadoured Puff with Mid-Fade
The more traditional fine-combed push back doesn't quite capture the intricacies of your rebellious alleycat spirit? This mid fade, blowout pompadour won't quite get you confused with a certain feral feline-themed rockabilly band leader, but it's got more swagger than your traditional 50s quiff.
30 / 66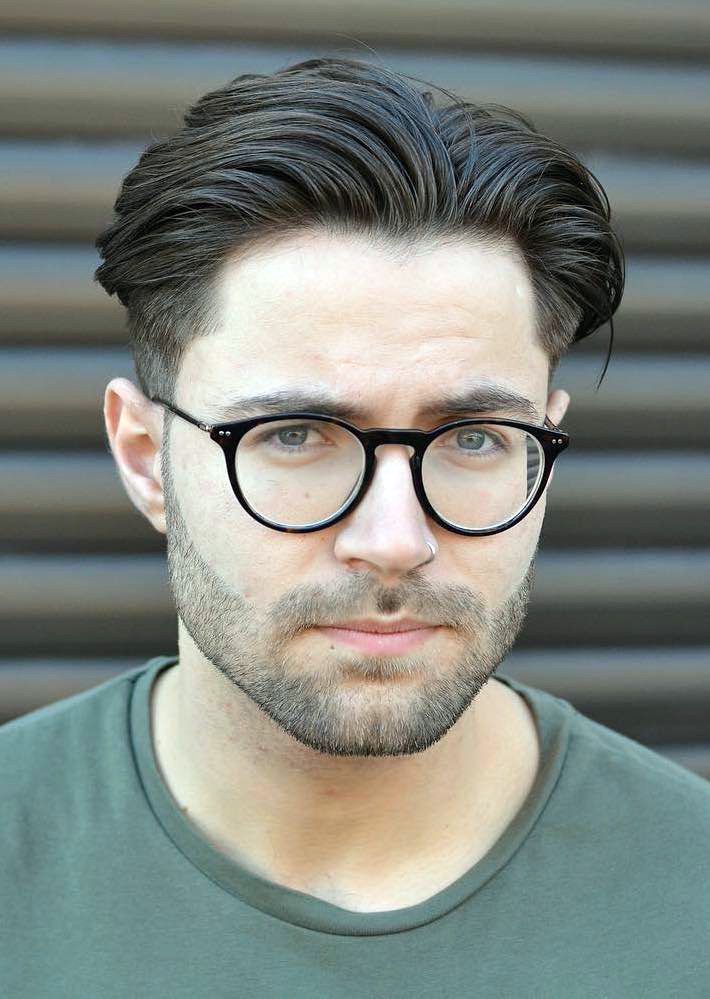 Tapered Sides with Free Top
Not quite as extreme as the Peaky Blinders' boys' bald faded mops, this old fashioned flowy style still harkens back to the days of dimly lit prohibition-era speakeasies and thugs with tommy guns. Leave your considerable length on top loosely pushed back to achieve this laid back, late-night look.
31 / 66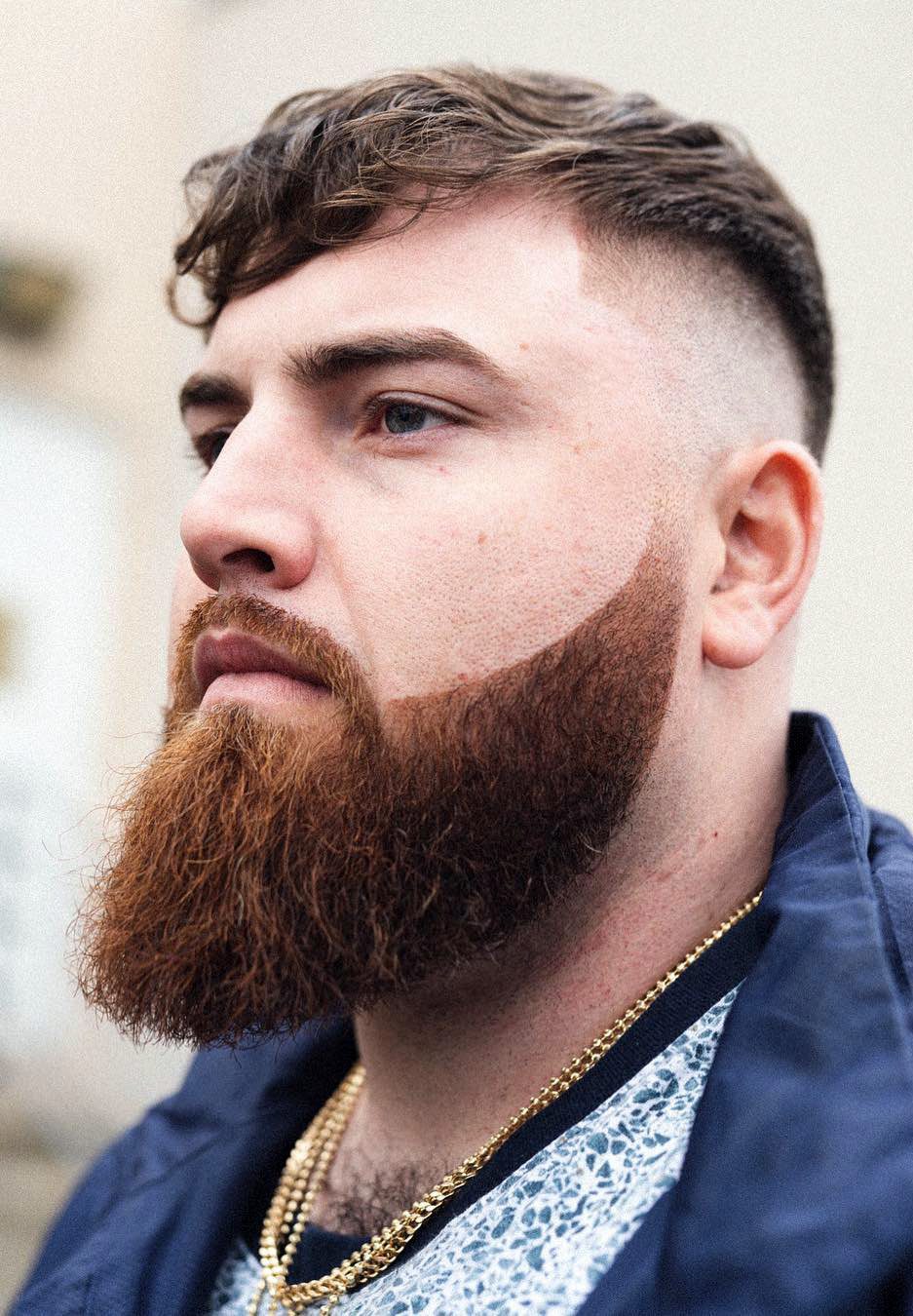 Beard and Fade make a Good Couple
A beard as finely shaped and a good skin fade can be a tremendous pairing. The beard enhances the definition of the jawline for those with a rounder visage, while the textured widow's peak fringe adds a nice symmetry to the look.
32 / 66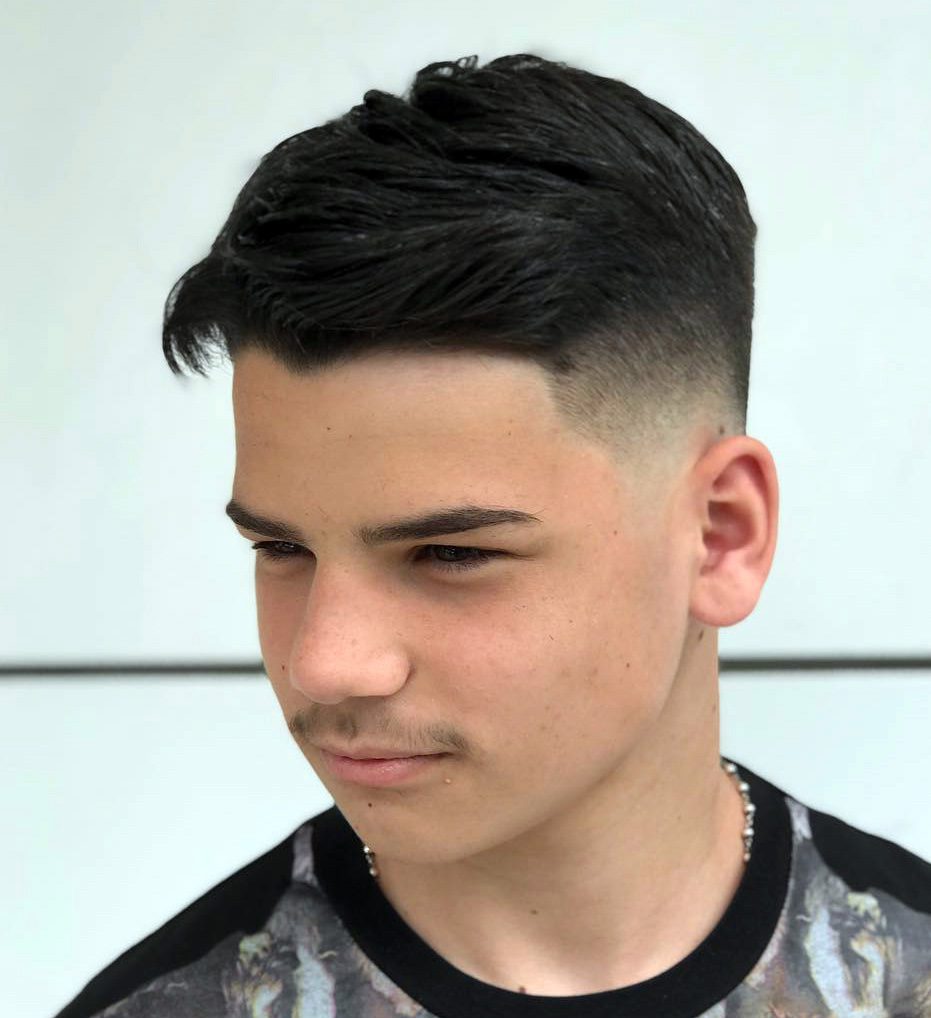 Short Crop with Low Fade
This look is subtle, safe even. The fade is low and gradual and the crop is not going to ignite any controversy, even with the subtle side-swept fringe. This is a tried and true look for those beginning to dip their toes into the primordial waters of stylistic evolution.
33 / 66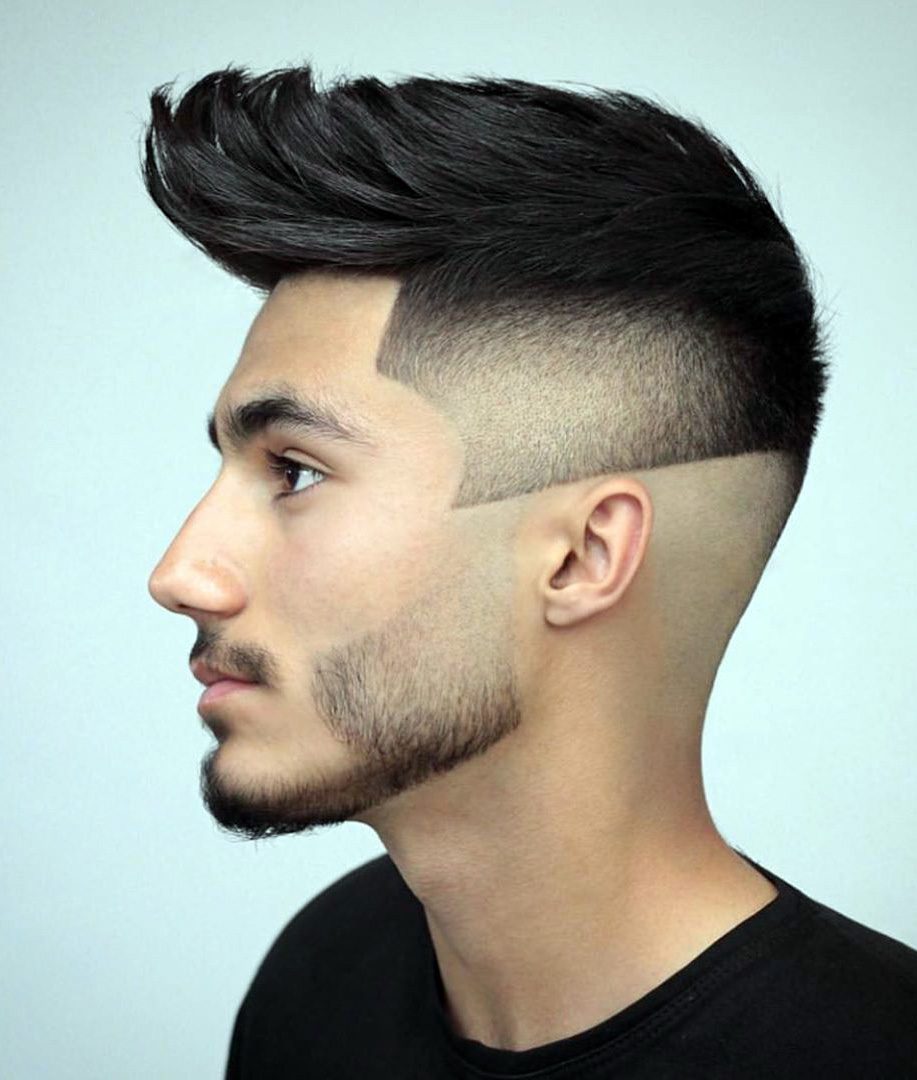 Disconnected Fade
Get a jump on summer 2219 with this futuristic disconnected fade that sports more edges than a 5th-dimensional tesseract. Obviously, there's a lot going on here, as the textured pompadour and high fade are the least conspicuous features in the look. It's a style that is sure to garner attention. Fortune favors the bold…and a barber with unwavering hands.
34 / 66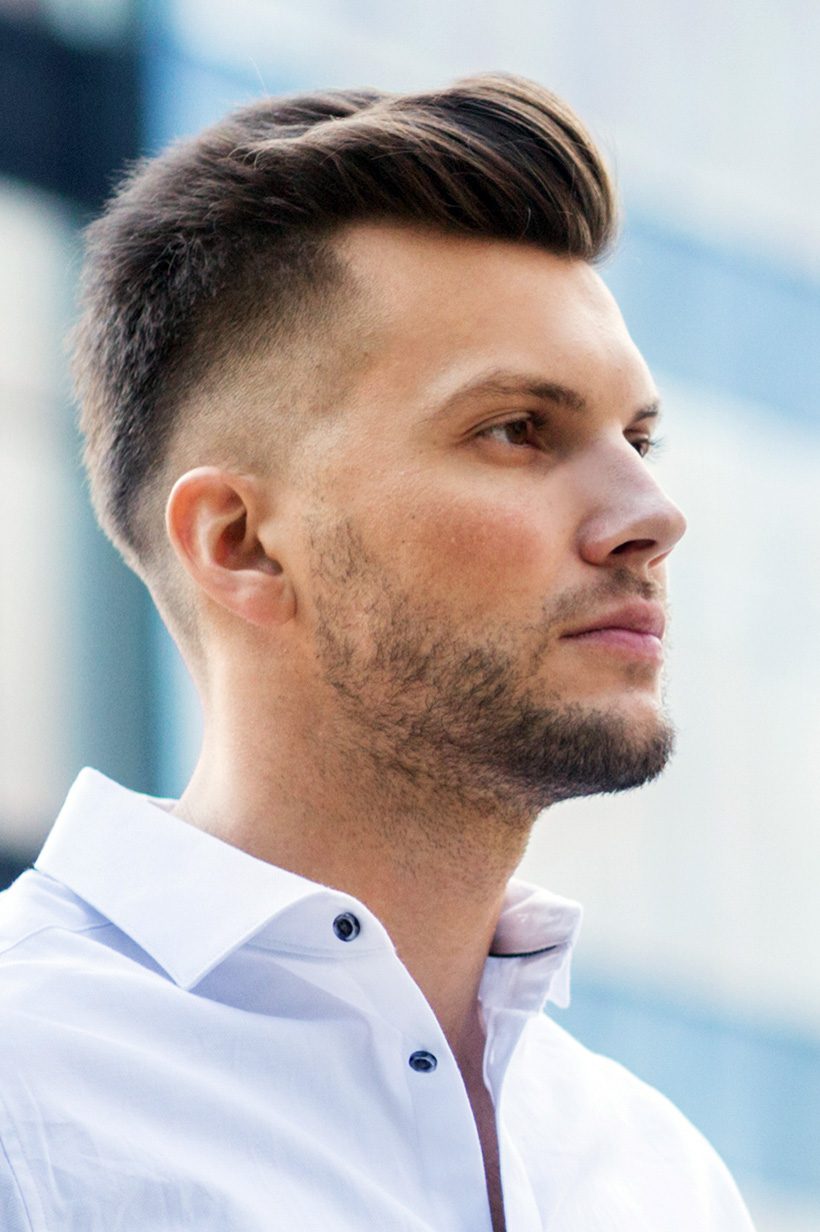 Drop Fade and Pompadour
This style proves that a windswept pompadour and a graceful drop fade are a great match. This is a good option if you're looking for a hairstyle that's suitable for work or school.
35 / 66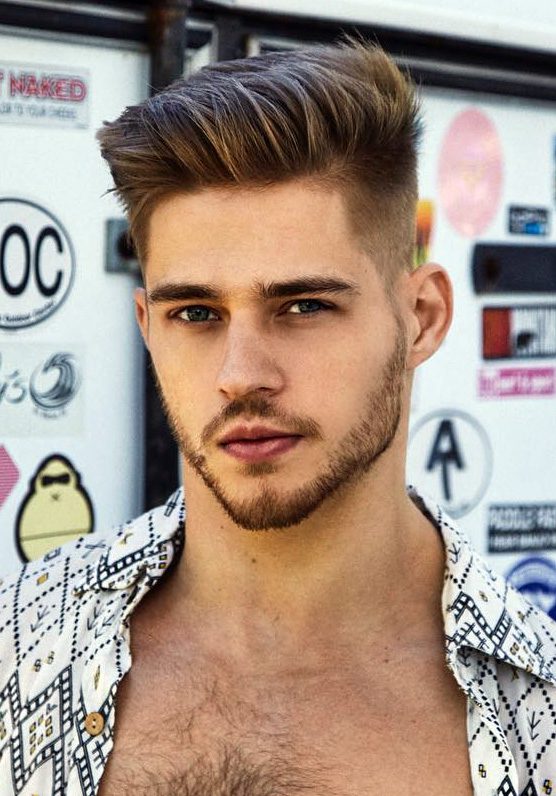 Brush Up and Taper
This 80s-inspired look is surprisingly simple to achieve. Thick, even hair is styled into a neat flat top, and an even taper rounds out the cut.
36 / 66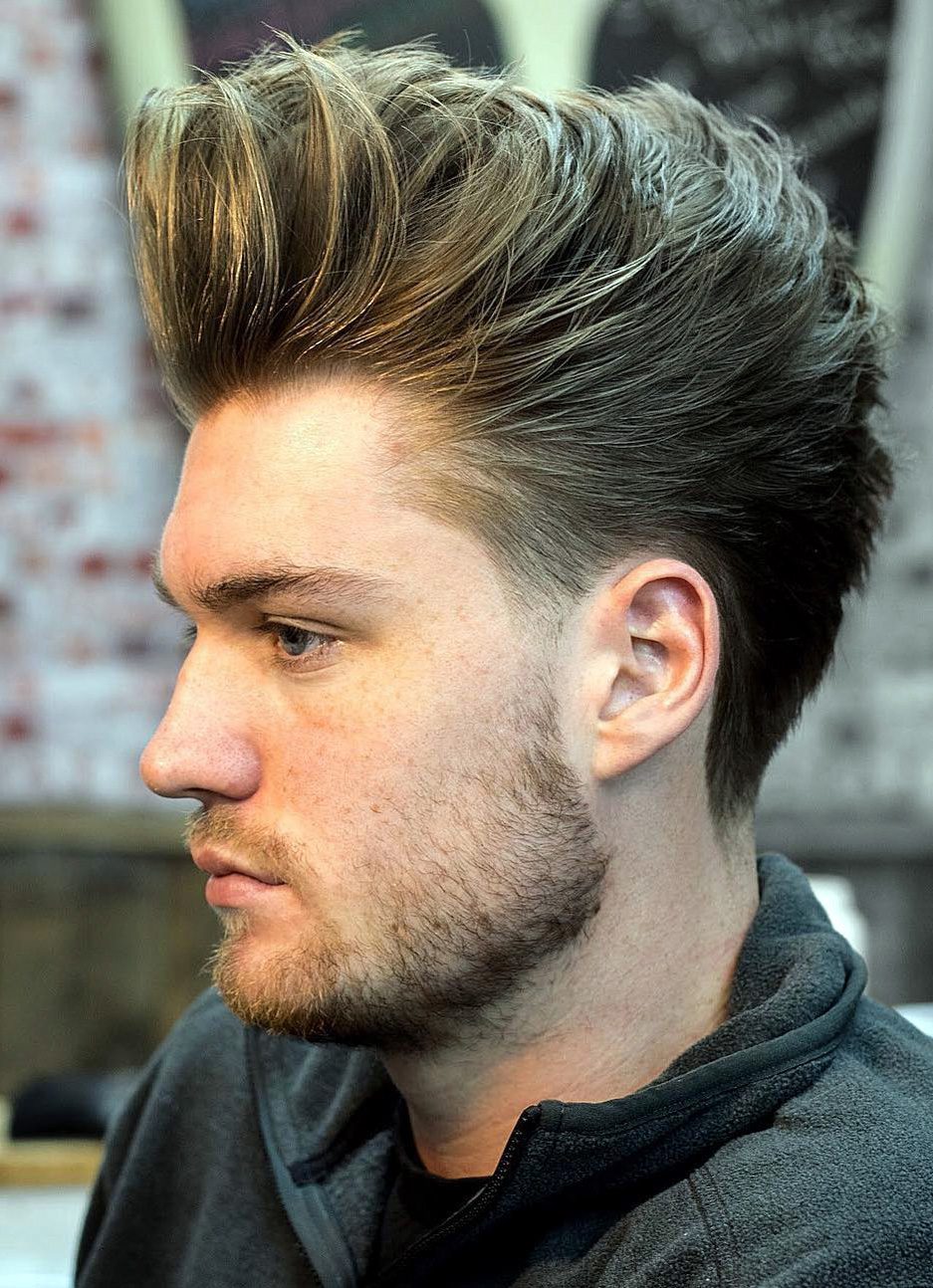 Scissor Cut All-Out Pompadour
Need even more volume? Try this incredibly voluminous scissor cut. While this will take some styling to pull off, the bold result is well worth it.
37 / 66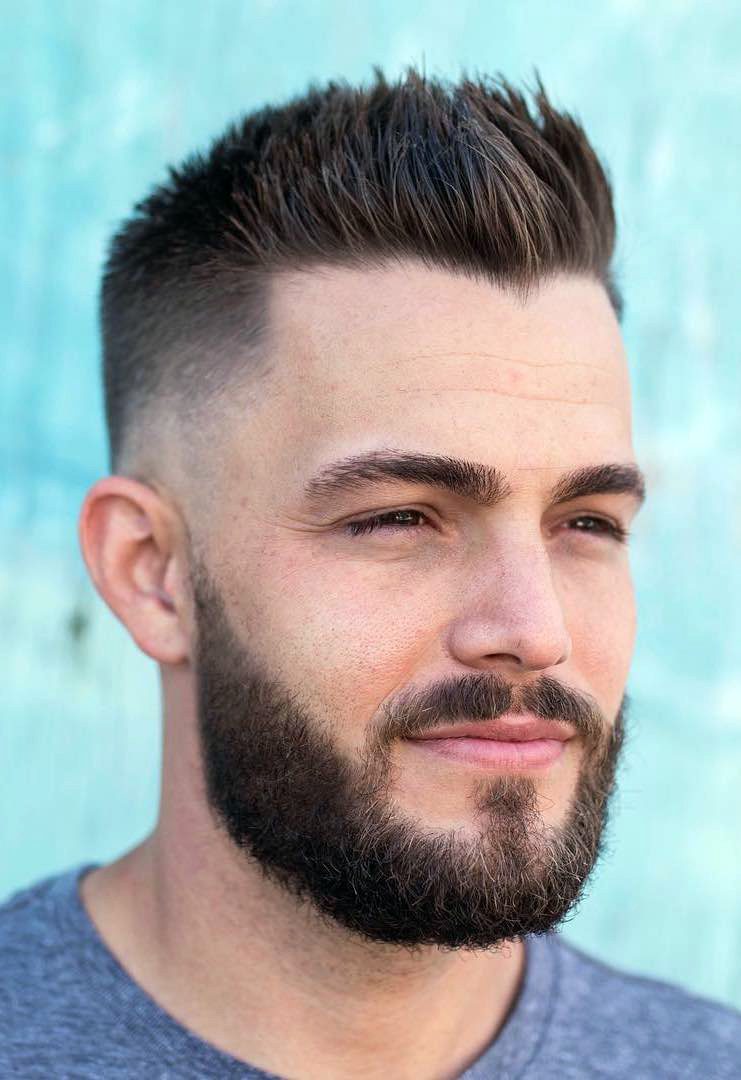 Subtle Widow Peak with Tapered Sides
With classy spiked hair and a matte finish, this style is a great choice if you have a widow's peak and aren't afraid to rock it.
38 / 66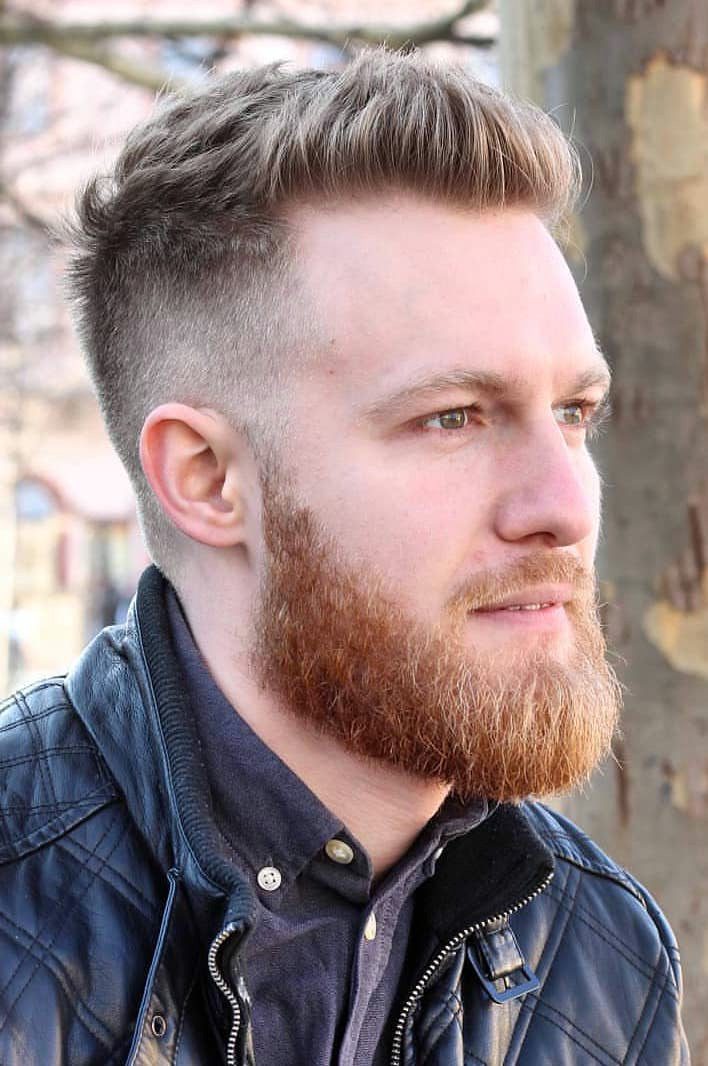 Casual Brush Up with Taper Fade
For a casual, neat style, try this out. It's a straightforward brush up look that keeps the hair shorter all around.
39 / 66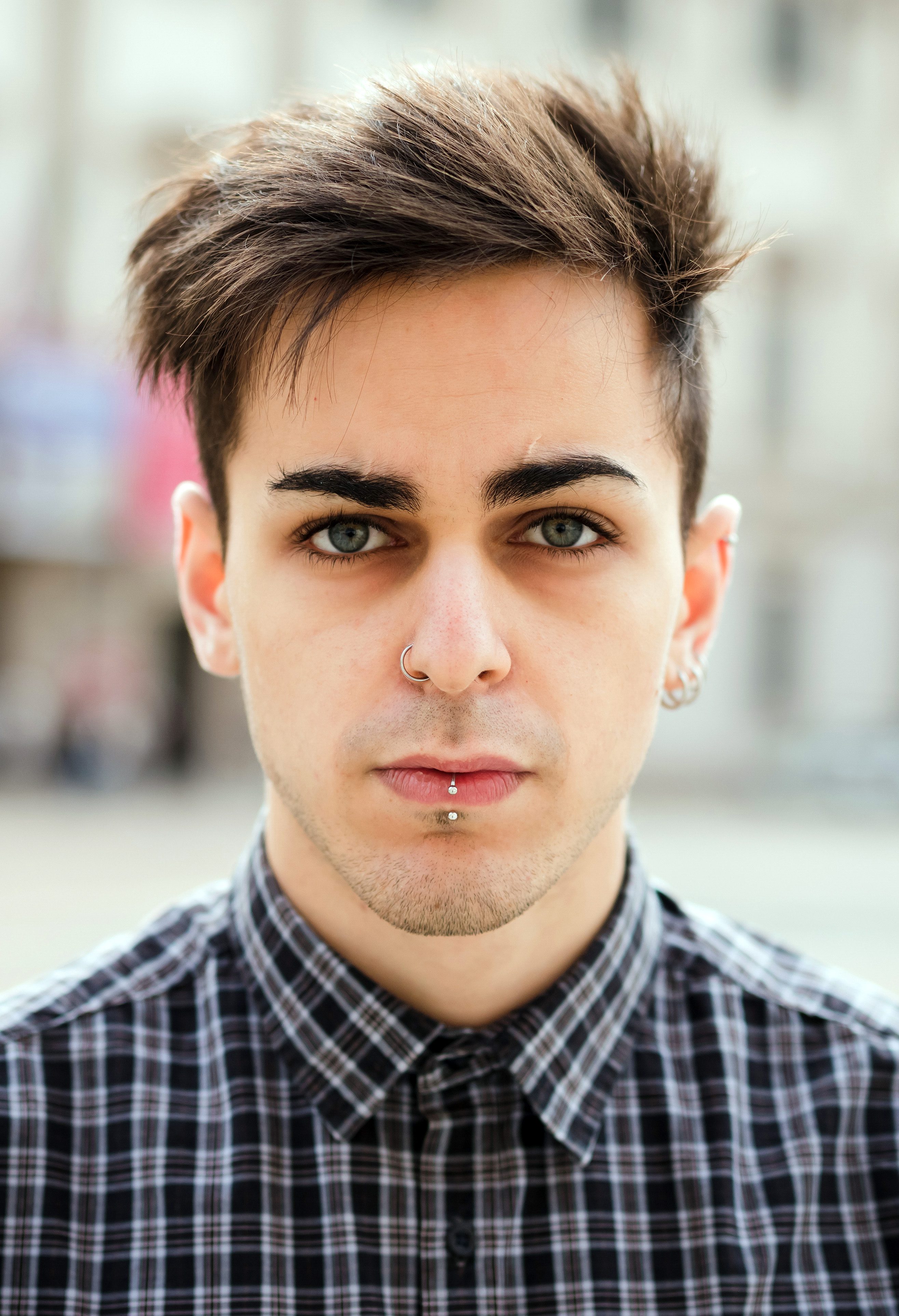 Messy Side Brush and Undercut
An undercut doesn't always have to pair with a skin fade. A clean taper compliments this dressed-down side-brush just as well. The length up top is just long enough to alternate between casually unkempt and a more respectable tidy-up.
40 / 66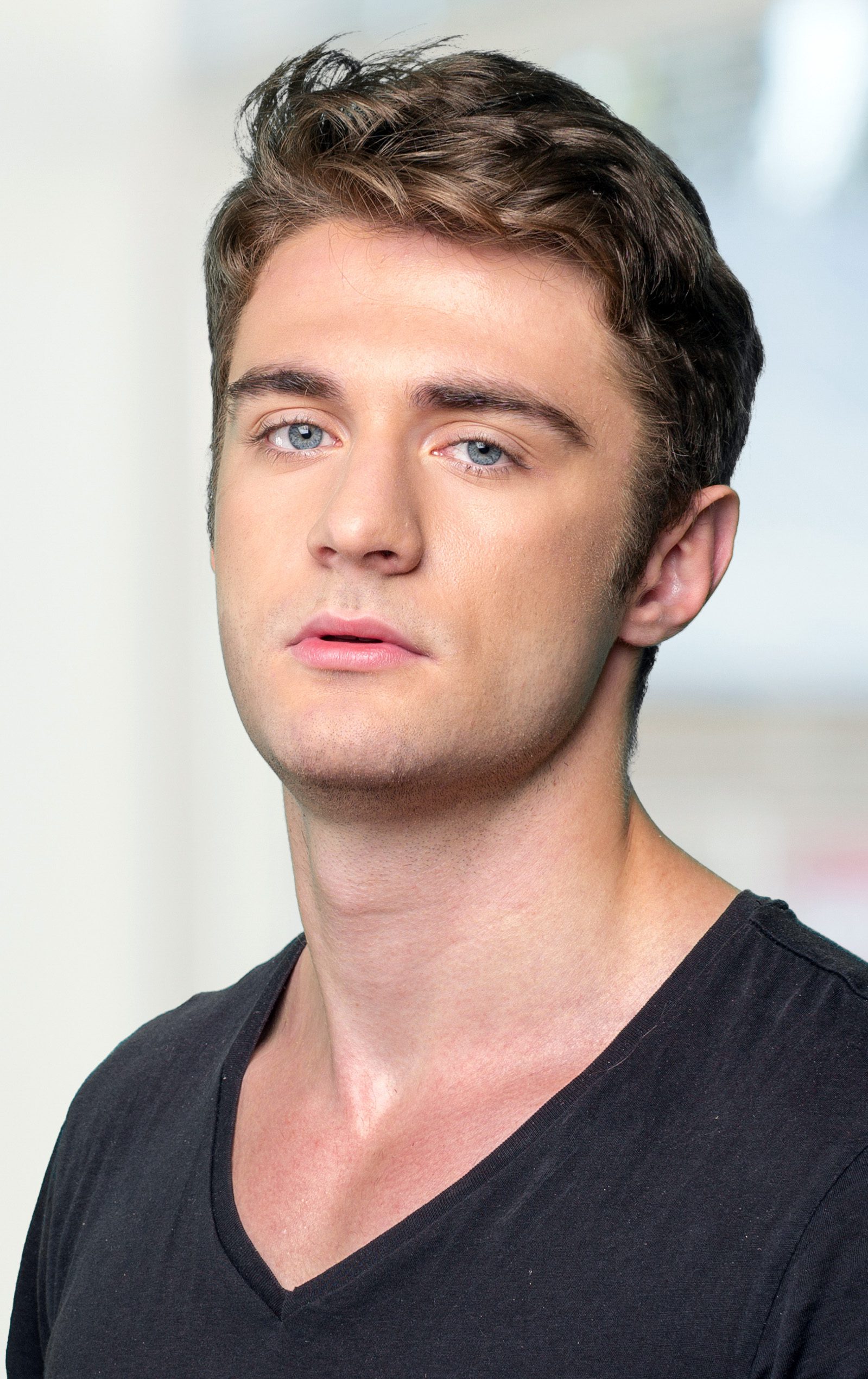 Textured Medium Crop with Fringe 2
Everyone wants to look their best without appearing to be trying to look their best, therein lies the formula for casual fashion. For those with natural waves, this textured crop with relaxed fringe can be an ideal way to achieve that balance.
41 / 66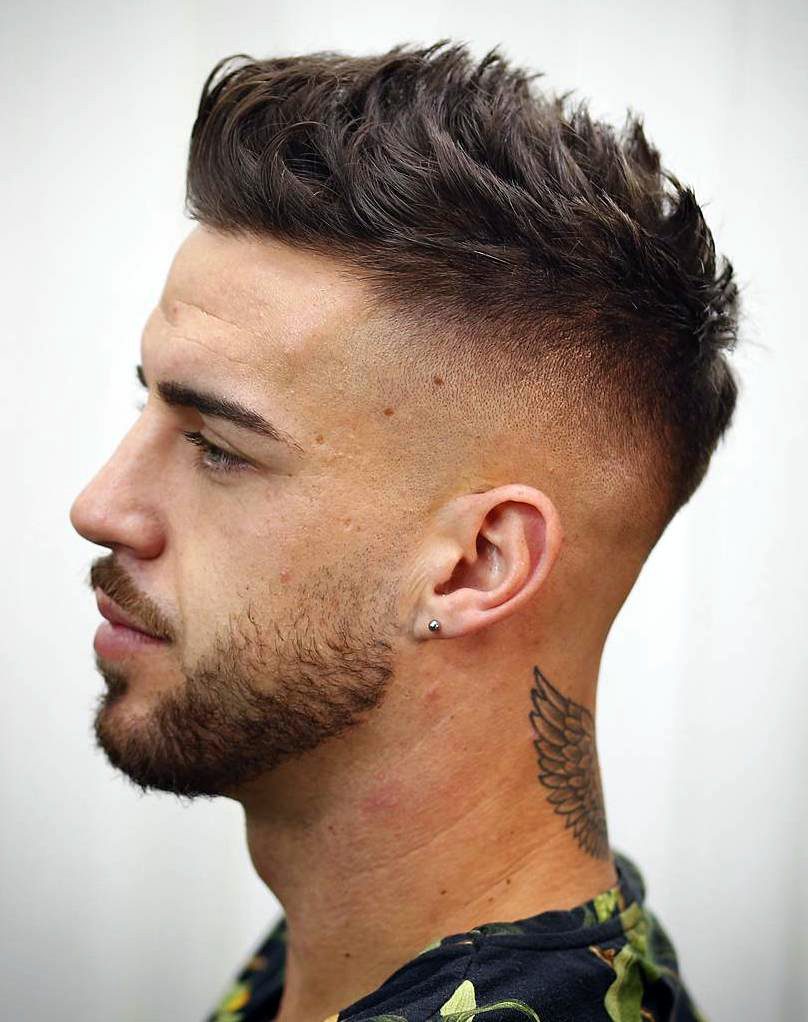 Declining High Fade with Wavy Top
This high-ish fade drops to just above the base of the crown and puts some lightly textured length to good, wavy use up top. This casual look doesn't reinvent the wheel, but it's not trying to. Sometimes subtlety is key.
42 / 66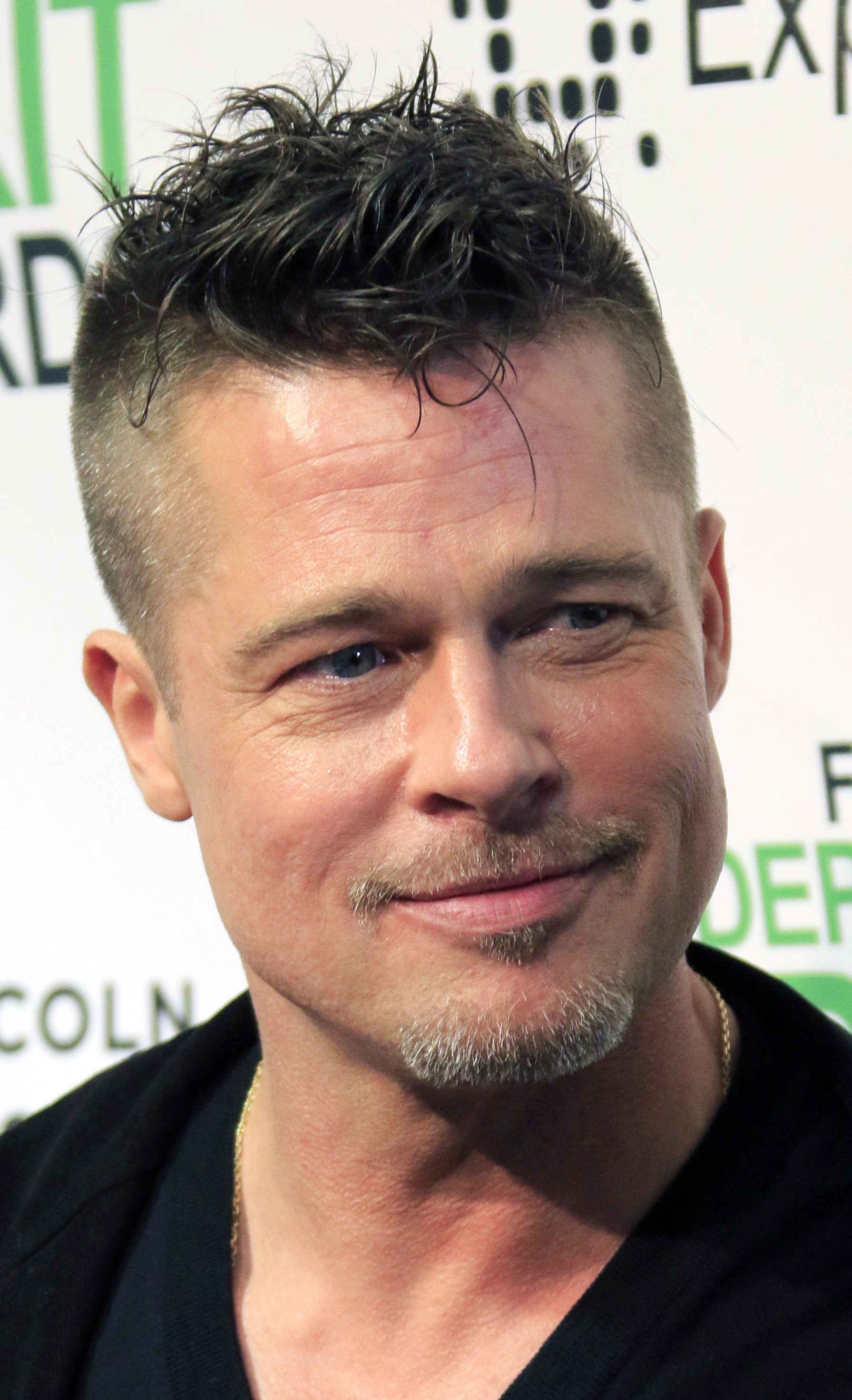 Brad Pitt's Messy Quiff
Brad Pitt is well known for his very trendy hairstyles, and this messy quiff is one of his most unique.
43 / 66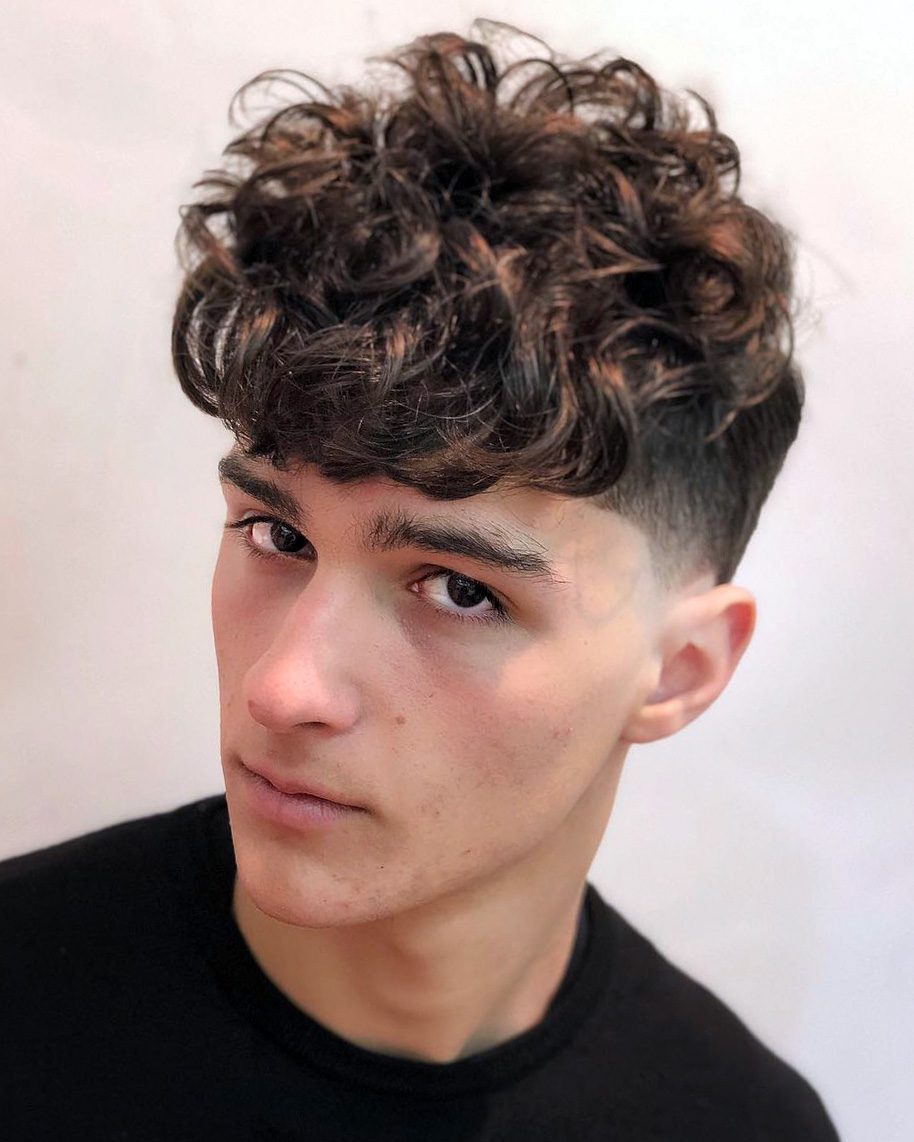 Front Faux Fro
If you've got curly hair that's naturally messy, this is a great, unique style to opt for. The hair is brushed to the front and tousled to create a faux afro.
44 / 66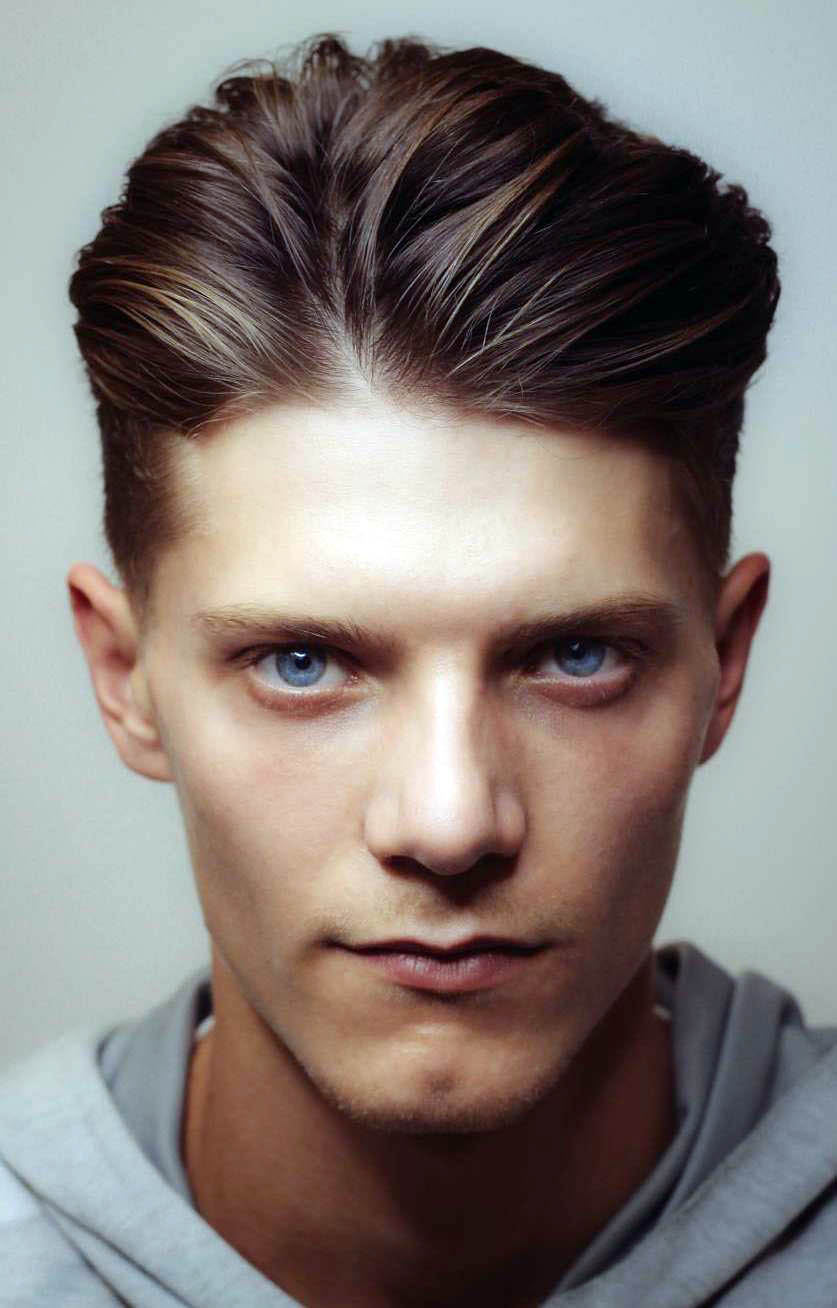 Almost Mid Part Brushed Back
Asymmetry, if used well, can make a haircut stand out. This cut combines an asymmetrical part with brushed back hair for a confident and distinctive look.
45 / 66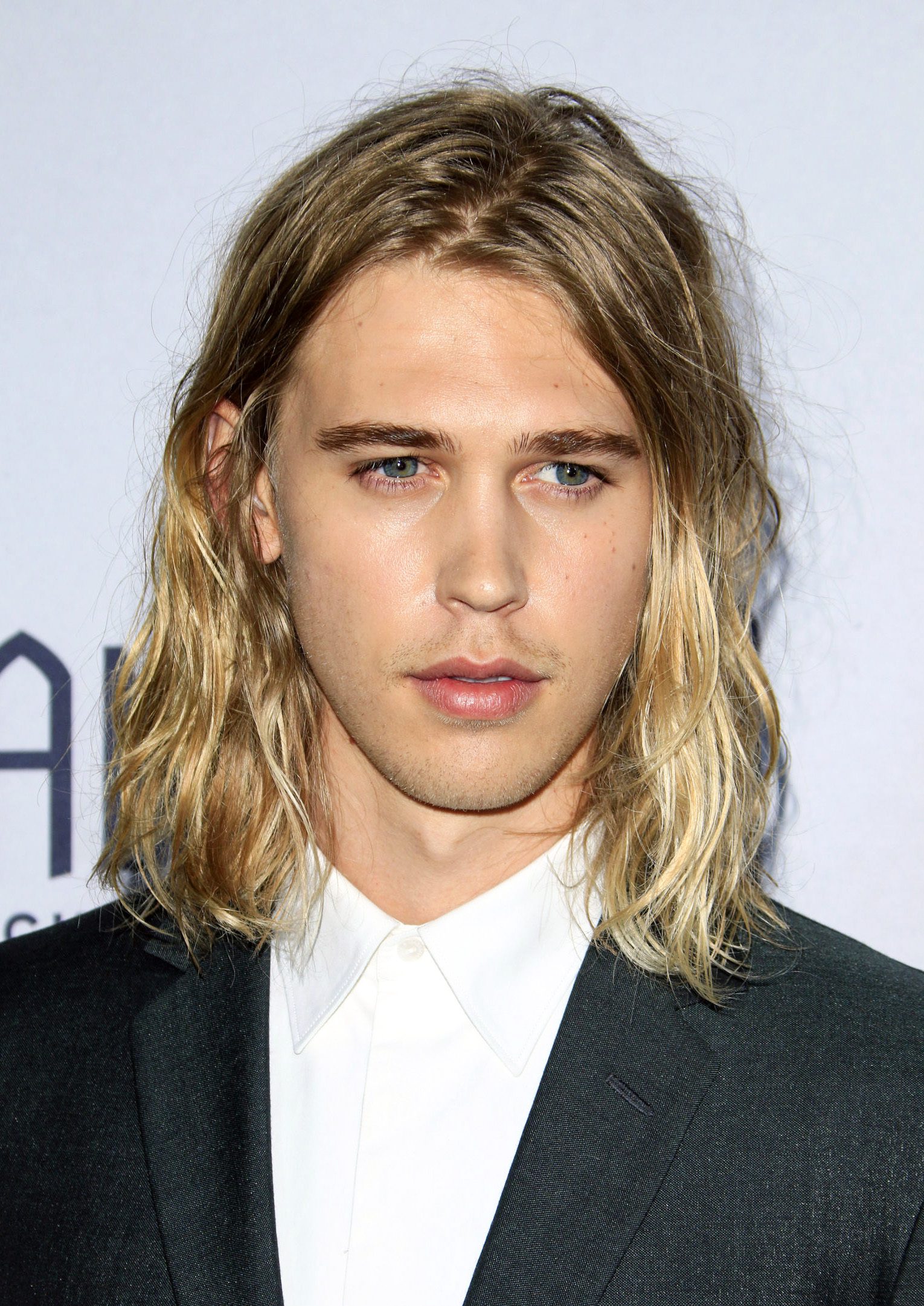 Mid-Length Waves
Long hairstyles have gone from awkward to high fashion, appearing on runways and red carpets. Take down that man bun, invest in conditioner and let your hair flow. This style will work better for those with wavy or textured hair — think Jared Leto at the Academy Awards — and keep the cut mid cheek to jaw length.
At first, this haircut will seem high-maintenance, as the ends will need to be trimmed on a regular basis while they grow out. Without regular trims, thick, textured hair will bunch up at the sides and make you look less like Jon Snow and more like Brian May.
Steer clear of products with high alcohol content as it dries out the follicles; also avoid cheap mousses as they will leave your hair looking crunchy. If you're worried your hair is looking too dry to grow it out, invest in a good moisturizing conditioner that will prevent the hair from becoming frizzy and hard to manage. Choose creams, salt sprays and leave-in
conditioners over gels and wax, unless you want a slick wet look.
46 / 66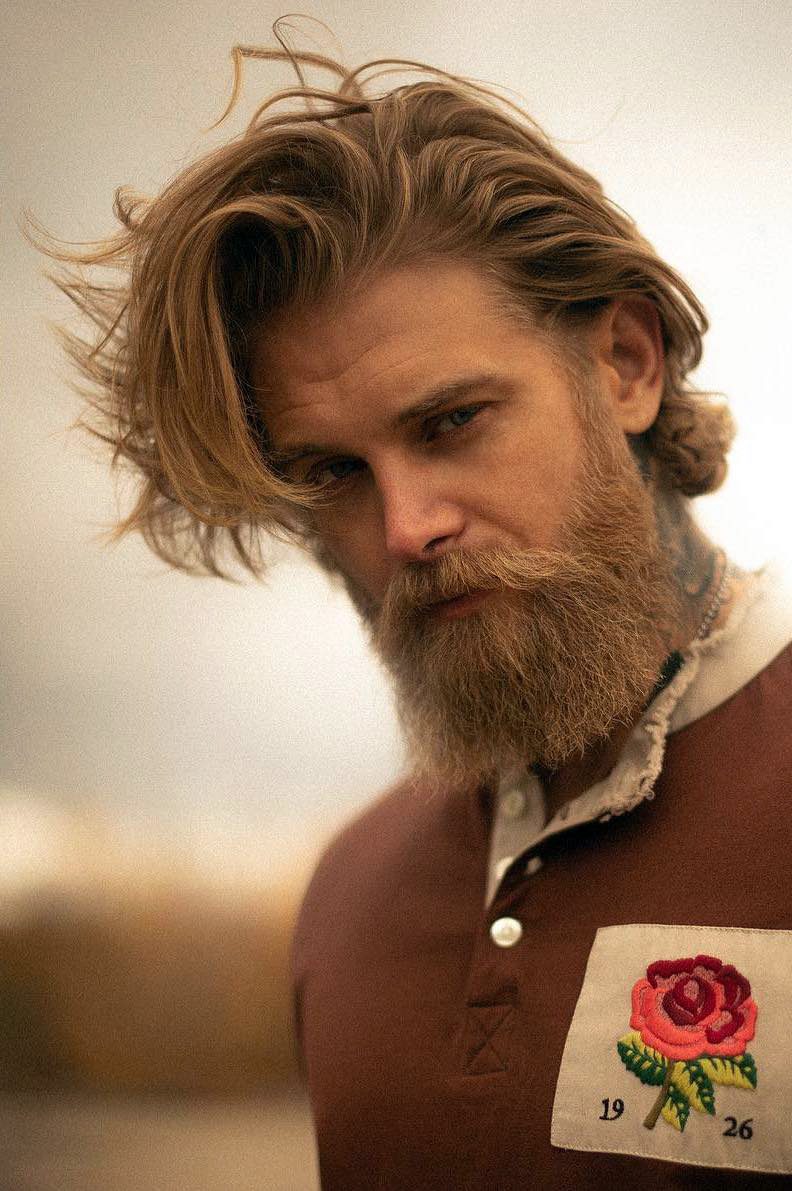 Blonde Rough Texture
Here's a long and dramatic style that will seriously make you stand out! This cut is best with wavy hair that's quite long.
47 / 66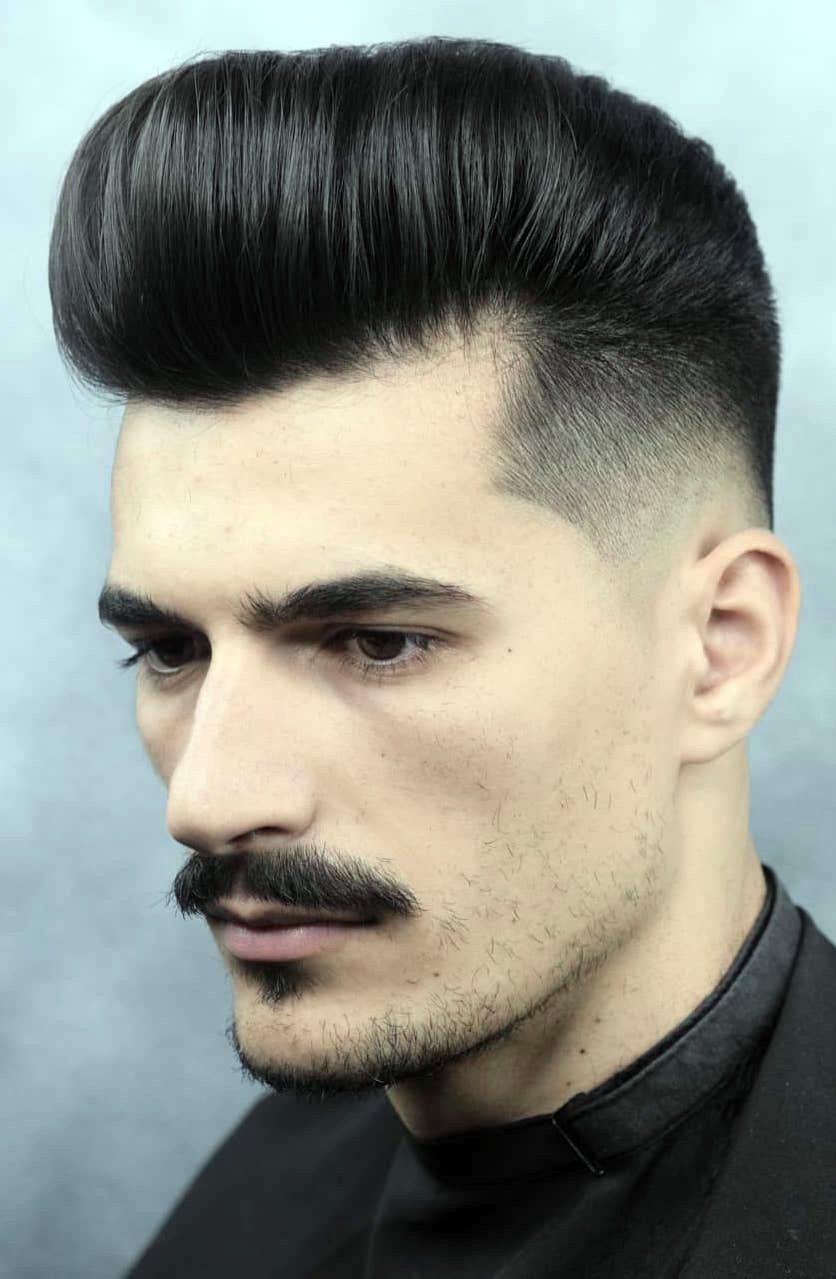 Classic Pompadour with Drop Fade
The pompadour may have risen to popularity in the 1950s, but it's still popular today. We like this style that features a matte finish instead of the typical shiny, glossy look.
48 / 66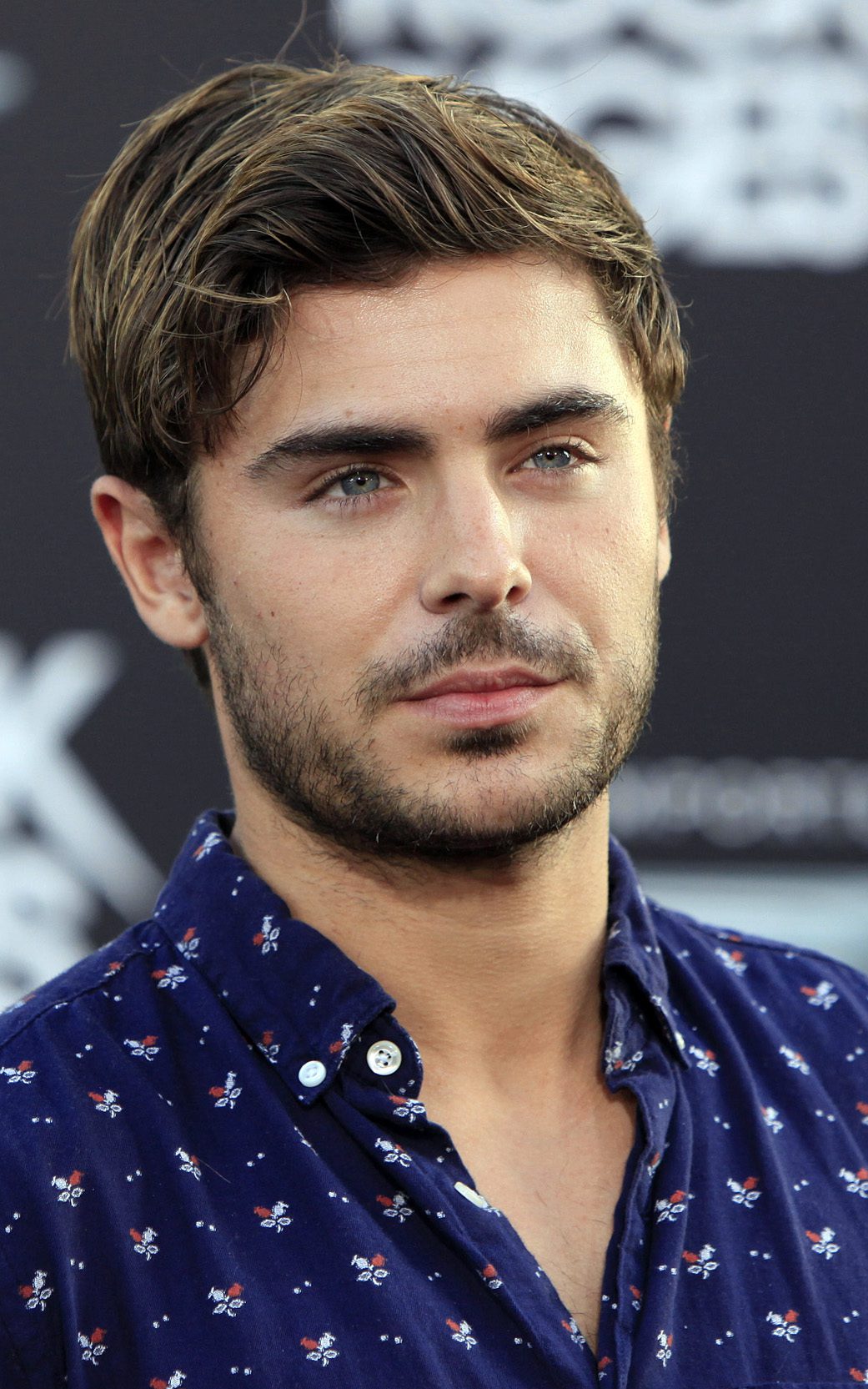 Zac Efron's Scissor cut
Scissor cuts are timeless and always fashionable. Zac Efron's scissor cut here is highly textured for a windswept look that's great for a day out.
49 / 66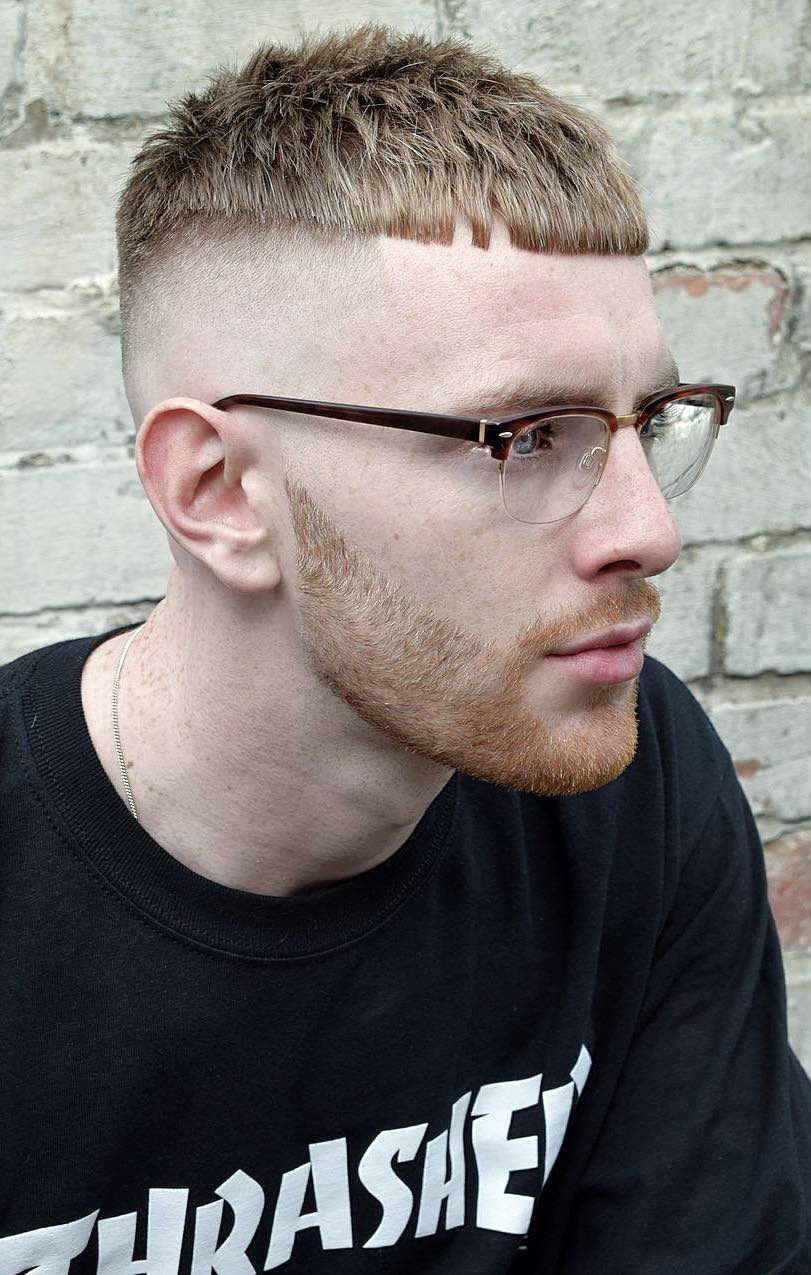 Fringes with French Cropped Side Fade
A minimal twist on a classic, this French crop features a high fade and a tousled top. If you have a beard, this haircut will help draw more attention to it.
50 / 66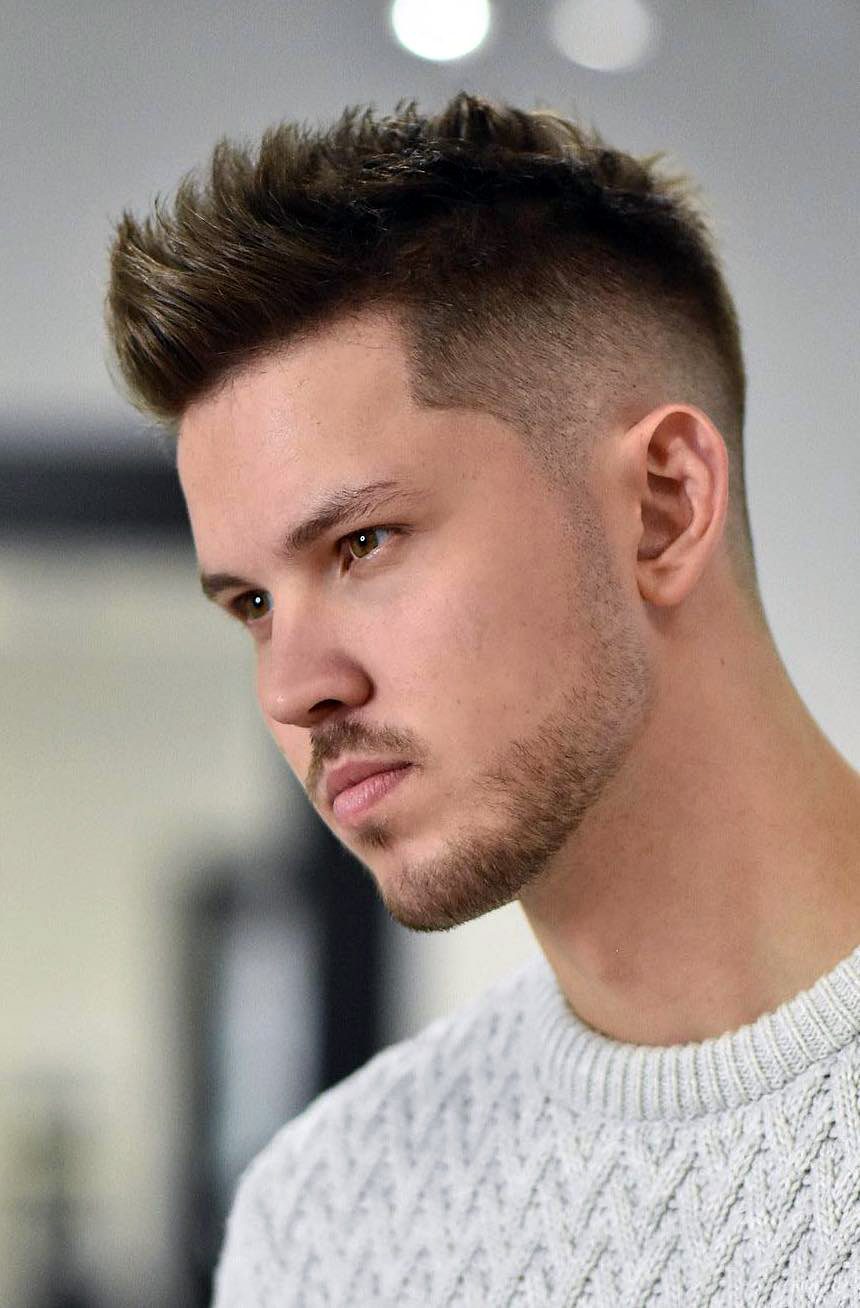 Spiky Quiff
Quiffs can be worn with a variety of styles and outfits. This quiff is spiked a bit for a more street-ready look.
51 / 66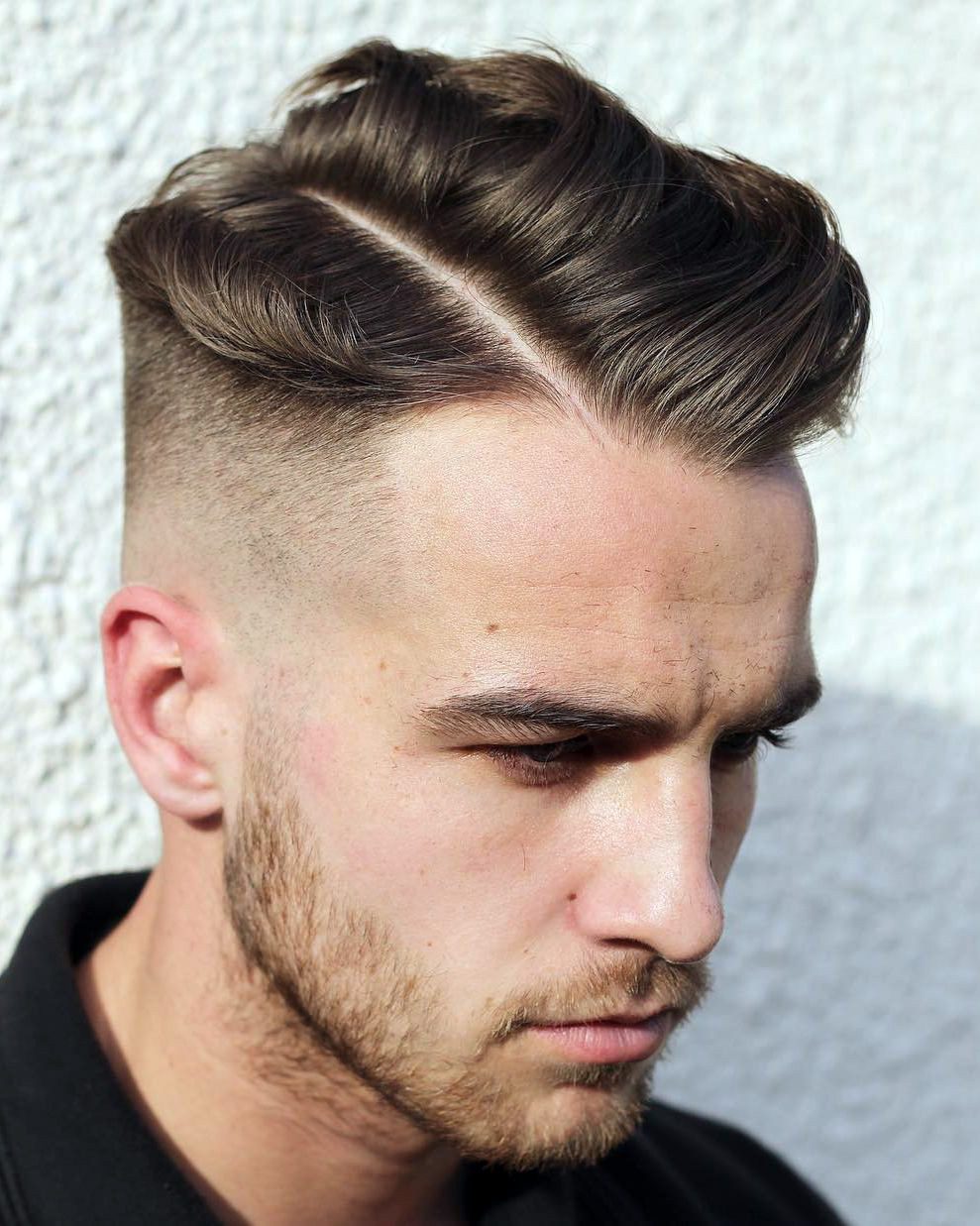 Flowy Side Part with Faded Undercut
Wavy hair tends to look best when its natural properties are allowed to shine. This undercut takes full advantage of wavy hair and uses a prominent side part for emphasis.
52 / 66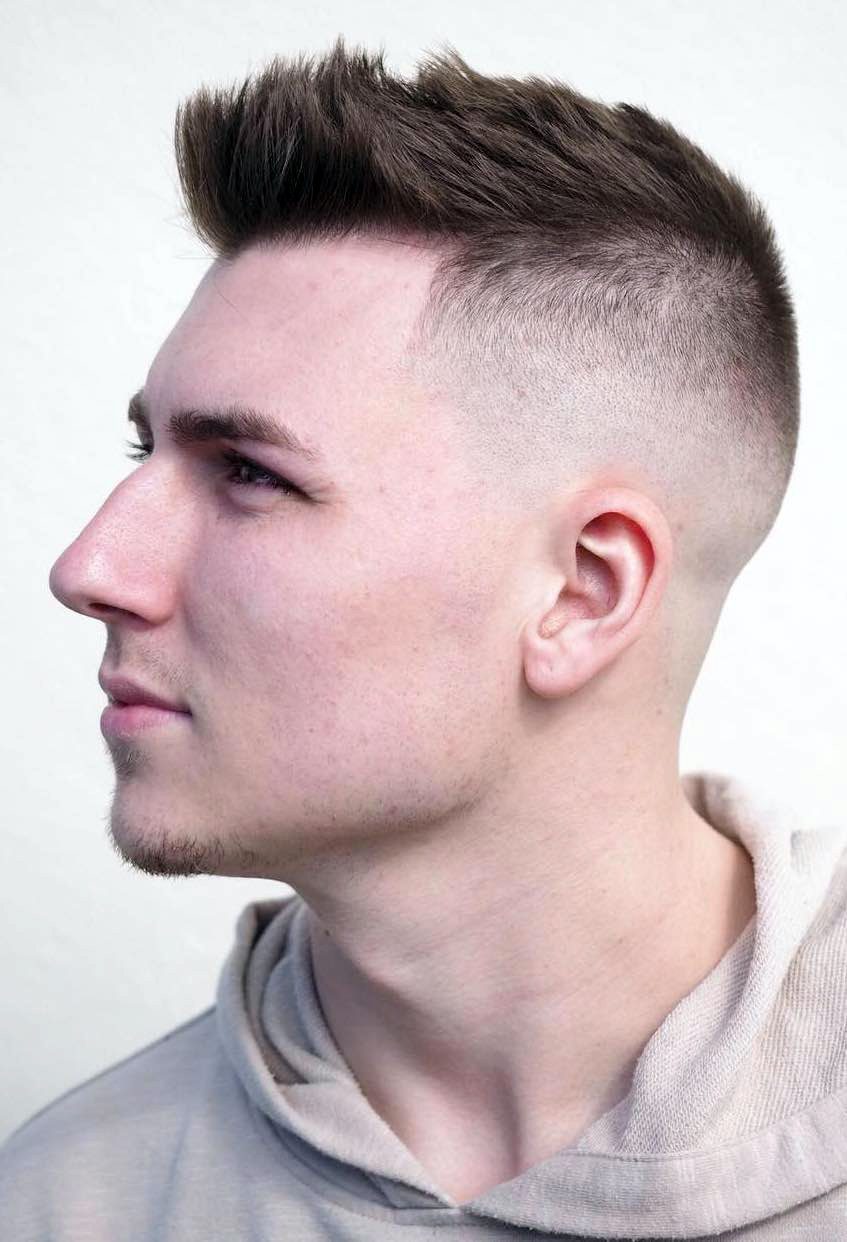 Brush Up with Skin Faded Sides
Shorter hair can be worn many different ways. Here, it's brushed up in the front and tapers as it goes back for a clean, even result.
53 / 66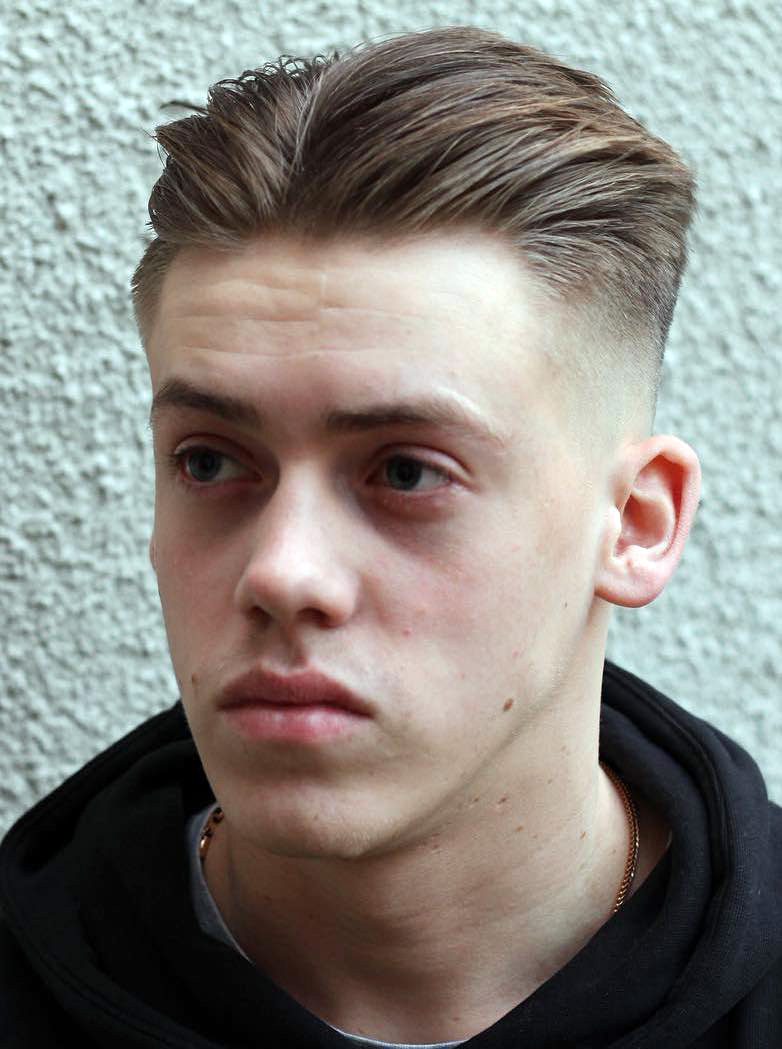 Twin Side Brush Back
This double brushed back look is a unique twist on a brushed up hairstyle. It adds a very cool sense of motion that will set your hair apart from everyone else's.
54 / 66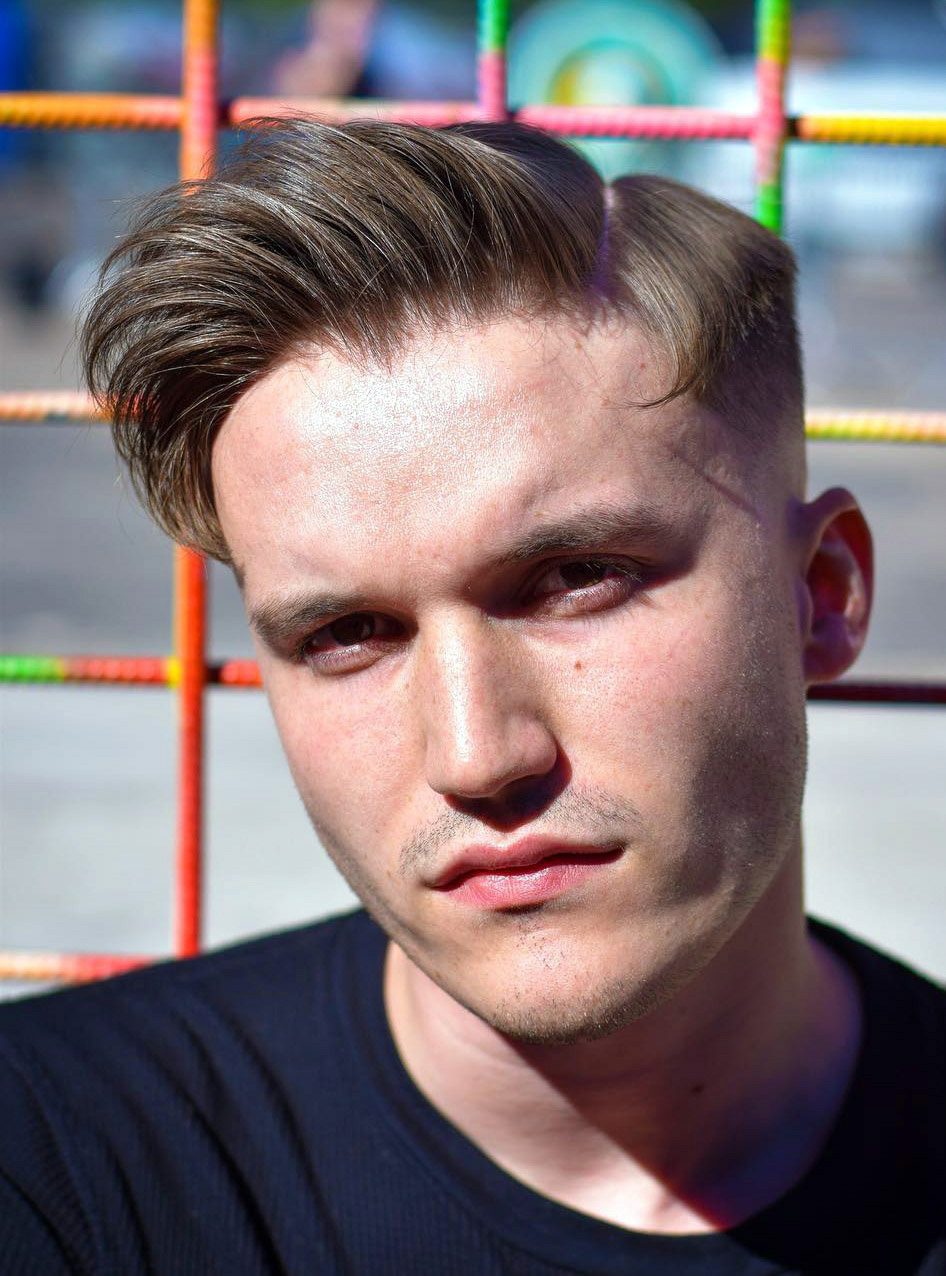 Side Hard Part
Hard parts are more popular than ever, and this style is a textbook example of how to use a hard part well.
55 / 66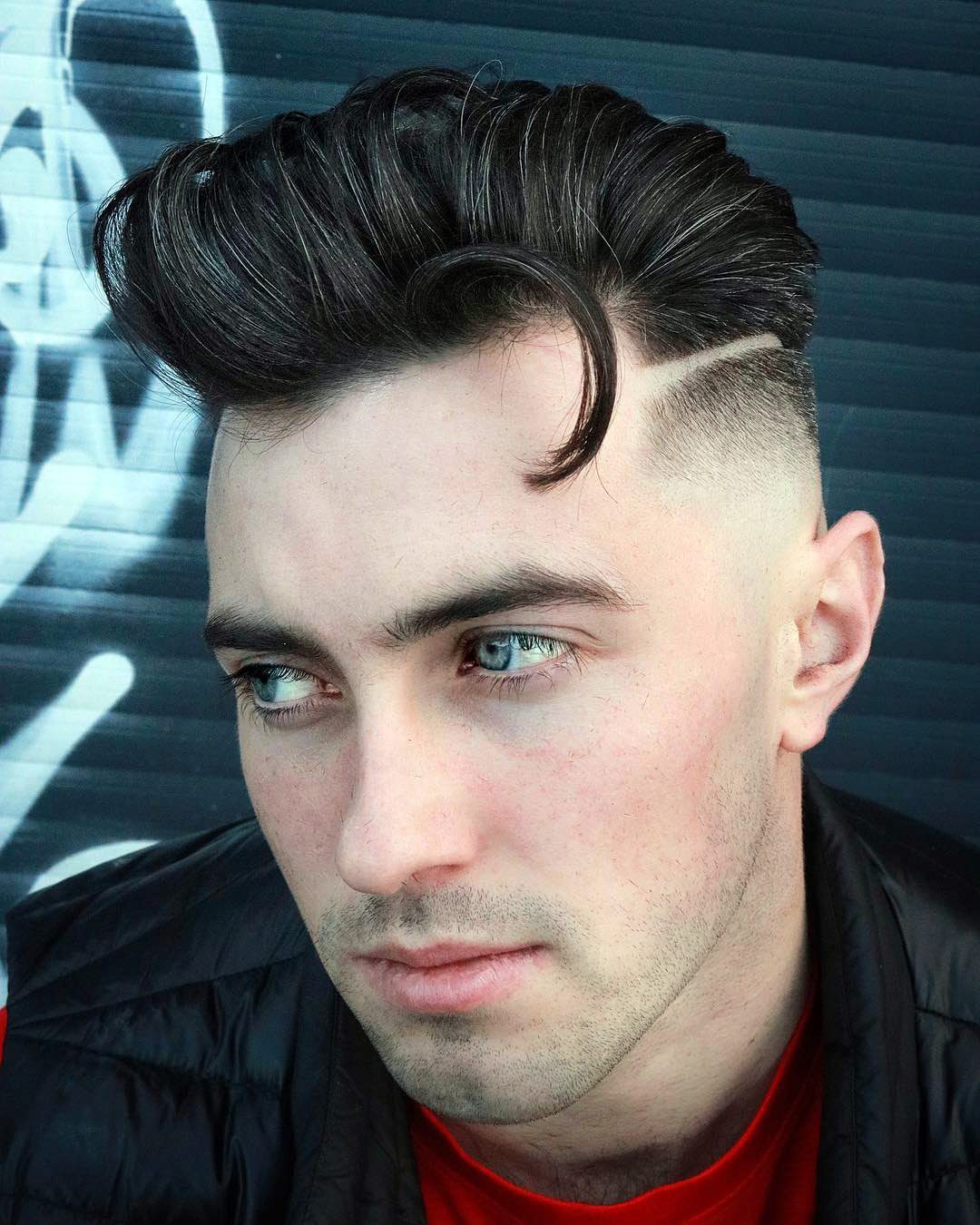 Elephant Trunk and Side Hardline Design
If you're going for something fun and trendy, this is a style you should consider. The single lock hanging down in the front forms the so-called elephant trunk, and a shaved line adds an extra point of interest.
56 / 66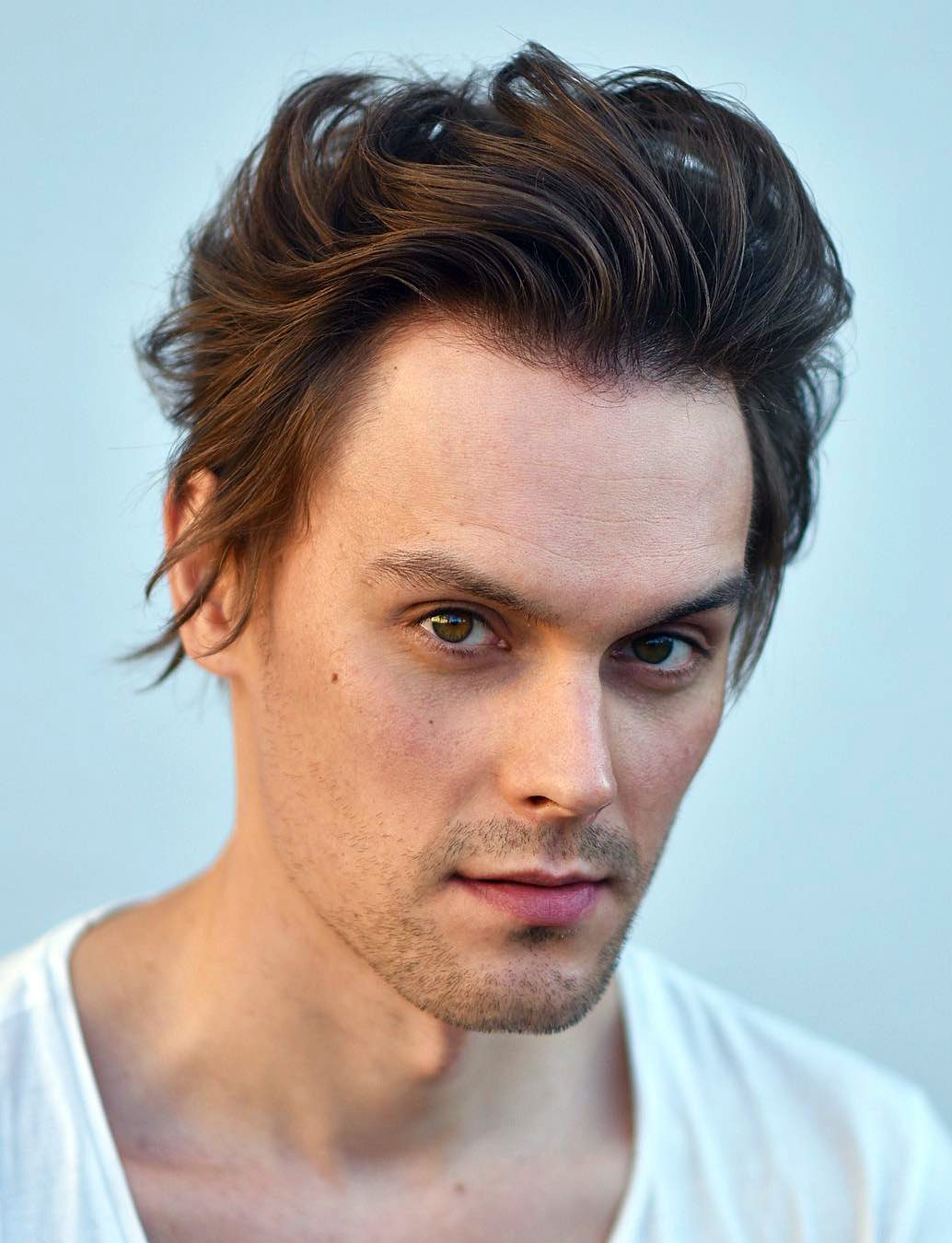 Flowy Wavy Blowout
Here's a long style that's perfect for wavy hair. A blowout look is created by brushing the hair back and tousling it.
57 / 66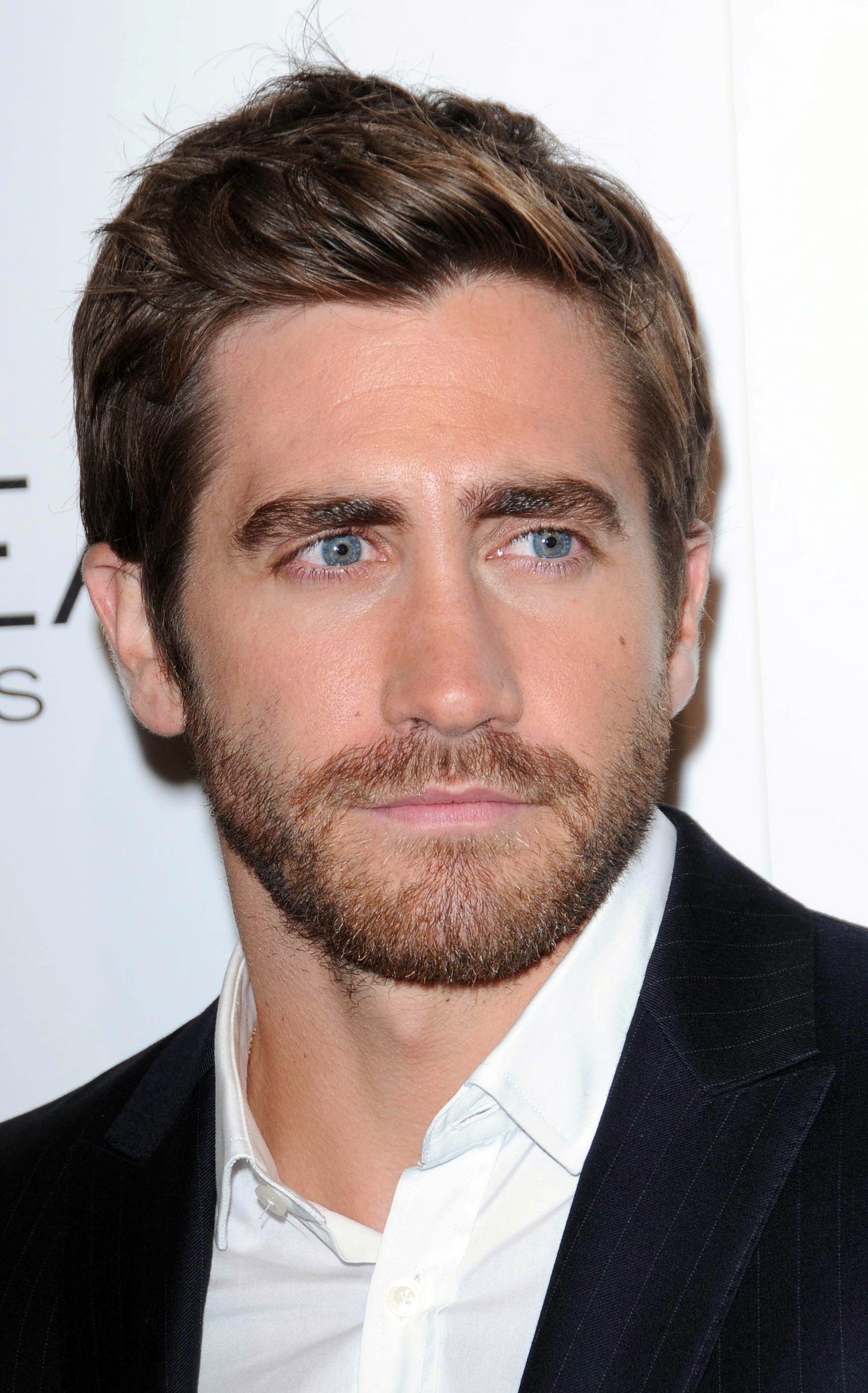 Jake Gyllenhaal's Business Cut
This business-style cut features a small brush up that swoops to the side, putting a casual twist on a professional look.
58 / 66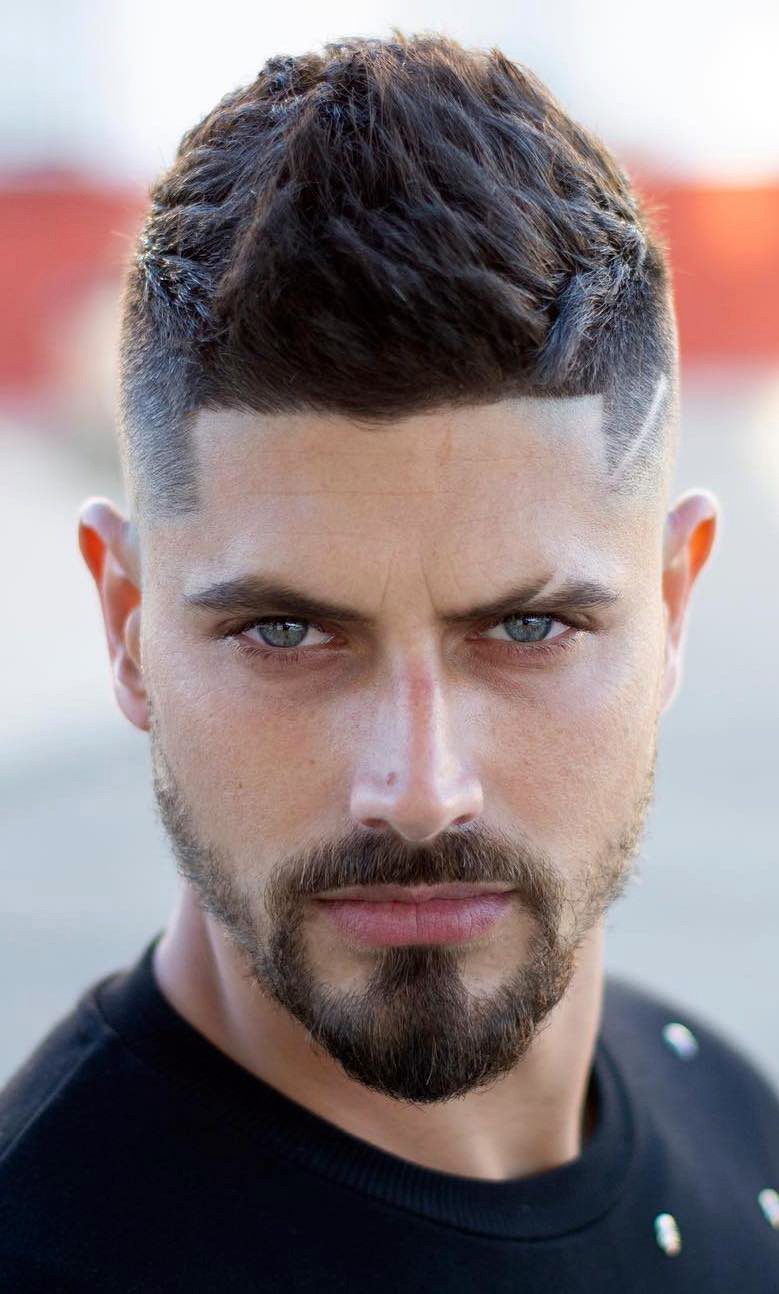 Rock The Fohawk
This simple fo-hawk/faux hawk stays true to the style. If you've never had a fohawk before, this is an excellent starting point.
59 / 66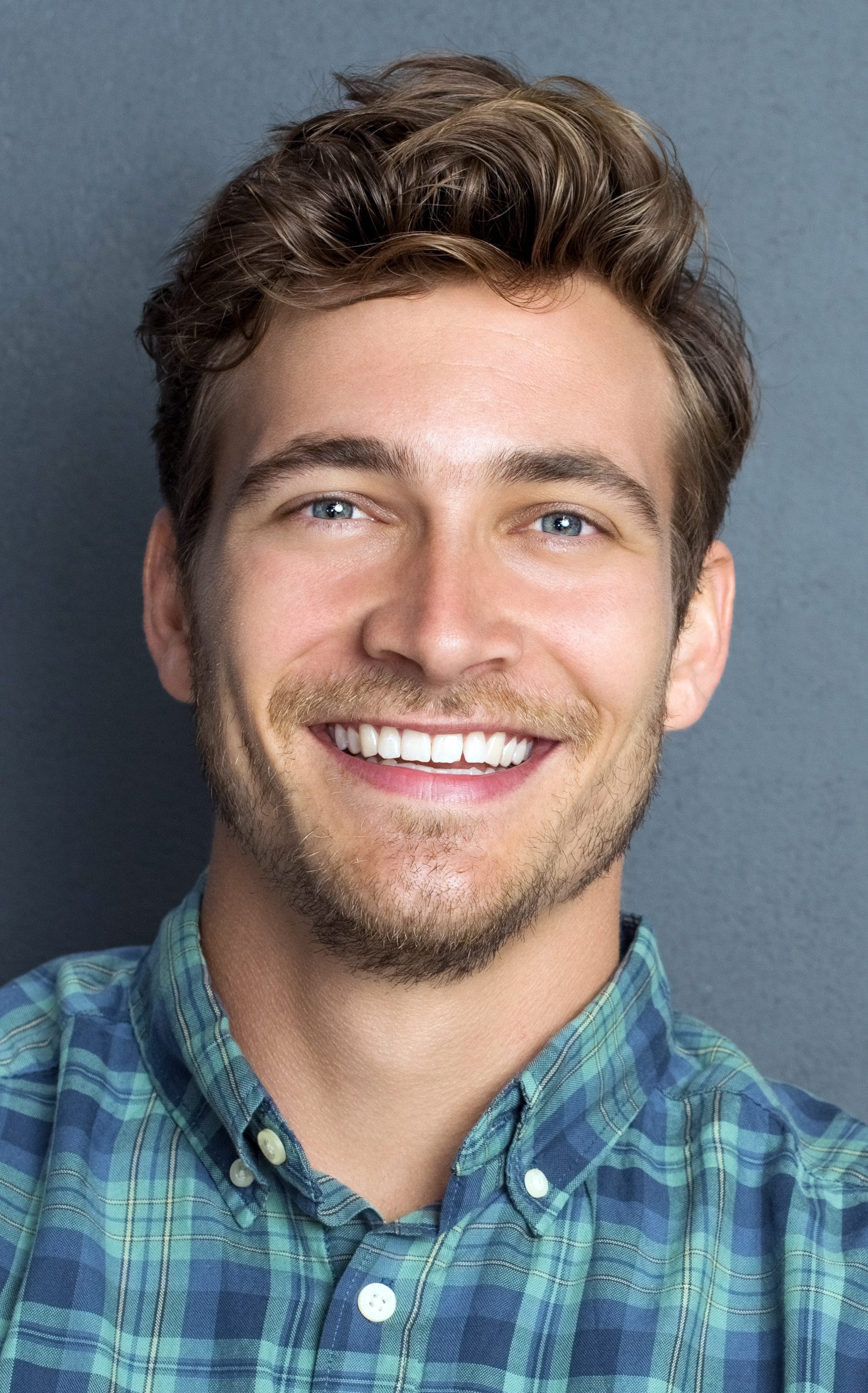 Tapered Undercut and Curly Quiff
While most quiffs are usually styled straight up, they can also be teased as shown here for a windswept look.
60 / 66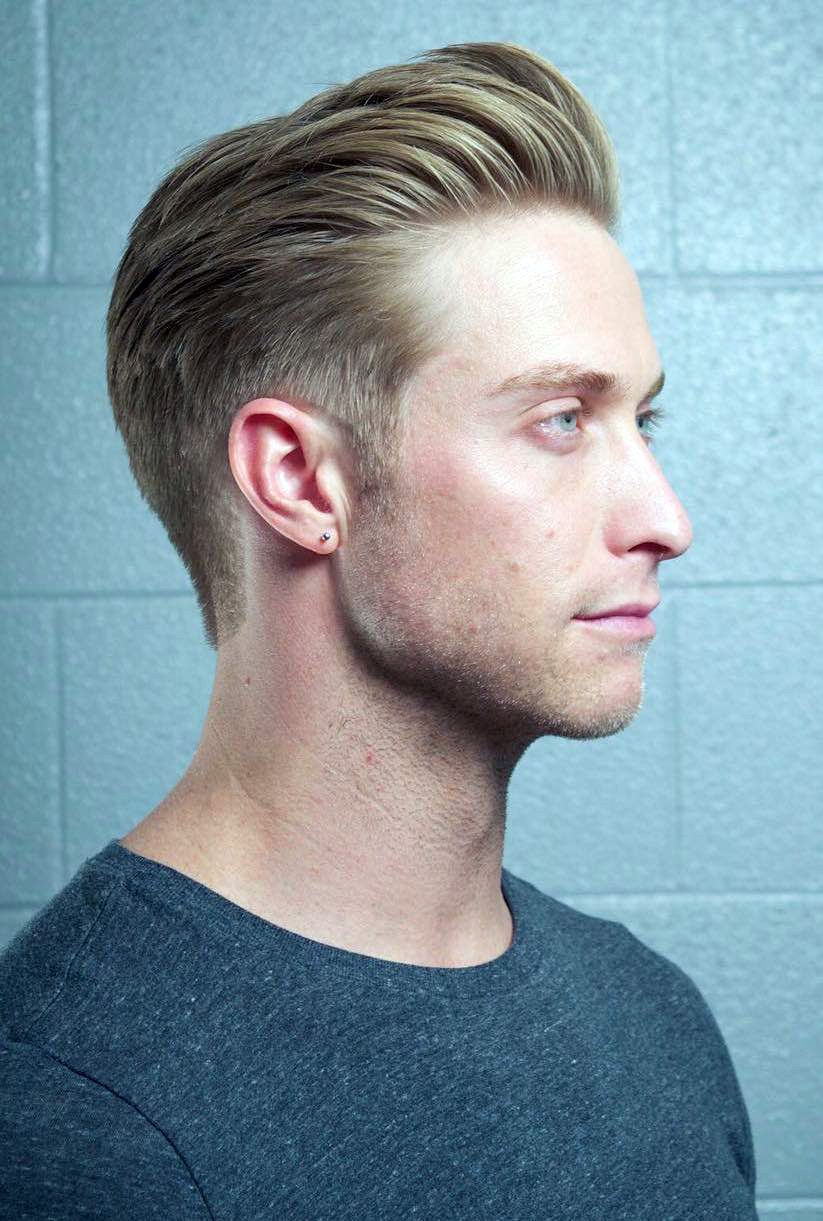 Confident Slicked Back Puff
This slicked back style is a very classy look. The hair on top is slightly pushed back, creating something in between a quiff and a brush up.
61 / 66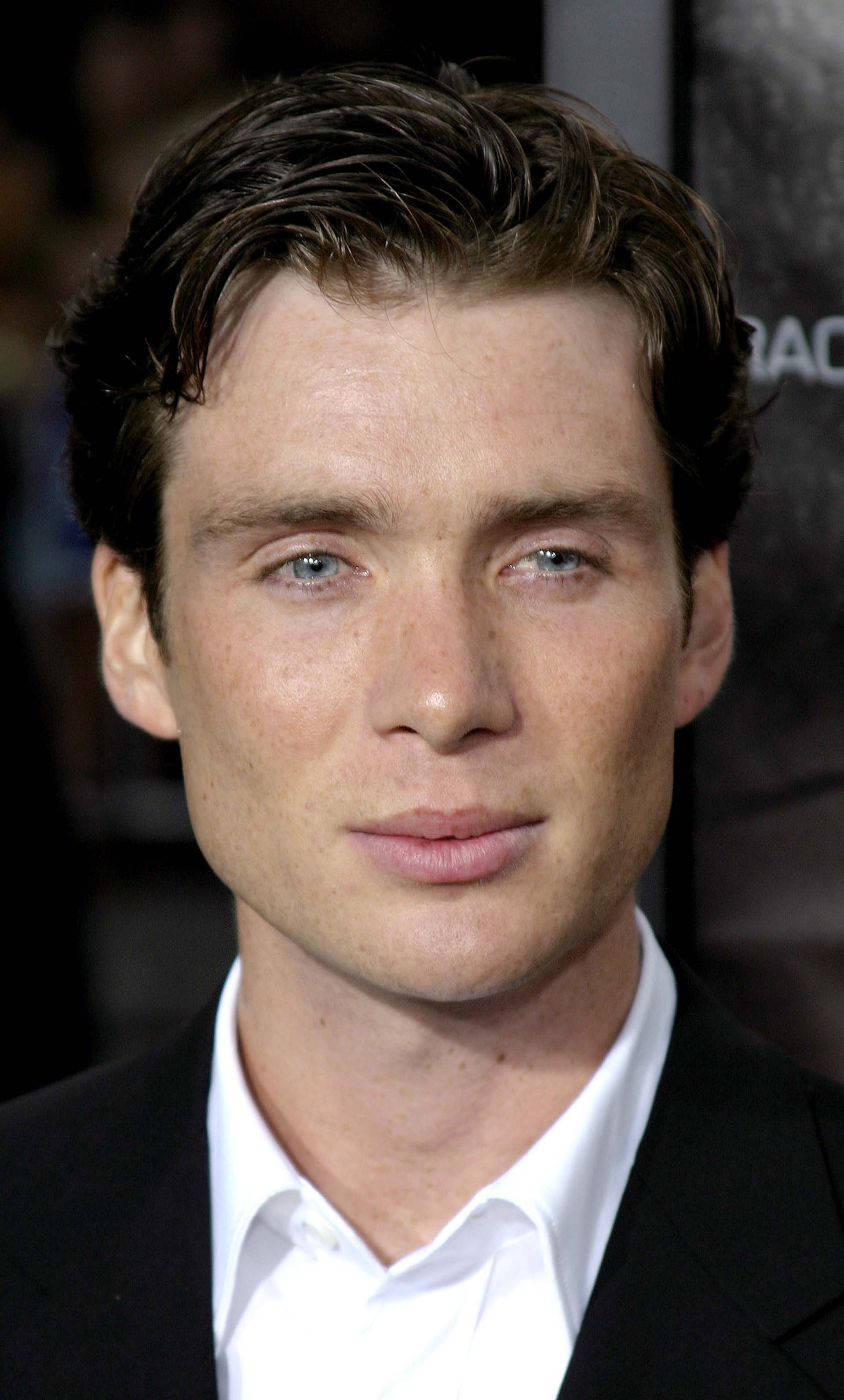 The Peaky Blinder
Rarely has a period drama been as influential on men's coiffures as Peaky Blinders. Set in post-World War I England, it stars Cillian Murphy as a Birmingham gangster. Murphy's crop with the severe disconnection from the top, back and sides can be seen on Tom Hardy and Charlie Hunnam.
Traditionally the hair is shaved on the sides with all the weight kept on the top, but to keep it modern ask for a slick skin fade. The high-maintenance look works better if the sides are cut every few weeks. Style it with texturizing spray on wet hair before drying with a vent brush. If you want more texture and flow, add clay.
62 / 66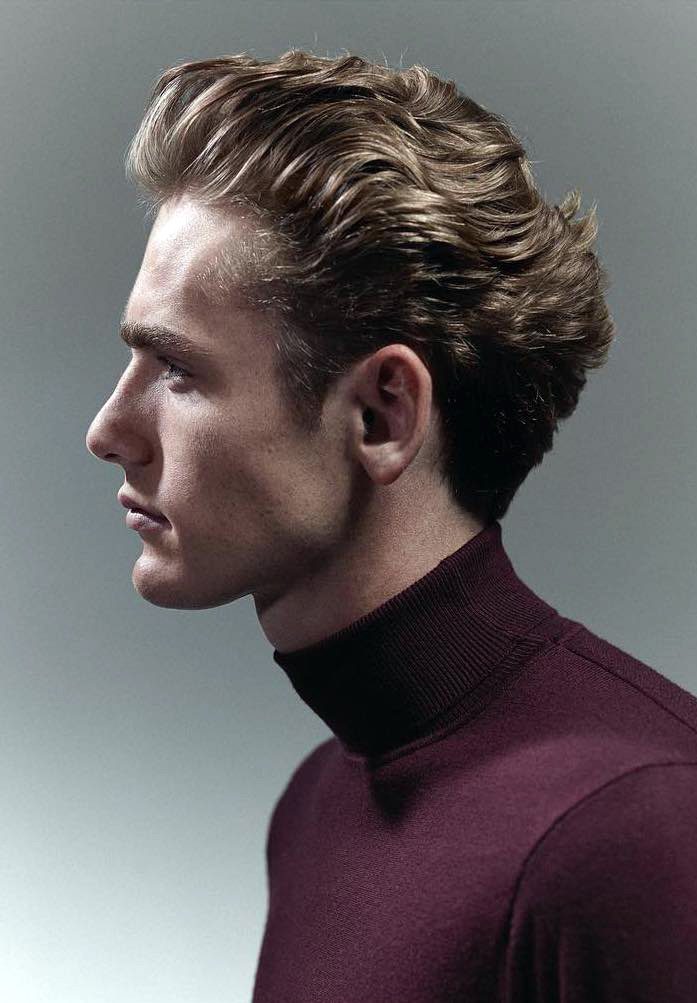 Blonde Push Back
Here's another cut that best suited for wavy hair. The hair is kept thick and long to create texture and movement.
63 / 66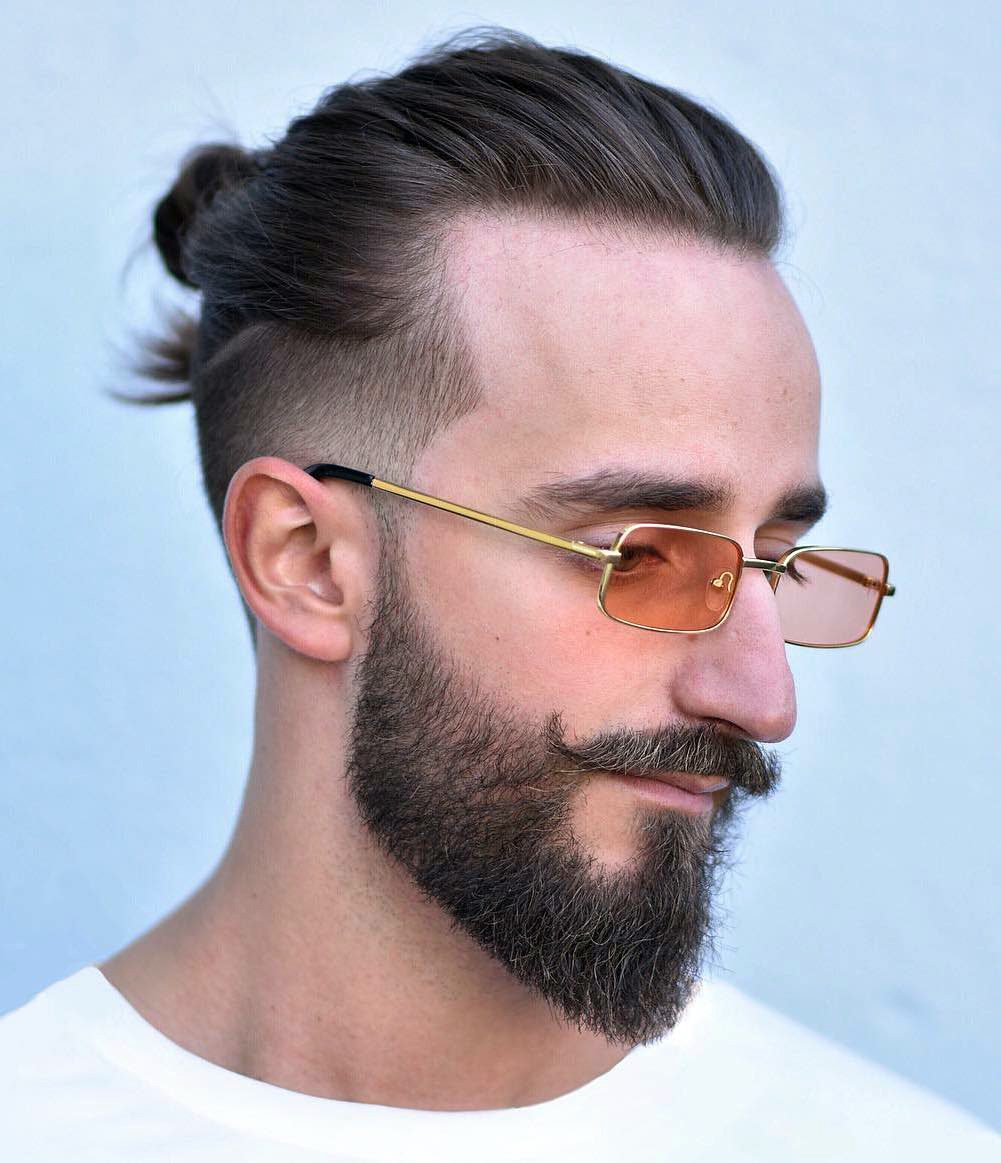 Hidden Knot
This subtle variation of a man bun keeps the knot tidy and out of the way. From the front, a clean combed back look is seen, while the knot is visible from the sides.
64 / 66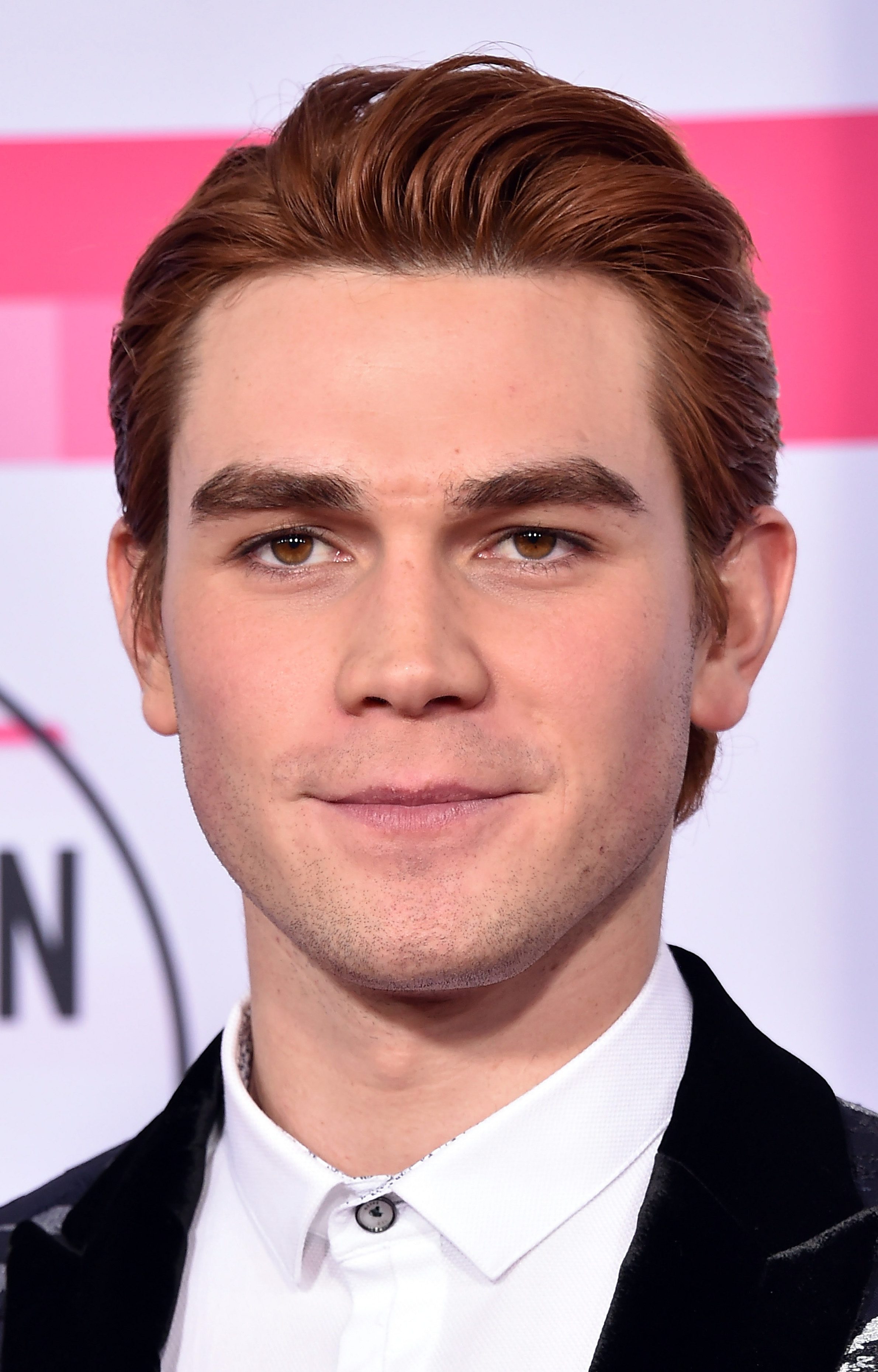 KJ Apa's Business Push-Back with Eat-Tuck
Another simple and professional hairstyle, this business cut is an excellent multi-purpose choice for work, school, or just hanging out.
65 / 66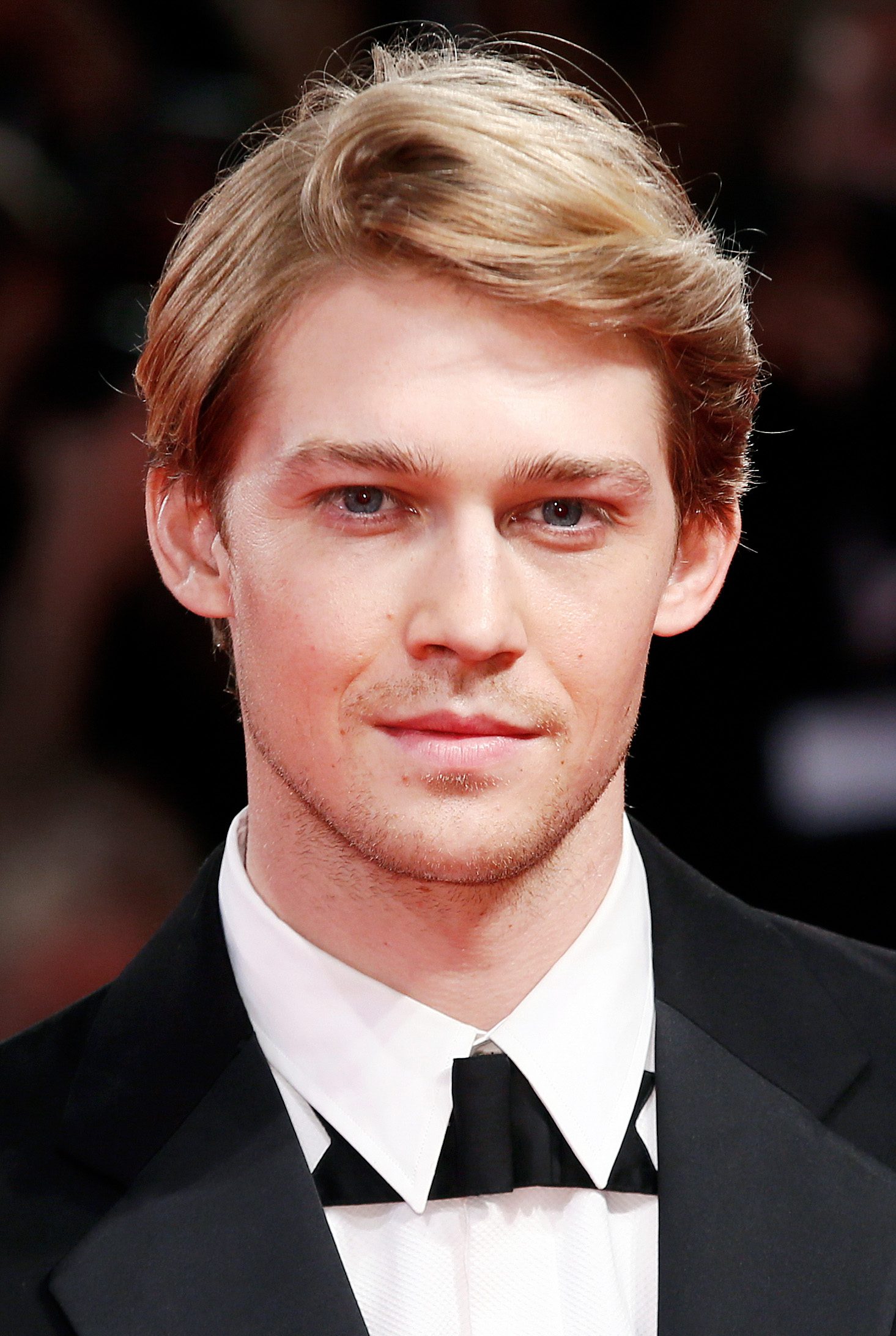 Joe Alwyn's Classic Medium Business Crop
This loose and flowy hairstyle is smart yet easygoing, which makes it great for a variety of situations. The swooping hair in front is key to this classy look.
66 / 66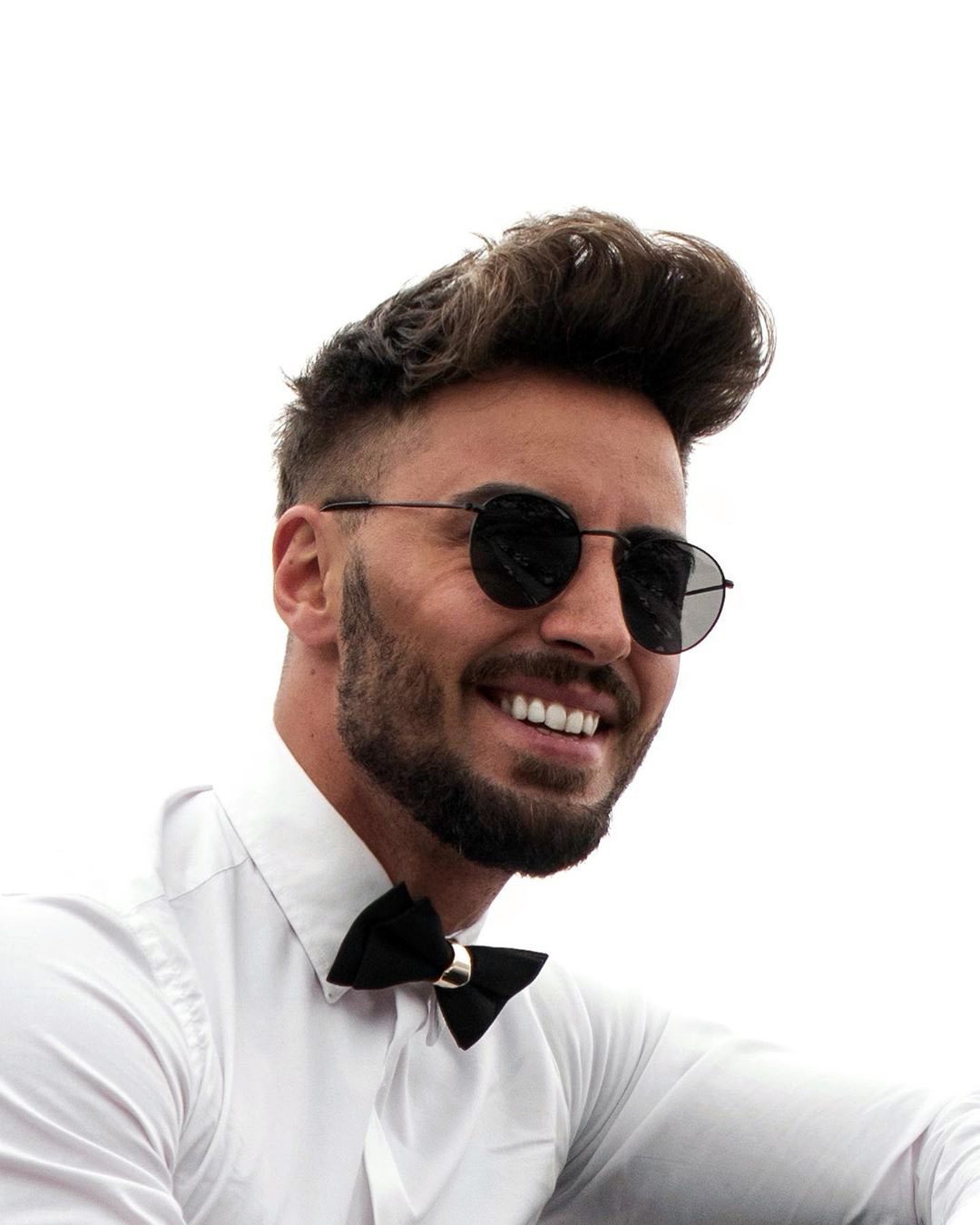 Messy and Wavy Brush Up
Want to keep it tidy and casual, while also keeping a little more of that hard-earned and versatile length on top? If your hair has the body to accommodate this wavy brush up, give it a go next time your barber asks for directions.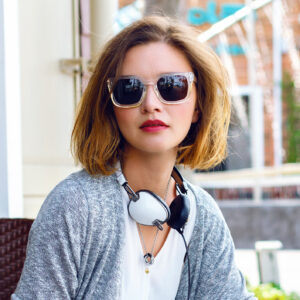 Sophia Jackson is a professional stylist and colourist for Barron's London Salon in Atlanta, GA. When she's not styling hair or researching the latest trends, you can find her shopping in trendy boutiques or sipping bubbly at a concert in Chastain park.