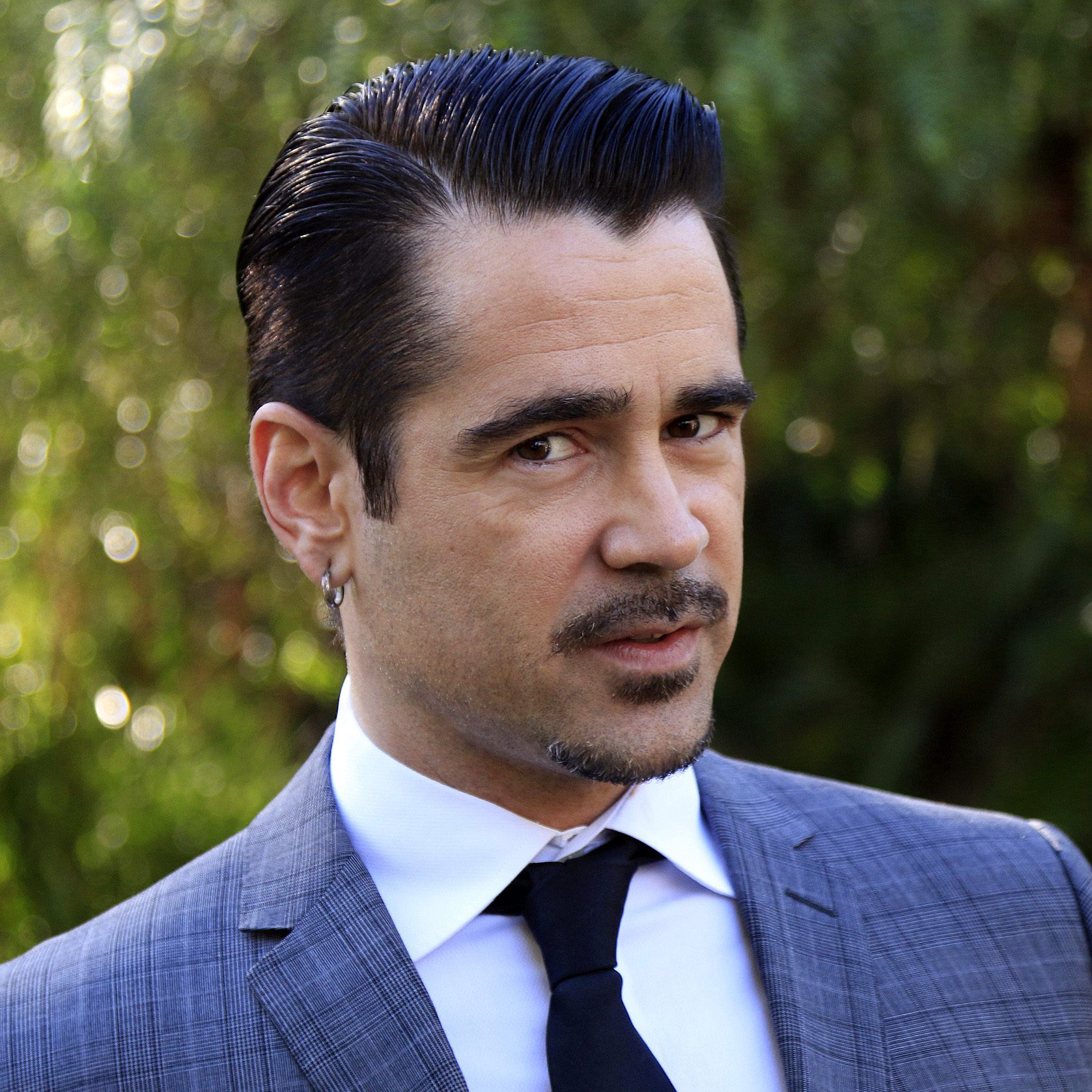 10+ Classy Men's Slicked Back Styles with Side Part
Tips and tricks on cutting and styling most popular gentlemen's cut
Slicked-back hairstyles for men have been popular for over 100 years, especially since the creation of water-based pomades. In the 1930s, the slicked-back side part hairstyle was created and kept very flat by the use of a lot of oil, and oil-based pomade. Today, however, with the variety of hair products available, many different looks can be achieved.
In the 1950s and 1960s, the popular hairstyle was the Quiff. It was a popular variation of the pompadour hairstyle that many greasers would wear. The quiff featured a slicked back side part, but with some of the height and angle of the Pompadour and a touch of a Mohawk look.
For many years, the side swept has been dominating the realm of slicked back side part hairstyles. Men from differing lifestyles have made this style popular since the early 1900s. It has even been seen in Hollywood more recently in Leonardo DiCaprio in the movie The Great Gatsby.
Without further ado, go ahead to explore a diverse collection of stylish and fashionable hairstyles:
1 / 19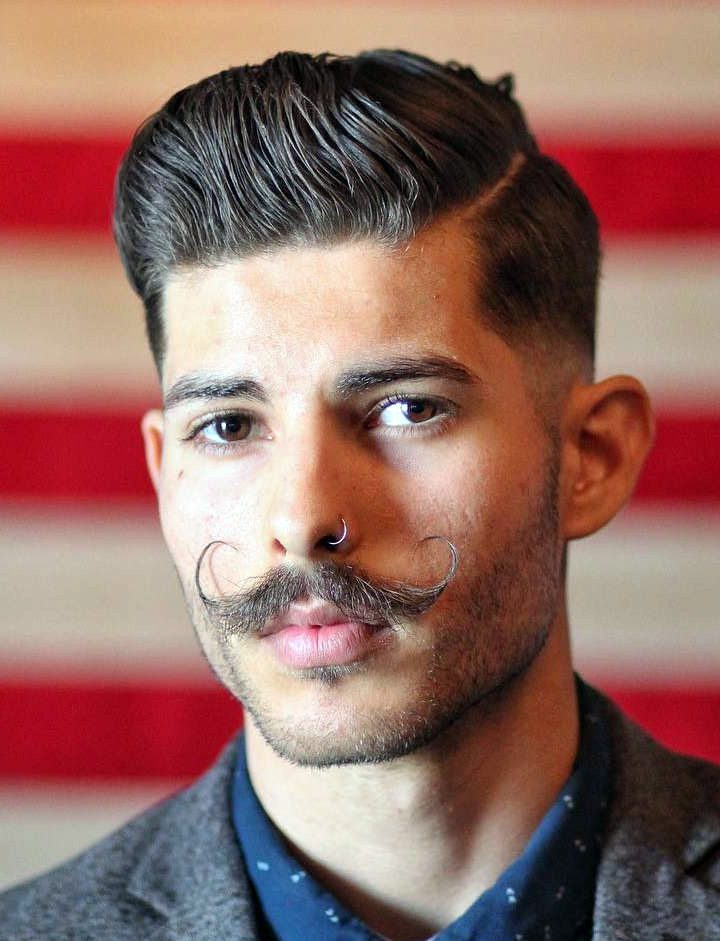 Low Fade with Twirled Moustache
This clean, combed look is given an old-fashioned twist with the curly mustache. Just add a little stubble around the face and the resulting style is very, very manly!
2 / 19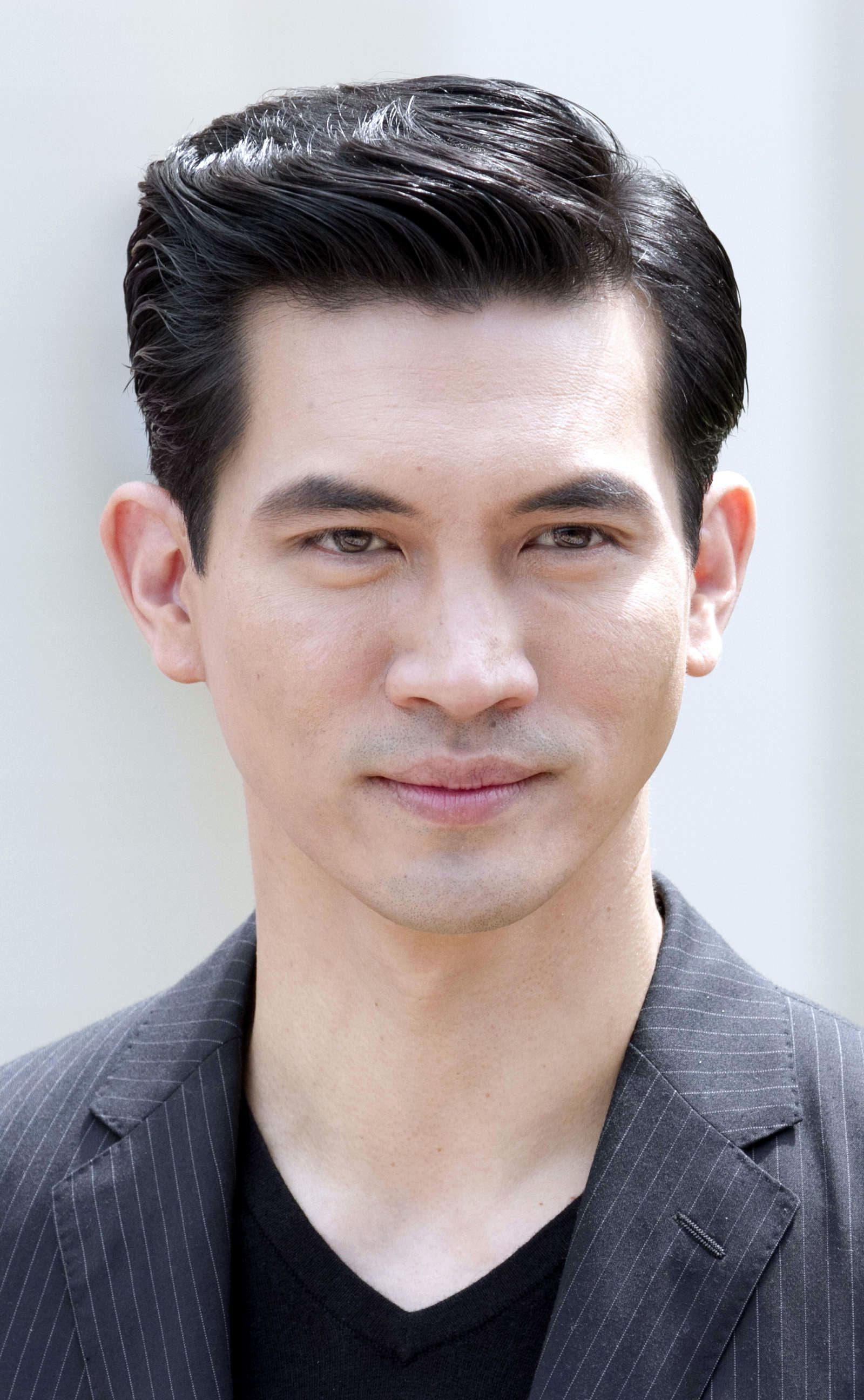 Classy Side Brush with Invisible Part
If you're not a fan of having short hair as part of your cut, the good news is that slicked-back styles lend themselves particularly well to extra length on the sides.
3 / 19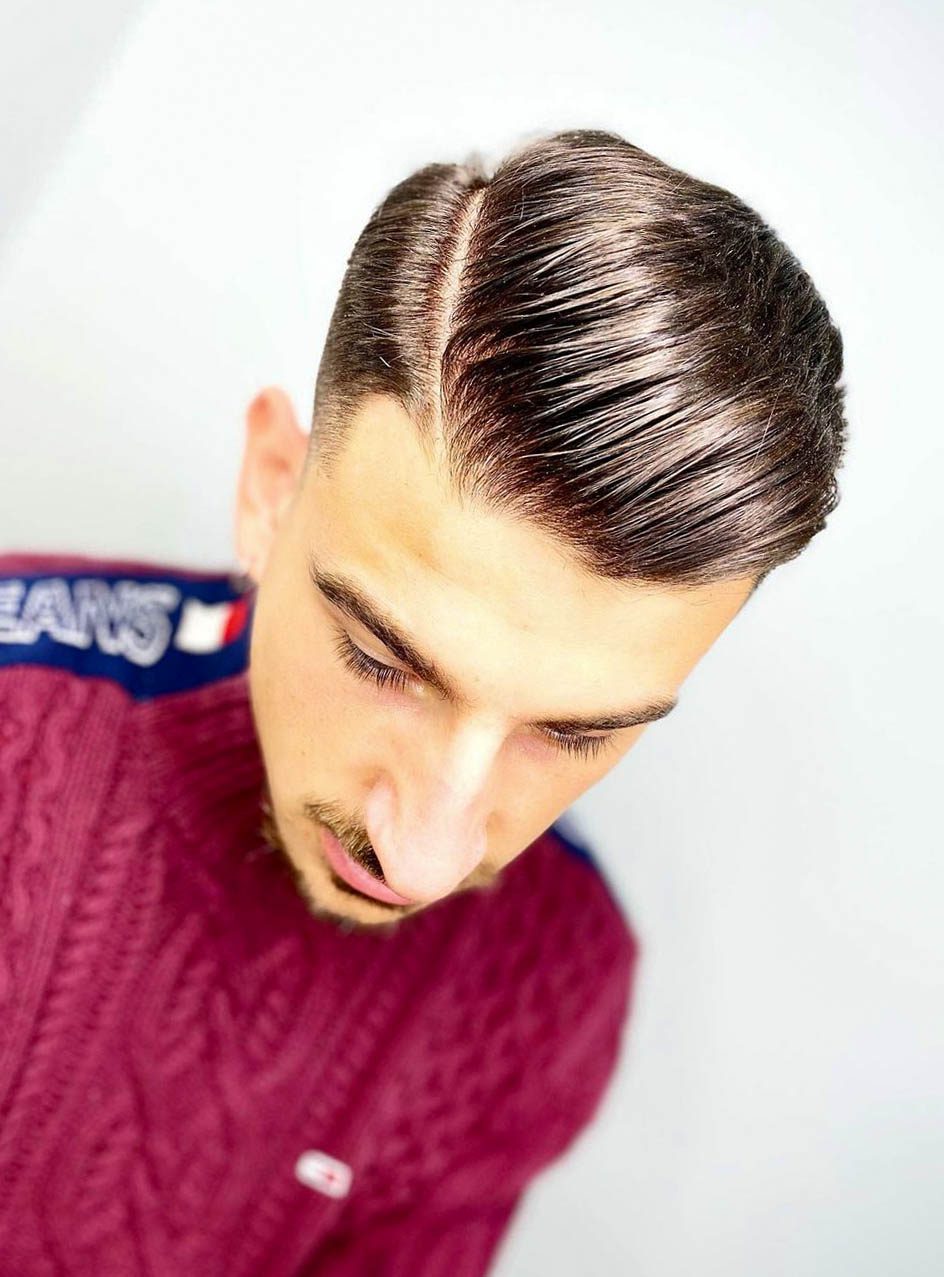 Slick Back With Deep Side Part
The slick back with deep hard part is a beautiful marriage that works perfectly for business and casual looks. The side part is achieved by shaving a clean line down the scalp with a razor or trimmer and then combing back hair on one side. The other side features a drop fade where hair is shorter around the ears and gradually blends with the rest. This helps add more structure to the slick back creating an old-timey gentlemanly appearance that's neat and polished. Combine it with partial beard styles like a goatee, anchor, Van Dyke or Balbo beard to complete the look.
4 / 19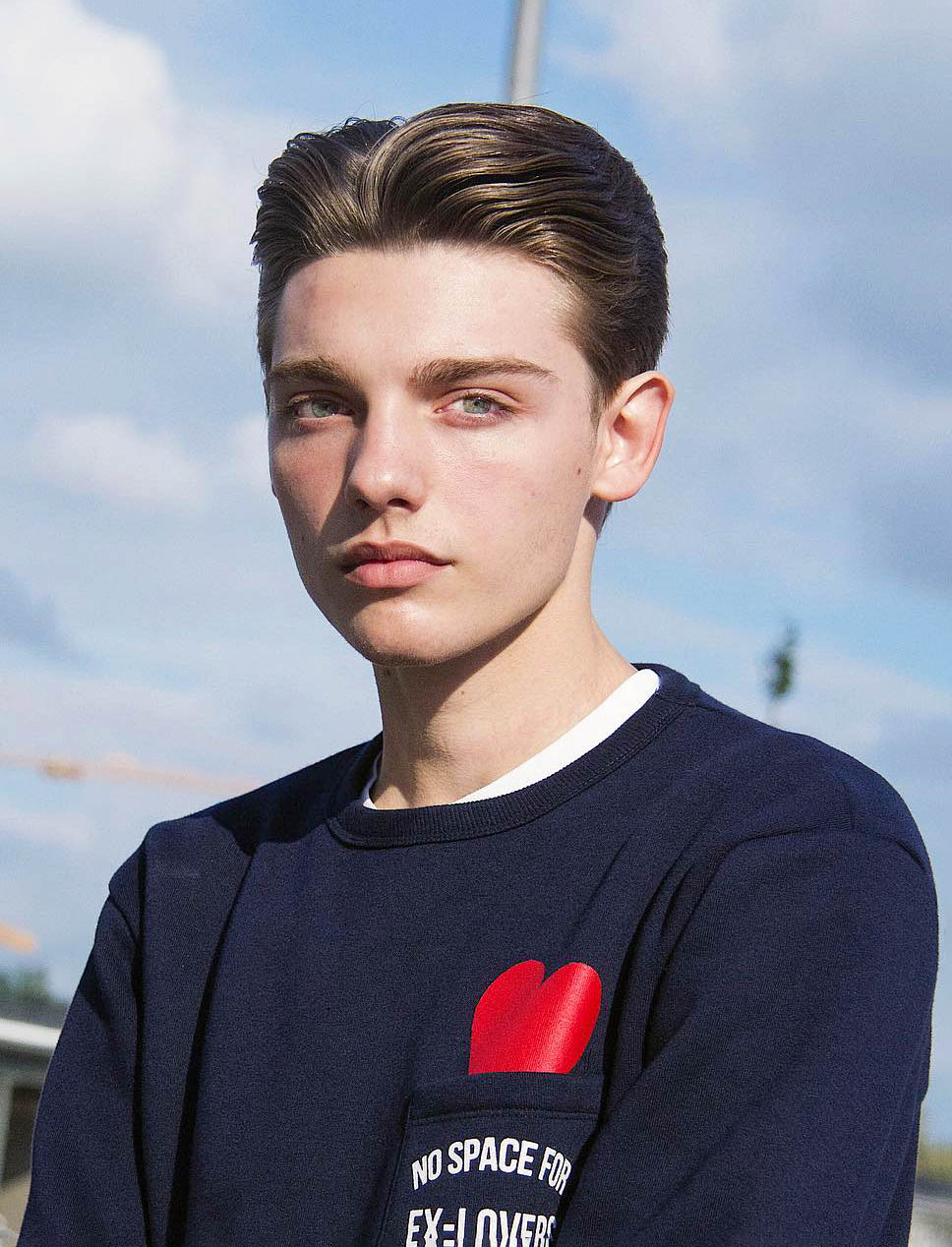 Medium Slick Back with Subtle Mid Part
For a distinctive take on the slicked back side part style, a subtle mid part is a great way to wear the style. The front section is kept a bit longer and combed in a way that makes it appear as if there is a middle part that's not too visible. The rest of the hair is short and combed back to give prominence to the hair on top in a way that helps elongate a round face. Secure the hair with a wet-look styling product but give it a sleek, masculine finish that appears rebellious. The haircut can work with stubble or a clean-shaven face.
5 / 19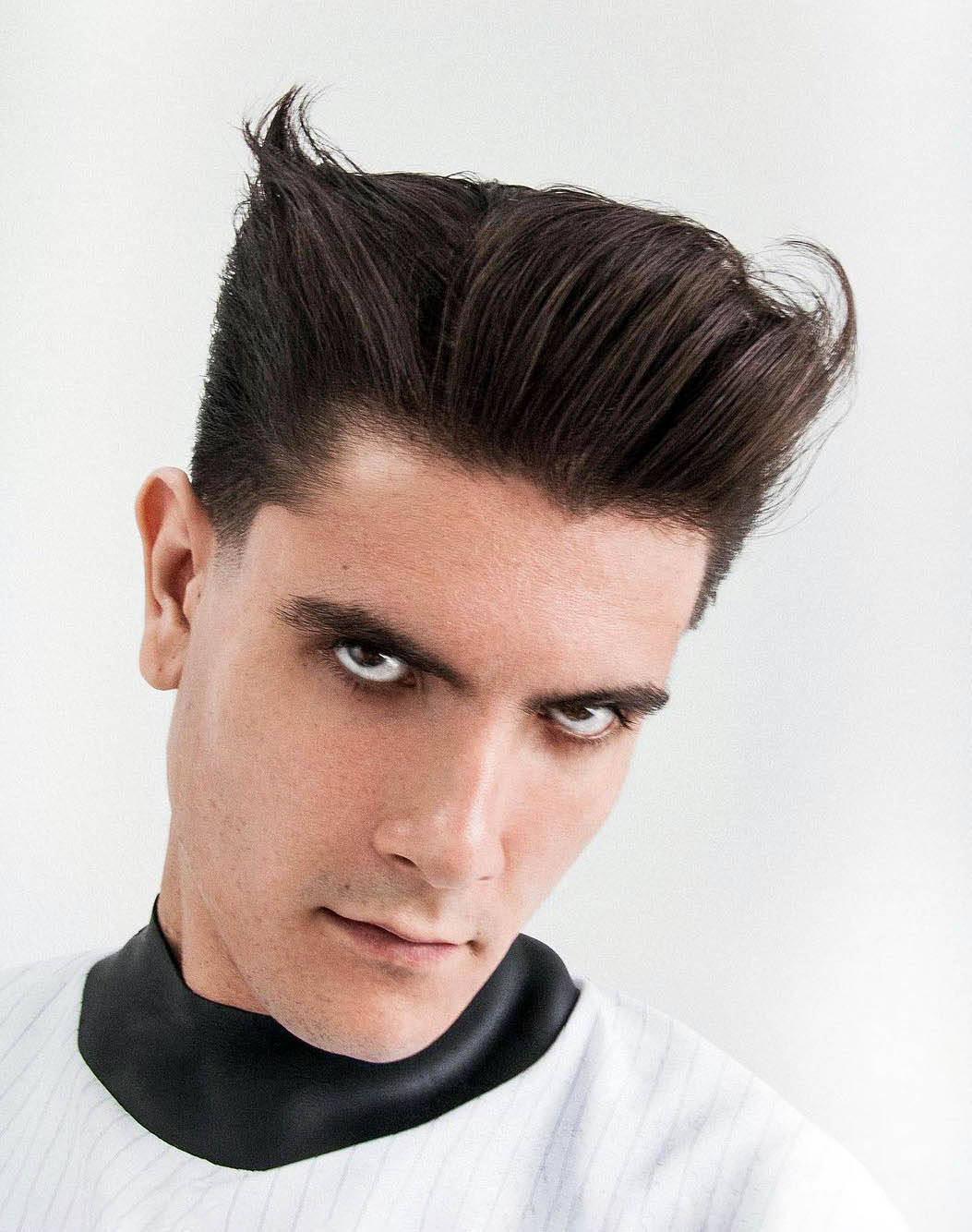 Rebellious Brushed Back Asymmetrical Quiff
The brushed-back quiff is a great look for anyone with a rebellious tendency and who doesn't like conforming to society's conventional standards of trimmed and neat hairstyles. The hair is brushed up, and then some hair at the center is causally brushed back in a messy way that some strands stick upwards from the sides. The haircut works perfectly for oblong, clean-shaven faces.
6 / 19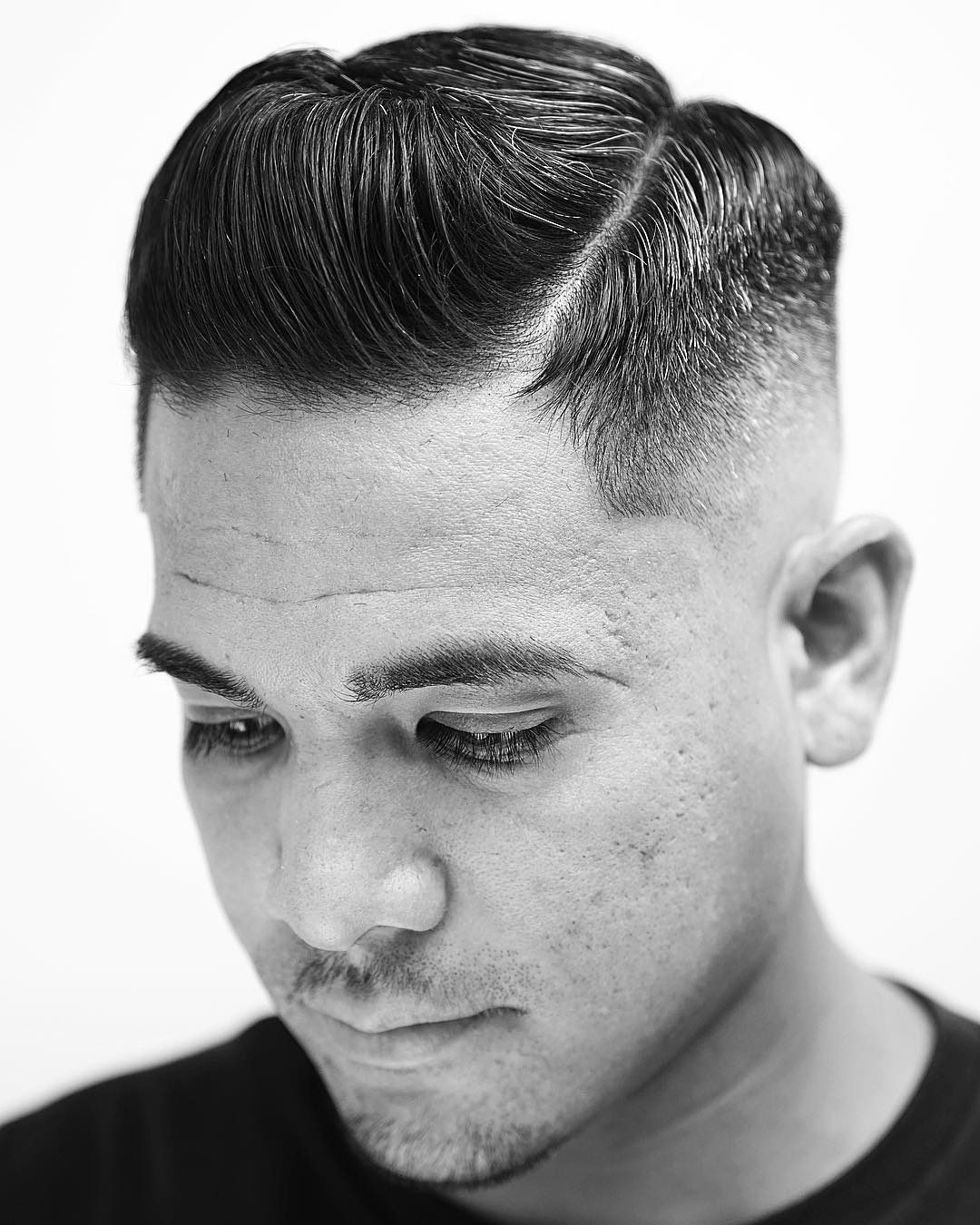 Thin Part with Faded Sides
The fringe on this 'do looks so cool brushed up then back like that. Definitely adds a unique touch to a simple hairstyle.
7 / 19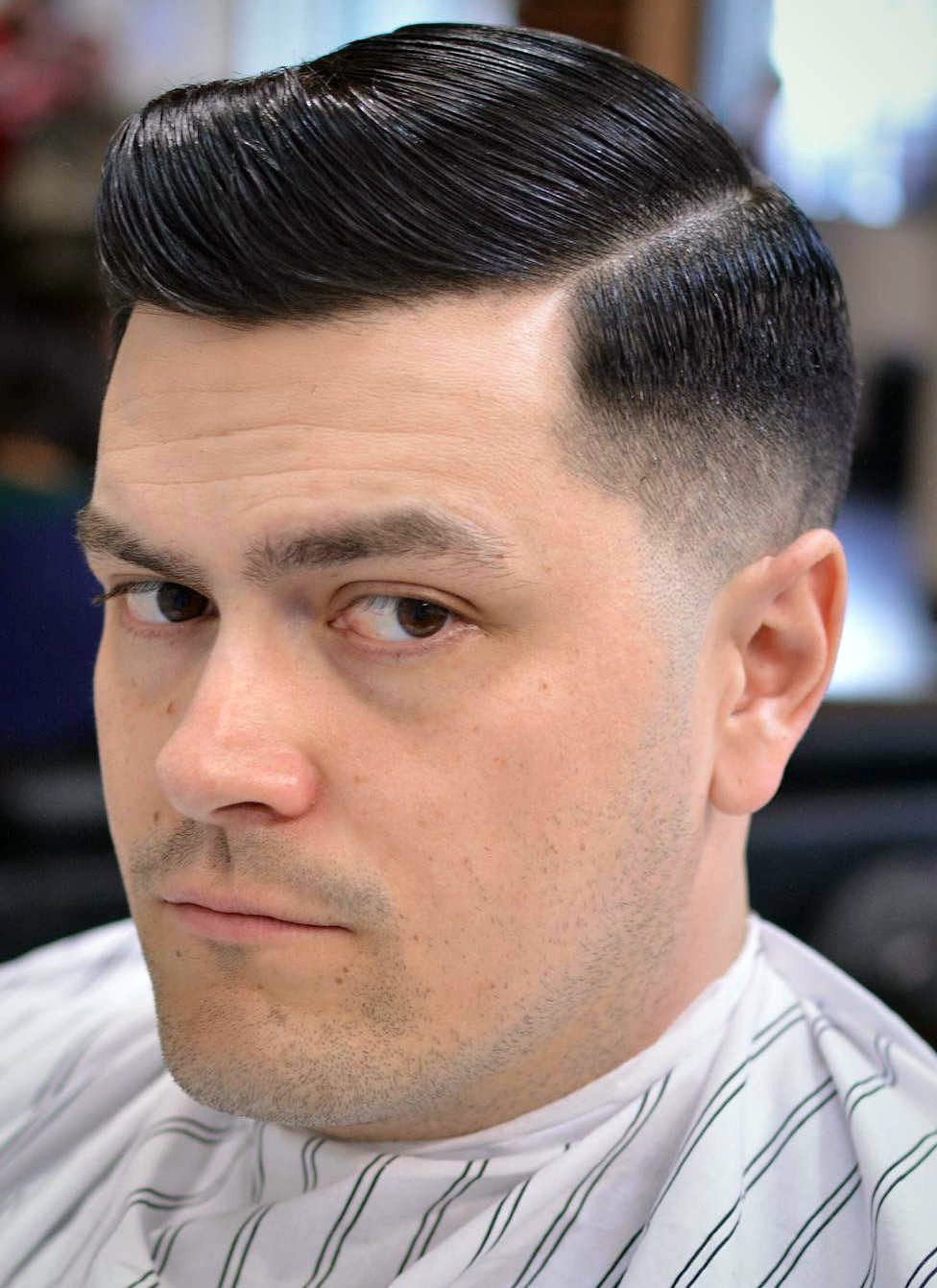 Temple Fade with Combed Side Brush
This super-sleek style reminds you of your dad's hair, doesn't it? It definitely has a retro feel to it with its clean and glossy look.
8 / 19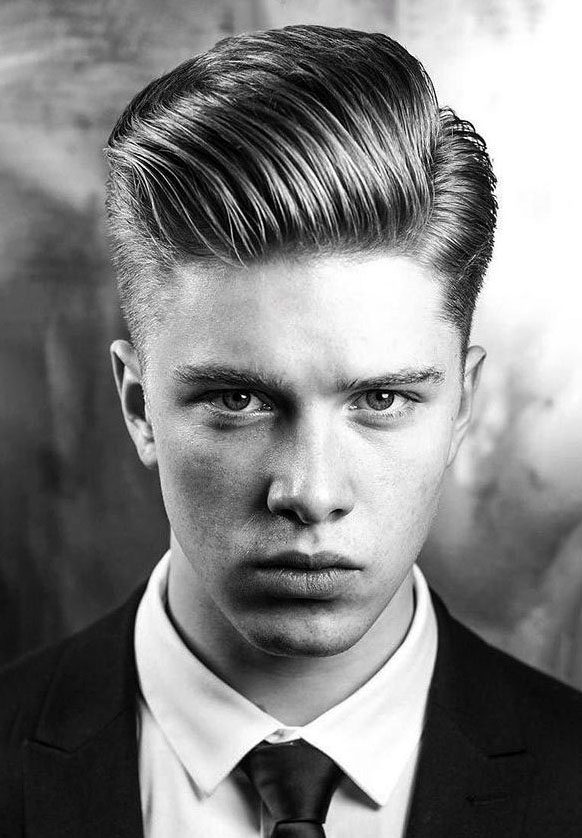 Classic Slicked Back
If you're really into vintage styles, this is the 'do for you. This super neat, high-shine hairstyle will have you looking like you time-traveled from the '30s.
9 / 19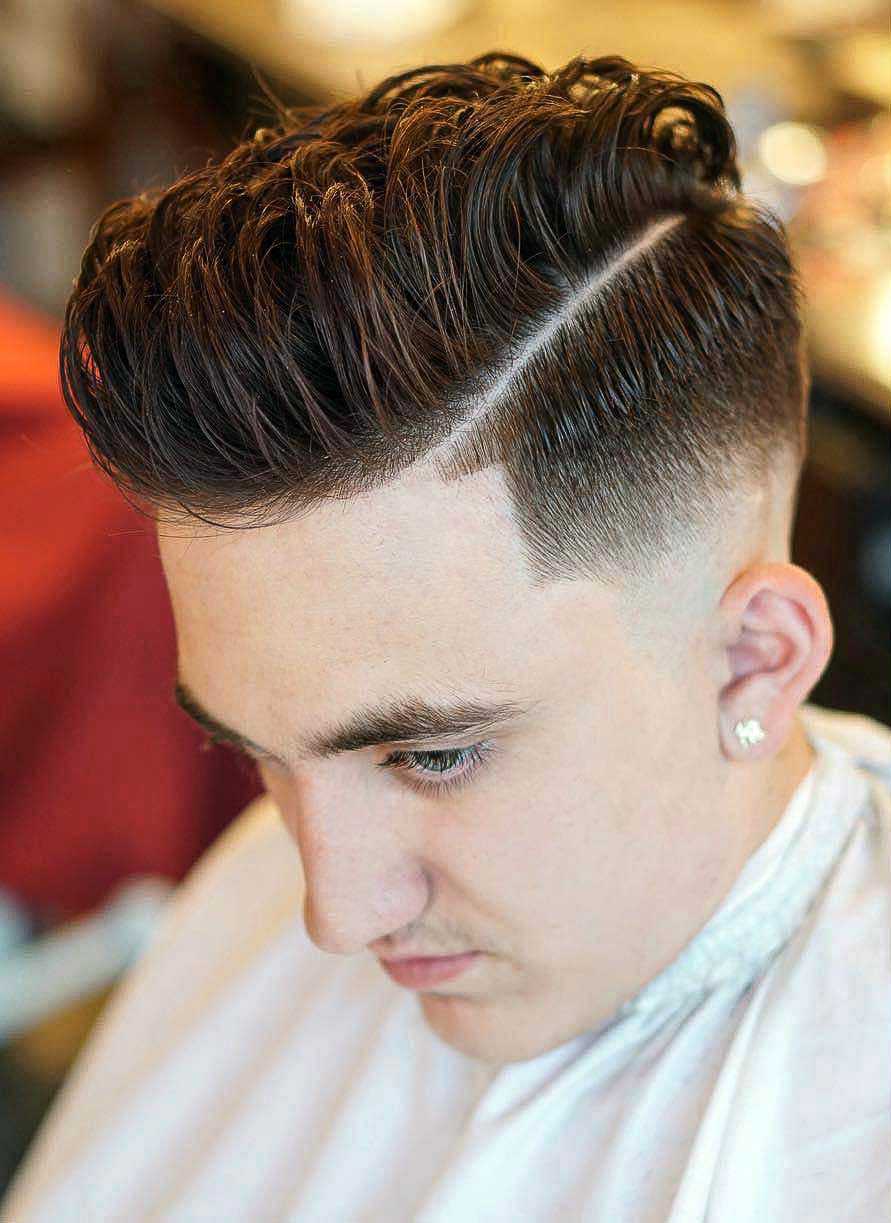 Medium to Low Fade with Textured Top
It's okay to add a bit of a messy texture if that's your thing. It's a great way to add a modern touch to the classic slicked-back style.
10 / 19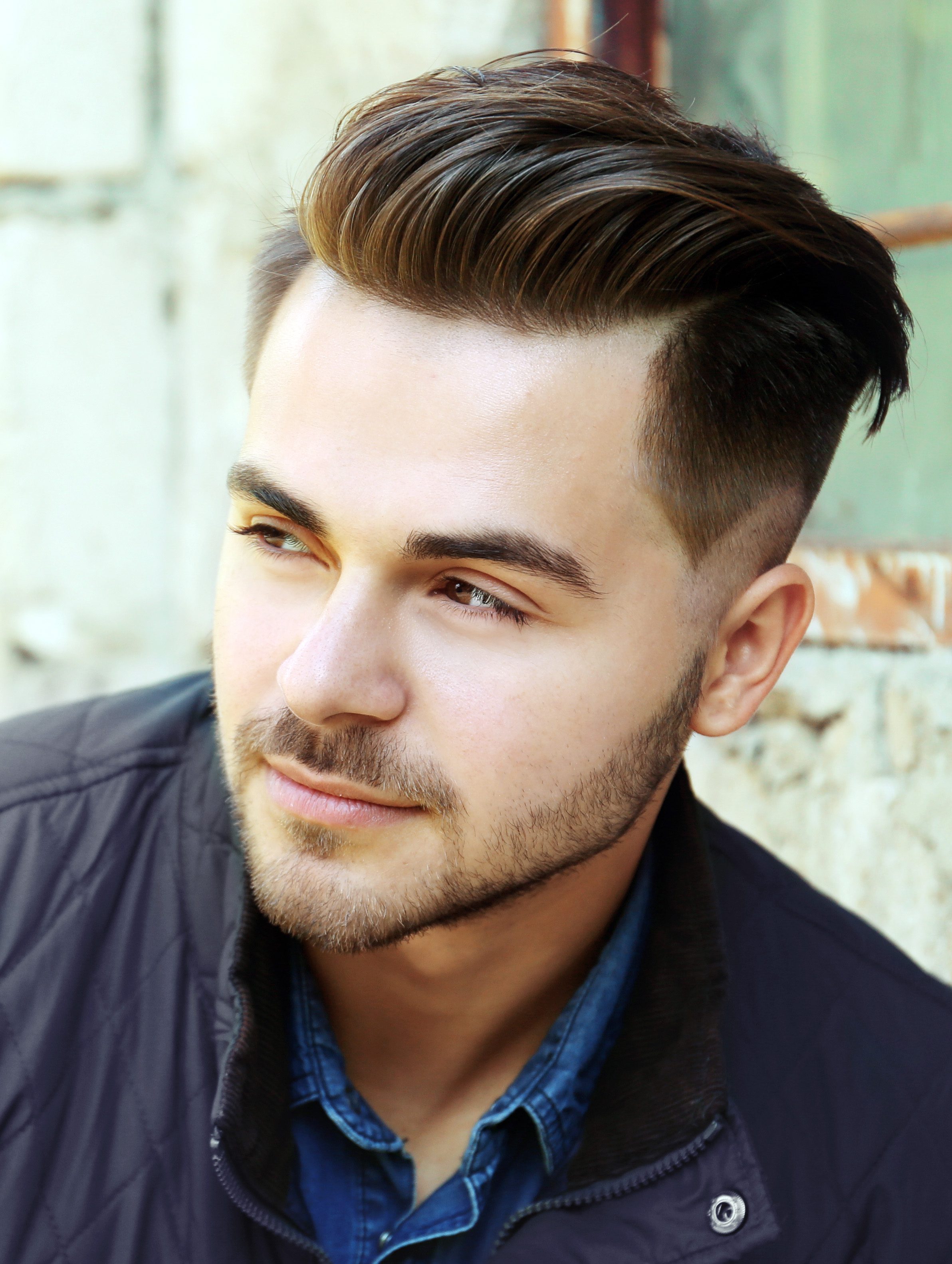 Disconnected Undercut and Styled Top
The slicked-back side part is a popular starting point for thousands of hipster haircuts, like this one. Notice how easily you can "refresh" this old style with a fade, an earring, and some facial hair.
11 / 19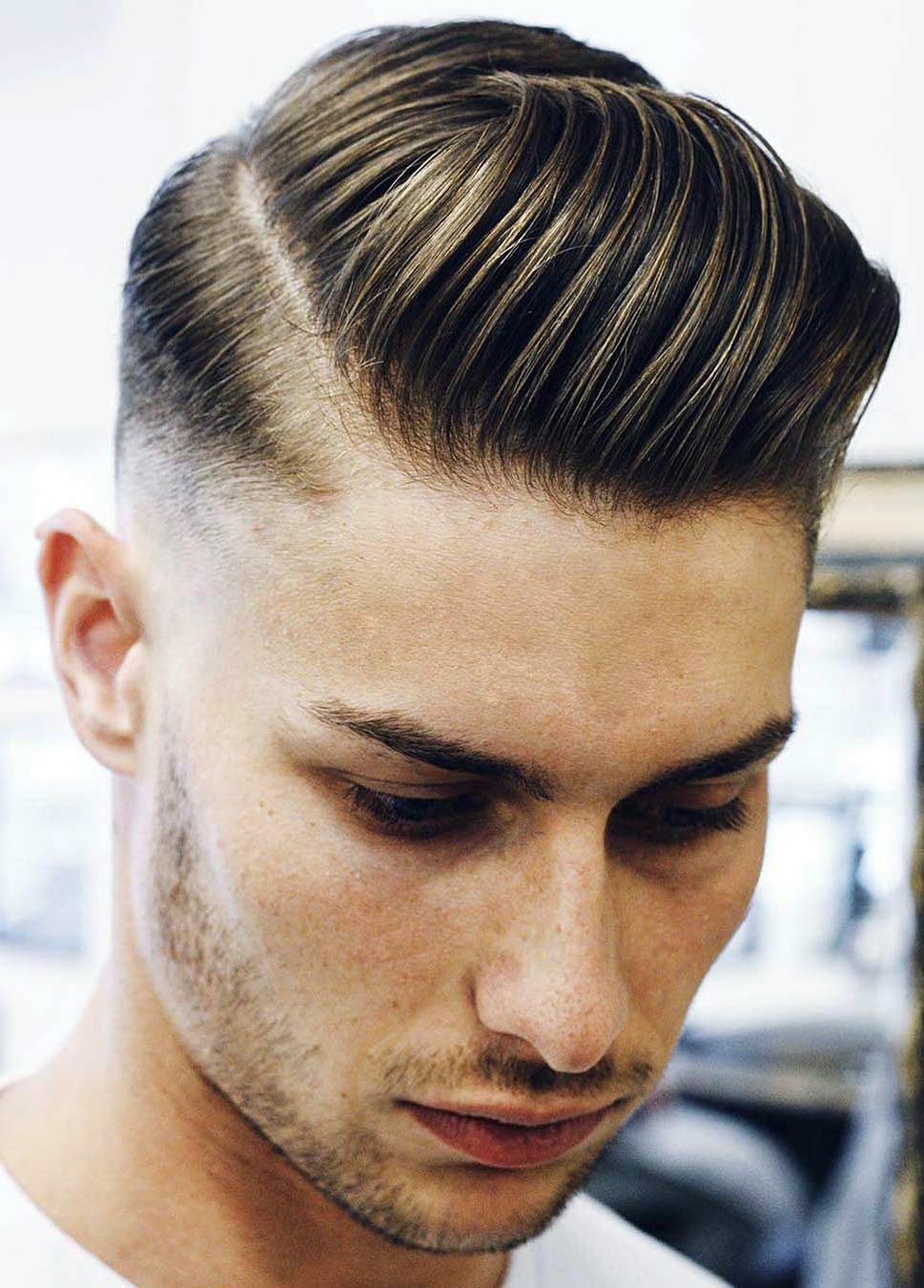 Combed Push Back with Thin Part
Check out this take on the slick-back, with plenty of smooth lines throughout the hairline. The curved hairline just above the ears is one element that really does catch the eye.
12 / 19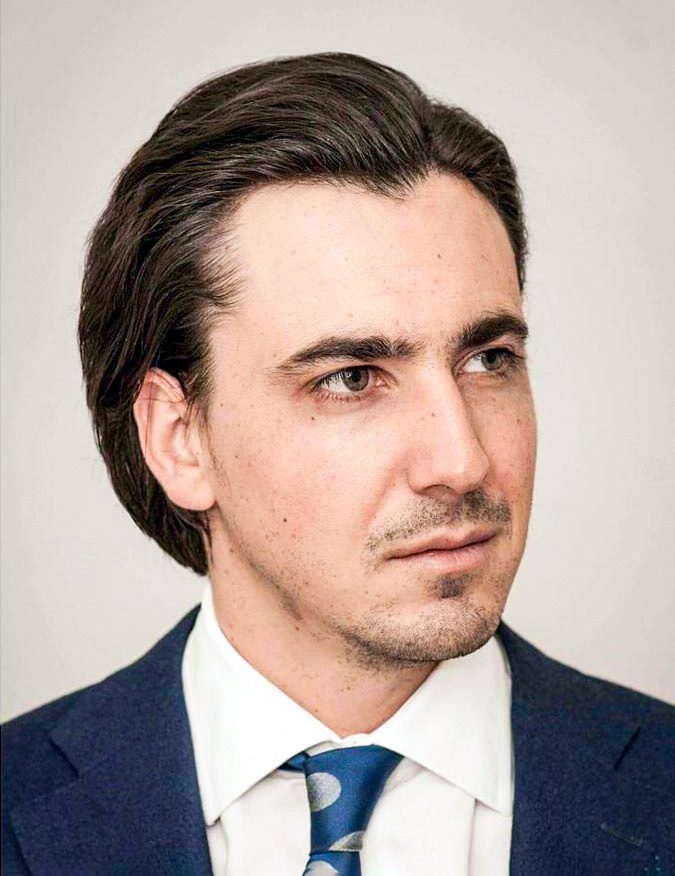 Side Part Slicked Back for Elegant Man
This youthful slicked-back look also features long sides, which is a pretty popular theme among Asian men. The glasses and clean-shave give off a sophisticated, modern vibe.
13 / 19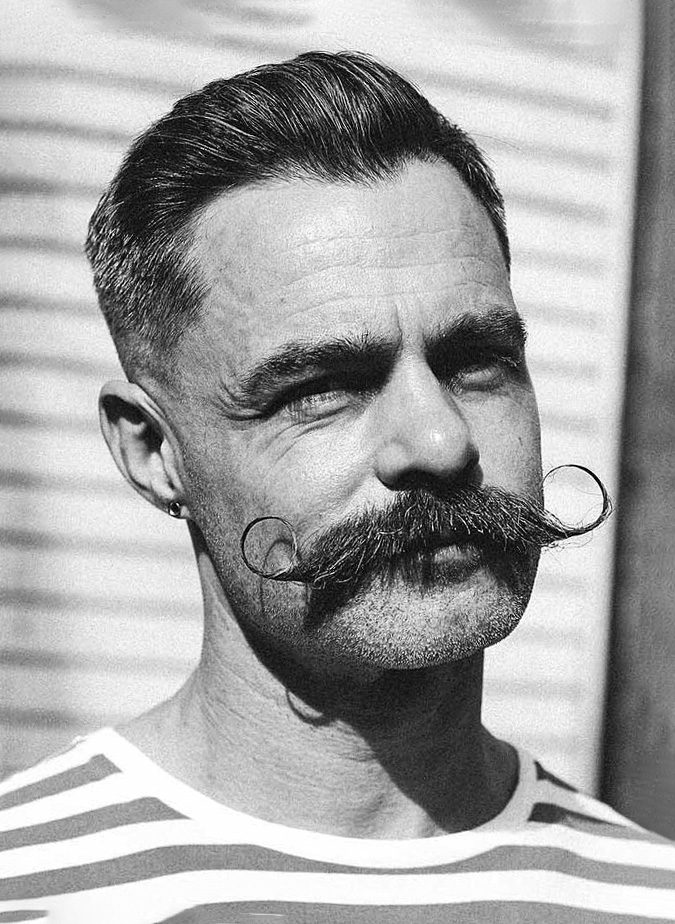 Pomped Slicked Back with Moustache
The sleek salt-and-pepper cut looks so stylish. But we have to admit, the Salvador Dali-inspired moustache is trying to grab all the attention!
14 / 19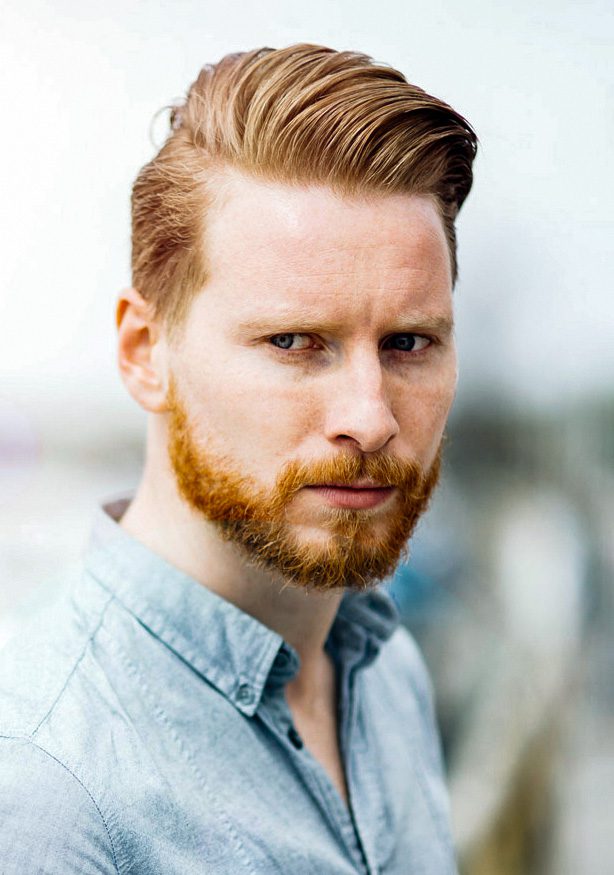 Red Hair Neatly Swept Hairstyle
It's a classic: short on the sides, long on top. This slicked-back hairstyle is also brushed sideways, for a slightly more modern appearance.
15 / 19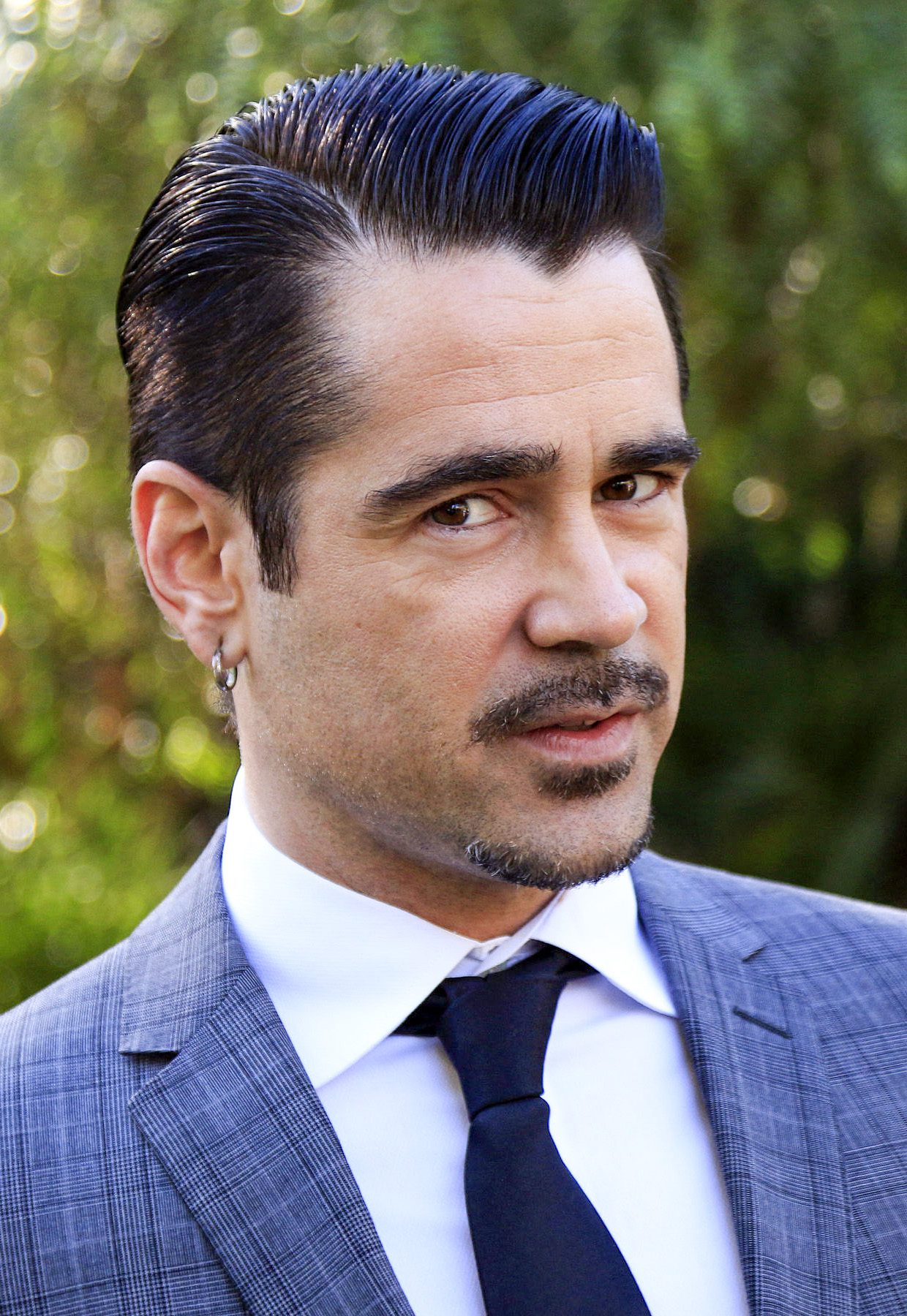 Widow's Peak with Classic Style
It might sound questionable, but slicked-back styles are great for those with a widow's peak in their hairline. This thoroughly-gelled style also has a hint of the Wild West, with the light facial hair and sideburns.
16 / 19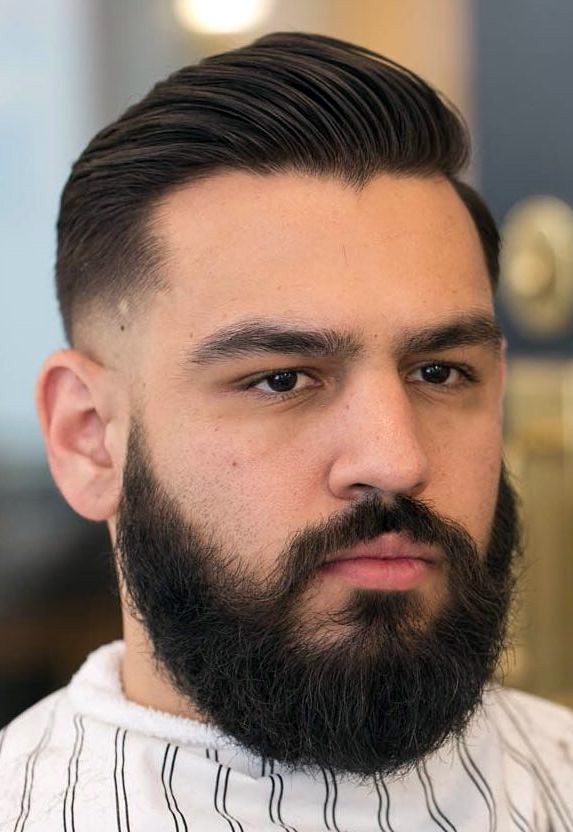 Clean Taper Fade
This textured, slicked-back pompadour really does stand out. Is it the side part? Is it fade? Is it the hairline? We'll never quite know.
17 / 19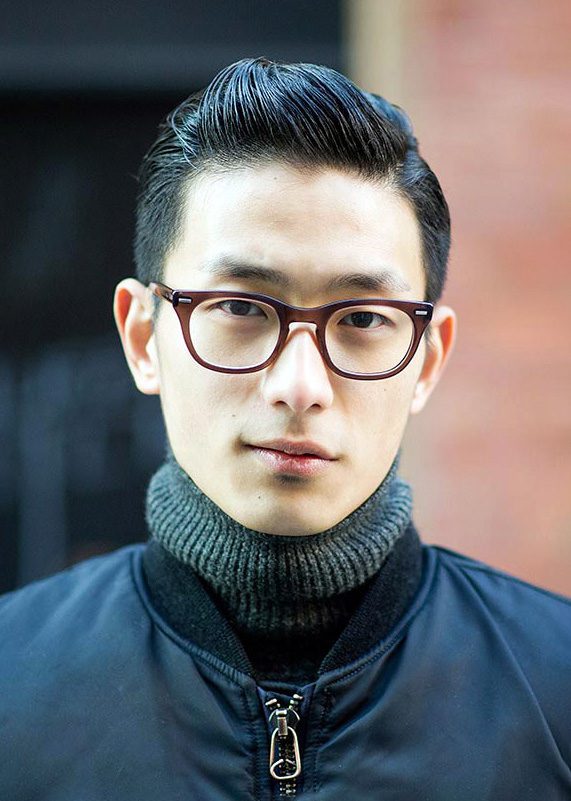 Slicked Back Hairstyle Glasses
Check out this simple slick, which has everything it needs: a side part, some length on top, short-ish sides, and light sideburns. It's an 80s cut but doesn't feel out of place today.
18 / 19
Undercut and Relaxed Slick-Back
Here's a more modern take on the slicked-back haircut: a pompadour-gone-undercut. Let your facial hair grow out long for a hipsterish twist.
19 / 19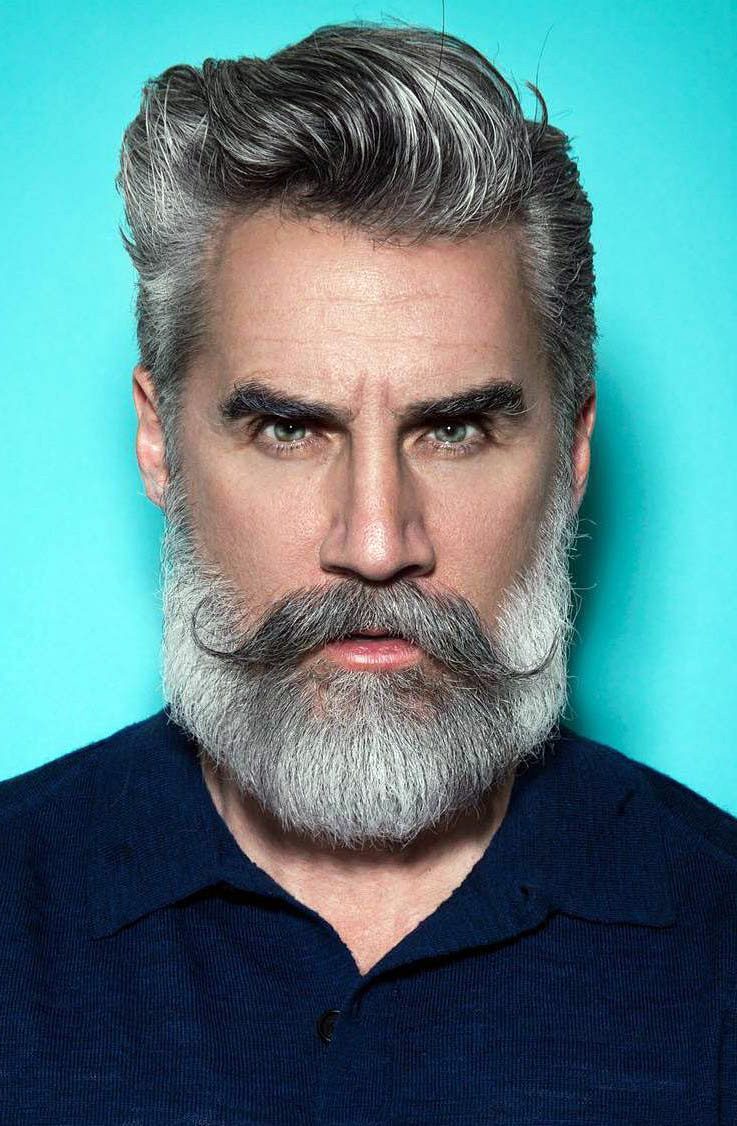 Slick Back with Side Part and Taper
If you're one of the lucky ones and have plenty of hair volume to work with, this style is one you might want to consider. It projects sophistication and a lot of class. To get it simply apply a slight amount of product in your hands, just enough to tame the wild hairs and brush it backwards, then make the part and ensure your sides are brushed back as well. Make sure you don't force it down too much, for this look the natural volume is key.
How to get the Slicked Back Side Part Hairstyle
The side swept is created by using a medium shine pomade and parting the hair, then combing it as flat as possible while making sure to curve along the direction of growth to blend in any cowlicks. By using a wide-tooth comb and a strong pomade on the hair, this hairstyle is possible even for men with curly hair.
By parting the hair at the corner of the forehead, or at the arch of the brow, a deep part can be created which works well with a textured side sweep. This hairstyle is very popular this year and with a strong-hold pomade and a sweep back and up of the hair, a very strong look is created.
Some things to remember when creating a slicked back side part hairstyle are:
Use a sea salt spray mainly on the top section of hair to help tame the hair. Spray onto hair, then create the desired part. Blow dry hair, making sure to comb the front of the hair across the face, the sides toward the back, and the back down flat. Depending on the desired look apply a hair wax, pomade, or wet look gel with your hands and comb hair into place.
Side part slicked back hairstyles are popular for nearly every face shape. Square faces will do well with a more angular style, while oval and oblong faces will do well with most styles as long as there is a more proportional cut, being not too long or too short on the top or sides. Oblong faces will also do well with a style that combs the hair onto the face to help balance the look. Round faces generally do well when adding volume and angles to the hairstyle, making sure not to have a blunt fringe, which can emphasize the round shape. Heart and diamond faces do well with a bit of length and a side-swept look.
The slicked-back hairstyle with a side part is a timeless and versatile style, suitable for many men. It can be classic and reminiscent of the early 1900s or updated to suit today's styles. It can be modified for many facial shapes and should be considered by all as a worthy style.