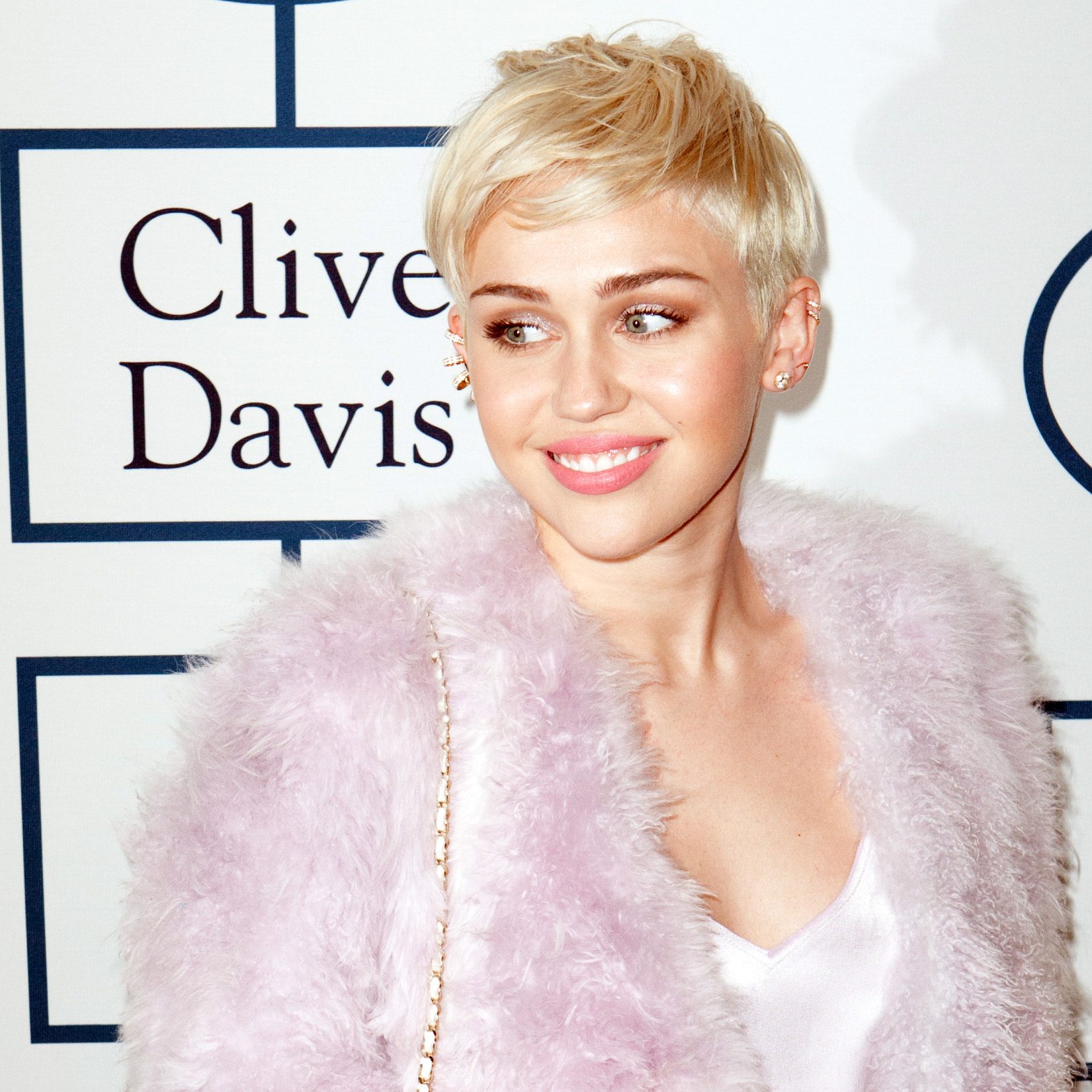 20 Variations of The Pixie Cut
Short and Sweet, no fuzz styling
The pixie cut is one of those haircuts that can look sweet and badass at the same time. The pixie cut is characterized by being short on the back, sides of the head with a slightly longer top and classically short bangs or even micro bangs.
Obviously, the pixie haircut has been through many amazing styling variations and cuts but we cannot go without mentioning how in the 1950s film Roman Holiday, Audrey Hepburn's character Princess Ann, boldly and defiantly decides to get a pixie cut starting a trend that would still be coming and going decades after!
Etymologically speaking, the word pixie has an uncertain origin but it is speculated that it comes from the nordic Swedish dialectal pyske, meaning small fairy, among other plausible explanations for the word. How accurately adorable is that?
If I've gotten you a little bit more eager about going for a pixie, you're not alone! Scroll down to check out top picks for modern and classic variations of the pixie cut!
1 / 50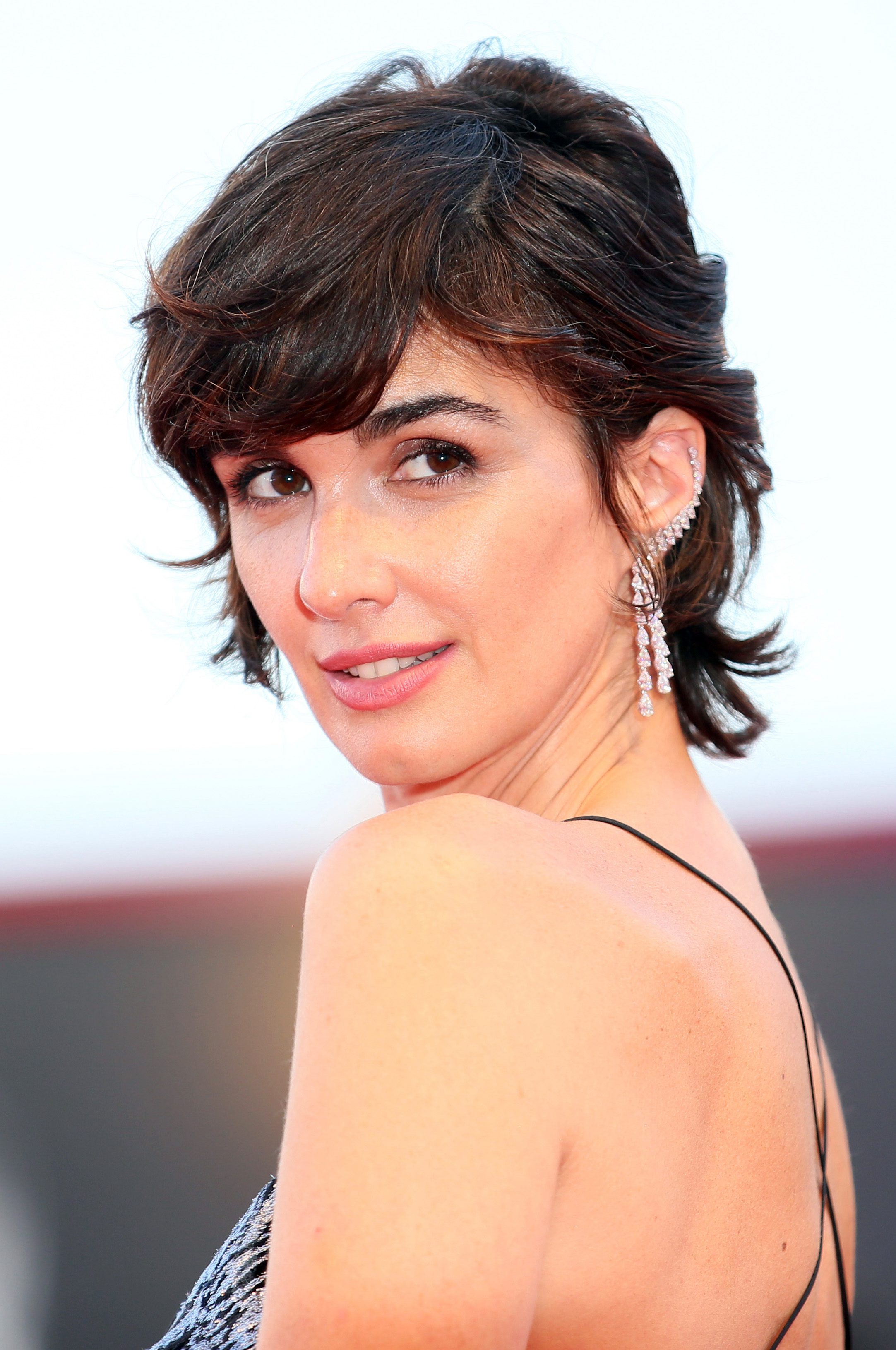 Paz Vega's Long Pixie
Whether it is long luscious locks or short wavy pixie cuts, Paz Vega can surely make any haircut look amazing. Don't shy away from a fun and cute haircut as the pixie based on the length; as we can see we can keep some of the length and turn it into great short waves.
2 / 50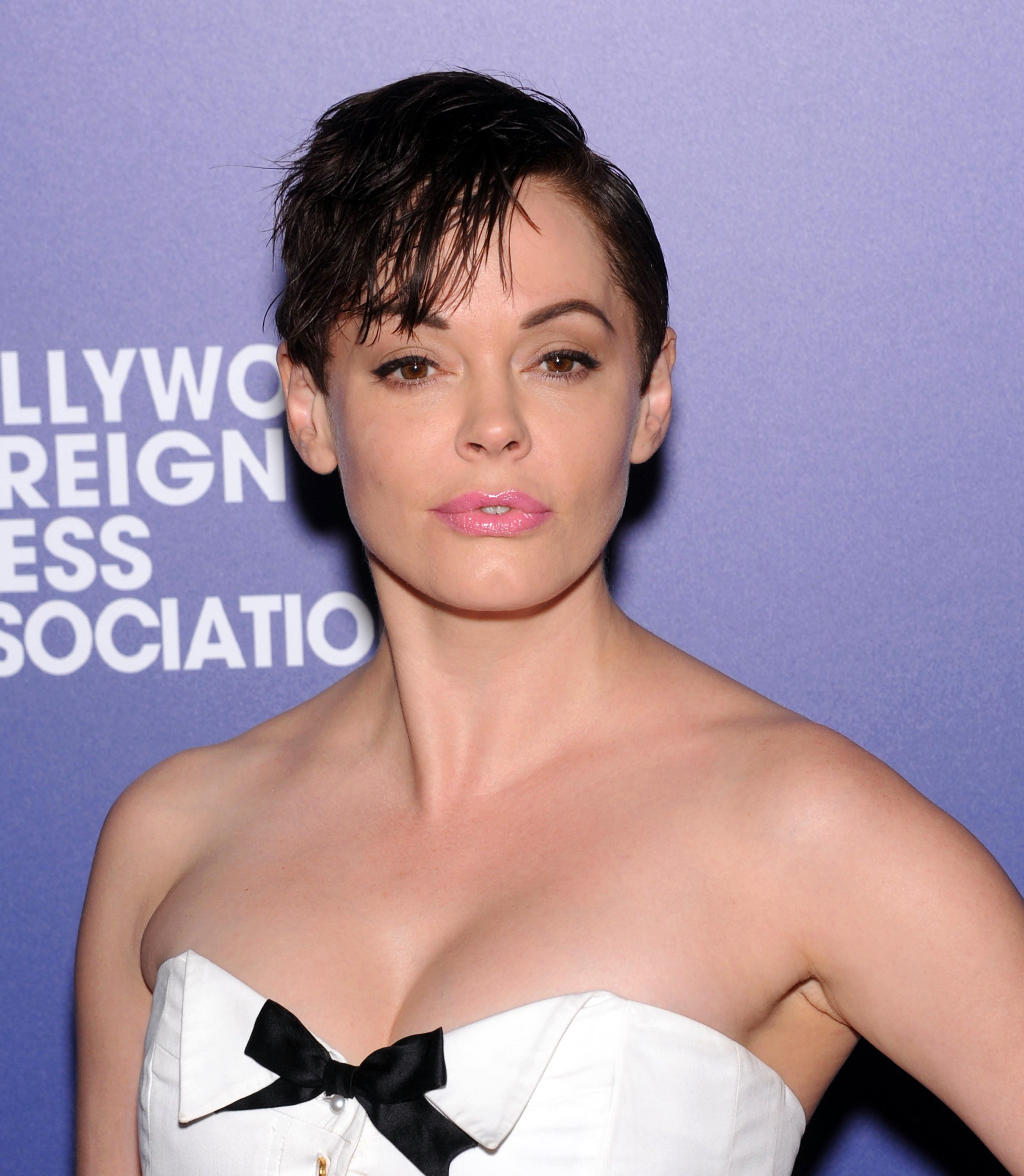 Rose McGowan's Wet-Look Pixie
Rose McGowan shows us a just-got-out-of-the-shower pixie look with this 'do. While she keeps one side sleek and neat, those messy bangs are definitely giving off rocker vibes.
3 / 50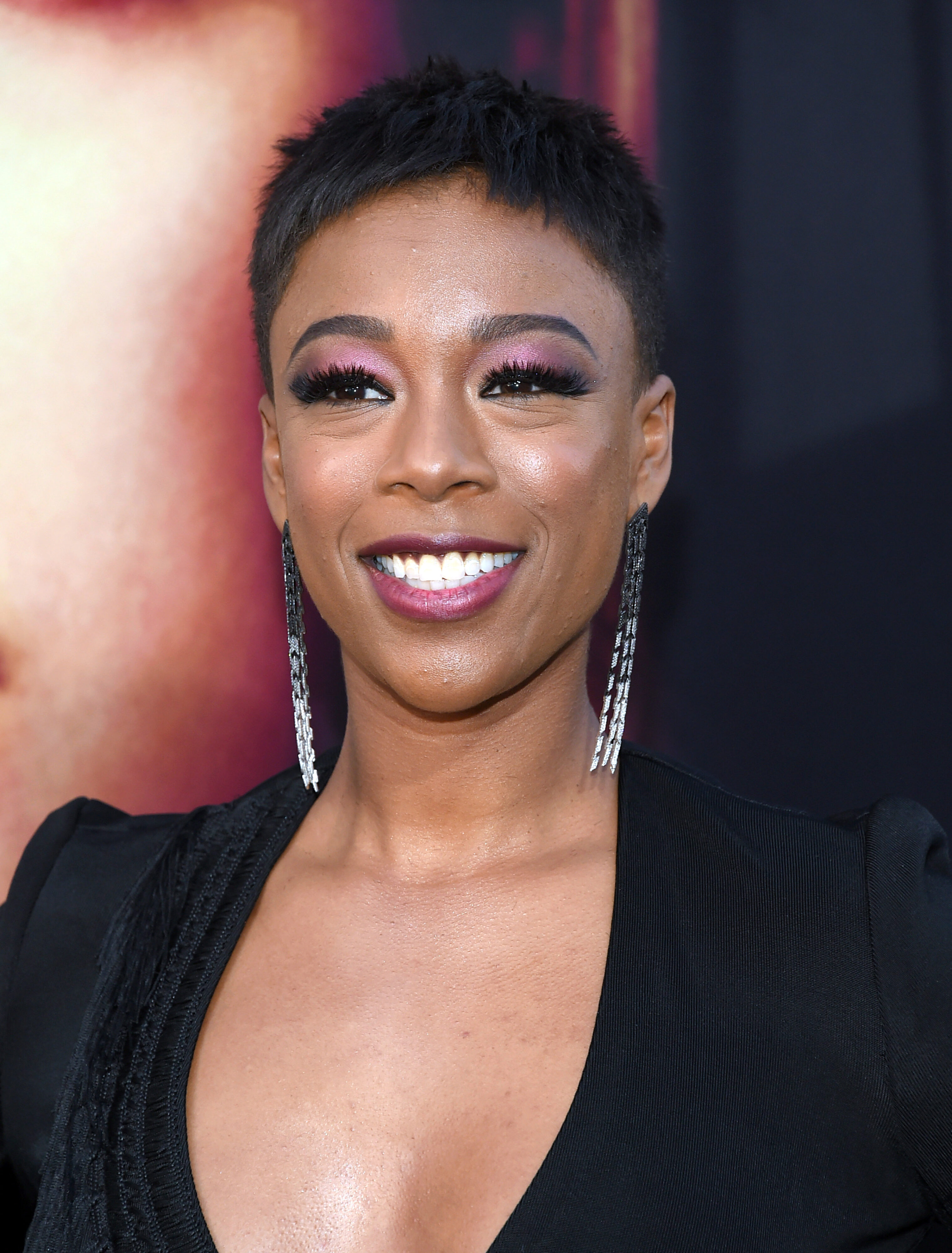 Samira Wiley's Buzz Cut Pixie
Samira Wiley is known for her signature super-short buzz cut but, here, she looks like she's transitioning into a longer pixie. So if you're trying to grow out your buzz cut (or conversely, if you want to go short but don't feel brave enough for something as short as a buzz cut), this pixie style is a good option.
4 / 50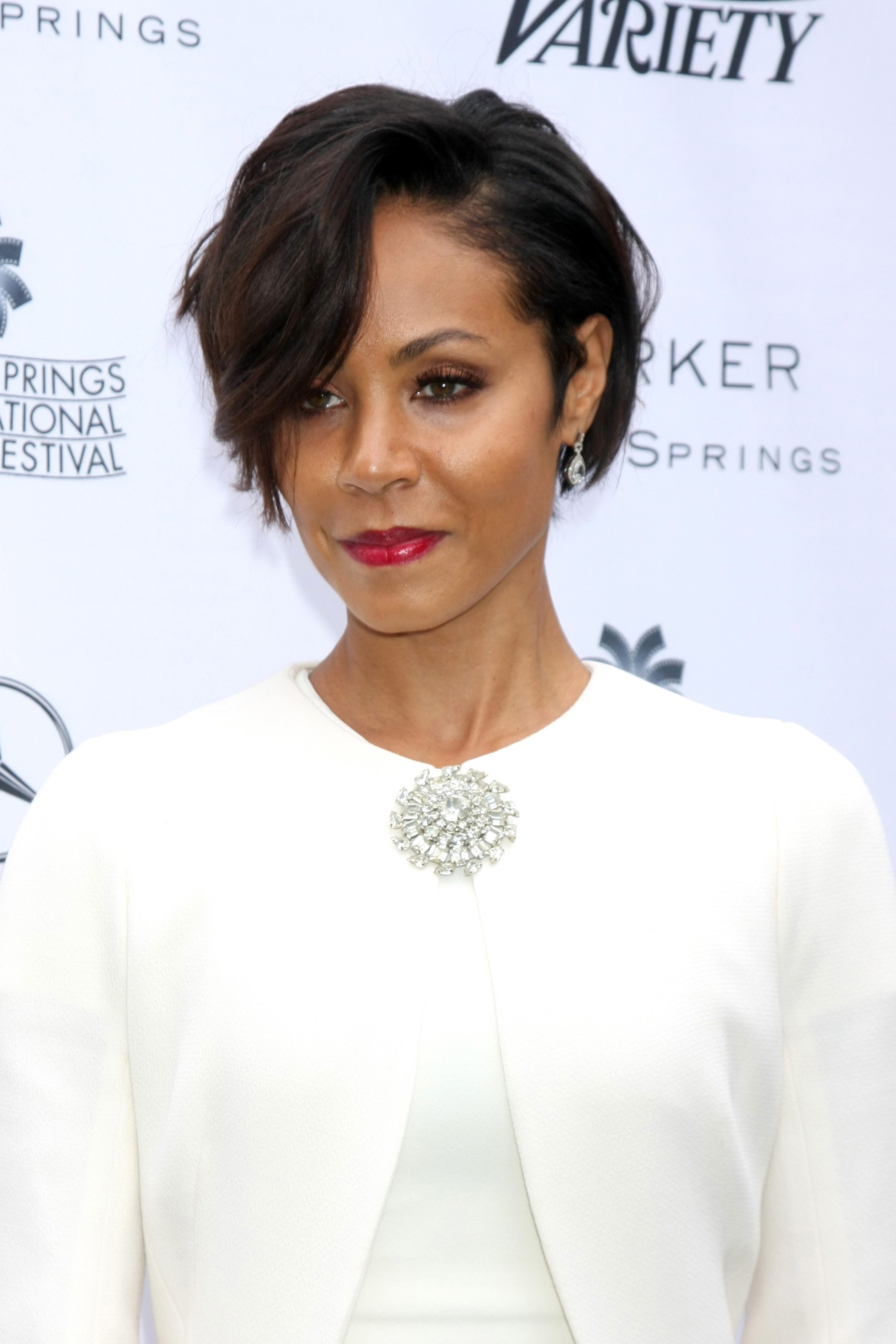 Jada Pinkett Smith's Long Pixie with Emo Bangs
Jada Pinkett Smith's hairstyle here is somewhere between a pixie and a bob — perfect if you're not committed to chopping it all off. For added drama, wear your bangs emo style.
5 / 50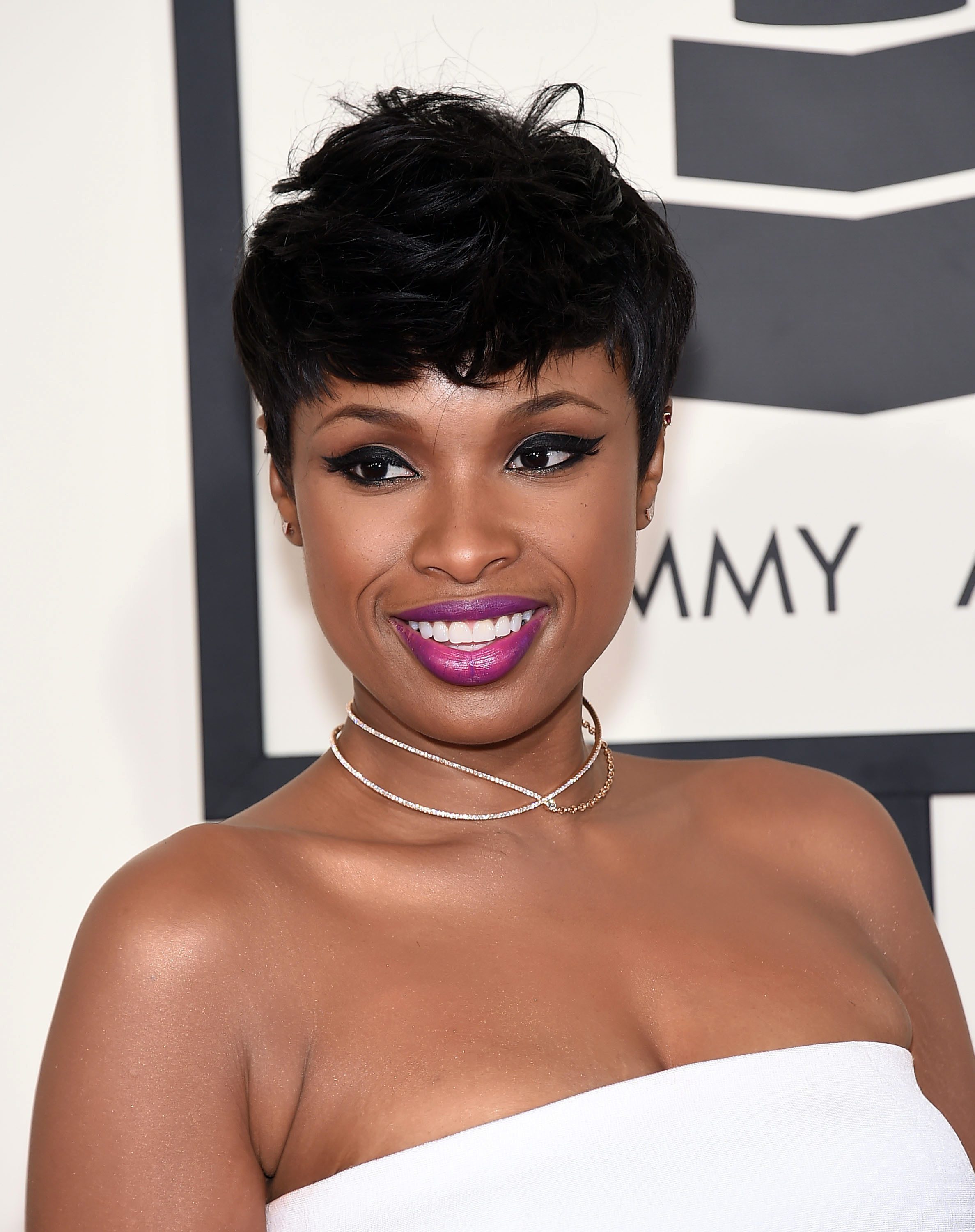 Jennifer Hudson's No-Part Pixie
Jennifer Hudson sports a layered pixie with tapered sides and no part, then gives it some character by mussing up the top. Hmmm, let's call this chaotic chic.
6 / 50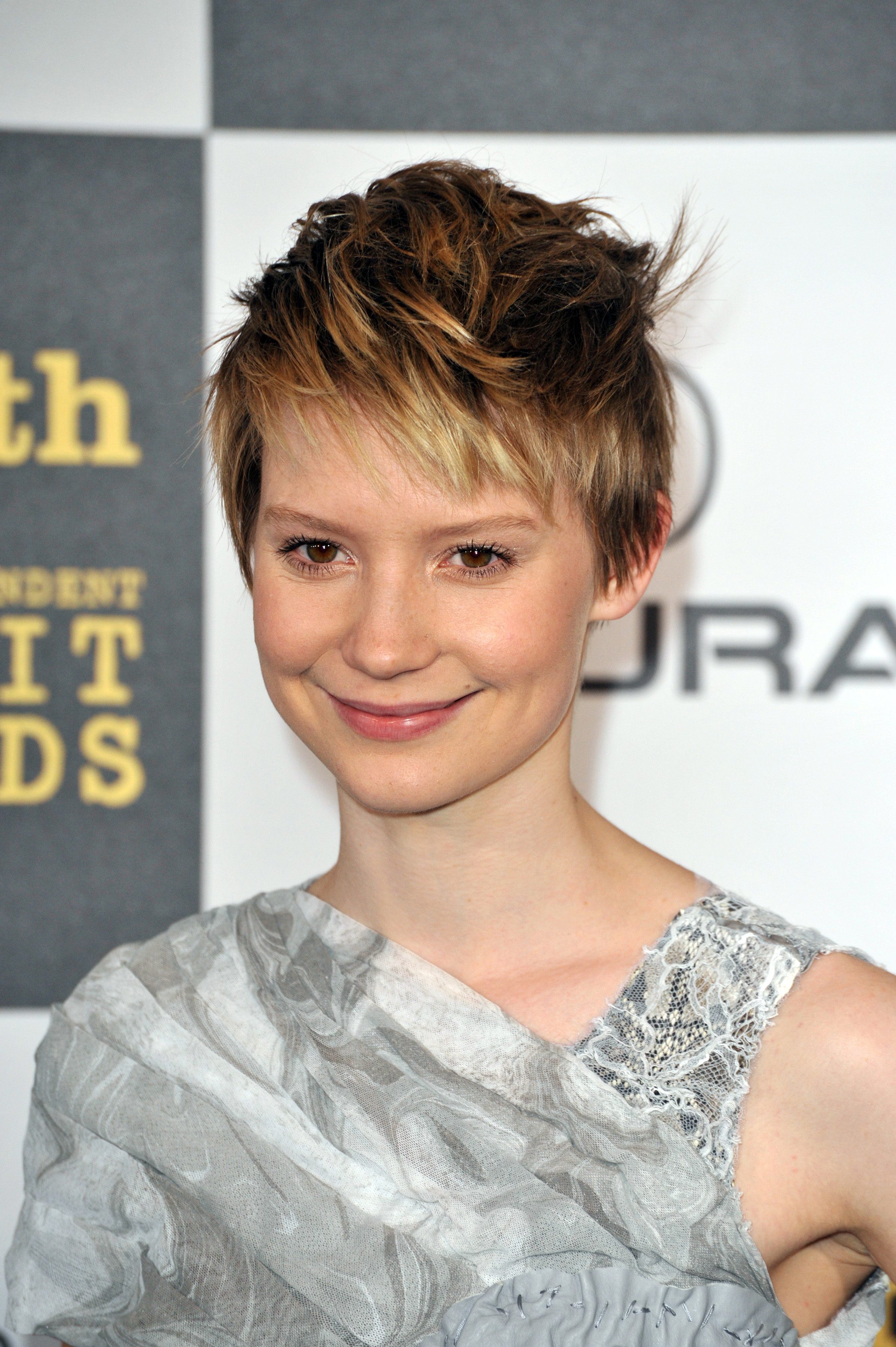 Mia Wasikowska's Anime-Inspired Pixie
There's something about this messy-chic pixie cut on Mia Wasikowska that reminds us of a character from a Japanese anime movie. This totally screams "fearless"!
7 / 50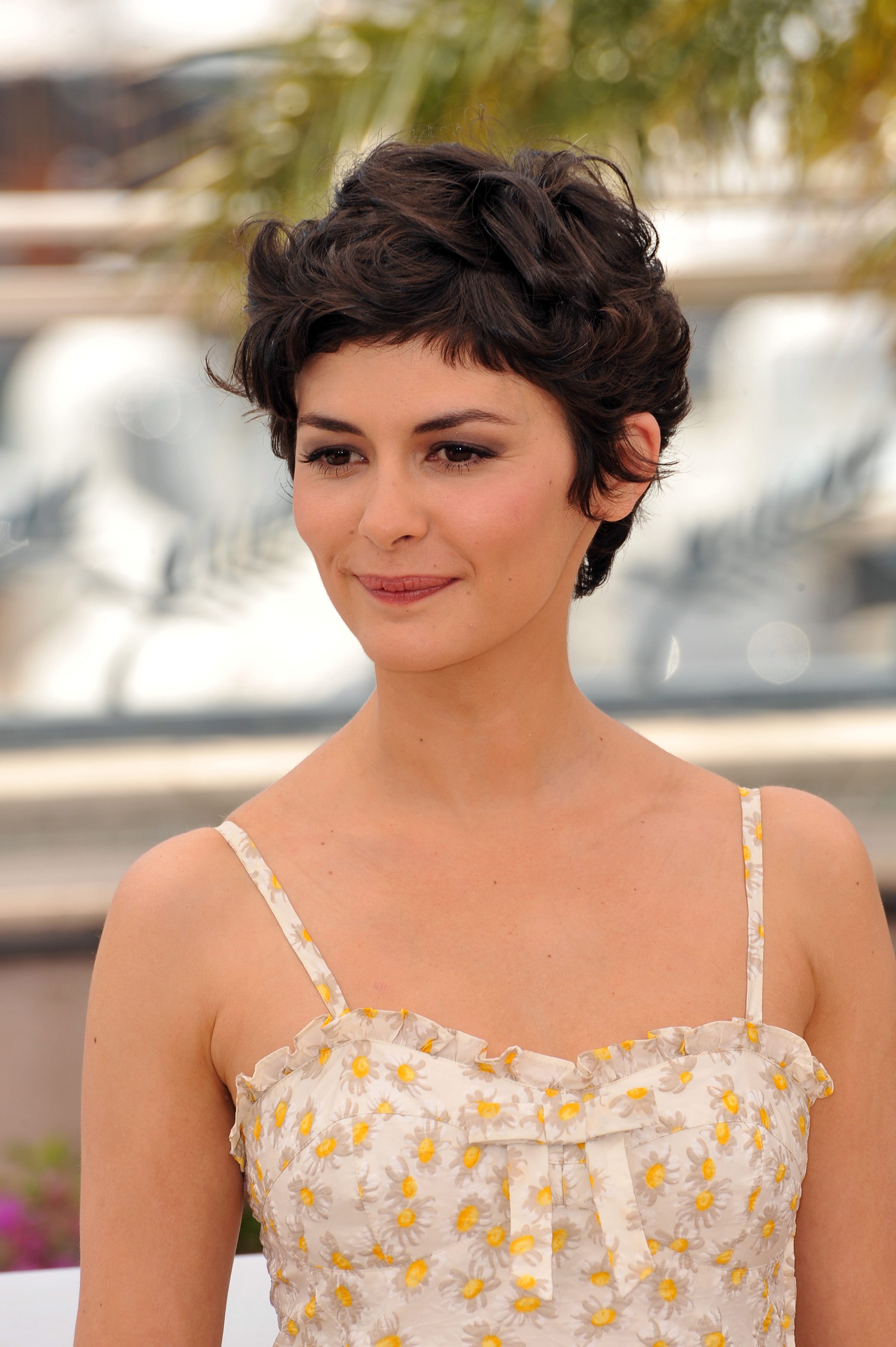 Audrey Tautou's Wavy Pixie
Aside from Ms. Hepburn, there's another Audrey who's known for her iconic pixie, and that's French actress Audrey Tautou. Here, she's wearing hers in a thick, wavy style that looks so adorable!
8 / 50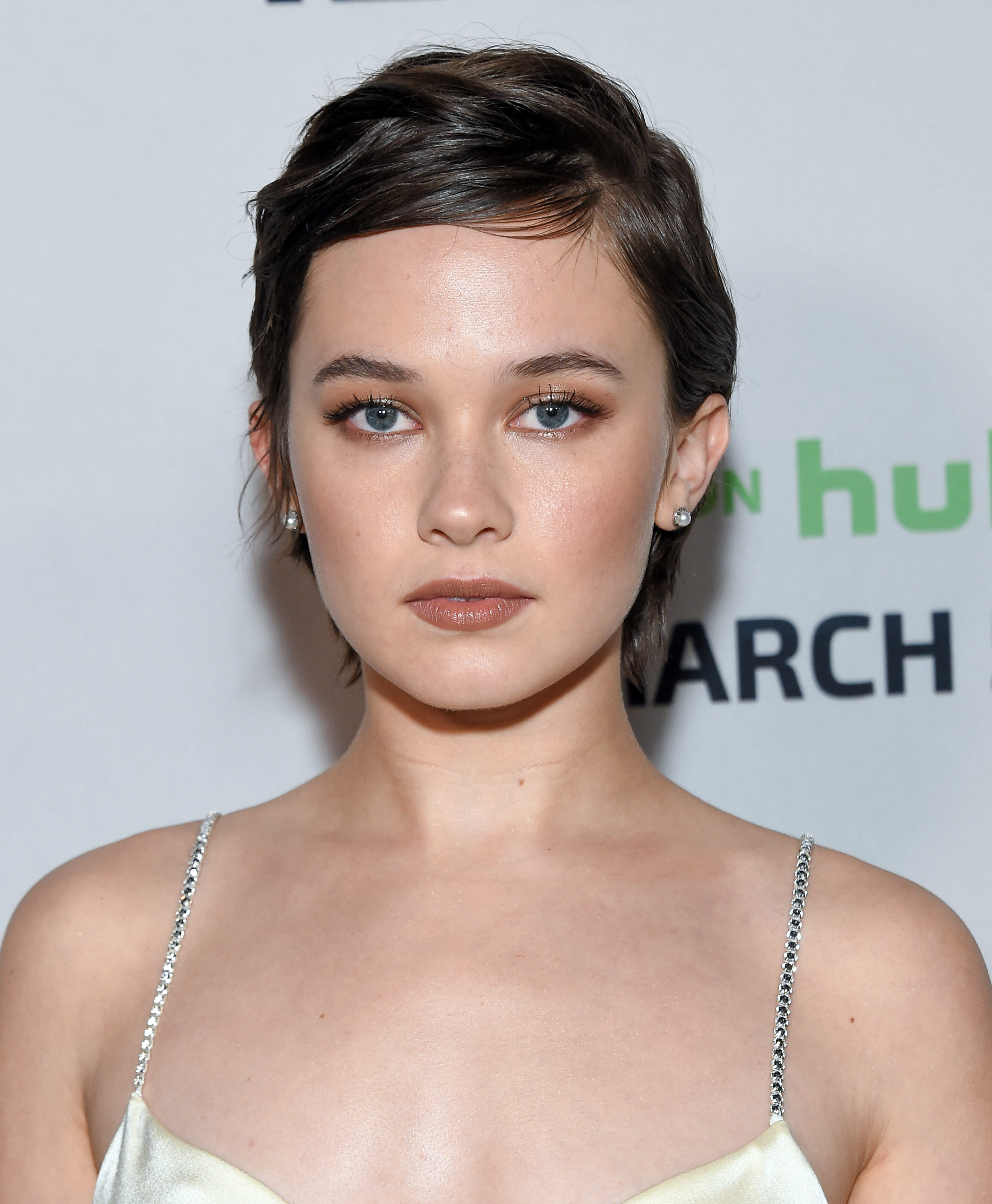 Cailee Spaeny's Textured Pixie with Side-Swept Baby Bangs
Cailee Spaeny looks so cute wearing her pixie with a wavy texture at the top and short bangs swept to the side. Now this is the very definition of "short and sweet"!
9 / 50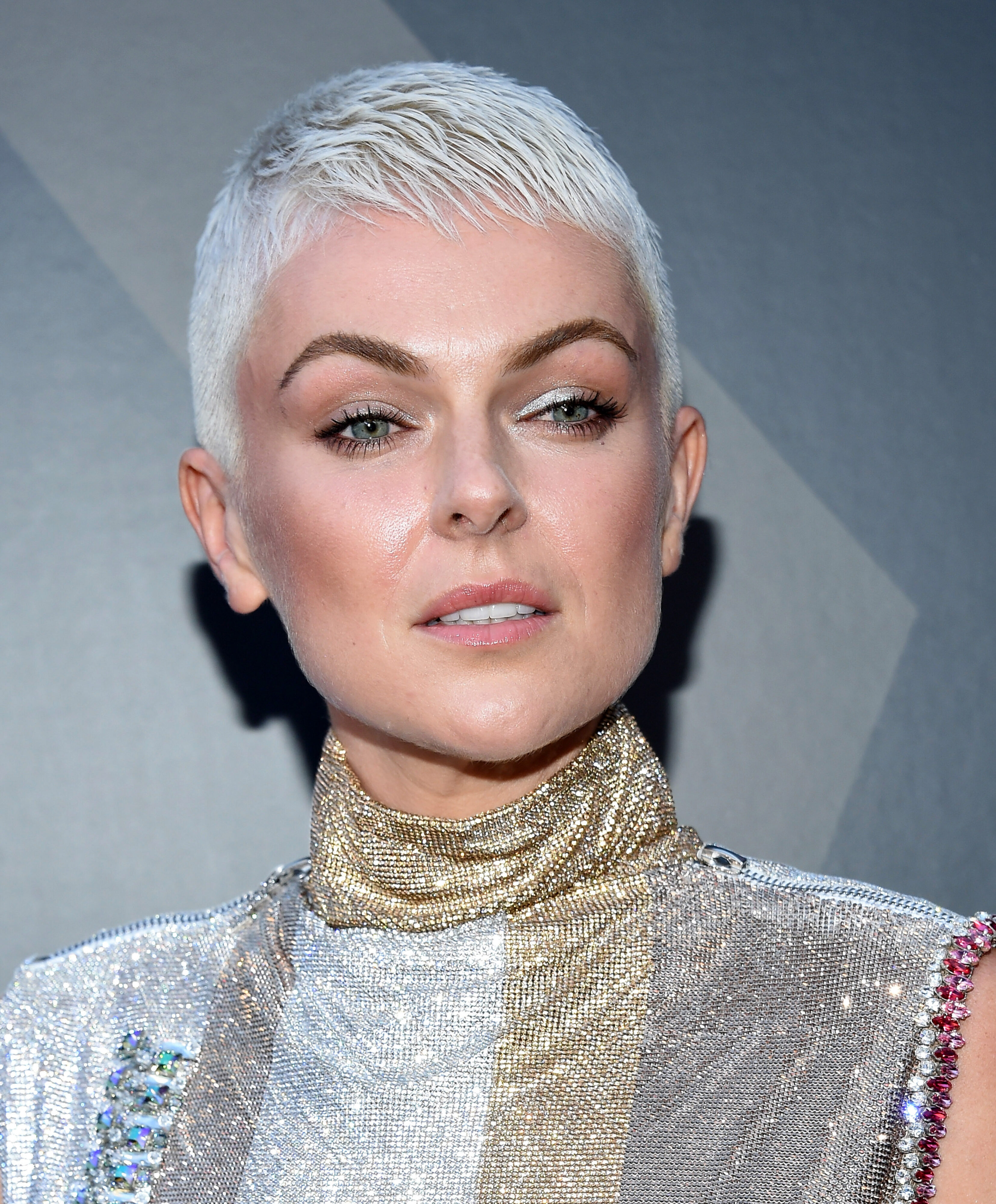 Serinda Swan's Icy Pixie
A super edgy pixie-slash-buzz cut + an ice-blonde dye job — Serinda Swan certainly knows how to make a statement with her hair!
10 / 50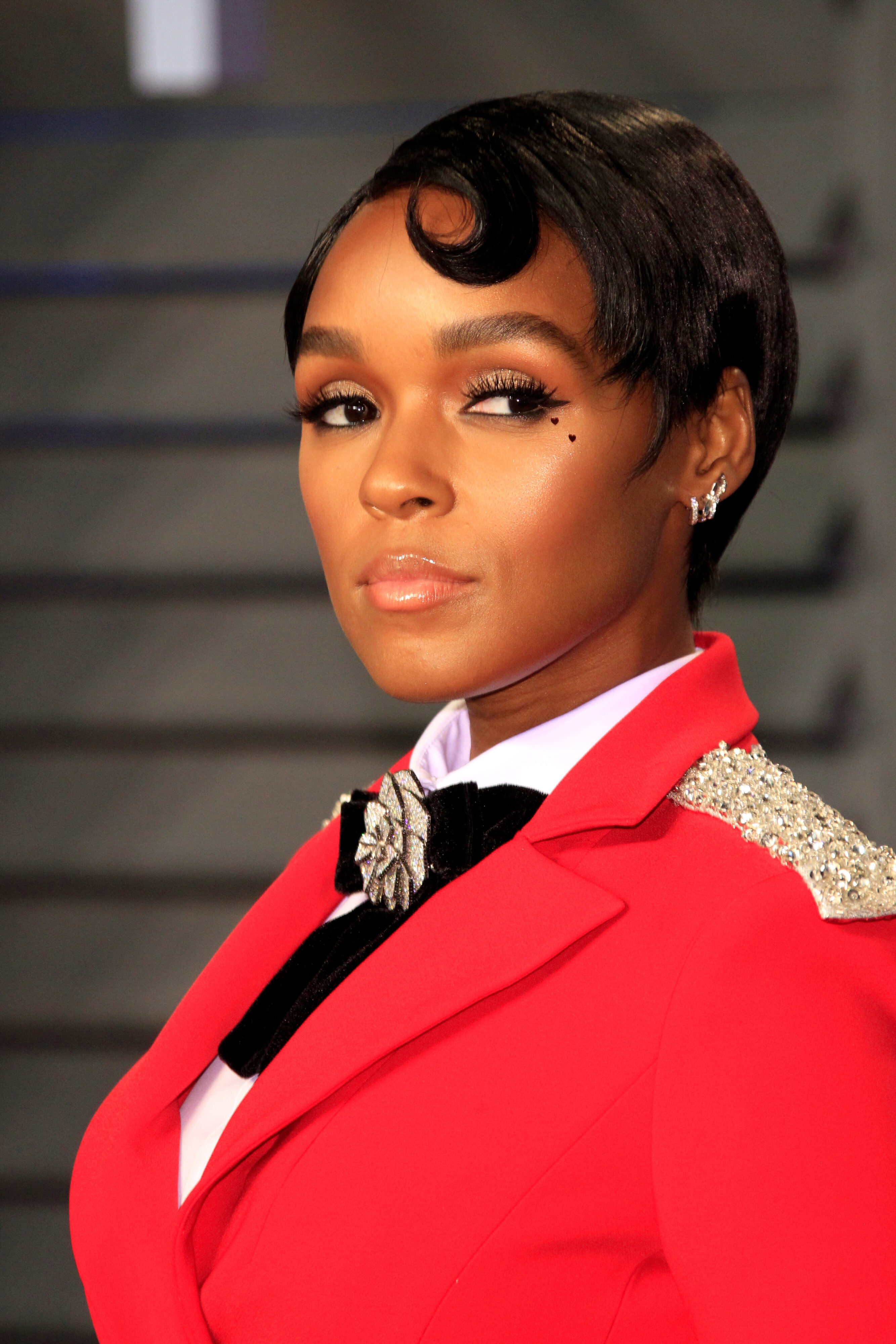 Janelle Monae's Pixie Cut with Pin Curl
Janelle Monae gives her pixie some vintage appeal by wearing a single pin curl in place of bangs. She keeps it neat and slicked down at the top and sides to let that curl do all the talking.
11 / 50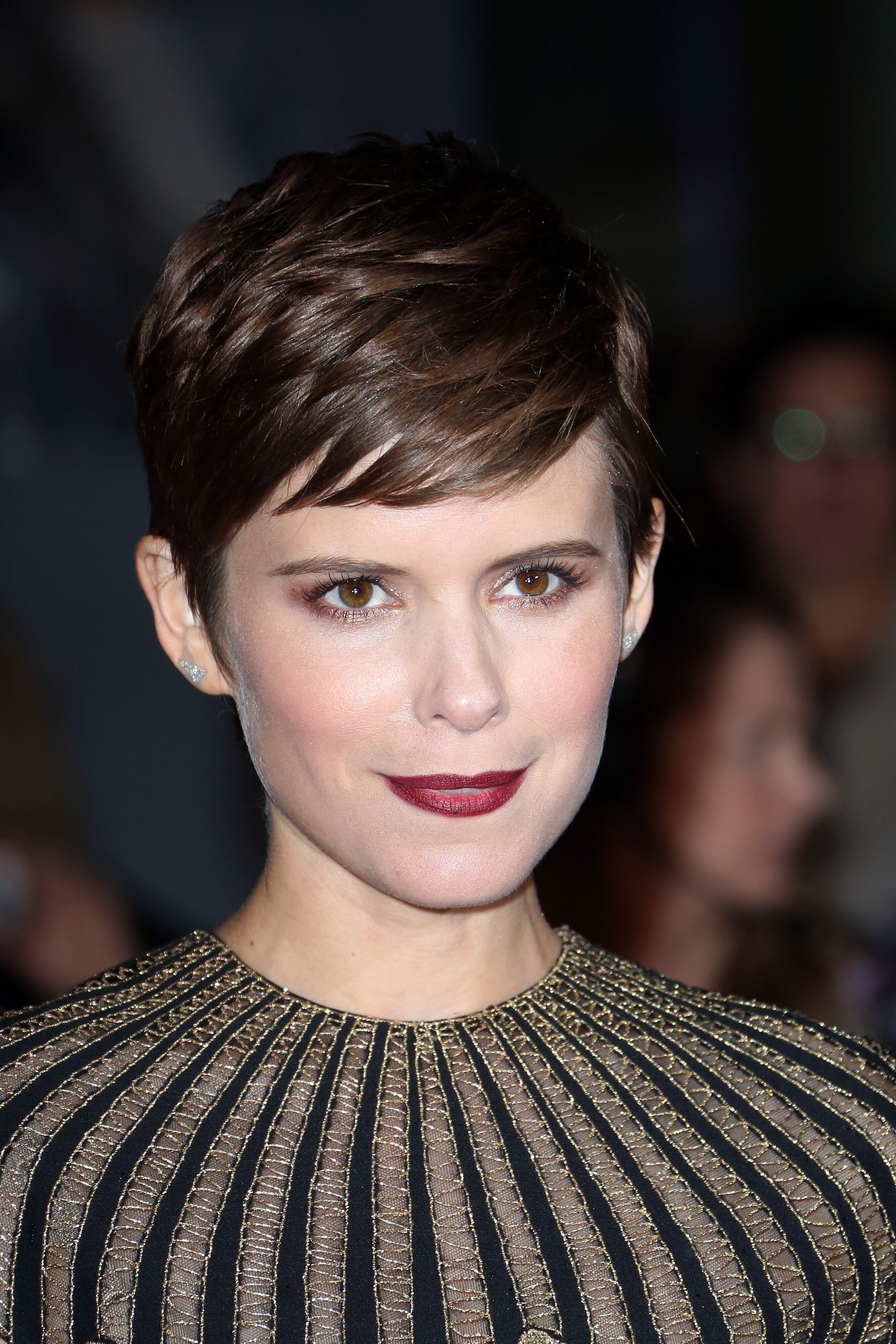 Kate Mara's Subtly Textured Pixie
You can't get any more classic than this pixie Kate Mara is sporting. She wears it with a deep side part, short side-swept bangs, and just the right amount of texture to keep it from going the messy route.
12 / 50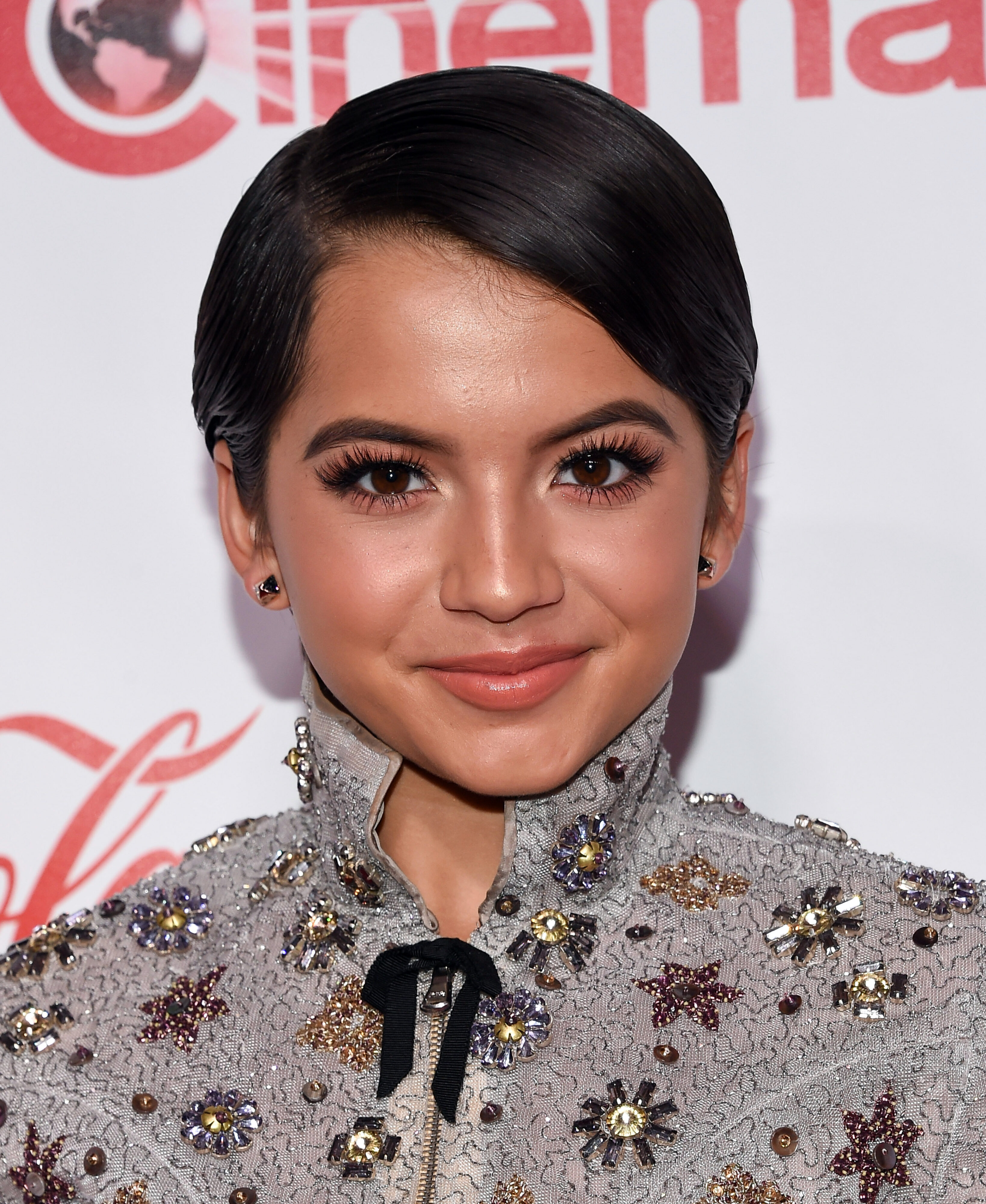 Isabella Moner's Smooth and Sleek Pixie
We've been seeing a lot of messy and textured pixies so here's something different. Isabela Moner prefers her pixie smooth and sleek with tucked sides for a really clean and sweet look.
13 / 50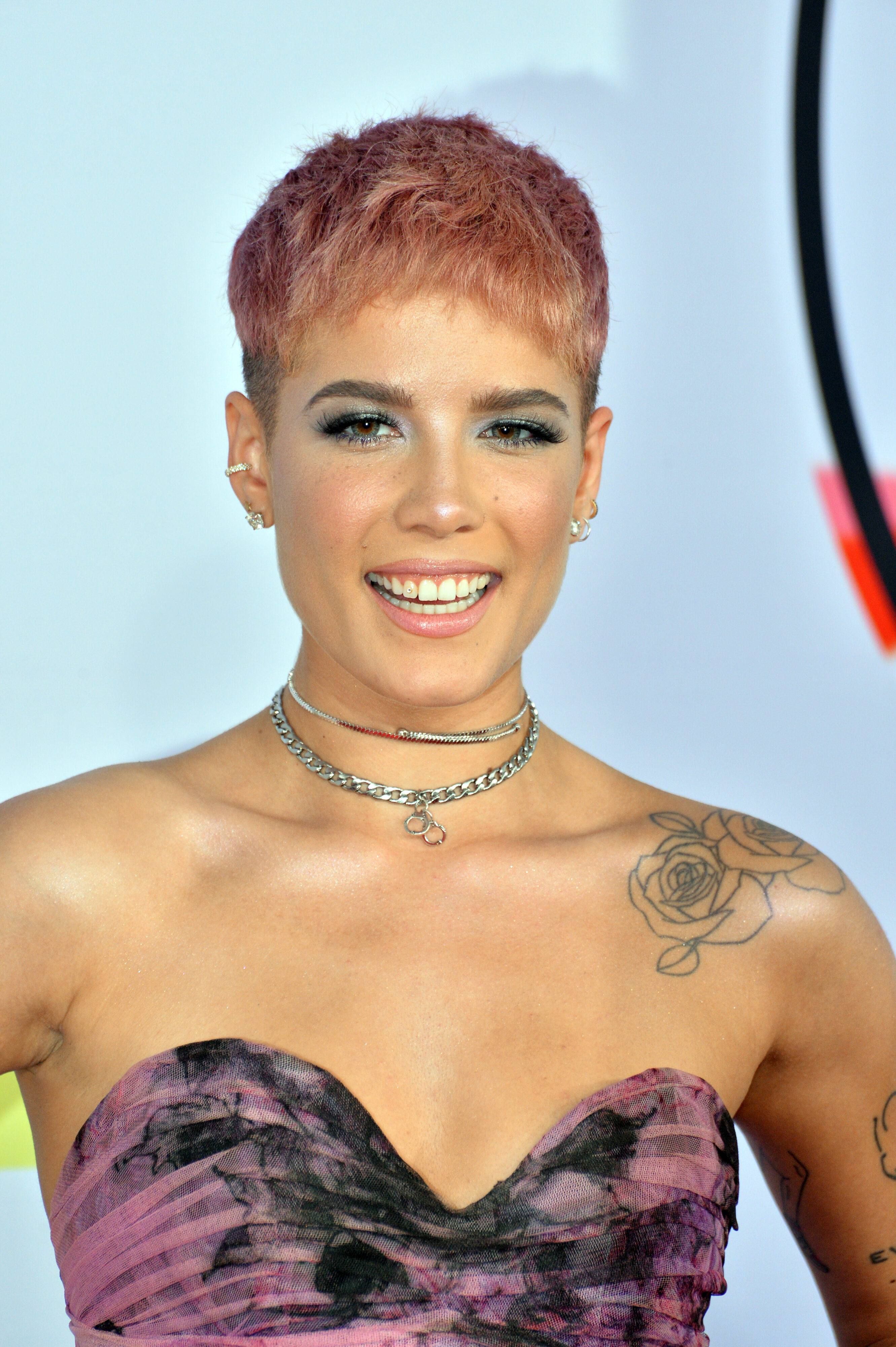 Halsey's Pink Pixie
You could be sporting the simplest pixie cut but you'd still be turning heads with a bold and unusual color choice. Take a style cue from Halsey here by jazzing up a simple undercut pixie with a pink dye job.
14 / 50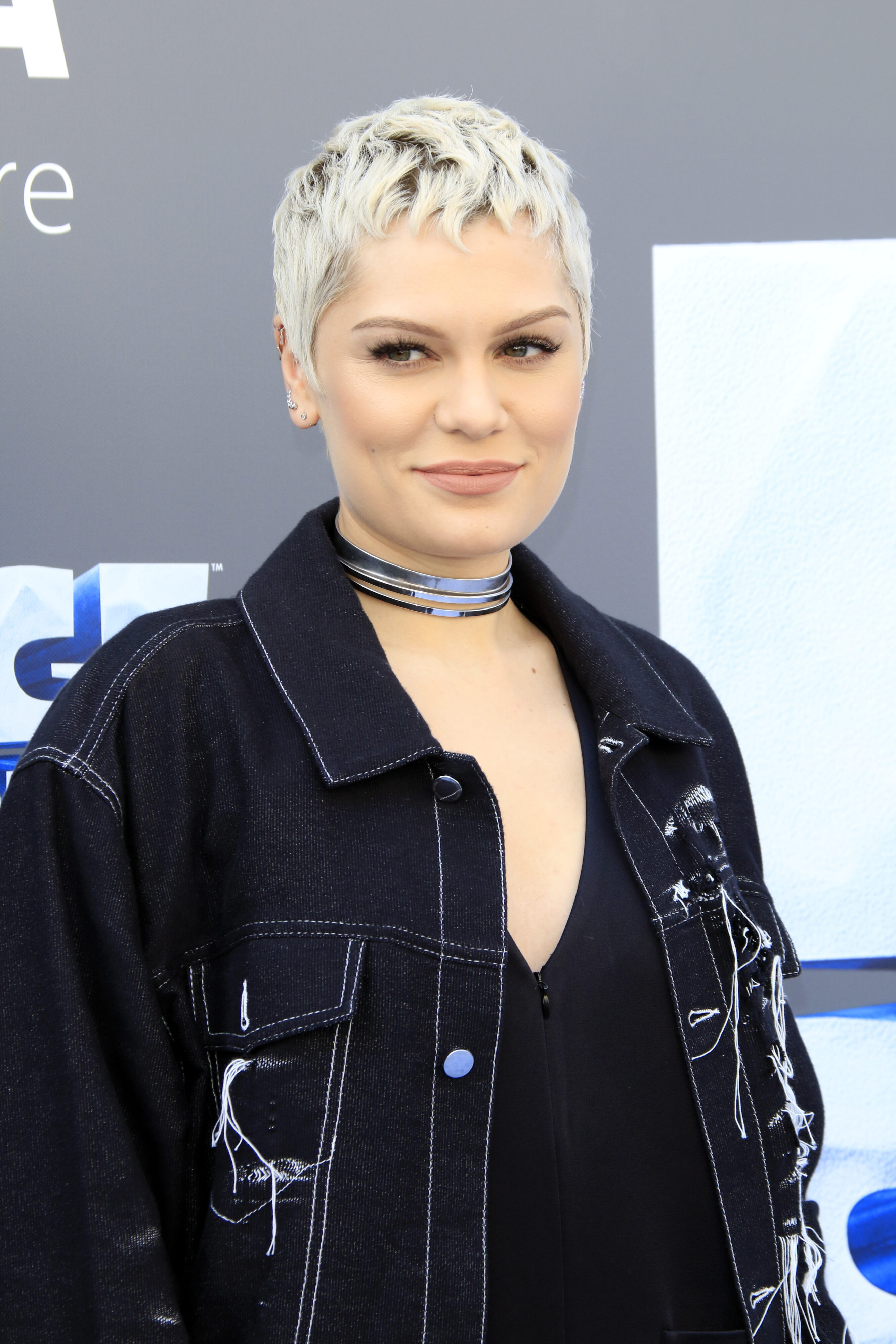 Jessie J's Piecey Platinum-Blonde Pixie
The piecey texture of Jessie J's pixie cut looks super cool. And the contrast of the platinum blonde and the dark roots adds great dimension.
15 / 50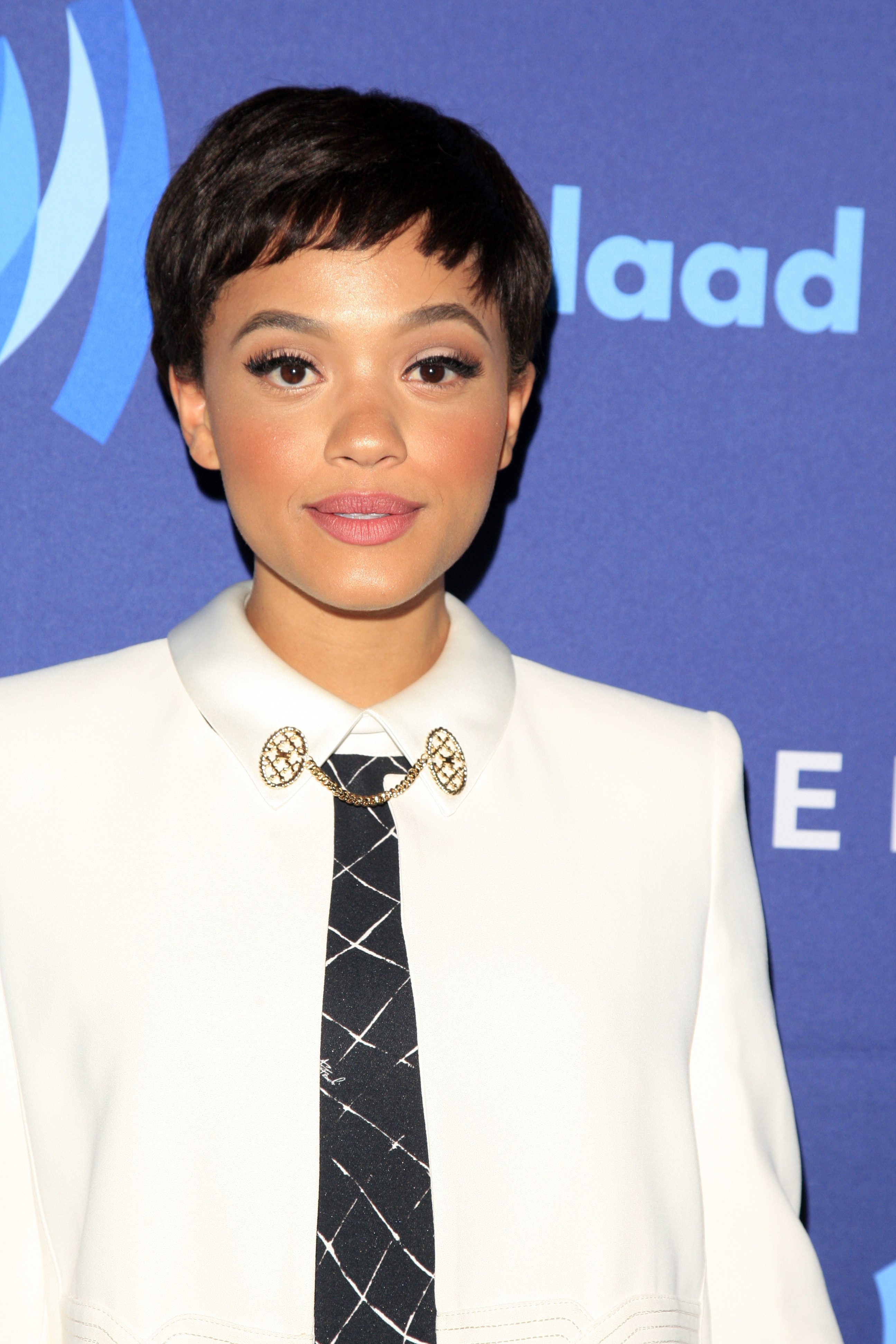 Kiersey Clemons' Pixie with Rounded Baby Bangs
Kiersey Clemons' pixie look is all about the bangs. She wears them short and rounded for a cute finish to her short 'do.
16 / 50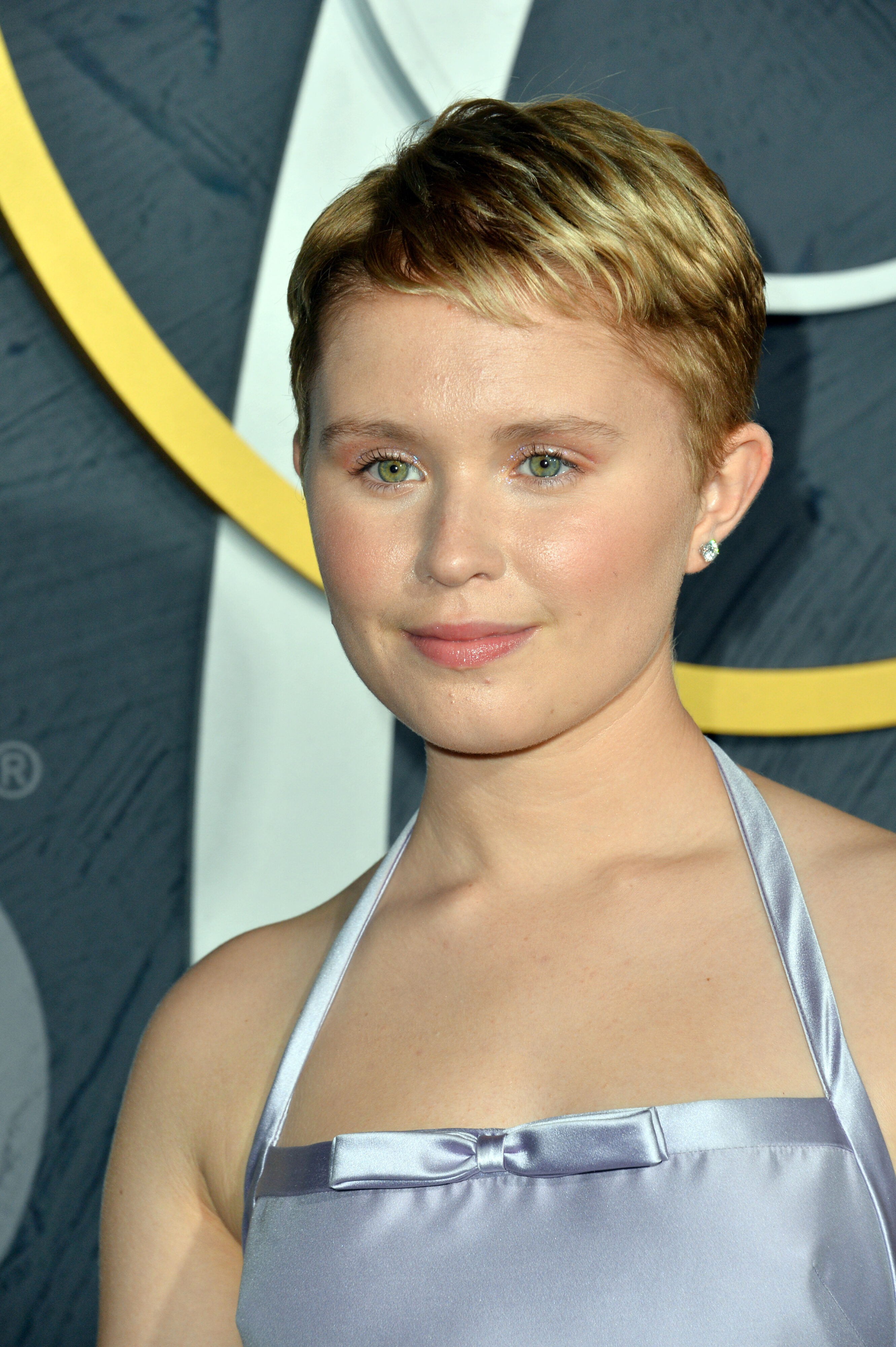 Eliza Scanlen's Short and Piecey Pixie
This pixie on Eliza Scanlen is extra short at the sides and back and not that long at the top either. The piecey texture gives it character, and the glowing golden blonde color looks divine.
17 / 50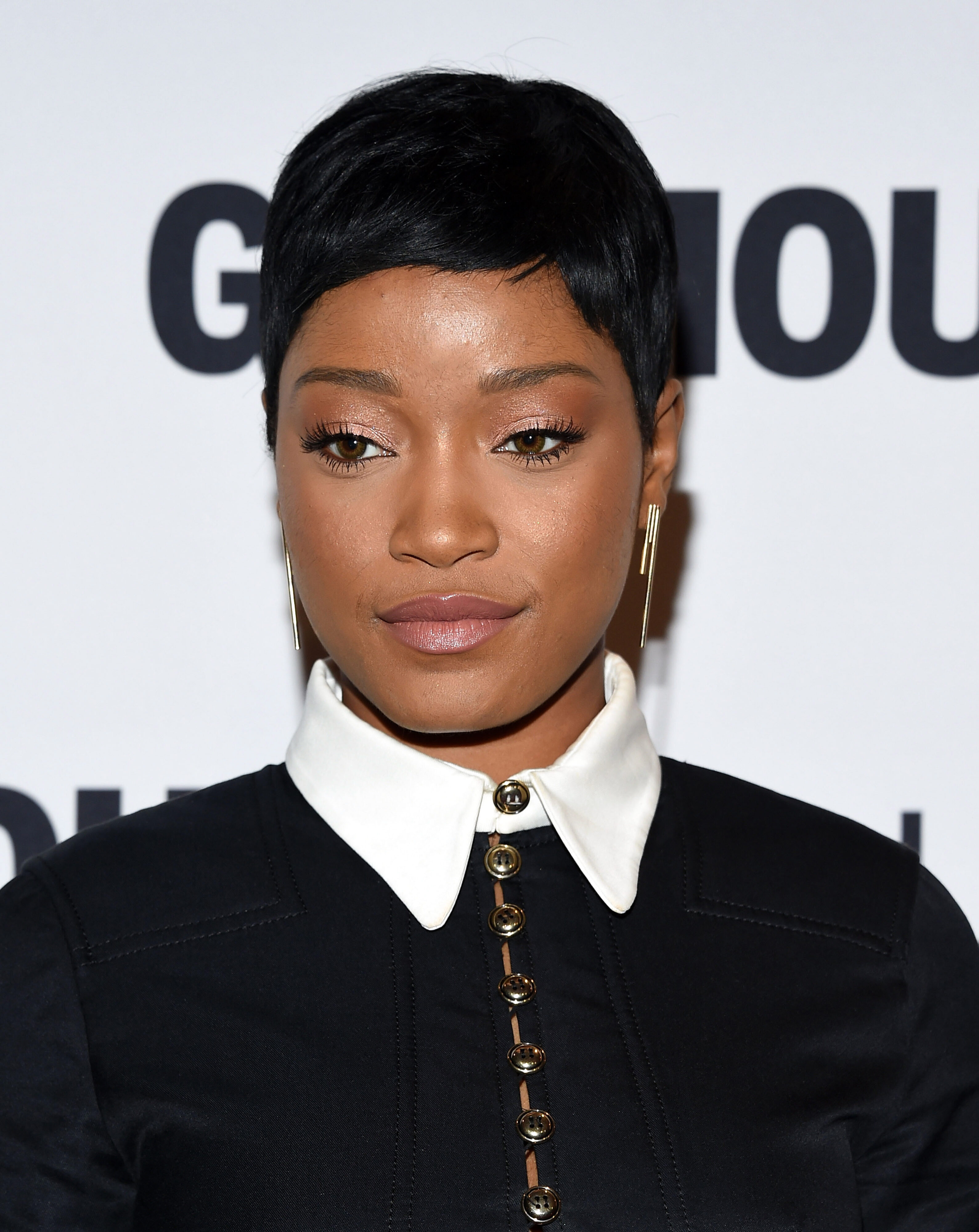 Keke Palmer's Wash-and-Go Pixie Cut
This hairstyle Keke Palmer is wearing has got to be the most laid-back and fuss-free pixie you'll see. Simple and low-maintenance, it's perfect for the girl-on-the-go.
18 / 50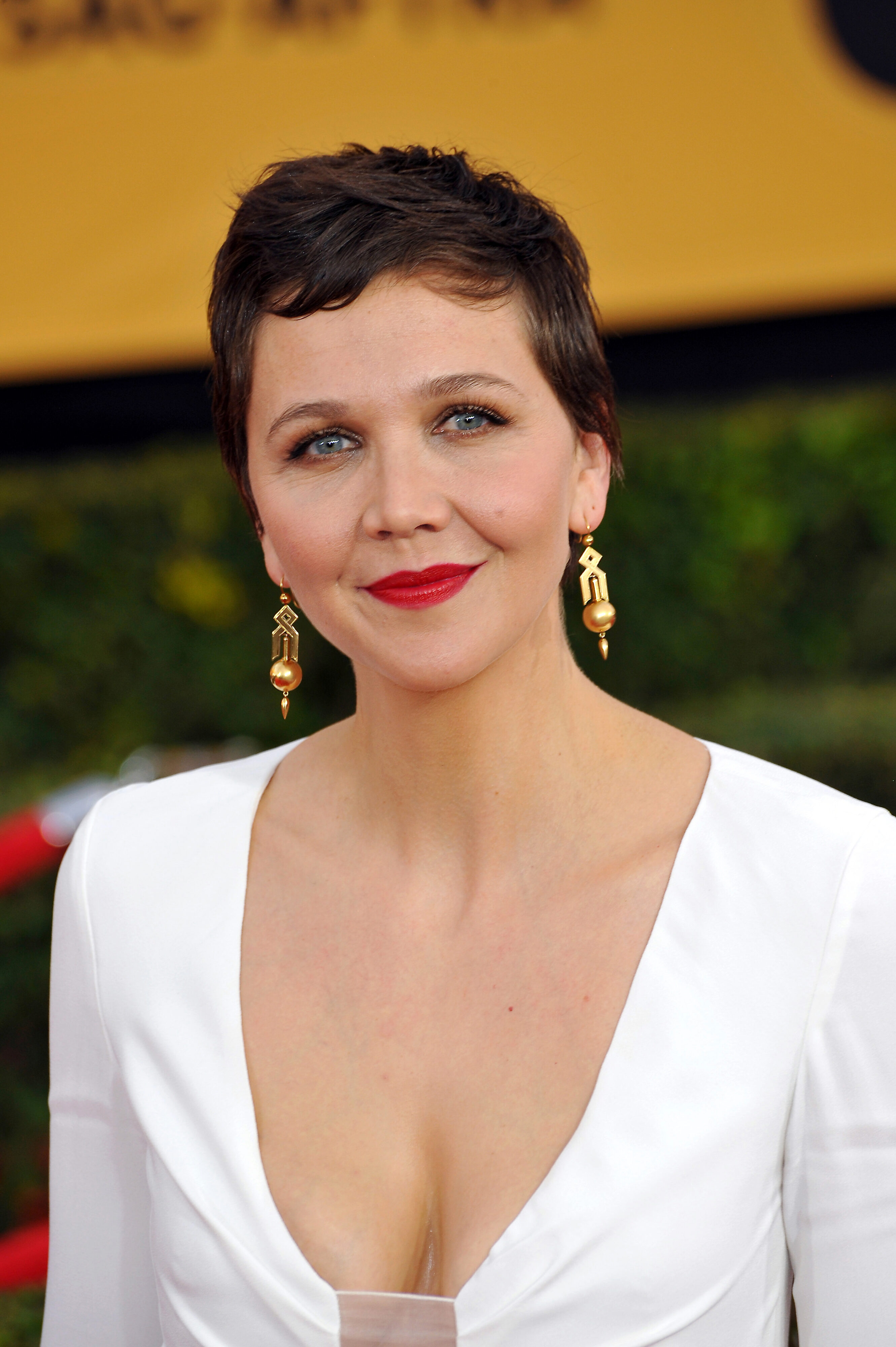 Maggie Gyllenhaal's Wavy Fringe
Maggie Gyllenhaal keeps it simple yet stylish with this pixie cut that features just a slight wave on the short bangs. There's also a bit of texture at the top to give it extra character.
19 / 50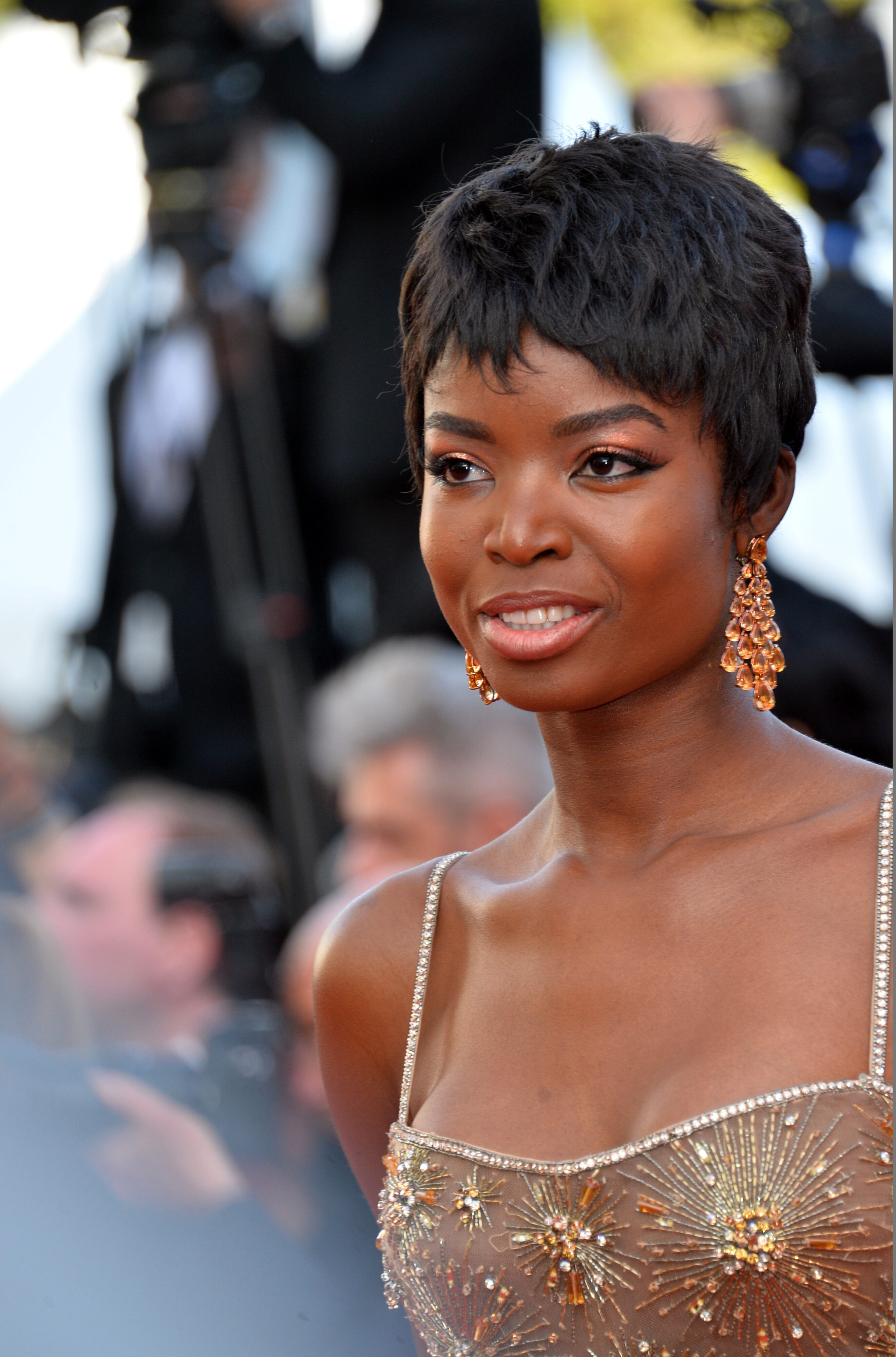 Maria Borges' Pixie with Choppy Bangs
Model Maria Borges temporarily trades in her TWA for this cute pixie cut. We're loving the subtle texture on this style as well as the uneven, choppy bangs.
20 / 50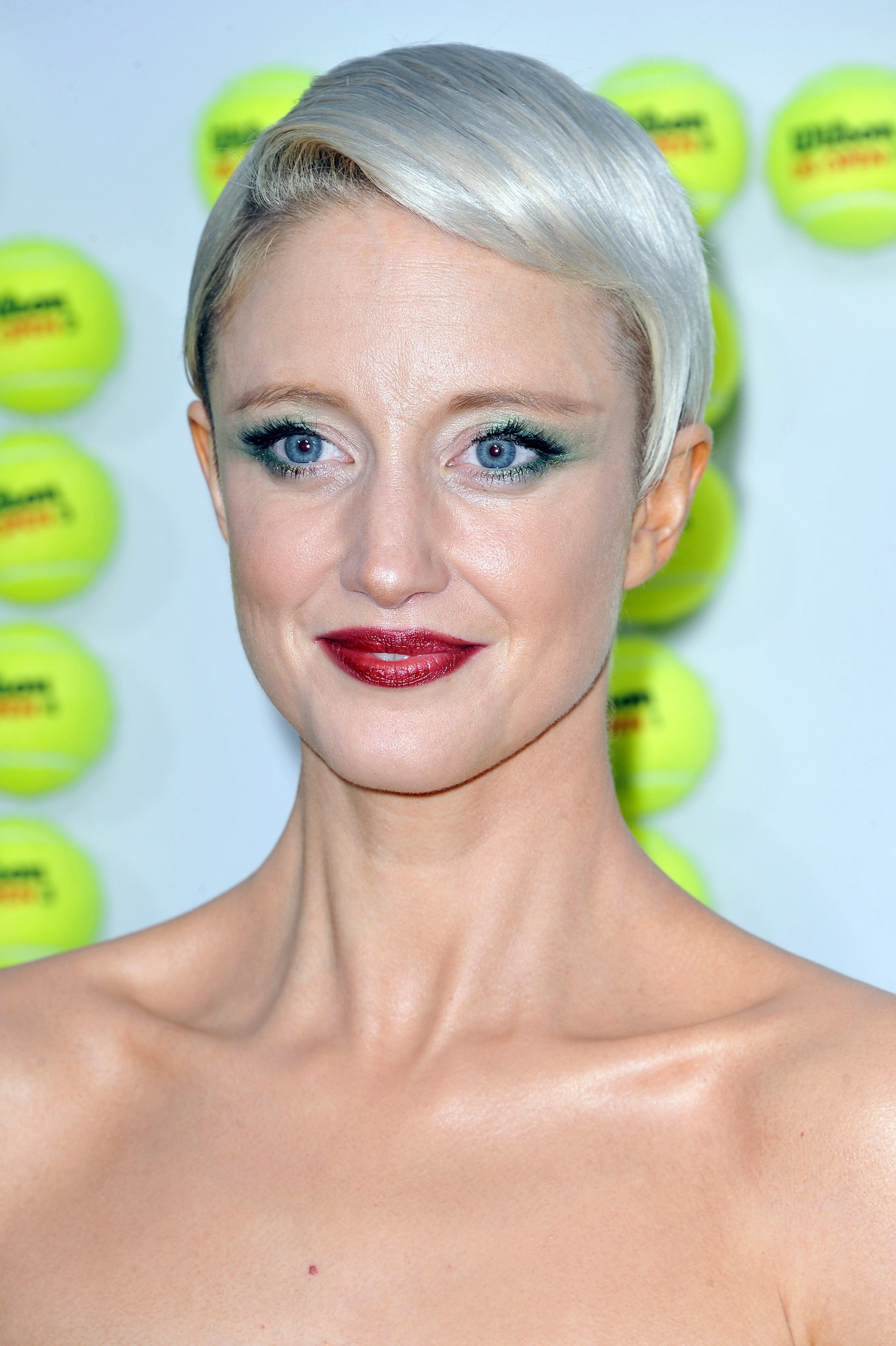 Andrea Riseborough's Sleek Platinum-Blonde Pixie
Andrea Riseborough looks totally radiant wearing this platinum-blonde hair color. The sleek styling of her pixie cut paired with the stunning color makes this a really standout look.
21 / 50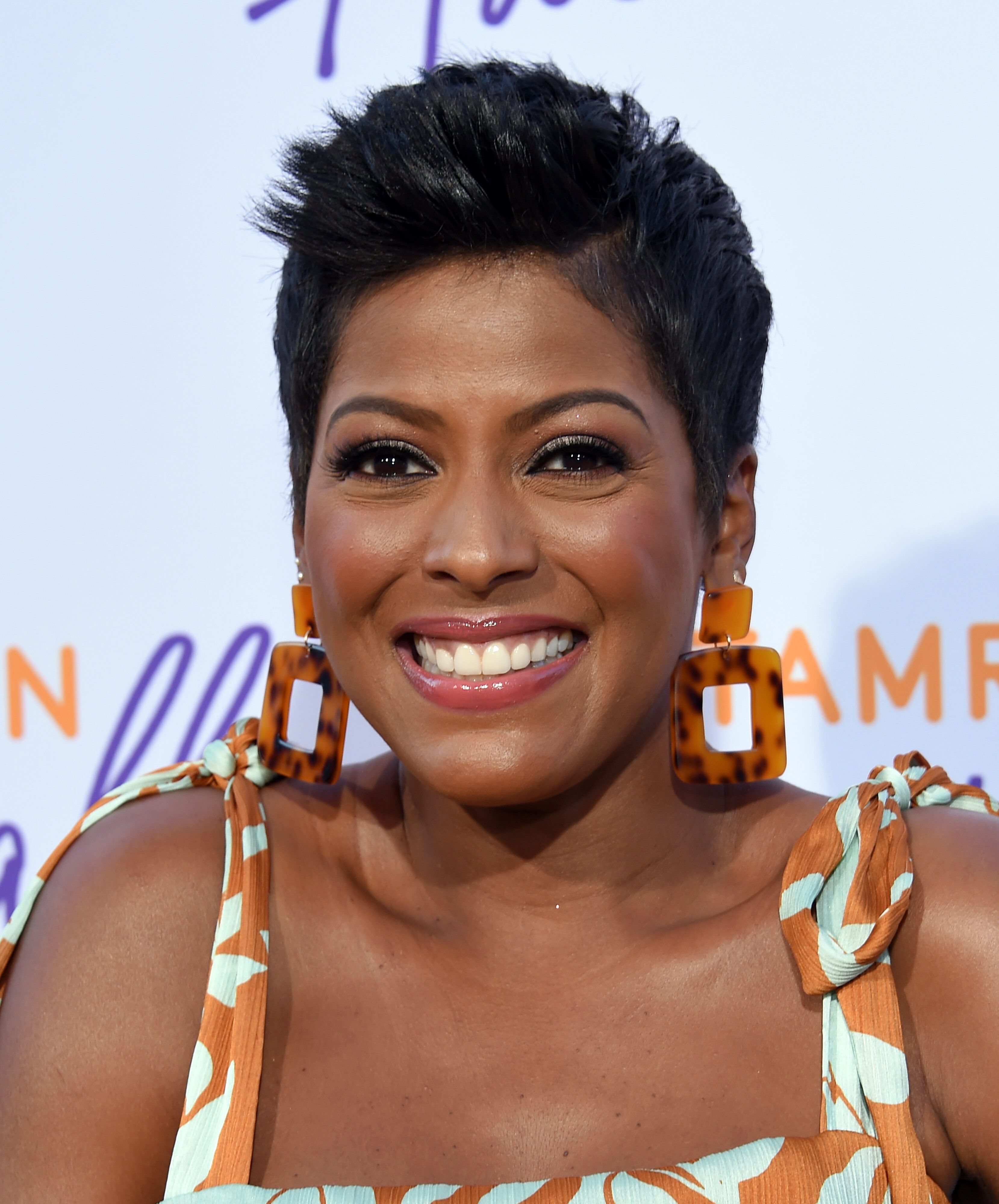 Tamron Hall's Brushed-Up Pixie
While the classic pixie is typically worn with bangs, you can always switch it up by pulling them away from your face if you feel like it. Wearing a brushed-up pixie like Tamron Hall's on some days ensures you have versatility to your hairstyle.
22 / 50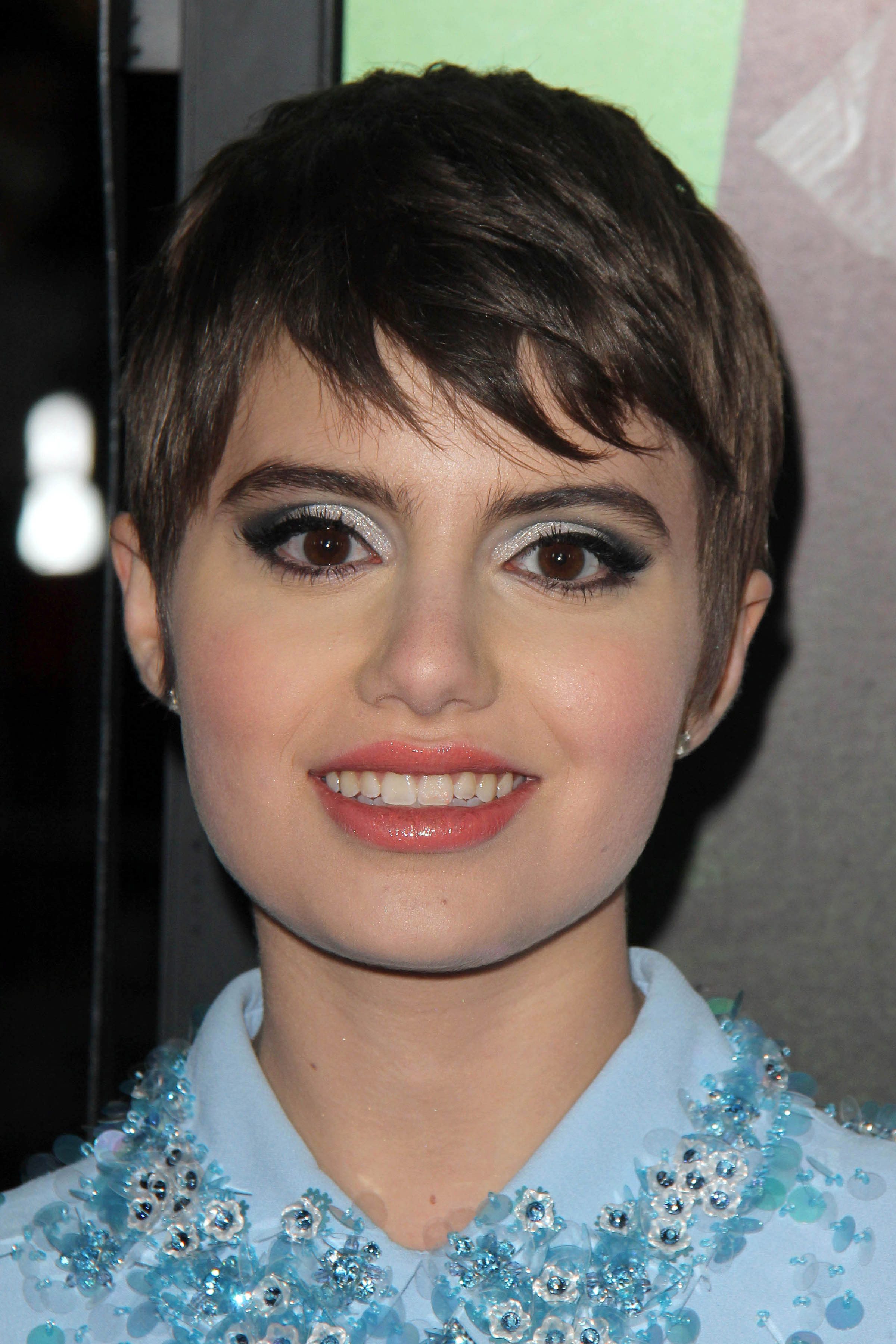 Sami Gayle's Pixie with Feathery Bangs
Sometimes, all you need is a perfectly styled fringe to achieve the chicest pixie cut. Here, Sami Gayle sports feathery bangs to provide the perfect finishing touch to her crop.
23 / 50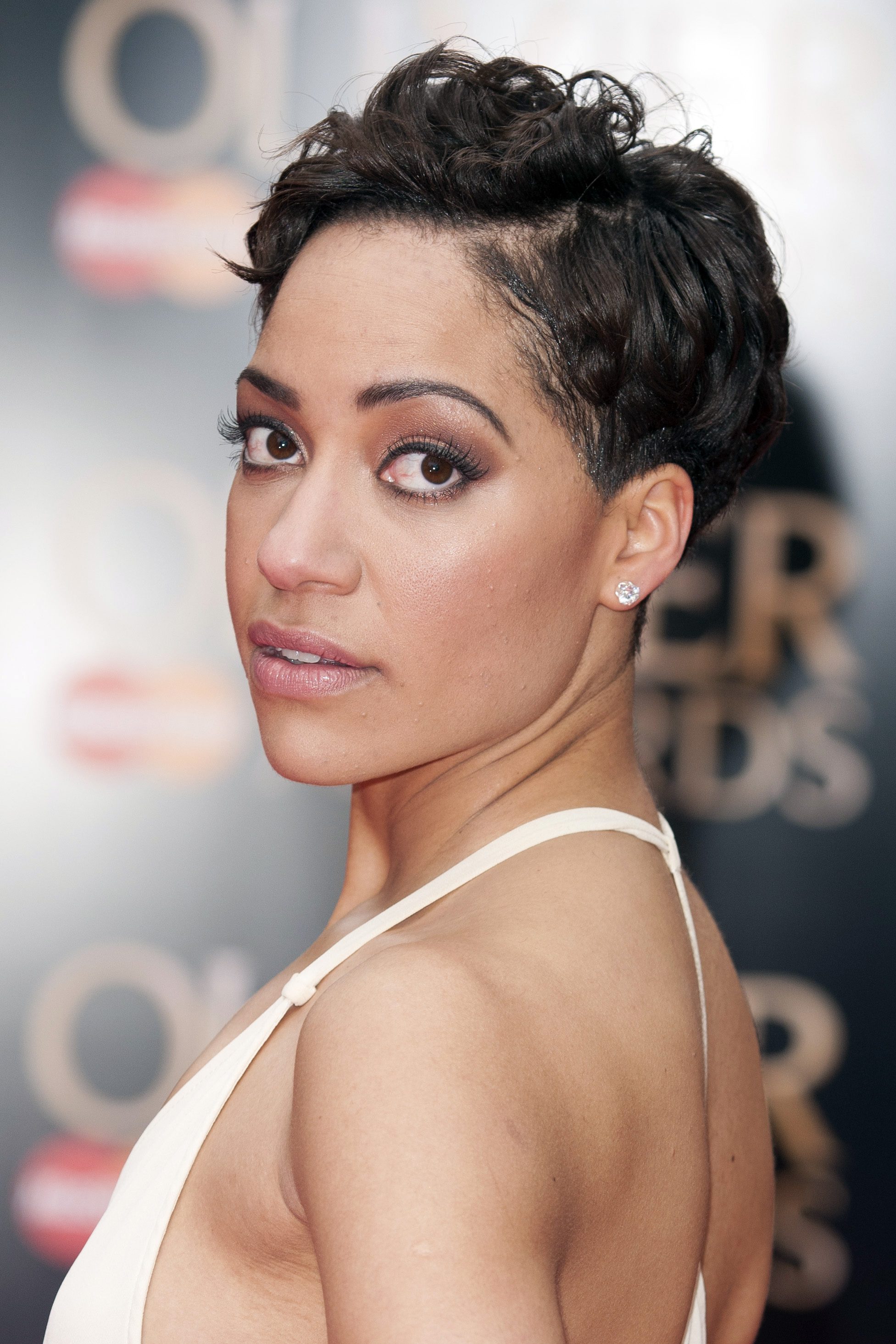 Cush Jumbo's Curly Pixie
If you have naturally textured hair, you can incorporate those curls into your pixie cut like Cush Jumbo demoes here. Her messy curly texture adds extra dash to her look, don't you think?
24 / 50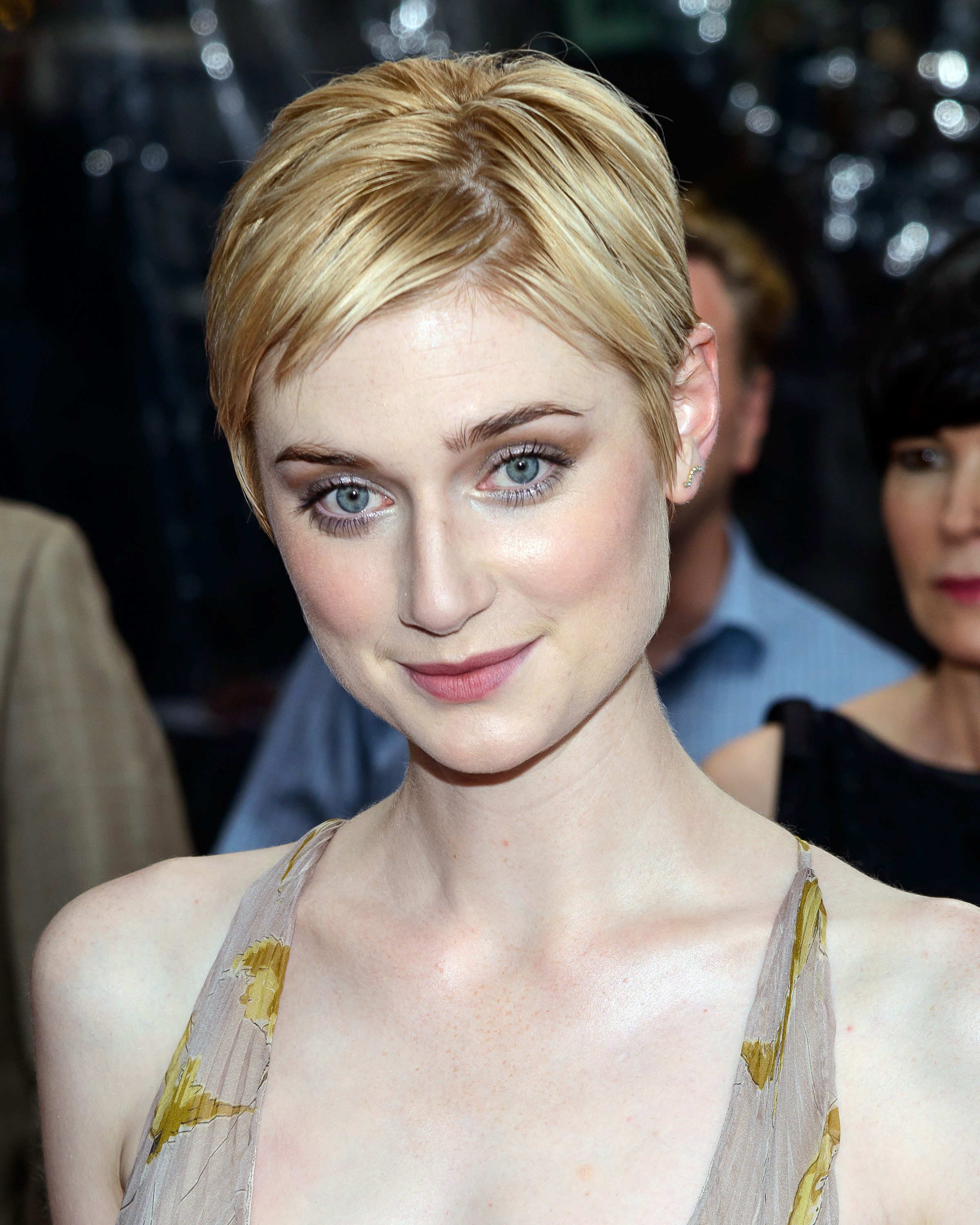 Elizabeth Debicki's Classic Pixie
When it comes to pixies, Audrey Hepburn's classic cut is always the first thing that comes to mind. Here, Elizabeth Debicki is totally channeling the Old Hollywood star's iconic 'do — blonde edition.
25 / 50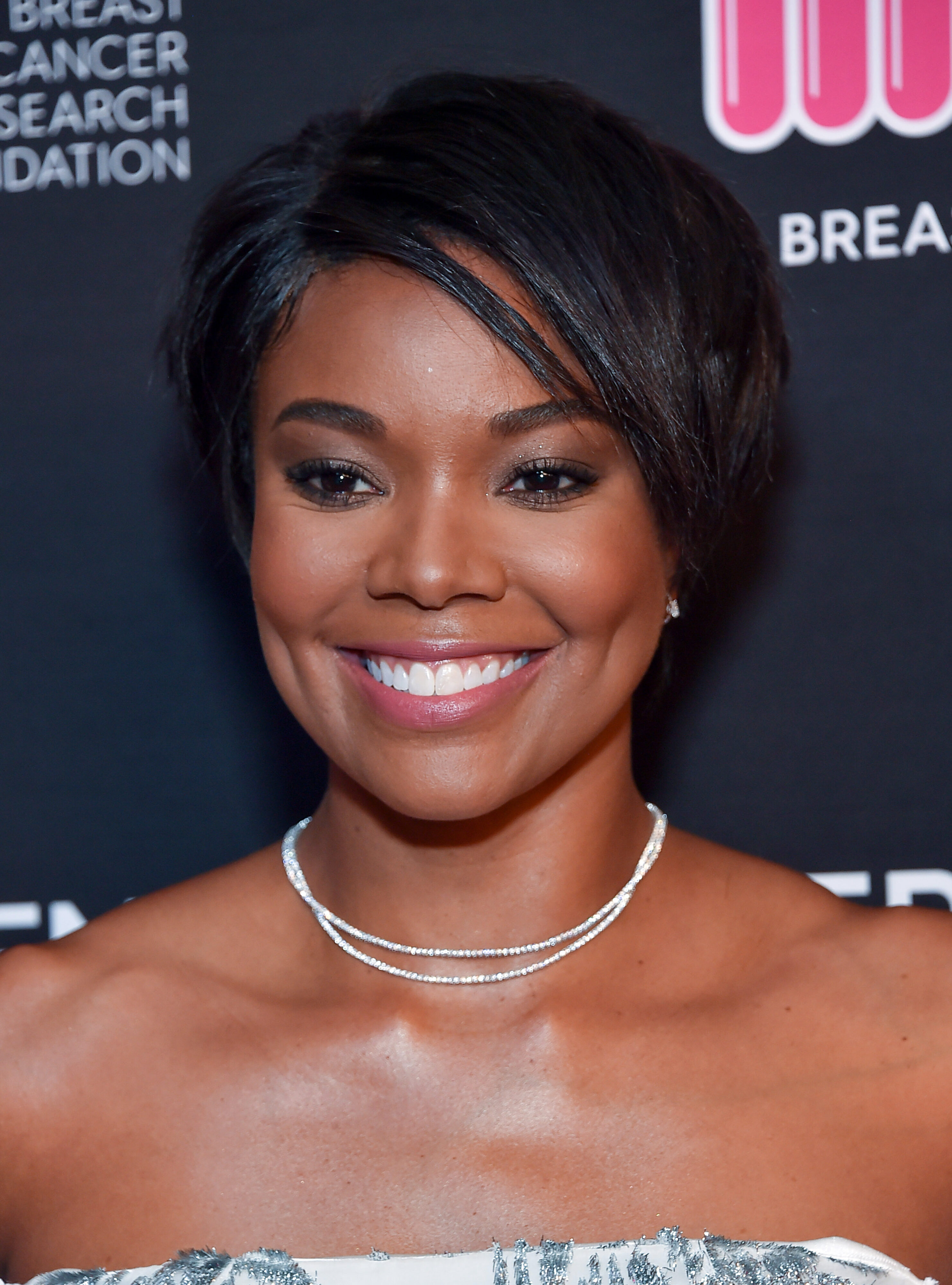 Gabrielle Union's Long Side-Swept Pixie
Gabrielle Union demoes a longer pixie that's almost a bob. She wears it with a side part, a rounded silhouette with stylish volume to it, and bangs swept to the side.
26 / 50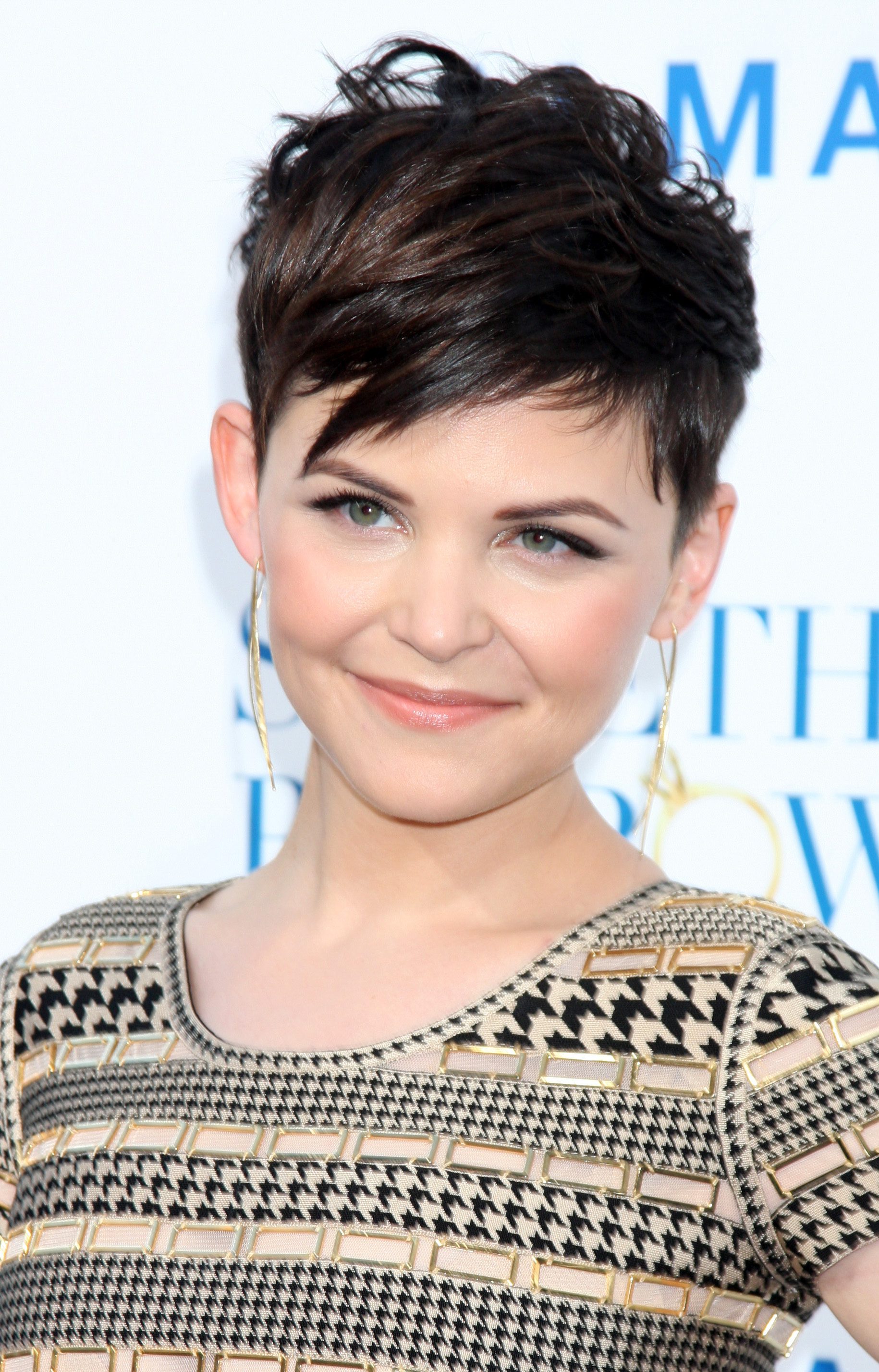 Ginnifer Goodwin's Choppy Pixie Cut
Edging on the punk style with that side-swept fringe, Ginnifer Goodwin's layered pixie touches on the very defining characteristic of a classic pixie, the sharp ends!
27 / 50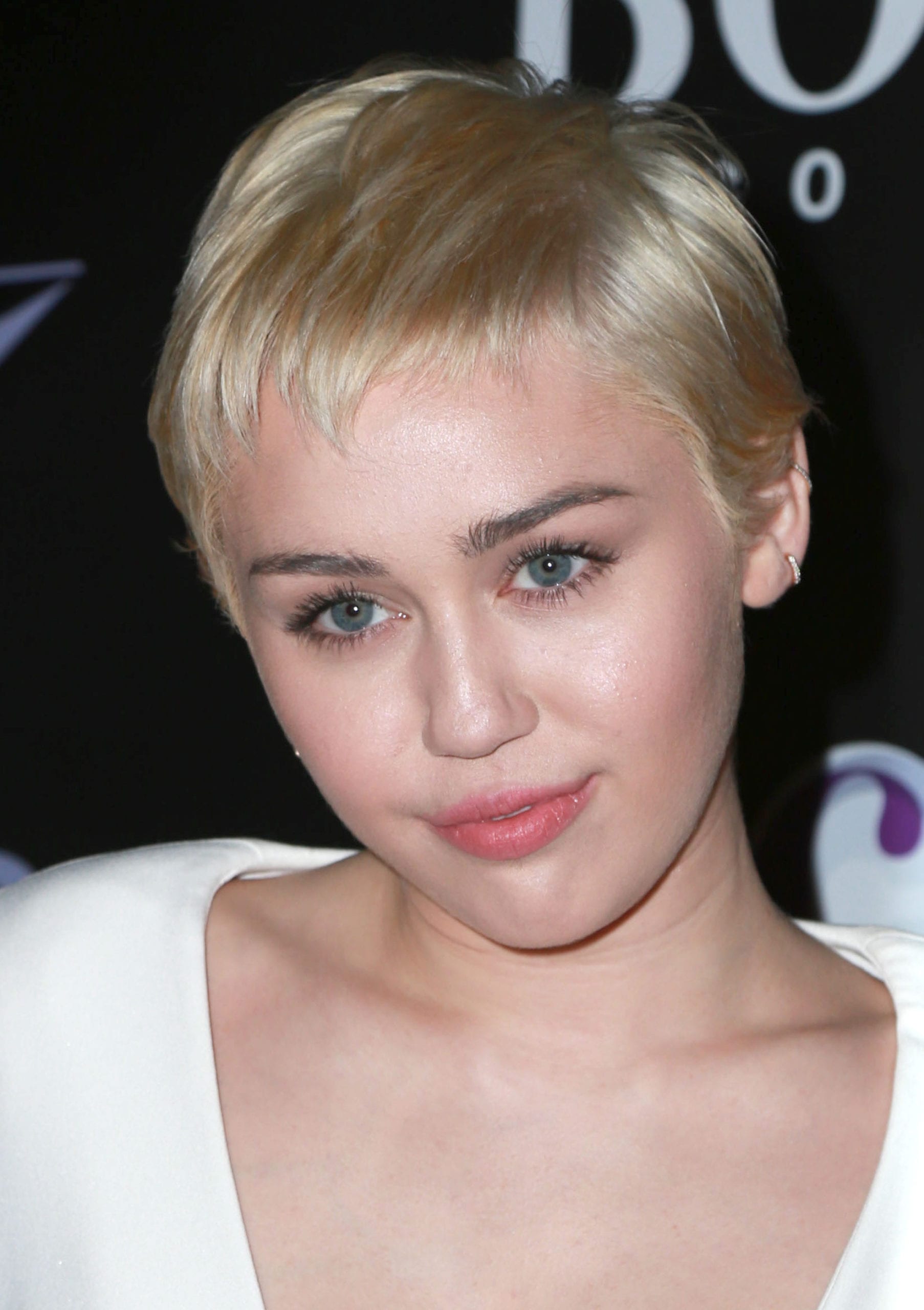 Miley Cyrus' Blonde Microbangs
We're seeing an increasing number of celebs with micro bangs, and yes, you guessed it: shorter than short bangs.
Aren't they so cute though? Miley Cyrus is giving us some choppy and uneven micro bangs with her blonde pixie and I absolutely adore this look on her.
28 / 50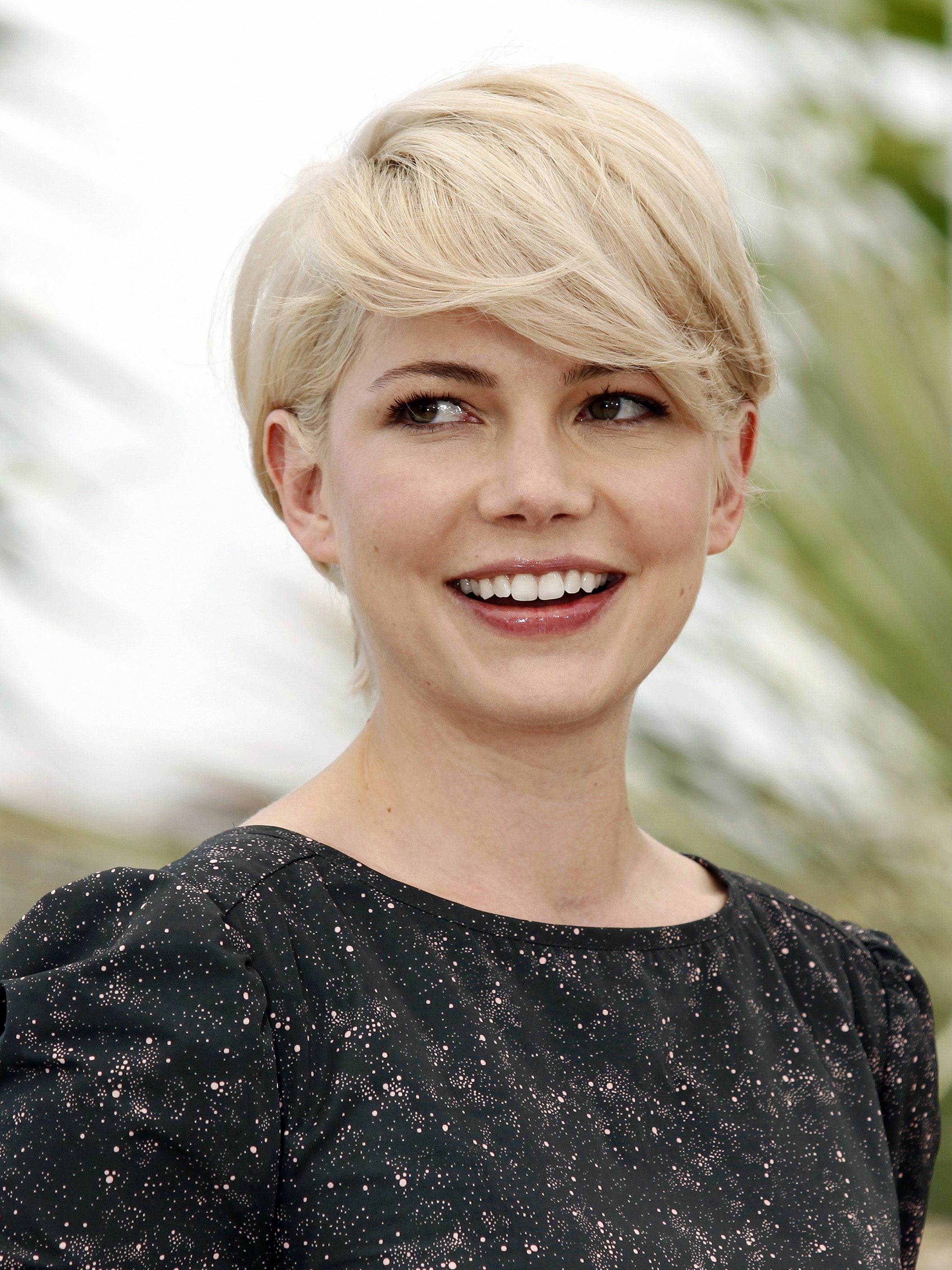 Michelle Williams' Pixie with Angular Fringe
Here we see how such a fun hairstyle can be styled in such a way that it slows down and ends up looking super soft and romantic.
For the side-swept bangs, Michelle Williams decided to go on the heavy side which works marvelously with the soft edges of this variation of the pixie haircut.
29 / 50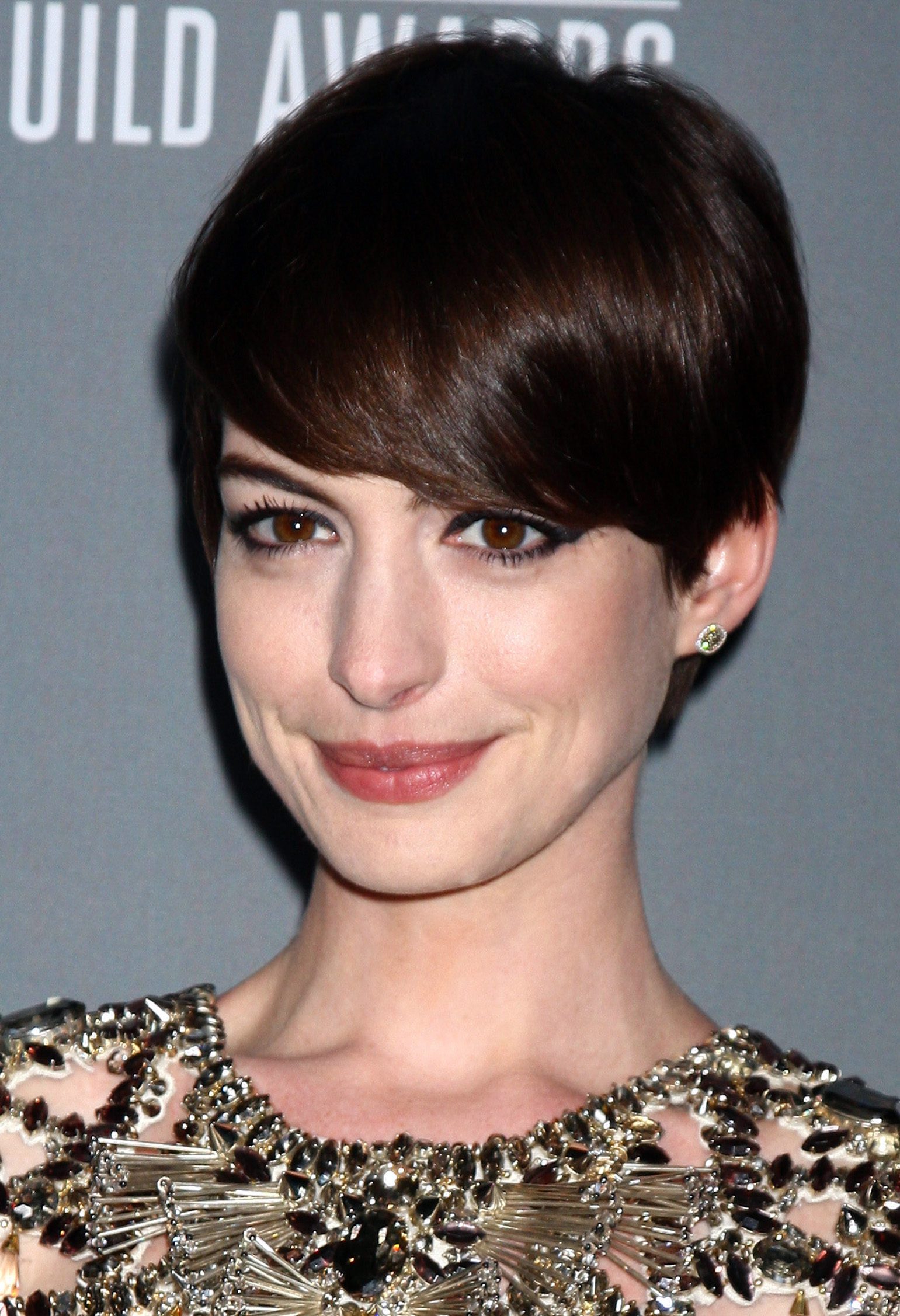 Anne Hathaway's Medium Pixie
There are pixies of different lengths and while all of them are called pixie cuts, changing the length does a bunch in terms of the way they look.
Anne Hathaway (or Annie, as she prefers to be referred to) looks incredible in this medium-length crop. Not a layered do, simple and elegant.
30 / 50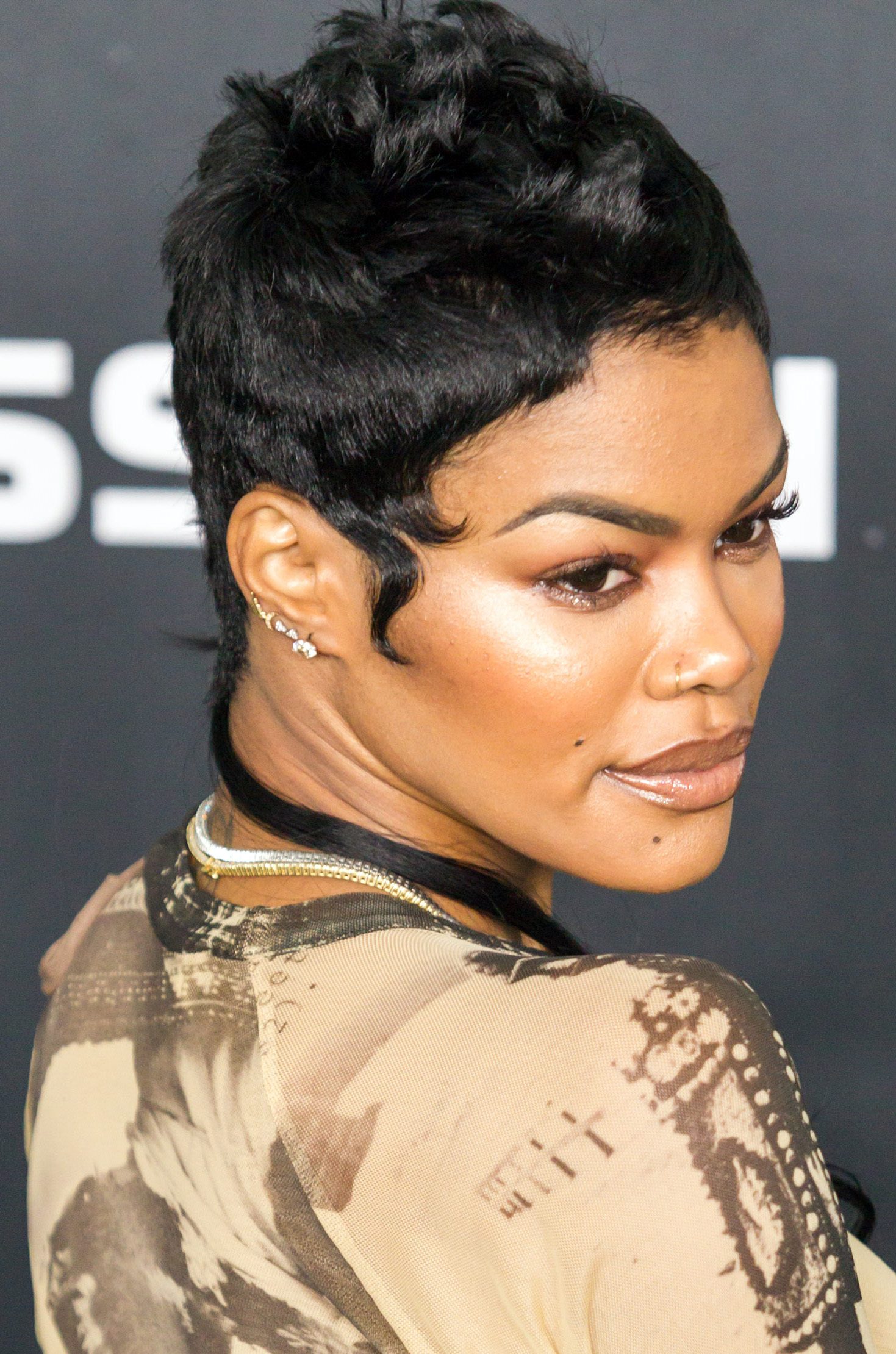 Teyana Taylor's Super Short Pixie
I think my favorite part about this haircut is the cheeky, wavy sideburns. They really are everything for this look! Aside from that, I really like how they closely layered the hair leaving it longer and a tad wilder on the top.
Hands down, this is my favorite variation of the pixie haircut in this article.
31 / 50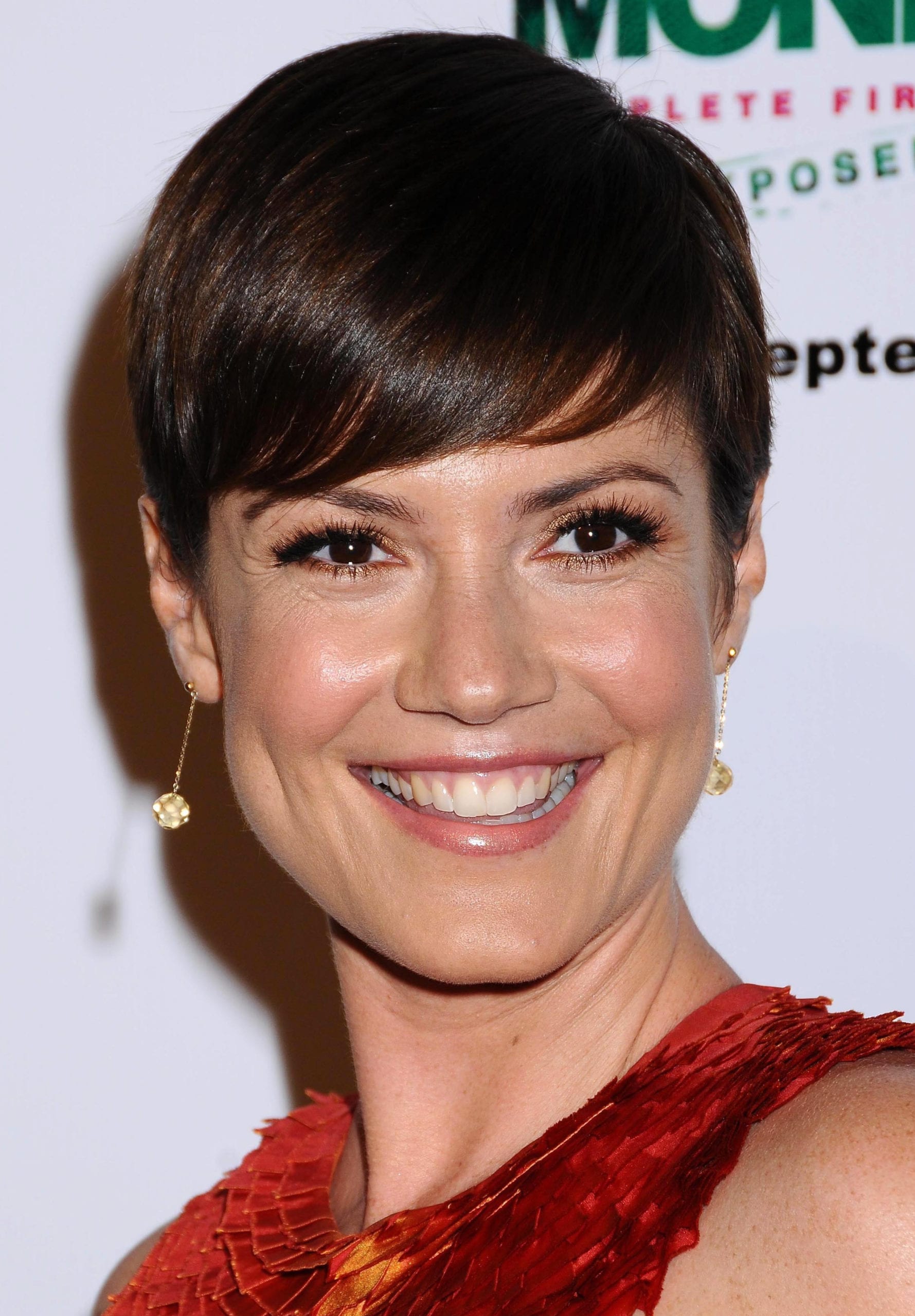 Zoe McLellan's Medium Pixie
Zoe McLellan's is another great example of a medium, non-top-layered pixie. This time working in a fringe that is just so slightly angled.
32 / 50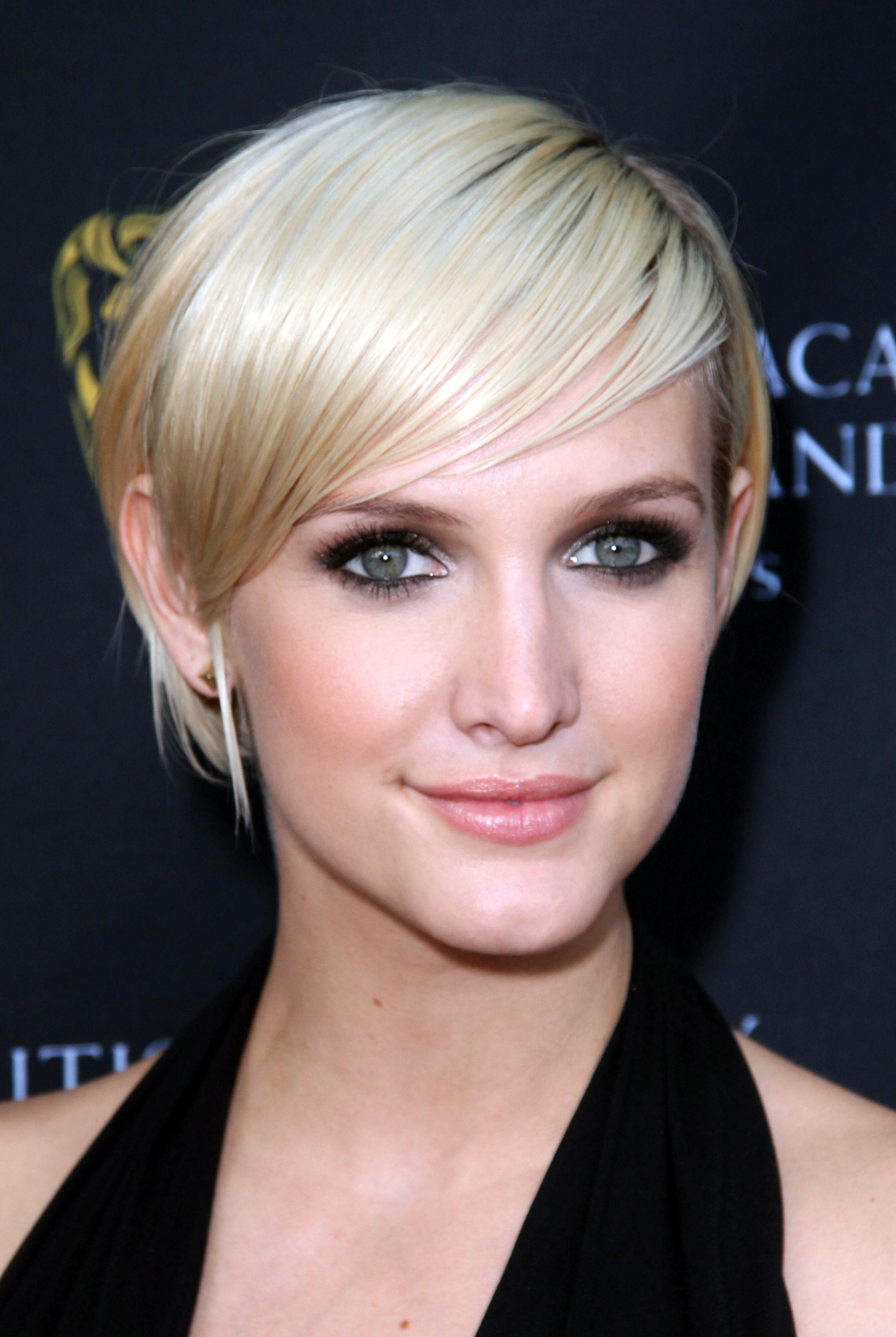 Ashley Simpson's Angular Bangs
Ashly Simpson, the queen of side-swept bangs! Here in this example with a gorgeous blonde pixie wears them better than ever because all the attention goes to the fringe.
33 / 50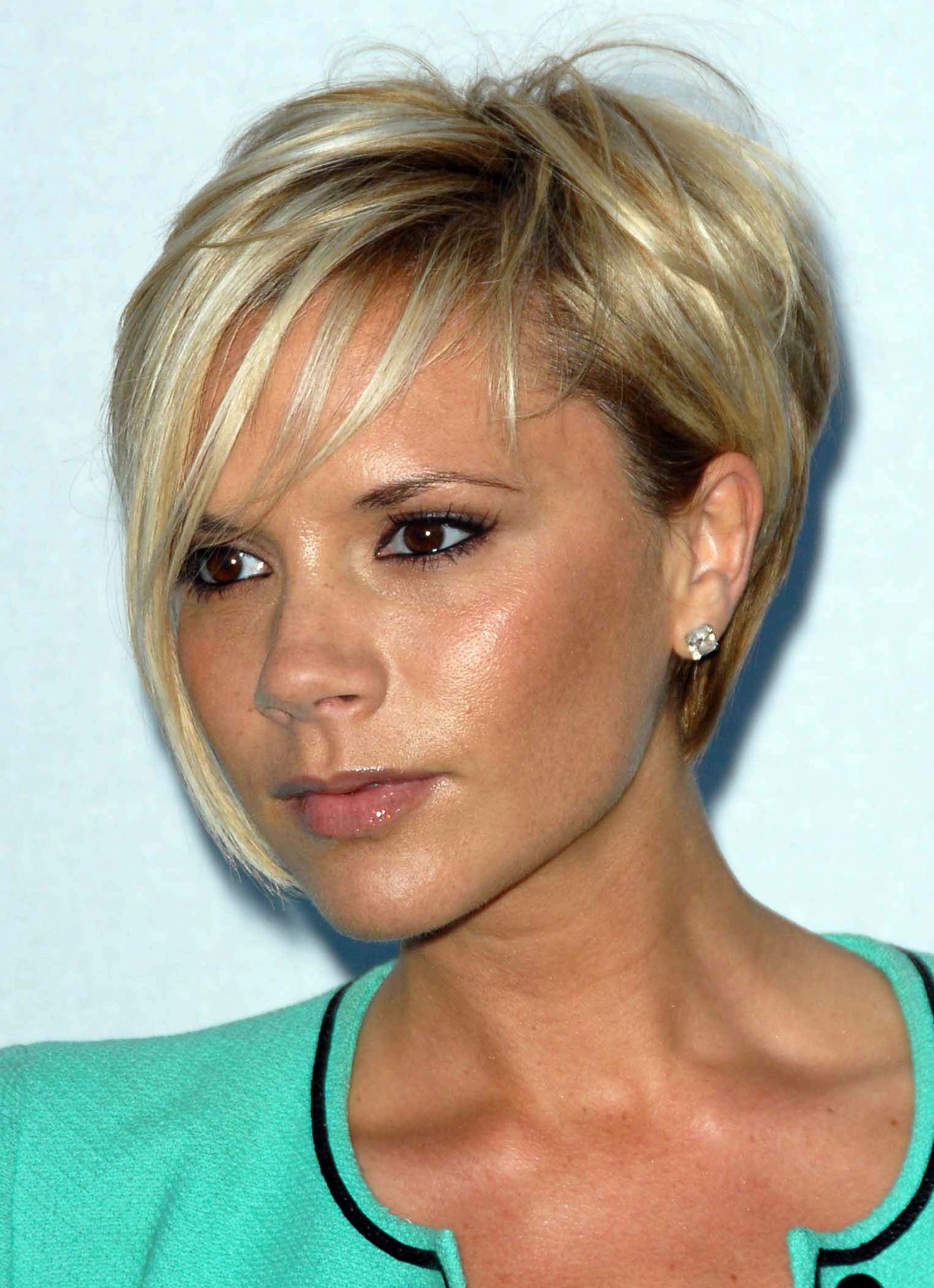 Victoria Beckham's Layered Pixie and Angular Bangs
How could we have an article on pixie haircuts and not include this banger? The answer is we couldn't! Obviously.
After Victoria Beckham stepped out with her blonde highlights, layered pixie, and dramatic bangs everyone needed to give it a try.
34 / 50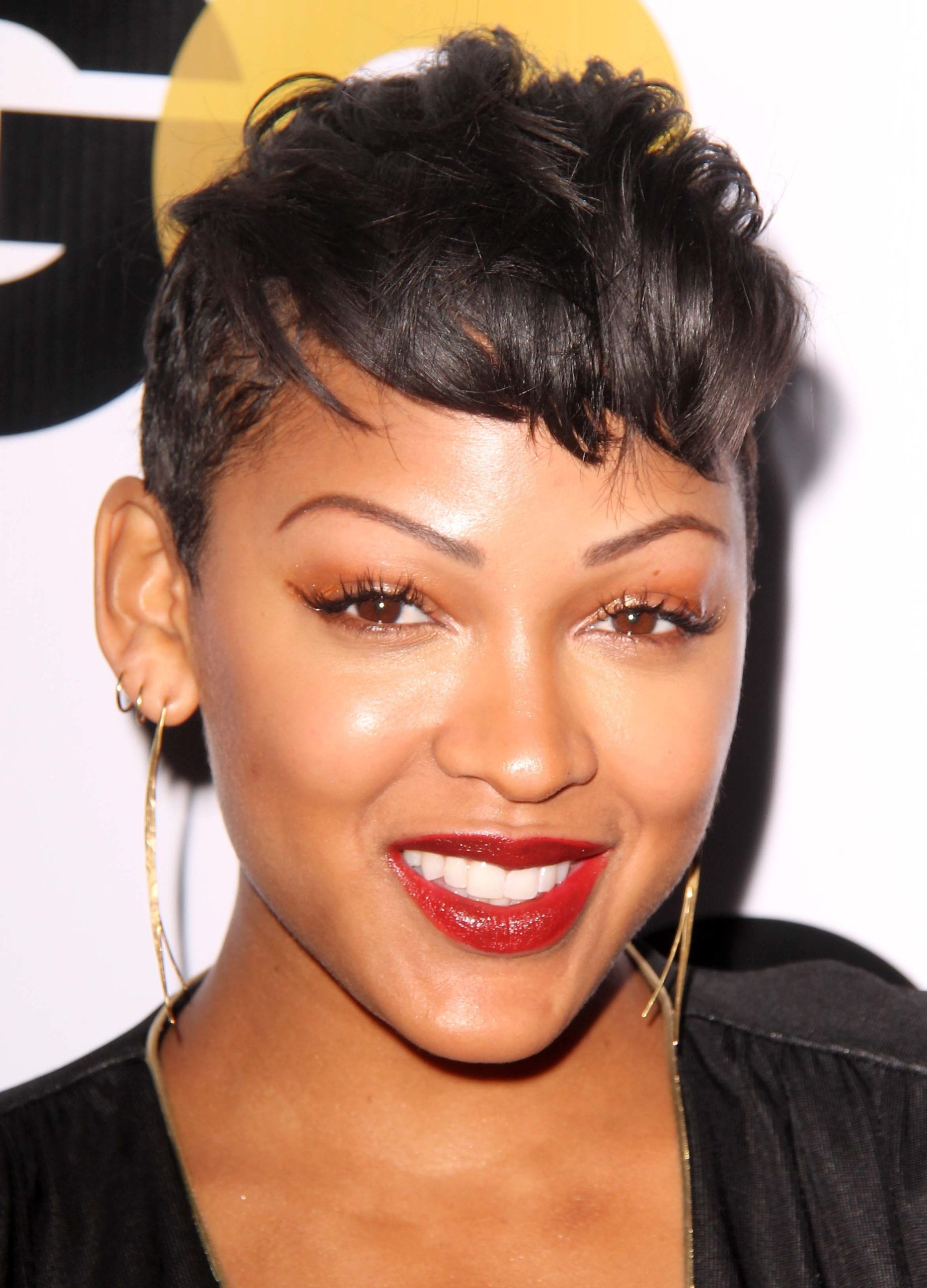 Meagan Good's Disconnected Pixie
Meagan Good's pixie does well on both short and long sides of the spectrum for the pixie haircut.
35 / 50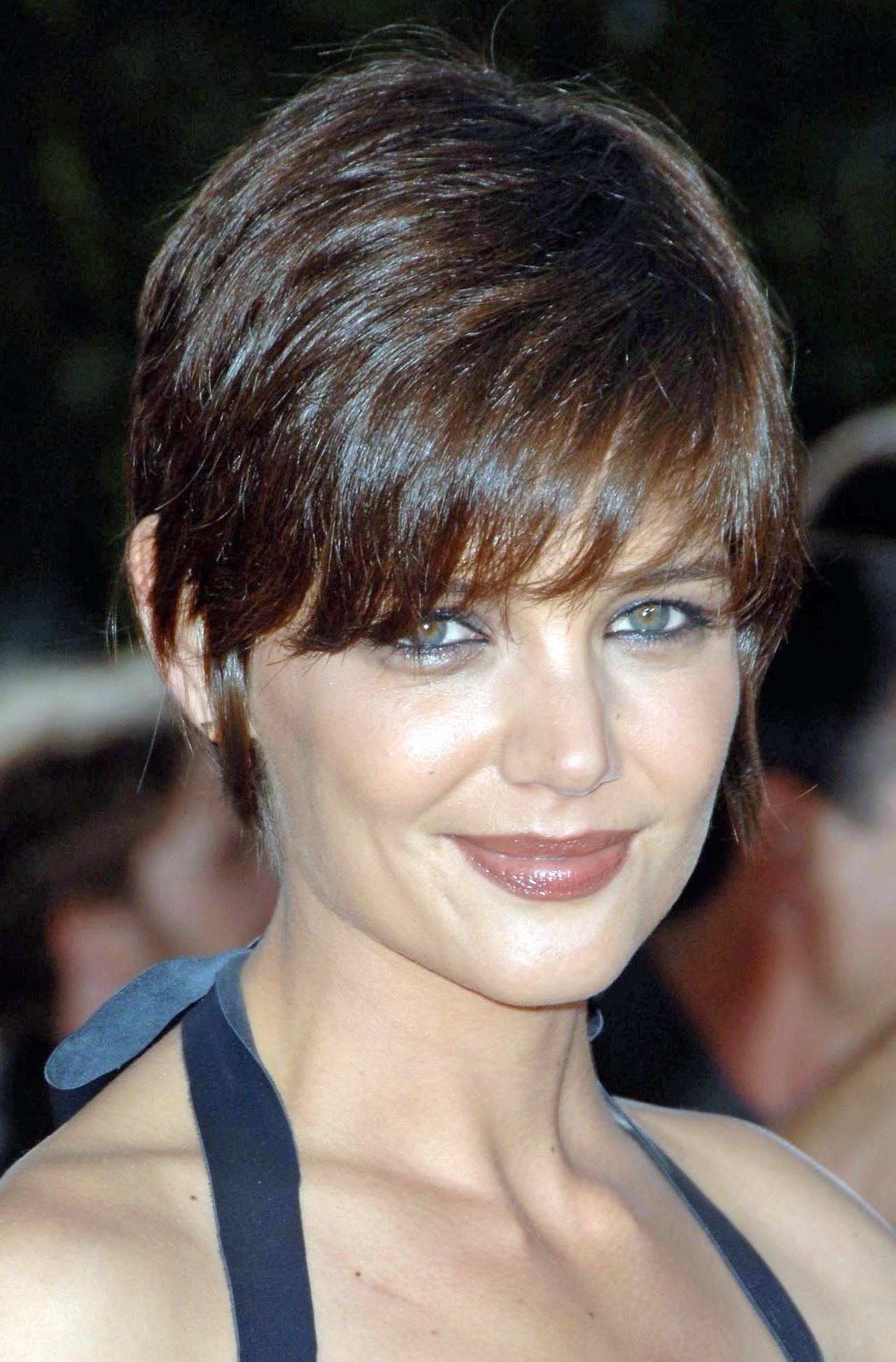 Katie Holmes '08 Shaggy Pixie
A shaggy pixie? Leave it to Katie Holmes to coin the style! Because we all know she looks fabulous with anything but it's the slightly angled, long bangs for me.
36 / 50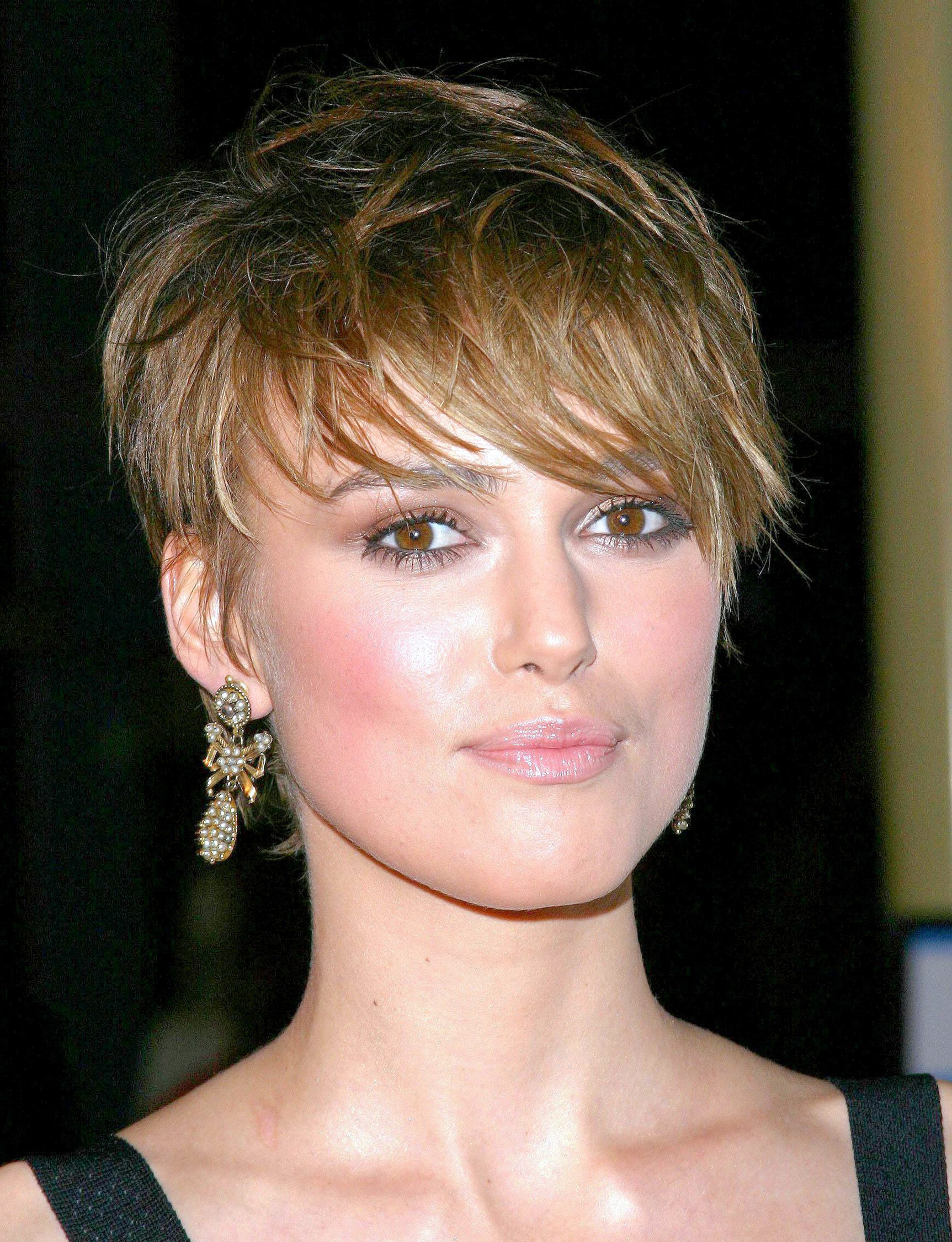 Keira Knightley's Textured Pixie
A lot of visual texture from the highlights topped off by the added scissors work done here. Keira Knightly is rocking that choppy fringe!
37 / 50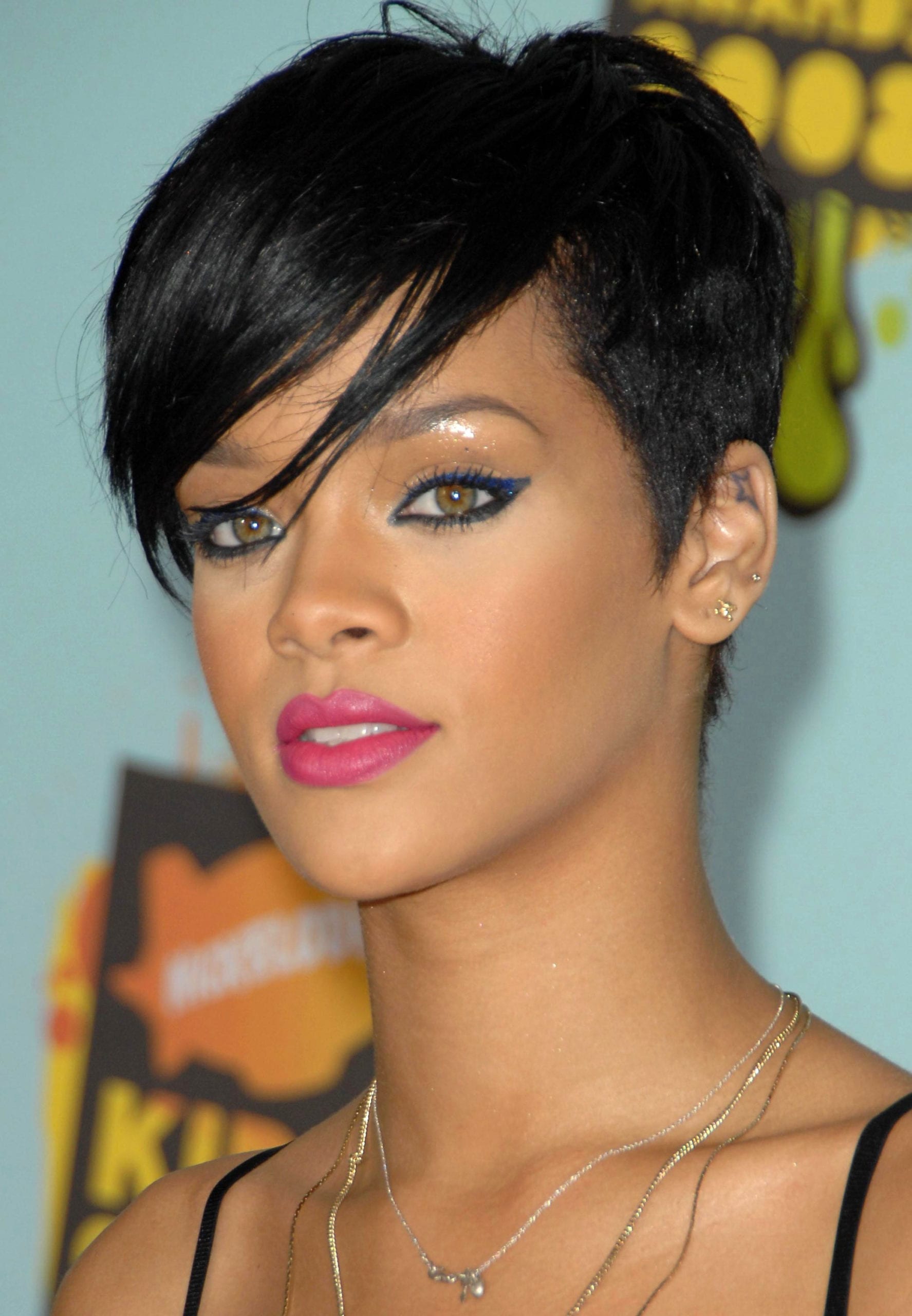 Rihanna's Tapered Pixie
Tapered sides, long and dramatic side-swept fringe. Rihanna knows she looks good and so do we.
38 / 50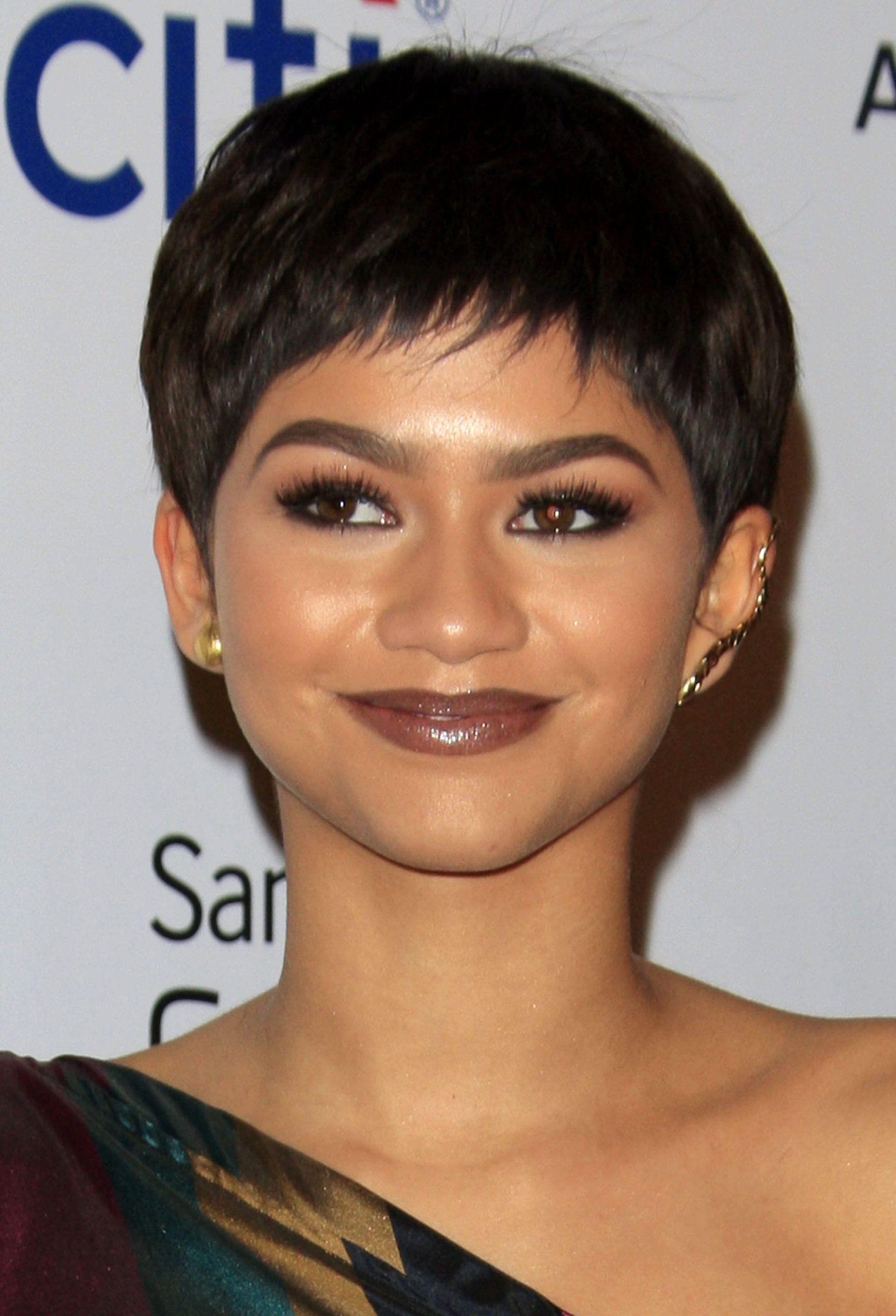 Zendaya's Micro Bangs
Zendaya's micro bangs look super cute on this Caesar-crop-like pixie.
39 / 50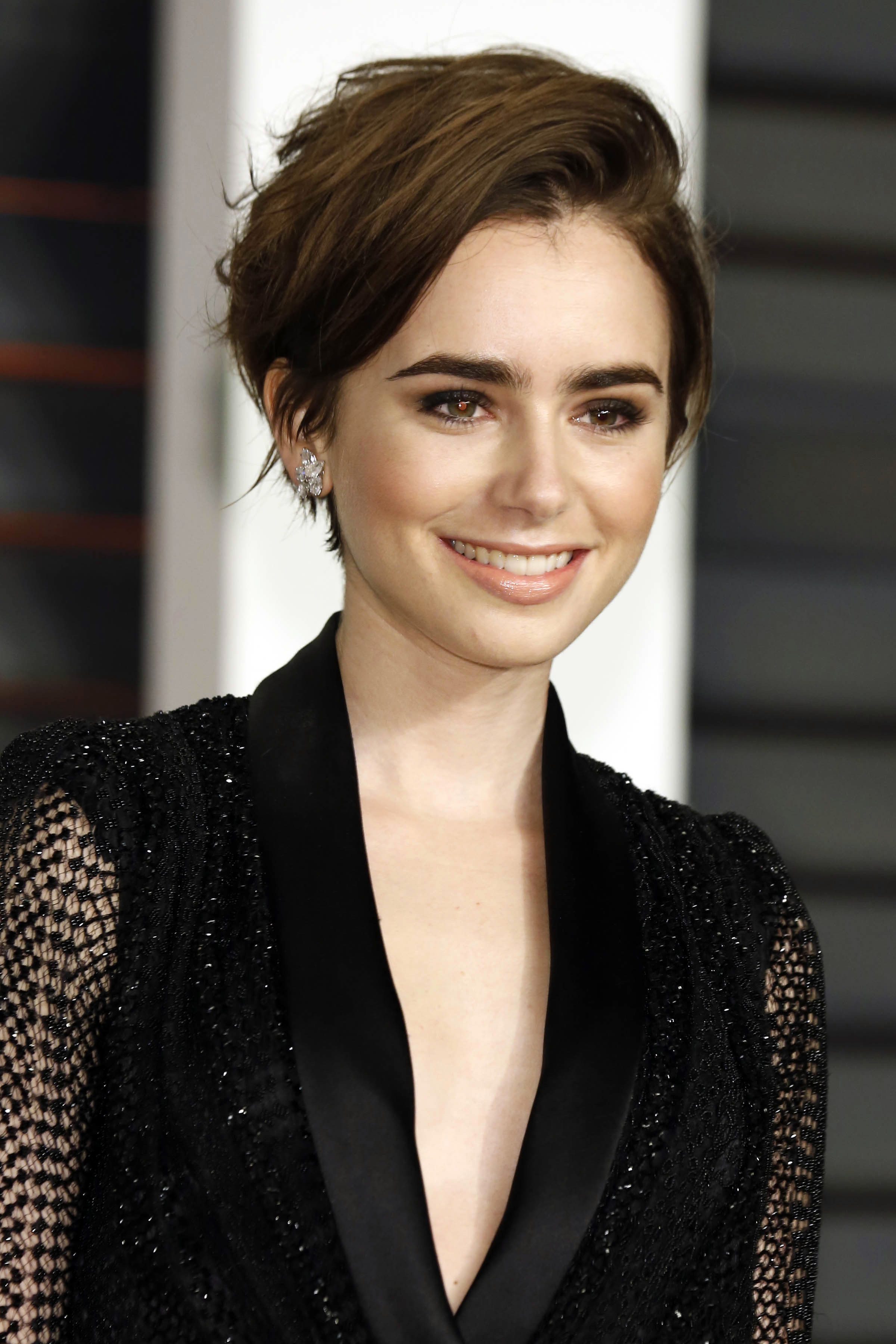 Lily Collins' Full-Bodied Pixie
If you have thick hair, a longer, full-bodied pixie is definitely a great choice. Here, Lily Collins is wearing hers with a deep side part and a pompadour-style top with a bit of a choppy, messy texture at the back.
40 / 50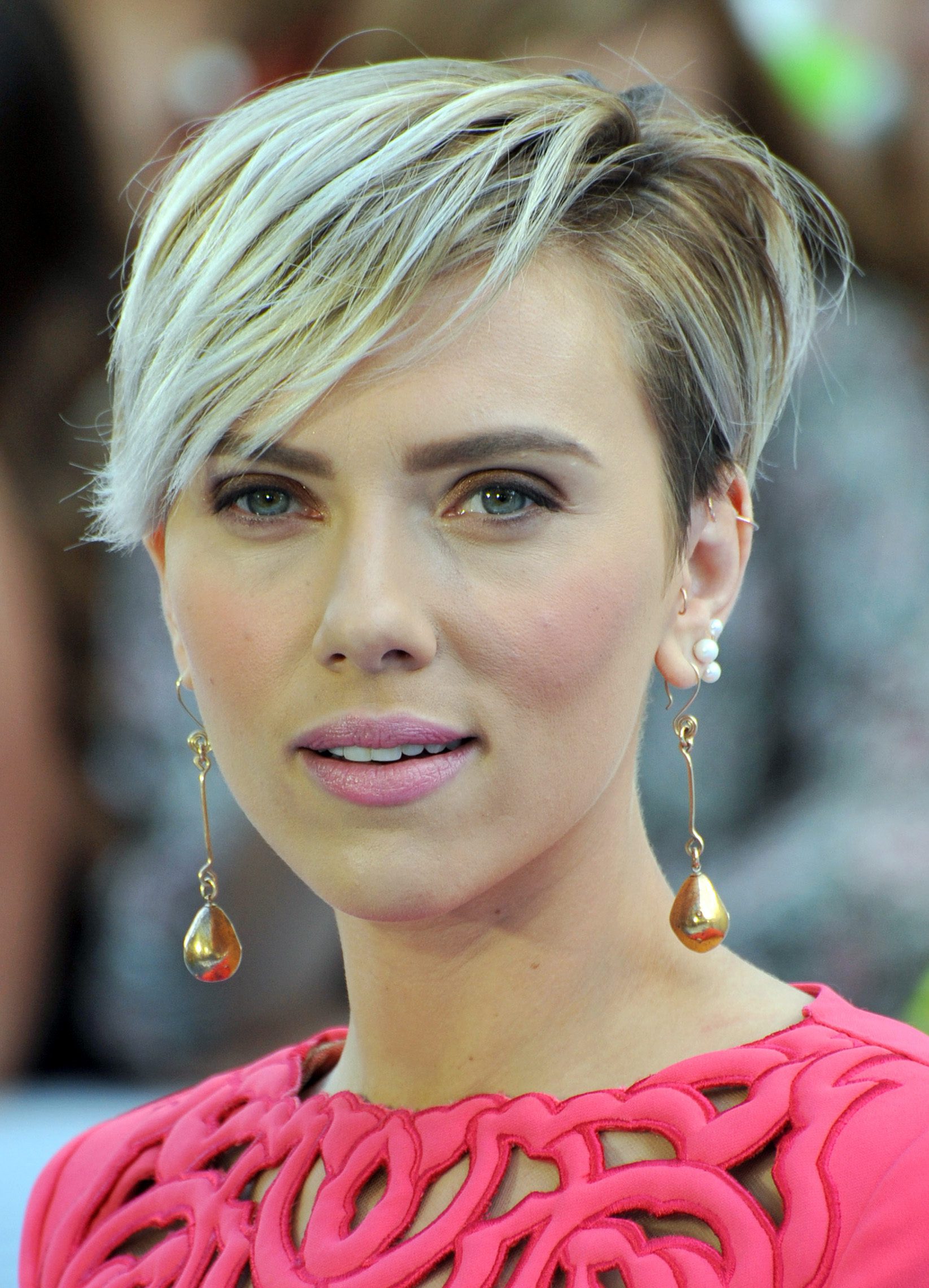 Scarlett Johansson's Angular Bangs
The great thing about having this type of angular bangs is that you can pin them back and create pretty badass-looking hairstyles. Scarlett Johanson is wearing them loose but she can never not look badass.
41 / 50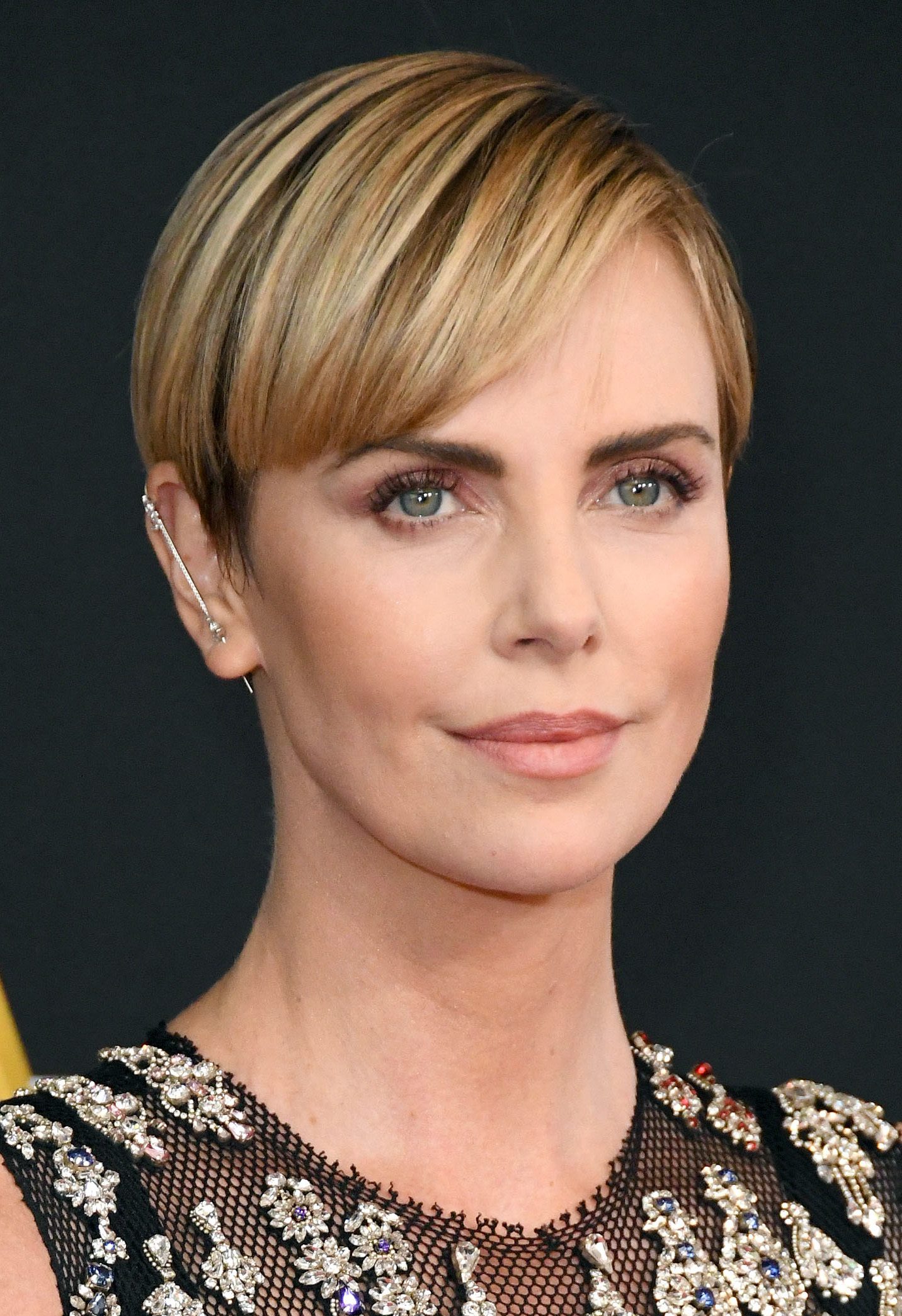 Charlize Theron's Highlight and Pixie
In this example, we see Charlize Theron with a gorgeous set of side-parted bangs and highlights meshing various shades.
42 / 50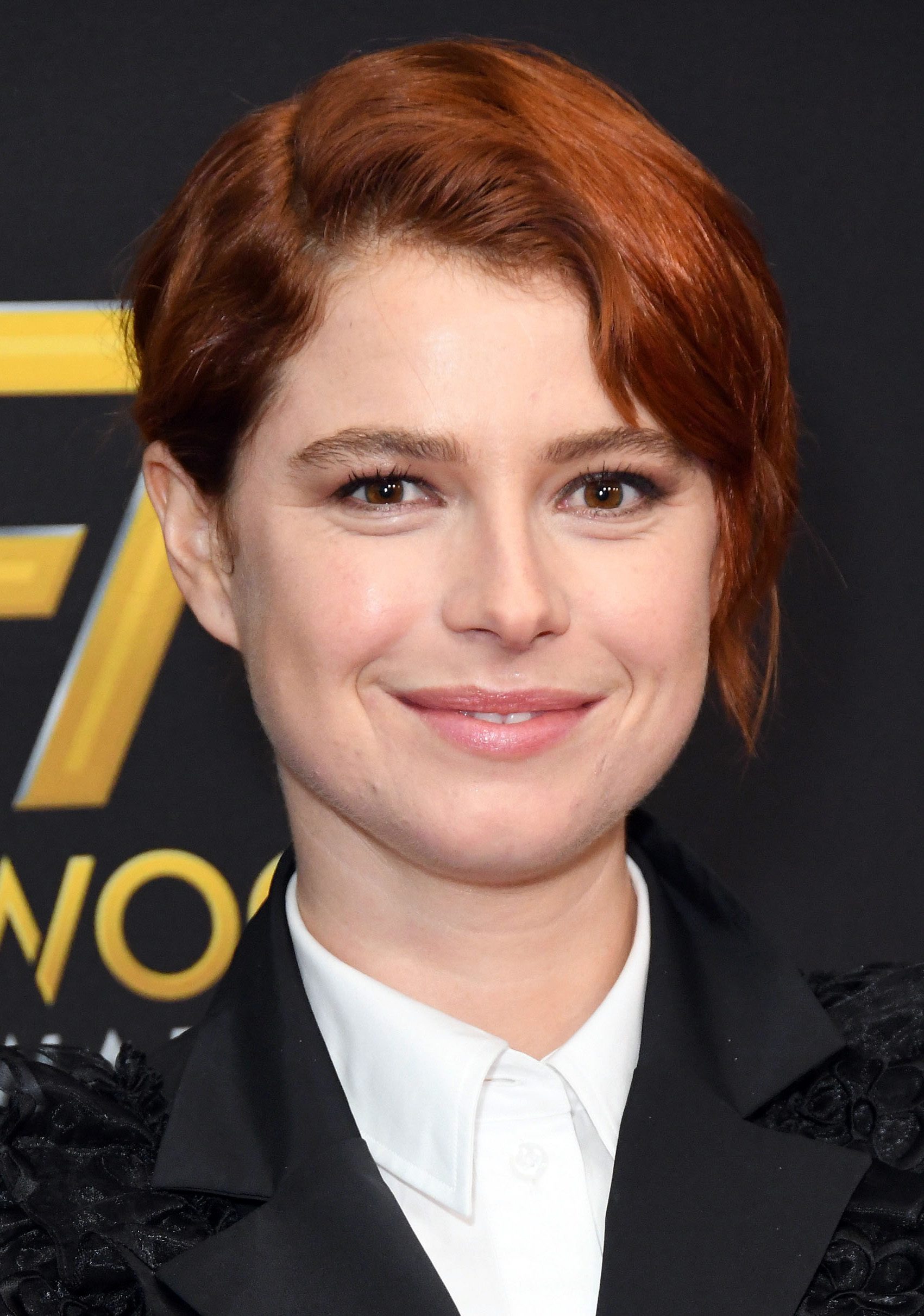 Jessie Buckley's Angular Pixie
With a beautiful deep auburn shade, Jessie Buckley wears her angular pixie with waves. Notice how she actually doesn't go for a traditional straight side part but goes, rather, for a more natural parting.
43 / 50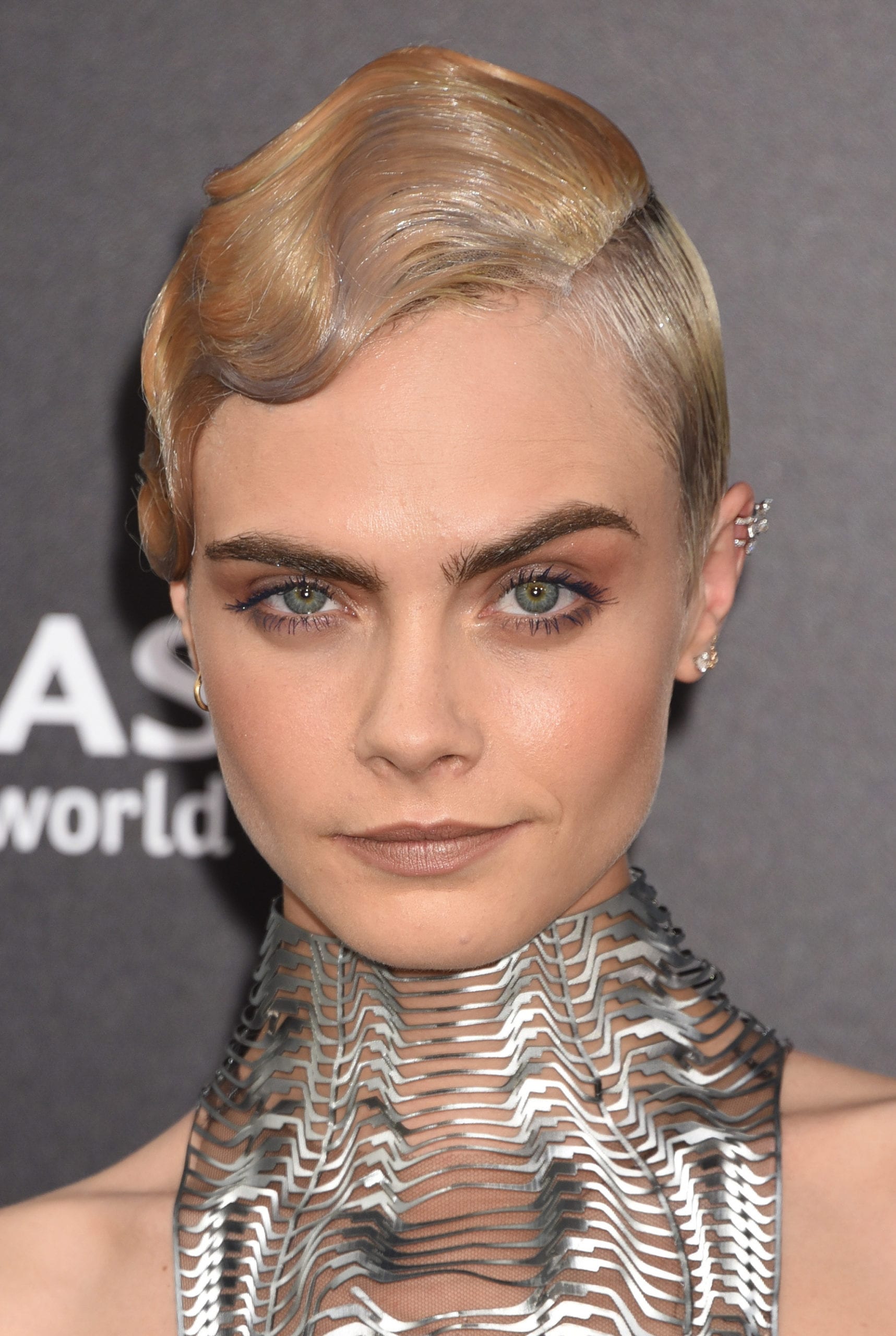 Cara Delevingne's Futuristic Waves
These firm and futuristic waves are a whole vibe on Cara Delevingne's pixie. I'm obsessed with the little platinum highlight streaks, like what? It's perfection!
44 / 50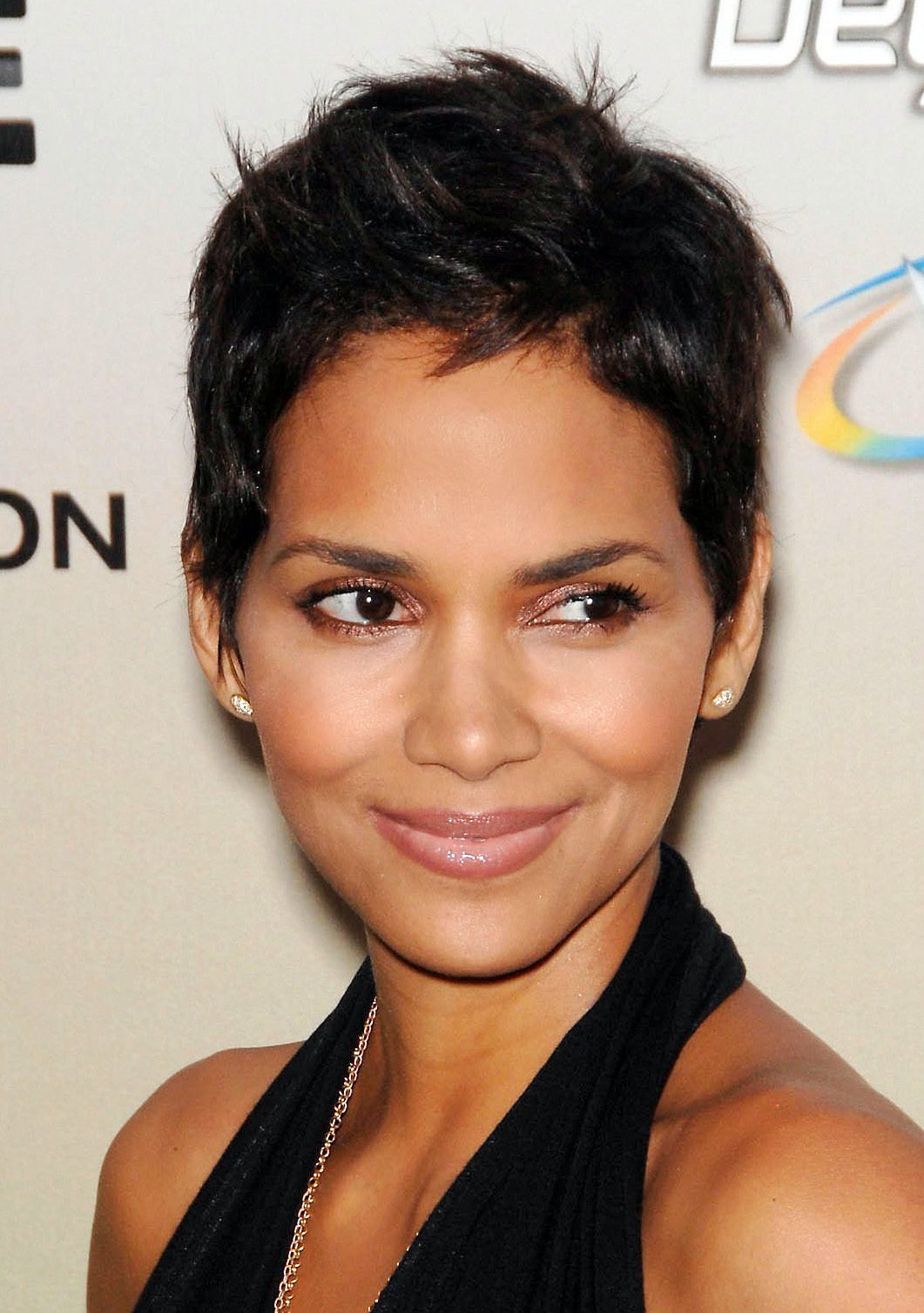 Halle Berry's Spiky Pixie
If Halle Berry's pixie were to be completely unstyled we'd most likely see some middle-length bangs, or maybe even short bangs. It'd look just as cute!
45 / 50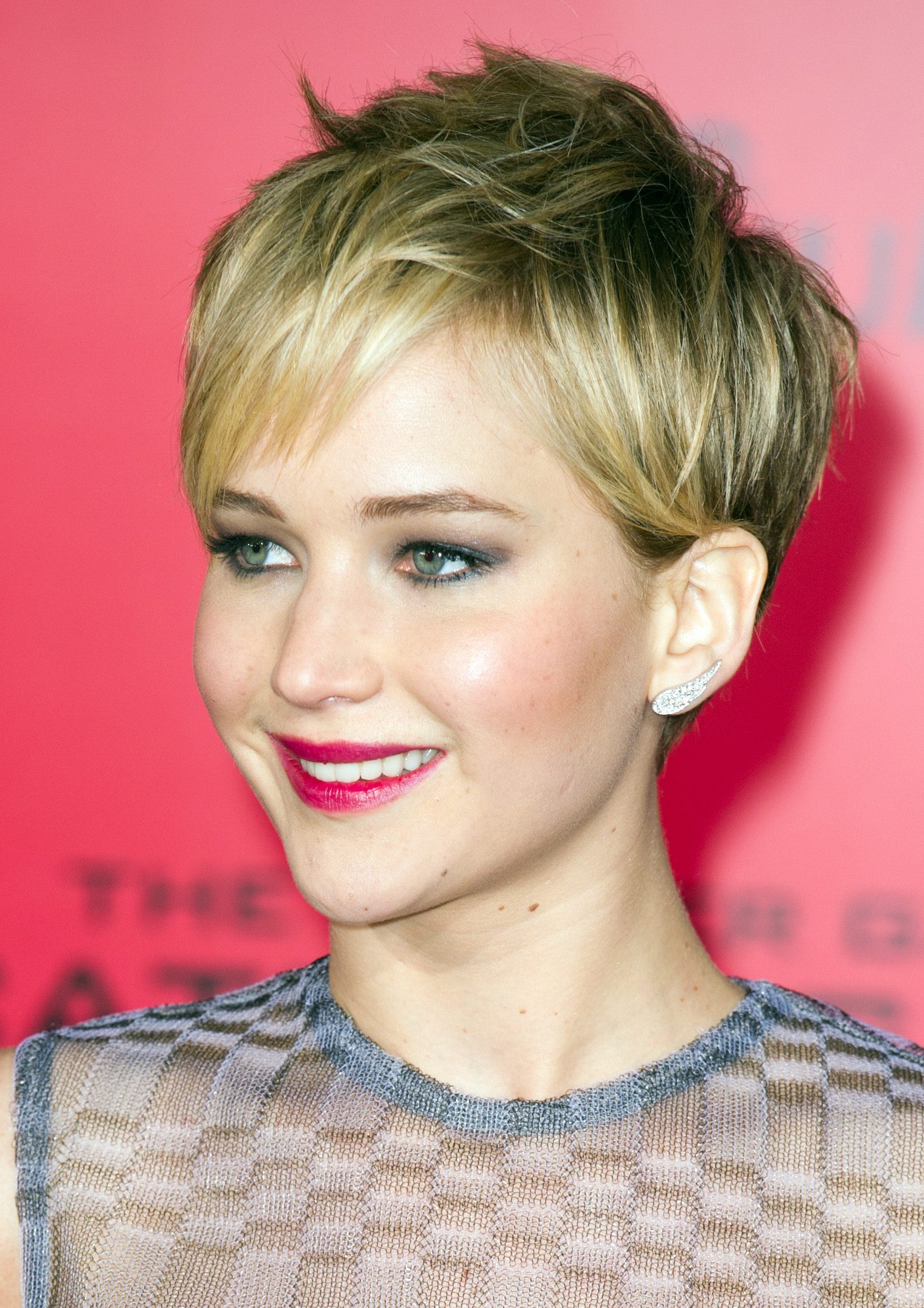 Jennifer Lawrence Textbook Pixie
This pixie that Jennifer Lawrence is wearing so well is exactly what comes to mind when anyone says "pixie cut". It has the spiky texture and the angled fringe worked to perfection.
46 / 50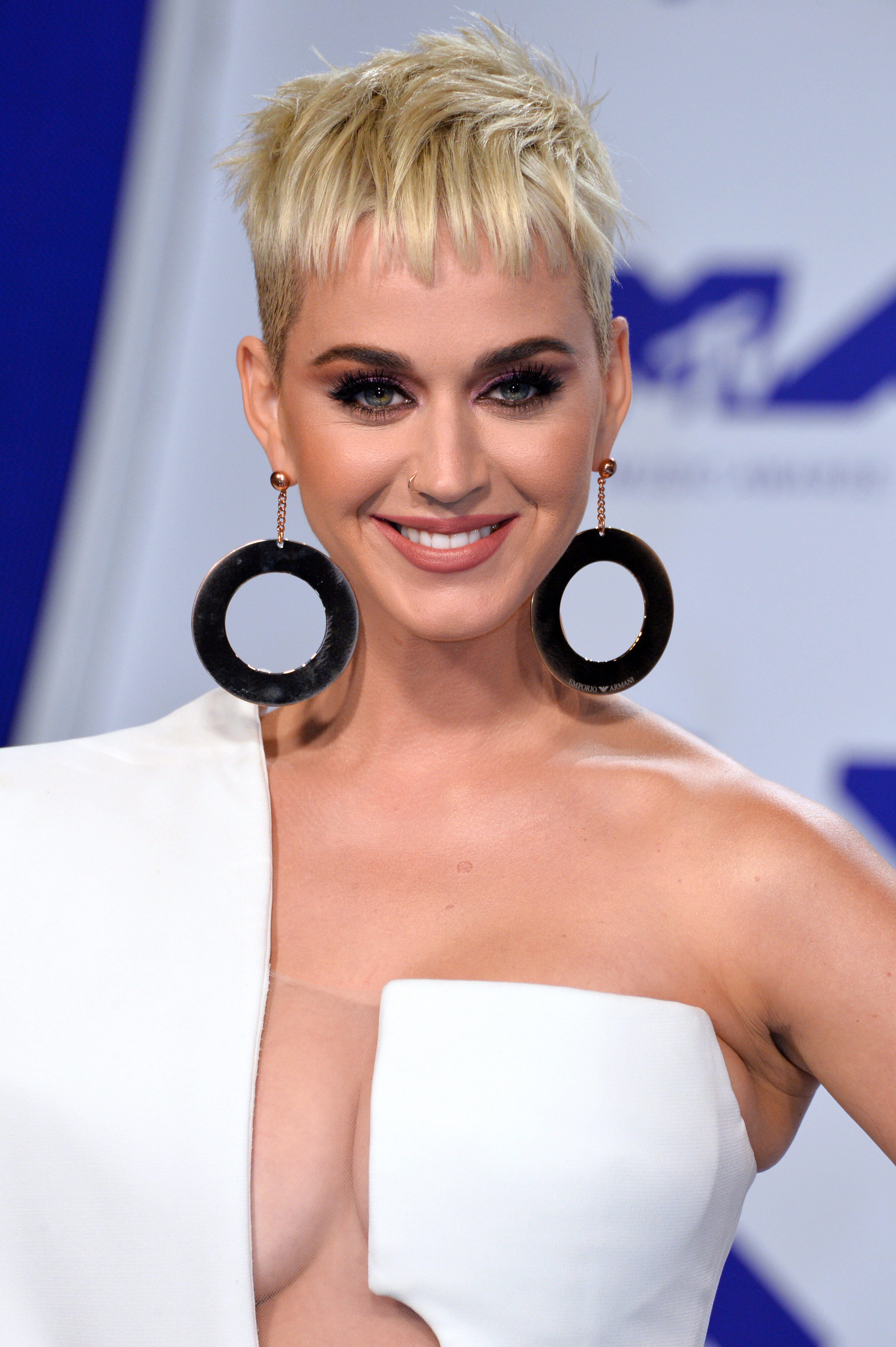 Katy Perry's Textured Pixie with Baby Bangs
Katy Perry looks all sorts of cool wearing this textured blonde pixie. The top is tousled, the sides are tapered, and the baby bangs are brushed forward, which all make for a super-edgy variation on the classic pixie.
47 / 50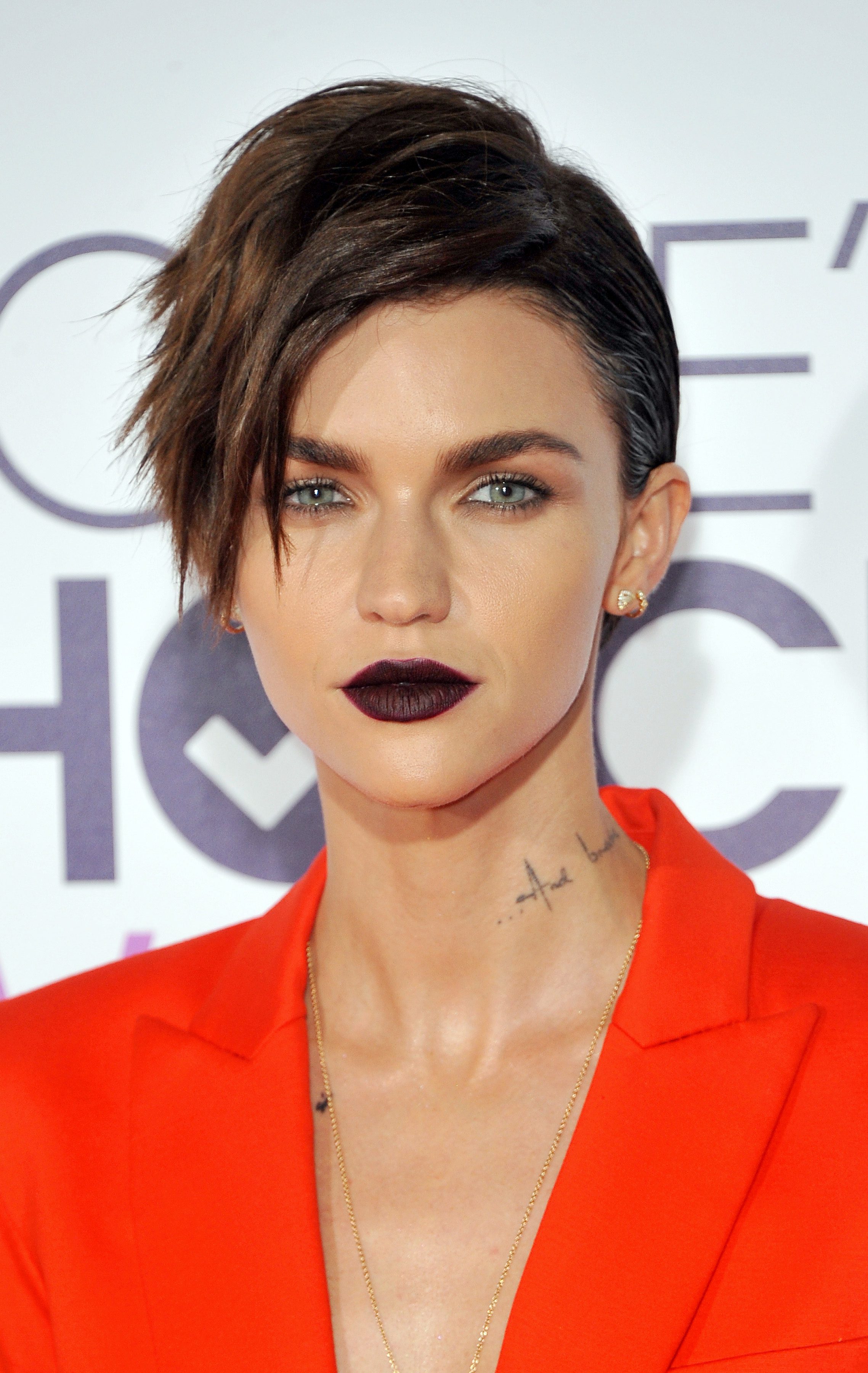 Ruby Rose's Razor-Cut Pixie
You can always rely on Ruby Rose to come up with the edgiest pixie styles. Here, she's wearing a layered razor cut with a deep side part. It's tightly slicked back on one side but choppy and voluminous at the top and opposite side. Add the dark lippie and you'll be totally working a goth-glam vibe!
48 / 50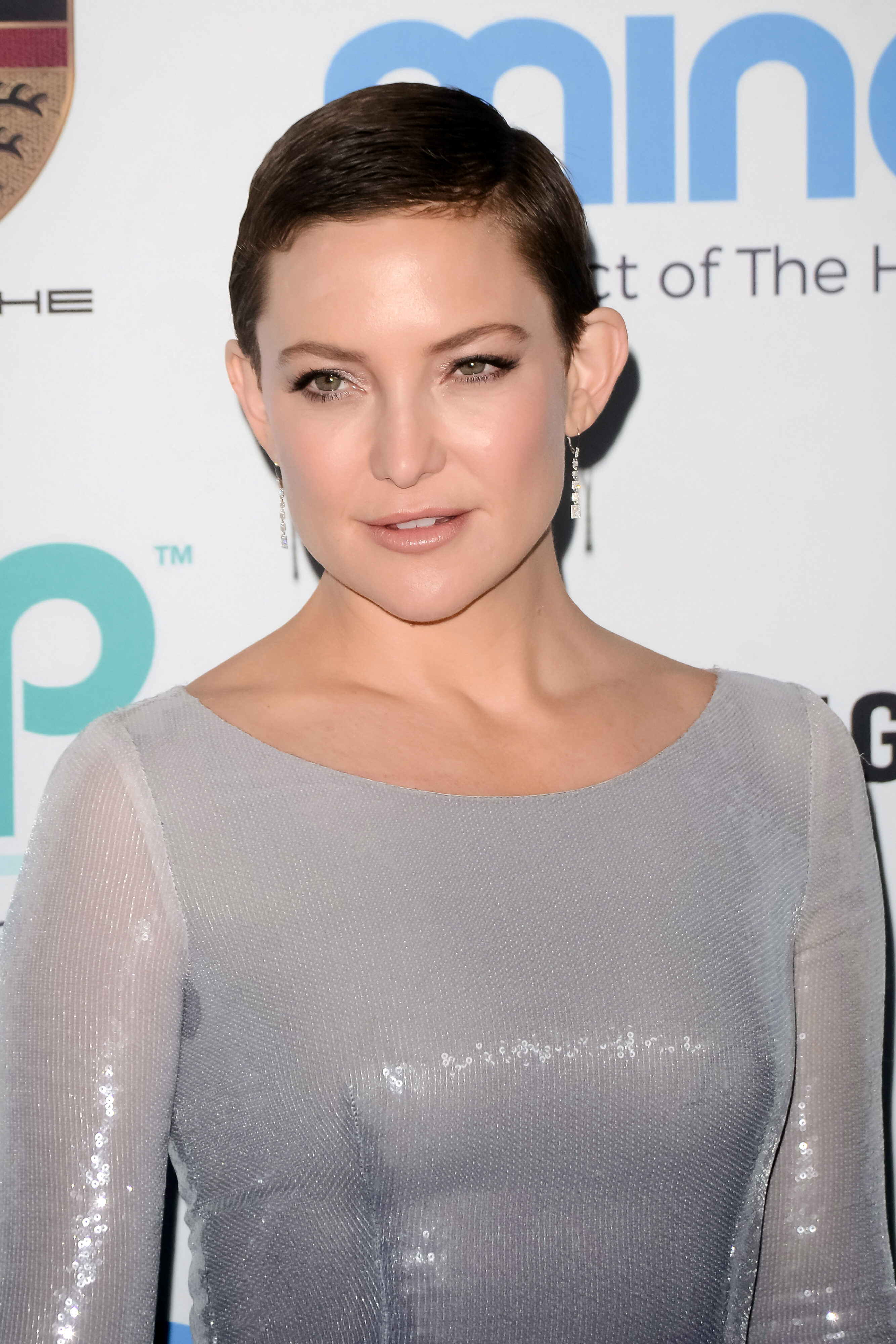 Kate Hudson's Short and Neat Pixie
Kate Hudson goes back to basics with this short and neat pixie cut. While she's a natural blonde, she's dyed her hair a dark brown color for this event and she's wearing her pixie with a side part and no bangs. A simple look yet eye-catching nonetheless.
49 / 50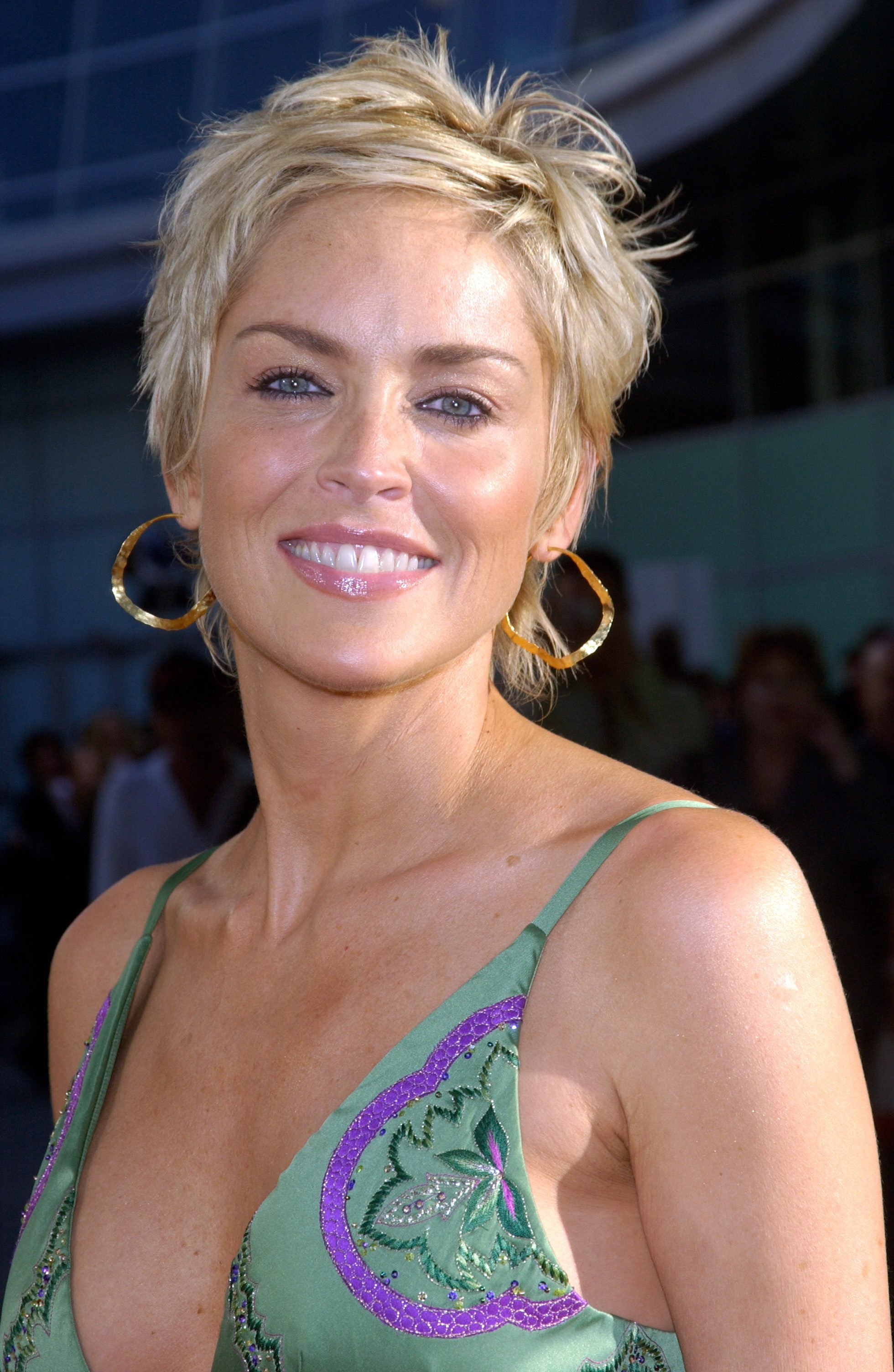 Sharon Stone's Messy Pixie
A great way to add fullness to your pixie is by giving it a tousled texture like Sharon Stone is wearing here. Don't be afraid to get messy!
50 / 50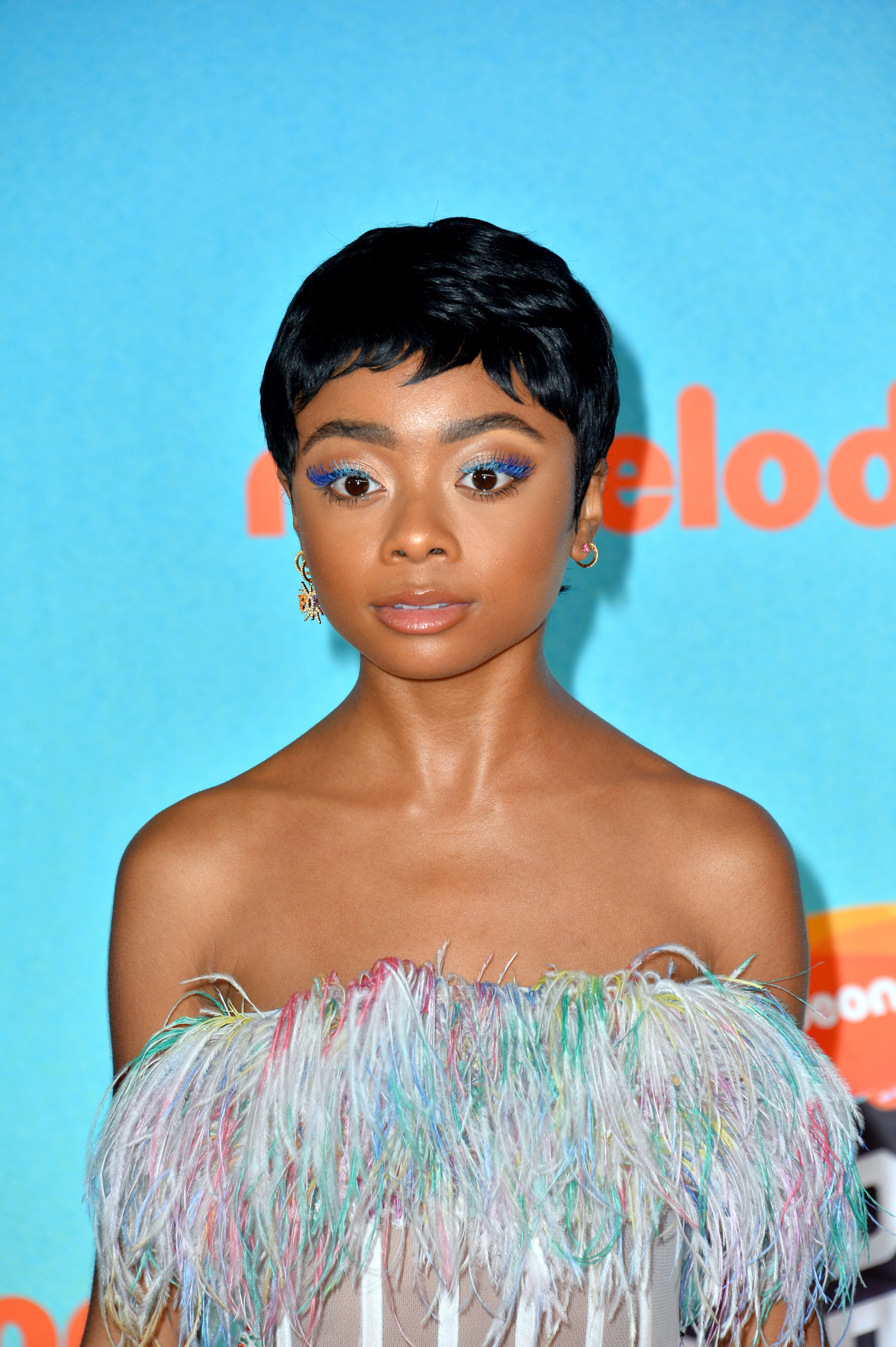 Skai Jackson's Betty Boop Pixie
Skai Jackson looks so adorable while giving off a Betty Boop vibe with this pixie cut. It's those little waves on her fringe that reminds us so much of the classic cartoon character's 'do.