You may know why you want to cut your hair shorter, but sometimes you need some more inspiration before making the final decision. Here are a few of the most popular short hairstyles for women right now and some fun ideas on how to style them.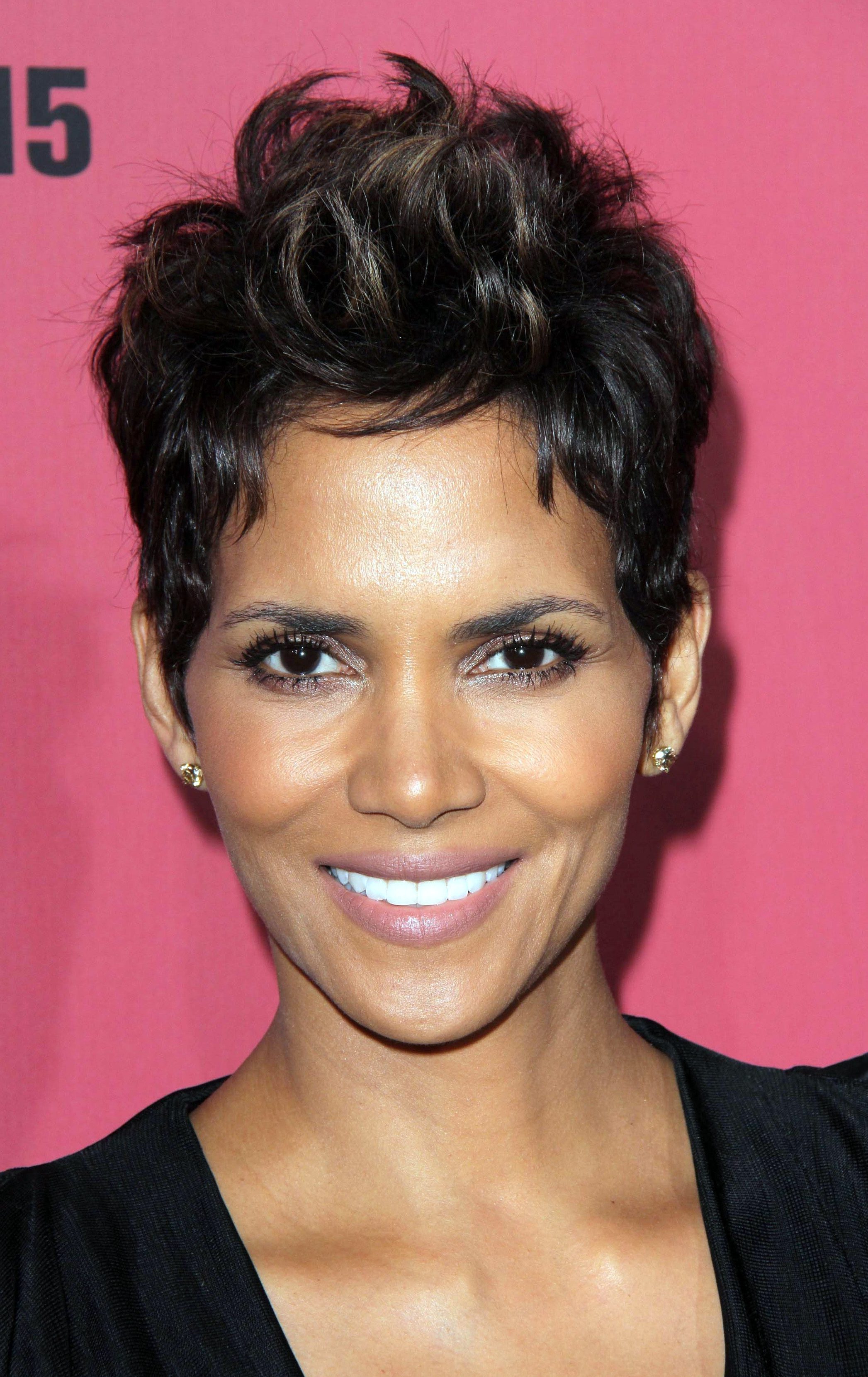 s_bukley / Shutterstock.com
Halle Berry's Messy Top with Undercut
Undercuts aren't only for the boys; they can be a great way to add some edge to your pixie cut, just as Halle Berry did. To take things to the next level, try adding some volume too.
makarenkodenis / Shutterstock.com
Ursula Corbero's Choppy Crop
Pixie cuts are often paired with side-swept, romantic bangs. For an unexpected twist, opt for a feathery fringe across your forehead. Ask your stylist for choppy, short layers all over.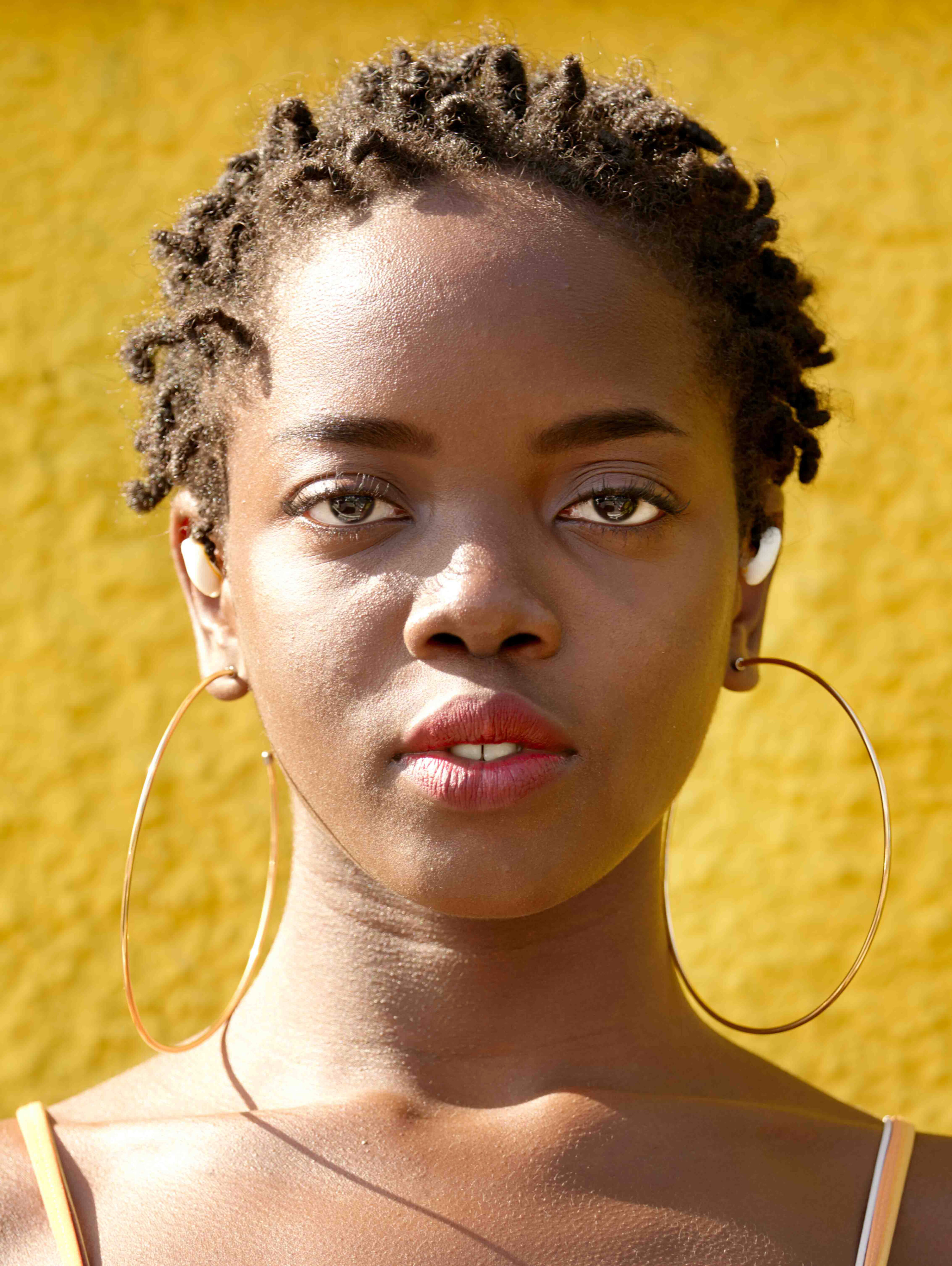 KarolMoraes / Shutterstock.com
Slim Bantu Knots
If you're not familiar with Bantu Knots, they're a southern African hairstyle originated by the Zulu people where the hair is sectioned and twisted in such a way that it forms a spiraled knot.
The universal word 'bantu' translates to 'people' in over 400 different African languages.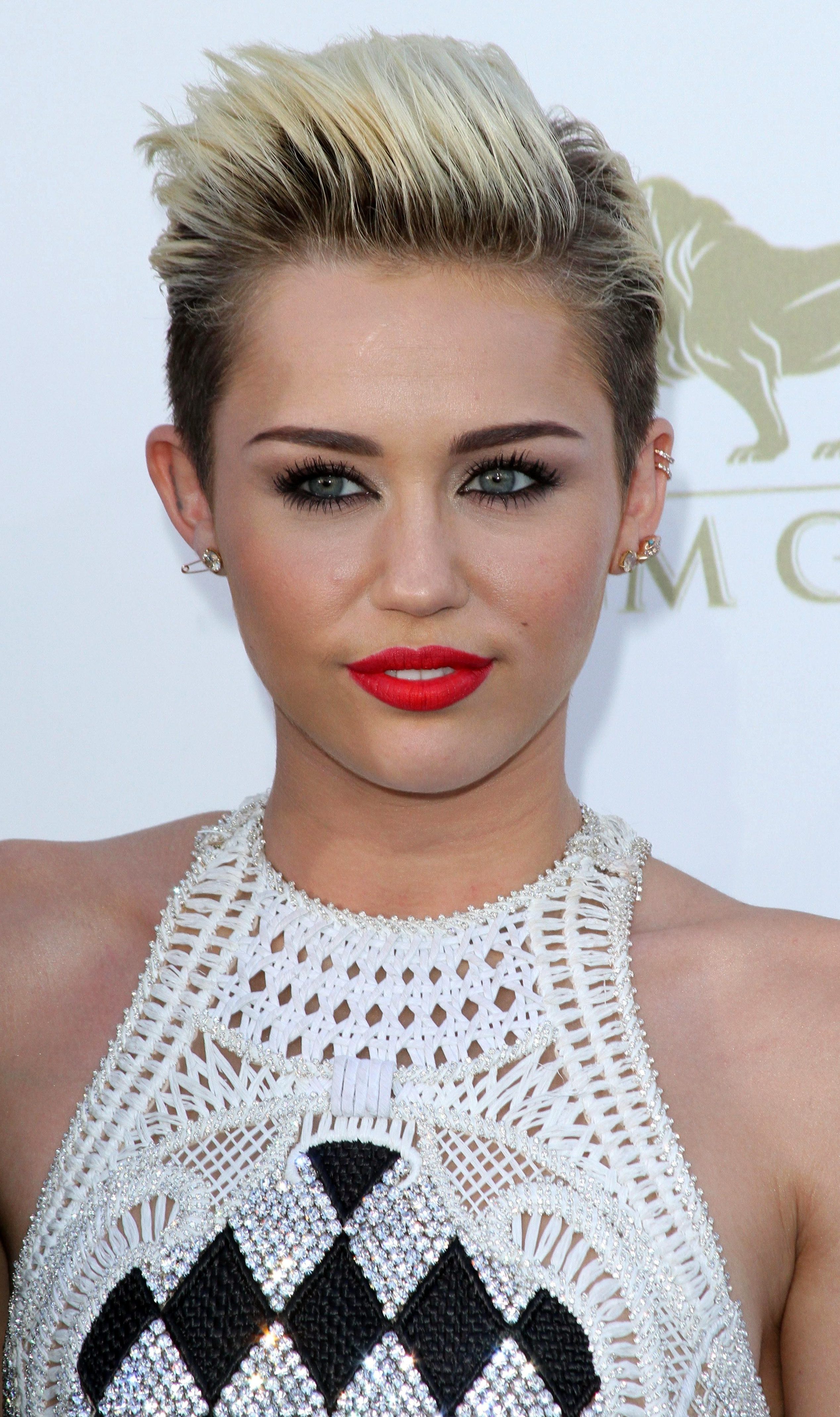 s_bukley / Shutterstock.com
Miley Cyrus' Dyed Brush Up Crop
Miley Cyrus is known for being bold, and her hairstyle is no exception. This 'do is not for the faint of heart, but if you're feeling up to it, shave the sides of your head and get as much volume on top as possible.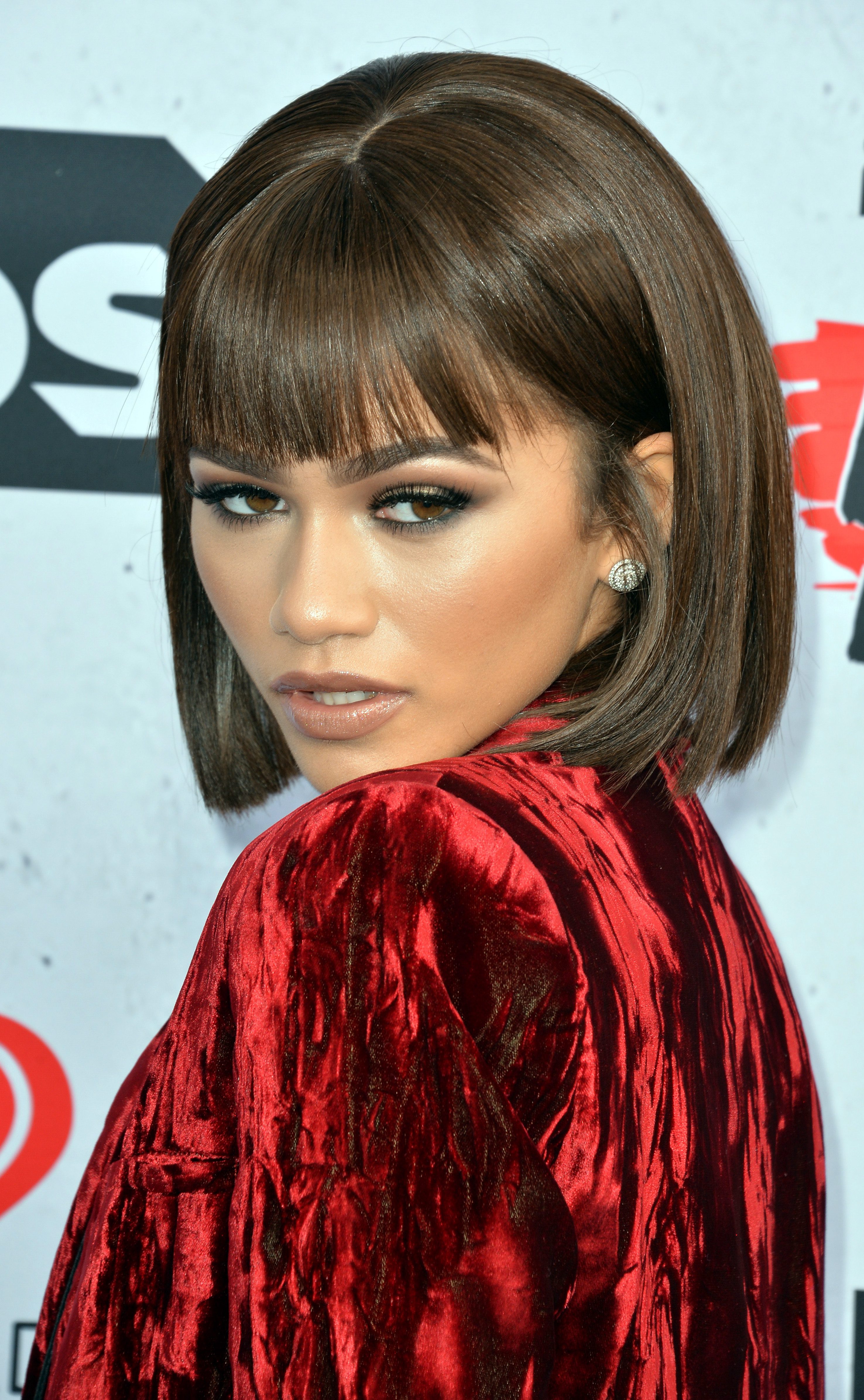 Featureflash Photo Agency / Shutterstock.com
Zendaya's Classic Bob with Bangs
A bob is a simple short style you can easily achieve without going as short as a pixie cut. While curly bobs are popular, try a sleek and smooth version like Zendaya for a retro feel.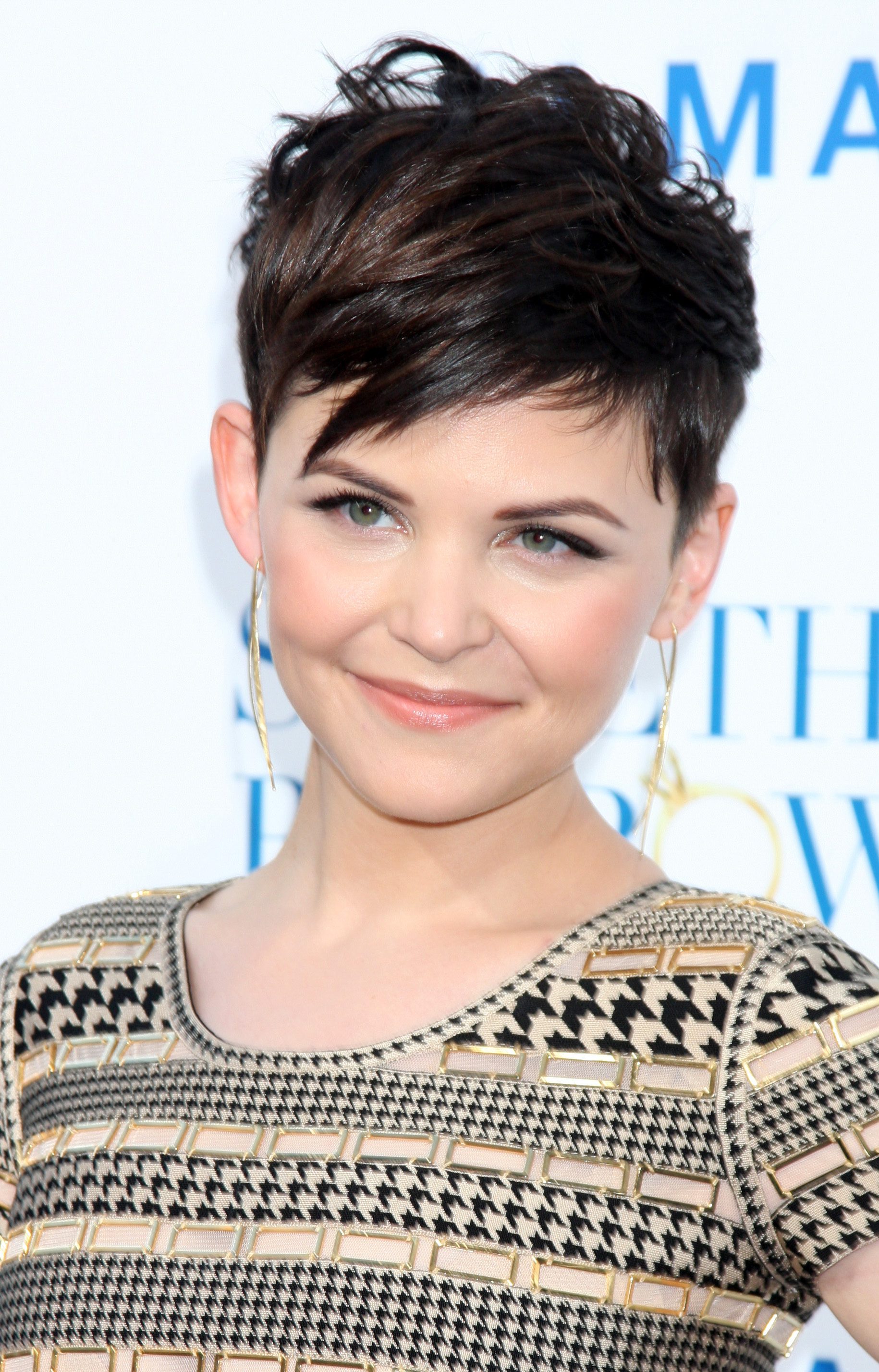 Kathy Hutchins / Shutterstock.com
Ginnifer Goodwin's Angular Pixie Cut
Pixie cuts are incredibly versatile; they can be as feminine or edgy as you like. Ginnifer Goodwin opted for a less romantic cut with her angular pixie, which highlights her elfin features.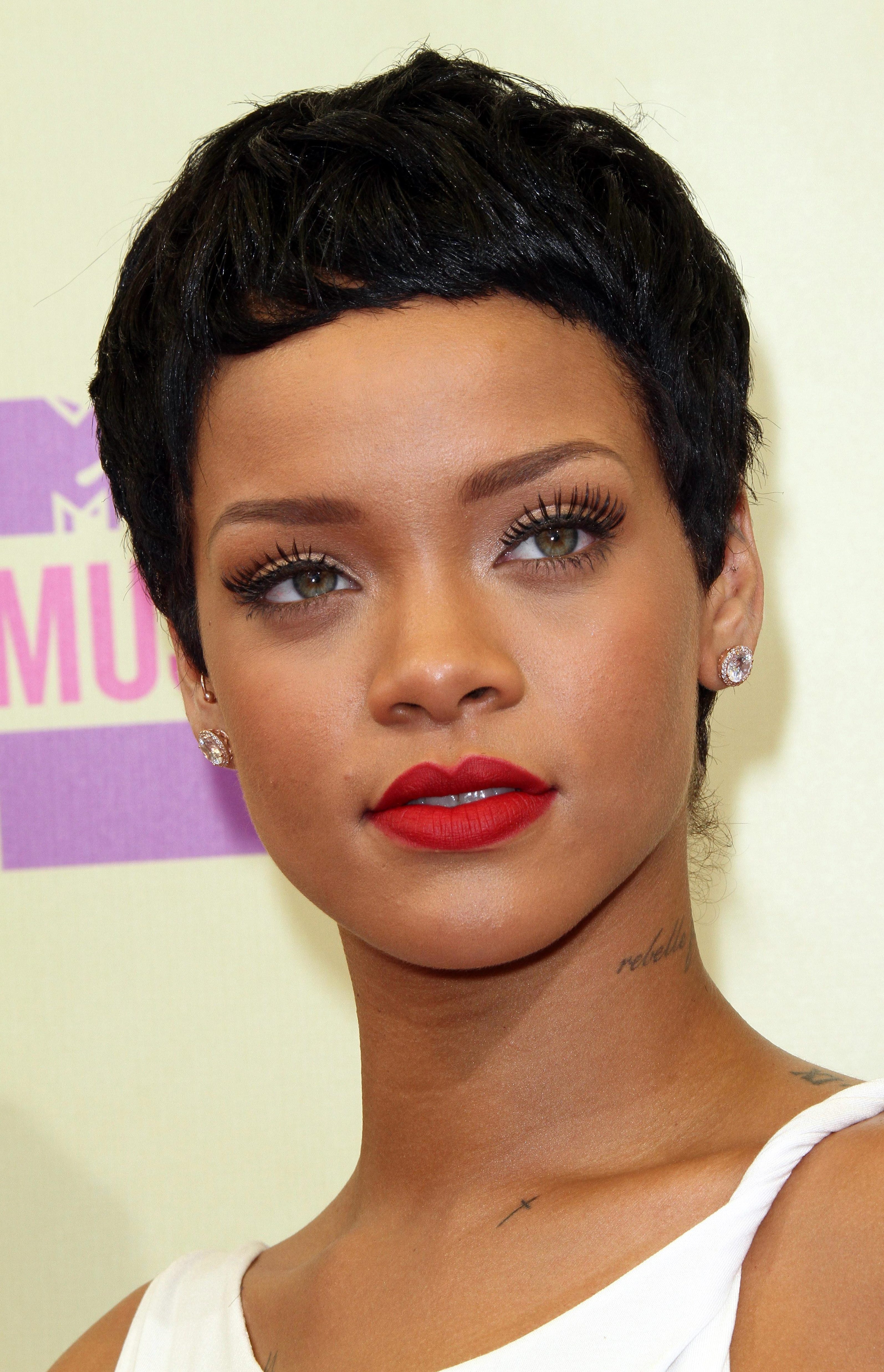 s_bukley / Shutterstock.com
Rihanna's Classic Caesar Crop
While Caesar cuts have been a common style for men, Rihanna proves that they can be just as great a look for women. The straight, short bangs make it a 'do distinct from a pixie cut.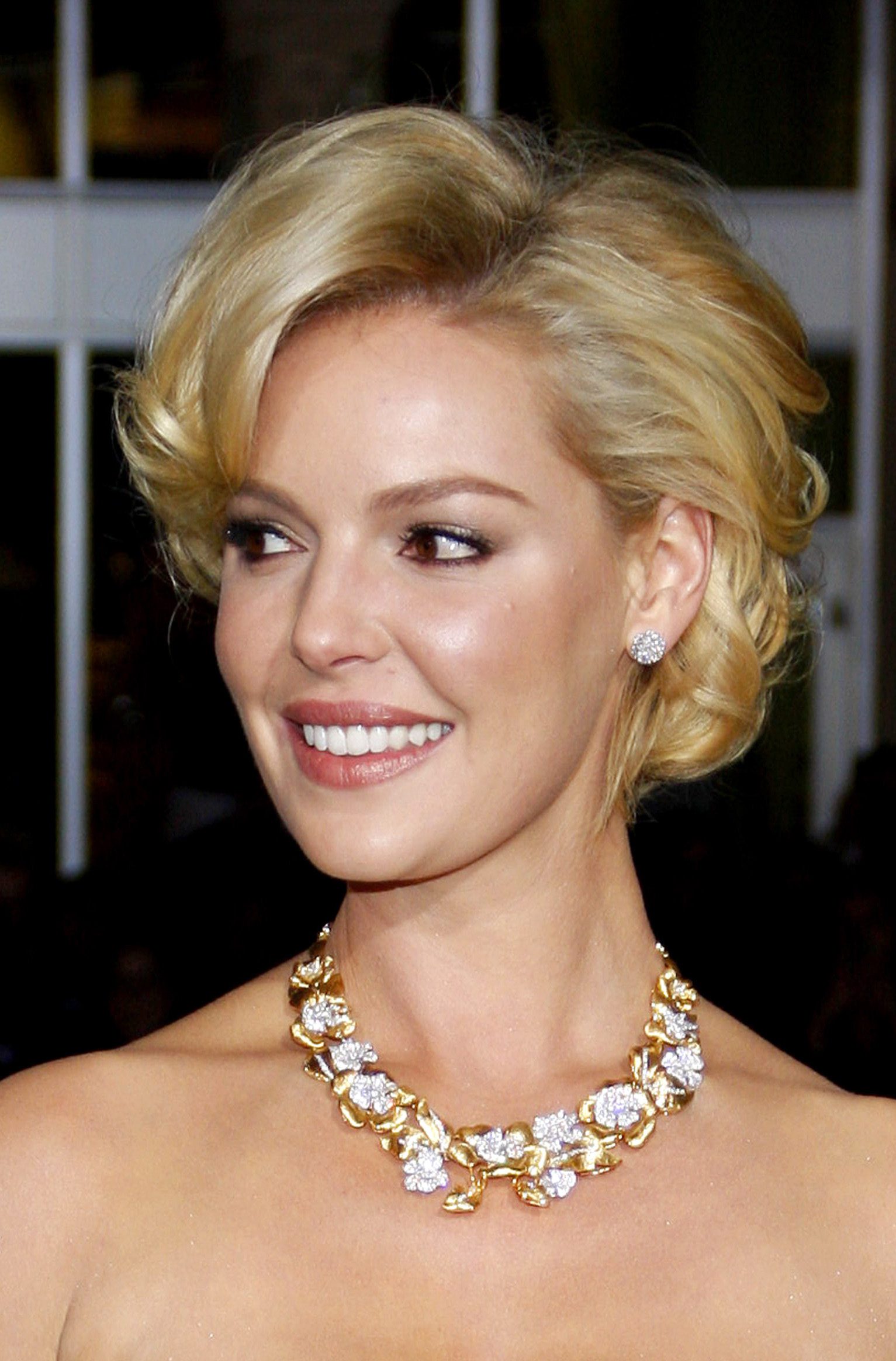 Tinseltown / Shutterstock.com
Katherine Heigl's Timeless Bob
Part of what make bobs such an appealing style is that you can style them however you like. For instance, this curly bob sported by Katherine Heigl exudes old Hollywood, but the same style straightened would offer a more modern look.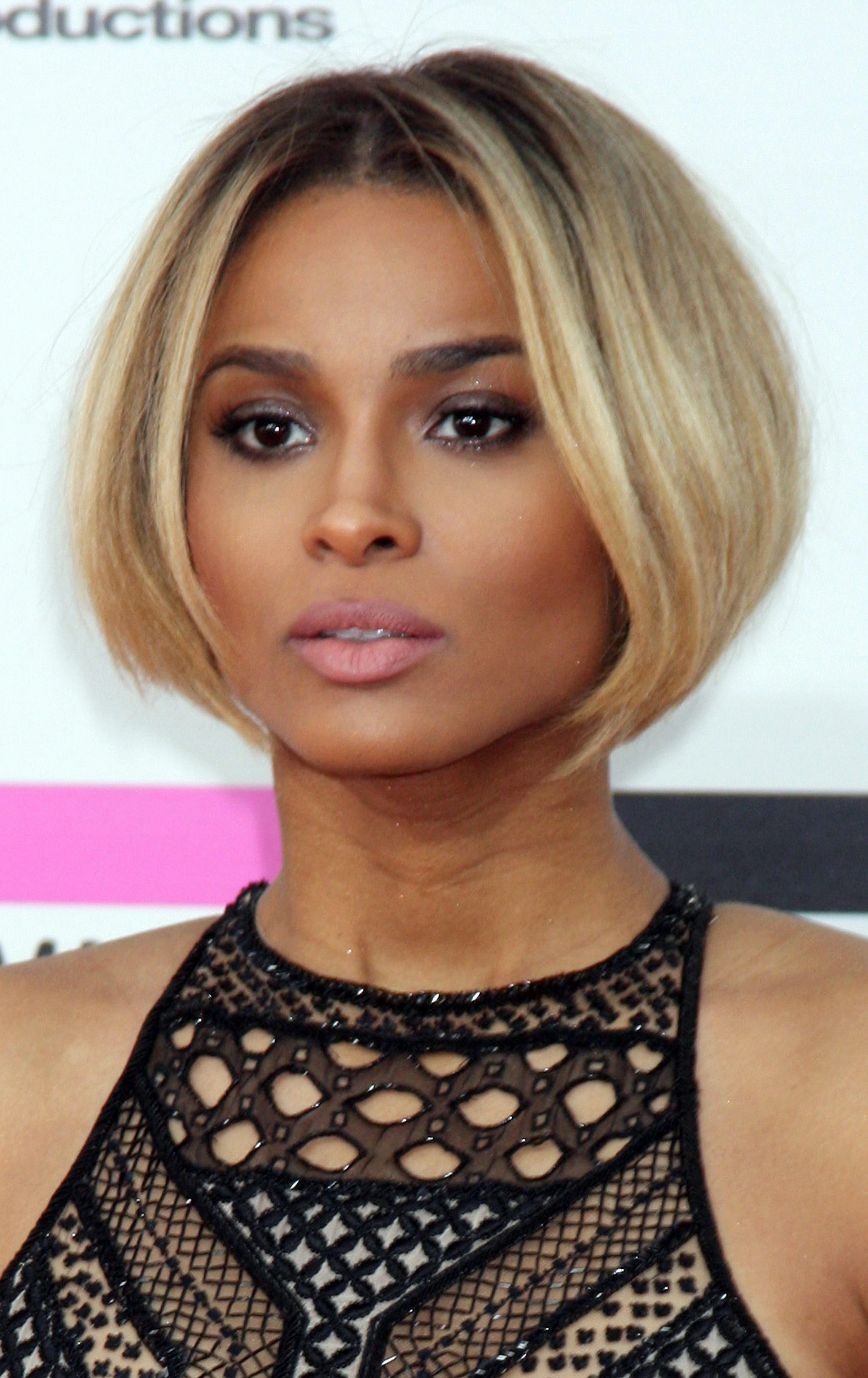 Kathy Hutchins / Shutterstock.com
Ciara's Blonde Bob with Dark Roots
Though you may be tempted to cover up your dark roots as soon as they start to show, follow Ciara's lead and let them grow out a little. To help with the transition, try parting your hair straight down the middle.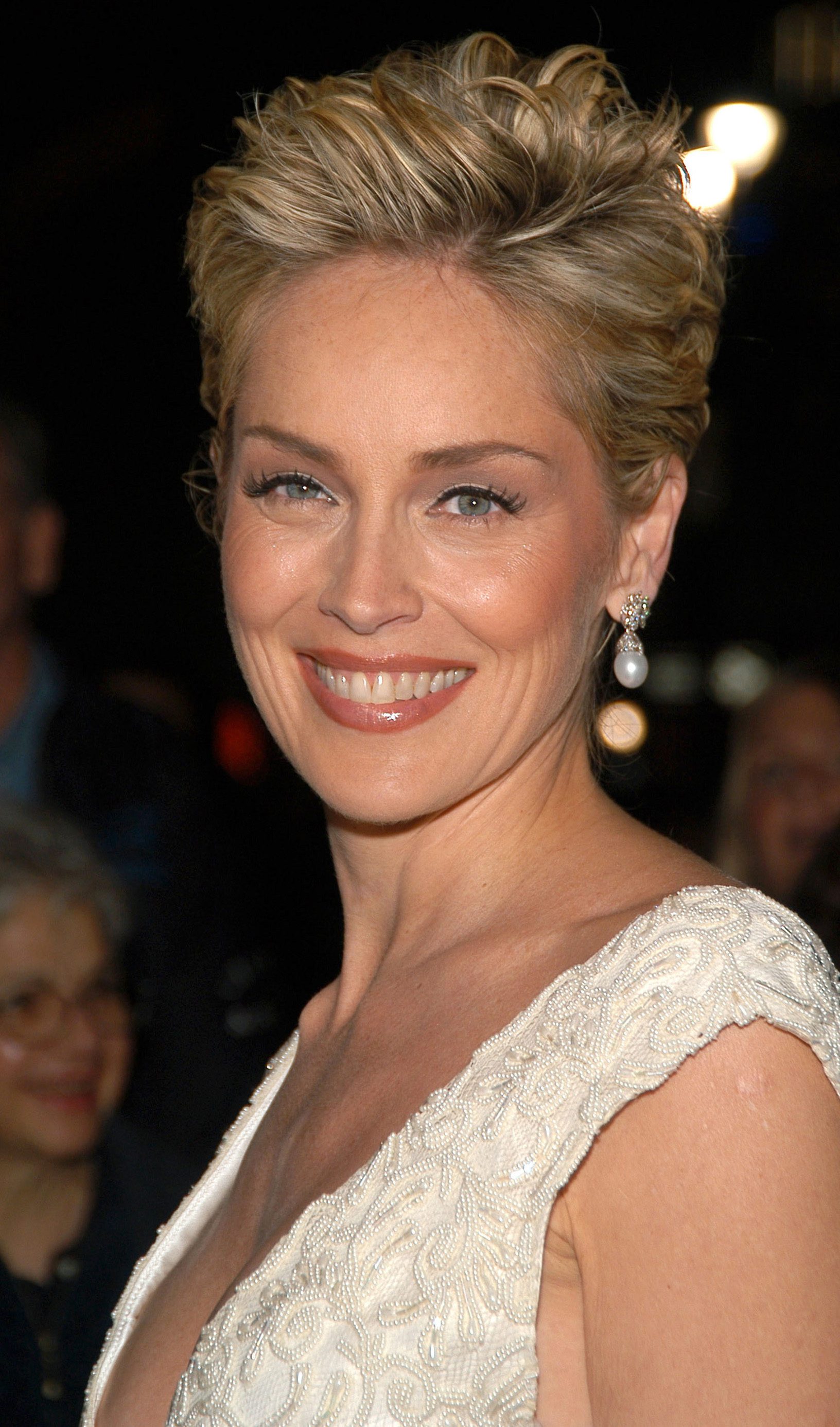 Everett Collection / Shutterstock.com
Sharon Stone Short Scissor Cut
Scissors and clippers have a different effect on your hair when it is cut. While clippers are better for super short styles, scissors can help create more dimension and volume.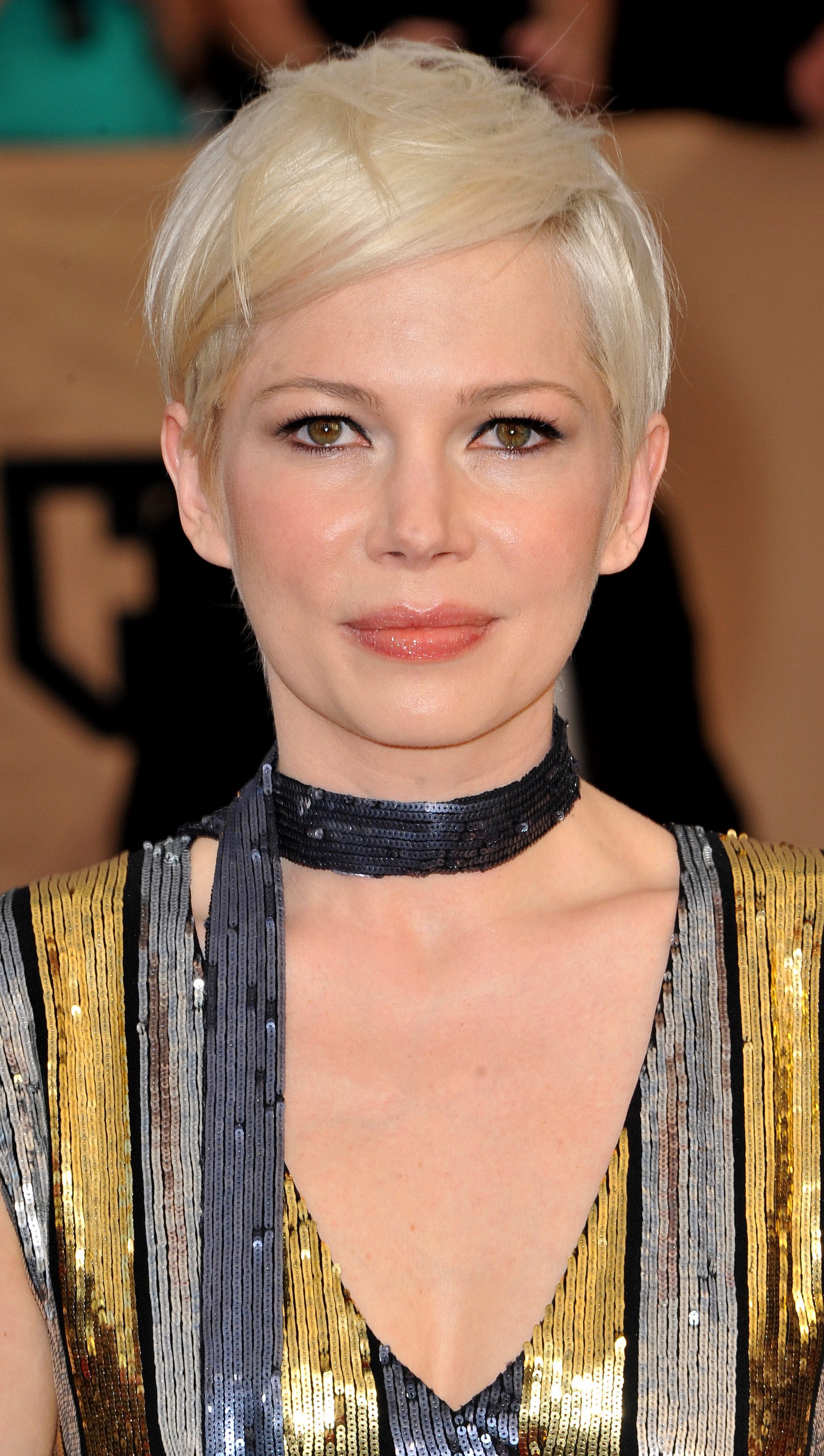 Tinseltown / Shutterstock.com
Michelle Williams' Short Pixie
Michelle Williams' pixie is short, sweet, and sleek. Her deep side part helps add some body to her otherwise smooth and polished 'do.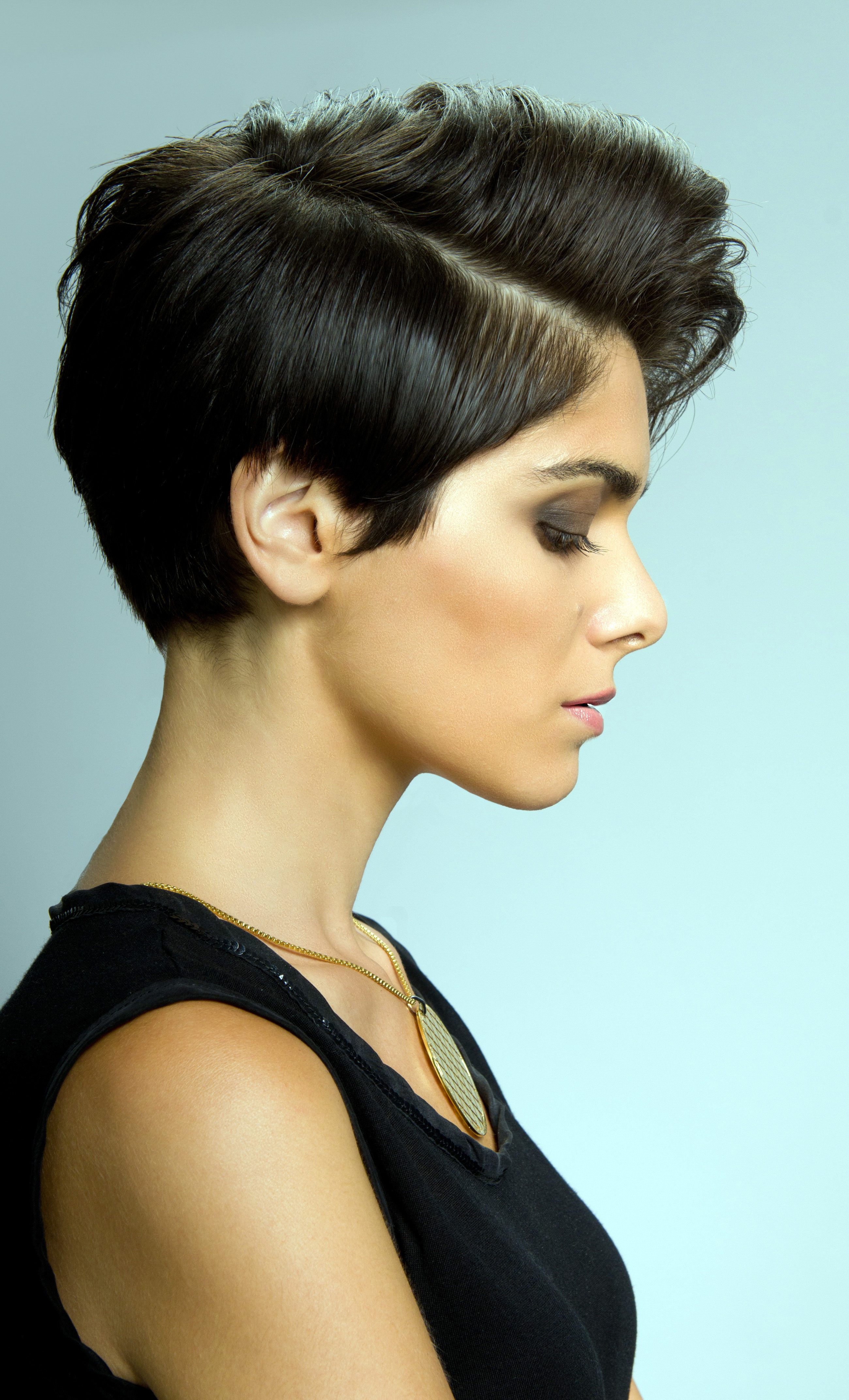 rido / Shutterstock.com
Voluminous Pixie with Deep Side Part
This pixie cut is a little different from the traditional 'do. You have to mix lengths in order to achieve that much volume; cut the sides of your hair short, but leave plenty of length on top to play with.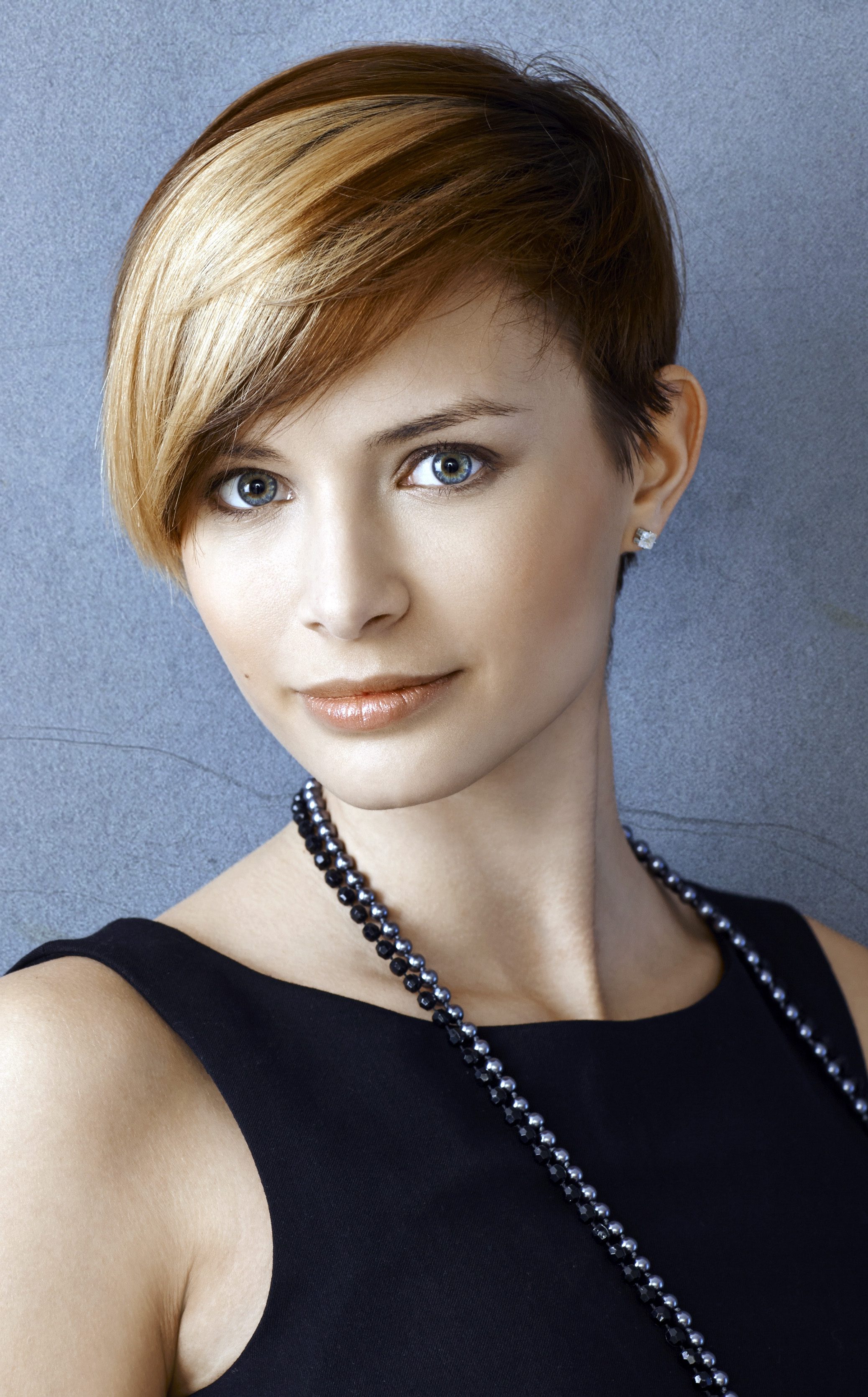 StockLite / Shutterstock.com
Layered Crop With Angular Fringe
Pixie cuts often feature short bangs but don't hesitate to grow yours out into a full-on fringe. To draw extra attention to your face, add some bright highlights to your bangs.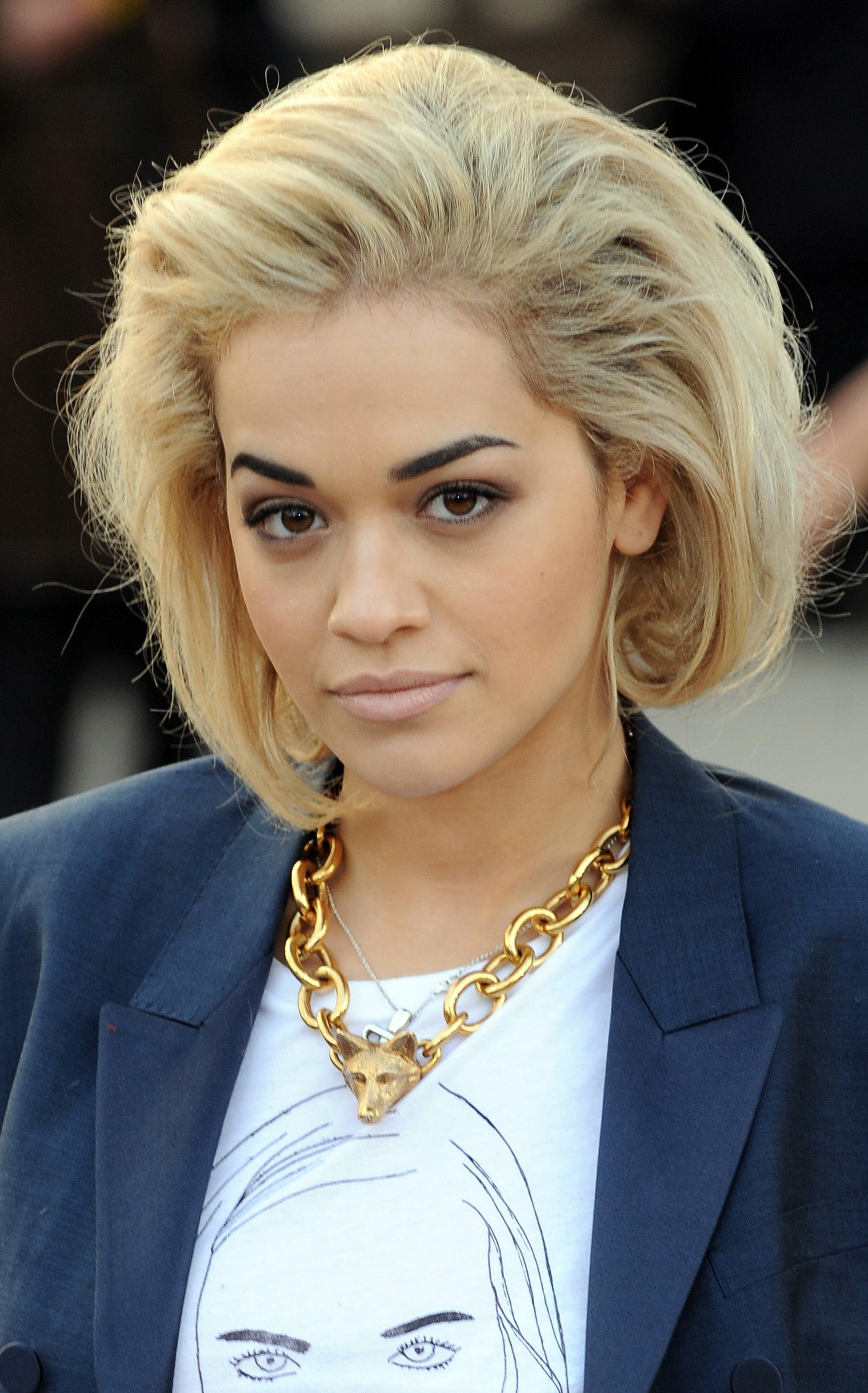 landmarkmedia / Shutterstock.com
Rita Ora's Blowout Bob
If you like the idea of a bob but don't want to commit to the cut, take a page out of Rita Ora's book. By curling the ends of your hair up after a blowout, you can create a bob style without reaching for the scissors.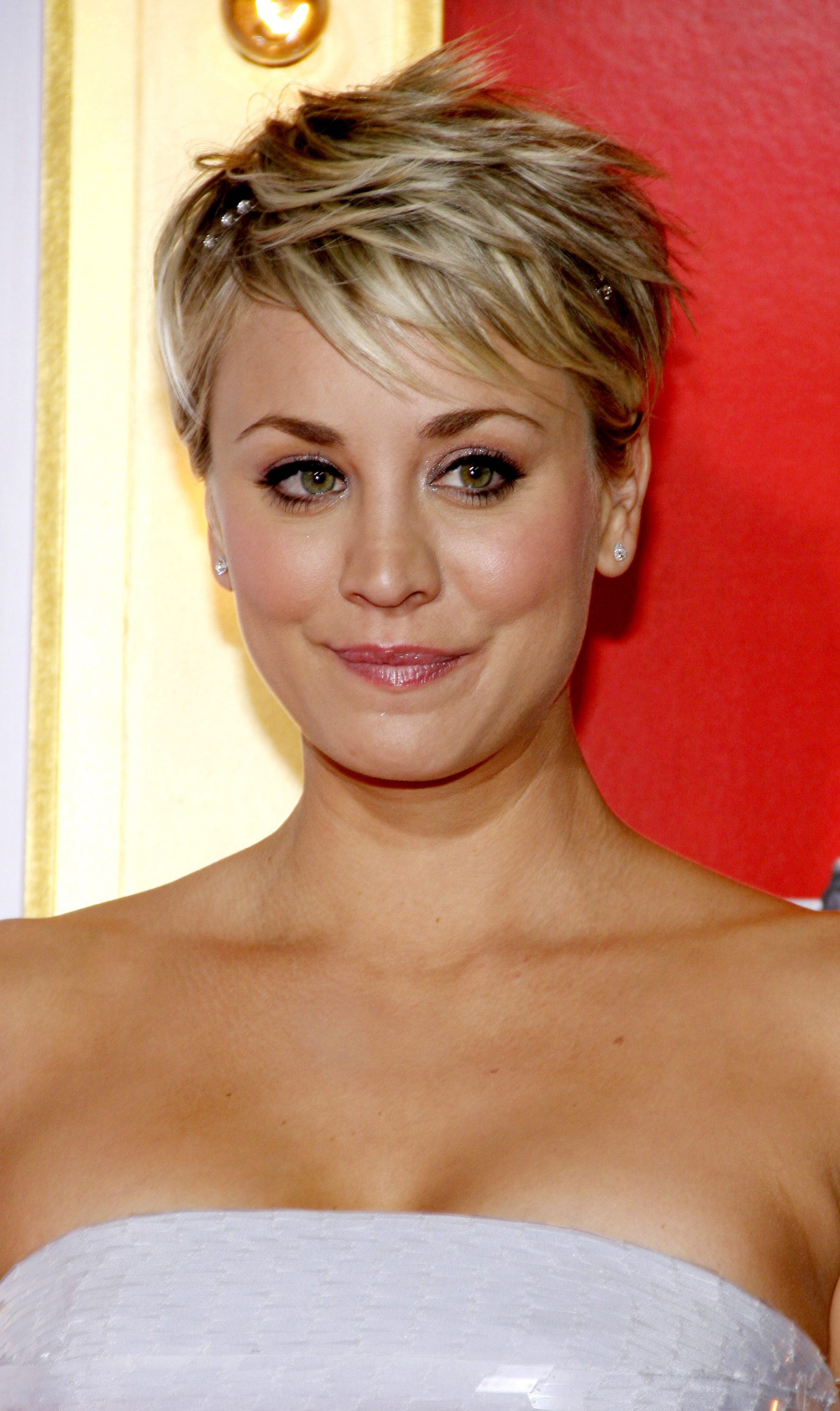 Tinseltown / Shutterstock.com
Kaley Cuoco's Short Crop with Textured Top
Kaley Cuoco was known for her shiny blonde locks, but her feathery, textured crop shows off her lovely features. For some extra fun and volume, try styling your hair against your natural part.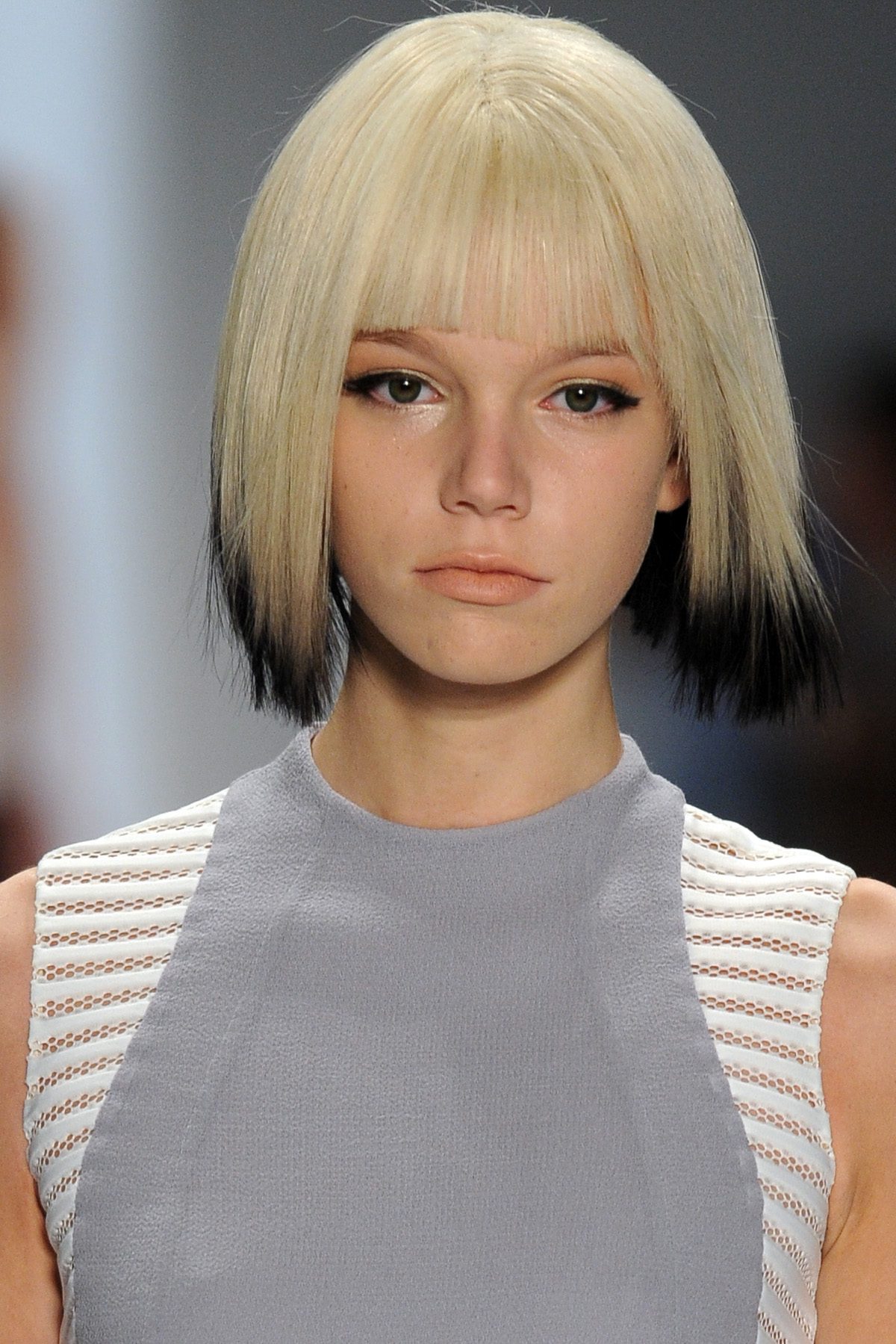 AntonOparin / Shutterstock.com
Blonde Bob with Dark Ends
You can do just about anything to a bob, including play with its color. By adding dark ends to your hair, you won't even have to worry about touching up your roots as your hair grows out.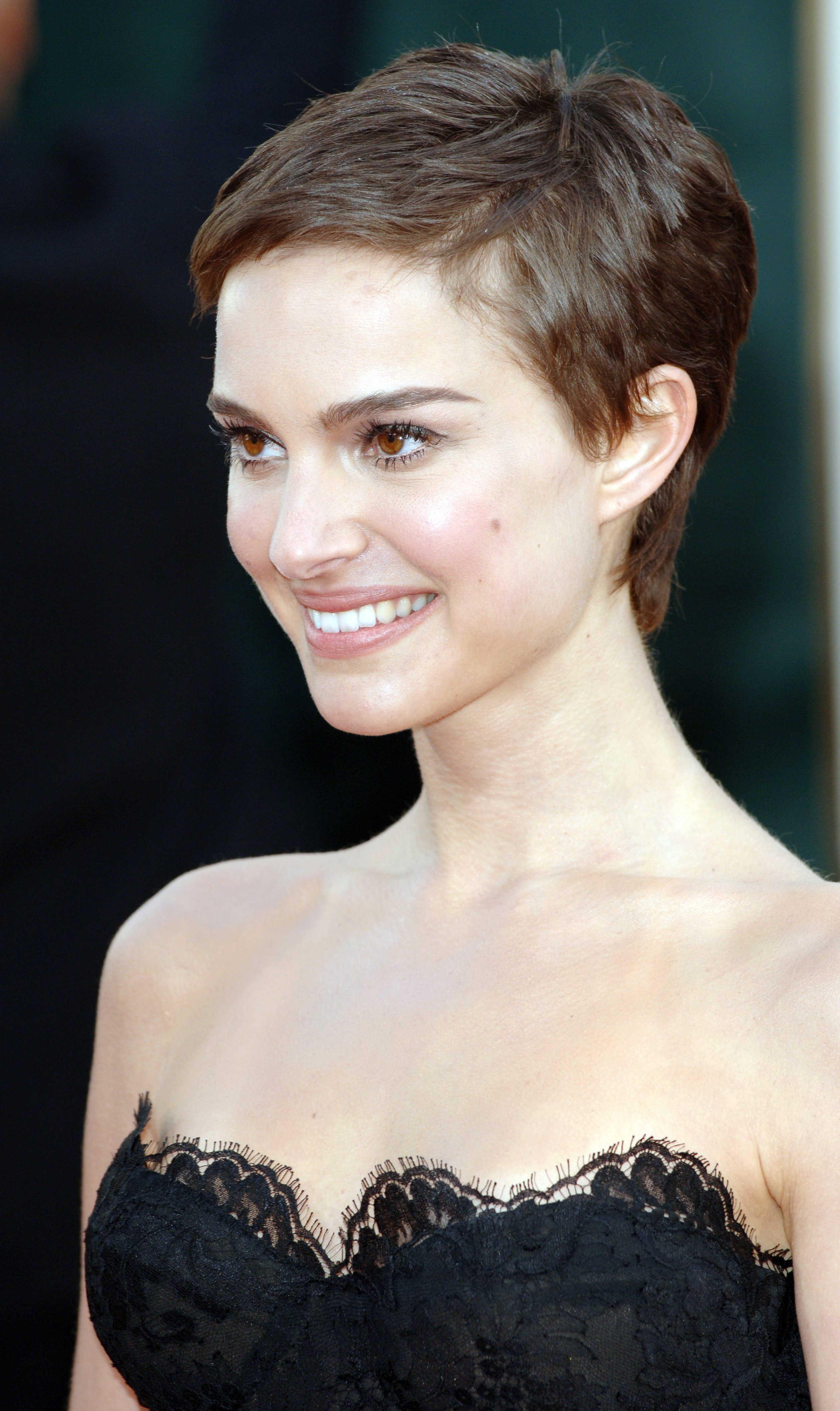 Featureflash Photo Agency / Shutterstock.com
Natalie Portman's Short Scissors Crop
If you want to try a pixie cut, consider going for a classic one like Natalie Portman's scissors crop. You can always try something new after, as this is a great, basic 'do that you can build off.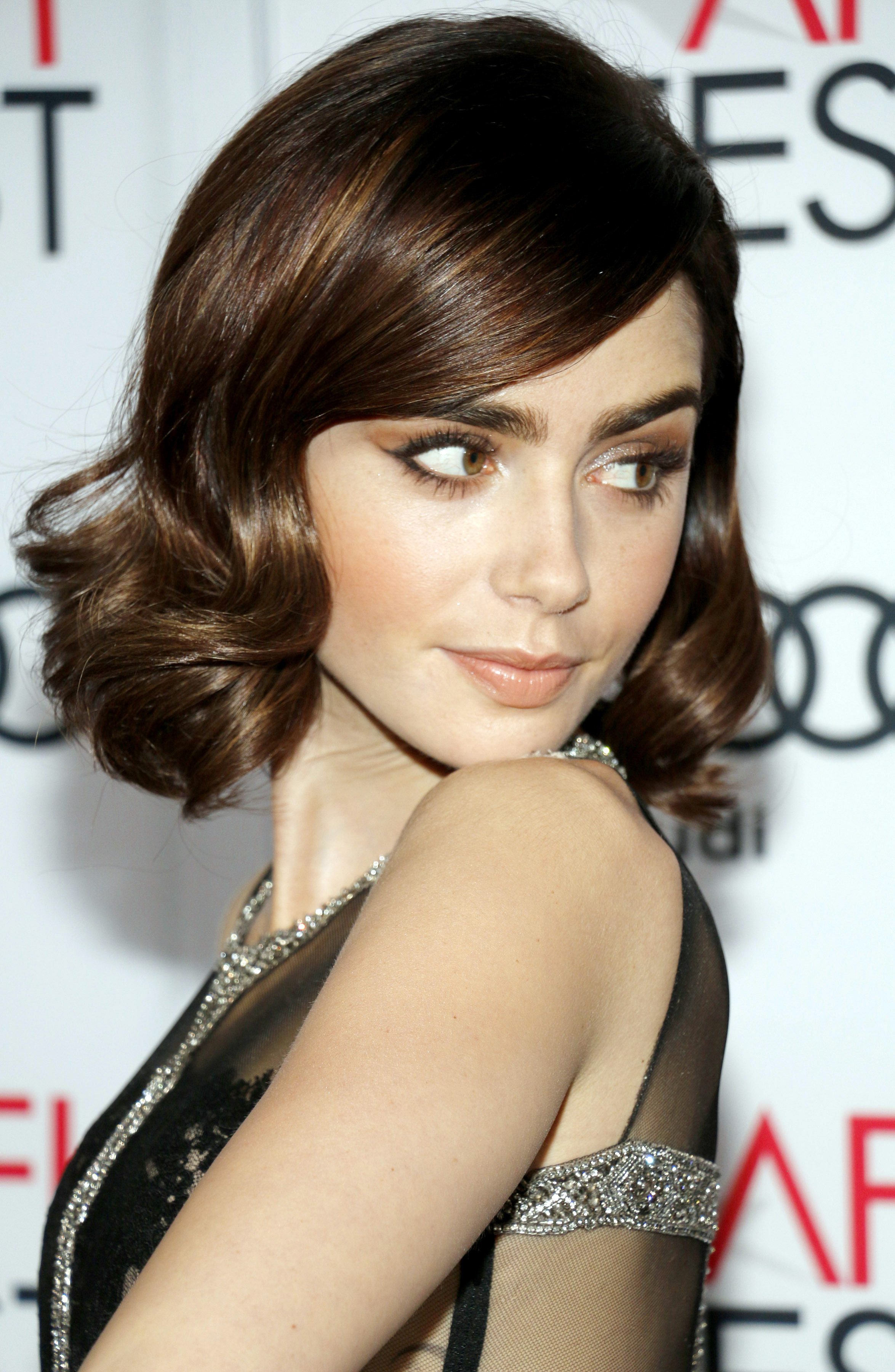 Tinseltown / Shutterstock.com
Lily Collins Beauty of Old Bob
For a special occasion, go for Lily Collins' retro glam bob. Her sleek roots with large curls at the tips are evocative of a 1920s style, perfect for any event.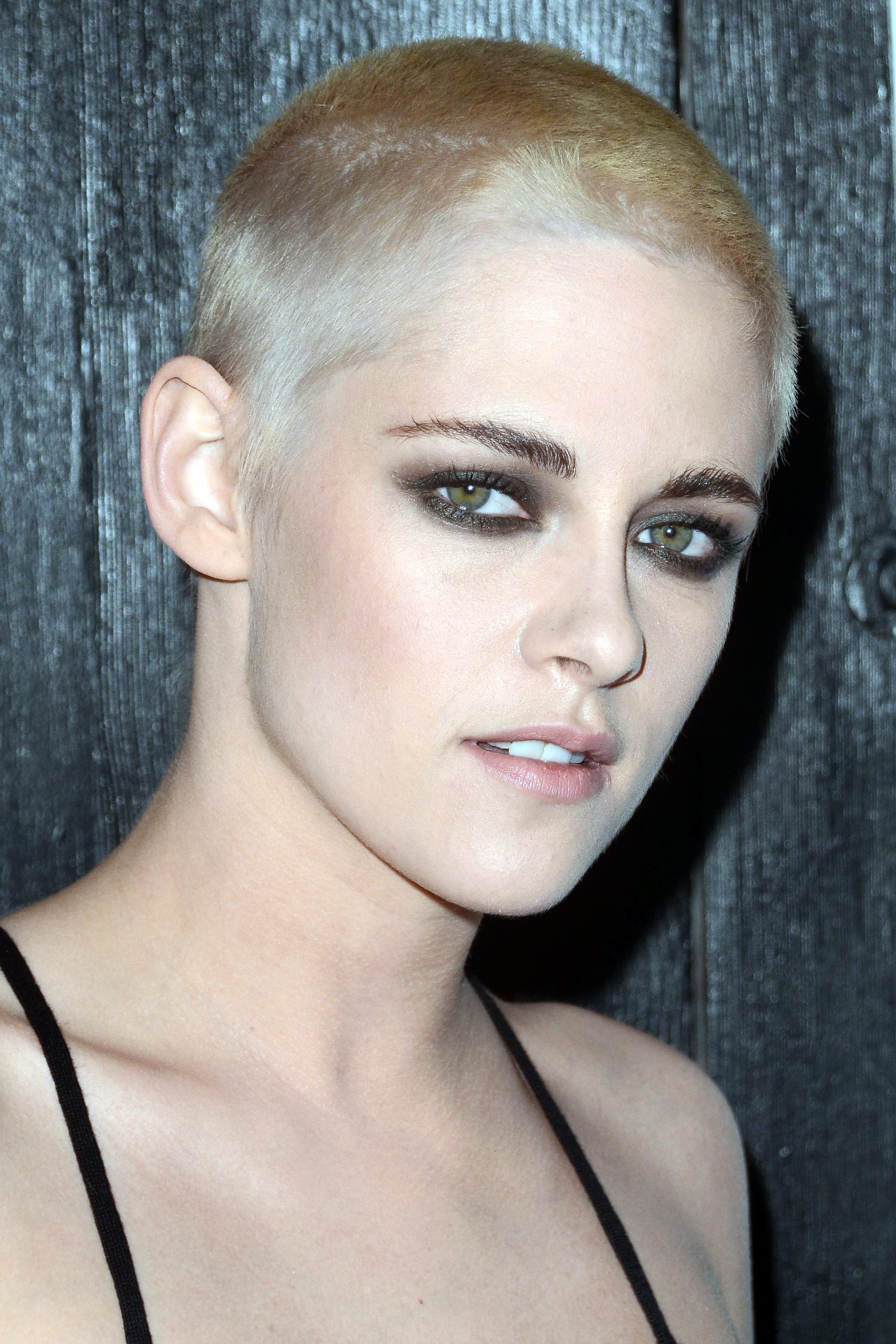 Kathy Hutchins / Shutterstock.com
Kristen Stewarts Blonde Buzz Cut
If you thought a pixie cut is short, think again: a buzz cut is as short as you can get without shaving your head entirely. To really stand out, go platinum blonde like the brave Kristen Stewart did!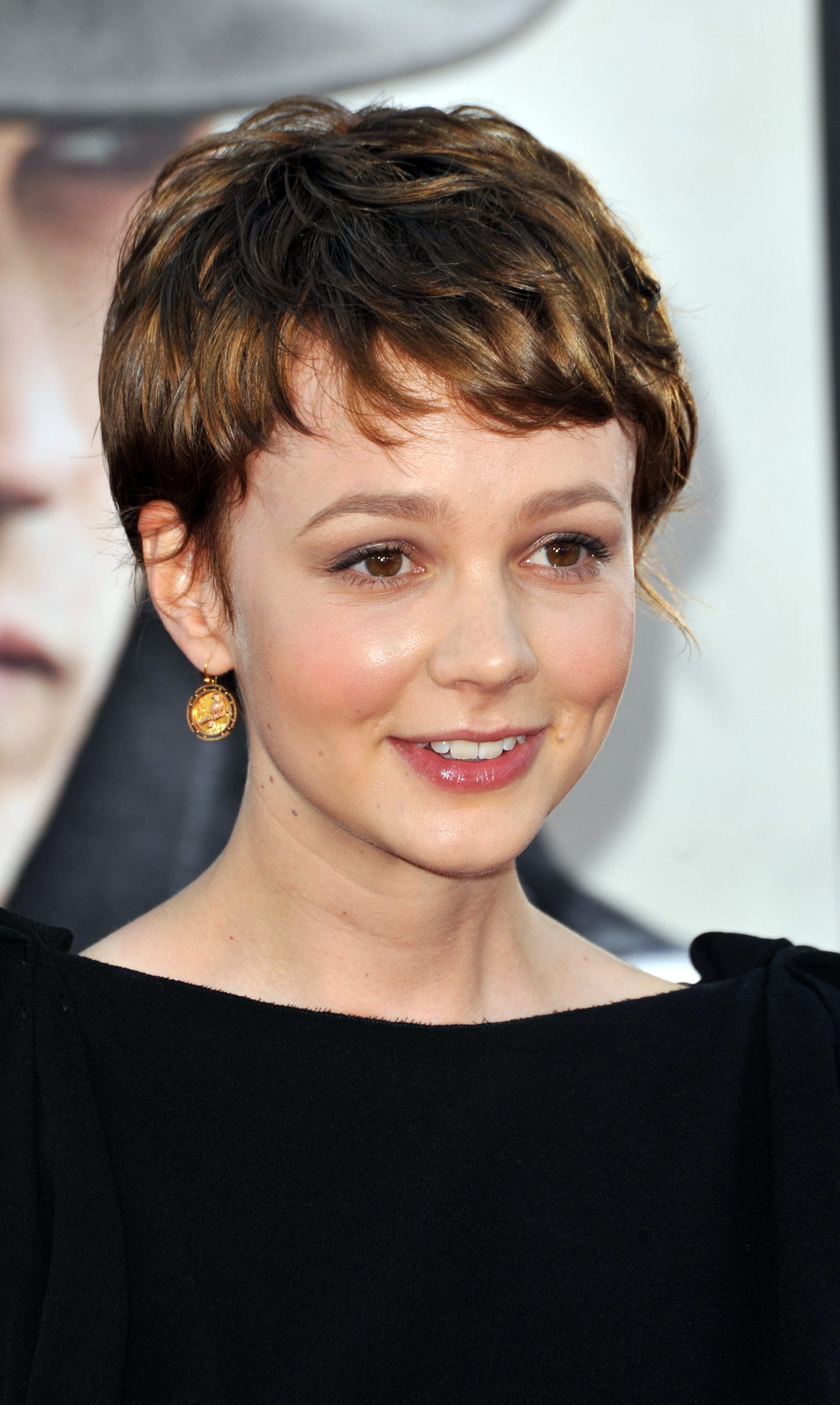 Jaguar PS / Shutterstock.com
Carey Mulligan's Caesar Crop
You can still go for a Caesar crop if your hair has some natural curl to it, like Carey Mulligan. Your hair's natural wave can help add texture and volume, which makes styling a breeze.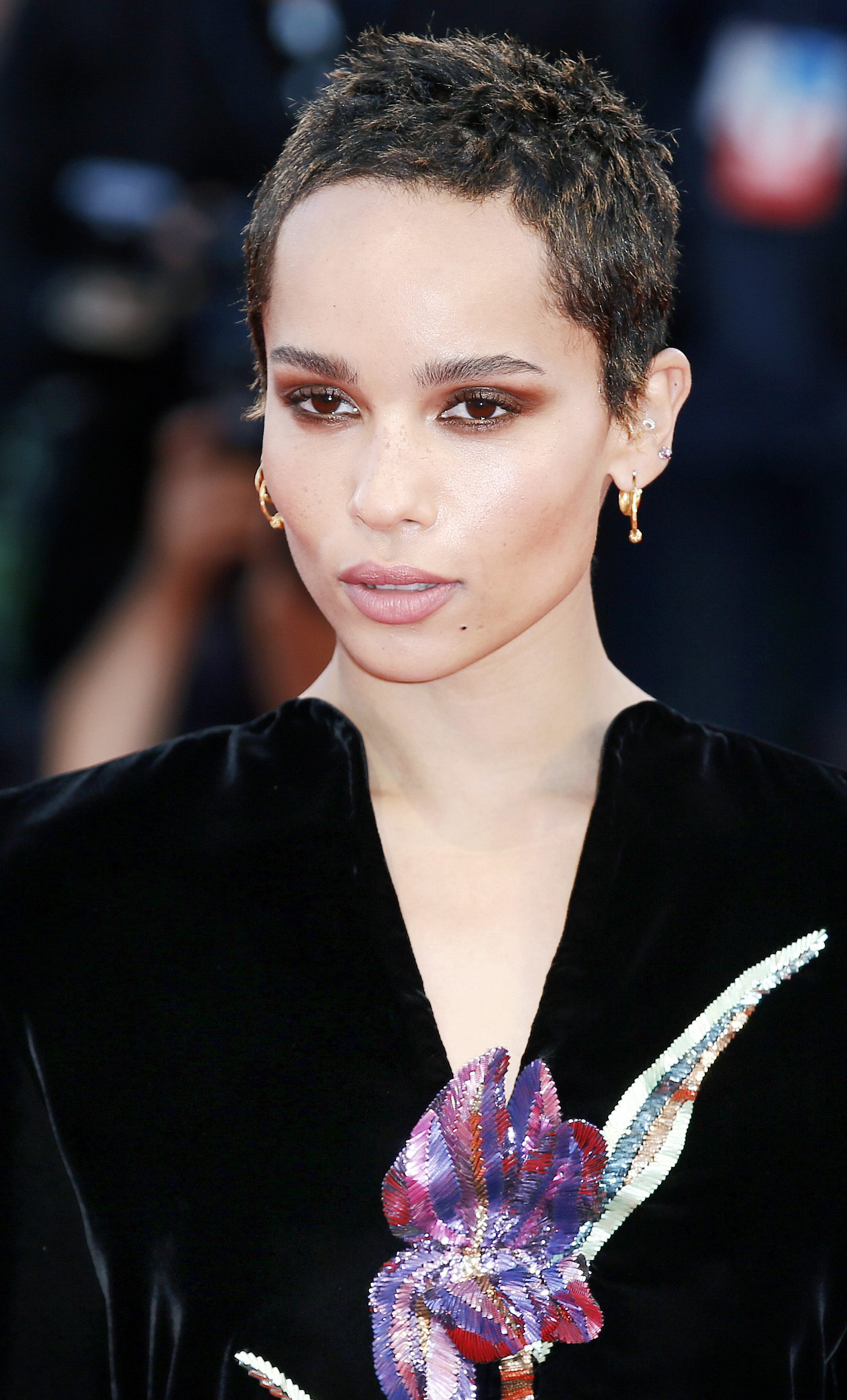 Andrea Raffin / Shutterstock.com
Zoe Kravitz' Short Crop
To really show off your facial features, opt for a super short crop like Zoe Kravitz. This length works especially well for bedhead; the messier, the better.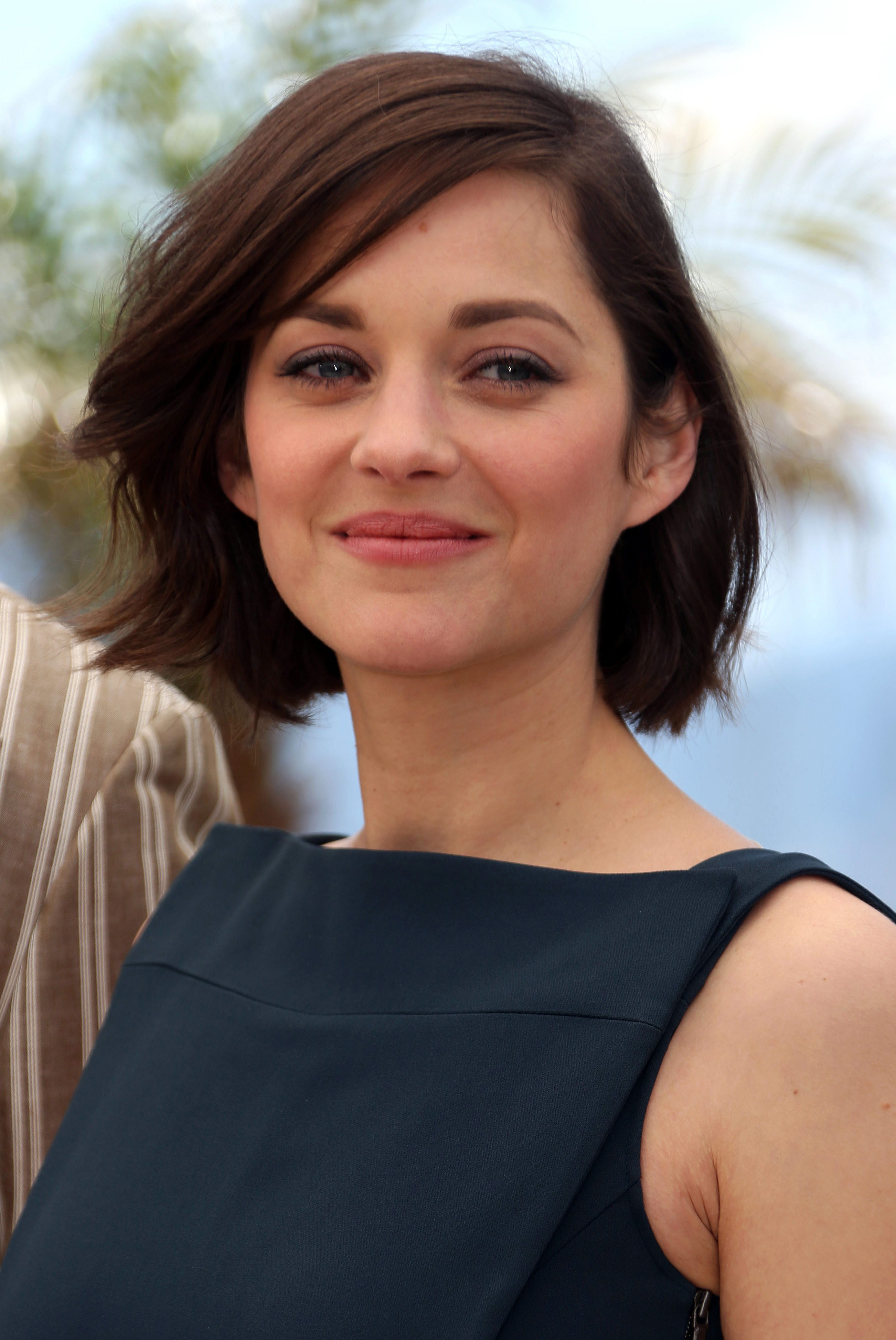 Featureflash Photo Agency / Shutterstock.com
Marion Cotillard's Bob with Side Swept Bangs
This super elegant bob frames the face perfectly with its long side swept bangs. Pushing one side of the hair back behind the ear opens the face up even more. A little wave keeps the look from being too serious.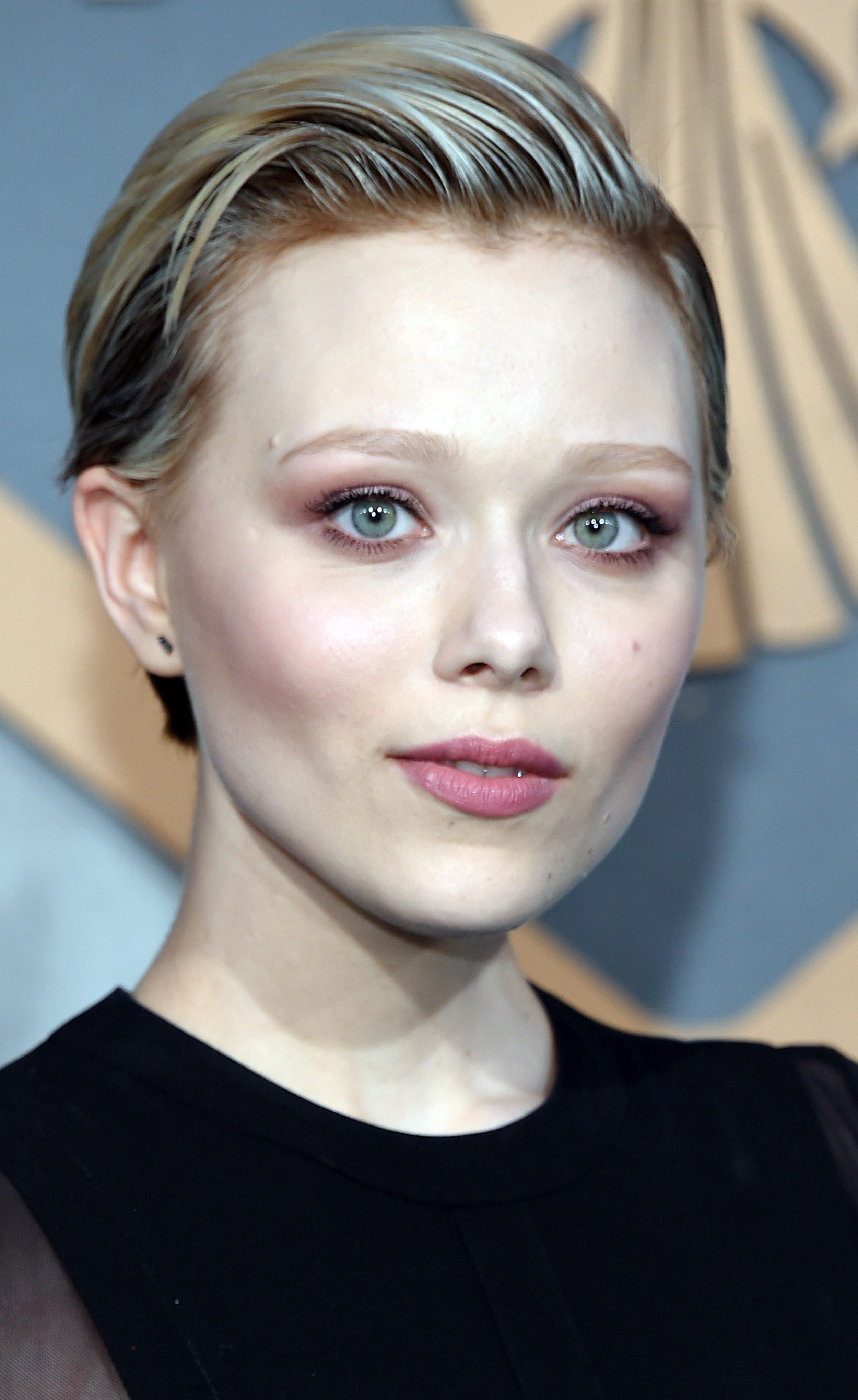 DFree / Shutterstock.com
Ivanna Sakhno's Short Crop with Silvery Blonde Highlights
Ivanna Skahno totally proves that short hair is where it's at with her slicked back style and silvery blonde highlights. Those with short hair should take advantage of how easy it is to style and dye as Ivanna does here.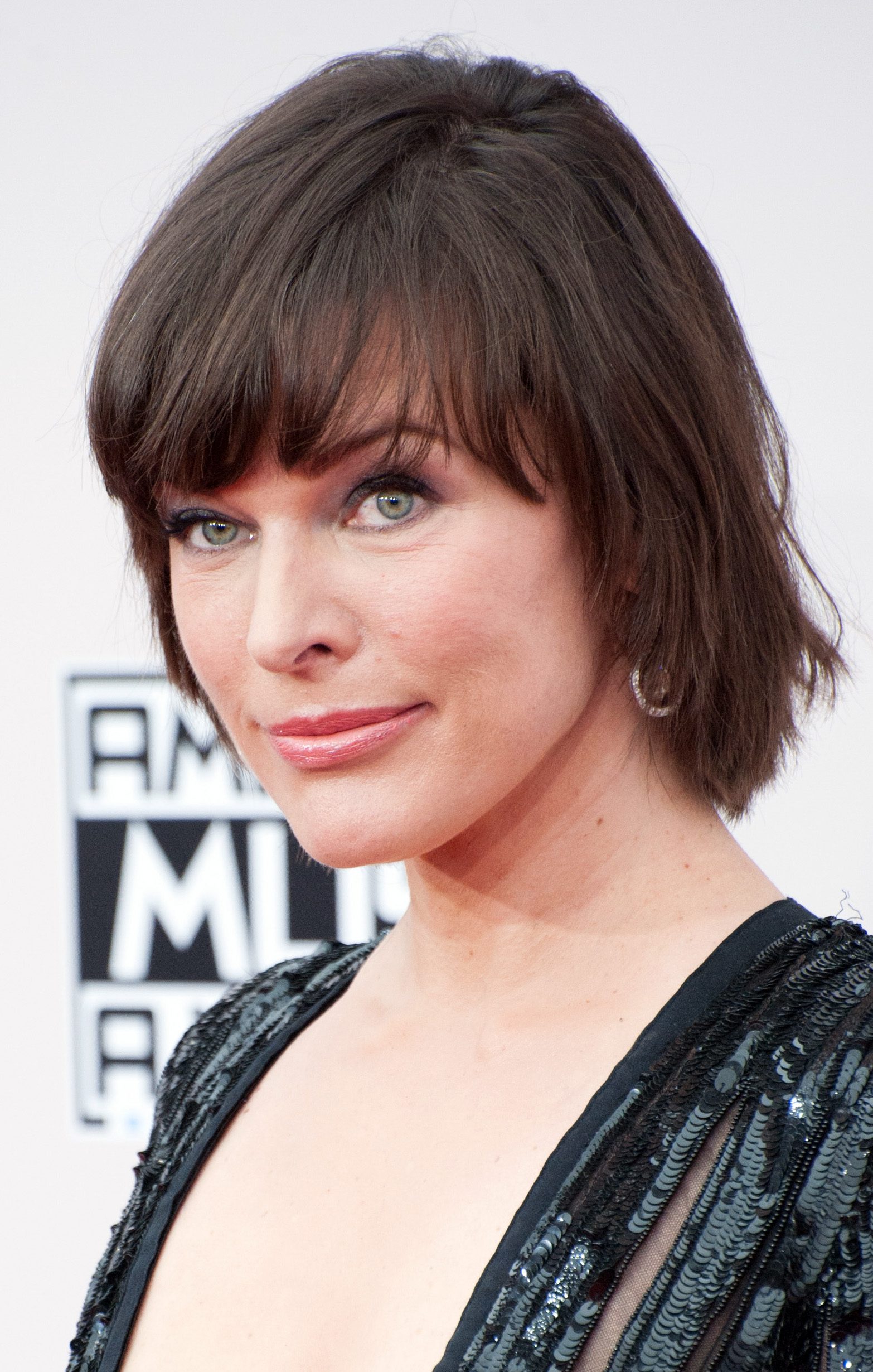 Featureflash Photo Agency / Shutterstock.com
Milla Jovovich's Short Shag
Milla Jovovich has a long history with short hair. She constantly comes up with winning looks and this short shag is no different. This ruffled style adds laidback vibes even at red carpet events. Layers are added throughout to give a wispy texture to her short do. Her easygoing vibe is emphasized with longer bangs that graze the top of her eyelids.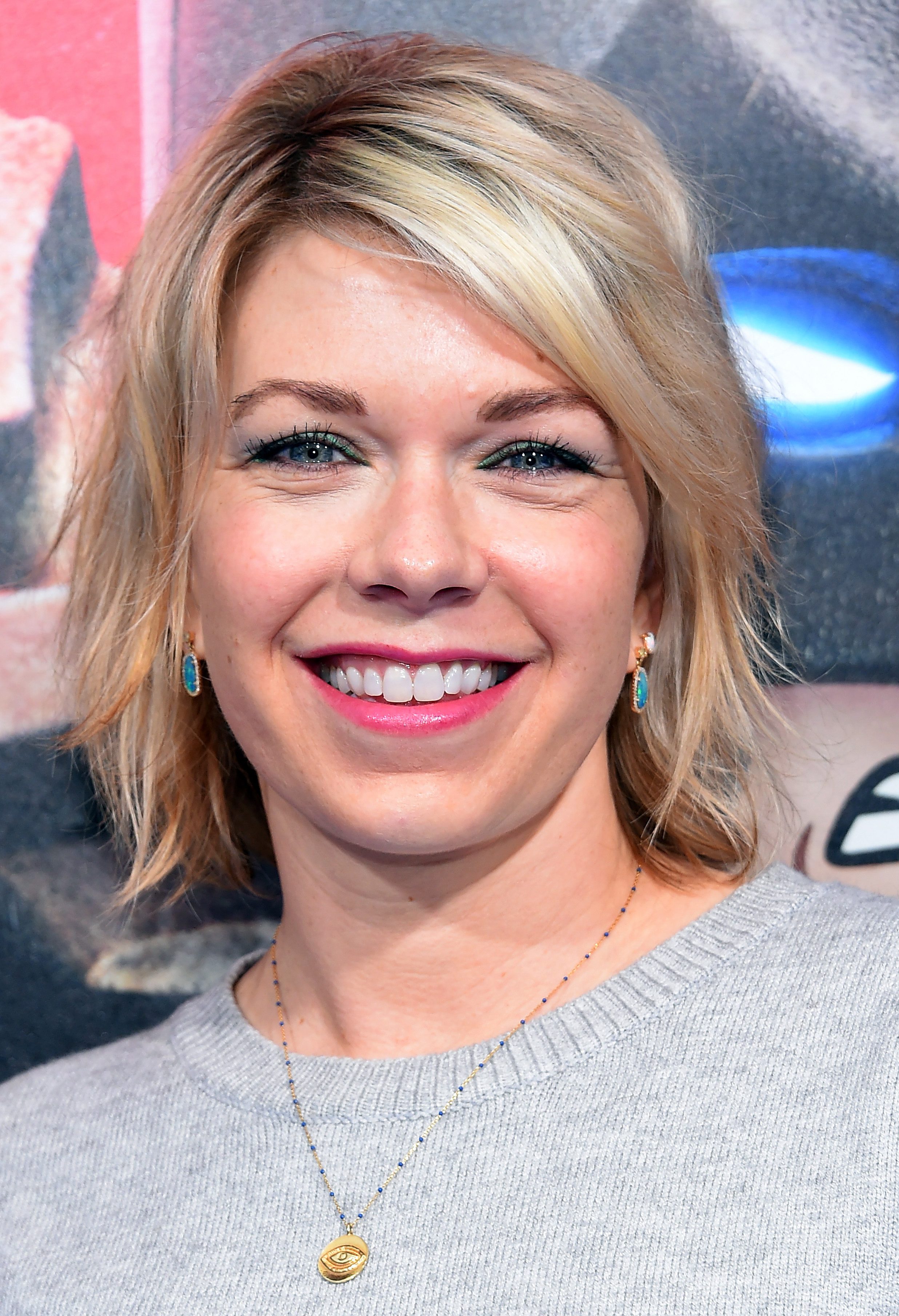 DFree / Shutterstock.com
Mary Elizabeth Ellis' Layered Bob with Side Part
Layers can create much-wanted texture through the hair but can also take away volume. By adding a side part, volume is given to the crown and balances any wispy layers.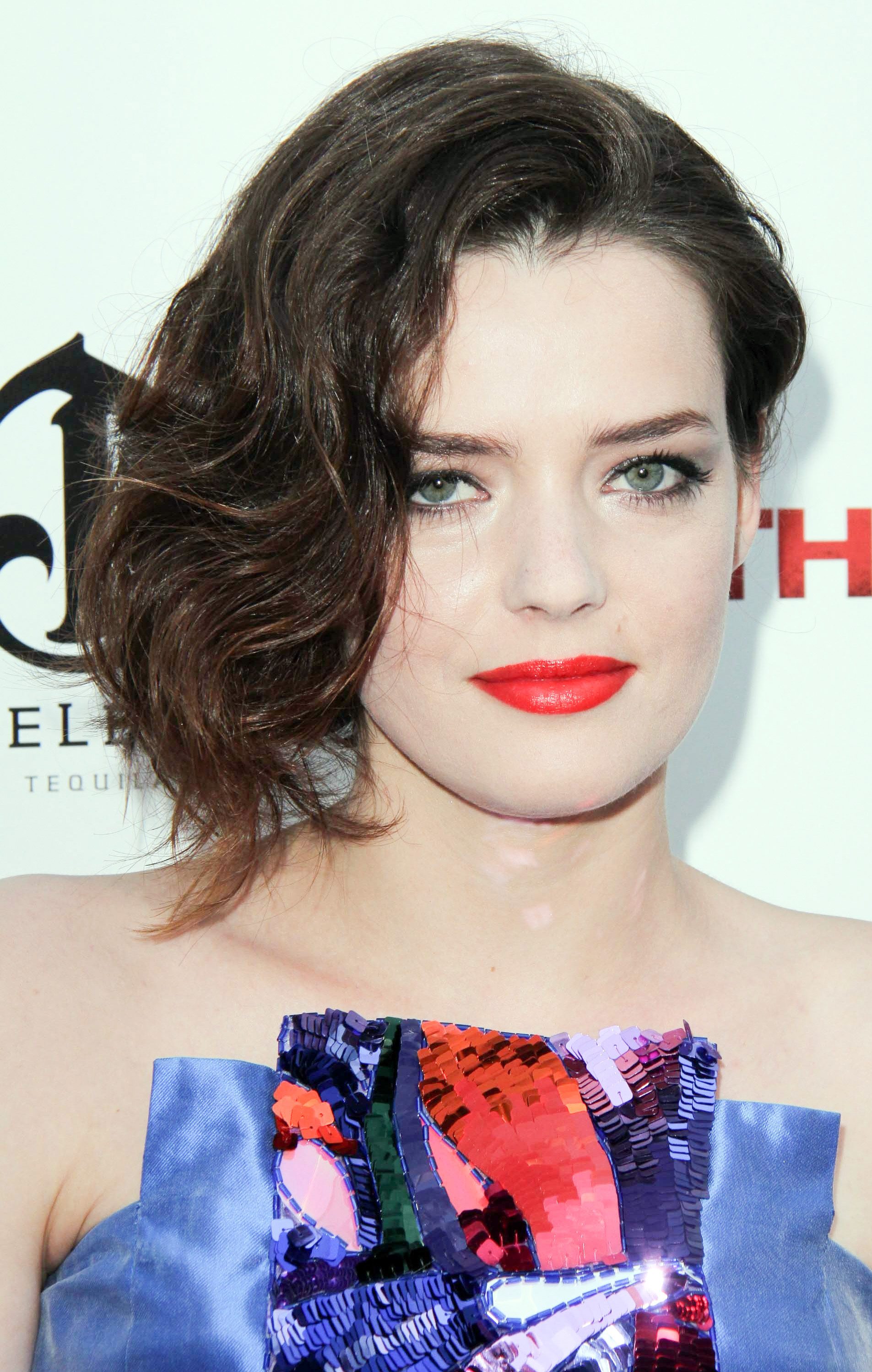 s_bukley / Shutterstock.com
Roxane Mesquida's Side-Swept Bob
Reminiscent of old Hollywood glam, Roxane Mesquida pulls most of her hair back but keeps her side-swept bangs in a loose s-wave. There are several different ways to get a similar look. One of the more traditional methods is to curl hair in one-inch sections with a small curling wand (the smaller, the better). Hold the curling wand perpendicular to the part. Start from the root and curl the hair over and around the wand. Don't let the curl loose. Pull the curling wand out from the curl, pin the curl in place, and let the curl cool (about ten minutes). Do the same to all hair from the part down the side of the face in one-inch sections. Once all the curls have cooled, take the pins out and brush hair with a boar bristle brush. The curls should form into an "s" shape.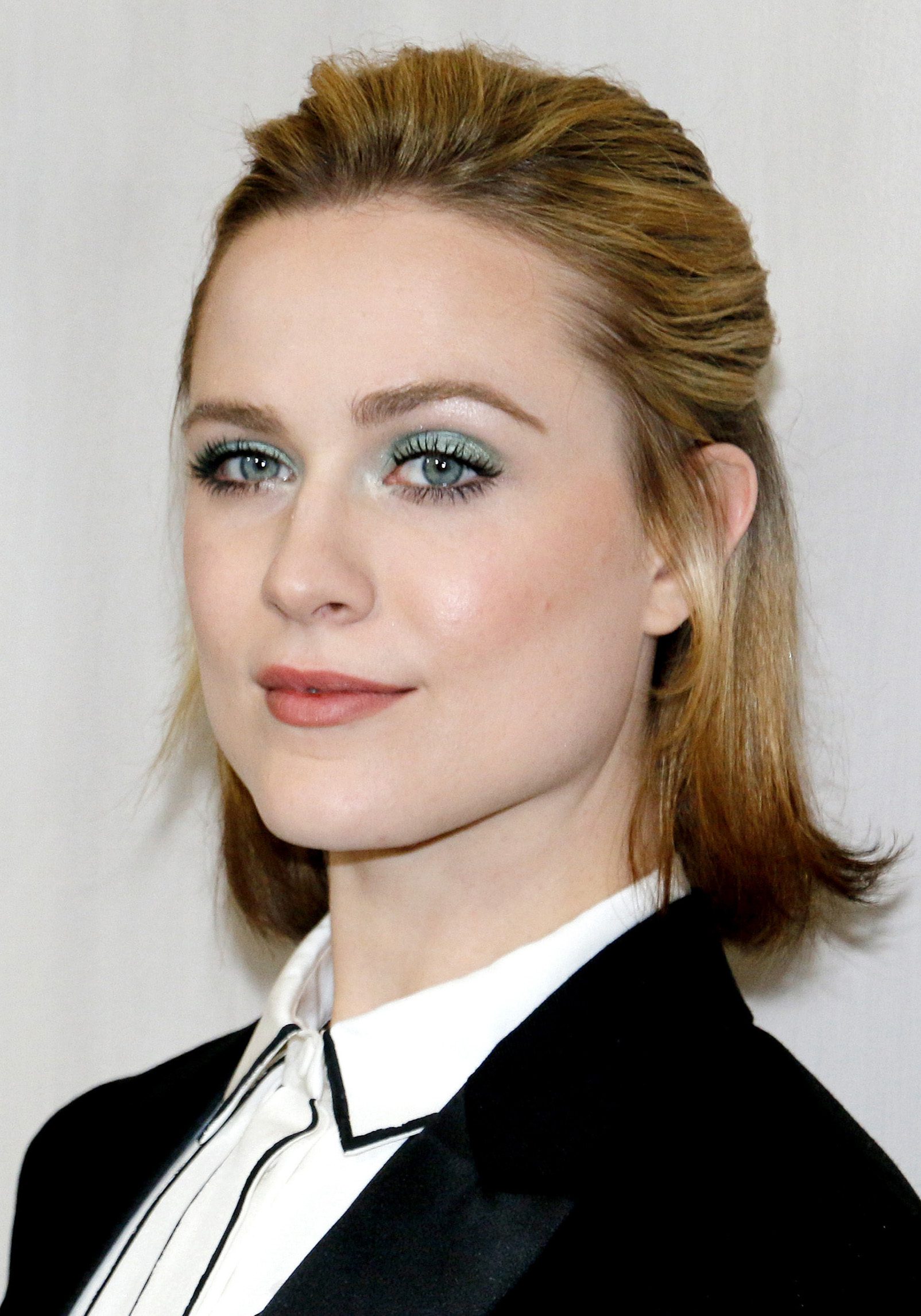 Tinseltown / Shutterstock.com
Evan Rachel Wood's Half-Up Bob with Caramel Highlights
Caramel is such a beautiful blonde color that works well in every season. It is an austere tone that warms up the face. Here, the combo of her caramel highlights and the half-up bob makes Evan Rachel Wood looks earnest and dignified. The hairstyle contrasts well with a fun pop of blue eyeshadow.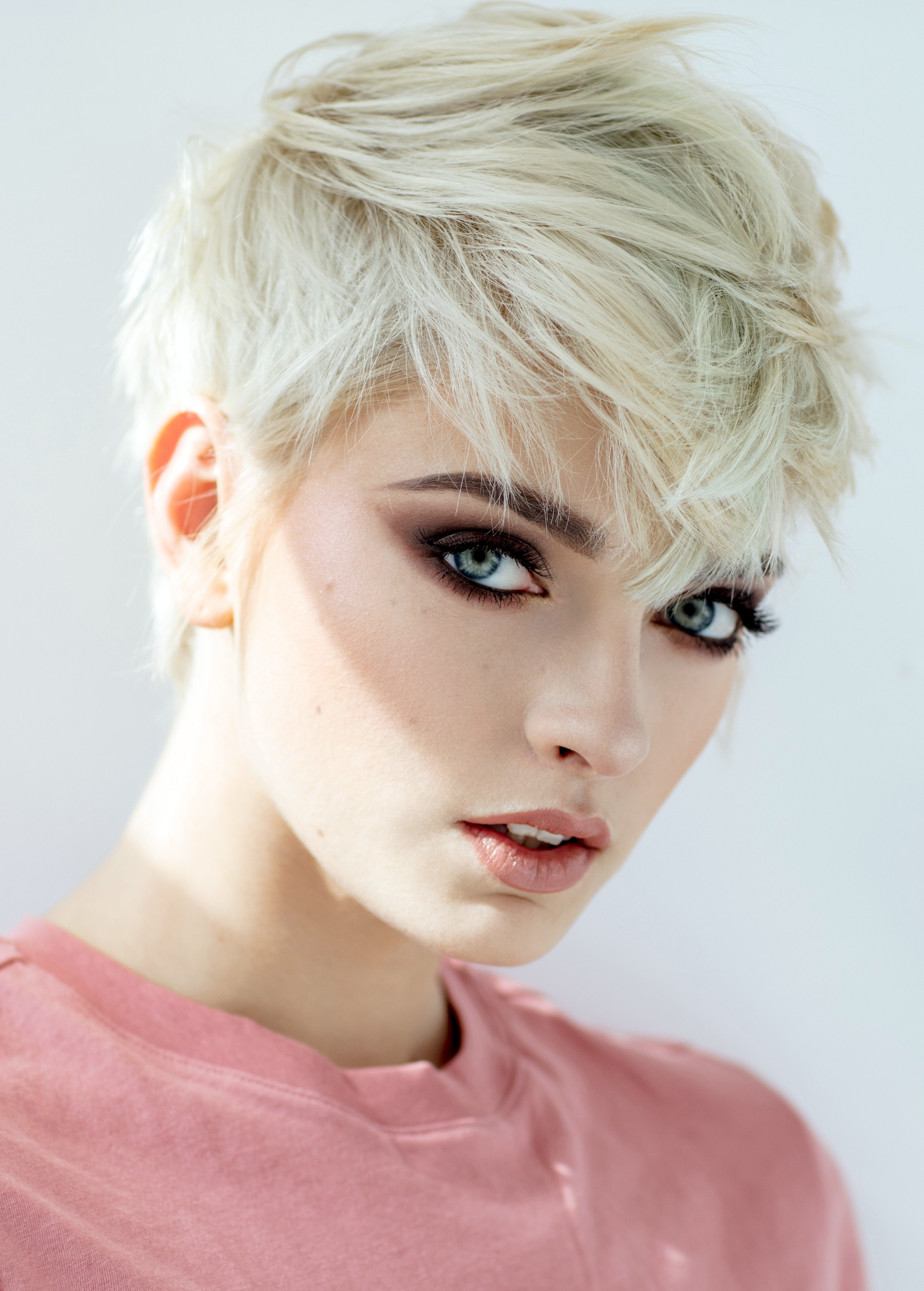 jurekkrol / Shutterstock.com
Spiky Blonde Pixie
The classic pixie haircut is given a cool-girl edge with the spiky texture and light blonde color. A darker eyebrow contrasts well with this look and adds definition and a solid base to facial features.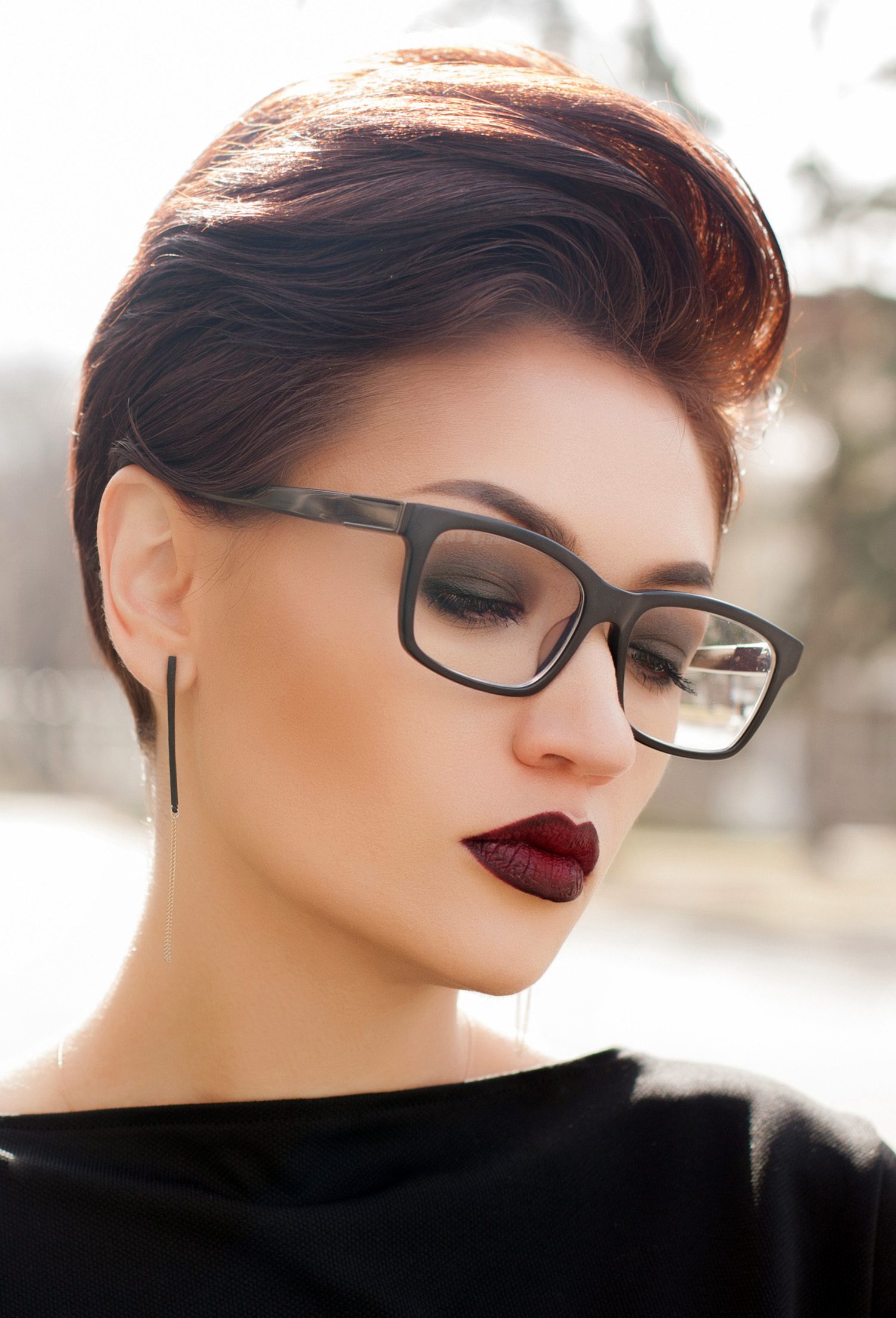 margoblack / Shutterstock.com
Classy Pompadour
The pompadour is a classy and classic way to give style and dimension to any look. It can be created with any length hair but is especially easy to create with shorter hair as shorter hair is lighter and can hold the volume needed on top. To get the look, use a volumizing spray to help create the poof and a gel or wax to slick back the sides.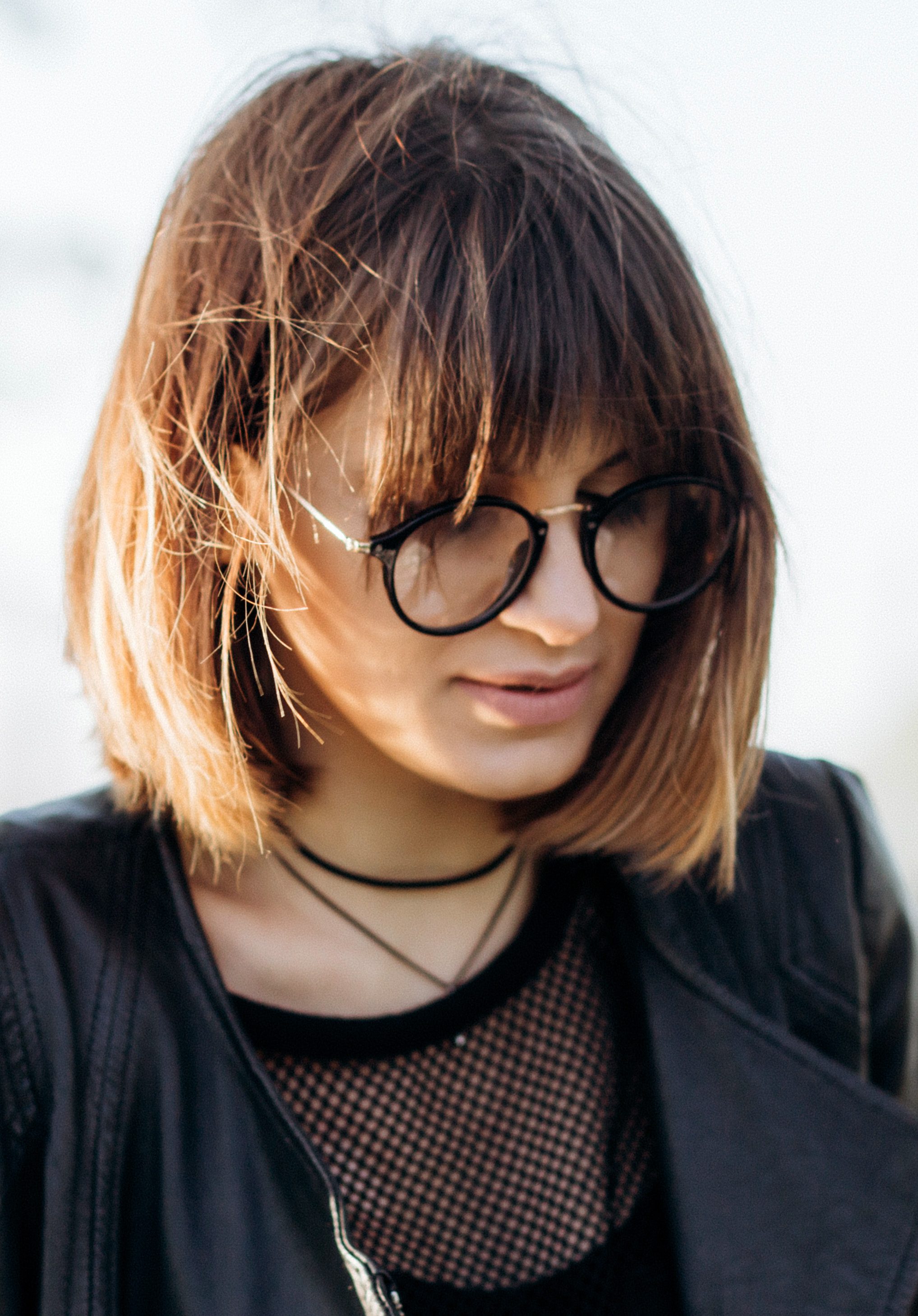 KhrystynaShynkaruk / Shutterstock.com
Balayage on Bob with Choppy Bangs
Balayage is a free-hand technique of highlighting hair to create a more natural gradation of lightness. It looks a bit more loose and free than traditional highlights and is especially great for looking naturally sun-kissed. It's often associated with long, wavy beach hair, but looks incredible with a sophisticated bob and choppy bangs. The contrast of the two different looks, tawny and refined, definitely is a unique style.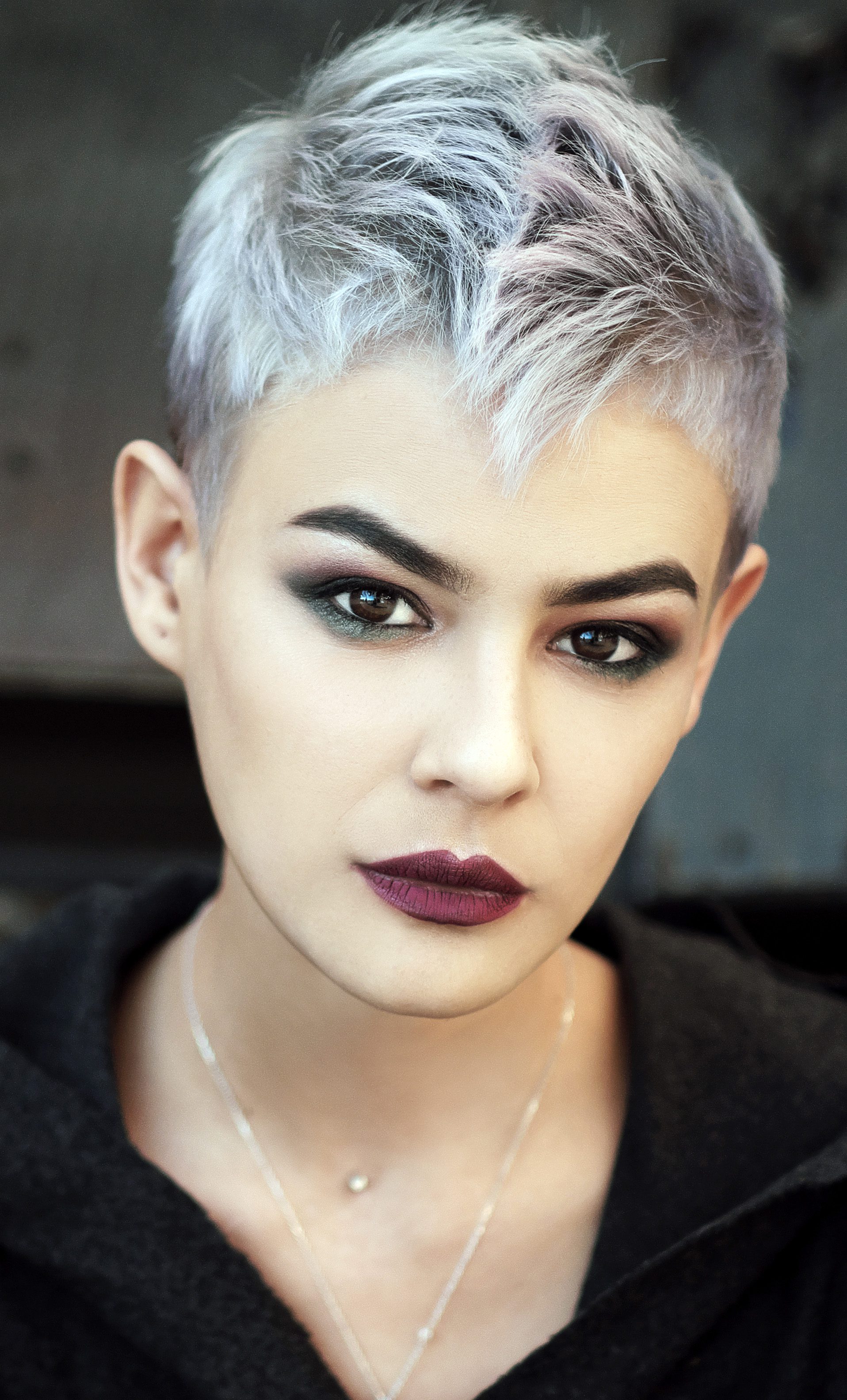 Spaskov / Shutterstock.com
Gray Undercut Crop
Gray hair is celebrated with this short undercut. This neutral color looks great with any skin tone and is so on trend. To maintain the color, a purple shampoo is recommended between salon visits. Don't worry about dark roots. They can add dimension and depth.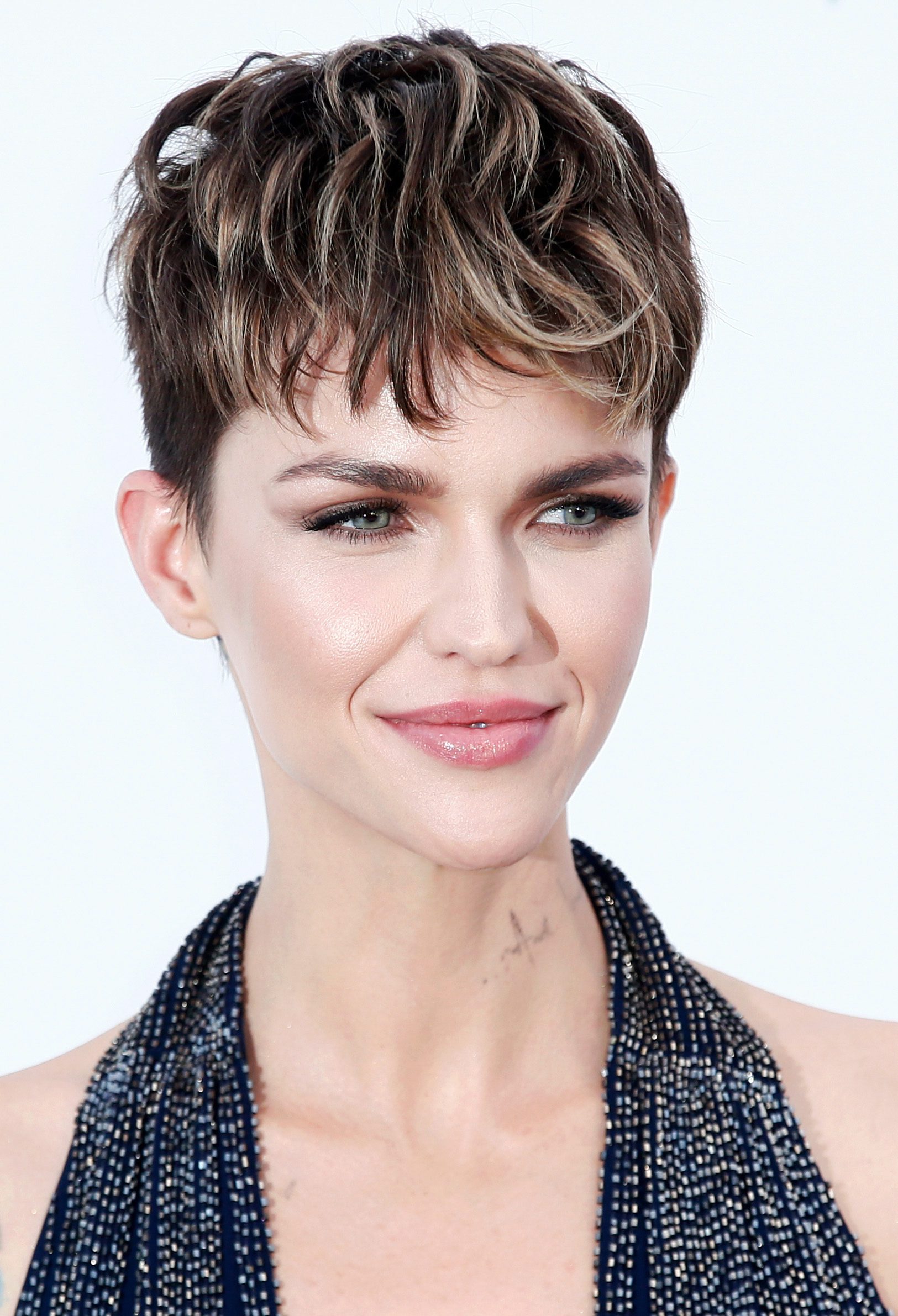 Andrea Raffin / Shutterstock.com
Ruby Rose's Undercut Crop with Highlights
If you haven't screenshot Ruby Rose at least once as short hair inspo, you might be the only person on earth who hasn't. She flaunts her amazing features, beautiful jawline, and dazzling blue eyes with short hair.
Her highlights give off the impression that she's just come home from a beach vacation. This style is sexy and cool; just like Ruby Rose.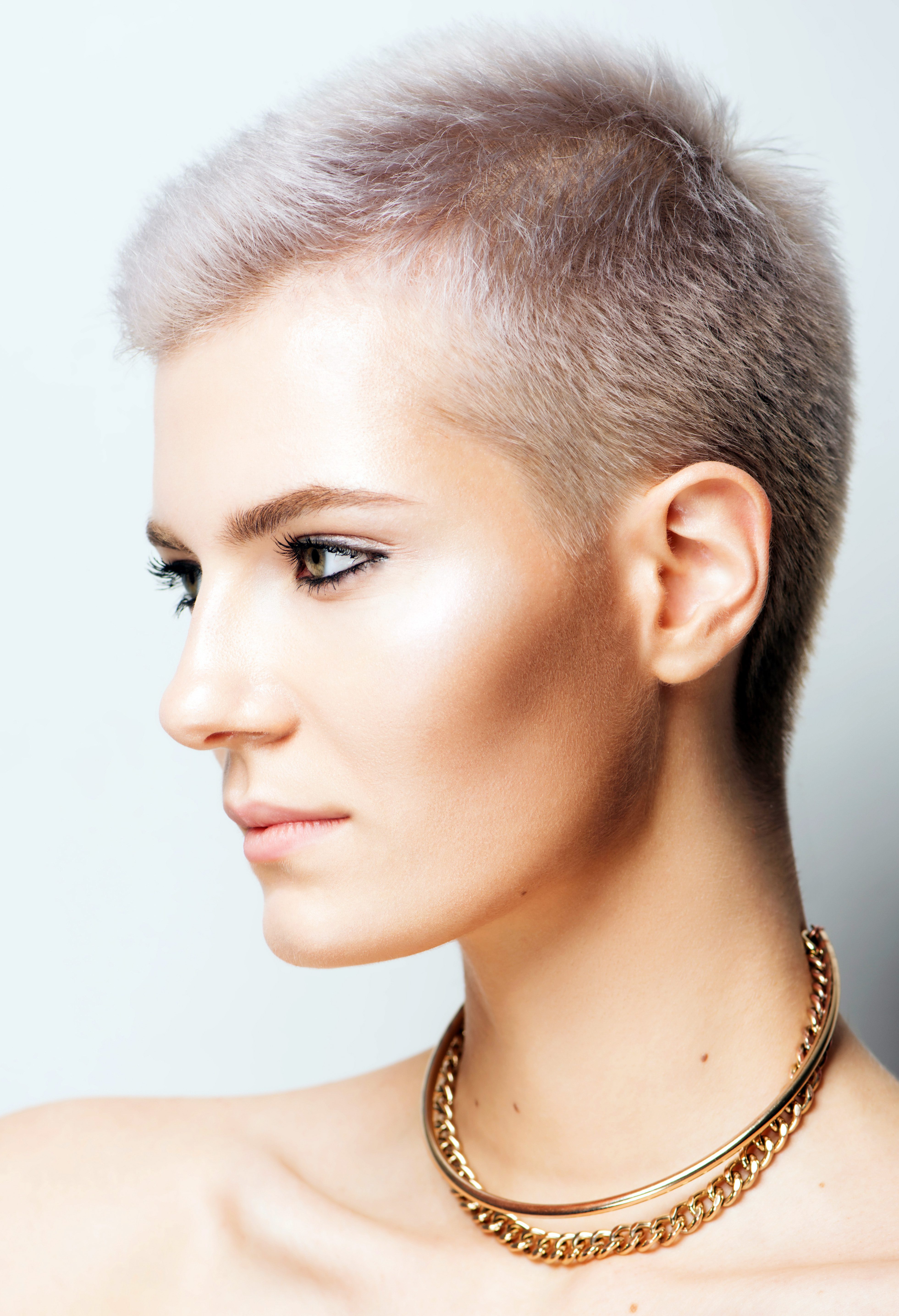 YuliyaFM / Shutterstock.com
Lavender Haze Short Crop
This color is so perfect for any season! It'll make you stand out wherever you go and especially at this length, its delicate tone can be appreciated perfectly.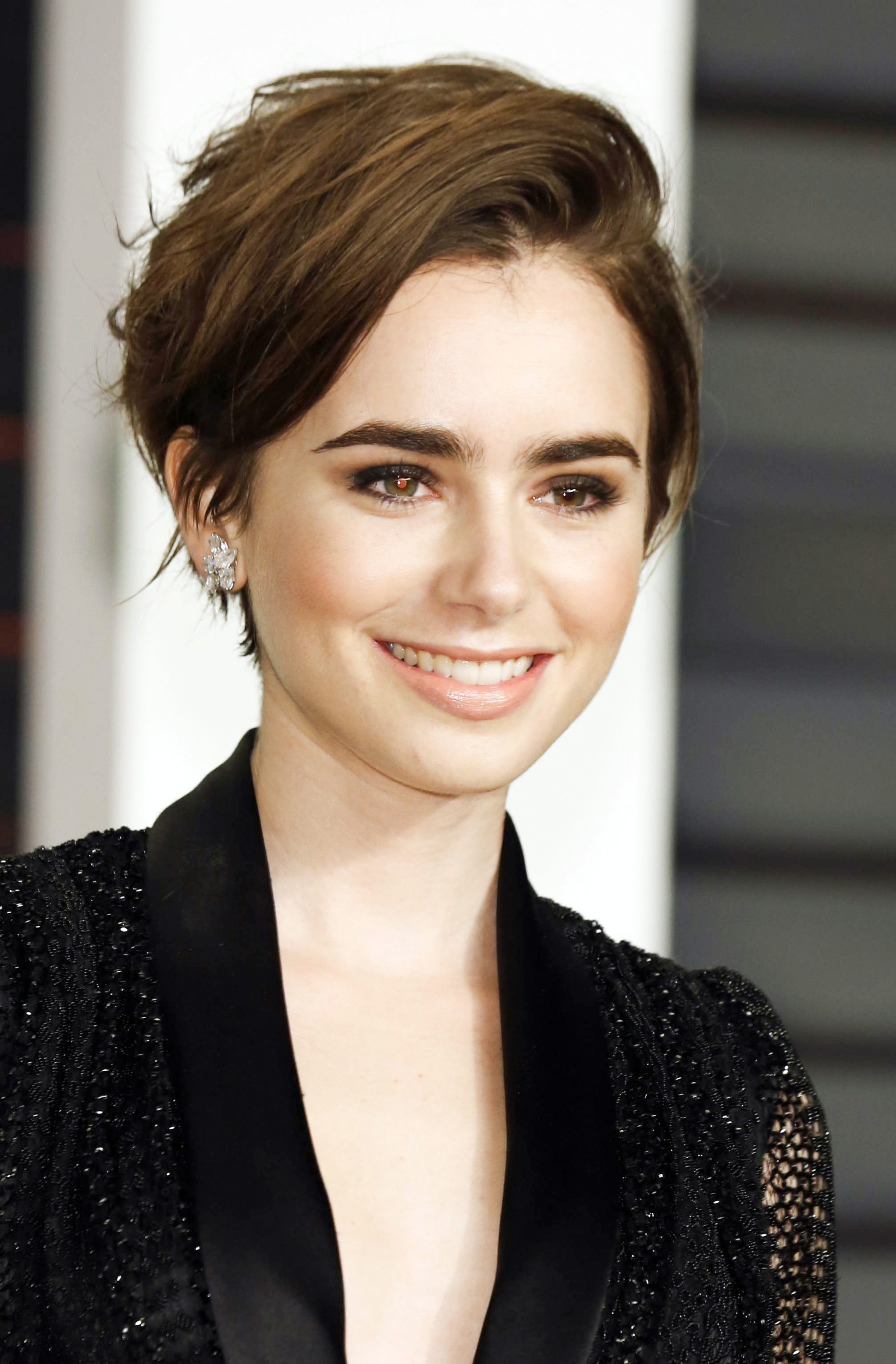 Kathy Hutchins / Shutterstock.com
Lily Collins' Side Swept Pixie
Pixie cuts are super versatile and dainty and Lilly Collins definitely knows how to wear them! With a side-swept fringe, it gives the whole asymmetrical look the finish it needs.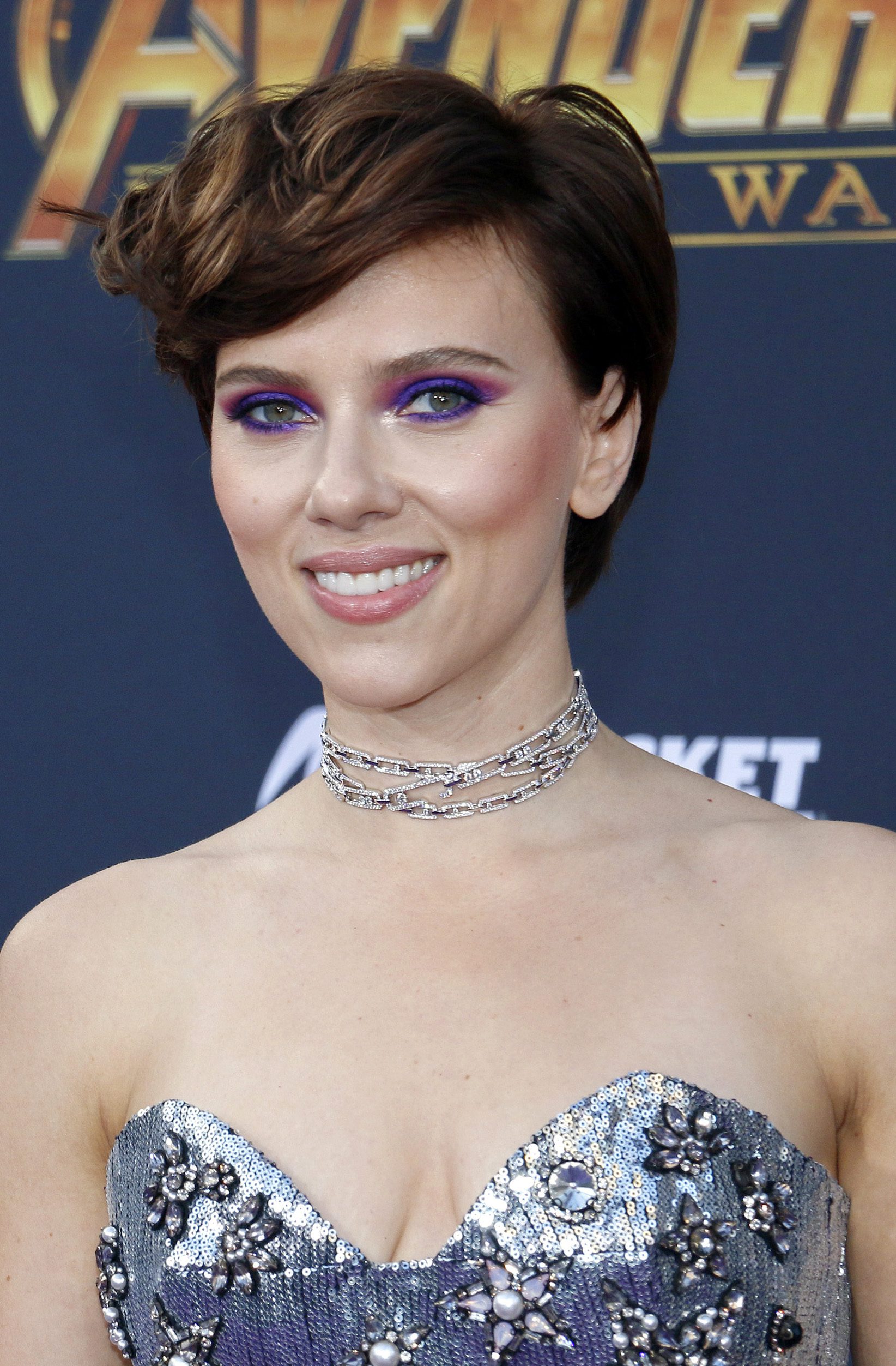 Tinseltown / Shutterstock.com
Scarlett Johansson's Short Crop and Wavy Side Fringe
For someone with thick wavy hair like Scarlett Johanson is wearing it here, this short scissor crop is a pretty cool way of flaunting the luscious locks by leaving it longer at the top.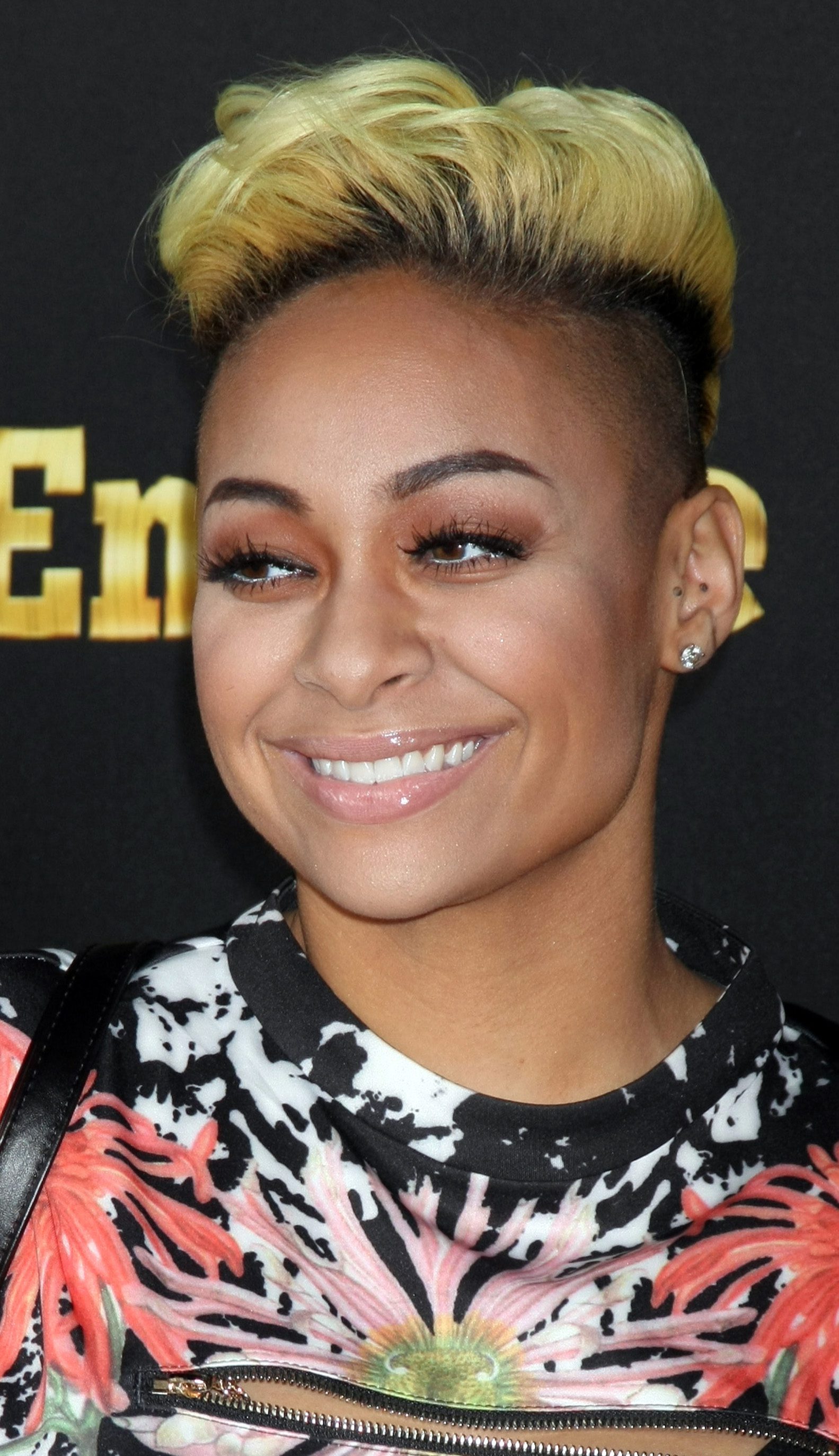 pstafford / Shutterstock.com
Raven Symone's Undercut And Dyed Top
The star from That's So Raven is known for being quite adventurous with her hair, this bleached tip undercut style looks super fresh on Raven!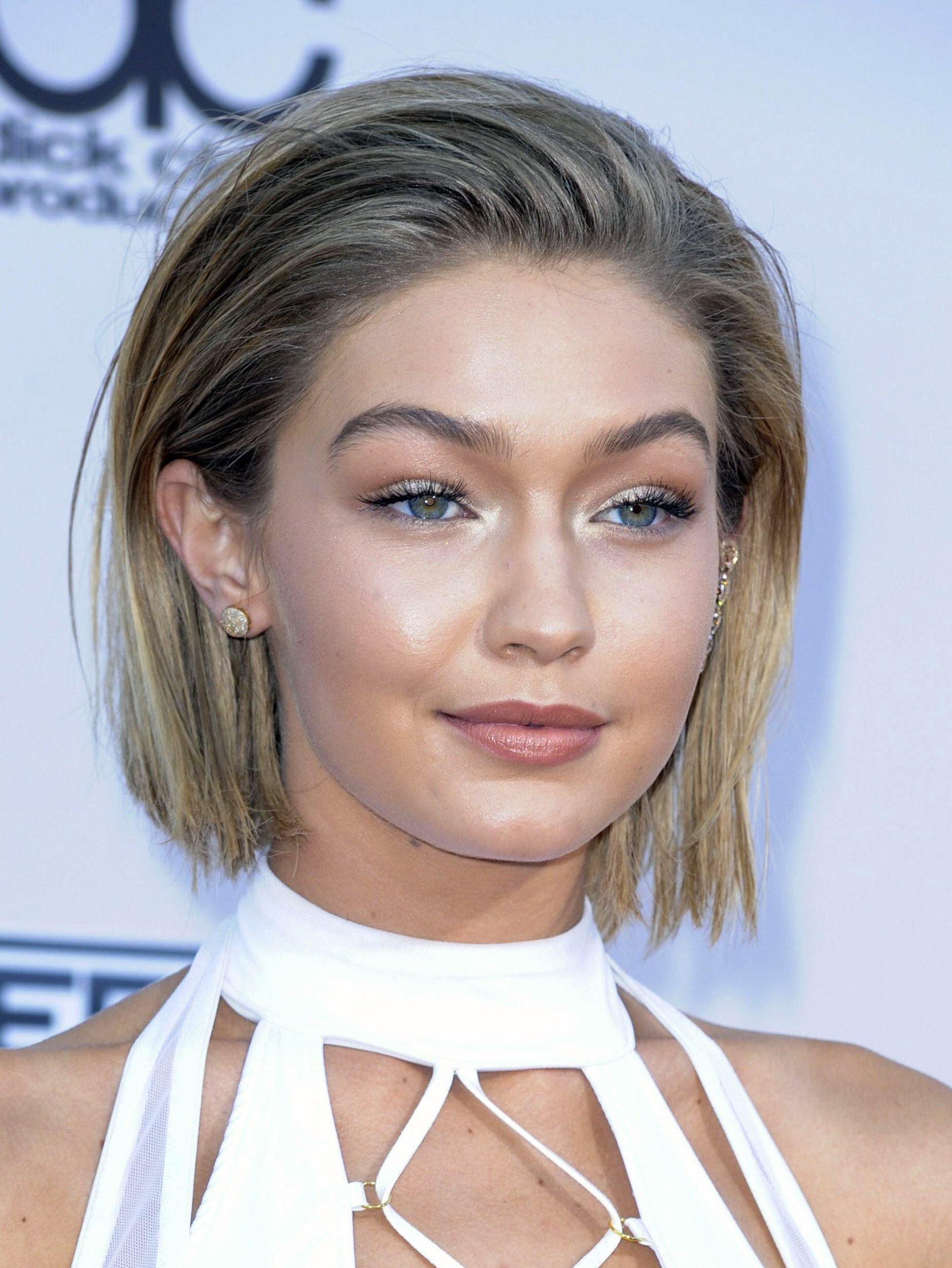 Tinseltown / Shutterstock.com
Gigi Hadid's Pushed Back Bob
All business with a side of sexy is what this look exudes! The classic bob is super versatile and easy to style.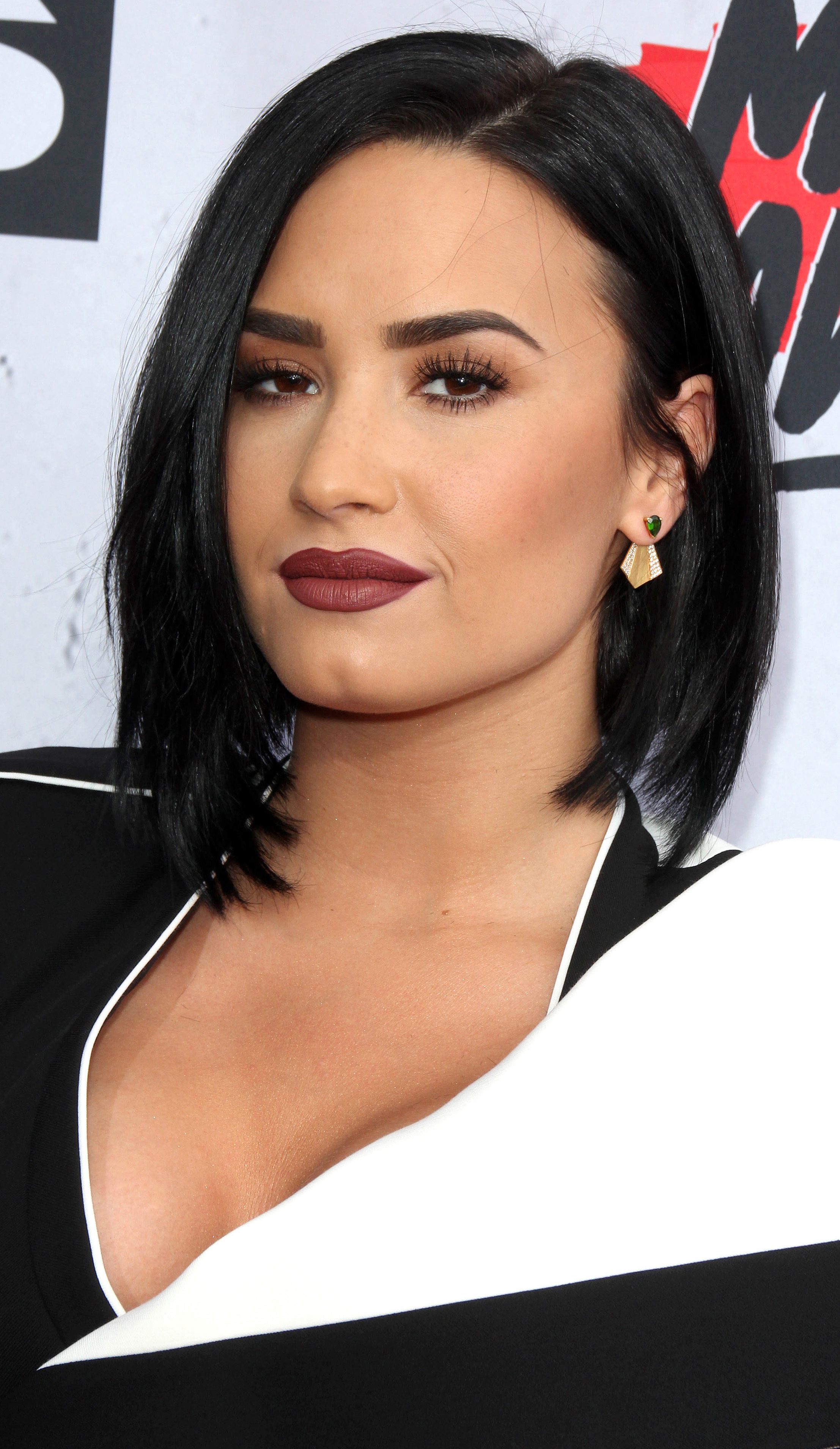 Kathy Hutchins / Shutterstock.com
Demi Lovato's Inverted Bob
Demi Lovato has been known to express herself quite a lot using different hairstyles. This style, however, is a bit more reserved and classical. The inverted bob does a great job at accentuating her facial features, and of course, the side-part is also a key part of the game.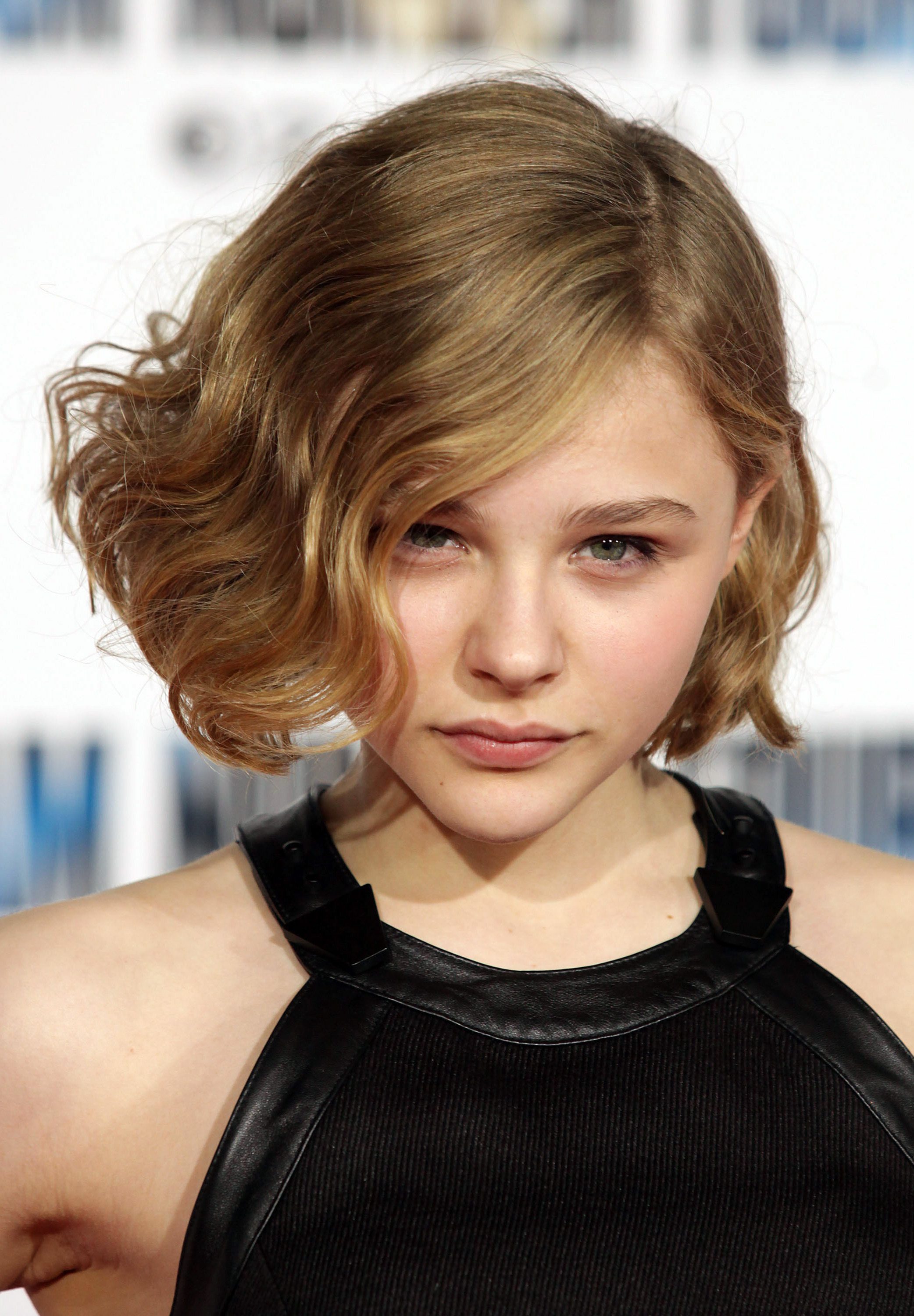 DFree / Shutterstock.com
Chloe Moretz's Side Parted Wavy Bob
I'm getting incredible 1940's glam vibes here from Chloe Moretz's side-parted wavy bob. The wavy ends make an already short crop feel even shorter and edgier, love it!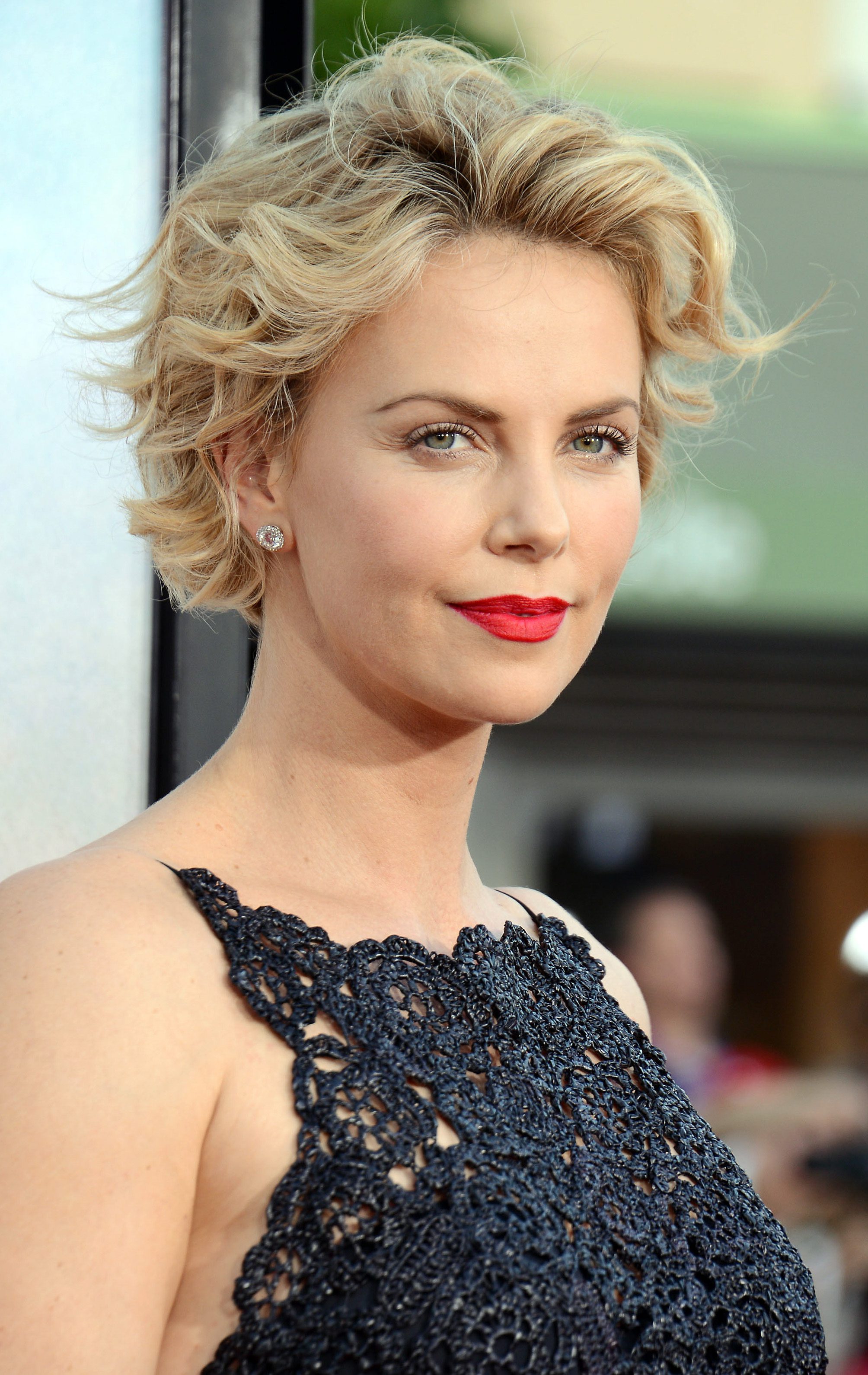 Tinseltown / Shutterstock.com
Charlize Theron's Layered Crop
Charlize Theron's layered crop is one that brings movement and playfulness in good measure. Who says short haircuts fall short when it comes to styling? Not us! It looks super cute the way they also curled her side-swept bangs along with the rest of the layers.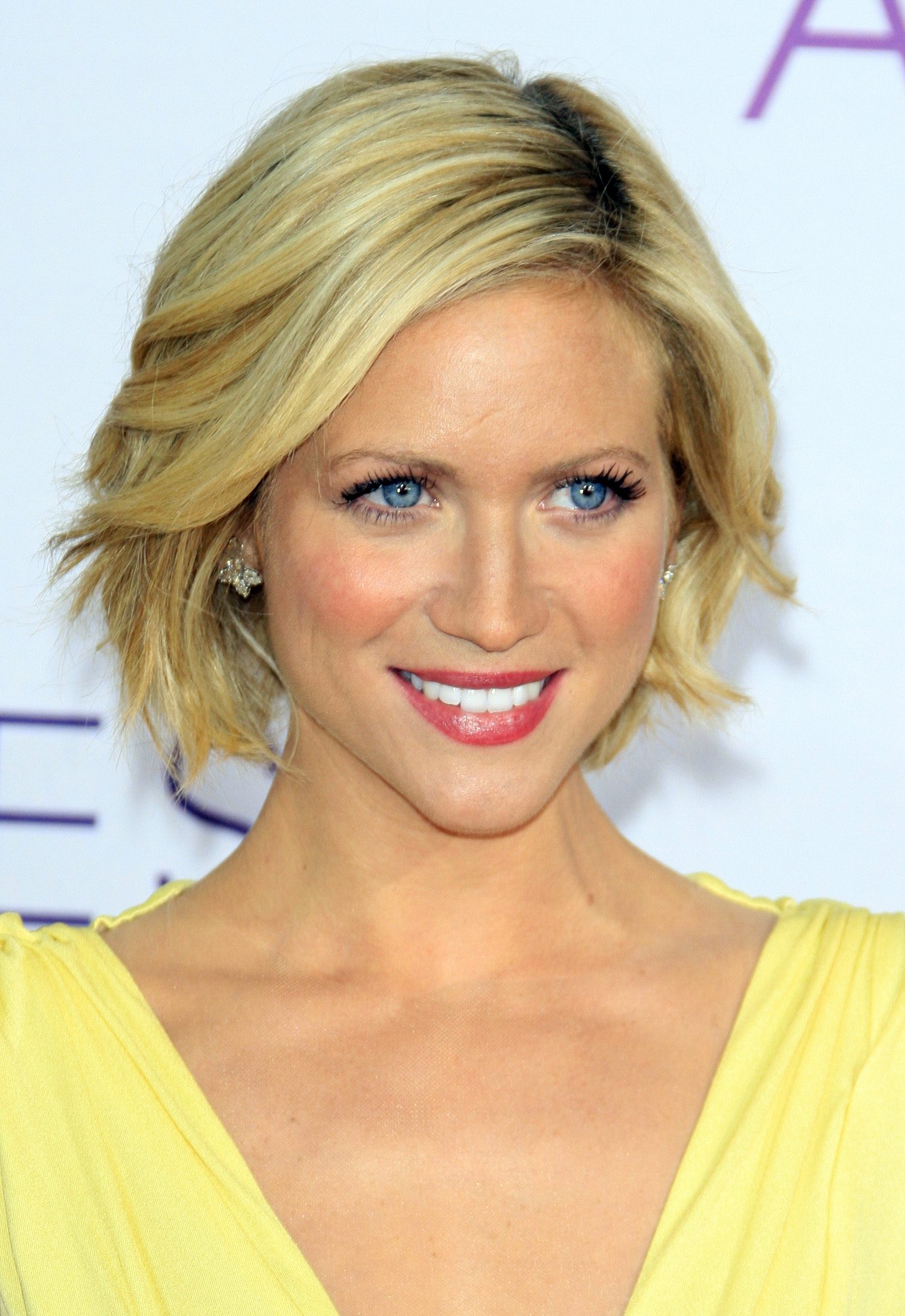 pstafford / Shutterstock.com
Brittany Snow's Mid-Part with Layered Bob
A straight or layered bob will look chic however you dress it. and in this example, Brittani Snow knows to go with some soft waves to accentuate her long layers. The side part is a nice touch but it can look just as stunning with a middle part.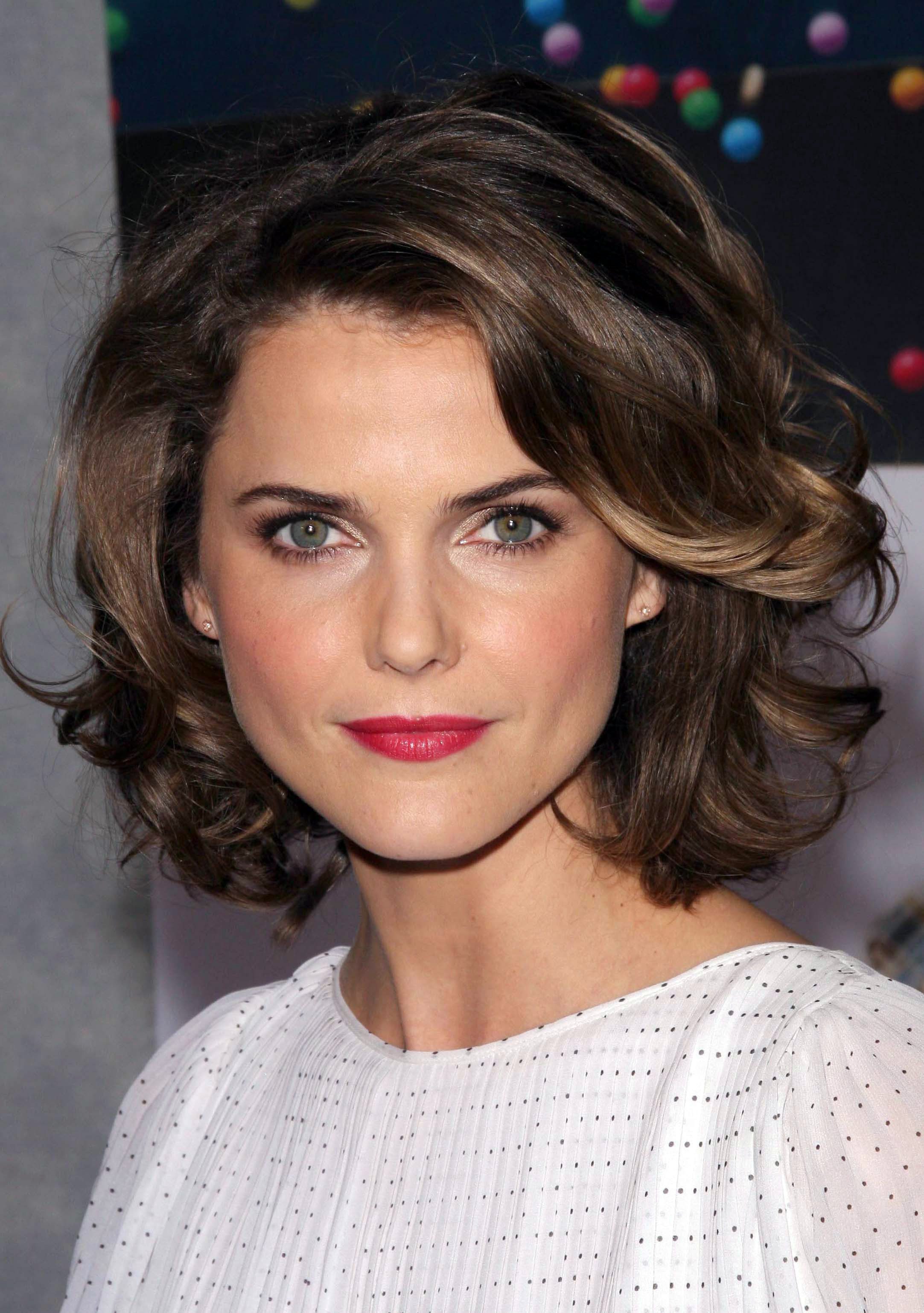 s_bukley / Shutterstock.com
Keri Russell's Wavy Bob
Kery Russel's Luscious locks are to die for! Especially when she flaunts her incredible waves in a layered bob. Layered bobs look amazing on thick hair.
lookstudio / Shutterstock.com
Dark Roots and Blonde High Lights
We've been seeing this cute youthful style more and more these days. To think that once upon a time people wouldn't want to be caught dead with overgrown roots! Fashion flows and so should you!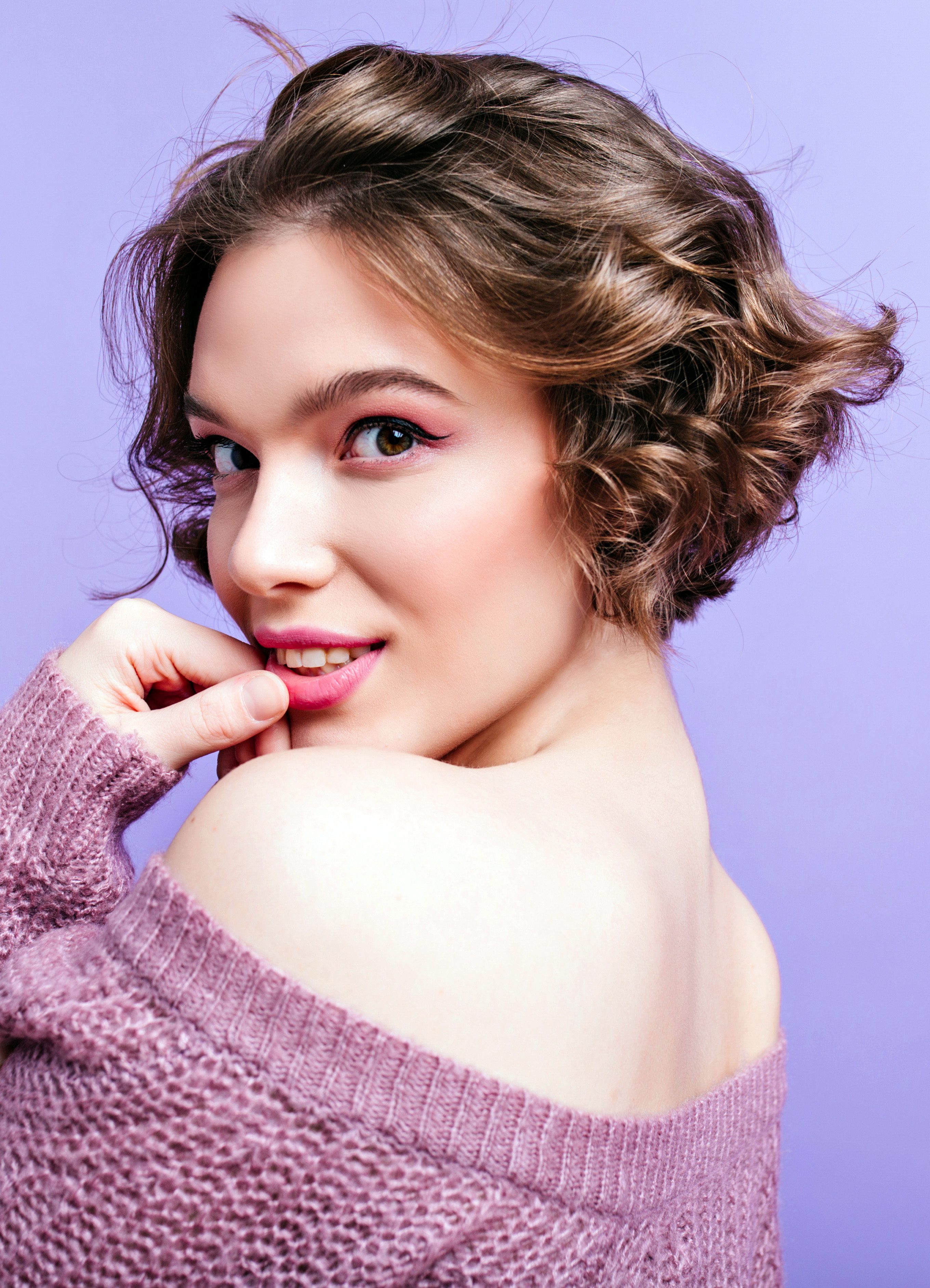 lookstudio / Shutterstock.com
Short Curly Crop
This haircut is all about shapes. Quite boldly they've accentuated the curls by giving the crop a sharp ending edge and I'm so here for it! Contrasts people! They can create such unique looks.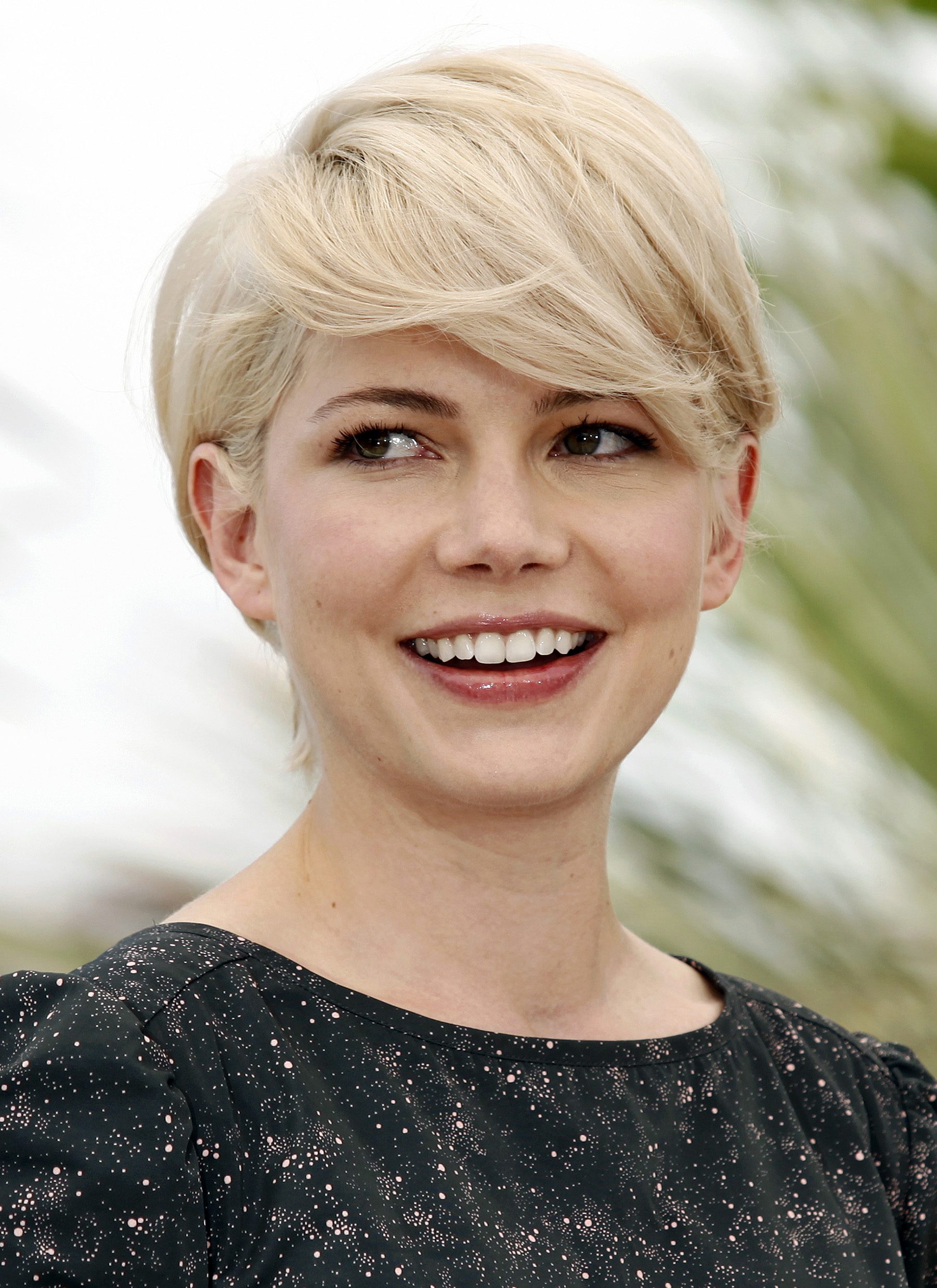 Andrea Raffin / Shutterstock.com
Michelle Williams' Short Crop
Michelle Williams' very blond and very short pixie looks fantastic with a long side-wept fringe. Notice how they've opted to go with rather long layers instead of short ones that characterize the textbook pixie haircut.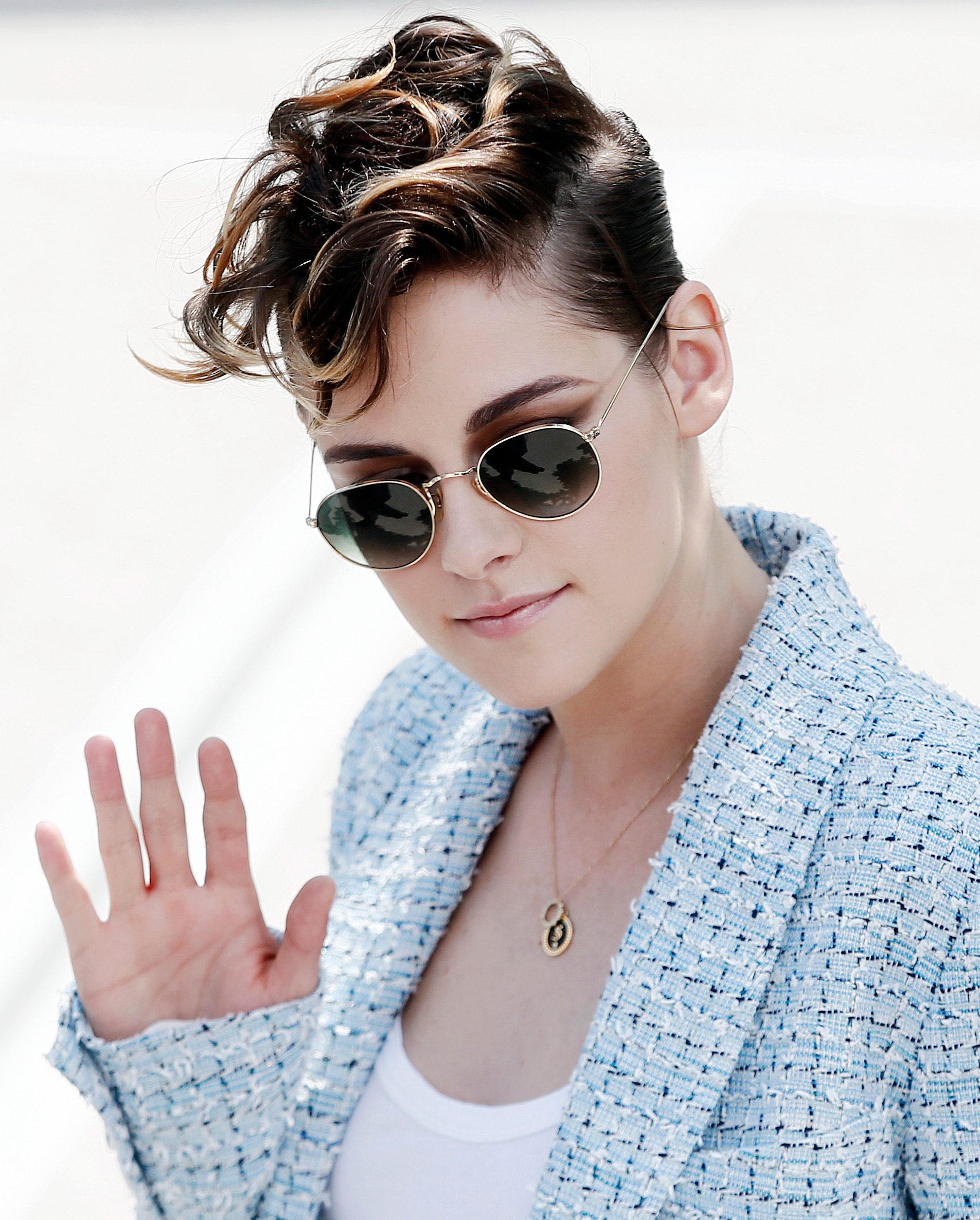 Andrea Raffin / Shutterstock.com
Kirsten Stewart's Undercut
You want short, and then take it a step further? That's what Kirsten Stewart went for right here. Take a page from an altogether different book, the undercut, Stewart stepped it up by leaving the top long enough to do some highlighting and I absolutely love the whole look.
Cubankite / Shutterstock.com
Sophie Okonedo's Natural Curls
Oh dear me! I just love to see a healthy and shiny curly mane, remember, your hair would thank you immensely if you tried your best to incorporate a hair care routine that suits you best depending on your hair type.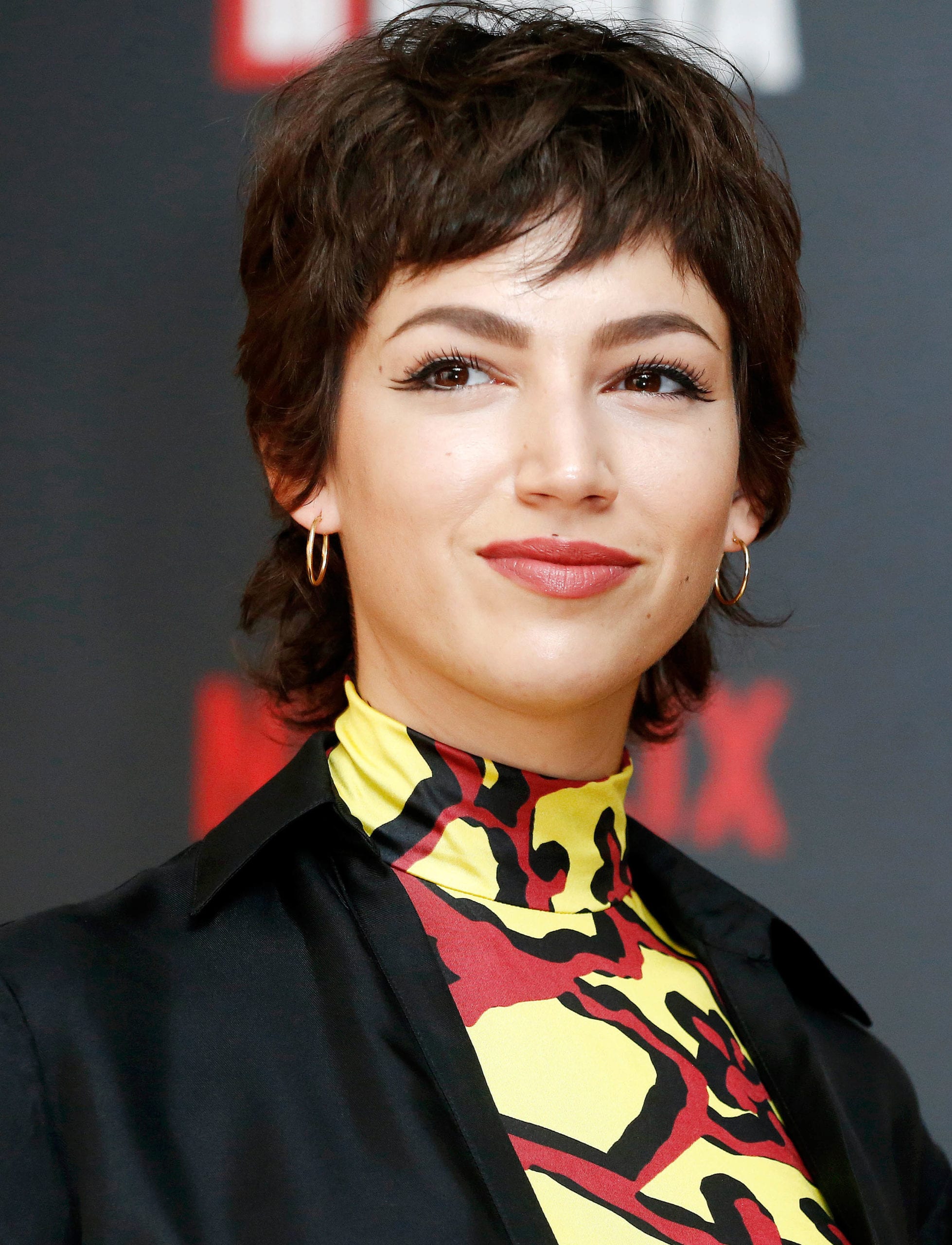 Andrea Raffin / Shutterstock.com
Ursula Corbero's Mullet
This is such a badass haircut for such a badass woman! Ursula Corbero is no stranger to short hair, known to wear an edgy bob haircut with short bangs as she played the role of Tokio in Netflix's show Money Heist. But here she's decided to go with a short mullet.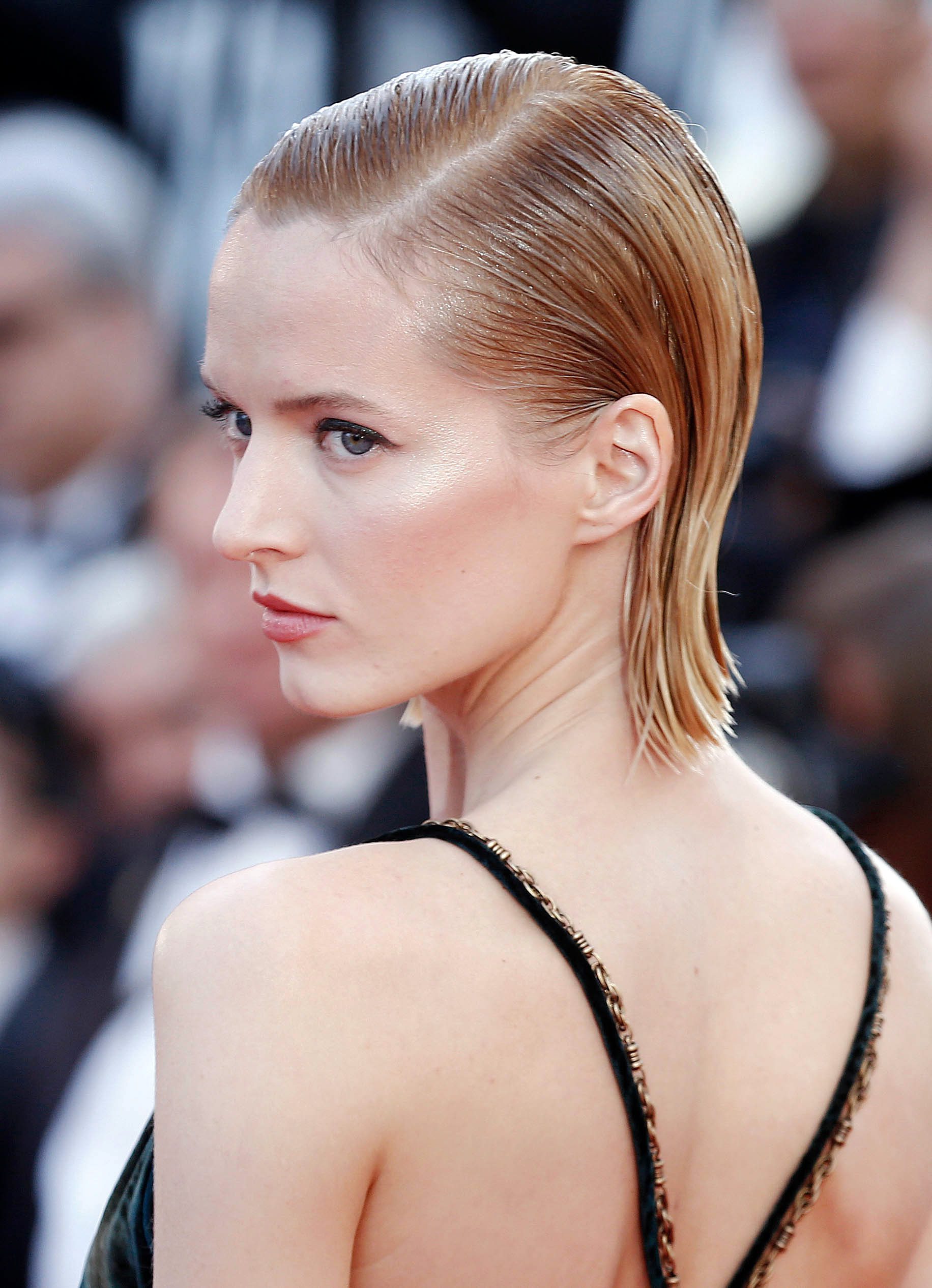 Andrea Raffin / Shutterstock.com
Daria Strokous' Wet Bob Look
The wet-hair look just seems like such an iconic choice of hairstyle each time and I love Ursula Corbero's take on it with the side part like that.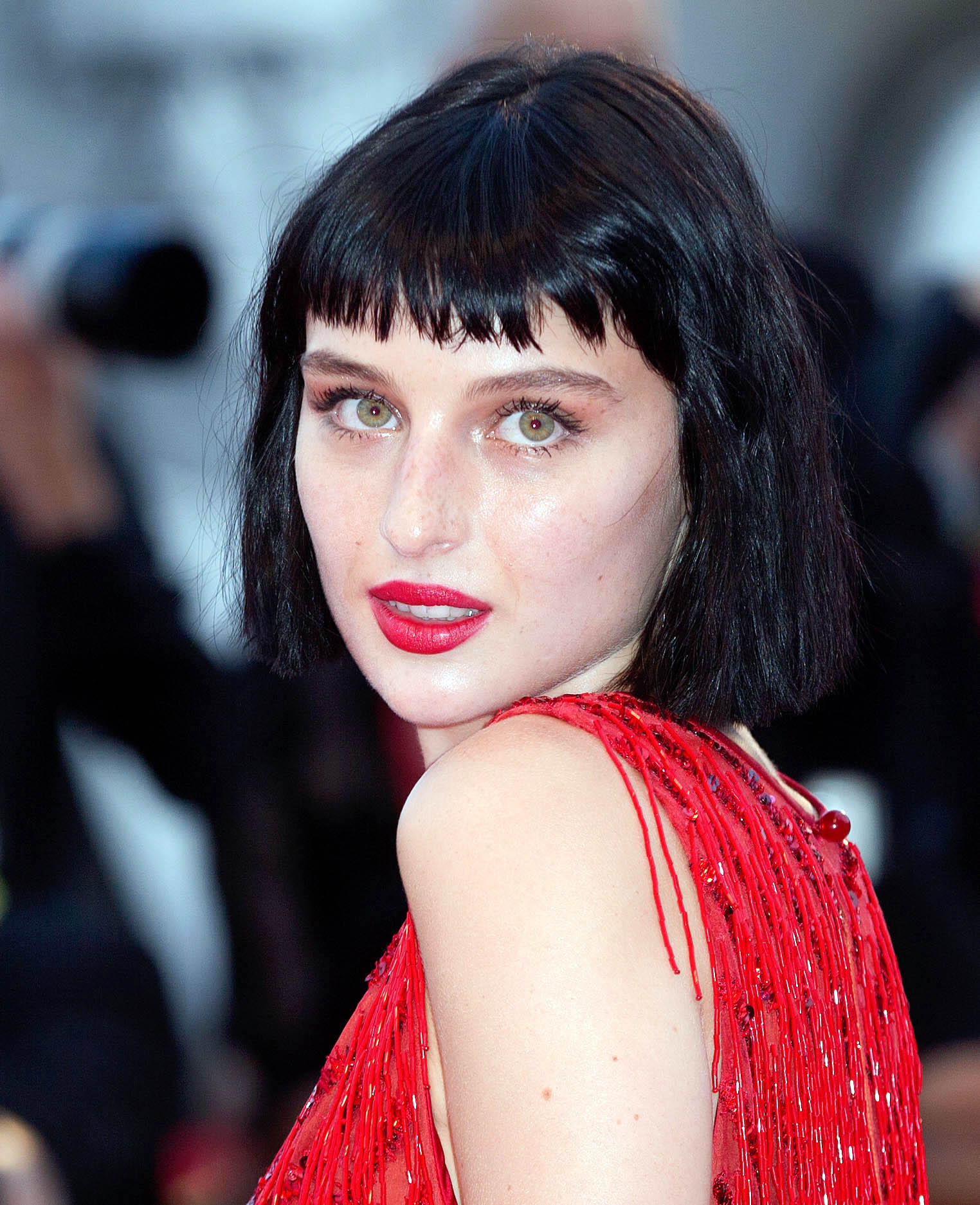 Andrea Raffin / Shutterstock.com
Alice Pagani's Signature Bob and Short Bangs
The Italian actress Alice Pagani, best known for her role on Netflix show Baby wears exceptionally well short bangs such as these, and the bob haircut is an excellent frame for her features.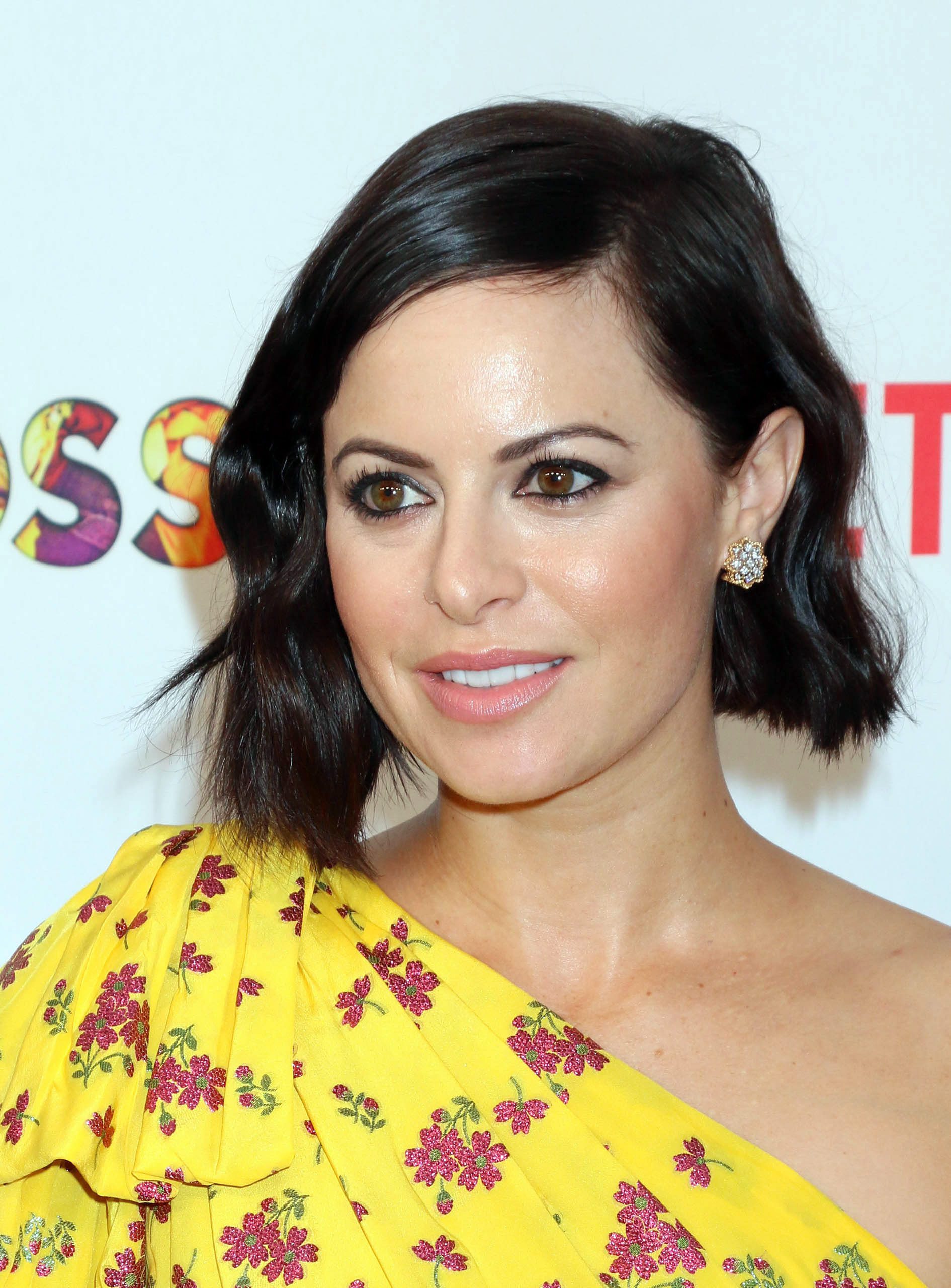 Kathy Hutchins / Shutterstock.com
Sophia Amoruso's Blunt Wavy Bob
If you feel like you know entrepreneur Sophia Amoruso like your gal pal from watching Girl Boss on Netflix say "I"! But seriously, through the whole show, I just thought she had such a unique style and if you follow her on Instagram you know that's absolutely right.
Here she's wearing her romantic wavy bob with a deep natural side-part. I really like what they've done with the waves, making them defined but quite supple in texture.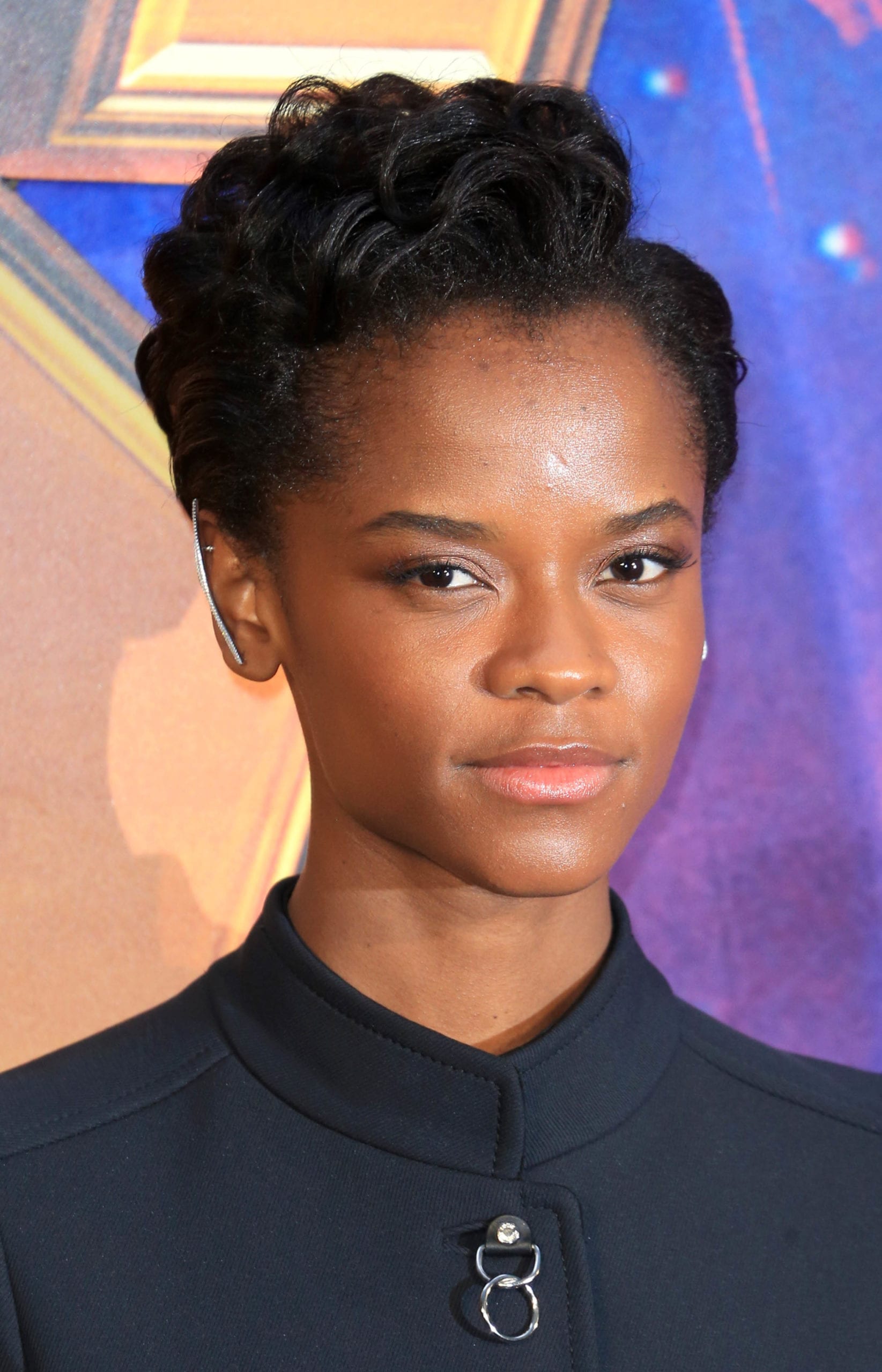 Cubankite / Shutterstock.com
Letitia Wright's Side Parted Crop
The different levels of this hairstyle are what makes it so great. I can't stop going back to the waves, they look so cool and soft, providing some beautiful texture!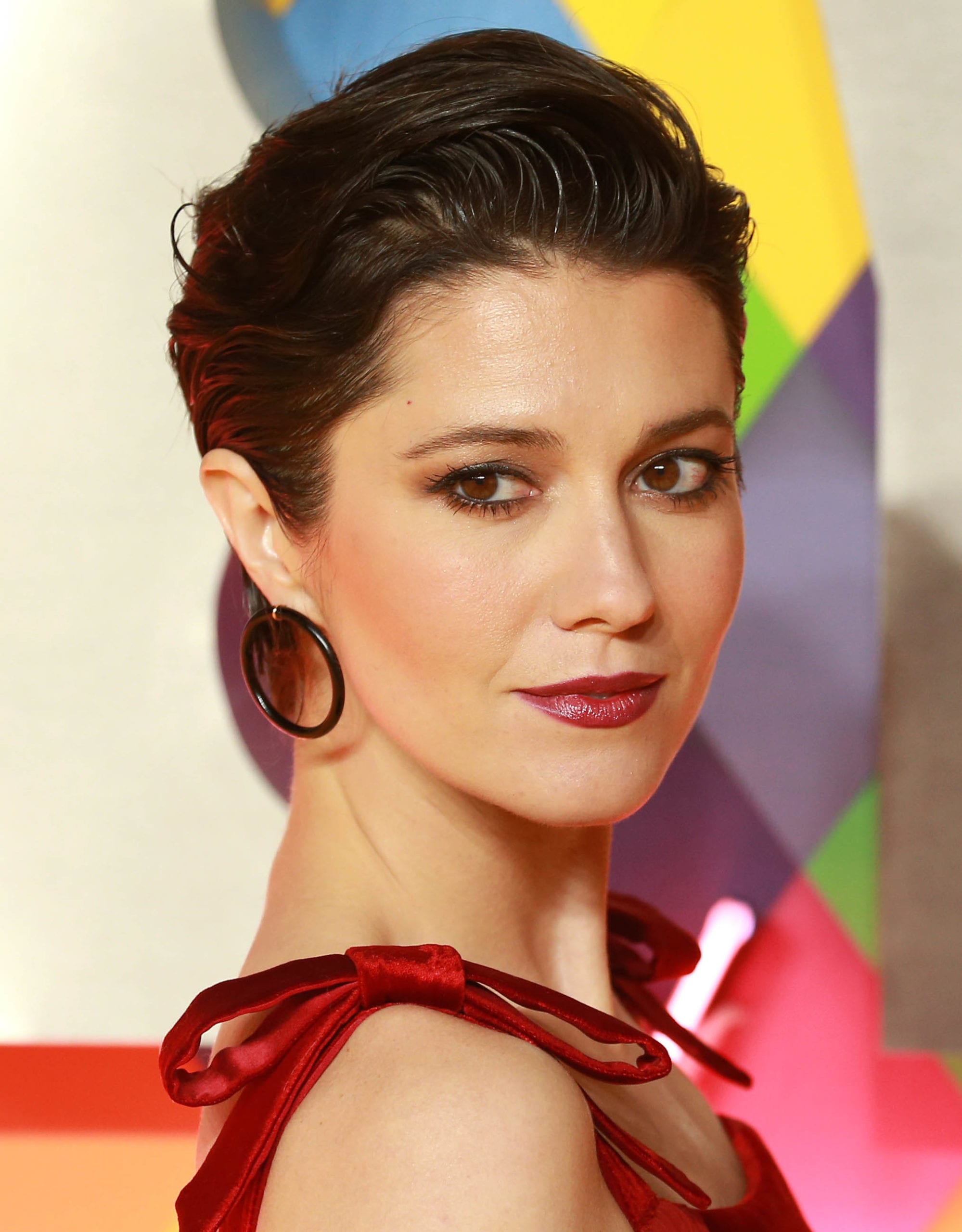 Cubankite / Shutterstock.com
Mary Elizabeth Winstead's Wavy Short Crop
This look gives us a cheeky middle ground between the wet-hair look and dry hair. And the scissored layers are a key aspect of this haircut. I absolutely love it on Mary Elizabeth Winstead!
Ovidiu2012 / Shutterstock.com
Tati Gabrielle's Signature Blonde Waves
Tati Gabrielle's one of the weird sisters in The Chilling Adventures of Sabrina and just like herself here, Prudence wears her hair in the same manner. Super befitting for Tati Gabrielle's stunning features.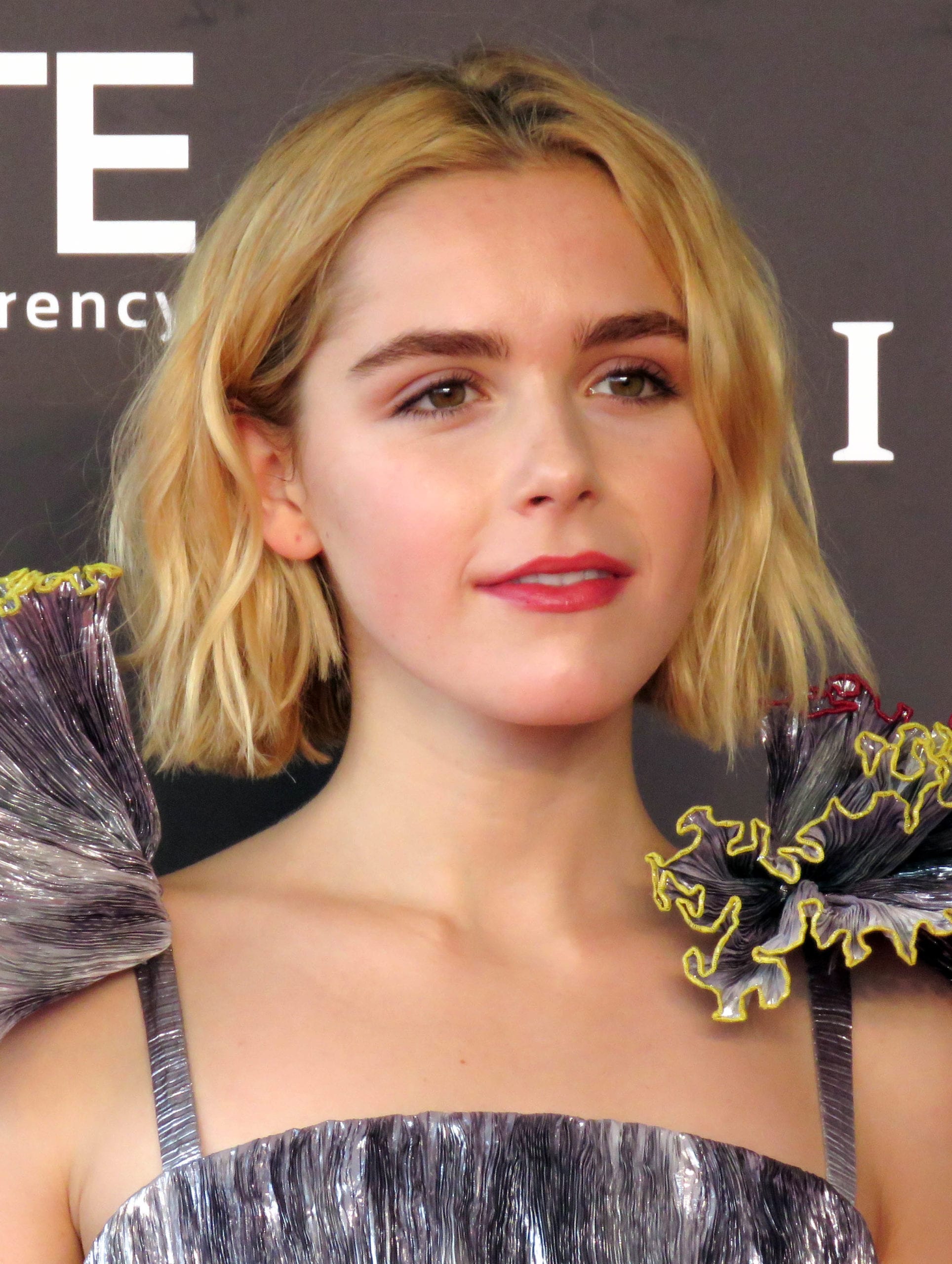 Luis+Javier+Villalba / Shutterstock.com
Kiernan Shipka's Beach Waved Bob
Kiernan Shipka who plays Sabrina on the Netflix show of the same name has her characteristic blonde blunt bob and some messy beachy waves going on in the styling department. She looks stunning, I love this look on her.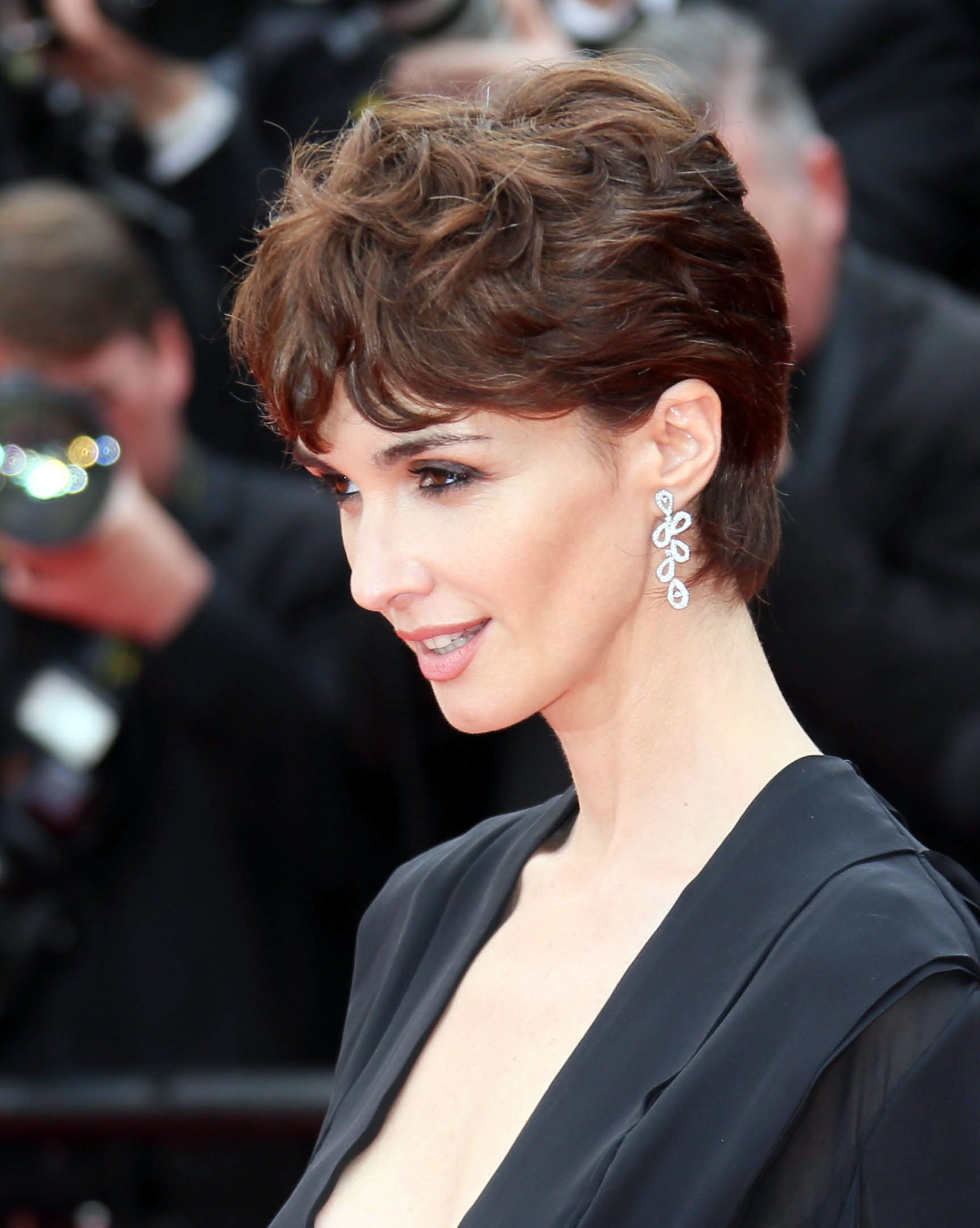 makarenkodenis / Shutterstock.com
Paz Vega's Choppy Layered Crop
Paz Vega's bone structure basically makes her a chameleon in terms of what haircuts suit her. This messy layered crop keeps the volume heavier on top and tapers down very lightly.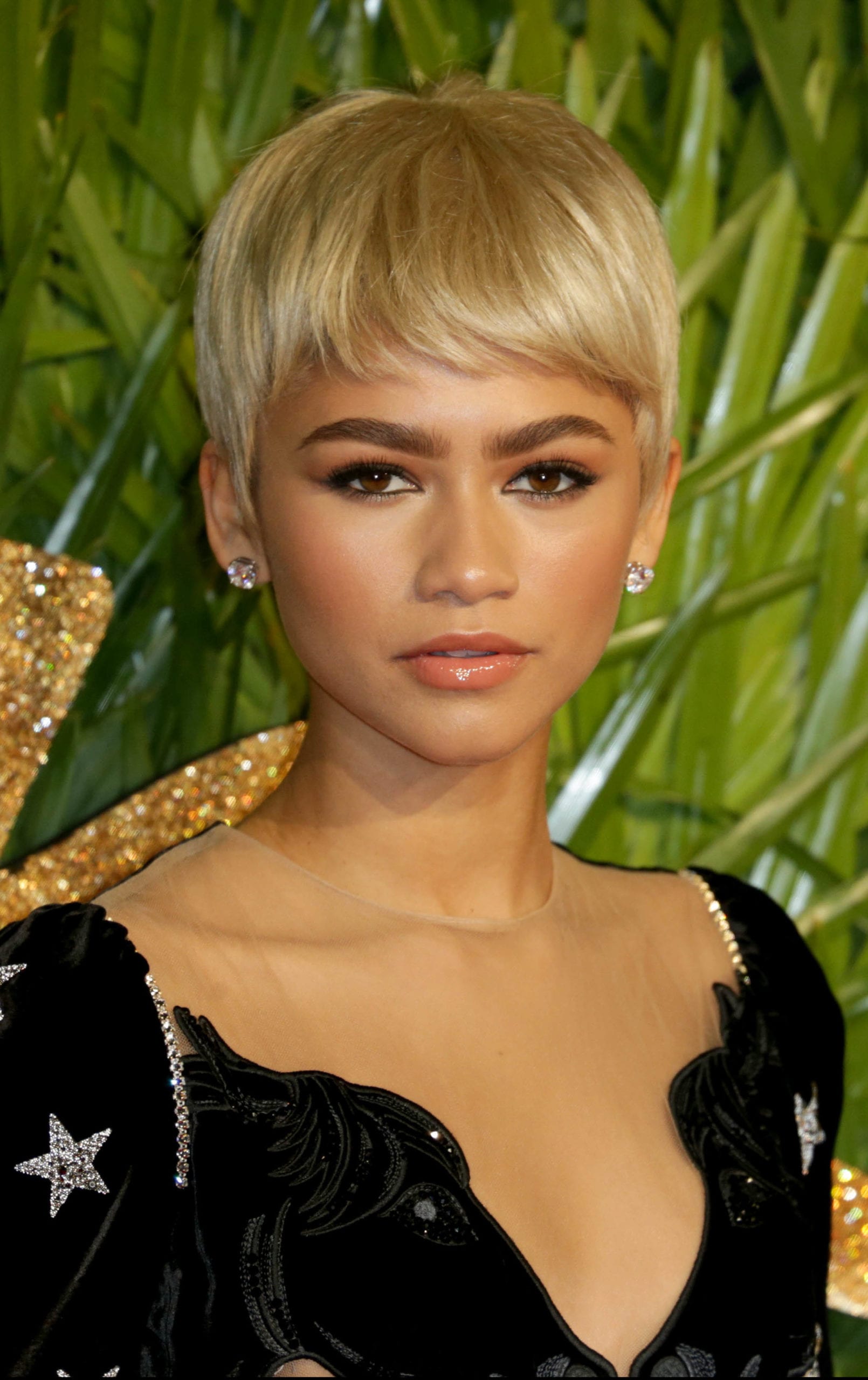 Cubankite / Shutterstock.com
Zendaya's Blonde Caesar
Zendaya's blonde super classic Caesar cut is everything I'd expect to see from her. The blonde tone they've chosen makes her skin glow in a radiant light. Just perfect!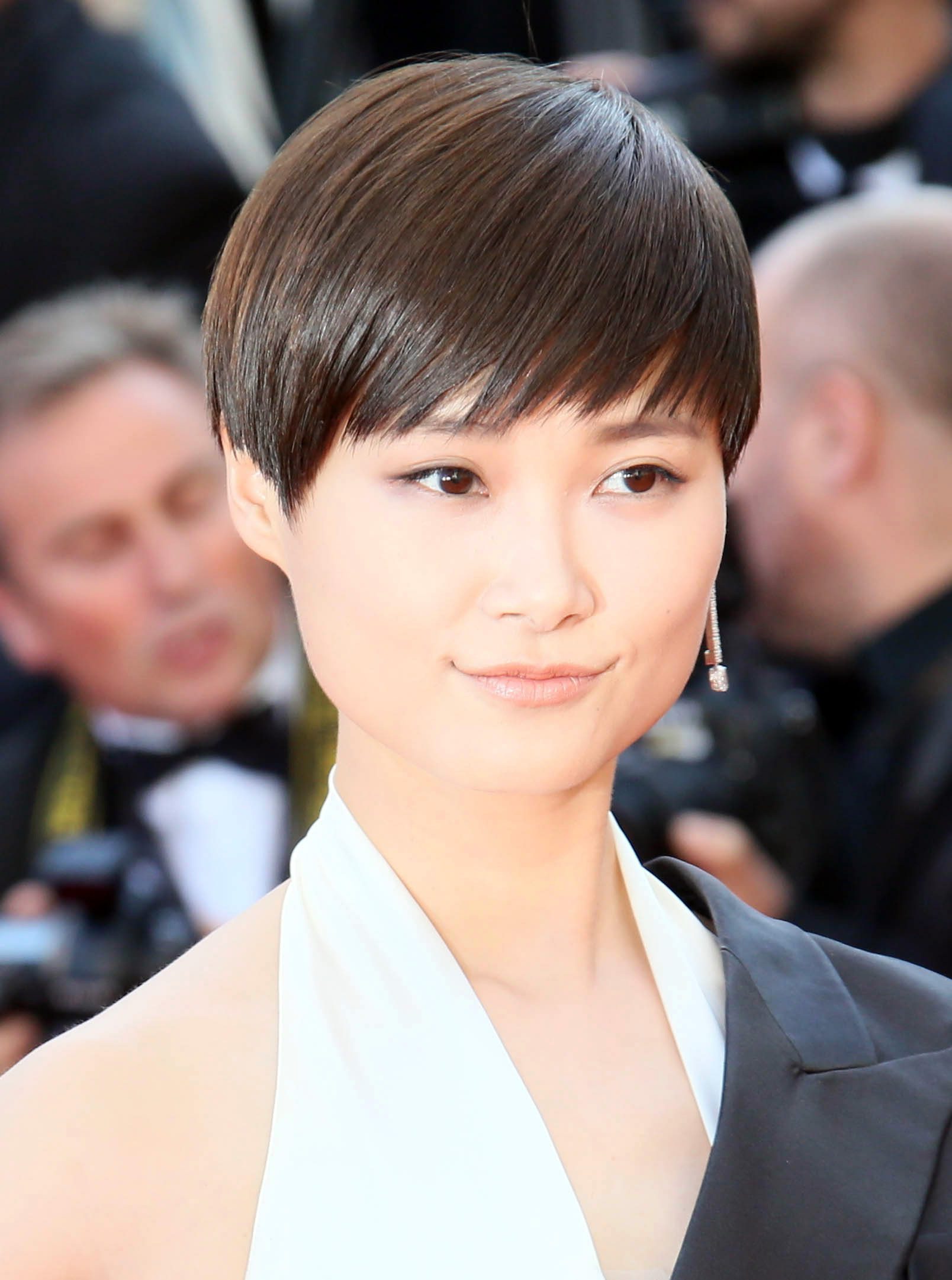 makarenkodenis / Shutterstock.com
Li Yuchun's Feathery Bangs and Short Crop
I love the way Li Yuchun's feathery bangs frame her face, especially with such a short crop like this one. These bangs are slightly angled to the right side of her face. Just lovely!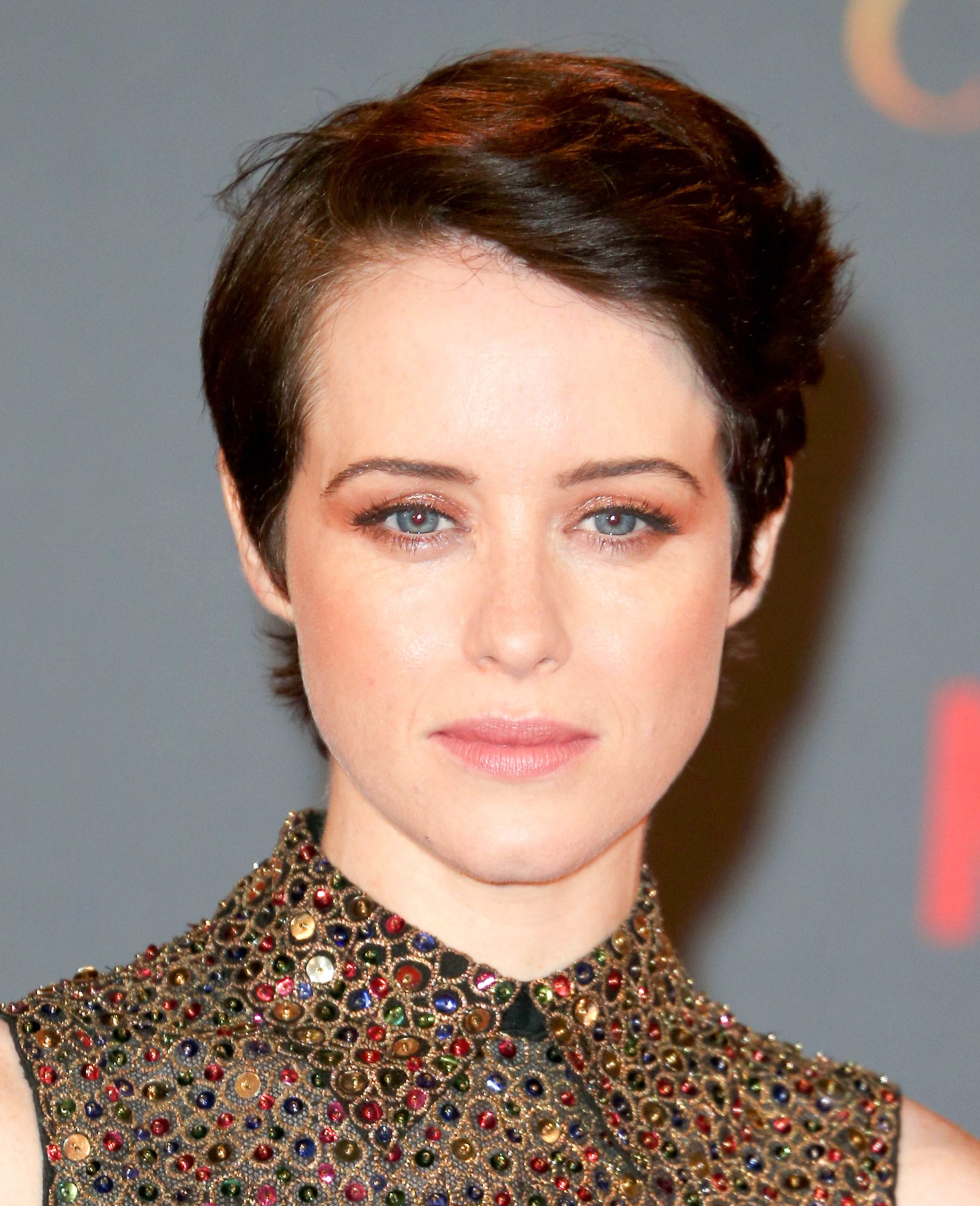 Cubankite / Shutterstock.com
Claire Foy's Long Business Crop
Claire Foy's short crop is a longer version of the business crop, o a medium scissor crop.
This length allows for some movement to stay present in the hairstyle. You may mess around with it to find what works best for you.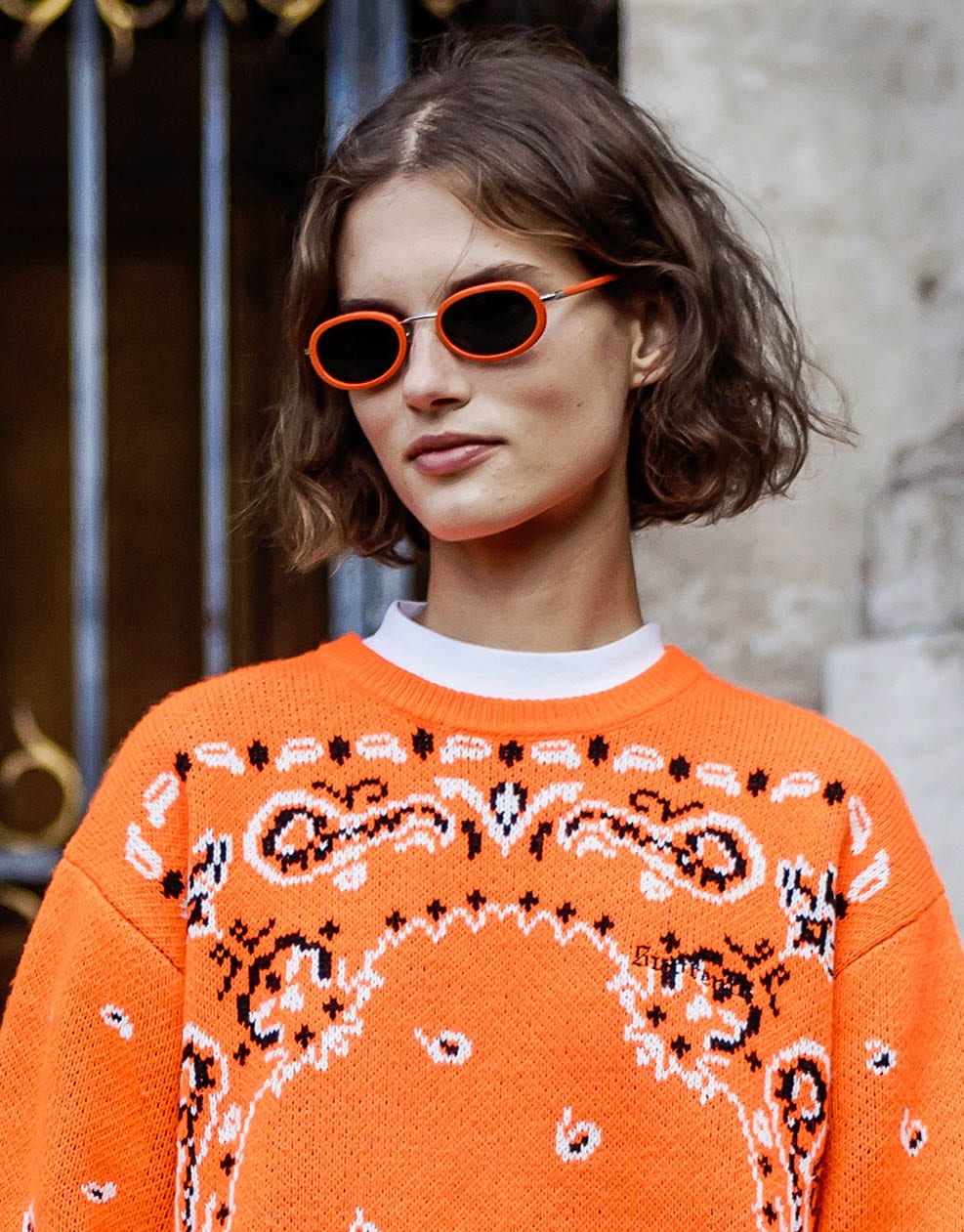 eversummerphoto / Shutterstock.com
Middle Part Wavy Bob
This variation of the wavy bob haircut in brown looks so chill and effortlessly pretty! It does help that their outfit also has a relaxed but chic vibe with those little red sunglasses!
Cubankite / Shutterstock.com
Pink's Rock n' Roll
Pink's been rocking the short hair for a while now, and thanks to her we got plenty of opportunities to see the different stylings she's gone for. This one particularly gives me Elvis Presly vibes for sure!
Luis+Javier+Villalba / Shutterstock.com
Paz Vega's Straight Line Bob
This straight-line bob although blunt it is slightly angled at the bottom, is a very symmetrical cut; especially if worn with a middle part. So to soften the look a little, Paz Vega has gone with a deep middle part.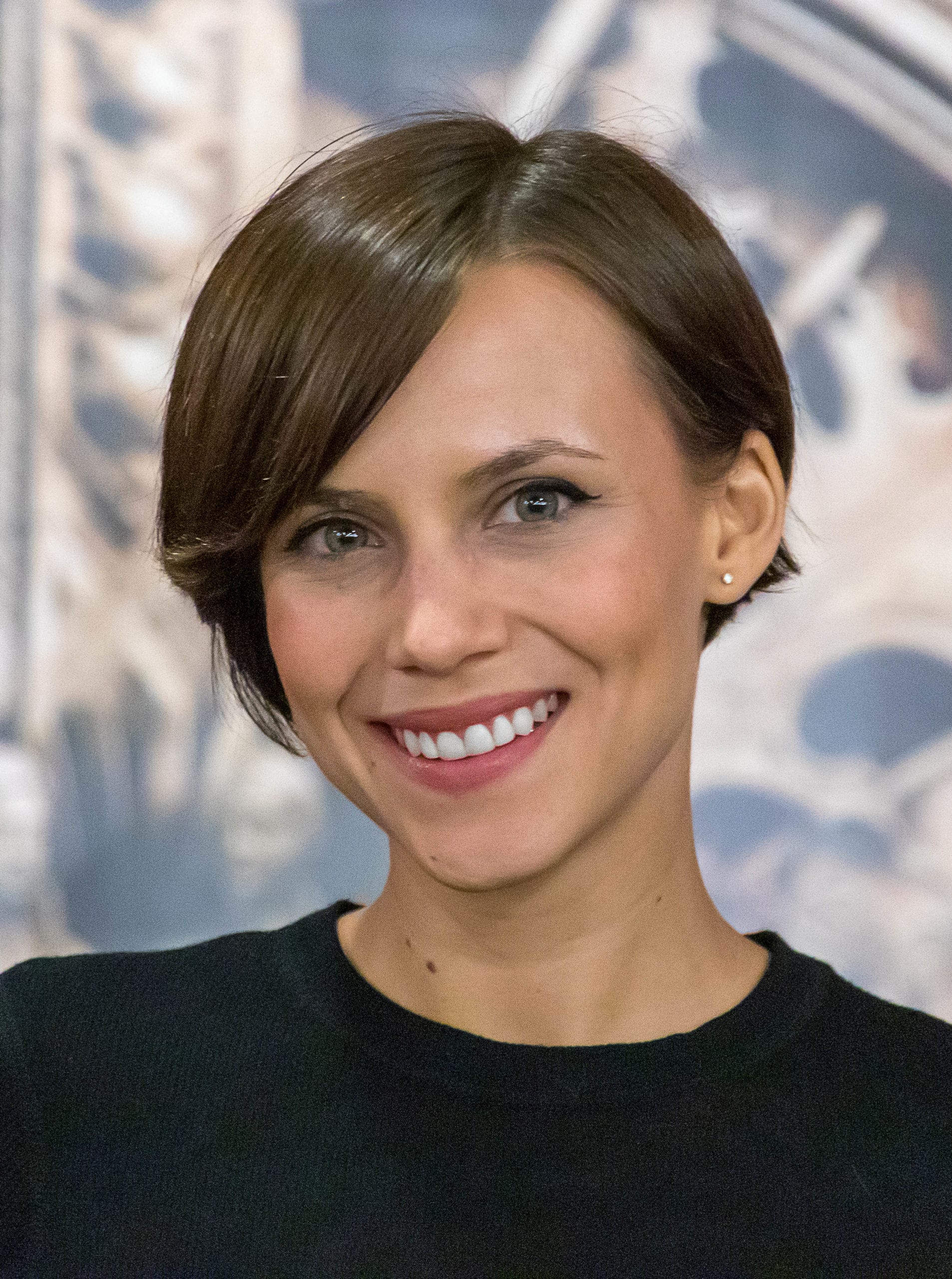 Luis+Javier+Villalba / Shutterstock.com
Aura Garrido's Super Short Bob and Side-Swept Fringe
Aura Garrido's super short bob edges with the territory of the mushroom crop. A super cute feature is the way they've added depth with a side fringe.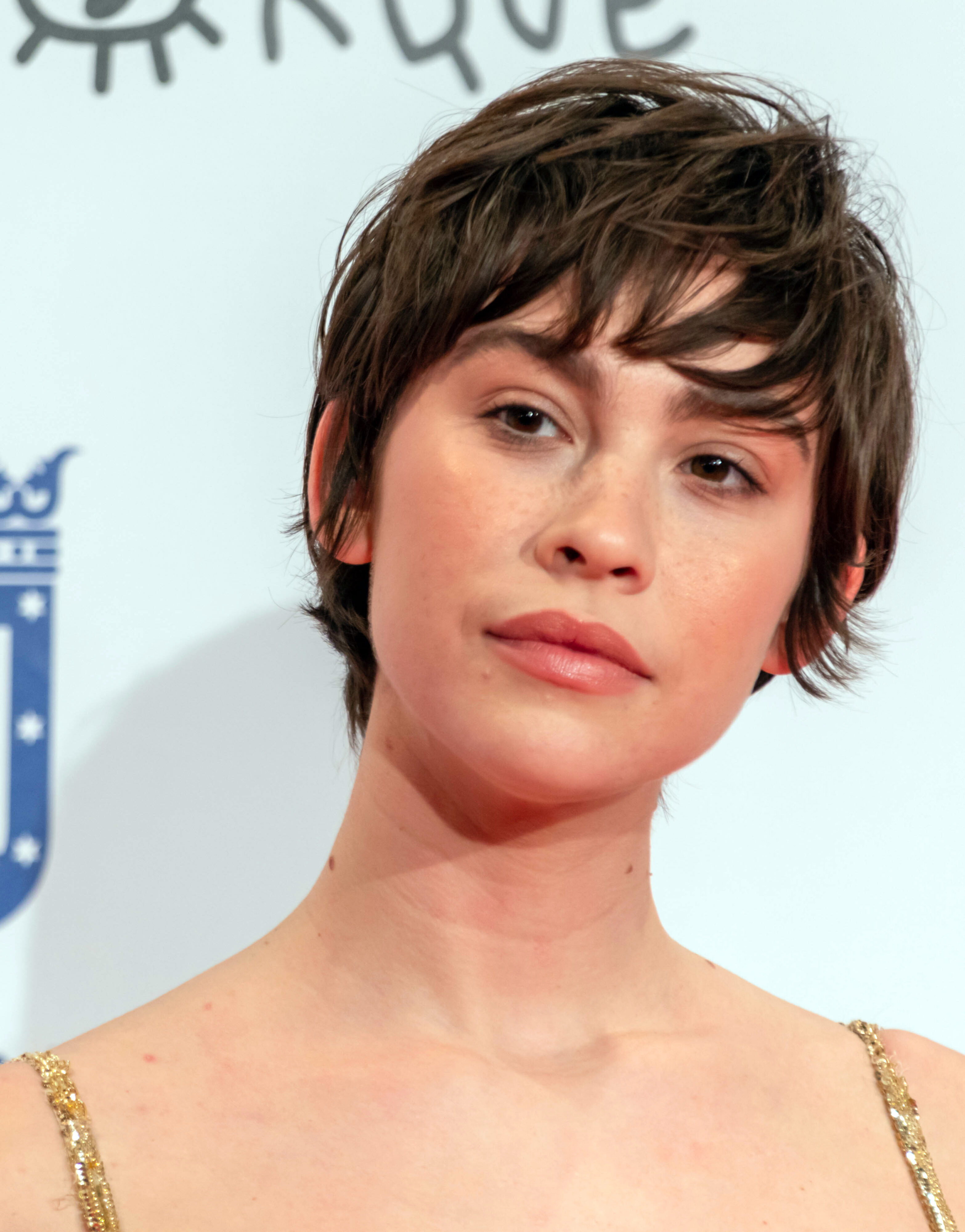 Luis+Javier+Villalba / Shutterstock.com
Greta Fernández' Shaggy Caesar
I just love how this haircut manages to make this particular length have so much more extra movement and texture going on. If you're not sure what I mean when I call it a shaggy caesar, check out this article on our other section to get a good idea.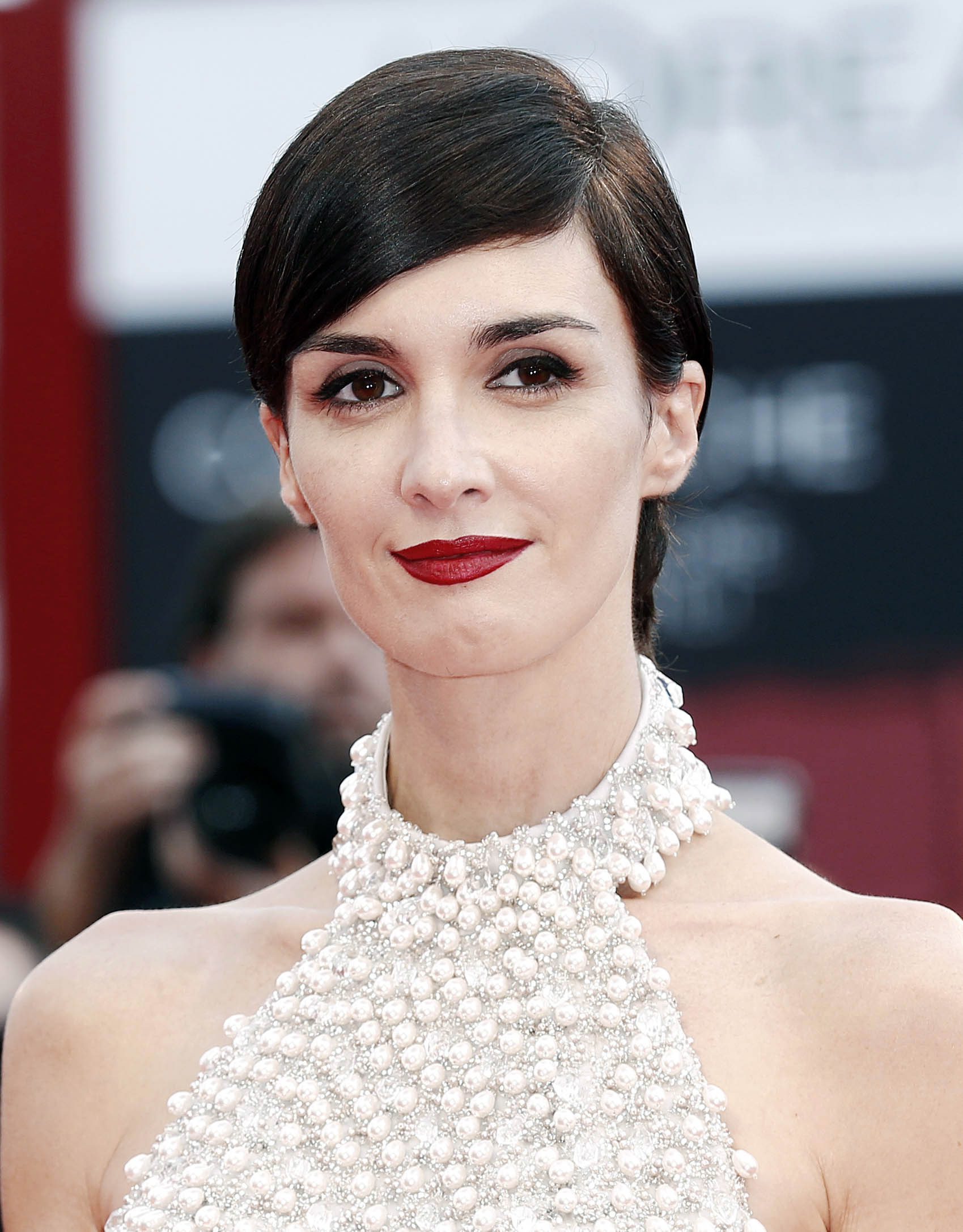 Andrea+Raffin / Shutterstock.com
Paz Vega's Short Scissor Crop
Didn't I say Paz Vega could wear almost any haircut and look bomb? It's like she doesn't really go through an awkward length phase after a haircut at all.
taniavolobueva / Shutterstock.com
Ruth Negga's Glam Eton Crop Curls
This look is giving me some strong "Roaring 20's" vibes and I am loving every single bit. The way Ruth Negga's hair is so short but it still has these luscious glam waves blows my mind. What a fantastic look!
eversummerphoto / Shutterstock.com
Blonde Short Crop
Let me start with the fact that I've always thought that when blondes wear black it just looks like they're on a whole another level of fashion. CONTRASTS people!
The short crop follows a very subtle 'A' line getting slightly longer as the hair nears the sides of the face and shorter at the back.
taniavolobueva / Shutterstock.com
Short Afro
Remember that a healthy afro-textured hair requires the proper care in order to keep healthy. The range of variations in texture goes from slight waves to very kinky locks.
A lot more celebrities are starting to embrace their natural hair and while some decide to give their hair a break by wearing protective styles like braids or cornrows, some people go for the big chop.
eversummerphoto / Shutterstock.com
Nataliya Gotsiy's Wet look on a Short Crop
The 'Wet Look' has been around for a while, but since Kim Kardashian embodied it during the Met Gala 2019 it has been popping everywhere. Here, the Ukrainian supermodel Nataliya Gotsiy sports it with a playfully-teased short crop and looks stunning.
vectoricon / Shutterstock.com
Lucie Lucas' Layered Medium Hairstyle
Right. So this is technically a medium hairstyle but still falls under the short category for women who are used to having long hair.
Volume is key for this look and Lucie Lucas's abundant hair is the perfect subject as it makes the long layers shine in their luscious waves.
eversummerphoto / Shutterstock.com
Choppy Long Bob and Subtle Waves
The super trendy Lob or Long-Bob, is making rounds and I love seeing everyone's take on it as they mesh it with their personal style.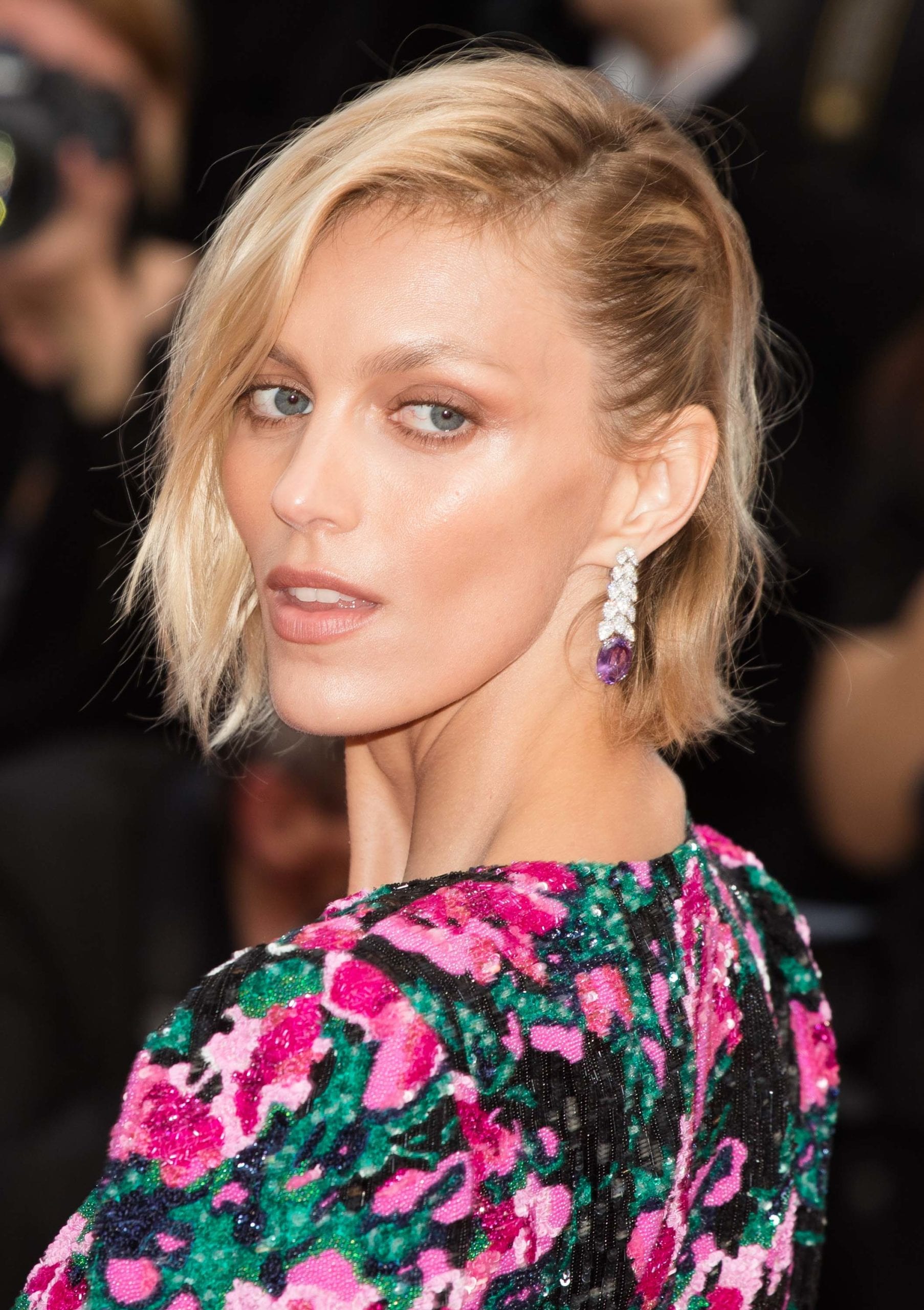 vectoricon / Shutterstock.com
Anja Rubik's Side-Swept Bob
This hairstyle takes a super wispy, and layered bob haircut and gives it a little spin by dropping a natural side-part and a tucked side to the mixture. Looks pretty badass if you ask me, not to mention that it's simple enough to style.
taniavolobueva / Shutterstock.com
Marion Cotillard's Lob and Ashy Highlights
Lovely beach waves! But wait, did you notice the very low-key highlights in ashy tones? Yeah! I had to do a double-take on them because they're so dainty they mesh perfectly with Marion Cotillard's dark brown hair.
makarenkodenis / Shutterstock.com
Anja Rubik's Wispy Layered Crop
Wispy and wonderful. Keep in mind that to get the best out of those feathery layers you'll have to do some styling if you have straight hair, and if you've got naturally wavy hair (depending on your type of texture) you'll achieve different variations of this look.
Luis+Javier+Villalba / Shutterstock.com
Mina El Hammani's Thick Curls
Mina El Hammani is a Spanish actress with Moroccan ancestry best known for her debut on Netflix's Elite. While Mina's curls are naturally much tightly packed than they're shown here, the styling gives us an exquisite rounded shape that's super flattering to her facial features.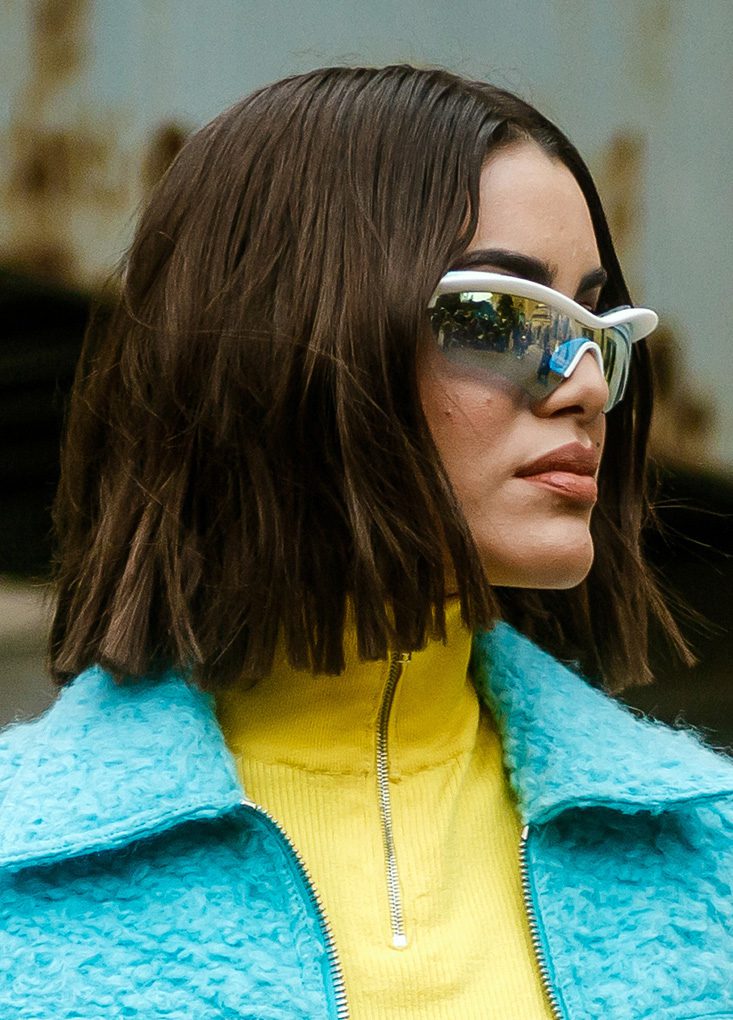 eversummerphoto / Shutterstock.com
Middle Parted Deep Brown Bob
This is a bob look cut pretty bluntly staying true to trend just below the chin. A side part would give the leveled ends a little bit of variation in length but when styled like in this example it is the perfect haircut to accentuate symmetric features.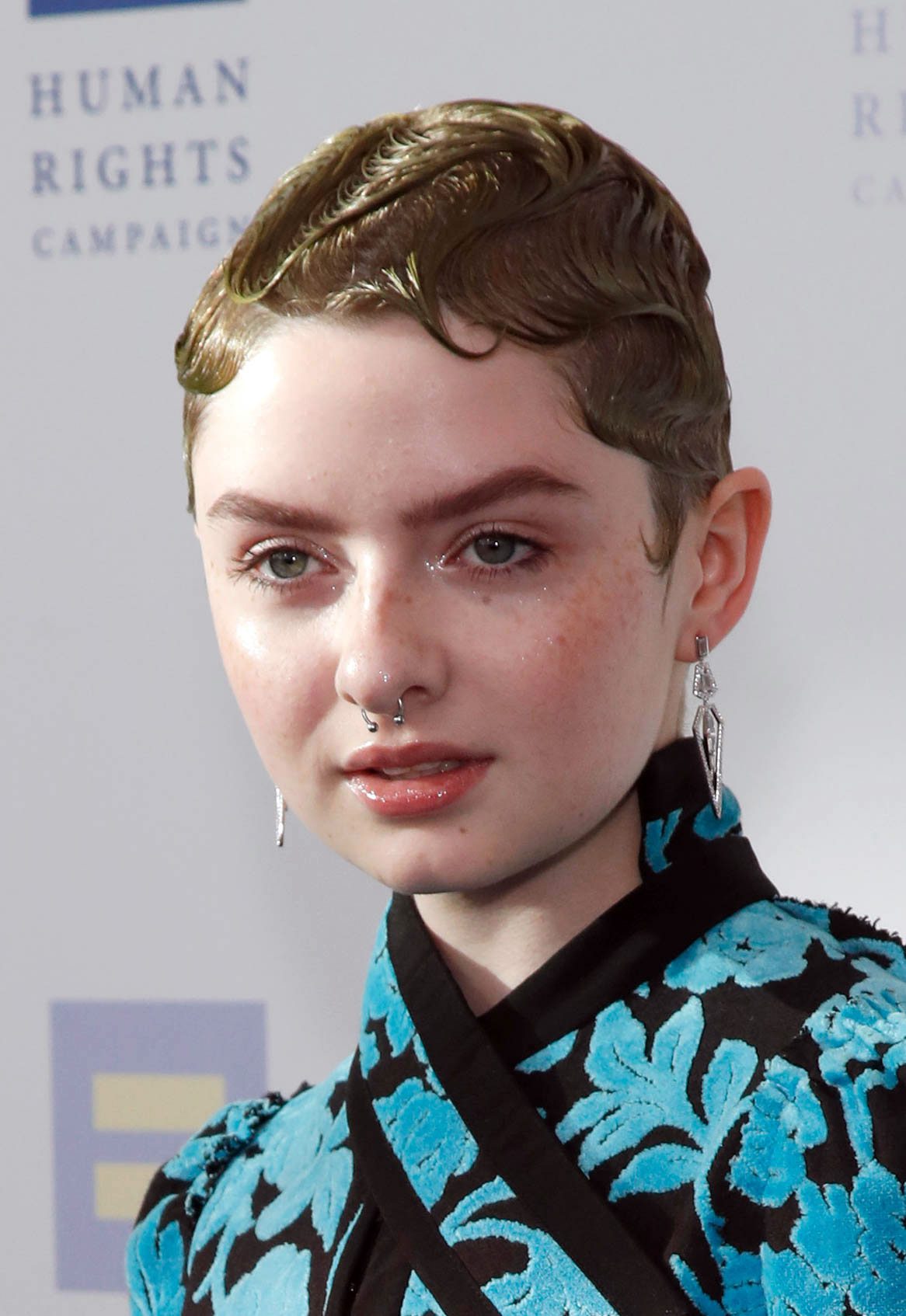 Kathy Hutchins / Shutterstock.com
Lachlan Watson's Waves
For those of you still unaware of who Lachlan Watson is, they play the role of Theo in The Chilling Adventures of Sabrina. On a haircut as short as theirs, it is pretty cool to add stylized waves and comb patterns to establish a texture with the right products.
On the other hand, have you noticed the minty-ash brown shade of their hair? I absolutely love seeing it more and more.
Cubankite / Shutterstock.com
Rebecca Ferguson's Easy Slickback
Rebecca Ferguson's slick back is more of a mix of different styling techniques. To achieve a similar look you can start by blowdrying your front so that it adds the needed volume or, simply, as much as you want. From there the deal is sealed with some light hairspray touches.
DFree / Shutterstock.com
Lena Dunham's Angled Fringe and Lob
Lena Dunham's haircut although quite popular nowadays, has a distinctive feature that is not often seen as much. It pairs the lob (long bob) with a very light and slightly angled fringe. You might not even notice it at first but it's definitely what sets it apart.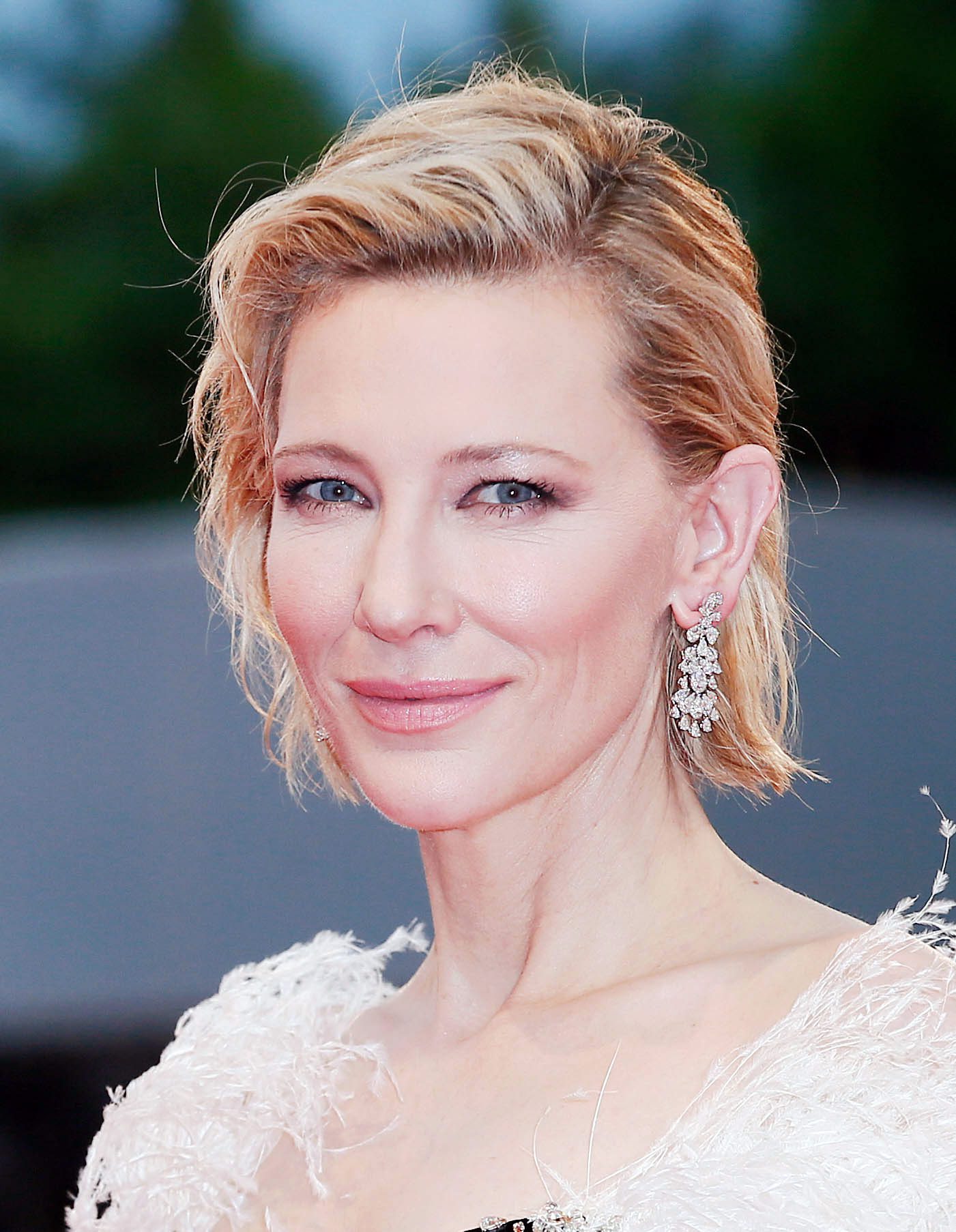 Andrea+Raffin / Shutterstock.com
Cate Blanchett's Side Parted Bob
Cate Blanchett has been keeping her hair pretty short, and that leads us to this wavy blonde bob. In this case, she's gone and paired it up with an angled deep side part plus a little styling to her waves minimizing the frizz.
Featureflash Photo Agency / Shutterstock.com
Lena Headey's Black on Black Bob
Lena Headey, best known for her role as Cersei Lannister in HBO's fantasy drama Game of Thrones. She wears an A-line bob with a side-parted angled fringe, all in black. I love the styling and hair match!
Everett Collection / Shutterstock.com
Fatima Robinson's Mushroom Crop
A seemingly simple crop like it is the mushroom haircut can be used to shine a light on your facial features, just like Fatima Robinson is doing here. By having a shorter haircut you may get the urge to experiment with bolder makeup and accessories as well, go for it!
Cubankite / Shutterstock.com
Isa Briones Lob
Isa Briones is wearing a quite popular lob style nowadays paired with some subtle waves. Notice how she's actually got a straight line shaping it all, this means that in this case, they decided against much layering, simply stunning.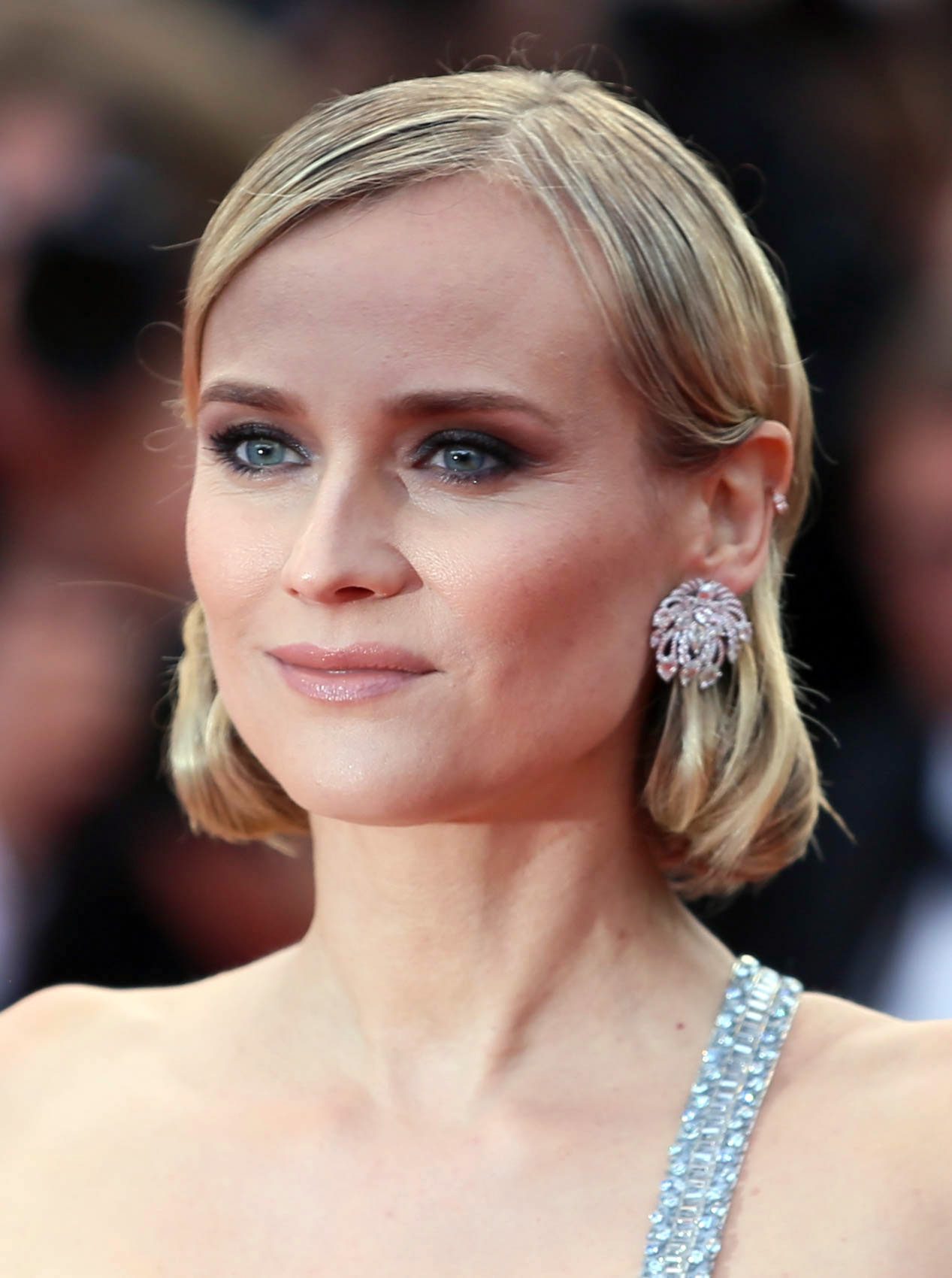 makarenkodenis / Shutterstock.com
Diane Kruger's Short Bob
Diane Kruger's style in this example is a romanticized version of the classic bob. Having the tips of her hair curling inwards adds softer shapes and the side part is the perfect touch.
Cubankite / Shutterstock.com
Cressida Bonas Natural Part Lob
Although shorter than some of the lobs we've got here, Cressida Bonas' hairstyle is one I think would look fabulous on anyone for its versatility and incredible highlight work.
DFree / Shutterstock.com
Zoe Chao's Feathery Short Fringe
I love that Zoe Chao's paired her bob with some subtle beach waves and a choppy short fringe.
Birdie+Thompson / Shutterstock.com
Laura Harrier's Wavy Bob
Laura Harrier's loose waves and straight bob are a dream! This hairstyle shins the right light on her lovely facial features.
Ovidiu2012 / Shutterstock.com
Taylor Misiak's Wavy Bob
A cute way of spicing things up with a bob is adding some side hairpins.
s_bukley / Shutterstock.com
Patricia Arquette's Bob
I feel like if you were born anytime around the 80s – 90s stretch you were bound to have this haircut as a kid at some point. BUT now it's actually your choice! We didn't understand how chic this look would come to be.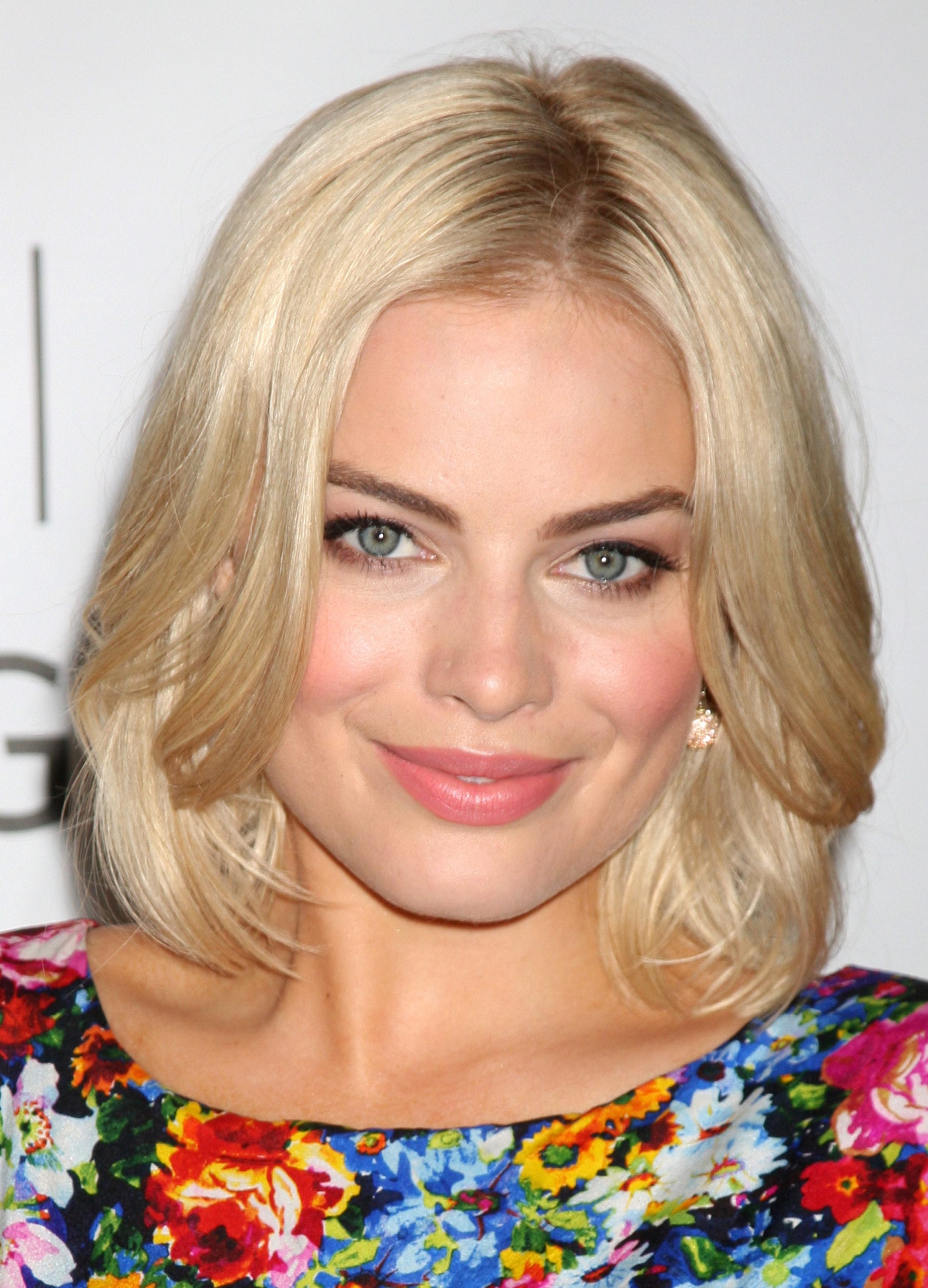 Kathy Hutchins / Shutterstock.com
Margot Robbie's Bob
You don't always have to go with a straight side part, sometimes a curved one is just the right way to keep the balance you're looking for in hair volume.
A page from Margot Robbie's book looking gorgeous in a fairly simple and timeless hairdo as this layered bob.
Kathy Hutchins / Shutterstock.com
Cara Delevingne's Blonde Burr Crop
Cara Delevingne's crop is basically a no-brainer for practicality. If you've ever grown your hair, you'll have dreamt about chopping it all off at some point, and especially when it's taking you forever to blowdry it.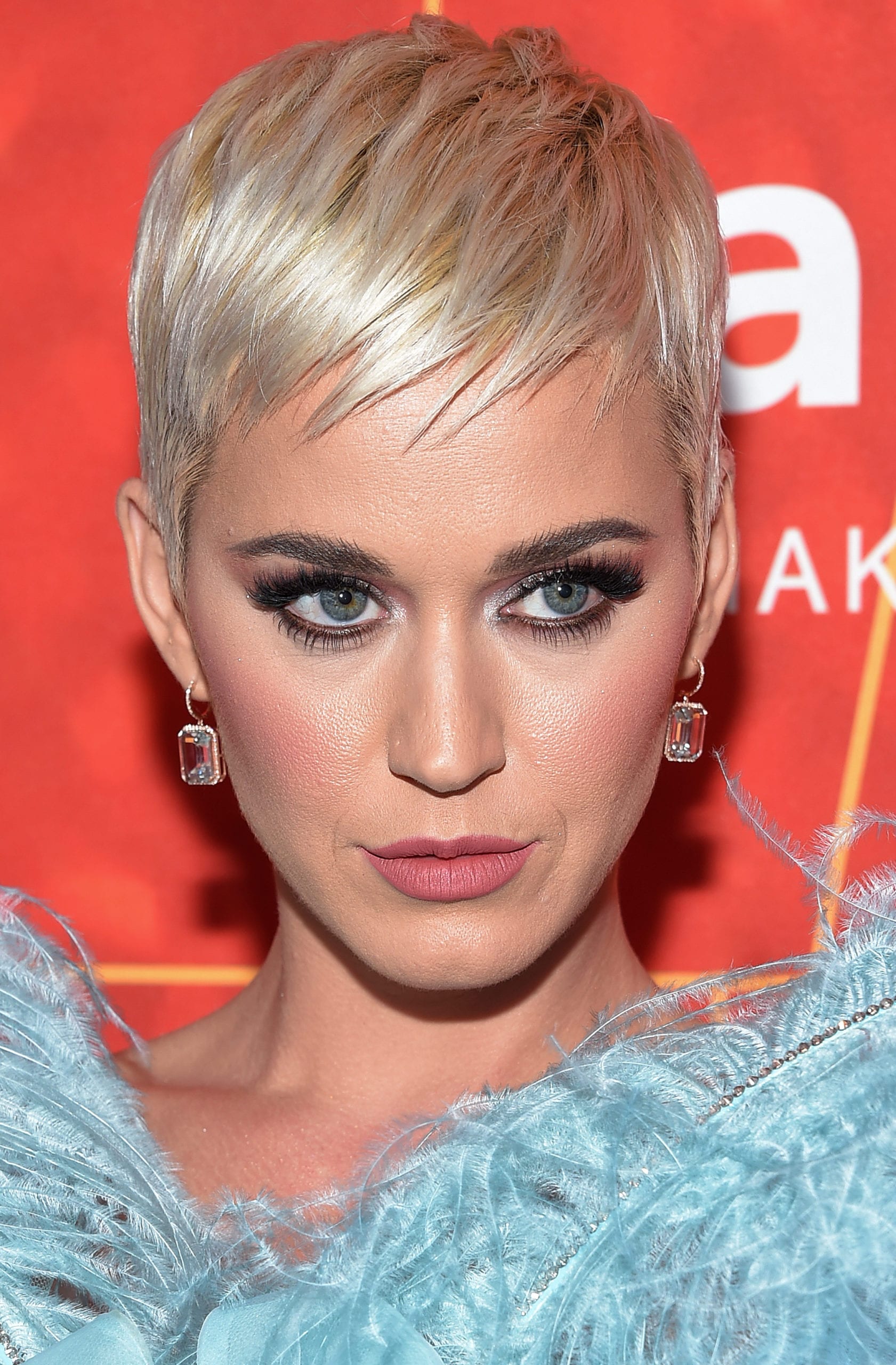 DFree / Shutterstock.com
Katy Perry' Pixie and Spiky Bangs
Katy Perry looks pretty stinkin' cute with this pixie hairdo! Notice how they've worked some texture at the top in diagonal layers for a little bit of extra 'oomph'.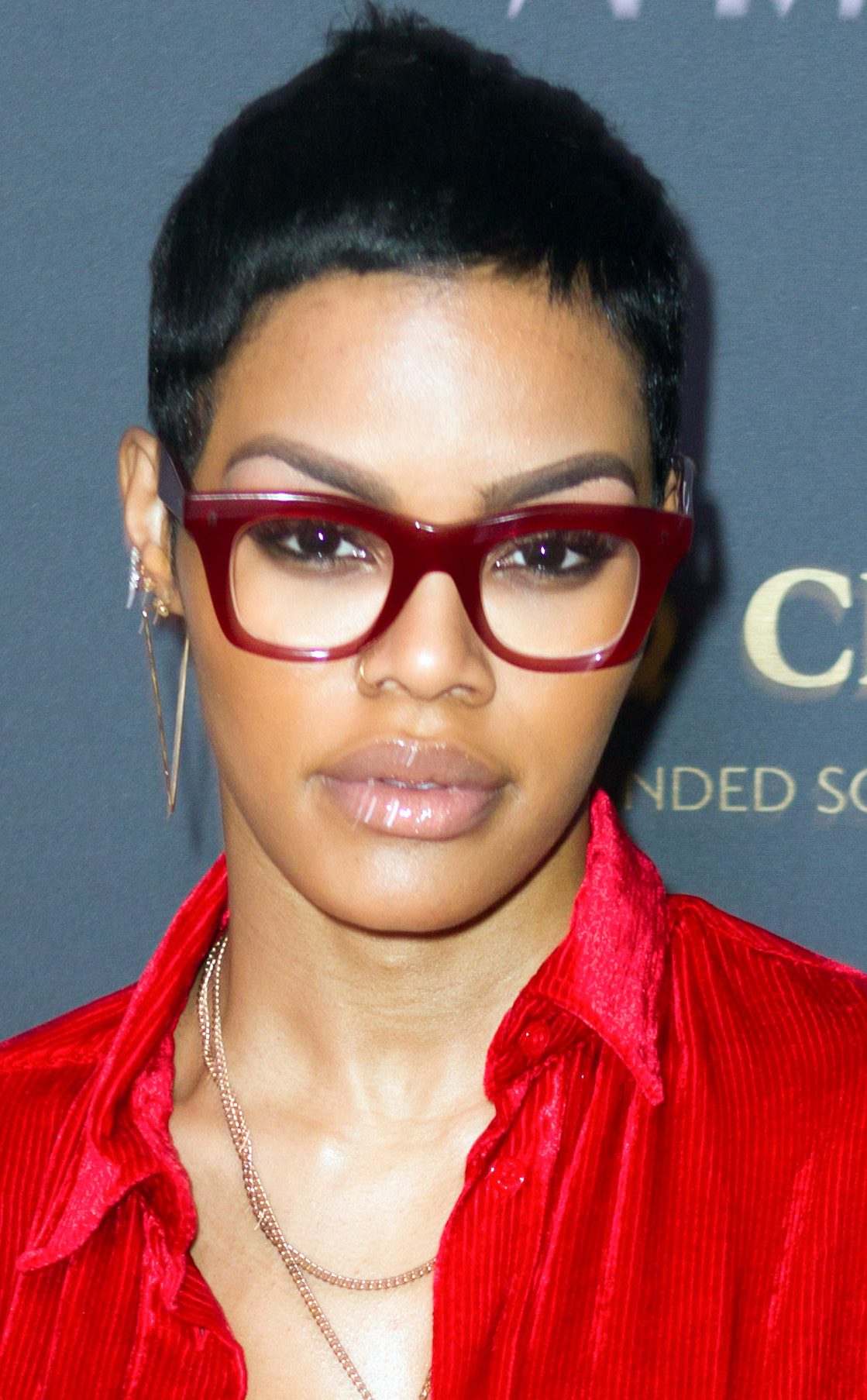 Jamie+Lamor / Shutterstock.com
Teyana Taylor's Caesar Without Bangs
Teyana Taylor's haircut is one that will make it super easy to get ready in the morning because of its length.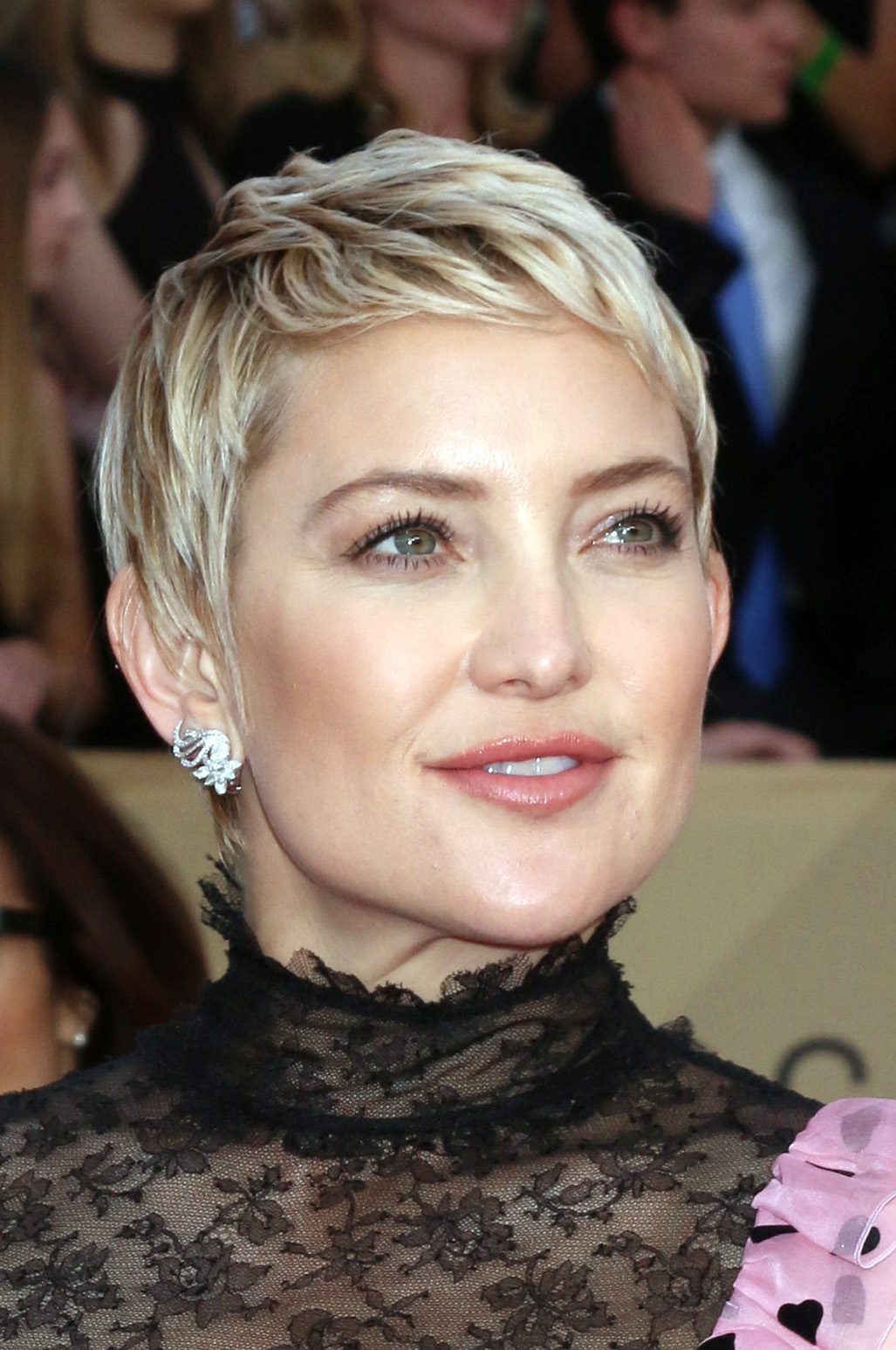 Kathy Hutchins / Shutterstock.com
Kate Hudson's Textured Pixie
The texture is working with the contrast in hair colors here with a darker base and blonde highlights. Kate Hudson can sure wear a pixie haircut!
Featureflash Photo Agency / Shutterstock.com
Agyness Deyn's Blowout Bob and Highlights
An interesting combination of highlights technique here on Agyness Deyn by making the streaks thicker. A long bob is a great way of keeping a little bit of length if you can't be convinced to go any shorter.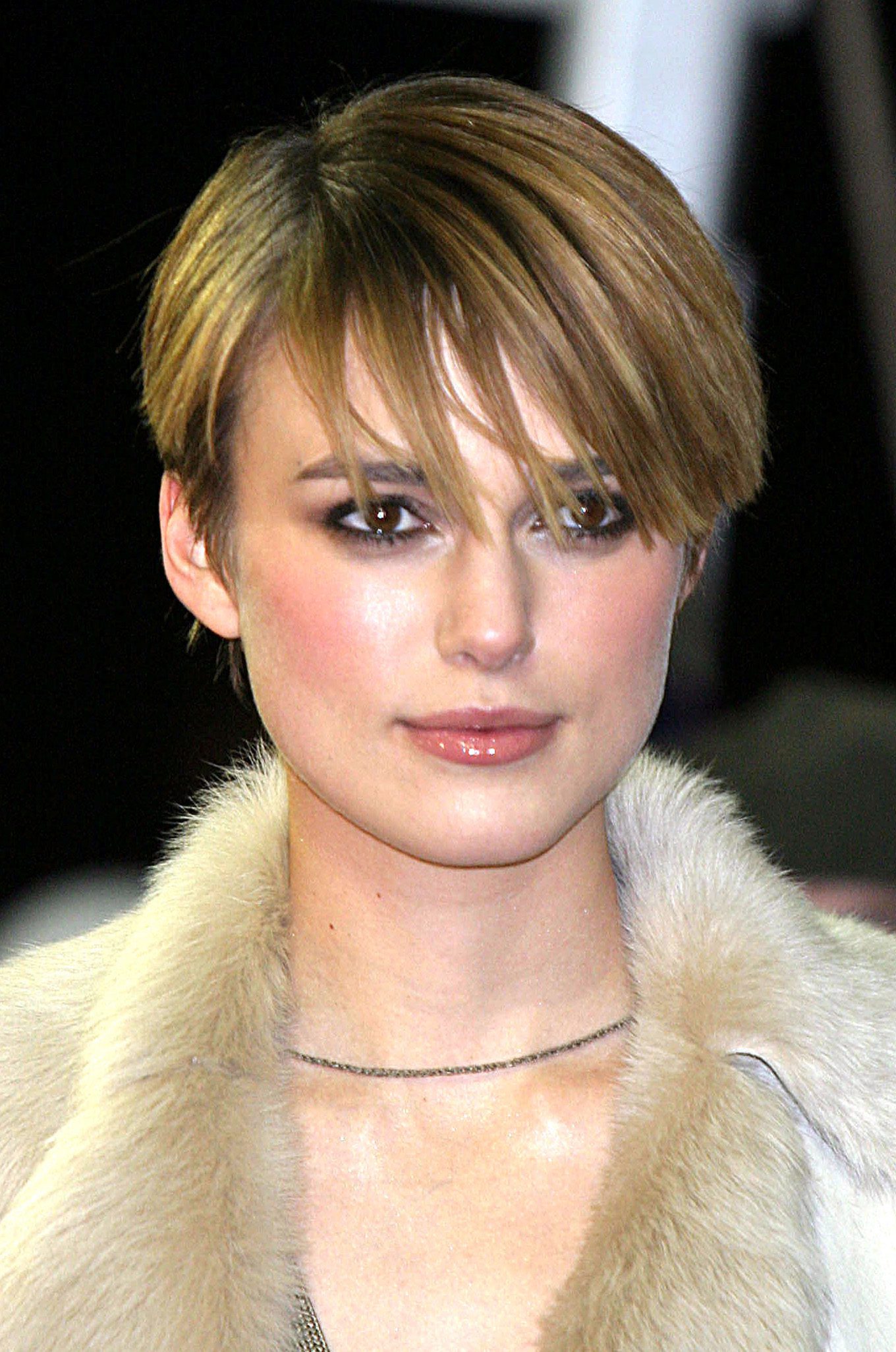 Everett Collection / Shutterstock.com
Keira Knightley's Long Bangs
Like a combination of the mushroom crop and an overgrown pixie, Keira Knightley's haircut we bring straight out of the mid-2000s inspiration mood boards because I think we all agree this incredible look is relevant.
Kathy Hutchins / Shutterstock.com
Milla Jovovich's Golden Brown Crop
Milla Jovovich's crop, a lot like the lob keeps its length barely brushing the shoulders.
s_bukley / Shutterstock.com
Debi Mazar's Brushed Back Curls
The brush-back look is a simple one, but this definitely carries a lot of elegance. This look leaves some playfulness to the curls in the back and I love it. Gives me almost mullet vibes!
s_bukley / Shutterstock.com
Meagan Good's Mushroom Crop
Meagan Good's mushroom crop is chic and cute all in one. Bold accessorizing can be key to bring a little bit more to the table with a short haircut.
Tinseltown / Shutterstock.com
Mena Suvari's Angled Bangs and Lob
Angular everything! Mena Suvari's hairstyle here is nothing but consistent and consistency is always a good look.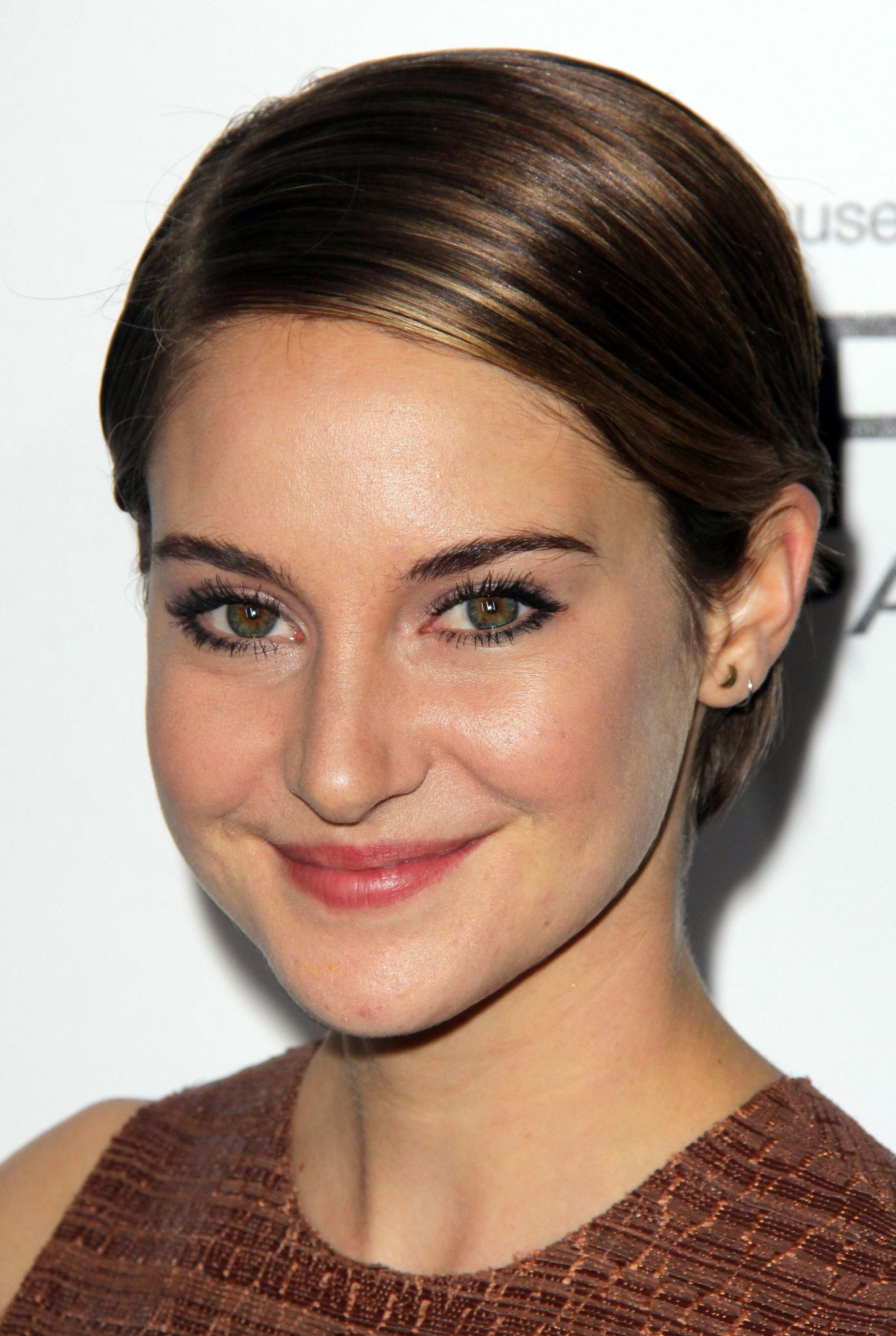 s_bukley / Shutterstock.com
Shailene Woodley's Pixie
Shailene Woodley's pixie is on the longer side of the spectrum but it looks cute and magical all the same, just like the style suggests.
s_bukley / Shutterstock.com
Anne Hathaway's Pixie
Anne Hathaway's take on the pixie follows a thicker and longer fringe, one would say "too long" for it to be a classical pixie but she looks stunning with her thick bangs.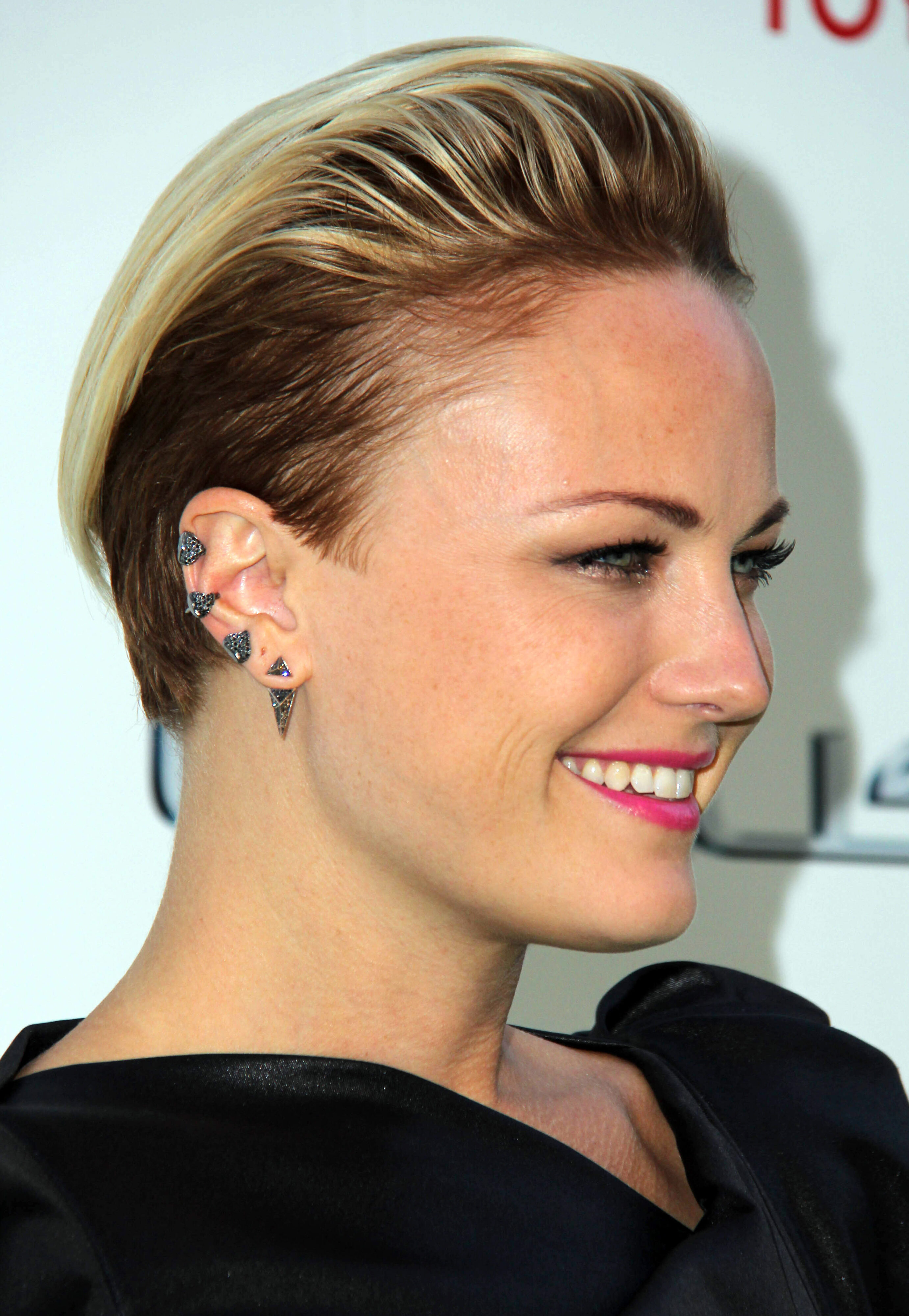 Kathy Hutchins / Shutterstock.com
Malin Akerman's Double-Toned Undercut
At some point in history, this undercut haircut alone would've been considered extremely controversial for a woman to wear. Aren't you glad that isn't the case anymore?
Malin Akerman wears it with a highlighted top and darker sides looking absolutely spectacular.
vectoricon / Shutterstock.com
Caitriona Balfe's Lose Waves
We'd say there's a blurry line between short and medium-length hair for most people out there so that's why we include stunning Caitriona Balfe's long bob and loose waves.
Add a side part like she's done here for a little extra focus on some luscious waves.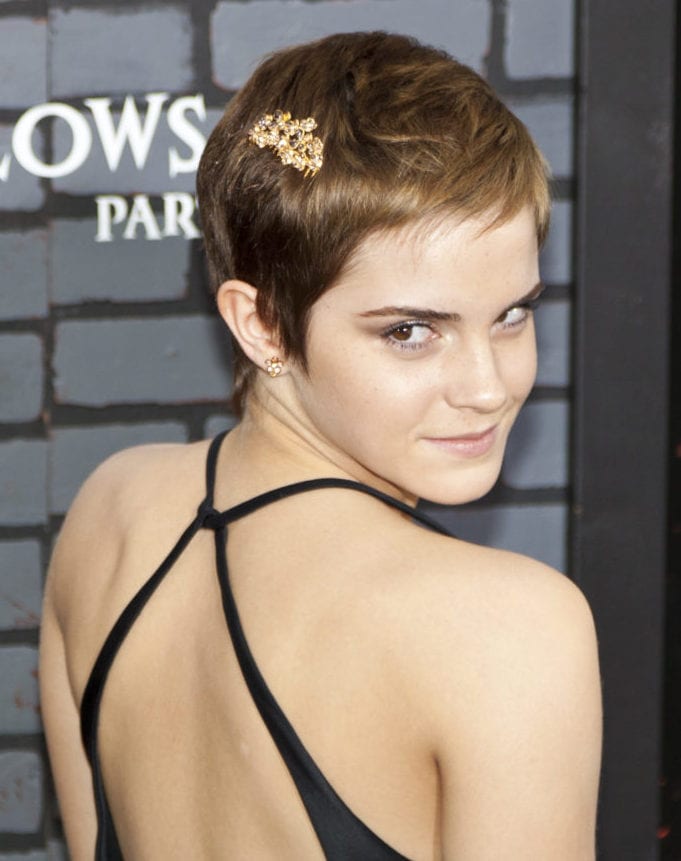 vonora / Shutterstock.com
Emma Watson's Textured Pixie
I love the way Emma Watson went all out and got a pixie cut. Her bangs short and feathery are the look's staple signature and she surely knows how to wear it.
Tinseltown / Shutterstock.com
Eva Longoria's Caramel Chocolate Bob
It's hard not to envy Eva Longoria's gorgeous skin color combined with the perfect caramel chocolate hair color. The fact that she's wearing a straightened bob is just the cherry on top.
She looks classy, she looks mysterious, super sexy look on her!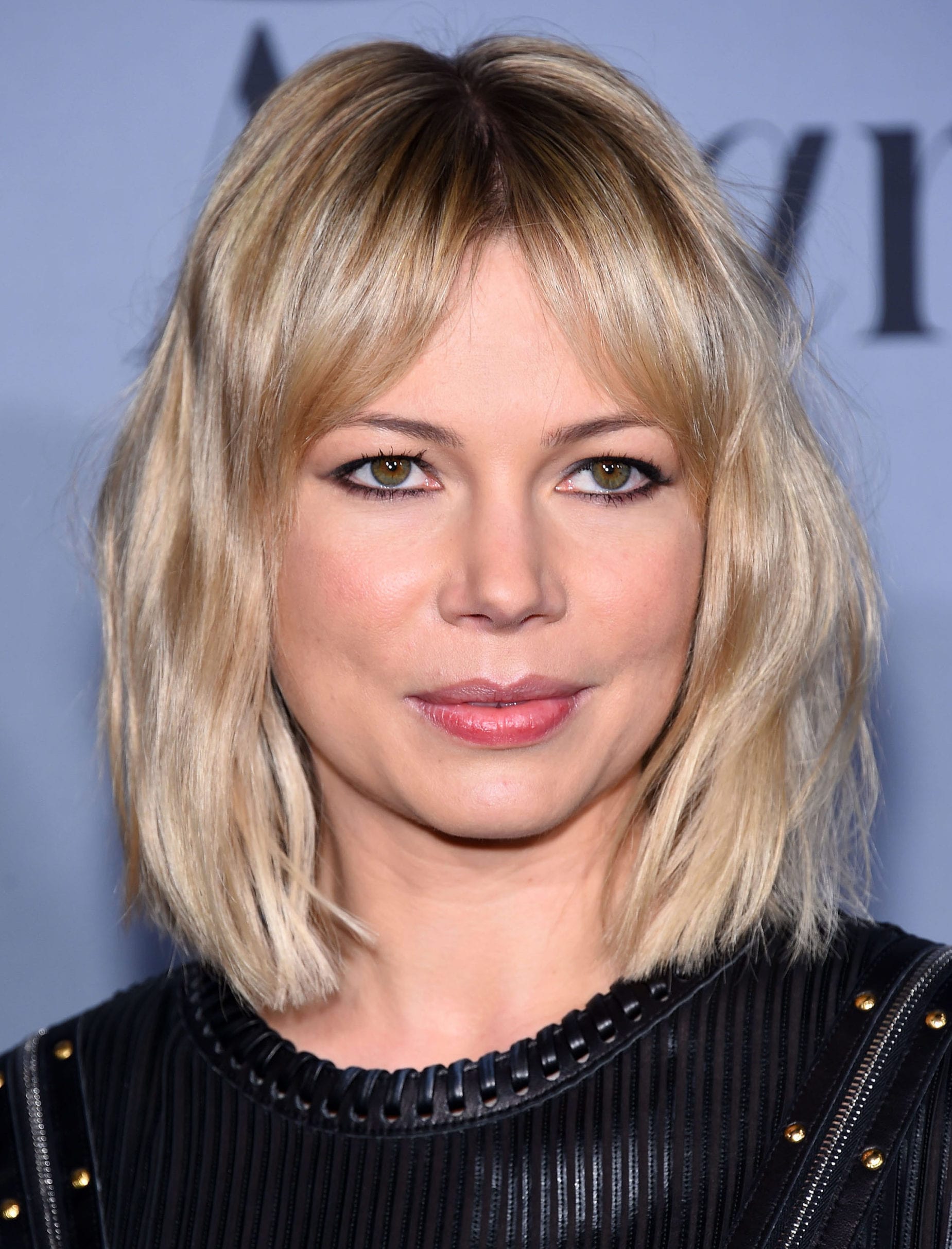 DFree / Shutterstock.com
Michelle Williams Curtain Bangs and Long Bob
This long bob is all gorgeous and dandy, but my favorite part of this particular Michelle William's look is the curtain bangs. Fluffy and a perfect fit for the loose waves.
Tinseltown / Shutterstock.com
JLos Long Bob and Highlights
A haircut as straight-forward as a long bob can be totally changed by adding a couple of dainty highlights to the mix. This is exactly what Jennifer Lopez has done here. A side part to add a side-swept bang feel, and that's the final touch to a splendid hairstyle!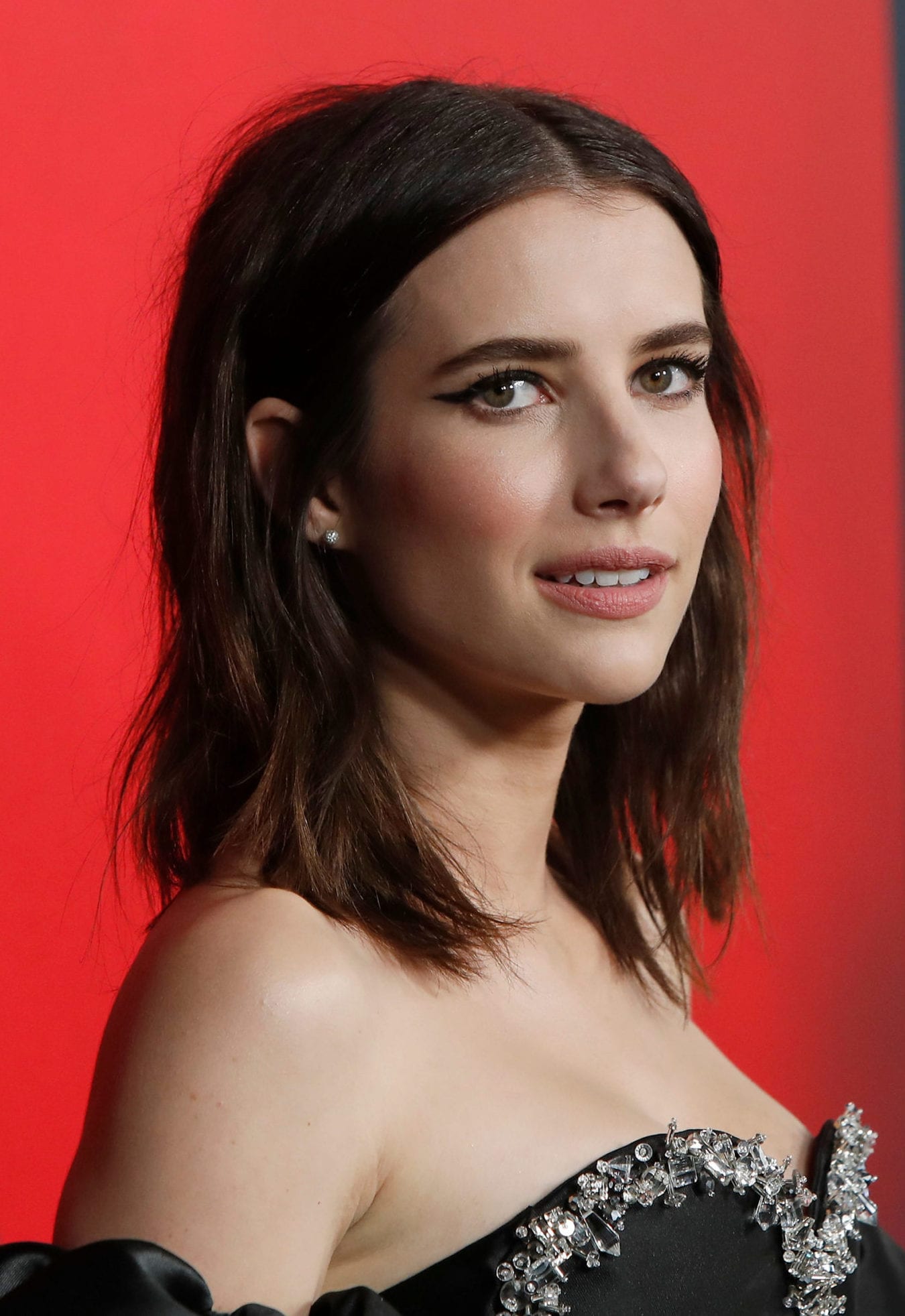 Kathy Hutchins / Shutterstock.com
Emama Roberts Middle Part Lob
Let's be honest, Gen-Z is coming in hot setting trends and it looks like they've decided to go with the middle part. Well, more like bring back. I personally love the trend because it's a great way to accentuate your features cleanly.
Emma Roberts pairs it up with a long bob in a casual manner. She looks stunning, as always.
Kathy Hutchins / Shutterstock.com
Gal Gadot's Wavy Long Bob
The fact that most people seem to be going with a middle part does not necessarily mean that you have to stop parting your hair on the side. Shorter haircuts definitely benefit from the extra drama a side part brings.
Gal Gadot wears her long bob with some loose curls and waves, plus a pretty volumized side part in the mix.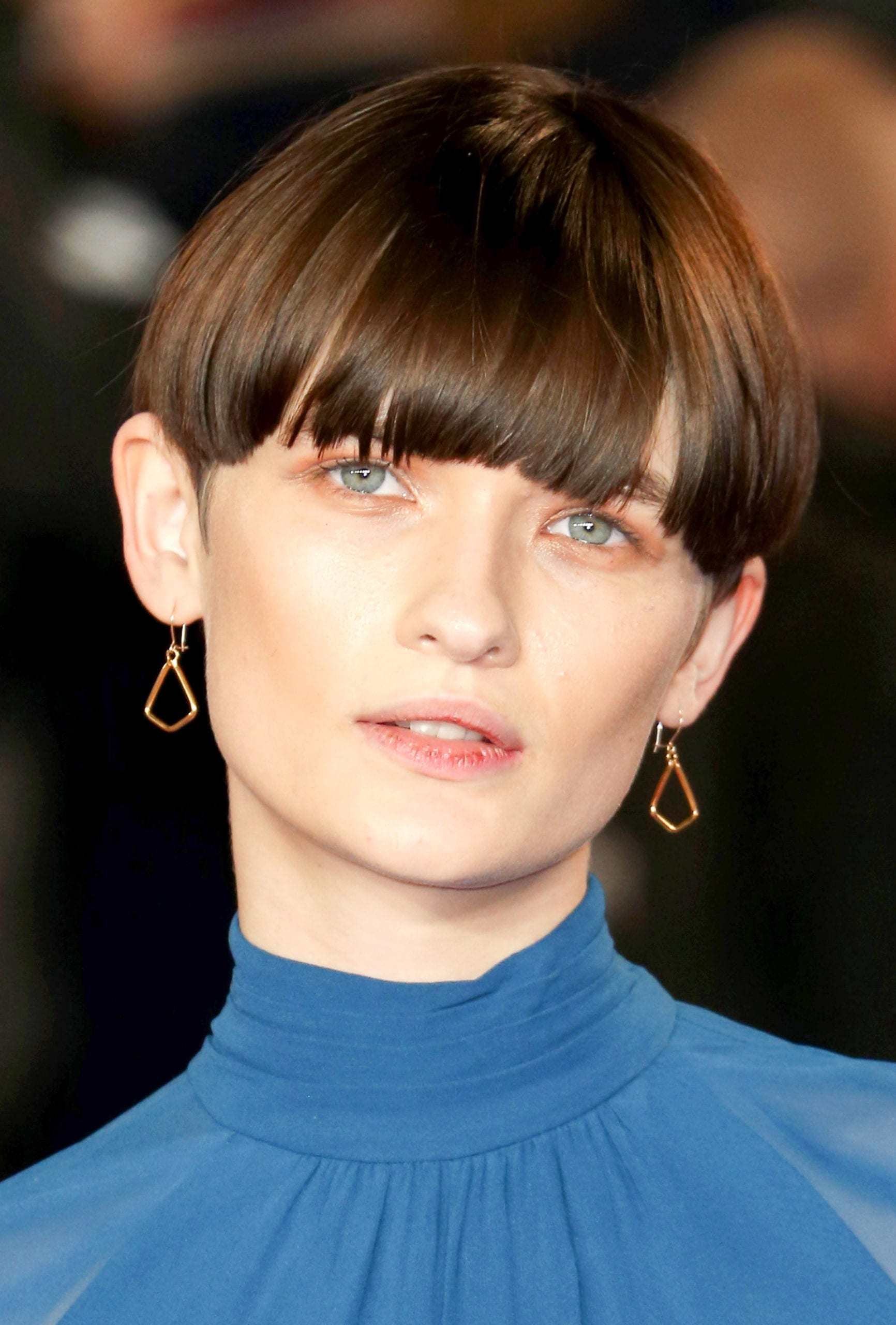 Cubankite / Shutterstock.com
Lara Mullen's Mushroom Crop
Lara Mullen's style is so sleek and minimalistic here and it pairs perfectly with this mushroom crop.
Cubankite / Shutterstock.com
Lucy Boynton's Pin-Back Bob
Lucy Boynton's bob is cut to perfection, and my favorite part about her look, besides the makeup, has to be the way she styled her bob. Pinned back and with a center part. Super classy.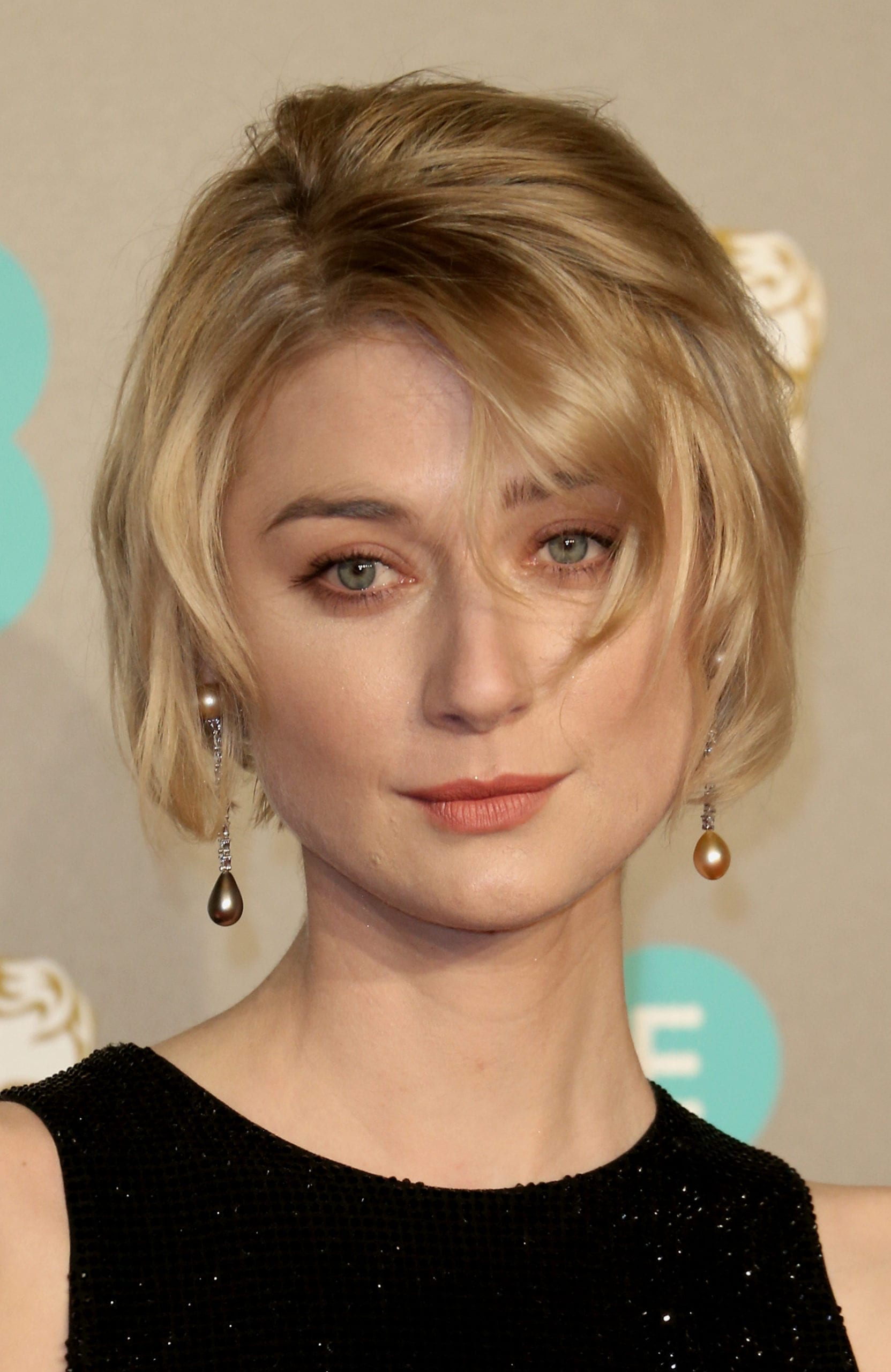 Cubankite / Shutterstock.com
Elizabeth Debicki's Layered Bob
Not all bobs need to follow the rules, and separating itself from the classics is what makes the layered bob so cool. Elizabeth Debicki's take on this haircut is one that presents itself as playfully elegant.
Cubankite / Shutterstock.com
Portia Freeman's Angled Fringe and Pixie
Portia Freeman's short hairstyle of choice here is called a pixie, but notice how her bangs are super short and ever so slightly angled? You can work with details like that to bring uniqueness to your style.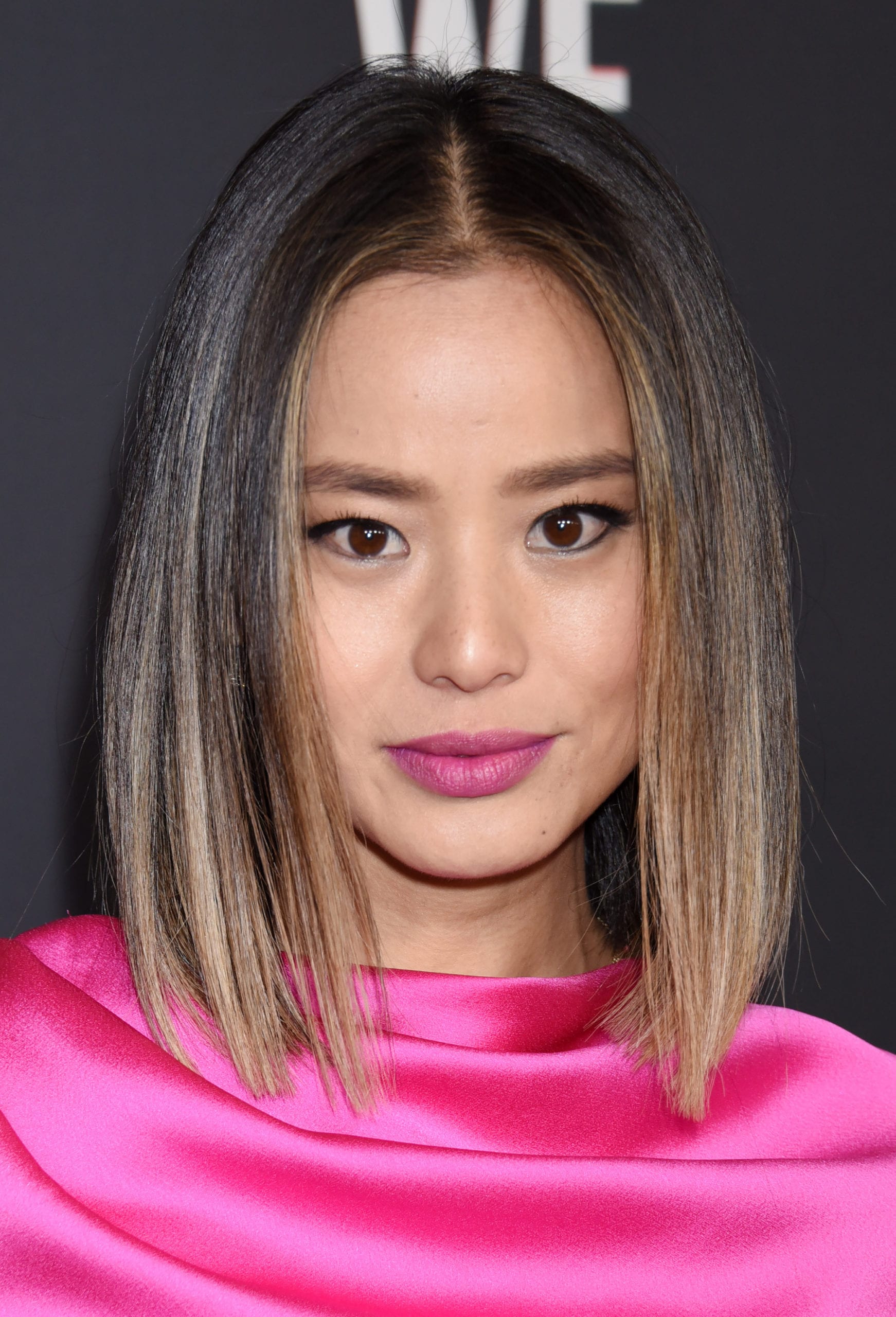 Ga+Fullner / Shutterstock.com
Jamie Chung's Balayage Bob
This is a popular take on the bob haircut, a long bob. Adding balayage highlights is a great way to spice a straight-cut haircut up and Jamie Chung looks fabulous with it.
Jaguar PS / Shutterstock.com
Carey Mulligan's Angled Short Bangs
Carey Mulligan's blonde pixie looks super cute with her short choppy bangs.
Birdie+Thompson / Shutterstock.com
Lizzy Caplan's Deep Side Part
A simple and elegant look for Lizzy Caplan. The long bob and a deep side part like that is not something you see much of these days, so I'm here to remind you how good it looks.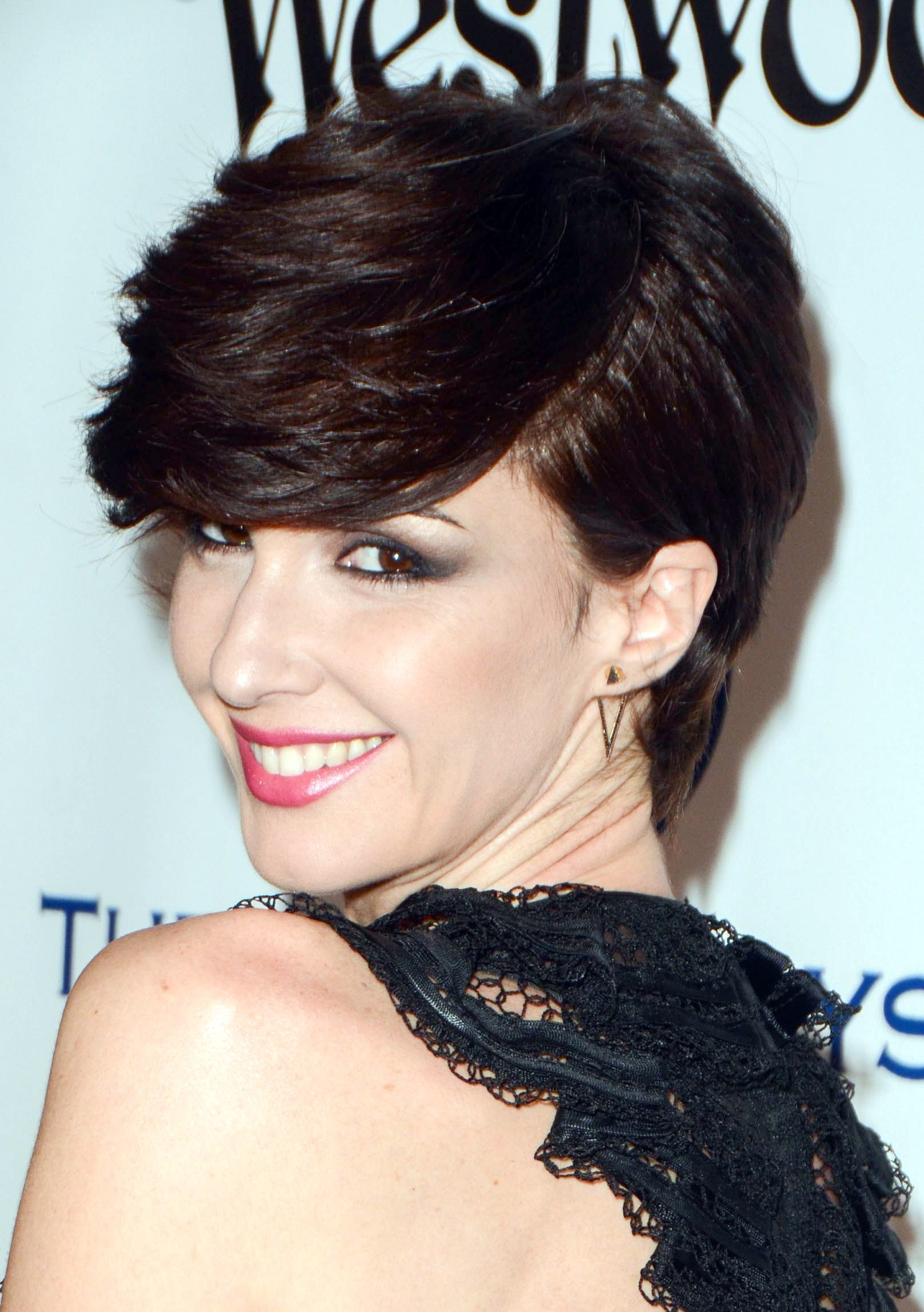 Kathy Hutchins / Shutterstock.com
Paz vega's Long Bangs on Pixie
Getting a short haircut cut like the pixie doesn't mean at all that you need to go all the way super short. Paz Vega's pixie leaves some gorgeous long bangs and volume on top. Gorgeous!
Birdie+Thompson / Shutterstock.com
Mena Suvari's Long Bob
Mena Suvari's long bob is not exactly layered but some volume has been definitely taken off the tips of the hair. If you're looking to get a similar look ask your stylist for less volume on the tips.
s_bukley / Shutterstock.com
Mia Wasikowska's Short Crop
Mia Wasikowska's short crop has a really short ombre work going from dark brown to blonde. So if you thought you couldn't rock an ombre with a hairstyle this short, think twice.