30 Ideas For Androgynous Tomboy Haircuts
Your guide from fluffy to straight tomboy styles
A tomboy haircut is not your typical girlish style. However, there is more about it than you think. At first sight, such a haircut might look not feminine at all, but let us tell you something: a hairstyling expert and a few hours in the beauty salon can do some magic. And to prove it to you we have selected the most charming celebrities of all time with various hair types and face shapes.
We can assure you: after reviewing our guide you won't think of the short haircut as something boring or too simple anymore. That undercut and fluffy layers can change more than you think! A super short haircut might become your next big favourite style for a very long time. So watch out!
1 / 27
Scarlett Johansson With Curly Tomboy Haircut
Scarlett definitely knows some magic secret as no matter what she does with her hair or makeup, she always looks ravishing! For this Anniversary Gala, she picked a beautiful curly hair tomboy haircut with gorgeous blonde highlights on the top part. If you have the same naturally curly hair, you absolutely have to try this haircut!
2 / 27
Ashlee Simpson's Tomboy Haircut With Bangs
Such a cool-looking haircut is demonstrated to us by Ashlee. With the diagonal part, the side bangs cover most of the forehead, and in this way, the face looks more framed while the beautiful intense smokey eye makeup gets all of the attention to it. This tomboy cut is an excellent way to alter your facial features visually.
3 / 27
Miley Cyrus With Emo Boy Haircut
Miley always surprises us with her adventurous transformations! This time she went for a genuinely androgynous haircut – emo boy tomboy short fluffy haircut. What an extravagant choice we have to say. This would be a superb style for hot summer days as this haircut is effortless to dry and style.
4 / 27
Winona Ryder's Curly Androgynous Tomboy Haircut
Winona always had that impeccable taste in styling, and we have to say it's been quite non-ordinary. She could easily show up on the red carpet in a black turtleneck and messy-looking hair. But it looks like that's what makes her so unique. Moreover, this curly cute tomboy haircut suits her character a lot.
5 / 27
Kristen Wiig's Tomboy Haircut For Thin Hair
In case you're looking to get a haircut that would allow your hair to rest a bit from endless styling, dying and drying – go for the same tomboy haircut for thin hair as Kristen picked. This is an excellent way to renew your hair and let it grow without the necessity to style or cut it regularly.
6 / 27
Sharon Stone's Volumized Tomboy Haircut
Sharon knows one straightforward trick: with a regular tomboy cut, you can get a lot of volume on top if you don't make an even part and dry your hair by brushing your hair intensely to the back. Such a small detail, but what a significant difference it makes!
7 / 27
Jamie Lee's White Extra Short Tomboy Haircut
Do you know anyone who looks as energetic and charismatic as Jamie Lee? Unlikely, this lady kills it with her elegant looks and hair transformations. She is not afraid of playing with colours and lengths. This time she showed up with a perfectly white short tomboy cut and demonstrated an outstanding example of how an androgynous haircut can look at any age.
8 / 27
Chelsea Kane's Bright Tomboy Hairstyle
Chelsea's hairstylist is most likely a professional colorist because the result we can see is just marvellous! The bright combination of the two contrasty colours, like dark chocolate and platinum blond, adds some deepness to the hair colour and makes it look thicker than it is. So for anyone looking to get thin hair tomboy cut – that's the trick you should remember.
9 / 27
Michelle Williams With Tomboy Short Haircut
The tenderness herself! Indeed, Michelle's looks are always so delicate and petite that it's almost impossible to resist smiling. She looks absolutely charming with this lovely short tomboy haircut in a platinum blond colour — what an exquisite taste for pastel colours and modern trends.
10 / 27
Jenna Elfman's Tomboy Haircut For Thick Hair
If you are as lucky as Jenna and have heavy, healthy-looking hair, then a tomboy haircut for thick hair would be the most beneficial option for you. Having the feathery layers of hair on one side will partially create that extra volume on top and cover your face.
11 / 27
Jessie Buckley's Round Face Tomboy Haircut
Are you looking to outline your gorgeous face? Then this is a haircut for you! Short one side with a diagonal part and longer feathery waves on another side create a perfect frame for your face and add some volume to those with thin hair. In juicy ginger colour, such a tomboy haircut looks even more appealing.
12 / 27
Sarah Paulson's Tomboy Haircut For Curly Hair
Another fantastic way of wearing a medium tomboy haircut for curly hair is the one Sarah likes. She can often be seen with the asymmetrical medium shoulder-length tomboy haircut, and that is why we are sure that's her favourite hairstyle. With her beautiful soft curls, such a haircut suits Sarah's face shape.
13 / 27
Jennie Garth's Undercut Short Tomboy Hair
If you thought that alt tomboy haircuts are for the younger generation only – well, you're wrong. Just look how gorgeous Jennie looks with this absolutely stunning fluffy tomboy haircut. By getting an undercut, you will add some volume to your hair which will, in general, make your hair look more flowy and thick.
14 / 27
Halle Berry And Her Iconic Short Haircut
Finally, we got to the Queen of the short hairstyles – Halle Berry. She is absolutely the only celebrity who has never been a fan of long hair. She has been admiring various short haircut styles from a young age, including tomboy cuts. This one with the messy mohawk-like top looks excellent on her.
15 / 27
Robin Wright's Classic Short Tomboy Haircut
There can't be a better example of a classic tomboy haircut than Robin demonstrates to us. What a brilliant way of integrating such an androgynous hairstyle into the glamorous red carpet look. We have to admit this decision of hers is pretty successful and suits Robin a lot!
16 / 27
Katharine Mcphee's Slicked Back Tomboy Hairstyle
Katharine's positive energy can be felt even through the monitor, right? With her spectacular smile, any hairstyle would look amazing. However, this time she picked a great-looking tomboy haircut 2018 when it was at its peak of popularity. With a little bit of dry gel, you can easily slick back your hair and, in this way, add some volume to it.
17 / 27
Evan Rachel Wood With Girl Tomboy Short Haircut
Evan picked an exciting combination of a short fluffy tomboy cut and stacked asymmetrical bob: the back of the hair is extremely short while the front part is way longer and pointy to the ends. With such a style, it's easy to make your face look thinner and highlight your beautiful jawline. So pay attention to that little Evan's secret.
18 / 27
Tina Majorino's Tomboy Haircut For Straight Hair
If you are lucky to have naturally straight hair, this haircut was created especially for you and your needs. By cutting your hair shorter in the back and getting the feathery side bangs in the front, you will highlight your facial features and eliminate your daily styling routine. All you need to do with such a haircut is just brush it, and you're ready to go.
19 / 27
Tere Morris With Medium Short Tomboy Haircut
If you have a similar face shape to the one Tere has, this haircut will benefit you. The thing is that the volumized hair on top will visually smooth the pointy parts like the chin and cheekbones. It will create a harmonized overall appearance and complement your look with some elegance.
20 / 27
Elisabeth Moss With Blonde Tomboy Cut
A very casual yet classy haircut chose Elisabeth for her appearance at the Women in Film awards. A soft no-makeup look with a little bit of pink blush and soft pink lips looks fantastic, along with the wheat blonde tomboy cut. The curtain bangs add even more elegance to Elisabeth's look.
21 / 27
Keira Knightley's Glamorous Short Tomboy Cut
What a chic haircut! Just look how successfully Keira combined two contradictory styles: the short messy tomboy haircut for girls looks extraordinary with the soft brown smokey eye and long gold earrings. Moreover, such a cut will fantastically suit anyone with a chubby face.
22 / 27
Rihanna's Sexy Tomboy Cut
Who can be more seductive than Rihanna? We don't know that many people, to be honest. Her enormous energy and charisma leave us speechless every time she shows up at a new event. Anyone can rock it just as Rihanna does with such a natural short haircut for black women!
23 / 27
Julianne Hough's Tomboy Short Butch Haircut
Julianne picked one of the most extravagant tomboy haircuts for women. She has thick hair, so pretty much any haircut would look good on her. But this one, in particular, suits her the most. The most crucial detail is how her hair is parted in the back because that's why she has so much volume on the front side. Also, with this cut, you need to dry your hair by brushing it to the side.
24 / 27
Charlize Theron's Extra Short Tomboy Cut
What an astonishing woman! Charlize, with every new appearance of her, makes us speechless. There is something in how she confidently looks at the camera and holds herself in public. We have a lot to learn from Charlize, and this gorgeous haircut is one of those things. She proves that even a boy haircut can look good on you if you feel like a queen inside.
25 / 27
Jennifer Lawrence With Boy's Haircut
It seems like typical boy hairstyles are in trend these days. At least Jennifer thinks so, and we can't disagree. The genderfluid androgynous haircuts have been popular for decades which can be surprising to some of you. But there are a few reasons for that: such tomboy haircuts not only look cool, but they're also super easy to take care of.
26 / 27
Morena Baccarin's Short Tomboy Cut
We have seen a lot of styles of tomboy haircuts, but this one seems to be the most simple one yet elegant enough to look that attractive. Morena has that feminine vibe, and even with that short hair, she still looks so seductive! But this haircut is one of the easiest ones to keep up.
27 / 27
Cody Horn's Fancy Tomboy Cut
Cody looks extremely elegant with this polished long tomboy haircut. Most girls dream of having the same cut, but not everyone is ready to experiment. Cody has more courage and knows how to style such haircuts appropriately.
FAQs
What is the tomboy cut?
Initially, the tomboy style was popular among teenagers who supported the genderfluid androgynous movement in dressing, styling their hair and behaving. Today the meaning of the tomboy style has slightly altered. However, the haircut of the mentioned style can differ from one person to another these days. How? Let's discuss that in detail.
What is so unique about the tomboy style?
Well, do you know a lot of styles that can look chick and sexy or casual and carefree at the same time? Something truly unique about this tomboy haircut is that you can use it to demonstrate your rebel spirit or to highlight your elegant style and complement a cocktail dress for a red carpet event. Anyways, the funky short haircut has a lot of personality and will certainly add some spice to your look.
How to do a tomboy cut by yourself?
That's the most tricky part about this style. While the apparent simplicity of such hair, you should not get fooled by it. Short hair doesn't always mean being easy to style or cut. And that's not an exclusion. The short straight cut will require you to ask a specialist for help, while the same cut but with curly hair might free you up from this. Everything depends on your hair structure and the level of confidence you have in yourself. Not afraid to cut off an extra piece? Then dare to do it on your own Otherwise, spend some spare time and money picking the best hairstylist for a cool-looking haircut.
Styling your tomboy cut at home
There is a general rule: the longer your cut is the more maintenance and styling it needs. However, with the androgynous tomboy haircuts, there are some things to be mentioned. While they are relatively easy to maintain due to their short length, waking up in the morning might bring you some surprises as short hair loses its shape quickly during your sleep and waves in different unwanted styles which can be really tough to get changed. So be ready to wash and dry your hair with a round brush quite often.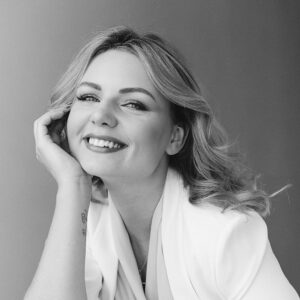 With an extensive background in the beauty and media production industry, Anastasiia knows all the buzz and is ready to share a few tricks with you to zhuzh your hair game. Constantly traveling between Europe and North America, she is the one who keeps an eye on all the popping world trends so that you don't miss anything.