30 Most Vivid Colors For Peekaboo Highlights
A vibrant palette of ideas for your peekaboo hairstyle
Hair coloring has an immense science behind it. It's not just a chemical reaction. Every professional hair colorist has to possess a wide range of complex skills to create a high-quality result. However, besides the theoretical and practical skills, they should also have a natural tact or ability to feel the color and understand how the main palette pigments chord together.
Needless to mention hair coloring is also some kind of art and the best professionals are instinctively artistic people who are not afraid of challenges. That is why such complicated hair coloring schemes like peekaboo hair have to be done by a professional if you're looking for a decent outcome. But first, let's figure out what is exactly called peekaboo hair.
Let's discover what are your options for peekaboo hair whether you're looking to dye the whole bottom layer or the bangs only. With such versatile coloring, everyone can find their own perfect color.
1 / 26
Vanessa Hudgens With Burgundy Red Highlights
We absolutely had to start this colorful guide with Vanessa Hudgens and her vivid burgundy peekaboo hair. She used to be such a huge fashion influencer for teenage girls and we are sure that she is still that icon for someone. Howsoever, her red peekaboo highlights are definitely in trend even these days.
2 / 26
Rita Ora's Temporary Sea Green Peekaboo Hair
Are you scared of radical changes? Then this option might be for you: you can try the peekaboo highlights without actually dyeing your hair! If you're a lucky owner of the light hair shades, then get the temporary pastel hair dye that can be found even in the mass-market stores and start your experiment. Just like Rita Ora, you can be creative in the process and make only one side colored or repeat a certain pattern.
3 / 26
Nicki Minaj With Peekaboo Purple Hair
Dreaming to make your hair stand out at the next party? Get the purple peekaboo hair! Such hair simply cannot blend in a crowd. That is why Nicki Minaj picked such a blazing color combo: a silver top layer that gradually transforms into deep blue and purple tones. Hair like that will brighten your appearance easily.
4 / 26
Megan Thee Staillon With Natural Peekaboo Highlights
Megan is definitely not someone you expect to see with the natural-looking hair: she has been constantly seen with the most non-ordinary hair colors and their combinations. But, perhaps, everyone can get tired of the intense colors, right? Let's just admit that these gorgeous golden peekaboo highlights seem to match her hair amazingly.
5 / 26
Cardi B's Galaxy Peekaboo Hair
Cardi B knows how to create a trendy powerful look but she also knows how to dress playfully. As we mentioned earlier she always uses her hair as a part of the style and sometimes it's even a separate piece of art. This time Cardi made a choice of galaxy peekaboo highlights in various pastel shades: powder pink, sky blue, and settled purple tone blends in perfectly together.
6 / 26
Somaya Reece's Cinnamon Brown Peekaboo Hair
Do you have ravishing long layers of hair? Do you want to spice up your hair look a bit? Then take an example from Somaya Reece: she kept her natural dark brown color at the top and gently separated the front and bottom layers by creating such stunning cinnamon-brown peekaboo highlights. Such hair color will look equally suitable for a cocktail party or an everyday office look.
7 / 26
Halsey With Pineapple Yellow Peekaboo Half-Up Hair
Halsey is the leader of beauty transformations! It's even hard to remember all of her extravagant changes: she was bold, with a bright pink pixie bob, long blond hair, and even with afro-braids. But this time Halsey surprised us not with the haircut but with the color: her colorful pineapple yellow peekaboo highlights won't stay unnoticeable anywhere. Looking for a fresh summer look? Get some inspiration from Halsey!
8 / 26
Cardi B With Mermaid Peekaboo Hair
Are you passionate about the blue color palette as much as we are? Just look at this gorgeous teal peekaboo hair! The silver peekaboo highlights with the gentle transition into the perfect teal and royal blue colors would inspire anyone for courageous hair changes. If you're still in a doubt about getting the peekaboo hair, we're quite confident that Cardi B's example would change your mind!
9 / 26
Ariel Winter's Natural Ginger Peekaboo Highlights
Ariel likes to play with the colors as well. Not a long time ago she was a bright brunette and today we can see her with the gorgeous ginger red hair and creamy beige peekaboo highlights. Both hair colors look great on her, but we will confess: the ginger palette suits her way better.
10 / 26
Kylie Jenner's Caramel Peekaboo Highlights On Dark Hair
Kylie shares a lot of her life including everyday looks on Instagram. Admiringly, we can get inspired by such influencers as Kylie. After all, sometimes all of us are in search of some new, stylish ideas and tips. This time we suggest paying attention to Kylie's soft caramel highlights on her dark peekaboo hair. Pulling it in a high bun and leaving the bangs out make it look even trendier.
11 / 26
Ariel Winter's Silver & Blue Peekaboo Highlights
Another good thing about the peekaboo hair is that you can simply add those bright peekaboo highlights with the fake hair strands. Yes, that's right – the fake clip-in extensions that can be found in any color you can only think of. With long hair, it will be easy to install the extensions and blend them in with your hair unnoticeably. Consider buying heat-resistant extensions if you're looking to curl your hair.
12 / 26
Nicki Minaj With Contrasty Blond Peekaboo Highlights
Nicki never liked to use ordinary colors in her looks. But during her earlier career years, she could be seen sometimes with quite low-key colors like black and white. With the smaller curls, such blond peekaboo highlights will stand out even more. Sadly we don't see Nicki with a similar hairstyle anymore, but undoubtedly it was one of the best-looking.
13 / 26
Christina Aguilera's Black & White Peekaboo Hair
If you're looking for peekaboo hair color ideas you will most likely see Christina Aguilera in every second photo gallery and no wonder why! From the late 90s, she was already rocking it with the peekaboo highlights that became popular way later. Was she the one who started this trend? Probably. But even without the creator's recognition, Christina is definitely one of the most stylish celebrities to this day.
14 / 26
Bella Thorne Colourful Half-Up Peekaboo Hair
What talk about the peekaboo highlight can happen without mentioning Bella Thorne? That's simply impossible. Bella is certainly the Queen of hair transformations and it's even tough to count how many times she has dyed her hair in the last decade. Surprisingly, it still looks healthy and vivid. With the two half ponytails on the sides, her combination of orange peekaboo hair with neon yellow ends looks impeccable.
15 / 26
Cassadee Pope's Classic Blonde Peekaboo Highlights
Cassadee went for a usual color scheme for the peekaboo hair: blonde and brown. Even though it's not a rare type of hairstyle, we have to admit it suits Cassadee a lot. With a pretty evening smoky eye makeup and cocktail golden dress you can outshine any red carpet with such peekaboo hair.
16 / 26
Jinjoo Lee's Green Peekaboo Highlights On Bob
If you don't have a passion to grow your hair long, don't worry. We got you covered! There are plenty of coloring options for shorter hair which even look cooler if you have a bob or pixie cut. Check Jinjoo's adorable blond straight bob and pretty soft green highlights on the left side. They might be not that noticeable right away, but once you start moving your head they will surely make an impression.
17 / 26
Hayley Williams With Blonde Peekaboo Hair
Hayley has been killing it with the non-ordinary rainbow colors, but her natural peekaboo highlights also look good! An excellent example of how such natural colors as blonde and ginger can go well together. Can you imagine how pretty they look with their hair up in a ponytail? Unquestionably, they will look adorable.
18 / 26
Hayley Williams With Fire Red Peekaboo Hair
For those of you who have plenty of time to spend in a beauty salon, these glaring red and orange peekaboo highlights would be an ideal option. Undoubtedly, this color combo is the coolest one. However, it can be extremely tough to be kept up due to the pigment's ability to wash out quickly. So keep in mind: you will need to dye your hair every two weeks!
19 / 26
Debby Ryan's Baby Pink Peekaboo Highlights
There is a stigma that peekaboo hair has to be done with flashy, saturated colors. But we are here to tell you something different: the peekaboo highlights don't have to be something extraordinary! They are totally adaptable to your needs and expectations. If you're an admirer of more settled colors, then go for this rose gold peekaboo hair just like Debby Ryan did.
20 / 26
Cardi B With Orange Peekaboo Hair
Cardi B is certainly one of the most influencing and recognizable hair queens in today's Hollywood world. She constantly shocks us with her colorful, sophisticated outfits and performances. Cardi has always used her hair as an instrument for image creation and each of her appearances outshines all the previous ones. This beautiful gradient of the apricot and saturated orange colors impressed us as always.
21 / 26
Megan Thee Staillon Red Peekaboo Hair
Looks like pretty much any color is felicitous for Megan. She has been playing with colors and haircuts rebelliously and, of course, red peekaboo hair with the dark chocolaty bottom layers looks dazzling on her. Also, the side part and slightly curled front hair strand would add a glamorous vibe to any look.
22 / 26
Megan Thee Stallion Peacock Peekaboo Hair
Megan surely knows how to astonish the public: her flashy looks are never left without attention. This time she decided to go for a showy black hair with peekaboo highlights of a gorgeous peacock color and she evidently made the right choice. The combination of the brightly colored roots and curtain bangs with the long dark curls won't leave anyone impartial.
23 / 26
Ciara's Peekaboo Hair Blond And Brown
Ciara's Instagram page is full of great ideas for styling peekaboo hair in natural tones like caramel brown, light brown, and blond. She demonstrates a stylish way of having the peekaboo hair but not in the usual way: darker shades at the bottom and lighter almost blond tones at the top. With the soft beach waves, such colors look very favorable during the summertime.
24 / 26
Bella Thorne's Hot Pink Peek A Boo Hair
Another catchy hair look of Bella is the bright combo of four pink shades: hot pink at the top layer and gorgeous highlights of barbie pink, vivid red, and intense burgundy at the bottom. And we can covertly assure you that you don't necessarily need to dye your hair for real with all of those colors. Having the bottom layer of just one shade of pink will allow you to blend in the colorful extensions freely and keep them unnoticeable.
25 / 26
Bella Thorne's Casual Green Highlights
The peekaboo highlights don't have to be something obvious or extremely bright. Bella has also picked some less fanciful options: naturally dark brown hair at the top that gradually transforms to a highlighted caramel brown and finishes with the dip-dyed jade green ends. Excellent choice for a casual style.
26 / 26
Megan Thee Stallion Louboutin Inspired Hair
We are positive that most of you have heard of the world-famous Louboutin brand and its featured distinction – the red & black colors. Hence you won't be surprised why this hairstyle of Megan Stallion gets associated with Louboutin so often. And just as any pair of the brand new Louboutin heels steal the heart of any woman, so do these peekaboo red highlights. Such a gorgeous color combination that would match anyone with long hair.
FAQs
What is peekaboo hair?
In a classic interpretation, the peekaboo hairstyle is the two layers: the top one has a natural color while the bottom one has always been dyed in bright, contrasty colors. Though today we can observe a variety of new, creative schemes of coloring, starting with the soft pastel tones at the ends to vivid, neon-colored layers.
What are the peekaboo hair styling options?
In a classical perception, the peekaboo-dyed hair strands are under the top layer, and whenever you're running your fingers through or playing with your hair in the wind, anyone will be able to see a flashy, colorful hint in the hair. But with certain hairstyles like a half-up, medium ponytail, or a side braid, you will be amazed by how many extravagant patterns and colorful twists can be created. Also, your peekaboo highlights will be more noticeable without complicated styling with simple curls.
Why is peekaboo hair so popular?
It might be hard to understand what's so much hype about, but the peekaboo highlights are indeed a unique way of dyeing your hair. Such a coloring scheme allows you to keep the moderate look with the naturally-colored top layers and still make yourself pop up whenever you're actively moving your head or putting the hair up. That's what keeps this not-that-new technique still afloat these days.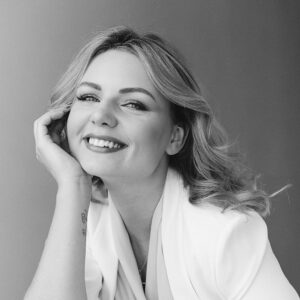 With an extensive background in the beauty and media production industry, Anastasiia knows all the buzz and is ready to share a few tricks with you to zhuzh your hair game. Constantly traveling between Europe and North America, she is the one who keeps an eye on all the popping world trends so that you don't miss anything.