50 Handsome Men's Hairstyles Ideas to try in 2021
Let's rock new hairstyles this year with trendy medium length and various fades.
With the new year, we are ready to help you decide your 2021 look. This year the trend seems to be towards longer hairstyles with a focus on fades on the sides. Tapered sides have always been a flowing trend but now it feels like fades are taking slowly over.
Not to mention, the curls will always have a special niche with tapered sides and slightly longer strands making it a very neat and cool look altogether. Topping it with a beard makes it a pitch-perfect way to style in 2021.
Styling in 2021 is very diverse due to long and medium hairstyles emerging out of nowhere, especially with thicker hair texture is perfect. All of that but the classics always remain in places like various French Crops, Buzz Cuts, and Pompadours.
What style are you rocking this year?
1 / 28
Rusty French Crop
Playing with volume is always fun and this quite a twister, the top is front heavy with less density towards the back. The sides are classic high faded for maximum attention to the top and also to bring out the tattoos. The top being rusty red dyed is another attention grabber, cannot go wrong with this.
2 / 28
Thin Neck Length Hair
This is a classic example of how ear tucked hair can be maintained. The sides are slightly trimmed with the top being the longest as usual. The mid-part texture on the top is slightly side brushed as well to tuck it at the back. A well-maintained beard goes very well with this.
3 / 28
Coned Brush Up with Undercut Beard
Thin hair does wonder if done right and this is a prime example of what drying hair after washing it can do. Styling becomes much more easier and natural, here the brush up looks bouncier while the back is all laid down. The sides are tapered for an even look while the beard has an undercut of its own.
4 / 28
Pocky Fringe with Hard Part
Blue tinge is always quite trendy for dyeing but this blue is poppy and very fresh. Plus the pocky fringe on top makes it very modern and hipsterish. The side has an offset hard part which can be a subtle side part, just a little lower than usual, but again who is to say it is not a style statement?
5 / 28
Younger Thin Hair Brad Pitt
Look at those side brushed layers of goodness on top with a cheeky quiffed feeling and that's what I talking about when we speak about thin hair doing wonders. The sides are tapered with a subtle part. Not to mention, he does look like Brad Pitt in his younger days minus the eye-brow slit.
6 / 28
Why Not a Top Knot
The key here is to play with length and hair texture. Strands being longer than usual makes it easy to pull off a top knot with that small knot up there. If you look closely the sides are very clean taper faded with a temple fade. That continues all the way down to a chin dense beard.
7 / 28
Slicked Back Top with Chin Strapped
Is it a slicked-back or just a very slim profile pompadour? Well, one thing for sure is that it is mid faded sides with temple blend to make way for that cheeky chin strap Downey inspired beard. The overall look is cleaner with attention to detail in the lineup.
8 / 28
Curved James Bond Pompadour
How can we miss the classic suave retro pompadour which is very close to what James Bond rocked back in the day? The top is combed pompadour with sides combed to push back. All of that and no fade which shows that this is the classic style and no tinge of hippie undertone.
9 / 28
Long Top Strands with Clean Sides
Who said little tweaking to longer hair won't make it a masterpiece. The top is slightly curled with a longer length. The top in spite of being long is brushed up with a side brush as well. The sides are tapered and mid faded with a drop feel to it. Don't forget the beard that balances the look.
10 / 28
Some Retro Suave, Why Not
Not having longer hair strands won't be a problem anyway so why not rock some long hair look this year? And what best is it than to rock some retro hairstyle from the '80s? The top is curved and pompadoured with sides slightly tapered to push back and all of it is dyed to a shiny golden shade.
11 / 28
Tattooed Slicked Back
Do you notice the pattern here? A lot of the hairstyles that are trendy have longer hair strands for the obvious reasons. 2021 is going to be a year of long hair styles and this proves it. A sleek yet puffed pompadour with a taper fade on the sides just to make way for those colorful tattoes.
12 / 28
No One Said Not to be Hippie
Where do we start? The French crop that is massively fringed or the top that is long yet massively tossed but still regains brush up vibes? Certainly, this is a big bowl of panache especially with sides being tapered and not faded to keep that long hair strand look even!
13 / 28
Drop Mid Fade with Blowback
We might have seen quite a few mid fades but this one sits right between mid fade and low fade. Not to mention, the drop texture makes it so much cleaner all the way back towards the neckline. The top is pushed back even on the sides especially that undercut makes way for the taper, all in all, a very clean look.
14 / 28
Pumpkin Spiced Curls
Just have a look at the sleek wavy curl especially with that thick volume it just sits lavishly on top. That is not it, the dye is very winter seasoned as it is rusty, reddish-golden colored. The top is all pushed back and the sides are slightly trimmed to tuck behind the ear and that's all it takes.
15 / 28
Layers, Highlights and Panache
How does one even come across such creative styles? I mean literally, the layers are very obvious but the longer strands are well under control without being frizzy. The best part being the thin yet dense texture and the highlights certainly make the fun ten times more.
16 / 28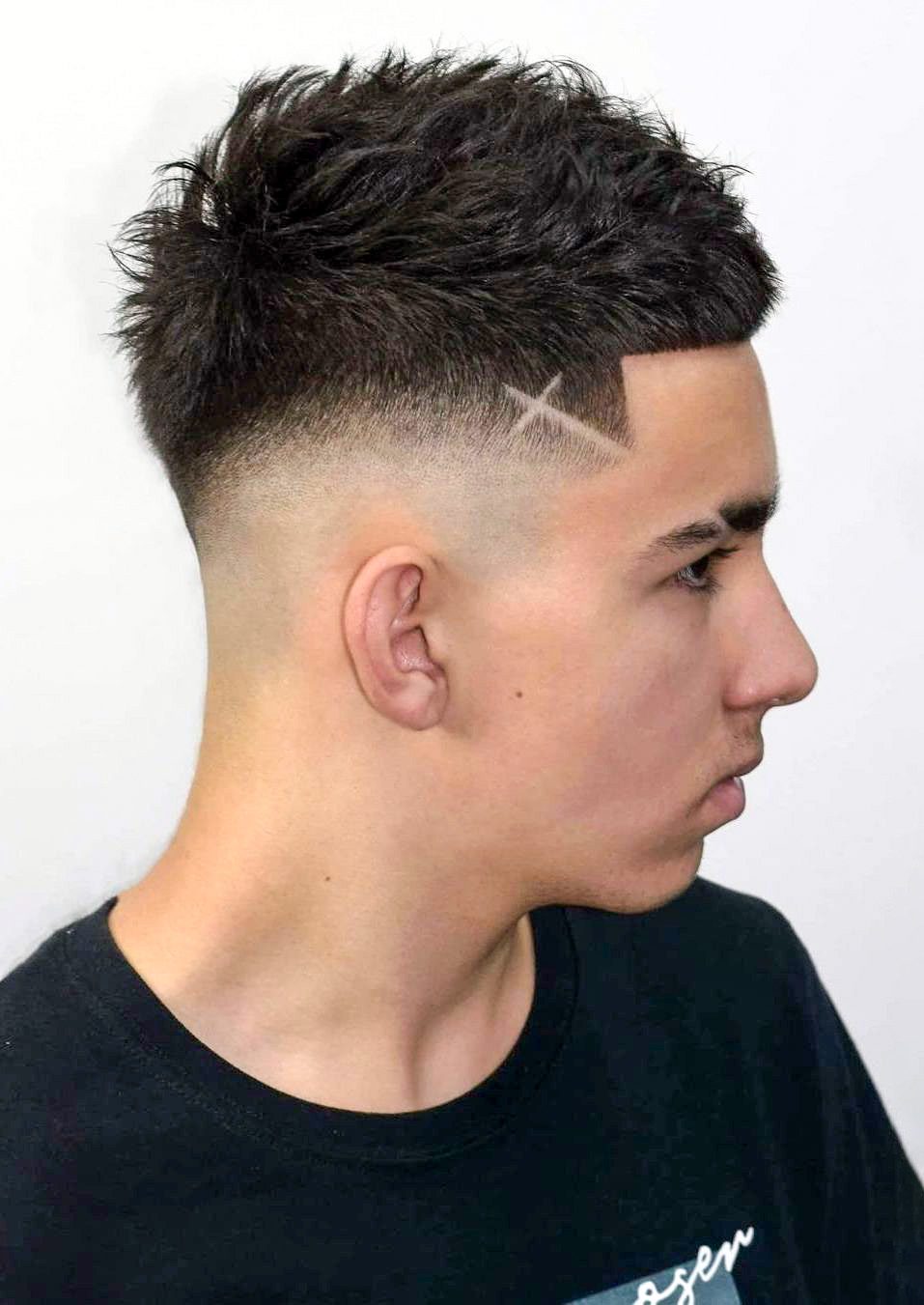 Mohawk Brush Up with Cross Shave
New year means a new statement and this hairstyle exactly does that. The mohawk-y flavor with a brush-up tinge makes it very trendy. Not only that but the clean mid fade with the cross shave on the lineup is something we haven't seen in a while.
17 / 28
Thick Elephant Trunk with Beard
Who says shorter sides means very longer tops. The straight texture makes a lot of difference here with hair falling on the forehead. This works perfectly on casual occasions especially since the beard is a balancer with that thick hair strands, upon that the mustache is a strong bike handle shape.
18 / 28
Silky Smooth Side Sweep
The return of the classic clean-cut, introducing a neat side sweep with a subtle side part. The undercut here makes way for the taper fade to follow along with a very cleaner undertone. This look goes well on formal occasions, especially the fluff makes it more lively.
19 / 28
Brushed Up Pompadour
The best part about rocking thin hair is that if done right, it can look pitch-perfect. Not only that but the brushed up pompadour on the top looks so fuller and richer. It definitely needs maintenance but it is totally worth it. The sides are tapered and blended into the beard to balance the face.
20 / 28
Slicked Back Dreads
This is a variety of haircuts all pooled together for the maximum style quotient. The top, although has thinner hair strands, is quite a jewel of a dreadlock which is also slicked back. The sides are taper faded with mid drop fade that supports the whole minimal look while bringing attention to the dreads.
21 / 28
Rock the Curls with Faded Sides
We are seeing a pattern in longer hair strands and we all know why is it for but the best part is we can tweak it in so many ways. The top is slightly curled with a usually tossed texture. The sides are undercut with shaved sides and those help with the fade at the neckline.
22 / 28
Dreadlocked Top with Faded SIdes
Best part about long hair is that it can be tweaked in a million ways and can always be trimmed but this one triumphs them all. This one takes a step further with the sides being taper faded but just the cleanliness of this bad boy is just mesmerizing.
23 / 28
Braided Afro Muscle Panache
Your hair grew long? Well, definitely you are not alone. The best part of that being you can braid it with such panache. I mean just look at the overall design here. The sides are tapered and braided altogether with a sharp lineup and a temple fade for a smooth beard blend.
24 / 28
Drake Inspired Bigger Buzz Cut
Who doesn't love to be like Drake especially if this cut makes you look so clean. The top is buzz cut with size 2 clippers and a very blended top gives it a very wholesome look with no side part. The taper fade is gradual giving enough room for the temple to vanish.
25 / 28
Asian Mid Part with Sharky Temple
No wonder mid parts are fancy but this is one step ahead, that temple just made it fancier. The top is thin-haired while it is kept decently long with a small fluff on the part. The temple here is the show stealer with sharky shape and longer neckline hairline hair makes it poppy.
26 / 28
Slicked Back Pompadour with Mid Fade Shave
The best part about thick hair is that you can have a short length and still looks quite girthy. But that is not it, the top is a pompadour with a slicked-back texture. The sides are mid faded with a drop shave followed by a cheeky taper fade. See that chin beard? That is the chaser in here.
27 / 28
Royal Pushed Back Pompadour
This can be called a very classy french hairstyle with all that neat pompadoured push back, you only see that in French opera. The sides are very well blended with the top and that gives enough room for a neat low fade. Not to mention, the lineup is very sharp with that eye for detail.
28 / 28
Rugged Ends Dyed Side Brush
Doesn't he look like Zayn Malik? He sure does but that is not the point, the point is, this cool side brush texture with sides being tapered slightly makes it so much cooler. Not to mention the dye work here is just extraordinary, the ends are highlighted with a beard coming to rescue for that face balance.