15 Medium and Shoulder-Length Hairstyles for Women
Shoulder-length hair is the perfect style for the modern woman
Though not as daring as a pixie or as enviable as long waves, medium-length hair is far from boring. In fact, medium-length hair is versatile and leaves you with more styling options than you might realize. From a simple lob to blunt bangs, there's a medium-length hairstyle that will work for you.
1 / 40
Margot Robbie's Side Parted Long Bob
You can do just about anything you like with a long bob. While they are commonly parted down the center, take a page out of Margot Robbie's book and make a deep side part. You can even comb over some extra strands for additional volume.
2 / 40
Jodie Whittaker's Volumized Swoopy Hair
If you are experiencing constant struggles with adding volume to your hair, then you should consider getting a pointed cut. Such haircuts can be easily styled while blow-drying and set with a few hot large rollers.
These swoopy layers will definitely beautify your face features and even make it look slightly thinner.
3 / 40
Ariel Winter's Voluminous Half-Up
Another half up that's worth mentioning is Ariel Winter's classic do. She added more volume at the top but instead of teasing with some texture in the back she went for a classic straight look and it helps keep all the attention on her lovely face. She looks incredible!
4 / 40
Natalie Portman's Relaxed Curls
Natalie Portman's relaxed curls and soft highlights make the perfect frame for her features. She completes the look by adding a short side part that works wonderfully on her; allowing more hair volume on one side as well as acting as a canvas for more defined curls.
5 / 40
Gigi Hadid's Ashy Blonde Layers
Gigi's gorgeous skin tone is the perfect match for these ashy-blonde layers. The carefully chosen shades literally make her eyes pop! Don't forget that even with a medium haircut you're entitled to rock a layered hairstyle of long layers like this one.
6 / 40
Chrissy Teigen's Highlighted Lob
Chrissy Teigen's lob might be one of the first ones I fell in love with just before the craze for the low bob started. She's a pioneer in this hairstyle and we can absolutely see why everyone wanted to take inspiration from her.
The beachy blonde waves illuminate her face almost as much as her personality lights up my Twitter feed.
7 / 40
Miranda Kerr's Deep Hazelnut Mane
hick long layers and hazelnut color. Miranda Kerr sure does know how to become the epitome of a warm and cozy feeling, because that's exactly what I'm getting from her hairstyle. Timeless and effortlessly chic.
8 / 40
Auburn Curls
These warm auburn curls are the perfect hairstyle for autumn-winter. They add some spice and warmth to any look.
9 / 40
Tousled Layers with Bangs
If your style resonates more with the "I-woke-up-like-this" look then you're in for a treat. These tousled layers and fringe are the perfect match for your easygoing vibe. Embracing the frizz that comes with wavy hair is liberating!
10 / 40
Angela Kinsey's One-Length Low Bob With Bangs
On the contrary, if you are not a fan of extreme volume and admire more subtle hairstyles as Angela does then think about getting a chic blunt bob with bangs. It will make your hair look thicker without adding extra volume on top.
This sleek cut bulks up your hair visually as well as complements any chic style you choose.
11 / 40
Christina Ricci's Straight Bangs and Medium Crop
Whilst many people try to keep themselves from getting bangs, we all know that there's a certain type of person bangs just work on, no matter what. Christina Ricci is that person right there. Bangs look stunning when paired with a medium crop, they add some extra refinement to an already pretty chic look.
12 / 40
Lady Gaga's and No-Part Hair Trend
If you follow the trends you might notice the hype around posh no-part hairstyles. It looks like every ceremony can't do without pop divas and models appearing with slicked back or to the sides hair. Lady Gaga is not an exclusion.
Her sleek Holywood waves were complemented by the absence of so familiar to all of us parting in the middle. Even though it can look like fake hair or a wig, such a gorgeous hairstyle would be most appropriate on the red carpet.
13 / 40
Naomi Watts' Elegant Vintage Waves
In case you have shoulder-length hair and you know your rocking selfie side, this classy hairstyle can be a perfect match for you. By keeping one side of your hair in front of your shoulder and one behind, you can easily cover one side of your face and highlight another. Such hairstyle is a perfect combination of femininity and confidence which you can complement by adding elegant bright earrings to your look.
14 / 40
Madonna's Retro Waves
When it comes to picturing Madonna's looks most of us would imagine her with volumized wavy hair and that is why this type of hair can be truly considered as her signature retro style. To achieve that type of hair look you will need to use lots of styling mousse by tousling it in your hair using just fingers and setting it with extra-hold hairspray.
To emphasize even more this big curly look from 80's, use such accessories as ribbons and scarfs or massive necklaces.
15 / 40
Zara Larsson's Slicked Back Look
Zara killed it with her dazzling appearance at the iHeart Radio Music Awards. Her chic outfit was seductively styled with short brushed-back hair. Such hairstyle is ideal for layered hairstyles and bobs of various lengths but especially for short ones. Having this hair look can guarantee you a wow effect wherever you go.
16 / 40
CYN's 70's Hair Look
Apparently, CYN and her styling team know that getting inspiration from past decades can make gorgeous and stylish outfits even these days. Adding soft frizzy curls that flow freely will help you to recreate your nostalgic memories into a modern-looking trendy look.
17 / 40
Malea Rose's Layered Hair With Side Bangs
Malea has a finer hair texture which was professionally arranged with a blunt hair cut and a few layers on the bottom to add that extra movement. Her adorable side bangs help to frame the face in front and by covering her eyes it adds a slight hint of mystery to her playful look.
18 / 40
Gabrielle Union's Adorable Curls
A full head of ringlets always looks charming and sexy at the same time. The length that goes just a bit lower the chin only points out your lively cheerful style as proven by Gabrielle. It can be styled so easily with just oil to add moisture and wax to remove extra frizz.
19 / 40
Vanessa Hudgens' Messy Double Buns
When you got a medium hairstyle you pretty much take the versatility and add convenience. Vanessa Hudgens looks super cool in a princess Leia kinda way with her messy pigtail buns.
20 / 40
Olivia Wilde's Honeycomb Ombre
Olivia Wilde's honeycomb ombre is one of those looks that could very well become timeless. The way the color gradation is done is sublime and because the hair is at a medium length the transitions happen much more effortlessly. Love it!
21 / 40
Jenna Dewan's Lob
Jenna Dewan's lob is classic. It hits just past her collarbones, is parted in the middle, and includes just a few layers to better frame her face. This 'do is absolutely perfect if you want a versatile look that you can style in many ways.
22 / 40
Blonde Choppy Bob
Bobs are known for being classy and sophisticated; give this popular 'do an update by dyeing your hair white blonde. Asking your stylist to add a few choppy layers can also make a bob feel less polished and more modern.
23 / 40
Rosie Huntington's Layered Lob
For a look that's a little more complex, get a lob with layers like Rosie Huntington's. While still easy to maintain, a layered lob offers more dynamic styling options than a blunt lob.
24 / 40
Olivia Palermo's Sleek Shoulder Length Crop
If you want short hair that's still long enough to pull into a ponytail, opt for a shoulder length crop. Make it sleek and shiny like Olivia Palermo's to reach an extra level of sophistication or consider curling it if you feel like going shorter.
25 / 40
Lucy Hale's Lob with Soft Highligts
Lucy Hale is known for being a hair chameleon, but one of her most exciting looks is this lob with soft highlights. The bright gold highlights frame her face beautifully and draws attention to her eyes.
26 / 40
Kirsten Dunst's Soft Wavy Lob and Mid Part
You don't need to have waist-length hair to rock some soft waves; just look at Kirsten Dunst. The length of her lob works for her hair texture, and the waves look especially nice with at middle part.
27 / 40
Ashley Greene's Caramel Ombre
To update the ombre trend, try going for more subtle tones, particularly if you have shorter hair like Ashley Greene. Bright blonde at the ends of your hair may overwhelm your face and style, but warmer, caramel tones work to illuminate your face instead.
28 / 40
Rachel McAdams Shaggy Lob with Straight Fringe
Don't be afraid to get bangs if you have a lob or bob! Rachel McAdams proves that blunt bangs pair incredibly well with her lob. The shaggy style contrasts beautiful with the straight fringe to create an unexpected and interesting look.
29 / 40
Ciara's Ashy Blonde Balayage
Few highlighting trends have been as popular in recent years as balayage. These highlights happen to work well with lobs – just look at Ciara! – because they both require little maintenance. There's no need to worry about getting a trim or touching up your roots; the style looks better when it's less polished.
30 / 40
Blonde Long Bob and Straight Fringe
A straight fringe is attention-getting and shows a certain fearlessness when it comes to your look. Get even more creative with a warm blonde color and stick-straight lob for a style that's uber-current and totally cool.
31 / 40
Greta Scarano's Lob with Blonde and Honey Highlights
Blonde and honey highlights on a darker-toned base are the right kind of contrast for a lob, especially if you'll be wearing it just like Greta Scarano's done here with some beachy waves. Toss in a middle part or side part to spice things up.
32 / 40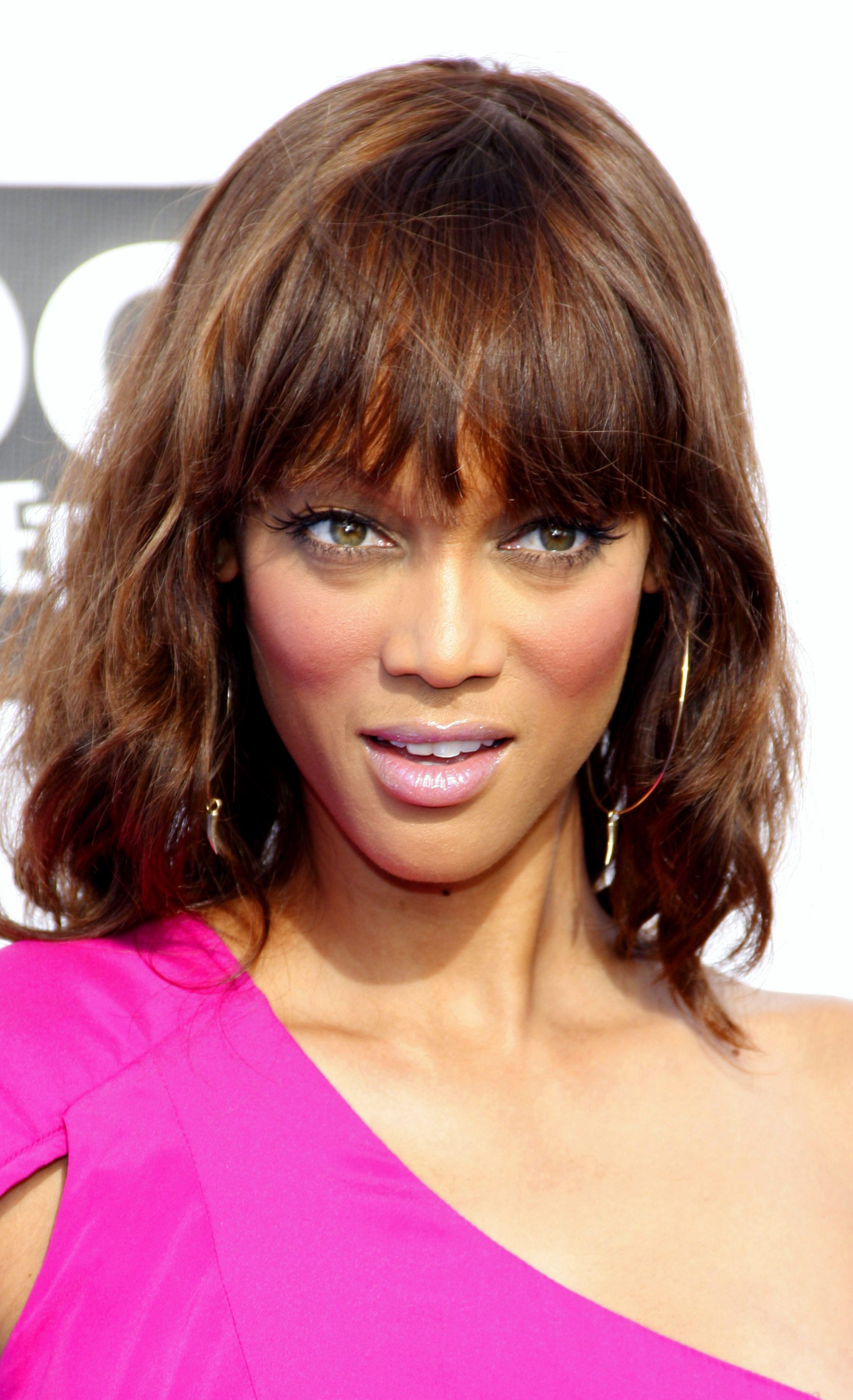 Tyra Banks' Light Choppy Fringe
A style like Tyra Banks' lob looks great on anyone. The natural waves and layers in her lob naturally draw attention to her face, and her choppy fringe is playful and sweet.
33 / 40
Amanda Seyfried's Classic Medium Cut
For a simple but sophisticated style, opt for a classic medium cut like Amanda Seyfried's. Her blonde waves are timeless and effortless. In addition, this cut can be styled however you like and is easy to maintain.
34 / 40
Olivia Culpo's Classic Shoulder Length Crop
Hair that hits your shoulders is a classic length. While still on the shorter side, it can still be put up into a ponytail, bun, or braid. To make this 'do even more elegant, make your strands as sleek and shiny as Olivia Culpo's.
35 / 40
Kendall Jenner's Slick Back Look
Kendall Jenner proves that you don't need to have short hair to look edgy. If you want the ultimate cool-girl look, you can slick your hair back like this, regardless of length.
36 / 40
Cheryl Cole's Voluminous Half Up
Don't be afraid to add a little more groove to your half-up with volume just like Cheryl Cole's done here! Medium-length hair does well to play with some texture because is easy to concentrate on highlighting your best features.
37 / 40
Honey Comb Long Bob
The long bob or lob, has come to stay and we're seeing all sorts of variations. In this case, we got some honey-colored waves that work spectacularly for this haircut in particular.
38 / 40
Melanie Liburd's Generous Waves
Melanie Liburd's voluminous and luscious waves are frankly stunning. Her actual hair length would probably add quite a few more inches to her medium look but that is why it is important to go to a stylist that understands curly and wavy hair.
39 / 40
Amber Heard's Side Swept Curly Bob
Amber Heard's look is more on the classic side with some well-defined curls that shorten her length quite a bit, and the natural side-swept fringe is a great finishing touch for such a romantic hairstyle.
40 / 40
Cam's Signature Curls With Straight Ends
Recently, playful curls with straightened ends have become extremely popular. This style creates the effect of just unbraided hair. Even though this type of curls is more typical for teenagers, some pop divas manage to successfully use such hairstyles to complement their extravagant outfits.