30 Inspiring Ways To Style Your Knotless Braids
Your guide on how to keep, style, and die knotless box braids.
Multicolored braided hair has always been a dream of so many girls of any age, and that can be explained easily: not everyone can get them done. Your hair has to be strong and thick enough to hold the weight of the braided hair. Gratefully, a style of braiding called knotless braids is an actual game-changer.
1 / 18
Rihanna's Marsala Red Knotless Jumbo Braids
Another upscale choice of Rihanna is the large knotless braids with the color of a unique marsala red palette. Needless to say that the selected color palette matches Rihanna's skin tone perfectly, no wonder why she has her own makeup brand. But the incredibly neat-looking knotless braids suit her tremendously.
2 / 18
April Grace's Platinum Ponytail
If you thought that knotless braids are cool for teenagers only – you were wrong. Look at April Grace and her gorgeous high ponytail with three tones of gray: white, dark and silver-gray. The front strands of hair are twisted in a few smaller knotless braids while the rest of the hair is pulled back. In case you don't have that many braids you can use an extension of a braided ponytail that can be clipped onto your roots quickly.
3 / 18
Marsai Martin With Extra Long Ponytail
It looks like recently Marsai was a very young girl but today we can observe how she becomes a prominent young woman. Her style is getting graceful and her hair is getting longer. Her choice of the high ponytail with a certain 'X' pattern on the braided hair in the front looks great with the long earrings and bomber jacket.
4 / 18
Elaine Welteroth's Honey Blonde Knotless Braids
Pregnancy definitely suits Elaine as well as these light brown knotless braids. She made an excellent choice of braiding her hair with a few tones of blond, light brown, and ginger hair extensions which all together create a very pleasant warm color. By having the front braids styled to the back of the head she opened her face and brought all the attention to her beautiful features.
5 / 18
Large Knotless Jumbo Braids Inspired By Saweetie
Saweetie is one of the newer influencers in the fashion industry, but she has already made an impression with her courageous looks, and the jumbo knotless braids are a part of it. You can replicate this style by simply parting the hair in the squares and making a few thick no-knot braids with synthetic hair extensions of any color.
6 / 18
Alicia's Exclusive Large Knotless Braids
Probably the most often seen hairstyle of Alicia Keys is the one with the knotless box braids of a large size and wavy ends. No wonder why she likes this style so much: it is one of the fastest ways of braiding and doesn't require too much attention to keep up the braiding. Also, these knotless braids can last for a very long time if you use certain hair-care products and wrap the hair with a protective cap during sleep.
7 / 18
Alicia Keys With Crochet-like Ponytail
Alicia has something similar to Marsai's hairstyle: the same crossed pattern on the top and a massive ponytail wrapped around with the smaller braids. However, there are a few small differences. Alicia has a combination of the knotless braids and crochet ones in the ponytail which is a high-quality extension in case you haven't noticed. But one more difference is that she doesn't have any braids on the sides at all. So if you don't want to braid all of your hair this would be the preferred hairstyle for you.
8 / 18
Eva Marcille's Colourful Knotless braids
Looking to get rid of dull colors? Then think of beautifying your knotless braids with beads of various colors as well as special wrapping strings. Firstly, decide what braids you want to add color to, and then slowly wrap the colored stripes around the braid in parallel lines and secure it with a tiny bit of glue at the bottom.
9 / 18
Solange Knowles With Black Knotless Box Braids
The Knowles Family definitely knows a thing or two about the hairstyling. Both Beyonce and Solange constantly appear with gorgeously styled hair at any event or party. What Solange has done with her hair is quite simple but still looks charming: regular knotless braids styled to one side to form a soft wave and clipped in the back to secure it. Excellent choice for both casual and special-occasion looks.
10 / 18
Zendaya's Side Parted Knotless Braids
Zendaya appeared in a gorgeous metal-looking bust at the 25th Annual Critics' Choice and the finishing touch was her long knotless braids of a beautiful chocolate color. The diagonal part and a certain triangled pattern created from plain-looking braids such an extravagant hairstyle that looked just perfect on the red carpet.
11 / 18
Xosha Roquemore's Crochet-like Knotless Braids
Xosha picked a universal type of braiding: small knotless braids combined with the crochet braiding technique. The only difference in these braids from any other style is the material that is being used for the extensions. In the case of Xosha, the stylists used specific synthetic hair that doesn't electrify easily and that gives her hair such a glossy and tidy look. With the proper care, such braids can last for longer than 8 weeks.
12 / 18
Alicia Keys' Knotless Braids With Beads
Don't you get that Cleopatra's vibe from Alicia's look? What's only worth the central braid that is placed instead of a middle part and styled with the crystals and gemstones. This is clearly not something that would work as an everyday style but these medium-knowtless braids with beads would be an excellent choice for some special event or occasion.
13 / 18
Zoe Kravitz With Blonde Knotless Braids
Zoe showed up at the premiere of 'Big Little Lies' with another fancy and quite uncommon way of styling the knotless braids. The sides of her bleached hair were almost shaved off while the middle part from the forehead to the neck was braided with the micro knotless box braids and tied in a low ponytail in the back. Such hairstyle gives a very much grunge-vibe but we have to admit it suits Zoe a lot.
14 / 18
Zoe Kravitz's Micro Knotless Braids
Zoe has always demonstrated her unique, eccentric style and hair is definitely a part of it. A bunch of small knotless braids that are untwisted from the middle visually adds some volume to the hair. Furthermore, with the help of a salt spray, you can effortlessly do the beach waves or any other sort of curls with the untwisted parts. Such a cool style for someone who likes to keep everything casual.
15 / 18
Rihanna's Mix Of Braiding Styles
Another meaningful person in today's fashion industry is undoubtedly Rihanna. Her stylists frequently create masterpieces with Rihanna's looks. And this event deserves a separate review: just look at this fantastic combination of the horizontal cornrow braids at the front, vertical braiding in the back, and just unblemished medium size knotless jumbo braids on the sides. Beautiful work and ravishing Rihanna at the Fashion Awards in London.
16 / 18
Tessa Thompson's Long Knotless Braids
Tessa has always been known for her color game: the all-red outfit, as well as red eyeliner, goes well with the contrasted black knotless braids. But if you take a closer look you will see the tiny white-colored strands of kanekalon and a zig-zag part that turns regular knotless braids into something way more interesting. Moreover, styling your braids to one side and partially covering your face certainly can add some kind of elegance to your look.
17 / 18
Kim Kardashian's Braiding Experience
There has been a huge discussion regarding Kim's appearance at MTV Awards but we won't judge whether she did the right choice or not. We will simply justify that no matter what Kim does she somehow manages to always look impeccable. This time is not an exclusion. Her medium knotless box braids looked exquisite: some of the braids were done in a diagonal pattern while the side parts are done as regular knotless braids.
18 / 18
Storm Reid With Curly Knotless Braids
We have seen a similar hairstyle with such type of knotless braids in Solange Knowls' photos. However, this time Storm Reid decided to brighten the braids with the intensive curls on the ends. To get the same hairstyle done you will need to have a certain type of extension that is tolerant to the high temperatures. This way you will be able to use the thin curler and style the untwisted part of the hair.
FAQs
What are the knotless braids?
What makes them different from any other type of braids? The first and foremost difference that comes to mind: they are healthier for your hair. How? Let's discuss that in detail. When you want to get your hair braided and include some additional packed hair for braiding or simply so-called kanekalon you go to a specialist.
But even in the specialist's chair, you might figure out that the selected type of braiding can be potentially too heavy for your natural hair and in the long term damage the structure drastically. I assume no one wants to deal with such things. That's why professionals came up with the feed-in or knotless braids. Let me guess your next question.
How to do knotless braids?
In short, it would be impossible to do that by yourself, but a good specialist would do it in just a few hours. How? Instead of doing the 'anchor' knot next to the scalp, the hairstylist starts the braid with your strands to put less tension on the roots and then gradually combines your hair with kanekalon which at the end creates a seamless no-knot braid.
How to style knotless braids?
You might wonder how to style knotless braids and we can assure you that the styling options are just endless. Such braids are quite versatile to give you plenty of choices for styling like buns, pony-tails, bigger braids, and more. Knotless box braids are relatively easy to take care of and with just a few tricks like using coconut oil, anti frizzing shampoo, and wrapping your hair at night to keep the braids protected from electrifying can simplify your hair routine enormously. And the final one:
How long do knotless braids last?
Well, the answer is as simple as that: they will last as long as you take good care of them. So let's take a closer look at how the knotless box braids can be styled and kept up!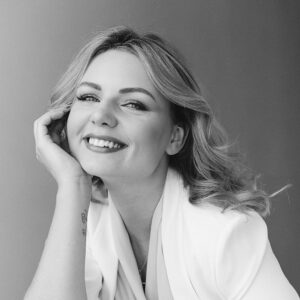 With an extensive background in the beauty and media production industry, Anastasiia knows all the buzz and is ready to share a few tricks with you to zhuzh your hair game. Constantly traveling between Europe and North America, she is the one who keeps an eye on all the popping world trends so that you don't miss anything.