Top 30 Inspirational Ways Of Dyeing Half And Half Hair
The most colourful ideas for your next big hair change
What exactly makes you lose control when you see such colorful hair photos? Why do you start seeing yourself with the same colorful, vivid hair? And what if you decide to go for it: where should you start? You will find all the answers here with us today!
Let's dive in and discover your unique way to transform your hair!
1 / 28
Asymmetrical Half And Half Hair Dye
Not ready for a harsh hair-dying process? No need to sacrifice your healthy hair! The natural half and half hair color can be done relatively quickly at home by yourself and won't harm your hair structure as much as other bright hair dying ideas that require to be touched up regularly.
2 / 28
Geometric Half Blonde And Brown Hair
For all the lovers of various geometric shapes and angles – that's the hair dye idea for you! The symmetrical colour-dipped ends and evenly split front part look good as a combo, and the shoulder-length bob will accurately frame your face. Moreover, such a colour scheme of hair dying would look great in any colour pair.
3 / 28
Vivid Split Half And Half Hair Color Ideas
Half pink and blue hair might seem to be a typical colour combo at first sight, but the thing is that it is essential to know what pigments you are buying. The pink and blue half and half hair looks fabulous for the first two to three days, but the situation can change drastically after the first hair wash. So giving way to the professional pigments, you guarantee yourself a decent long-lasting result that will keep your hair in pink and blue tones.
4 / 28
Half And Half Red And White Hair
Are you obsessed with the vivid juicy colours as much as us? That's good because we have some attractive options for you! Look at this luxurious saturated orange colour with the glorious blonde highlights in the front. That's not a typical half and half-dyed hair but definitely a great idea to enliven your hair routine.
5 / 28
Copper Half And Half Hair Dyed
Anyone with the ginger pigment in the hair knows how tough it can be to get rid of that warm golden undertone, making it almost impossible to dye hair in bright, pure colours. That is why it's a great idea to tone down the gingerness of your hair and go for a half red and half blonde hair. Such a stylish option without extra work!
6 / 28
Сolorful Half and Half Dyed Curly Hair
It might be challenging to achieve the classic split colours hair look for those of you with textured or super curly hair. That is why it might be a good idea to play with the pattern a little bit, and instead of doing even parts of colours, mix it up altogether, just like this green half and half hair with blue highlights.
7 / 28
Platinum Blond And Purple Half And Half
Have you dreamed of having a hair colour of a superwoman? You have a chance to make your dream come true! Look at this breathtaking platinum blond, and beautiful purple ends in pastel tones. Such half and half blonde and purple hair will look amazing on anyone with long thick hair that doesn't have the natural yellow pigment.
8 / 28
Purple Half And Half Hair
If you're blonde or have light hair colour, then this option of two-tone half and half-dyed natural hair is worth considering. If you get tired of the coloured ends after some time, you can always chop them off without damaging the rest of your natural hair. Moreover, keeping your natural roots will save you time for the regular touch-ups that any bright half and half hair usually requires.
9 / 28
Mermaid Half And Half Hair Color Idea
Can't decide which two colours to pick for a good-looking combo? How about making it three and creating a gorgeous mermaid palette with sea blue, green and light purple colours? Even after a few weeks, such colours will look adorable without any colour touch-ups. Moreover, they will give you plenty of ways to braid, curl or twist your hair.
10 / 28
Half And Half Pastel Tones Hair
As you can see, half and half hair don't always have to be strictly vertical, symmetrical or split in even halves. One of the excellent ideas of dyeing your hair in half and half style is to have two or more colours in layers that slightly cover each other. Styling your hair in a high bun or low braided ponytail will open up all the layers and make the colours pop.
11 / 28
Cotton Candy Half And Half Hair Color Idea
We are confident that you can name at least a few well-known anime characters with half and half hair. No surprise where this half and half hair color idea came from. So if you're a massive fan of anime style – that is an absolute must-colour combo for you to try. This cotton candy colour palette will not leave you incurious whether you have short or long hair.
12 / 28
Black And Blue Hair Half And Half
Another fascinating idea for dyed half and half curly hair is darker roots and coil-like curls of a few similar colours, such as electric blue and indigo purple. Such colours don't require your hair to be fully bleached, as it may be challenging for the afro-textured hair due to the intense pigment. Moreover, they are easy in everyday care and won't stand out too much.
13 / 28
Anime Girl With Half And Half Hair
Not the typical half and half hair colors combo, but for sure, the one that deserves a detailed review. There was a time when gray hair was highly popular and every second fashion influencer at least had a few grayish highlights. Today, it's a peculiar hair colour which is even better for you because you can create a unique combination of any bright colour with the toned-down gray shade.
14 / 28
Soda Orange And Pink Split Hair Idea
This one is surely one of the cutest half and half hair colors you will see on this list: soda orange and candy pink are gorgeous colors and create a fascinating combination. This half and half style is undoubtedly complex in terms of keeping it as bright as on the photo, and you will most likely have to use toners of both colours at home not to lose the saturation quickly. It might be a challenging keep-up routine but these colours are worth the drill.
15 / 28
Natural Two-tone Hair Half And Half
Half and half hair don't have to be aggressively bright to get attention. With natural tones like light ginger and soft ivory highlights, your hair will catch all the attention due to this highly harmonious colour combination. Getting your hair slightly curled will only emphasize the beautiful colour blending.
16 / 28
Kesha's Natural Hair With A Colourful Twist
Just as we told you before: Kesha can surprise anyone with the bright colours and some natural tones. Look at this gorgeous combination of a soft pearl pink colour and a yellowish-green. You can create a fascinating, colourful effect by styling your hair to one side with a volumized wave in the front.
17 / 28
Kesha With Multicoloured Half And Half Hair
Are you having a hard time deciding which colour to pick? Don't limit yourself to just the two colours when you can mix so many colourful options. Look at Kesha and her gorgeous pastel half and half hair combination. What a great idea for those of you who are used to wearing vivid outfits every day. No matter what you wear – your hair will match the look.
18 / 28
Parallel Dyed Half Pink And Purple Hair
No matter what year it is, the curtain or blunt bangs are always in trend. No wonder why the half and half hair with bangs is so popular right now. Opposite from the classic hair dying scheme, the bangs give you an option to layer the colours horizontally, which makes such a hairstyle look even more extraordinary. Also, with a touch of shimmering pigmented toner, your hair will have a slightly metallic shine to it like the model's hair.
19 / 28
Half Green And Half Black Hair
Another excellent idea for half and half coloured hair is to have the darker colour gradually blended in with the light one. In this case, pay attention to how delicately micro highlights of black colour get mixed with the green hair strands. Such a colouring trick gives you way more exciting results than a classic half and half hairstyle.
20 / 28
Red And Black Half And Half Hair
This rich in colour hair-dying idea would be the best option for brunettes or anyone with naturally dark pigment in roots. Firstly, having only one side of your hair bleached would save you a lot of time and is way more budget-friendly, especially if you have long hair. Secondly, you'll learn if your hair gets bleached quickly and how intense the natural pigment is.
21 / 28
Orange And Purple Hair Half And Half
That's a true purple crush of ours! We are on the same page if you get a hint about the Joker's colour palette. Such a colourful combo would look fabulous not only for a party look but also in everyday life. Imagine how many styling options there are for you with the split orange and purple hair.
22 / 28
Yellow And Orange Hair Half And Half
What a splashy hair colour combo! Look at this gorgeous gradual blending between the orange and warm yellow tones. An exceptional detail about such a colour combo is that they have the same pigment in the base, which means that you can use the same toner and tinted shampoo to keep the colours more vivid.
23 / 28
Peach And Lavender Half And Half Idea
Just as gorgeous as a sunrise sky, these soft colours will touch your heart: dazzling lavender in a combo with peachy colour and dusty pink undertones just stole our hearts. This is truly the most adorable hair colour palette and also a relatively tolerant one in terms of damaging your hair. So if you're not ready for the flashy colours, this is an excellent option for you.
24 / 28
Freedom Blue And Energizing Yellow Hair
You have most likely seen this colour combo a lot recently, but whether you follow the world trends or not, these two colours were just created for each other. Also, it is a pretty rare colour combo to be seen on hair. So if you want to stand out and like this contrasty palette – you know what to do!
25 / 28
Purple And Pink Symmetric Half And Half
One of the brightest half and half hair dye ideas is the one with evenly split parts of bright pink and juicy purple colour. It's in high demand not only because of the pretty colour combo but also because these colours don't wash out as quickly as others and, even after some time, still look attractive in pastel undertones.
26 / 28
Natural Brown And Blonde Hair Half And Half
The least time-consuming half and half hair idea ever! With such natural colours like blonde and wheat brown, you won't need to use any tinted toners or masks with every hair wash, saving you some energy. Moreover, your hair won't be that stressed if you manage to hydrate it properly with just a shampoo and conditioner for dyed hair.
27 / 28
Coral Red And Magenta Half And Half Hair
For those who're used to experimenting with hair and know how good your hair holds the pigment – the half pink and red hair combo is your next choice! It's hard to imagine a more colourful mix that would jazz up any of your looks. Even though it is a complex colour in terms of keeping it saturated and will most likely damage your hair drastically, it is worth trying, at least for some time.
28 / 28
Half And Half Black And Purple Hair
Anyone familiar with the anime culture would most likely love this idea of an anime girl with half black and purple hair. We see something incredibly charming about the neatly split black ends that remind small fire flames. Also, the silvery shimmer on the top hair certainly adds a glamorous vibe to this half and half hair look.
FAQs
How to pick the best colour combination?
There are plenty of rules on navigating the color palette and using it for your particular skin tone and eye color. However, we want to talk about something different here. Have you heard of scheme colors as triadic, monochromatic, or complementary? If yes, the essential part of the job is done!
While it might be beneficial to use soft autumn or cool winter palettes for regular hair color dying, there are different rules with the half and half hair colors. Nothing is too complicated, but when picking the tones for half and half hair, don't forget to open at least one of the seven color schemes and check if the selected colors are 100% matching and complementing each other. Also, remember that they will wash off with some time, so pick the colors that would not blacken or muffle each other.
How to take care of half and half dyed hair?
The most crucial part of choosing a half-and-half coloring scheme is understanding the importance of using specific products to keep up the intensity of the colors. No magic product would work for each hair type and color.

So when you're picking the shampoo, conditioner, and a leave-in mask, pay attention to the pigments that those products have and the number of sulfates, ammonium chloride, and glycol. There are vital ingredients that can help or damage intensely colorful hair.
How to style half and half coloured hair?
You can be sure you will have enormous styling options with the half and half hair, whether it's died vertically, horizontally, or in under-layers! From the textured beach waves to the soft and glamorous Hollywood curls, from messy half-up side buns to an elegant, sophisticated braiding or a casual ponytail – half and half hair give you true freedom to your styling imagination.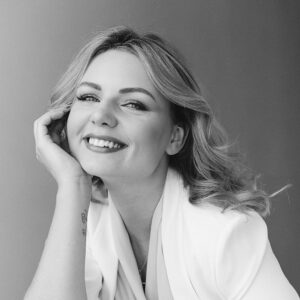 With an extensive background in the beauty and media production industry, Anastasiia knows all the buzz and is ready to share a few tricks with you to zhuzh your hair game. Constantly traveling between Europe and North America, she is the one who keeps an eye on all the popping world trends so that you don't miss anything.