40+ Simple and Trendy Hairstyles for Teenage Girls
Trendy but quick hairstyles for weekday mornings.
If you don't have a lot of time to spend on your hair during the school week, you may be tempted to stick with your go-to style or even forgo styling altogether. However, you can achieve many of 2022's popular hairstyles with just a few minutes in front of the mirror. These styles can add variety to your repertoire and some can be combined for a bigger, bolder look.
1 / 45
Side Braid Crown
This side braid crown is definitely less complicated and more attainable to those of us who are not properly gifted with the art of braiding hair than that one of Sophie Turner's earlier in this article.
Leaving the back of the hair loose gives you the freedom to arrange that any way you like. Put it into a bun, or a side ponytail, the main focus will go to your braided front complementing whatever you decide to do with the back of your hair.
2 / 45
Selena Gomez's Dyed Blonde
Blondes have more fun, so take a page out of Selena Gomez's book and dye your hair an ashy blonde! Don't hesitate to let your roots grow out; the gradual transition from dark to light hair will help the blonde color look more natural.
3 / 45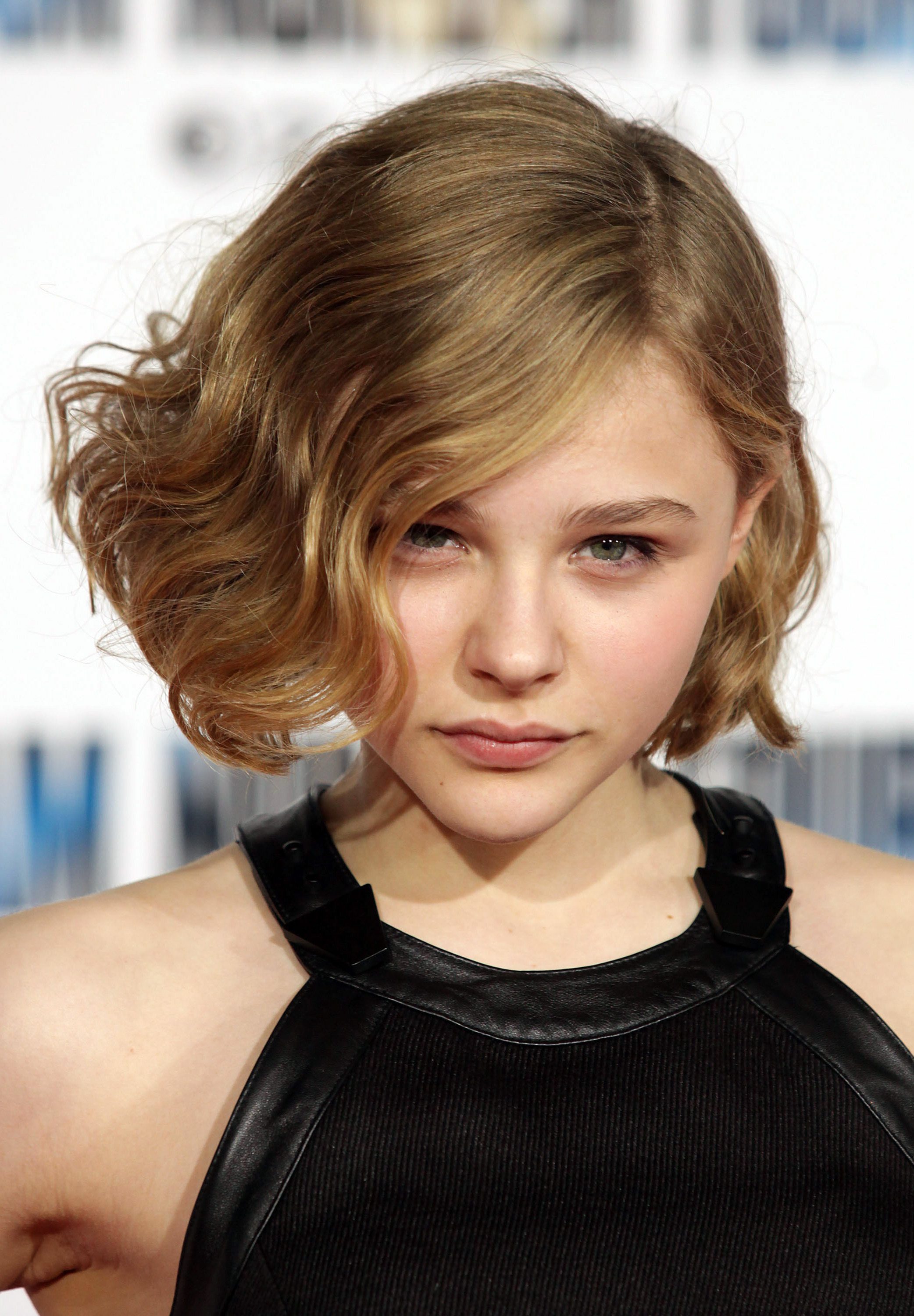 Chloe Moretz' Angular Bob
Don't be afraid to chop it off! Teenage years are meant to be filled with new adventures and experiences. Being constantly on the go can make your hairstyle a hassle to manage, but the angular bob is a great option to save time in front of the mirror.
4 / 45
Bryce Dallas' Princess Jasmine Do' with U Shaped Bangs
Two great things that I love about Bryce Dallas' do are her very dramatic U-shaped bangs and of course that dreamy ponytail. The ponytail totally reminisces the style of princess Jasmine from Aaladin and her super long hair.
To copy the look all you need is a few good elastic hairbands and some patience to evenly tease each section between them. Don't forget to add finishing touches of hairspray for a long-lasting do.
5 / 45
Katherine Langford's Side-Swept Relaxed Curls
To feel like a movie star for the day, get some inspiration from Katherine Langford. Part your hair to the side and then curl it however you like. While you may opt for a small curling iron, you can also achieve similar curls by braiding your hair overnight.
6 / 45
Zendaya's Messy Bun
For busy mornings, no style beats the messy bun. Gather your hair into a bun that sits on top of your head. Be sure to let some pieces frame your face, as Zendaya has done, to keep the look casual.
7 / 45
Debby Ryan's Auburn Locks and Long Fringe
Follow Debby Ryan's lead and embrace the contrast between straightened bangs and long, wavy tresses. To save time in the morning, curl your hair the night before and leave it in a loose ponytail while you sleep. When you wake up, all you have to do is go!
8 / 45
Ciara's 90s Inspired Half-Up
These days it's all about the throwbacks! A very high half-up will have you giving out major 90's vibes, pair it up with a cool graphic tee and some statement sunglasses and you'll look picture perfect for a chill weekend.
9 / 45
Brown to Blonde Highlights in a Bun
Highlights look especially cute when pinned up in a huge bun. This is a look that can go from sleek and professional to playful and carefree in a matter of seconds, all you need to do to achieve this easy-going look is leave a couple of strands out. Easy peasy!
10 / 45
Kat Dennings' Natural Waves in Deep Brown
Give carefree a go, and rock a tousled texture on your next outing! To achieve this look all you need to do is apply a light amount of hair styling mousse to your locks and you'll be ready to go.
11 / 45
Cara Delevigne's Sleek Top Bun
A good bun is low-key the preferred go-to of any busy girl. You can try and get it super neat like Cara is showing here but the truth is that whether is messy or neat, the top bun delivers!
12 / 45
Sleek, High Ponytail
Though ponytails are most commonly found at the gym, stars like Bella Hadid and Rihanna have elevated this easy updo to a huge trend. These tips and products help get rid of frizz and knots; you want your hair to be smooth, shiny, and tangle-free before styling.
13 / 45
Rebecca Black's Warm Balayage
Balayage has been one of the most popular and trendy coloring methods this year. They are a great, low-maintenance option that is perfect for any busy teen because they require less upkeep than traditional highlights.
14 / 45
Maisie Williams' Side Swept Bob
I get that short hair isn't always for everyone but if you see even a little bit of yourself in Maisie Williams, let it be the hair or facial features, consider going for the big chop and sporting a side-swept bob! The natural-looking waves make it ten times cuter!
15 / 45
Katy Perry's Blonde Undercut and Fringe
Short haircuts are great because they require minimal effort and styling. For a twist on a traditional pixie cut, add a fringe or undercut to your short style like Katy Perry.
16 / 45
Emma Stone's Blonde Shag
An icy blonde, like Emma Stone's color, takes a shag hairstyle to the next level. Use a curling iron to quickly add dimension and body to your look.
17 / 45
Sarah Hyland's Long Bob with Side Part
Side parts are universally flattering, regardless of the shape of your face, and work incredibly well with a long bob. While your hair is wet, use a comb to create the part you want, then style as desired.
18 / 45
Tight French Braid
Braids are an incredibly simple way to tame your locks even on your worst hair days. Brush it so it's free of knots, then French braid from roots to ends. Best of all, if you use a small amount of product or braid your hair while it's slightly damp, you can rock natural waves the following day.
19 / 45
Shay Mitchell's Signature Beach Waves
Shay Mitchell's waves are laid-back and casual. Use an iron to curl your hair loosely away from your face. There's no need for the curls to be uniform; for this beachy look, messier is better.
20 / 45
Miley Cyrus' Blow Out Shag
Miley Cyrus' shag is all about one thing: volume. Break out your trusty hair dry to create a perfectly bouncy blow out before you head out for the day. Be sure to use a heat-protecting spray to keep your hair sleek and shiny during styling.
21 / 45
Jenna Dewan's High Ponytail
A high ponytail is perfect for those mornings when you hit the snooze button one too many times. It takes minimal effort and you can choose for a more relaxed look by letting a few locks frame your face.
22 / 45
Felicity Jones's Chilled Bush-Back
Tired of trying complicated hairstyles that don't look the way you expected? How about we get some inspiration from Felicity Jones's chilled bush-back? It's easy, elegant and to be honest, just as good as any of the different hairstyles on this list.
23 / 45
Voluminous Curls
Retro-inspired curly hair with extra volume is popular this season. Whether you've got a trusted curling wand or need some help with your natural curls, don't be afraid to go big!
24 / 45
Deep Side Part
A deep side part will help your makeup pop. Part your hair at the highest point of the arch of your eyebrow to achieve this look. For extra wow-factor, tuck your hair behind your ear to draw attention to your face.
25 / 45
Messy Braid
Though tight braids are a popular style for little girls, a messy braid is more relaxed, on-trend, and mature. Messy braids are great for lazy mornings – second day hair and dry shampoo will give your hair extra grip and help hold your braid together.
26 / 45
Ariel Winter's Voluminous Half-Up
A good half up will never go out of style. Ariel Winter's volumized top gives me early 2000's vibes and I'm not even mad about it. Looking gorgeous on her the half up is super easy to style and wear. You can spice it up by braiding a strand or two!
27 / 45
Sophie Turner's Puffy Braid Crown
Some people don't mind the extra work of braiding their hair each morning, and others are master braiders and are able to do the most incredible styles in minutes. If any of this sounds like you, you should give Sophie Turner's Puffy Braid Crown a try!
28 / 45
Taylor Swift's Edgy Shag
Taylor Swift has had great hair moments in her career, and to be honest her wispy, ashy blonde shag has to be one of my personal favorites. She kept her bangs and made them a little more uneven to match the shag.
29 / 45
Chiara Ferragni's Face Framing Ponytail
A slightly messy ponytail has always been my favorite way of looking sexy-ish and practical. Chiara Ferragani obviously knows this and absolutely kills it in this hairstyle. Tease up some hair upfront to frame your features and voila!
30 / 45
Teresa Palmer's Mid Part Ponytail
Mid part anything seems to be going rounds these days, and it's such an uncomplicated look that just works wonderfully for almost anyone. Teresa Palmer wears it with a low hanging ponytail looking incredible.
Remember that to keep those baby hairs at bay you'll want to use some hairspray or gel for a long-lasting and neat middle part.
31 / 45
Playful Teased Curls
I love seeing natural hair taking more of the spotlight in recent trends. Big hair is a blessing and you should totally fully own it. To achieve this look try teasing your curls with a comb individually.
32 / 45
Center Part
A center part is an easy, trendy style that will highlight your face. It's also incredibly versatile – center parts can be worn up or down and are flattering for all face shapes and hair types.
33 / 45
Vanessa Hudgens' Messy Double Buns
Here at Haircuts Inspiration, we think the double bun style is one of the most fun trends making their way back to us. Take a page from Vanessa Hudgens' book and instead of having two neat buns go crazy and experiment to find which ones are your favorite messy buns, here she simply left them with an unfinished wrap, and they look amazing on her!
34 / 45
Amber Heard's Top Knot
Buns are not the only way to keep your hair off your face. Add a top knot and make any outfit look extra cute and modern. Accessorize it well to fit your own personal style and voila! You're looking fabulous!
35 / 45
Jourdan Dunn's Princess Half-Up
A low placed half-up look will give any outfit a classic turn. This stylish, yet versatile hairstyle is one of the easiest ones to pull off, you can part your hair in the middle to accentuate all of your best features, or to the side and follow a more romantic groove.
36 / 45
Double Trouble Buns
Geeky is the new cool. Channel your inner Princess Leia with this double bun hairstyle to keep your style playful and chic. For this hairstyle, you might want to look into bun stylers to help you achieve the perfect form. Comb a middle part to separate equally your hair, and do as you would proceed to create a classic bun, placing them at the top sides of your head. For a change of pace, experiment situating the buns behind your ears.
37 / 45
Yara Shahidi's Curly Fringe and Bun
Flaunt your natural hair texture with these curly bangs! Most of us panic a little when thinking about getting bangs because of the amount of time and effort they take to maintain, but if you got luscious curls like Yara Shahidi, why not copy this gorgeously chic style?
38 / 45
Dark Roots and Blonde High Lights
If you want to go blond, but don't want to bleach your entire head, add some blonde highlights to your dark hair. You can either keep them up, let them grow out, or decide to take the plunge if you really like the color.
39 / 45
Lily Collin's long Brunette Lowlights
Changing your color is a great way to have fun with your look. For something simple and subtle, try adding some lowlights to your locks. Loose, bouncy curls are a great way to show them off!
40 / 45
Blake Lively's Polished Beach Hair
Blake Lively is the queen of achieving just the right balance between messy and put-together when it comes to her hair. Use a 2" or larger curling iron to create waves at the ends of your hair, but leave the hair on top of your head smooth and straight.
41 / 45
Heavy Mohawk
If your style seems to be casually inspired by Rock n' Roll, this look will definitely put you in the spotlight! Notice that to give the heavy mohawk a dramatic flair the sides have been braided. Add some strong hold hairspray as a finishing touch and you'll be ready to rock your way through the day.
42 / 45
Braided Sides and Bun
Braids and buns are every lazy or busy girl's dream hairstyle, so why not combine them into one? Start by gathering most of your hair into a messy bun but leave some of it on one (or both) side of your head. Then, take the remaining hair and braid it however you like, taking care to pin it back by the bun.
43 / 45
Danielle Jonas' Medium Layers
A medium layered haircut is super flattering, especially if you're able to do a little highlighting. It doesn't;t need to be super obvious. Danielle Jonas' caramel highlights keep the warm tonality all over and I'm always game for subtle but beautiful details like this.
44 / 45
Straight Bob with Fringe
Bangs of any kind will almost always need some styling in the morning. Grab a flattening iron and run it over all your hair, from roots to ends. It's a quick and easy look to achieve, even when you're rushed in the morning.
45 / 45
Clémence Poésy's Low Messy Ponytail
There was a time when I was completely obsessed with figuring out how was it that french girls managed such an effortlessly elegant and simple look. Okay, I still am in awe when they just step out looking like a perfect summer day.
Clémence Poésy's low messy pony embodies that whole feeling for me and that's why she'll always be on my hairstyle watchlist.