Celeb-Approved Androgynous Hairstyles You'll Love
All the androgynous hair inspo you need is right here!
Chopping all your hair off is a hard decision to make. But what are you afraid of, really? As a kid, you were probably told you'd look like a boy if you cut your hair short, but it's time you got rid of that way of thinking. There are lots of cool androgynous hairstyles that suit all genders, and you could be missing out on a really chic look if you don't at least explore these options.
For some androgynous hair inspo, look no further than today's most famous celebs. Kristen Stewart, Ruby Rose, and Katy Perry, among other fabulous hair chameleons, have all rocked androgynous 'dos, from pixies to buzz cuts and faux hawks. Take a look at the photos we've gathered below — you might just find yourself booking a hair appointment to get one of these looks.
1 / 35
Ruby Rose's Sleek Faux Hawk with Lines
Who better to show us how to rock the androgynous look than Ruby Rose? Here, she's wearing a neat and sleek faux hawk with lines sculpted along the sides and top. So cool!
2 / 35
Charlene Wittstock's Simple Pompadour
One way to add oomph to simple short hair is by adding height at the top like Princess Charlene demoes here. She proves that it doesn't take much to achieve a stylish short 'do.
3 / 35
Maggie Grace's Side Sweep
Another great style when you're growing out your short hair, this 'do on Maggie Grace features a voluminous, side-swept top with an undercut and a deep part.
4 / 35
Cailee Spaeny's Sculpted Pixie
With this sculpted 'do, Cailee Spaeny proves there's a lot of versatility to short hair. You should never feel limited in your options for pixie cuts — check out how cool the actress looks even with such a short length to work with.
5 / 35
Joey King's Short Curls
If you have naturally curly hair, this must be the easiest hairstyle you could choose. With minimal styling, you'll be stepping out in edgy style.
6 / 35
Jennifer Hudson's Gelled Quiff
When it comes to androgynous styles, you can't get more classic than this cut Jennifer Hudson is wearing. With some gel, a hairdryer, and basic styling skills, you'll look like you just stepped out of the salon.
7 / 35
Erin Richards' Stylish Combover
You don't always see the words "combover" and "stylish" together in one sentence. But we're really feeling this combover-inspired 'do on Erin Richards from the piecey texture to the balayage color.
8 / 35
Amber Rose's Platinum Buzz Cut
Amber Rose is known for her signature platinum buzz cut but she makes it even cooler here by carving two lines along the sides. This is proof that it's easy to achieve a standout look even when you have short hair.
9 / 35
Maria Borges' TWA
Maria Borges made headlines at the 2015 Victoria's Secret fashion when she wore her natural hair on the runway. She did it again during the 2016 show, proving there's nothing like an afro to get you noticed among a sea of extensions.
10 / 35
Elizabeth Debicki's Soft Quiff
Elizabeth Debicki is a breath of fresh air with her windblown quiff. We love the soft, airy look and how the dark roots add great dimension to the hairstyle.
11 / 35
Eliza Scanlen's Super Short Pixie
Eliza Scanlen goes back to basics with this super short pixie. Sometimes, the simplest really is the coolest!
12 / 35
Sibley Scoles Rooted Platinum Style
Here, Sibley Scoles shows us how a standout color can be the key to a statement-making look. Though she's wearing a simple short side-parted style, that platinum color with dark roots really took the look to the next level.
13 / 35
Amber Rose's Bald Look
Bald is beautiful. Don't let anybody tell you otherwise.
There is something overwhelmingly inspiring in choosing to don a bald hairstyle. And no, it has nothing to do with sickness or fatal disease. It has everything to do with the feeling of freedom, not having to buy shampoos or any hair products – plus it makes your face the focus of it all.
14 / 35
Rihanna's Dreadlocks
The best thing about dreadlocks is that it's never going out of style. And it always conjures images of the beach and the easy breezy island life. Perhaps it's because once you have it on your crown, you wouldn't have to do any single thing to it.
Sport it long like Rihanna or have it in an updo like Jaden Smith – you'll never run out of creative ideas on how to style your own locks.
15 / 35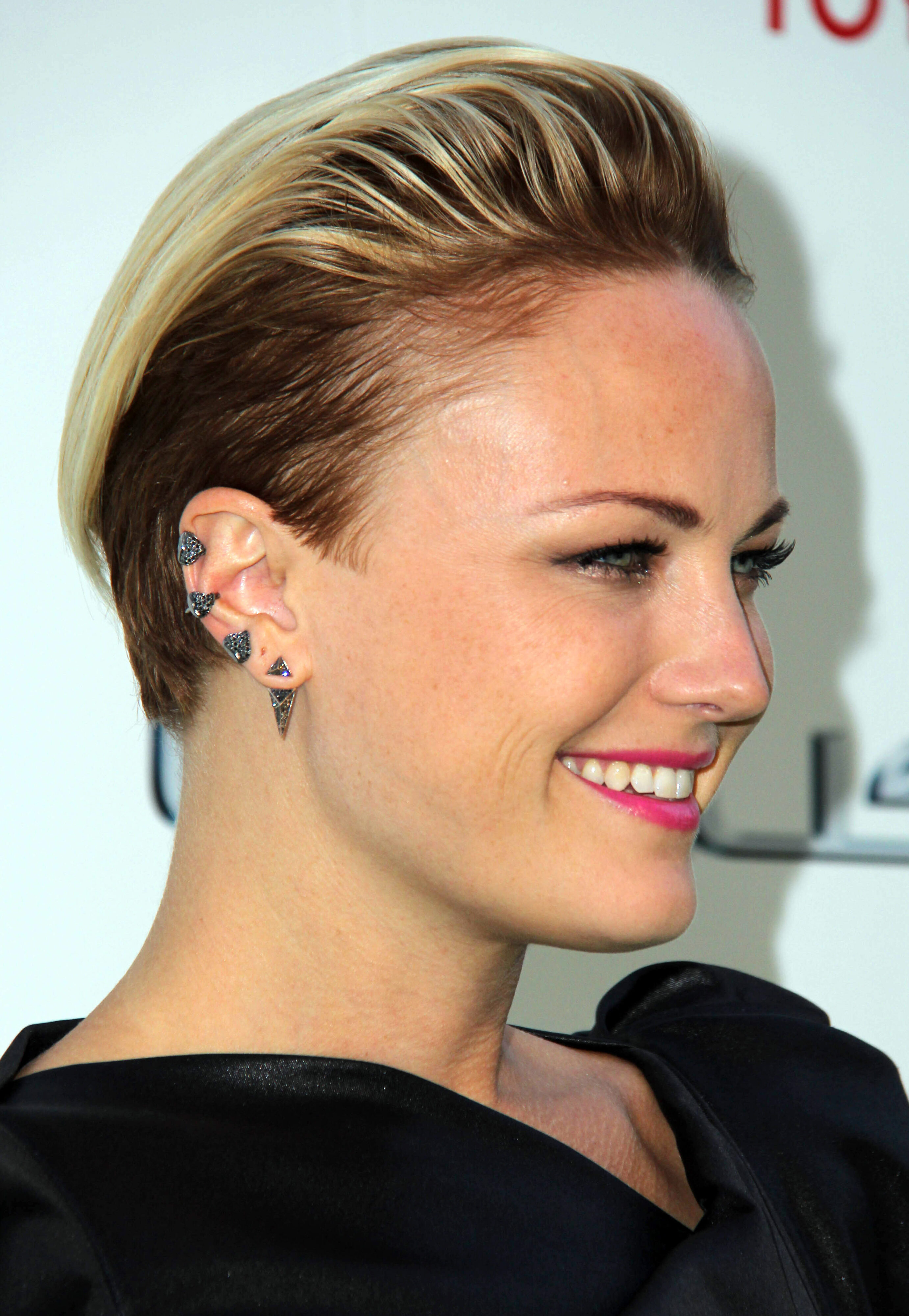 Malin Akerman's Messy pompadour with Undercut
Admit it, anything in hairstyling that says "messy" is not really messy. In fact, there is nothing but glam in this messy pompadour and it also takes some serious blow drying to achieve the volume in the middle.
That said, you'd look like a model in their own runway with this androgynous hairstyle. No questions asked.
16 / 35
Kristen Stewar's Mullet
If there is anything that we've learned from Kristen Stewart's hairstyle evolution it's this – she is the epitome of androgynous hairstyles. Name it and she's sported it all. From the clean buzz cut to the princess curls, from choppy bobs to long blonde hair, she's the one to beat. And this iconic mullet that she sported fits that crown perfectly.
17 / 35
Halle Berry's Signature Pixie
There are pixie cuts, and then there's the Halle Berry pixie cut, which is in a league of its own in our opinion. Here, she's wearing it in a disheveled style that gives "messy glamour" a whole new meaning!
18 / 35
Kris Jenner's Grown-Out Pixie Cut
While you're growing out your pixie, you don't have to look like you desperately need a salon haircut. Take a cue from Kris Jenner with this short emo swoop — it's all in the styling.
19 / 35
Kristen Stewart's Rockabilly Pompadour
Here's another androgynous icon, Kristen Stewart, showing us how she elevates her signature look for the red carpet. This hairstyle is giving us major rockabilly vibes with its slicked-back sides and voluminous wavy top.
20 / 35
Tilda Swinton's Mussed-Up Hair
Here, androgynous icon Tilda Swinton shows us how to rock the ultimate just-got-out-of-bed hairstyle. Such a bold look — she totally proves that messy could look really cool.
21 / 35
Katy Perry's Choppy Pixie
Katy Perry looks so playfully chic wearing this pixie cut with choppy bangs. So cute and easy to maintain, too. To achieve this texture, try some salt spray.
22 / 35
Michelle Williams' Side-Swept Pixie
For another variation on the pixie cut, try Michelle Williams' hairstyle. This one has a deep side part, side-swept bangs, and a beautiful piecey texture to it.
23 / 35
Halsey's Messy Wet-Look Cut
Show off your edgy side by channeling Halsey and her messy wet-look cut. It's the perfect just-got-out-of-the-shower look.
24 / 35
Charlize Theron's Textured Pixie
Charlize Theron was the definition of androgynous glamour when she wore this pixie cut with her Oscars gown. To achieve this look, apply mousse to wet hair and blow-dry. Make sure to create a piecey texture and a bit of volume at the top.
25 / 35
Zoe Kravitz's Short Crop
Nothing could be breezier than this short crop Zoe Kravitz is wearing. You might want to bookmark this for your next summer cut.
26 / 35
Rowan Blanchard's Short Pompadour
Rowan Blanchard puts a dose of sophistication to her androgynous cut with this pompadour. To achieve this look, use volumizing mousse on damp hair and blow-dry, creating a swooping texture at the top.
27 / 35
Pink's High Faux Hawk
Pink is at the height of coolness with this towering faux hawk. Add the silver and blue dye job and you've got a really bold look.
28 / 35
Jaime King's Slicked-Back Pompadour
Here, Jaime King gets into a '50s-inspired androgynous mood with a slicked-back pompadour. She keeps the sides tight and the top high for a bold and standout look. Anyone else getting a Danny Zuko vibe?
29 / 35
Jada Pinkett Smith's Long Mohawk
If you're feeling fearless, why not go for a full-on mohawk like Jada Pinkett Smith's? With its voluminous top, shaved sides, and ponytail, this is a really standout androgynous look!
30 / 35
Samira Wiley's Curly Faux Hawk
If you have afro-textured hair, try Samira Wiley's curly faux hawk. Keep the sides close-cropped and let your natural curls go wild at the top for a super-cool look.
31 / 35
Sylvia Hoeks' Classic Buzz Cut
Of course, you can never go wrong with this classic androgynous look. Sylvia Hoeks makes a great case for the clean and simple buzz cut here.
32 / 35
Kiersey Clemons' Tousled Pixie
Kiersey Clemons makes bedhead look so stylish with this tousled pixie. Messy hair, don't care!
33 / 35
Agyness Deyn's Spiked Faux Hawk
Agyness Deyn takes the faux hawk to fantastic heights with this 'do. We're loving the fun spikey style as well — she's totally giving us anime vibes!
34 / 35
Ginnifer Goodwin's Messy Pixie
You can't get more androgy-chic than this messy pixie Ginnifer Goodwin is wearing. With its tousled crown and choppy side-swept bangs, this 'do is the definition of edgy glamour.
35 / 35
Wavy Pixie Cut
It's bed hair, only better. The wavy pixie cut is for the person who literally stands up from their beds, changes into outside clothes, and quickly grabs coffee before going to school or work. Styled, it could also work for red carpets, just like Anne Hathaway.