Leave Them Stunned: Balayage Hair
A super chilled, yet classy look!
Oscar Wilde once said, "Be yourself, everyone else is taken." Creating a lasting impression with these next styles will ensure your uniqueness in the minds of everyone you come in contact with and cement a place for you in their minds. Scroll down to check out the styles we've put together for you on this list and find the one that's right for you.
1 / 18
Megan Fox's Deep Dark and Honey Balayage
Beauty takes time is an honored saying amongst the fashionista elites, and it's proven itself true time and time again. This next look, however, not only entices the masses but can also be beautifully crafted quite quickly in the hands of a professional.
Streaks of golden brown flow down and gracefully envelop darker strands that have hidden themselves from our brightest star. If done right, even the most discerning eye won't be able to tell whether your new look was crafted in a salon, or on the shores of the Maldives. And as an added bonus, salt and sand not included.
2 / 18
Lea Michele's Sun Kissed Balayage with Bangs
This balayage style incorporates bangs and changes the overall aura you'll give off. You're focused, business-minded, someone who gets the job done but that's younger and less uptight than the hags that have worked here some 20+ years. You own these bangs and this look.
3 / 18
Rebecca Black's Warm Colors on Dark Hair
This next style combines balayage with sombre, something we haven't yet covered on this list. Key to the sombre is the softer, more overall look of the highlights; think of it as a balayage with more tones or layers.
A slightly more even distribution of color, while still leaving you noticeable and unique. Try different variations of this to create a look that brings out your inner charisma.
4 / 18
Chocolate Tones
Something not covered yet and a situation not often contemplated is how well your style will hold up when your ride home is an 83′ Kawasaki z750 and your hair is going to be stuffed into a cramped helmet for the next 45 minutes.
While it's true that many of the more complicated styles will collapse entirely under the weight of this duress, this wavy balayage look not only conquers it, it thrives in it. No wonder it's popular among biker girls and bed-hair enthusiasts alike; the added folds give more character to your look.
5 / 18
Golden Honey Balayage
We've already had the girl next door look on this list, but this one changes things a bit by adding more length individually flowing strands.
Perfect for airport goodbyes or romantic slow-motion running shots with dramatic music added, this look ensures you'll be met with a smile and remembered for your hair. Being known as that girl with great hair wouldn't be the worst thing in the world either.
6 / 18
Khloe Kardashian's Warm and Ashy Tones
If mystery is more your game then this next style might be your perfect dinner party look. Like a scene right out of one of those "whodunit?" films, this balayage look when coupled with these waves gives the thrill of the unknown.
With one eye perpetually in shadow, your fellow dinner guests will internalize questions such as "Who is she?" "How many passports does she have?" "Did she order an Italian wine when everyone else is drinking craft beer?" Looks great on its own, although having a nice pair of earrings and a red dress couldn't hurt.
7 / 18
Shailene Woodley's Light and Dark Brown Accents
If the length of your hair is one of your strong points, then you'll love this next style. On the surface, it seems to just be another standard balayage style but upon closer examination, you'll find that the added length gives you more freedom in several departments.
First, it allows you to stretch the transition between light and dark, and further fine-tune it like an oil painter. Next, it utilizes one of the most fundamental rules in a woman's hairstyles; Simply put, longer hair draws more attention. And lastly, the extra real-estate allows you to make dramatic two tones less "dramatic".
8 / 18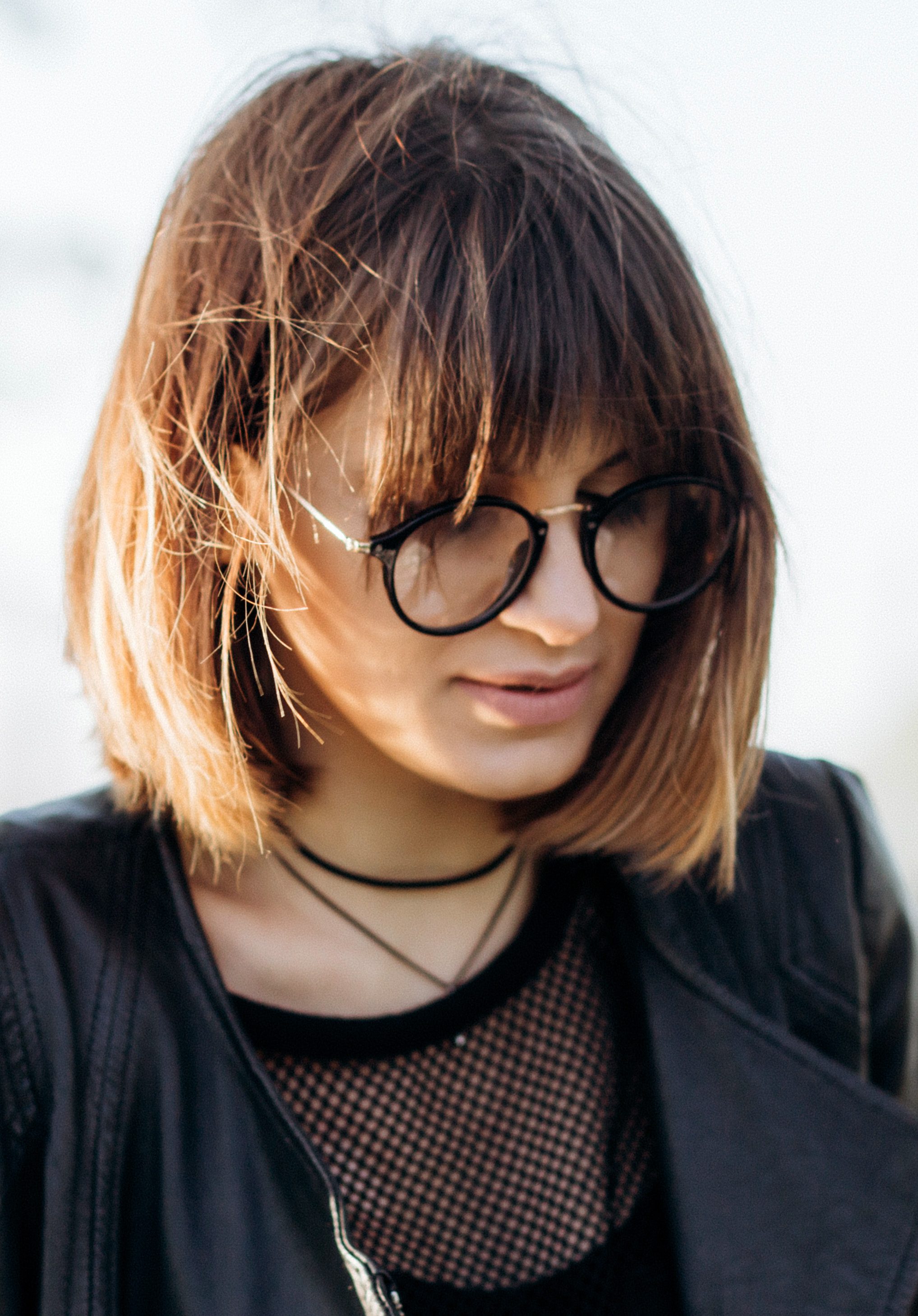 Bob with Choppy Bangs
As natural and beautiful as styles can come. Simple and gorgeous, two tones walking side by side hand in hand. The bangs keep your hair out of your eyes while you finish another hard-back novel. You secretly wear glasses also for this reason, as the frames act as curtain holders while you read.
You'll look your best studying at a cafe or at the beach during sunset. You've even contemplated taking the lenses out of the frames but ended up deciding it's better to leave them in.
9 / 18
Kate Beckinsale's Wavy Browns
This next style while looking great, has a sort of unwritten law attached to it; it requires a long-stemmed rose and a tango partner.
Be sure to try it out on the tango floor but never during a competition, as this style could be deemed an unfair advantage (You wouldn't want to be ostracized, would you?) Anyone who lays eyes on you will surely swear they can hear Gerardo Matos Rodriguez's "La Cumparsita" playing in the air(well, anybody with taste at least) The slightly pulled back nature of the top of this style gives it that dancer's touch, while the bottom gives it that "evening out" feel.
10 / 18
Chrissy Teigen's Caramel Balayage
If you're in the mood for a more tropical look this season then Chrissy Taigen's might have the answer you're looking for.
This slightly wilder, sexier Balayage looks as at home in the sun as it does on the runway. The tips are less evenly cut, creating that tropical island beauty look. Goes great with a fresh tan and a new surfboard.
11 / 18
Amber Heard's Bedhead Balayage
While up until this point we've been showing you styles that mitigated the fierce battle between light and dark, this next style puts a new spin on our story and tones down the contrast.
No longer do light and dark sit as enemies on a battlefield but this look brings them closer; They're distant cousins or even estranged sisters reunited. Starting with your natural tone at the top, these highlights don't stray as far from your true tone as many of the other styles we have covered, perfect if your natural color is a lighter one.
12 / 18
Melissa Satta's Blonde and Honey Accents
Leaning even more on the side of ombre than the last style we just covered is this next one. The separation between light and dark is striking, unmistakable, and unashamed. Like a tale of good vs evil, west vs east, Pepsi vs Coke, this style makes you stand out and lets you be heard.
Breaking up the transition between light and dark is key in this style to keep it from turning into full ombre, and a good eye for detail and a steady hand will prove indispensable as the results are certainly worth it.
13 / 18
Shay Mitchell's Warm Caramel Tones
If you've been blessed with hair that's naturally wavy or you want to adopt this look like your own then we have a variation of the style that might be right up your alley.
The focus here is to use the waviness in your hair to softly blur the transition between light and dark. It's a lovely match of ombre and balayage; a match made in heaven. The fluctuations and cascading sway help to further bring out the cream and chestnut tones in your hair creating a sense of allure around your face; especially if you have high cheekbones.
14 / 18
Blake Lively's Beach Vibes Balayage
Having starred in a major new movie almost every single year since 2010, Blake Lively knows that appearances can make or break one's acting career. And a great hairstyle can change one's appearance overnight (or as soon as your hairstylist quits yammering on about her divorce and gets on it).
Lively's distinct, multi-tonal style adds both dimension and character to her look. This style leaves people wondering; was it handcrafted in a salon in one of the more upscale parts of town, or naturally over the summer while horseback riding through sunny country fields?
15 / 18
Amber Heard's Beach Bomb Balayage
Yet another wild spin on the modern classic, although this time the ends are more evenly cut giving this style a more elegant and less tropical feel.
In true Balayage style, the highlights appear natural and less pronounced; insuring that you look fashionable and not like you're in an 80's glam-rock band. The lighter streaks are pushed to the front while the back fades into a darker more powerful version. It's a powerful look, that shows you're gorgeous while commanding authority.
16 / 18
Jessica Alba's Golden-Brown Balayage
Jessica Alba has often been credited as having that "girl next door " look, and this next style is no exception. Her hair is like a rose whose petals are born amber and take on the hue of sunflowers by the time they've reached the ground.
Cascading down the neckline, this style guides the eyes of the observer like Vermeer did in his masterpiece Girl with a Pearl Earring. The front pays a slight homage to the pompadour style, while the highlights accentuate delicate delicate facial features.
17 / 18
Riri's Warm Balayage
If tropical islands aren't your thing then let's take a look at Rihanna's take on the Balayage look. Softer and more refined, it says dinner parties and wedding receptions while also giving the impression that you're a woman who values the simpler albeit more precious things in life, like family and friends.
The strands are set free, allowed to grow longer while groomed to show off a silkier, smoother finish. As Michael Broadbent once put it, "Drinking good wine with good food in good company is one of life's most civilized pleasures."
18 / 18
Elizabeth Olsen's Blonde Balayage
And finally, this last variation allows the highlighted areas to take a more center stage role in your presentation.
Your natural tones will lend a supporting role while you let your highlights do all the heavy lifting for this one. Keeping the transition between shades gradual and your hair longer will ensure that you don't get stuck with the dreaded "my-roots-are-growing-out look."