8 Ways to Keep Your Hair Looking Happy and Healthy in the Summer
Take good care of your hair in summer and enjoy the result throughout the year
It's summertime, which means it's time to sit back, relax, and enjoy the chill vibes and warm sunshine. But, as you transition into a laidback state of mind for the season, don't get lax about your hair care.
Unfortunately, this is the time of year that your hair needs the most attention and love, with the harsh UVA and UVB rays leaving hair zapped of moisture, prone to breakage, and devoid of nutrients. At the same time, the heat and humidity can make your hair fall flat and look dull, but there are a few ways to keep it bright and lively year-round. Here are some of the best options for combatting damage and drabness during the warm-weather months:
Use Protective Hair Care Products
Did you know that you can buy SPF 30 hair spritz? Yep, there are protective products out there for your hair just like there are protective products out there for your skin.
These products safeguard strands from becoming dried out or brittle, even after you've spent a long day in the sun. Protective spritzes, leave-in conditioners, and scalp treatments protect your hair while also infusing it with moisture and nutrients, so it looks supremely healthy and radiant.
Address Baldness and Thinning
When you spend time in the sun, your tan or burn can highlight pattern baldness or thinning. And, if you're bald or suffer from sparse locks, your scalp is highly susceptible to sunburn, which can lead to life-threatening conditions like melanoma.
It's a good idea to begin a hair growth program in time for summer so your scalp has protection and your baldness isn't extremely obvious. Of course, anything you can do to boost your hair growth will also boost your self-esteem.
Cover Your Hair When in The Sun
If you've been debating about finally buying that UPF 50-plus sun hat, now's the time to pull the trigger! Sun hats, especially those designed specifically for ultraviolet protection, provide a protective barrier between your hair and the sun so that UV rays aren't allowed to be absorbed. At the same time, a wide-brimmed sun hat can protect your face, neck, and chest from burning.
Schedule a Deep Treatment
Your hairstylist probably offers a deep treatment or two in the salon, which will help address previous damage from the sun and other environmental factors. Prolonged sun exposure robs your hair of protein, causing serious damage to the cuticle layer (the surface of the hair strand). Therefore, you want to seek out treatments that help restore these proteins and put back nutrients that encourage silky-soft shiny hair.
Look for products featuring keratin, a fibrous protein that helps form the structure of the hair. It's probably not a bad idea to schedule a restorative keratin treatment two or three times throughout the summer.
Use Nourishing Shampoo and Conditioner
Your regular washes are important, too. It's important that you give your hair follicles and strands the support they need with high-quality shampoo and conditioner to combat dryness and breakage. Though it seems counterintuitive, resist the urge to shampoo and condition daily. All cleansing and conditioning products rid your hair of natural oils, which can dry it out and worsen any existing weakness or damage.
The same goes for conditioning. You may have to "train" your hair to go longer in between conditionings, but most people can get it to a place where it only needs to be washed two or three times per week, though every scalp is different.
Get a Haircut (or Two)
Did you know that regular haircuts are important to keeping your hair healthy, strong, and soft throughout the year? Even though you're probably the busiest in the summer—'tis the season for vacations, weddings, showers, and more—be sure that you make time to get a trim or two, preferably at the beginning and end of the season.
Hair grows faster during the summer, and split ends should be addressed more regularly at this time of the year. Ask for a deep keratin treatment the next time you schedule a summer cut, too!
Use Moisturizers and Hair Oil
The biggest issue with exposing your hair to the sun for any prolonged period is that it zaps it of moisture, which leads to dried-out, brittle, and generally unhealthy-looking locks.
During this time of year, your hair is also subject to abuse from chlorine, saltwater, and other environmental factors, so it may need a bit of extra oil to keep it from going totally off the rails. Use a tiny, pea-sized drop of argan oil, macadamia oil, or marula oil daily to restore some of that vital moisture.
Think Beyond Sun Damage
The sun isn't the only harsh offender to blame for dry, weak, and breakage-prone summer locks. There's also chlorine, which strips hair of its natural oils and leaves behind dry, weak and dull hair.
To combat chlorine damage, always rinse your hair with regular water when you get out of the pool and consider wearing a swimming cap to shield it from these damaging chemicals. Saltwater is another culprit for dried-out strands, so make sure you're keeping your hair out of the waves or using a bit of extra oil when you plan to swim in the ocean.
Don't Get Lazy About Your Hair
It's summer, and we don't want to pile anything else on your plate, but it is important to try your hardest not to get lazy with regard to your hair care routine. As the temperatures heat up, your hair will see much more of the sun, and you want it to be as gorgeous as possible for all the summer fun. These tips will help ensure that your locks look luscious while you're on vacay, hanging out at the pool, or attending special events this summer.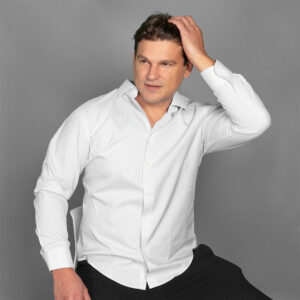 Shane McCarthy is the Content Director for Capillus, the world's first, clinically-proven, FDA-cleared laser cap to treat hair loss. Shane works to share informative and engaging content based off of the struggles and prevention of adult hair loss and thinning. In his free time, he enjoys spending time out on the water wakeboarding and fishing.